WE HAVE BEEN DOING LAYAWAYS ON A LIMITED BASIS BUT DUE TO THE ECONOMY NOW WE HAVE DECIDED TO OFFER THE LAYAWAY OPTION TO EVERYONE. OUR TERMS ARE 25% OF THE TOTAL PURCHASE DOWN WITH THE OTHER 75% PAYABLE IN 3 EQUAL MONTHLY PAYMENTS OF 25% OF THE INITIAL BALANCE. CHECK THE INDEX PAGE FOR COMPLETE DETAILS. THANKS!
The M14-Type Rifles, A Shooter's and Collector's Guide, 2nd Edition High Power Match Shooting is attracting thousands of new shooters every year. Interest in the sport is at its highest since the 1920s, reinvigorating a large and expanding segment of the shooting sports market. And one of the most popular rifles to use in this venue is the M14. The 1968 Gun Control Act made it impossible for shooters and collectors to possess a military surplus M14 rifle, except in limited circumstances. Because the national Matches are shot with issue military rifles, this originally placed civilian shooters at a great disadvantage with military participants. But the firearms industry responded with M14-type rifles that are semiautomatic in function only and the Director of Civilian Marksmanship and the National Rifle Association amended their rules to allow the civilian, semiautomatic-only rifles to be used. Today, several companies manufacture complete M14-type match rifles and several more manufacture semiautomatic-only receivers and other parts that allow custom gunsmiths around the nation to build semiautomatic M14-type match rifles, most of which are capable of poducing less than one-minute of angle accuracy. Noting that there were very few books available that described the M 14-type rifle, and none that approached the rifle both as competition and collector's firearms, North Cape Publications has produced the "The M14-Type Rifles, A Shooter's and Collector's Guide." Published in large fomat and profusely illustrated with photographs and line drawings, The M14-Type Rifles, A Shooter's and Collector's Guide. describes the lengthy development of the M14 rifle as a military rifle, its transformation into a National Match rifle by US Amy and Marine Corps gunsmiths and finally its development as a civilian match rifle of unparalleled accuracy. The book surveys the M14-type rifles produced by the major manufacturers, the semiautomatic receivers available from several companies and provides heretofore unknown details of the M14-type rifles produced by the People's Republic of China which were sold in the United States in the mid-1990s. The book also discusses the attributes of the various semiautomatic receivers currently being manufactured. Two M14-type rifles were built in the process of preparing this book, one a service-grade rifle and the other a competition rifle and the procedures are described in detail. Using this chapter as a springboard, the author then provides a detailed explanation of what the reader needs to know before commissioning a match M14-type rifle from a custom gunsmith, or acquiring one of the completed rifles available commercially - including the Chinese rifles. And for the do-it-younselfer, one section even provides step-by-step instructions on fiberglass-bedding the M14-type rifle stock for increased accuracy. The book also includes a complete step-by-step assembly/disassembly sequence accompanied by photographs, instructions on how to maintain, clean and repair a match-quality M14-type rifle - and detailed instructions on shooting the rifle well. This new 2nd Edition pevises and updates information on new manufacturers, parts and accessories. The M14-Type Rifles, A Shooter's and Collector's Guide is a large fomat book, 8 x 10.5, perfect bound with a four color cover, 88 pages and 80 photographs and line drawings. $14.95

y.
The SAFN-49 Battle Rifle. A Shooters & Collector's Guide For years, collectors of military rifles have puzzled over the variations of the FN-49 semiautomatic rifle. Manufactured only for a short time and used by only a few countries, it nevertheless holds an important place in firearms development as the predecessor and proving ground for the world-famous Fusil Automatique Leger, the FAL. The SAFN-49 (Saive Automatique, Fabrique Nationale Modèle 1949 to give it its correct name) was developed at Fabrique Nationale in Herstal, Belgium in the mid-to late 1930s at exactly the same time as the American M1 Garand and the Soviet SVT38/40. Dieudonné J. Saive, the rifle's designer developed a tilting block system that locked the bolt against the breech by allowing it to drop down against a hardened steel step. But the Nazi attack on, and occupation of Belgium precluded its use in World War II where it surely would have ranked in importance with the M1 Garand and far ahead of the G41 and G43 German semiautomatic battle rifles that preceded the MP44. Saive and members of his staff fled to England in 1940 and worked with British weapons designers during the war. In 1944, work resumed on the new rifle, now designated the EXP1 and which was being seriously considered as a replacement for the Enfield No. 4 bolt action rifle. The allies liberated Belgium that autumn and shortly thereafter, the Belgian design team returned home to help repair the damage to the FN factory caused by the retreating Nazis. The new rifle was rechambered for the .30-06 but it proved too powerful for the gas system as it was then designed. By the time the problem was solved, the British had moved on to a British design. Undeterred, FN decided to market the new rifle as the SAFN- 49 in both semiautomatic and full automatic versions. They also produced a limited number of sniper rifles and a very few commercial sporting versions. The SAFN-49 was manufactured for production in four calibers (.30-06, 7.92 mm Mauser, 7.65 mm Argentine and 7 mm Mauser.) The rifles were purchased by Belgium, Luxembourg, the Belgian Congo, Indonesia, Brazil, Venezuela, Columbia and a few for testing in other countries. Less than 200,000 were sold before it was replaced in the FN line by the famed FAL. In the meantime, the new battle rifle served in the Korean War with the Belgian Brigade and in the civil wars that rocked Central Africa in the late 1950s and early 1960s. The first SAFN-49s to be imported into the United States appeared in the early 1960s and may have been the sporting versions in .30-06 caliber produced by FN from military contract overruns. These were sold through Browning Sporting Arms and represent the rarest of the SAFN-49 variations. Small quantities of SAFN-49s in .30-06 caliber marked AB (Armee Belgique) and AL (Armee Luxembourg) on the receiver ring were imported from time to time but the largest number appear to have been in 7.92 Mauser which were manufactured for the Egyptian Army. The 7 mm Mauser rifles manufactured for Venezuela have also appeared in quantity. In the mid-1990s, a few hundred SAFN-49s rebarreled to 7.62 mm NATO also appeared on the American market. These were Argentine Navy rifles which had been converted from 7.65 mm Argentine. SAFN-49 Sniper rifles are quite rare in the United States and it is difficult to determine whether or not a particular sniper rifle was manufactured originally as such or if a telescopic sight and mount were installed after importation. "The SAFN-49 Battle Rifle" is a brand new book from North Cape Publications which provides answers to this and other questions. The be first book published in English, and perhaps in any other language. Writing about FN-produced firearms is quite difficult as, unlike many American companies, the FN factory does not make their records available to the public nor do they provide much, if any assistance to writers and historians. In spite of this, the author appears to have done a very good job quantifying the SAFN-49. Chapters provide a history of the development and use of the rifle, the usual part-by- part description for which North Cape Publications has become well-known plus chapters on shooting the rifle, accurizing, maintaining, assembling and disassembling it and making repairs. Also, included is a chapter on sniper rifles which provides the first description of the FN factory- supplied telescopic sight and mount this reviewer has ever seen. Of great interest to collectors and owners of the SAFN will be the seven page chart which provides a side-by-side comparison of every SAFN-49 part and its markings, by caliber. Also, the sectioned view of the rifle and bolt assembly, plus a new exploded view. The book is profusely illustrated with photographs and drawings of the SAFN-49 and its parts, including the select fire trigger assembly. $14.95

PAPA WAS A BOY IN GRAY-by Mary W. Schaller, 2001. This book is memories of Confederate veterans related by their living daughers! This book is very insightfull!! Softcover. $14.95

Miller, Robert H. The Buffalo Soldiers- Reflections of a Black Cowboy Silver Budett Parsippany, NJ 1991 First Edition HB Fine in pictorial binding, no DJ as issued Illust /Floyd Cooper 8vo., 96pp, Biblio, Part two of a series. True stories of the African-American soldier who served Ninth and Tenth United States Cavalry. $22.50
. King, John THE GULF WAR NY: Dillon Press, 1991 Hard Cover. Excellent/No Jacket as issued. Color and B&W photos, 48 p. being 9 X 11 inch format. This clear, concise account traces the crisis in the Persian Gulf, from Iraq's overnight occupation of Kuwait on August 2, 1990, to the victory of the UN-sanctioned Coatlition forces seven months later. $9.95

Collins, David ENG AND CHANG: THE ORIGINAL SIAMESE TWINS Dillon Press 1994. 8vo; About fine in fine dustjacket. First Edition. Binding is Hardcover. 6 1/4 X 9 1/4 inch format. 128 pages with photographs and prints. They came into this world as one--inseparably tied together at their chests--yet they were two. They were born on May 11, 1811, on a bamboo mat in a small houseboat afloat the river in the village of Meklong, located sixty miles west of Bangkok, the capital of Siam. They became world celebrities, American citizens, married two native-born Southern sisters, and between them fathered twenty-one children, while acquiring respectable status as landowners, farmers, slaveowners and pillars of their local community. "They" were the famous, the first, the ORIGINAL Siamese Twins Price: Originally published at US$ 45.00 our price $39.95.

AVAITION: SMITHSONIAN GUIDES by Donald S. Lopez, 1995. Broad in scope and rich in anecdote, this exciting volume recounts the vision of early theorists and first attempts at piloted flight, traces the fierce international competition to dominate the skies, and profiles the daring risk-takers like Orville and Wilbur Wright, Charles Lindbergh, Chuck Yeager, and Amelia Earhart. 350 photos, 250 in color. Pull-out gatefold. 256 pages. Hardcover with dj. 6 1/2 X 9 inch format. Originally published at $24.95, our price $19.95 Brand new books.

Bard, Mitchell G --COMPLETE IDIOTS guide to WORLD WAR II -- SIMON & SCHUSTER, 1999. This is a nice softcover book in 7 1/2 X 9 inch format consisting of 409 pages of text and photographs. This book gives detailed analysis of the causes of the second World War, informative accounts of the significant battles and campaigns, from Perar Harbor to D-Day & fascinating period maps and photographs that bring you right into the action. $18.95

REPRINT OF ORIGINAL CIVIL WAR ARTILLERY MANUAL !! This is a brand new excellent reprint of an Original Civil War Artillery Manual that was originally reprinted in 1962 by the Indiana Civil War Centennial Commission & Indiana Historical Society of Indianapolis entitled "CIVIL WAR ARTILLERY MANUAL" Notes & Drawings by Henry Richard Huebner. This illustrated manual was prepared for the guidance of Civil War Artillerymen by Henry Richard Huebner. According to family tradition several of Huebner's sketches appeared in LESLIE'S ILLUSTRATED WEEKLEY. So far as is known the manuscript was never printed. The hand-drawn manual remained in the possession of the Huebner family until 1961 when it was presented to Indiana Civil War Centennial Commission by the artist's daughter, Frieda M. Huebner. Miss Huebner, who taught for many years in the Indianapolis Public Schools, felt that her father's manual should be shared with that large and growing group of historical students who devote themselves to the American Civl War. This manual is a faithful reproduction of the original hand written, hand drawn manuscript. Mr. Huebner obviously was Military trained and knew alot about Artillery and has described all of the operations involved to operate an artillery piece! He describes in detail the men's positions and duties, limbering and unlimbering, school of the battery, order in line, order in battery, and many other items of order. He goes into detail describing the parts of a 6 pounder and carriage, limber, caisson, and Artillery Harness! This book is fantastic! Every student of the Artillery needs this fine publication! The book is softcover being 8 X 10 inches and consists of 40 pages of fine text and fantastic drawings! $9.95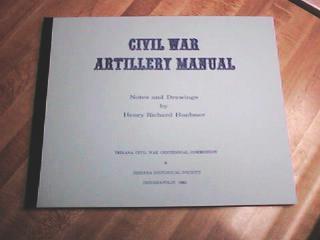 THE GOD OF WAR - WHEN I RODE WITH N.B.FORREST - THE LETTERS OF HENRY WYLIE an Historical Interpretation by Robert S. Chambers, 1996 new hardcover/new dj - signed by the Author. Southern Heritage Press 288pp - - Maps - Historical fiction - using the character of Henry Wylie, the author uses historically accurate data to present the story of Nathan Bedford Forrest, fierce, proud and defiant Confederate cavalry leader who was feared by friend and foe alike. $19.95

UNION & CONFEDERATE CIVIL WAR HEADGEAR AND RELATED MILITARIA -THE KENNETH J. BUDNY COLLECTION by Paul Mullikan & Richard Listenberger. Softcover 90 pages, signed by both authors! Brand New! This fine book is loaded with color photographs of each piece of headgear listed, with a couple different views of each and of the interior! Also has color photos of other militaria as well. $29.50

LEE AND HIS GENERALS - PROFILES OF ROBERT E. LEE AND SEVENTEEN OTHER GENERALS OF THE CONFEDERACY by Captain William P. Snow. Hardcover with dustjacket. New. Written shortly after the United States Civil War and published in 1867, Captain Snow wrote his vivid accounts while the events of the war were still fresh in his memory. Presents a balanced view of the Civil War and the Southern generals who, without reservation, deserve credit for their military brilliance. $20.00

THE HEART OF A SOLDIER - INTIMATE WARTIME LETTERS FROM GENERAL GEORGE E. PICKETT C.S.A. TO HIS WIFE. "Forty-eight highly edited - and probably highly abridged - letters of one of Lee's infantry commanders; Mrs. Pickett prepared the text." $12.95

A VAST ARMY OF WOMEN - MAINE'S UNCOUNTED FORCES IN THE AMERICAN CIVIL WAR by Lynda L. Sudlow, 2000, brand new hardcover. A detailed, revealing exploration of Maine women who served as nurses and in soldiers' aid societies during the Civil War. 263 pgs, index. Gettysburg, Pa: Thomas Publications. $24.95

FIELD OF BATTLE - THE CIVIL WAR LETTERS OF MAJOR THOMAS J. HALSEY by The National Georgraphic Society. 1996 brand new hardcover in dj. Halsey was an officer in the 11th New Jersey Volunteers, and documented his Civil War participation over three years. Binding is 1st. $30.00

NEVER DESERT THE OLD FLAG - 50 STORIES OF UNION BATTLE FLAGS AND COLOR-BEARERS AT GETTYSBURG by Michael Dreese. Brand new softcover with 128 pages of text, photographs, engravings & drawings. $12.95

COMPANIONS IN CONSPIRACY: JOHN BROWN & GERRIT SMITH by Chester G. Hearn. Brand new softcover. 1996. Thomas Publications Gettysburg, PA 110 pages, Examines the strange relationship between Brown, devoted to principles of violence, and Smith, who backed him financially and the failed slave revolt at Harpers Ferry. Pictorial Softcover $9.95

SOLDIERS' NATIONAL CEMETERY - GETTYSBURG. This book is a reprint of the 1865 edition of the Report of the Select Committee Relative to the Soldiers' National Cemetery. Softcover. $11.95

IF THE SOUTH WON GETTYSBURG by Mark Nesbitt, softcover, brand new reprint 1993. From key moments at the Battle of Gettysburg throughout the rest of the war and beyond, Nesbitt boldly speculates on the ways in which the results of the Civil War could have differed, had the South been successful in achieving its goals at the Battle of Gettysburg. 124 pages $6.95

THEY SAVED THE UNION AT LITTLE ROUND TOP - GETTYSBURG JULY 2, 1863 by Ken Discorfano with a Foreword by John J. Pullen. Softcover. Thomas Publications Gettysburg, PA 2002 First Edition 128 pages, A stirring account of the struggle for Little Round Top at Gettysburg, with emphasis on the personalities involved on both sides. This is the story of the soldiers who are often left in the shadows of the more prominent figures. $11.95

SOLD OUT! METALLIC CARTRIDGE CONVERSIONS - THE HISTORY OF THE GUNS AND MODERN REPRODUCTIONS with an introduction by Tom Selleck, written & photographed by Dennis Adler and a foreword by R. L. Wilson. Hardbound with dj. 2002 NEW 208 pages. Track the history of the original conversions of the 1800s through historic text & new & archival photos. Modern repros with technical details & performance test results. Loads of color photos!!! $39.95

FOR CONSPICUOUS GALLANTRY - WINNERS OF THE MEDAL OF HONOR by Donald E. Cooke. Hardcover with dj. New old stock. Lists hundreds and hundreds of names. Also tells of the wars and conflicts. Easy reading. Clean. ; 71/4x101/4; 93 pages. $10.00

Single Action Sixguns John Taffin Hardcover · 8-¼ x 10-7/8 336 pages · 350 color photos Price: $39.99 Single Action Sixguns offers the rapidly growing population of six-gun enthusiasts the most detailed and comprehensive sixgun resource on the market. This model-by-model review of handguns of the past and present provides a glimpse into the character of some of the most famous firearms in history. More than 350 photos, coupled with thousands of facts about single-action revolvers from 1850 to today, create a unique chronology for handgun enthusiasts, cowboy action shooters and handgun hunters. Readers will enjoy chapters on tips for customizing, grips, loads and leather, hunting, personal defense, ammunition, cartridge reloading and more! Featured models include Colt 1873 SAA, Remington 1875 and 1890, Ruger Vaquero, Freedom Arms, Uberti, Ruger Blackhawk and Super Blackhawk. 350 full-color photos offer ease of identification and reference Model-by-model review provides for detailed assessment Contains facts on single-action sixguns from 1850 to today
The Gun Digest® Book of Cowboy Action Shooting Guns · Gear · Tactics John Taffin Softcover · 8-½ x 11 288 pages · 300+ b&w photos Price: $27.99 Fantasy gunfighting has never enjoyed as much popularity as it does today. This one-of-a-kind guide offers complete coverage of the sport from the top experts and personalities in the field. Well-known Single-Action Shooting Society (SASS) member Judge Roy Bean provides background information on Cowboy Action Shooting in The Spirit of the Game, and chapters from other experts, including Getting Started and Dressing the Part & Choosing Your Alias provide help for beginners. All aspects of the sport are covered in the feature articles, including shooting techniques, how to choose a gun, stage setup and more! Shooting experts will gain more insight into the field and beginners will learn everything they need to know from this detailed guide. A valuable reference section in the latter part of the book contains a comprehensive catalog of equipment and suppliers for everything players will need. Reviews rules for the two main Cowboy Action Shooting organizations (SASS and National Congress of Old West Shootists) Contains a directory of events around the country Lists magazines, books and videos for shooting enthusiasts
ALL ABOUT SOUTHERNERS, by Lionel Bogut (published by the author) This book covers the history and details of the .41 Caliber Rim Fire derringer as researched by the author for over twenty years. He has assembled all available information on Southerners, a difficult task as so little has ever been published on the topic. With few places to turn, now collectors can take advantage of this book which includes anything they will need to know about the Southerner history, markings and mechanical functions as well as some myths on the topic. 114 pp., 6"x9". Hardcover $29.95 + p/h Great book!

This is a book entitled THE BOYS WHO WENT TO WAR FROM CUMBERLAND UNIVERSITY 1861-1865" by William C. Floyd & Paul Gibson. This book is a combination of two original autograph books, with photographs, compiled by a student at Cumberland University in Lebanon, Tennessee. This collection of albumen images of Civil War participants represents one of the largest of its kind. It is not often that pictures of two specific militia units (Lebanon Greys & Wilson Blues) of a town and county, have been preserved and readily identified. These two miitia groups eventually became elements of Companies H & K of the 7th Tennessee Infantry. Capsule biographies relating the fascinating stories of these students and faculty members have been gathered from files maintained at the National Archives and Records Admnstration. This information revealed that not all of "The Boys" fought for the Confederate cause, but a few were "Unionists & Neutrals", and some only "Sympathizers." Excellent! Hardcover, Approx. 9 1/4 X 6 1/4 inches with 208 pages of great text and outstanding photographs! $24.95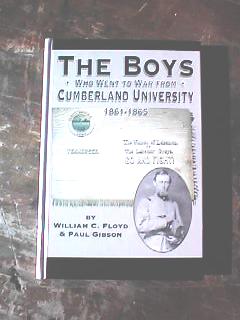 Civil War Memoirs of Two Rebel Sisters by William Wintz 8-1/2x11, 84 pgs. 50 photos, drawings, maps When Mollie Hansford married Dr. John Walls, she moved to the Shenandoah Valley of Virginia, seven miles south of Winchester. There the Civil War raged all around her for four long years. Her Half-sister, Victoria Hansford, in the Kanawha Valley was equally surrounded by the perils of war at Coalsmouth, now St. Albans, West Virinia. They each recorded their wartime experiences as they could have only been seen through the eyes of a woman. Outstanding!!!

$9.95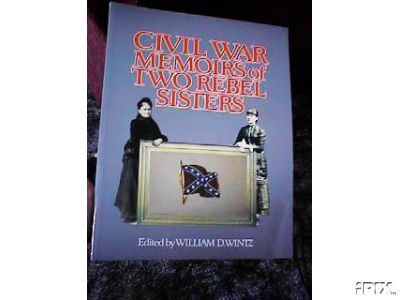 Maryland September: True Stories From the Antietam Campaign by Thomas McGrath More than 130 true human interest stories from the Antietam Campaign of 1862 will fascinate beginners and experts alike. • Softcover, 88 pages, 5.5" x 8.5", $7.95
Charlie's Civil War A Private's Trial by Fire in the 5th New York -- Duryee Zouaves and 146th New York Volunteer Infantry by Charles Brandegee Livingstone Details his entire army experience including his capture at the Wilderness and subsequent imprisonment at Andersonville and Florence. • Hardcover • 256 pages, 6" x 9" $29.95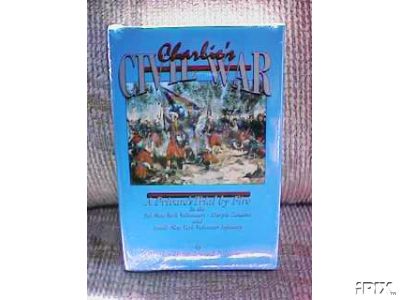 Hurrah for the Artillery! Knap's Independent Battery "E," Pennsylvania Light Artillery by James P. Brady This is the story of Knap's Independent Light Artillery compiled from the Civil War letters, journals, and diaries of several key members of the battery. Includes 40 pages on the Battle of Gettysburg and its immediate aftermath Hardcover, 464 pages $29.95
COONEY RICKETTS: CHILD OF THE REGIMENT -- Pictorial Histories 157pp - Brand New Softcover - True story of 13 year old boy who "joined" the 9th Virginia Cavalry and did his part in fighting for the Confederacy by following the cavalry on his mule and fetching water for the soldiers. "Captain, the road is free, I will ride in sight of you by day and camp nearby at night. I can carry water, I can wait on you, but I am determined to go to war." Cooney Ricketts, May 1861---"Cooney was a boy of 14 and rode a mule, but he was the gamest little chap that every followed the flag." C.L.Thompson, 22nd Va Infantry, CSA. SOFTCOVER. Excellent You'll love this one!!! $14.95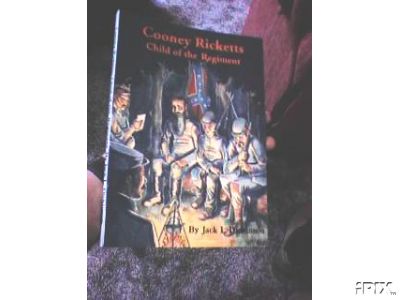 Comprehensive Catalog & History of Confederate Bonds By Douglas Ball Hardbound, 287 Pages. If you collect or are interested in Confederate bonds then you can't do without this fine book! Everything you need to know is here!! $40.00
THE JOURNAL OF WOMEN'S CIVIL WAR HISTORY - FROM THE HOME FRONT TO THE FRONT LINES- ACCOUNTS OF THE SACRIFICE, ACHIEVEMENT, AND SERVICE OF AMERICAN WOMEN, 1861-1865!! edited by Eileen Conklin. This is a brand new book 2001 being softcover and consisting of 160 pages. $11.95 ALSO AVAILABLE! THE JOURNAL OF WOMEN'S CIVIL WAR HISTORY VOL. 2! A collection of ten more articles on women during the Civil War. Female doctors, nurses on hospital ships in the Mississippi, the women of Sharpsburg, Maryland, and more. $11.95
Valley Forge A Genesis for Command and Control, Continental Army Style By Herman O. Benninghoff III As armies have advanced in size and technology over the last thousand years, so has the need for command and control. Benninghoff takes a fresh approach by aligning modern military understanding to the Revolutionary period. Was the modern concept of command and control born at Valley Forge? This and other thought-provoking isues are discussed. Hardcover $24.95 Softcover $16.95
"Gun Digest Book of Assault Weapons" "5th Edition" Jack Lewis & David E. Steele Softcover · 8-1/2 x 11 256 pages · 500 b&w photos This is the latest word on true assault weaponry in use today by international military and law enforcement organizations. The authors report on the changing mission of these weapons and then test many of them during the preparation of exclusive performance reports. Students of the world's assault weaponry will find fresh information on trends and applications, as well as discussion and evaluation of the very latest firearms: Rifles, Submachine Guns, Crew-Served Machine Guns, Combat Shotguns - plus a very educated look into the 21st century. Other content highlights: Countries covered include the U.S., Germany, Israel, Russia and South Africa 500 new photographs and illustrations!! THIS IS A BRAND NEW NEVER READ BOOK! $21.95
THE DARLING PEPPERBOX; The Story of Samuel Colt's Forgotten Competitors in Bellingham, Mass. and Woonsocket, RI, by Stuart C. Mowbray. For decades, one of the most tantalizing guns in America has been the Darling Pepperbox. The Darling brothers filed their patent for a revolver mechanism just seven weeks after Colt did. While Colt went on to riches and fame, the Darlings died in poverty, and their unique revolving pepperbox is one of the rarest guns known to collectors. Many have claimed that it was the Darlings, not Colt, who were the real inventors of the revolver, but is this true? This inexpensive new book explores the Darling story, answering questions that have belagued collectors for generations. Softcover, 104 pp. and is loaded with illustrations and photographs!!! $19.99
Guns of the Gunfighters Doc O'Meara Hardcover · 8-1/4 x 10-7/8 240 pages · 224 b&w photos 16-page color section Price: $34.99 The romance of the Old West remains strong, even more than a century after the heyday of cowboys and gunfighters. This all-new title explores the romance of that bygone era, focusing on the guns that the legends of the West good guys and bad guys, real and fictional characters carried with them. Profiles of more than 50 gunslingers, half from the Old West and half from Hollywood, include a brief biography of each gunfighter, along with the guns they carried. Fascinating stories about the TV and movie celebrities of the 1950s and 1960s detail their guns and the skill or lack thereof they displayed. Stunning color photos depict each firearm in glorious detail. These guns range from custom-crafted high-end arms to non-functioning gimmicky props. Firearms carried by more than 50 real and fictional characters of the Old West Emphasis on the TV and movie stars of the 1950s and 1960s Modern and historic photos show each of the firearms.
Warman's® Bottles Field GuideValues and Identification Michael Polak Softcover · 4-3/16 x 5-3/16 512 pages · 300 color photos Price: $12.99 "Packed with detailed listings and full-color photos of the most collectible old (pre-1900) and new (post-1900) barber bottles, beer bottles, bitters, medicine bottles, milk bottles, whiskey bottles, soda bottles and more, this book is a must-have. The affordable price and portable size make it ideal for collectors on the go. 1,000 detailed listings and more than 300 detailed full-color photos of the most collectible bottles on the market, all with current pricing, provide collectors with all the information they need for secure buying and selling. A section on the history and origin of glass bottles, as well as basic bottle facts and tips on how to start collecting, are also included. 1,000 listings with prices for well over 100 years of collectible bottles 300 brilliant color photos Convenient portable size
Anything you like? E-mail me here
Back to mainpage