THANKS FOR LOOKING !!! TED & SALLIE
EVERY ITEM COMES WITH A 3 DAY INSPECTION PERIOD.
Consignment
Item Cat 1-101
Here is a small cartridge belt that probably holds .32 caliber bullets. The belt is about 45 inches long and has loops to hold 35 shells. The belt is in pretty good condition considering it's age. Brown leather and is 1 1/2 inches long. $30.00
Consignment
Item Cat 1-100
SOLD
Here's on old leather cartridge belt that probably had a holster on it at one time. There are 18 cartridge loops on it with one fractured. It looks like they held .32 caliber ammo. The belt could use a little conditioning. It measures about 56 inches long and is 1 5/8 inches wide. $30.00
Consignment
Item Cat 1-99
Here we have a Mills Military Web Belt that was used during the Indian Wars and Spanish American War. This particular belt was made by the Mill-Orndorff manufacturing facilities. Mills was a soldier and General from the Civil War on through the Indian wars and starting making these belts with Orndorf. General Mills grew up not far from my home where he lived in a home in Thorntown, Indiana. This belt has the C closure instead of a buckle and is in generally good condition albeit is dirty and has a fray here and there. There are accessory hooks on the bottom of the belt. The loops are set up for a large caliber like .45-70 or so. Both brass ends are marked with the Mills-Orndorff patent info with the last date being '94 (1894). For this old war horse $225.00
Consignment
Item Cat 1-97
This is a COMPLETE SET of 6 - THE GREAT AMERICAN REVOLUTION 1776 COMMEMORATIVE PEWTER & TILE PLATES. It includes the following : THE BATTLE OF BUNKER HILL; DECLARATION OF INDEPENDENCE, THE SPIRIT OF '76, WASHINGTON CROSSING THE DELAWARE, BETSY ROSS & THE AMERICAN FLAG, & THE SURRENDER OF CORNWALLIS. Each plate has a built in hanger for wall display. They can also be used in a cabinet or displayed on plate racks. This is a gorgeous set and the tile pictures are sharp, crisp, and clear. This would make an awesome gift for someone who loves history or for those who love quality item to display in their homes. Each plate appears to be in excellent used condition. Well marked on the back of each plate with the following: CANTON OHIO, 1975 ( ALMOST 40 YEARS OLD) INITIALS OF: GIF SBB JSSR PVK NOTE: EACH PLATE IS HEAVILY STAMPED WITH THE INITIALS & A CANNON WITHIN A CIRCLE.
Each Plate measures 10 1/2" in diameter. These plates have age to them but look great !!! Take a look at the pics! For the complete set $125.00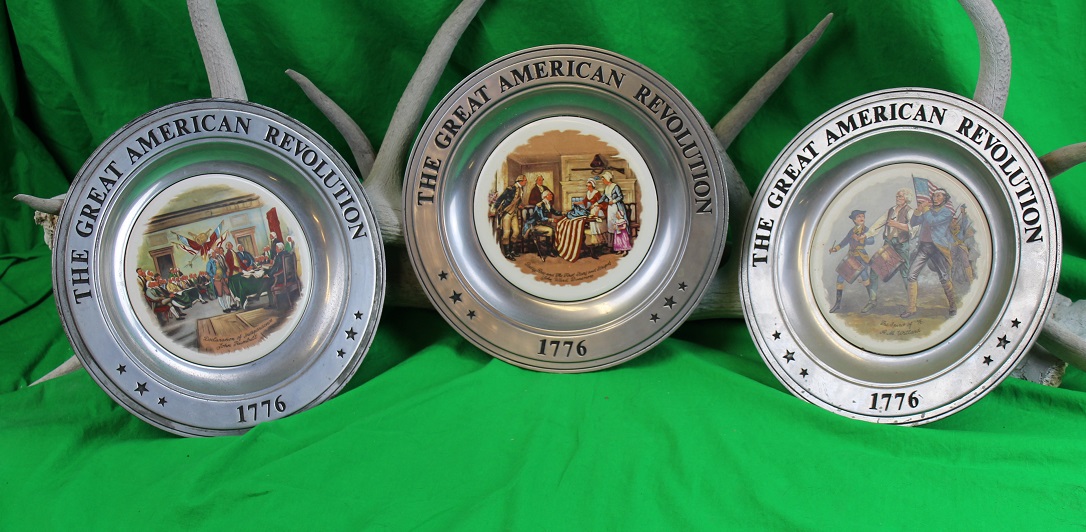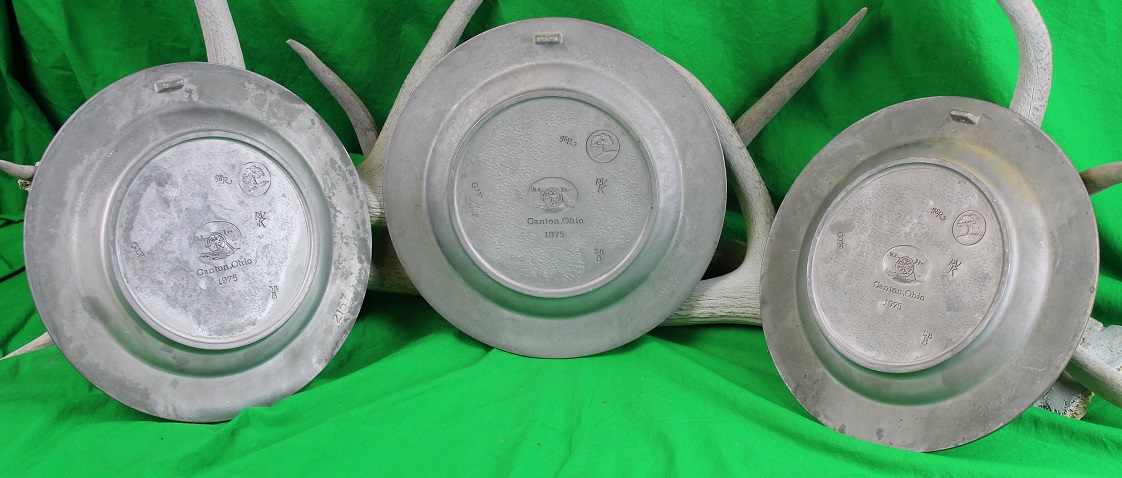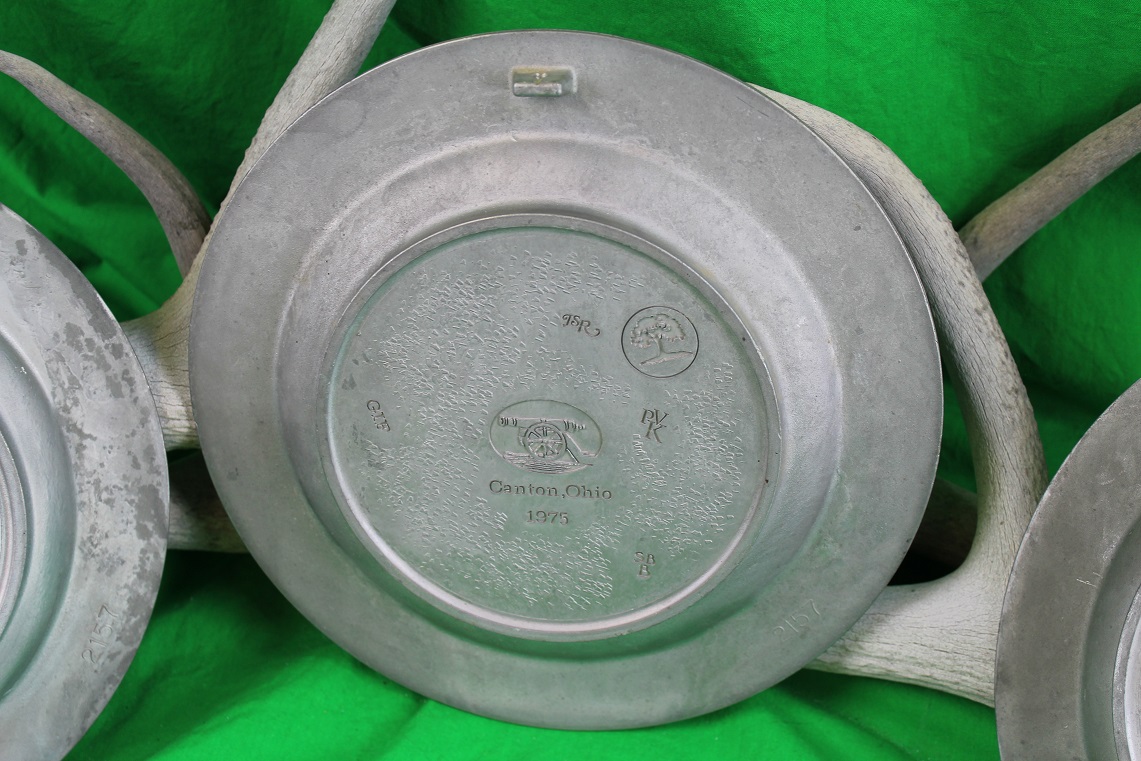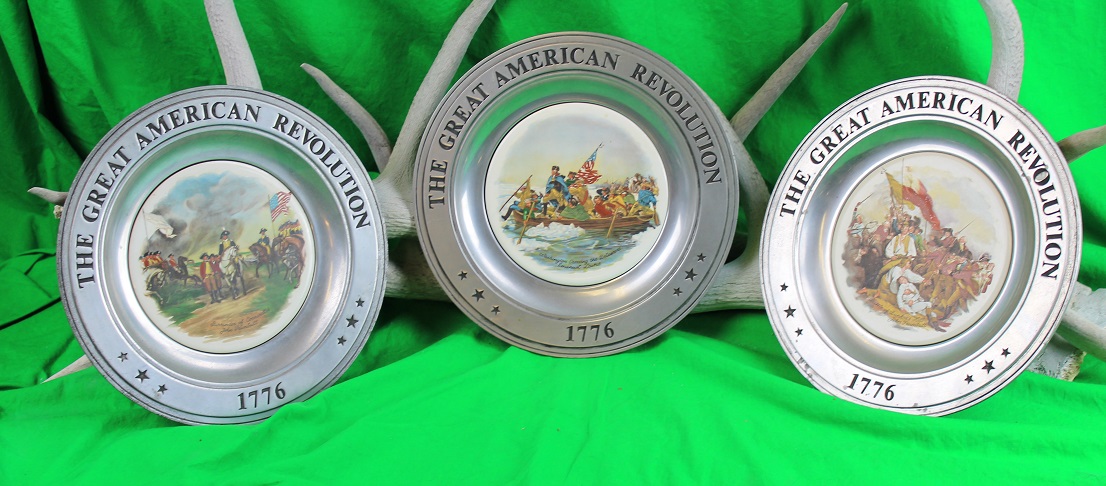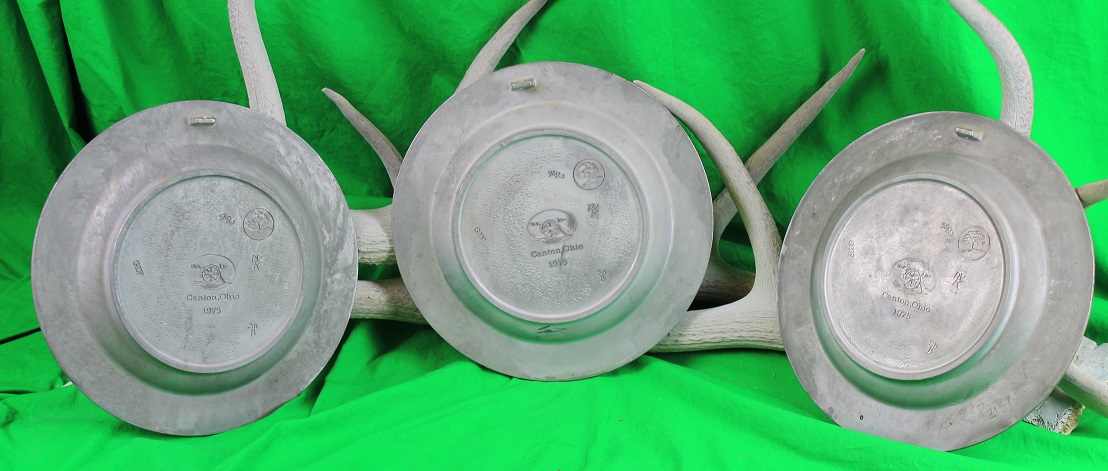 Item Cat 1-96
Here we have a hand written letter by Benjamin Harrison, former President of the United States witten to Captain A. (Alfred) J. Ralph of Dana, Indiana on January 2,d, 1899. The letter thanks Captain Ralph , formerly of the Civil War 6th Michigan Infantry and later the Indiana Legion, for the birds (probably quail) that he sent to him. Unfortunately someone has clipped the President's signature but the letter is written in his hand guaranteed! Here's a pic of Captain Ralph in Uniform during the Civil War: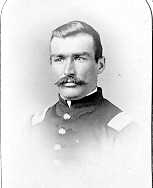 Now on to Benjamin Harrison's bio: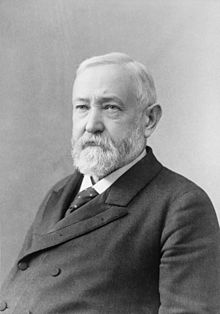 Benjamin Harrison (August 20, 1833 – March 13, 1901) was the 23rd President of the United States (1889–93); he was the grandson of the ninth President, William Henry Harrison. Before ascending to the presidency, Harrison established himself as a prominent local attorney, Presbyterian church leader and politician in Indianapolis, Indiana. During the American Civil War, he served the Union as a colonel and on February 14, 1865 was confirmed by the U.S. Senate as a brevet brigadier general of volunteers to rank from January 23, 1865. After the war, he unsuccessfully ran for the governorship of Indiana. He was later elected to the U.S. Senate by the Indiana legislature. A Republican, Harrison was elected to the presidency in 1888, defeating the Democratic incumbent Grover Cleveland. Hallmarks of his administration included unprecedented economic legislation, including the McKinley Tariff, which imposed historic protective trade rates, and the Sherman Antitrust Act; Harrison facilitated the creation of the National Forests through an amendment to the Land Revision Act of 1891. He also substantially strengthened and modernized the Navy, and conducted an active foreign policy. He proposed, in vain, federal education funding as well as voting rights enforcement for African Americans during his administration. Due in large part to surplus revenues from the tariffs, federal spending reached one billion dollars for the first time during his term. The spending issue in part led to the defeat of the Republicans in the 1890 mid-term elections. Harrison was defeated by Cleveland in his bid for re-election in 1892, due to the growing unpopularity of the high tariff and high federal spending. He then returned to private life in Indianapolis but later represented the Republic of Venezuela in an international case against the United Kingdom. In 1900, he traveled to Europe as part of the case and, after a brief stay, returned to Indianapolis. He died the following year of complications from influenza.
Here is the letters contents
Letterhead is "BENJAMIN HARRISON 1214 DELAWARE STREET, INDIANAPOLIS, IND.
January 2nd 1899
Captain A.J.Ralph, Dana, Ind. My dear Captain:
I thank you verymuch for the birds you were kind enough to send to me. I could not get out for a quail hunt early in the season, when the weather was decent, as I was too busy with my work. Later I undertook, with Captain Broden, to organize a hunting expedition, and we appointed several different days, but the weather proved to be such each time that we had to abandon the trip, so that I have not had any hunting at all. After this year I hope to be a little more at leisure and to have the pleasure once in a while of coming out to Dana either for squirrels or birds. With thanks to all of your Kindness and wishing hou a Happy New Year. I am, Very Sincerely yours, XXXXXXX It's too bad his signature was clipped off of this nice letter to a Military friend but it is what it is! For the letter without the signature but guaranteed for life to be in his hand writting $450.00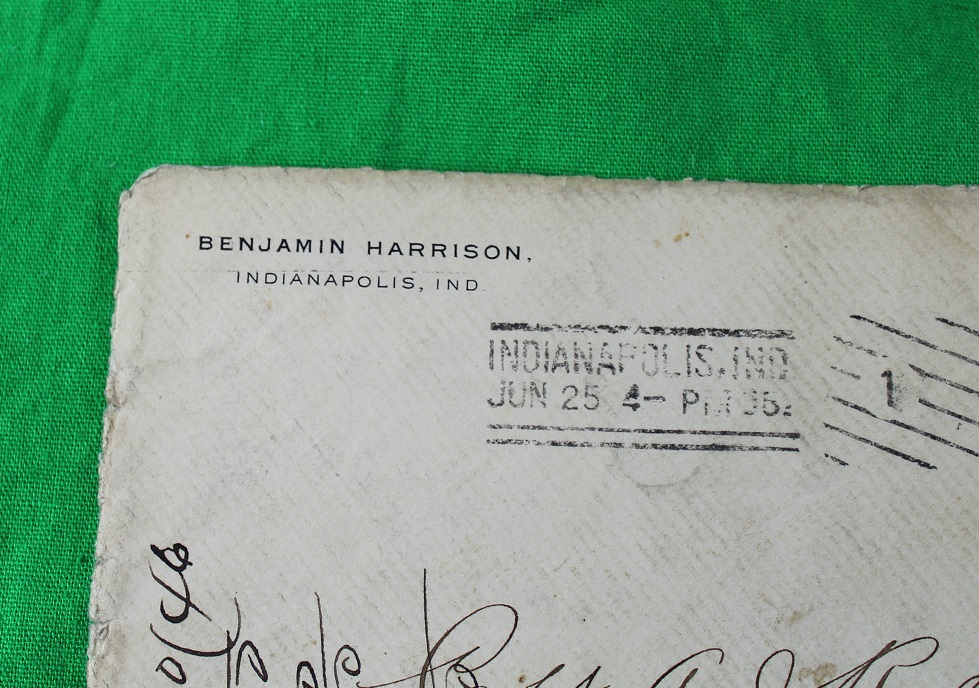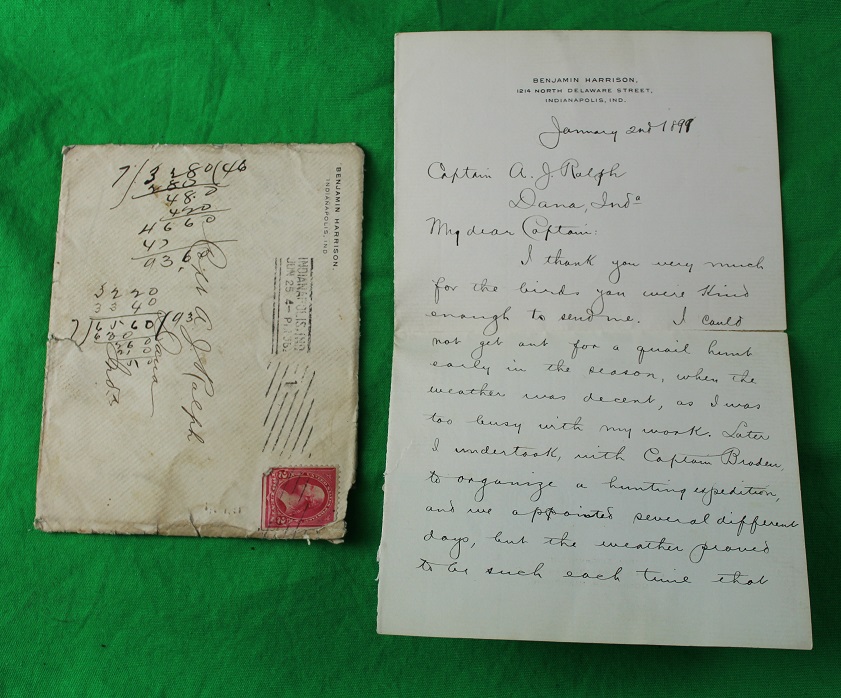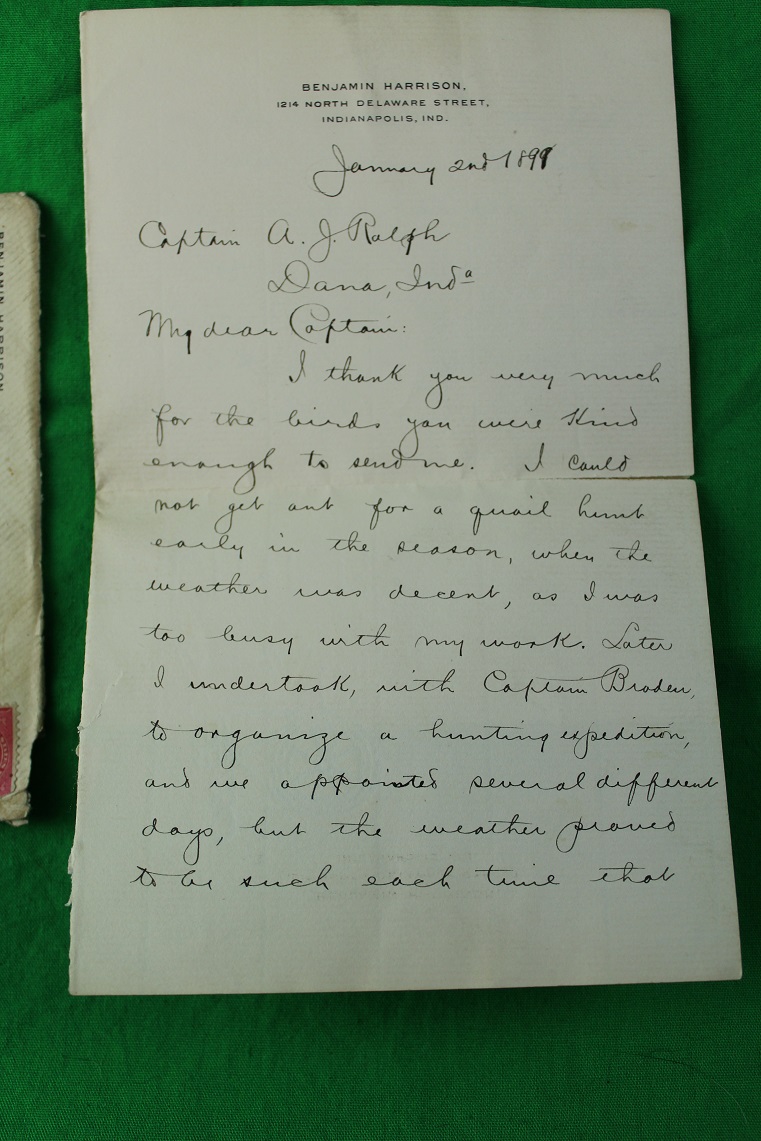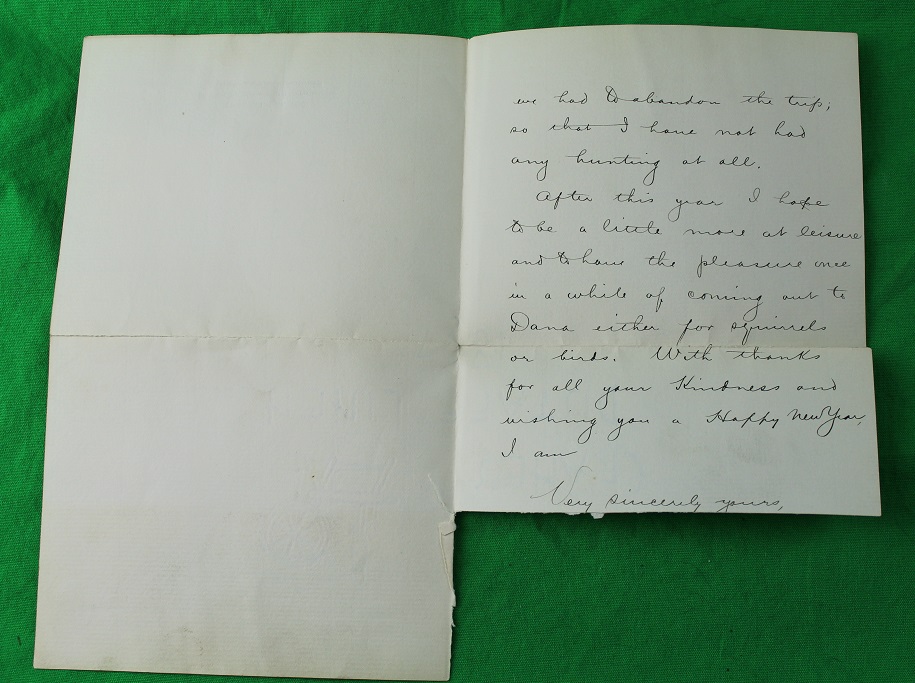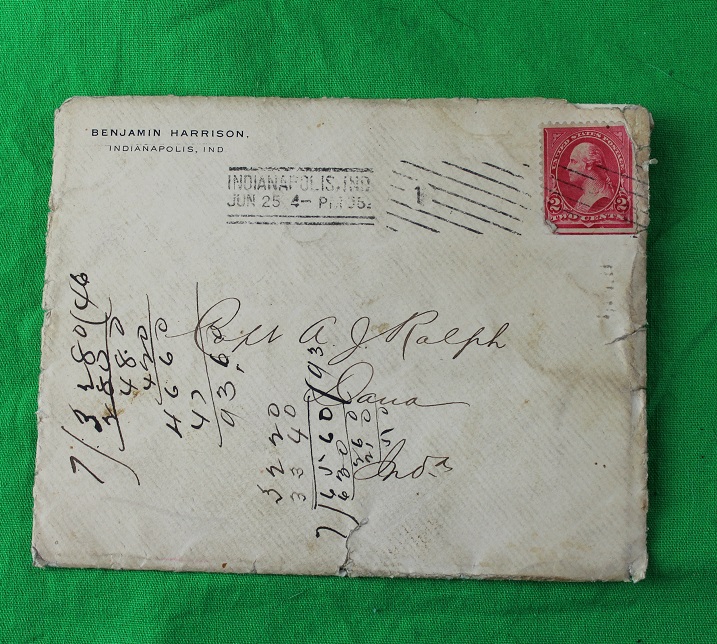 Item Cat 1-95
Here we have a letter in a small envelope from Mansfield Ohio from John Sherman in a United States Senate envelope to Mr. A. (Alfred) J. Ralph of Dana, Indiana.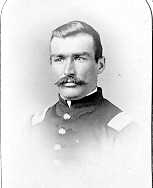 Captain Ralph was a Captain in the Civil War in the 6th Michigan and later in the Indiana Legion (National Guard). The envelope is approximately 3" X 6 " and is cut open along the bottom edge. The 5" X 8" hand written in ink note inside is from Senator John Sherman, brother of Union General William Tecumseh Sherman.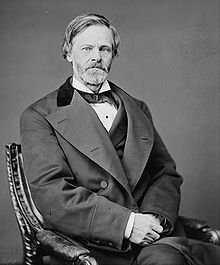 Here is John's bio:
John Sherman (May 10, 1823 – October 22, 1900) was an American Republican representative and senator from Ohio during the Civil War and into the late nineteenth century. He also served as both Secretary of the Treasury and Secretary of State. Sherman ran for the Republican presidential nomination three times, coming closest in 1888, but never won. His brothers included General William Tecumseh Sherman, Charles Taylor Sherman, a federal judge in Ohio, and Hoyt Sherman, an Iowa banker. Born in Lancaster, Ohio, Sherman later moved to Mansfield, Ohio, where he began a law career before entering politics. Initially a Whig, Sherman was among those anti-slavery activists who formed what became the Republican Party. He served three terms in the House of Representatives. As a member of the House, Sherman traveled to Kansas to investigate the unrest between pro- and anti-slavery partisans there. He rose in party leadership and was nearly elected Speaker in 1859. Sherman was elevated to the Senate in 1861. As a senator, he was a leader in financial matters, helping to redesign the United States' monetary system to meet the needs of a nation torn apart by civil war. After the war, he worked to produce legislation that would restore the nation's credit abroad and produce a stable, gold-backed currency at home. Serving as Secretary of the Treasury in the administration of Rutherford B. Hayes, Sherman continued his efforts for financial stability and solvency, overseeing an end to wartime inflationary measures and a return to gold-backed money. He returned to the Senate after his term expired, serving there for a further sixteen years. During that time he continued his work on financial legislation, as well as writing and debating laws on immigration, business competition law, and the regulation of interstate commerce. Sherman was the principal author of the Sherman Antitrust Act of 1890, which was signed into law by President Benjamin Harrison. In 1897, President William McKinley appointed him Secretary of State. Failing health and declining faculties made him unable to handle the burdens of the job, and he retired in 1898 at the start of the Spanish–American War. Sherman died at his home in Washington, D.C. in 1900.
This note is hand written by Senator Sherman and signed by him. The letter reads:
"Mansfield, O. July 25, 1896. Mr. A.J.Ralph,
Dear Sir:
The silver dollar is now a legal tender for all debts public and private. National banks can hold silver as lawful money and they can also redeem their bank bills with United States notes or Treasure notes. Very truly yours, John Sherman."
Very nice condition with the original postal cover that is written in his own hand as well. This note was written 4 years before he passed. Absolutely guaranteed for life to be authentic. For this fine piece from a very historic figure $950.00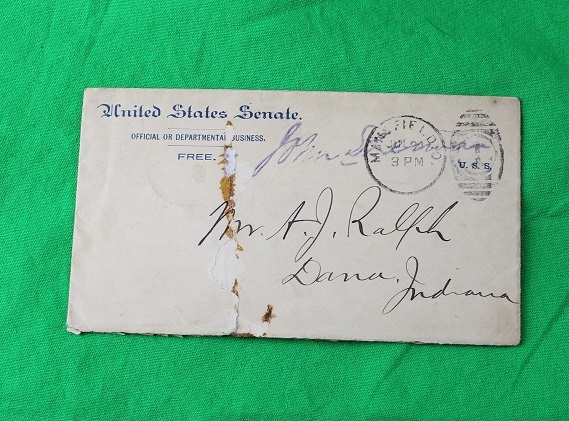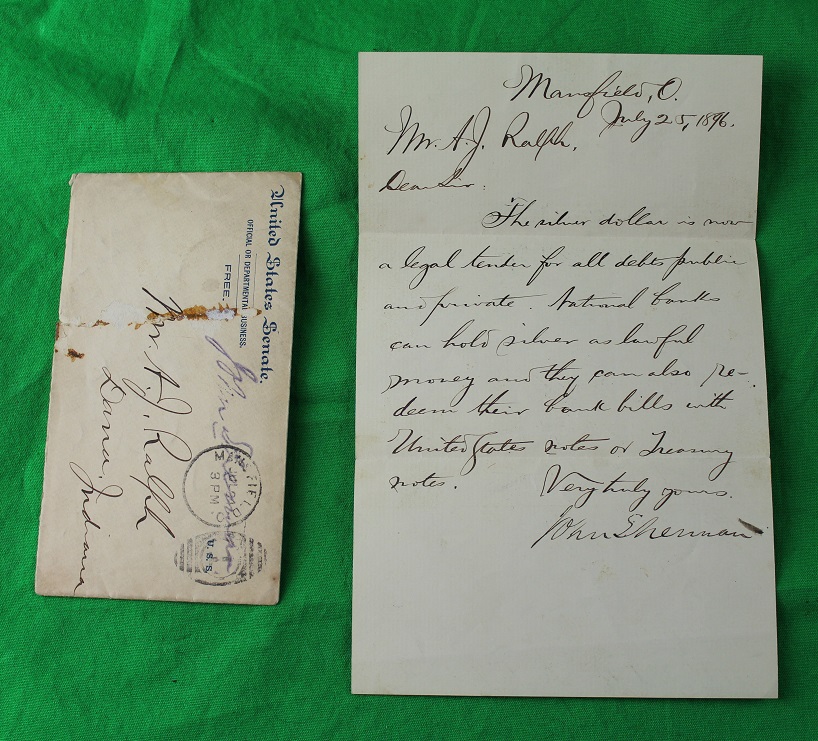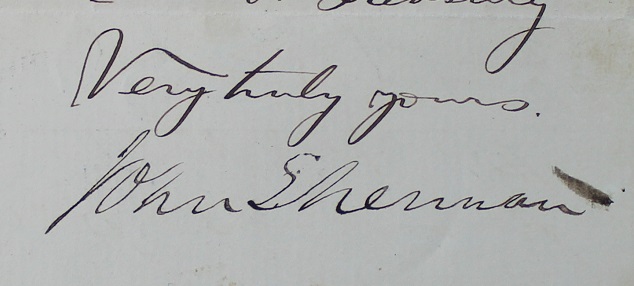 Item Cat 1-93
Here is a clip point bowie type side knife that was popular during the Civil War by soldiers and frontiersmen alike. This one is a later edition being after 1892 due to the county of origin being stamped on the blade. The stampings are CHALLENGE CUTLERY CO. SHEFFIELD, ENGLAND. The stamping is a little worn in the beginning but easily read. There was a Challenge Cutlery Co. from Bridgeport, Conn. Until the 1920's but this is the earlier version of that companies product that was being made in England I've been told. This is a nice used knife with stag 3-pin grips and silver crossguard. The entire piece is 10 inches long with a 6 inch blade. There is old minor pitting to the blade and evidence that it was cleaned at some point in it's history. The edges is sharp with indications of past sharpenings but not too bad. Still a great looking old vintage, antique knife that did it's job and held up to time. For this piece of history $175.00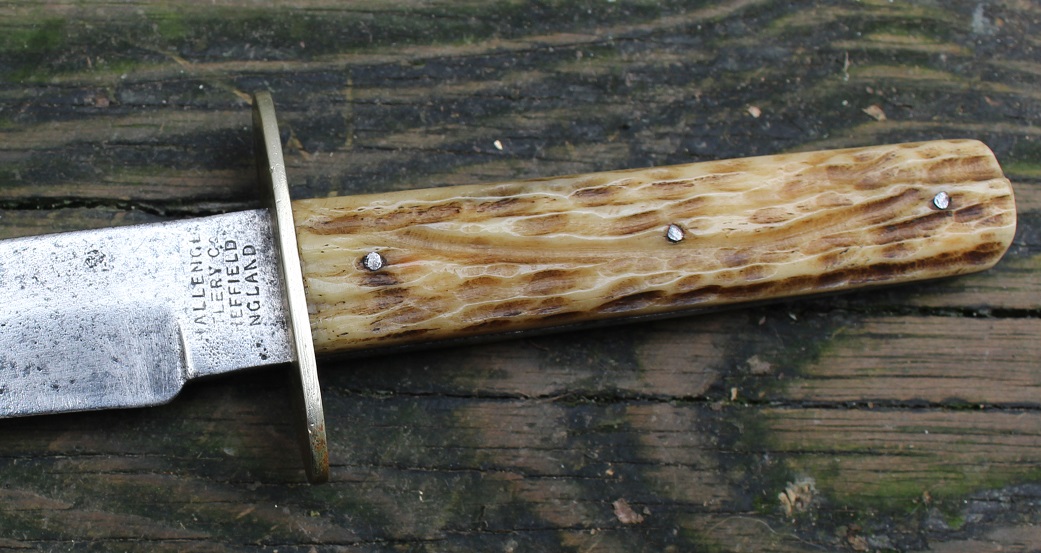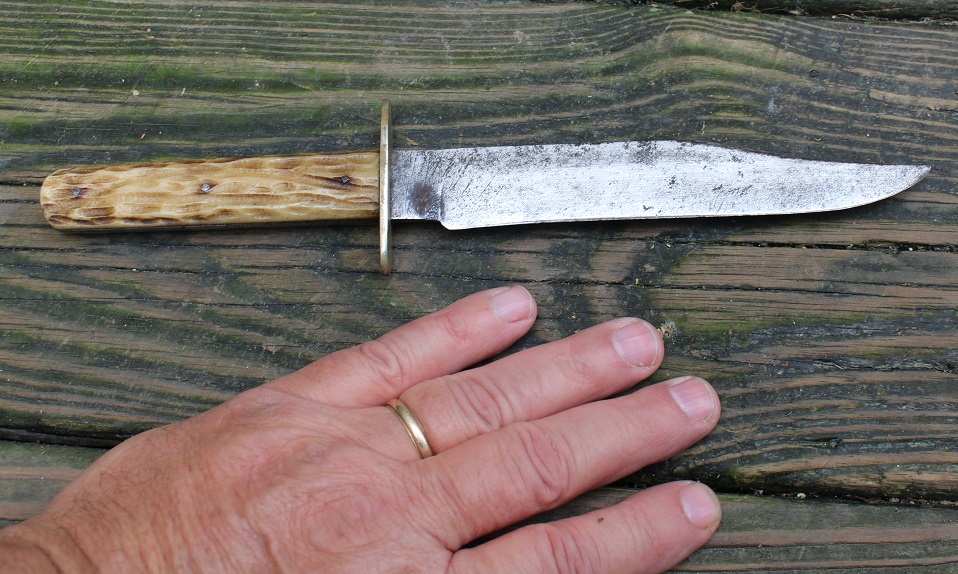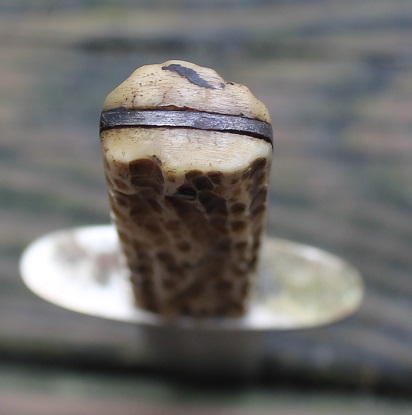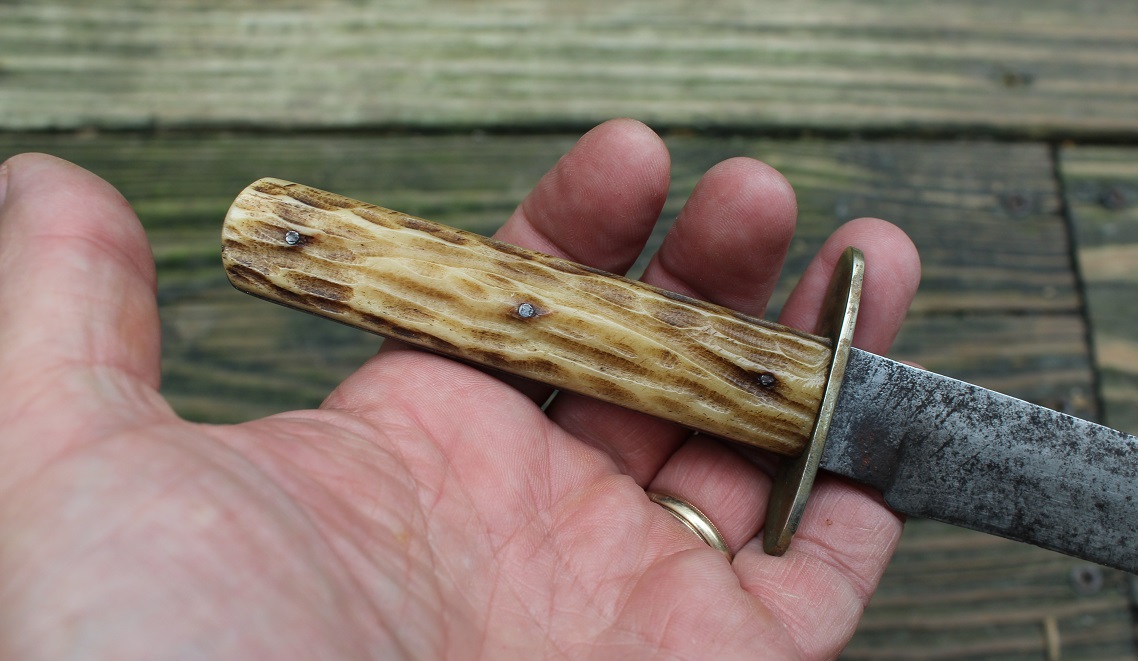 Item Cat 1-92
Here we have a dug 12# Spherical shell with a Bormann time fuze still in it. Unfortunately I do not know where it was dug. It has been drilled and the powder tested which found it to be non-viable and not able to ignite, probably due to the fact that this Civil War Cannonball has been in water or wet ground. The shell has not been altered, with the exception of the drilling, and has not been cleaned. It has a diameter of 4.52 inches and weighs 11 pounds 1 ounce so this one is probably a Confederate Spherical Cased Shell as that is what they weigh while the Federal Spherical shell weighs 9 pounds 4 ounces. The shell has some old rusting/surface flaking on it but the rusting is not active at this time. Due to the repeated poor performance of the Confederate copy of the Bormann time fuze, its manufacture was discontinued by 1863. The remaining Bormann time fuzed projectiles were drilled and reamed in the center of the fuze to accept a paper time fuze that was inserted in the newly created fuze well. This one is for local pick up. $295.00
Item Cat 1-91
Here we have an unused non dropped .56-56 Caliber Spencer Carbine round. This piece is just about mint with no dents or cracks. Measures 1 ½ inches long. If you need a good round to display with your carbine then this is for you! The headstamp is 'H' for Winchester Repeating Arms manufacture. For this fine condition Carbine cartridge $25.00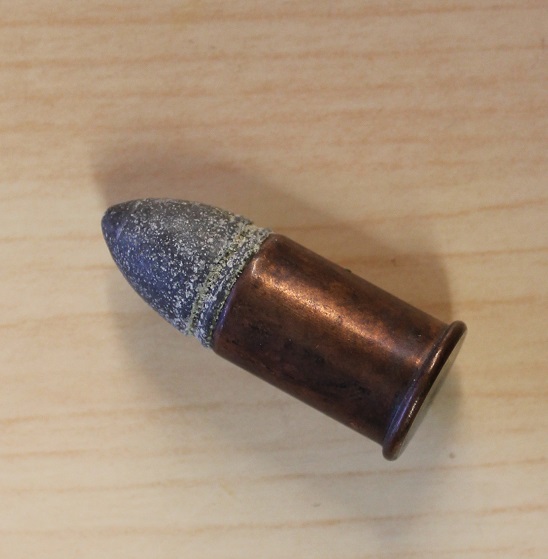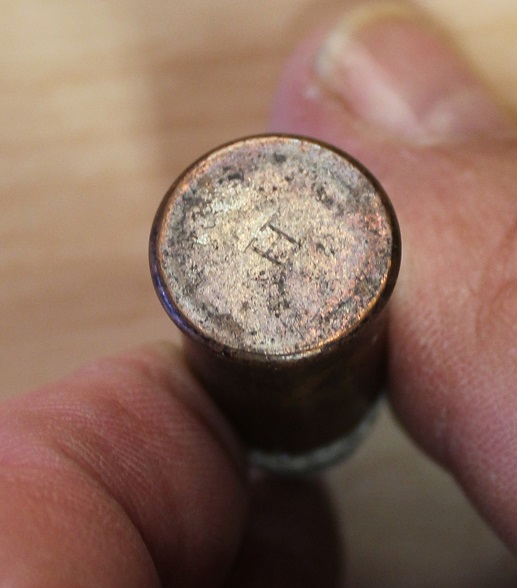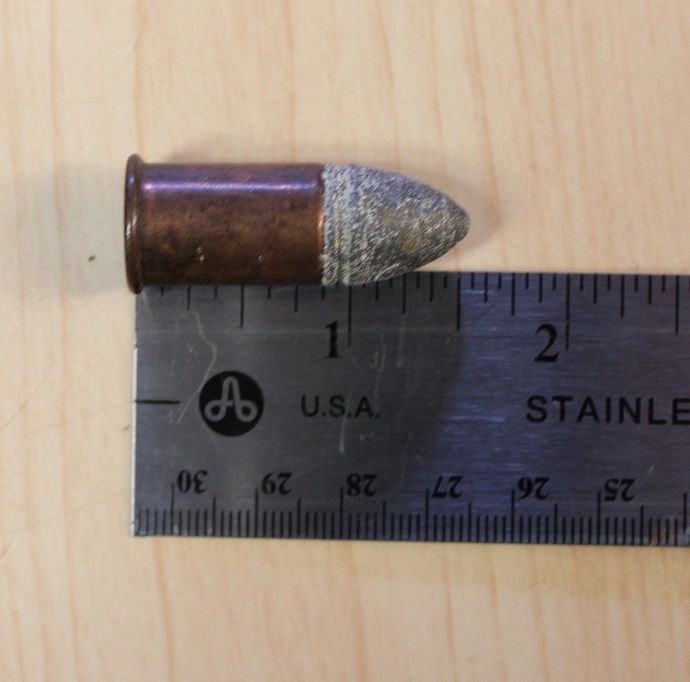 CONSIGNMENT
Item Cat 1-90
Here's a miniature Civil War Horse Bit!
SOLD
Catalog 1-88
Here's a Mexican/Spanish Ring bit with some silver inlay I believe.
Catalog 1-87
Here's 4 bits that we just picked up. I believe them to be 19th century or earlier!
Catalog 1-86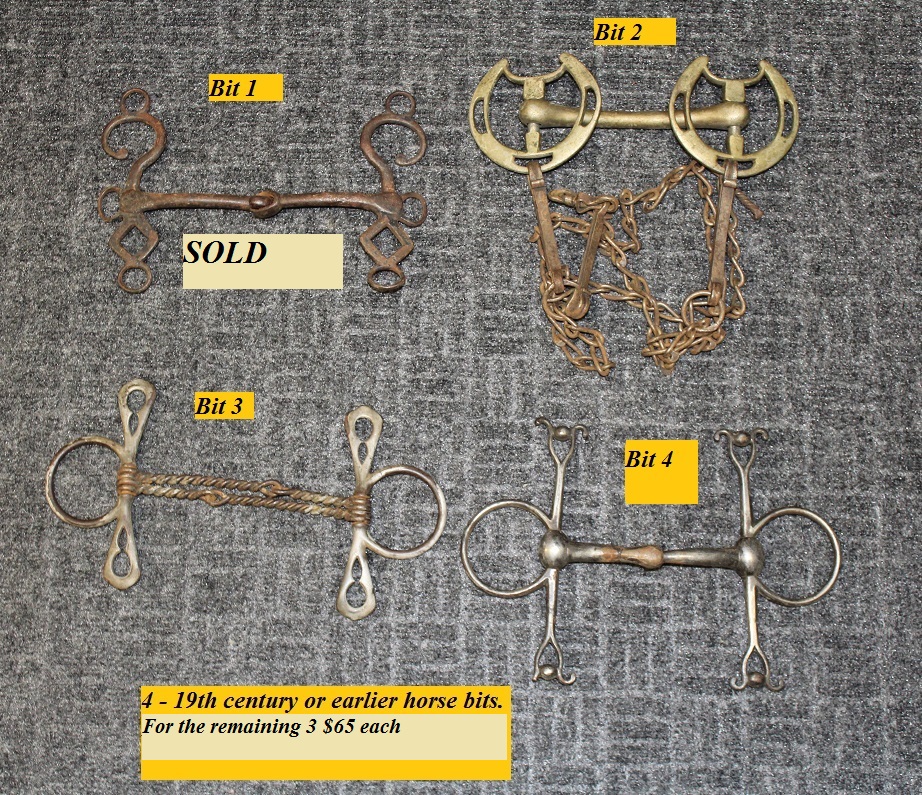 Here's 4 more bits that I picked up from the same estate.
Catalog 1-85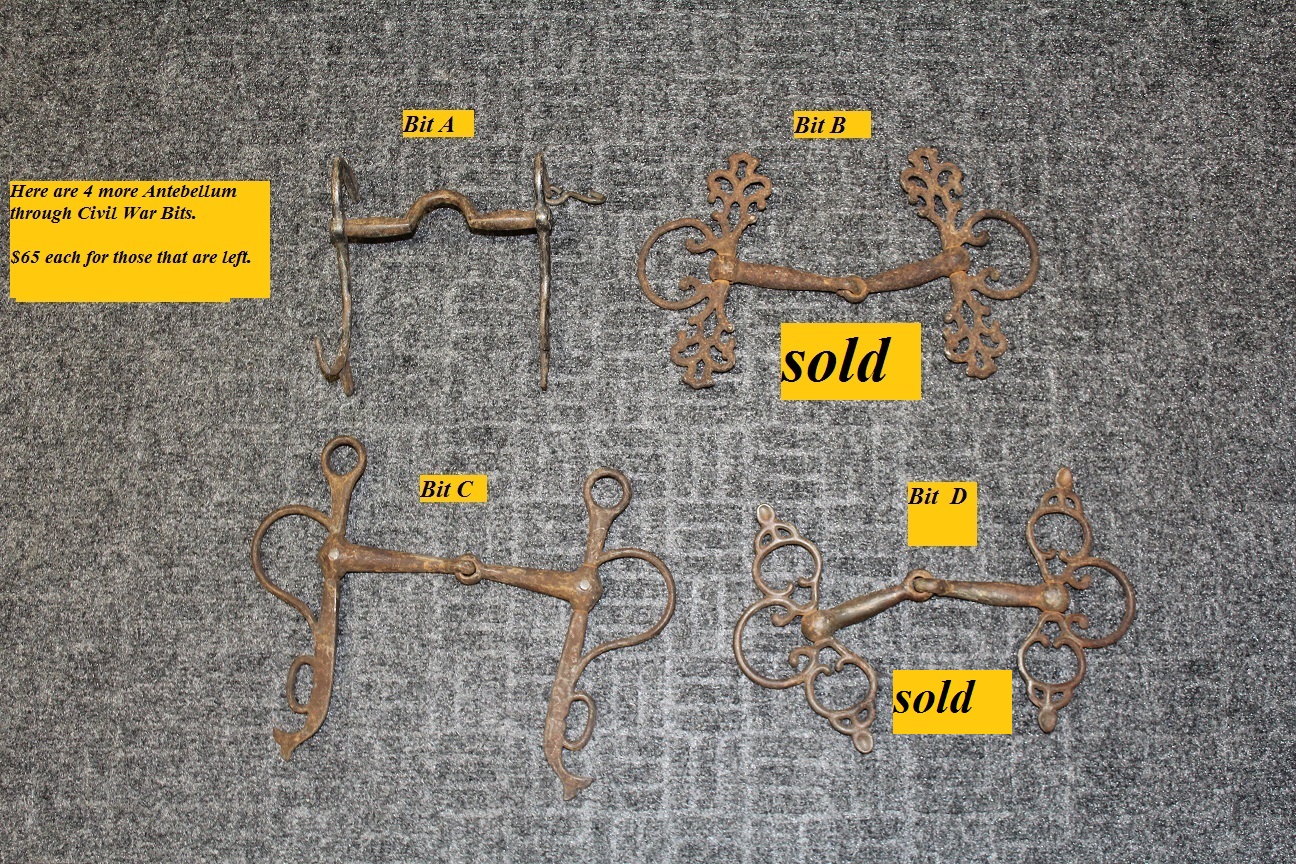 Here we have a small paper grouping of Patrick F. Burke. Patrick was quite a rascal. Check out his bio:
Patrick Burke Residence Ireland; a 22 year-old Peddler. Enlisted on 7/24/1863 as a Private. On 7/24/1863 he was drafted into "A" Co. MA 12th Infantry He deserted on 11/24/1863 at Rapidan Station, VA He then enlisted into the US Navy under an assumed name. Here is his bio for the other name which was Paul Bennett. I think he borrowed the name from another soldier who deserted from the 16th Massachuttes . Here is the bio for the other Paul Bennett who was probably a friend of Patrick's.
Paul Bennett Residence Boston MA; a 21 year-old Clerk. Enlisted on 8/18/1863 as a Private. On 8/18/1863 he was drafted into "H" Co. MA 16th Infantry He deserted on 10/8/1863 at Near Culpepper, VA Sources used by Historical Data Systems, Inc.: - Massachusetts Soldiers, Sailors and Marines in the Civil War (c) Historical Data Systems, Inc. @ www.civilwardata.com
Now here is the bio for Patrick Burke under the name of Paul Bennett.
Paul Bennett Residence was not listed; Enlisted on 11/21/1860 at Boston, MA as a Landsman. On 11/21/1860 he mustered into US Navy He was discharged on 12/24/1863 Ships served on in Navy: * USS OHIO * USS MACEDONIAN * USS KATAHDIN (discharged from ship) (True name: Patrick F. Burke.) Sources used by Historical Data Systems, Inc.: - Massachusetts Soldiers, Sailors and Marines in the Civil War (c) Historical Data Systems, Inc. @ www.civilwardata.com
It's strange but his CERTIFICATE OF DISCHARGE given to him in 1891 so he could get a pension shows that he was Patrick F. Burke but served under the name of Paul Bennett. You wouldn't think that the government would give a deserter a pension but he did serve well with the U.S. Navy!
This is an interesting grouping. Check out the pics and information listed on them. For this grouping $165.00
Catalog 1-84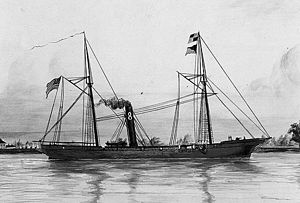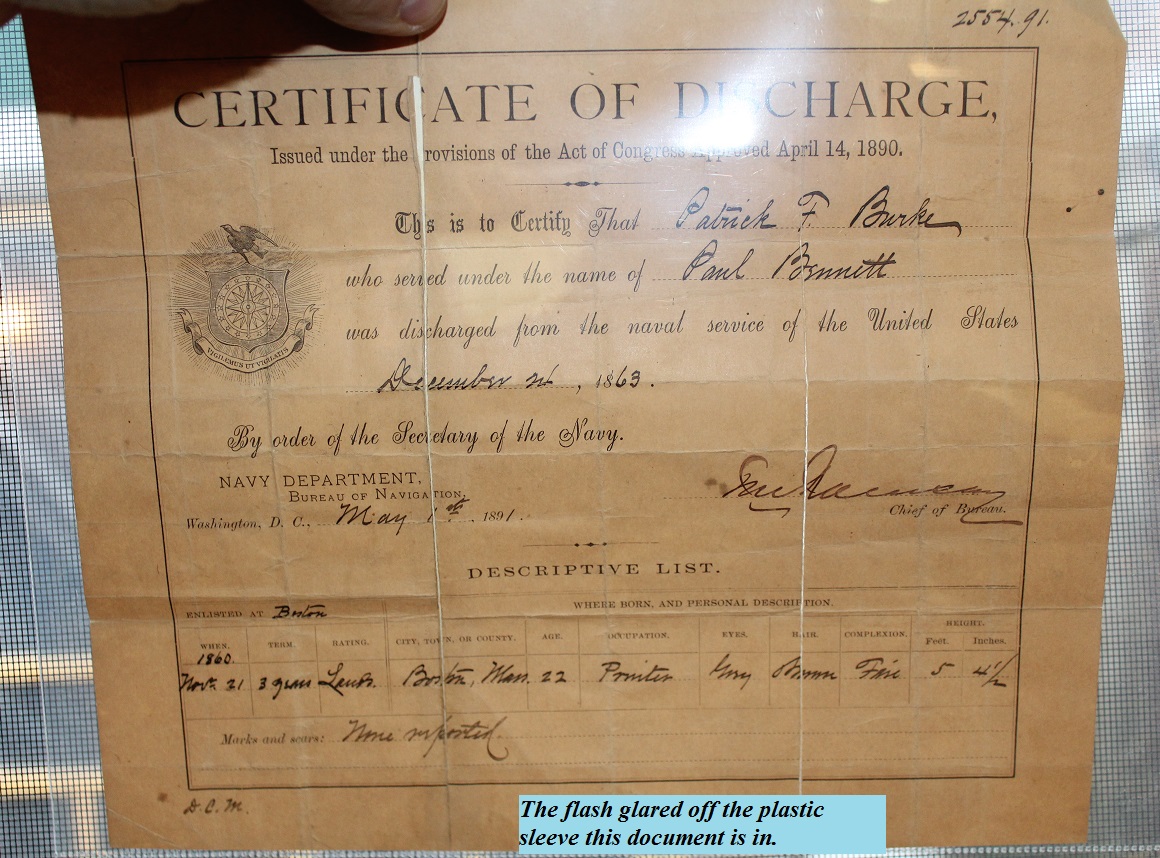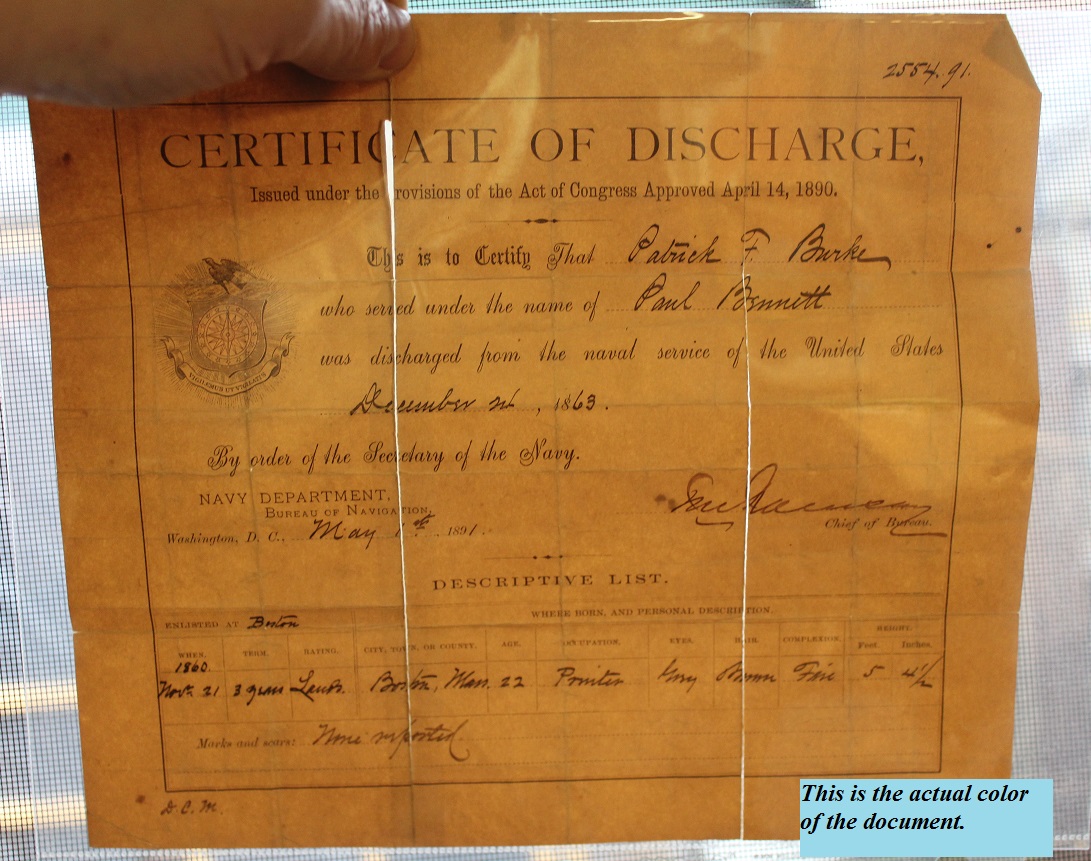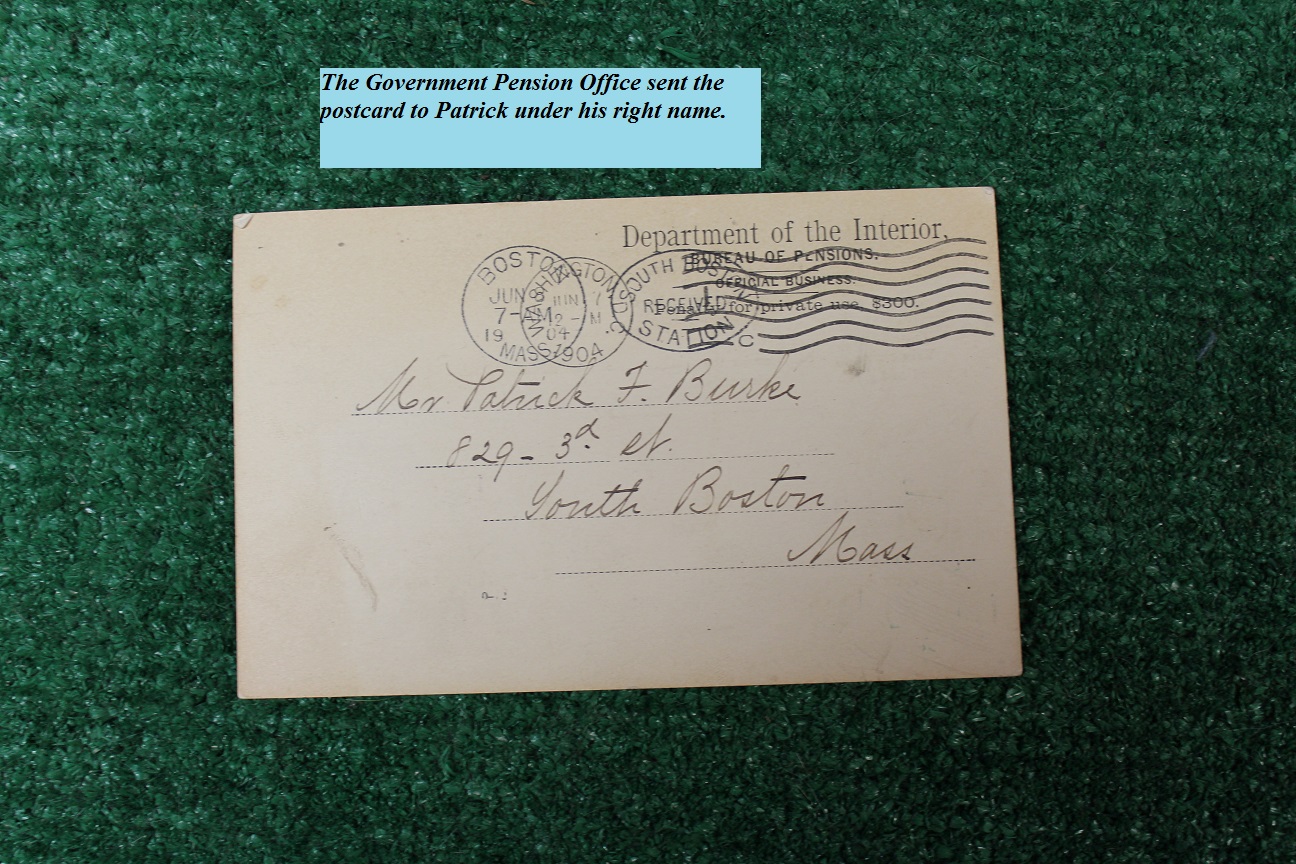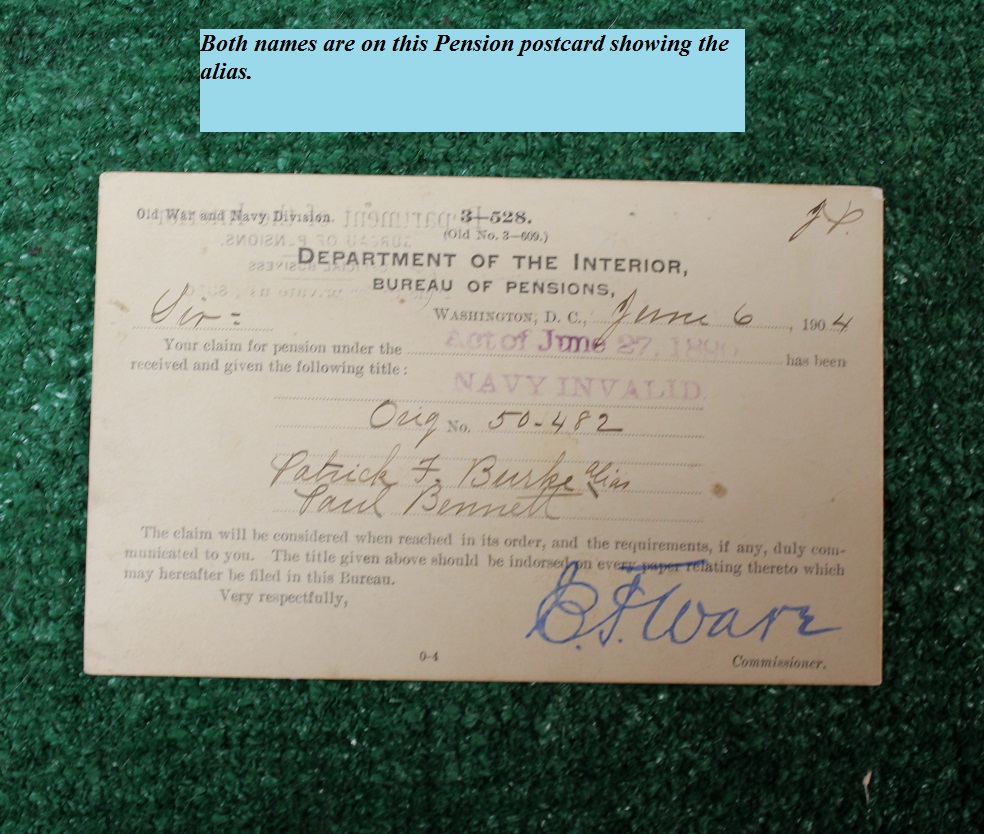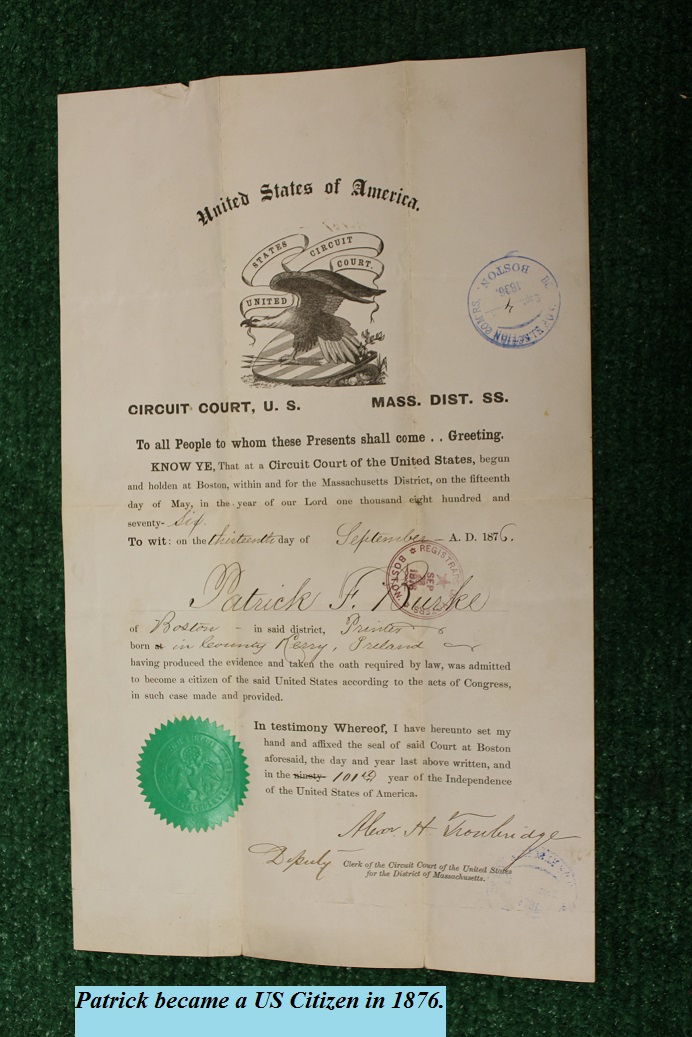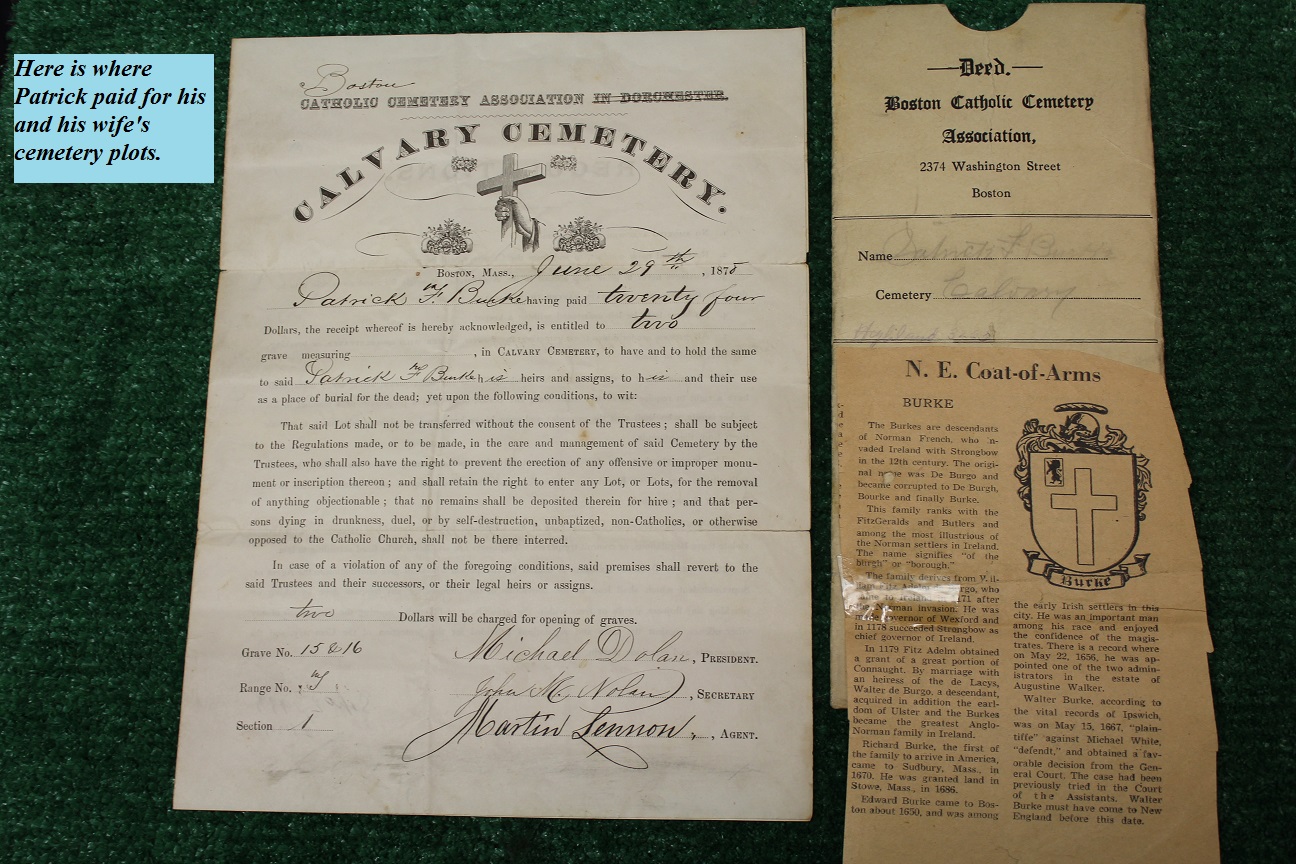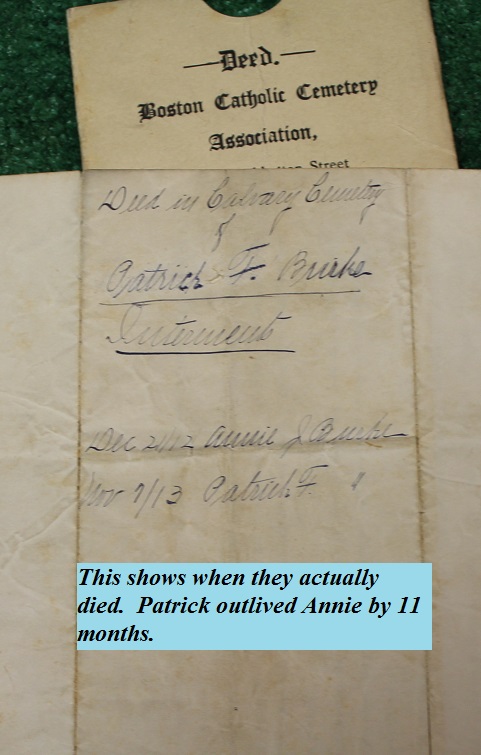 Catalog 1-82
CONSIGNMENT
Here we have an early American Rundlet! This is what they carried their whiskey in. The original owner liked this one as he carved on it a bit. He also carved in the date 1801 on each side. This is an oval rundlet being the barrel stave type with oak slats and iron rings. Three of the rings are missing but the rings that are present are the ones that need replaced so you could use them for patterns for replacements if you so desire. This piece measures 9 inches long by 3 ½ inches wide at the ends and about 6 ¼ inches tall. There is a hole on the top and a hole on one end. Both ends have the same carving done on them. This old piece was found in Central Indiana. The Territory of Indiana was an organized incorporated territory of the United States that existed from July 4, 1800, until November 7, 1816, when the remaining southern portion of the territory was admitted to the Union as the state of Indiana. The Indiana Territory was created by an Act of Congress and signed into law by President John Adams on May 7, 1800, effective on July 4. It was the first new territory created from lands of the Northwest Territory, which had been organized in 1787 by the Northwest Ordinance. The territory originally contained approximately 259,824 square miles (672,940 km2) of land, but twice decreased in size as it was further subdivided into new territories (Michigan Territory and Illinois Territory). The territory was first governed by William Henry Harrison who oversaw the negotiation with the native inhabitants to open large parts of the territory to settlement. In 1810 a popularly elected government was established as the territory continued to grow in population and develop a very basic road network, government, and education system. At the outbreak of Tecumseh's War, the territory was on the front line of battle and Harrison led a military force in the opening hostilities at the Battle of Tippecanoe, and then in the subsequent invasion of Canada during the War of 1812. Thomas Posey was appointed to the vacant governorship, but the opposition party, led by Congressman Jonathan Jennings, had dominance in the territorial affairs for its remaining years and began pressing for statehood. In June 1816, a constitutional convention was held and a state government was formed. The territory was dissolved on November 7, 1816, by an act of Congress granting statehood to Indiana. The battle of Tippecanoe took place in Tippecanoe County. This piece was found in Clinton County which is one of the counties which touch Tippecanoe County. Nice old dated piece! $375.00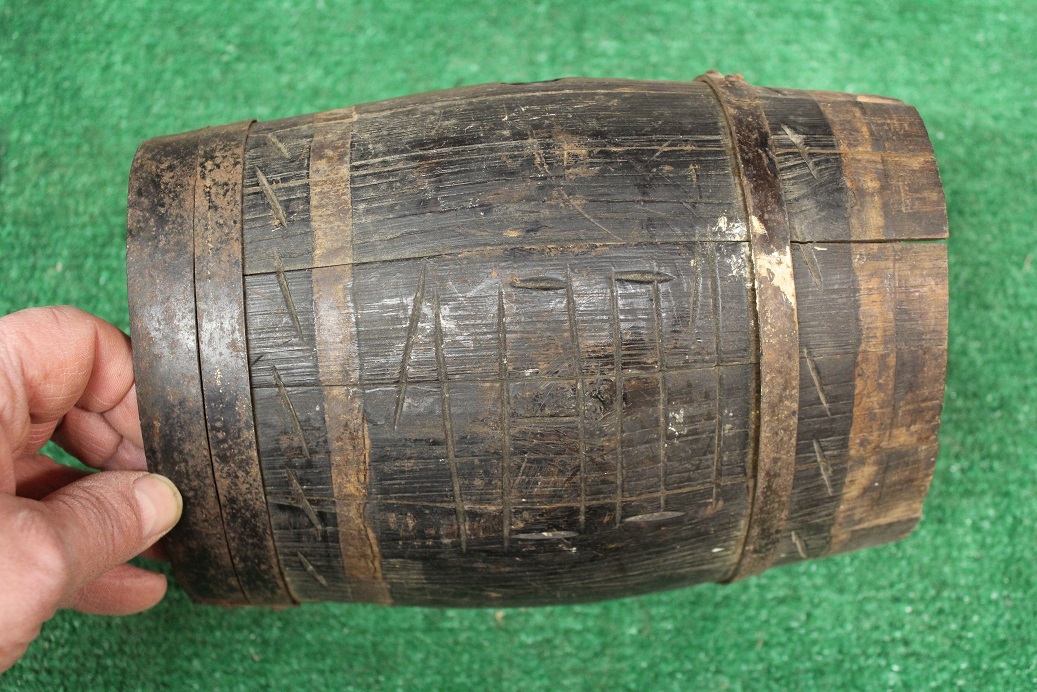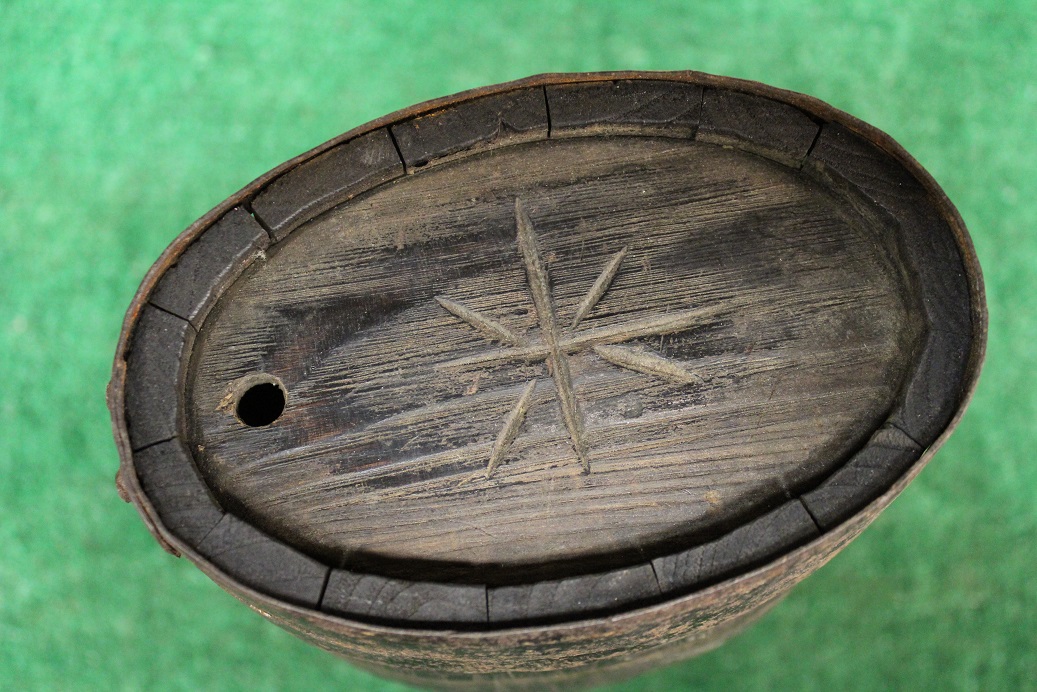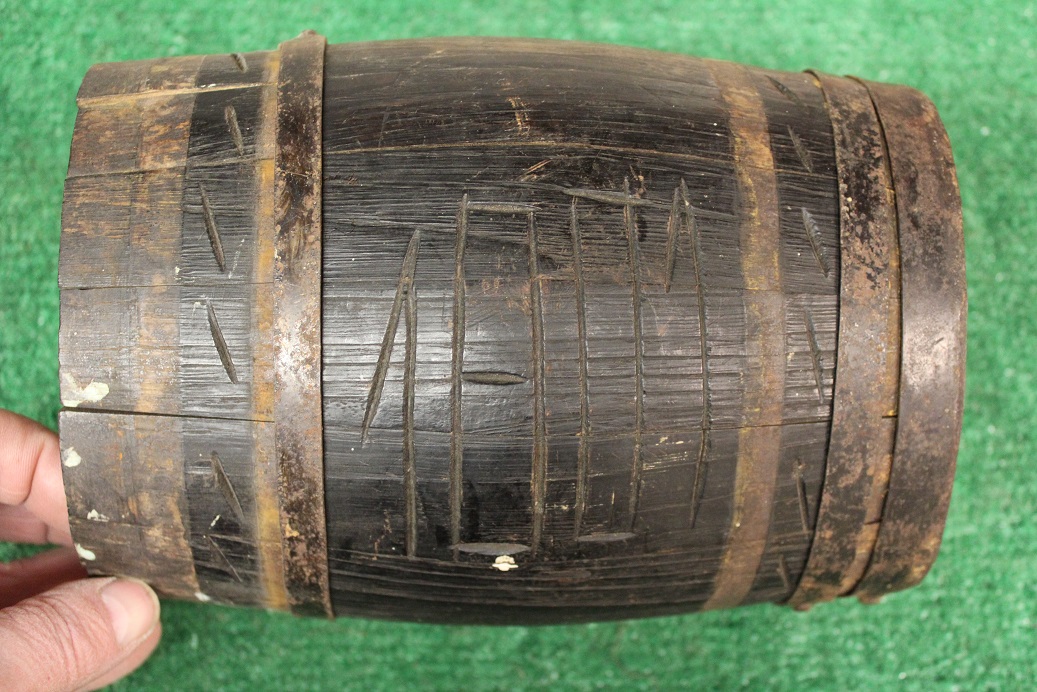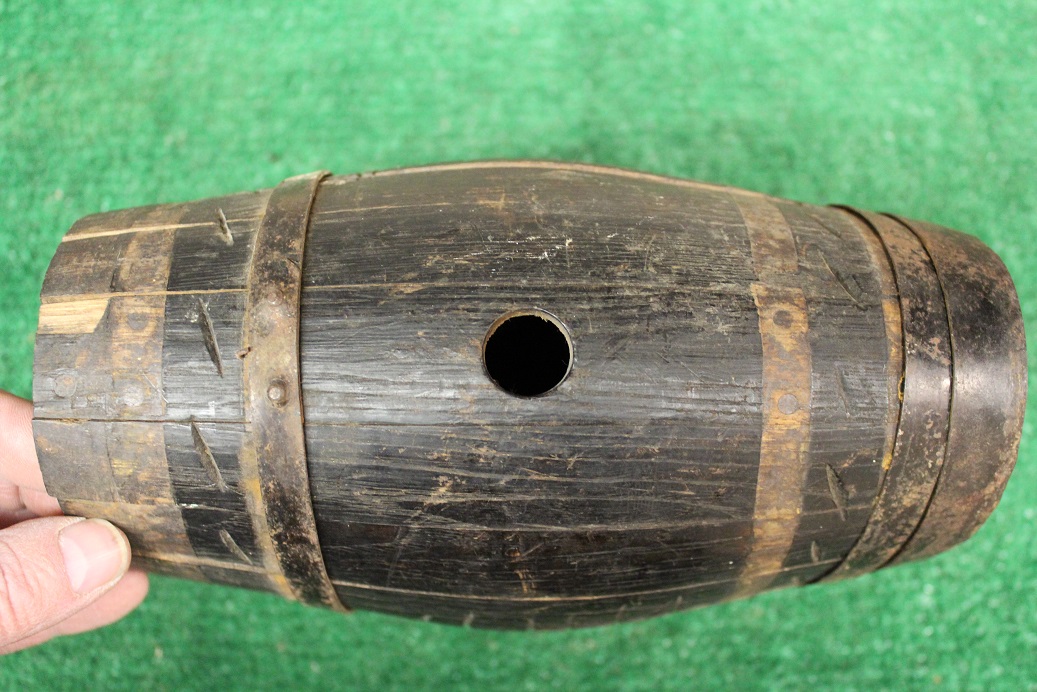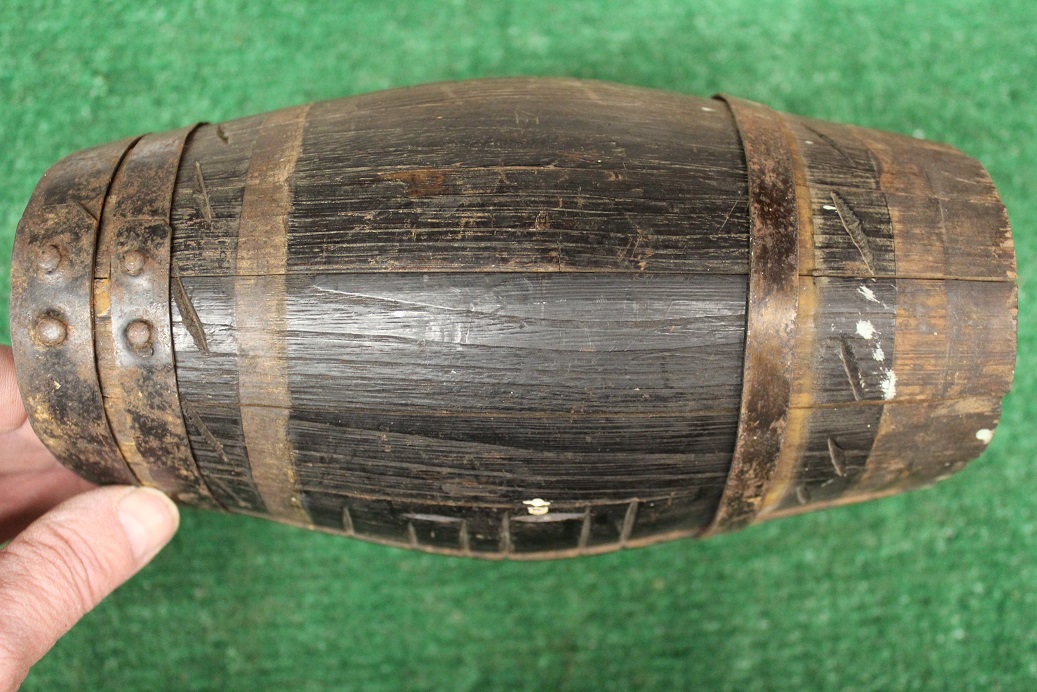 Catalog 1-81
Here we have two different unused Civil War Patriotic Covers (envelopes). The top one is the typical 5 ½ inches X 3 inches and shows two hands shaking over The Constitution. There is a firecracker and stars and stripes behind. The colors are blue and red. Has an imprint on the back from the maker. For this one $7.50
This second one is just in black but it's subject is Slavery.
This 2nd one is SOLD!!! It says THE "PECULIAR INSTITUTION" and shows two black feet and then SECESSION'S MOVING FOUNDATION. TENDENCY DUE NORTH—VIA "MONROE." And is printed by Harpel, 3d & Vine Sts, Cincinnati. For this one $12.50
Catalog 1-80
Here we have a copy of CAROLINA SOUTHERN CROSS magazine july 1914 by the United Daughters of the Confederacy. An internet search only found 1 other copy of this magazine. This one is in excellent condition. On the cover is a photo of the Flag of the 55th N. C. and inside is an excellent story about the Southern View of the Battle of Gettysburg. 20 pages plus covers. For this copy $25.00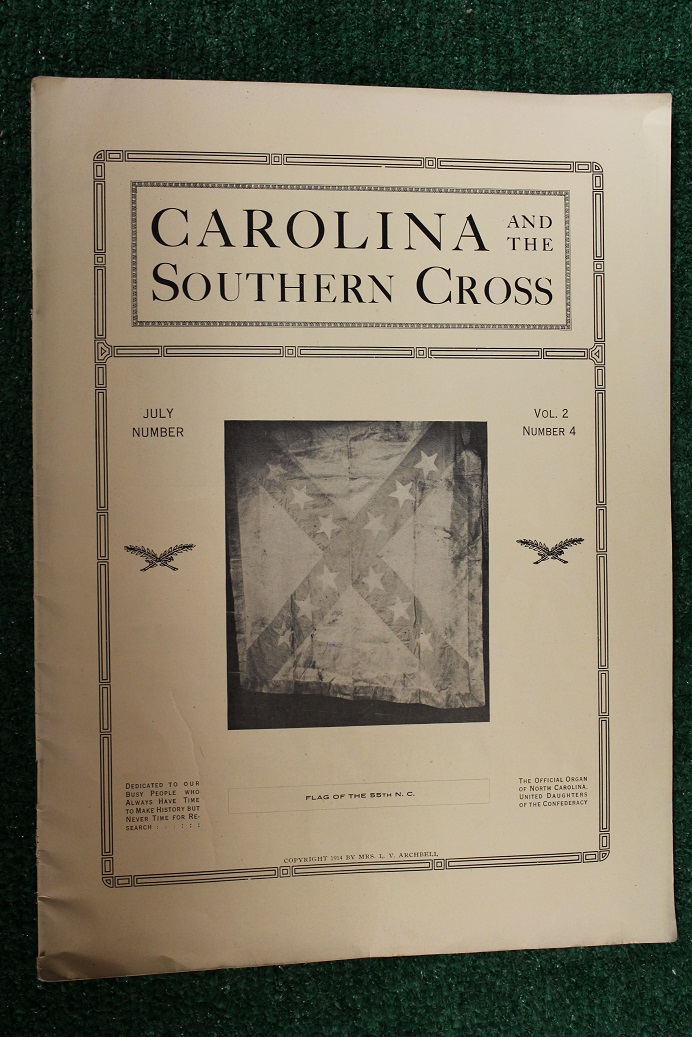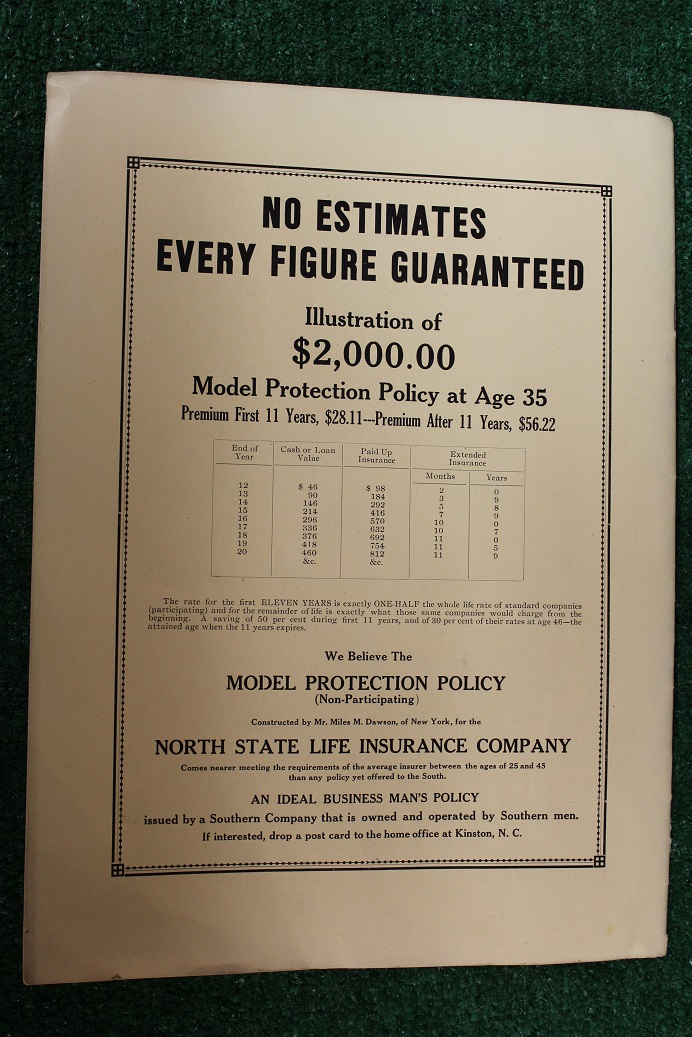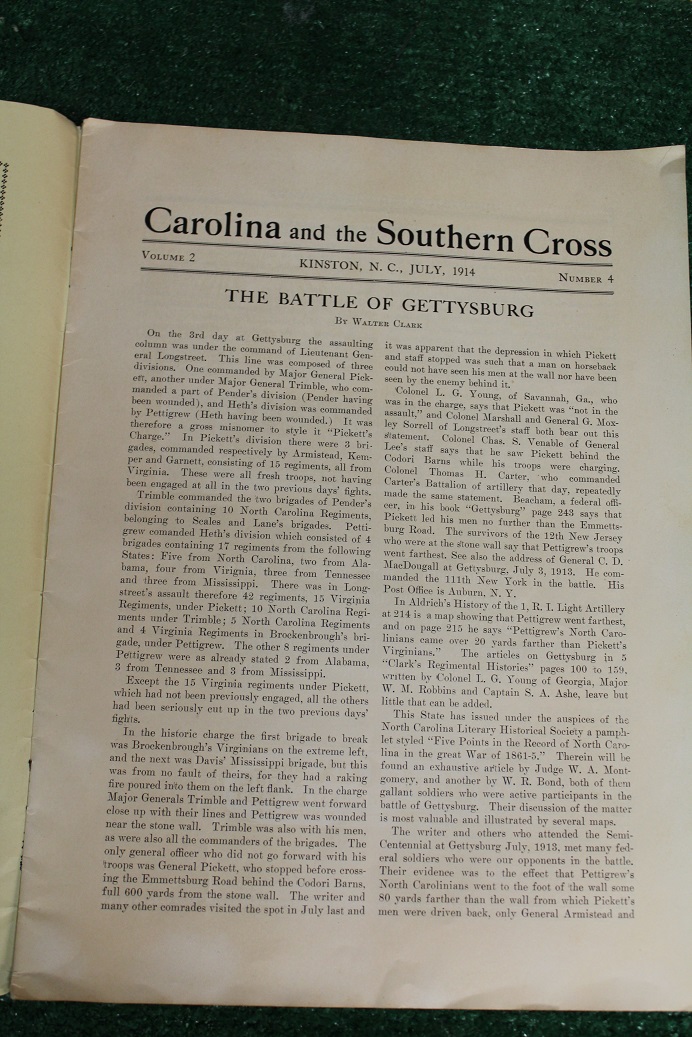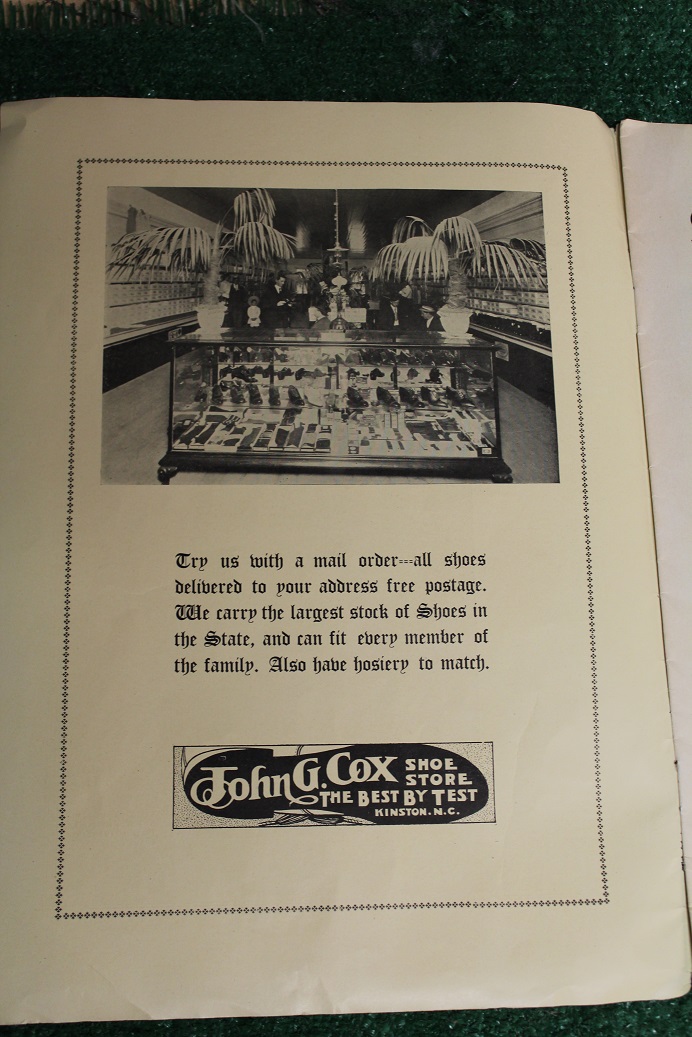 Catalog 1-79
Here we have a small collection of veterans items. In this riker case we have a Patriotic toy whistle made from tin, a flag collar button, A shield with stars and stripes collar button, an American flag lapel pin with staff eagle button attachment, a mourning ribbon and medal (these were also used by Masons as well as the GAR), a Woman's Relief Corps Badge (auxillary to the GAR), a 3rd Annual Reunion ribbon for the Kalamazoo Co. Battalion out of Kalamazoo, MI and Sheet music for 1880 entitled GOD SAVE OUR UNION. The large ribbon with MILITARY ORDER U.S. LOYAL LEGION is acutally a long ribbon type banner with that info printed in two places. The Loyal Legion was like the GAR except it was for Officers only. For the entire collection $175.00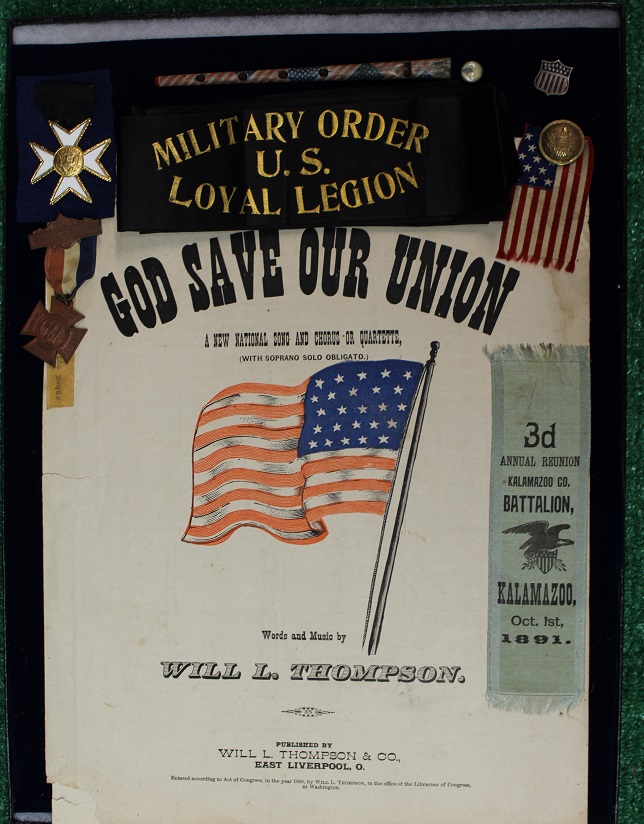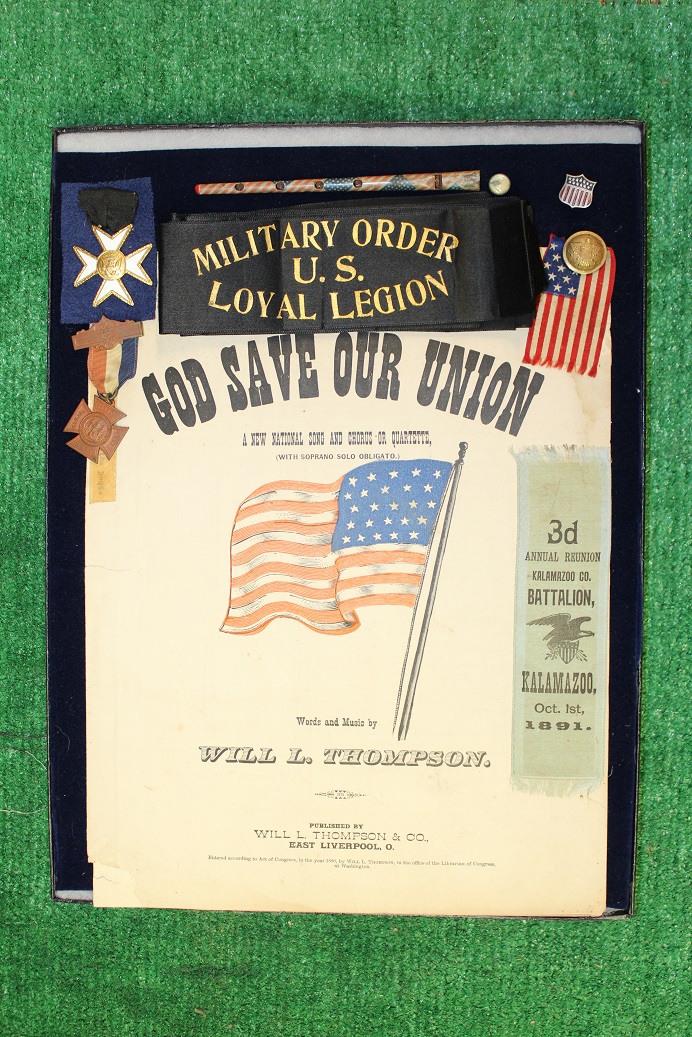 Catalog 1-78
CONSIGNMENT
Here we have 4 different US Model 1839 belt plates and I will describe them starting at the top one and going down.
Catalog 1-19
1.
This one SOLD!!! Oval US belt plate with some light discoloration to face and some light dings. Back has 100% lead fill and both arrow hooks and tongue. It's dirty but very nice and definitely used! $225.00
Catalog 1-77
2. This second Oval US belt plate is in good condition with an excellent dark patina. There is one ding to the face by the lower U. Excellent low lead fill on the back like we like 'em and all three hooks are present. $225.00
New Arrivals 271
Catalog 1-17
3. This oval US belt plate is a dug plate and unfortunately I do not know where it was dug. It's been in the ground for quite a while but still has a great deal of the original lead present and it's a puppy paw buckle which makes it all the better. $150.00
Catalog 1-76
4. This last plate is a real winner! This oval US belt plate is in very nice condition with a very nice chocolate patina to it. The rear has full lead and great puppy paw attachments. This one is marked W.H.SMITH BROOKLYN. This piece has one ding to the edge but not too bad. Great color and no flaking! $375.00
Take a look at the pics!!!
Catalog 1-75
CONSIGNMENT
Here is an Indian Wars era sword belt with Eagle plate. This belt was made in the late 1800's by M.C.LILLEY & CO. of Columbus, Ohio and so marked. The leather is the patent leather type that was folded and sewn in the center. The belt is in ok condition but the straps are fractured. The forward strap is completely severed while the rear one has a couple of tears in it but not completely through. All the snaps, hooks and brass clip pieces are present. The plate is a very nice plate and has an extremely dark patina that looks great! For this piece $225.00 >p>
Catalog 1-74
CONSIGNMENT
Here we have a very unusual configuration! This is a partial small width (1 1/4 inches) black leather belt with 2 brass D rings and a sword hook. The unusal thing is the M 1839 US belt plate that has been altered to be a Sword Belt plate. This took some work to accomplish! It looks like part of a two piece plate was used to lead in on the M 1839 plate to give it the standing loop to run the belt through. The leather belt has the small close space machine stitching that is normal on these type pieces. Definitely old and this is a very unusal way to do this! It's likely that I will never find a comparable to this piece so I'll price it accordingly at $450.00
Catalog 1-73
CONSIGNMENT
Here we have a model 1851 NCO belt plate with spread winged Eagle and 3 piece applied wreath and to top it off it comes on a buff leather belt! The plate and keeper do not have matching numbers but they have obviously been together forever and they fit together perfectly. The brass plate has a nice patina. The buff leather belt is in very nice condition being just a little stiff. There has been no preservative applied on this belt. Nice outfit! $695.00
CONSIGNMENT
Here's a most unusual item and frankly I found nothing to compare it to. This is a large 6'6" by 6'6" handmade Grand Army of the Republic Quilt. This piece is very heavy and is made from a white cotton material which has turned a shade of light tan. This material is made up of several panels sewn together to make the 6'6" measurements. Then the Civil War Corps badges made out of a red wool material were chain stitched to the quilt as well as Stars, Anchors and the piping around the entire quilt. I believe everything that appears green in the pictures were actually blue in the beginning and have faded to green. The corps badges are still a nice rich red color. There is some minor moth damage to the corps badges but not too bad at all. Showing what size is the 6 pointed star is 6 inches across. There have been a couple of minor repairs to the piece and at least one corps badge needs one side sewn back down. The center of the pice has the GAR Membership Medal image sewn there but it has faded considerably. This is the 2nd Model membership badge as evidenced by the straight out wings so that helps date this piece perhaps. The membership medal is covered by a mesh type material to help protect it but it's still faded. The piece does have waterstains on it but I don't believe that's too unusual for this age of piece. RARE! Unusual!!! $1950.00 Catalog 1-70
CONSIGNMENT
Here we have a button display that would be great for a beginning collection! This set is in a large riker case which is included with the buttons. The buttons include 1 early Police cuff button, I Eagle staff cuff button that has been made into a collar button, 1 Mass. Cuff button, 3 large Georgia coat buttons, 2 smaller Georgia cuff buttons, 1 Indiana Cuff button, 1 IW eagle cuff button, 1 large Louisiana Coat Button, 2 large Mississippi Coat buttons, what I believe to be two large Maryland Coat buttons, a cuff sized Eagle staff button with bent shank and a small cuff button that displays a flag with the word GRACE on it. Don't know what that last button is for. At any rate a very nice display! Some buttons are Civil War but I think all of the state seal buttons are Post Civil War. For the display $185.00 Catalog 1-69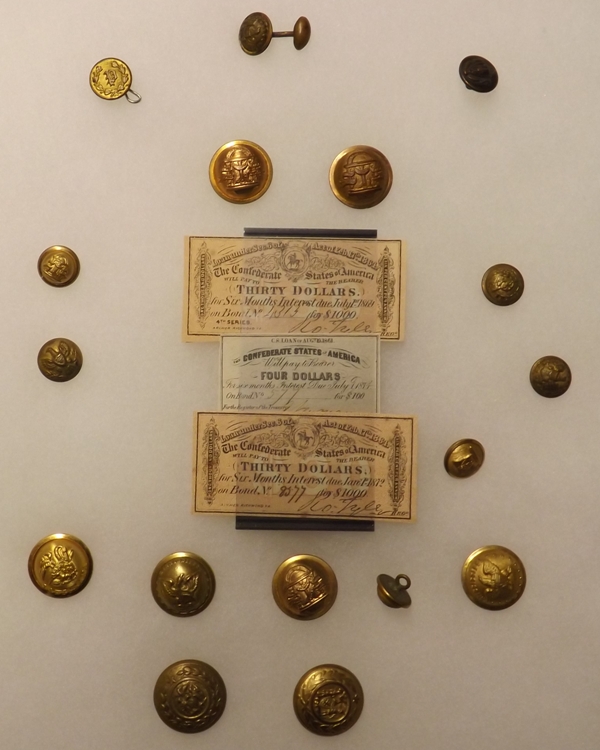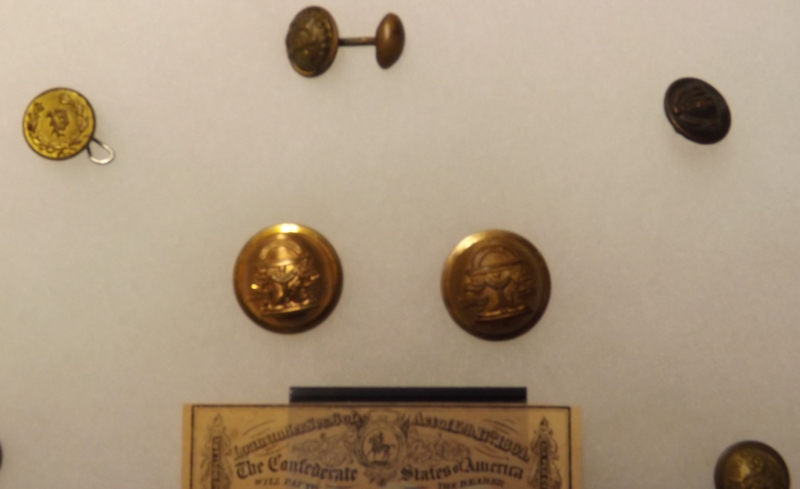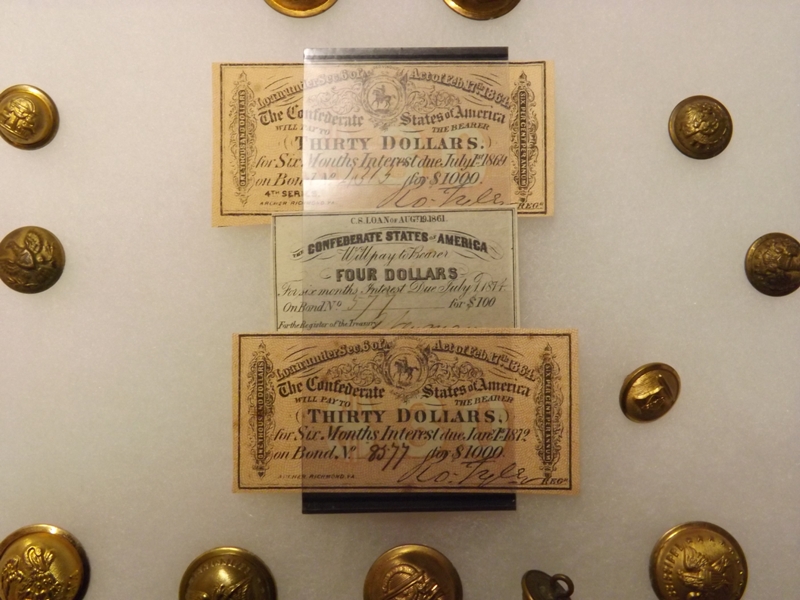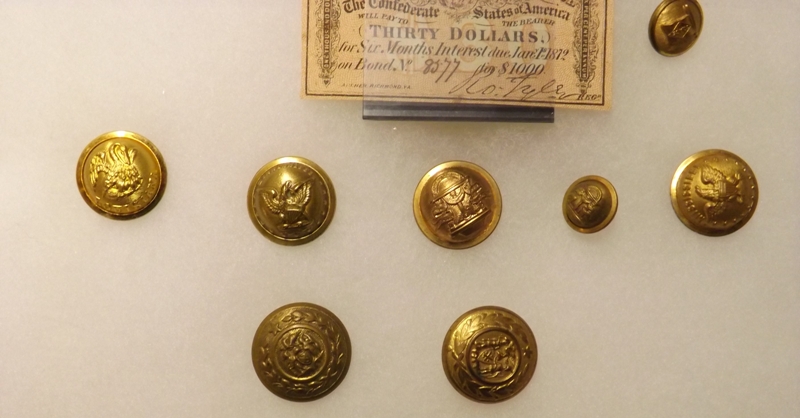 CONSIGNMENT
Here's a great 4 diary grouping of William F.William F. Leech Here is William's bio:
William F. Leech Residence was not listed; Enlisted on 11/23/1862 as a Private. On 11/23/1862 he mustered into "F" Co. PA 14th Cavalry He was discharged on 5/30/1865 Sources used by Historical Data Systems, Inc.: - History of Pennsylvania Volunteers, 1861-1865 (c) Historical Data Systems, Inc. @ www.civilwardata.com
Here's the regimental History of the 14th PA Cavalry:
PENNSYLVANIA ONE HUNDRED and FIFTY-NINTH INFANTRY (FOURTEENTH CAVALRY) (Three Years) Fourteenth Cavalry. - Col., James N. Schoonmaker , Lieut.- Cols., William Blakeley, John M. Daily; Majs., Thomas Gibson, Shadrack Foley, John M. Daily, William W. Miles, John Bird. In Aug., 1862, James N. Schoonmaker, a citizen of Pittsburg, and a lieutenant in the 1st Md. cavalry, was authorized by Sec. Stan- ton to recruit a battalion of five companies of cavalry. Re- cruits were rapidly obtained and authority was given to recruit a full regiment. The men were principally from the counties of Allegheny, Fayette, Armstrong, Washington, Lawrence, Erie and Warren, and the city of Philadelphia. They rendezvoused at Camp Howe, afterwards at Camp Montgomery, near Pittsburg and were mustered into the U. S. service from Aug. 21 to Nov. 4, 1862, for three years. On the latter date it moved to Hager- stown, Md., where it received horses, arms and equipment and was drilled in the various cavalry evolutions. On Dec. 28, it proceeded to Harper's Ferry and was engaged for several months in picket and scouting duty. A detachment of unmounted men un- der Maj. Foley was left at Harper's Ferry and the remainder of the command joined Gen. Averell's forces at Grafton. It skir- mished at Beverly and Huttonville early in July, a few days later rejoined Gen. Kelley's forces at Cumberland, and pro- ceeded thence to Williamsport, where it joined the army of the Potomac, being engaged with the enemy's cavalry near Martins- burg on the 15th. Shortly after it was joined by Maj. Foley's detachment. On Aug. 4 it moved with Gen. Averell on the Rocky gap raid in West Virginia and was hotly engaged at White Sul- phur springs losing 80 men, killed, wounded and missing. On this raid it marched over 600 miles in 27 days. being fre- quently engaged. On Nov. 1, it moved with Gen. Averell on the Droop mountain raid and was engaged at Mill Point, and Droop mountain. Returning to New creek by easy marches, it shared in Averell's second raid into southwestern Virginia in December, when an immense amount of stores and merchandise, many miles of railroad track, and numerous bridges were destroyed. Its loss during the raid was about 50 and the command marched over 345 miles under very trying conditions. It went into winter quar- ters at Martinsburg and was almost constantly engaged in pic- ket, guard and scout duty until the opening of the spring cam- paign. As a part of the 1st brigade, (Col. Schoonmaker) of Averell's division, it broke winter quarters on April 12, 1864, and moved to Parkersburg, whence it proceeded south to the Vir- ginia & Tennessee railroad, aiming to destroy the salt works at Saltville. The regiment was heavily engaged at Cove mountain in May, losing 12 killed and 37 wounded. At Union, Averell's forces effected a junction with Gen. Crook, advanced to Lewis- burg and then to Staunton, to join the forces of Gen. Hunter who was about to move on the Lynchburg campaign. A detachment of the regiment, which had been left behind at Martinsburg under Capt. Duncan, was meanwhile hotly engaged at New Market and Piedmont, carrying an earthwork, capturing a number of prisoners and winning praise for its gallantry in the latter action. At Staunton the detachment rejoined the regiment and started on the Lynchburg campaign. The Union cavalry drove Im- boden at Lexington, destroyed the Virginia military institute, skirmished at Buchanan, and June 17-18 fought the battle of Lynchburg, but was forced to retire. During the retreat, the 14th, as part of Hunter's rearguard, was warmly engaged at Lib- erty on the 19th, holding the enemy in check for several hours and losing 6 killed and 18 wounded. It was active at Salem on the 21st and finally reached Parkersburg, after a march which entailed great hardship and suffering from hunger and fatigue. From Parkersburg it moved by rail to Martinsburg. In July it was twice engaged with Early's forces at Winchester, being forced to fall back to the Potomac with the rest of Averell's command. After the burning of Chambersburg, Pa., it followed in pursuit of McCausland, overtook him at Moorefield, Va., where severe punishment was administered to the forces of McCausland, Johnson, Gillmore, and McNeill, the 14th losing here 10 killed and 25 wounded. It now returned to Martinsburg and later participated under Sheridan in the brilliant campaign in the Shenandoah Valley, losing heavily at the Opequan and be- ing active at Fisher's hill. For gallantry displayed in the action at Weyer's cave, against the forces of Fitzhugh Lee, the name was inscribed upon its battle flag by general order. A detachment under Capts. Miles and Duff was engaged at Cedar creek, on Oct. 19. The regiment soon after made a reconnais- sance in the Luray valley and was hotly engaged with McCausland at Front Royal, losing 15 killed and wounded. During the win- ter of 1864-65, it suffered severely in expeditions to Millwood and Ashby's gap. After Lee's surrender it was stationed for two months near Washington and the latter part of June moved to Fort Leavenworth Kan., where it was consolidated into a battal- ion of six companies on July 17, 1865. The field and staff and Cos. B, C, D, E and F were mustered out here, on Aug. 24, and Co. A on Nov. 2 1865, the last named having been detailed as an escort to Gen. Dodge, commanding the department, on a tour of inspection. Source: The Union Army, vol. 1 ***********************************************************************************
Now, on the diaries. These dairies start in Sept. 18, 1862 and go on through May 11th, 1865. There are a couple of small laspes but generally he wrote every day but stopped during the middle part of 1864 and picked up again in 1865. Most have to do with camp and daily activities. I believe he was transfered to the 14th's QM division as he talks much about forms and handing out rations. One of the diairies from 1864 is loose as the binding has deteriorited. The other diaries are in good shape and all are easy to read. It seems two diaries pretty much mimick the other but the larger of the two goes into more depth. The one from 1865 is an outstanding diary with much news. Including Sheridan taking prisoners, Lee surrending to Grant, President Lincoln and Secretary of State getting shot, President Lincoln dying next day and the assassin Wilkes Booth getting caught. The diary stops abruptly on May 11th. The diaries are written in ink and pencil. They are easy to read. I read them all! This is a rare first hand look into the war and it's consequences. I touched the very writting that was written the day the news reached William about President Lincoln getting shot at the 'theatre'. William talks about Confederate skirmishers killing Union Soldiers and shooting at them. He also talks about Confederate Prisoners and many other things. You'll like studying this 1st hand account. No battle content to speak of just the aftermath of what has happened. News sometimes traveled slow or not at all. William mentions the fall of Vicksburg, MS in July of 1863 but doesn't mention Gettysburg at all.
Other id one of his diaries is William F. Leech, Smithfield, Lafayette, Co. PA. There is another id in one of his books of M. Halsted, Cincinnatti, Ohio. I don't know who that is. There are other notations in the 1865 diary about business later on in the 1860's which have no reference to his Civil War duty. I even found a receipt to M Jesse Leech to Woodlawn Cemetery Association of Lima, Ohio for adding a foundation and mowing a cemetery lot in 1884. Perhaps this is where the old soldier was laid to rest. You'll find discovery here youself as well! For the lot $3,995.00 Catalog 1-65
Here are some 'display' grade banknotes from the USA with 4 of them being pre-civil war. I would grade them as 'display' as they are in generally poor condition only suitable for matting, framing and display. If you want old 'original' banknotes to display then these are for you as they will not cost you an arm and a leg.
The first note is a $10 note being from the TIPPECDANOE BANK of Logansport, Indiana and dated 1855. This piece has alot of wear and folds and is being backed by another piece of period paper to hold it all together. Looks like it has a small portrait of Zacary Taylor on the left hand side. It's being secured by pledge of public stocks. Will display OK. Blank reverse. $22.50 Catalog 1-64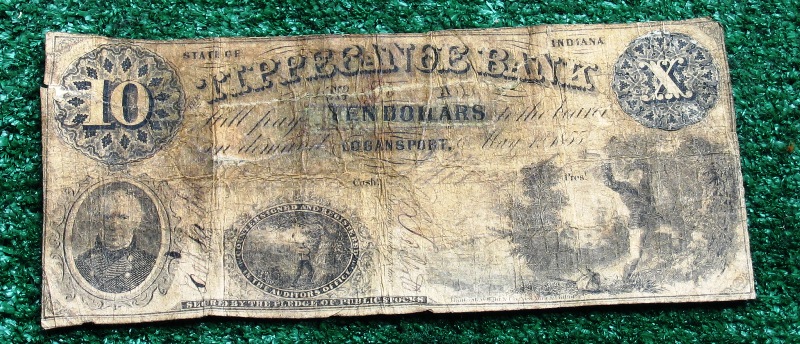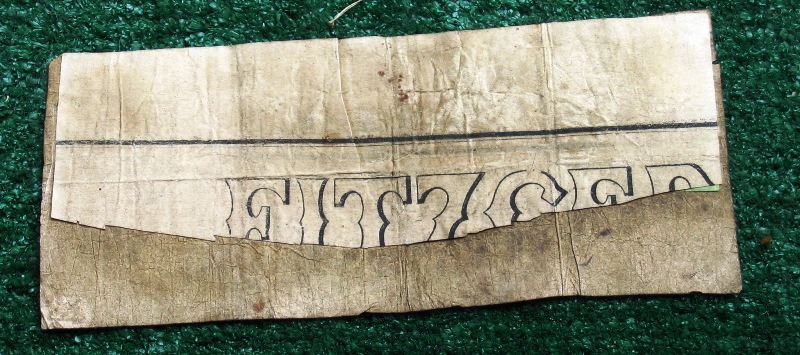 This note is well worn as well but is not backed up for strength. This is a $2 note from the BANK OF CIRCLEVILLE (OHIO) and dated May, 1, 1841. This one is in generally better condition than the note above. These notes are on very thin paper and it's a wonder that any of them survived! There is a tear to the right side of the note but it's still there. Take a look at the pic to see condition. It'll display ok. Blank reverse. $14.00 Catalog 1-63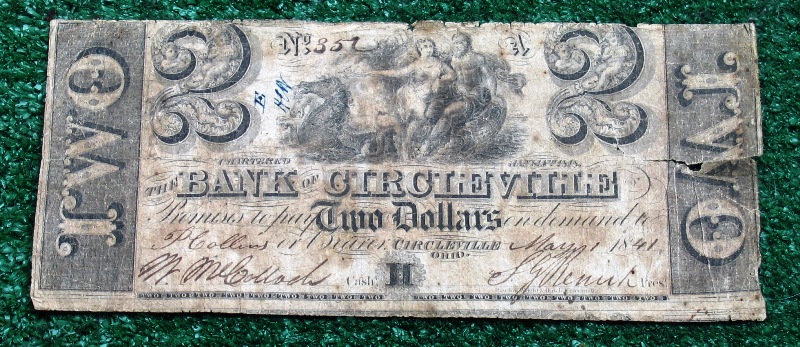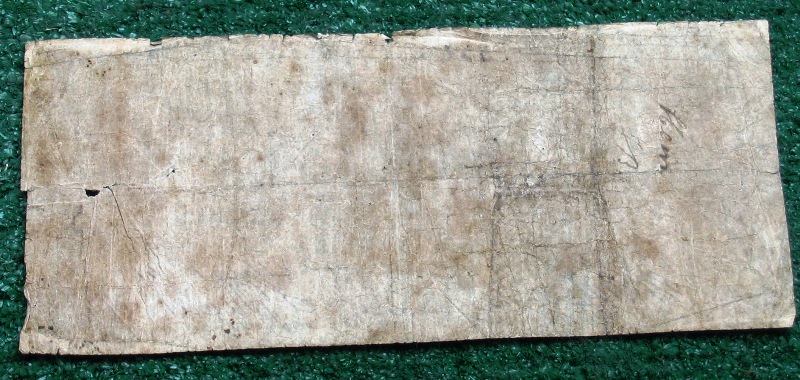 This last note is probably the best note. Bank of Virginia $5 issued at Richmond and payable at Norfolk Jan 11, 1857 nice appearing note with great vignettes and is complete minus just a little to the upper left hand corner. The reverse is blank on this one as well. This note is in vg condition except for the minor loss. $22.95 Catalog 1-62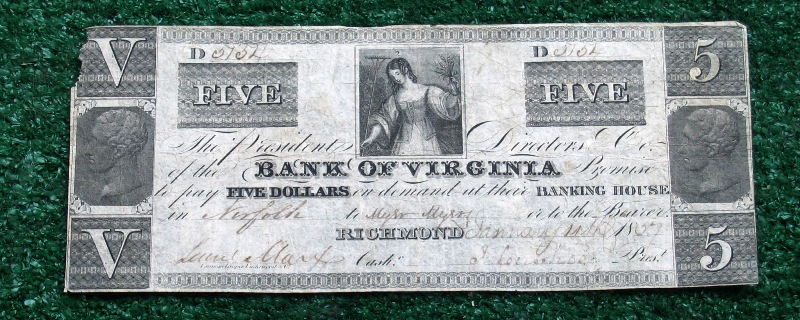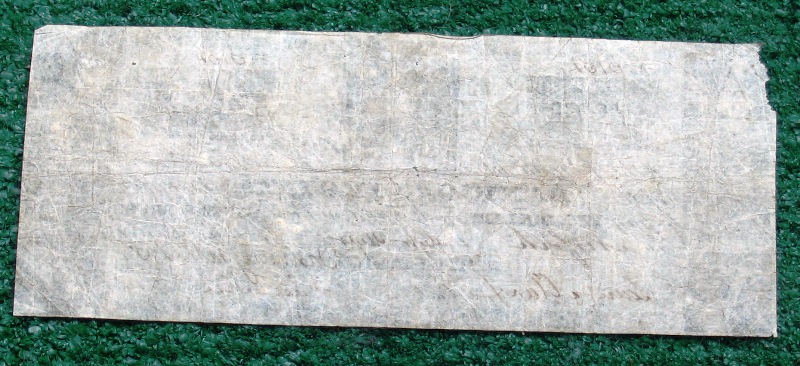 Here's a nice old folding camp chair that was seen so much around the old campfire in camp. This piece is in very nice original condition but I suspect that the carpet seat has been replaced. This chair has a red type mahogany finish on it. You could use it today! Everyone needs one of these for their camp impression! $145.00 I've also included a pic of a similiar chair that is on page 80 of "Civil War Equipment" Encyclopedia of Collectibles. The caption under the chair states 'This folding camp chair of handsome turned wood has a sling seat of carpeting. It was among the personal camp furniture of a lieutenant in the 113th Pennsylvania Infantry. Catalog 1-61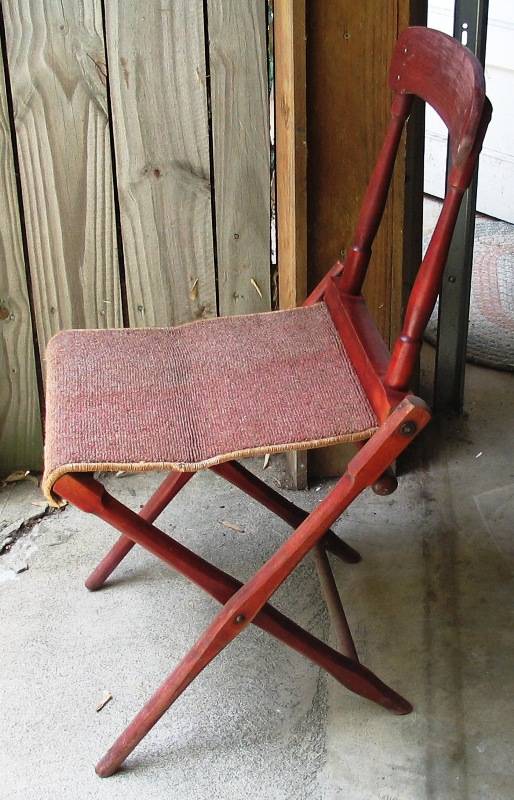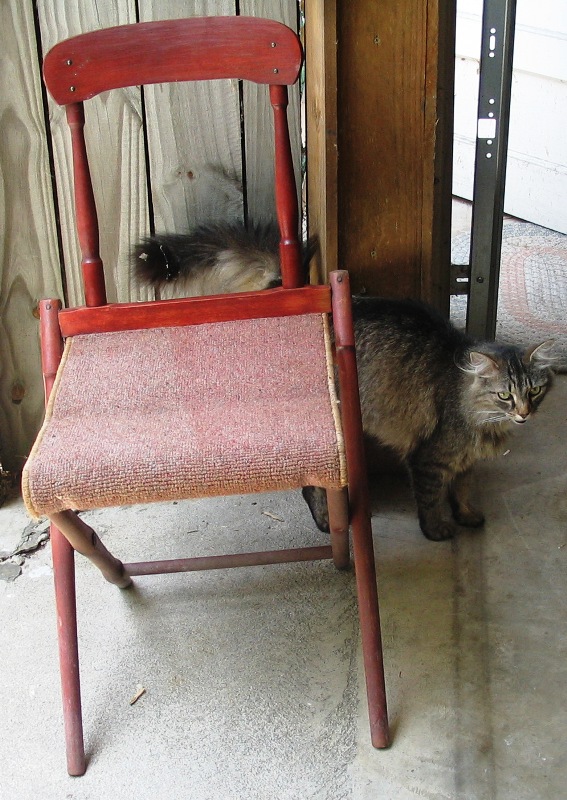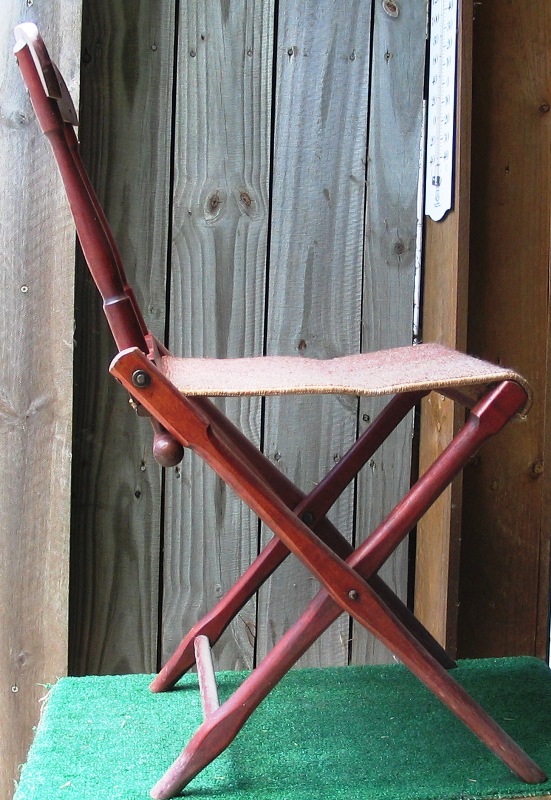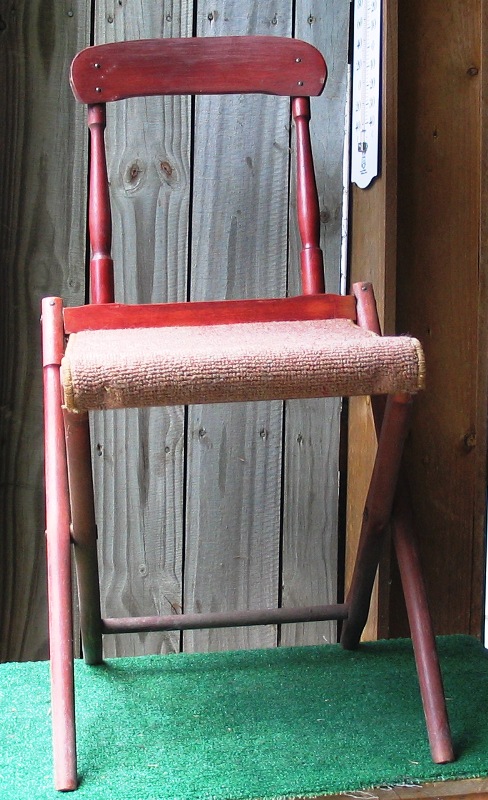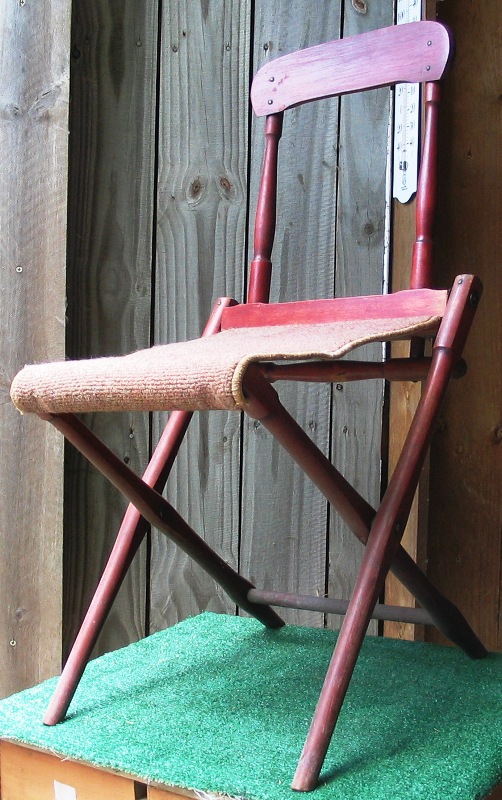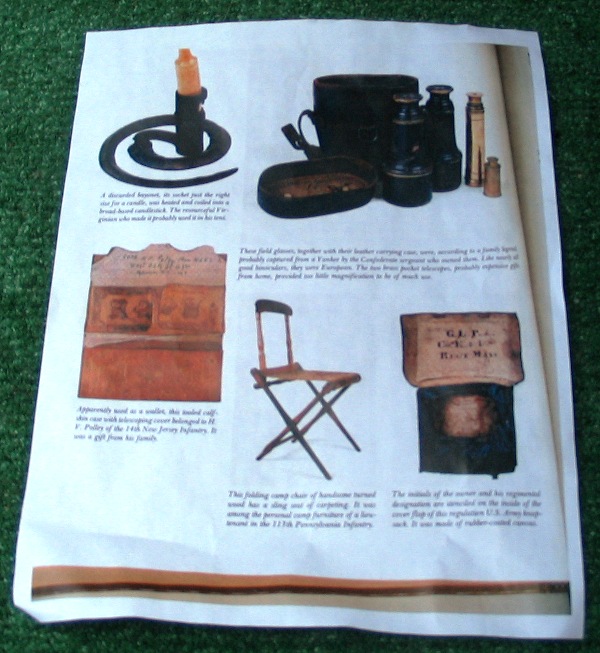 aa CONSIGNMENT:
Here's a Spanish American War wool uniform tunic from 1900. This one was made by McLilley of Columbus, Ohio. Part of the tag is worn away but I know by the tag that I've seen before that this is McLilley & Co. uniform. This is the type of tunic with the gold braid and hidden buttons. Two of the buttons down the front have been replaced but they are also period buttons. The lining is intact and in good shape. The sleeve linings are coming loose from the sleeves but still in place. There is but a few very minor moth nips to this one. I can see evidence of epaulets but they are now lacking as futher evidenced by the repairs to both shoulders. Smaller size as normal. Still nice and displayable! $145.00 Catalog 1-59
CONSIGNMENT:
Here we have a nice early circa 1899 Gunners Artillery wool Uniform set that consists of the blouse or sack coat, cape and trousers. The first class gunner insignia under the Sgt. stripes is red just like the stipes. There was only one gunners insignia on tis piece which is on the left shoulder which is correct for this time period. The sack coat is in generally good condition with a few moth holes here and there but noting too severe. There is no active mothing at this time and the coat does not smell of moth balls nor does any of the other two pieces. The coat is small and I could find no depot markings in it. I do, however, fully guarantee the piece to be authentic. The 5 eagle coat buttons are the later Indian War type with the 'chicken neck' eagle and the short stubby wings. The same style buttons are on the cape. The cape is very nice, also with a few minor moth nips. The interior of the cape is a nice brilliant red color. This is very nice. The trousers appear to have never been hemmed and the back adjustment buckle has never had the cloth belt ran through it or attached to it. These pants have considerable more moth damage and I've tried to show the damage in the pics. All in all however this is a desirable grouping. I have no history on the piece but it surfaced in Central Indiana. The display stand is not included. For all three pieces $695.00 Look at the pics! Catalog 1-58
Here's an unusual item! We believe this to be a 19th Century Naval Needle case in the form of a Billy Club. The entire piece is over 8 1/2 inches long with the grip end pulling off to expose the inside needle case. This is a nice unusual piece! 1 inch diameter. No needles present. Be the only one to own one! $175.00 Catalog 1-55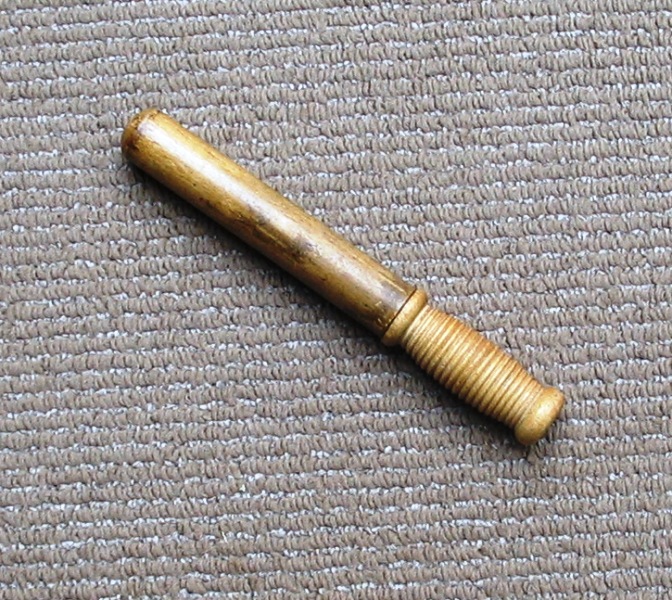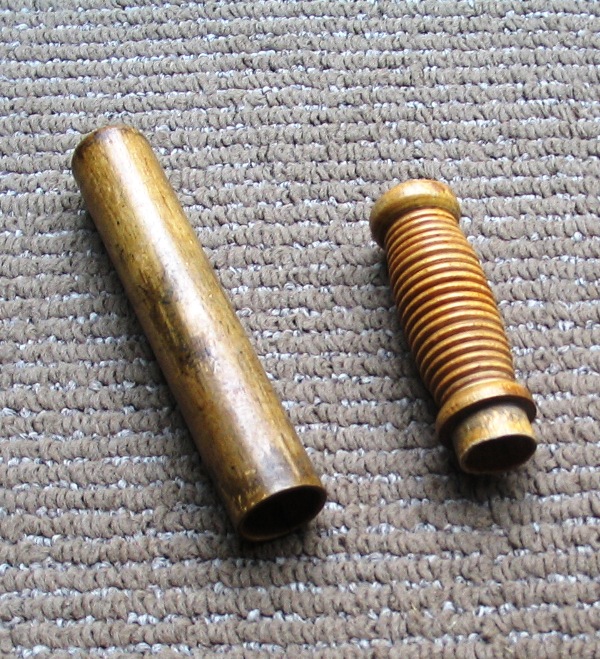 This first iron stirrup with figure '8' cutout is believed to be a side saddle stirrup and is from the Colonial Williamsburg Collection. Nice shape! $45.00
This second all iron stirrup is also from the Colonial Williamsburg Collection and has a 'Heart' cutout in the piece. This is a different type of side saddle stirrup. Nice shape and form!
THE HEART STIRRUP HAS BEEN SOLD! Catalog 1-54 $65.00 Look at the pics.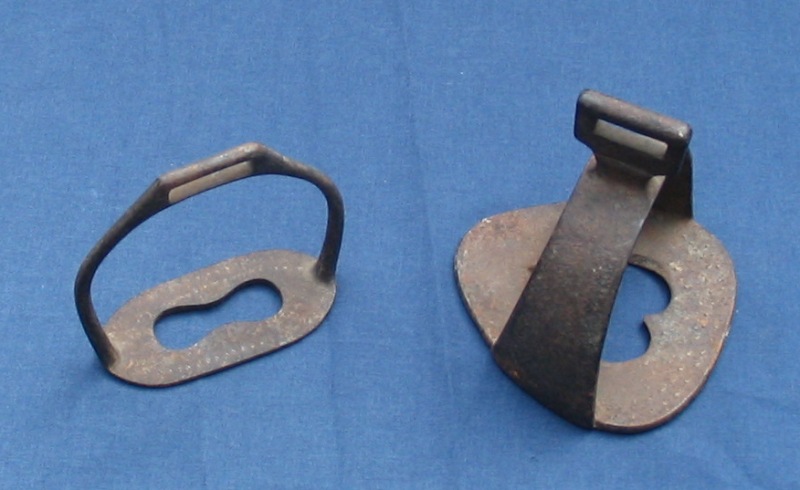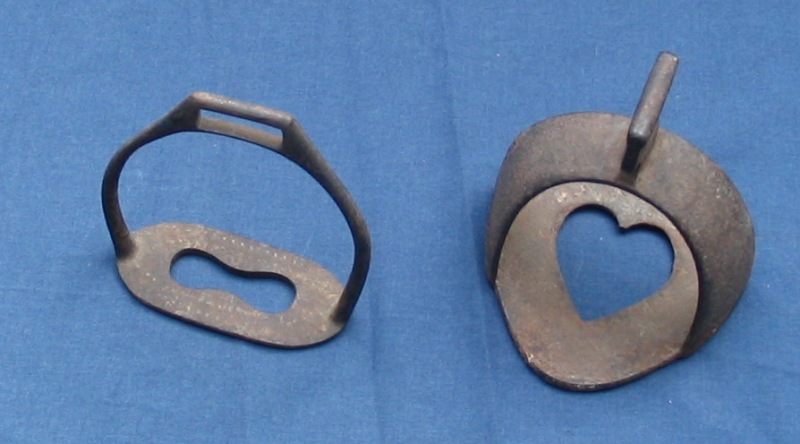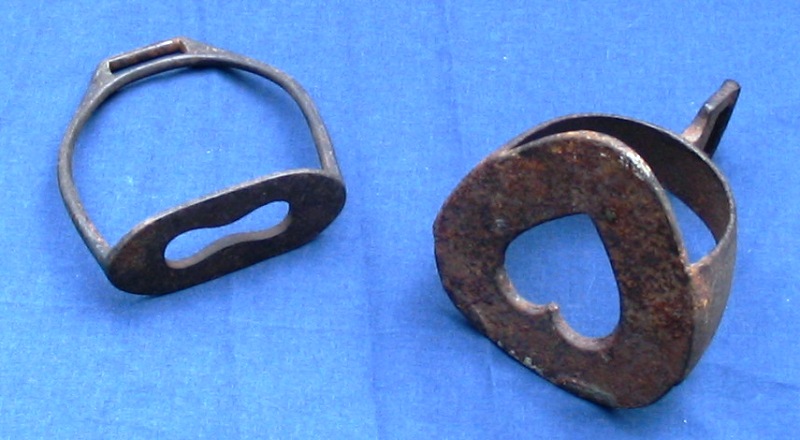 SOLD!!! Here's an old pair of Civil War Stirrups that I like to call the figure '8' stirrups as per the design on the tred of the stirrups resembles an '8'. These are from the Shenandoah Valley in VA and have something very unique about them. It looks like lead was pounded into the '8' part of the stirrup but it's actually raw rubber, perhaps to cushion the foot in the stirrup. This rubber is very old and very hard and a little loose in the '8' but there. Quite innovative! For the pair $125.00 Catalog 1-53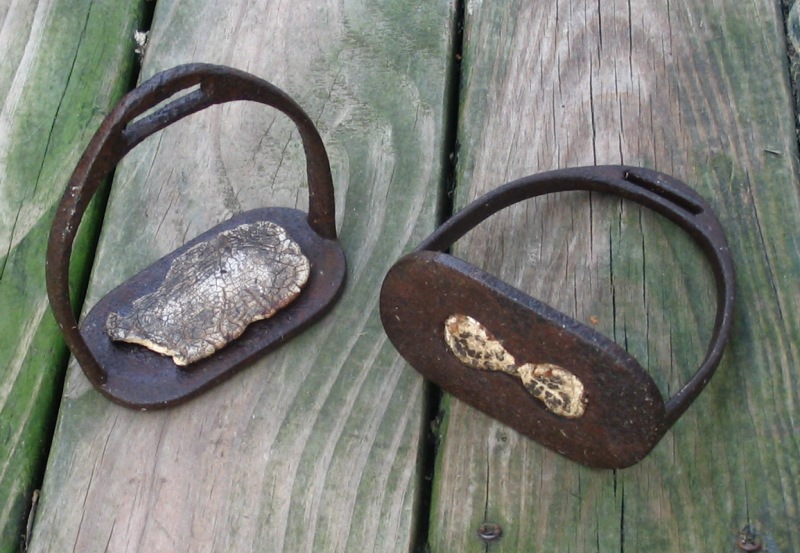 Here's a small dug pick head. I have included a pic from Lord's Civil War Encyclopedia that shows a very similar one. Some pick heads like this one were dug at the Crater. This one is a little over 13 inches long and missing the handle. Good dug condition! $45.00 Catalog 1-51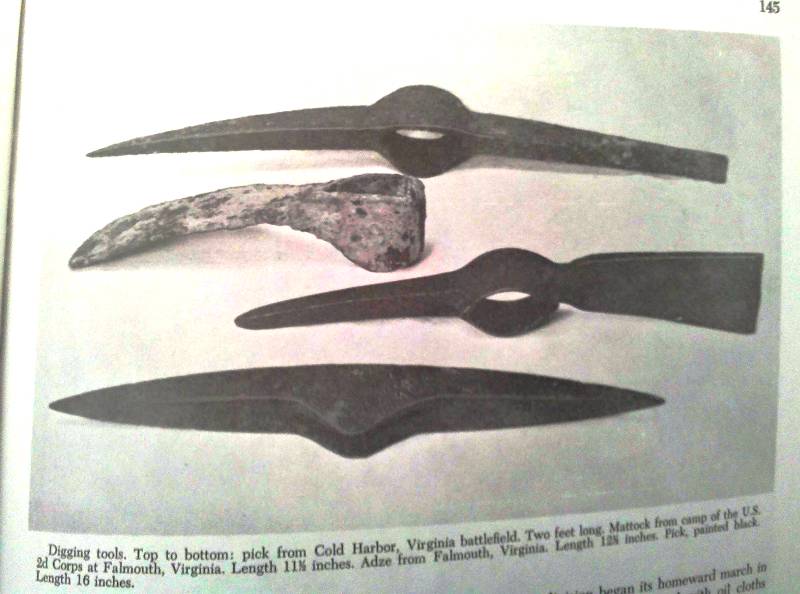 Here's an unusual thing to offer on this kind of site but here goes. This is an Edison cylinder was record in original box. The top of the box is marked 10th Regiment March. I don't have a Edison record player so I was able to download this tune on the computer and listen to it. It was quite good! I don't know if this is the right record or not but it is an original Edison record. The box is in quite good condition and so is the record. Look at the pic! $25.00 Catalog 1-50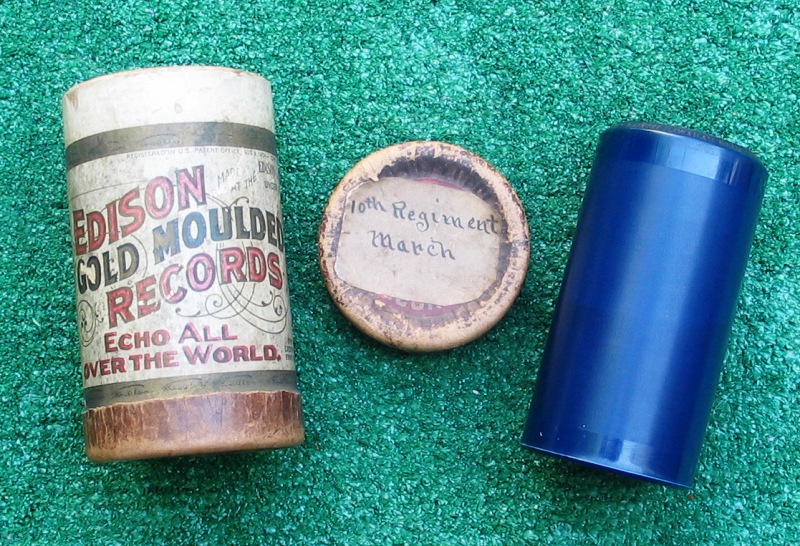 Here's several pieces of old eating ware that I picked up from a friend of mine which includes 3 tine and 4 time forks as well as knives. Most of the knives are wooden handled with pewter inlays but a couple of them have gutta percha handles. There is even one large cast iron spoon that is with the group. I don't know anything about this large old spoon but each piece we have is $5. Catalog 1-49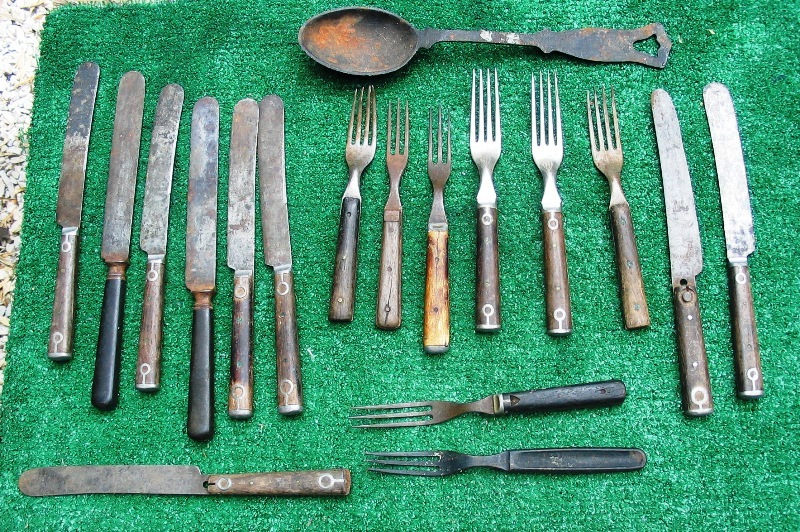 SOLD!! Here we have a wonderful late 19th century through turn of the century Grand Army of the Republic hat in the derby style so popular with the aging Civil War veterans of the time. Fitted with the gilded brass wreath of the GAR. The hat is worn considerably and the wreath with the GAR is tarnished. It's the pin back variety. The silk bonding around the hat brim is worn quite a bit. The inside is better with the wide hat band. The only marking inside is the original stamp of The United Hatters of North America trademark. Bat Masterson wore a tall derby similiar to this one. No hat size listed in the hat but believe 7 1/4 or so. Unfortunately, no history accompanies this hat. Nice old hat! $225.00 Catalog 1-46
Here's a dandy little manual that I have entitled 'MANUAL OF GUARD DUTY, UNITED STATES ARMY.--- APPROVED JUNE 14, 1902.--- NEW YORK. ARMY AND NAVY JOURNAL. 1903. Inside it's id'd in pencil to Roy E. Butz. fair to good Army and Navy Journal New York 1903 pocket-size, 97 pages, wraps, index, covers somewhat soiled and stained, some wear to spine edges Scarce manual, immediately post-Spanish-American War. Pocket-size manual measures approximately 3-3/4" x 5". RARE !! $75.00 Look at the pics. Catalog 1-45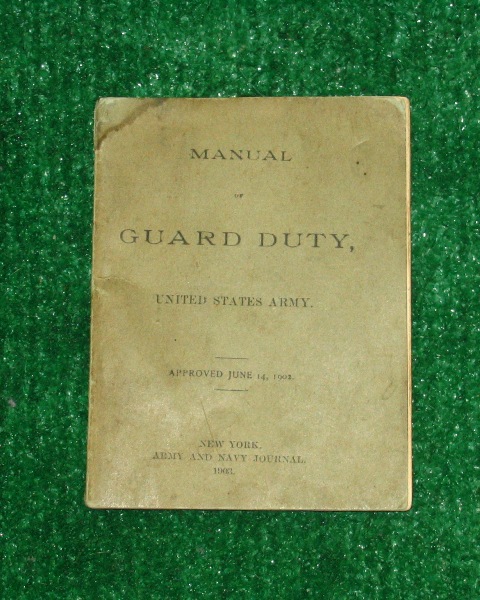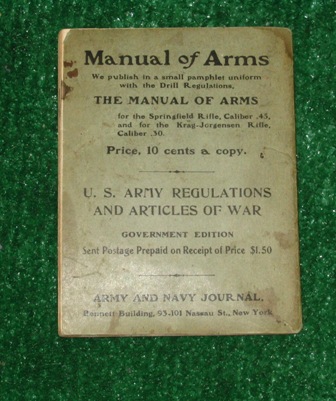 <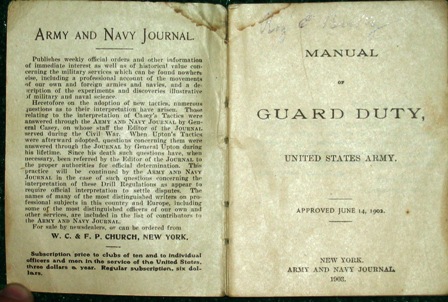 Here's a nice pre-war Civil War document that we recently picked up. This one is from the 'Office of Army Clothing & Equipage, Philadelphia, October 27th, 1858'. Pre-war documents are hard to come by. This one in essence says 'Sir, You will have turned over to the 2 -- Department at this place with the least possible delay invoiced to the comms. officer comp(any) 'K' 2 Regt. Artillery at Fort Hamilton U.S.? for use of that Company. V one company order book V one " company mon. report Do. I am, very respectfully your obt servt. Chs, Thomas. AQMGenl.? Capt. Geo Gibson Jr.-.-.U.S.Army, Schuylkill, Arsenal.' This is a folded document and there are some things written on the back as well. Some items are hard to read but think of the fun you'll have trying to decypher what it says!!! Here is what I believe to be the bio of Assist Quarter Master General Charles Thomas:
Charles Thomas Residence was not listed; a 59 year-old US Army Officer. Enlisted on 8/1/1856 as a Colonel. On 8/1/1856 he was commissioned into US Army Quartermaster's Dept He was Retired on 7/29/1866 (Prior service in US Army since 08/13/1819) Promotions: * Colonel 8/1/1856 (Colonel & Asst Quartermaster General) * Brig-General 7/5/1864 by Brevet * Major-Gen 3/13/1865 by Brevet Other Information: born 4/13/1797 in Philadelphia, PA died 2/1/1878 in Washington, DC Sources used by Historical Data Systems, Inc.: - Dyer: A Compendium of the War of the Rebellion - Heitman: Register of United States Army 1789-1903 - Brevet Brigadier Generals in Blue - Photo courtesy of Massachusetts Commandery of MOLLUS (c) Historical Data Systems, Inc. @ www.civilwardata.com
Here is some information that I discovered on Capt George Gibson Jr. that came from an old biographical scetch done sometime around 1886 .
374 BIOGRAPHICAL SKETCHES. GEORGE GIBSON, third son of Chief Justice Gibson, of Pennsylvania, and grandson of Col. George Gibson, of Revolutionary fame, who was killed at St. Clair's defeat, was born at Carlisle, Penn., April 4, 1826, and received his education at Dickinson College, Carlisle, Penn. April, 1853, saw him appointed a military storekeeper in the Quartermaster Department of the Army, which position he retained until May, 1867, rendering service in the Quartermaster General's office at Washington, also at Albuquerque, New Mexico, Schuylkill Arsenal, Philadelphia, when he was appointed a captain in the Eleventh Regular Infantry, and assigned temporarily to duty in Washington as approving officer of requisitions made upon the clothing, camp and garrison equipage by the troops congregated about that city. June, 1863, saw him serving with his regiment in the field (Army of the Potomac), being shortly afterward assigned to duty with Gen. Sykes as commissary of musters and inspector-general of the Fifth Corps. He also served as acting assistant inspector-general of the provisional brigade at Gen. Meade's headquarters, rejoining his regiment at Richmond at the conclusion of the war, upon its being assigned to the duty of garrisoning that city. Here he was placed in charge of all matters pertaining to the colored people of that city and the adjoining county of Henrico, and shortly afterward was made acting assistant inspector- general of the Department of Virginia, under Gen. Terry, and of the First Military District of Richmond, Va., under Gen. Schofield. While serving in the later capacity he was temporarily placed in command of the sub-district of Ft. Monroe, comprising that post, as well as Norfolk, Camp Hamilton and Yorktown. January, 1868, he was promoted major of the First Infantry, and placed on duty, by orders of the Secretary of War, in the War Department, as recorder of a board of claims. June, 1869, saw him assigned to the Fifth Infantry and command of Ft. Hays, Kas., being shortly afterward placed on duty at Ft. Leavenworth, under Gen. Pope, as acting assistant inspector-general, Department of the Missouri. From this place he was transferred, by orders of the War Department, to Memphis, Tenn., as a disbursing officer, under direction of the adjutant-general of the army, where he continued until July, 1876, when he was placed in command of the cantonment on Tongue River, M. T. (afterward known as Ft. Keogh), where he remained up until the time of his promotion as lieutenant-colonel of the Third Infantry (March 20, 1879), when he was assigned to the command of Ft. Missoula, M. T. Here he remained until his final promotion to the colonelcy of his old regiment, of the Fifth Infantry, at Ft. Keogh, August 1, 1886, at which place he is now serving
The paper of these old documents is excellent quality as no acid is used in their manufacturer. Ther are no tears in the folds. The quality is great even if the content is not. Charles Thomas did go on to become a Major General by Brevet and George Gibson Jr. did go on to become a full Colonel and both their signatures are on this document. That's a plus! For the pre-war document with the two signatures $55.00 Catalog 1-44
I just picked up several Civil War era fifes so here they are:
2. SOLD!!! This is an original Fife with a light finish. I believe the piece to be walnut. This fife measures about 17 inches long with nice silver end caps that measure about 2 inches long themselves. This piece has a logo on it with GEO CLOOS above and CROSBY below. There are no cracks in this piece. $195.00 Catalog 1-43
3. SOLD!!! This fife is just about like the one above but is darker in color and the logo on it simply has CROSBY about it. This one is also 17 inches long with 2" silver ends and no cracks. Nice! $195.00 Catalog 1-42
4. This one here I call the 'bright Crosby' as it has a more gloss finish than the others but is still original with an original finish. This one is just like no. 2 with the same logo and markings but has a darker finish. This is another outstanding piece! No cracks. $195.00 Catalog 1-41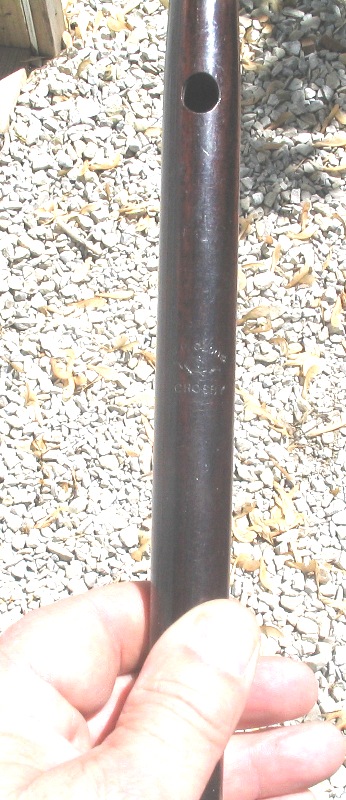 Here's another piece I couldn't resist. I have a history with the Medical field having worked on an ambulance as a career for 10 years. I retired from the EMS Ambulance service in 1990 and the Fire Service in 2012 but still have a great interest in all things medical, especially old and antique things. Anyway, this is an original 11 X 14 orange medica lsign that was used for quarantine of SCARLET FEVER. It's in good condition but does exhibit some rain drops here and there. As you can see this sign is from Fillmore County Board of Health from Minnesota. Minnesota was organized as a territory in 1849 and by 1852, the population was estimated at 20,000. Fillmore County, named for President Millard Fillmore,was created by an act of Territorial Legislature on March 5, 1853 when it was subdivided off what had been Wabasha County. At that time, Fillmore County included all of present-day Fillmore and Houston counties, most of Winona and some of Olmsted. Later legislation creating Houston, Winona and finally Olmsted counties reduced Fillmore to its present size of 24 townships. The county seat, designated originally at Chatfield, was later moved to Carimona, with the final move to Preston in April of 1856. The townships were organized in 1858 when Minnesota became a state.
Anyway, I believe this sign to be from the 1930's or 1940's and would look great on a physicans wall for display or any medical display of the period. There are 3 thumbtack holes in it as well. No markers marks are visible. $35.00 Catalog 1-40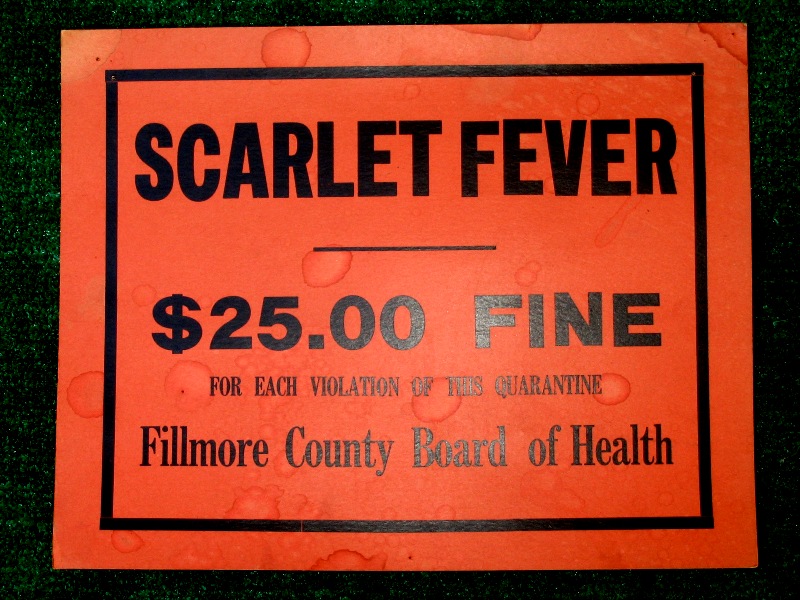 I found this medical book in Michigan. This is a small book entitled THE INVALIDS GUIDE by C.M.FITCH and was published in 1857. Look at the pic of the cover page for further information. The book is illustrated as well. 191 pages being hardbound and in very nice condition! RARE! $150.00 Catalog 1-39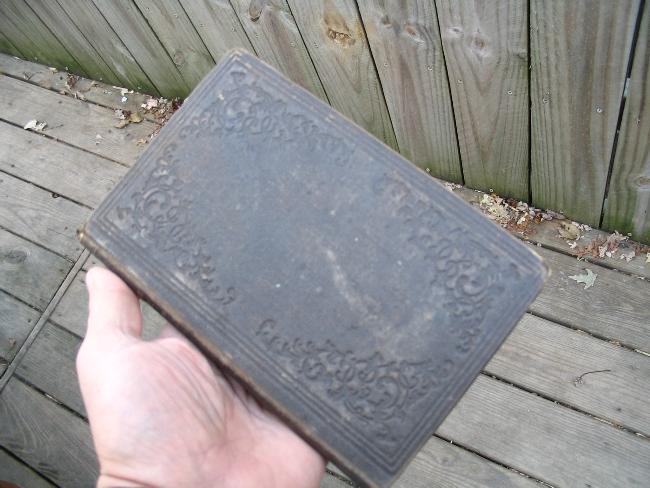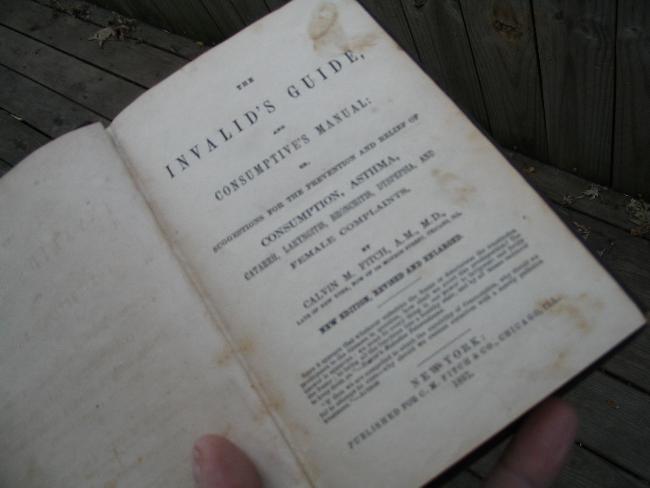 Here is a Militia Canteen from Tennessee. The piece measures about 6 1/2 inches across from 1 side to the other. The canteen has a screw top and the top is present. The original red cloth is well worn but most of it is there. The sling is a replacement that closely resembles the original. No dents. Most likely Militia used. Nice collectible! $195.00 Catalog 1-38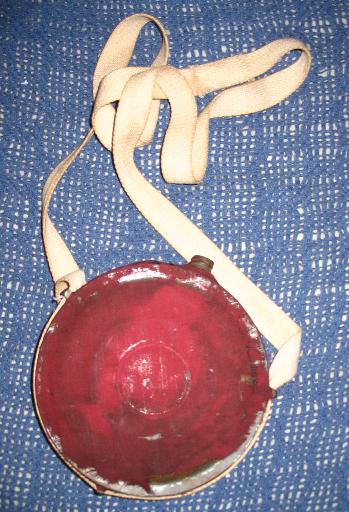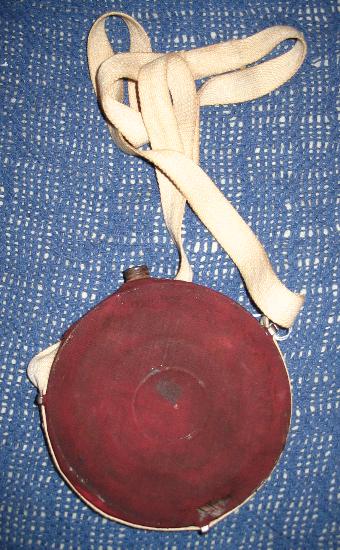 This is a nice bone tongue depressor that measures about 8 inches long and is about 1 inch wide. There is a slight convex to the top and flat on the bottom. I picked up some medical items belonging to John C. Thompson of the 11th Indiana "Wallace's Zouave's" Infantry where he was a asst. surgeon and a bone tongue depressor was among the items belonging to him. This tongue depressor is not that one but very similar to the one that was with the Dr's grouping. Nice piece! $45.00 Catalog 1-80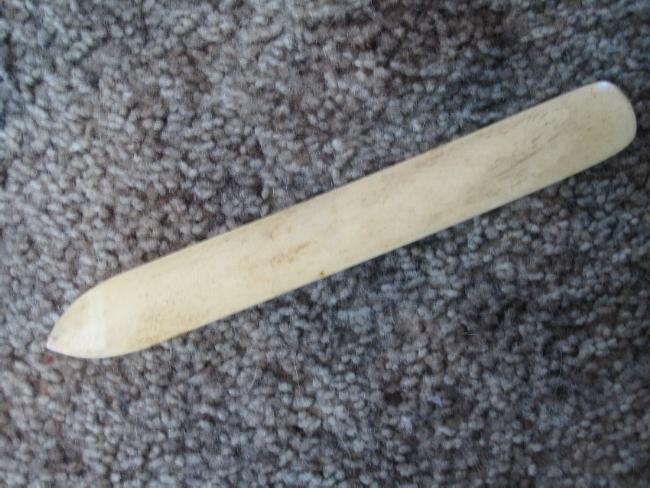 Here's an iron curry comb. This one was made prior to the brass ones. You can see that they were trying to save iron and finally had to switch to brass. Rusty but solid! $65 Catalog 1-36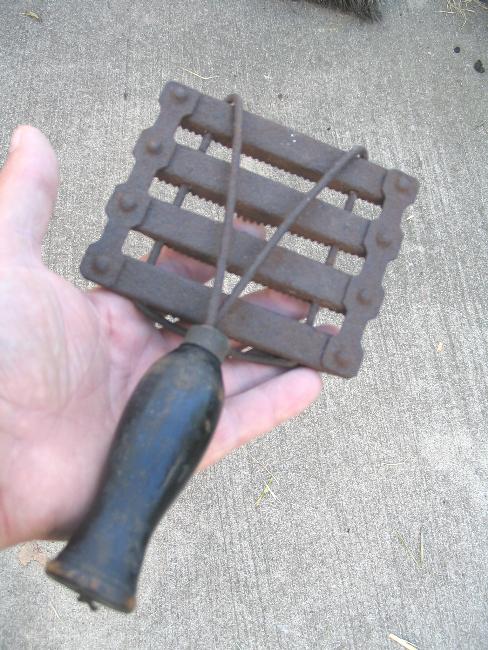 This is a nice dug piece being an early dark green glass bottle with applied lip. There are also some striations on the neck as well. This beer or wine bottle has blemishes in the glass as well as a pontil mark in the deep base of the piece. Over 9 inches tall with no cracks or breaks. Nice- Nice piece! Found at Beaufort, South Carolina. $65.00 Catalog 1-35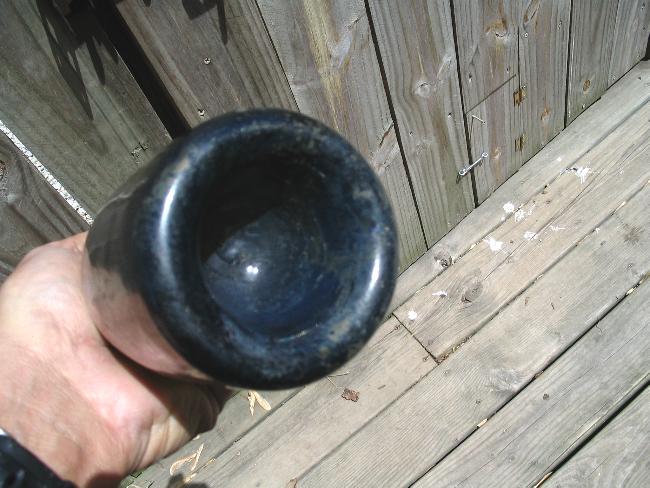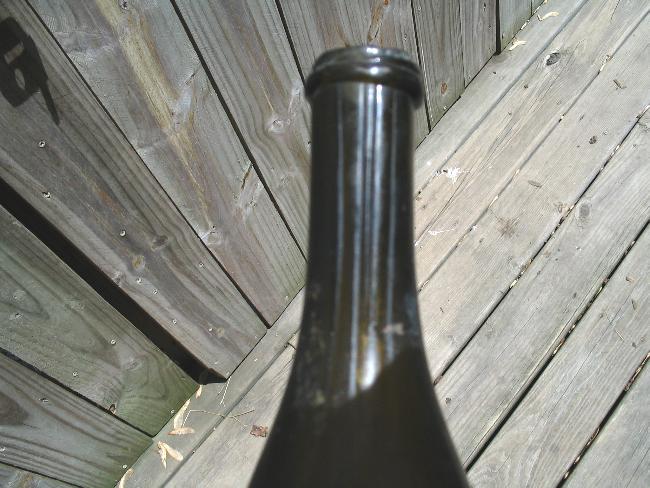 Here's a Mills type blue web belt for the 30-40 Krag. The color is nice and dark. There are no markings on this piece. Three of the loops have been sewn shut as they were probably no servicable. This belt has been adjusted rather small so it could have been used in a Military School or by Cadets of some sort however it is the military type and can be adjusted back out. The ends of the belt are not captured but rough cut as I've seen on others. Nice and displayable with a Krag! $145.00 Catalog 1-33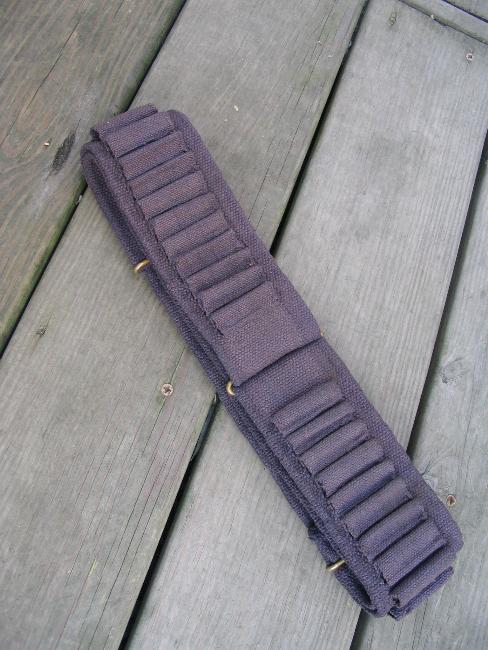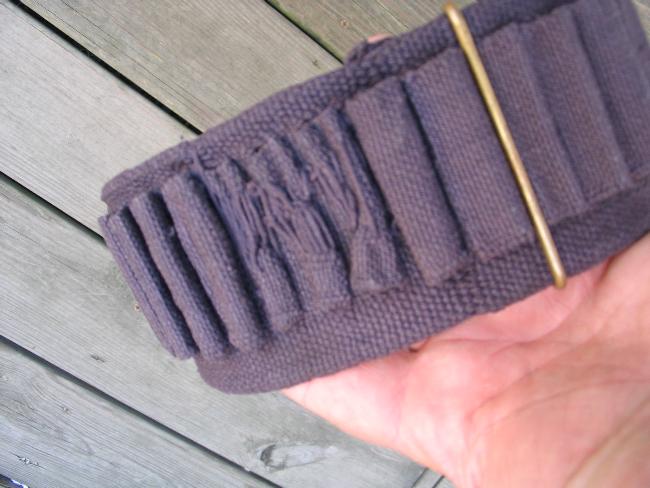 Here are some very nice little bone dice! There are 4 pairs of little bone dice that appear to be homemade and one tiny little die by itself. These are very typical of what was carried in the individual soldiers haversack on the march. Dice was played by almost all of the soldiers during their tenure in the Civil War. $15 for each pair and $7 for the one by itself. The quarter is in the pic for size comparison. Nice! Catalog 1-32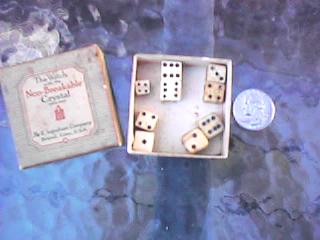 This is a large relic case full of nice relics from Winchester, Virginia! The case measures about 12 X 18 inches and contains a large selection of different relics. Among them are: 1862 Springfield lock and hammer (no date just the type), several saddle and harness buckles, knapsack pieces, horse shoe, tent rivits, part of old spoons, spikot, cartridge box buckle, leather sole pieces, sabot from a hotchkiss shell, part of a shoulderscale, part of a harmonica, handle from a clay pot and other items! The case is cherry wood. Nice! $175.00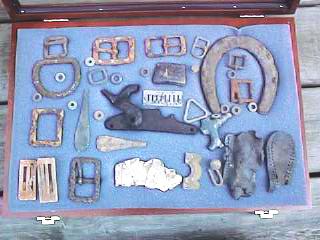 This is a case of different items. In this case are: Catalog 1-30
1. A large map reading/measuring tool. This piece measures about 11 1/4 inches long. Marked BEMIS & CALL CAST STEEL $45.00 Catalog 1-29
2. 2 repro Civil War participant medals. Has Abe Lincoln's bust on the front and has around it the words WITH MALICH TOWARD NONE WITH CHARITY FOR ALL. The back has a wreath with the words CIVIL WAR 1861-1865 on the back. Just like as issued to the Veterans. New condition. $20 each Catalog 1-28
3.GAR hat wreath with large pin on the back. Excellent condition! SOLD! $65.00 Catalog 1-27
4. Revolutionary War era beam hook. This hook was pounded into a beam to hang items on. $45.00 Catalog 1-26
5. Several pinfire shot shells! Never loaded! We have a blue one and a red one in 14 guage, 2 natural color no. 12 gauge and 2 no. 10 guage shells. Most are marked LONDON, some are marked ELY. These are $25 each except one 12 guage that is damaged and that one is $15.00. Nice! Catalog 1-25
6. Single row brass button polisher measures about 6 3/4 inches long and has the inspectors initials of CCB on it. No other makers marks present. $65.00 Catalog 1-24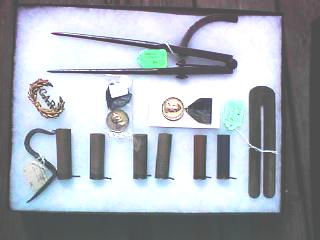 This is a nice silvered or tinned iron English buckle that came from a costume shop in Cincinnati a while back. This one is nice in that it is for a wide width belt indicative of early use and not the much narrower type that was in use during the 20th century. This piece also has the adjusters with it. These type buckles were used by both North & South. I believe it to be old but nearly mint. $75.00 Catalog 1-22
Here is a dandy item! This is a signed check by MOH winner General Dan Sickles of Gettysburg fame! Always a controversial figure, Sickles was born on October 20, 1819 in New York City. After attending New York University and studying law, he appraised his chances for advancement in various fields and quickly chose politics. As a Tammany Hall stalwart he became the Corporate Consul of the City at the age of 28 but resigned the same year to be Secretary of the U.S. Legation in London. He then served as a New York State Senator and Representative in Congress from 1857 to 1861. He had first gained national attention when in 1859 he shot and killed, in the very shadow of the White House (on Lafayette Square), his young wife's lover, Francis Barton Key, the son of Francis Scott Key, the author of the Star Spangled Banner. During the ensuing trial, in which he was represented by Edwin M. Stanton (who would become Lincoln's Secretary of War), he for the first time in U.S. jurisprudence pleaded the "unwritten law" (self defense of one's wife as his own property) and was acquitted. He subsequently enraged both critics and fans by publicly forgiving his unfaithful spouse. As a War Democrat in 1861, his offer of services was quickly accepted by the President and he was soon appointed Brigadier General of Volunteers, ranking from September 1, 1861. He was assigned command of New York's Excelsior Brigade, which he had been instrumental in recruiting. His later career as a Division and Corps Commander, with his promotion to Major General to rank from November 29, 1862, found him often at odds with his superiors. However, he demonstrated many soldierly qualities and he was utterly fearless in combat. He fought on the Peninsula and at Sharpsburg in Joseph Hooker's Division of III Corps; commanded a Division at Fredericksburg; and in the campaign of Chancellorsville commanded III Corps. In the latter battle, elements of his command reported that General Thomas J. "Stonewall" Jackson's celebrated flanking march, while it was still in progress, as a retreat. The subsequent advance of 2/3 of the Corps to pursue the "retreating" Rebels left Oliver O. Howard's XI Corps on its right completely isolated and contributed largely to the ensuing debacle. At Gettysburg, his men were supposed to cover the Federal left in the vicinity of the Round Tops. Not liking the position and in defiance of direct orders to the contrary, he advanced the Corps into the famous Peach Orchard, creating a salient which was subsequently overrun by General James Longstreet's assault. The end results were the virtual destruction and disappearance if III Corps, termination of his command in the field by virtue of a serious wound which cost him his right leg, and controversy with his superior, General George Gordon Meade. However, he was subsequently awarded the Medal of Honor for his services at Gettysburg. After his recovery, during which he donated his amputated right leg to the Army Medical Museum in Washington - where it continues on display at that facility located at the Walter Reed Army Medical Center, President Lincoln dispatched him on a tour of Union-held Southern territory for an appraisal of the effect of amnesty, Negro progress, and Reconstruction. He next performed a diplomatic mission to Colombia; served as Military Governor of South Carolina; and in 1869 retired from the Army with the rank of Major General in the Regular Army. At that time, President Grant appointed him Minister to Spain, where he was chiefly distinguished diplomatically by becoming the intimate friend of Isabella, the former Queen of Spain. He served again in Congress from New York, 1893-95; and for many years was the Chairman of the New York State Monuments Commission, a position from which he was removed in 1912 by reason of alleged misuse of funds. However, while in that position, he did much to bring about the National Battlefield Park at Gettysburg, a site he often visited during his life. An octogenarian relic of a bygone age, he became separated not only from family but from reality and died irresponsible on May 3, 1914 at his home in New York City. He is now buried in Section 2 of Arlington National Cemetery.
This is a very nice check dated June 18th, 1880 for $1,000.00 and has a nice strong signature that although is signed over by the bank does not diminish the signature. Very nice! $275.00 Below is a pic of his shattered leg bone and the check. Catalog 1-21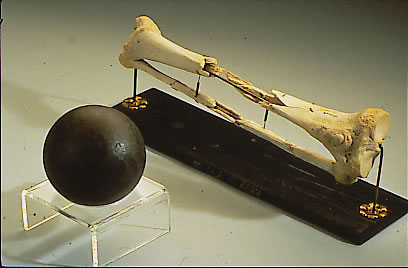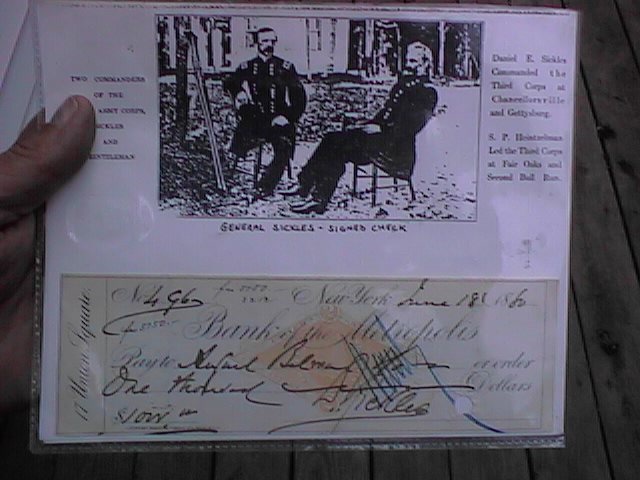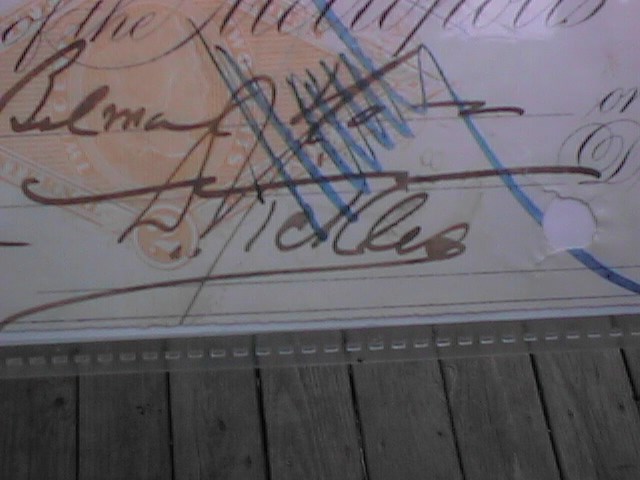 US cancelled Washington 3 Cent rose pink 1861-1862 stamp I23A $20.00 atalog 1-20
Scott's 14 Confederate 1 cent J.C.Calhoun, unissued no-gum stamp 1862-1863. $65.00 Catalog 1-19
>
SOLD!!!
I have a standard cane that was found with an old vets cane and this one probably belongs to the old vet as well and is of the standard length with a rubber tip that is burnt into the shaft FLICK'S FAMILY RESTAURANT BRAZIL, IND. Old and aged!!! $25.00 Catalog 1-18

I have a couple of 3 tine period forks that are in very good condition and would look great in a period display. $5 each. Catalog 1-17

12 old hatpins on an old black cloth swatch. The longest hatpin is 5 inches long with the shortest about 2 inches long. All but one have the round black button at the top and some of the pins are blued. $35 for all.
Catalog 1-16

Nice combination sliding fork and knife set that slides past each other to put together. The handles are dark hardwood and has a small chip on one end with brass bands holding two halves together as made, one replace with an iron band. The blade of the knife is marked 'E. BROOKES SHEFFIELD'. Nice set! $165.00 (showing another set as well.)
Catalog 1-15

I believe this is a Post Civil War Marine coat Button with the HORSTMANN PHILADELPHIA backmark. The button dates to the 19th century and is very nice! $20 Catalog 1-14

This is a brand new excellent reprint of an Original Civil War Artillery Manual that was originally reprinted in 1962 by the Indiana Civil War Centennial Commission & Indiana Historical Society of Indianapolis entitled "CIVIL WAR ARTILLERY MANUAL" Notes & Drawings by Henry Richard Huebner. This illustrated manual was prepared for the guidance of Civil War Artillerymen by Henry Richard Huebner. According to family tradition several of Huebner's sketches appeared in LESLIE'S ILLUSTRATED WEEKLEY. So far as is known the manuscript was never printed. The hand-drawn manual remained in the possession of the Huebner family until 1961 when it was presented to Indiana Civil War Centennial Commission by the artist's daughter, Frieda M. Huebner. Miss Huebner, who taught for many years in the Indianapolis Public Schools, felt that her father's manual should be shared with that large and growing group of historical students who devote themselves to the American Civl War. This manual is a faithful reproduction of the original hand written, hand drawn manuscript. Mr. Huebner obviously was Military trained and knew alot about Artillery and has described all of the operations involved to operate an artillery piece! He describes in detail the men's positions and duties, limbering and unlimbering, school of the battery, order in line, order in battery, and many other items of order. He goes into detail describing the parts of a 6 pounder and carriage, limber, caisson, and Artillery Harness! This book is fantastic! Every student of the Artillery needs this fine publication! The book is softcover being 8 X 10 inches and consists of 40 pages of fine text and fantastic drawings! Thanks for looking! WE CAN OFFER DEALER DISCOUNTS ON THIS ONE. THANKS! Catalog 1-13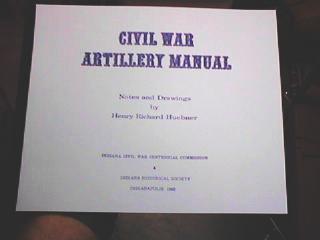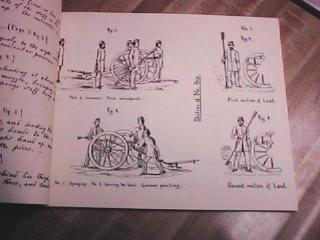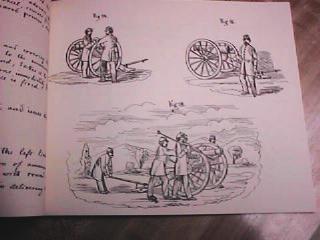 ">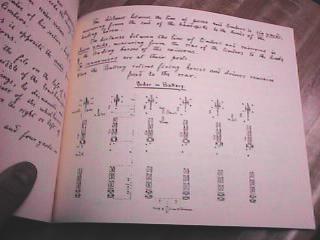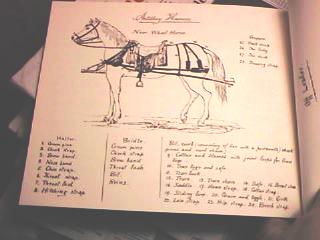 $9.95
This is a very unusual stamped M1851 Eagle belt plate on an original cotton belt. We believe this to be of the Indian War pattern due to the belt plate having no standing loop on the end of it. This belt plate has a very unusual fastening pattern. Look at the pics. We think this is either a women's use belt or a Military School. It's lacking the fastener to fasten the belt to the belt plate. The belt itself is about 34 inches long. Unusal and original!!! $ 125.00 Catalog 1-12

2 small plain brass bridle rosettes in nice uncleaned condition being about 1 1/4 inches across being complete with staples. Nice and uncleaned. $35.00 Catalog 1-11

This is a Walt Disney comic book in Fair condition only entitled WALT DISNEY'S "THE GREAT LOCOMOTIVE CHASE" based on the true life adventure in Georgia. The union men who pulled off this won the medal of honor! $10.00 We also have an original copy in VHS of the same Walt Disney production of THE GREAT LOCOMOTIVE CHASE starring Fess Parker. Excellent Condition! $19.95 Catalog 1-10
Here is a facsimile copy of the FIRST ANNUAL CONVENTION UNITED CONFEDERATE VETERANS booklet along with a facsimile copy of the last program for the UCV entitled PROGRAM SIXTY-FIRST REUNIN UNITED CONFEDERATE VETERANS - NORFOLK, VIRGINIAL MAY 30-JUNE 3 1951. These are copies of the originals and are in excellent condition. Hard to get! $45.00 for the pair postpaid. Catalog 1-8

This is a great looking Grand Army of the Republic Badge for the 1907 KEITHSBURG ILLINOIS MERCER COUNTY SOLDIERS ASSN. 30TH ANNUAL REUNION! This is the 2 piece medal and is in very nice conditon!!! Check out the pic. Manufacturers info on back. Measures about 2 1/2 inches tall by 1 1/2 inches wide. Very nice!!! $75.00 Catalog 1-7

This is a really nice small size gimlet that was used to clean out the cannon vent holes after they got clogged. A penny is in the pic to show size for comparison. $25.00 Catalog 1-6

Here are a couple of late Victorian thru turn or the century match safes. One has a celluloid cover on one side and has a small pasteboard box in the center to hold the matches. Made of metal. $25 The other is metal with a design on the front with a pearl and some paste diamonds on it. Has a little wooden match box in the center that's marked MADE IN SWEDEN. There are a few matches left in the little pasteboard insert that goes in the little wooden box. The little pasteboard insert is marked A BANTAM MATCH CORP EXCLUSIVE FREEPORT, NEW YORK. Often carried by soldiers thru WW1. $25.00 Catalog 1-5

SOLD!!!
Here's a display being in a nice wooden walnut case with closures/locks that measures about 11 X 17 inches. All of these relics are from Virginia battlefields. This display includes musket balls, round balls, pistol ammo, fired bullets, dropped bullets, CS & Union bullets, pullet bullet, heel plates, CS type spur with partial leather strap, fuse fragment, 2 friction primers, brass thimble, bayonet brass tip and brass sword throat and a brass hook of the type used on uniforms. Nice display! $185.00 Catalog 1-4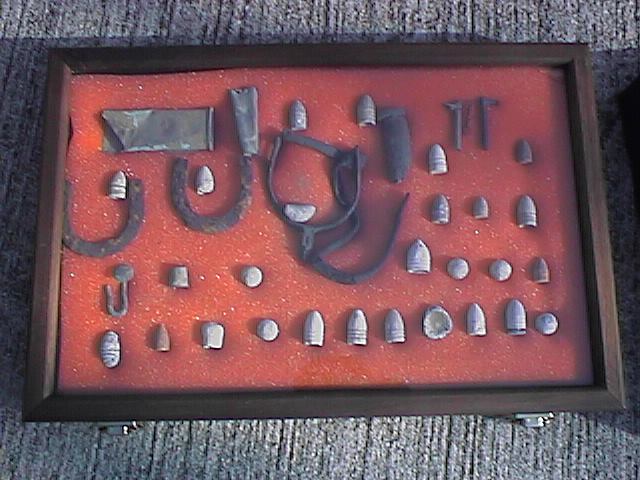 SOLD!!! Here's a honey of a display the same measurements as the one above and all of the artifacts are from Virginia battlefields. The pistol barrel shown in the pic is not with this lot but everything else is. Other items in the case (I'll probably miss some thing) includes a Virginia Civil War coat button backmarked Superior Quality complete with shank (pushed front), Eagle I button, other eagle buttons, dug NY button, 2 pocketknifes, rosettes, barrel band, various bullets, padlock, musket hammer, suspender buckle, flat coin buttons, cuff or vest buttons being Texas Naval buttons both brass & hard rubber or thermaplastic (non dug but came with the rest), iron nails, key, harmonica parts, horse shoe, metal bars, harness buckle, stove? part, carved lead piece, hinge piece, musket cap, etc. Nice display! $350.00 Catalog 1-3

Here are 6 more spoons from the 1820 to 1830's period. These are small coin silver spoons with monograms on them all lovingly over cleaned and seem to be from PRATT. One spoon is slightly larger and has an english proof mark on it as well as the PRATT makers mark. The Pratt markings are well worm but can be made out. There were several silversmiths with that name making spoons during that period, at least 3 in this country and 1 in England, so I'm not sure which one made these fine little spoons. These spoons were found in Lafayette, Indiana. These spoons have a 3 initial monogram on them with the last initial being an H but I have a devil of a time making out this flowerly type of writing! At any rate they are pretty and ornate! Since they are worn they are $30 each. Catalog 1-1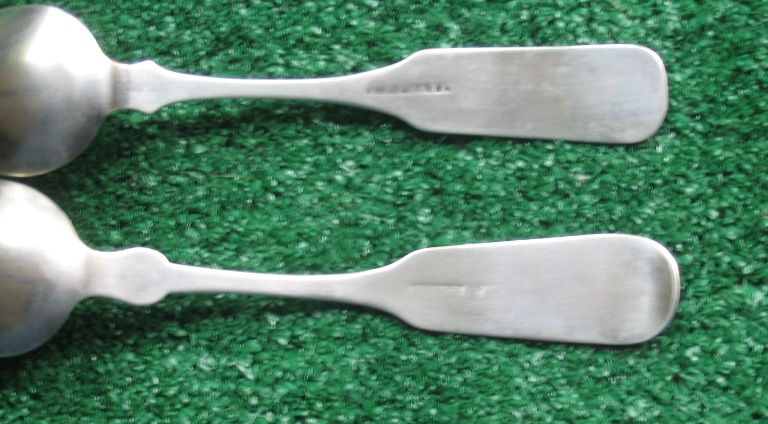 IF YOU HAVE WANTS, LET US KNOW! WE MAY HAVE IT!!!

WE ARE ALWAYS BUYING! LET US KNOW WHAT YOU HAVE FOR SALE!!!