EVERY ITEM COMES WITH A 3 DAY INSPECTION PERIOD.
Consignment More stuff 101
Here we have 8 Magic Lantern slides from the 19th century. I believe that 6 of them are American Civil War subjects while 2 are Peruvian subjects. The civil war ones are: 3 battle scenes, 1 cannon scene (these men look to be wearing the caps popular in the Mexican War era, 1 scene showing Lee signing surrender documents with Grant looking on and 1 scene that looks to be President Grant's death bed scene. The other 3 battle scenes may be part of Grant's campaign as well. The Peruvian scenes are :
1. Admiral Miguel Grau -- When the War of the Pacific between Chile against Bolivia and Peru began on 5 April 1879, Miguel Grau was aboard the Huáscar, as its captain and the Commander of the Navy. In an impressive display of naval mastery, Capitán Grau played an important role by interdicting Chilean lines of communication and supply, damaging, capturing or destroying several enemy vessels, and bombarding port installations. Grau's Huáscar became famed for moving stealthily, striking by surprise and then disappearing. These actions put off a Chilean invasion by sea for six months, and as a result he was promoted to Rear Admiral.
and
2. Hauscar -- Huáscar is an ironclad turret ship built in Britain for Peru in the 1860s. Her price was a bit more than £81,000 pounds sterling. She was the flagship of the Peruvian Navy and participated in the Battle of Pacocha and the War of the Pacific of 1879–1883 before being captured and commissioned into the Chilean Navy. Today she is one of the few surviving ships of her type. The ship has been restored and is currently commissioned as a memorial ship. She is named after the 16th-century Inca emperor, Huáscar. Quite historic!
For each of these $25 but if you want to take all 8 you can have them for $160.00 plus shipping. There are all in very good condition with no cracks, breaks or loss of image. Take a look at the pics!
More stuff 100
Here are a few Civil War Dug items that I just got from a Friend of mine. He received these from a friend more than 30 years ago. They were aquired legally in Virginia from private land but he cannot remember where they were dug. First we have two US Box Plates. The one on the left is complete with all back lead and both hooks albeit they are rusty as you can see in the pics. For this one $120.00 Note: This one is SOLD!!!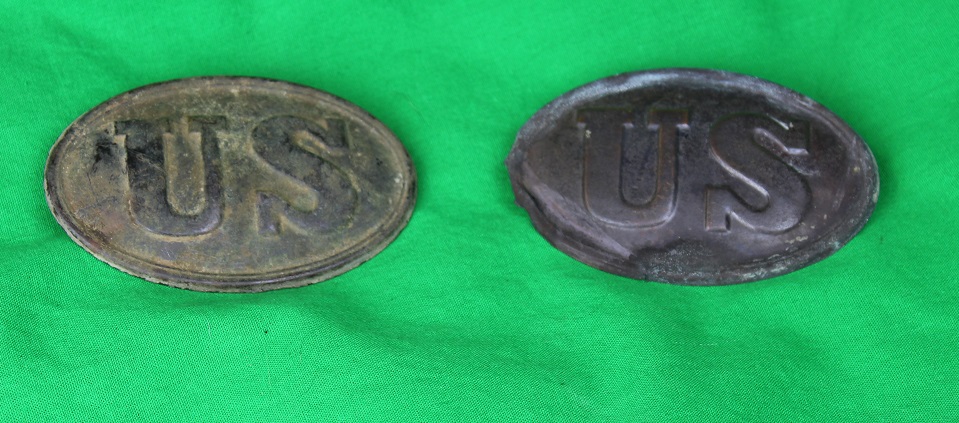 more stuff 99
The second one on the right looks better from the front than the rear. It has a wrinkle on the left side bottom as looking at it straight on. On the reverse a bit of the lead is lacking in that area but both rusty hooks remain. For this one $95.00 P>

More stuff 98
Next is the puppy paw hooks and tounge from a belt plate-probably US as well. It's dug but in excellent condition. Some Soldiers just used this part instead of the entire belt plate. For this one $45.00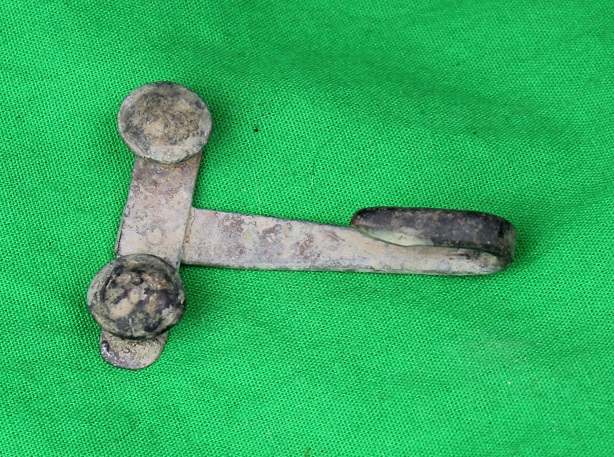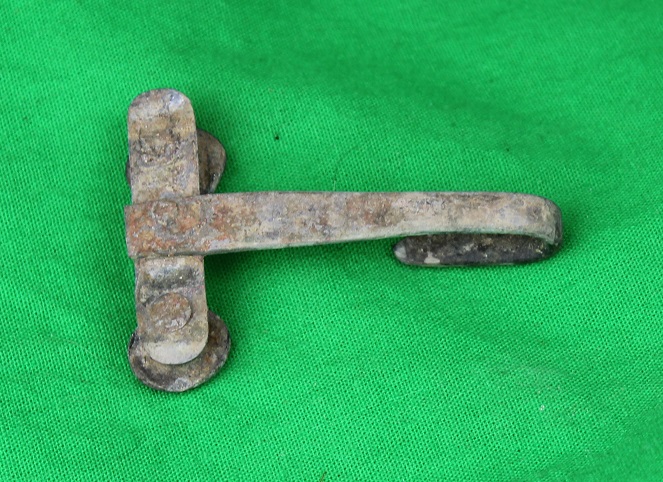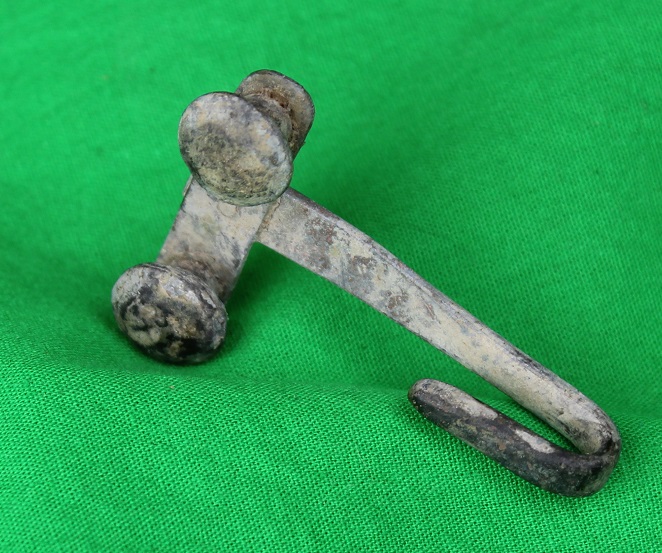 More stuff 97
This last item(s) is a group of .69 caliber round balls which could be either North or South early on and basically just Southern later on in the war. They are in good dug condition and show the white on the lead that one expects to see. Nice shape! There are 12 of them. For the 11 round musket balls $35.00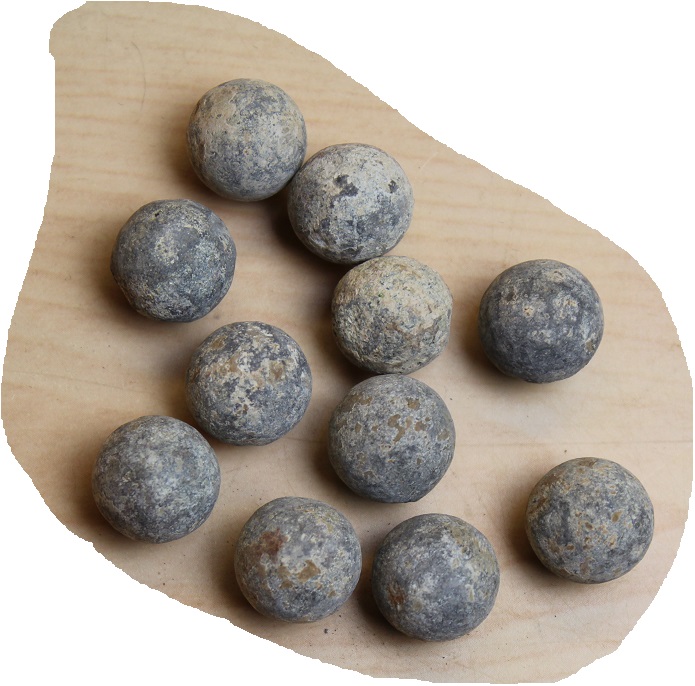 RARE! RARE! RARE!!!
More Stuff 94
This is a Civil War era patent model of a pocket writing desk. The patent was applied for on December 25, 1861 and granted on July 1, 1862. Andrew J. Ritter of Rahway, New Jersey not only had a good idea but an idea for the times. With the Civil War just started, there would be a great need for such a device on both sides. Ultimately, Civil War soldiers became known for their letter writing and this little device helped to make that happen. I have seen ads for these desks in the Harper's Weekly newspapers of the day so I know 100% that they were produced and sold.
The pocket desk was made of wood and pasteboard and designed to hold stationary, (this model has 2 pieces of stationary in it) pencil or pen, a checker boad and checkers (lacking in the model) and other necessities such as sewing needles and threads and other toiletries. There is still one needle on cloth swatch inside. This piece is exceedling rare and this is the first one ever made!!!! This desk comes with the original Government tag as well as the original lables on the desk that the ones manufactured for use did not have. I can see that this is a fragile item and probably did not stand up to the rigors of marching and camp life. How many of these little desks have you ever seen? I have been in the business for many years and this is the first one that I have ever seen let alone owned! I am sure that many of these little Ritter desks went to war.
The desk comes in a lucite display case with modern copies of the Patent documents. For this rare piece $1,250.00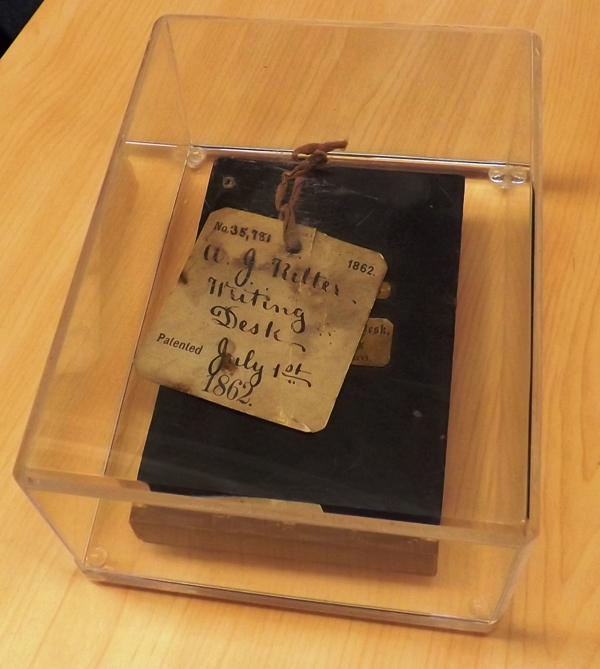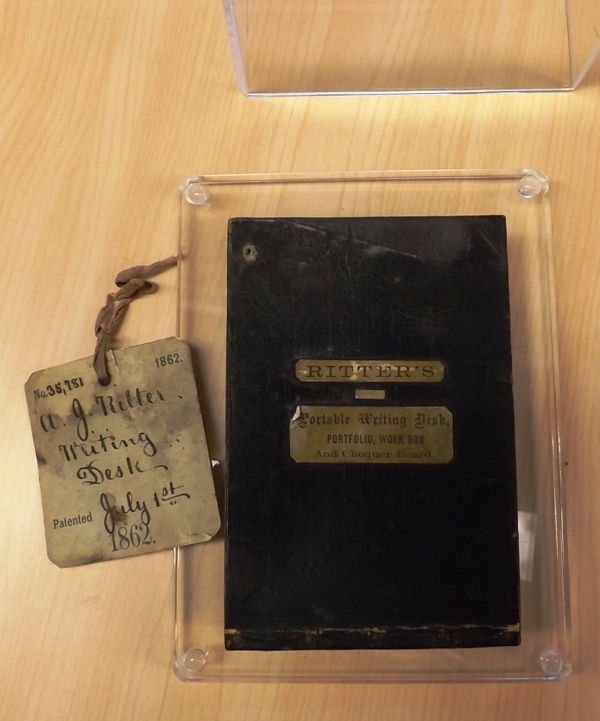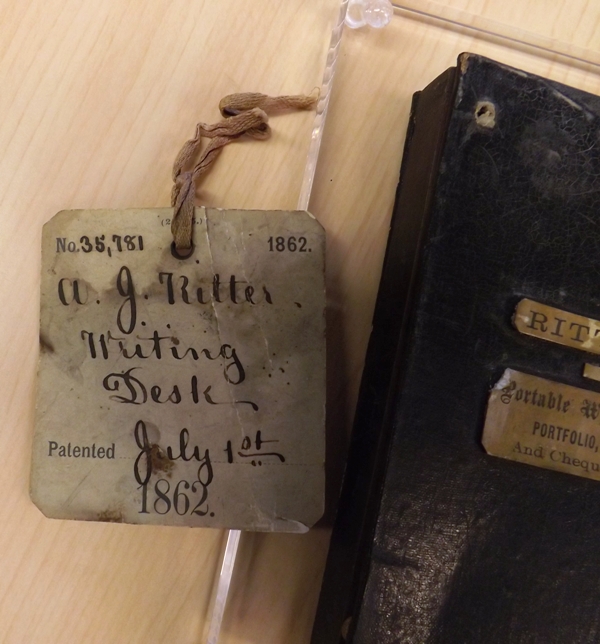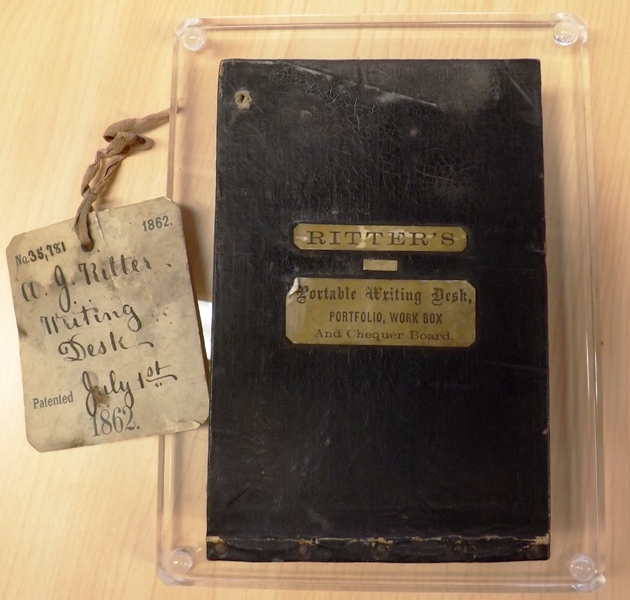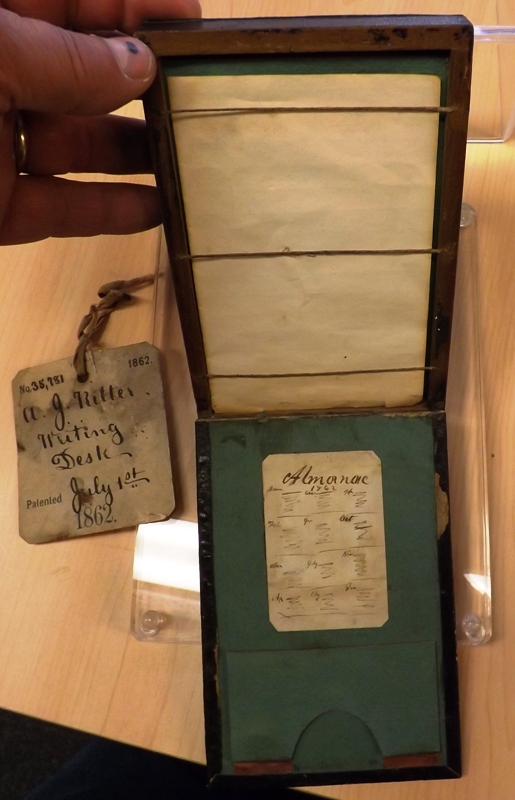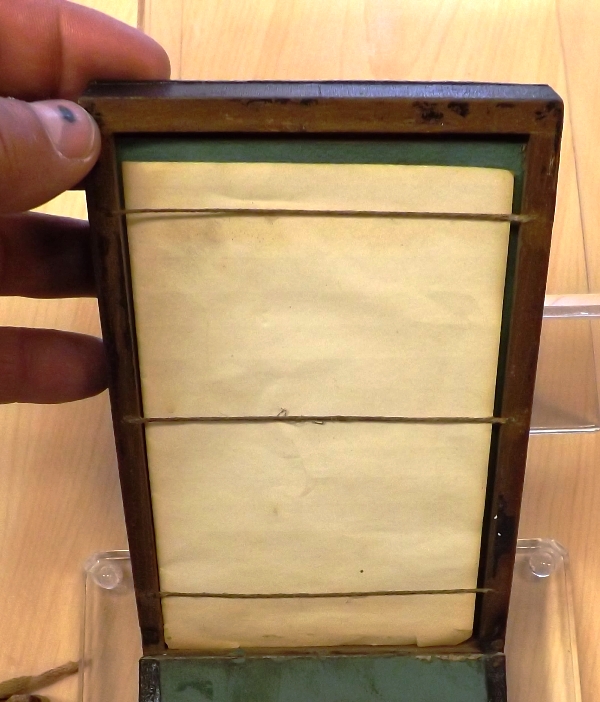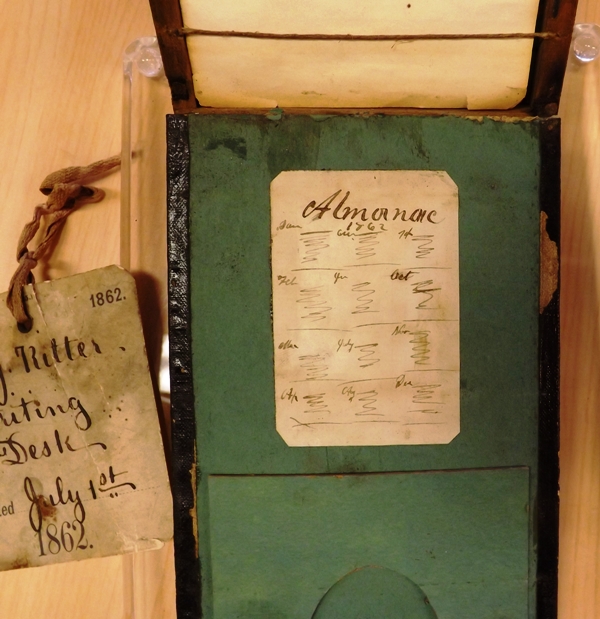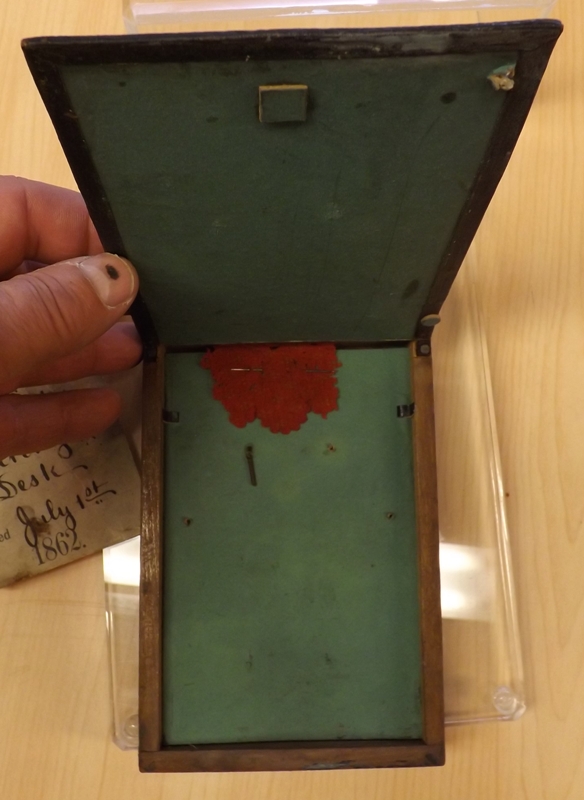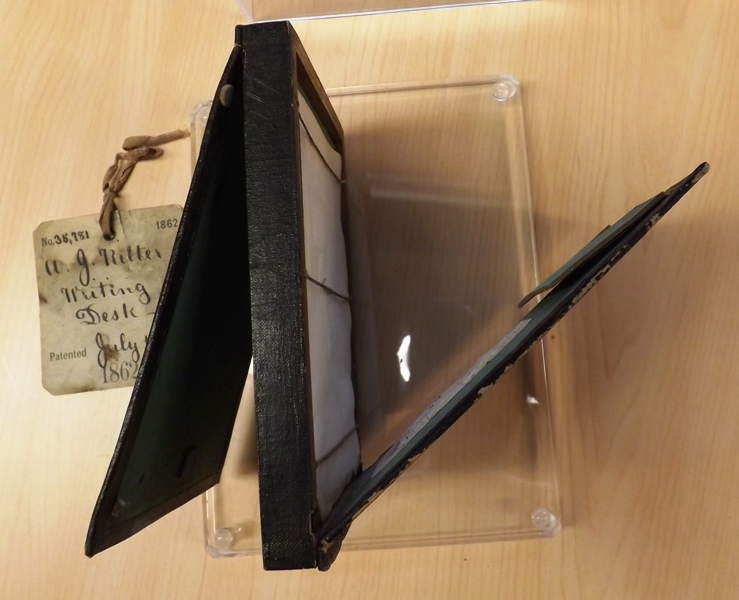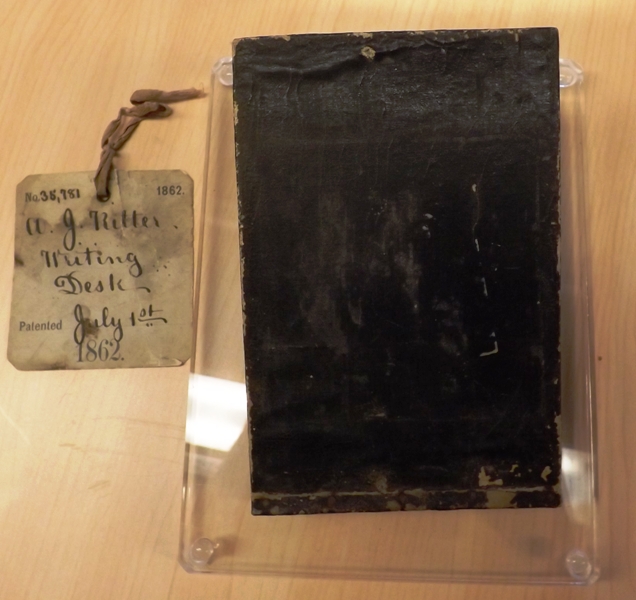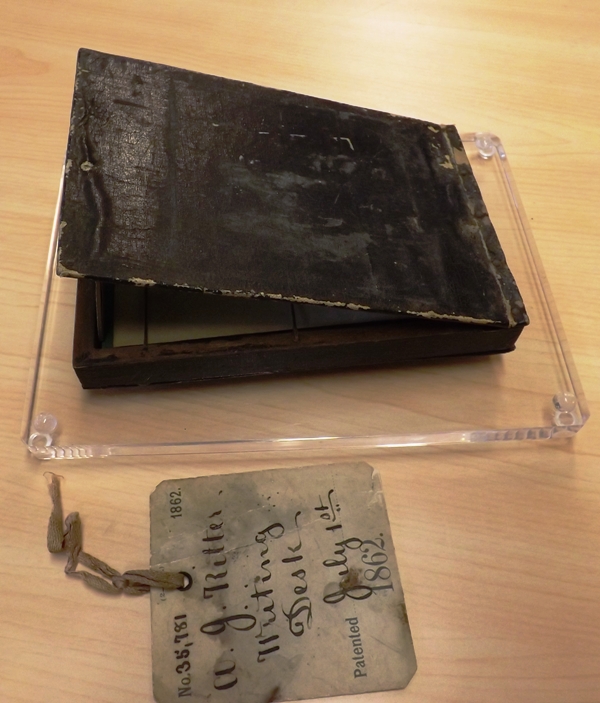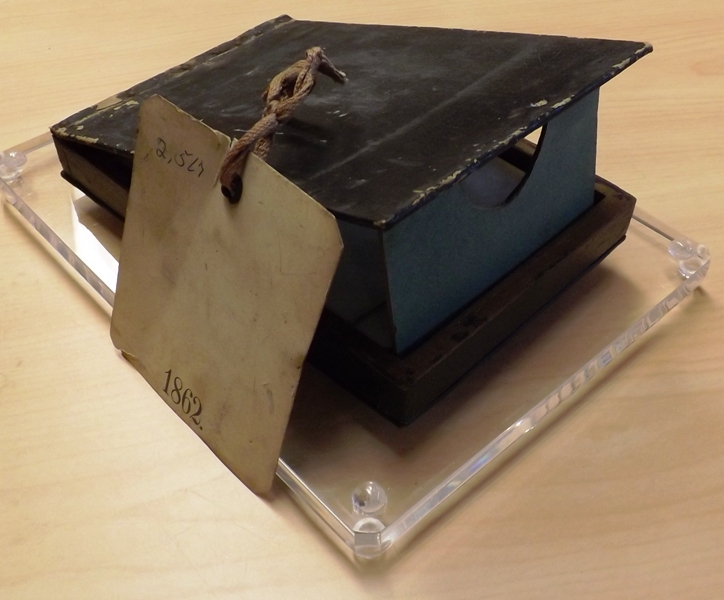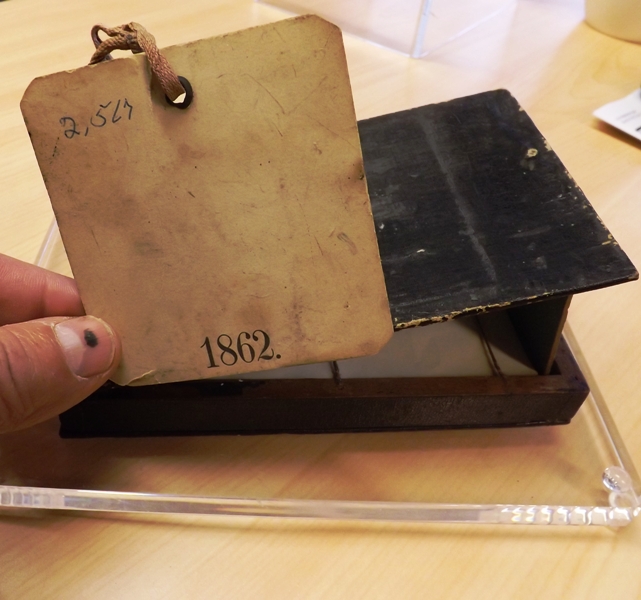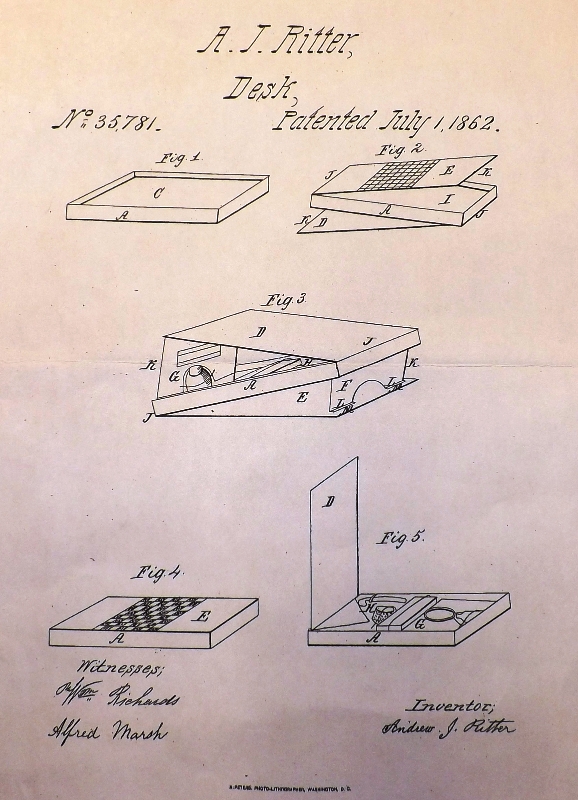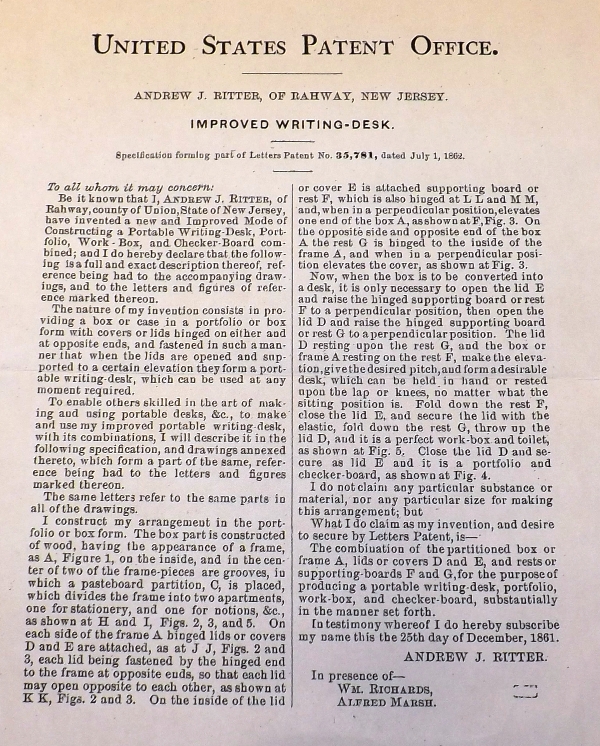 More Stuff 93
Here we have an old set of 19th century Police "Nippers". The Patent says Shackles but these are better known in the collecting field as nippers. This set of old nippers comes with a copy of both the Patent papers showing the drawing of the item and the text describing the item which describes them as Police-Nippers. I know of at least 3 types of thise W. G. Phillips nippers that were patented on Aug. 10, 1869 and this is the second type which was an improvement over the first type due to the spring which set into a notch that made them adjustable. The first earlier ones only had one setting and that was a stud that was set in a hole. The inventor was W. Gray Phillips of Brooklyn, Kings county, New York. These Nippers were not intented for the most violent of criminals as only one arm/wrist was secured by this method. They still work fine and the spring is strong. There is about 70% of the original nickle remaining. This fine old nippers came out of a Lyndonville, Vermont collection. Take a look at the pics! $195.00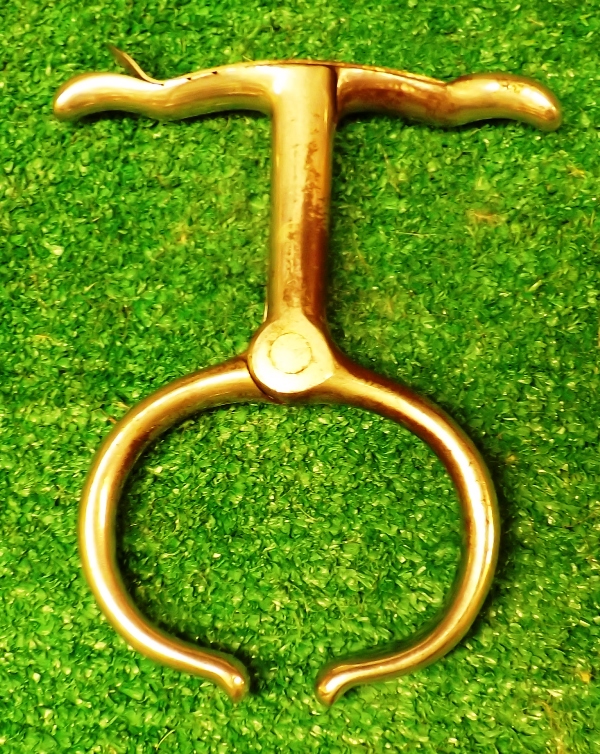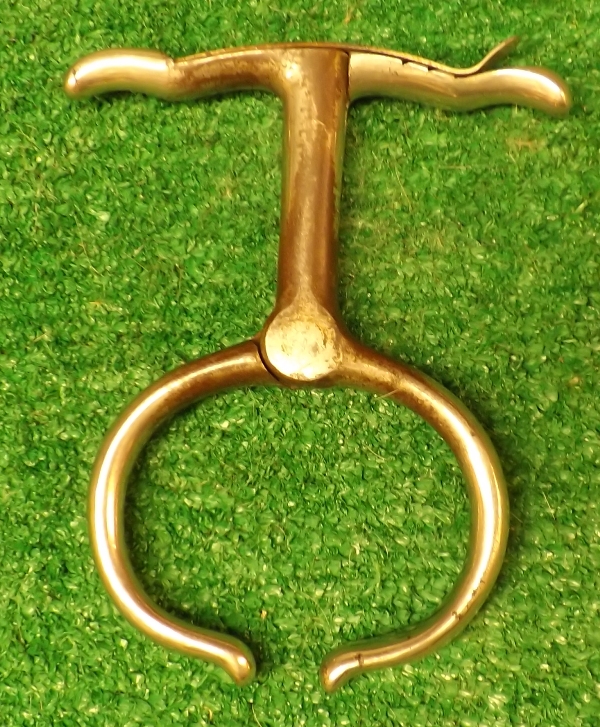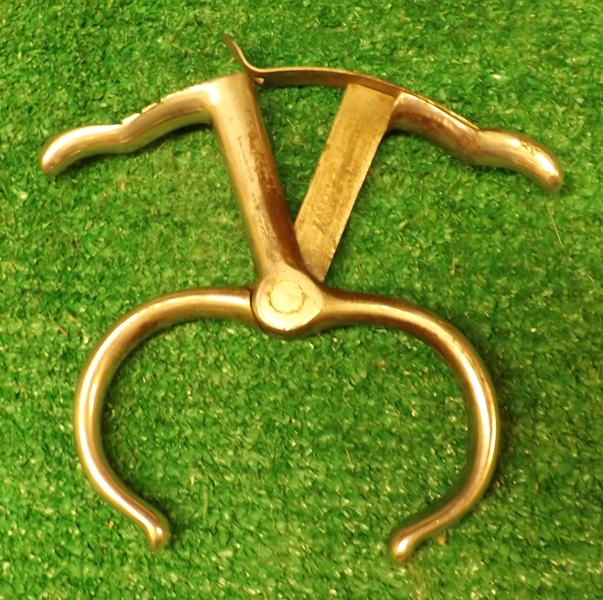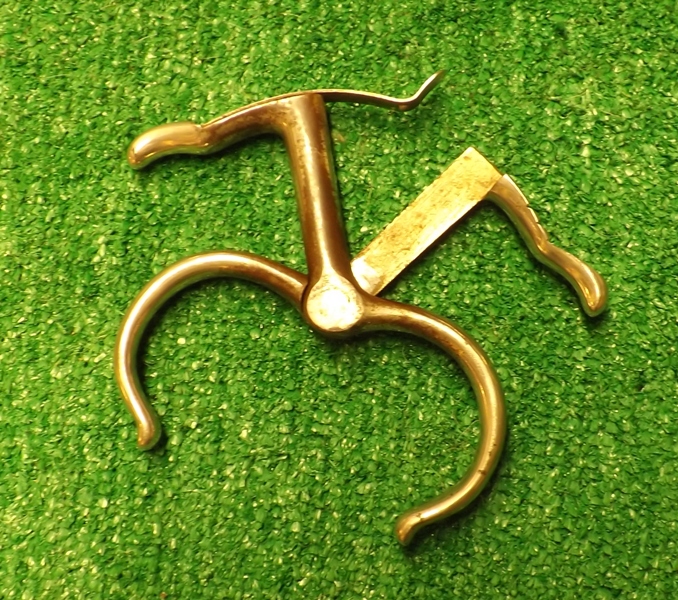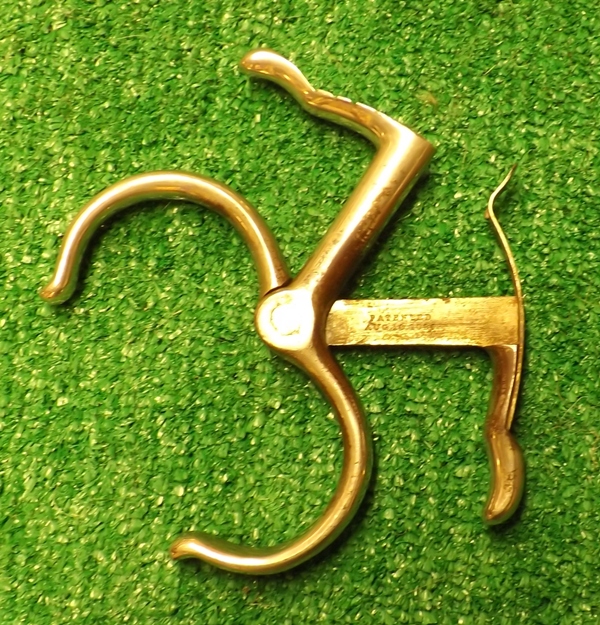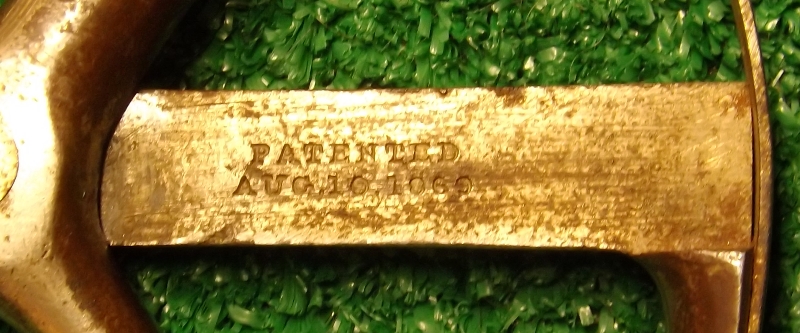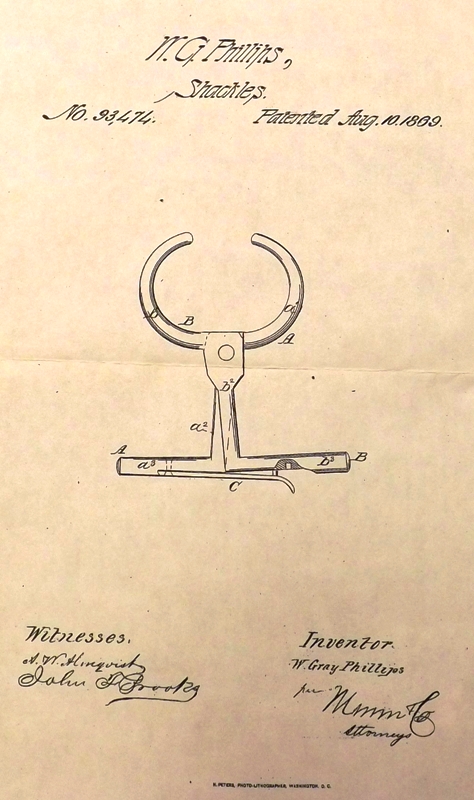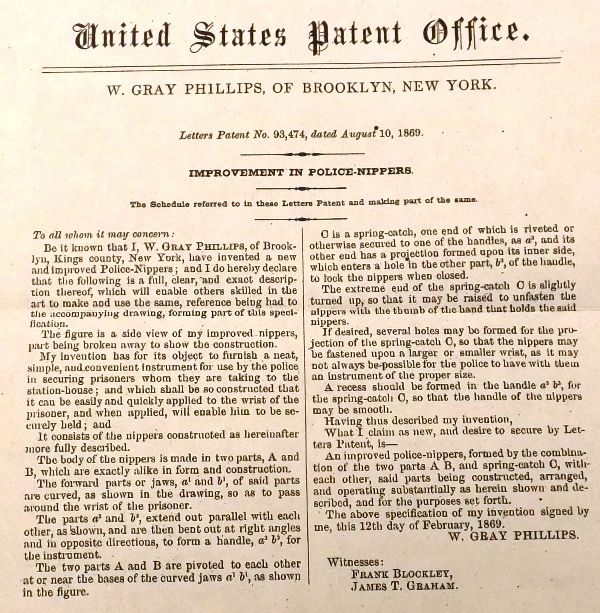 More Stuff 92
This single brass stirrups here is a heavy cast brass stirrup in good original condition. Referred to as the Model 1904 artillery stirrup and each it measures 5¼" high by 4¾" wide and there is a bend to it that you can see in the pics. It is believed that these type of equestrian accoutrements were issued with the M1904 McClellan artillery harness saddles. This stirrup had a ½" thick tread (now lacking) that features an iron top plate inset into the brass surface at the time of casting. The tread surfaces exhibit a sharp front and rear edge on the stirrup and a center ridge down the iron insert. The stirrup exhibits a very fine, mellow bronze patina overall with normal dings from age and use. A good representative of early 20th century brass artillery stirrup. $45.00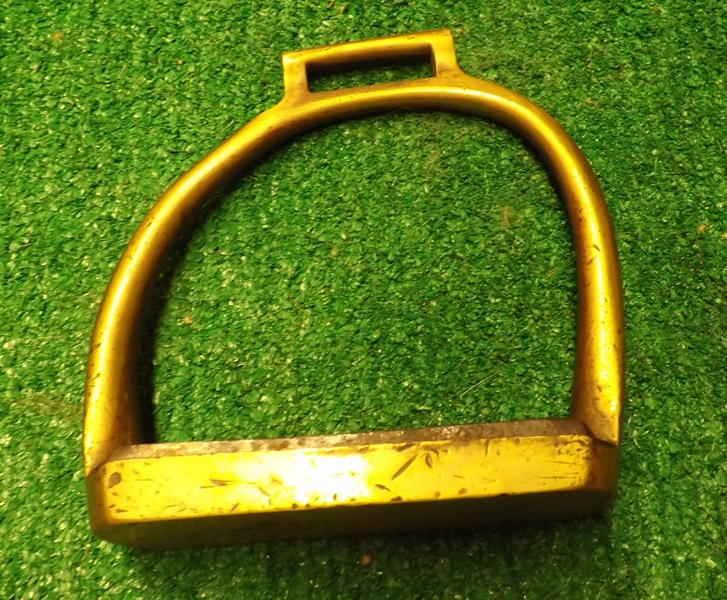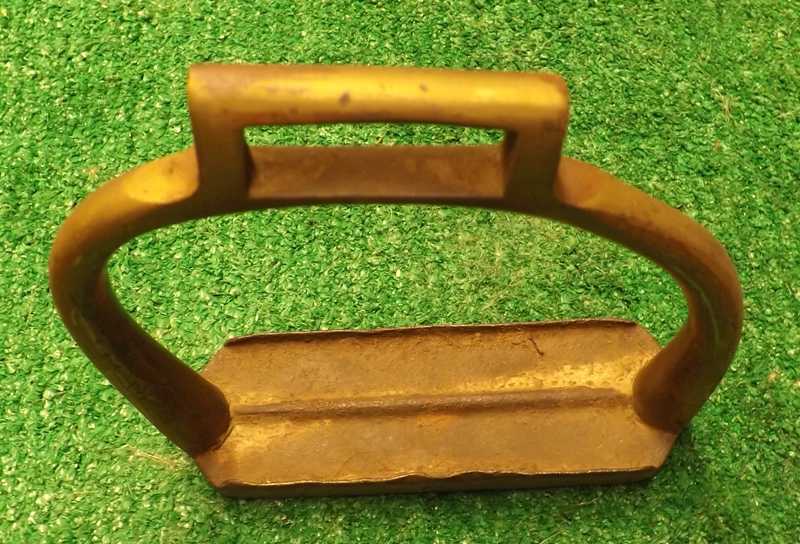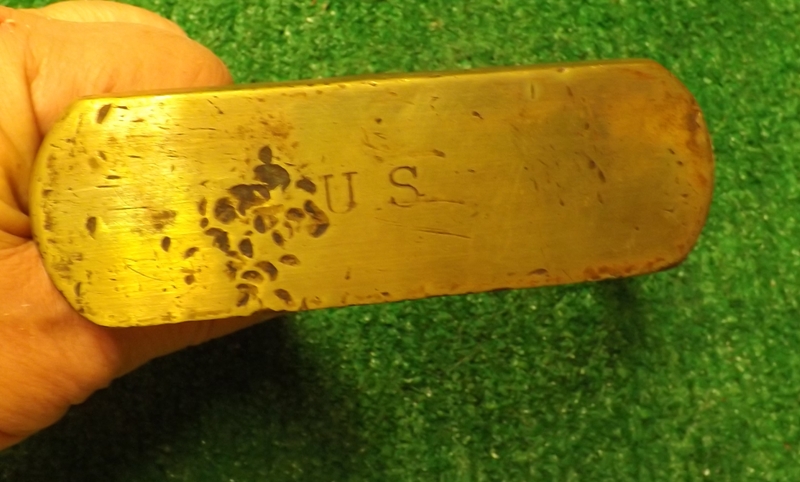 More Stuff 91
Here we have a YOUNG AMERICA BACHELLERS SUBLIME QUALITY SEWING SILK & TWIST FOR SEWING MACHINES box. This is an early one I believe being from the 19th through early 20th century. The box measures about 8 1/4 X 4 1/4 and is in pretty good condition. There is an excellent looking spread winged Eagle on the lid and a waterstain. Someone has written a price on the bottom of the box in ink. Small but there. $20.00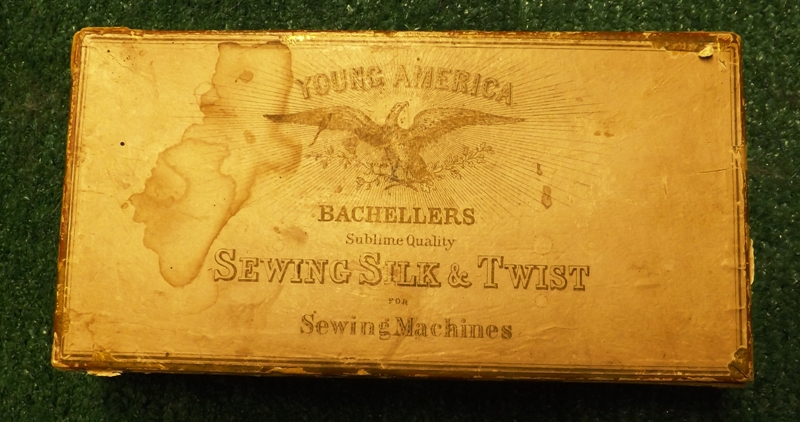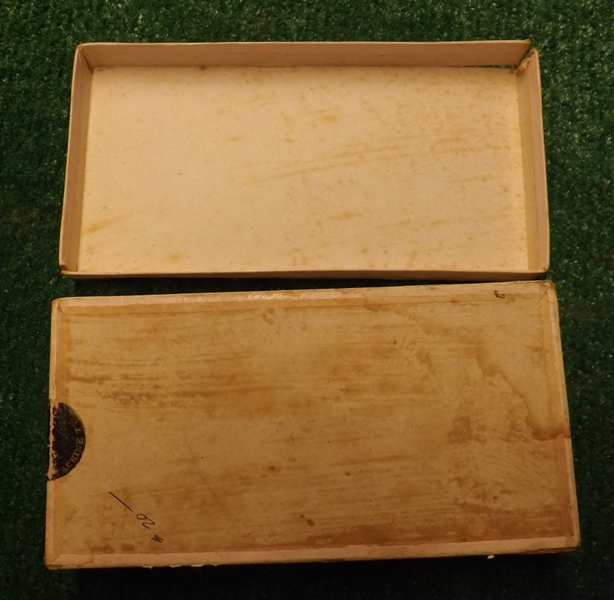 Here are three needle cases with needles.
More Stuff 90
The first one is a small brass one measuring about 1 7/8 inches long. The cap pulls off to reveal a couple of needles inside. Nice patina! $10.00
More Stuff 89
The second one is another brass one with decorations around the body that may indicate Naval use. It just looks nautical to me. This one measures 2 3/4 inches long and is full of needles. $15.00
More Stuff 88
The third one is steel with brass end caps and has on the stamped on the cylinder HENRY CLARRE & CO. 17 GRACE STREET LONDON--FAVORITE NEEDLE PERSERVER--AGENT FOR UNITED STATES-H.F.OSBORNE, NEWARK, N.J. PATENT. This one is also full of needles.
More Stuff 87
The needle safe dates to the turn of the century (1890-1905) when the H F Osborne firm was making all sorts of saddlers and harness makers tools (harness, trunk, trimmers and saddlers tools)out of their Newark NJ plant. They had a huge workforce by this time and a strong line of a variety of products so their tools today are seen throughout the antique markets. For this fine piece $45.00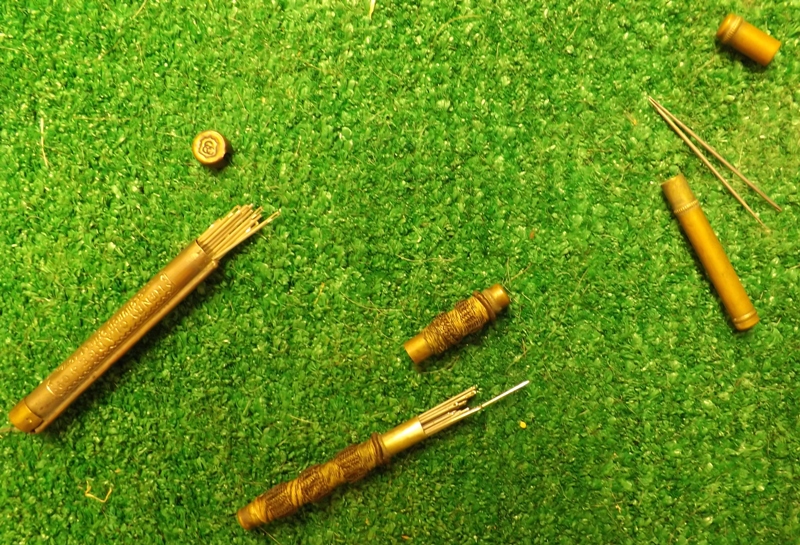 More Stuff 86
Here we have a group of harness needles in original packaging. This group is all post Civil War and has MADE IN ENGLAND or MADE IN GREAT BRITIAN on them or close. The makers are John James & Sons, Redditch , England: W.Crowley & Sons, England: Glover's Needles, England for C.S. Osborne, New Jersey: Jas. Smith Sons, Great Britian: & the Shrimpton Need Co. England. For each pack $10.00
More Stuff 85
I believe these harness needles to be much earlier because no country of original is listed on the packages. There are three packs of harness needles that are marked E PLURIBUS UNUM BEST QUALITY HARNESS NEEDLES C. SCHLEICHER, BELLE VALLEE. That company was in Canada but obviously these needles were made for the American market. The best package has no needles in it and the other two have 1 needle each in them. For each $10.00 The other pack shown is SUPERIOR CAST STEEL DRILL'D EY'D HARNESS 8 MANUFACTURED BY J. RIMMER & SON, ALCESTER. John Rimmer flourished 1800 to 1840 and Son Thomas from 1802 - 1870 as needlemakers. This one is full of needles. $25.00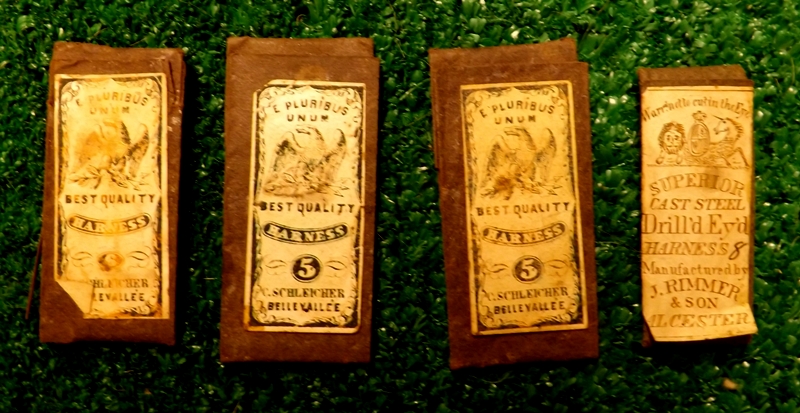 More Stuff 84
Here we have a couple of little sad irons. Most people believe that these were either salesmens samples or children's toys but I have seen these type of little sad irons that were used by officers to iron their collars on their uniform shirts. The all iron one dates from the Civil War era while the little larger one "THE PEARL" dates from the 1880's through 1910 or 1912. The smaller one is about 3 inches long and 2 1/4 inches tall and is solid iron. This one is $65.00 New Arrivals A 148
The larger one is embossed "THE PEARL" and measures nearly 4 inches long and 2 3/8ths inches tall. The base is iron or steel and has the named top plate screwed onto it. The curved handle is hardwood. Nice little piece! $35.00 More Stuff 89
Check out the pics!!
More Stuff 83
This is a good set of early crossed rifles with a 3 and F on them. Has a hinged pinback on the reserve. Solid pieces and in good condition. $35.00
More Stuff 82
This is a small crossed muskets insignia marked OMI on the top for the Ohio Military Institute. The rifles are about 1 1/2 inches long. This piece has two posts on the reverse for clutch backs probably. $15.00
More Stuff 81
This is a crossed rifles insignia being the M-1902 with the rifles being about 2 inches long with a 4 on top and and E under the rifles. Has a hinged pinback. $10.00
More Stuff 80
This is a set of crossed muskets with a 1 over the rifles and a D under the rifles. One barrel of one rifle is bent and needs straightened up. There are 2 hooks on the back with what appears to be the remnants of a screw back threaded rod. $15.00
More Stuff 79
This is a set of IW era crossed rifles for the infantry with a screwback attachment on it. There is a 15 and an E attached as well. Nice large piece! The rifles are 2 1/2 inch long. $35.00
More Stuff 78
This is an excellent set of crossed rifles insignia with pinback. Has a smaller bar below the rifles that may have had something soldered to it at one time but not lacking. Early piece! $25.00
More Stuff 77
Here's a couple of items that I picked up here in Indiana. The first one is a Civil War era wallet that measures about 5 inches by 3 inches closed. THE WALLET IS SOLD! This one shows lots of wear closed but not much on the inside as witnessed by the pics. There is some stitching replaced and some missing but overall a nice example and would look great in a camp display of personal items. $35 for the wallet. The second item(s) are 4 pair (8) handmade bone dice with hand drilled dots and applied black paint. These were carried along by many Civil War soldiers for the tedious hours in camp with nothing to do. These dice are well worn for many hours of use. I have smaller pairs elsewhere. These measure about 1/2 inch across. No personal or camp display is complete without a pair of these! $15 a pair.
More Stuff 76
Here is a set of very primitive crutches made from rough sawn hardwood. The arm rests are covered with some some of padded muslin or cotton cloth that is sewn together. One of the covers is in tatters. Many thousands of soldiers had to use crutches after the war and most couldn't afford them so handmade ones were constructed. This set would fit a person of about 5' 5" or so in height. The entire piece has nails and leather washers holding it together which makes it kind of fragile in nature. Great display item! $95.00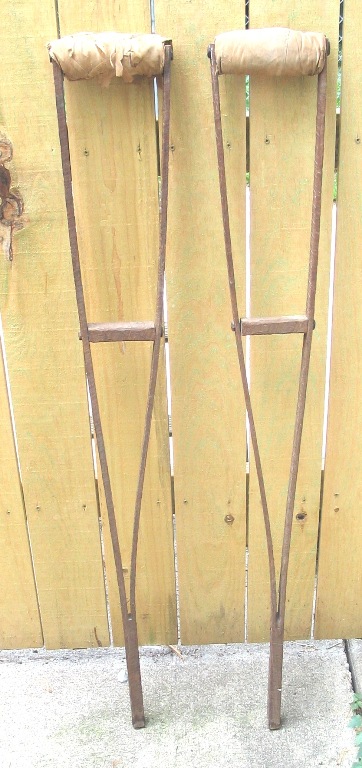 More Stuff 75
Many a man made out a will during the early 1860's thinking he would have to go off to war. This is one such will written for a Hendricks County, Indiana, man, Daniel Brown who was married to Poly and had 4 children. Daniel states in his will that he leaves everthing to Poly but if she gets remarried or dies then she will have to give everything to the 4 kids! Try to get away with that today! This will was written on April 26th, 1862 and I'm sure Daniel though he would have to go off to war one way or another. Daniel did sign up with the 103rd Indiana Co.B for one week on July 10, 1863 to July 18th to run Confederate General John H. Morgan and his soldiers out of Indiana. Here is the bio of the 103rd:
Minute Men. -- Word being received at Indianapolis on the evening of July 8, 1863, that a force of 6,000 cavalry under Morgan had crossed the Ohio River near Mauckport and was moving on Corydon, a call was issued for citizens to organize for defense. Within 48 hours 65,000 men had tendered their services. From this number regiments 102 to 114 inclusive, and one battalion were organized, the battalion being assigned to the 107th. One Hundred and Third Infantry. -- Col., Lawrence S. Shuler, Lieut.Col., Virgil H. Lyon, Maj., Samuel J. Banta. This regiment was organized as minute men and was composed of seven companies from Hendricks, two from Marion and one from Wayne Counties, all belonging to the Legion. It was organized July 10 1863, with 681 rank and file, and moved by rail on the 11th from Indianapolis to Vernon. Securing horses for 146 men from his and Gregory's command, Col. Shuler pushed on and joined a pursuing column, his detachment taking the advance. Coming in sight of Morgan's rear-guard on the afternoon of the 13th the troops engaged in several skirmishes with detachments of the enemy near Harrison, Ohio, and entered there soon after Morgan's rear-guard had departed. The pursuit continued as far as Batavia, Ohio, when the command returned to Indianapolis, being mustered out shortly after the balance of their respective regiments had been discharged. The 103rd had moved to Sunman's station and after Morgan's escape into Ohio had returned to Indianapolis, where it was mustered out July 16th. Source: Union Army, vol. 3, p. 174
It would have been awful hard for Daniel to sign up for a regular unit with a wife and 4 kids to raise! Catch a glimpse of the past for $26.00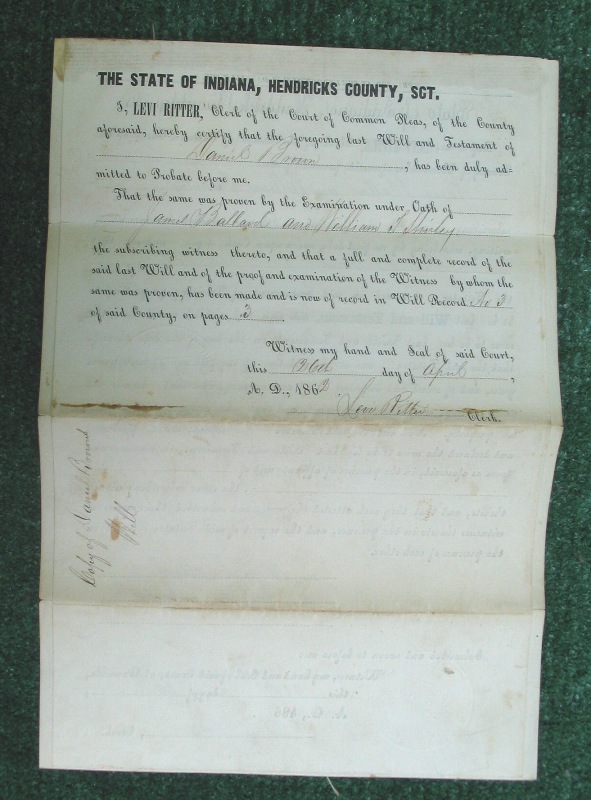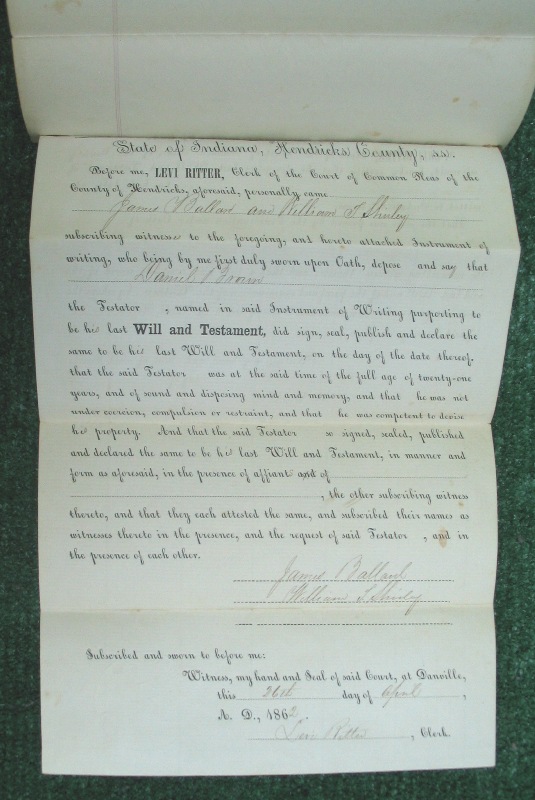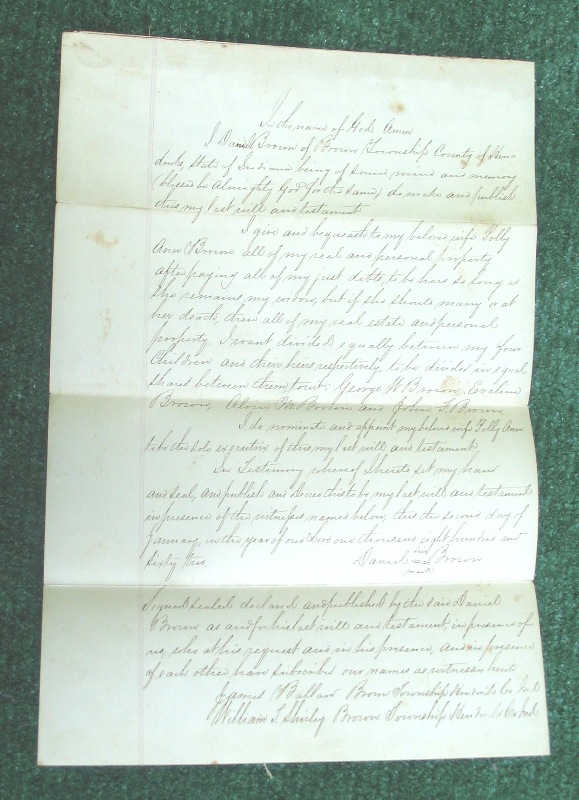 More Stuff 74
Here are 2 personal sized coffee pots that were sometimes carried in the soldier's knapsack. I've placed a penny in the pic for comparison in size. The first one is a 'one cup' sized pot being about 5 1/2 inches tall to the top of the wooden knob on top and 3 1/2 inches across the base. The solder joints are as they should be. I don't believe that there are any holes in this litte pot. Hinged lid. Nice one! Not a toy! $65.00
THE FIRST ONE IS SOLD!!
The next one is about 6 inches tall and 4 inches across the bottom. This is the side spout type with the detachable lid. This one has a very small spout with a loop at the top that would have had a chain on it to a cork to plug the spout. I don't believe there are any holes in this one either. Both pots have a great patina with little rust to the insides and maybe just a minor dent or two. Very nice! $65.00 each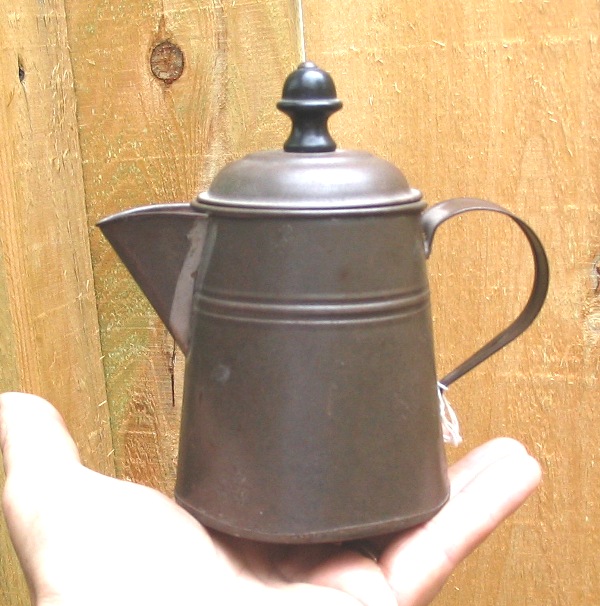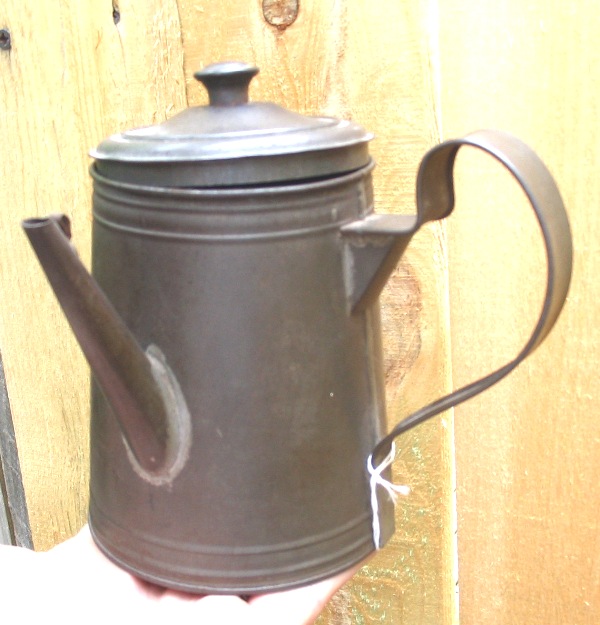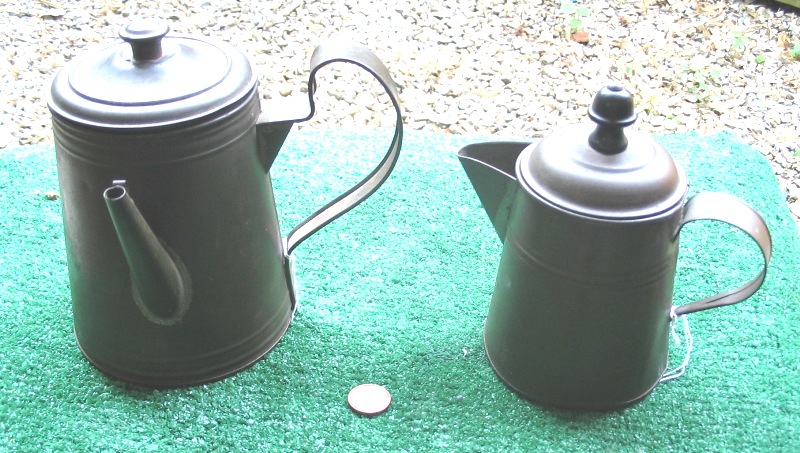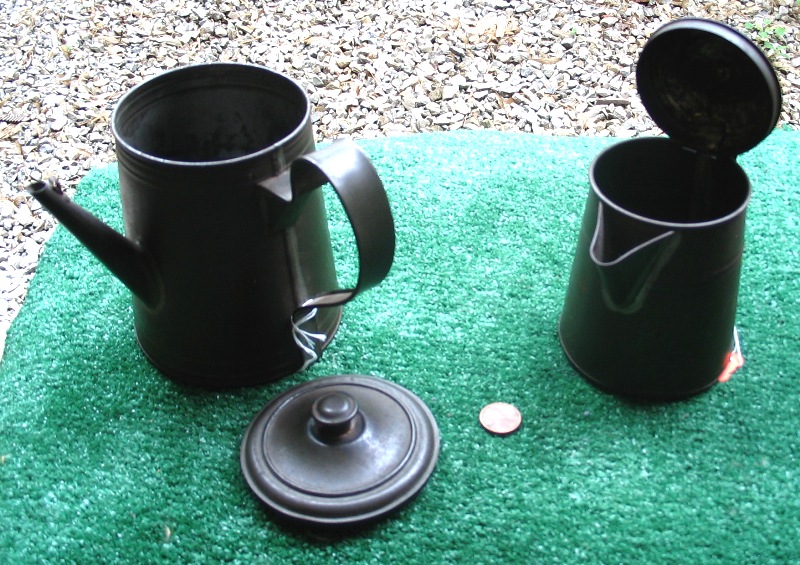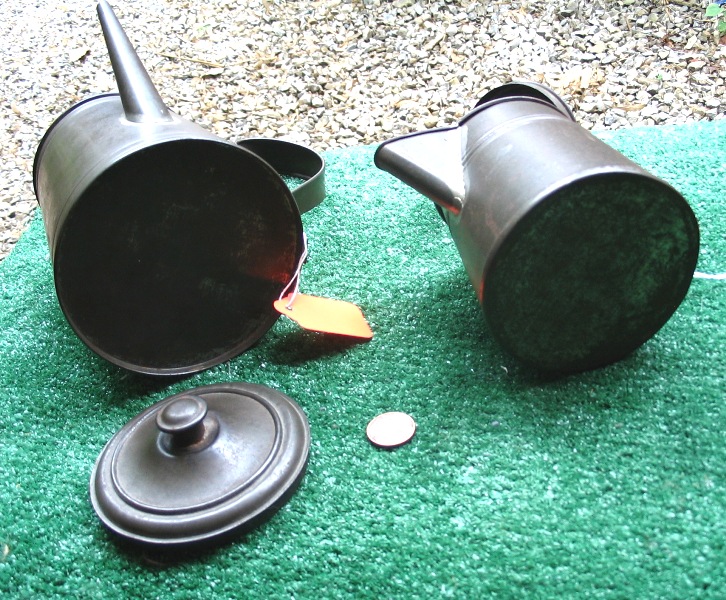 More Stuff 73
Here's a fine set of Civil War Crutches as witnessed in ILLUSTRATIONS OF CAMP LIFE by Matthew Brady. These are the more deluxe set with leather arm rests at the top. Much easier to use and on much easier on the arm pits that the usual half moon type more often associated with the common soldier. These would have been used by someone that was about 5'5" tall or so. Nice original condition with original finish. The leather arm rests are worn but complete. Nice ones and would look great in a medical display!! $145.00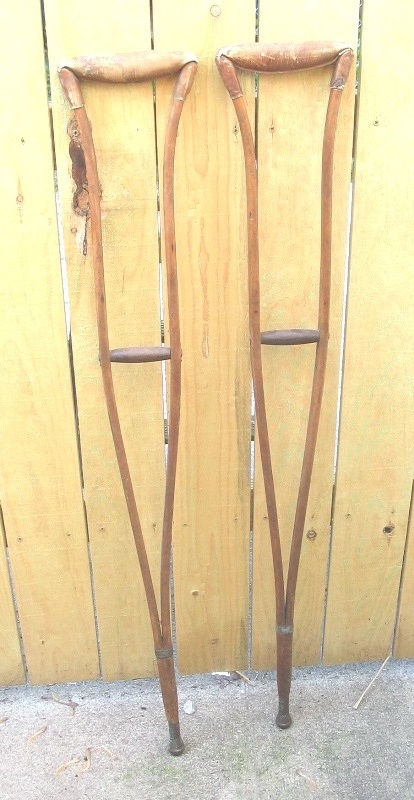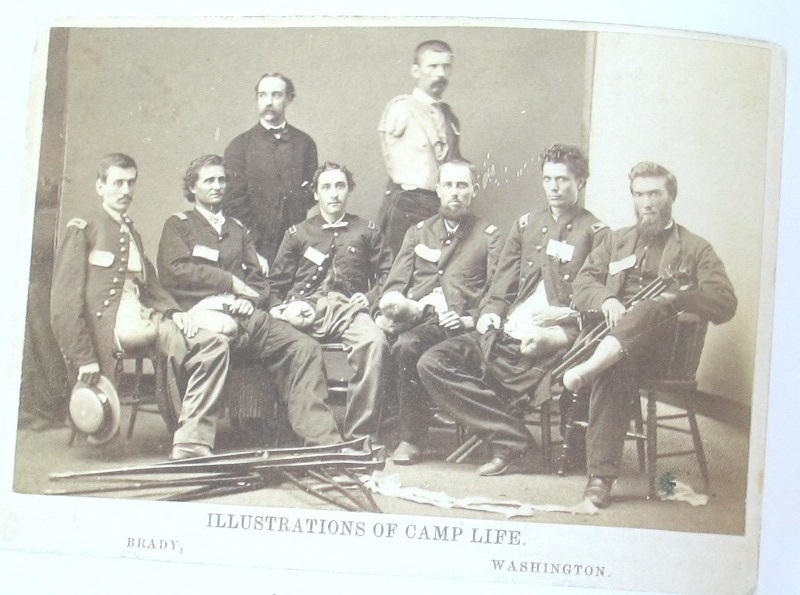 More Stuff 72
Here is a English made Snake Buckle and keeper that is made of tinned iron construction. This piece came from a Cincinnati Costume shop years ago. I believe it to be old unusued stock, perhaps from Bannermans. This type buckle was used by both sides during the War although it's usually associated with Confederates. $95.00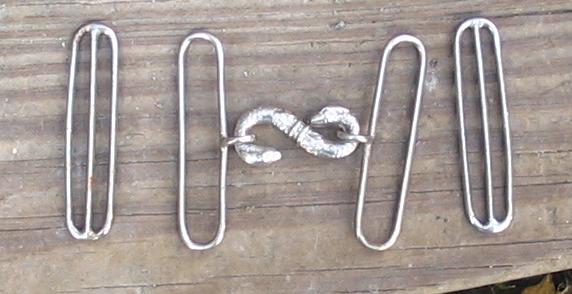 More Stuff 71
This is a Hotchkiss Shell - Complete - This is a 3" case shot with 3 flame grooves. Nose, base and forcing band are entact. Has a brass paper time fuse holder. This piece has ground action but has been cleaned and coated to prevent further damage. Sorry, but the info on where it was dug has been lost with the loss of the collector who owned it. Still a very nice displayable shell! The shell is safe to display as it has been disarmed. About 7 inches long. From a Zionsville, In estate. $295.00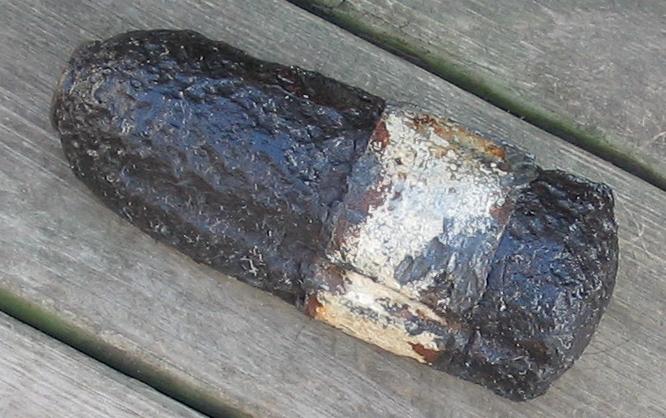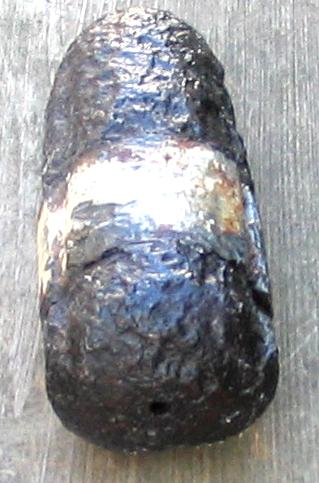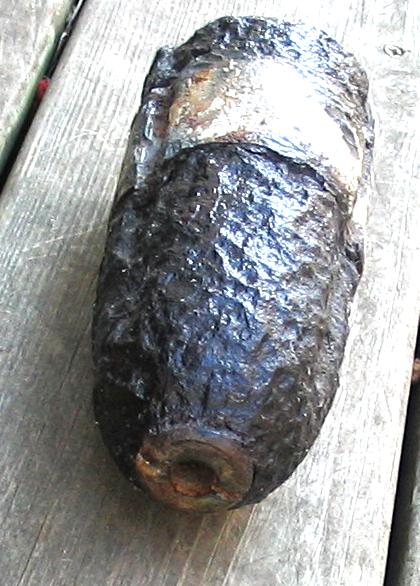 More Stuff 69
Here is a Wagon type Medical Cask/Canteen. This all oak piece measures about 22 inches long and 8 inches tall at the ends not counting the feet. There are 4 iron rivited bands that look to have been painted. The screw fill top and the spigot are made of brass to prevent corrosion. The 2 wire bales that hold the carry handles are also made of heavy brass. The only markings I can find on this unique piece is stampings of 'WT 12 LBS'. The bands are somewhat loose due to wood shrinkage and this piece wouldn't hold wine or water any longer but it is unique and large! One of the base feet is broken on one side but all there and could be repaired if you wanted to. I believe this piece has been refinished but it looks great! $275.00 Below the photo of this keg is an reproduced page from Francis Lord's Civil War Encyclopedia which talks about an Ambulance Water Keg. The one I have is very similiar except that our's has 2 handles while the one in the article has one handle. Their's is also marked MED. DEPT. and ours is unmarked except for the stampings. Take a look and compare! Even our feet and spigot is exactly the same as the one in the picture from Lord's! $275.00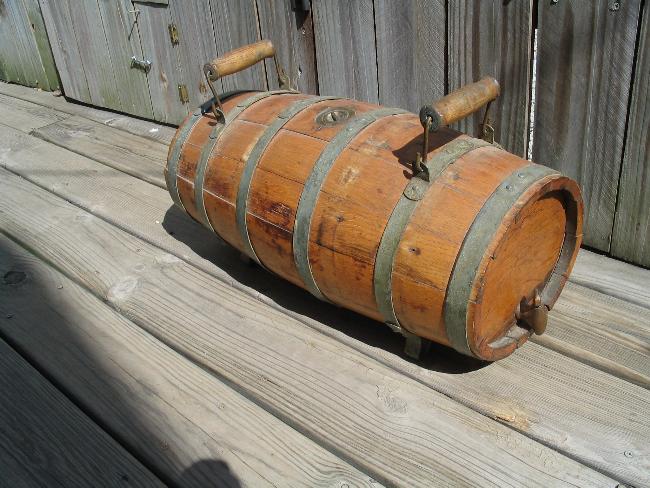 More Stuff 68
This is something you never see. This is an original form for APPLICATION FOR MEDAL being form No. 0714 dated March 1, 1924. This form is to be used by veterans of the Civil War, Indian, Spanish, Spanish Service, Philippine, Philippine Congressional, China, Cuban Occupation, Porto Rican Occupation, Cuban Pacification, Mexican Service, and Mexican Border medals! WW1 wasn't listed on this form yet! There are actually 2 pages, one original and one copy. First time I've seen these and I have a few copies. $10 each guaranteed original and unused!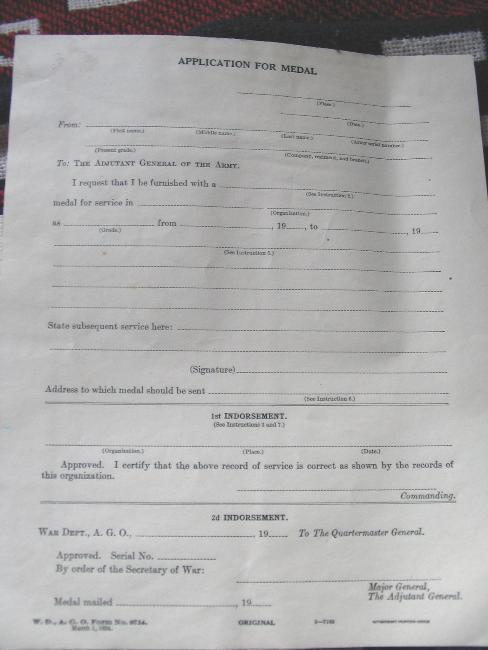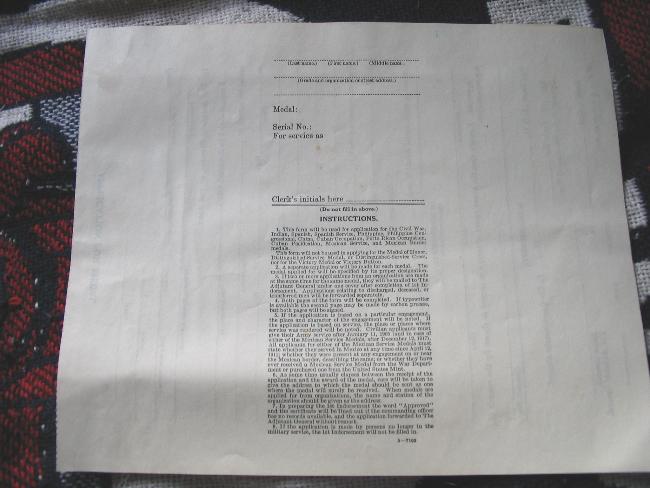 More Stuff 67
This is a 12 inch tall X 7 1/2 inch wide bust of Abraham Lincoln. It has a very small area on the tip of the nose that's missing the gold. I don't know if this is plaster, chalk, or what but it is hollow. Still fairly heavy. Nice piece of Lincoln memorabilia. Don't know how old it is but I got it at a Civil War show from a dealer. $45.00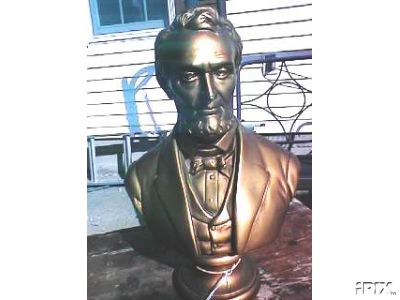 More Stuff 66
This is an excellent CS Confederate envelope / cover address to Mr. George W. Creasey Manchester, Chesterfield Co. VA in care of Capt L.M. Burford. There is an excellent 5 cent Jefferson Davis stamp CSA #4 Stone litograph that is much more of a green than our pic shows (stamp alone worth $150.00) affixed to the upper left hand corner and the cancellation stamp of New London MAR (march I believe) 27 (the envelope is much more yellow or manilla than the pic shows. The date is not seen. There is something else written on the lower left hand corner but I can't make it out. George W. Creasy was in the 18th Virginia Infantry and was part of Longstreet's Corps. ,General Picketts Brigade. The unit was involved in action at Balls Bluff on Bull Run, Manassas; fighting around Yorktown and Williamsburg ;Seven Pines; Gaines Mill; Frasiers Farm; the second battle of Manassas; battles of Boonsboro and Sharpsburg; Gettysburg; Petersburg & Five Forks and made its last stand with the old Picketts Division,at the battle of Saylers Creek. Excellent Unit! Too bad we don't have the letter too !! $125.00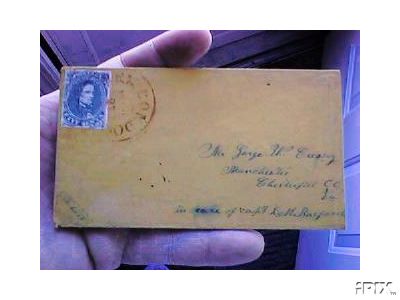 More Stuff 65
CIVIL WAR ARMS PURCHASES AND DELIVERIES: A facsimile reprint of the master list of Civil War weapons purchases and deliveries including small arms, cannon, ordnance and projectiles,introduction by Stuart C. Mowbray. Reprinted here in its original format is the single most quoted source of information about Civil War weapons. It is so important that many authors have called it the "bible" of Civil War arms research. Also known as "Executive Document # 99," this massive publication is a comprehensive list of every single weapons purchase made by the Union - over 300 pages of detailed entries. 300+ pp., 6 1/8" x 9 1/4". Hardcover. BRAND NEW NEVER READ BOOK! $39.50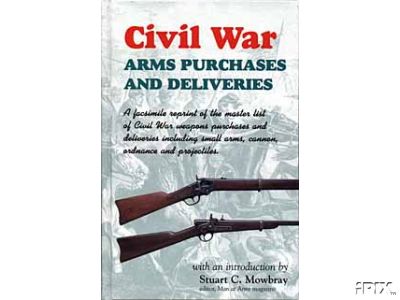 More Stuff 64
This is a very nice unused postal cover showing a negro on all fours with a whip and the words "WHAR 'S JEFF DAVIS?" and is done by King & Baird Prs Sampson St. Philada. Excellent condition!!! $35.00
More Stuff 63
This is a large original descriptive list and account of pay and clothing for John D. Pierce. John was a Private in Co. I 120th Indiana Volunteers. Here is a history of the 120th Indiana. One Hundred and Twentieth Infantry INDIANA (3-YEARS) One Hundred and Twentieth Infantry. -- Cols. Richard F. Barter Allen W. Prather, Reuben C. Kise; Lieut.-Cols., Allen W. Prather, Reuben C. Kise, John M. Barcus, Majs., Reuben C. Kise, Edward B. Brasher, John M. Barcus, Albert Knowles. This regiment was organized in the winter of 1863 at Columbus, and was mustered in March 1, 1864. It left the state March 20, proceeding to Louisville, Ky., where it was assigned to a brigade with Hovey's division. It moved to Nashville and on April 5, for Charlestown, Tenn., being assigned to the 1st brigade, 1st division, 23rd army corps. Moving May 2 in the Atlanta campaign, it was engaged at Rocky Face Ridge, Resaca, taking a conspicuous part and joining in the charge which routed the enemy; in the assault of Kennesaw Mountain, and in the battle before Atlanta, July 22. It was in the siege of Atlanta and in constant skirmishing until its evacuation being engaged at Jonesboro and Lovejoy's Station. Col. Barter resigning Sept. 15, Lieut.-Col. Prather was promoted to the colonelcy of the regiment, which moved in the pursuit of Hood in October as far as Summerville. It was detached from Sherman's army, Oct. 30, and ordered to Nashville, being in skirmishes at Columbia, and in the battle at Franklin, on Nov. 30, losing 48 in killed and wounded, Maj. Brasher being mortally wounded. Moving to Nashville, it took position in line of battle and took part in the battle of Dec. 15-16, joining in the pursuit of Hood's retreating forces, and going into camp at Clifton, Tenn. Embarking Jan. 15, 1865, it moved to Cincinnati, thence to Washington City, from whence it proceeded to New Berne, N. C. Moving on March 6, with its division towards Kinston, it was in a sharp fight at Wise's Forks on the 8th and again on the 10th, when a furious assault was repulsed with heavy loss on the enemy. The regiment occupied a position in the center, exposed to the heaviest attack, and lost 7 killed and 48 wounded. Joining the forces under Gen. Cox at Kinston, it moved to Goldsboro, meeting Sherman's army which had arrived from Fayetteville. It was in camp at Goldsboro until April 10, when it moved towards Smithfield, proceeding thence to Raleigh, where it was engaged in provost duty with the army encamped about the city. It then moved to Charlotte, N. C., May 10, remaining there for three months and moving thence to Greensboro. It was ordered to Raleigh, Aug. 21, for garrison duty. Col. Prather resigned Sept. 9, Lieut.-Col. Kise was promoted colonel, and on Dec. 2, was made brigadier-general of volunteers for distinguished services. The regiment was mustered out Jan. 6 1866. Original strength, 976; gain by recruits, 219; total, 1,195. Loss by death, 151 ; desertion 5 2. Source: The Union Army, vol. 3, p. 178 The piece is large and has a couple of seam separations but the paper is in great condition and not fragile. Feb. 1865 and shows John got Trousers, Shirt, Bootees, GreatCoat, etc. $40.00
More Stuff 62
This is a nice piece of Civil War paper which is a voucher for paying Henry McFarland who was a US paymaster. The period was from March 27th, 1863 to April 30th 1863. There are some seam separations on this document but the paper is in good condition. Looks like old $190.15 which included pay for himself, a private servant, clothing for the servant, and food for himself and the servant. Looks like there were 2 servants and their names were John Francis and William Kneeland. They were both light complexion with blue eyes and brown hair. This would make a great framed piece! $25.00
More Stuff 61
This is a used Union Cover with rose 3 cent Washington stamp addressed to Miss Julia E. Jenks at French Creek, Allamaka, Iowa. It's better condition than what our pic shows. Has a poem entitled BEAUTIFUL THOUGHTS on the left side and is dated 1865. Nice old stamp with cancellation. Has been opened on the left end. $45.00
More Stuff 60
This is a Confederate Cover from Pamplins oct, 18th. probably 1862 or 1863. The cover is addressed to Miss Lallie Thackston- Doorlington heith- Prince Edward Virginia. Has the blue large size CSA #2 TJ 1861 Stamp. Nice large Early CS stamp! Cover has bottom flap missing. $150.00
More Stuff 59
Another very good Confederate cover with late war small Jeff Davis 10 cent stamp. The cover is from and marked OFFICE OF COMMISSIONER OF TAXES - OFFICIAL BUSINESS and is hand cancelled CANACL JAN 23, 1865 with something else under that. The cover is addressed to Alex. Donnan. Esq. Petersburg, Va. Some water staining on the ends but not bad. I'll bet this is one tax bill that didnt' get paid!!! $145.00
More Stuff 58
This Confederate cover has the early green Jeff Davis 5 cent stamp on it and it is addressed to Mrs. Catherine Roulhae , Hillsboro , Orange County, -N.C.- The cover was opened by raising the flap. Good condition!! $125.00
More Stuff 57
This cover is addressed to H. (Henry) W. Spafford Quartermasters Clerk 4th VT Regiment Washington D.C. Here is Henry's stats: Henry W. Spafford Residence Bennington VT; Enlisted on 9/4/1861 as a Private. On 9/21/1861 he mustered into "A" Co. VT 4th Infantry He Re-enlisted on 10/25/1864 He was Mustered Out on 7/13/1865 He was listed as: * POW 10/11/1863 (place not stated) * Paroled 3/21/1864 (place not stated) Promotions: * Comm Sergt 5/28/1862 * 1st Lieut 11/6/1864 (1st Lieut & Quartermaster) Intra Regimental Company Transfers: * 11/6/1864 from company A to Field & Staff Sources used by Historical Data Systems, Inc.: Here is a history of the 4th VT They were at Gettysburg!!: VERMONT FOURTH REGIMENT. (THREE YEARS.) BY LIEUTENANT-COLONEL STEPHEN M. PINGREE. THE Fourth Regiment Vermont Volunteer Infantry, was raised chiefly in late August and early September, 1861, simultaneously with the Fifth regiment. The Fourth, to the extent of nearly nine of its ten companies, was raised on the east side of the mountains, while the Fifth, in fully as great a proportion, was being recruited on the westside. Company A of the Fourth was fully raised in, and very near to Bennington county. Windsor county furnished a larger number than any other for the Fourth, being company C, most of E, a considerable part of K, and a fraction of B--the larger part of B being from Orange county; D was largely from Orleans county, with a fraction from the northwesterly part of Windham county; F was from Windham county, largely along the Connecticut River in Brattleboro, Rockingham and between; G and H were chiefly from Washington and Caledonia counties; I was largely from Windham county, though partly from the north-easterly part of the State,while K--except as above stated, and a small fraction from Windham-was from Washington county and the north-westerly part of Orange county. Its original aggregate, as a regiment, was 1,048, of whom it is believed less than forty deserted, some of whom returned. The most numerous desertions were from companies C and K. The smallest losses, "killed and died of wounds," (battle losses) were in B, E, F, I and K, and of these, ten in B was the least. Four companies--A, C, D and G--each lost over twice that number. Twelve officers and one hundred fifty enlisted men died in battle; one officer and two hundred seventy-nine enlisted men died of disease and as prisoners, sixty of whom died in Confederate prisons. In the battle of the Wilderness, Va., in May, 1864, seven officers were killed and eleven wounded, one of whom died of his wounds, and out of less than five hundred fifty enlisted men in that battle, forty-one were killed outright. Two hundred twenty-three were wounded, forty-three mortally, and four were missing; so that, in this battle, the actual death loss was eighty-four, the largest suffered by any Vermont regiment in one battle, and a loss seldom equalled by any infantry regiment in a single engagement during the war. Its total losses by death were in excess of those of any other infantry regiment from the State. The first Colonel, Edwin H. Stoughton, was but 23 years of age. He was the youngest officer to take a regiment from Vermont, and is believed to have been the youngest from New England. His brother, Charles B., (Second Col.) was made Colonel at 21. The regiment was mustered in at Brattleboro, September 20, 1861, started for Washington next day, and in five days joined the other Vermont troops then in Virginia, at Camp Advance, and was soon followed by the Fifth and Sixth, which, with the Second and Third who had "gone before," made up the "Old Vermont Brigade," which remained unbroken, save by casualties, and was present at the surrender of Lee. Like other Vermont organizations the Fourth was fortunate both in its officers and its men. It was also extremely fortunate to form part of a brigade, organized and commanded by that gallant and unexcelled soldier, Gen. W. T. H. Brooks; to form a part of a division, led by the brave and soldierly Wm. F. Smith--"Baldy"--and of a corps--Old Sixth--which, under the command of Franklin, and later, of the incomparable Sedgwick, became the pride and idol of the volunteer service. "Over all this waved the Greek Cross" never humbled and never dishonored. To have been esteemed worthy, for nearly four years of war, to share the companionship in arms of our fellow regiments from Vermont, and to have borne in their opinion a deserving part of the great work of the Old Brigade, ought to be, and is, accepted as a sure passport that the Fourth regiment was all it need to have been, or claims to be. Her history is everywhere a part of the history of a brigade famed throughout our Nation, and whose losses in battle, killed and mortally wounded, exceed those of any other brigade in the Union armies, east or west. ENGAGEMENTS. Lee's Mills, Va., April 16, 1862. Williamsburg, Va., May 5, 1862. Golding's Farm, Va., June 26, 1862. Savage's Station, Va., June 29, 1862. White Oak Swamp, Va., June 30, 1862. Crampton's Gap, Md., Sept. 14, 1862. Antietam, Md., Sept. 17, 1862. Fredericksburg, Va., Dec. 13, 1862. Marye's Heights, Va., May 3, 1863. Salem Heights, Va., May 4, 1863. Fredericksburg, Va., June 5, 1863. Gettysburg, Pa., July 3, 1863. Funkstown, Md., July 10, 1863. Rappahannock Station, Va., Nov. 7, 1863. Wilderness, Va., May 5 to 10, 1864. Spottsylvania, Va., May 10 to 18, 1864. Cold Harbor, Va., June 1 to 12, 1864. Petersburg, Va., June 18, 1864. Weldon Railroad, Va., June 23, 1864. Charlestown, W. Va., August 21, 1864. Opequan, Va., Sept. 13, 1864. Winchester, Va., Sept. 19 1864. Fisher's Hill, Va., Sept. 21 and 22, 1864. Cedar Creek, Va., Oct. 19, 1864. Petersburg, Va., March 25 and 27, 1865. Petersburg, Va., April 2, 1865.
More Stuff 56
Nice Cover with 3 cent Rose Washington Stamp. The photo of Henry is just to show you what he looked like and it is not for sale. $65.00
More Stuff 55
This is an unused Civil War Political cover printed in brown ink which shows a Monkey sitting in a chair smoking with the words under it THE SPEAKER OF THE HOUSE OF THE "SOUTHERN CONFEDERACY," NOW ASSEMBLED, JULY 20TH 1863. A little rough around the edges but great Politic Satire! $35.00
More Stuff 54
Voucher No. 86. The paper in this document is in good condition but there is separation at the seams. This is to Roger E. Perkins, Clerk for H. McFarland Paymaster. This document is for Perkins to get paid. He earned $58.33 from March 5th 1863 to April 5th 1863. This would look great under glass! $25.00
More Stuff 53
This is a Pardon given by the Governor of the Commonwealth of Virginia dated October 15th 1887. The Governor's signature is Fitzhugh Lee who was a great Confederate General. Fitzhugh Lee was born in Fairfax County, Virginia, on November 19, 1835. The nephew of Robert E. Lee, he attended the US Military Academy at West Point. Although his uncle, serving as superintendent of the academy, almost expelled him for misbehavior, young Lee managed to graduate in 1856. Seriously wounded while fighting in the Indian wars, he became an assistant instructor at West Point in 1861. In May of that year, however, he resigned to become a 1st lieutenant in the Confederate service. Serving as a Confederate staff officer in the Peninsula Campaign, he was eventually promoted to brigadier general (July 24, 1862) and major general (August 3, 1862). At 27, he was one of the youngest cavalry commanders in the war. Called "Fitz," he led a brigade through the Antietam Campaign, and at the Battles of Chancellorsville and Gettysburg. Wounded at the Third Battle of Winchester, he stayed out of action until the last leg of the war, in which he served as Gen. Robert E. Lee's chief of cavalry corps. Fitzhugh Lee surrendered right after Appomattox. After the Civil War, Lee was elected governor, worked as a farmer and was appointed consul general in Havana. He served in the Spanish-American War as a major general in the US Volunteer Army, and retired in 1901. He later wrote a biography of his famous uncle, as well as other works about the Civil War. Lee died on April 28, 1905, in the District of Columbia. The Pardon was given to Wm. Saunders who was being held for the offense of housebreaking. He was sentenced for two years in the penitentiary in April 1887. There is also a signature of the acting Secretary of the Commonwealth and keeper of the Seals. This document is in really good shape with strong signatures. Guranteed original and authentic! $450.00 The cdv of Fitzhugh Lee is not included and only show here for display purposes. Also, my pic shows "I SOLD IT!" but I've still got it so it could still be yours!!!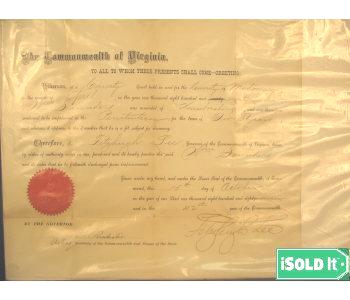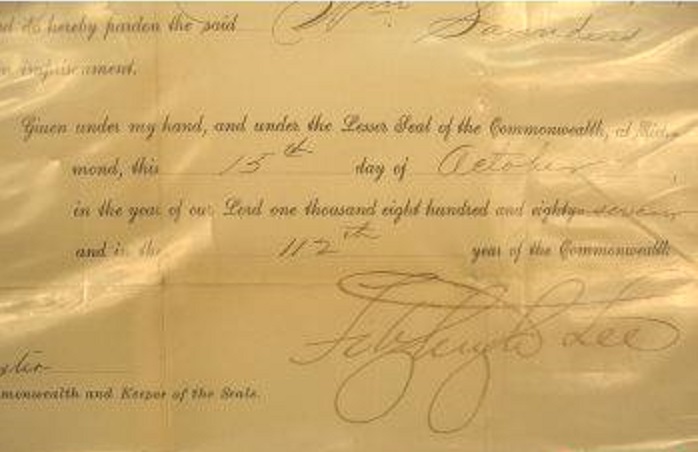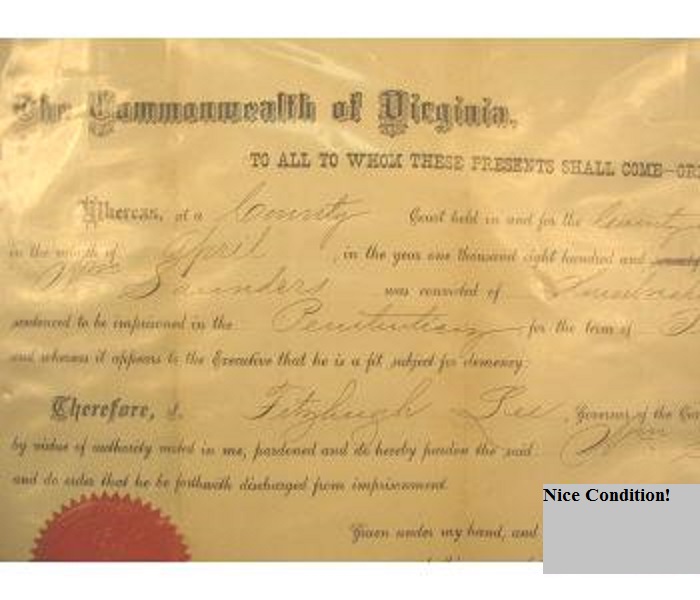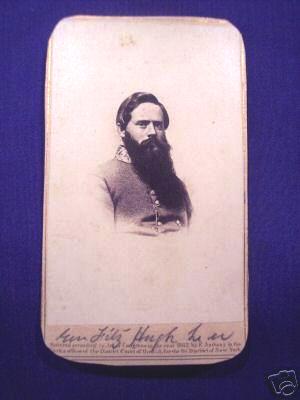 <
More Stuff 52
What we have here is a nice period wooden comb! This piece measures 10 inches long by 2 inches tall. The piece has a couple of age cracks in the bottom part but otherwise looks to be unused. The black handle is black wood and it looks like there was a groove that the carved wooden comb was inserted into. Good display item! $45.00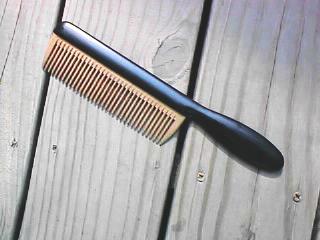 More Stuff 51
Here's a 20th century Gettysburg Souvenir. This is a small pewter scalloped edged dish measuring about 3 1/2 inches across. The back says MADE IN JAPAN and the front says SOUVENIR OF GETTYSBURG and has scenes of DEVIL'S DEN - VIRGINIA STATE MEMORIAL & GENERAL MEADE MEMORIAL. Nice early piece! $45.00 More Stuff 60

More Stuff 50
Here's a nice little set of children's eating utensils! This is a nice little knife & fork. The bone handled knife measures about 7 inches long with pewter bolsters. There is a small crack over one of the handle rivits. The little fork is the bone handled 3 tine variety also with pewter bolsters (a little chip is out of one of them) and measures about 5 1/2 inches long. Nice little set! $45.00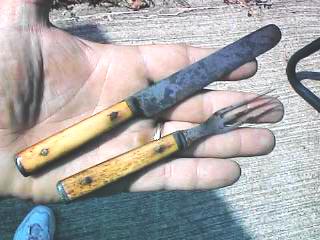 More Stuff 49
Here is a whistle that I piced up. This is an old nickeled whistle that dates to the 20th century and is marked THALCO WHISTLE MADE IN JAPAN and still have the little pea in it as well. These were popular with Police, military and Marching band leaders. $5.00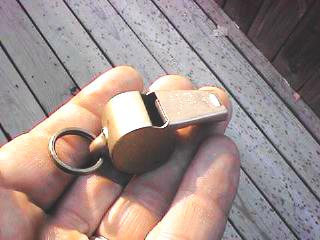 CONSIGNMENT
More Stuff 48
Here's a cape for an Indian Wars Uniform. This is the U.S. M1885 Enlisted Mid-Blue Greatcoat detachable cape. This cape is large being of a dark blue wool lining and a lighter wool outer cover. There are 7 buttons down the front all still present. I can see no tags or lables in the interior of the cape. There are a few moth nips on this one but not bad at all. All the buttons match and look to be original to this piece. For this piece $325.00
CONSIGNMENT
More Stuff 47
Here's another flag that's bigger being about 6 foot 6 by 44 inches. This is a 45-Star Flag: This Flag became the Official United States Flag on July 4th, 1896. A star was added for the admission of Utah on January 4th, 1896, and was to last for 12 years. The Presidents to serve under this flag were Grover Cleveland (1893-1897), William McKinley (1897-1901),and Theodore Roosevelt (1901-1909). This flag was definitely flown and has repairs on it. Still a nice flag and displayable!!! This one is $399.00
CONSIGNMENT
More Stuff 46
Here's what I've been told, is Civilian Pommel saddle bags. They are all leather and in good condition just missing a couple of straps. These are from the middle part of the 19th century. They have holes at the top of the bags to put in a draw string to draw them up tight against anything you may be carrying. These were not just pommel holsters but would hold anything you wanted to put in them including large horse pistols! The only marks on the bags are matching part numbers on each bag. Each flap is held down with a stap and a roller buckle. The bags are still supple with a minor surface loss in a small area. Not bad at all. Look at the pics! $295.00
More Stuff 45
Here are some pairs of gloves / mittens that I recently picked up. The first pair is a set of black, what I believe to be mittens in good condition. They are the large size and used extensively in cold climates especially out West. These would look good in a Western display!!! All of the gloves/mittens are a large size. These black ones are in excellent condition!!! $125.00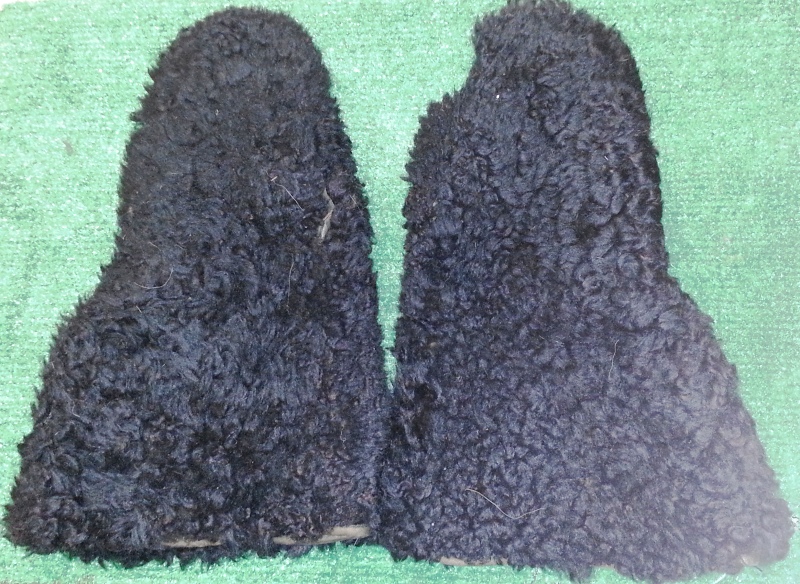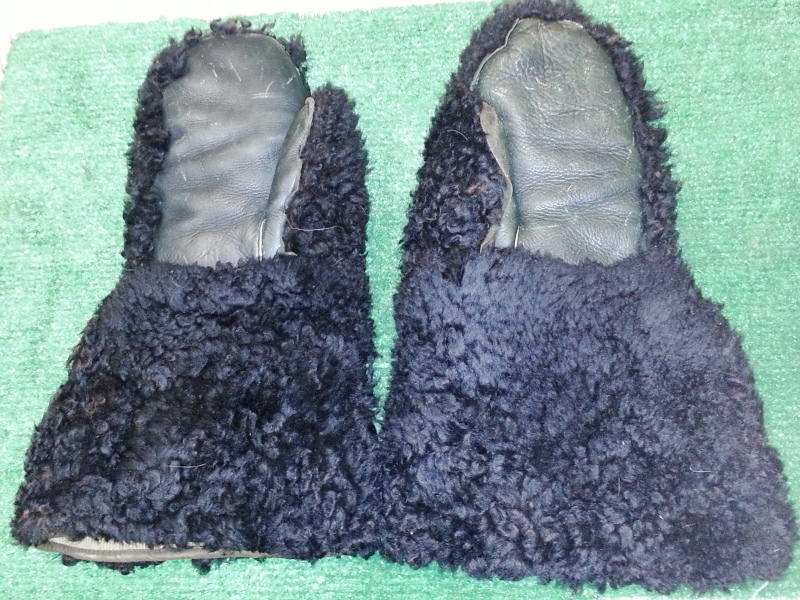 More Stuff 44
This next set of cold weather mittens are brown wool and have a minor repair to ne of them. They are still in good condition and could be used today and boy are they warm!!! $85.00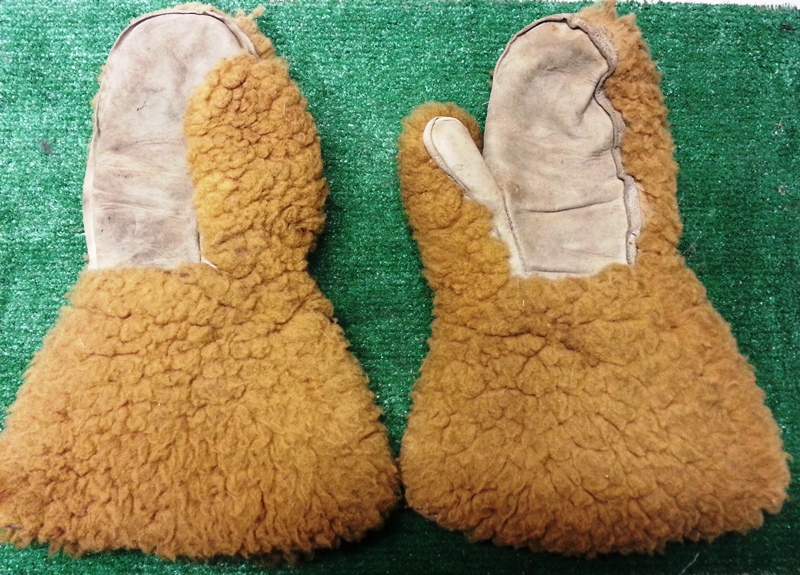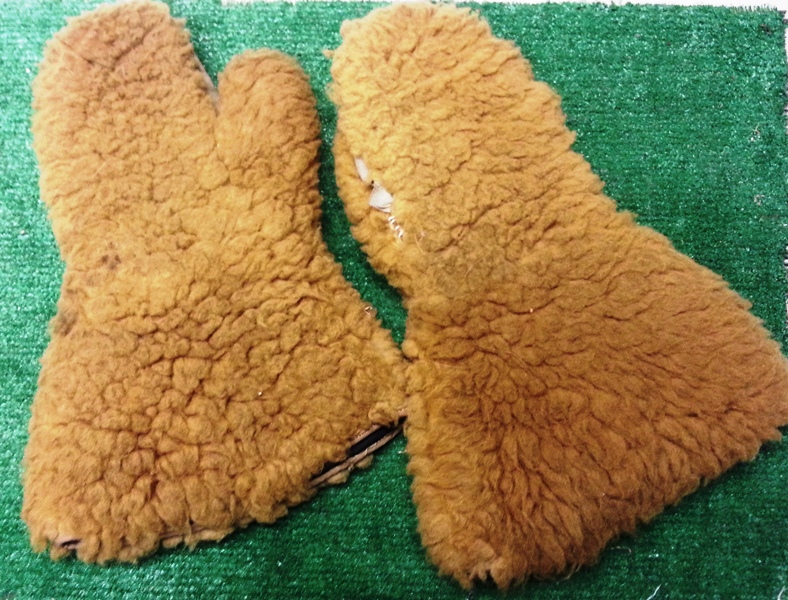 CONSIGNMENT
More Stuff 43
Here's a most unusual item and frankly I found nothing to compare it to. This is a large 6'6" by 6'6" handmade Grand Army of the Republic Quilt. This piece is very heavy and is made from a white cotton material which has turned a shade of light tan. This material is made up of several panels sewn together to make the 6'6" measurements. Then the Civil War Corps badges made out of a red wool material were chain stitched to the quilt as well as Stars, Anchors and the piping around the entire quilt. I believe everything that appears green in the pictures were actually blue in the beginning and have faded to green. The corps badges are still a nice rich red color. There is some minor moth damage to the corps badges but not too bad at all. Showing what size is the 6 pointed star is 6 inches across. There have been a couple of minor repairs to the piece and at least one corps badge needs one side sewn back down. The center of the pice has the GAR Membership Medal image sewn there but it has faded considerably. This is the 2nd Model membership badge as evidenced by the straight out wings so that helps date this piece perhaps. The membership medal is covered by a mesh type material to help protect it but it's still faded. The piece does have waterstains on it but I don't believe that's too unusual for this age of piece. RARE! Unusual!!! $1950.00
EARLY FUR GAUNTLETS WITH LEATHER PALMS!
More Stuff 42
Here is a pair of nice early fur guantlets with leather palms. At first I thought these to be perhaps Bear skin but after futher review I believe them to be a manufactured product and probably date to the early 20th century. There were mostly horses and wagons used for transportation at that time and these are very nice and kind of dressy. Early automobiles and motorcycles also had drivers and rides that used guantlets. These pieces are a large size and fit my fat hands. They are in excellent condition! $125.00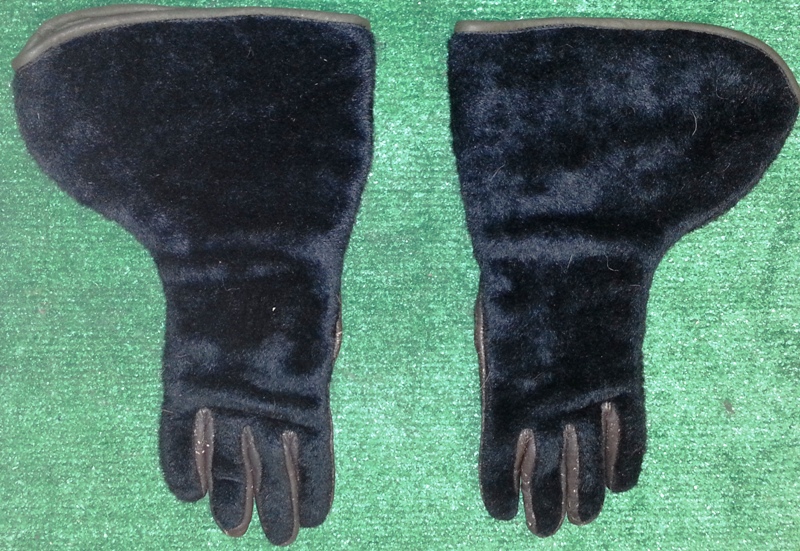 NICE GAR STRAW HAT !
More Stuff 41
Here's a nice Grand Army of the Republic used staw hat with GAR hat wreath in place on the cloth outer band. This type of straw hat was never made to survive but here it is! The hat has some minor surface damage on the front of the hat brim but still solid as a rock. The hat shows no wear so it wasn't used much if at all. The GAR hat wreath shows mostly no wear either. The sweat band is intact and in good condition as well. I believe this hat to be about a 7 1/4 in size. Nice display piece!!! $225.00
CIVIL WAR ERA IRON WESTERN TYPE SPURS!!
More Stuff 40
Here is a pair of iron Civil War Western theatre type spurs that I picked up with other Civil War items. I have seen photographs of these type spurs on Cavalrymen, especially from the Western theatre, and they have been retrieved dug from Civil War Battlefields. This set is in very nice condition being complete except for the leather straps. The rowels move freely and they have the little eyelets for jinglebobs if one wanted to wear them. The spurs themselves are cast one piece iron. Nice display item !! $195.00
CONSIGNMENT
More Stuff 30
INDIAN WAR ERA BOOTS MADE IN ST. LOUIS!!!
Here we have a fair condition pair of 16 inch tall books that are marked HAMILTON-BROWN SHOE CO. ST. LOUIS. This company was established in 1872 by J.M.Hamilton and Alason D. Brown. They have wood pegged soles and nailed heels just like the Civil War boots. There is some leather separation between the other leather shell and liners and the boot pulls are missing in one of the boots. There is some decoration to the back of each boot. Take a look at the pics! It's rare to find many old pairs of boots especially ones that are marked. These would make a nice display item with Indian Wars items! $325.00
CONSIGNMENT
More Stuff 38
Here we have a nice pair of Gold bullion Shoulder Epaulets in the original Jappaned case. These pieces are in outstanding condition. These look like a matched pair but one of the epaulets has been replaced after 1890 as it has the country of origin on it and they are both marked RIGHT. There are subtle slight differences but to the eye one would not know. The condition is outstanding and comes with different attachment pieces for affixing them to the uniform. Not Civil War but look the same. $375.00
More Stuff 37
3 DIFFERENT HAND FORGED TOOLS BELIEVED FOR CANNON USE
Here are other tools that we found with cannon implements. The first one looks like a pair of pliers having a wide head with serrated jaw grip. The handles terminate into a claw on one and a point for prying on the other. The tool is 9 1/2 inches long $30.00
The next tool is a slotted type plier with a locking handle with bail. There is a slot in each side of the head for something to pass through. It's all hand forged but I honestly don't have a clue as to it's use. $30.00
This last piece on the left is long being over 13 1/2 inches long also with a locking handle so that pressure can be maintained on whatever it's attached to. The piece looks like it could have been used to lock onto wooden plugs or fuses in cannonballs to pull them out. The name J.STITLEY is stamped into the metal handle. Again definitely hand forged. $45.00 More Stuff 44
Hand Forged Artillery Tow Hook
Here's what we believe to be a hand forged hand made artillery tow hook. Used to pry open and reseal wooden crates holding shells. The hook end was used to pull out the "tow" a thin string like material packed tightly around the shells to keep them from moving. This piece is a great example with a nice dark patina! $125.00
If anyone has any other ideas on the use for these tools just let us know. Thanks!
More Stuff 36
These last 3 sets of knuckles are quite unusual. The first set looks victorian and is plated. It really doesn't look like a set of knuckles but it came with the collection and fits the hand very well. The second set is a double post iron set and has a chunk broken out of it. I like to think they got broken on a tooth but I don't know. The 3rd set is a large pair of iron double post knucks that have been painted silver for some reason. These have the 4 buttons on top for effect as well. I think this last set is fairly modern. For each of these $85.00
U.S. CIVIL WAR BELT PLATE
More Stuff 35
Here we have the Waist Belt plate, Regulation 1839 Pattern, Infantry Enlisted, ca. 1864. This plate is constructed of a die-struck rolled brass face and is lead filled with brass arrow belt hooks. This one is not marked with a makers mark and someone has written in black felt pen on it BA. The plate came from a collector in S.C. The face shows some of the original gilt while the back shows some uneven lead with nice tongue and hooks. This type is listed in AMERICAN MILITARY BELT PLATES by O'donnell and Campbell as Plate 497. For this nice piece. $245.00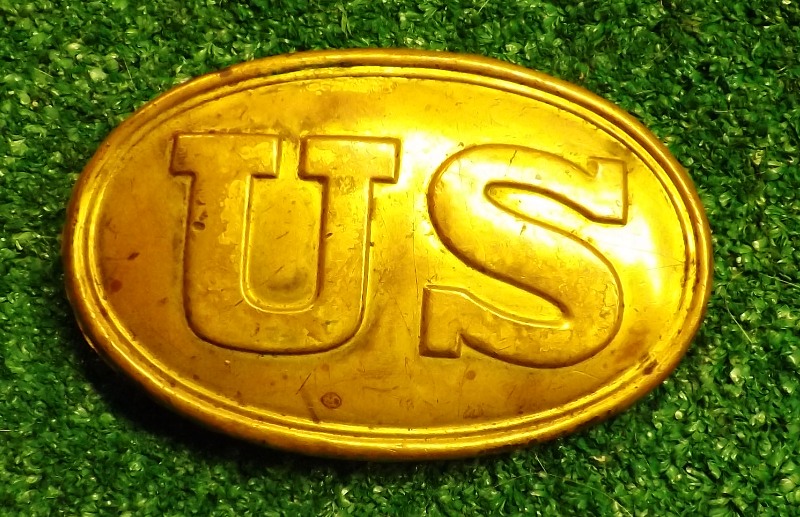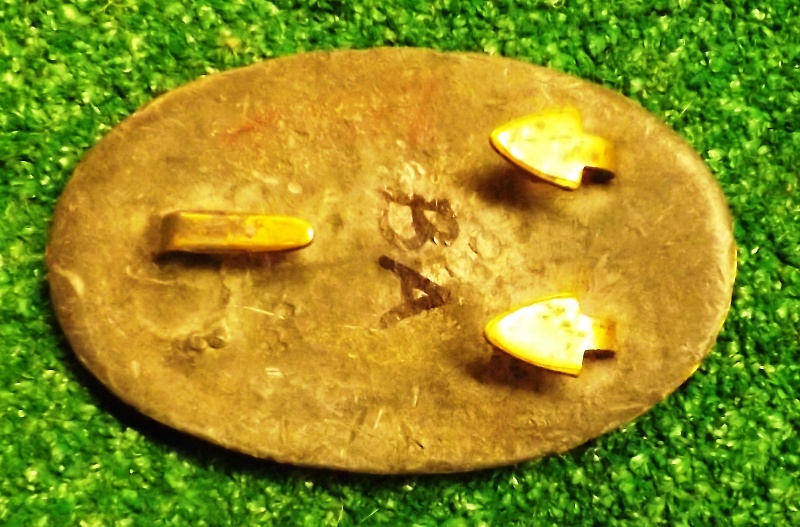 More Stuff 34
These knuckles are quite unusual. The first set looks victorian and is plated. It really doesn't look like a set of knuckles but it came with the collection and fits the hand very well. The second set is a double post iron set and has a chunk broken out of it. I like to think they got broken on a tooth but I don't know. The 3rd set is a large pair of iron double post knucks that have been painted silver for some reason. These have the 4 buttons on top for effect as well. I think this last set is fairly modern. For each of these $85.00
CONSIGNMENT
More Stuff 33
Here's a dug set of handcuffs that I've been told is a set of Bean- Cobb Handcuffs circa 1899 and are they type used on the turn of the century criminal. These have no markings let and the key holes are rusted shut. Make a nice western display!!! $75.00
CONSIGNMENT
More Stuff 32
RCS BACKSTRAP DARBY MARKED MILITARY HANDCUFFS OF ENGLISH MANUFACTURE!
I have been advised that these are World War 2 military handcuffs. These sturdy handcuffs are made in the backstrap Derby style. They were built to restrain the strongest and hardest men in wartime and will have seen plenty of action. The handcuffs are marked with serial number 3279, as is the matching key. They are marked RCS and the date which has been crossed out on each cuff, being manufactured by Ruben, Craddock & sons for wartime use. They are marked with an arrow which shows that they were military. They are also marked with the number 13. For these fine working handcuff restraints -- $250.00
CONSIGNMENT
More Stuff 31
Here we have a button display that would be great for a beginning collection! This set is in a large riker case which is included with the buttons. The buttons include 1 early Police cuff button, I Eagle staff cuff button that has been made into a collar button, 1 Mass. Cuff button, 3 large Georgia coat buttons, 2 smaller Georgia cuff buttons, 1 Indiana Cuff button, 1 IW eagle cuff button, 1 large Louisiana Coat Button, 2 large Mississippi Coat buttons, what I believe to be two large Maryland Coat buttons, a cuff sized Eagle staff button with bent shank and a small cuff button that displays a flag with the word GRACE on it. Don't know what that last button is for. At any rate a very nice display! Some buttons are Civil War but I think all of the state seal buttons are Post Civil War. For the display $185.00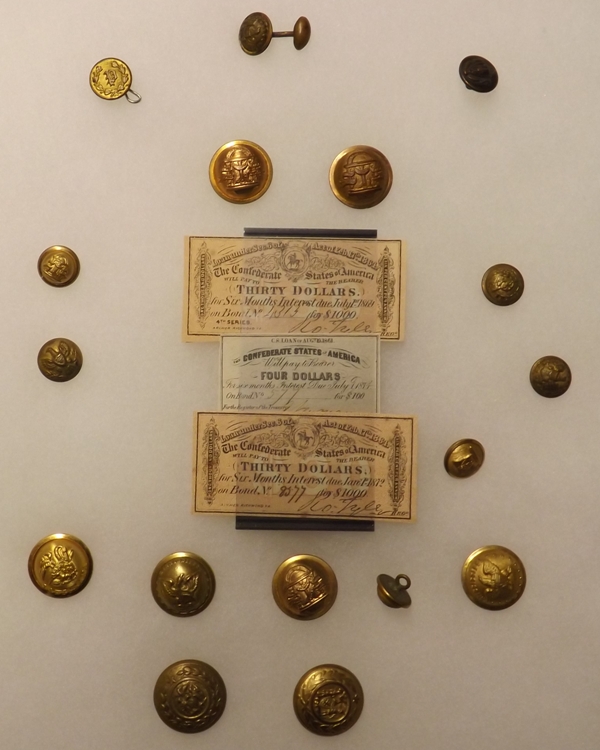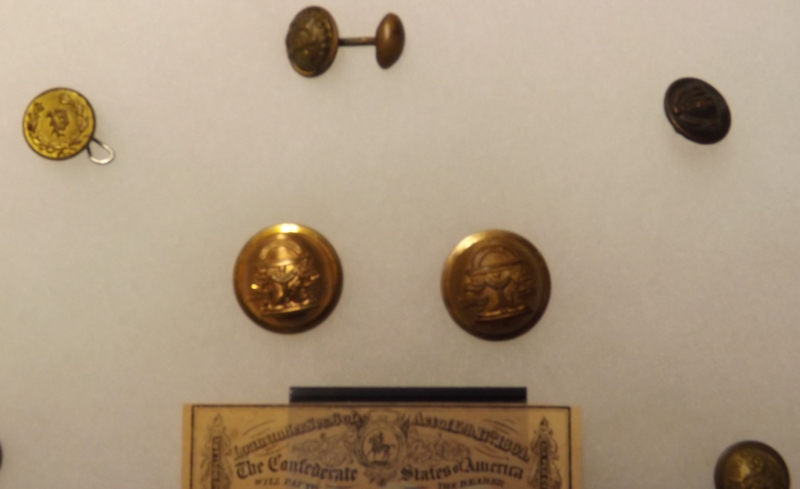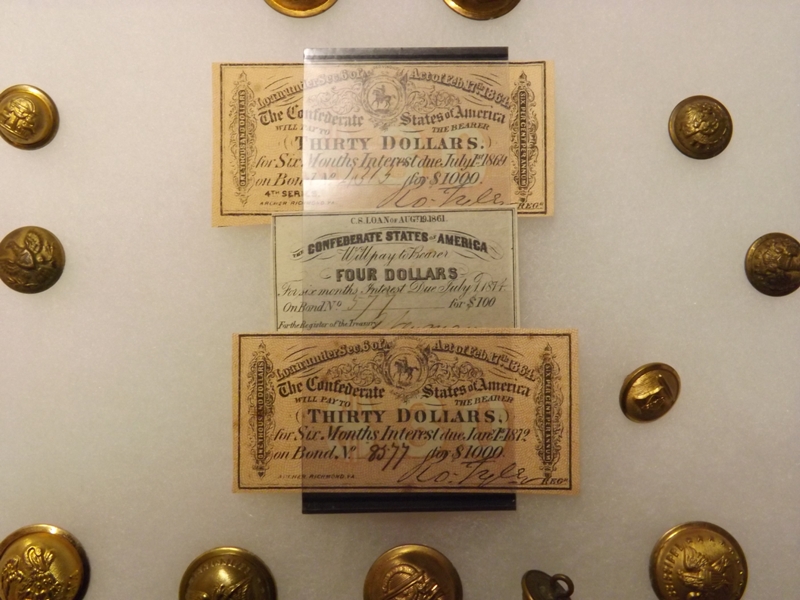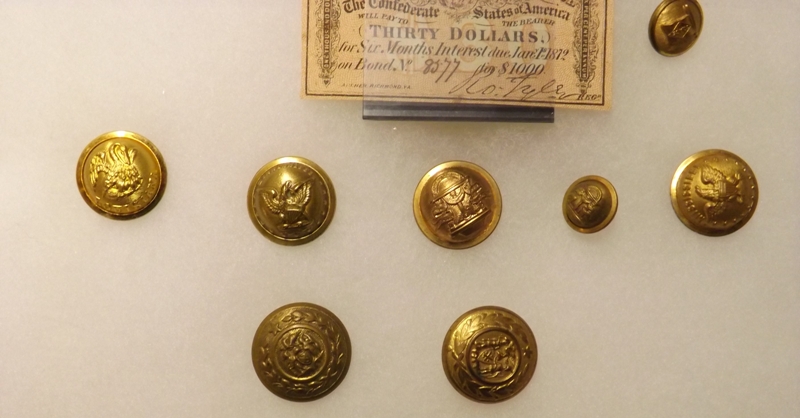 More Stuff 30
Here's a great looking #12 Federal Civil War Cannonball shell that took a Bormann time fuze that I recently picked up. This one comes with a reproduction wooden sabot for display. The diameter is about 4.52 inches and was used in the 4.62-inch caliber smooth bore cannon. The bursting cavity would have had a powder charge in it with matrix filled with lead case or iron case balls for devastating effect. This cannonball was recovered so it is pitted but you can easily see the fuze threads in the cannonball for the Bormann fuze. This ball is complete inert and safe to display. $165.00
More Stuff 29
Here is an early Maine Militia Document return showing flags and musical instruments turned back in and dated September 1830! It lists columns of if they were in good condition or not in good condition. It lists flags, drums, fifes and trumpets. This document is for the First Brigade and Sixth Division of the militia of Maine and has printing on both sides. Approximately 8 X 10 inches and in very good condition. There is a 1 inch split at the top of one fold and a smaller one at the top of another. The printing is real dark and the ink is dark as well. This will look great framed!!! Nice! $165.00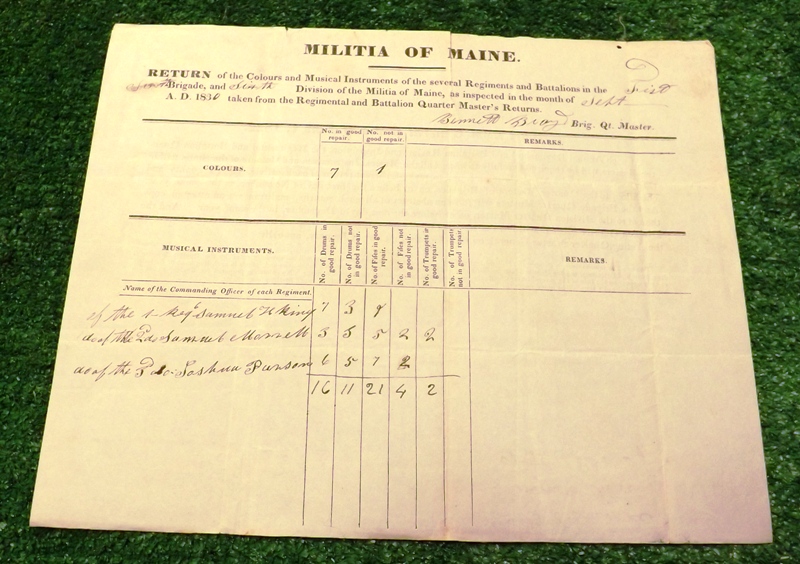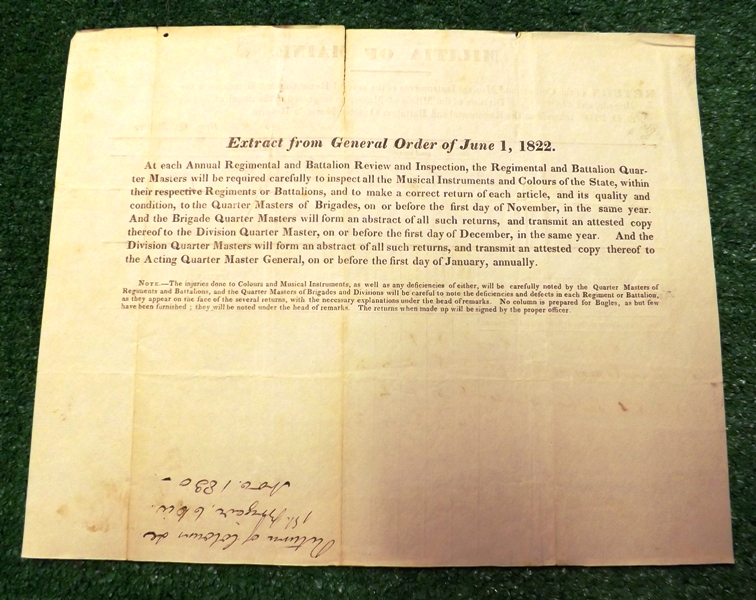 CONSIGNMENT
More Stuff 28
Here we have a small primitive hunting bag with linen strap and medium powder horn. I believe this outfit to be from around the 1860's as there is decorative machine stitching on the linen strap. This is the small type stitching from early machines and the linen strap is well worn. There is one place where the ends were hand stitched together. The bag is tanned leather and a little hard from age lined with coarse plaid cloth, probably cotton. There is a small amount of worm damage to one end of the bag. It's not bad though. The bag is about 7 1/2 inches tall at the corners and 5 1/2 inches wide. The strap is about 40 inches long. The small powder horn is somewhat translucent when you hold it up to the light and you can feel where it was hand shaped. The double row of tacks has heads of all shapes indicating that they were hand made. The plug is dome shaped and has remnants of a leather strap on it as well as the remains of a string on that end and on the spout end. The spout is hand carved as well. The horn measures about 10 1/2 inches long along the outside curvature. Nice primitive set! This is a wonderful display item with a rifle. From a Central Indiana Collection. $275.00 JMF 1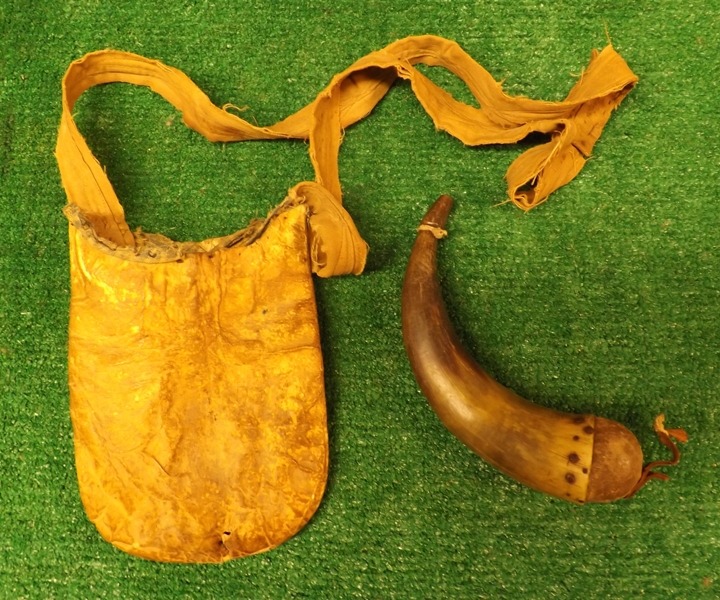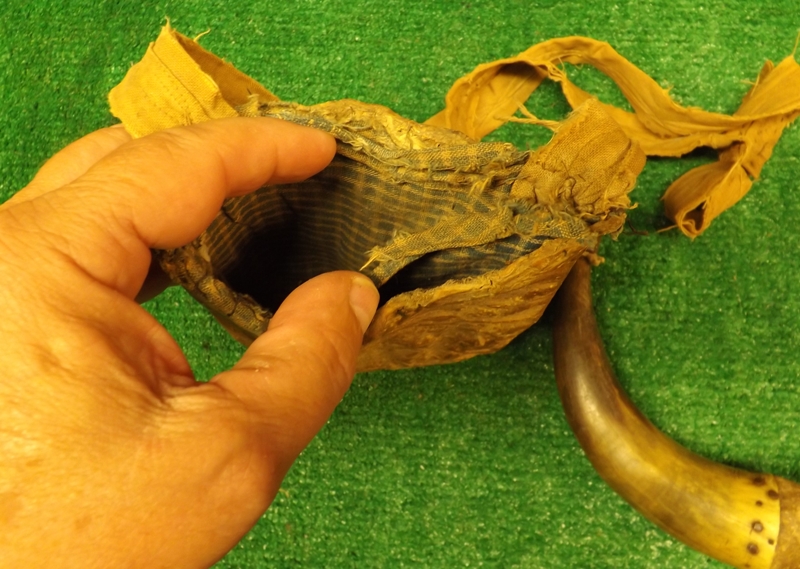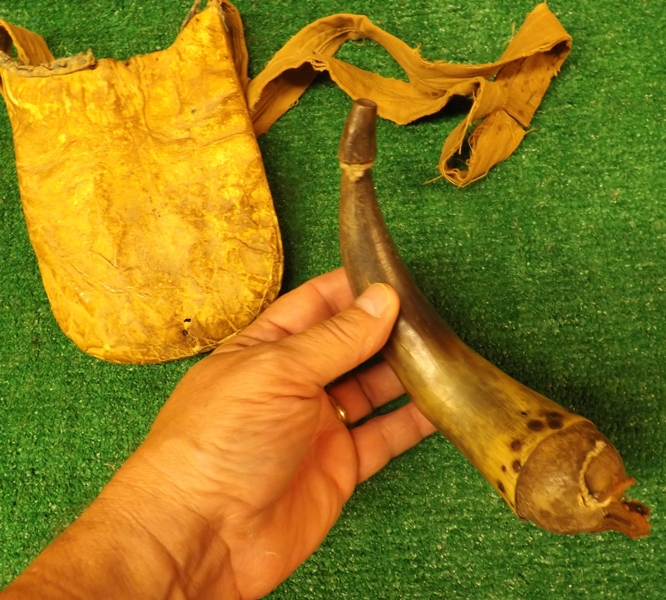 CONSIGNMENT
More Stuff 27
Here is another small primitive hunting bag with torn leather strap and larger horn . The bag measures about 8 x 6 1/2 inches and it looks like the flap was sewn from two separate pieces. The leather is really old on this one. The pouch is not lined on this one. Some of the sewing on the bag looks like machine sewing while the strap has been hand stitched on. The strap is about 40 inches long and has become detached on one end. The strap has a roller buckle in it very similiar to the civil war sling strap buckles on cartridge boxes. The powder horn is attached to the stap via an old shoe lace. Harvey Kennedy in 1790, in England invented the modern shoelace. From jute, leather, hemp, cotton or other materials shoelaces were made in the past. Modern shoelaces are created from synthetic fibers. This shoe lace is made from cotton and is definitely old but I think it is not nearly as old as the horn. The horn is about 13 inches long along the outside length. The domed plud and carbed know is on one end with pegs and on the other end the spout is carved and has a little wooden stopper. From a Central Indiana Collection. This horn is really nice! The bag is worn but a nice display piece to accompany an old percussion rifle. $275.00 jmf 2
CONSIGNMENT
More Stuff 26
Here's a real primitive bag and powder horn. This one dates before the Civil War I believe. It's made of deer hide and is kind of hard with some of the hair remaining. The bag measures about 10 1/2 X 9 inches with a 9 X 7 inch flap. The edges are primitively hand sewn with some kind of cord. The leather strap is over 40 inches long and is rivited to the bag and where there was a break there was another piece of leather added and rivited into place. A leather thong holds the horn with the bag and separate leather thongs hold a sm horn powder measure and the carved wooden stopper for the powder horn. The horn is in good shape being about a foot long along the outside edge including the round plug end. SMall nails hold the horn onto the eng plug with some of the nails missing. The powder spout end has a piece of brass wrapped around the spout with a nail holding it into place. It looks like some kind of resin or old dark solder holds the brass spout cover together. All in all this is a very nice primitive bag and horn! From an Indiana collection. For this one $275.00 jmf 4
CONSIGNMENT
More Stuff 25
Here's a unique small shot pouch and powder horn. This pouch is half moon shaped without a flap but I think it originally had one. The piece is 10 inches long by 4 inches tall and has some fringe left on the edge. The leather is still supple on this one and the initials JU? are stitched into the bag that you can see in the pics. The little horn is about 7 1/2 inches along the outside edge. The end plug is nearly flat but does have a little convex profile to it along with a chip. The spout end is a simple hand carved spout and is missing the stopper. The horn was designed to hang by one strap. There is another small strap on the bag that was probably for a horn measure or a loading tool of some sort which is now lacking. The carrying strap is rivited on and is about 36 inches long or so. There is a small worm hole in the horn but that's all I see. Unique little set. From an Indiana collection. $195.00 jmf 5
CONSIGNMENT
More Stuff 24
Here's a real primitive bag with a primitive horn. This bag measures about 7 1/2 X 7 inches and has a cutout but never had a flap to cover it. There was another flap inside the bag as evidenced by stitching but now lacking. This bag is held together at the bottom by an interlaced leather thong. The stitching vertically around the middle of the bag is hand stitching. The old shoulder strap has been repaired many times and is not broken off on one side and needs repaired again. The horn is attached on the stopper end by a leather thong that had a hole cut into it for the stopper end to pass through. The old wooden stopper is present and tied to the strap with an old cord. The other end of the horn has a strap but it is broken as you can see in the pic. This horn is about 8 inches long along the outside edge. The end plug is nearly flat with a hand carved wooden finial to which the strap is affixed. You can see in the pics where the horn was crudely hand shaped. There is a remnant of another little strap that probably a powder measure was affixed to but now lacking. This outfit would look great with a 'poor boy' musket! This is from the same Indiana collection. $165.00 jmf 6
CONSIGNMENT
More Stuff 23
Here we have two deer hide hunting bags from the 1950's-1960's. These are constructed almost identical and are in good worn shape. These bags measure about 9 X 7 and have a closure flap. There are inside compartments as well. The bags were constructed with fringe around the flap. One of these has a broken shoulder strap but easily fixed. These would look great on the wall with your contemporary Muzzle loading Rifle!!! $125.00 each jmf 7
CONSIGNMENT
More Stuff 22
Here's a real primitive bag and carved horn. The bag has been used alot and has many repairs. There is a hole in the bottom of the bag and the sculptered flap has pieces torn out of it. There has been a more recent 'repair' done to the flap when someone tried to put cellophane take on it to hold it together! LOL!!! That never works. The shoulder strap is broken and needs repair. The horn is a fat stubby affair being 8 1/2 inches long along the outside curve. There is no stopper with this piece. The plug is flat and is missing the attachment piece that a leather thong would have went around. The initials FN are carved into the plug. There is a small amount of chipping around the plug on the horn. The horn is crudely fashioned but there are a couple of carvings in the horn of which one is definitely a Cat!! I cannot make out what the other animal is supposed to be. Unique little outfit!!! $210.00 jmf 8
CONSIGNMENT
More Stuff 21
Here's another primitive bag from central Indiana. This bag has had a couple of modern 'attempts' to repair what is wrong on it but believe me it could be better! The bag measures 6 1/2 x 6 1/2 and the flap on the front is purely decorative in nature. Also it's going to need restitched. The shoulder strap has been repaired and it's a little short like it was made for a boy. There are a couple of compartments inside. $95.00 jmf 9
CONSIGNMENT
More Stuff 20
Here's a pretty unique hunting or shooters bag. The bag almost looks like two bags sewn together. Perhaps they started out life as a pair of saddlebags. I think they are pig skin. There are two separate compartments inside. The top attachment straps are finished by 2 roller buckles and the shoulder strap looks like it may be a U.S. Cartridge box strap. On one side of the strap is sewn and rivited an intergal knife sheath. Pretty unique!!! For this piece $195.00 Jmf 12
More Stuff 19
Here's a 19th Century Middle Eastern Cartridge Belt that is a little better than relic condition. There are 31 metal cartridge tubes down in the leather covers. There is a cover that covers them all for protection. The belt is very ornate being red leather and fabric. There is a little pouch on the belt that is all but detached and there is a bundle of tassels. The belt is a little stiff and I cannot open it all the way to check if any cartridges are left in it. For this unique piece. $350.00 Jmf 13
More Stuff 18
Here's a small leather hunting pouch that's not in the best of shape but it will still display well. The bag measues about 6 X 7 inches with a fold down flap. The bag is in better condition that the flap as the flap has the surface age cracked. The strap is narrow thick leather and I believe it was added later as a replacement. There are a couple of extra leather throngs on it either for tools or a powder horn to hang on. As is $65.00 Jmf 14
More Stuff 17
Here are a couple of bags that are not in the best of shape. The one on the left is a shot pouch and is missing the thong that holds it closed. There is also fringe around the top with most remaining. The bag measures about 7 X 8 inches flat. It has been machine stitched with tiny little stitches. There is a hole in the bottom as well. $25.00 New Arrivals A 180
This one on the right has definitely seen better days. It still has the strap though and it's been repaired a couple of times. The bag measures about 9 X 6 and there is no flap. This one has been machine stitched as well. Some of the front panel is lacking. There is a divider inside making it a 2 compartment hunting bag. $35.00
More Stuff 16
Here we have two more hunting bags in poor condition. The one on the left is actually a Civil War Model 1859 McClellan saddle bag turned into a hunting or shooting bag. There were two cuts made into the back and a leather thong was original tied there for a shoulder strap. You can see where the bag was cut free from the other one. The closure strap is broken and some of the stitching is lacking but, hey, it is what it is. For this one $75.00 Jmf 16 a
More Stuff 15
This next little bag on the right in the pics is kind of primitive but was originally machine stitched with no some lacking. As you can see 2 holes were cut into the top leather flap to run a thong through so you could wear it over the shoulder. It looks like originally it had a closure strap and finial on it. It still has some 19th century cloth tied to it. It's rough but still kind of neat. For this one $45.00 Jmf 16 b
More Stuff 14
Here we have an old hunting bag with no flap. It's a rough side out type of bag with the finish flaking. The sides are leather cord sewn by hand. The bag measures about 7 X 7 and has an open top. Take a look at the pics. It's rough but has character! $30.00 From Indiana. Jmf 18
More Stuff 13
Man these saddlebags are rough but they are what they are!!! This is a pair of old 19th century saddlebags and they were used so much that they would be rendered useless now! There are many repairs. Each side measures about 10 X 12. They are machine stitched for the most part but many repairs are by hand. There are tears, holes, pieces lacking and so forth. These have character!!! $65.00
More Stuff 12
Below is a nice match pair of Revolutionary War thru Antebellum Stirrups!
>
>
>
>
More Stuff 11
ONE OF A KIND SOLID BRASS CROSSED ALLIGATORS FOR A HUNTING BAG OR CLOTHING!
Here we have a one of a kind, possibly Revolutionary War era, solid brass crossed Alligators for a hunting bag or clothing. There is no attachment on the back so it would have to be sewn on. The piece measures 3 inches from the tip of the snout to the curve in the tail and the entire piece is about 2 1/2 inches across. The top is convex and hatched to simulate the Alligators scales. This piece is a nice dark patina and looks great. It came out of a Rev War collection in Illinois. Very nice and definitely one of a kind! $225.00
More Stuff 10
Here's an item that used to be common place but not they're hard to find in my next of the woods. This is a Revolutionary War era hand sythe or sickle that was used to keep the grounds clear around camp or the house. This type has the long sweep associated with the early types. The later types had wider blades and shorter sweeps are are quite common. You can see a like example on page 269 of COLLECTOR'S ILLUSTRATED ENCYCLOPEDIA OF THE AMERICAN REVOLUTION by George C. Neumann and Frank J. Kravic. Their note under the illustration states 'The long sweep of this sickle is a typical 18th century pattern; it was employed to keep camp areas neat and defensive areas cleared.' This one is nice with some worm holes in the handle. The tine is peaned over to hold the handle on. Nice early piece! $65.00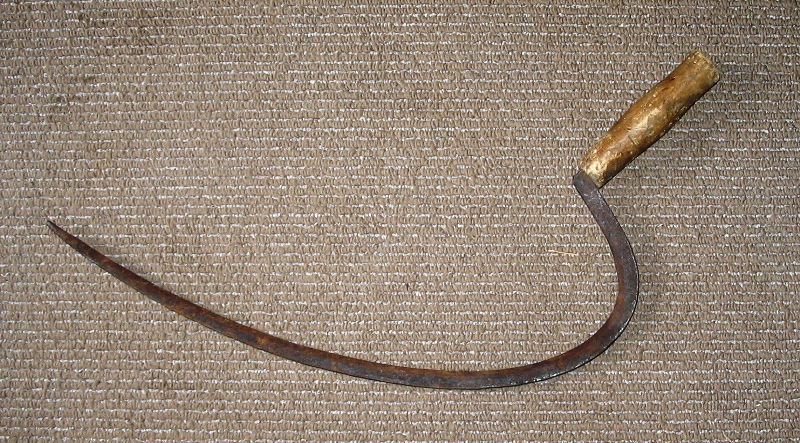 More Stuff 9
Here's another old Revolutionary War era Sythe with long curved blade. The blade measures about 27 inches long along the outside curve and is definitely hand forged. This blade is only 1/2 inch wide at it's widest point and only 3/16 of an inch thick. The old grip has cracks and worm holes in it. The tang is peaned with a wedge in it. I believe there is one spot where a makers name was at one time. This hand sythe was made to be used in the left hand while holding on to grain shaft bundles with the right hand. This is a nice early piece and makes a great decorator. $65.00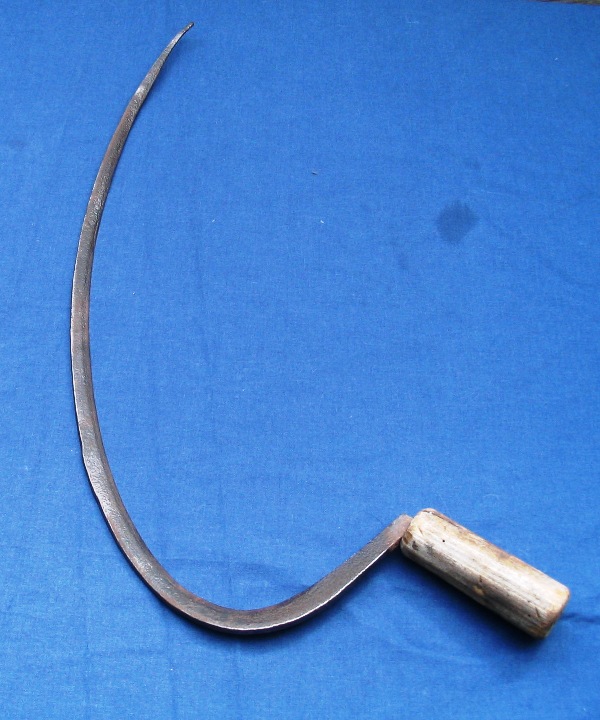 More Stuff 8
Here's an excellent blowing horn that is circa Revolutionary War use and later. These were used for alarms and communications between soldiers and hunters. Many items were made from horn during this time in our history. This fine horn measures about 17 inches long along the outside curveature of the horn. The mouth piece is a brass mouthpiece. The horn has a nice mellow color and it's quite thin as evidenced when you hold it up to the sun to look through it. There are several scratches on it but I can't make out any pics or words in the scratches. I fininally figured out how to use it and can make a quite loud noise with it. The suspension strap is missing but you can see how it was attached. There is a small hole right by the mouth of the horn and the other end would have fixed around the brass mouth piece. This is a nice piece and would look great in a Rev War display!! There is one tiny matchhead worm damage area that does not penetrate the horn. Nice!! $375.00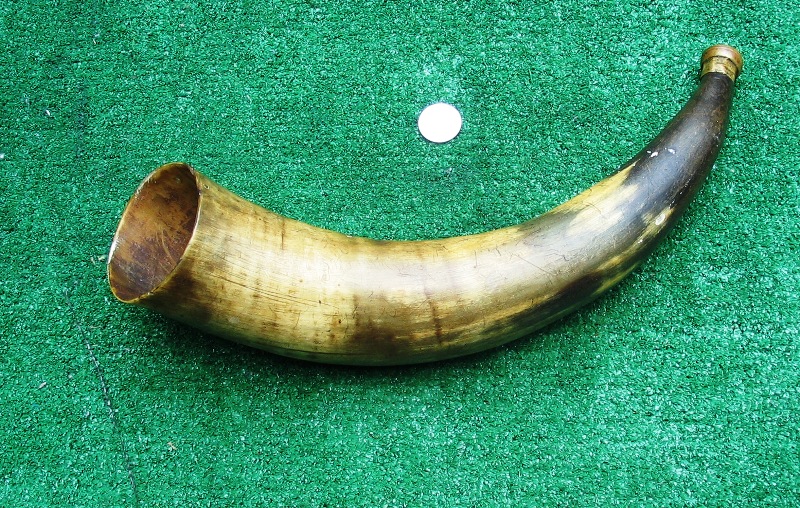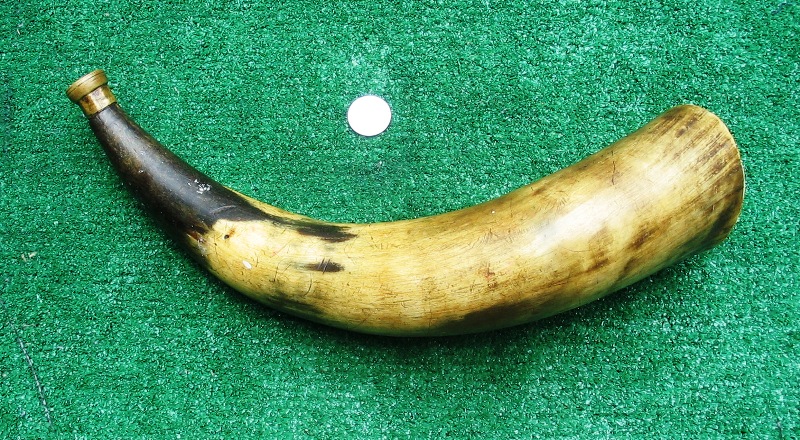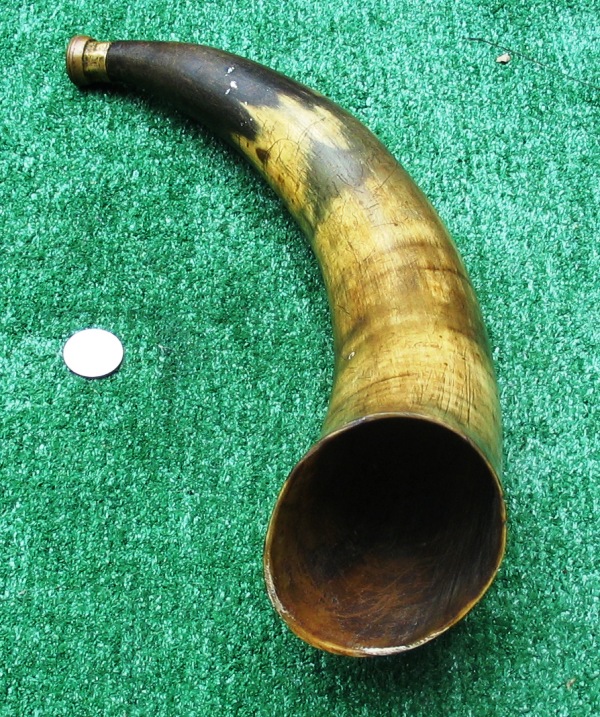 SORRY ! THE OLD SAW IS NOT AVAILABLE!
Here is a nice early buck type saw that smacks of Rev War vintage. This is a wonderful piece with a French made blade. This piece is in excellent condition and displays very well! Measures about 26 inches long by 14 inches tall. The blade is held in tension by the cord at the top. The pieces at the bottom just hold the blade in the guides. I believe it is made of pine but I'm not sure. Take a look at the pics. This piece has a dark patina. $125.00
More Stuff 6
This next piece is a Revolutionary War era log hewing ax with replaced handle found in Lafayette, IN site of Fort Quiatenon.. This is a dug piece. Heavily pitted but solid as a rock! The beveled edge is on one side as usual for this type of ax. The blade measures 6 1/2 inches across. Who knows- it may have been used to help build Fort Quiatenon! $65.00
More Stuff 5
Here's 5 clay marbles of the Revolutionary War period thru the Civil War period. Like examples are found in reference books that cover both wars. Good condition! Non dug. $20.00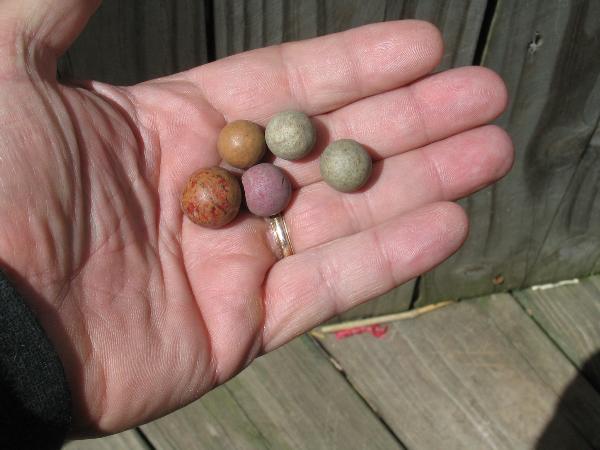 More Stuff 4
Here is an Antique Flask that has the likenesses of President George Washington on one side and General Taylor on the other side. This is a fantastic early 19th century aqua colored hand blown flask with a pontil on bottom verifies this is an original mold blown piece, not a modern reproduction!!
Dimensions:
Measures Approx. 7" tall Great shape for its age. One spot on the side that has some issues - still smooth to the touch from the outside, so all damages on are in the inside. Has bubbles in the glass and imprefections as it should have. Guaranteed original! $125.00 More Stuff 4
Rev war 9
More Stuff 3-only 1 left!!
This is quite a find! Here we have 4 cannonballs that were found at a Morton Street Address in Lafayette, Indiana. It is believed that these were part of the inventory of a prewar Militia Artillery group that Colonel Eli Lilly belonged to prior to the Civil War and his forming of the 18th Indiana Light Artillery Unit. This Militia Artillery Unit was the only prior military experience that Eli Lilly had and he was considered by several of his artillerymen to be too young and intemperate to command! What did they know! Despite his initial inexperience, he became a competent artillery officer and his battery was instrumental in several very important battles. These cannonballs were found together as a hoard and appear to be unfired however if they did not strike any hard surface after being fired they would probably look the same as they do now. Three of the cannonballs are 12 pounders being 4.5 inches in circumference and one is a pre-war 5.12 inch ball weighing about 16 pounds. The 12 pounders are $175 each and the pre-war ball is $195. Shipping is extra and exact. Check out the pic! Nice Shape! Only 1 12 pounder Left Now! Rev war 10
Revolutional War Paper Machee type Oval snuff boxes with hinged lid that is in very good condition. I have 2 of them with one being a little larger than the other. $95 and $125 The larger one has sold

More Stuff 2
This is a repro print in an older type frame showing the blowing up of the Fire Ship Intrepid commanded by Capt. Somers in the Harbor of Tripoli on the night of Sept. 4, 1804. Pretty colorful print! Measures about 13 1/2 X 16 1/2 overall. $25.00

More Stuff 1
This is a nice Rev War type hand made Corkscrew with turned maple grip. Nice little piece measuring about 5 inches long with the handle being about 3 1/4 inches across. $45.00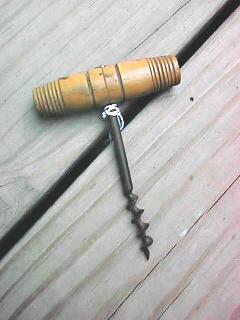 Anything you like? E-mail me here