SOLD!!!
Here is a buttstock off an old musket that is expertly incised carved with with the following information:
AS FEATURED IN NORTH SOUTH TRADER'S CIVIL WAR MAGAZINE VOL. 41-1
CO. A. -- JOHN.T.JONES. --14TH REG. ARK. VOL.--1863--C.S.A. along with florale and line banner carvings. This is an outstanding piece!!! There is another like it in Flayderman's Catalog on page 658 which is for JOHN C. GILLESPIE...CO. K...18TH ARK. INFT. VOL...C.S.A.. The 18th and the 14th served together in 1863 and both pieces were obviously done by the same carver. He probably made a living doing this carving in camp. The one in Flaydermans was done on a British Brunswick percussion rifle but I don't know for sure what kind of rifle this broken buttstock came from. I checked out both soldiers on civilwardata.com and the information on each buttstock is correct. I wish I had the entire rifle but frankly what we have is outstanding!!! Take a look at the pics.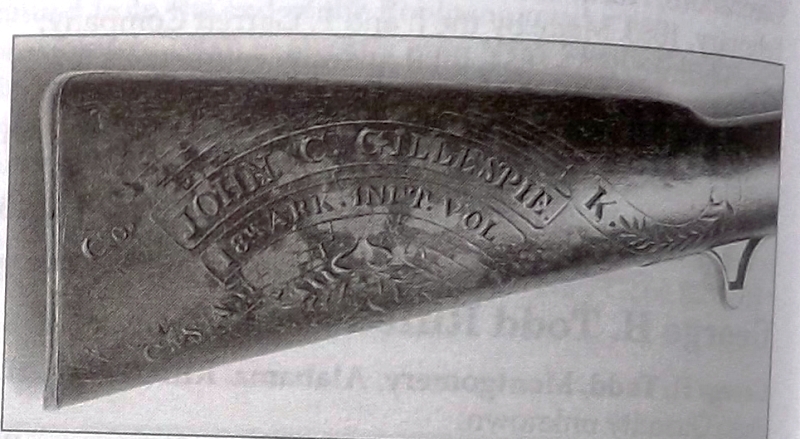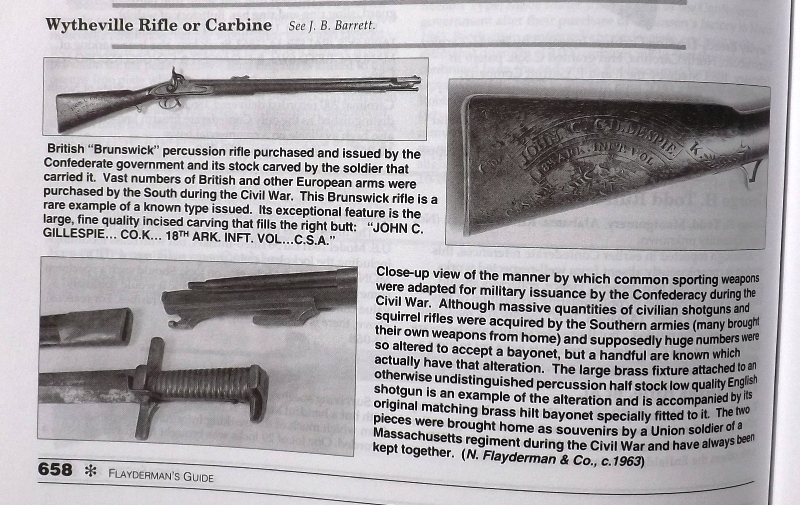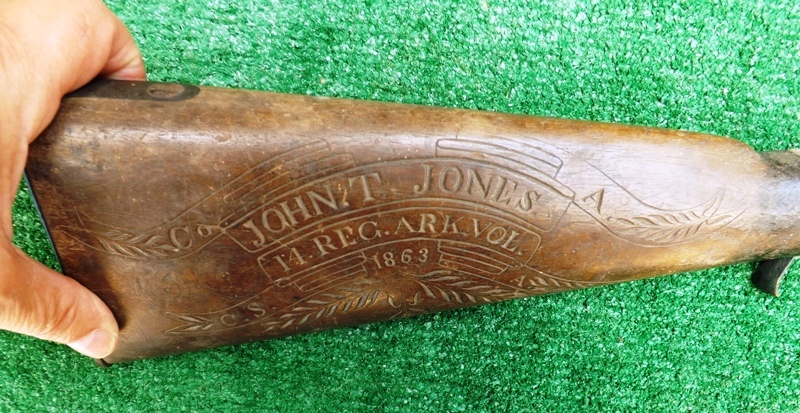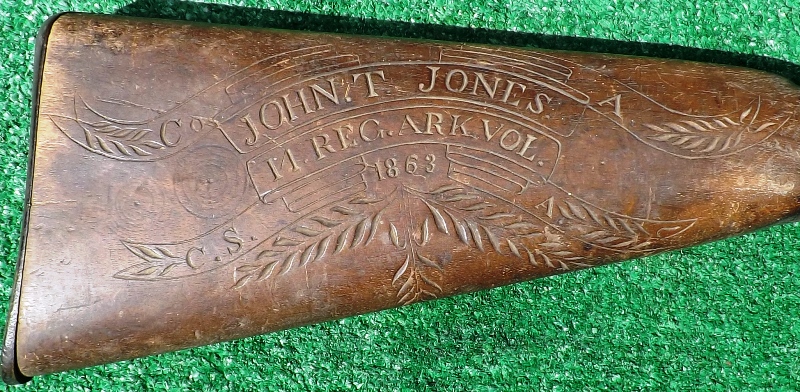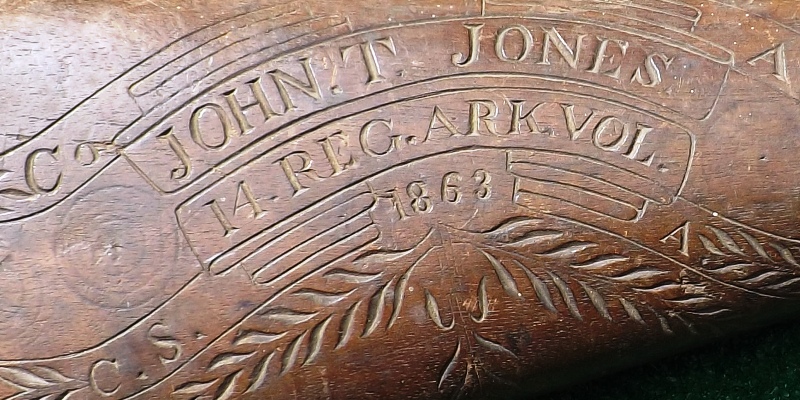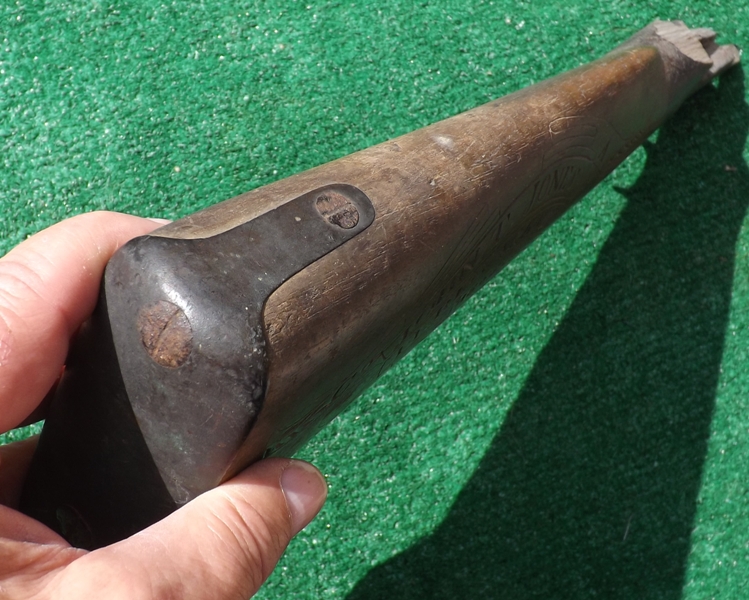 Consignment
Weapons 165
S&W No. 1 , Second Issue, .22 caliber revolver made from 1860-1868. This revolver features a blade front and notch rear sights, 7 round un-fluted cylinder, square flared butt, blue barrel and cylinder and silver plated brass frame. The top of the barrel is marked "SMITH & WESSON SPRINGFIELD, MASS" and the cylinder is marked with the patent dates. They made 117,000 of these serial numbered up to 128,000 as they began at 11,672 with this one being s/n 71846 which puts it probably 1864-65. This is the standard model with the 1855, 1859, and 1860 patent dates on the cylinder. Some wobble to the hinge. This one works well but needs a new trigger return spring as you have to push the trigger forward to engage the action. The barrel markings are nice and clear as is the cylinder markings. This model has very nice rosewood grips. The top spring is still present on this piece as well as the ejector rod. A good amount of the silver on the brass frame is remaining but is black now with age. This is a nice little Civil War Revolver! $525.00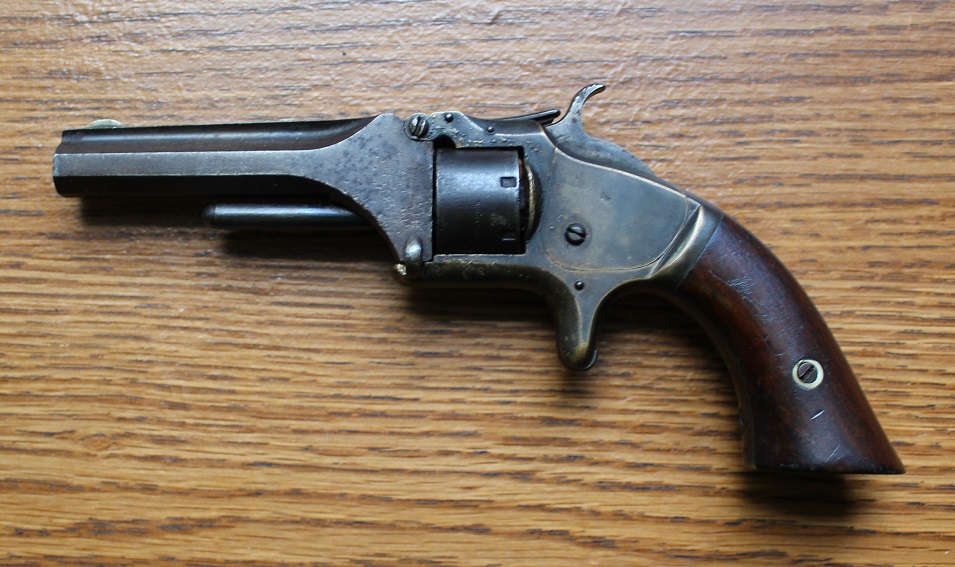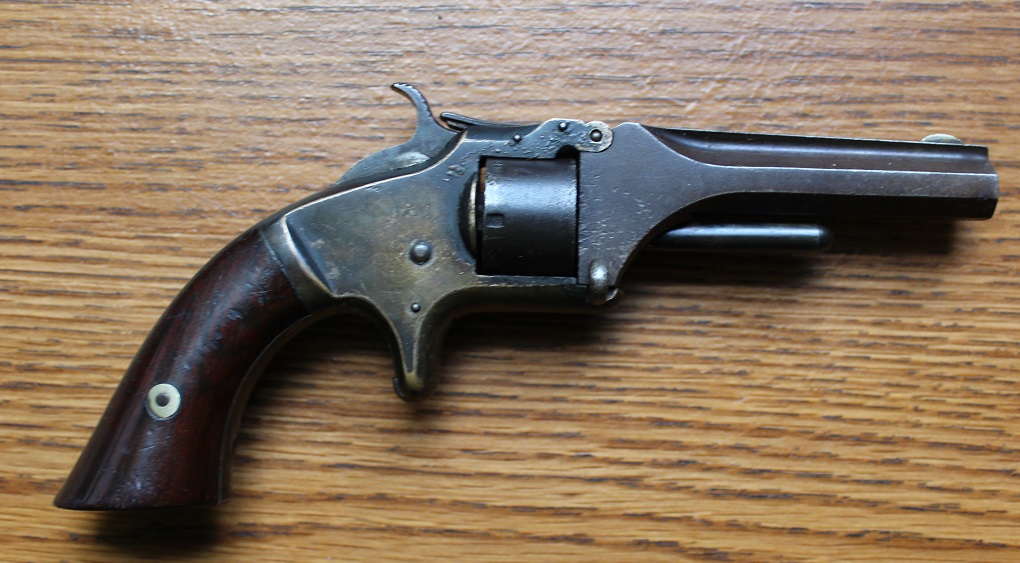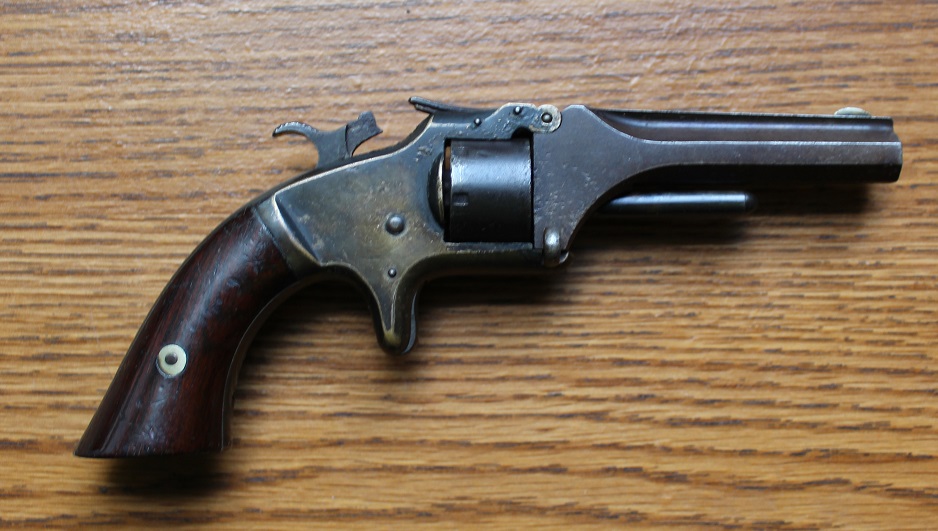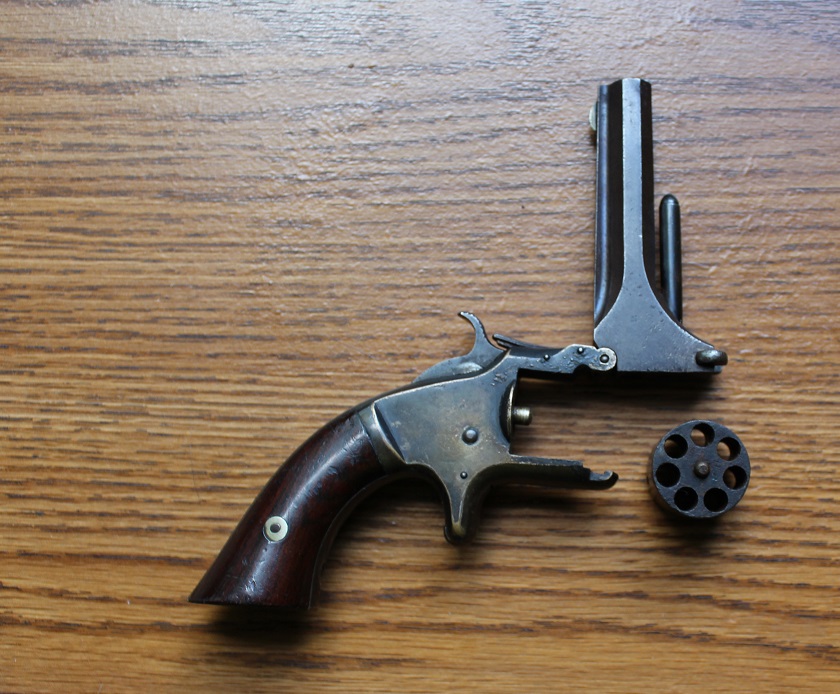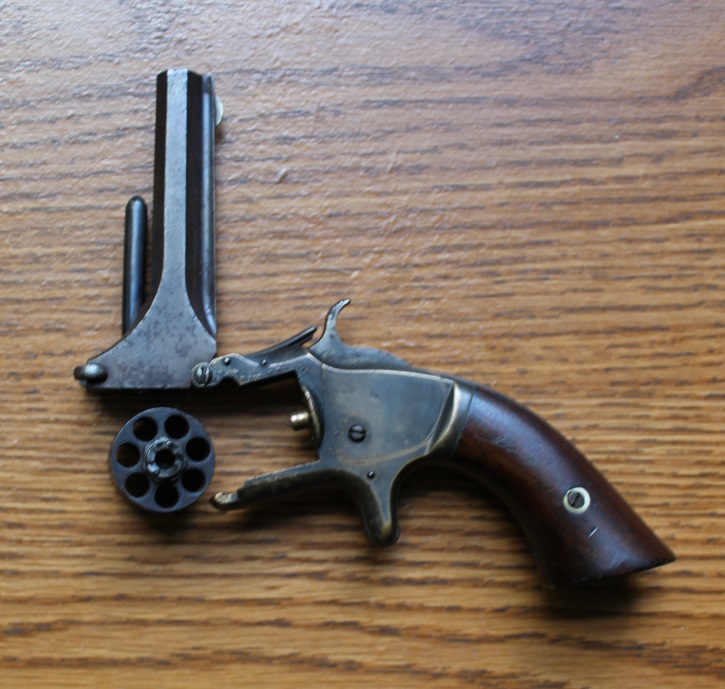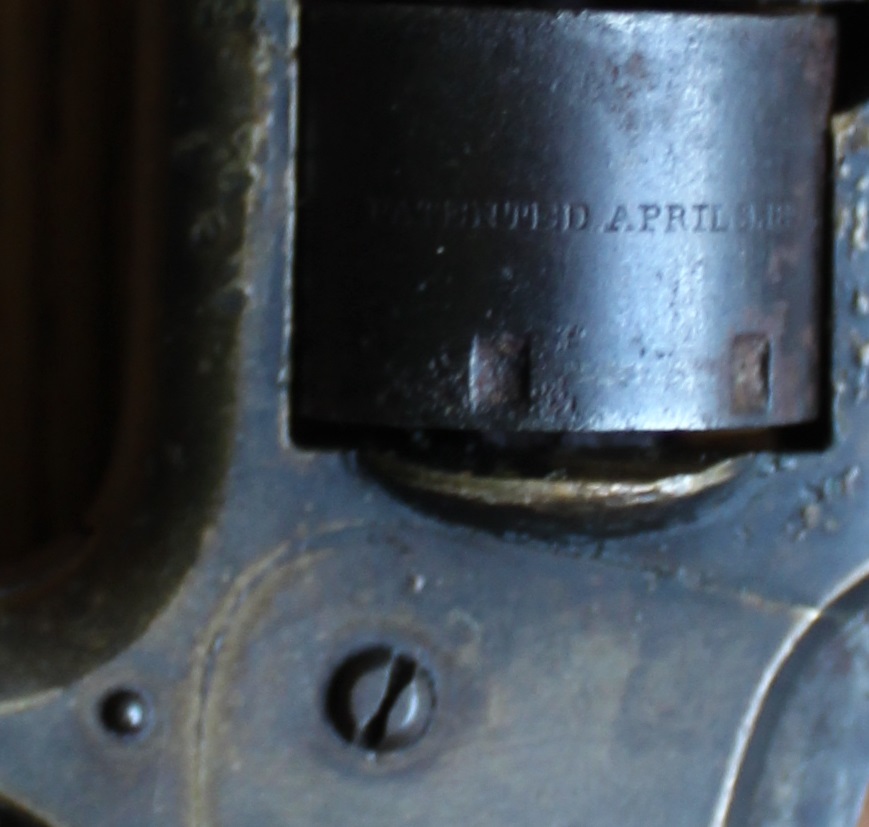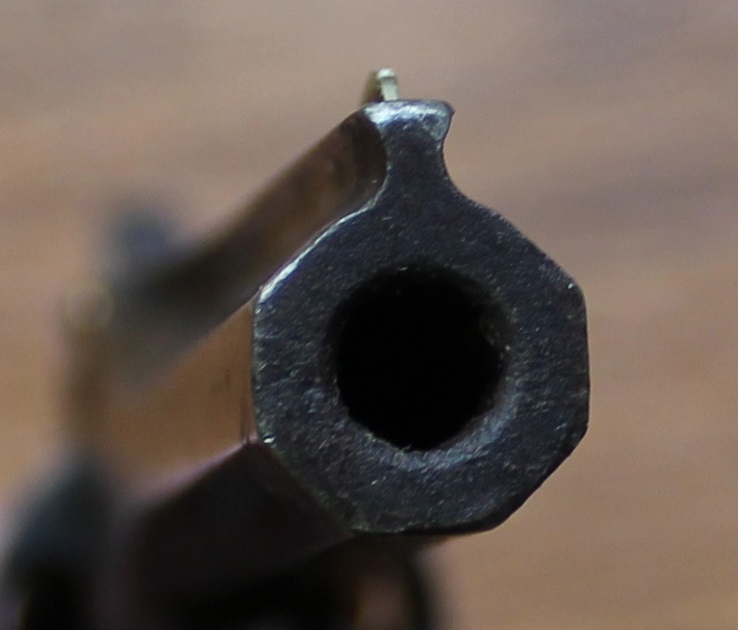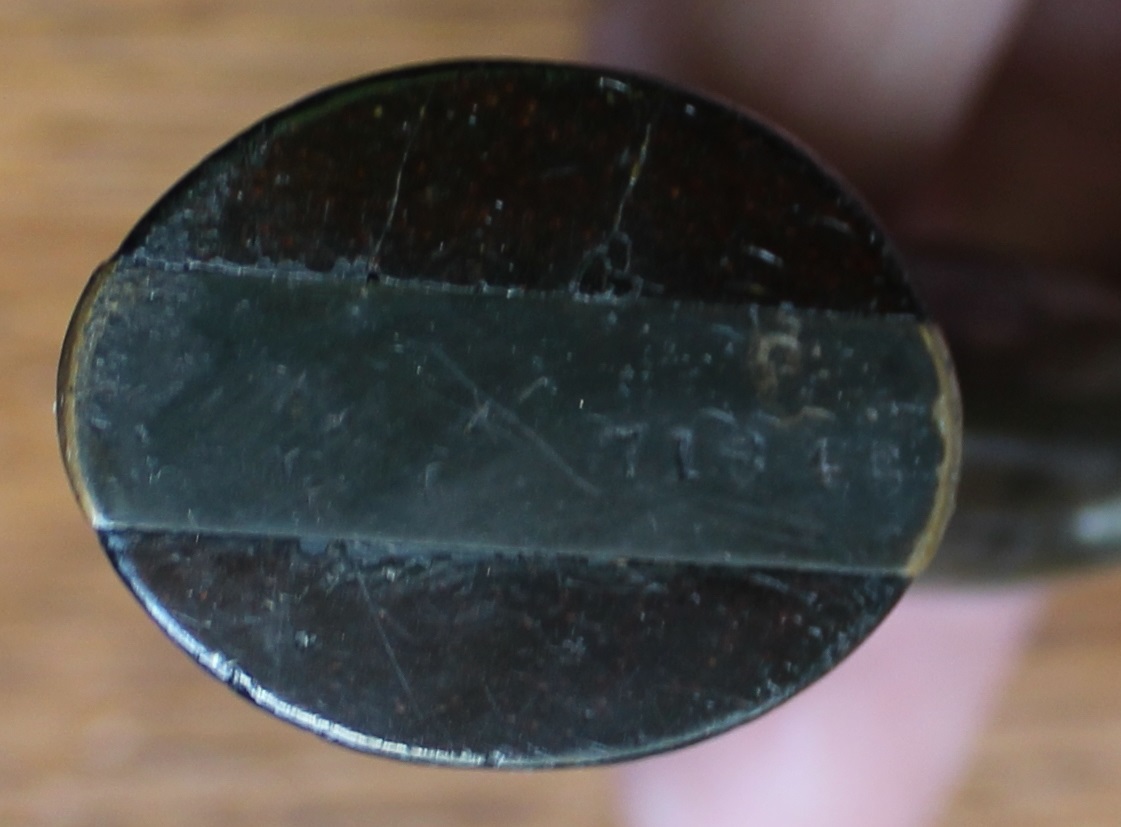 Weapons 163 Consignment
Here we have a one of a kind customized Model 1890 Winchester slide action rifle made in 1892. This rifle was customized years ago by a very good friend of mine named Notra Trulock II who passed away 12 years ago. Note was a machinist in WW2 working in the South Pacific in the Navy on ships damaged during war time. He returned to the states and worked at the Indianapolis Fire Department for many years before retiring and starting his own gun shop where he was a dealer and gunsmith. Note could make any part you needed if you couldn't find it. In the interim he built Custom Muzzleloaders ( Note and his Wife Jean were world champions at the Friendship, IN muzzleloading championship matches as well as their oldest son, Notra III) and built, or I should say rebuilt, modern firearms. This rifle was one of his creations. This one takes an original Winchester Model 1890 receiver and puts excellent custom hardwood walnut stocks and a custom octagon/round barrel with silver wire enlay on the end of the barrel on this rifle. This piece is outstanding! You cannot tell that it's a slide action by looking at it but indeed it is and it works flawlessly!!! It has the flip up r ear sight and globe front side. There are scope rings affixed to the barrel. The rifling is perfect in the 27 inch custom barrel. The original papers from Cody Firearms Museum regarding this Winchester are included with the rifle. If you are a discriminating collector and want something that no one else has then this is the rifle for you! Note only built one of these. Take a look at the pics!!! For this one of a kind rifle $10,000.00
weapons 155
Consignment
Here's an original Model 1809 Potsdam bayonet in good dug condition. Actually I believe that this piece would clean up fairly well if you wanted to. It wouldn't be perfect but it would be serviceable. I do not know where it was dug at. The piece is in original condition and has the 'lug' on it where it turned on the Potsdam Musket barrel and locked into place by the attachment on the musket. It's in the original 22 inch long length with the 18 ¾ inch blade. For this piece $85.00
weapons 153
Consignment
Here we have a Model 1862 Remington Zouave Sword Bayonet less sheath. The blade is 20 1/8th inch long being 1 1/16 wide and 5/16 thick. It has a 13 15/16 inch long unstopped fuller. The grip is brass and crudely cast as most were that I have seen. It's all brass hilt is 4 13/16 inches long with the thick upper gard having a .906 inch diameter bore. The upper grip flat is stamped B.H. and that's the only marks on this piece. The locking mechanish still works and the bayonet overall is in very good condition. For this piece $250.00
weapons 150
Consignment
Here we have an IOF (International order of Foresters) sword with gold gilt applied. The sword's hilt is modeled after the 1872 model Cavalry Saber with the 2 branches and knucklebow along with the ornate pommel cap and sharkskin grip wrap with twisted brass wire. The blade is straight on this piece measuring about 28 inches long with a fuller and an edge on one side. The blade is etched with various floral engravings along with the name 'Genl. J. A. Krise'. I am afraid that I do not know who this Genl. Is. The Independent Order of Foresters (IOF) is a fraternal organization, now based in Toronto, Ontario, Canada, and operating under the brand name Foresters Financial. Foresters traces its origin to a British Friendly Society, a mutual organization caring for the sick. The original Foresters groups allegedly banded together for mutual aid and protection in 14th-century England, in or near the ancient royal forests which belonged to the monarchy. Although the older history cannot be proven, there was a society called the Royal Foresters in the 18th century. Membership originally was gained by combat, first with quarterstaffs, then with swords and finally with cudgels, until initiation by combat was abandoned in 1843. In 1834 the Royal Foresters formed a Friendly Society, the Ancient Order of Foresters (AOF). The IOF in the United States became independent of the AOF in 1874, and as of 2014 operates a separate UK division, Forester Life, based in South London. The expansion of the Independent Order of Foresters (IOF) into Canada in 1875 is attributed to a prominent doctor and community leader, Oronhyatekha. Of Mohawk descent, born in 1841 at Six Nations near present-day Brantford, Ontario, Oronhyatekha ("Burning Sky") was baptized Peter Martin and later attended Oxford where he became an MD. Dr. Oronhyatekha held the office of Supreme Chief Ranger (now called "International Fraternal President") from 1879 until 1906; he died in 1907. By the early 1890s he had successfully transformed the Foresters into one of North America's leading fraternal benefit societies. Foresters membership reached 257,000 in 1906. Through the 20th century it amalgamated with various other fraternal organizations, including the Ontario part of one of the oldest, the Ancient Order of United Workmen. Like other friendly societies and fraternal organizations of the time, Foresters helped transform the insurance industry by extending insurance benefits to the average working family. In addition to admitting women as full members, Foresters provided orphan benefits to the children of deceased Foresters members – benefits that are still available today as part of Foresters membership. Historically, Foresters has also actively helped communities in need. As of 2014 Foresters supports various community causes in Canada, the US and UK, through direct investment in national and local community partnerships, branch funding and educational scholarships. Now back to the sword. The sword is german made as witnessed by the King's head on the ricasso. The other side of the ricasso is marked with the maker name of Henderson Ames Co., Kalamazoo, Michigan. In 1893, the Henderson-Ames Company was officially formed when Henderson consolidated with the Chicago branch of the Ames Sword Company in Chicopee, Massachusetts and lasted until 1933 when Ames combine forces with Lilly Company of Ohio. The hilt and pommel show a lot of gold gilt on them. The scabbard shows most of the gold gilt on the mountings but is worn thin and through on the body of the scabbard. The mountings are ornate with the top mount showing a Moose Head. For this fine old piece $295.00
Weapons 148
CONSIGNMENT
Here is a simple pine block display base holding 6 - .32 caliber long cartridges headstamped simply with the H stamp which I believe to be Winchester. Definitely showing age and displays well. For the lot $15.00
Consignment
Weapons 147
Here is a P. Smith , Buffalo N.Y. unique sporting rifle. The barrel is marked on top with that information as well as CAST STEEL PATENTED JAN 27TH 1862. This is a cartridge gun and it has a different 'hook' on the hammer to work as an extractor. The round rifled barrel measures about .38 caliber and has a nice bit of rifling left. As a matter of fact the rifling is shiny and has nice deep grooves. The maker is Patrick Smith and worked making percussion and cartridge guns in Buffalo, NY from 1835 to 1881. This particular firearm is a different design. The entire piece measures about 41 1/2 inches long with a 25 1/4 inch heavily rifled barrel. The stocks seem to be walnut and are very nice. The ramrod is an original ramrod with an extractor screw on it under a cap that screws off. The mechanish works by pulling down the lever/triggerguard that lowers the breech block for shell insertion. Most of the furniture is iron as well as the butt plate. Right now the main spring is broken and it's going to take a good gunsmith to make another. This rifle was very well made. One tang screw is a replacement. Take a look at the pics! $1150.00
Consignment
Weapons 141
Here we have a Civil War era percussion 8 guage double barrel shotgun made by W & C SCOTT & SON . The reverse lock is marked as such while the obverse lock is not marked at all with a maker. The entire receiver is engraved heavily and quite nice! The locks work just fine and the hammers are a match. The shotgun was carried or stored on a wagon or such and the reverse stock has wear on it consistant to rubbing up against something. Perhaps it was a coach gun. The entire piece measures over 46 inches long with an over 30 inch bouble barrel in 8 guage. The stock exhibits a dark patina with checkering at the wrist. The wrist is cracked but not broken clear through and still quite strong. The top of the barrels are marked with the makers name and LONDON as well as LAMINATED STEEL. Those markings are work but legible. The barrel does have blow out plugs and the bores are dark. The two ramrod guides are present but the wooden ramrod is lacking. W & C SCOTT & SON shotguns are very valuable and are valued up into the thousands of dollars ! Leroy Merz Antique Firearms has a similiar one being an 8 guage like this one in better condition for $2,375. http://www.gunsinternational.com/guns-for-sale-online/shotguns/scott-w-c-shotguns/w-c-scott-8-gauge.cfm?gun_id=100615677 Our price reflects the condition but still a good old heavy guage gun from the Civil War Days!!! $1350.00
Consignment
Weapons 139
Here we have an old Remington Model 1889 Double barrel 12 Gauge shotgun. Shotguns were evolving fairly quickly during the years E. Remington & Sons were building them with new models appearing every year or two. The early E. Remington & Sons hammer guns were based on the Whitmore designed "lifter action" to open the guns. The first model was the 1873 also known as the "hammer lifter" as the locks didn't automatically rebound and protrusions on the side of the slide that moved back between the hammers when the lifter was raised engaged flanges on the sides of the hammers and moved them to half-cock. The next model the 1875 did away with this and featured Hepburn's designed rebounding locks, as did all the later Remington hammer doubles. More variations of the basic Whitworth design were the Models 1876, 1878 and 1879. The 1879 is the only lifter action Remington that got the new Deeley lever forearm as this one has. The shotgun works fine and I believe it has the steel barrel and not the damascus barrel. The action is crisp. There are a few dings in the barrel and the buttplate is broken but not too bad for a 110 + year old shotgun! Look at the pics! $850.00
Consignment
Weapons 137
Here is a wonderful German Single shot break -open rifle that was probably made during the early 20th century. This is most likely a Guild gun as I can not find any makers markings on it just proof marks on the receiver which include a Crown over a 'B' and a Crown over a 'U' . The Crown over a U represents "Untersuchung" which equals "view" and was used form 1891 to 1939. The Crown over a B was also used from 1891 to 1939 and is definitive proof of a gun in a finished state. The German Guild required builders to submit a build without their name on it so that it could be properly judged before this builder was allowed to join the Guild and start building firearms. I have including a pic of an excerpt that I found on line that shows the Meffert Pirschbuchse rifle with underlever and double set-trigger as this one is. That rifle looks real close to this one. This Rifle is a real jewel with it's highly carved stock and the outstanding engraved receiver and other parts. It even has a small door on the bottom of the buttstock that is highly engraved that opens to reveal storage for 5 cartridges. I admit that I do not know what caliber this single shot rifle is but the end of the barrel measures as about 8mm or 30 caliber while the shell end measures out about 11mm. The stock is a hardwood and very nice with engravings, cheek piece, cross hatching and a wonderful wood pattern. There are the usual minor dings from use. The barrel is octagonal in shape and measures about 26 3/8ths inches long and seems to be held onto the stock by a tang screw and a lead wedge. The entire piece is about 42 inches long. The barrel is in nice condition with like a ribbed pattern on top. The rear sight consists of two choices with a flip up sight and the front site is a dovetailed sight. The barrel is nicely rifled and needs cleaned more. I really can't see much corrosion it's just a little dark. There is some finish missing on the high edges of the barrel and in a couple other areas but mostly the original dark bluing is present. This fine rifle does have a safety on it and two sling swivels. Overall quality shows excellent craftsmanship! Take a look at the pics! This piece is beautiful! Not perfect but beautiful none the less and most likely one of a kind! $3,295.00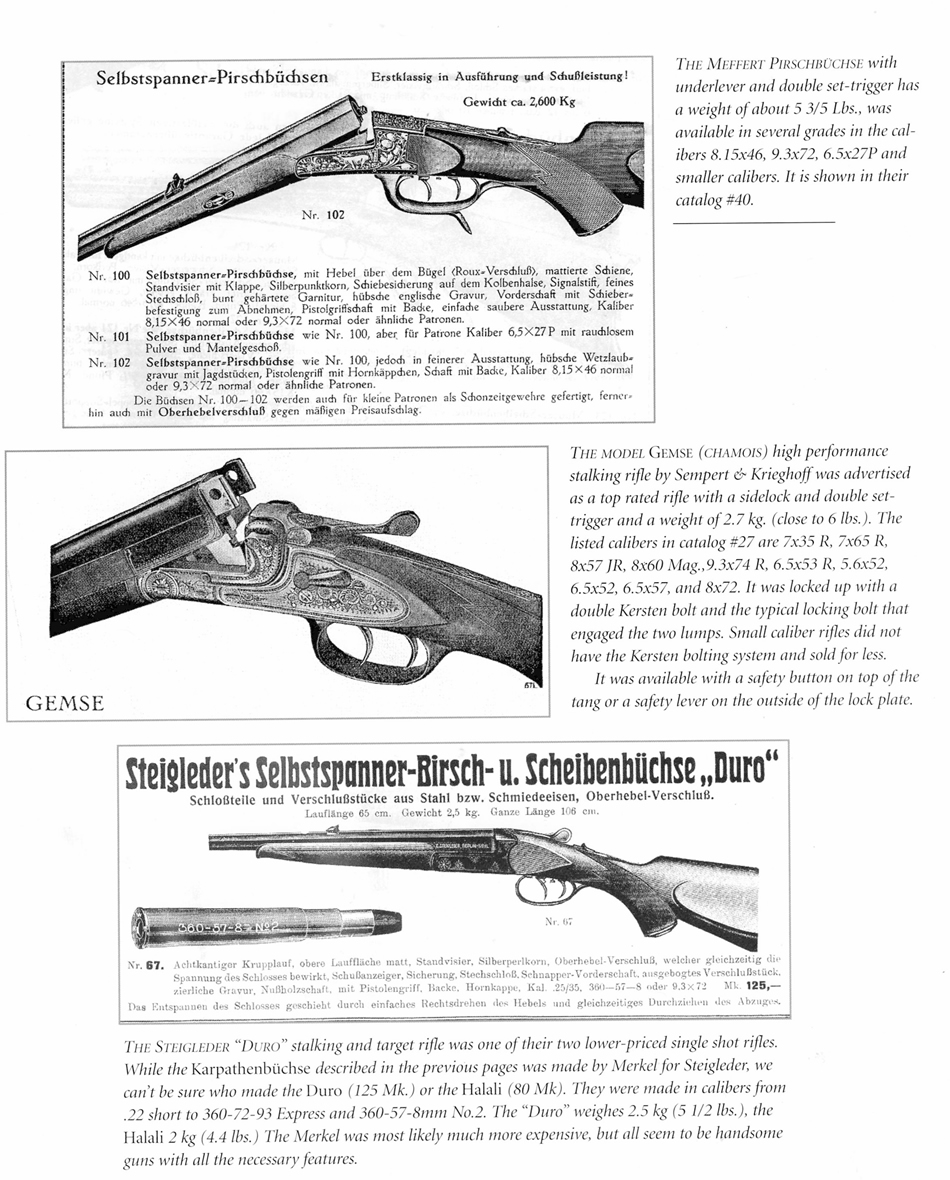 CONSIGNMENT
Here we have 3 folding trigger revolvers referred to as "BICYCLE GUNS" or "VELO DOGS". Bicycles where widely used for transportation during the late 1800's and into the 1900's and it was perfectly acceptable to shoot a vicious dog off of your leg with a small revolver and many companies made small pocket revolvers with some reference to dogs or bicycles in the name. We have 3 very nice revolvers of that type to show you here.
Weapons 136
A. This is a very nice folding trigger revovler that shows many arsenal markings on it that are either Belguim or French in nature. The entire piece measures about 5 inches in length with a 1 3/4 inch long barrel. The blued parts are quite nice for their age and the frame looks to be case hardened. There is a little loading gate to load the cartridges through at the rear of the cylinder. This revolver is 6.35 MM and a 5 shot with a nice rifled barrel. The action works well being a single action revolver. The rubber grips are very nice. For this piece $275.00
Weapons 135
B. This is a larger revolver being German Manufacture and being in 7.65 caliber. This revolver is also in very nice condition with a folding trigger. There is alot of original finish on the rifled barrel and cylinder. This piece is about 5 1/2 inches long with a 2 1/4 inch long barrel. There are many manufacture markings on this piece and on the top strap it is stamped H. BURGSMULLER & SOHNS KREIENSEN (Germany). This is also a double action revolver and it seems that everything works fine. This piece looks very nice! Has plastic grips that are in good condition. For this piece $295.00
Items weapons 130
Consignment
This is an old percussion Double Rifle/Shotgun that came out of the attic recently. Check out the pics below!
The next guns are CONSIGNMENTS
Items weapons 129
THE SEMI AUTO PARTS PISTOL BELOW IS SOLD!!!!
CONSIGNMENT
Items weapons 128
Here's a nice Bayonet for the Civil War Springfield Rifle!
CONSIGNMENT
Items weapons 126
Here we have a dug 1849 Colt Pocket Revolver which would have been .31 caliber. I don't know where it was dug but it was in the ground for a long time! This one has no percievable markings and everything is froze up. There is obvious damage to the brass grip and trigger frame. I think it was probably hit with a shovel. Some of the barrel has eroded away. The serial number is 18457 which I believe dates it to 1849. Nice dug piece! $295.00
CONSIGNMENT
Items weapons 125
Here we have a .22 caliber lever action rifle with cutdown barrel! This one has also been in the ground for a long time as evidenced by the rust. I can see no markings on this piece but we believe it to be a Model 1873 since it is a .22 caliber lever action rifle with an octagon barrel. The barrel is only 7 1/4 inches long and appears to have been cut off for some reason. Don't know where it was dug but what a conversation piece! $195.00
CONSIGNMENT
Items weapons 124
Star Frame. Here we have an uncleaned brass frame for the Eben T. Starr Four Barrel Pepperbox. If you need one then this one is in good condition and can be used to rebuild a damaged piece. I would say by the configuration of the grip that this piece is a fifth model. These pieces were made from 1864 to 1869 and only 2,000 were made. The only marking that I see is a U on the under barrel frame. For this piece $125.00
Items weapons 119
Here we have an old single shot pistol that missing a hammer. There were a large quanity of these little pistols made from the 1850's thru the 1880's so a hammer is bound to show up! This is listed in Flayderman's as 7C-045 "B" which is an Unidentified,Center-Hammer Percussion Pocket Pistol. This one is .31 caliber which is typical. The piece is unmarked and in great condition minus the hammer. The hammer had a center bar cast through it which fit into a 'dimple' on each side of the frame to pivot. Quite crude but effective! Unfortunately if the side plate screw became a little loose the hammer would fall out and be lost. That's probably what happened to this one! Otherwise this little pistol is complete . Take a look at the pics. For this one $125.00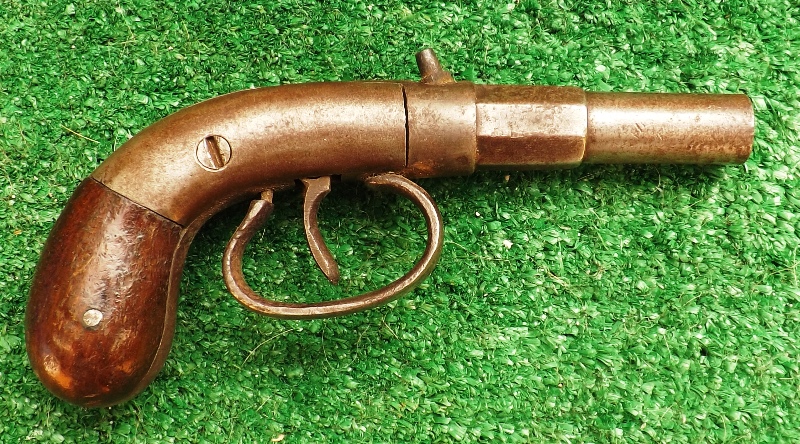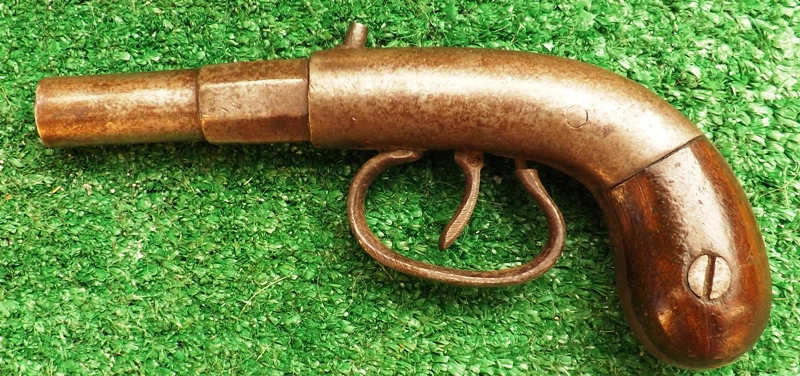 Items weapons 118
Here is an old holster that I think dates to around the 1880's, But could be Civil War, and is made for a smaller revolver like a Colt Root Revolver or one of the long barreled single shot pistols. . The holster has been made from another item as indicated by sewing holes that have no purpose on this piece. The holster measures about 9 1/2 inches long overall and is 3 1/2 inches wide with a closure flap. The rivits are the split faced rivits . For this nice piece $125.00
Items weapons 117
Here's an unusual piece that we acquired. This is a Trapdoor Rifle bayonet complete with locking ring but it has an interesting field repair to it about an inch or so away from the US stamping on the ricasso. The bayonet was not broken clear through but it was broken on the top edge by some unknown force. Accident? Shot? Sword blow? Tomahawk? Who knows but it's fun to try to guess. The piece was brazed repaired and it was crudely done but effective. Take a look at the pics. $35.00.


CONSIGNMENT
Items weapons 116
Here is a leather belt with square clipped corned brass belt plate from the 19th Century. This is a French belt and plate with the plate marked 'COTTIAU'. The belt including the plate and catch is 42 inches long. It looks like to me that the leather is pigskin instead of cow leather but I'm no expert. The outfit is in great condition with just a little green on the brass from leather to brass exposure over the years. There is nothing else written or stamped on the plate or the belt. Nice!! $175.00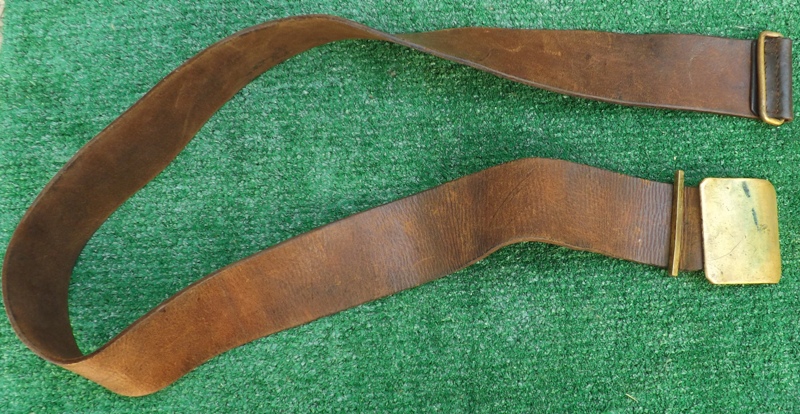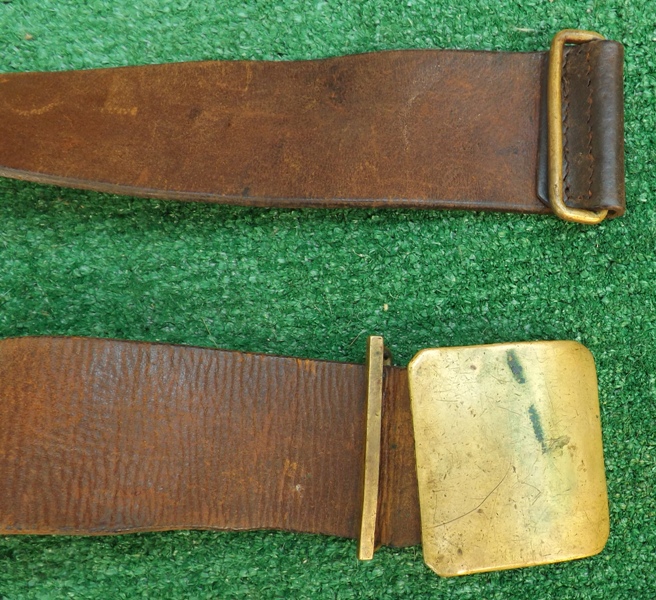 CONSIGNMENT
Items weapons 115
Here we have a beautifully loved full stock Pennsylvania Percussion .50 caliber octagonal barrel. It's kind of hard to tell if the barrel is rifled or not but I think it was. This entire piece is just abut 58 inches long with a 43 1/4 inch long barrel. The barrel has a nice plum brown patina to it. It looks like the lock was cleaned lightly to see what was stamped in it. The stamping is LEMAN - LANCASTER, PA. This is Henry E. Leman (1812-1887). He made rifles for Tyron, Lancaster, Pennsylania from 1834 to 1887 and also Contract rifles and muskets for the Conestoga Rifle Works so this entire piece was probably made by Leman. One of the key suppliers of rifles for the Indian trade was Henry Leman. Leman's works produced flintlock trade rifles in the late 1830's and he continued to supply them for about 20 years. He also produced large calibre percussion rifles for the Indian trade and even produced some of the Northwest guns during the middle of the 19th Century. Leman's trade rifles had a relatively short stock and they were built with both percussion and flint locks - although flint Lemans seem more common. Some of the rifles had a small patchbox and these had a distinctive fleur-de-lis pointing up from the box itself. The rifles had a single trigger and steel fittings - their use by the Indians required them to be rugged and dependable. Many of Leman's rifles found their way to the Indians since he gained several contracts to provide hunting rifles for Indians. These were produced in relatively large numbers on something like an assembly line. That productivity may be why part of Leman guns occasionally turn up in odd places. A trapper or gunsmith sometimes might take an available Leman part to replace something on another gun that was broken. Leman also provided some parts to other builders. Back to the barrel. There is pitting aorund the nipple area due to the black powder corrosion. This one has the drum and nipple method done to it. There is a simple V type dovetailed sight at the rear and a dovetailed blade sight up front. I can see no markings on the barrel but have not taken the rifle apart to check under it. The lock is simple engraved with LEMAN LANSTR, PA stamped on it. The action works fine. There is some wood loss around the nipple area due to firing. The stock is probably walnut and has the fax burned stripped or inked on it to make it look like tiger maple. This burning was done by wrapping a cord around the stock then burning it off leaving the dark stripping and inking was simply just inking a stain into the stock. I believe this is so due to the fact that where the shooters forward hand would have been on this stock that faux stripping is worn down. The stock is in generally good condition for as old as this piece is. There is a little damage on the oberse side near the stock pin on either side and at the forward brass ramrod tube you can see where the stock was lovingly pieced together. The forestock terminates into a pewter nose cap. The ramrod is an original ramrod but looks too short for this piece. Looks good in it though! The trigger bow that protects the single trigger is all brass and looks good but needs a little attention forward as it's slightly out of kilter. The original brass buttplate is present and the small strap on the bottom of the buttstock is still present and delightfully engraved. The toe of the buttstock has been broken and that is quite common. The brass patch box is present and very very nice! It's engraved and still opens and shuts as it should. All in all it's a beautiful firearm that was definitely used and loved. This is a keeper! $1,250.00 Check out the pics!!
Here we have some parts and complete bayonet scabbards that we ran onto.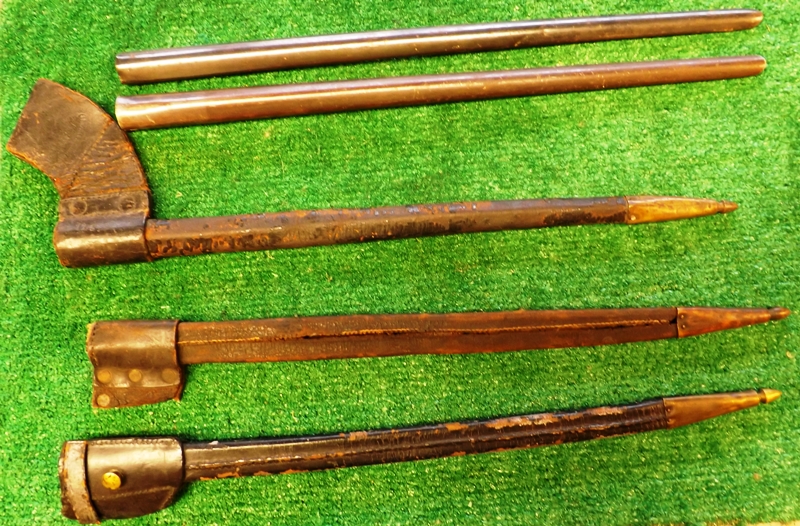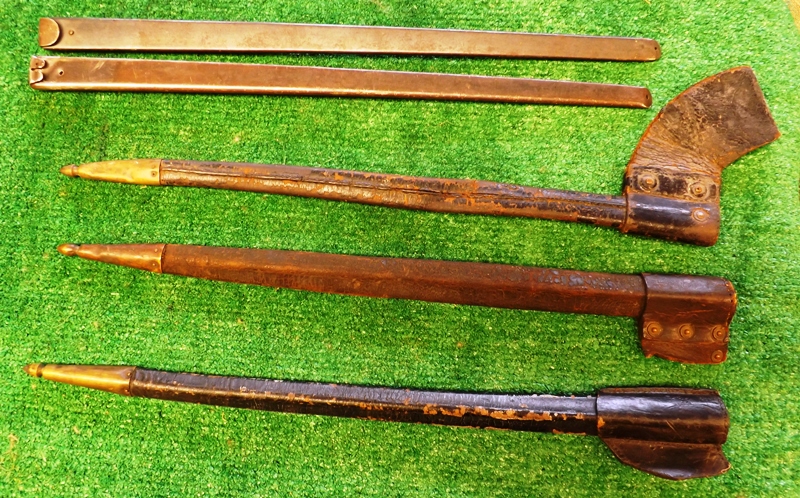 Items weapons 113
1. Here is a steel scabbard body minus frog for a .45-70 bayonet. Single steel tab for the frog. $20.00
Items weapons 112
2. Here is a steel scabbard body minus frog for a .45-70 bayonet. Double steel tap for the frog. $20.00
Items weapons 111
3. Here we have a rare 2 rivit scabbard complete minus 4 to 5 inches of stitching and leather surface mostly. $110.00
Items weapons 110
4. Here we have a 7 rivit scabbard but it's missing the belt loop and most of the stitching. At least the brass tip is present! $65.00
Items weapons 109
5. SOLD Finally I have here what I believe is a scabbard for a hall bayonet. I think so because that's the only scabbard I know that has this brass button that you see in the pic for an angular bayonet. The brass tip is typical of American scabbards. $85.00
Items weapons 108
Here we have a model 1855-70 bayonet in good condition in a rare-hard to find 2 rivit scabbard!! The bayonet has some rust on it but it's complete and has a sharp US on it. This would probably clean up well as it seems to be mostly surface rust. The scabbard looks to be brown leather and although there is a little leather surface loss on the reverse and an age crack in it this piece is also complete and hard to find! The frog is soft but has a 'memory' from being in a certain position for some time. There is some surface leather loss and crazing to the frog as well. The original brass tip is still here and solidly affixed. There looks to have been a repair a half inch above the brass tip but I'm not really sure. At any rate this style is hard to find and it has not been treated in any way. I'll leave that up to the new owner. Great display item!!! $325.00
CONSIGNMENT
Here we have 5 antique bayonets and I will describe and price them starting at the top one in the photos and descend downward.
1.
Items weapons 106
This first one is a dandy! It's described in Hardin's book on American Bayonets as no. 24 U.S. CADET RIFLE, MODEL 1868-69. He states that although no authority has been found which supports the claim for this bayonet model, it is strongly felt that such a specific arm did exist. If the specimen to be described was a cut-down version of the standard infantry bayonet (which is economically feasible), the operation was certainly not a chance affair. The forward blade surfaces, althought different from the standard form, have been shaped with care-probably at an arsenal or other official facility. As stated, the arm is basically of the standard 1855-70 pattern. The blade is 14 inches long, 2.
Items weapons 105
Here we have a relic U.S. Model 1842 Bayonet. It's complete but the band is frozen and there's a warp in the blade. This is probably a barn find. The Model 1842 bayonet was more streamlined that the Model 1835 and was issued with re-issued converted to percussion 1835 muskets and the first U.S. persussion rifle/musket, the Model 1842. This is an excellent .69 caliber dug bayonet and would look great in any dug relic display! $110.00
3.
Items weapons 104
Here's a good M-1855-70 bayonet in untouched uncleaned condition. This one is complete and the ring moves freely. The bop of the bayonet is marked 'I.C and U.S.' The bayonet has a nice dark patina. These bayonets fit the .58 caliber Springfield rifles used during the Civil War. $175.00
Items weapons 103
4. THIS ONE HAS BEEN TRADED!!! Here's another .58 caliber rifle bayonet model 1855-70 in very nice chocolate patina. It's all there and the ring is free. The US is still very visible. $175.00
Items weapons 102
5. This next bayonet is another Model 1855-70 and it's in very ncie condition with a sharp US on it. This one has a patina on it but it's not the chocolate dark type. This is a great piece! $195.00
CONSIGNMENT
Items weapons 100
Here we have 6 relic or near relic 19th Century Bayonets. On the relic ones I do not know where they were recovered.
CONSIGNMENT
Items weapons 100
The first one is a model 1816 Bayonet and is the first US bayonet to follow national regulations. This blade is about 9 ½ inches long and the socket is battered. No markings are visible. $35.00 I
CONSIGNMENT
Items weapons 99
The next one is a nice complete dug Model 1853 Enfield Bayonet complete with locking ring. This piece is full length and would look great alongside a dug rifle. No visible markings. For this one $65.00
CONSIGNMENT
Items weapons 98
Here we have a Prussian Model 1809 bayonet in relic condition. This bayonet is the type that uses a spring clip under the barrel to lock the bayonet on. The bayonet is complete but rusty and is missing the very time of the blade. It's still a nice display piece especially with a dug musket or relic musket. Sorry, Don't know where it was picked up. For this piece $65.00
CONSIGNMENT
Items weapons 97
Here is an Austrian Model 1849 Kammerbuchse Saber Blade Socket Bayonet that is missing the locking ring. This hayonet has a three step mortise. This big bayonet is 28 inches long! It has an attic patina. Upwards to 49,654 Austrian rifles were purchased by the U.S.Ordnance Department with quite a few of those being the Model 1849. These rifles were also called the "Garibaldi rifle". Although there are no know Confederate purchases some were undoubtedly captured and used by the confederates. $125.00
CONSIGNMENT
Items weapons 96
Here is an Indian War bayonet for the .45-70 trapdoor rifle. This one is in dug condition and is missing the locking ring. No marks are visible as well. It's pretty good condition for dug. $45.00
CONSIGNMENT
Items weapons 95
Here we have a nice dug Civil War Springfield bayonet with a 12 inch blade. You can still see a faint US on the blade. Nice dug shape! $35.00
Items weapons 94
This next bayonet is from the late 1800's and is most famously associated with the Zulu Wars in South Africa being a Henry Martini. This bayonet is complete except for the locking ring and scabbard. The blade is full length of 21 ½ inches and is marked with various different British markings on the ricasso. For this one $45.00
CONSIGNMENT
Items weapons 93
Here we have two model 1873 Springfield trapdoor bayonets and metal bodied scabbards for the Model 1873 Trapdoor rifle of Indian Wars fame.
The top one has a real nice mostly blued bayonet that has a sharp US stamped on the ricasso. The locking ring is present and except for some minor rusting this piece is real nice. The leather frog has the MASS button on it. The clip at the top of the leather frog and into the scabbard is missing. This one is very nice and is complete with locking ring. $195.00
CONSIGNMENT
Items weapons 92
This next bayonet is like the one above down to the MASS button on the scabbard throat. This bayonet has seen more use and has some minor pitting on it but it's still nice being complete with locking ring. The leather frog has a tear in it and this one also is missing the clip at the top of the frog. $165.00
CONSIGNMENT
Items weapons 89
Here is a German model 1845 Fusilier short sword. I can find no makers name on this piece. There is a mark of GvZ on one side of the brass crossguard and N136 on the other side as well as 9C. The entire piece is is over 23 inches long with an 18 ½ inch blade. No fullers are present in the blade. Ther are several nicks especially closer to the handguard. $275.00
CONSIGNMENT
Items weapons 88
We have a Spanish 1860's Guardia Civil short sword/machete with brass trim and wood handle. the sheath is leather with brass trim and is missing the tip and the hanger. The sword is marked J. BUNGER and other words hard to make out. condition is good with even patina on the blade, some pitting, and no major damage to the handle. The sword is 30" long overall, and the blade is 24 ½ inches long and 1 5/8" wide. No scabbard $150.00 I
CONSIGNMENT
Items weapons 87
Here's a good 1863 Dated Emerson and Silver NCO sword in metal scabbard. The sword exhibits a nice mellow yellow patina with some gold wash/brite brass showing through. DFM is stamped on the knuckle bow which stands for DEXTER F. MOSSMAN who was a government inspector. The guard, grip and knucklebow are in excellent condition. The blade is the correct length of 32 inches and is marked EMERSON & SILVER , TRENTON, N.J. on one ricasso and US DFM and 1863 on the other ricasso. The blade is somewhat bright with some mottling. There are no signs of sharpening on this piece. The scabbard is in generally good condition with just some paint loss to the black paint on the body of the scabbard. The drag is marked DFM as well. The only thing missing on this piece is the little leather throat washer between the sword and the scabbard. This is a very nice piece! $575.00
CONSIGNMENT
Items weapons 86
Here is a nice Model 1840 Muscian's sword and leather scabbard. This one has a little darker patina than the NCO sword that came with it. This one is also an EMERSON & SILVER from Trenton, N.J. and is so marked on the ricasso. The other side of the ricasso is U.S. DFM (as above) and 1863. This one is in a leather scabbard which has had what I believe to be period repairs to the body. There are inspectors initials on the drag. When the sword is out of the scabbard these leather scabbards lose their strength and breakage is a common occurrence. This one has a brighter blade than the NCO above and is the correct length of 28 inches. This one also shows no signs of sharpening and the leather throat piece is missing. This is the only thing that Muscians had to protect themselves with and many musicians had to take to the field to give the fighting men inspiration to carry on. $525.00
CONSIGNMENT
Items weapons 85
Here's a pretty nice U.S. Officers import non-regulation sword with the iron hilt that shows the Spread Winged Eagle and U S in the cutout portion of the guard. The iron pieces of this sword exhibit a great dark patina. Darn near all of the original sharkskin wrap is present as well as the two strands of twisted wire. Most of the leather blade washer is present but not all of it. The blade is nearly 33 inches long showing no signs of sharpening and no nicks in it. The brass insert on German import blades is there which is a small brass medallion insert with the word PROVED on it. On the other ricasso is the makers name of F. HORSTER, SOLINGEN on it. Also on the back or spline of the blade is the words IRON PROOF which is definitely on the German import blades. The obverse blade shows a spread winged eagle with ribbon in it's beak with the words E. PLURIBUS UNUM on it. The back of the blade has floral motifs with US on it. These engravings are somewhat light but easily seen with the eye. The scabbard is all iron with iron rings and mounts. The iron throat is attached by two iron rivits which is definitely typical of German manufacture. The drag is complete however there is moderate pitting on the drag end and there are a few 'door dings' on the obverse side while none are on the reverse side. This is a nice piece!!! $950.00
TWO OLD PISTOLS FROM THE LATE 1800'S
Items weapons 82
Here are two old pistols from the late 1800's. The first one is marked HECLA on the top strap and I admit I don't know what that means. The piece is nickel plated being a .32 caliber weapon with nice hard rubber grips. The hammer cocks and drops when you pull the trigger but the cylinder is extremely loose and this thing will never fire again. It'll look good in a shadow box hanging on the wall. Cheap at $75.00 Item Weapons 040 B
The next one is a small 32 caliber 5 shot revolver and it's marked on the top strap YOUNG AMERICA DOUBLE ACTION. This revolver doesn't look too bad and it was made by H & R arms (Harrington and Richardson). The America Double Action Revolver was made c. 1884 to 1941 (1,500,000 of them) so since this one doesn't have a serial number on it I will have to transfer it. This one is is relatively good condition and works in double action only. 2 inch barrel octagon barrel. The company info is stamped on the barrel. Cylinder doesn't always advance when it is suppose to. There is also a chip out of one grip at the bottom. For this one $120. Check out the pics.
CONSIGNMENT
Items weapons 81
.58 CALIBER ORIGINAL PAPER CARTRIDGES FOR THE SPRINGFIELD RIFLE!
Nice Original Civil War Period Paper Cartridges for .58 Caliber Springfield Rifle . These are in very nice condition and each is in a riker box. These were found in the bottom of an original Cartridge box tin. One of them has separated but no powder has been lost. The ties are still intact. These hand rolled cartridges were intended for the Model 1855, Model 1861 and the Model 1863 Springfield Rifles and contracts. These .58 caliber cartridges were the most issued cartridge during the Civil War. Take a look at the pics! $125.00 each. Also we have a plastic bag containing two minie bullets, paper remnants and all the original black powder that was left in the bottom of that cartridge box for $75.00. I think these would look good in a riker mount as well.
CONSIGNMENT
1800's FLOBERT TYPE TARGET PISTOL!
Items weapons 79
This is a strange one that you don't see too often. This is a Belguim Flobert Type Target Pistol, guaged for a 6MM round as marked on the barrel and probably Belgium made as indicated by proof marks on the barrel as well. This pistol is a single shot and measures over a foot long with a 10 inch barrel. The entire piece is nickle plated except for the breech mechanism, hammer and trigger. The trigger has to be pushed forward to engage when the piece is cocked so I would say it is not safe to shoot. The little pistol has steel painted grips to look like wood. Very unusual!!! $225.00
CONSIGNMENT
INDIAN TIGER HUNTERS HOWDAH TYPE PISTOL IN .44 CALIBER!
Items weapons 78
The term "howdah pistol" comes from the howdah, a large platform mounted on the back of an elephant. Hunters, especially during the period of the British Raj in India, used howdahs as a platform for hunting wild animals and needed large-calibre side-arms for protection from animal attacks. The practice of hunting from the howdah basket on top of an Asian elephant was first made popular by the joint Anglo-Indian, East Indian Company during the 1790s. These earliest howdah pistols were flintlock designs, and it was not until about 60 years later percussion models in single or double barrel congfiguration were seen. By the 1890s and early 1900s cartridge firing and fully rifled howdah pistols were in normal everyday use.
This particular pistol design comes from the 1800's and features a shotgun type centerfire design. I believe, however, that this piece used brass cartridges. The piece measures about 10 inches long with a 5 1/8th inch set of double rifled barrels. One of the hammers has had the top of another hammer brazed onto it as it must have broken off but it's solid as a rock. The action is extremely tight and works fine. The finish is nickel and the grips are encised hardwood. There is engraving over much of this piece. There is a serial number on the bottom of the barrels located on the rib between the barrels. The name J.L.Galef and 44 XL SHOT CTGE is on the top of the barrels. J.L. Galef & Son, Inc. out of New York, New York was in business in 1888 and although this gun fits the profile of the Howdah pistol I do not believe this piece was intended for this purpose and was imported from Spain in to the United States in the 19th century. There is a curious bit of grinding on the top and bottom of the barrels. It's not a huge area but it is there and I believe it was intended to erase the Spanish makers marks for some unknown reason. I can see traces of letters under the grinding. This is still a unique piece! This is an old gun however, made before 1898 and I do not warrant it to shoot. I think it could be dangerous. Check out the pics. $450.00
CONSIGNMENT
1880's SATURDAY NIGHT SPECIAL WITH LONG LONG BARREL!
Items weapons 77
Here is a little DEFENDER 88 single action pistol in .22 caliber. These little firearms were described as Saturday Night Specials because they were cheap to purchase and generally of lower quality. This one is a 7 shot having a nickeled frame and hardwood grips. The unusual thing about this revolver is that some gunsmith put a long 9 3/4 inch barrel on this pistol to supposively improve the accuracy. I know a gunsmith did it because this barrel is rifled. The piece seems to function ok but I would definitely recommend not shooting it. The barrel is missing the little bead for the front sight but the hole is there. Take a look at the pics. $225.00
CONSIGNMENT
1840'S DOUBLE BARREL PERCUSSION PISTOL!
Items weapons 76
Here's a good display item. This is an old .44 caliber double barrel percussion pistol. The pistol's action works fine but the top of one hammer is broken off. This is a boxlock type pistol with hardwood bag type grip. The entire pistols exhibits a nice dark patina and looks to have never been cleaned. The top strap screw is missing. There is simple engraving on the lock and on the back strap. There is a faint makers mark on the lock that I cannot make out but most of these type pistols are Belgian in nature and I suspect that this is no different. The piece has 2 triggers and the wide triggerguard has engraving on it. The action seems to work ok but both nipples are missing. This piece should just be a display piece anyway. For this one $225.00
CONSIGNMENT
NEAR RELIC CONDITION ENGLISH 6 SHOT PEPPERBOX!
Items weapons 75
Here is a near relic English 6 shot pepperbox in 31 caliber. I have had many English pepperboxes over the years and this one fits the profile even though it's not marked. The bar hammer and receiver has factory engraving on it and the grips are checkered hardwood. The iron endcap also has engraving on it. It looks like the only thing missing on this piece is the triggerguard. When the trigger is pulled the bar hammer lifts but the cylinder does not turn. Some of these type revolvers cylinders were hand turned so this may be the case here. The nipples all look to be in good condition but the barrels themselves exhibit moderate to heavy pitting indicating that this piece layed out for awhile. Don't know the history of this piece. The entire pepperbox measures about 9 inches long with a 4 3/4 inch barrel. There is a small shiney spot on the bottom of the recoil shield like someone ground something off there but I don't know what it would have been. This would look great in a dug or relic display! $325.00 Item weapons 032
CONSIGNMENT
SOUTHERNER DERINGER!
Items weapons 74
This is a Southerner Deringer that was made by Brown Mfg. Co circa 1866 to 1873 with a total quanity estimated at 16,500. These are .41 rimfire with a 2 1/2 inch octagon barrel which pivots sideways to load. There is no extractor on this firearm. The steel parts were blued but now lacking. The markings are easily seen on top of the barrel but light. This one has a brass frame and it looks like one of the grips has been replaced. The other grip is original to the piece however it is missing a small chuck out of it that you can see in the pics. The action works fine and the serial number is 1593 so it's fairly early. The entire piece has a coating of shellac or polyurethane on it but it can be easily removed. If we take it off the price will increase. $325.00
Item Weapons 030
Item Weapons 029
CONSIGNMENT
NEAR RELIC CONDITION REMINGTON-ELLIOT DERINGER 32 RF!
Items weapons 73
This is a near relic condition Remington-Elliot deringer in 32 rimfire cartridge a.k.a. "Pepperbox" Made c. 1863-1888 with a total quanity being about 17,500. Barrels are 3 3/8 inches long and ribbed. This one exhibits a very dark patina and does not function, however it looks like just about everything is there and moves. Nothing is frozen. The grips are missing. This one was unique because of the revolving firing pins and the ring trigger. The ring trigger screw is an incorrect replacement. This old firearm has a story but unfortunately I don't know what it is. It's a neat relic! $395.00
\
Items weapons 71
1700's - 1800's NORTHERN INDIA MATCHLOCK MUSKET WITH DAMASCUS CANNON END BARREL!
Gunpowder was introduced to India as early as the 13th century, with artillery and early firearms being employed in warfare shortly thereafter. It was the 16th century Mughal Empire, however, which introduced the matchlock musket and began both producing and using firearms on a truly massive scale, revolutionizing Indian warfare. The army of Emperor Akbar, for example, maintained a force of some 35,000 musketeers. India during this time became one of the world's great musket manufacturers, with Indian matchlocks being renown for their quality.
The matchlock was the first mechanism, or "lock" invented to facilitate the firing of a hand-held firearm. This design removed the need to lower by hand a lit match into the weapon's flash pan and made it possible to have both hands free to keep a firm grip on the weapon at the moment of firing, and, more importantly, to keep both eyes on the target.
This musket is old but appears to have been restored at some time. This piece measures 60 inches long and is quite nice. The hardwood buttstock has deep regimental markings stamped into it and it looks like S.L.K 9. The piece seems to be complete except for a little cover that would have covered the pan so that the gunpowder wouldn't fall out and to protect it from getting wet. The mechanish works well. There is a burn spot on the buttstock that you can see in the pics that shows that the cord was wrapped around the buttstock and on up to the 'drinking monkey' lighted cord holder. The metal shows age and some pitting here and there but has been cleaned at some point. One can still see the damascus type markings in the barrel. The barrel terminates into a cannon type of flared end. It's about a .60 caliber or 20 guage at the end of the barrel. The barrel is held onto the wooden stock by rattan or wrapped reeds or grasses. There are simple stimpled punch marks outlining the various metal parts. The barrel is about 41 inches long with a simple block sight at the rear and a simple bead sight up front. Nice unusual piece! $995.00 Item weapons 024
CONSIGHMENT
CONSIGNMENT
BULLET MOLDS ROUND SINGLE CAVITY!
Items weapons 68
Here we have 7 bullet molds that we'll talk about from 1 to 7 starting top to bottom left to right.
1. The first one is mainly in relic condition with a single cavity for what looks like to be .45 caliber. Rusty and needs oil. No markings and is 7 inches long. $20.00
SOLD---2. This next one is in generally very good condition with about a .60 caliber ball and also has a spru cutter in the handles. No markings and is 6 inches long. Nice! $45.00
3. This one is a really nice iron single cavity ball mold and looks to be about .28 caliber. It measures about 5 1/2 inches long and has no markings. $65.00
SOLD---4. This one is for an approximately .69 caliber ball being single cavity iron with no markings. 6 1/2 inches long. $65.00
SOLD!!!5. This single cavity iron bullet mold is in relic condition and is for an approx. .38 caliber round ball. Measures about 5 1/4 inches long and still moves freely. $20.00
6. This single cavilty iron bullet mold is in nice conditon and looks to be for an approximately .36 caliber round ball. It's compact being only about 4 1/4 inches long. $45.00
7. This single cavity iron bullet mold is about .36 caliber and in good condition with a spru cutter in it's handles. This example measures about 5 1/2 inches long. $40.00
8. This bullet mold is solid brass with a bent handle. It's a double cavity type with a pour hole on each end of the mold. This one appears to be about .31 caliber with a round ball and a conical projectile. This one has seen lots of use and I suspect the handles were bent while applying pressure to keep the mold shut. Still nice and has a great patina! $45.00
9. This bullet mold is solid iron and looks relic. There is some old white paint on it too. I believe this may have been used militarily as it's about 52 caliber with a single ring on the base. Still trying to find what this projectile may have fit. This one was definitely field used and lost. $85.00 .
ON THE LOOSE .69 CALIBER TIN FOR CARTRIDGE BOX?
Items weapons 66
Here we have a cartrige box tin for cartridge box but really doesn't fit in a .69 regular cartridge box. This box measures 4 5/8 tall by 3 13/16 wide by 1 1/2 inch deep. This one is in good shape with the divider just showing some surface rust on it. If you need another tin to complete the box then here it is!!! $45.00
MISSOURI CAVE FOUND RIFLE!
Items weapons 65
Here is an old percussion musket with military barrel that was found in an old cave near Thayer, MO. This old musket has a very dry stock and the lock will not operate. Someone had wired the stock to the barrel to secure it. The lock is marked JOHN P LOVELL. John P. Lovell worked out of Boston, Massachusetts from 1820 to 1897. The barrel is an old military musket barrel, probably from the early 1800's and has the US proof mark on the barrel that you can see in the pics. The barrel was converted to a shotgun and has a brass bead on the front. The gentleman who sold it to me thought it may be a foragers weapon for the military but I really don't think so. At any rate it's a cook relic that was found in a cave in Missouri. $395.00
CONSIGNMENT
Items weapons 64
Here's a very unique old 12 guage double barrel percussion shotgun made in England circa 1850's. This shotgun is over 47 inches long with an over 31 inch barrel length. The barrel has a middle rib much wider than any I've encountered it's being around 1 inch wide and is decorated with an arrow on the end and floral motifs with LONDON FINE TWIST engraved there as well. All the iron pieces are a very nice dark fine patina. The front action locks are both in working order and are both marked PERKINS. There are floral motifs and hunting birds on each. Both hammers match but I believe that one hammer screw has been replaced. The English Walnut stock is in good condition but does have a hole in it where the barrel tang passes through that you should be able to see in one of the pics. The forestock ferrel is missing some of the silver. Notice the rest of the silver on that stock and this piece has a small cap container at the rear underside of the buttstock. The stock is also hand checkered on the wrist and the forestock. I believe the ramrod may be original. The front iron ferrel has broken free but is still there for repair. This is a nice old gun! $850.00
CONSIGNMENT
Items weapons 63
Here is a N.B.Tyler halfstock rifle out of Vienna, Ohio circa 1870's. Tyler was in business from 1858 to 1896 but I've seen this style popular in the 1870's. This heavy halfstock rifle measures 50 1/2 inches long with a 35 inch barrel. The manufactures info is stamped into the top of the barrel between the tang and rear sight. This is a back action lock and does function correctly. The tumbler is worn and wobbles when the hammer is pulled back. This is about a 40 caliber weapon. The problems with this piece is that someone added some plastic wood to the buttstock toe where that piece was broken off and crudely reattached the ramrod pipes. All fixable. The stock is in good condition generally with one crack and lose of wood around the nipple area. All can be seen in the pics. Double set triggers. Brass buttplate and triggerguard. Still nice! $650.00
CONSIGNMENT
Items weapons 62
Here is a honey of a double rifle/shotgun combination in a side by side configuration. The Smooth barrel is 20 guage while the rifled side is about .65 caliber. The entire piece is a about 44 1/2 inches long with 29 1/2 inches barrels. The walnut stock is very ornate and is just missing the slide lid for the caps/patch box. There is no evidence of screws so it was just a simple slide lid now lacking. The wrist is hand checkered and the triggerguard is ornate wood. The buttplate is iron being extremely ornate on top. The obverse lockpate is very ornate as well as the hammer which has an animals face on it. The reverse lock is plain and so is the hammer but obviously made for this gun. There is a small portion forward of the trigger guard that is ornate iron work as well as the ferrel entering the forearm. The ramrod ferrels are unadorned iron. The action works fine. The top of the barrels are marked I.L.? GERSTMAYR. IN MEMMIMGEN. This is a nice double! $1150.00

CONSIGNMENT
Items weapons 61
Here is an early Colt Pocket Model of Navy Caliber .36 caliber Revolver that has been converted to cartridge. The serial number of this revolver is 38XX and matches on all parts. The piece is in very good condition and functions correctly. This piece is complete with nothing missing. The revolver exhibits a nice color and the markings are clear and sharp. There is some minor pitting on the revolver in a few places but not that bad. Check out the pics! $1,295.00
CONSIGNMENT
Items weapons 59
Here's another wonderful full stock rifle that was made by M.M.Maslin of Baltimore, MD from 1822-1833. The barrel is a comtemporary LARGE made barrel. This piece is just outstanding! The rifle measures nearly 58 inches long with a 42 ½ inch barrel. LARGE made barrels in the 1970's. This is a .46 caliber octagonal barrel as determined by the caliber guage. The stripped walnut stock is in good condition with 1 cracks and no breaks. There is a shrinkage crack radiating from the buttplate about 3 inches long on the reverse. There is a cup over the nipple so there is no burn to the stock. The nose cap, ramrod thimbles, trigger guard and buttplate are all brass. The lockplate is marked M.M.MASLIN - WARRANTED and functions well with the set triggers. This one could be shot today. Nice!!! $2,500.00
CONSIGNMENT
Items weapons 57
Here is a CS Richmond Musket that has been turned into a shotgun. Converting Military Surplus for Civilian use after the war was a popular thing to do. This piece was originally a .58 caliber weapon but is now a 16 guage shotgun made from the rifle barrel. The entire piece is now 48 ¾ inches long with a 33 inch barrel with a shotgun bead type front sight. The stock is the original walnut military stock but as you can see it's been altered but what's left is sound. The buttplate is brass and I believe the ramrod is from a US Model 1816. The hammer has had the thumb piece bent backwards. The lockplate works well and is marked C.S.RICHMOND ahead of the hammer and 1862 at the rear. I believe this lock to have been on a Type II. If you hold the lock just right you can see where a previous owner lightly scratched his social security number on it. The same number of a part of it was also lightly etched onto the barrel tang. The iron parts of this musket/shotgun exhibit a very nice dark plum brown patina. Still a desireable piece! $2,950.00
CONSIGNMENT
Items weapons 56
Here is a nice old fullstock rife that is marked R.ASHMORE & SON. This rifle was believed to have been called a Kentucky Rifle made in Pennsylvania. Here' some info on Ashmore Gunsmiths:
Subject: Ashmore Gunsmiths
From "A Short History of Lancaster County, PA" "Kentucky Rifle"
At the out break of the Revolution, Lancastrians local mechanics and workers began producing tons of rifles, shoes, boots, uniforms, blankets, hardware & food. During the French & Indian War, Lancaster's gunsmiths and other artisans were hard at work turning out the materials of war. Still earlier, the Pennsylvania rifle, later known as the Kentucky rifle when carried into the Ohio Valley, was developed in Lancaster County. This "apprenticeship" prepared Lancaster County for the role it was to play during the Revolution. County mills ground out barrels of flour and wagonmakers built Conestoga wagons & other vehicles. Local furnaces & forges were kept busy smelting, casting & hammering iron for the tools of war. Lancaster County was the arsenal, work shop and granary of the Continental armies. From information that Lloyd Ashmore provided concerning the Kentucky Rifles: "American Gun Makers" Ashmore - Unidentified, maker of Kentucky rifles 1800-1810 Ashmore, N. - Lockmaqker, flint & percussion arms. Percussion shotgun locks marked "N. Ashmore" Ashmore, R. - Lockmaker , flint & percussion arms, Maker of a Kentucky rifle flint lock marked "R. Ashmore Warranted" and of an original Kentucky rifle percussion lock marked "R" and "Ashmore" in two lines. Another book had the dates as 1800-1830 Lancaster Co, PA with the same information.
This rifle is in generally good condition just showing some age cracks in the buttstock. It is missing the buttplate but one could probably be had at an Antique Arms show. Otherwise the rifle is fine and functions very well. This fine little rifle is over 5 feet long with a nearly 46 inch octagonal barrel. THe lock is decorated with simple designs as well as the R. ASHMORE & SON. THe hammer is also decorated. This piece was originally a flintlock rifle. The rifle is .50 caliber. The triggerguard, ramrod ferrels and nosecap are brass. The ramrod is a replacement. Take a look at the pics. This is a nice one still! $850.00
CONSIGNMENT
Items weapons 55
Here's an underhammer rifle that measures about 48 inches long with a 30 3/4 inch long octagonal .41 caliber barrel. The buttstock is about 17 inches long with all lock parts internal. The hammer is an underhammer with the thumb part broken off. The main spring is extremely tight and it's hard to pull back the hammer. The hammer wants to catch but doesn't quite do it so it needs some tinkering. The trigger is a single trigger. The top of the stock had been broken off and put back together with nails. The trigger guard and buttplate are both brass. There is an old finish to the wood. The patina is a nice dark patina to all iron parts. The ramrod is a replacement. All in all a very unusual weapon and one that deserves restoration. No makers name is present. Still Nice!!! $650.00
CONSIGNMENT
Items weapons 54
Here's a great underhammer percussion firearm that was produced by N. Kendall of Windsor, VT. from 1838 to 1842. Nicanor Kendall's brother-in-law was a prison warden and consequently all of these guns were made in prison by prison labor! Actually these prison guns were made quite well and talk about keeping your costs down! This particular weapon is an underhammer fowler being about 20 guage with a 31 inch half round half octagon barrel. ther is some scroll engraving on the octagon part of the barrel as well as on the tang and on the hammer. Quite ornate!!! The entire piece is about 48 inches long with a real smart looking downturned hardwood stock. There are no breaks in the wood. This is a beautiful gun! Buttplate and triggerguard are brass. The ramrod is original to the weapon and has a little spring in it to keep it from falling out of the thimbles. On top of the barrel and tang are the words N. KENDALL WINDSOR. BT. PATENT and SMITH'S IMPROVED PATENT STUD LOCK. Ther eis also the number of 915 0 on the rear sight. This weapon also has a dovetailed from brass sight. The pics really don't do this one justice!!! $2500.00
CONSIGNMENT
Items weapons 53
Here is a Moore's Patent Firearms Co. No. 1 Deringer in .41 caliber. This is an all metal No. 1 or First Model Deringer made by Moore Circa 1860 to 1965 and National Arms Co. from 1865 to 1870. This one is made My National Arms Co and so evidenced by the markings on the top of the barrel. National has pitting over it but the rest is seen.. About 3,000 National Arms Co. deringers were produced. This pistol has a 2 1/2 inches barrel which twists sideways to load. It has a brass frame which has been cleaned and no silver remains. The barrel was originally blue now lacking. There is decorative broad scroll engraving on the frame and breech of barrel. There are nics along the top of the barrel and some pitting. Patent marks are under the barrel. The action doesn't hold when cocking but it wants to. Still a desireable piece! $650.00 I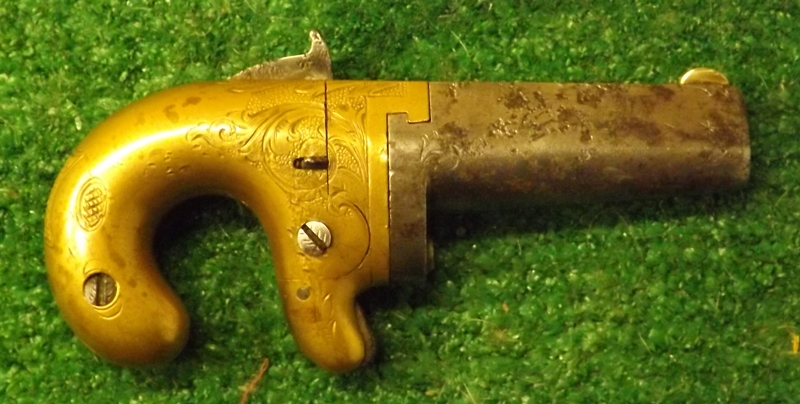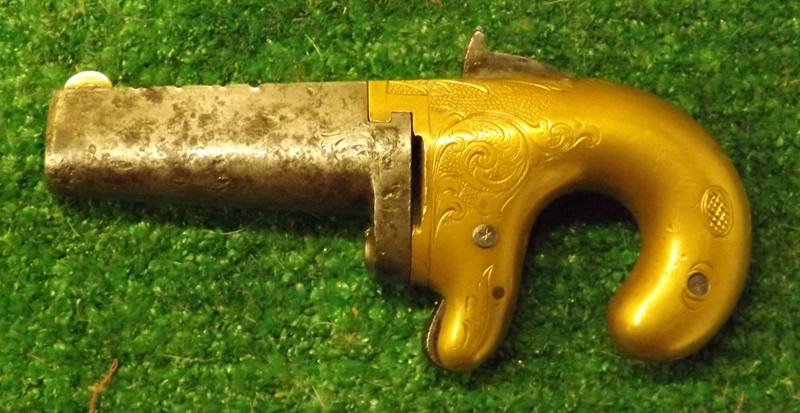 CONSIGNMENT
Items weapons 52
Here is an unmarked DIXON buttstock or gunstock powder flask made of brass. The pice measures over 8 inches long by 3 1/4 inches wide and has a few minor dents from use in it. The piece exhibits a real nice patina. It is unmarked by DIXON but exhibits the 94222 and logo that are seen on other Dixon powder flasks. Spring is intact and mechanism works. This is a nice piece! Check out the pics! The flask has been lightened in color in the pics for detail. $450.00
CONSIGNMENT
Items weapons 51
Here's a real nice short treaty rifle. This muzzle loading percussion rifle was manufactured by J. Henry & Son; the barrel is 28 1/2 inches long being half round half octagon and U.S. is stamped in the stock just below the trigger guard rear extension. The entire piece is 44 inches long. The action is a single trigger set up and works fine. J. Henry & Son is stamped into the lock. Looks like a .52 caliber smoothbore. There are simple sights near the rear and at the front of the barrel. The stock is in generally good condition. See the pics.
In the late 1860s, the most common firearms used by the Plains Indians were muzzle-loading rifles manufactured by Leman, and a few by J. Henry & Son. Most authorities believe these guns were sold by licensed traders until 1868, when the trade in firearms was made illegal. However, guns were given out by various Indian eace commissions as part of treaty signings. Several J. Henry & Son percussion rifles such as this one that have U.S. stamped on the stock below the trigger guard are generally accepted among collectors as treaty issue guns.
This is a pretty nice treaty gun!!! $2.200.00
CONSIGNMENT
Items weapons 50
Here we have an original Flintlock Rifle by R. Hollis of England. This rifle is a .40 caliber fullstock rifle being 58 1/2 inches long overall with a 43 inch octagonal barrel. The lock is non-functioning at this time but I'm sure it won't take much to get it going. They are kind of simple. This rifle has a replacement ramrod and probably a replacement nose cap as well. There is some wood loss to the stock expecially in a couple of places running along the barrel at the lock and on each side of the nosecap. The ramrod ferrels, trigger guard and butt plate are all brass. This trigger set up is the set trigger type and that works ok. Overall very nice with a decorative stock and vent pick hooks on the reverse. There is a repairable crack on the bottom the stock that you can see in the last photograph. With a little work this piece would be great! $1150.00
CONSIGNMENT
Items weapons 49
Here we have another very long firearm but this time it's a 14 pound target or sniper's rifle! This piece measures over 62 inches long with an extremely heavy octagonal .50 caliber barrel. The barrel is held onto the stock by at least 3 pins and 1 key (missing). The barrel has a simple dovetailed blade sight at the front and an extremely wide 1 5/8 inch dovetailed V sight at the rear. I can see no markings on the barrel. The nipple seems to be intact and clear. The lock that is with this piece is not the correct lock I believe. It doesn't fit well and it's pitted on the surface and the rest of this rifle is not. They came together so I'll just leave them together and let you sort it out. The lock screw is not original to this piece either and will not go into the lock more than a turn and a half. The set trigger set up works fine. This stock is a heavy walnut stock and has the usual minor dings and a couple of minor age cracks but not bad at all. There is a little burn damage to the top of the stock where the nipple is which is normal. There is also some damage at the front of the piece where the nose cap went missing. I believe this can all be fixed with a normal level of skill. On the buttstock there is a weird burn on the top front of the brass buttplate and one on the reverse cheek piece. The brass side plate is still there and in good condition. The brass trigger guard is in excellent condition and has a nice mellow color to it. The brass ramrod thimbles are present and in generally good condition with just a little damage to the front one . These thimbles are dimentional and are really quite nice. The ramrod has been fractured on the end and is now stuck in the thimbles. This is trivial to remove but it may further damage the ramrod. This is still a great old piece and either rehab this lock or replace it and you'll have a good shooter. $750.00
Items weapons 48
Here's a wonderful ancient weapon that's still kind of a mystery to me. This is an early snap matchlock musket! The Snap Matchlock is a type of matchlock mechanism used to ignite early firearms. It was used in Europe from about 1475 to 1640, and in Japan from 1543 till about 1880. The serpentine (a curved lever with a clamp on the end) was held in firing position by a weak spring, and released by pressing a button, pulling a trigger, or even pulling a short string passing into the mechanism. The slow match held in the serpentine swung into a flash pan containing priming powder. The flash from the flash pan travelled through the touch hole igniting the main propellant charge of the gun. As the match was often extinguished after its relatively violent collision with the flash pan, this type fell out of favour with soldiers, but was often used in fine target weapons.
In Japan the first documented introduction of the matchlock which became known as the tanegashima was through the Portuguese in 1543. The tanegashima seems to have been based on snap matchlocks that were produced in the armory of Goa India, which was captured by the Portuguese in 1510. I have done considerable research on this weapon but still have not quite pinned down the country of origin although I believe it to be Mid eastern or Indian. This old piece is 56 1/2 inches long with a 51 1/4 inch primitive barrel that looks to start around 12 guage and finishes up at the other end at about .410 guage. The iron snap lock and barrel look to be hand wrought iron with the barrel being held onto the thin hardwood stock with thin brass straps. This snap lock uses a trigger. It looks like a couple of these brass straps must be missing but otherwise the musket is complete. The lock is held onto the stock with two iron rectanglar pins at the back and the front portion of the lock is held onto the stock with a brass barrel band. The lock does not rest directly onto the barrel. The thin hardwood stock is compolete with no breaks. The front of the stock has a small hole bored into it probably being for excess firing cord. The butt of the musket is small and obviously fits into the hand. There was a brass strap that went around the curve of the butt but that is now lacking. I've taken several pics for you to view. This is a very unusual musket and any other info that I can post would be appreciated. I have this piece priced at $2,500.00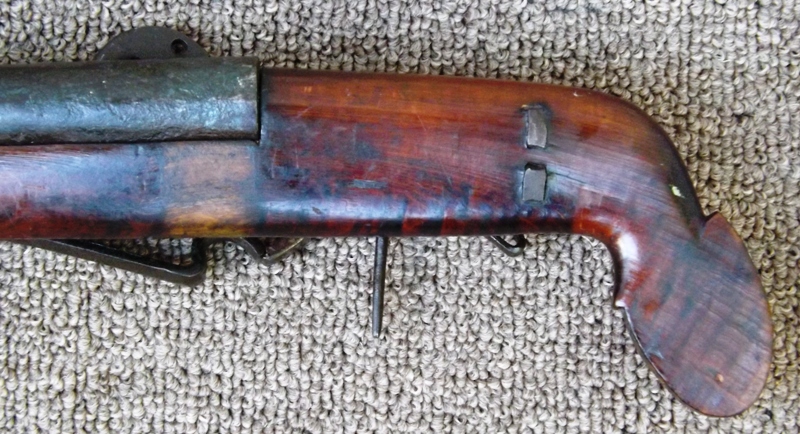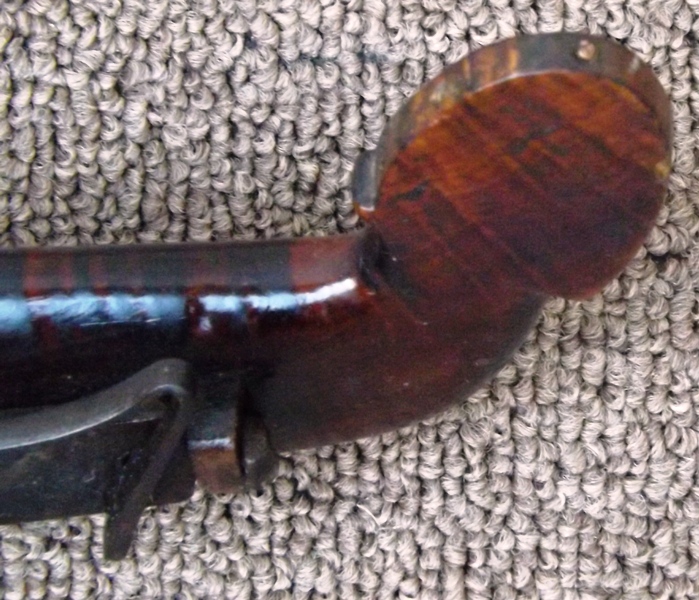 CONSIGNMENT
Items weapons 47
Here's a late Indian War era gold thread over leather sword belt and hanger straps. This piece is complete! This sword belt is still in very good condition with the makers name (hard to read though) stamped on the leather tounge which is stuck back onto itself. The company was in Chicago however as I can read that much. The sword hanger and straps are present and complete. The belt plate is inscribed on the reverse 'PRESENTED TO MAJ. A. S. LEY BY CO. A. 2 MICH. U.B.B.A. HANDCOCK , MICH JAN 12, '96. (1896). This is still an nice belt and very displayable! This was Albert S. Ley who was the Editor of the Hancock, Michigan Newspaper. Albert S Ley was also an unsuccessful candidate for the US House of Representatives in 1918. I thank my good friend AL for the info I have on Albert. A good friend of mine from Michigan found out that U.B.B.A. stands for the United Boys Brigade Association which appeared in the late 1800's as a forerunner to the Boy Scouts. The members wore Civil War style uniforms and accouterments and carried cadet sized Civil War muskets. Nice!!! $325.00
Here is a pic of an old postcard (not included with the belt) that shows A.S.Ley of Hancock, Michigan as the Parade Chief.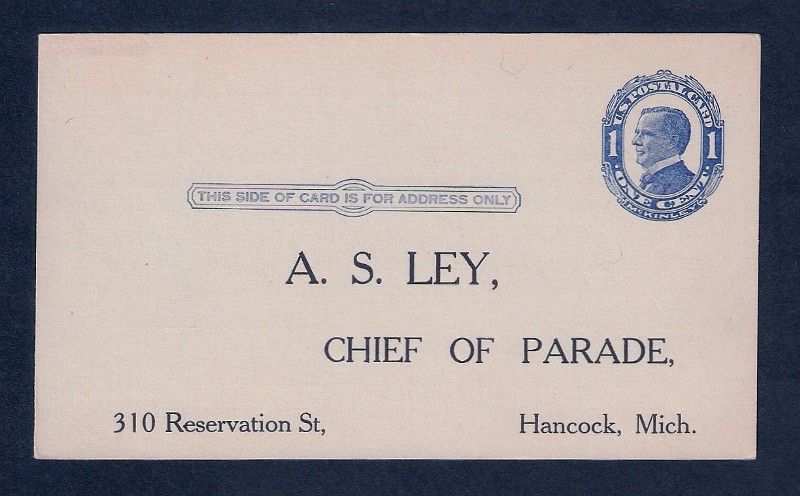 CONSIGNMENT
Items weapons 45
Here we have a Day's Patent Cane gun from the 1830's era. This is a muzzleloader being approximately 28 guage. One would probably call this is walking stick gun as it terminates on the hand end in an ivory somewhat flattened ball. There are many age cracks in the ivory and it has aged a nice mellow yellow golden hue. The entire piece measures about 34 inches long with nearly all of it being barrel. The mechanism works fantastic . The Day's Patent info is stamped on the barrel as well as being on a small brass plate that measures about ¾ inches long by 1 ¼ inch wide. This is a nice old piece and hard to come by! $1200.00
CONSIGNMENT
Items weapons 44
Here's a nice little brass .31 caliber bullet mold without spru cutter. This one is about 4 1/2 inches long and shows some primitiveness. It shows great age but I can find no markings at all. Makes both round and conical bullets. Civil War era! Nice! $125.00
CONSIGNMENT
Items weapons 43
Heres a very primitive brass bullet mold that makes both a .36 caliber conical bullet and a round bullet as well. 4 1/4 inches long and you pour the lead into both ends. This one is really primitive with finishing marks everywhere. Smacks of Confederate manufacture. $125.00
CONSIGNMENT
Items weapons 42
Here's the rarer brass Colt marked bullet mold for the .31 caliber Colt Pocket 1849 Model. This old mold has seen lots of action and it shows. The Colt's Patent marks are there but worn as well and the inspectors initial of W is still present. Measures nearly 4 3/4 inches long. Hey, do you want a pristing one to display with your Colt of one that's been there! $165 for this one.
CONSIGNMENT
Items weapons 41
Here's another iron bullet mold and it looks just like the Colt version of this .31 caliber Model 1849 Pocket Colt bullet mold except that this piece is totally unmarked. This one has the spru cutter at the top of the mold. Makes a round ball and a conical bullet and measures over 4 3/4 inches long. Universal pitting all over but still very nice!!! $110.00
CONSIGNMENT
Items weapons 40
This item is a wonderful item! Here is an outstanding example of a simple underhammer pistol in 32 caliber with a deep rifled barrel! This piece is from Kentucky as evidenced by the brass shield on the obverse side of the hand grip which simply states KY VOls. The entire weapon is abouit 9 1/2 inches long with a nearly 4 inch barrel which has a slightly offset bore! The action works well however about half the nipple is missing from one side. The grip look to be walnut and is embelished on the back with a 1/2 inch by nearly 3 inch engraved brass strip. There is a goodly amount of the original varish left on the grip. The top iron stip where the rear sight is attached is engraved in the same fashion. The trigger is housed in a brass strip as well. The barrel is marked with E.C.BURDEN. AMERICAN GUNSMITHS by Frank Sellers list an Edmund C. Burden (1826-1913) from Carlisle, Kentucky, 1854-1860. Edmund then set up shop in Elizabethtown, Kentucky from 1860 to 1878. After 1878 Edmund set up shop in Raymond, Kansas until 1900. Edmund also had a brother named James in Mount Olivet, Ky who also made guns. Edmund would have been 35 years old at the beginning of the Civil War so it is probable that he carried this weapon himself during the Civil War. I did not find an Edmund for the Union side but did find a Edmund C. Burden who served with the Confederacy from Kentucky and we are quite sure this is the same man.. The records reflect the following:
Edmund C. Burden Residence was not listed; Enlisted on 10/22/1861 at Prestonsburg, KY as a Private. On 10/22/1861 he mustered into "D" Co. KY 1st Battn Cavalry He was discharged on 1/1/1862 and probably went back to his shop where he would have done more good keeping firearms working for the Confederacy. This is one historic firearm and was probably carried as a back up weapon. For this piece $2,500.00 You'll probably not find another!!!
CONSIGNMENT
Items weapons 38
Here's a wonderful parts gun or restoration project!!! Here is a model 1876 Winchester Lever Action parts gun. The frame is still here and so is the 40-60 caliber barrel! The markings are still clear on the top of the barrel being the original Winchester markings and the King's Improvement markings. On the tang of the piece is simply MODEL 1876. The serial number is 42XXX making this piece being produced in 1883. The hammer is still present which cocks and drops as it should by hand. The connecting piece from the lever is missing. I beieve the butt stock is the original although sanded. I don't know why it was scavanged like this but it's certainly worth restoration!!! Rare to find a parts gun! $975.00
CONSIGNMENT
Items weapons 35
Here's an older reproduction percussion wood stocked pistol representating the 1840's. There is no name on this piece but the barrel is nicely machine engraved. The lockplate and the hammer have some embellishments on them as well. This is a .44 caliber weapon. The stock is in very good condition along with the ramrod. I do not believe that this weapon was ever fired due to the condition of the nipple and to the fact that there are no powder burns on the wood. Everything is nice and crisp!!! This is a good quality piece. $125.00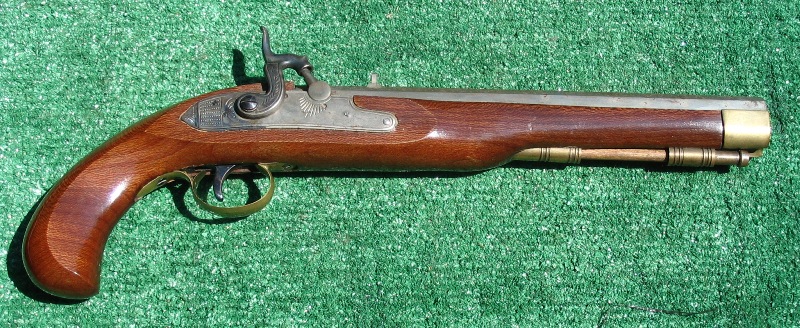 CONSIGNMENT
Items weapons 34
Here's a full stock long rifle! This rifle weighs about 18 pounds! The lock is an engraved lock marked JAS GOLCHER FORGED and works fine with it's double set triggers. The nipple is fine. James Golcher worked out of Philadelphia from 1840-1870 operating the Eagle Gun Factory and Eagle Rifle Works. He made complete guns and parts for other gunsmiths. The barrel is marked J.H.(James Hampton) JOHNSTON - GREAT WESTERN RIFLE WORKS - PITTSBURG, PA. James worked out of Pittsburg, PA from 1860 to 1890. He ran Great Western Gun Works. All the markings on the barrel and lockplate are very sharp and clear. The barrel is 46 inches long being octagon in shape, measuring about 1 1/8 inch across and having 5 facets to the rifling. The entire rifle is 62 inches long. The furniture is brass which includes the buttplate, hinged c patch box, trigger guard, ramrod thimbles and nose cap. The front blade sight is brass and the rear simple adjustable sight is iron. One side of the v-notch is broken off the rear sight. The patina on the iron pieces match and it's a great dark color. The walnut stock is in generally good condition with a ding, a repair and a sliver missing here and there. The wrist is complete with no breaks and no repairs. The slivers are mostly missing alongside the obverse side of the barrel. There is an area about 14 inches long and 1/4 inch deep that is missing. This could be easily repaired if you are so inclined but I would be inclined to just leave it alone and this is part of the history of the gun. This is probably a bench rifle but it definitely would fit the definition of a sniper rifle of the Civil War period. I do believe that this piece was made during that period. The ramrod is present but I do not beive it to be original to this gun which is normal. For this fine piece $1,150.00
CONSIGNMENT:
Items weapons 33
Here's a great underhammer gun! I can't find any markings on it but it's apparent that it's 1840's/1850's construction. The 'saw' handle grip is a nice hardwood-probably walnut, and shows wear. The part round/part octagon barrel is 9 inches long to the grip and the entire piece is over 12 inches long. The caliber seems to be about .42 caliber and the barrel is rifled. The spring is a little weak but still works fine and I don't believe it would have any problem snapping a cap. The hammer locks into place snuggly. There are some german silver trappings/straps on this piece. This is a nice pistol! Has Character!!! $575.00
Items weapons 31
Here's an instant collection of early 20th century revolvers. Here they are in order:
The first one is a Smith and Wesson .38 caliber Double-Actioin 5th Model revolver chambered for the .38 S&W cartridge. This firearm was manufactured between 1909 and 1911. The action works fine and the grips are entirely entact. This pistol has a 3 1/2 inch barrel. There is about 20% nickel left on the frame. The triggerguard and top toggle is blued and has most of the color left. The top of the barrel is stamped SMITH & WESSON SPRINGFIELD MASS U.S.A. PAT'D JAN 24 '65, JULY 11, '65, AUG 24, '65, REISSUE JULY 25, 71, MAY 11, 80, JAN, 5, 82. Still a good piece! $225.00 This pistol is the top one in the next two photos:
The second revolver is a Forehand Arms company pistol and is marked on the top of the barrel FOREHAND ARMS COM. WORCHESTER, MASS. USA PAT'D DEC 7, 86 & JAN 11,87. This piece works fine as well with a 3 1/2 inch barrel. The plastic grips are marked with F & W over a Union Shield. One of the grips has a substantial chip out of it that you can see in the pics. This is a .32 caliber double-action revolver with a hinged barrel with toggle assembly. this one is nickel plated with approximately 70% of the finish remaining. This is still a nice pistol having been made from 1998-1902 and known as the perfection automatic. Good to very good. $195.00 and it's the 2nd pistol down in the first two pics.
Items weapons 31
This last pistol in the pics is an Iver Johnson Arms, Inc. pistol. The top of the barrel is marked IVER JOHNSON ARMS AND CYCLE WORKS FITCHBURG, MASS U.S.A. PAT;D APR. 6, 86, FEB 15, 97, DEC 25,93 PAT'S PENDING. This particular revolver is a .32 centerfire double-action revolver with a 3 inch barrel. There is about 35% nickel plating left. The action works fine and the Owl's head grips are fine as well. This one is missing the rear sight and the rear barrel locking toggle. This is definitely a display model of an early pistol. These revolvers were made between 1893 and 1950. I believe this one to be early 20th century. This one is $95.00
or you can purchase all three for $310.00 for a substantial savings. Nice to put in a display case on the wall!! These have to go to either a C&R license or your local gun dealer can transfer them for you.
Items weapons 30
Here's a few of the 1st Model Maynard .36 caliber cartridges that I found. There are all in good condition with some sort of waxy buildup over the lead. The cases are in generally good condition with dirt and discoloration on them. Hard to come by! $65.00 each.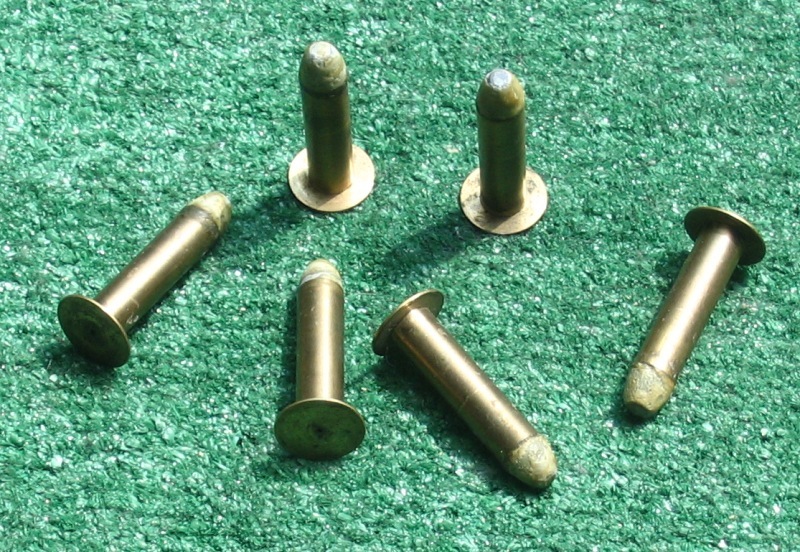 Item weapons 28
Here's an item that I picked up a while back and I'm looking for more examples. This is a double socket bayonet for a shotgun. They were used on shotguns in the old countries for hunting but they were also used in this country for weapons on the double barrel shotguns used by the Confederates. This one is over 15 inches long with a 2 1/8 inch double socket that would probably fit a 20 guage shotgun barrel. There are no markings anywhere on this piece. What makes it doubly collectible is that it came with the original iron mounted leather scabbard! The seam is split but it's there. I've seen several examples of this piece and none of them had the original scabbard. Take a look at the pics and if you have one you want to sell just let me know. Thanks!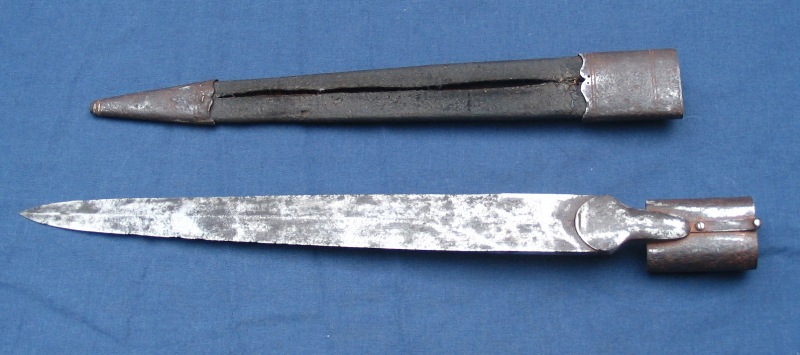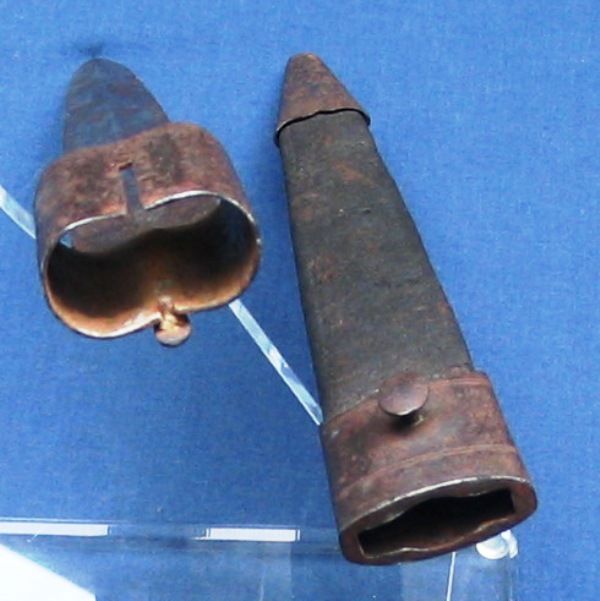 CONSIGNMENT:
Item weapons 26
Here are 2 good early German Swords/sabers.
1. Sold!!!
This one is a Model 1873 Prussian/Uhlan Saber and is in very nice condition overall. The blade is bright and marked on the ricasso G.F.BR.WEYERSBERG - SOLINGEN. This blade has been sharpened. There are also regimental markings on the handguard of 1.M.I.49.92. The entire hilt is iron except for the grip which is leather over cord over wood. 99 + % of the leather is remaining. The tang has been peaned over to hold everything together and is entirely original indicating that this piece has never been taken apart. The scabbard is a replacement but reissued to this piece when it was made as indicated by the regimental markings near the scabbard throat. The scabbard has a few dings in it which just indicates that it was used. Overall an excellent piece that probably saw action! $450 Check out the pics! This is the top one in the pics. Item Weapons- 108
2. The one is a Model 1808/1811 that was used as late as WW2 but I believe this one was made in the 1870's according to my research and the scabbard type. This piece is pretty nice with a nearly mint 30 inch blade which has the cross hatching still visible like new near the ricasso. There are no nicks and no wear and no sharpening on the blade at all! Just outstanding!! The guard is iron with langets and the grip looks like horn. There is a 14 stamped on the bottom of the blade but that's the only markings I see. Everything is held together with a capstan rivit instead of the tang being peaned over. The original blade washer is still present as well. The piece is 35 1/2 inches long overall. The scabbard is pretty nice as well with no dents and only an inspectors mark on the drag. Overall excellent!! This is the bottom one in the pics. $450.00
I
Item weapons 25
CONSIGNMENT: This bayonet is the last of the French sword-type bayonets and was made to fit the model 1874 Gras infantry rifle. This bayonet is dated 1877 on the back of the blade. They were manufactured from 1874 until around 1885. The bayonet is uncleaned, but has a semi-bright blade with minimal dark spots and no pitting. The brass pommel has a great patina from years of not being messed with. The push-button mechanism works well. This model bayonet was was carried by the French Foreign Legion and used in the following overlapping conflicts: •French Indo-China in 1873-1874 •French Indo-China in 1882-1883 •Sino-French War 1883-1885 •Madagascar Wars 1883-1885 and 1895 •1st Mandingo-French War 1885-1886 •1st Dahomeyan-French War 1889-1890 •2nd Dahomeyan-French War 1892 •Conquest of Chad 1897-1914 •3rd Mandingo-French War 1885-1886 •Moroccan War 1907-1912 •World War One / WWI (early) The Scabbard is in good conditon showing most oif not all of the original blue but has rust spotting that with a little 000 steel wool and gun oil those should disappear. This is a nice piece! $150.00

CONSIGNMENT:
Item weapons 24
Here is a pair of Russian Model 1891 Mosin-Nagant Bayonets lacking scabbards. One is much better than the other one and the price reflects that. These are for the 2nd pattern Mosin-Nagant Rifles. These are considered Communist Russian or post 1918 and use a spring loaded locking button instead of a locking ring which was present on the 1st model. The tips of the bayonets were able to be used as a screw driver. These bayonets were used into WW2. They were also used by Finland and Austria. For the better one $75 and for the lesser quality one $55. The only differences are that the more expensive one looks like new although reissued and the other one has surface rust that can be cleaned up. Nice ones though!


Item weapons 23
Here is a British Model 1876/1895 Martini Socket Bayonet and Scabbard. This one is in very nice condition with just a little survace rust which can be cleaned. The bayonet is 25 inches long overall with a 3 inch socket. Various markings are present on the ricasso and the triangular blade is mottled with some roughness on the edges. The locking ring is present and works fine. The brass mounted leather scabbard is complete with just some seperation along the back upper seam for about 4 inches or so. A little leather glue would fix that problem. The scabbard upper brass mount has stamped on it WD (war department) 'a crown' E 23. Still a nice displayable outfit! $100.00

Item weapons 21
Here's a dug pistol that I believe is an Allen and Thurber Center Hammer pistol or similiar type. This one appears to be .36 caliber and has CAST STEEL WARRANTED stamped on the barrel but I can't find any other markings. The entire piece is 7 1/2 inches long with a 4 inch barrel. Don't know where it was dug but it came out of Wisconsin. $95.00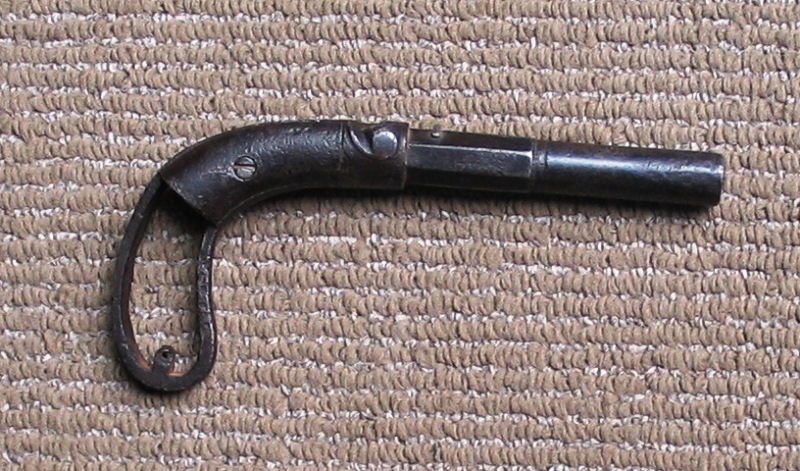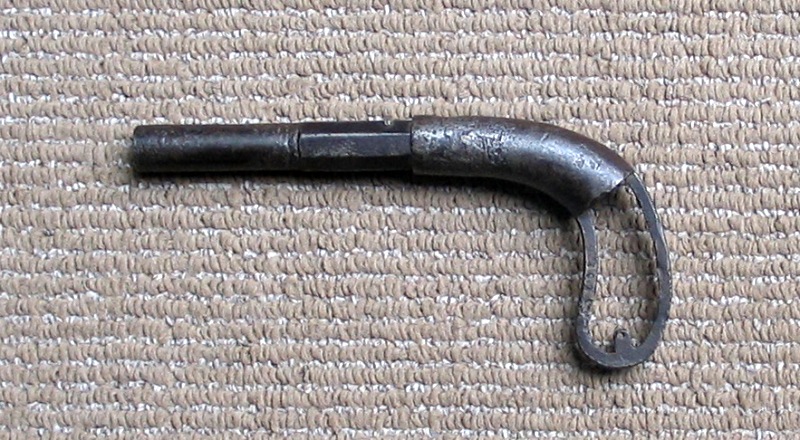 Item weapons 20
Here is a small priming horn that measures about 6 inches in length along the outside length not counting the brass measuring spout. The brass measuring spout is designed to poor enough powder in to make a good priming charge for the old Flintlock rifles. This brass spout fits into a brass collar inserted into the horn. The spout itself measures about 2 1/4 inches long and has a space for another accessory that I believe could have been a nipple pick. The horn is kind of crudely built with a pine butt plug fastened by round headed nails. Probably 19th century. $65.00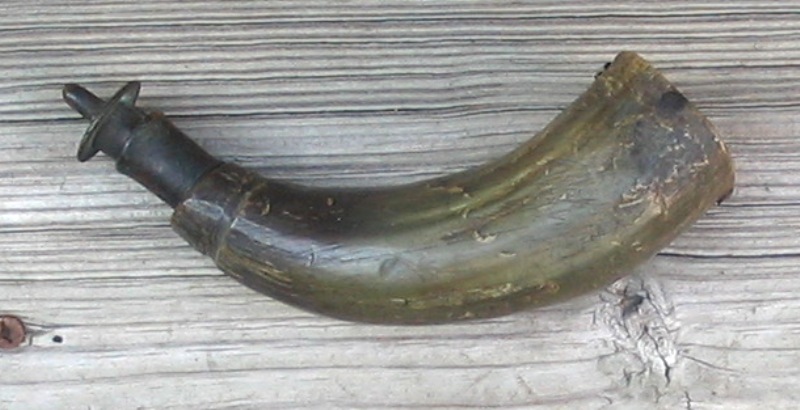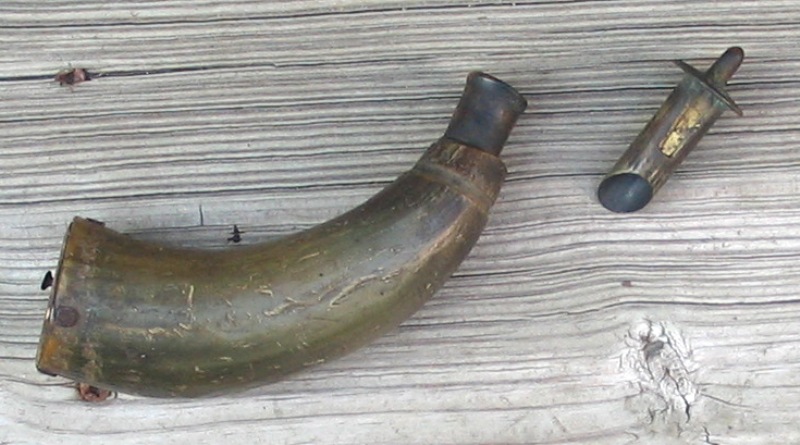 Item weapons 16
Here is what I think, the prototype for the Wm. S. Butler Single Shot Pistol. Wm. Butler made these pistols in Rocky Hill, Connecticut in 1857 and are rare! This is the only one that I've seen in the flesh. This is a 36 caliber, 2 1/2 inch round barrel pistol with a centrally mounted single action bar type hammer. The listed examples have a shotgun type hammer and are marked on the frame WM. S. BUTLER'S PATENT,/PATENTED FEB 3, 1857. Because this example does not have those markings on it and a cruder hammer than those listed I believe it may be the prototype prior to production. This hammer type is similiar to the pepperboxes made prior to 1857 and is probably where the idea for the style came from. The Shotgun type hammer was more practical and that is what the listed types have. The unique thing about this pistol is that it is an all one-piece cast iron frame and long bag shaped iron handle made integral. The screws you can see are replacements and there is one crack in the frame you can see but this rare piece is solid as a rock. The patina of the hammer pretty well matches the patina of the weapon itself so I believe they've been together for a long time. This is one unique weapon! It's in excellent working condition! $450.00
Item weapons 9
THE WINCHESTER BOOK by George Madis, 4th printing, 1966. 366 pages with many illustrations. This book has the lighter brown binding with raised decoration on front of a buckskin clad rider with rifle on horseback and raised gilt text that has some minor wear. This book is excellent! You'll love it! $55.00

Item weapons 8
This is a hookbill bladed knife that is marked George Wostenholm Cutlery and is the Sailors type. The blade has been sharpened as expected and the grips are complete and very nice! Overall length extended is about 6 1/2 inches or better. $95

Item weapons 7
I have 5 Percussion cap tins in stock. I have one that is pasteboard entitled on top UNITED STATES ARMY CAPS-WATERPROOF-100 with an Eagle on it. Inside the box it is labled PRESENTED TO ARGUS OGBORN BY HIS GRANDFATHER JOHN CHRISTOPHER MENKE THIS ONE SOLD! (NY 7th Infantry Veterans, promoted to Corporal and was wounded on 4-2-1865 at South Side Railroad, VA)(and on the bottom of the box it is labled ORIGINAL CIVIL WAR PERCUSSION CAPS FOR MUZZLE-LOADING ARMY RIFLED MUSKET--COLLECTION OF ARGUS E. OGBORN. COL. SVR (sons of veteran reserves) 258 N. 22 ST RICHMOND, IND. SOLD! Argus was a big time collector and passed away several years ago. The top of the box must have come loose as someone has taped it down but it's still in good condition. $65 Other tins include PERCUSSION CAPS-CENTRAL FIRE SHEFFIELD 100 XL NO. 11 FOIL LINED WATERPROOF and it is pistol caps $35, WATERPROOF-LACQUERED MADE IN FRANCE EXTRA QUALITY 100 MUSKET CAPS 4 WING ALCAN COMPANY INC. ALTON, ILL U.S.A. rifle caps $25 (not sure of age). Another one by Alcan of 100 G 10 F pistol caps-made in France for $10 and the last one is for pistol caps by REMINGTON ARMS COMPANY, INC. (not sure of the age on this one either as it could be from the 1950's or 60's) $10. All have a considerable amount of caps in them.

Item weapons 6
Here are two wooden cartridge blocks for the cavalry cartridge boxes. Don't know what they fit but they are drilled for around 50 caliber cartridges. Each hold 14 cartridges. Each one $35.00 Item Weapons- 151 b

CONSIGNMENT
Item weapons 5
Here is a pretty nice WW1 Naval Officers Belt with one piece plate. The leather is still supple just missing one suspension strap. The tongue under the catch end is lacking the stitching but it's all therer. Also the round half leather under the first suspension ring is complete but nissing stitching. The plate has a very dark patina to it. This is still a nice piece and worthy of anyones Naval Collection!!! $195.00
Item weapons 4 Here we have an obvious Allen and Thurber D.A. Bar Hammer Pistol that was used in a Grand Army of the Republic display as evidenced by the copious amounts of Gold paint and some silver paint still present. This looks to have been a pickup, probably off a battlefield but now that information is lost forever. This one has the 4 inch barrel being half round half octagon. The frame has engraving on it. The grips are complete and still in nice shape. The triggerguard is missing and the main spring is broken. I can see traces of makers markings on the side of the bar hammer. Nice display item! $245.00
Consignment Item weapons 2
BIXLER & IDDINGS , LAFAYETTE, IND LOCKPLATE!
Here's a nice restorable Bixler & Iddings Lockplate. Bixler & Iddings was set up in business making complete guns and parts in Lafayette, Indiana from 1850-1880. This plate does have some parts still with it but needs more to be complete. This lock is about 4 3/4 inches long by 1 inch tall at the notch. From the tail to the front of the notch is 2 1/2 inches. The Bi in Bixler and iddings has some old glue over it but you can see the letters fine under the glue. Just needs cleaned. If you have one of these rifles with the lockplate then you really need this! $125.00
Consignment
Item weapons 1 TWO CIVIL WAR DUG LOCKPLATES!!!
Here we have two Civil War rifle/musket dug lockplates. These came from central Indiana and I have no idea where they were dug. The one on the top appears to be a model 1863 or Special Contract Springfield lockplate complete with hammer. Some of the 'inards' are still present but no markings are present at all. This is a nice display piece! $45.00 item Weapons 171
The second lock is a French Model Musket which could be the Model 1842, 1853, 1857 or 1859 musket. This one is complete with the hammer and some inards as well. $40 for this one. Item weapons 172