_______________________________________________________________________________________
102. jmf 173
Here we have a very nice clear image in CDV format of a young Illinois Sgt from the Civil War. The backmark on the card is Peter Gregg Photographer Palestine, ILL and there is a 2 cent revenue stamp cancelled on there as well. Unfortunately the card was folded at some point but it's still very nice. This soldier has the look of someone who has been there! $65.00
_______________________________________________________________________________________
103. jmf 172
Here is a RARE Letter from a soldier in CUBA during the 2nd Occupation of Cuba! Most Americans have never heard of this second occupation after the Spanish American War! The Second Occupation of Cuba by United States military forces, officially the Provisional Government of Cuba, lasted from September 1906 to February 1909. When the government of Cuban President Tomįs Estrada Palma collapsed, U.S. President Theodore Roosevelt ordered U.S. military forces into Cuba. Their mission was to prevent fighting between the Cubans, to protect U.S. economic interests there, and to hold free elections in order to establish a new and legitimate government. Following the election of José Miguel Gómez in November 1908, U.S. officials judged the situation in Cuba sufficiently stable for the U.S. to withdraw its troops, a process that was completed in February 1909.[1][2] An earlier occupation lasted from 1898–1902, from the conclusion of peace between the United States and Spain at the end of the Spanish–American War until the inauguration of the Republic of Cuba.
Here we have a letter written from Havana by Soldier named Collins of Co. F, 27th Infantry to Mr. George Hight of Cyclone, Indiana on November 1, 1906. He talks about what he is doing outside of Havana with guard duty and so on. This 2 page letter comes with the original envelope that's been opened on the end. A partial stampe remains. They are in very good condition! $65.00
_______________________________________________________________________________________
104. Jmf 171
Here we have a February 17th, 1864 issue of a Confederate States $10 note. The note is in very good condition except for missing a corner so this one will go for $45.00
_______________________________________________________________________________________
105. jmf 170
Here we have 4 confederate stampes. They are as such:
1. 1863-64 10c Confederate States - Jefferson Davis - blue, no frame-line (Die A) with accompanying text. $30.00
2. Here we have two stamps. Another 10C 1863-64 Jeff Davis Stamp and an unused 1863 20c Confederate States - George Washington - green $110 for the fine pair.
3. Here we have a cancelled 1863-1864 10C Jeff Davis Stamp. For this one in fine condition $45.00
_______________________________________________________________________________________
106. jmf 169
Here we have a confederate document from Decatur, Georgia dated 2nd day of November?, 1863 concerning the purchase of 4 beef steers for $212.40. That was high for then! This document is in great shape for the date. Some folds and one area of ink burn through on the bottom signature but otherwise just fine! Document measures 7 1/2 x 4 1/2 inches. $95.00
_______________________________________________________________________________________
107. Jmf 168
Here we have a Sept. 1861 issue of a Confederate $20 note. This one is in poor shape on one end but heck! It's still here!! The back is blank. $20.00
_______________________________________________________________________________________
108. jmf 167
Here we have a Counterfeit, Upham Woodcut September 1861. Confederate counterfeit bills abounded during the Civil War to break the economic back of the Confederacy. This one is in generally fair to good overall. $65.00
_______________________________________________________________________________________
109. jmf 166
Here we have three Criminal Identification Cards! These are rarely seen! They are
1. the man is John Cohen, Chicago, Ill 1910 and was arrested for being a con man and a "booster" which means he steals stuff!
2. the white woman is Annie Miller, Chicago Ill 1907 and was arrested for Larceny Shop (shoplifting)!
and the 3rd immage is of a black girl named Sarah Emery who was from Cincinnati and was arrested for Manslaughter! This card has a little corner damage!
For this instant collect of all three cards $145.00
Check out the pics!!!
_______________________________________________________________________________________
110. jmf 165
Here we have a couple of $1 silver certificates. The first one is a 1928A silver certificate in good condition with folds. This is a curculated bill. The series of 1928A $1 silver certificate is the most common silver certificate of the 1928 series. These notes can be bought for around $10 in circulated grades and uncirculated 1928A one dollar silver certificates cost around $50. More than 2.2 billion 1928A silver certificates were printed. For this bill $45.00
The bill on the bottom is a Series 1935 Special Hawaii $1 bill. The obverse of the 1935a $1 Silver Certificate Hawaii Notes comes with a portrait of President George Washington. The serial numbers and the US Treasury seal on this face of the notes are printed in brown ink. Along the left side of the note, the word "Hawaii" is printed vertically as part of the special Hawaii Note release. This bill has also been circulated and is in fair to good condition with folds. $65.00 on this one. Check out the pics!
_______________________________________________________________________________________
111. jmf 164
Here we have a good (minus one corner) Vermont Bank of Winson 1856 $2 bank note. This is a private bank note and is in good condition being blank on the reverse as so many were. For this note $25.00
_______________________________________________________________________________________
112. jmf 164
Here we have an excellent example of the WORLD'S COLUMBIAN EXPOSITION Chicago Day Oct. 9th, 1893 ticket! The stub is missing and it was folded for a time but layed flat for many many years now. For this nice ticket $22.00
_______________________________________________________________________________________
113. jmf 162
Here we have a facsimili of a Confederate $2 note with Judah Benjamin on the front but on the reverse is an add for the Crawfordsville, Indiana Fair "Best on Earth" behing held from Aug. 30-31 Sept. 1-2-3-1915 ! The bill has been folded but still in really nice aged condition! For this bill $20.00
_______________________________________________________________________________________
114. jmf 161
Here we have a series 1917 $1 bill in fair, folded condition with some losses to the edges. Series of 1917 one dollar bills are very common. They are the most common large size legal tender note available today. 1917 ones feature George Washington as the center portrait. You can also find the class Embarkation of the Pilgrims on the left hand side of the bill. The serial numbers are red on all series of 1917 one dollar bills. Collectors call this issue a "Sawhorse Back." Again, This note is in fair conditon only. $45.00 for this one
_______________________________________________________________________________________
115. jmf 160
Here we have a significant check from 1858! This check is for $2815.07 and is signed by J.C.Palmer, Treas SHARPS MFG CO!!! He wrote the check to himself! It is signed on the back by Palmer and also by Chiristian Sharps!! Christian Sharps was the inventor of the Sharps rifle, the first commercially successful breech-loading rifle and the Sharps Four Barrel Pistol. I have not seen another example of Christian Sharps autograph to compare it to however the signature of Palmer is different than that of Sharps. Check out the pics! Hartford, (Conn) June 11th, 1858. Key people in the company were John C. Palmer, Christian Sharps and Richard S. Lawrence. $2815.07 was a lot of money in those days!!! For this historic check $495.00
_______________________________________________________________________________________
116. jmf 159
here we have an 1800's Dillon photo, "beef issue among the cheyenne" postcard. This postcard is unued and in excellent condition. Take a look at the pics! $55.00
_______________________________________________________________________________________
117.
Jmf albumin of 2 Civil War Soldiers
Here we have a mid to late 1800's albumin copy of a Civil War tintype of two Civil War soldiers. The cardstock measures 8 X 6 1/4 inches and was originally housed in a frame of some sort as evidenced by the clipped corners at the bottom of the image. Looks like this could be am image of a father and son. From Central Indiana. $175.00
_______________________________________________________________________________________
Jd 118.
LARGE bicycle and driving map of indianapolis 1899-1900. This would look great framed! Some tears at the folds but otherwise great with a chip out of the side that you can see in the pics. $125.00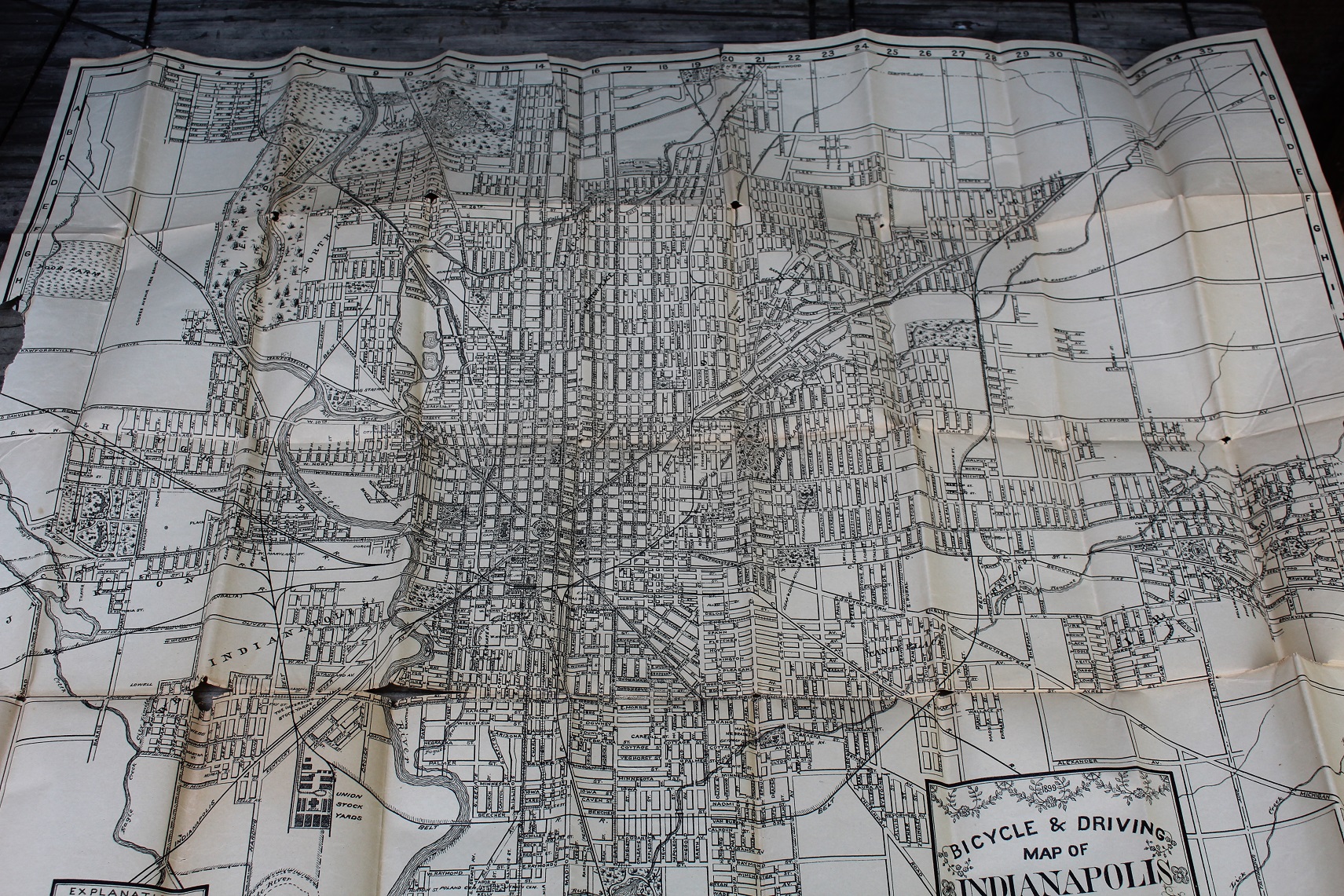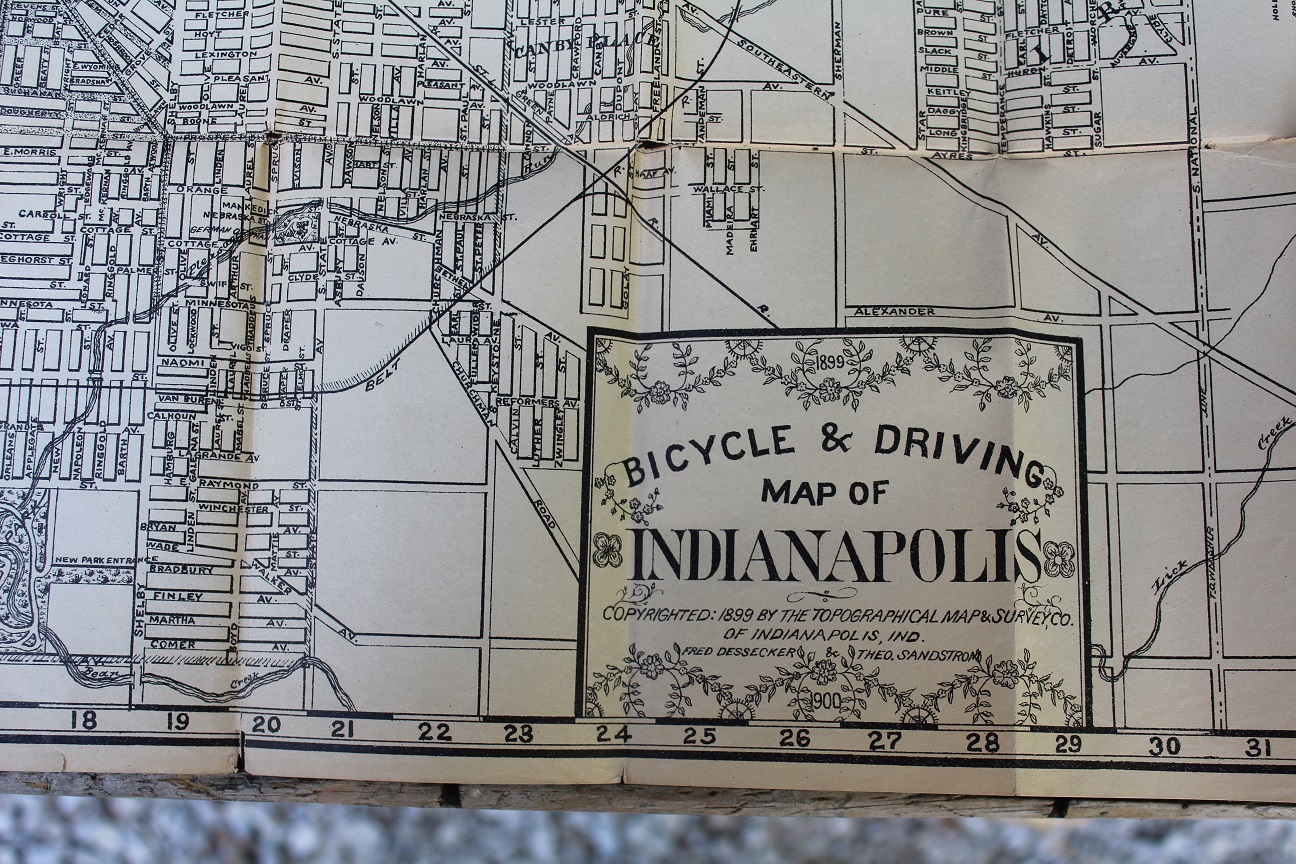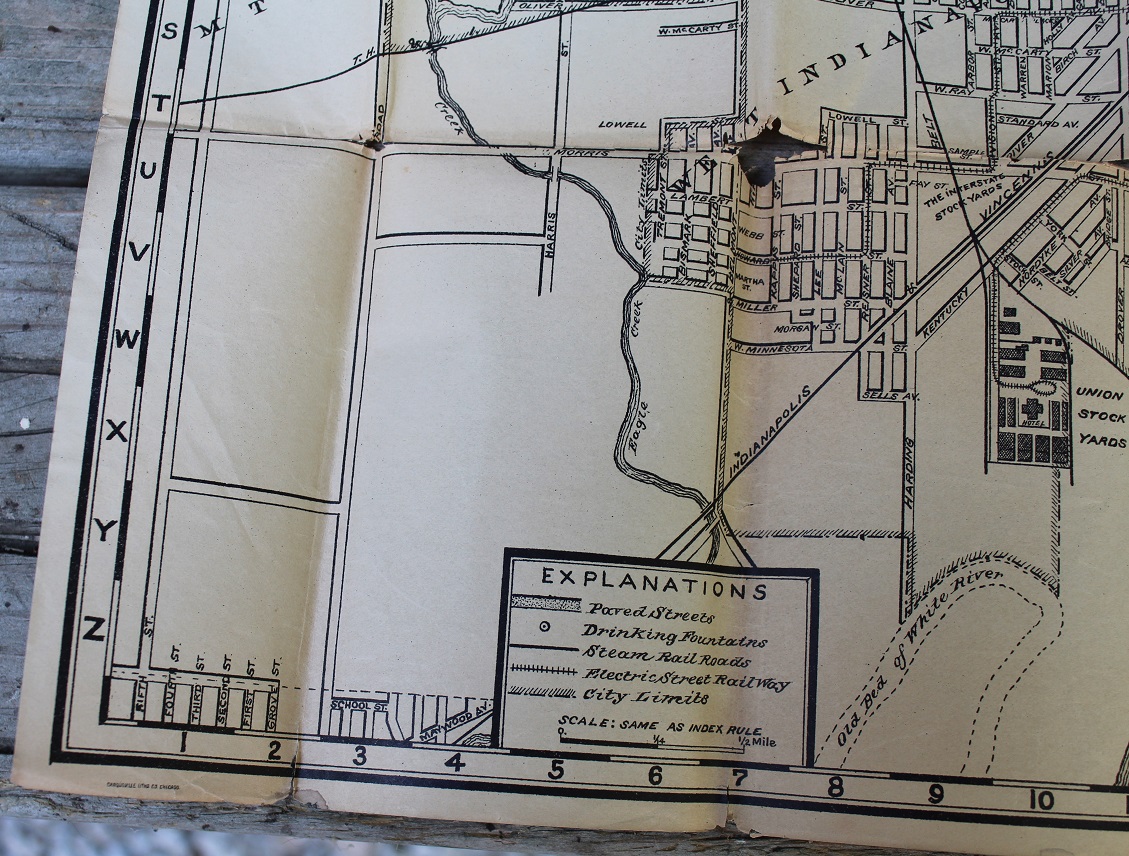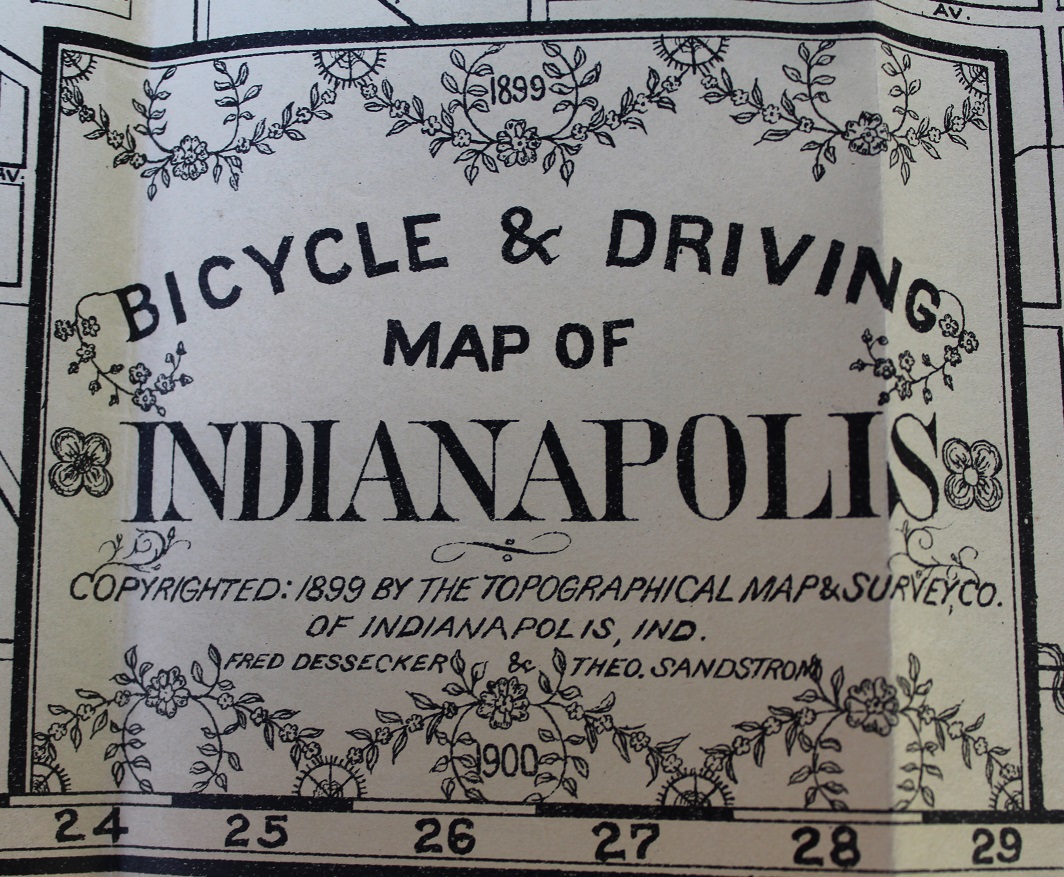 ---------------------------------------------------------------------------------------------------------------------------------------------------------
Consignment image 119.
Here is a heavy Victorian Glass decoration in the shape of a heart to remember a Civil War Soldier. This piece is almost like a magnifier to show the image through it. The image is removable and is of a young Union Soldier with Kepi and Frock coat. The image measures about 2 ¾'s across and is better than my pics show. The back of it is marked McCluer Block-South Side Square which a friend of mine figured out that this was done in Medina, Ohio! Thanks Al!!!. The glass heart has been broken and repaired. When it lays on the table as it should it's hard to see the break. This piece measures 5 ¼ inches from the bottom tip of the heart to the top part of the heart. It's still a beautiful thing to see! A nice memorial! $195.00
Image 120. Consignment
Here we have a cabinet card from 1880's or so showing 3 men with their hunting dogs. One man is playing a guitar while one man is holding a rifle. The man in the middle may be holding onto a rifle barrel as well. This may be a logging camp as I see two large saws and an ax as well. There is a 'wrinkle' in the paper on the back of the card but the card is not broken at all. Nothing written on the back. Interesting photo!!! $45.00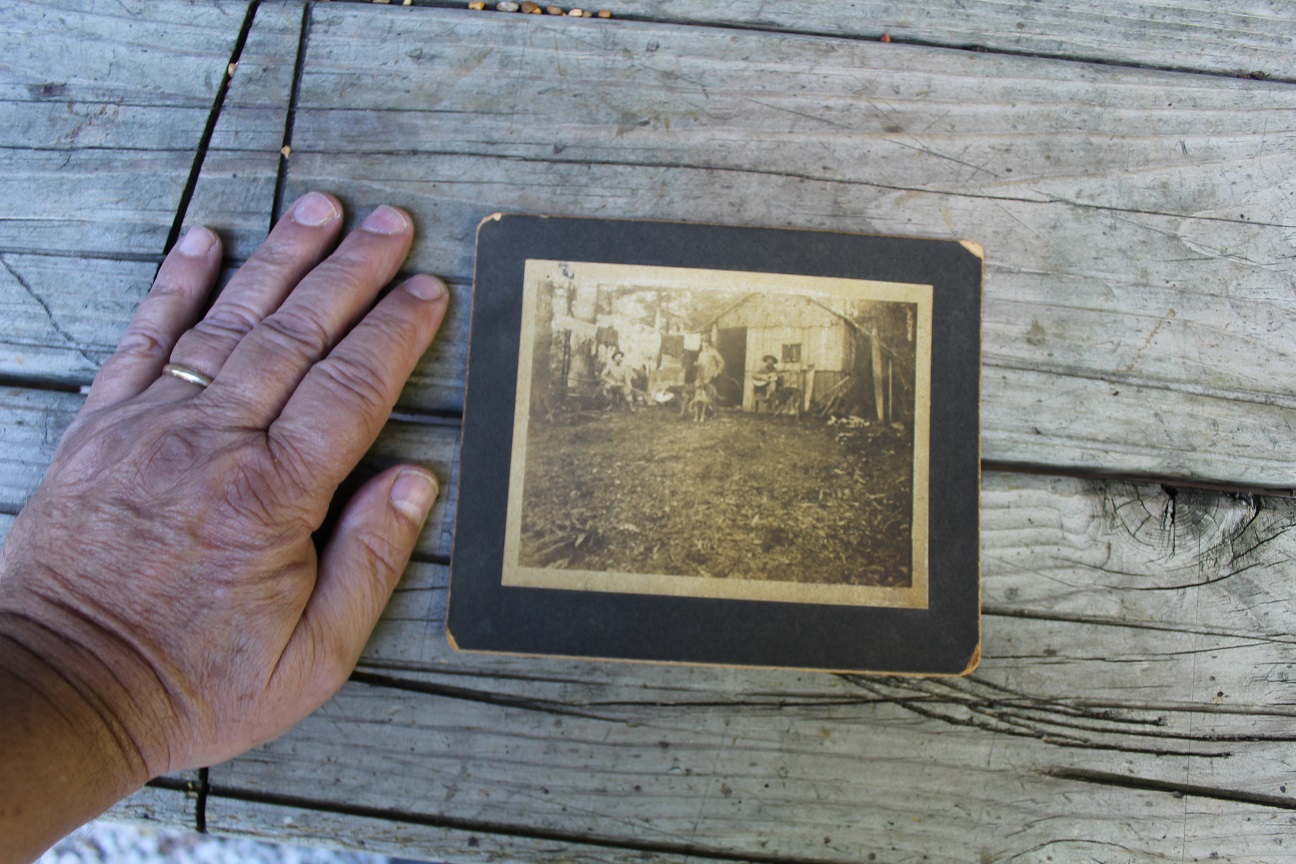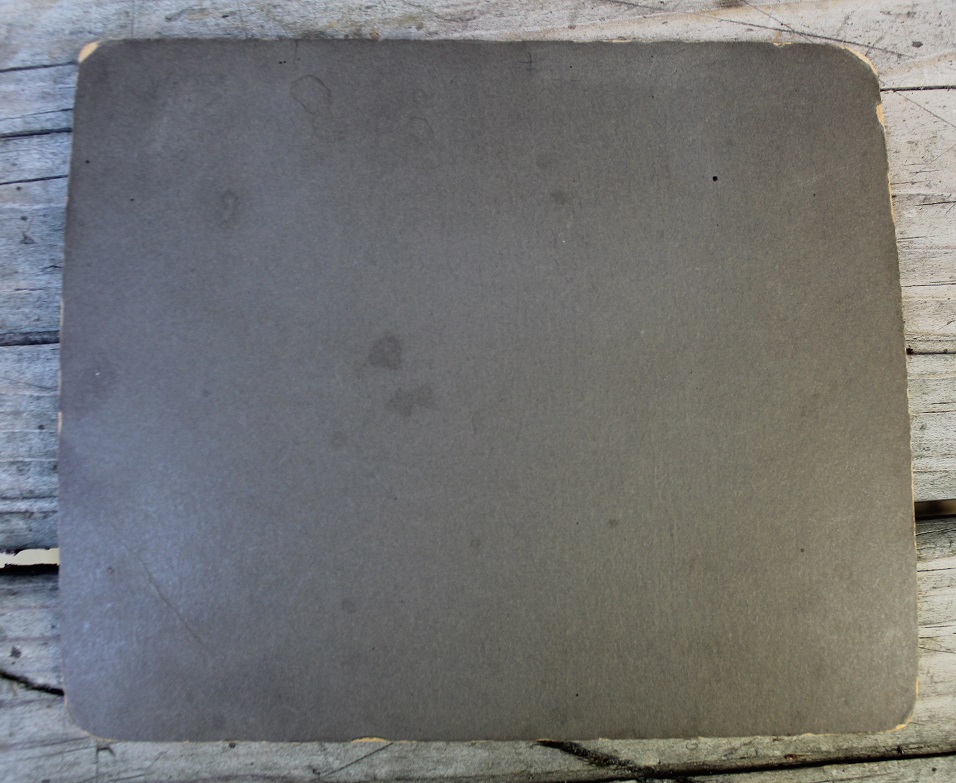 Image 121. Consignment
Here is a CDV in Sterling frame of a Civil War Officer. This young officer was a friend of Captain Henry Tutewiler of the 17th Indiana "Wilder's Brigade" fame! This is in a CDV format in this frame with no backmark. The frame just simple comes apart to expose the photograph. I would say he was a 2nd Lt. but he is carrying what looks like a staff and field sword instead of a foot officers sword. Also on the chair is a United States Flag. It's a very nice full standing image of a young officer! The frame has sterling marked on it at the bottom. Take a look at the pics! If anyone knows who he is just let me know! $275.00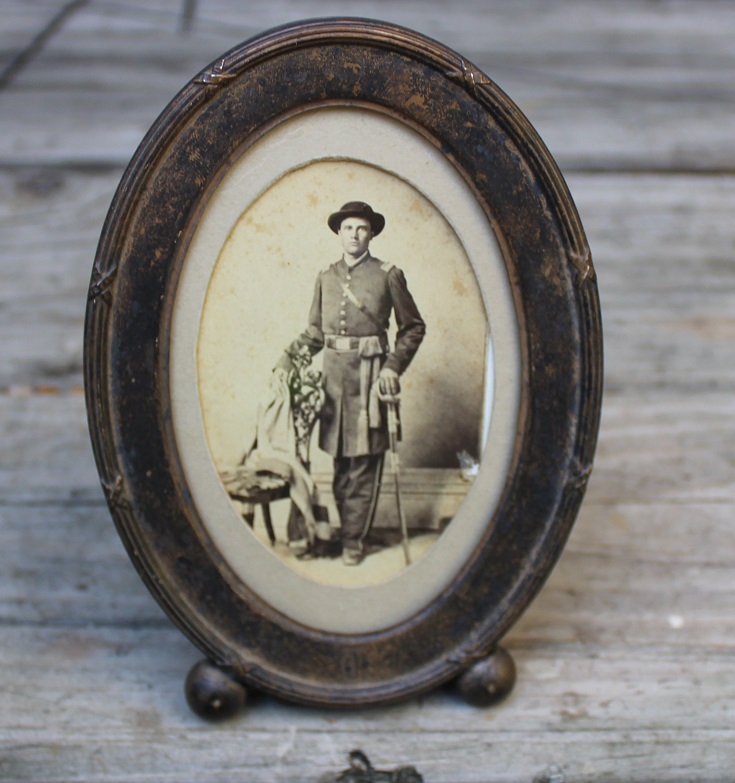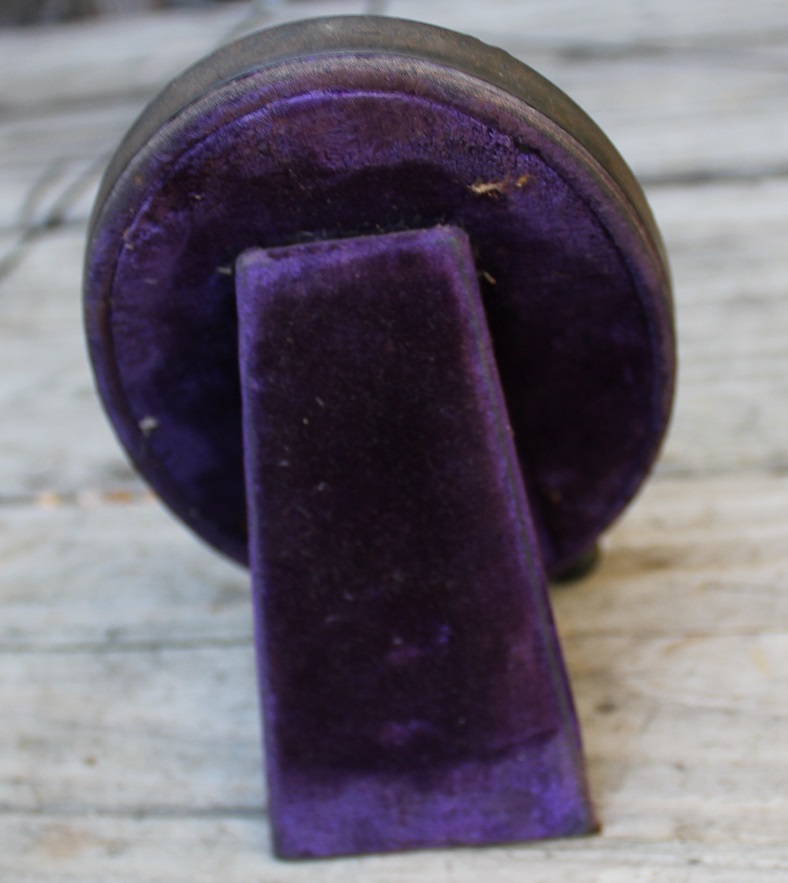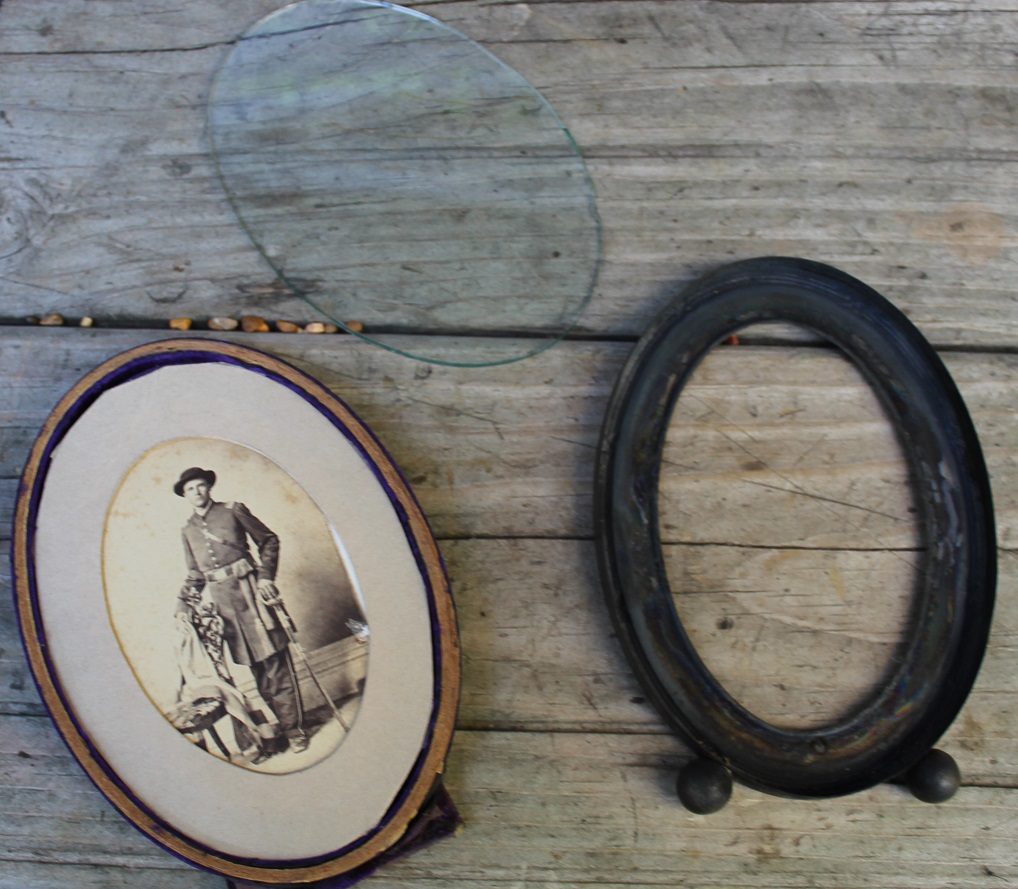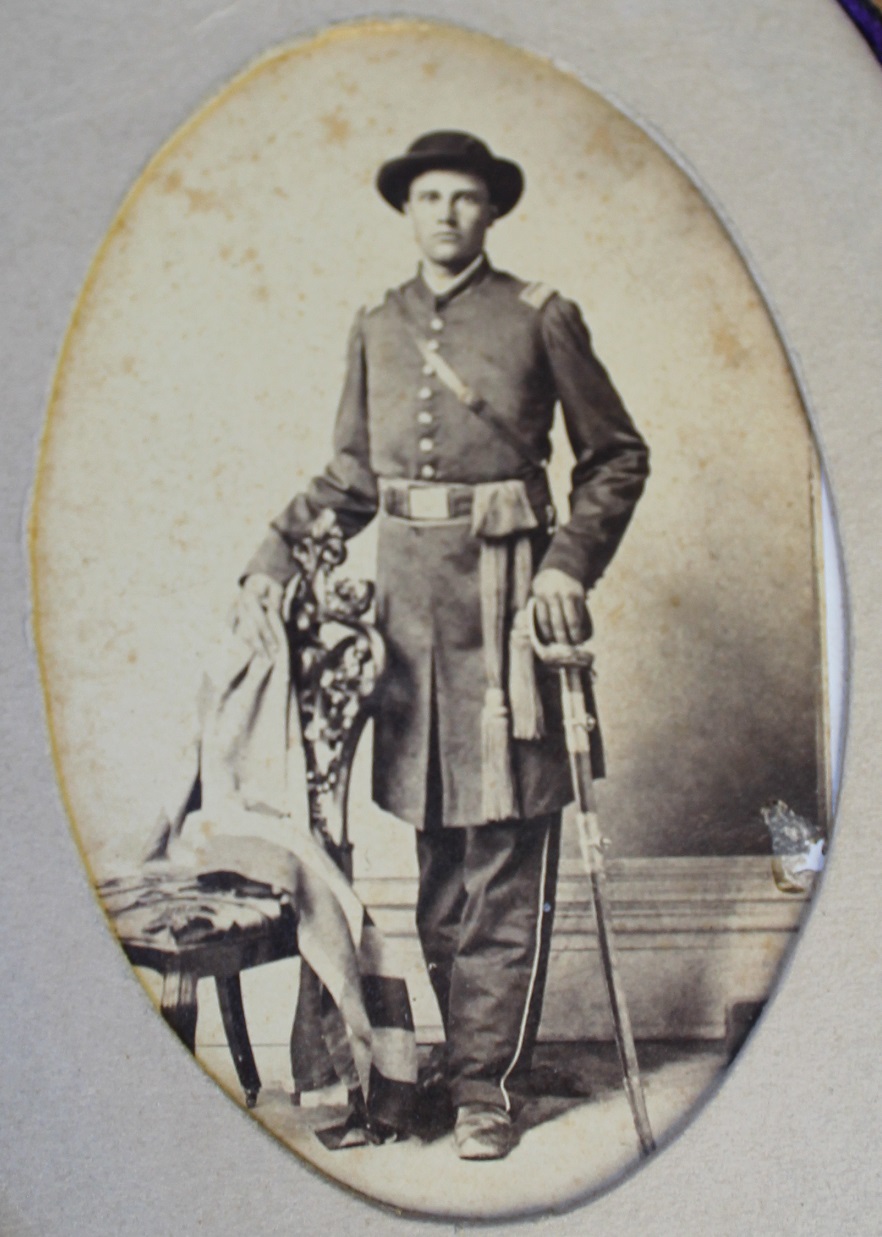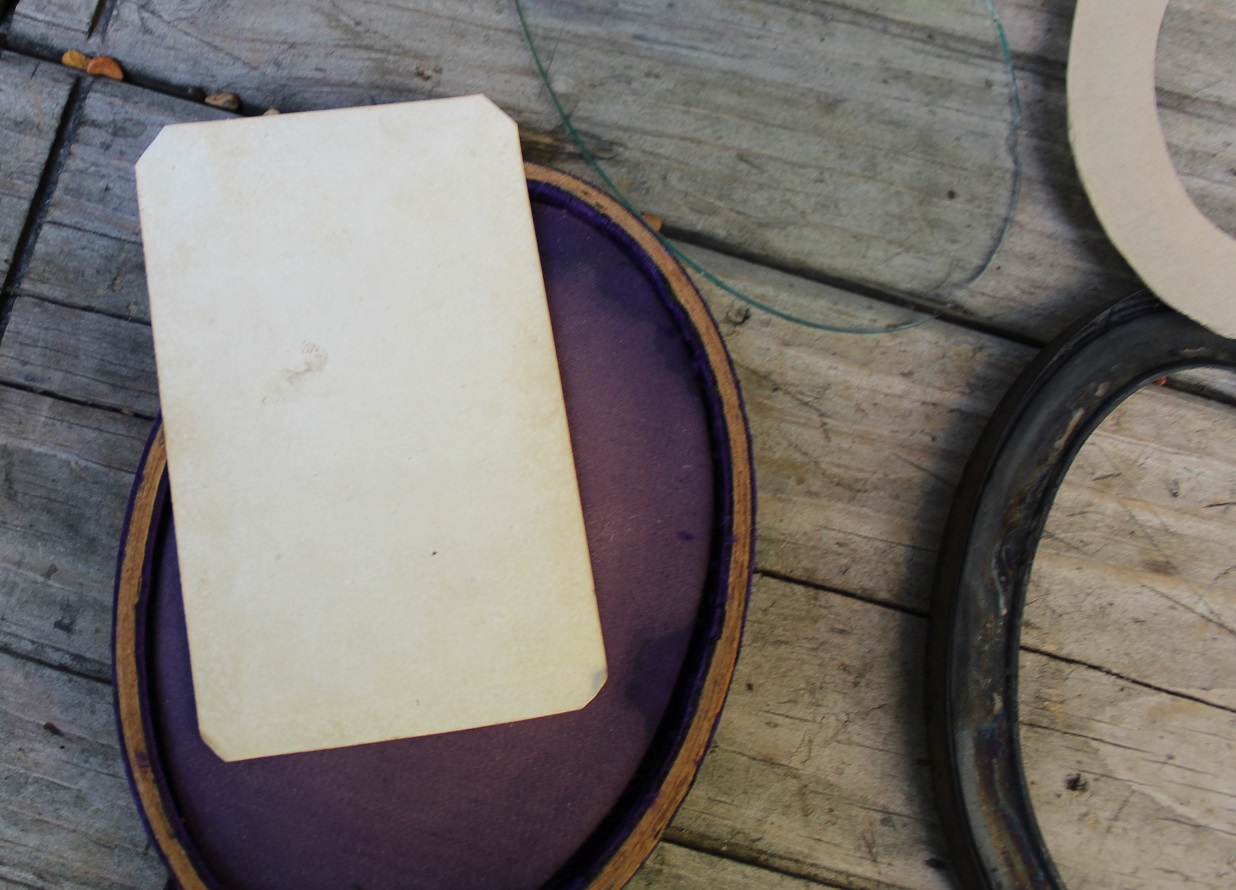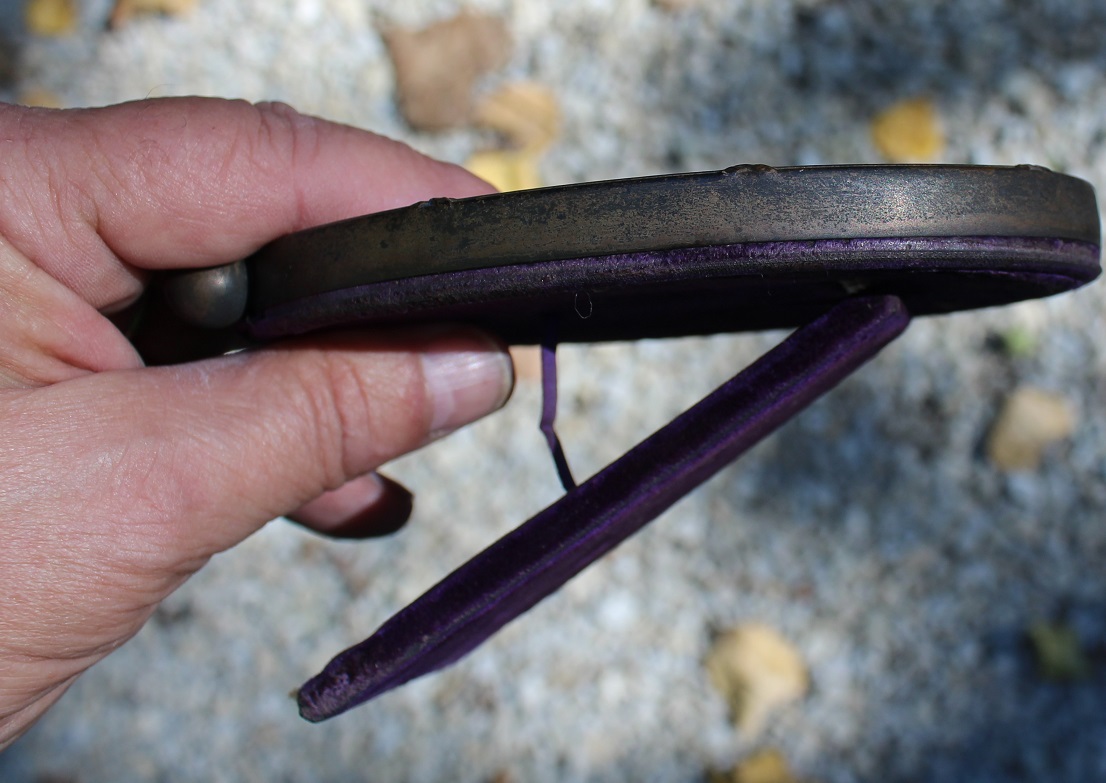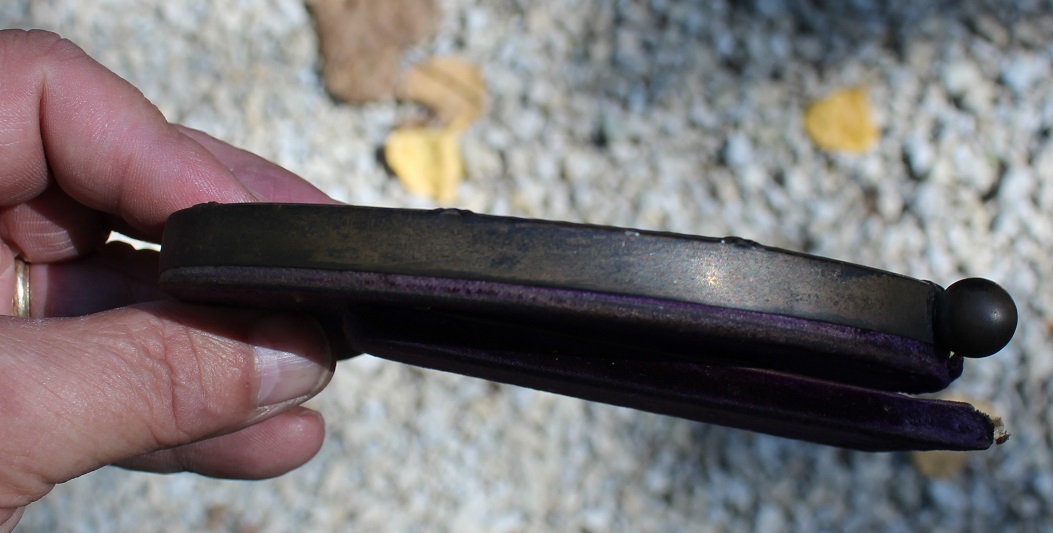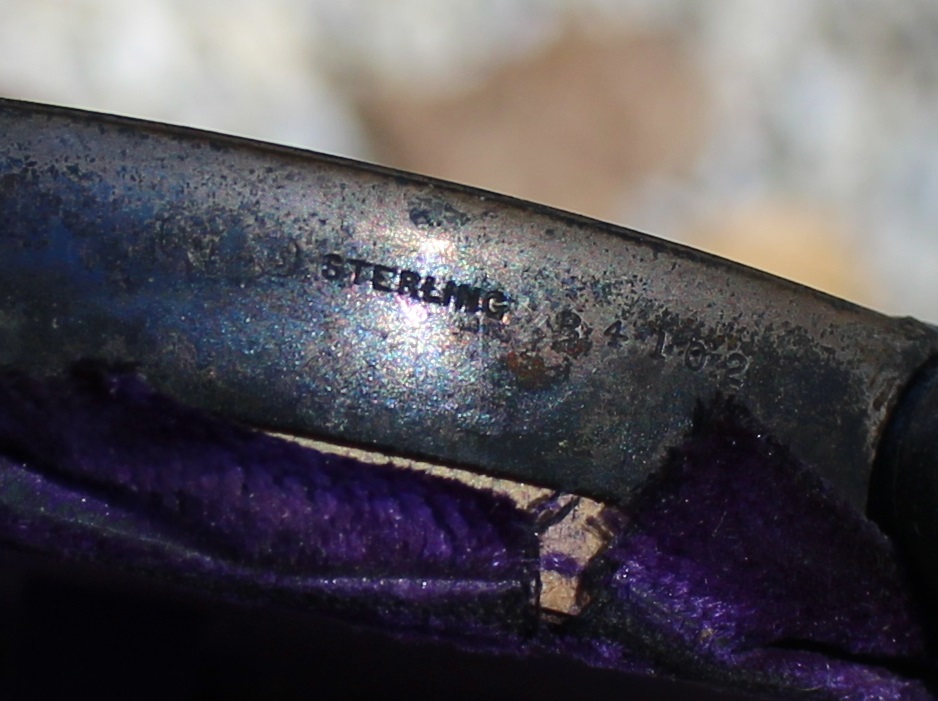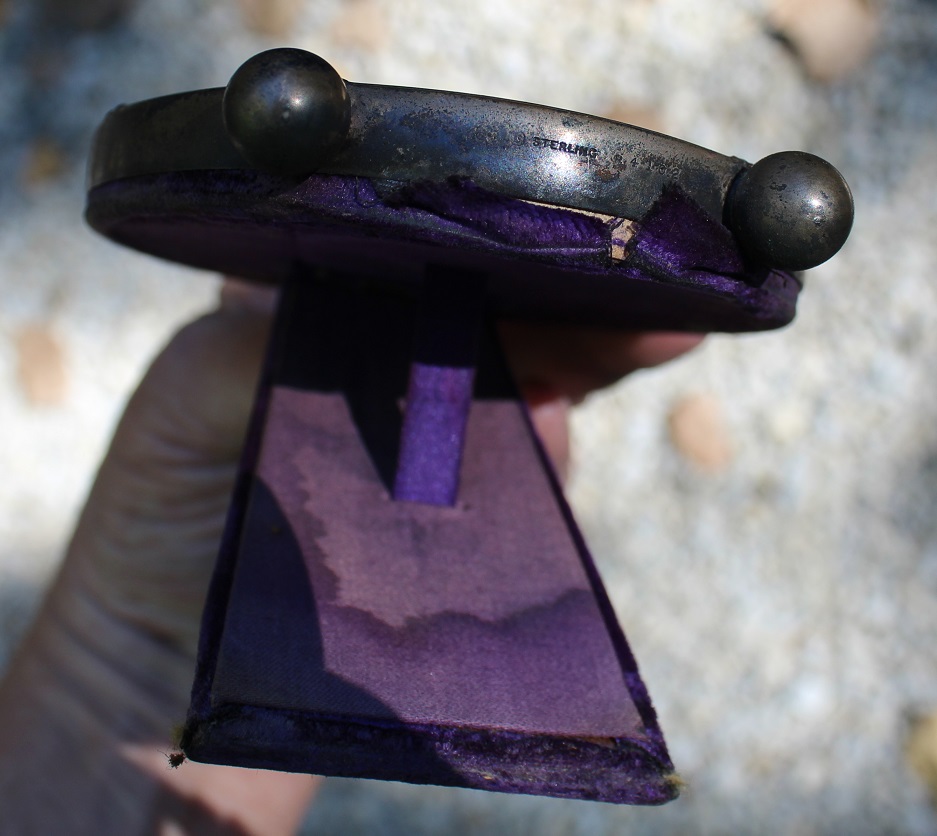 Image Consignment 122.
POSTCARDS:
Postcard of Shortridge High School - Indianapolis, Ind 1908 . Filled out with Eagle and Shield on reverse and addressed to a lady in Cincinnatti, Ohio. $5
Unused Photo postcard of no. 103 Wilder Brigade Monument. We believe this one to be early! $10
Used Post card dated 1927 and having to do with and showing a nice litho of "the Circle" Indiana State Soldiers Home, LaFayette, Ind. $5
Unused Post card featuring the Lincoln Funeral Car Souvenir of the 42nd National Encampment G.A.R. $10
1905 used postcard showing Snodgrass House, Thomas's Headquarters at Chickamauga. $5

Image Consignment123.
1907 used postcard showing Fort Oglethorp U.S. Army Post near Chattanooga, Tenn $5
Early Unused postcard showing Viniard Field, Chickamauga Park, near Chattanooga $5
Early Unused postcard showing Dixie Sight Seeing Autos at Chickamauga Battlefields, Chattanooga, Tenn (Showing the Wilder Brigade Monument) $10
Used photo postcard of the Battle of Atlanta July 1864 1956 sent to Canada. $4
1909 Used postcard from 1909 Showing General Lew Wallace on front with the words 'THE CHARIOT RACE' which I assume is because he wrote 'BEN HUR'. $5

Image Consignment 124
Small original cw photo of the chickahominy River 3X3 with accompanying modern expanded view with it for clarity of the photograph. This is a nice one and original. For this unmounted print $225.00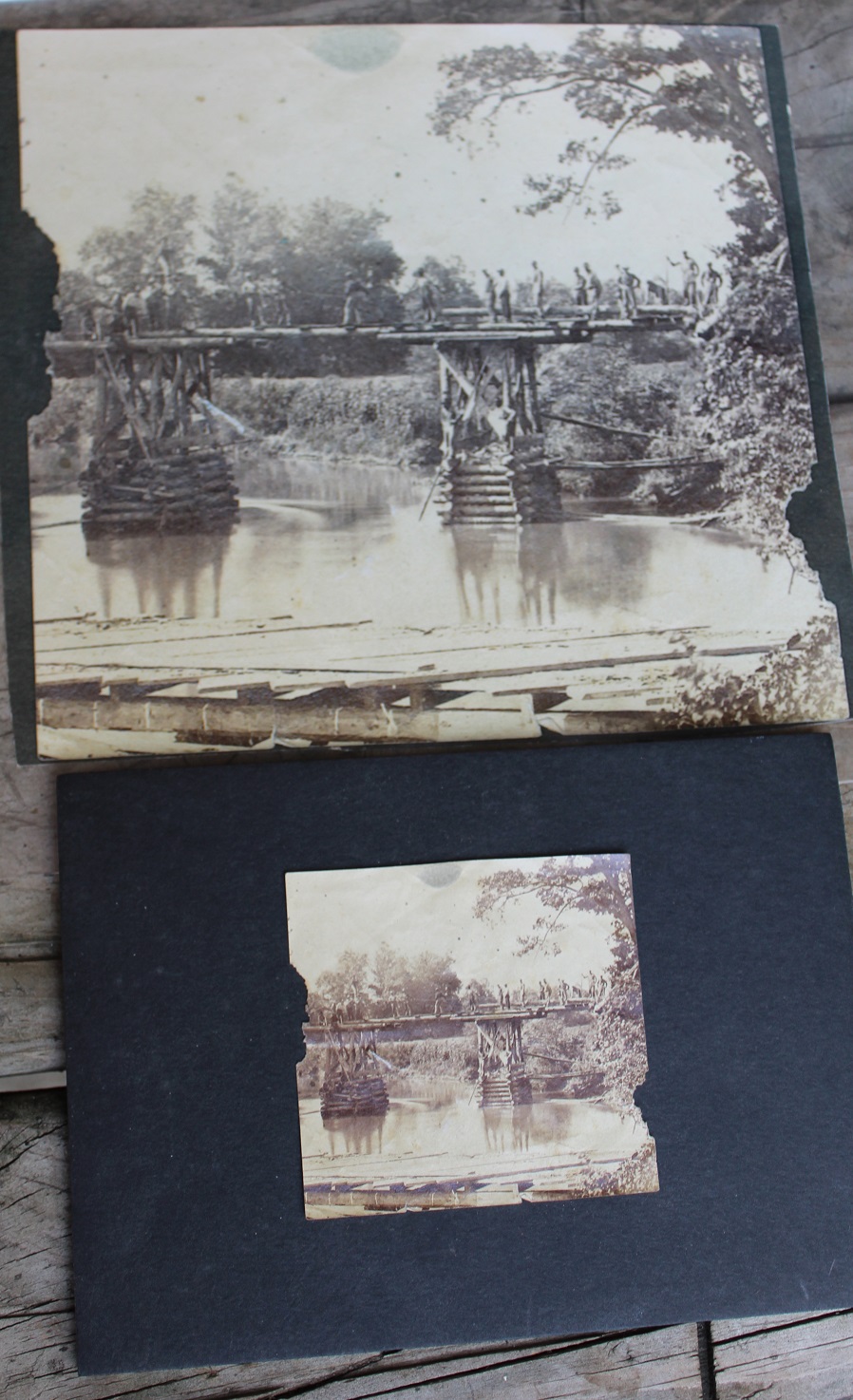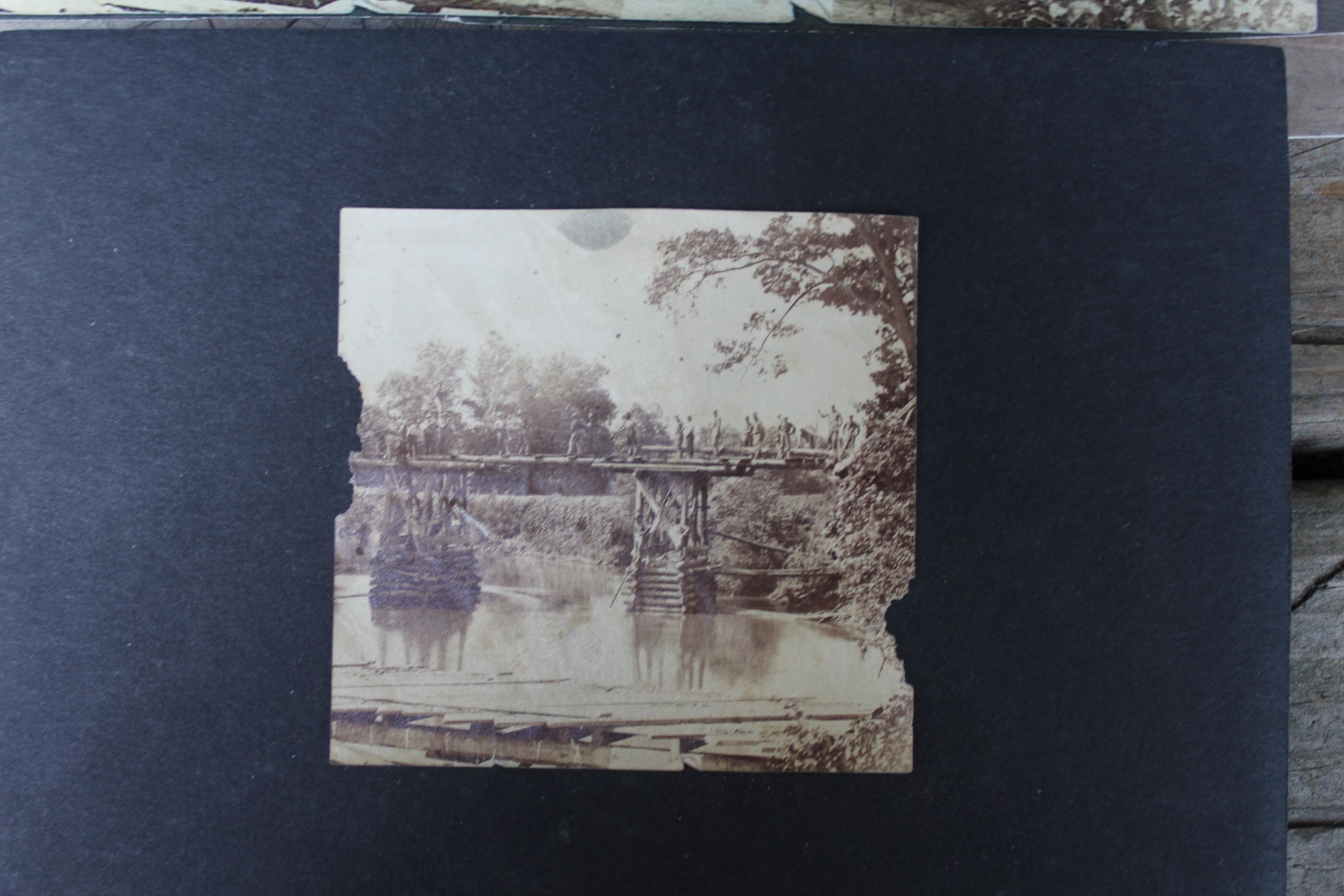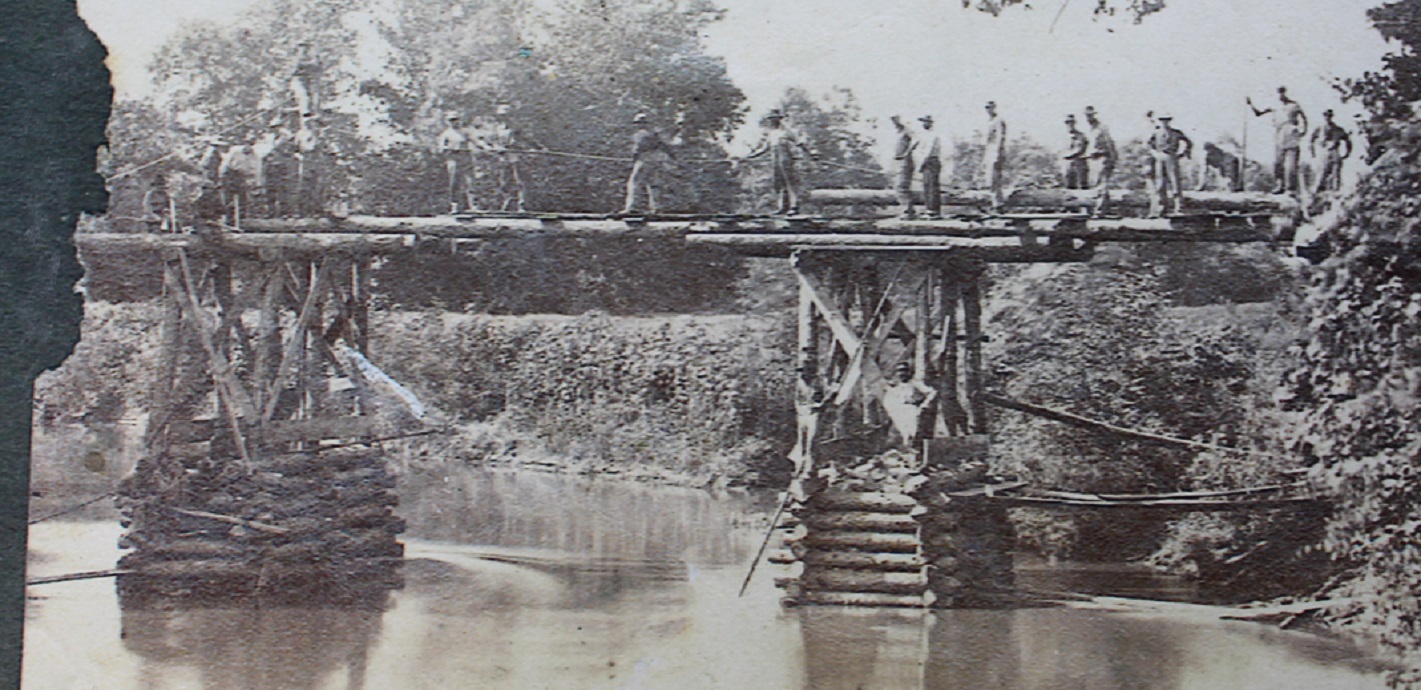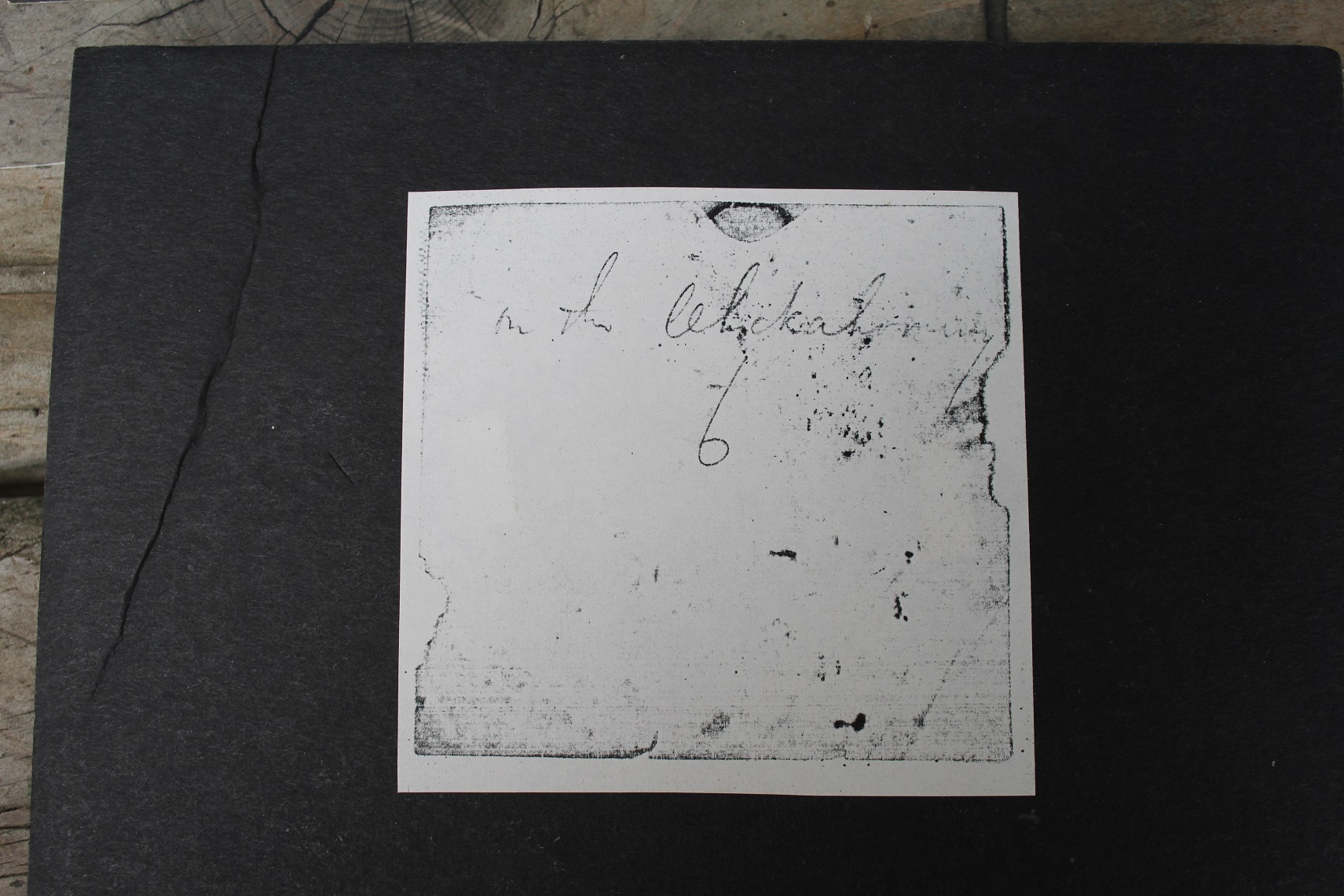 Image Consignment 149
Early 1900's photograph of the incline railway chattanooga, tn 5 1/4 X 8 1/2 with 1750 feet written on reverse and another 5 1/4 X 8 1/2 inch card with photograph on it of Lookout Mtn & Cameron Hill. Each $125.00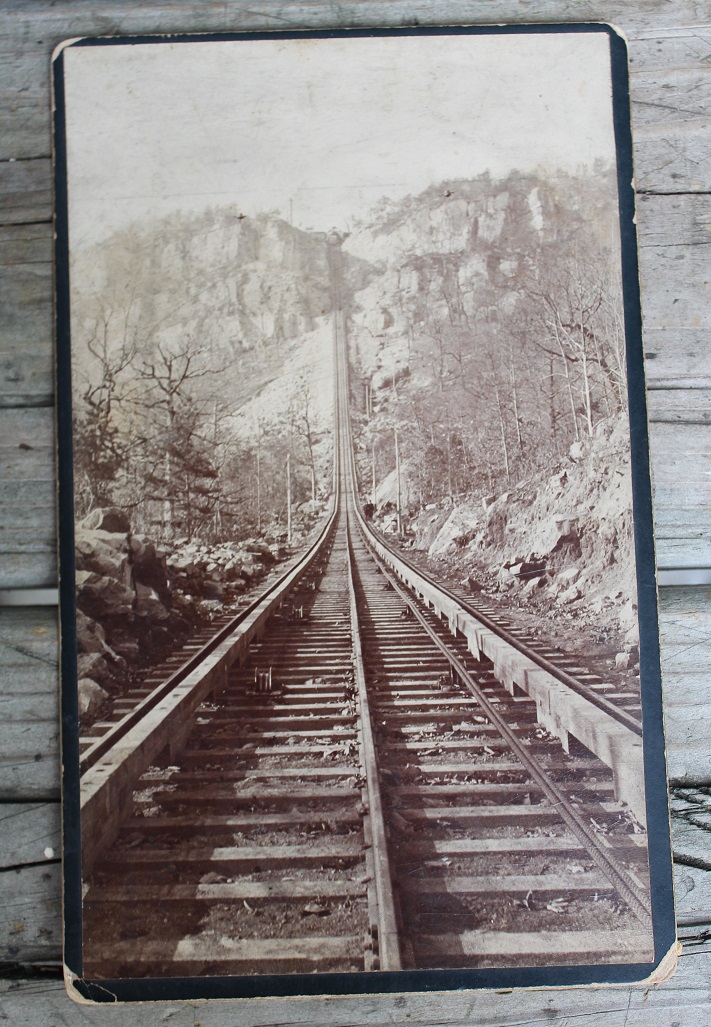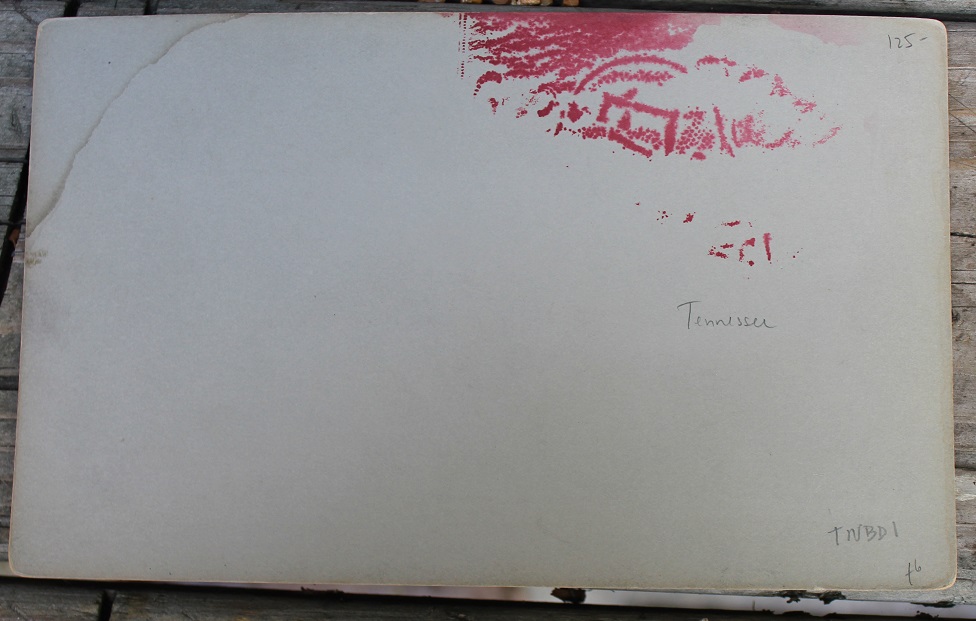 Image Consignment 148
1800's CDV in paper mount of a young man thought to be related to Lt. Tutewiler of the Wilder's Brigade. The inscription on the back says 'Remember A. T+++++ when this you see'. $10.00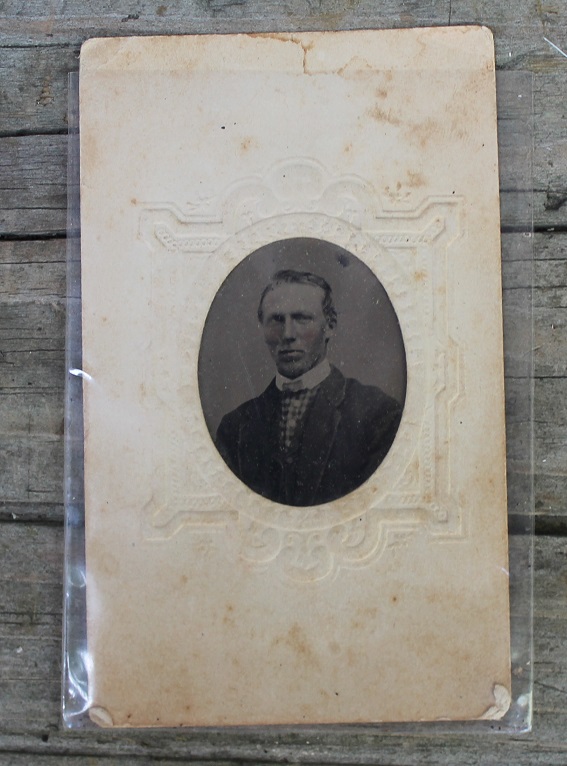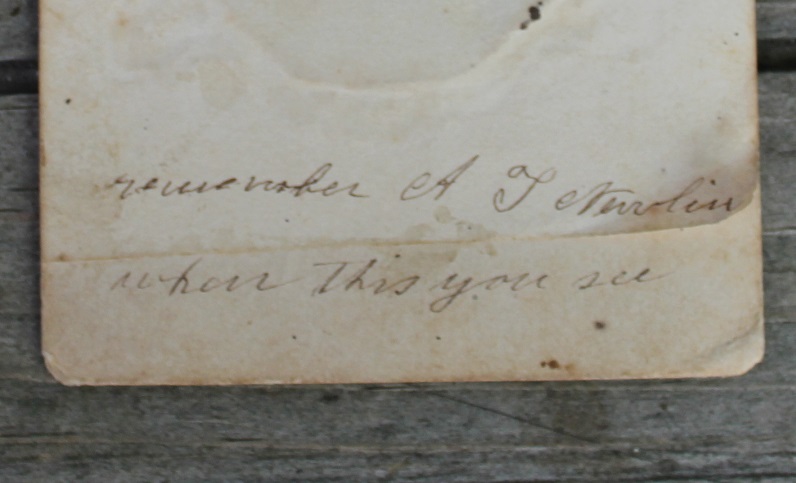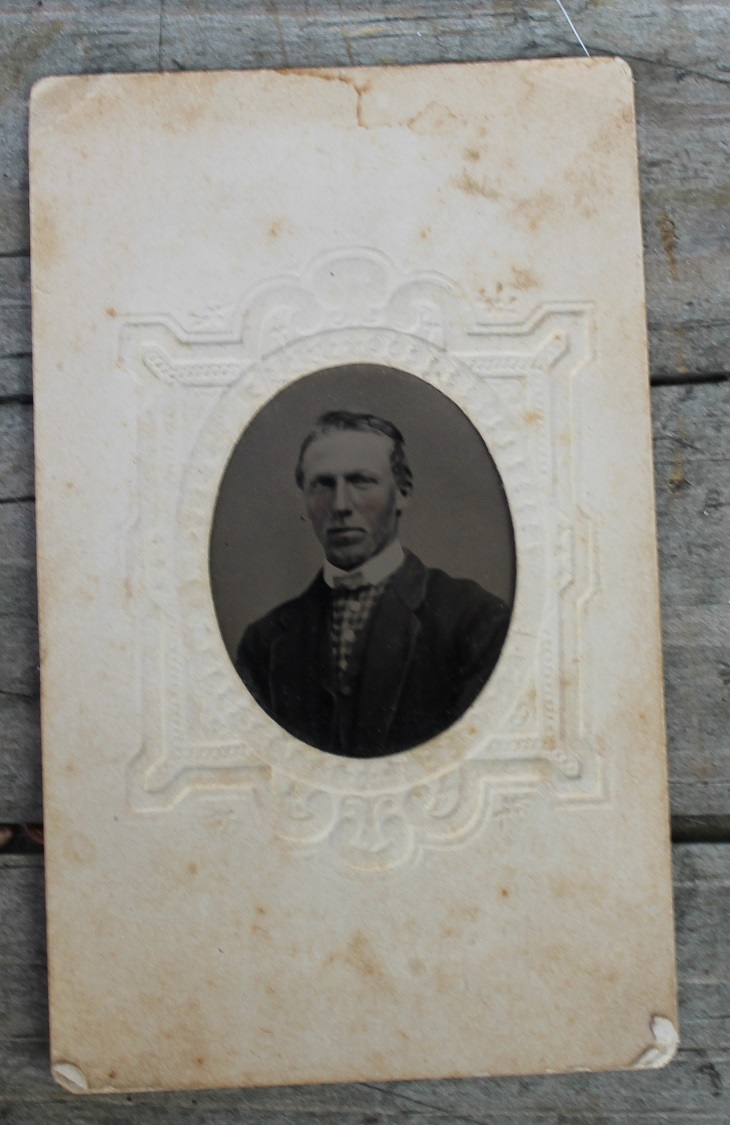 Image Consignment 146
Early photo on cardstock of 'Look out station foot of Look out Mountain'. The cardstock measures 4 1/4 X 5 1/8.
Early photoon cardstock of 'Chicamauga Station and part of Battlefield' showing civilians and soldiers in spike helmets indicating the middle to latter part of the 19th century. The cardstock measures 4 1/4 5 1/8.
For each photo $35.00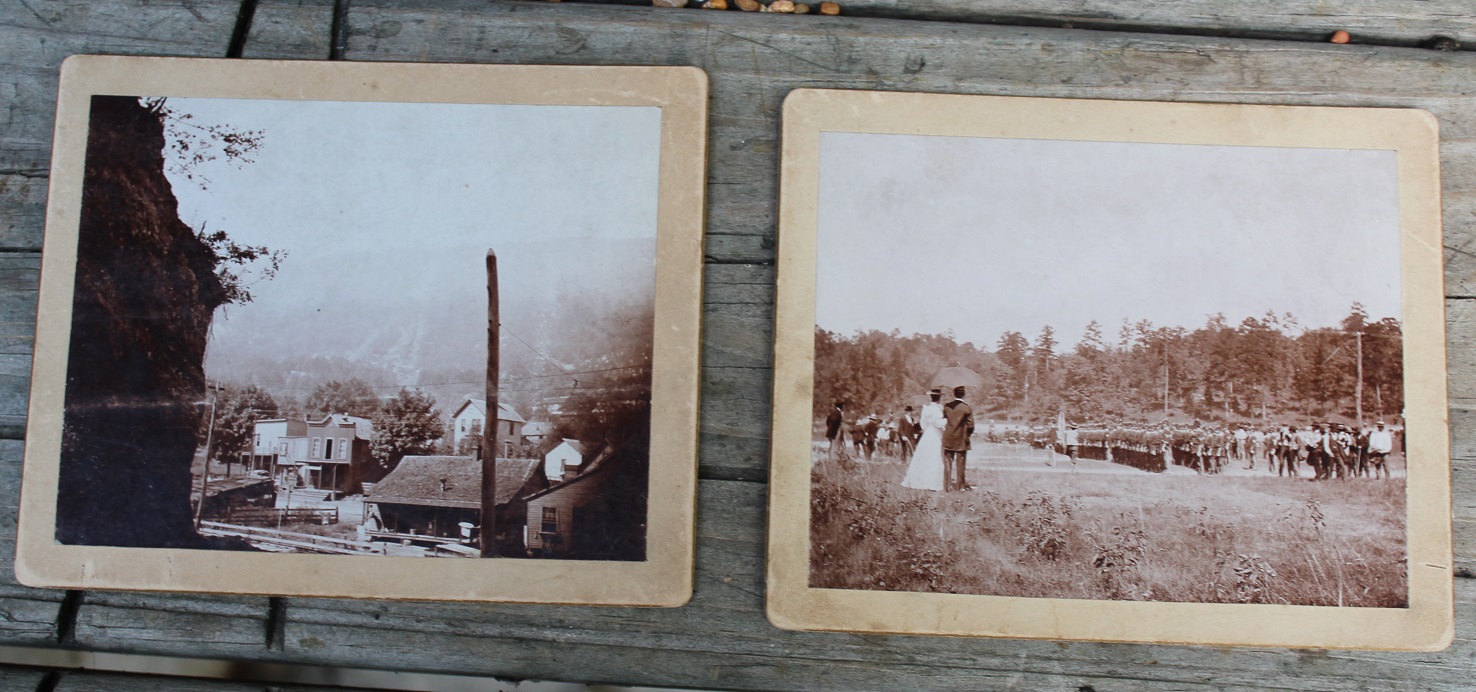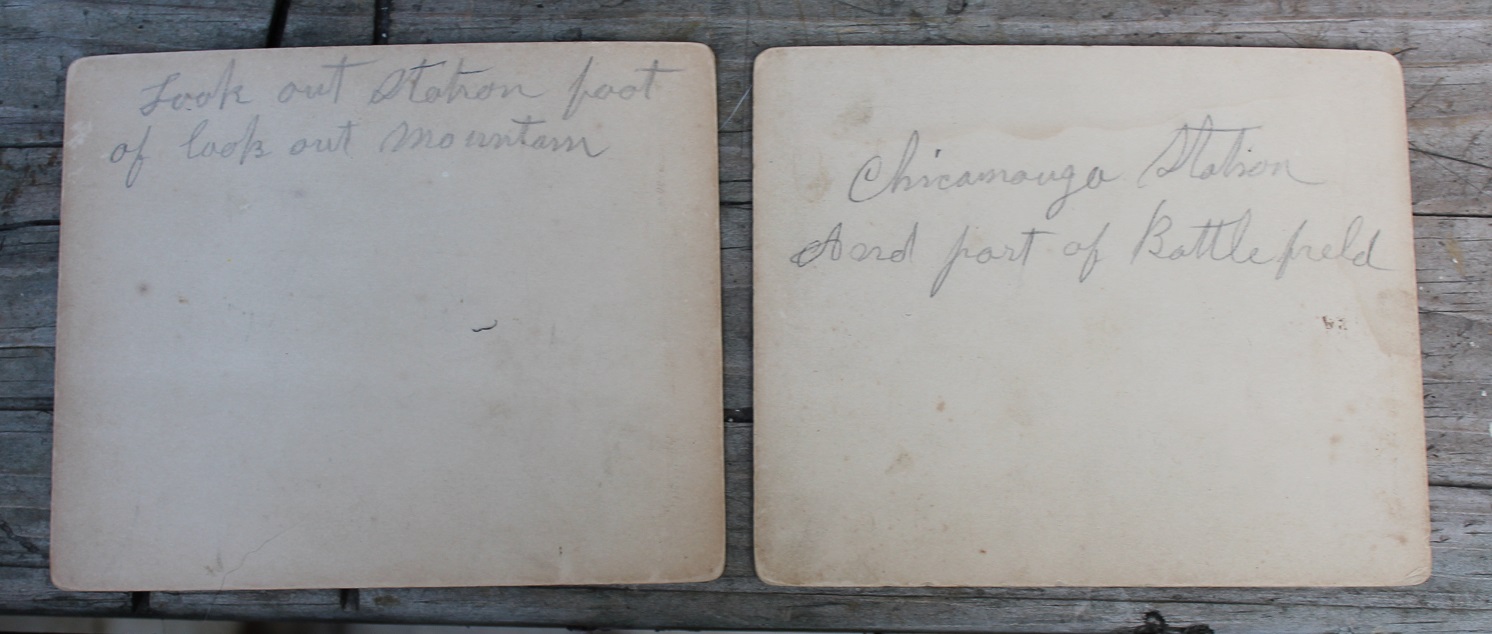 Image 142
Consignment
Here is a CDV engraving on thin cardstock of Maj. General Thomas, the Rock of Chickamauga! Thomas, George H., major-general, one of the ablest, purest and most successful of the military chieftains of the Civil war, was born in Southampton county, Va., July 31, 1816. His early opportunities of education were good and at the age of twenty he had just entered upon the study of law when his friends secured him an appointment as cadet at the military academy at West Point. He entered in 1836 and, after a thorough and solid rather than a brilliant course, he graduated in 1840, ranking twelfth in a class of 42 members among whom were Sherman, Ewell, Jordan, Getty, Herbert, Van Vliet and others who afterward attained celebrity. Assigned to duty on the day of graduation as second lieutenant in the 3d artillery, he served in the regular army for twenty years, during which time he rendered honorable and faithful service in the Florida war from 1840 to 1842; in command of various forts and barracks from 1842 to 1845; in the military occupation of Texas in 1845-46; in the Mexican war from 1846 to 1848 participating in nearly all its leading battles in the Seminole war in 1849-50; as instructor in artillery and cavalry at West Point from 1851 to 1854; on frontier duty at various posts in the interior of California and Texas, leading several expeditions against the Indians from 1855 to the autumn of 1860. During these twenty years he was repeatedly brevetted for gallant and meritorious services, rising through all the grades to a captain of artillery, and in 1855 was made a major of the 2nd cavalry, which regiment he commanded for three years. He was wounded in a skirmish with the Indians at the headwaters of the Brazos river in Aug., 1860, and the following November went east on a leave of absence. During the winter of 1860-61 he watched with the most painful anxiety the culmination of that conflict of opinion which preceded the war. Relinquishing his leave of absence he reported for duty at Carlisle barracks, Pa., April 14,- the day when the flag went down at Sumter-and less than 48 hours after the first shot was fired. On May 27 he led a brigade from Chambersburg across Maryland to Williamsport, rode across the Potomac in full uniform at the head of his brigade on June 16, to invade Virginia and fight his old commanders; a few days afterward he led the right wing of Gen. Patterson's army in the battle of Falling Waters and defeated the Confederates under Stonewall Jackson. After serving through the brief campaign of the Shenandoah Gen. Thomas entered upon that wider sphere of action in which he was destined to win an undying reputation. At Gen. Robert Anderson's request Sherman and Thomas were made brigadier-generals of volunteers and assigned to his command- the Department of the Cumberland. The first month's work that Thomas performed in the department was at Camp Dick Robinson, Ky. where he mustered into service eleven regiments and three batteries of Ohio, Indiana, Kentucky and Tennessee troops, which he organized into the first brigade, and which formed the nucleus of the division, then of the corps and finally of the great army which he afterward so long commanded. He was soon placed in command of the 1st division of the army and on Dec. 31 was ordered to move against Zollicoffer, who commanded a large force occupying the road leading from Cumberland gap to Lexington, Ky. In pursuance of this order Gen. Thomas fought and won the battle of Mill Springs, which was by far the most important military success that had yet been achieved west of Virginia, and with the exception of the defeat of Marshall near Prestonburg a few days before, it was the first victory in the department. In this battle Gen. Thomas laid the foundation of his fame in the Army of the Center. From Nov. 30, 1861, to Sept. 30, 1862, he commanded a division of Gen. Buell's army without intermission, except that during the months of May and June he commanded the right wing of the Army of the Tennessee and around Corinth. On Sept. 30, 1862, he was appointed second in command of the Army of the Ohio, having previously refused the chief command, and served in that capacity in the battle of Perryville and until Oct. 30, 1862, when the old name of Department the Cumberland was restored and Gen. Rosecrans assumed command. That officer reorganized the army into three distinct commands-right, left and center-and assigned Thomas to the center, which consisted of five divisions. He held this command in the battle of Stone's river and until Jan. 9, 1863, when the 14th army corps was created by order of the war department, and Thomas commanded it during the summer campaign in middle Tennessee and the Chickamauga campaign. On Sept. 27, 1864, after the capture of Atlanta, he was ordered by Gen. Sherman to return with a portion of his army into Tennessee and defend that state against Hood's invasion. Thus Thomas was confronted by that veteran army which had so ably resisted Sherman on his march to Atlanta, and had to meet it with an effective force of about 40,000 infantry and 7,000 cavalry, having to remount the latter, provide transportation, and almost to organize and supply a new army. Although severely checked by Schofield at Franklin, Tenn., Hood gathered head and threatened Nashville. Then the government and country waited impatiently for Thomas to attack, but be would not move until he was ready. He thought he "ought to be trusted to decide when the battle should be fought," and to know better than any one hundreds of miles away. Grant called him "slow," Sherman commented on his "provoking, obstinate delay," and Stanton, still actuated by the partisan bitterness that had caused him to secure the removal of two successful commanders, wrote to Grant: "This looks like the McClellan and Rosecrans strategy of do nothing and let the enemy raid the country." Urgent despatches and orders rained in upon him, but he said they might remove him if they liked and complained to one of his generals, "They are treating me like a boy." An order removing him was actually made on Dec. 9, but happily revoked. On Dec. 13 Gen. Logan was started for Nashville with orders to take the command on his arrival if Thomas had not moved, and two days later Grant himself set out thither. On the road both received the great news of the battle of Dec. 15. Thomas had at length attacked, driving the enemy eight miles, and Hood, "for the first and only time, beheld a Confederate army abandon the field in confusion." On the next day Thomas completely redeemed his promise to "ruin Hood," whose army was broken to pieces and chased out of Tennessee. But even here the victor was blamed as dilatory in the pursuit, although the reward of his splendid services could no longer be kept back. When he received his commission as major-general in the regular army his friend and medical director, seeing that he was deeply moved, said: "It is better late than never, Thomas." "It is too late to be appreciated," he replied; "I earned this at Chickamauga," and afterward, "I never received a promotion they dared to withhold." But the nation was by this time ready to recognize Gen. Thomas' merits and to understand that it was solely by his remarkable abilities, without the influence of powerful friends, that he had attained a position second to that of no officer of the army. Honors and rewards were pressed upon him, but with a simple dignity of character he declined them all, satisfied with having done his duty. After the war he was placed in command successively of the most important and difficult military departments, often under circumstances of great responsibility and delicacy, but his conduct gave general satisfaction. Gen. Thomas' death was the result of apoplexy and occurred in San Francisco, Cal., March 28, 1870. Source: The Union Army, vol. 8
In the beginning of the war or at the beginning of a Military Career in the Civil War residents were eager to see images of their heroes and some firms put things out quickly to capture their part of the market. I believe this is one of those. They didn't even bother to put a backmark on this one. For this piece of history representing a Civil War Larger than life figure $45.00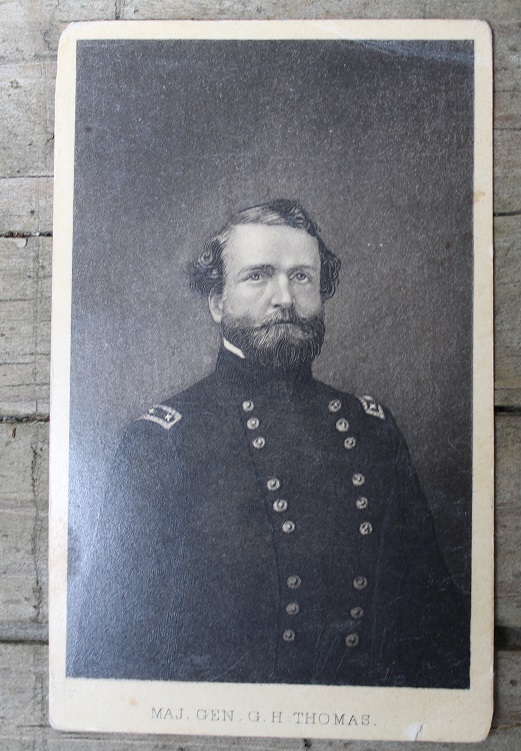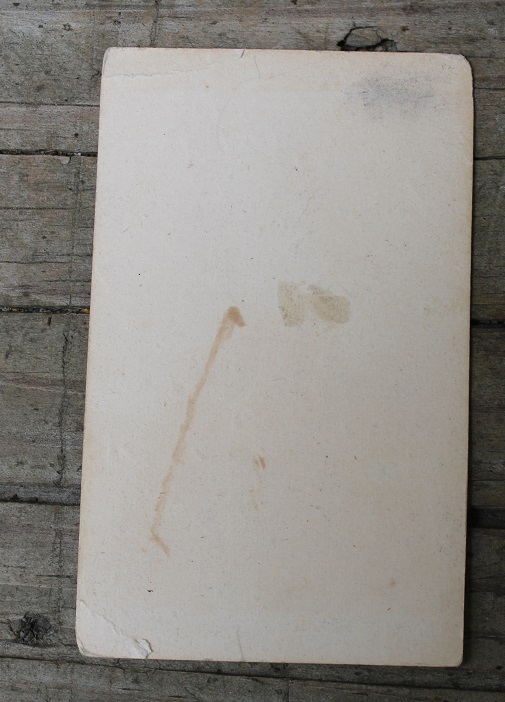 New Arrivals 53 Consignment
Removed
Image 141
Consignment
Here we have a CDV photoengraveur of General Rosecrans. Rosecrans, William S., major-general, was born at Kingston, Ohio, Sept. 6, 1819, and was graduated fifth in the class of 1842, at the West Point military academy. He entered the U. S. engineer corps, as second lieutenant by brevet, serving for a year in the construction of fortifications at Hampton Roads, Va. He was assistant professor of natural and experimental philosophy, and then of engineering, for four years, at the U. S. military academy. He was next the superintending engineer at Fort Adams, Newport, R. I., and of several surveys in eastern New England, and at the Washington navy yard, until April 1, 1854. Having attained the rank of first lieutenant, he resigned from the army and began business life at Cincinnati, Ohio, as civil engineer and architect. From 1855 to 1860 he was in charge of the Cannel coal company in western Virginia, and in 1856 became the president of the Coal river navigation company. In 1857 he organized the Preston coal oil company for the manufacture of kerosene. At the beginning of the Civil war he entered the service as colonel of the 23d regiment U. S. Ohio volunteer infantry. Within a month he was made brigadier-general in the U. S. regular army, and ordered to accompany Gen. George B. McClellan to West Virginia, where he commanded a provisional brigade of three-months' volunteers until July 23, 1861, when he succeeded Gen. McClellan in command of the Department of the Ohio. In September, when the Confederates, Floyd and Wise, sought to get possession of the Great Kanawha valley, Gen. Rosecrans marched 110 miles, defeated Floyd at Carnifix ferry and ultimately compelled their retreat through the mountains to Dublin, on the Southwestern Virginia & Tennessee railway. He received, shortly after, resolutions unanimously framed by the legislatures of West Virginia and Ohio, thanking him for his successful military operations and civil administration. In April, 1862, he received the command of Paine's and Stanley's divisions of the Mississippi army, and took part in the siege of Corinth. With two divisions of the Army of the Mississippi, on Sept. 19, he fought and won the battle of Iuka, against the forces of Gen. Price, and on Oct. 3 and 4, with the remnants of those two divisions, and McKean's and Davis's, he also routed the forces of Price and Van Dorn at the battle of Corinth, and pursued them until he was recalled by Gen. Grant. On Oct. 30 he assumed command of the Department of the Cumberland, and on Dec. 31, following, the sanguinary battle of Stone's river began. It was fought on that day and on Jan. 1 and 2, 1863, and it ended with the retreat of the Confederates along the line of Duck river. In view of this victory the U. S. congress unanimously passed a joint resolution of thanks, as did the legislatures of Ohio and Indiana. On June 23 Gen. Rosecrans began his next movement, drove the Confederates out of their camps at Shelbyville and Tullahoma, and in fifteen days forced them to retreat to the south side of the Tennessee river, with headquarters at Chattanooga. Demonstrations toward Decatur, Ala., deceived Bragg, and Rosecrans crossed the Tennessee, threatened Bragg's communication with Atlanta, and compelled him to withdraw from Chattanooga to Lafayette. Rosecrans then got between Bragg and Chattanooga, concentrated his forces on the roads leading to Chattanooga, and after the sanguinary battle of Chickamauga held possession of the roads, and on Sept. 21 took and held possession of Chattanooga. On Jan. 27, 1864, he was placed in command of the Department of the Missouri, and although previous commanders had encountered insuperable obstacles in administration, in the face of these difficulties he so managed and concluded a campaign against the Confederate Gen. Price, that his army was defeated and driven out of the state. On Dec. 1O, 1864, he was placed on waiting orders at Cincinnati, Ohio, and was mustered out of the U. S. volunteer service, Jan. 15, 1866. He resigned from the U. S. regular army, March 28, 1867, having been brevetted major-general, U. S. A., on March 13, 1865, for gallant and distinguished services at the battle of Stone's river, Tenn. In the year 1868 Gen. Rosecrans was appointed U. S. minister to Mexico, and reached that country in November. In 1880 he was elected to the U. S. house of representatives from the state of California, and served until March 4, 1885. In June, 1885, he was appointed register of the U. S. treasury, at Washington, D. C., which office he held until 1893. On Feb. 27, 1889, by act of Congress he was re-appointed brigadier- general, U. S. army, and was placed on the retired list on March 2, following. Gen. Rosecrans died on March 11, 1898. Source: The Union Army, vol. 8
This CDV is in nice condition with clipped corners. The backmark simply says MAJOR-GENERAL ROSECRANS. For this one $55.00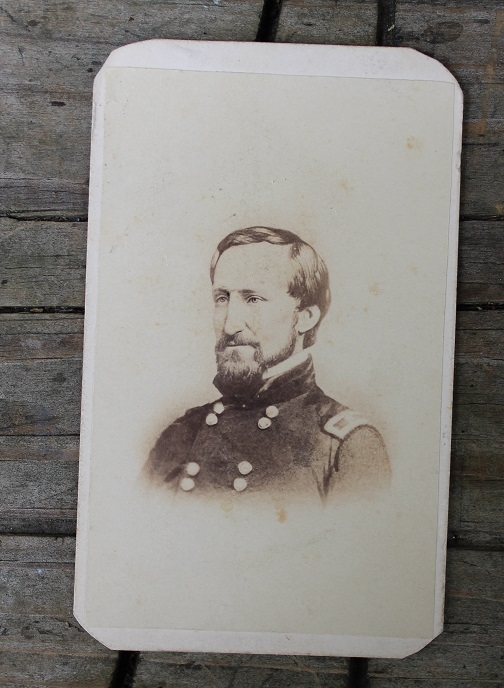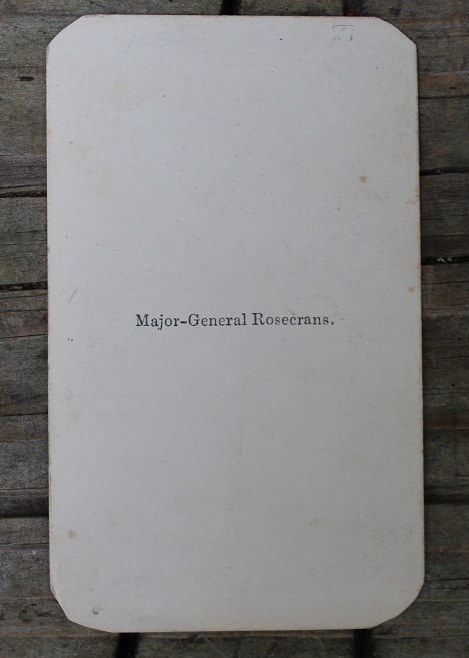 Image 140
Consignment
Here we have a very nice CDV of a Rhode Island Captain of the Civil War. We do not have any id on him but if you know let us know and we'll post it. The backmark is for S.A.Dexter of Providence, R.I. Very nice!!! $95.00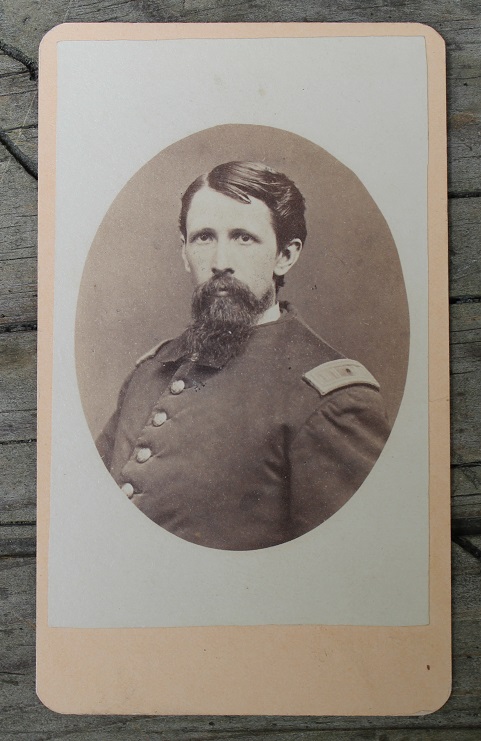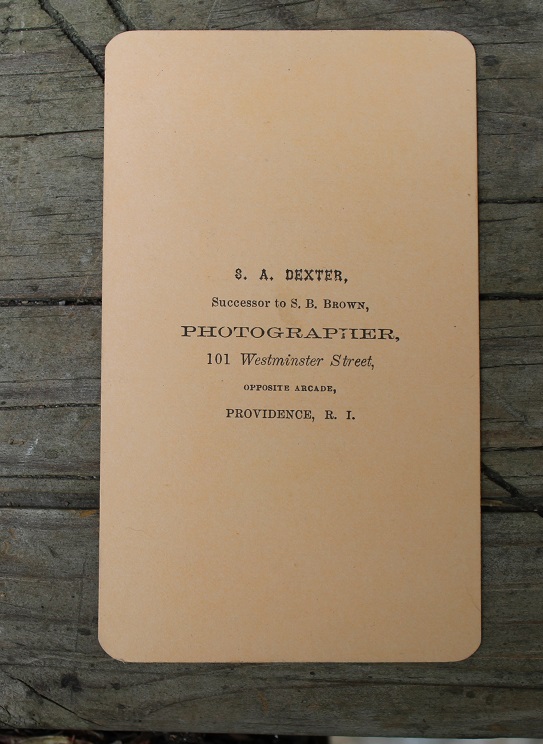 Image 138
Consignment
Here we have a CDV photoengraveur of General George Gordon Meade, the commander at Gettysburg! Meade, George G. major-general, was born at Cadiz, Spain, during the consulship of his father at that port, in 1815. At an early age he was sent to the boys' school in Washington, D. C., at that time kept by Salmon P. Chase, afterward chief- justice of the United States supreme court. Subsequently he attended the military academy near Philadelphia, and in 1831, entered the academy at West Point, whence he graduated in 1835, as brevet second lieutenant of the 3d artillery. The same year he was made second lieutenant, and served in Florida in the Seminole war. The state of his health induced him to resign his commission in 1836, and he became a civil engineer, but, in 1842, he again entered the army, as second lieutenant in the corps of topographical engineers, and in that capacity served in the Mexican war. During this campaign he was attached to the staff of Gen. Taylor, and afterward to that of Gen. Scott distinguishing himself at Palo Alto and Monterey, and receiving, as an acknowledgment of his gallantry, a brevet of first lieutenant, dated Sept 23, 1846, and also upon his return to Philadelphia, a splendid sword from his townsmen. During the interim between the Mexican war and the Civil war, having been promoted to a full first lieutenancy in Aug., 1851, and to a captaincy of engineers in May, 1855, he was engaged in the particular duties of his department, more especially in the survey of the northern lakes; but upon the call of the government for men in 1861, he was ordered to report at Washington, and upon the organization of the Pennsylvania reserve corps, was made a brigadier-general of volunteers and assigned the command of the 2nd brigade, his commission dating Aug. 31, 1861. During the Seven Days' battles Gen. Meade was severely wounded, but soon recovered and, in Sept., 1862, took command of a division in Reynolds' 1st army corps, which he conducted with great skill and bravery during the Maryland campaign. At Antietam, when Gen. Hooker was wounded, Gen. Meade was placed in command of the corps and fought bravely the remainder of the day, receiving a slight wound and having two horses killed under him. He received the appointment of major- general of volunteers on Nov. 29, and took part in the battle of Fredericksburg, displaying courage and coolness during the engagement. In June, 1863, when Lee was advancing up the Shenandoah valley to invade Maryland and Pennsylvania, Gen. Meade was suddenly and unexpectedly called to succeed Gen. Hooker in the command of the Army of the Potomac, and he displayed masterly ability throughout the three days' battle of Gettysburg. Following this engagement, about July 18, he moved his army across the Potomac into Virginia, where he had several skirmishes with the enemy in October and November, and he was in command of the Army of the Potomac during the operations against Richmond in 1864. On June 18, 1862, Gen. Meade was promoted to the rank of major of engineers in the regular army, and on July 3, 1863, was advanced by the several grades of lieutenant-colonel and colonel to the brigadier-generalship in the regular army. During the session of 1863-64 he received the thanks of Congress, and was on Feb. 1, 1865, promoted a major-general in the regular army, his commission dating from Aug. 18, 1864. In the reconstruction of the military divisions after the war, Gen. Meade was given the command of the division of the Atlantic, with headquarters at Philadelphia, where he resided in the house presented to his wife by his fellow- citizens, in grateful recognition of his eminent services. He died at this residence in Philadelphia, Nov. 6, 1872. Source: The Union Army, vol. 8 This is an excellent period CDV with Maj Gen G.G. Meade printed at the bottom. There is no backmark and the corners have not been clipped. $55.00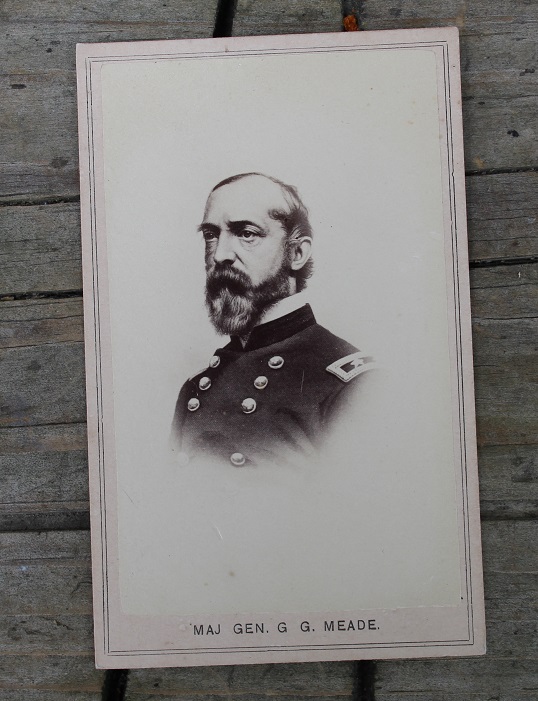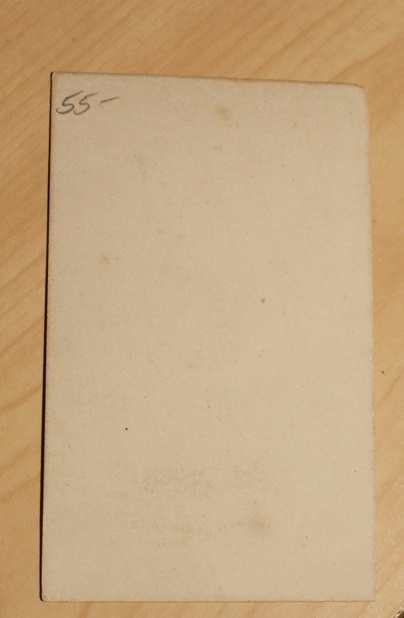 Image 137
Consignment
Here we have a bust view CDV of General McCook. McCook, Alexander McD., major-general, was born in Columbiana county, Ohio, April 22, 1831. He was graduated at the United States military academy in 1852, served for a time on garrison duty, was then engaged against the Apaches in New Mexico until 1857, and was subsequently assistant instructor in infantry tactics at West Point, becoming 1st lieutenant in At the beginning of the Civil war he was commissioned colonel of the 1st Ohio regiment, with which he engaged in the defenses of Washington, May-July, 1861. He was promoted captain in the 3d U. S. infantry, May 14, 1861; participated in the skirmish at Vienna, Va., June 17, and at the battle of Bull Run, where he commanded his regiment, he won the brevet of major for gallantry. He was appointed brigadier-general of volunteers Sept. 3, 1861, and commanded a brigade in the operations in Kentucky, from Oct. to Dec., 1861, and the 2nd division, Army of the Ohio, under Maj.-Gen. Buell in the Tennessee and Mississippi campaign, Feb.-June, 1862. He was brevetted lieutenant-colonel at the capture of Nashville, March 3, 1862, and colonel on April 7, for services at Shiloh. In the advance upon the siege of Corinth he commanded the reserve of the Army of the Ohio, his division engaging, however, at Bridge creek and at Serratt's hill, and he then served in northern Alabama and in east Tennessee, being commissioned major-general of volunteers July 17, 1862. He was then placed in command of the 20th army corps, with which he served in the campaigns of Perryville, Stone's river, Tullahoma and Chickamauga. He was relieved of his command, Oct. 6, 1863, shortly after the battle of Chickamauga, and asked for a court of inquiry which found him free from all blame. He was engaged in the defense of Washington on July 11 and 12, 1864, was assigned to duties in the middle division in Nov., 1864 and in Feb., 1865, was placed in command of the eastern district of Arkansas. He represented the war department in the investigation of Indian affairs May 6, 1865. On March 13, 1865, he was brevetted brigadier-general U. S. A. for gallant and meritorious services at Perryville, and major- general U. S. A., for services in the field during the war. Gen. McCook was mustered out of the volunteer service, Oct. 21, 1865; was appointed lieutenant-colonel of the 26th infantry, March 5, 1867; served subsequently on the staff of Gen. W. T. Sherman, and was promoted colonel of the 6th infantry, Dec. 16, 1880, commanding the infantry and cavalry school at Fort Leavenworth, Kan. He was appointed brigadier- general July 11, 1890; major-general Nov. 9, 1894, and retired by operation of law, April 22, 1895. He represented the United States at the coronation of the czar of Russia, at Moscow, May 24, 1896, and was a member of the commission appointed by President McKinley to investigate the war department during the war with Spain, Sept. 23, 1898, to Feb. 1O, 1899. Source: The Union Army, vol. 8
Overall a nice CDV with a E. & H.T. Anthony Backmark. $55.00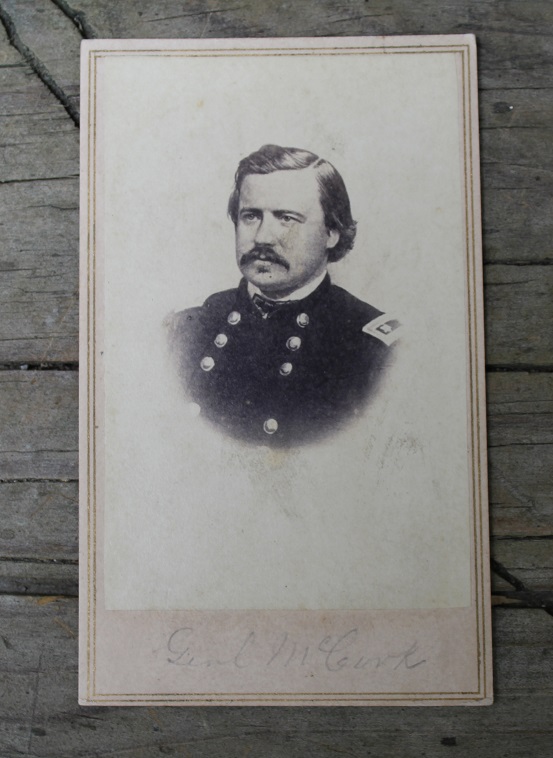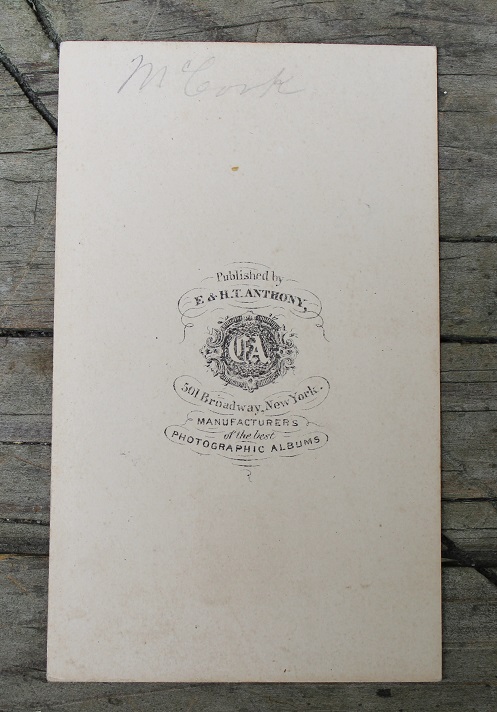 Image 136
Consignment
Here we have a CDV photoengraveur of General George McClellan. It is in nice condition with non clipped corners. The backmark is 'MAJOR-GENERAL G.B.McCLELLAN' CHARLES TABER & CO. MANUFACTURERS, NEW BEDFORD, MASS.' McClellan was a let down for President Lincoln but was loved by his men. He ran against President Lincoln for the Presidency in 1864 but was defeated. $55.00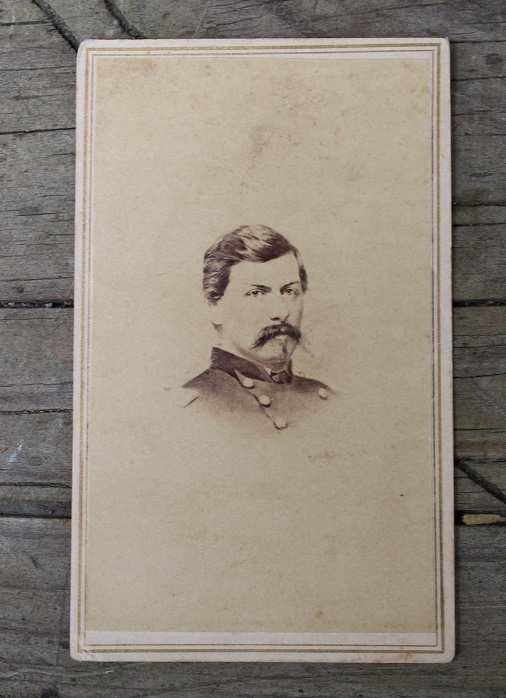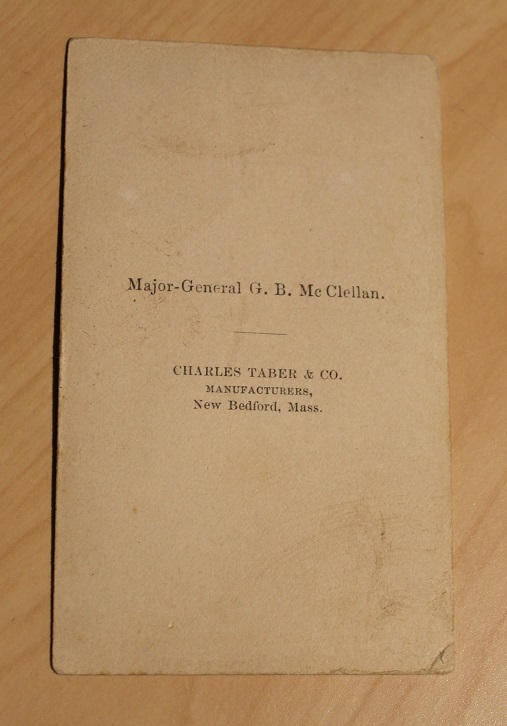 Image 135
Consignment
Here we have a standing CDV from life of a Maine Officer. He holds his Kepi in his arm and it looks to me like he has a 17 in the center of his infantry horn insignia. The backmark is S.W. Sawyer, Bangor (Maine). Itis in nice condition overall with a stain that is on the lower left corner not affecting the image. $95.00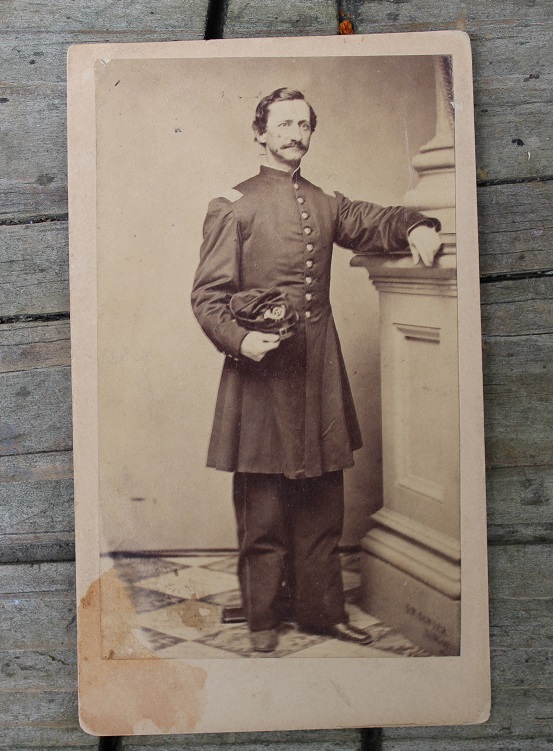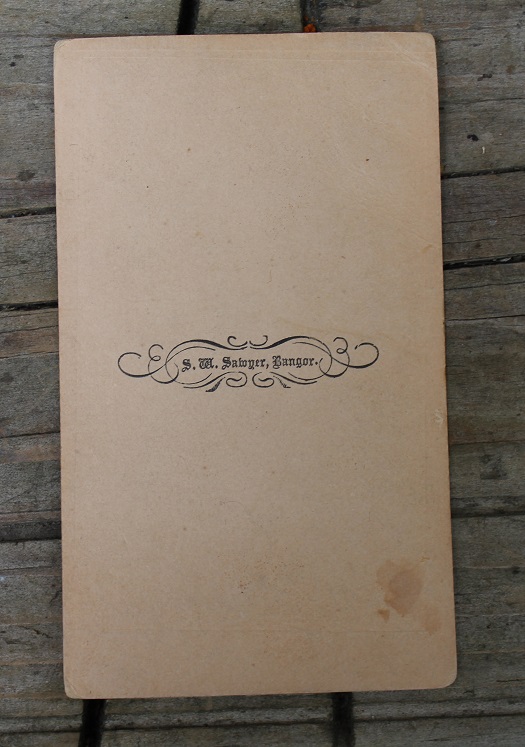 Image 134
Consignment
Here we have a CDV photoengraveur of General U..S. Grant. On the front it is marked 'BALDWIN' as well as 'Columbus, O'. Baldwin's backmark is also present on the reverse. What more can be said about General Grant. He was made for war but failed in everything else including his presidency. This is a very nice CDV! For this one $55.00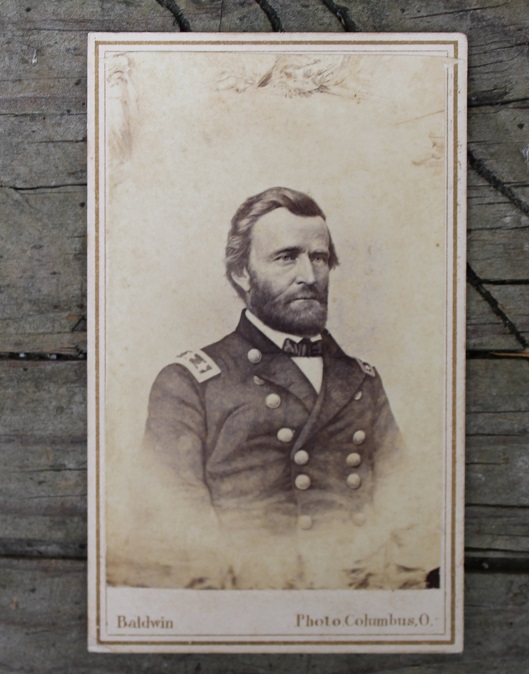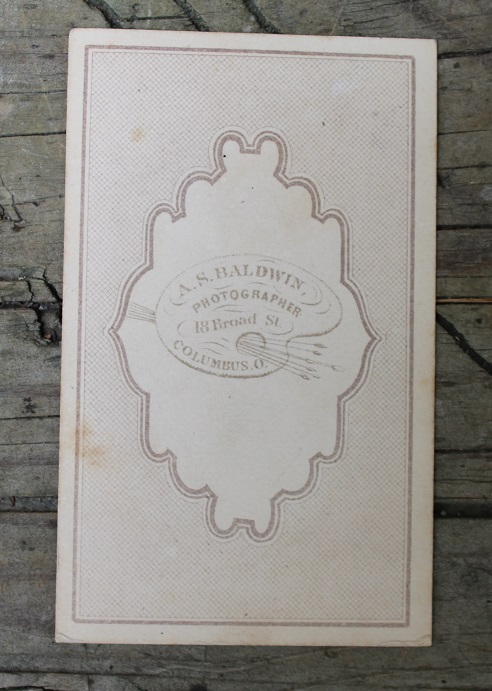 Image 133
Consignment
Here we have a nice CDV of Charles Dickens. Charles John Huffam Dickens ( 7 February 1812 – 9 June 1870) was an English writer and social critic. He created some of the world's best-known fictional characters and is regarded by many as the greatest novelist of the Victorian era. His works enjoyed unprecedented popularity during his lifetime, and by the 20th century critics and scholars had recognised him as a literary genius. His novels and short stories enjoy lasting popularity.
I believe this to be a photoengraveur. He is in a very though thinking pose. The reverse shows the pencil writing of 'FOR MOTHER' and was done by Joseph Ward of Washington and Boston. For this fine image $125.00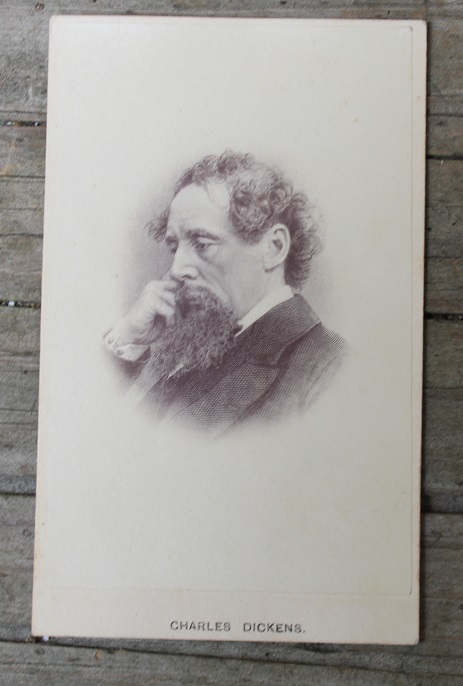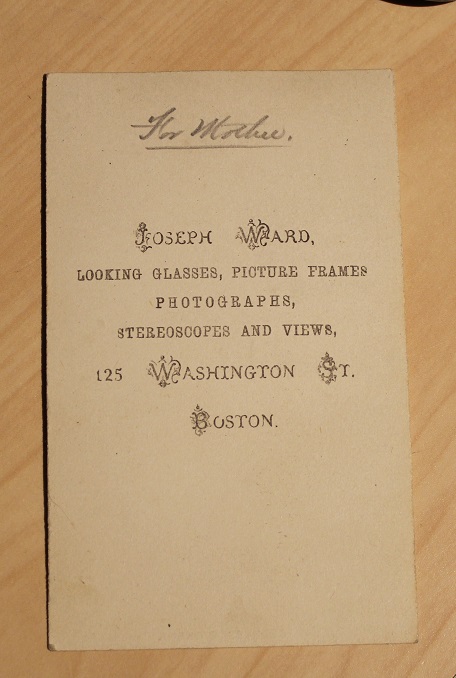 Image 132
Consignment
Here we have, from life, a great CDV of General Crittenden. He is shown sitting with his sword at his side. The CDV is in nice condition with slightly clipped corners. Here is the General's bio:
Crittenden, Thomas L., major-general, was born in Rus- sellville, Ky. May 15, 1819, studied law under his father, was admitted to the bar, and was elected commonwealth's attorney in Kentucky in 1842. 1n the Mexican war he served as lieutenant- colonel of Kentucky infantry, and was volunteer aide to Gen. Taylor in the battle of Buena Vista. He was from 1849 to 1853, under appointment from President Taylor, consul to Liverpool, then returned to the United States, resided for a time in Frankfort, and afterwards engaged in mercantile pursuits in Louisville, Ky. Espousing the Union cause at the beginning of the Civil war, he was commissioned brigadier-general, Oct. 27, At Shiloh he commanded a division and won by gallantry on that field promotion to major-general of volunteers, being assigned to command of a division in the Army of the Tennessee. He com- manded the 2nd corps, forming the left wing of Gen. Buell's Army of the Ohio, served afterwards under Gen. Rosecrans in the battle of Stone's river, and at Chickamauga commanded one of the two corps that were routed. He was afterwards given com- mand of a division of the 9th corps, Army of the Potomac, and operated with that corps in the campaign of 1864. He resigned, Dec. 13, 1864 but was afterwards commissioned by President Johnson colonel of the 32nd U. S. infantry, and in 1869 was transferred to the 17th infantry. He was retired by reason of his age, May, 1881. Gen Crittenden won by gallantry at Stone's river the brevet of brigadier-general in the regular army, which was conferred on him, March 2, 1867. He died at Annan- dale, Staten 1sland N. Y., Oct. 23, 1893. Source: The Union Army, vol. 8
No Backmark. For this nice CDV $195.00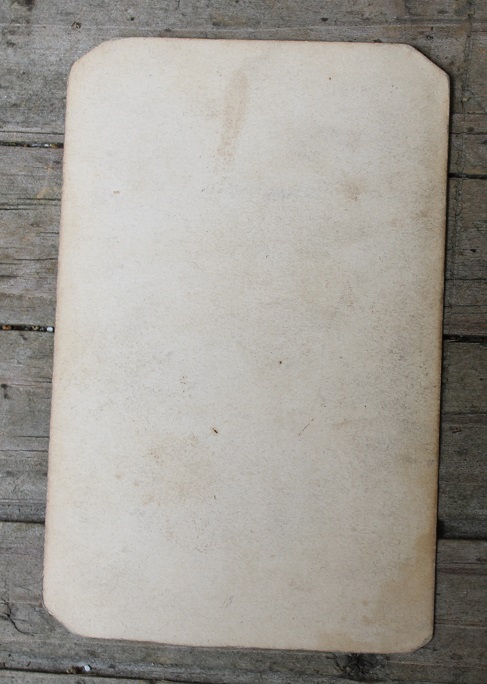 Image 131
Here we have an exceptional CDV of what I believe is a Confederate Soldier in either a civilian Frock coat or a captured Union great coat. You can clearly see his gray shell Jacket that he is wearing and gray Kepi on his knee. He has a very troubled look on his face so he's already "seen the elephant" or he is a prisoner of war. There is no backmark on this early CDV. No History accompanies this piece but it was found in Indiana. From Camp Morton? Who knows. For this fine image $450.00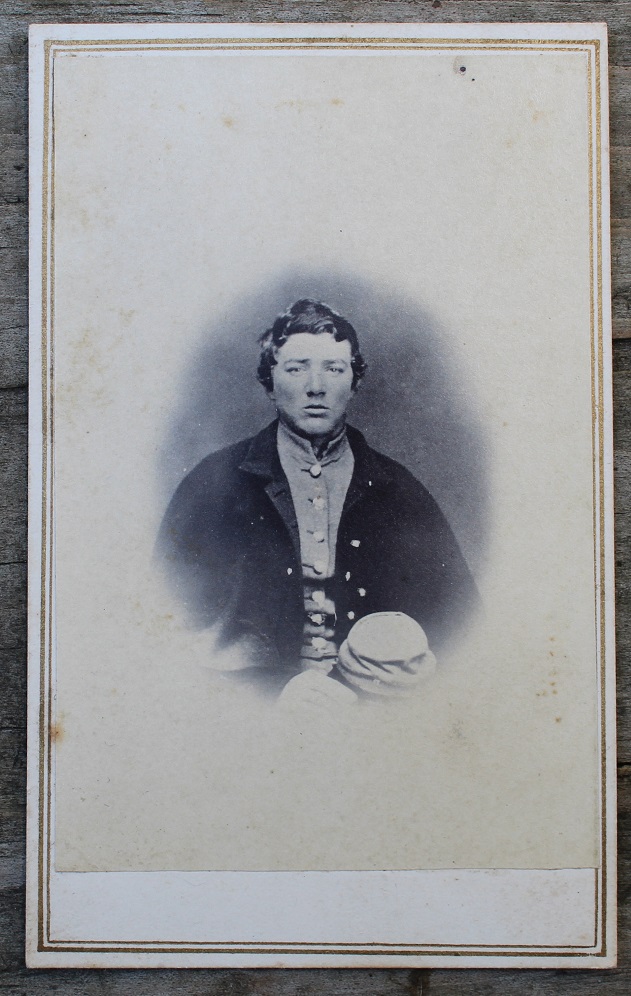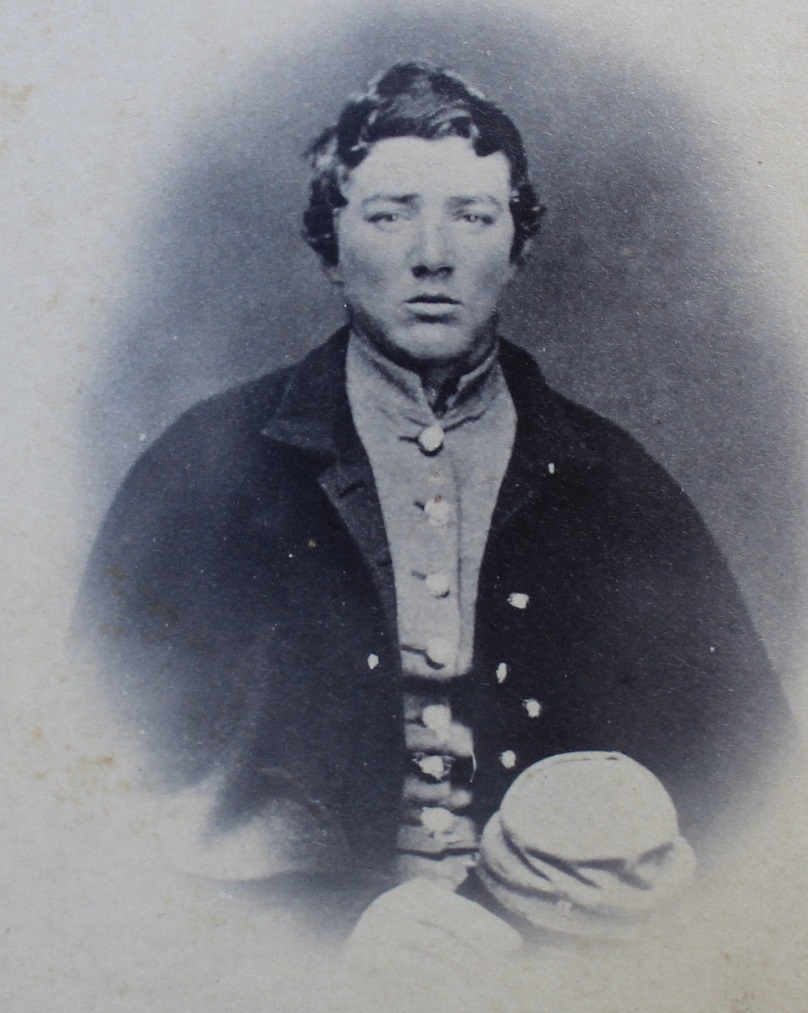 Image 130
Here we have CDV's of General Grant (Later President Grant) and his Vice President Schuyler Colfax Jr. We'll start with Vice President Colfax.
Here we have a CDV of Schuyler Colfax.
Schuyler Colfax Jr. ( March 23, 1823 – January 13, 1885) was an American journalist, businessman, and politician from Indiana. He served as a United States Representative (1855–69), Speaker of the House of Representatives (1863–69), and the 17th Vice President of the United States (1869–73). To date, he is one of only two Americans (John Nance Garner is the other) to have served as both House speaker and vice president. Colfax was known for his opposition to slavery while serving in Congress, and was a founder of the Republican Party. In January 1865, as Speaker of the House, Colfax made the unusual choice to cast a vote for passage of the Thirteenth Amendment. (Speakers can vote on House motions but, by convention, rarely do so.) After winning the presidential election of 1868, Ulysses S. Grant and Colfax, at ages 46 and 45, were the youngest Presidential ticket elected in the 19th Century. Believing Grant would only serve one term, in 1870 Colfax attempted unsuccessfully to garner support for the 1872 presidential nomination by telling friends and supporters he would not seek a second vice presidential term. Grant ran again, and Colfax reversed himself and attempted to win the vice presidential nomination, but was defeated by Henry Wilson. In January 1871, Colfax encouraged a unified Italy to adopt a republican government that protected religious freedom and civil rights of its citizens. An 1873 Congressional investigation into the Crédit Mobilier scandal named Colfax as one of the members of Congress (mostly Republicans) who in 1868 were offered (and possibly took) payments of cash and discounted stock from the Union Pacific Railroad in exchange for favorable action during the construction of the First Transcontinental Railroad. Colfax left the vice presidency at the end of his term in 1873 and never again ran for office. Afterwards he worked as a business executive and became a popular lecturer and speech maker. Colfax died in Mankato, Minnesota, on January 13, 1885, while changing trains as he was en route to Rock Rapids, Iowa, to give a speech
This CDV of Vice President Colfax is a tad light but easily seen with his iconic smile! The CDV is in great shape overall and is backmarked from Logansport, Indiana. Nice piece! $65.00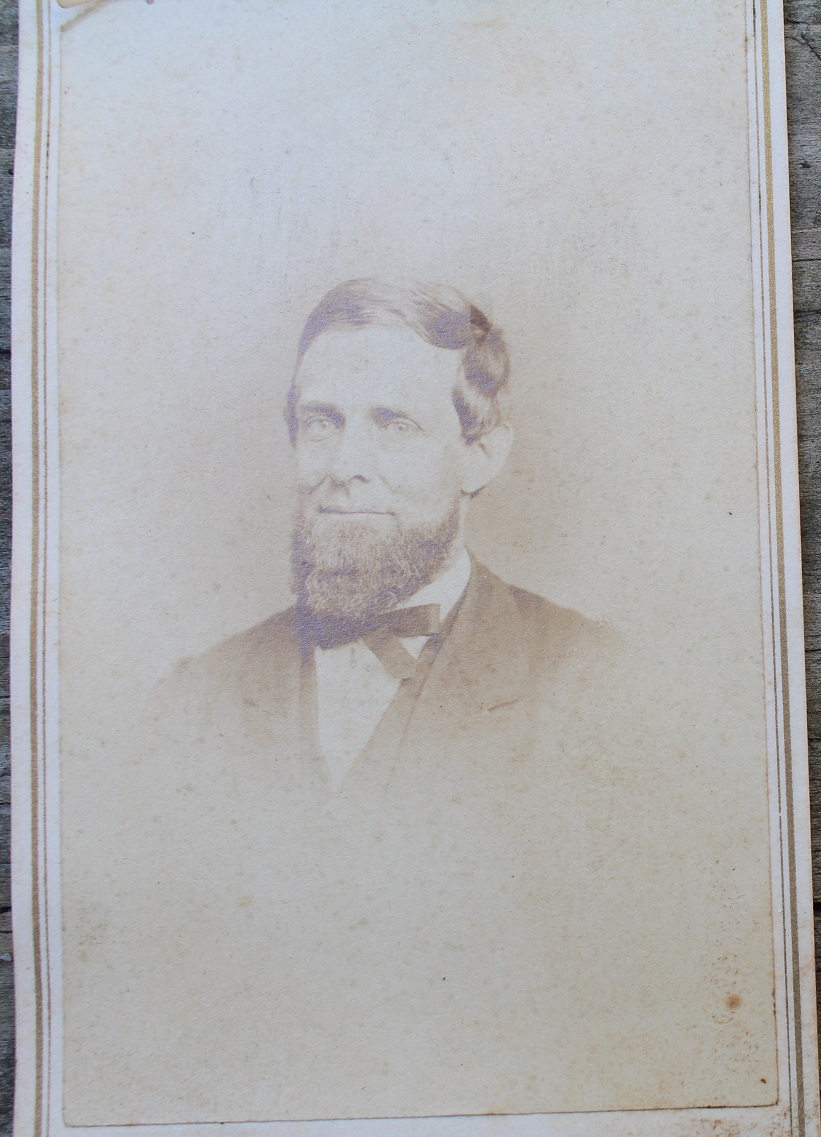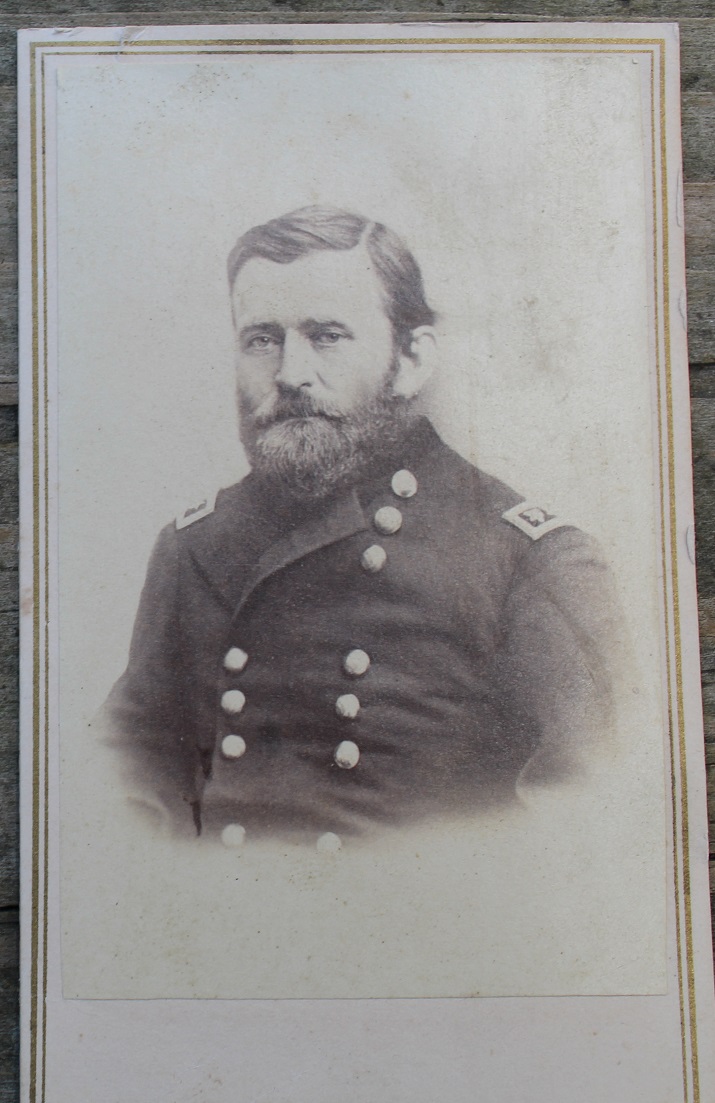 Image 129
Here we have a CDV from life of General Ulysses S. Grant, later President Grant. This one is in very nice condition with the backmark of Anthony and Brady. Ulysses Simpson Grant (born Hiram Ulysses Grant;[a] April 27, 1822 – July 23, 1885) was an American soldier and statesman who served as Commanding General of the Army and President of the United States, the highest positions in the military and the government of the United States. A prominent United States Army general during the American Civil War, Grant led the Union Army to victory over the Confederacy with the supervision of Abraham Lincoln. As the 18th President of the United States (1869–77) Grant led the Republicans in their efforts to remove the vestiges of Confederate nationalism and slavery during Reconstruction. Grant was born and raised in Ohio by Methodist parents whose lineage in the new world went back several generations. As a youth he often worked in his father's tannery and showed an early talent for riding, taming and managing horses. After graduating from West Point in 1843 Grant served with distinction in the Mexican–American War. Upon his return he married Julia Dent, and together they had four children. Grant retired from the army in 1854 and struggled financially in civilian life. When the Civil War began in 1861 he rejoined the army and quickly rose through the ranks. As a general he took control of Kentucky, most of Tennessee, won major battles at Shiloh and seized Vicksburg, gaining control of the Mississippi River and dividing the Confederacy. These victories, combined with those in the Chattanooga Campaign, persuaded Abraham Lincoln that Grant was the general best suited to lead the combined Union armies. Grant was promoted to Lieutenant General, a rank previously reserved for George Washington, in March 1864. He confronted Robert E. Lee, trapping his army in their defense of Richmond, while coordinating a series of campaigns in other theaters. In April 1865 Lee surrendered to Grant at Appomattox, effectively ending the war. Historians have hailed Grant's military genius, and his strategies are featured in military history textbooks. After Lincoln's assassination, Grant became increasingly disillusioned by President Andrew Johnson's approach to Reconstruction, and drifted toward the "Radical" Republicans. Elected president in 1868, the youngest man in the office to that date, Grant stabilized the post-war national economy, created the Department of Justice, used the military to enforce laws in the former Confederacy and prosecuted the Ku Klux Klan. Grant strengthened the Republican Party in the South and signed three civil rights acts into law. In 1871 he created the first Civil Service Commission. The Democrats and Liberal Republicans united behind Grant's opponent in the presidential election of 1872, but Grant was re-elected by a large margin. Generally regarded as personally honest, he nonetheless faced accusations of corruption within his administration. Grant's Peace Policy with Native Americans was a bold departure for its time. In foreign policy, Grant sought to increase trade and influence while remaining at peace with the world. With Secretary of State Hamilton Fish, he successfully resolved the Alabama claims with Great Britain. Grant and Fish negotiated a peaceful resolution with Spain over the Virginius Affair. Congress rejected Grant's initiative to annex the Dominican Republic, creating a rift among Republicans. In national affairs, Grant's administration implemented a gold standard and sought to strengthen the dollar. Grant's immediate response to the Panic of 1873 failed to halt a severe industrial depression that produced high unemployment, deflation, and bankruptcies. When he left office in 1877, Grant embarked on a two-and-a-half-year world tour that captured favorable global attention for him and the United States. In 1880, Grant was unsuccessful in obtaining the Republican presidential nomination for a third term. Facing severe investment reversals and dying of throat cancer, he wrote his memoirs, which proved to be a major critical and financial success. His death in 1885 prompted an outpouring in support of national unity. Historical assessments of Grant's legacy have varied considerably over the years. Although Grant's presidency has popularly been criticized for its Gilded Age scandals, modern scholarship regards him as an embattled president who performed a difficult job during Reconstruction. Although early rankings of Presidents rated his administration among the worst, modern appreciation for Grant's accomplishments has greatly improved his historical reputation.
This CDV is in very nice condition with E&HT Anthony backmark from Photographic Negative in Brady's National Portrait Gallery. For this CDV $165.00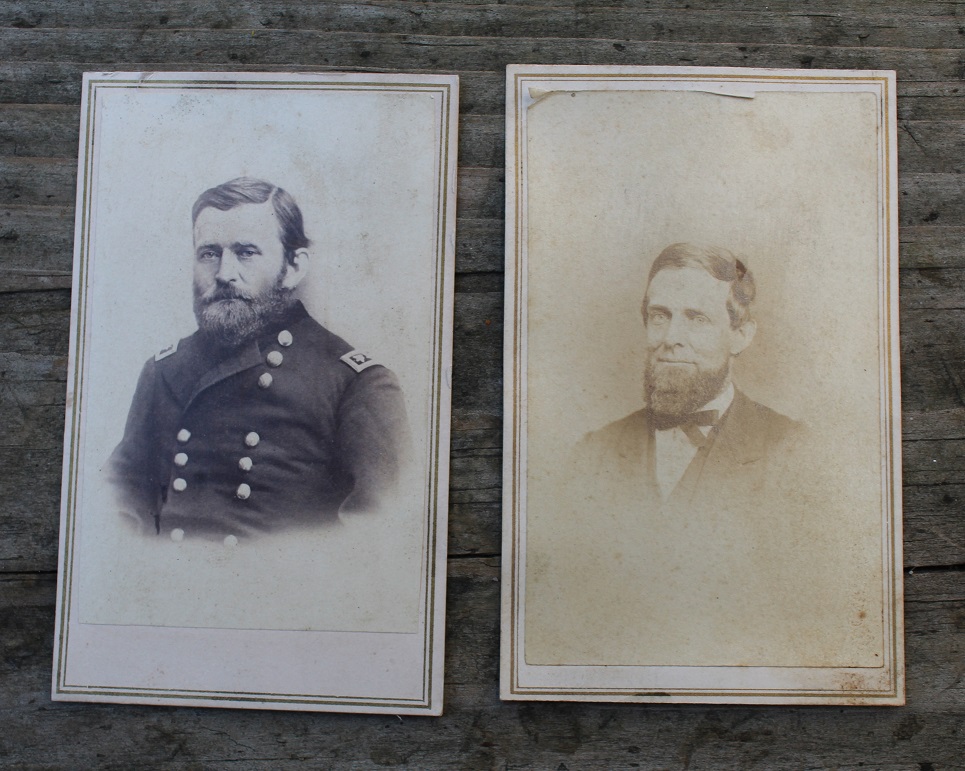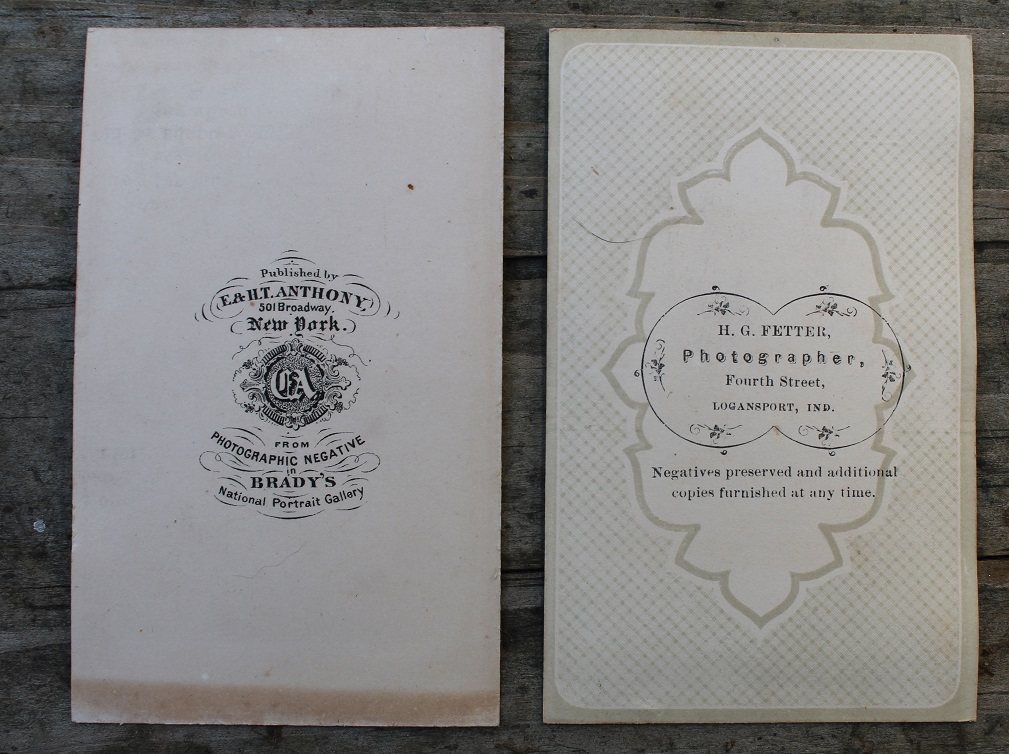 Image 125
Here we have a 1/6th plate tintype of two armed Rascals from the 1870's-1880's! These two are sitting ther quite cavalier with their Stetsons in their hands. There seems to be ribbons or flowers on their lapels so I think they are at a convention or gathering of some kind. The younger man has a pistol stuck in the waistband of his trousers while the other older man has one stuck in his belt. It's obvious that they wanted the camera to pick up the revolvers as their coats are pulled back to make sure that they were exposed! Tough guys!!! Comes in a half leatherette case. $125.00
Image 124
T Here is a Civil War Era Picture hanger that was driven into the wall to support a large photograph or picture. You can see these in period photographs from the 1800's with large photographs suspended from them. This one is very ornate being over 3 inches long . This is a nice type of piece you don't run into often. $45.00
Photography 027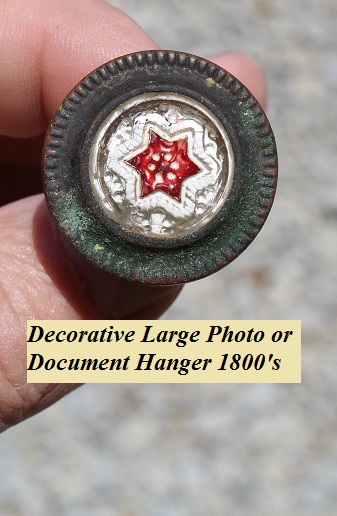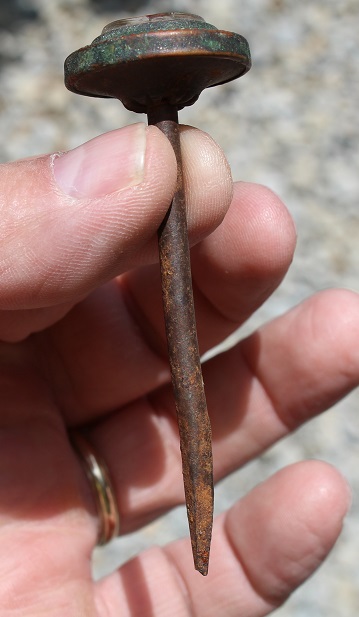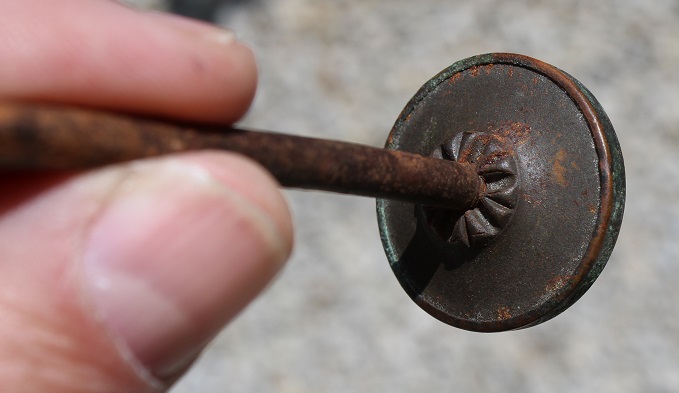 Image 123
T Here is a stereo view of The Gold Rush in Alaska circa 1900. It shows scores of men traversing up the Calikoot Pass in the Klondike in search for Gold! This first view shows them going up from the base camp. The second stereo view shows the men tramping up the pass from on top of the Calikoot Pass. For each $19.50
Photography 025
AND
Image 122
Here is the first photo from the Winchester Paper Grouping that I picked up recently. I believe all photos are from the Southwest.
This one is probably a graduating class from the early 1900's and it shows five of the students dressed in U.S. Military Uniforms of around that era I believe. There also seems to be a couple of Hispanic or Indian boys in the photo. This photo says on the back Public School Las Cruces (New Mexico). (The following photo is taken at the same building.) 4 ¾ X 6 ¾ sized image on an 8 X 10 inch mat. Nice and clear!! $45.00
Photography 024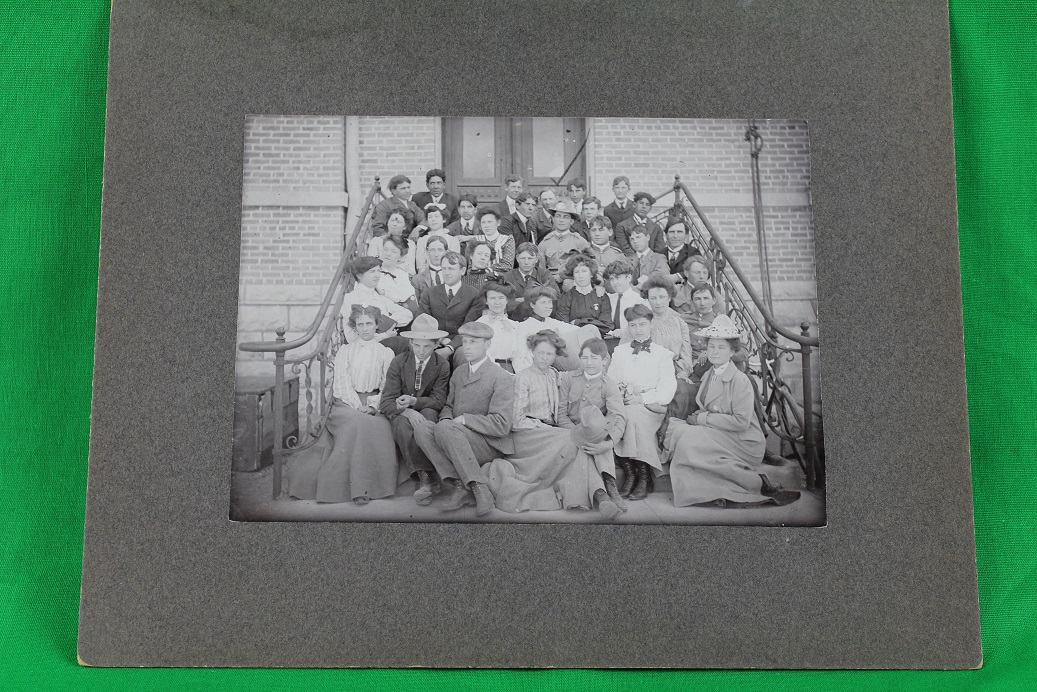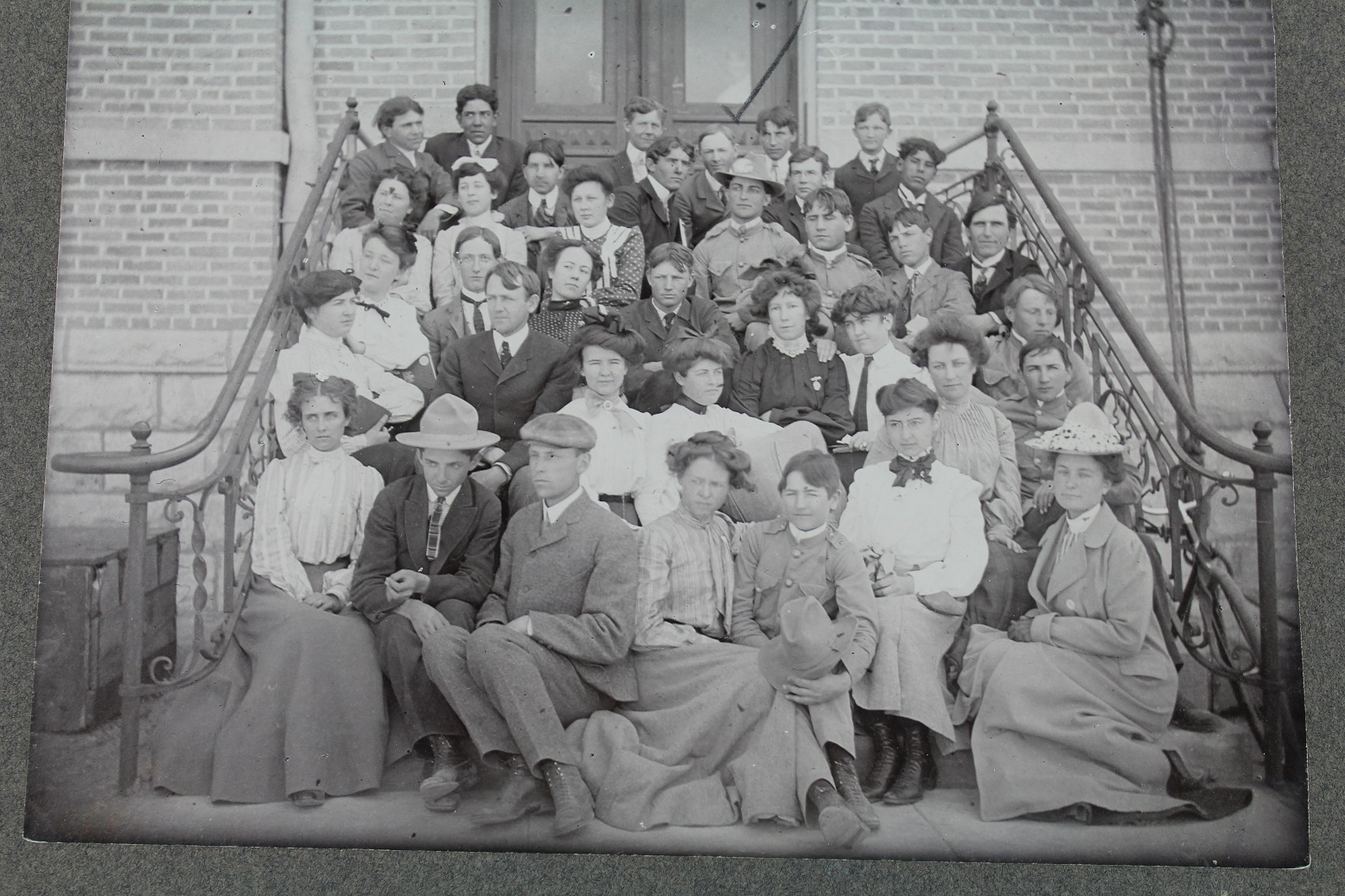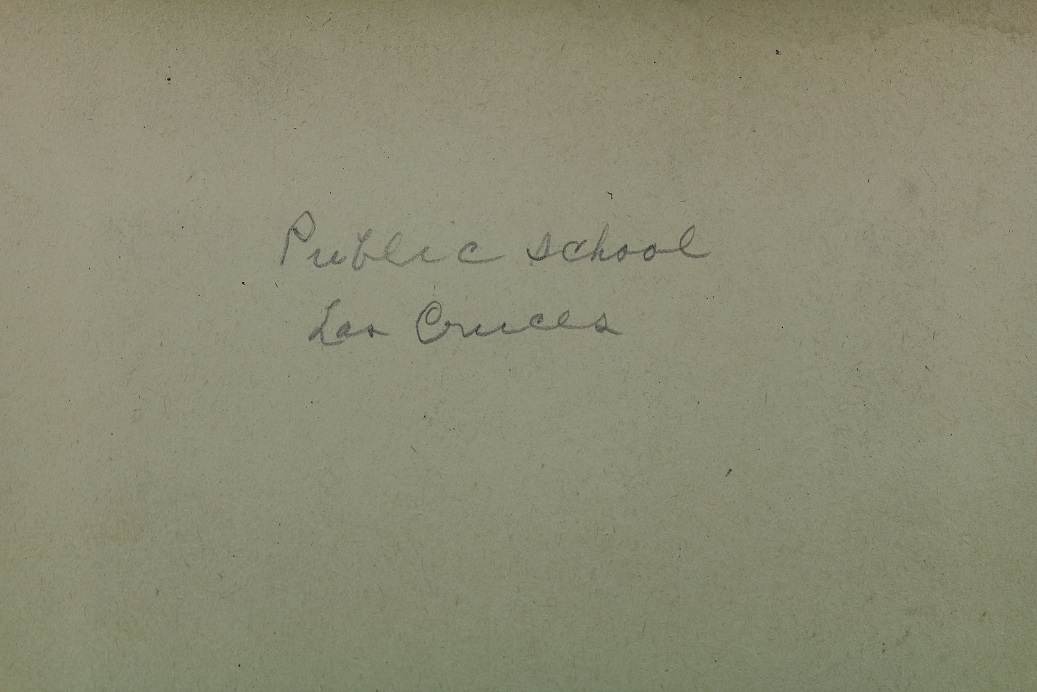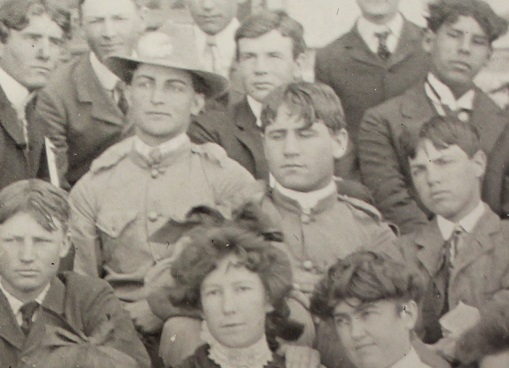 Image 121
This next photograph is on an 8 ¼ inch by 11 mat and the photograph itself measures 9 ¼ X 6 ½ with a little damage to the lower right but does not get into the subject material. The front of the brick building has on it PUBLIC SCHOOL 1882 while in pencil on the back this albumin is dated to 1897.. This is an elementary school photograph with a ton of kids in it. Most seem to be Hispanic with some native americans and Caucasians. There are at least two Nuns in the Photo making it a Catholic School which is typical for the South West. This photo is nice and clear and has a bunch of good looking kids. For this one $45.00
Photography 022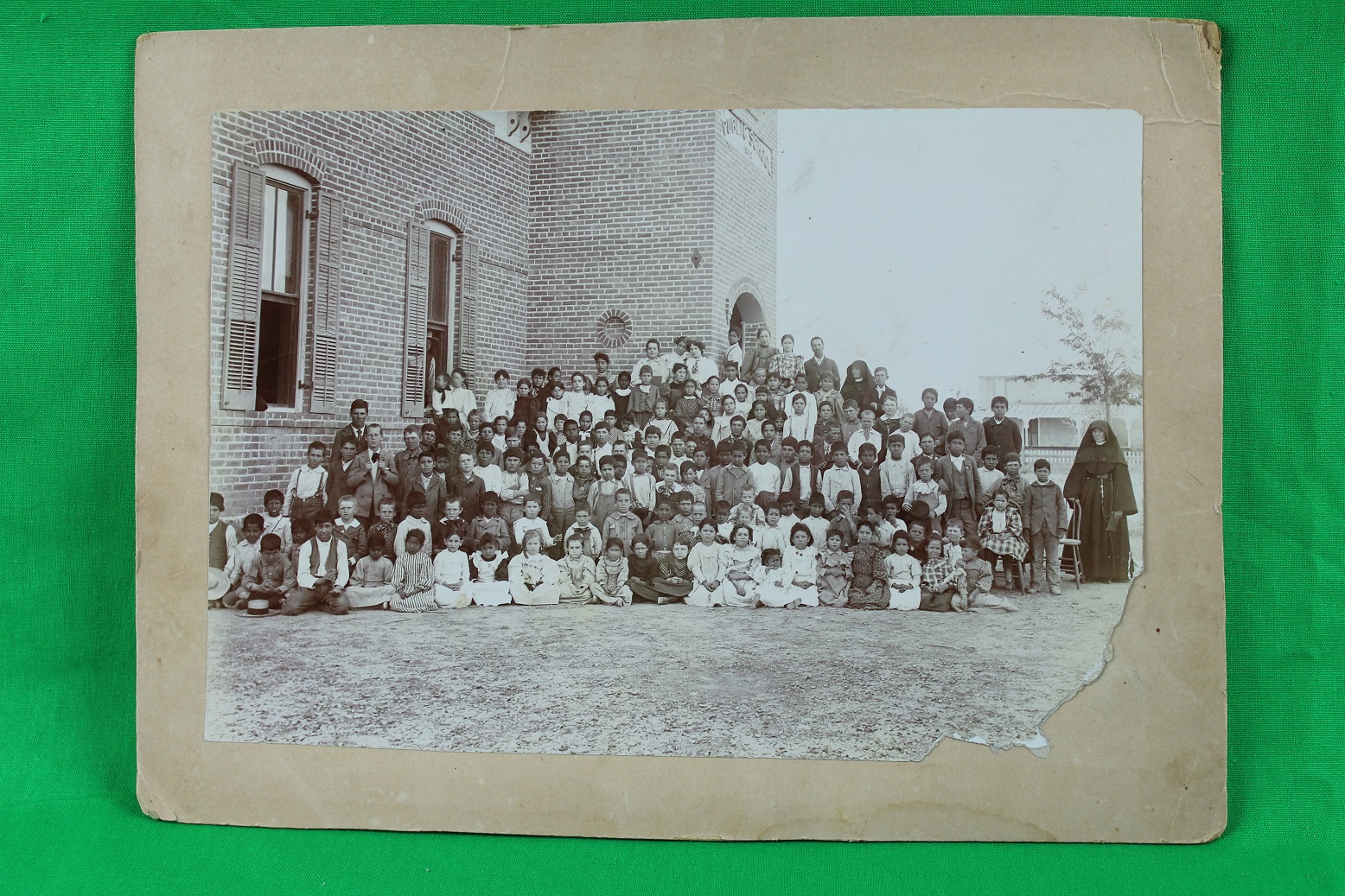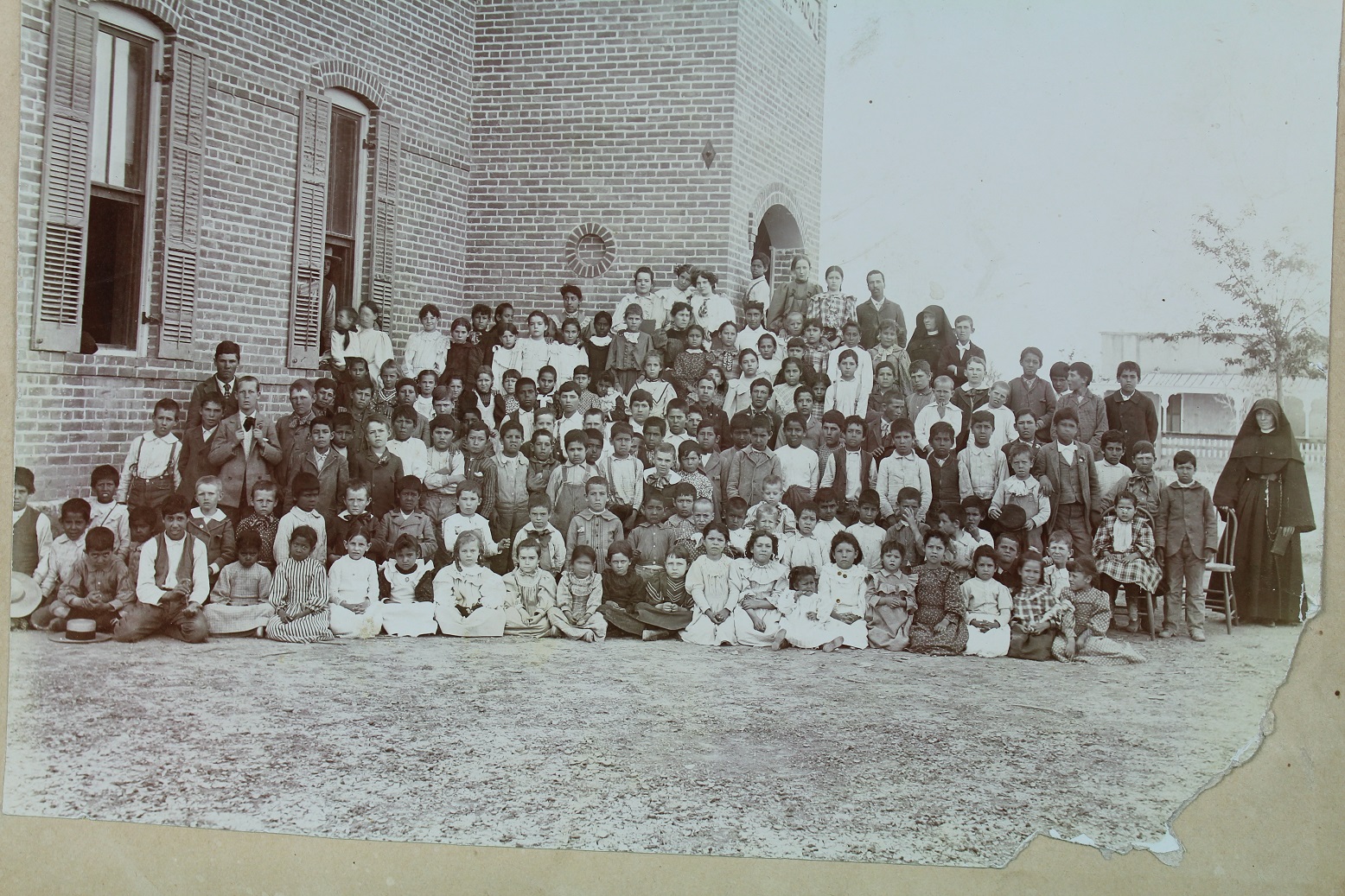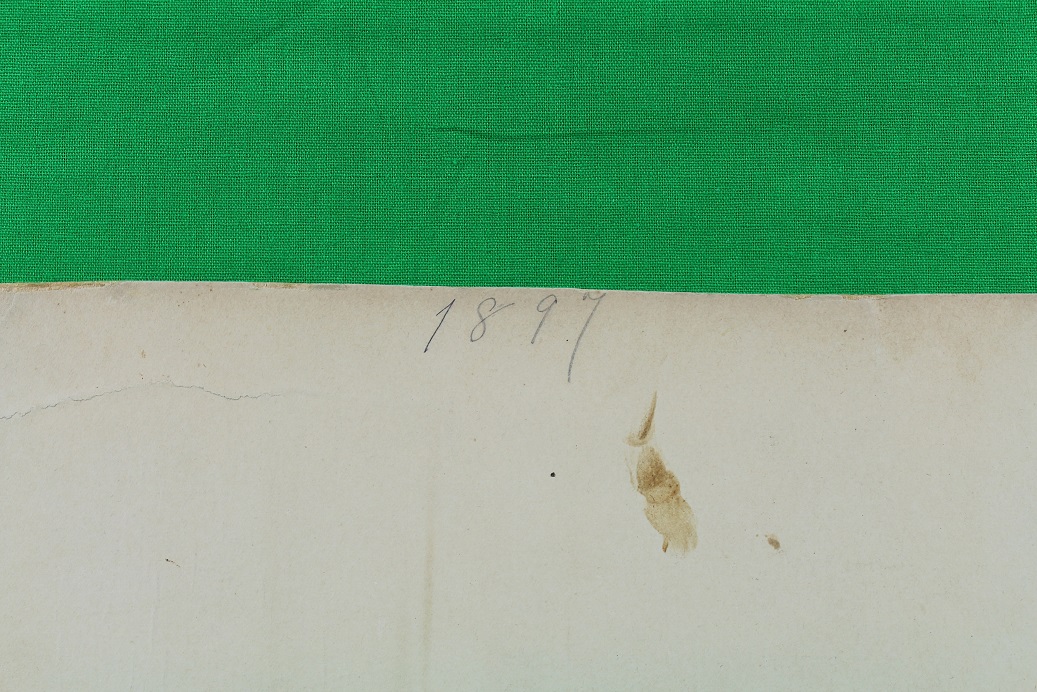 Image 120
This last photo is on a 8 X 10 inch mat with the actual photo being 4 ¾ X 7 showing a large brick building that is id'd on the back as the Rouault Bldg- replaced old store. Might not be a coincidence that our subject Theo Rouault has the same last name as the building. This building houses the FIRST STATE BANK and there are Ringling Bros Circus signs on the building. It looks like work is still being done on the building and it has an unusual pulley arrangement for moving the street light overhead. $45.00
Photography 021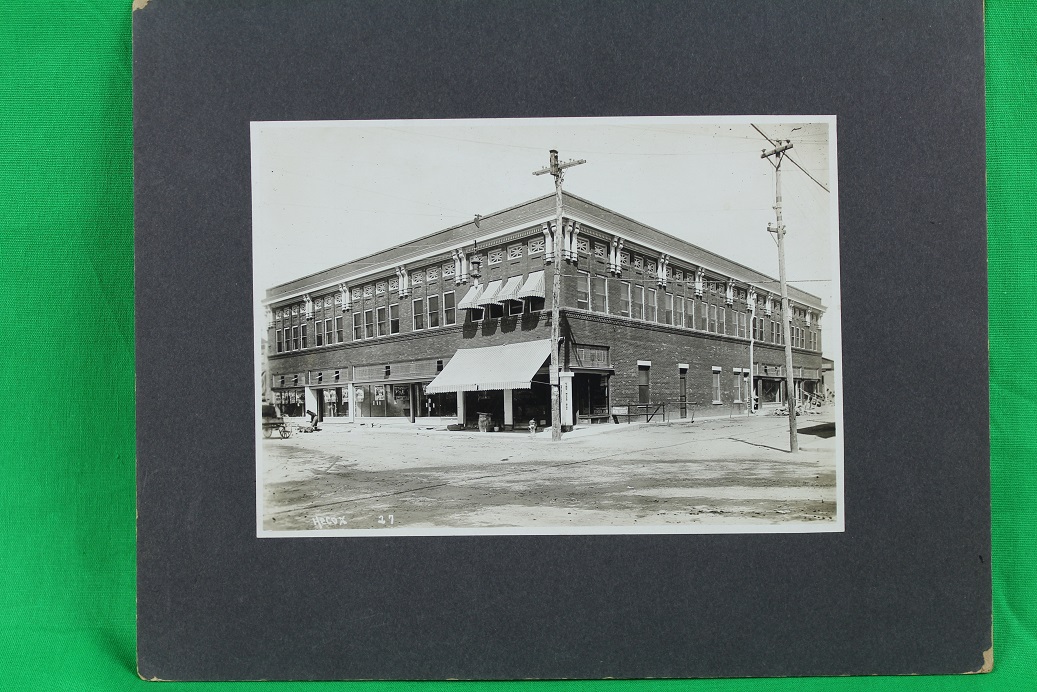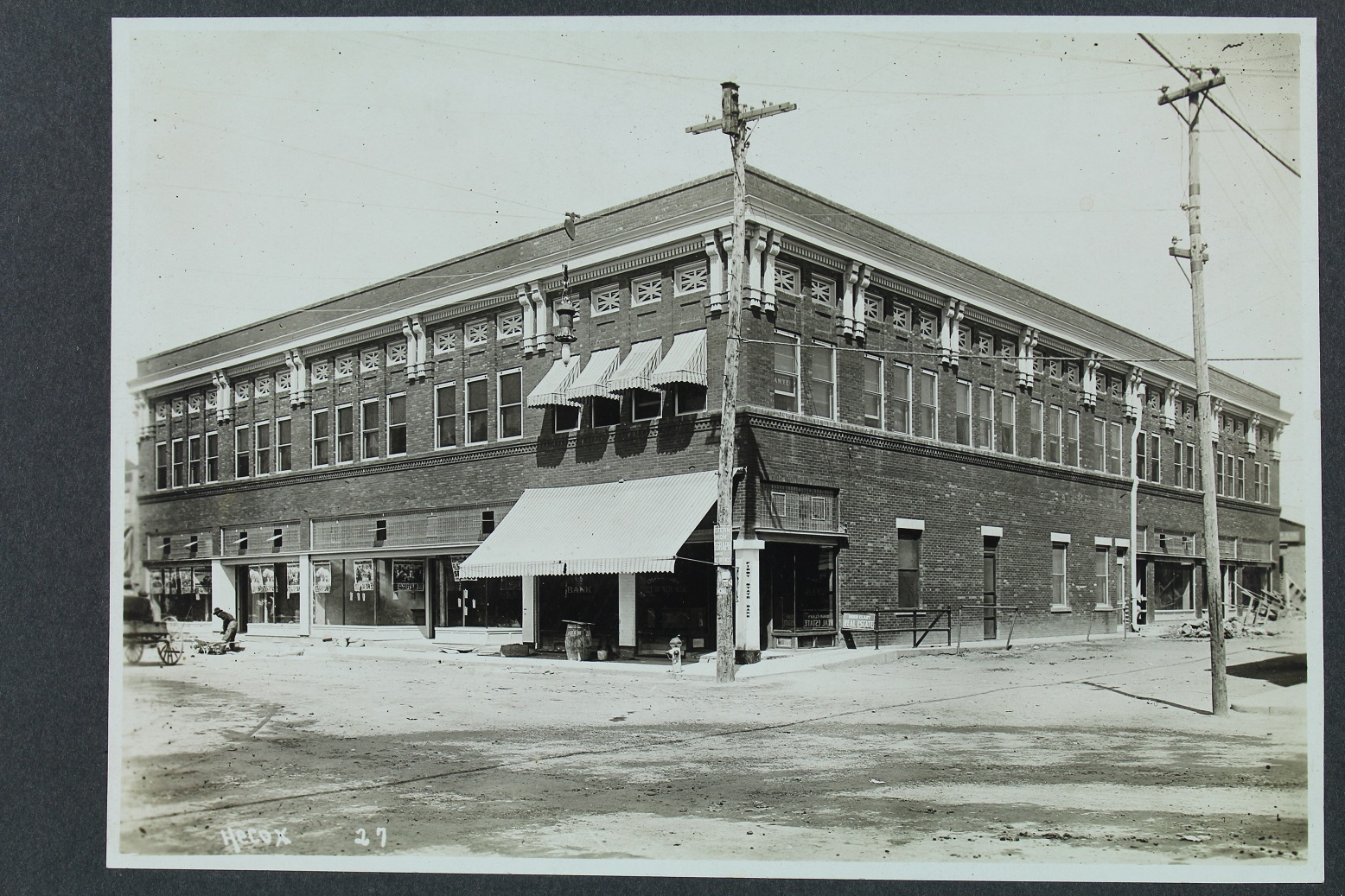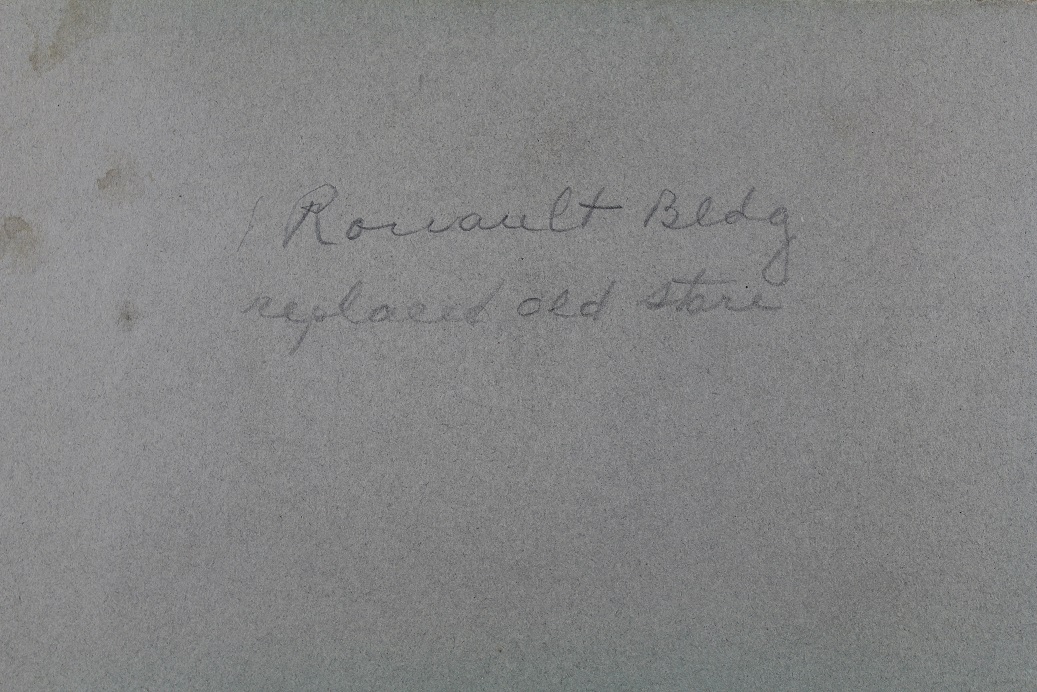 We just picked up some original Civil War Cdv's. Here they are:
Image 119
The first one is a mourning CDV that was made in 1865 following the death of President Lincoln. The maker / artist is S.J.Ferris. The card is approximately 2 3/8ths inches wide by 4 inches long. There is nothing on the reverse. For this historic CDV $65.00
Photography 020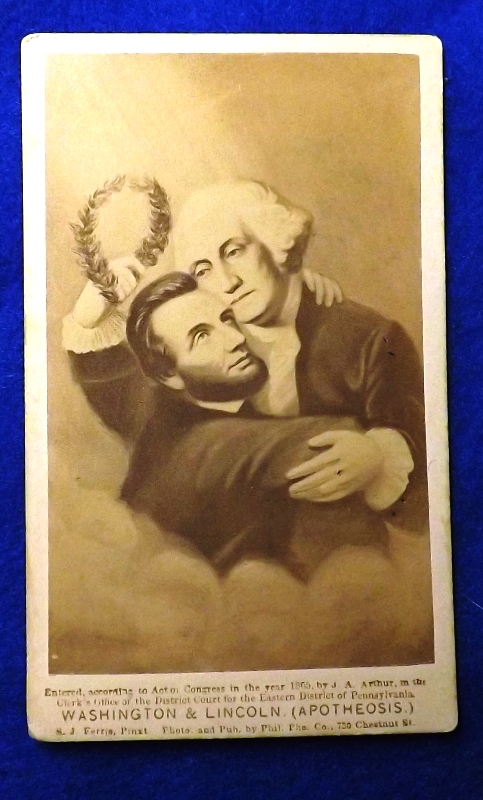 Image 118
Here is an Abraham Lincoln cdv with his name printed on the bottom. This is what's known as a photoengraveur meaning that they used a real photograph of the person but did some engraving to his clothes to finish it. The reverse of the card is blank. 2 3/8ths inches wide by 4 inches long. For this CDV $35.00
Photography 019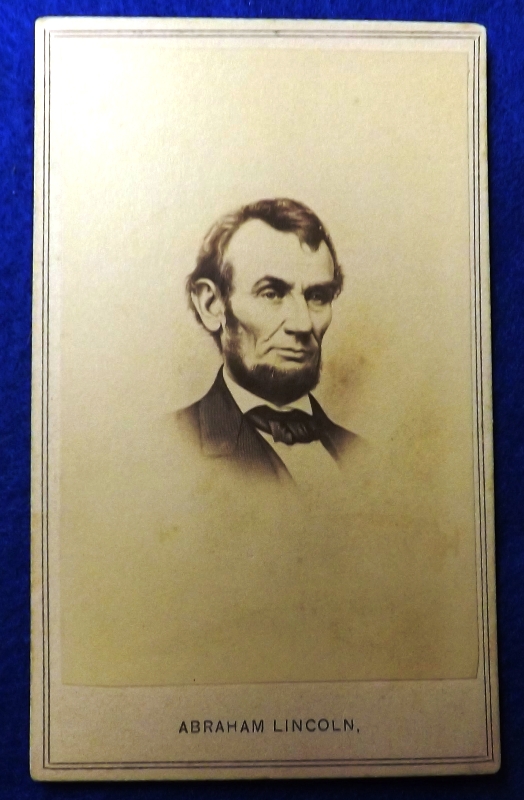 Image 117
Here we have a cdv ofMajor General William Tecumseh Sherman of Sherman's March to the Sea fame with his name printed on the bottom. There is nothing on the reverse. This card is also a photoengraving like the Lincoln image above. Nice one. $65.00
Photography 018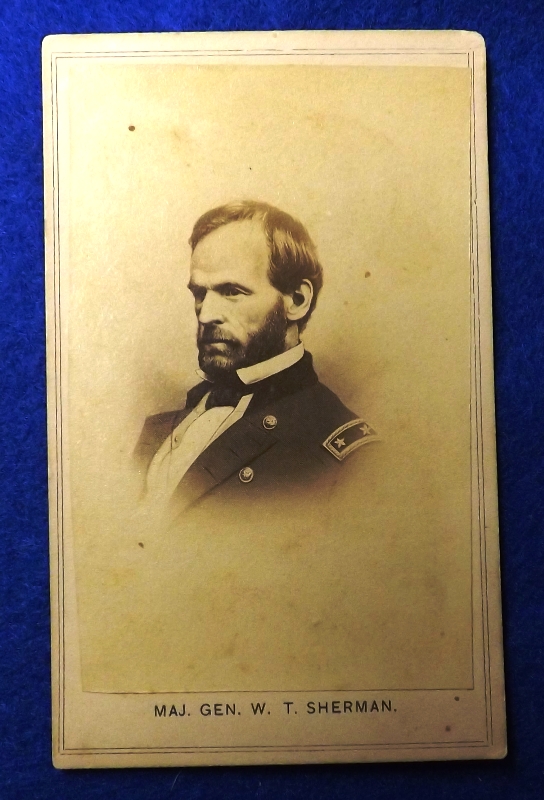 Image 116
Here we have an actual photograph of Major General Philip Henry Sheridan 'Little Phil' sitting with his arms folded wearing his unusual hat. He has a fine moustache but no beard in this one. His name and rank are printed below the image on this CDV. The reverse of the CDV is blank. $125.00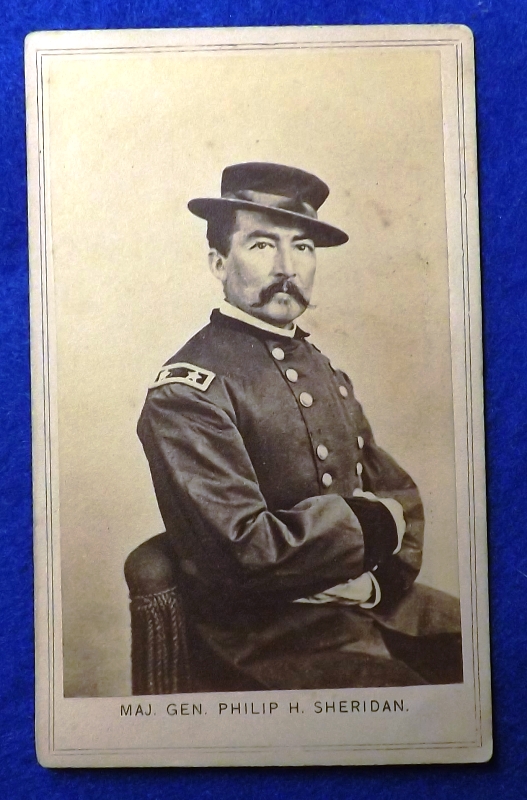 CONSIGNMENT
Image 115
Here's a little paper grouping that consists of an original CDV of Maj. General McClellan and an early GAR postcard. The CDV of Gen. McClellan is actually a photo engraving of the General and it's really pretty good. Only under close examination do you find out it's actually the photo engraving. At the bottom of the card is MAJ. GEN. Mc CLELLAN along with some thumbtack holes top and bottom. On the back of the card is printed PUBLISHED BY R.R.LANDON, AG'T. 88 LAKE ST., CHICAGO -- AGENTS WANTED. This type of CDV is on a very thin for the period photo card stock. It's not heavy like other CDV's where the image is glued to a heavy card. The postcard shows the 2nd type GAR Badge on the front that has the Eagle with very pointed wings. There is some wear to the gold portion of the eagle and star but not too bad. The reverse shows the typical type of post card and states in the stamp portion - PLACE STAMP HERE.-UNITED STATES AND CANADA, ONE CENTL-FOREIGH, TWO CENTS. so it's an early one. The card is in overall good condition. These two items came to me together so I'll keep them together. This CDV and Postcard can be yours for $45.00 photography 015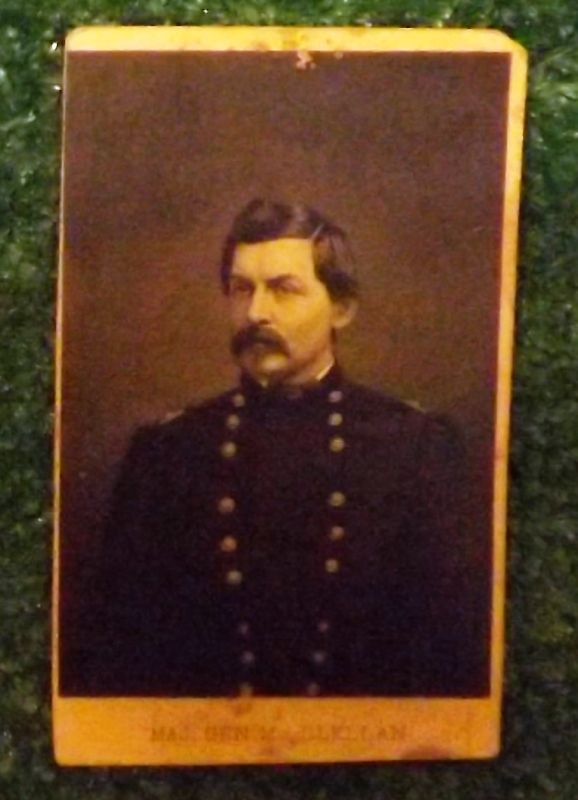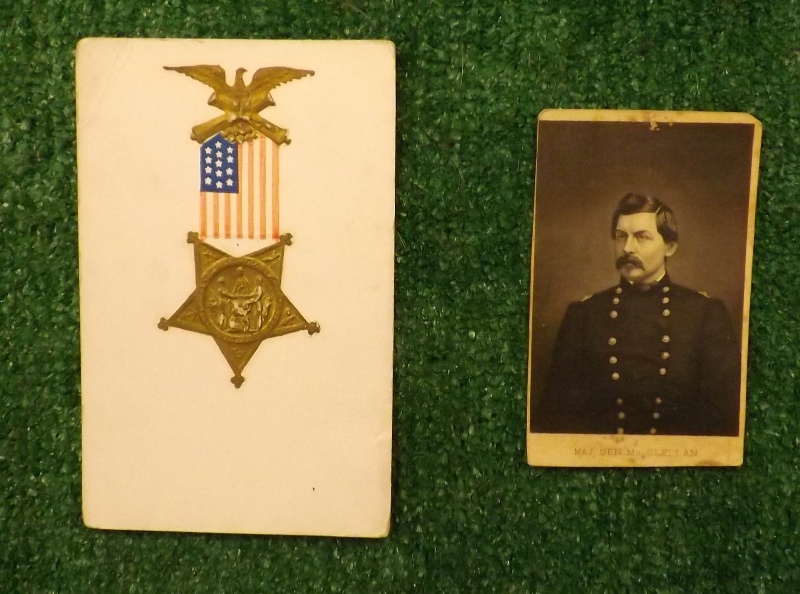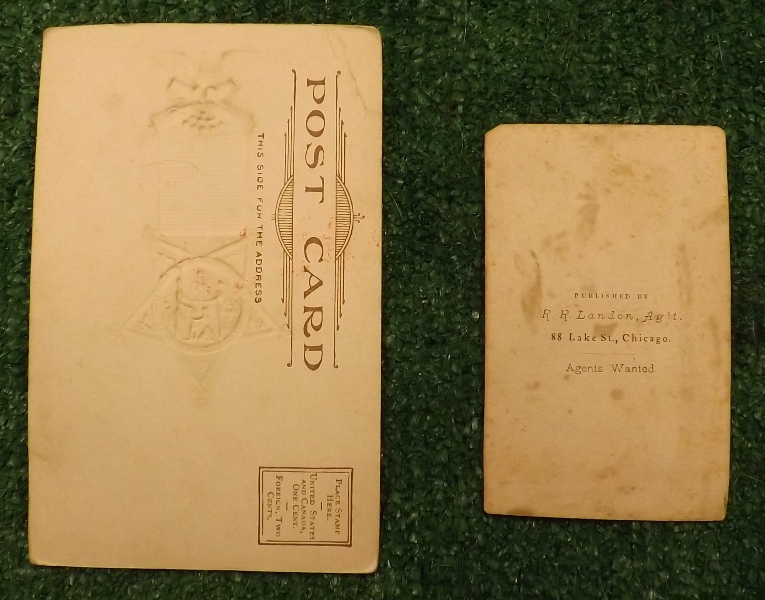 Image 114
CIVIL WAR GROUPING FROM HIATT'S THAT LIVED IN WINCHESTER, INDIANA!
Here is a small grouping that I recently picked up. This grouping is from Winchester, Indiana and there was an auction that took place there a while back that had many Civil War items belonging to the Hiatt family. This grouping consists of a soldier CDV on thin card that is marked on the back Jonathan Hiatt - 1 doz.cop (b) - today more? I think this is the orignal Civil War CDV that was kept in the files at the Hiatt Photographic Studio, his family's business. The cabinet card is an 1880's copy of the original CDV probably to mark his passing as on the back of the Winchester lodge No. 121 International Order of Odd Fellows there is an IN MEMORIAM which marks the passing of the old soldier. I don't know if this CDV is of Jonathan Hiatt or for him. The other CDV is suppose to be a relative in the same outfit with a b/m of Paris, KY. This CDV is of his Captain. Here is Jonathan's service record:
Residence Wabash IN; Enlisted on 9/5/1861 as a Private. On 9/5/1861 he mustered into "F" Co. IN 8th Infantry He Re-enlisted on 1/1/1864 He was Mustered Out on 8/28/1865 at Savannah, GA Promotions: * Corpl Sources used by Historical Data Systems, Inc.:
Eighth Infantry INDIANA (3 month and 3 years) Eighth Infantry. Cols., William P. Benton, David Shunk, John R. Polk, Lieut.-Cols., Silas Colgrove, David Shunk, Charles S. Parrish, Alexander J. Kenny, John R. Polk, Joseph M. Thompson; Majs., David Shunk, Charles S. Parrish, Thomas J. Brady, Alexander J. Kenny, John R. Polk, Joseph M. Thompson Jacob Widaman. This regiment was first organized for the three months' service at Indianapolis, in April, 1861 and was mustered in April 25. It left the state on June 19, and moved to Clarksburg, thence to Buckhannon, W. Va., where it was assigned to Gen. Rosecrans' brigade. It participated in the battle of Rich Mountain and then went into camp at Beverly. It was mustered out at Indianapolis, Aug. 2, 1861. Its original strength was 784, and it lost by death, 7; desertion, 15; unaccounted for, 1. The regiment was at once reorganized at Indianapolis, and was mustered in Sept. 10, for three years. It left the state the same day and joined Fremont's Army at St. Louis, Mo., from which place it moved to Jefferson City and was assigned to Col. Jefferson C. Davis' brigade. It moved to Springfield, thence to Otterville, and on Dec. 17, marched to Warrensburg and assisted in capturing 1,300 of the enemy. It was in camp at Otterville until Jan. 24, 1862, when it moved to Springfield, joining Gen. Curtis' command, and thence to Cross Timbers, Ark. It participated in the battle of Pea Ridge, was then in camp until April, and moved then to Sulphur Rock, Ark. On June 22, it moved for Helena, skirmished at the White River, was in the engagement at Cotton Plant July 7, and reached Helena July 13. It was in a skirmish at Austin in August, was sent to Sulphur Hill, near St. Louis, Oct. 6, and was engaged in various movements during the fall and winter. It was ordered to join Grant's forces at Milliken's Bend, La., Mar. 5, 1863, and was assigned to Benton's brigade, Carr's division, 13th corps. It was engaged at Port Gibson, Jackson, Champion's Hill, Black River bridge, and in the siege of Vicksburg, losing 117 in killed and wounded in the assault of June 22. On July 5, it moved to Jackson returning on the 24th and remained at Vicksburg until Aug. 20, when it moved to Carrollton to join Gen. Banks in his campaign through the Teche country. It took part in the capture of the fort on Mustang Island, Tex., then moved to Indianola, where 417 out of 515 reenlisted as veterans, and were furloughed home in April, 1864. Upon returning to New Orleans it embarked, July 27, for Morganza Bend, and was in the engagement at the Atchafalaya the next day. It was then ordered to Washington, D. C., reaching there Aug. 12, and marching to Berryville, Va., was assigned to the 19th corps with which it participated in the Shenandoah Valley campaign. It was engaged at the Opequan, Fisher's Hill, and Cedar Creek, and left Virginia, Jan. 6, 1865, by steamer for Savannah, Ga. It was on duty in Georgia until Aug. 28, 1865, when it was mustered out. Its original strength was 1,046, and it gained by recruits, 190; reenlistments, 46; unassigned recruits, 17; total, 1,299. It lost by death, 245; desertion, 75; Source: The Union Army, vol. 3
There's no mention of doing service time in KY so I'm not sure on the second CDV of the Captain. This grouping warrants further research but I just don't have time to do it. The grouping comes with a couple of other relatives as well. You might uncover something very interesting here! For the grouping $295.00 photography 014
Image 113
Here we have a grouping for Capt. William J. Hahn of the 32nd Indiana Infantry. The 32nd Regiment Indiana Infantry was also known as the 1st German Regiment (an all-German regiment). Governor Oliver P. Morton commissioned August Willich of Cincinnati as Colonel of the 32nd Indiana. Thirty~second Infantry INDIANA (3 YEARS) Thirty~second Infantry.ÄCols., August Willich, Henry Van Trebra Francis Erdelmeyer; Lieut.-Cols., Henry Von Trebra, William Schnacken- burg, Francis Erdelmeyer, Jacob Glass, William G. Mank, Hans Blume Majs., William Schnackenburg, Charles Schmitt, Jacob Glass, William G. Mank, Peter Cappell, Hans Blume. This regiment was organized at Indianapolis in 1861, and was fortunate in its choice of a commanding-officer, Col. Willich having been a distinguished officer of the German army. The regiment was mustered in Aug. 24, and left the state in the latter part of September, going to Louisville, thence to New Haven and shortly afterward to Camp Nevin. It moved for Munfordville in December as part of R. W. Johnson's brigade, McCook's division, and was engaged in picket duty on the south side of the Green River. Four companies of the regiment were attacked near Rowlett's Station by Gen. Hindman with 1,100 infantry, 4 pieces of artillery, and a battalion of Texas rangers, but one company forced the attacking party back, while another sustained a similar attack. They were quickly reinforced by the other two companies, and the regiment speedily advanced driving the enemy back. The Texas rangers then charged at several points in succession, but a hollow square was formed which withstood the cavalry and the subsequent infantry charge, the enemy being compelled to leave the field with 33 killed and 50 wounded. The 32nd lost 10 killed, 22 wounded and 8 missing, and was highly complimented in special orders for its gallantry. It was stationed at Bowling Green and Nashville in Feb. 1862, participated in the battle of Shiloh, having 6 killed, 93 wounded and 4 missing, was next in the siege of Corinth, and later moved to Stevenson, Ala., and Nashville. Col. Willich was appointed a brigadier-general on July 17, and was suceeded as colonel by Lieut.-Col. Von Trebra. The regiment marched with Gen. Buell's army to Louisville, joined the pursuit of Bragg through Kentucky then moved for Murfreesboro and participated in the battle of Stone's River losing 12 killed, 40 wounded and 115 missing. It remained at Murfreesboro until June, then moved towards Chattanooga, was engaged at Liberty Gap, took part in the battle of Chickamauga, losing 21 killed, 78 wounded, and 17 missing, and also participated at Missionary Ridge in November. It marched to the relief of Gen. Burnside at Knoxville and remained in that vicinity until the spring of 1864. In the Atlanta campaign it was engaged at Resaca, Allatoona Hills, Dallas Powder Springs, Peachtree Creek, and many minor engagements. After the capture of Atlanta, the non-veterans were mustered out at Indianapolis, Sept. 7, and the recruits were organized into a battalion of four companies, in command of Lieut.-Col. Blume. The battalion accompanied the 4th corps to Tennessee and was left at Chattanooga until June, 1865, when it was sent to Texas with the 4th corps. It was mustered out Dec. 4, 1865. The original strength of the regiment was 899; gain by recruits, 484; reenlistments, 503; total, 1,886. Loss by death, 222; desertion, 171; unaccounted for, 50. The original strength of the battalion was 418, gain by recruits, 256; total, 674; loss by death, 32; desertion, 1, unaccounted for, 11. Source: The Union Army, vol. 3
This lot consists of a CDV of Capt. Hahn which has family notations on the reverse. The card is bent but not completely broken apart. The image is not compromised. The documents consist mainly of 7 post war documents in which he was trying to get pay. Documents range in date from 1865 thru 1866. One document which is quite large states that he was intitled to pay from the 1st day of July 1st, 1864 to September 7th, 1864 for him and his private negro servant, James Dogherty. Evidently he was not paid for this time. Take a look at the pics. With a little research one may turn up something else. For the lot: $325.00 photography 011
Image 112
Here we have a CDV of a young soldier in short coat and slouch hat. The backmark is from Lafayette, Indiana so it is probably the 17th Indiana Mounted Infantry or more likely, the 72nd Indiana Mounted Infantry. The 17th and the 72nd fought alongside each other but the 17th was mustered in Indianapolis and the 72nd was mustered in Lafayette. These regiments were a part of Wilder's Brigade and carried Spencer Rifles. The 3 cent revenue stamp of the reverse has the date of '65 on it so this would have been when their term of enlistment was up. Here's a capsule history of the 72nd:
72nd Regiment Infantry Organized at Lafayette, Ind. Moved to Indianapolis, Ind.. August 11, and there mustered in August 16, 1862. Left State for Lebanon, Ky., August 17. Attached to 40th Brigade, 12th Division, Army of the Ohio, to November, 1862. 2nd Brigade, 5th Division, Center 14th Army Corps, Army of the Cumberland, to January, 1863. 2nd Brigade, 5th Division, 14th Army Corps, to June, 1863. 1st Brigade, 4th Division, 14th Army Corps, to October, 1863. Wilder's Mounted Infantry Brigade, Cavalry Corps, Army of the Cumberland, to December, 1863. 3rd Brigade, 2nd Cavalry Division, Army of the Cumberland, to January, 1864. 3rd Brigade, Grierson's Cavalry Division, 16th Army Corps, Army of the Tennessee, to March, 1864. 3rd Brigade, 2nd Cavalry Division. Army of the Cumberland, to October, 1864. 1st Brigade, 2nd Division, Wilson's Cavalry Corps, Military Division Mississippi, to June, 1865. SERVICE.--Duty at Lebanon Junction, Ky., September 6-22, 1862. Moved to Louisville September 22, and to Elizabethtown, West Point, September 30-October 5. Pursuit of Bragg and operations against Morgan October 6-20. March to Bowling Green, Ky., October 26-November 3, thence to Scottsboro November 10. To Gallatin November 26 and to Castillian Springs November 28. To Bledsoe Creek December 14. Operations against Morgan December 22, 1862-January 2, 1863. Moved to Cave City, thence to Murfreesboro, Tenn., January 2-8, 1863, and duty there until June. Scout to Woodbury March 3-8. Regiment mounted March 17. Expedition to Carthage, Lebanon and Liberty April 1-8. Expedition to McMinnville April 20-30. Occupation of McMinnville April 22. Woodbury May 24. Liberty June 4. Middle Tennessee or Tullahoma Campaign June 23-July 7. Bay Spring Branch June 24. Hoover's Gap June 24-26. Occupation of Manchester June 27. Raid on Bragg's communications June 28-30. Dechard June 29. Raid to Lynchburg July 16-17. At Dechard July 27-August 16. Passage of the Cumberland Mountains and Tennessee River and Chickamauga (Ga.) Campaign August 16-September 22. Sequatchie River August 19. Wild Cat Trace August 20. Friar's Island August 25 and September 9. Capture of Chattanooga September 9. Lee and Gordon's Mills September 11. Ringgold September 11. Leet's Tan Yard September 12-13. Pea Vine Bridge and Alexander's Bridge September 17. Reed's Bridge and Dyer's Bridge September 18. Battle of Chickamauga September 19-21. Operations against Wheeler and Roddy September 29-October 17. Thompson's Cove, Cumberland Mountains, October 3. Murfreesboro Road, near McMinnville, and McMinnville October 4. Sims' Farm, near Shelbyville, and Farmington October 7. Shelbyville Pike October 7. Expedition from Maysville to Whitesburg and Decatur November 14-17. Moved from Pulaski to Colliersville, Tenn., December 31, 1862-January 14, 1864. Shoal Creek, Ala., January 24 (Detachment). Florence January 24. Athens January 25 (Detachment). Smith's Expedition from Colliersville to Okolona, Miss., February 10-26. Raiford's Plantation near Byhalia February 10. Ivey's Hill near Okolona February 22. Moved to Mooresville March 5-26, thence to Columbia April 3-8. March to Lafayette, Ga., April 30-May 9. Atlanta Campaign May to September, 1864. Battle of Resaca May 14-15. Near Dallas May 24. About Dallas May 25-June 5. Big Shanty June 9. Operations about Marietta and against Kenesaw Mountain June 10-July 2. Noonday Creek and Powder Springs June 19-20. Assault on Kenesaw June 27. On line of Nickajack Creek July 2-5. Rottenwood Creek June 4. Chattahoochie River July 5-17. Garrard's Raid to Covington July 22-24. Garrard's Raid to South River July 27-31. Flat Rock July 28. Siege of Atlanta August 1-25. Operations at Chattahoochie River Bridge August 26-September 2. Operations in Northern Georgia and North Alabama against Hood September 29-November 3. Skirmishes near Lost Mountain October 4-7. New Hope Church October 5. Dallas October 7. Near Rome October 10-11. Narrows October 11. Coosaville Road near Rome October 12-13. Near Summerville October 18. Blue Pond and Little River, Ala., October 21. King's Hill October 23. Ladiga, Terrapin Creek, October 28. Dismounted November 1, and ordered to Nashville, thence to Louisville, Ky., and duty there until December 28. March to Nashville, Tenn., December 28, 1864, to January 8, 1865, thence to Gravelly Springs, Ala.. and duty there until March, 1865. Wilson's Raid from Chickasaw. Ala., to Macon, Ga., March 22-April 24. Plantersville and near Randolph April 1. Selma April 2. Montgomery April 12. Columbia April 16. Capture of Macon April 20. Pursuit of Jeff Davis May 6-10. Moved to Nashville, Tenn., May 23-June 15. Mustered out June 26, 1865. Regiment lost during service 2 Officers and 26 Enlisted men killed and mortally wounded and 2 Officers and 130 Enlisted men by disease. Total 160.
This young soldier has the look of having 'seen the elephant'. He is wearing the short coat of the mounted infantry with sky blue trousers and slouch hat. The image is very nice with a little piece of the lower left corner missing that you can see in the pics. A great unit with a great history! $145.00 photography 09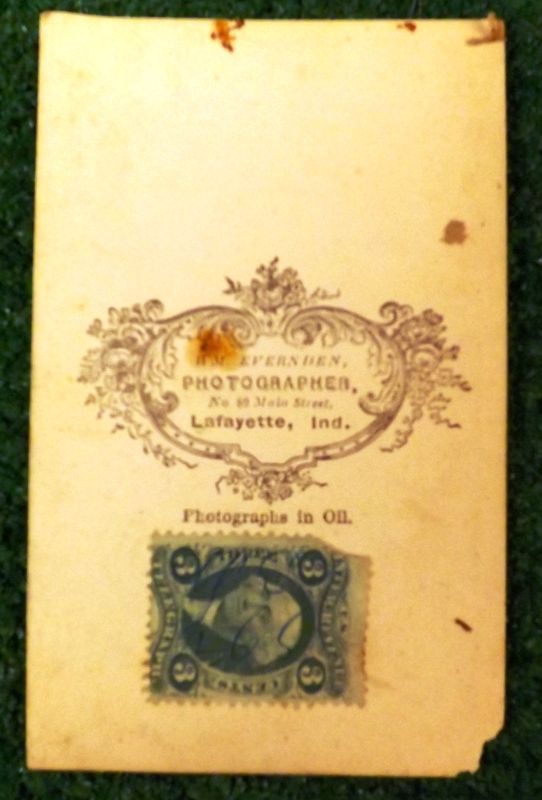 Image 111
Here are two 1800's CDV's of German soldiers. One is backmarked C.G.MARKERT of ALTONA and one is backmarked HEINRICH HIRSCHFELD of BERLIN. They are both in pretty good condition with some foxing. For the pair $35.00 photography 06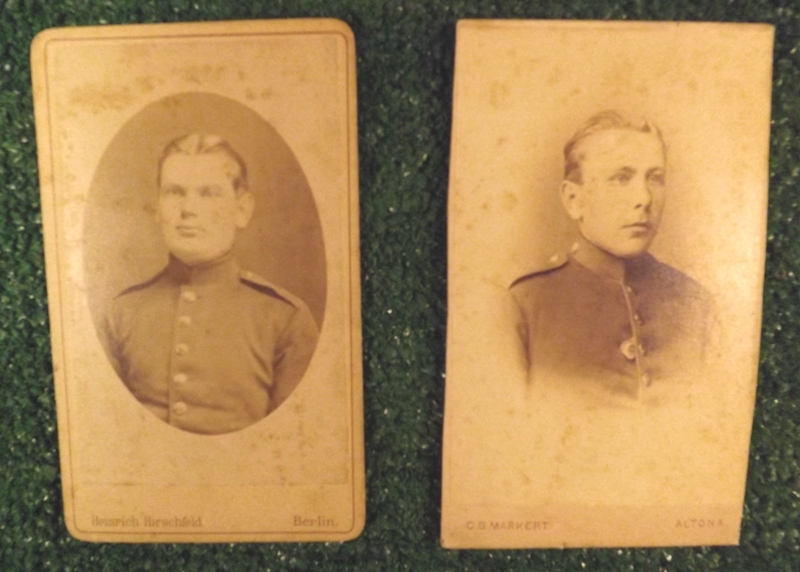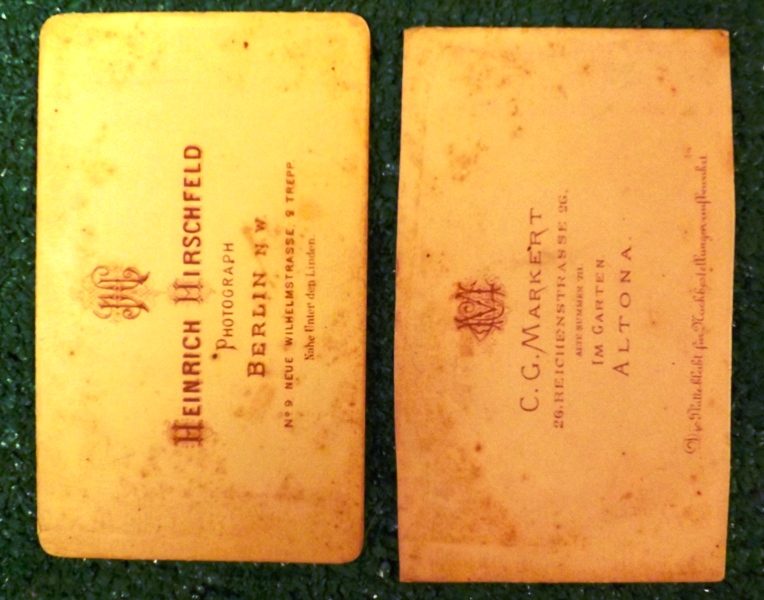 Image 110
Here is an early postcard from the late 1800's or early 1900's. The postcard was invented in Austria in 1869. This one has an albumin print on it of 2 young Cowboys! Both of them are holding lassos but the bigger boy is also holding a revolver and you can see the holster as well. The back of the card says to PLACE ONE CENT STAMP HERE so you know this is very old! There is one small broken corner on it. For this Cowboy postcard $20.00 photography 05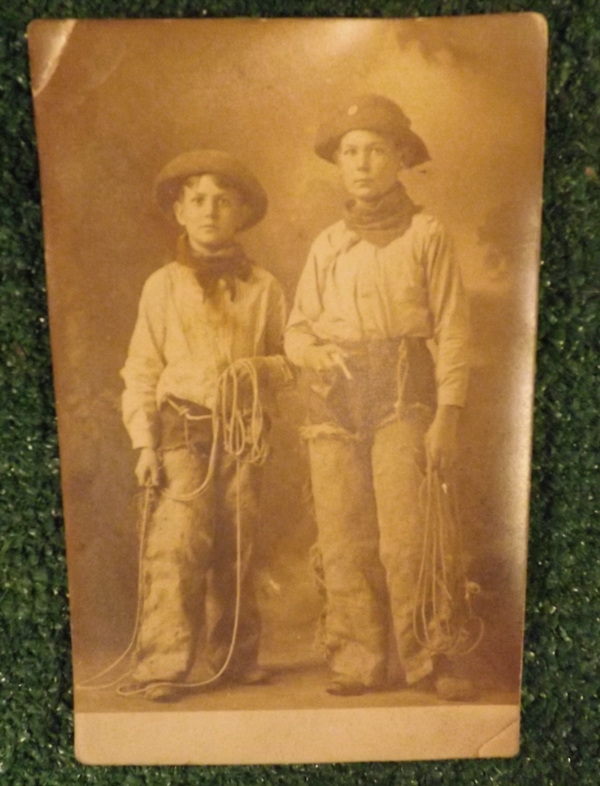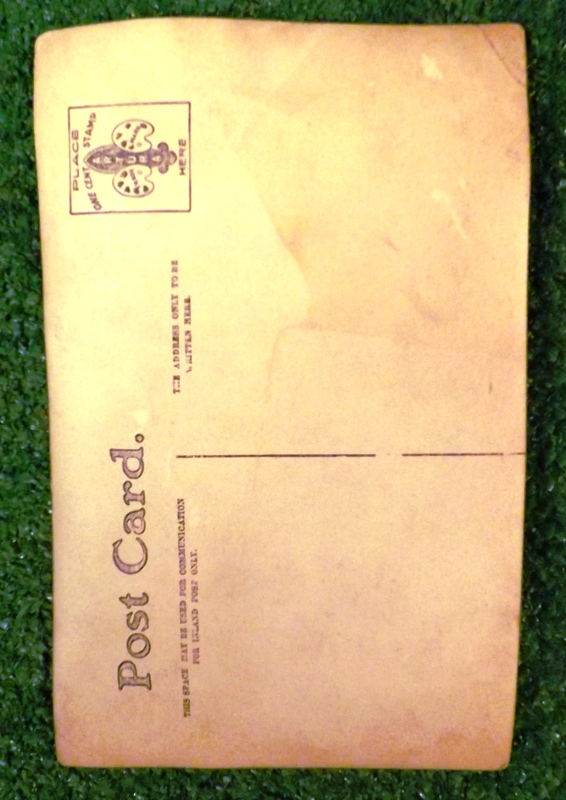 Image 109
SOLD
I have a small grouping of photographs from the 158th Indiana that served from 1898-1899. RECORD OF INDIANA VOLUNTEERS IN THE SPANISH AMERICAN WAR 1898-1899 The 158th Regiment of Infantry, Indiana Volunteers, was formed of the 2d Regiment Infantry, Indiana National Guard, and was composed of companies from Indianapolis (3), Rochester, Frankfort, Franklin, Winchester, Covington, Sheridan Martinsville, Kokomo and Crawfordsville. The regiment arrived at Camp Mount April 26, 1898, under orders from the Governor, for the purpose of being mustered into the service of the United States. After the physical examination of officers and men, the regiment was mustered into the Volunteer Service of the United States on May 10, 1898, and left for Camp Thomas, Chickamauga Park, Georgia on May 16, arrived there on May 18, and went into camp. Broke camp at Camp Thomas August 25, under orders to proceed to Camp Poland, Knoxville, Tennessee, where it arrived August 26. Having been ordered home for muster out, the regiment left Camp Poland on September 12 and arrived at Camp Mount on September 14. The regiment was furloughed for thirty days from September 17 and was finally mustered out and discharged November 4, 1898. Here is a list of the photographs in this grouping:
1. Cabinet card of a Second Lt. with Sword. On back in pencil is 'Co. D-158th Ind. F.Reuben'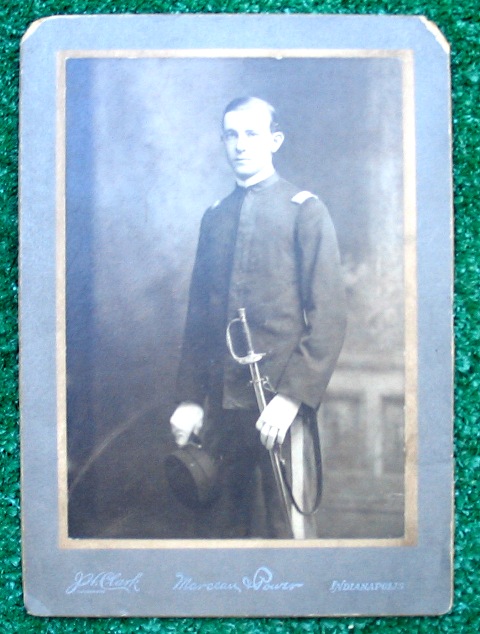 2. Cabinet card of group of soldiers with stacked rifles- camp scene. Co. D 158th Ind. on back.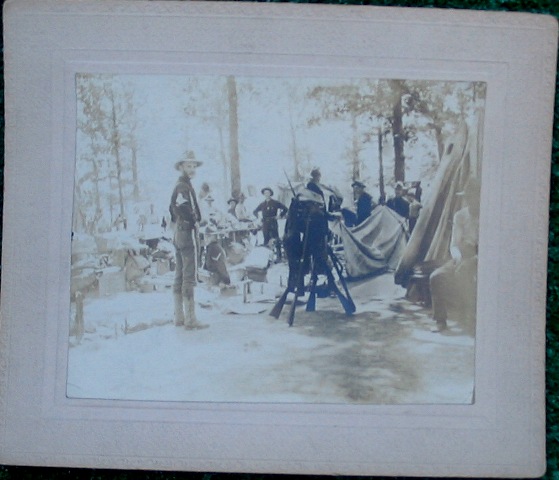 3. Cabinet card of soldiers at attention in front of tents with stacked rifles. Co. D. 158th Ind.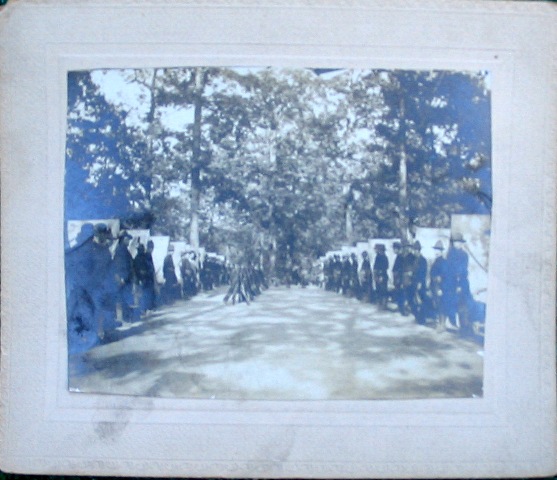 4. Cabinet card of soldiers around soldier on stretcher. Co. D. 158th Ind.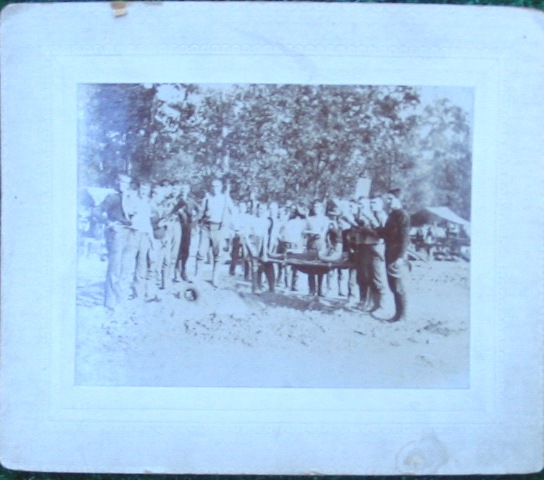 5. Sm. Card of stacks of arms and gear in woods. Co. D. 158th Ind on back.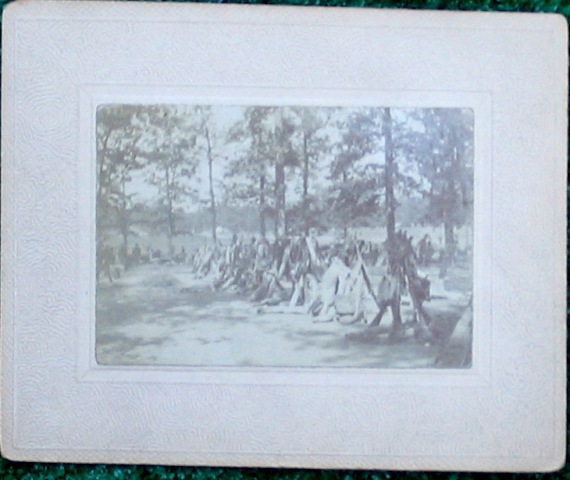 6. Sm. Card of soldiers marching in underwear in woods. Co. D. 158th Ind on back.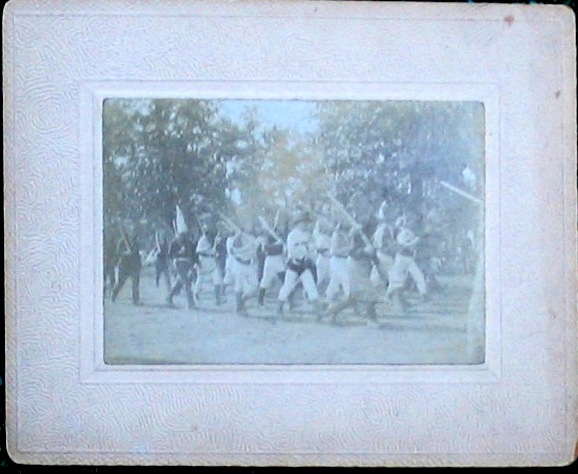 7. Cabinet card of Civil War Indiana Monument on Chickamauga Battlefield
8. Cabinet card of Civil War 18th Ind Battery Monument on Chickamauga Battlefield.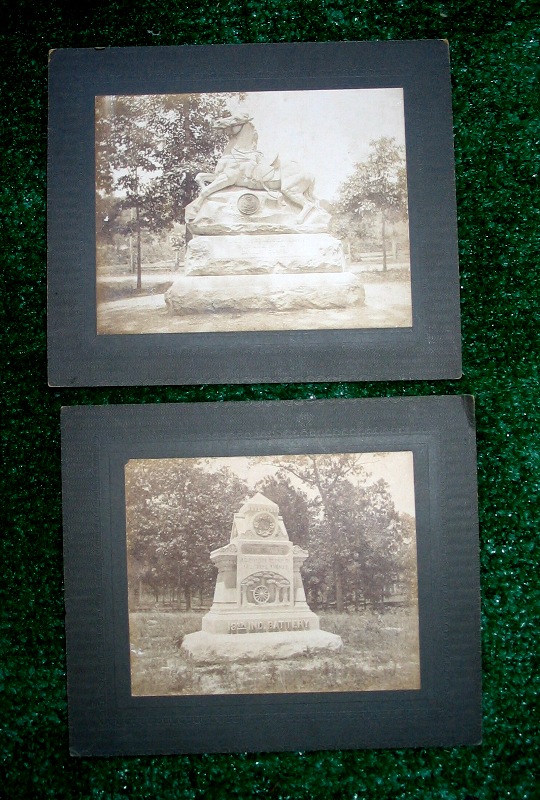 Image 108
Except for the cabinet card of the 2nd Lt. I believe all the other photographs were taken when the 158th Ind was stationed at Camp Thomas in Chickamauga Park, Georgia. I did find a Fred Reuben listed as Corporal in Co. D and evidently he made it up to Lt as his name is on the back of the photo or perhaps this grouping belonged to him. The original 2nd Lt. of Co. D was a gentleman with the name of William A. Kreber. The cabinet card of the 2nd Lt was taken in Indianapolis. This unit was ready to go but the war was over before it was needed. Still a nice glimpse into Army life!!! $65.00 photography 04
<>
Image 105
Here is an outstanding curved glass Ambrotype of a remarkably beautiful young woman in her 20's. I would date this ambrotype to the 1850's and possibly to the very early 1860's. This is one of the most clear ambros that I have every seen and the detail is awesome! Since the image is on a curved piece of glass it kind of gives the image a 3D quality. The only detractor with this piece is that the case is a marriage. Other than that you can't as for a better image! No Id on this one but she was found in Lafayette, Indiana. $145.00 photography 02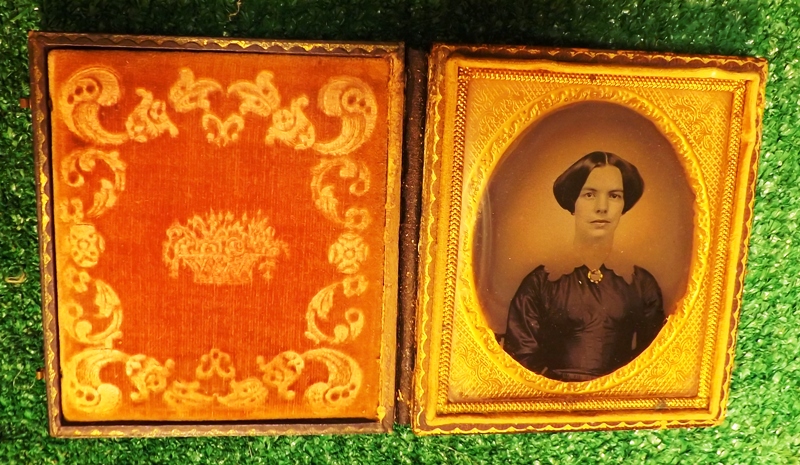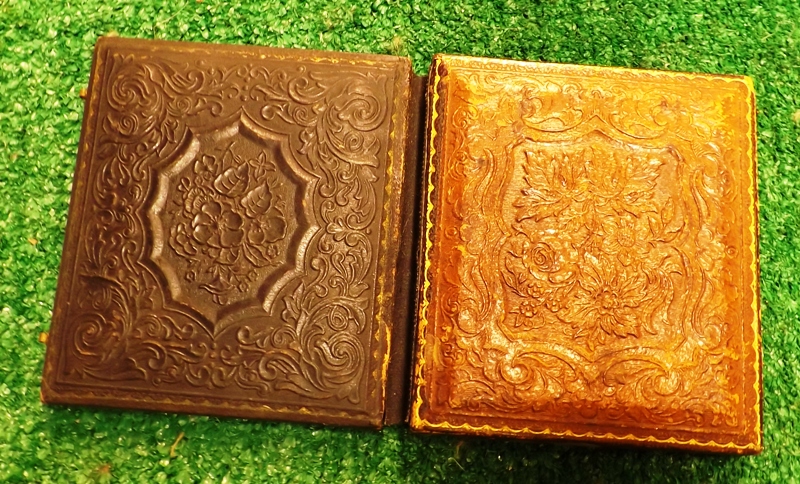 Image 104
Here is an exceedingly rare item! This is a Dietz Portable Dark-room red glass lens Lantern from the 1800's. A reference site dealing with Dietz Lanterns stated that these were rare of the rare and were made before 1901, however, the site didn't state when they were first introduced. The Montgomery Ward 1895 catalog has a drawing of one on page 220 with the price of 50 cents on it and I saw another 1894 publication that had a drawing of one in it. In 1857 Dietz & Company submit the first flat-wick burner for "modern" coal oil for patenting and in 1859 Dietz & Company begin manufacturing coal oil flat-wick burners. This lantern has the flat-wick burner that you can see in the pics. Photographs have to be developed in the dark and using red light is the same as being in the dark. I don't know how early this lantern is but I believe it's very early. The piece stands about 6 1/3 tall including the little chimney at the top. is 2 5/8 inches wide and 1 1/2 inches deep not including the little handle that you use to carry it around with. On the front is the stencil --- RUBY LANTERN. The little lid raises up to expose the red flat glass panel that the lit oil wick shines through. The glass is in excellent condition with no cracks. The little wick and tank are in excellent condition and you can see DIETZ embossed on the bottom. This piece is in excellent condition for it's age with just a little paint loss here and there. I found one other on the internet for an example that was not for sale and it had a cracked lens. I found no others listed after an exhausting search. If you are into early photography then this fine little lantern is for you! RARE! $250.00 item photography 1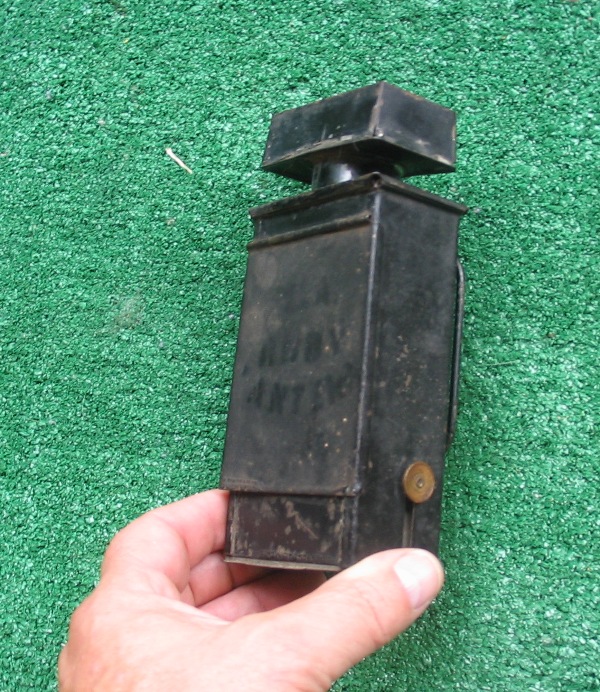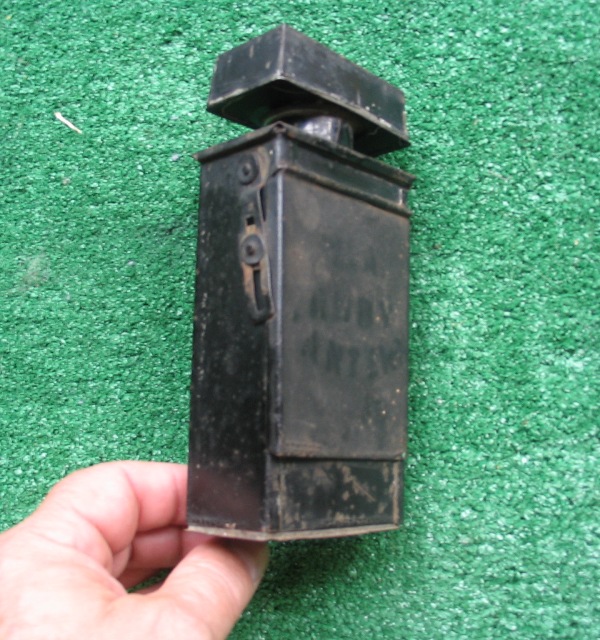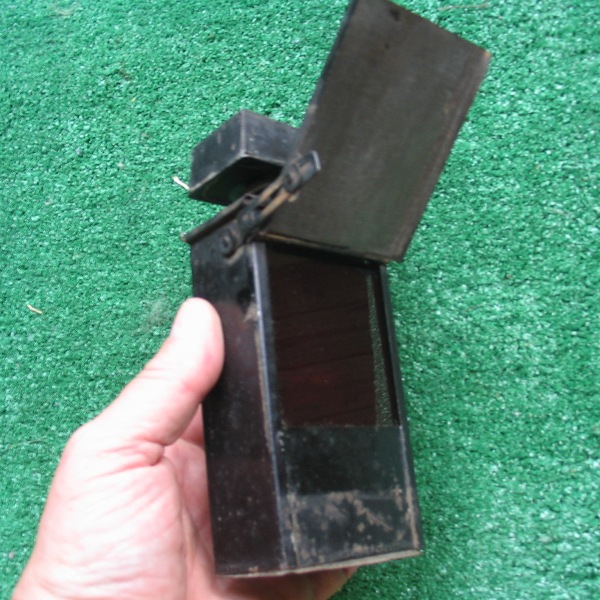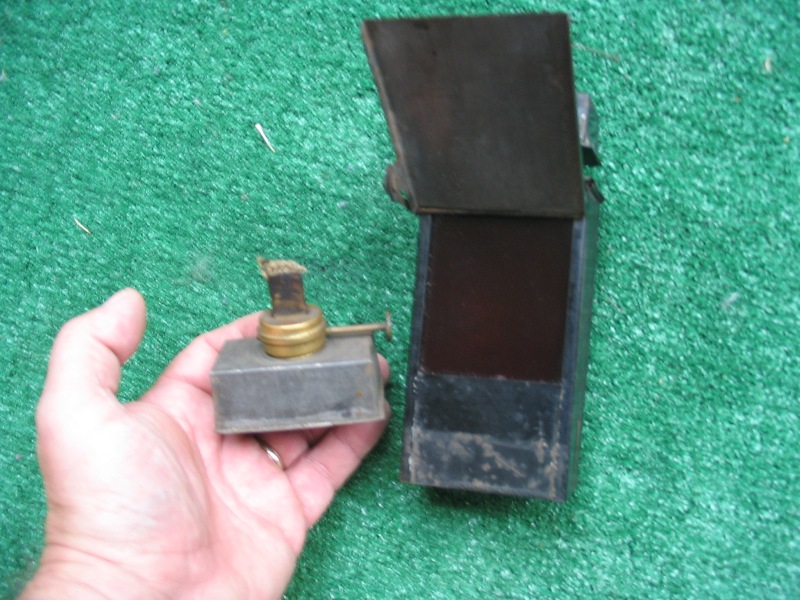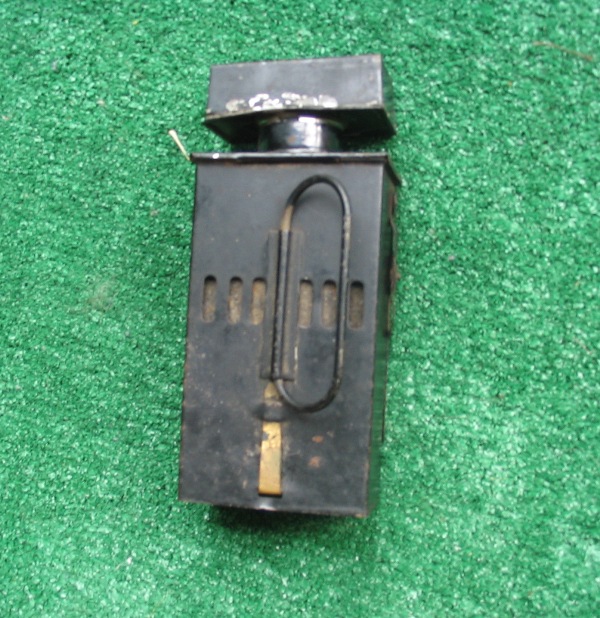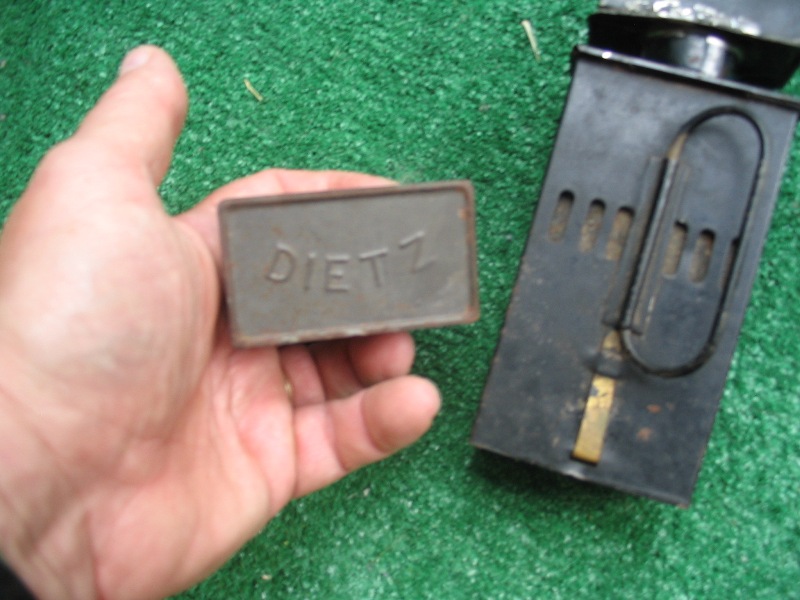 Image 103
Here's a great little item! This is a small all brass Album that contain 4 different photos. There are photos of a gentleman that I believe I have seen but I can't remember who he is as well as photos of Union General Rosecrans and Union General Tecumseh Sherman. On the reverese of the Sherman photo is a woman that I believe to be Mrs Sherman. All of the photos seem to be CDV type or Gem paper type. The album closed measures about 3/4 inch wide by 7/8 inch tall! Incredibly small! The album has a brass ring at the top which runs through a 1838 4 Pence English Coin! Again, this album is incredibly small and rare to find! $350.00 item photography 2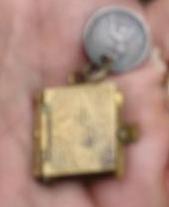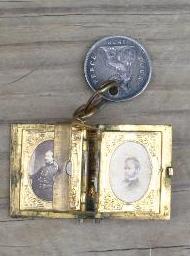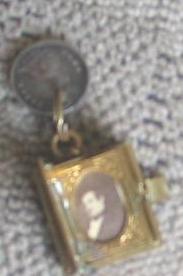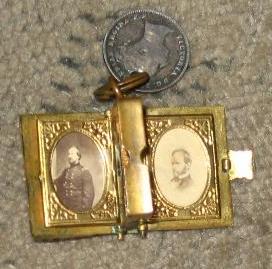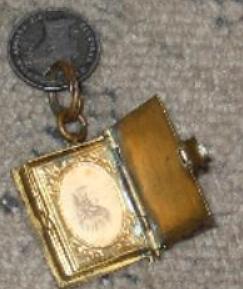 2
Image 102
Here's another stereo-optic card entitled ROCK OF AGES - THE RESCUE. This one is copyrighted 1895 by Littleton View Co. The above phrase ROCK OF AGES - THE RESCUE is on the back of the card in 6 different languages! Nice card! $3.00 item photography 3


This next stereo-optic card tackles the Women's Suffrage Movement or rather is trying to scare men into controlling their wifes! This card is dated 1895. Here's some facts on Women's Sufferage:The term women's suffrage refers to the economic and political reform movement aimed at extending suffrage — the right to vote — to women. The movement's modern origins lie in France in the 18th century. Of currently existing independent countries, New Zealand was the first to give women the right to vote in 1893.[1] Similarly, the colony of South Australia enacted legislation giving women the vote in 1894. Places with similar status which granted women the vote include Wyoming Territory (1869). Other possible contenders for first "country" to grant female suffrage include the Corsican Republic, the Isle of Man (1881), the Pitcairn Islands, Franceville, and Tavolara, but some of these had brief existences as independent states and others were not clearly independent. Australia extended this right in 1901 to some women, and then in 1902 to all non-aboriginal women. A contestant for being the first independent nation to grant the right to vote for women would be Sweden, where some women were in fact allowed to vote during the age of liberty (1718-1771), although this right was far from applying to women in general. Voting rights for women were introduced into international law in 1948 when the UN adopted the Universal Declaration of Human Rights. As stated in Article 21 "(1) Everyone has the right to take part in the government of his country, directly or through freely chosen representatives. (3) The will of the people shall be the basis of the authority of government; this will shall be expressed in periodic and genuine elections which shall be by universal and equal suffrage and shall be held by secret vote or by equivalent free voting procedures." Women's suffrage is also explicitly stated as a right under the Convention on the Elimination of All Forms of Discrimination Against Women, adopted by the United Nations in 1979. 2
Image 101
This is an important card from an important period of Women's Sufferage. This shows a bossy lady (could be my wife!) pointing her bossy finger at her husband who is doing the laundry while 2 small children sit at his feet. I'm sure he's trying to take care of them too! My wife and I worked through this problem. She tells me what to do and I do it. Anyway, it works for her! Nice Quality! $3.00 item photography 4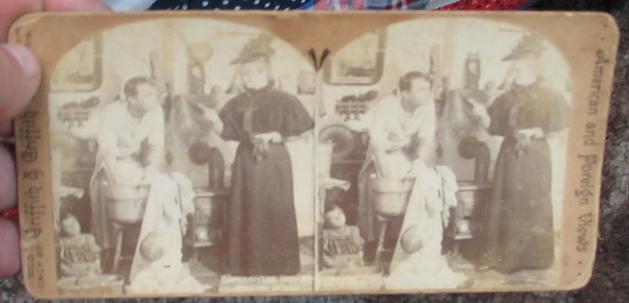 Image 100
Here we have 4 cabinet cards from about 1880 showing the railroad at Madison Indiana near the Ohio River. Two of the photos are looking at the J.M. & I. Railroad (don't know what the J.M & I stand for) at Madison Indiana. They each measure about 4 1/2 X 6 1/2 and have descriptions on the back. They are somewhat faded but better than what my pics show. Two pics are from the P.C.C. & St. L. R. R. (something and St. Lawrence Rail Road), $25.00 for all. item photography 5
Image 99
Here are a couple of early 20th century Military Photos that was shot in Gettysburg, PA in 1913. Looks like the soldiers are rebuilding earthworks. I can see an encampment on a hill, a train & a stone wall. Look at the closeup. Both photo's are the same and are marked on the back by photographer W. H. TIPTON, Gettysburg, Pa. Also written on pencil on the back of both photographs is 'The X is me' 'Gettysburg, Pa July 18, 1913". Looks like the Corps of Engineers were straightening up things after the reunion held June 29 - July 5, 1913 commemorating the 50th anniversary of the Battle of Gettysburg. The double camps for union and confederate veterans put up for the 50th Anniversary of Gettysburg were hugh and probably took quite some time to tear down. Here's your chanch to catch a rare glimpse of the end of an outstanding reunion where the average age of the veteran was 73 years old! The only difference in these photos are the conditions of the mats-the photos are just great! Look at the pics! $75.00 each. item photography 7

Image 98
This is a very nice 1/9th plate of 2 little girls of about 10 years old in full case with repaired spline. Below waist up view and much better than what our pic shows. $55.00
item photography 10

Image 97
1/6th plate tintype in half case with mat and glass of a young Civil War era mother .holding her child of about 15 months of age. He's not happy about it. She is very handsome. Slight tinting. $35.00
item photography 11

Image 96
A nice page engraving entitled 'Eminent Loyal Governors' and shows the 13 Northern Governors. Nice and clear with little foxing. $25.00
item photography 13

Image 95
This is a wonderful 1/6th plate Ambrotype of a waist up man and his wife. There is some tinting to buttons and buckles. Definitely a window into the past and much better than our pic shows. Guaranteed!! Half case. $45 item photography 14

Image 94
This is an album print of the 17th N.Y. in Camp at Washington, 1861 that is a Mathew Brady original and was probably from his 1863 New York Expo. The 17th Fought at Yorktown, Hanover Court House, Seven Days, Bull Run, Antiwtam, Fredericksburg, Mud March, & Chancellorsville. The 17th N.Y. lost 5 officers and 32 enlisted men killed and mortally wounded and 3 officers and 37 enlisted men by disease. $295.00 item photography 15

Image 93
1/9th plate tintype in full case with repaired spline of a Civil War era Middle aged gentleman wearing a suit coat and wild vest and pants that are small checkered! Nice and clear! $45.00 item photography 16

Image 92
Excellent 1/6th plate Ambrotype of an antebellum lady with her young 6 year old son. She is sitting and he is standing next to her. The image comes in a full leatherette case with separated spline and mat. Nice! $85.00 item photography 17
Image 91
This is an excellent wonderful large albumen print entitled 'REBEL ENTRENCHMENTS' in ink and shows breast works with different types of defensive items. There are 14 soldiers in the photograph. Some repairs. The photograph itself measures 7 X 9 1/4 inches on a 11 X 14 mat. Excellent clarity. $295.00 item photography 18

Image 90
CDV OF A GERMAN CAVALRY OFFICER circa American Civil War shown in full standing pose in complete uniform with heavy cavalry saber with p-guard. His kepi is on the table next to him. Backmark of C.S. STRAUFS PHOTOGRAPH SCHWERIN, BISCHEFSSTRASSE NO. 5. Dirty but still very nice! $35.00 item photography

Image 89
CDV showing the battle between the Monitor & Merrimac (Virginia). This is an engraving but looks more like a real photograph! Backmark is JAMES S. EARLE & SON of Philadelphia. $45.00 item photography 19

Image 88
This is a wonderful cdv of a smiling little girl of about 5 or 6 years old showing a full standing figure on a chair. The little girl is wearing a 2 pattern dress and seems to be very happy! No backmark but came from Central Indiana. $15.00 item photography 20

Image 87
CDV of President James A. Garfield and so marked on the bottom of the front of the photograph. This image shows a chest up image of Garfield who was only the second president assasinated while in office. The pic is a little faded but still easily seen. $35.00 item photography 21

Image 86
This is another nice image of a gentleman identifed as 'DR. BRYANT' from Hillsdale, ? This is 'CLARKE, PHOTO'. The card is clear and shows a waist up gentleman seated in a chair with his arm on a chair arm and he has a human hair watch chain. There is a 2 cent revenue stamp on the reverse as well as the words 'MARRIED A COUSIN OF MRS. NEWTON DUNBAR. HE MFQD PROPIETARY MEDICINE. The image is real nice and undamaged however a small corner of the card has been broken away. Civil War Doctor image! I can't believe a man of this age didn't serve in the military so he probably did as he appears to be late 20's or early 30's. Just have to find him! $15.00 item photography 22

Image 85
. This is an original CDV of Major Henry W. Scovel who was an United States Additional Paymaster with the rank of Major from Feb. 27th, 1863 being mustered out April 15, 1866. Prior to being mustered out he was brevetted a Lt. Col. of US Volunteers from January 11, 1866. Regular Army CDV's are much harder to find than Volunteer or State Units. The photographer's imprint is J.H.ABBOTT, PHOTOGRAPHIST, 480 BROADWAY, ALBANY, N.Y. The image shows Major Scovel in a full pose with his cap on a pedestal next to him. The forage cap has the US in the wreath. Beautiful flawless card with the info written in pencil on the reverse. $145.00 item photography 23

Image 84
This is a large formatted photograph of the 6th Cavalry Pennsylvania National Guard Camp site and shows 2 soldiers in the summer uniform sitting before their tent. Inside the tent you can see 2 cots, an American Flag, a Cavalry Saber and other items. Check out the pic! The mat was damaged on this piece so it was matted and framed with the image portion measuring 6 1/2 inches by 9 1/2 inches. There is glare on the glass in the pic that doesn't belong there. Looks pretty good! $65.00 item photography 24

Image 83
This is a nice grouping of a copy of an original full standing photograph of Indiana's Civil War Govenor Oliver P. Morton along with a reproduced copy of his original autograph which is from the "UNITED STATES SENATE CHAMBER, WASHINGTON, 187- O P MORTON, IND" already matted and shrinkwrapped ready to frame! Only $15.00 item photography 25

Image 82
This is a nice movie poster featuring the movie Amistad, staring Morgan Freeman, Anthony Hopkins, Djmon Hounsou, Mathew McConaughey. Very good condition. Came out of large collection of movie posters that came from a video store in Richmond, Virginia. True story of a rebellion aboard the Slave Ship Amistad where the slaves arose and killed the Ships Captain Slavemaster and others. Riviting movie and a must see for the serious student of Civil War Era history. Nice Poster! $45.00 item photography 26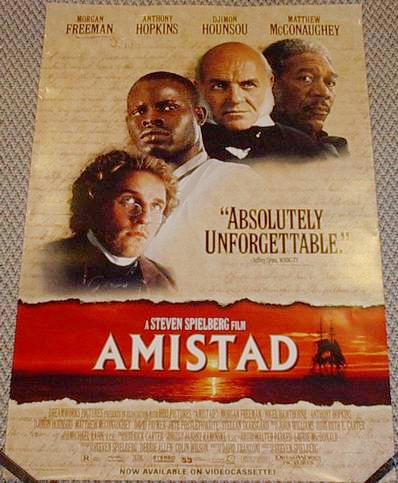 Image 81
SPANISH AMERICAN WAR Stereoptic card by Strohmeyer & wyman, publishers of New York City and it is entitled "LOOKING AFT FROM THE FORWARD BRIDGE OF THE "IOWA" COPYRIGHT 1899. This card has a bend in one corner. $9.00 item photography 27

Image 80
This is a wonderful Civil War Era CDV of a horse and buggy that has 5 people in the buggy and one standing alongside. There is even a dog laying on the ground under the buggy. The backmark is in green ink and says AUGUSTINE H. FOLSOM PHOT. NO. 2 SOREN'S BLOCK ROXBURY. 118 WASH'N ST. BOSTON. Excellent Condition with wonderful content!!! Hard to find outdoor CDV's of the Civil War Era. $65.00 item photography 28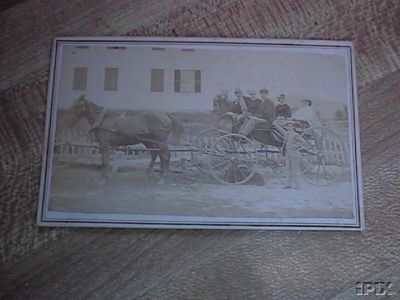 Image 79
Outstanding original steroscoptic card by James M. Davis, copyright 1898 showing Gen. (Nelson) Miles Commander of United States Army in knees up pose wearing his dress uniform complete with Congressional Medal Of Honor and sword at side. He is surrounded by a floral display. Outstanding subject matter and quality! $45.00 item photography 29

Image 78
This is a fairly large albumin photo of a Spanish American War Cavalryman on his horse. I believe they are in front of barracks of sort due to the door configuration. I really don't know where the photo was taken and there is no clue on the back as well. I picked up this photo about 30 miles from my home in central Indiana. The Horse is large and beautiful and you can see that he has a shoemaker bit in his mouth. The soldier wears the classic Spanish American War uniform with the felt hat. He sure sits tall in the saddle! The mount is 8 X 10 inches while the photo is 4 1/2 X 7 1/2 inches in size. The photo is more of a brown sepia tone than my pics show. Wonderful subject matter!!! $45.00 item photography 31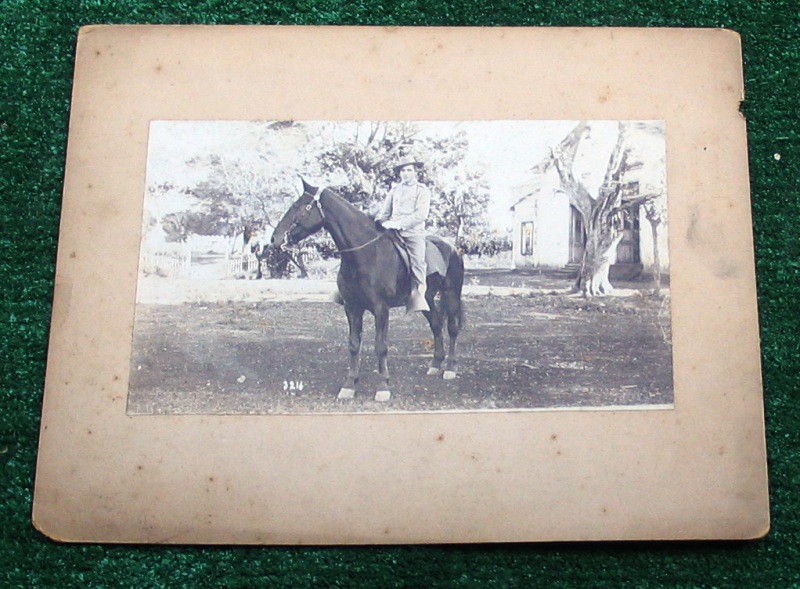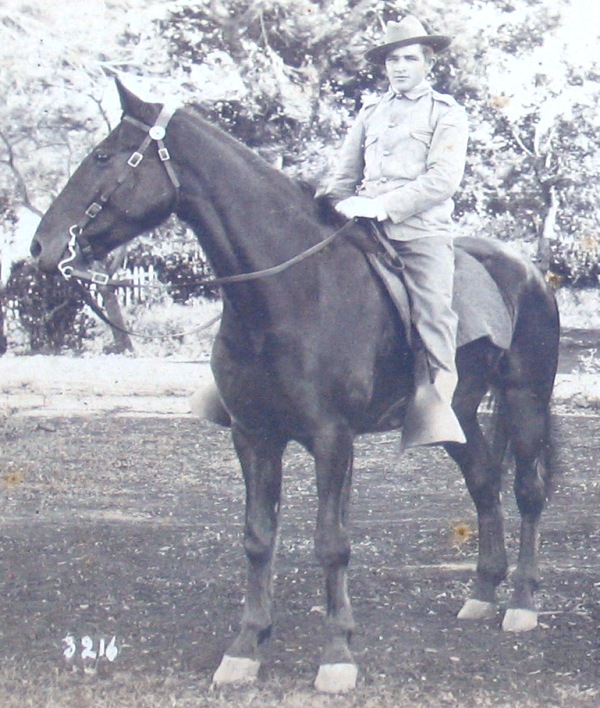 Image 77
The next 3 items are all found here in Indiana. These are 3 tintypes of Civil War Soldiers. The first tintype is a 1/4 plate tintype in full case of 2 Civil War Union Soldiers sitting side by side. One of them is a corporal and the other a private. This tintype is extremely clear and sharp! This is one nice quarter plate. No id accompanies this piece. This one can be yours for $395.00 item photography 32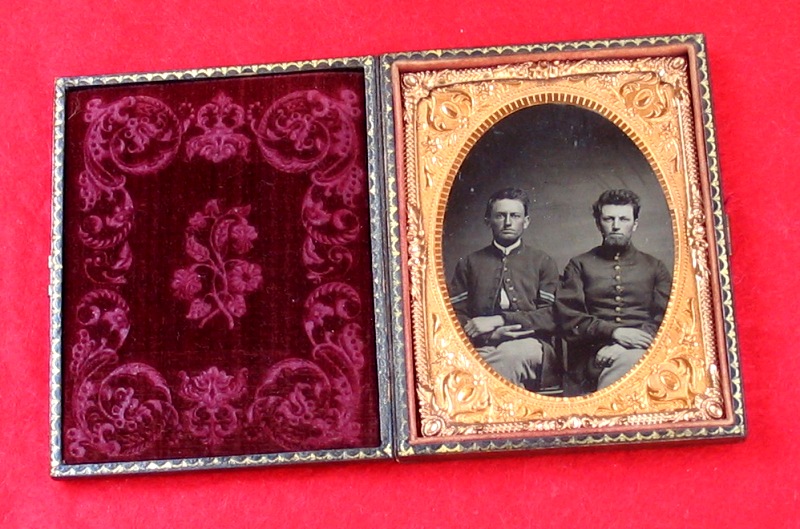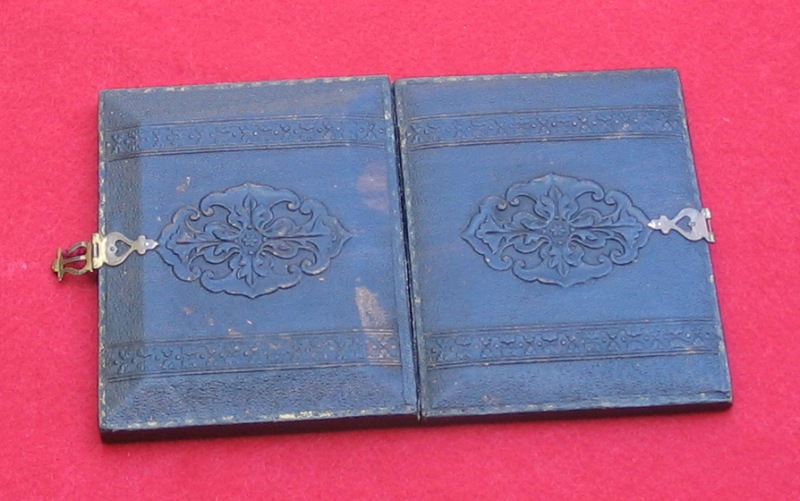 <
Image 75
Here is something that I have had a long time and decided to let it go. this is an original CDV of Indiana's wonderful Govenor Oliver Perry Morton. He was well loved by his soldiers and he did everything he could to outfit them, even paying for some of it himself! The CDV has on the reverse C.W.Mangrum's Photographs Gallery, West Jefferson Street, Franklin, Ind.
UNITED STATES GOVERNORS FROM WAYNE COUNTY, INDIANA. These accomplished individuals were born and/or resided in Wayne County. #1; The 4th Governor of Indiana, James Brown Ray. 2-19-1794 ~ 8-4-1848 RAY WAS INDIANA'S YOUNGEST GOVERNOR AT AGE 31 Resided in Centerville, Indiana Wayne County Indiana Prosecutor in 1819 Practiced law in Centerville, Indiana- when Centerville was the County Seat of Wayne County Resided in Connersville, Indiana for short time and was Fayette County Deputy Clerk Acting Governor of Indiana from 1822 until 1825 Lt. Governor from 1824 until 1825 Was the Elected Governor of Indiana from 1825 until 1831, during which time the State's population grew by 55% Promoted the growth of Indiana Railroads Died at age 54 from Cholera James B. Ray, for whom Raysville (Henry County, Indiana) was named, was the fourth Governor of the State of Indiana, serving as such for nearly seven years. His predecessor, Governor William Hendricks, having been elected a United States Senator, resigned as Governor, February 12, 1825, when he was succeeded by Ray, then the President of the State Senate. Ray was elected Governor at the August election, 1825, and served two full terms of three years each. Source; Hazzards History of Henry County, Indiana; 1906 *** Hon. James B. Ray, Governor of Indiana from 1825 to 1831, and the youngest man (age 31) that ever occupied the gubernatorial chair up to that time, lived in Centreville from 1837 to 1840 and practiced law. He was a brilliant speaker, a zealous lawyer and very popular. He died comparatively young. His brother, Martin M. Ray, resided in Centreville many years. Martin M. Ray was an early and prominent lawyer, who served several years as Circuit Prosecutor. We are indebted to Hon. Jacob B. Julian, who was his law partner for several years, for the following particulars concerning him: ¯ He was a native of Kentucky and came to Indiana at a very early day, perhaps as early as 1817, settling at Brookville. He was a cabinet-maker by trade, and was successively a mercbant and a banker. At the age of thirty he engaged in the practice of law, first at Connersville, and in 1829 at Centreville, where he continued in active practice until 1845. He then retired, from practice and removed to Indianapolis, where he died in 1869. He was an excellent lawyer, and during the years of his practice at Centreville he ranked among the best in the profession at the time. He was a worthy man and a good citizen.¯ Source; History of Wayne County, Indiana; Inter-State Publishers; 1884 *** The 14th Governor of Indiana, Oliver P. Morton. August 4, 1823 ~ November 1, 1877 INDIANA'S CIVIL WAR GOVERNOR O.P. Morton was born in Salisbury, Wayne County, Indiana August 4, 1823 He later resided and practiced law in Centerville, Indiana Was also a U.S. Senator Died November 1, 1877, & buried in Indianapolis, Indiana
The document below is outstanding! This is signed on the back in bold black ink O.P.Morton, Gov. of Inda' in the Governors old hand! The front is a Military pass and is from the Adjutant General's Office and states Indianapolis, Mar 10th, 1864. The Steamer Jenl. Buel will pas Genl. Mansfield from Madison to Jeffersonville & return - Business Military by order of the Bovenor. Laz. Noble, Adj't Gen'l. Outstanding quality! General John Mansfield (1822 - 1896)
John Mansfield (1822 - 1896) Born: Mendon, Monroe County, NY Died: 05/06/1896 in Los Angeles, CA Promotions Date To Rank Full/Brevet Army/Vol Comments 06/11/61 Captain Full Vol 2nd WI Infantry 01/26/63 Major Full Vol 09/01/63 Lt Colonel Full Vol (resigned 08/26/64) 12/03/64 Colonel Full Vol 12th Veteran Reserve Corps 03/13/65 Brig-Gen Brevet Vol
These pieces were placed in a 'floating' frame for display so you could see both front and back. $450.00 item photography 46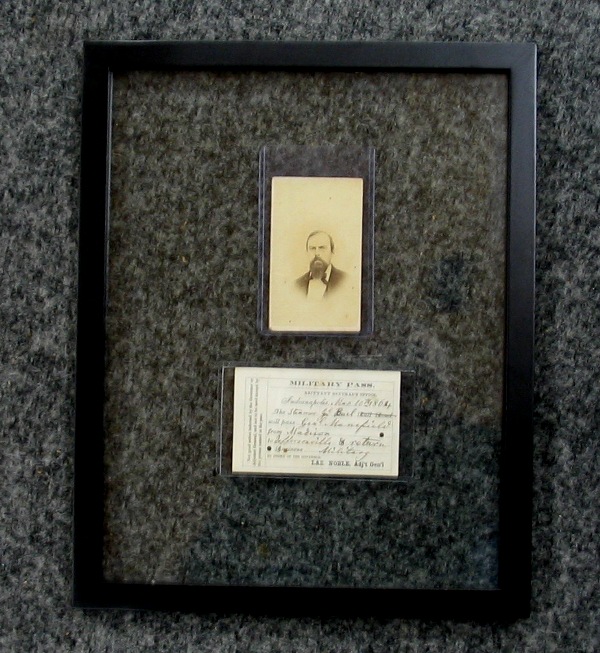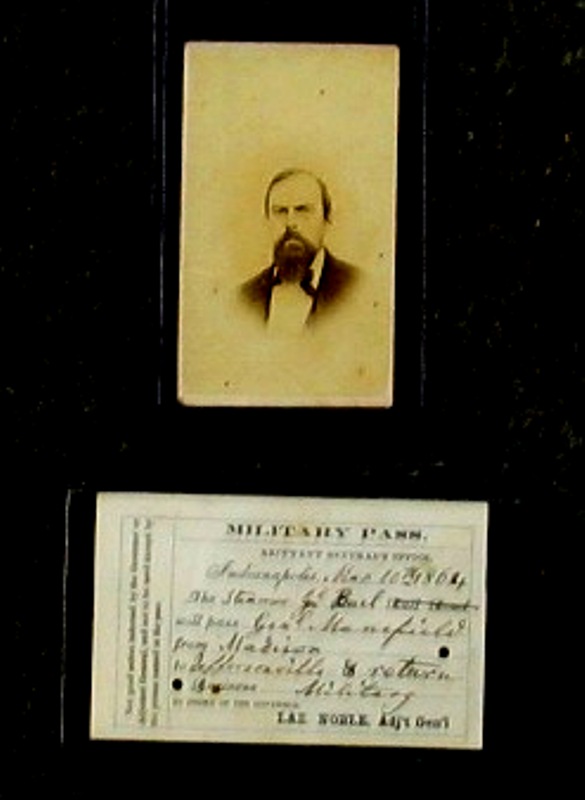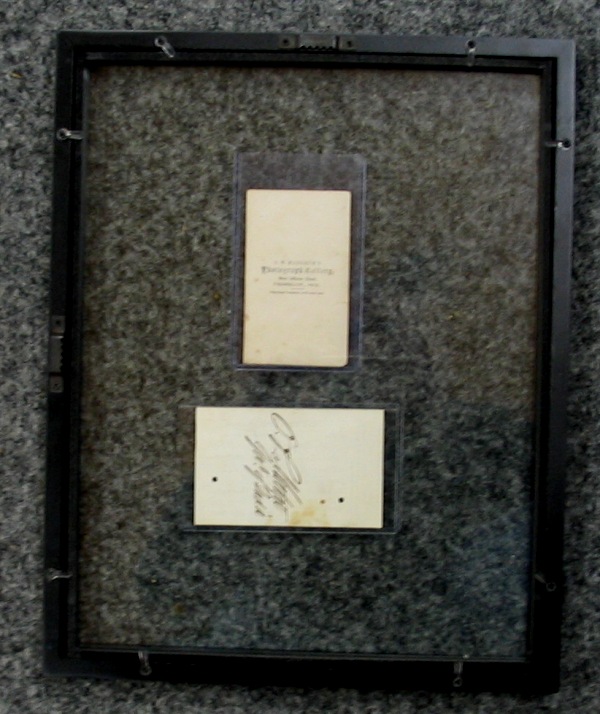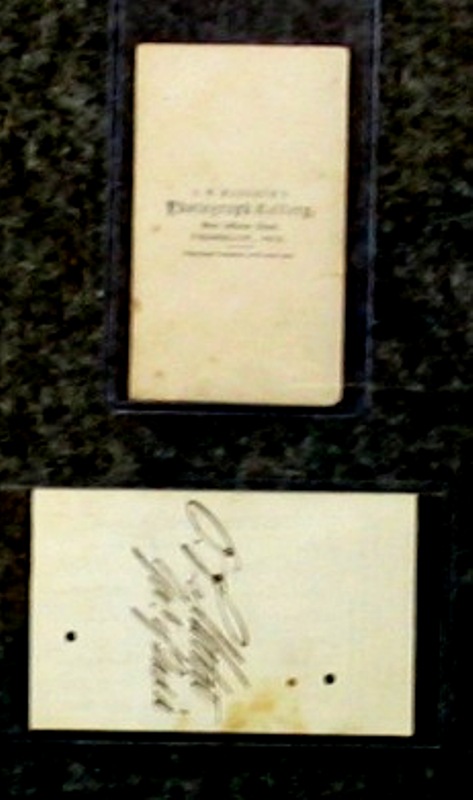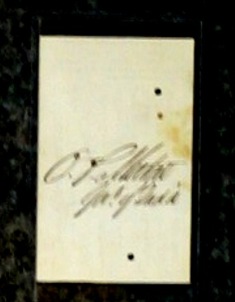 Image 74
Here we have two professionally framed prints by the same source. The first print is entitled 1799 IX 1802 CALVARY - INFANTRY - ARTILLERY and are obviously American as confirmed by the American Flag flying on the left side of the print. The frame measures over 23 inches by 19 inches and the print itself is 17 X 13 inches. Excellent piece and would look great on your wall ! $35.00 item photography 47
The next print is the same dimentions as the one above and shows an Indian War era military scene. The print is entitled I8 XLII 88 ENLISTED MEN - STAFF CORPS & ARTILLERY - (FULL DRESS). Both have excellent color and look aged. Very nice! $35.00 item photography 48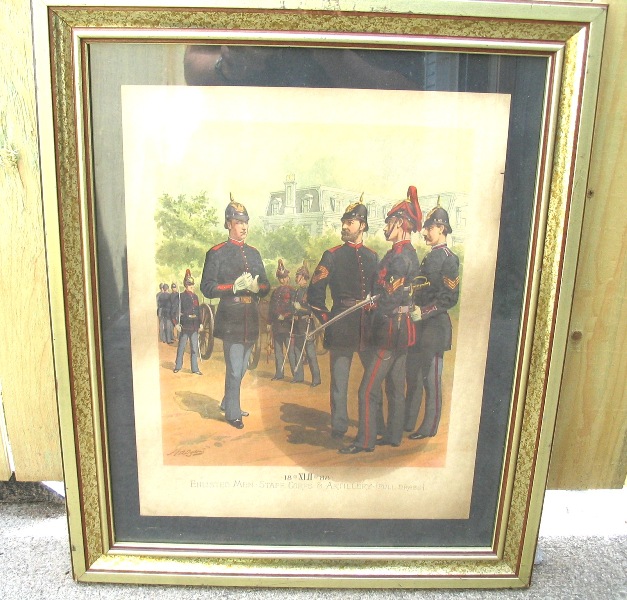 Image 73
Here's a fairly large photo of General Winfield Scott otherwise known as 'Old Fuss and Feathers' because of his disposition. He was much too old to be on active duty during the Civil War but he started out in a very important position anyway. Born near Petersburg, Va. on June 13, 1786, having already served as the country's general-in-chief for two decades, America's preeminent military figure-perhaps the most celebrated since George Washington, Scott was nearly 75 when he commanded the Union armies at the start of the Civil War. By that time, Scott, a Virginia native who refused to join the Confederacy, was clearly nearing the end of his brilliant career. Hero of the War of 1812 and Black Hawk War, commander of U.S. forces in the Mexican War, unsuccessful Whig presidential candidate in 1852, Scott, called "Old Fuss and Feathers" because of his devotion to military pomp and protocol, now suffered from gout and vertigo, weighed more than 300 pounds, and could no longer ride his horse. Because of his infirmities, he required a field commander and urged Lincoln to appoint his fellow Virginian Robert E. Lee to the position. George B. McClellan, who got the post after Lee turned down the Union commander's personal appeal, soon began to resent Scott and took to contradicting him in staff meetings and snubbing him in public. By then, however, the general-in-chief was being amply ridiculed elsewhere as well. Blamed for the Union's dismal showing in the first months of the war, Scott received sharp criticism for his "Anaconda Plan," in which he recommended a naval blockade to press the Confederacy while the Union gradually developed its armed forces for what he anticipated to be a long struggle. Although Scott was more clearheaded on the subject than the majority of military and political figures-Union and Confederate alike-who believed the war would conclude quickly, many suspected Old Fuss and Feathers was growing senile. On November 1, 1861, after another Union battlefield defeat at Ball's Bluff, Lincoln accepted Scott's standing offer to resign. Succeeded the same day by McClellan, he retired to write his two-volume memoirs, travel through Europe, and see the essential elements of his Anaconda Plan ultimately prove effective in the waging of the war. Scott lived to see the Confederates defeated, dying in West Point, N.Y., May 29, 1866. Though he was buried at West Point, he never attended there. Now back to the photo. This photo appears to be an albumin photo due to the satin finish when holding the photo sideways. The card measures about 4 inches by 6 inches while the print is 2 X 3 3/4 inches in size. The card is marked with the photographer info below the photo. The mat is original and from Richmond, Indiana. This photo, as it is, is a fake- made to deceive. You can see where the original photo was removed and this one was glued in it's place. If you look at the photo under magnification you will see matrix dots. The magazine type photos from the early 20th century on has the same type of dots. However, this photo looks great and is very useful as a teaching tool. It also looks great on the wall. If you never magnified it you would never know the difference. Knowledge is power! Check it out. Remember, it's a fake! $30.00 item photography 49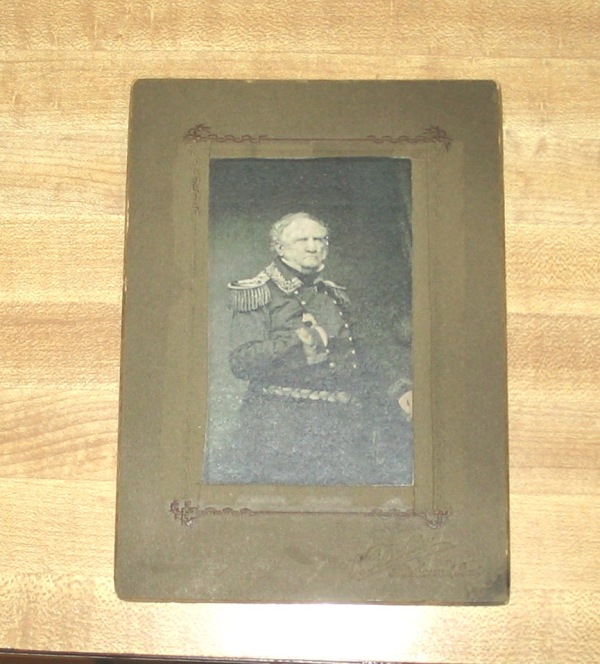 Image 72
This next photo is an excellent fake as well. It's made just like the General Winfield Scott photo and looks like an albumin photo made with egg whites but it is not. This is made from an original photo somewhere and shows 5 Plains type Native Americans holding up weapons. This photo is obviously made the same and probably from the same faker. The photo card is 7 1/2 X 4 inches with the photo being 2 3/4 X 3 3/4 inches. Excellent content but crudely put together. Again, knowledge is power! Use this as a teaching tool. Again, you couldn't tell this was not an old photo unless you magnified it for clarity. $30.00 item photography 50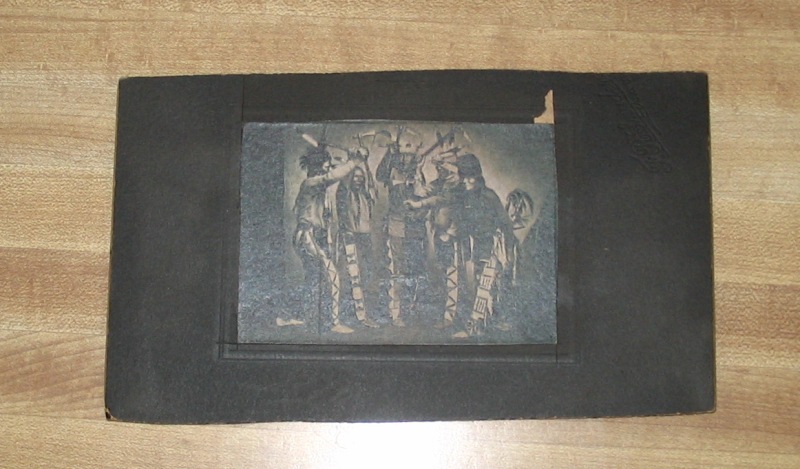 Image 71
Here's a nice photograph of a Spanish American Era Sailor holding a Krag Rifle with Bayonet. His tally on his cap says U.S.S. TENNESSEE ! GEORGE LOW a Seaman, U.S. Navy on board the USS Tennessee, won the Navy Medal of Honor at New Orleans, La., 15 February 1881. This particular sailor is id'd on back of the photograph as Walter H. White. It's light and in pencil but guaranteed to be there!
History Of The U.S.S. Tennessee
Six ships of the United States Navy have been named USS Tennessee in honor of the 16th state. •(1862 The first USS Tennessee was a paddlewheel steamer captured from the Confederacy at New Orleans on April 2, 1862. •(1864) The second USS Tennessee was a Confederate ironclad captured from the Confederacy in the Battle of Mobile Bay on February 16, 1864. •(1869} The third USS Tennessee was a wooden screw frigate originally built and named as Madawaska. •(1904) The fourth USS Tennessee (ACR-10) was the lead ship of her class of armored cruiser. •(1919) The fifth USS Tennessee (BB-43) was the lead ship of her class of battleship. •(1986) The sixth USS Tennessee (SSBN-734) is an Ohio-class submarine. I suppose this photo is probably the one built in 1904 but I don't know for sure. The photo is a little dirty but you can still clearly see everything of importance. It's still nice! $35.00 item photography 51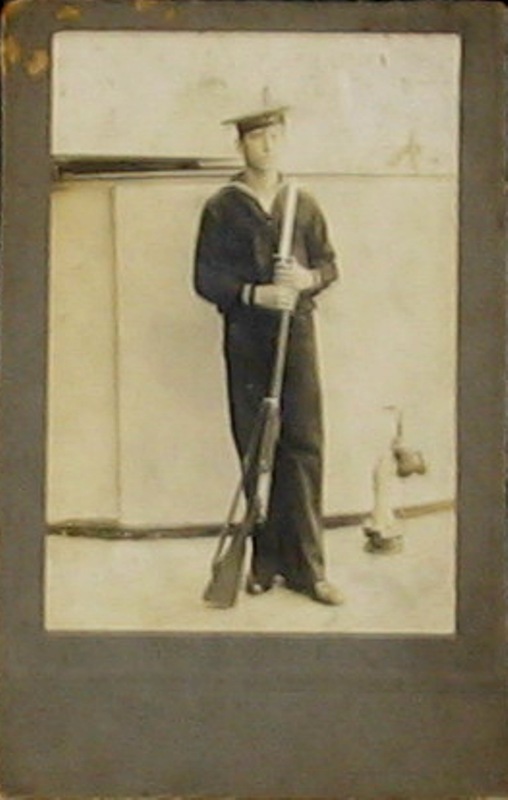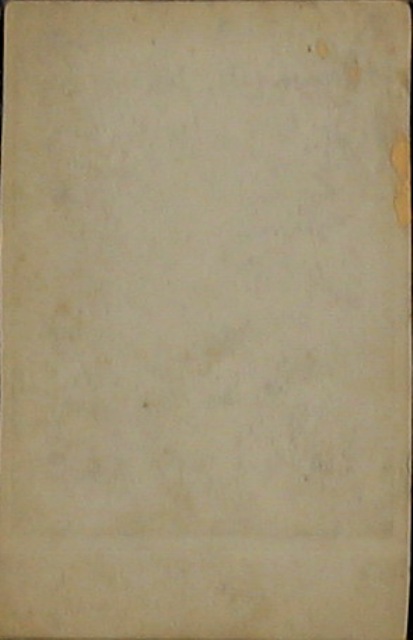 Image 70
This is a nice ink drawing print of an 19th century Sailing ship of the type that was either used as a warship or a blockade runner. The piece measures overall approx 15 X 20 inches with the print being approx 13 1/2 X 9 1/2 inches. This piece is double matted and was professionally done. No signature on the print that I can see but I haven't taken it apart. Probably needs reframed as the frame isn't that nice. $45.00 item photography 52

Image 69
Here's something you don't find empty very often. This is an original Civil War era Photo Album with latch. The leather cover is in good condition with a little wear and breakage on the back album cover hinge. The only major thing wrong with the outside is that the front cover is missing one of the little porcelin buttons. The inside spline is separated some in the front but can be easily repaired. There's room for 48 photos back to back in the CDV sized album. The album pages are gilted on the edges. It's a little stiff but probably hasn't been opened for years. Still a fairly good album that would be great for you to place your CDV's in. $65.00 item photography 53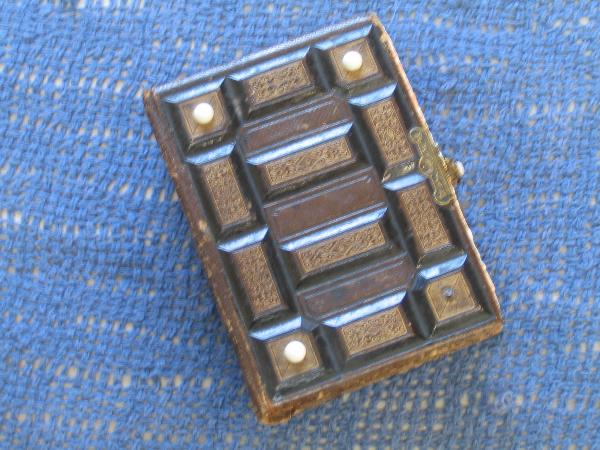 Image 68
This is a repro print in an older type frame showing the blowing up of the Fire Ship Intrepid commanded by Capt. Somers in the Harbor of Tripoli on the night of Sept. 4, 1804. Pretty colorful print! Measures about 13 1/2 X 16 1/2 overall. $25.00 item photography 54

Image 67
This is a nice ink drawing print of an 19th century Sailing ship of the type that was either used as a warship or a blockade runner. The piece measures overall approx 15 X 20 inches with the print being approx 13 1/2 X 9 1/2 inches. This piece is double matted and was professionally done. No signature on the print that I can see but I haven't taken it apart. Probably needs reframed as the frame isn't that nice. $45.00 item photography 55

Image 66
This is a repro print in an older type frame showing the blowing up of the Fire Ship Intrepid commanded by Capt. Somers in the Harbor of Tripoli on the night of Sept. 4, 1804. Pretty colorful print! Measures about 13 1/2 X 16 1/2 overall. $25.00 item photography 56

Image 65
This is a very nice colorful print of a Confederate Captain with fieldglasses. This is a copy print with the original being done by W.L.Sheppard which is marked on this copy and under that copyright 1903 by William Ludwell Sheppard. This is a nice pice which would display very well. The overall size is approx. 15 X 20 inches. The back of the print is sealed which indicates professional framing. $75.00 item photography 57

Image 64
Here's 2 tintypes that I picked up with a soldier tintype. These are out of cases or an album. The first one is a 1/9th plate that kind of looks like a young Abraham Lincoln but he's much better looking that 'Ole Abe'. He's wearing the same kind of suit and cravat. The second tintype is a striking pose of a hugh man with very masculine features. He kind of looks familiar to me but I just can't put my finger on it. This one is about tintype size and came out of an album. If you have any info on this man or if he looks familiar to you as well, let me know. Thanks for looking. item photography 58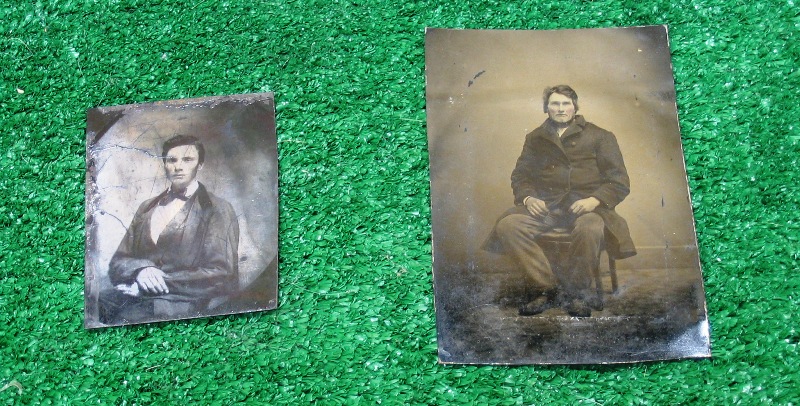 Image 63
Here's a nice example of an 1850's photograph referred to as a Daguerrotype. Looking at it from certain angles makes it look like a mirror. It was a poisonious occupation that used mercury in the photographic process on a copper plate so photographers turned to ambrotypes and tintypes for safety. This photo is in the 6th plate size and is very clear with some spotting to the plate on the lower left hand side. The case is in good condition with tape on the spline. Still clear and definitely a look into the past. This young man was probably 18 or 19 in this photograph and definitely old enough to participate in the Civil War some 10 years or so later. $45.00 item photography 59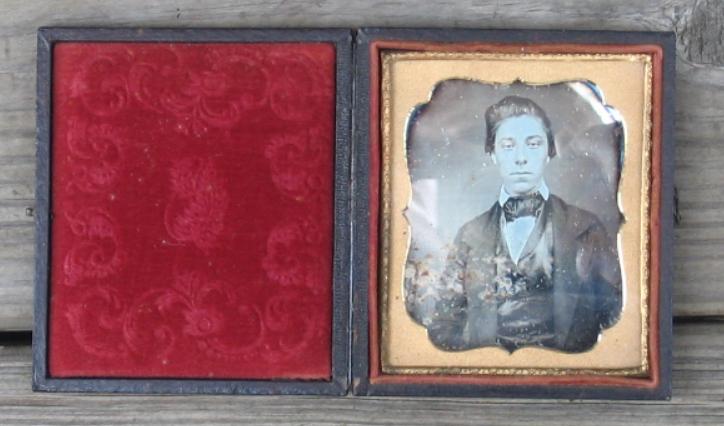 Image 62
Cabinet Card Photograph of a young man in Uniform with a photographers imprint of Lamsom of Portland,ME. This is an indian war era photograph showing a young man in uniform coat with sgt's stripes and a script A on his collar. There is another insignia on his collar but I can't make it out. I believe his buttons are Maine State Seal buttons as well. Nice one! $45.00 item photography 60

Image 61
This is a great old actual photo postcard of a line of Indian Squaws watching "the dance" at Rosebud S. Dak. Better than my pic shows. This is a line of squaws with an American Flag. On the back is writing which says 'Some of the squaws who do the sining while the buck Indians dance.' This card is probably from the teens or 20's. Nice condition and was never sent anywhere. Excellent condition! $35.00 item photography 61

Image 59
This cabinet card shows 4 young men playing cards and drinking whiskey. Every Mother's nightmare! The bottom of the card has the photographers logo of H. OLIVANT - HENNESSY, O.T. which stands for Oklahoma Territory. Before Oklahoma was a state! Oklahoma Territory was located almost in the center of the state with seven counties; (1) Logan (2) Oklahoma (3) Cleveland (4) Canadian, (5) Kingfisher (6) Payne and (7) Beaver. Surrounding Oklahoma Territory was Indian Territory. The back of the card has the name of Sam Morrow on it. Very good condition! $95.00 item photography 64

Image 58
Another Excellent cabinet card showing a baby girl laying on a fur blanket of some sort. This is a great image from W.C.Downing - Ardmore, Ind. Ter. Indian Territory! Oklahoma Territory was located almost in the center of the state with seven counties; (1) Logan (2) Oklahoma (3) Cleveland (4) Canadian, (5) Kingfisher (6) Payne and (7) Beaver. Surrounding Oklahoma Territory was Indian Territory. In 1890 three Judicial Districts were established in Indian Territory: First District, covering the area of Cherokee and Creek Nations with Muskogee as the court seat; Second District covering the area of the Choctaw Nation with South McAlester as the court seat; Third District covering the area of Seminole and Chickasaw Nations with Ardmore as the court seat. $35.00
item photography 65
Image 57
This is a CDV showing a Civil War era German Cavalry Officer. Full standing view with sword and kepi on table. German backmark of C.S.STRAUFS PHOTOGRAPH SCHWERIN, BISCHEFSTRASSE NO. 5. $35.00 item photography 66

Image 56
A nice CDV of Tom and Lavinia (Warren) Thumb! Nice condition CDV showig full standing views. TOM THUMB (Charles Sherwood Stratton) Charles Sherwood Stratton (Tom Thumb) was born Jan. 4, 1838, in Bridgeport, Conn., to Sherwood Edward Stratton, a carpenter, and his wife, Cynthia. The parents, "normal" sized adults reportedly were embarrassed that their son was a dwarf. In 1842, P. T. Barnum discovered Charles, who measured 25 inches and weighed 15 pounds, only six pounds more than his birth weight. Barnum touted the child as an 11-year-old European marvel and taught him to sing, dance, mime and act. During their dealings together, they traveled around the world and met various leaders and royalty, including President Abraham Lincoln and Britain's Queen Victoria and Prince Albert. Tom Thumb and Lavinia Warren were married Feb. 10, 1863, in New York City's Grace Episcopal Church. The newlyweds stood atop a grand piano to receive 2,000 guests. Tom Thumb died of a stroke on July 15, 1883. His funeral was attended by more than 10,000 people. Lavinia remarried on April 6, 1885, to an Italian dwarf, Count Primo Magri. She died Nov. 25, 1919. LAVINIA WARREN (Mrs. Tom Thumb) Mercy Lavinia Warren Bump was born Oct. 31, 1841, in Middleborough, Mass., to James S. and Huldah P. Bump. She had four brothers, George, James, Sylvanus and Benjamin, all of whom reached six feet or more by adulthood, and two sisters, Caroline Delia, a normal-sized person, and Huldah (later known as Minnie Warren), who grew to 32 inches. Before being hired by P. T. Barnum in 1862 to appear in his American Museum in New York City, Lavinia spent four years with a relative's traveling boat show steaming up and down the Mississippi River. She was employed as a teacher in a one-room country school when Barnum heard of her. Within the year, Lavinia, 21 years old and 32 inches tall, met Charles Sherwood Stratton, "General" Tom Thumb, whom she later married.
item photography 67
Image 55
This is an unmounted tintype showing a young man wearing an apron. He could be a blacksmith, a butcher or whatever. Nice condition! $25.00 item photography 68

Image 54
This is another unmounted tintype showing a slightly older boy wearing an apron. Like the boy abouve he could have been a blacksmith, butcher or whatever. Both photos came together. $25.00 item photography 69

Image 52
A CDV heavy card of an 18th century German or European Soldier with the photographer imprint of Stadler, Aeschach. on the front. Probably 1880's or so. Has backmark info as well. $5.00 item photography 71

Image 50
This is a paper mounted tintype showing a Civil War or slightly post CW Muscian with a small wind instrument in his hand. Nice full standing view showing this young man is uniform with kepi. Kepi has a wreath with something in it attached to the front. A couple of bends but just very slightly dark. $65.00 item photography 72

Image 49
This is a paper mounted tintype showing a knees up soldier in what appears to be a gray jacket with buttons down the front. This however is a Veteran Reserve Corps Union soldier. The image is excellent with just a few minor bends and has excellent clearity and color! $250.00 item photography 74

Image 48
Here are 3 CDV's of lads that are Military Academy students. Two of the CDV's are of the same boy and he is identified as Richard M. Bowen age 10 years and is dated 1863. The other boy holds a kepi by his side. They are both wearing shell jackets and the same dark pants. The backmarks are E.B.Carpenter, Photographer, successor to Frank Rowell, Providence, R.I. Nice images! The one little fellow doesn't look too happy. For the 3 - $120.00 item photography 75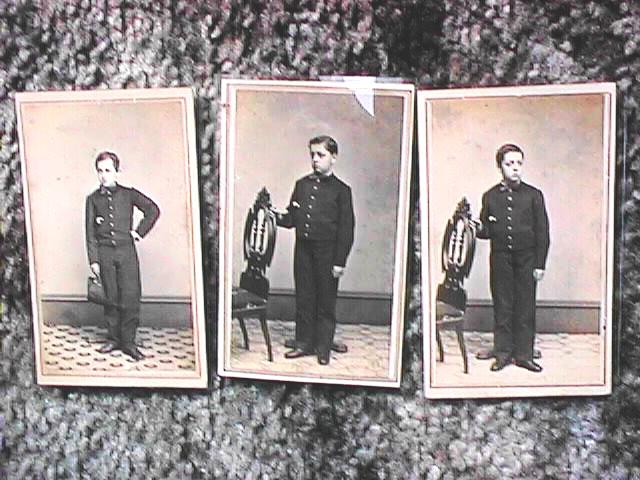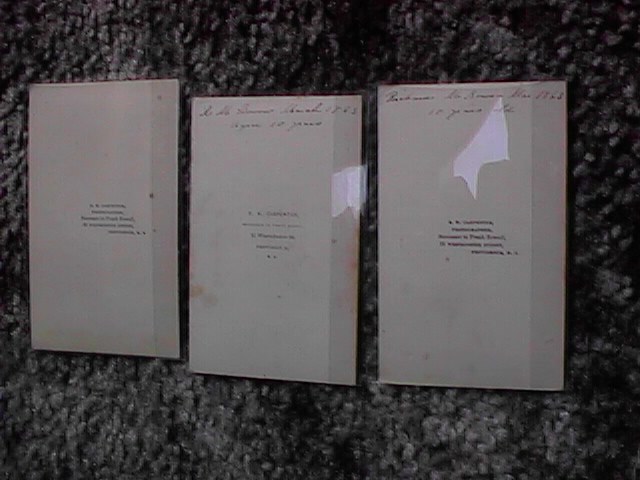 Image 46
Here's an excellent condition CDV of 3 young Acrobats! This card dates to about 1870 or so and is backmarked C. Henkel, Photographer, 1288 Broadway, N.Y. $45.00 item photography 78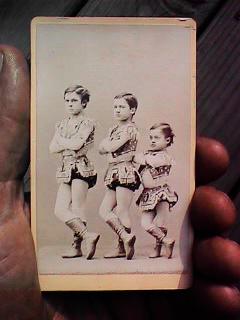 Image 45
This is a nice unmounted full plate tinted tintype of a young gentleman of the 1850's and the 1860's. The look on his face is great. Very sharp for a large tintype! $95.00 item photography 80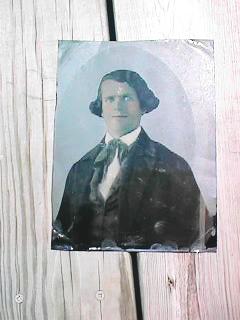 Image 44
This is an old 1/6th plate thermoplastic case showing different fireman scenes on the front. Check out the pics! The case has a few cracks in it on the inside that you can't see on the outside and it's somewhat warped from heat. It also needs a pad on the inside cover but it would look great with an old firefighter photograph in it. The paper inside has the following info on it: Littlefield, Parsons & Col, Manufacturers of Daguerrotype Cases. L.P. & Co. are the sold proprietors and only legal manufacturers of UNION CASES with the embracing Rivited Hinges . Patented October 14, 1856, and April 21, 1857. The Hinges are a little loose o n this case as well. Nice old displayable antique piece! $145.00 item photography 81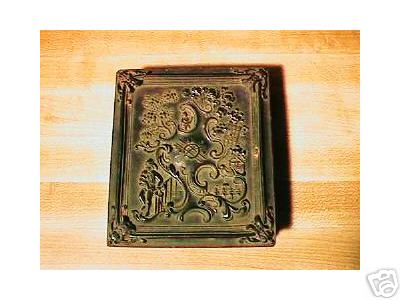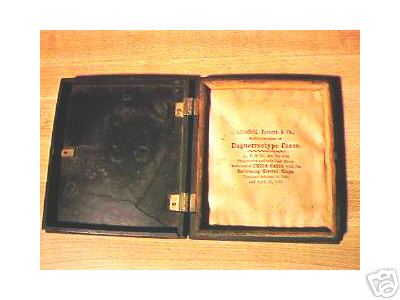 Image 43
Here is a great rare Cabinet Photograph find. This one is real nice. Check out the man standing at his cabinet doors with his beautiful hunting dog and percussion shotgun. This 1800s Rifle man Hunter Dog Gun Photo has great detail with minor edge wear. Overall condition is good for this neat old item. Just an great Photo !! $45.00 item photography 82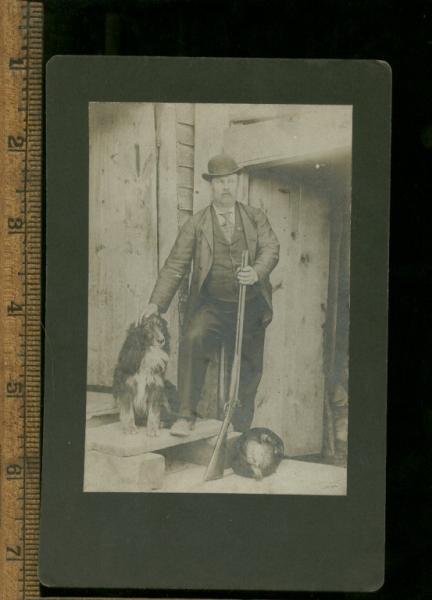 Image 42
This is a modern U.S. Grant photograph place in an old multilayed frame with an old ornate mat. The photo depicts Grant while in Petersburg VA in 1864. Looks great on the wall! $45.00 item photography 84

Image 41
Here are 2 more cdv's that are both photoengravures of General U.S.Grant. There are the same likeness but probably sold by 2 different photographers. The first one is the darkest of the 2 with slightly clipped corners and has on the bottom "Lieutenant-General U.S.Grant" while the other one being untouched has only U.S.Grant on it. $35 each. item photography 85

Image 40
The next two cdv's have likenesses of General George Thomas, the ROCK OF CHICKAMAUGA, GEN. THOMAS CDV SOLD! and of Secretary of War Stanton. The Thomas cdv and the cdv of Secretary of War Edwin Stanton is a photoengravure. The cdv of Stanton has clipped corners on the bottom. Each of these is $35 as well. item photography 86

Image 39
Here are two more Cdv's of Union Generals being photoengravures of General Joe Hooker and General U.S. Grant GEN. GRANT SOLD! . The Grant photo has a stain on it and no backmark. The Hooker CDV has the backmark of Joseph Ward of Boston. Each $35.00 item photography 87

Image 3
38 The next two cdv's are of Lincoln's Vice President Andrew Johnson PRESIDENT JOHNSON CDV SOLD! who took over as president when Abraham Lincoln was assassinated. This is a photoengravure with Andrew Johnson on the bottom. No backmark on this one. The other cdv is an engraving of General Grant and wife. Engravings look just like that while photoengravures look more like photographs. The Johnson CDV is $35 while the Grants cdv is $25.00 item photography 88

Image 37
This is a 13 X 17 inch photo in frame of Lt. General Nelson A. Miles attending a banquet given by the Illinois State Court of the Guarding of Liberty and is dated June 13, 1916. The old general is standing under the large flag at the top of the photo. General Miles was a Medal of Honor Winner! Here's his bio:
One of the most colorful soldiers ever to serve in the United States Army. Although the Indian Wars were over, he would rise still higher, to the top command in the U.S. Army. It was an impressive ascent from youthful beginnings as a clerk in a Boston crockery store, but still not as high as his ambition dictated. His future career, like his past, would be marred by controversy and endless discord with associates. For in him vanity and ambition powered a fierce competitiveness that drove his to revel tastelessly in his own genuine abilities and successes while minimizing or denying those of others. "Brave peacock," Theodore Roosevelt would call him, not inaccurately. Unfortunately for his place in history, the image obscured a record of notable achievement. He came to the frontier army in 1866 without West Point credentials but with an extraordinary Civil War record. Self-education had prepared him for the war. While clerking in Boston, he had attended night school, read deeply in military history, mastered military principals nd techniques, and even paid an old French veteran to teach him to drill. He marched off in 1861 as a First Lieutenant of Massachusetts Volunteers. Courage, leadership, professional knowledge, hard work and ambition brought the young officer to notice of his superiors, and he rose swiftly. By Appomattox, he had made himself a popular hero, four times wounded, veteran of every major battle of the Army of the Potomac except Gettysburg, successful regimental, brigade, division and (briefly) corps commander. Promotion to Major General of Volunteers came in October 1865 and three brevet promotions covered him with further honors. Not only was he a genuine hero, he looked like one. Tall, muscular, broad-shouldered, well-proportioned, with intense blue eyes and a jaunty mustache, he made a dashing figure in his blue and gold uniform with starred shoulder straps and chest full of brass buttons. He was 26 years old. He had found his calling. He wanted to be a career soldier and his record in the Volunteer Service assured him a commission in the post-war regular army. He sought a brigadier's star, a presumptuous goal in the shrunken peacetime army, even for one of his conspicuous attainments. The colonel's eagles that he accepted with bad grace represented a higher rank than others with even greater distinction and seniority could win. Even this distinction cam not solely in recognition of his wartime services. He had learned one of the truths of his times: ability helped, but high-level influence was vital. He enlisted the support of an imposing roster of military and political luminaries in behalf of his candidacy, and his colonel's commission owed as much to this as to his war record. He would become one of the army's most ardent practitioners of influence peddling. Marriage appeared to enhance his possibilities, although it is unlikely that cynicism formed part of that motivation. On June 30, 1868, he married Mary Hoyt Sherman, whose uncles were Ohio Senator John Sherman and Army Major General William Tecumseh Sherman. Less than a year later, with the inauguration of Ulysses S. Grant as President of the United States, Sherman became General-in-Chief of the Army. At once, Miles began to importune his wife's uncle for official favors. Until 1883, when he stepped down as leader of the Army, Sherman stubbornly fended off these efforts. As early as 1888, California interests had advanced Miles' name for the presidency, and throughout the 1890s he doubtless had no more difficulty visualizing himself as President than he had in 1876, a frontier Colonel, as Secretary of War. In truth, neither major party ever seriously considered him a serious nominee. In 1895, he did attain the top command of the Army, successor to Washington, Scott, Grant, Sherman and Sheridan, but his term was filled with frustration. In the Spanish-American War, William McKinley denied him any real authority and relegated him to command an almost unnoticed expedition against Puerto Rico. Instead of glory, he gained uncomplimentary notice from a bitter public quarrel with the Secretary of War and a ruthless, unjust attack on the Commissary General of the Army in the scandal over "embalmed beef." Even his elevation in 1901 to the newly restored grade of Lieutenant General brought only small satisfaction. Almost at once he earned the displeasure of Theodore Roosevelt by taking sides in a feud between admirals and by criticizing U.S. policy in the Philippines. He also opposed the long-overdue reform of the War Department, which called for converting the Commanding General to a Chief of Staff. Finally, when he reached the mandatory retirement age of 64 in 1903 and stepped down as the last Commanding General in the Army's history, the President declined to send the customary congratulatory message, and the Secretary of War did not attend the retirement ceremonies. He lived out his remaining years quietly in Washington, D.C. World War I brought persistent application for active duty, but they were politely turned aside. No longer a center of controversy, he became a venerable figure out of the past, a reminder of the war to save the Union, out of the old army, and of the frontier West that he played such a glorious part in opening to settlement. The end, at the age of 85, could not have been more fitting. In the spring of 1925, he took his grandchildren to the circus. The band played the National Anthem. Standing erectly at attention, rendering the military salute to the flag, he collapsed with a heart attack. The burial at Arlington National Cemetery featured the impressive ceremonial homage he would have considered his due. He might have also felt a small sense of vindication in the gravesite attendance of President Calvin Coolidge. He is buried in Section 3 in one of only two mausoleums in Arlington National Cemetery (the other in Section 1 belongs to General Thomas Crook Sullivan). Another connection with Arlington was that Miles was the Grand Marshall at the dedication of the Memorial Amphitheater, which was held in 1920. He was born on August 8, 1839 near Westminister, Massachusetts. He was commissioned as Captain of the 22nd Massachusetts Volunteer Infantry at the outbreak of the Civil War. His baptism of fire came while serving in General Oliver O. Howard's staff at Fair Oaks (Seven Pines), May 31, 1862, after which his bravery earned him promotion to Lieutenant Colonel. He was promoted to Colonel after assuming command of his regiment in the midst of the battle of Antietam (Sharpsburg), September 17, 1862. Distinguished himself and was himself seriously wounded at Fredericksburg, December 13, 1862, again at Chancellorsville, May 2-4, 1863. For his actions at the latter he won, as of March 1867, Brevet to Brigadier General and even later, in 1892, the Medal of Honor. He was present at nearly every major engagement of the Army of the Potomac. Appointed Brigadier General of Volunteers in May 1864 and commanded a Division in the final campaign at Petersburg, Virginia. In October 1865, at the age of 26, was named Major General of Volunteers in command of II Corps. As commandant of Fort Monroe, Virginia, after the war, he became the custodian of Jefferson Davis, and for keeping him shackled in his cell, was the target of severe public criticism, even in the North. In July 1866 was appointed Colonel in the regular army and in March 1869 was commander of the 5th U.S. Infantry. His subsequent service on the Western frontier was dedicated and courageous during recurring hostilities with the Indians. Achieved victories against Cheyenne, Comanche, Kiowa and Arapaho on the Staked Plains of Texas in 1874-75, notably the victory of Colonel Ranald S. MacKenzie at Palo Duro Canyon, September 24, 1874, and later was instrumental in driving the Sioux under Sitting Bull into Canada nd pacifying those under Crazy Horse. He captured Chief Joseph in 1877 after the Nez Perces incredible march toward sanctuary in Canada, and the following year pacified the Bannocks under Chief Elk Horn near Yellowstone. Promoted to Brigadier General in December 1880, he commanded the Department of the Columbia until 1885 and the Department of the Missouri in 1885-86, and in April 1886 succeeded General George Crook as the commander of the Department of Arizona, where he succeeded in September in finally capturing the elusive Apache leader, Geronimo. He commanded the Department of the Pacific at San Francisco in 1888-90, receiving promotion to Major General in April 1890. In the last uprising of the Sioux in South Dakota in late 1890, during which Sitting Bull was killed, he restored U.S. control over the Indians, but his reputation was permanently tarnished by the massacre of some 200 Sioux, including women and children, by troops under the command of Colonel James W. Forsyth (7th U.S. Cavalry) at Wounded Knee, South Dakota, on December 29, 1890. In 1894, while commanding the Department of the Missouri, was responsible for the Federal troops employed in the suppression of the Pullman strike disorders in Chicago. Was placed in command of the Department of the East, with headquarters at Governors Island, New York in 1894, and on the retirement of John M. Schofield be became on October 5, 1895 the Army's Comander-in-Chief. His role in the Spanish-American War was mostly administrative, although the did conduct an expedition to Puerto Rico, landing on July 25, 1898, and campaigning until August 13. In February 1901 he was promoted to Lieutenant General. Late in that year he was reprimanded for having commented publicly on Admiral George Dewey's report on charges against Winfield Scott Schley. In 1902, on his return from an inspection trip in the Philippines, he aroused controversy with his criticism of the conduct of certain U.S. officers there. Author of "Personal Recollections and Observations of General Nelson A. Miles," in 1896, and "Serving the Republic," in 1911.
MEDAL OF HONOR WINNER -------------------------------------------------------------------------------- MILES, NELSON A. Rank and organization: Colonel, 61st New York Infantry. Place and date: At Chancellorsville, Virginia, 2_3 May 1863. Entered service at: Roxbury, Massachusetts. Birth: Westminster, Massachusetts. Date of issue: 23 July 1892. Citation: Distinguished gallantry while holding with his command an advanced position against repeated assaults by a strong force of the enemy; was severely wounded. -------------------------------------------------------------------------------- This photo and frame of the Famous General is complete and in very good condition. $85.00
item photography 90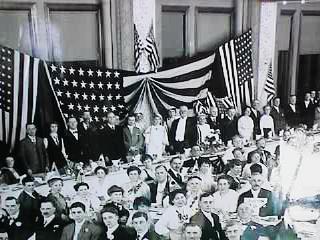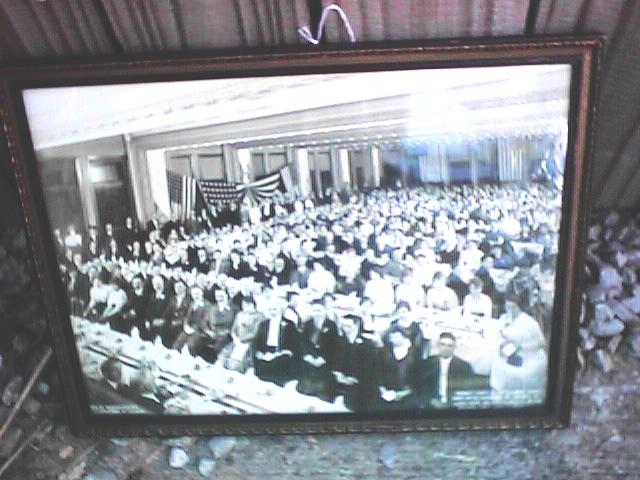 Image 36
sold
Nice cabinet card image of a young Indian wars soldier or Spanish American War soldier. He's in full uniform and holding his 45/70 rifle w/bayonet on. He's also shown with his US Hagner belt place on. It's somewhat faded with age but not bad at all. The photographer is noted on the the bottom of the front as "O.M. Harness, Sheridan, Ind." The back is blank. Nice Indiana Image! $45.00 item photography 91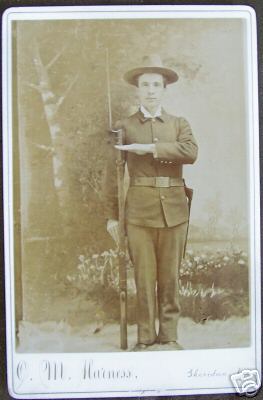 Image 35
This is a very nice studio photo of 5 soldiers. They are Indian War era soldiers. One is tipping up a bottle of whatever (probably whiskey!) to pour into a glass. Nice subject! Clear! Housed in a album page. $125.00 item photography 92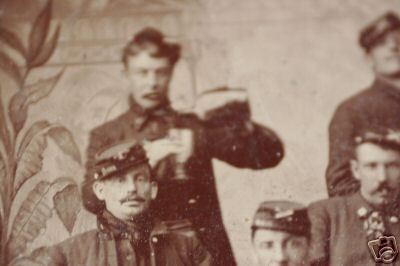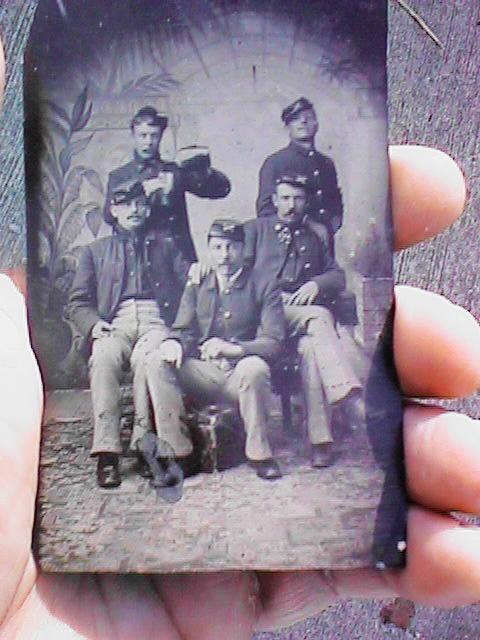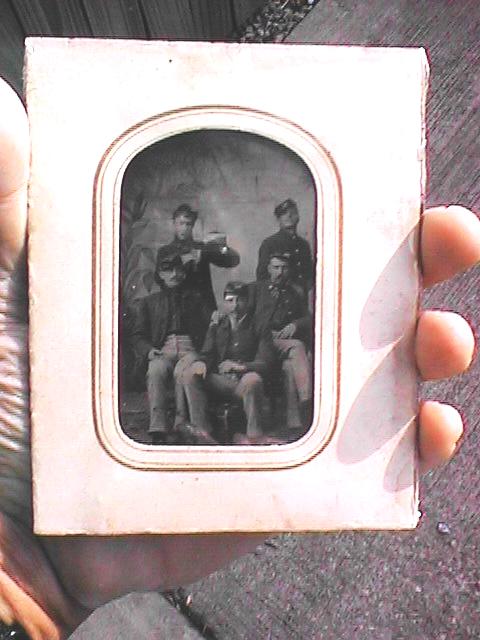 Image 34
This is a very nice 1850's gutta percha daguerrotype case with an ambrotype inside of a young girl. The photo is best seen in the light but is pretty nice and the ornate brown case is in excellent condition measuring 2 1/2 X 3 inches. Inside the case is written 'Presented to Eugene Jones by his cousin Maria Myers Lancaster Ohio March the 12th, 1858'. Nice and early!!! $125.00
item photography 93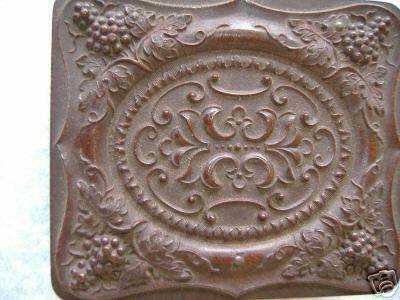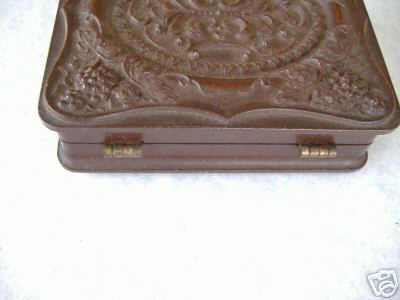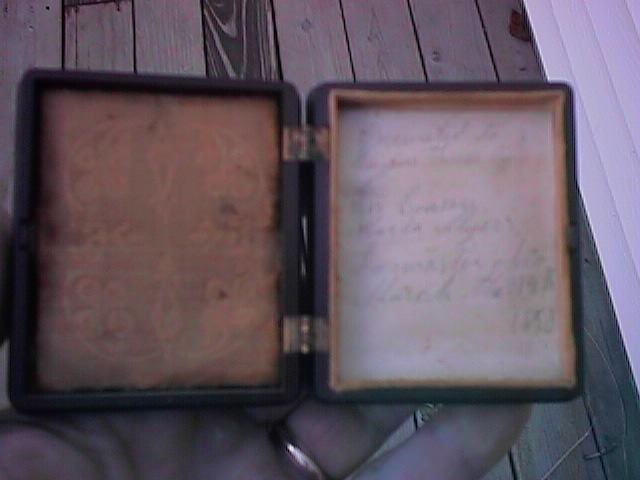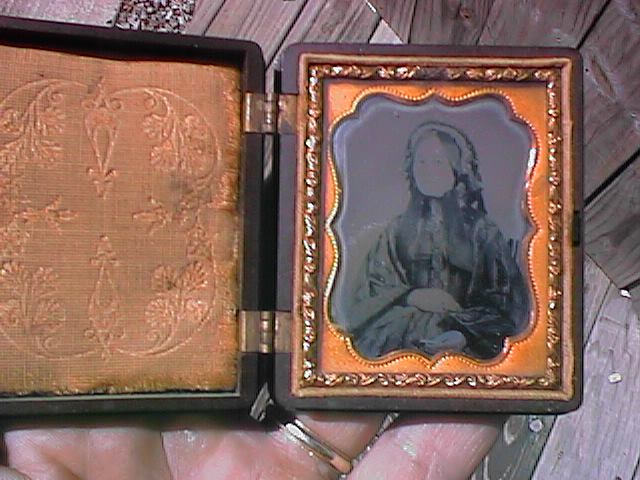 Image 33
Here are 2 photos that we picked up here in Indiana. The 1st is a 1/9th plate tintype in half case missing bottom that depicts 2 men sitting down with one wearing a cape of some sort. Don't know if it's military or not. Unusual! $35.00. The 2nd photo is a wonderful little 1/16th plate ambrotype on glass that shows a little antibellum girl wearing a shoulderless dress with a nice little necklace. No case on this one but the subject is just precious! Unusual hard to find small size! $35.00 item photography 94

Image 32
This is an outstanding tintype from the Gettysburg area of Civil War Police Officers or possibly Provost Marshals. They are wearing Uniforms and could be either. This is a 1/6th plate size tintype with the usual bends. Very nice image! $165.00 item photography 95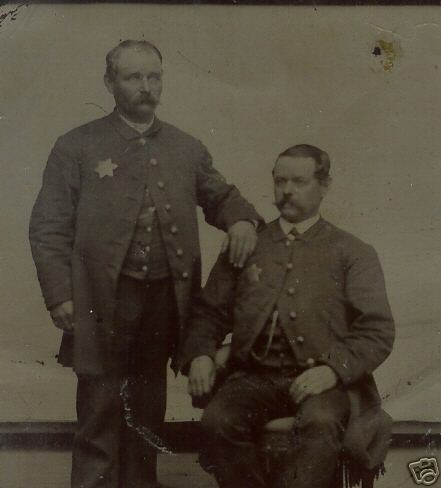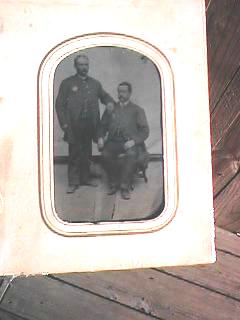 Image 31
This image from Gettysburg is a very unusal image but I've not been able to tie it in to Gettysburg.. The image is a 1/6th plate tintype showing a shoe shop! You know fighting reportedly started at Gettysburg because Confederate Soldiers were going to town to raid a shoe shop! The image has on the top of the building 'SAMONS' ' BOOT AND SHOE SHOP' ! The image looks much better than my camera can pick up. The image is kind of silver in nature but it is a tintype. There are 2 guys standing on the porch of the shoeshop and a lady standing out front to the left. Hard to find image! $425.00 item photography 97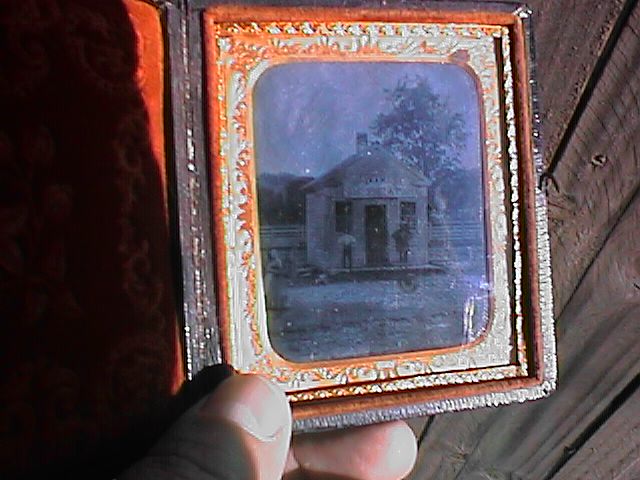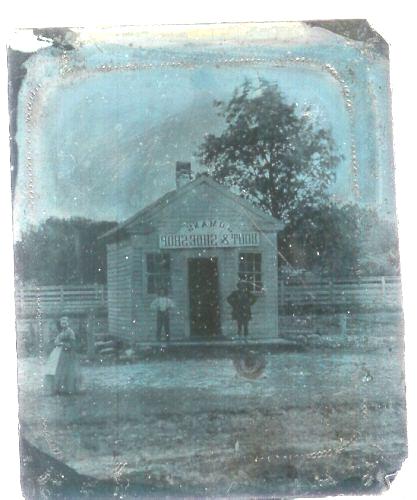 Image 30
This 1/6th plate ambrotype on glass is from the Thorntown, Indiana area. This is an excellent image of a young woman that is fairly so attractive. She wears a bonnet and sits in a chair. Inside the case is written 'Ambrotype of Sarah E. Blanchard taken march the first 1860 - aged 22 yrs. Comes in a full case with repaired spline. Excellent quality! $85.00 item photography 98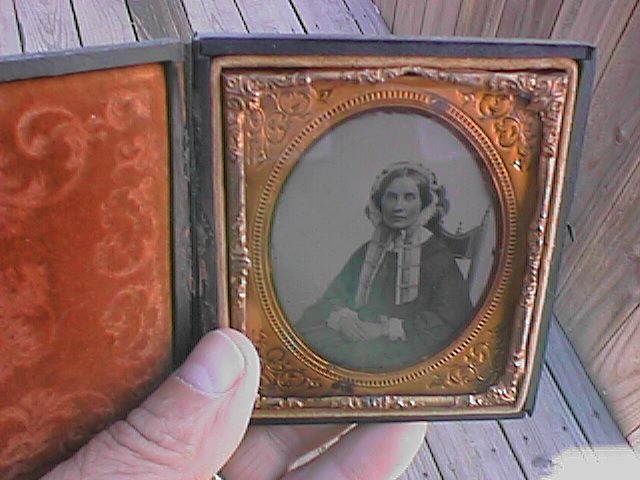 We have picked up several very nice stereo-optic cards from the late 1800's thru early 1900's. Each card is $3 unless otherwise noted. Thanks!
Image 29
Here's a great stereo card with just a little damage to the outside left of the image on the left. This one is entitled 'Worshippers before an image in the exqauisitely carved Temple of Vimala Sah, Mount Abu, India. Copyright 1902 by Underwood and Underwood. The reverse of the card has all the information on this temple. Nice! item photography 99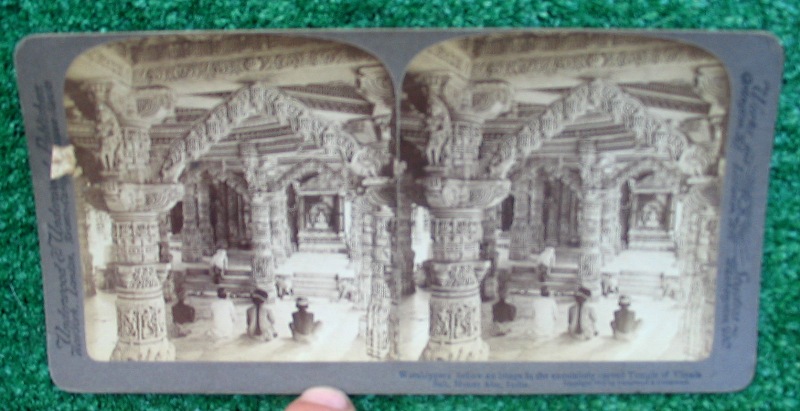 Image 28
Trente et Quarente Salon, Monte Carlo, Monaco, Copyrifht 1897 by Underwood and Underwood. Titles on the back in several languages. Good Condition! item photography 100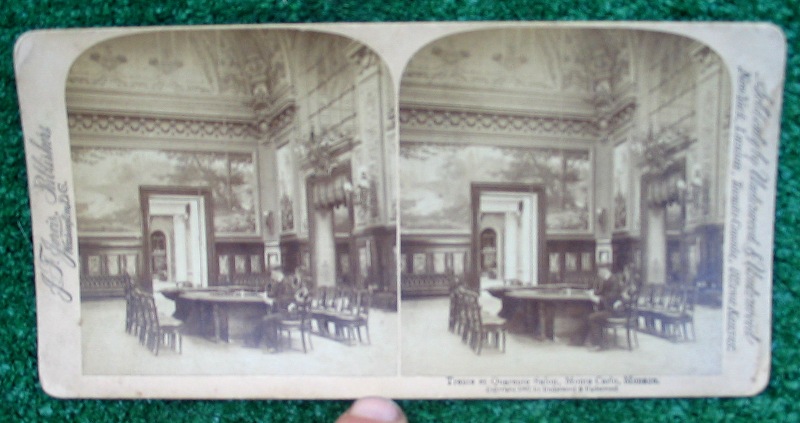 Image 27
Rock of Ages-The Rescue, copyright 1895 by Littleton View Co. with the title on the back in several languages. item photography 101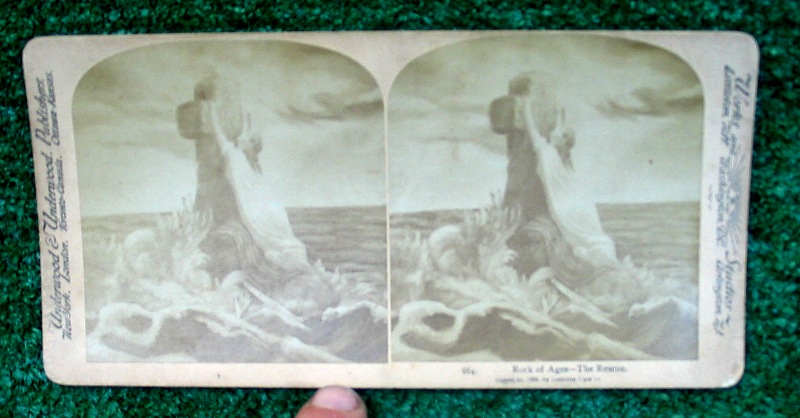 Image 26
Here are 2 cards for one money that I like to call 'mean women!'. One of them has an old repair and is damaged. The other is fine. There is a date in pencil on the back of one that is 1897. Looks like one woman knocked the man out of a chair! Meany! Sold by Griffith & Griffith but no other explanation on them. item photography 102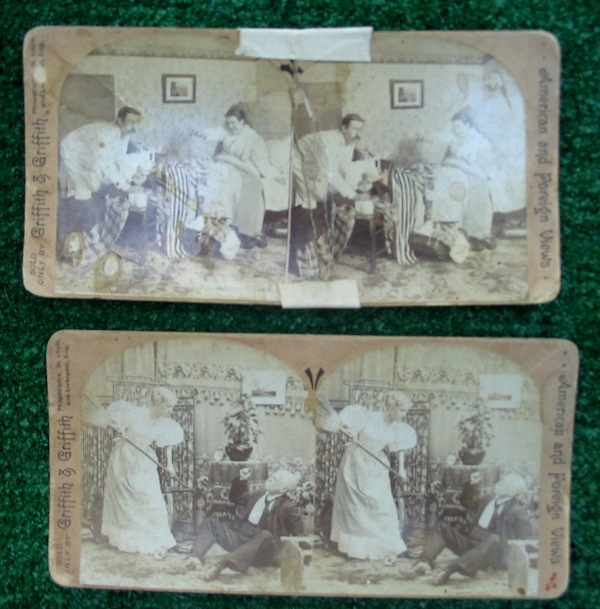 Image 25
This card is entitled 'This parting gives me pain, dear.' copyright 1899 by Strohmeyer & Wyman. Good Card. item photography 103
Image 24
This card is entitled 'The Victorial Saloon, Royal Palace, Stockholm, Sweden.' copyright 1897 by Underwood and Underwood. The title is on the reverse in several languages. Nice. item photography 104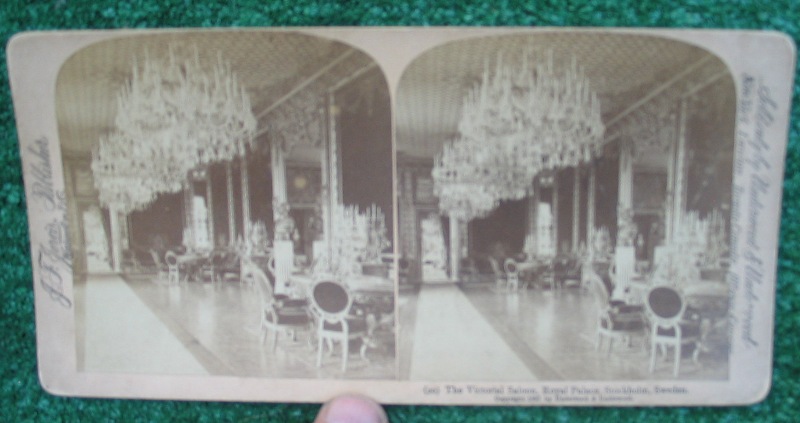 Image 23
This card is entitled 'Gossip-At every Sip a Reputation Dies'. Copyright 1899 by Strohmeyer & Wyman. Nice one. item photography 105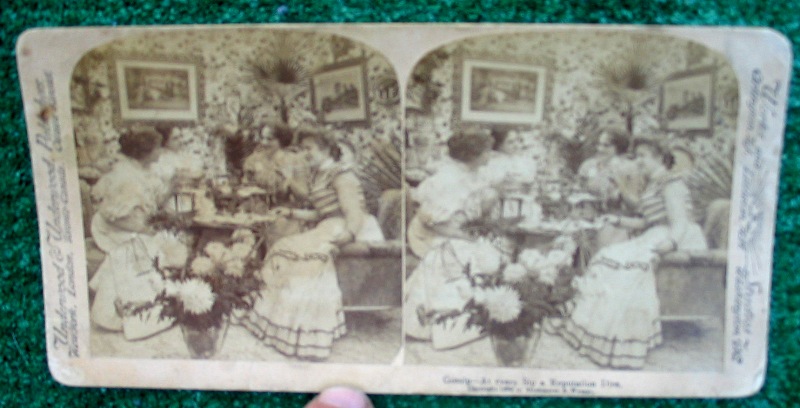 Image 22
This card is entitled 'Broad Street, north to the Stock Exchange, U.S. Sub-Treasure and Wall Street, New Yorkk. Copyright 1903 by Underwood and Underwood. Nice! item photography 106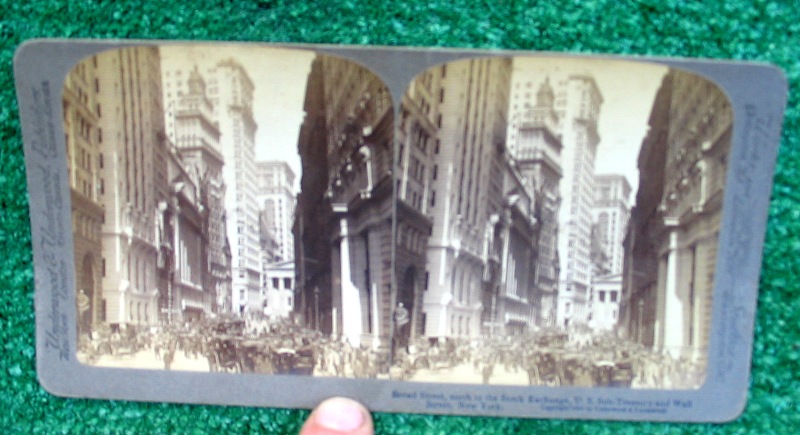 Image 21
Here's another good one entitled 'The Fountains from Peterhof Palace, The Summer Residence of the Czar of Russia,. Copyright 1897 by Underwood and Underwood. Title is in several different languages on the reverse. item photography 107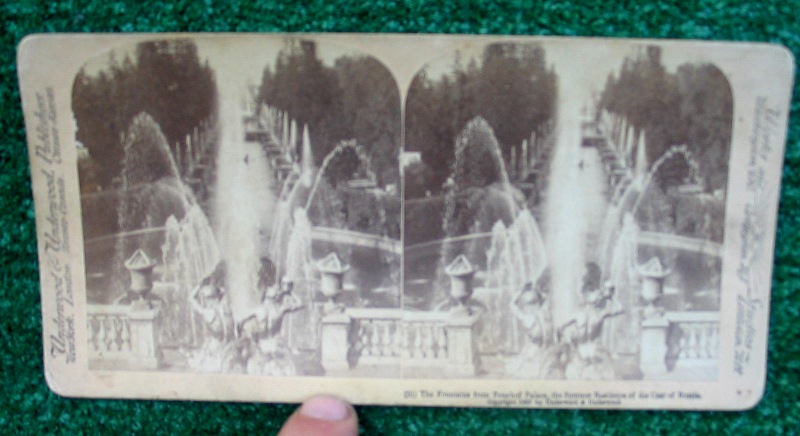 Image 20
This one has a corner broke off it but the subject material is great! Shows a dog with his hunter master and shotgun surrounded by several Grouse! This card is entitled 'A Morning with Rover and the Grouse. Copyright 1893 by Geo. Barker. The break doesn't touch the image. Titles on back item photography 108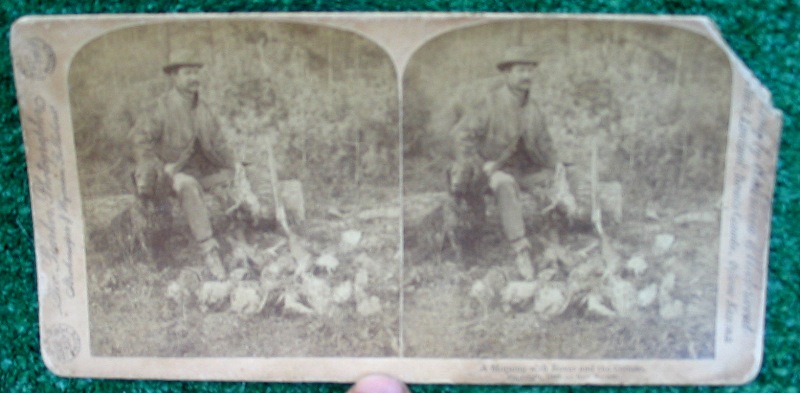 Image 19
This next card is a great one entitled 'In the Great Union Stock Yards, Chicago, U.S.A. Copyright 1893 by Underwood and Underwood. Titles on back. Very nice! item photography 109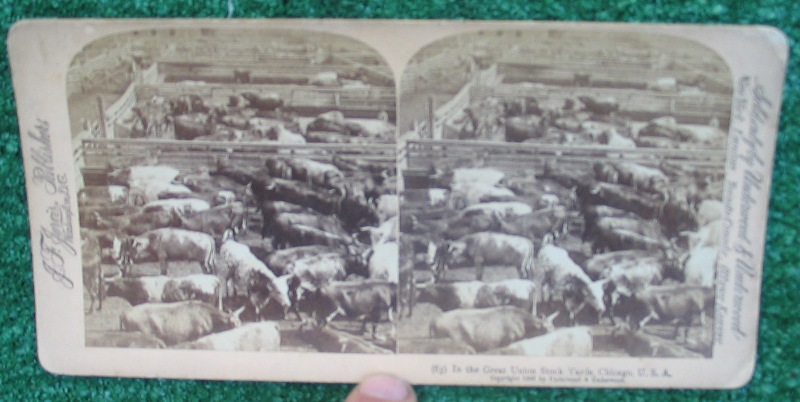 Image 18
Here's one entitled 'Looking through Eiffel Tower to Chateau d'Eau from Trocadero Palace, Exposition 1900, Paris France. Copyright 1900 by Underwood & Underwood. This is a nice card with a couple of smaller waterspots not affecting the image. I can see a Ferris Wheel in the background! item photography 110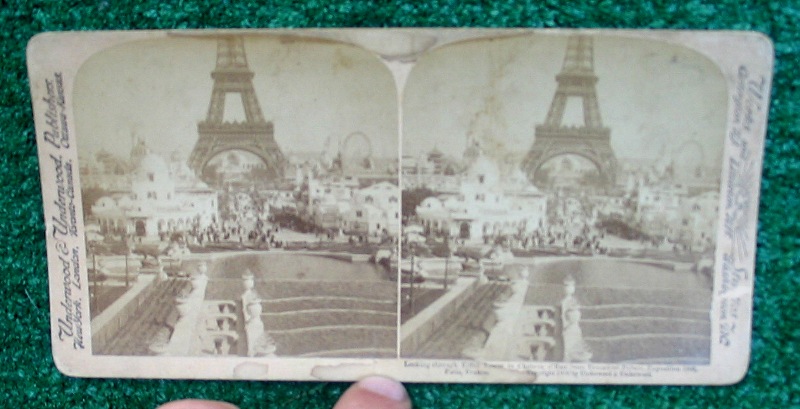 Image 17
This is a nice card entitled 'Lock Katrine, Scotland'-"The spot an Angel deigned to grace." Copyright 1899 by Strohmeyer and Wyman. Shows a Steamship passing by. item photography 111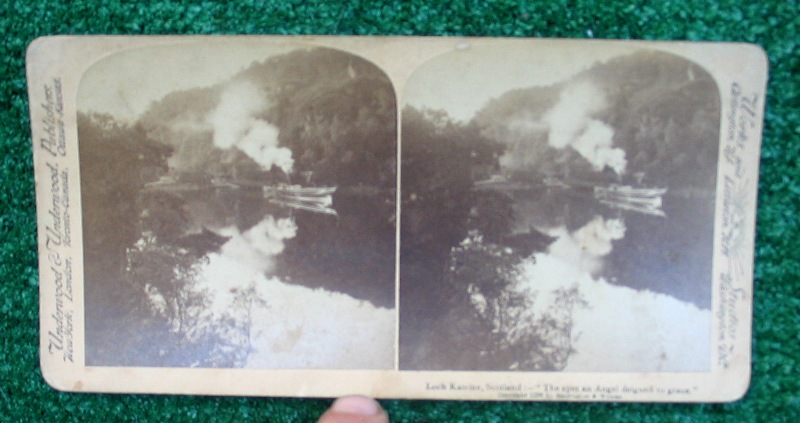 Image 16
Here's a funny card entitled 'He Don't Like His Pants.' Copyright 1891, by Littleton View Co. Titles on back. The little girl is grinding down his pants for him! Lots of nice toops and a boot in the photograph. Slightly light. 112
Image 15
Here's a card entitled 'They all do it. Diversos entretenimientos.' Looks like 2 folks in black face sitting below 2 kids looking down from above. Nice but soiled. item photography 113
Here's an excellent card entitled 'At Oxford University, Britain's most famous seat of learning-showing Mary Magdalen College, Oxford, England.' Copyright 1902 by Underwood and Underwood. item photography 114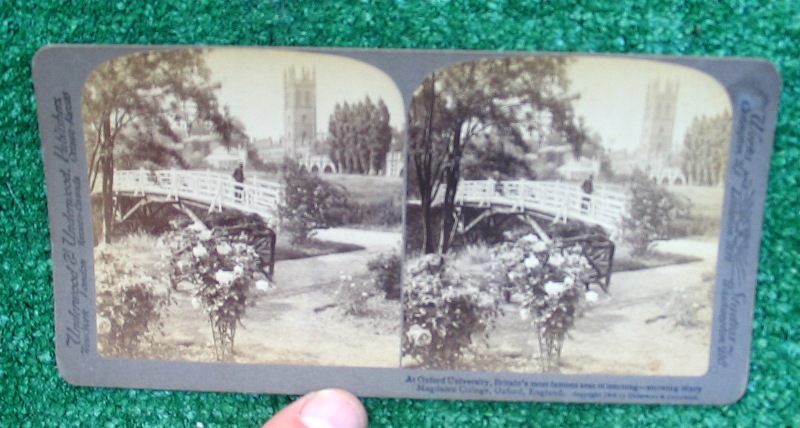 Image 14
Here's another excellent card entitled 'Cliff House and Seal Rocks from the Beach-showing the tide coming in, San Francisco, Cal'. Copyright 1902 by Underwood & Underwood. This excellent card shows a team of horses on the beach and of course, the famous Cliff House! item photography 115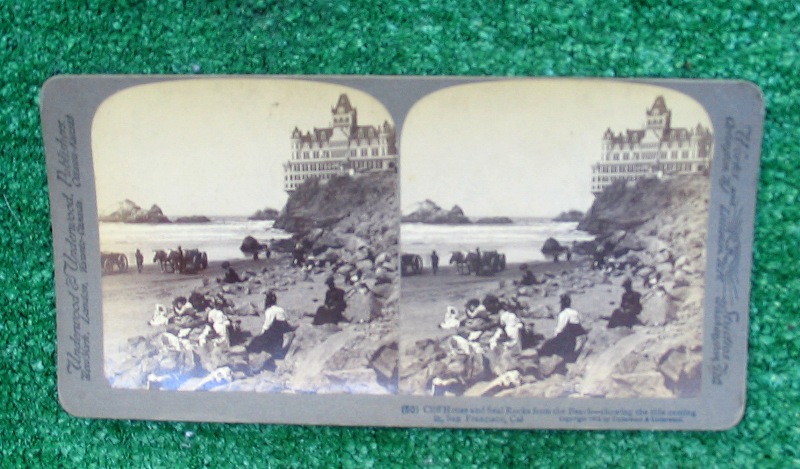 Image 13
Here's a Women's Liberation Movement card that shows a man washing clothes and tending to the children while his wife is dress up for going out and is pointing her finger at him, probably giving him some last minute directions. Obviously 'Laying Down the Law!" Some things don't change! Copyrighted 1895. item photography 116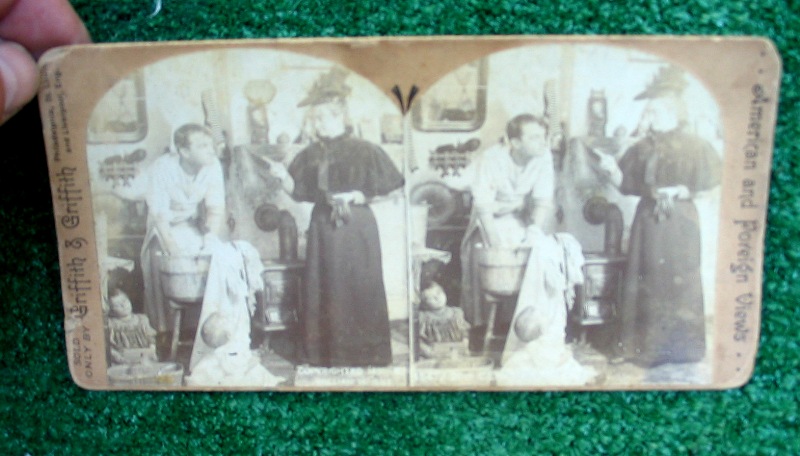 Image 12
Here's a great one here. This is a card of the Liberty Bell. This one is titled 'Independence Bell, which first proclaimed Freedom, as "government by the people,"-Philadelphia. Copyrighted 1902 by Underwood & Underwood. Nice! You can even see the crack! item photography 117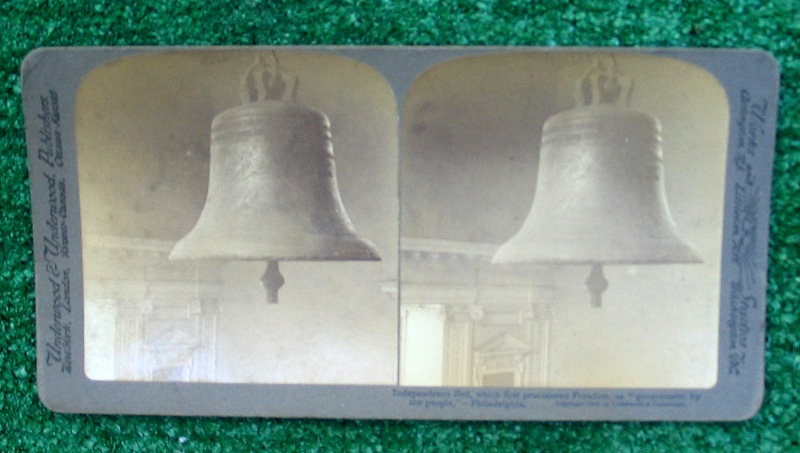 Image 11
This is an outstanding card entitled 'The Pets'-on a western stock farm, Kansas, Copyright 1903 by Underwood & Underwood. Little girl sitting on a steer holding her kitten. Warm and Wonderful! item photography 118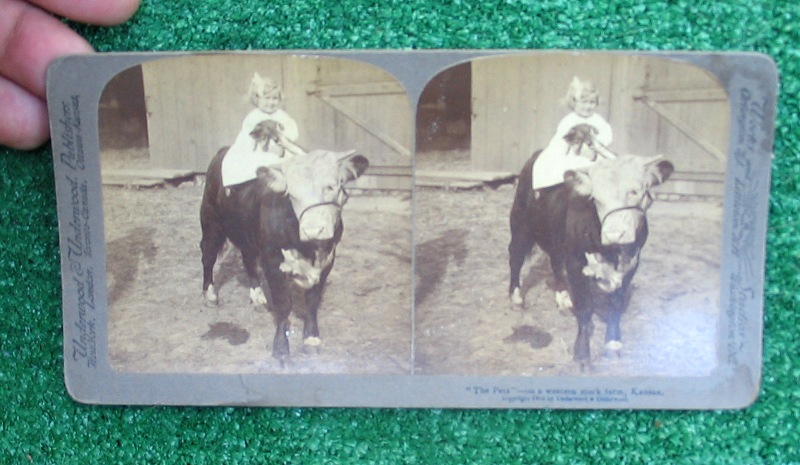 Image 10
Here's 2 cards that need to stay together and I'll take $5 for the pair. These cards are copyright 1896 by Griffith & Griffith and are entitled 1. Love on a Tub and 2. Love in a Tub Early humor! In card 2. you can see the tub is on a wooden box entitled 'Pettijohn's California Breakfast Food' 'Minneapolis, Minn'. I'd like to have that box! item photography 119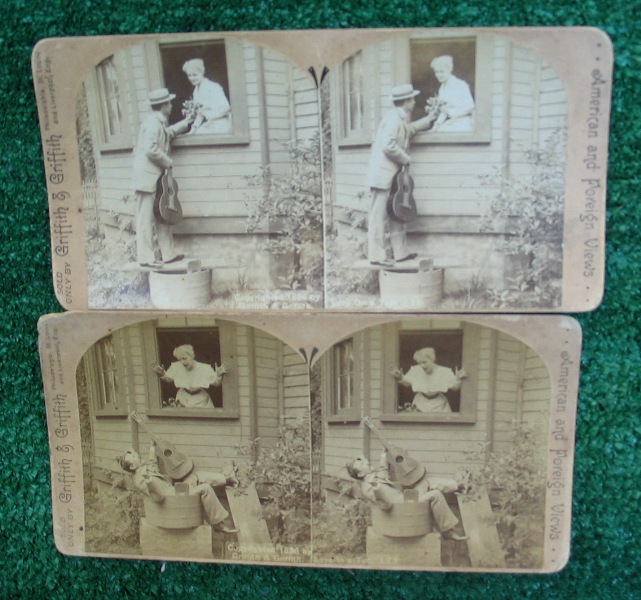 Image 9
Heres something I found of interest. This is a stereoptic card copyright 1900 showing a Pontoon Bridge built by Royal Engineers across the Modder in South Africa. What is so interesting is that it's very similiar to what the Corps of Engineers did during the Civil War. This is a nice card being somewhat light but still easily seen. by Underwood and Underwood. $10.00 item photography 110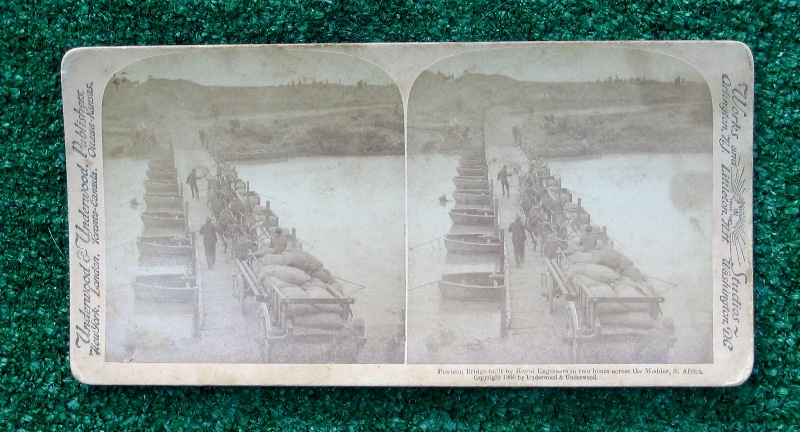 Image 8
Here's another stereo card that is in outstanding condition. This is a battle scene from the Spanish American War showing American troops firing their firearms! The caption is entitled 'Heroic Washington Volunteers advancing-Fillipinos 800 yards in fron-Taguig, Philippines'. Copyright 1899 by Underwood and Underwood. The back of the card is filled with information about the photos on the front. A little of it is:'This is an old rice field near Taguig, about ten miles S.E. of the city of Manila. You are seeing a moment of actual fighting-not any mere tableau, but serious business-the real thing as it was going on March 20, 1899.' The rest of the back is filled with interesting facts! Very nice card! $35.00 item photography 111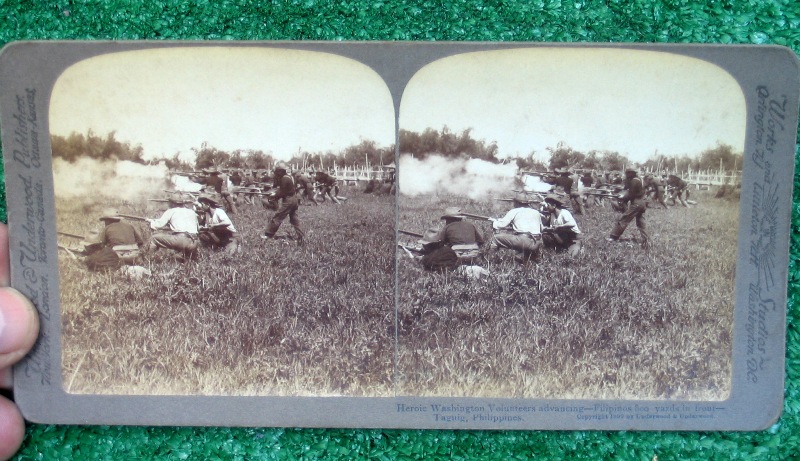 Image 7
These next 3 cards and book are all one lot and definitely belong together. These all have to do with President McKinley, the last Civil War Veteran to be President of the United States, and are titled as such:
1. President McKinley at his desk in the White House. Washington, U.S.A. - copyright 1898 by Strohmeyer and Wrman. Good Condition
2.Inaugural Parade, Mar. 4, 1897 by Griffith & Griffith, Philadelphia. This one is iin good condition showing troops marching down the street with rifle muskets over their shoulders. They are wearing their spiked Army helmets and uniforms. Outstanding!
3. Mrs. McKinley in the Conservatory of the Executive Mansion, Washington, U.S.A. Copyright 1900 by Underwood and Underwood. Very nice card.
William McKinley, Jr. (January 29, 1843 – September 14, 1901) was the 25th President of the United States, and the last veteran of the American Civil War to be elected to the office. He was the last president to serve in the 19th century and the first to serve in the 20th. The President McKinley grouping includes a book entitled MEMORIAL LIFE OF WILLIAM McKINLEY-OUR MARTYRED PRESIDENT and 3 stereo optic cards of the period. The book is in good condition with some spline separation and loads of photos! This book was written after his assassination in 1901 by Col. G.W. Townsend and is a first edition. This book is loaded with tons of photos and engravings of even the Funeral proceedings. 512 pages. No foxing. Also included is stereo optic cards of President McKinley at his desk in the White House copyright 1898 , the Inaugural Parade March 4th, 1897 showing many soldiers in parade formation. and lastly, Mrs. McKinley in the Conversatoryof the Executive Mansion, Washington D.C.copyright 1898. These cards are in excellent condition. Here's the Presidents Bio: WILLIAM MCKINLEY 1897-1901 At the 1896 Republican Convention, in time of depression, the wealthy Cleveland businessman Marcus Alonzo Hanna ensured the nomination of his friend William McKinley as "the advance agent of prosperity." The Democrats, advocating the "free and unlimited coinage of both silver and gold"--which would have mildly inflated the currency--nominated William Jennings Bryan. While Hanna used large contributions from eastern Republicans frightened by Bryan's views on silver, McKinley met delegations on his front porch in Canton, Ohio. He won by the largest majority of popular votes since 1872. Born in Niles, Ohio, in 1843, McKinley briefly attended Allegheny College, and was teaching in a country school when the Civil War broke out. Enlisting as a private in the Union Army, he was mustered out at the end of the war as a brevet major of volunteers. He studied law, opened an office in Canton, Ohio, and married Ida Saxton, daughter of a local banker. At 34, McKinley won a seat in Congress. His attractive personality, exemplary character, and quick intelligence enabled him to rise rapidly. He was appointed to the powerful Ways and Means Committee. Robert M. La Follette, Sr., who served with him, recalled that he generally "represented the newer view," and "on the great new questions .. was generally on the side of the public and against private interests." During his 14 years in the House, he became the leading Republican tariff expert, giving his name to the measure enacted in 1890. The next year he was elected Governor of Ohio, serving two terms. When McKinley became President, the depression of 1893 had almost run its course and with it the extreme agitation over silver. Deferring action on the money question, he called Congress into special session to enact the highest tariff in history. In the friendly atmosphere of the McKinley Administration, industrial combinations developed at an unprecedented pace. Newspapers caricatured McKinley as a little boy led around by "Nursie" Hanna, the representative of the trusts. However, McKinley was not dominated by Hanna; he condemned the trusts as "dangerous conspiracies against the public good." Not prosperity, but foreign policy, dominated McKinley's Administration. Reporting the stalemate between Spanish forces and revolutionaries in Cuba, newspapers screamed that a quarter of the population was dead and the rest suffering acutely. Public indignation brought pressure upon the President for war. Unable to restrain Congress or the American people, McKinley delivered his message of neutral intervention in April 1898. Congress thereupon voted three resolutions tantamount to a declaration of war for the liberation and independence of Cuba. In the 100-day war, the United States destroyed the Spanish fleet outside Santiago harbor in Cuba, seized Manila in the Philippines, and occupied Puerto Rico. "Uncle Joe" Cannon, later Speaker of the House, once said that McKinley kept his ear so close to the ground that it was full of grasshoppers. When McKinley was undecided what to do about Spanish possessions other than Cuba, he toured the country and detected an imperialist sentiment. Thus the United States annexed the Philippines, Guam, and Puerto Rico. In 1900, McKinley again campaigned against Bryan. While Bryan inveighed against imperialism, McKinley quietly stood for "the full dinner pail." His second term, which had begun auspiciously, came to a tragic end in September 1901. He was standing in a receiving line at the Buffalo Pan-American Exposition when a deranged anarchist shot him twice. He died eight days later.
For Everything $95.00 item photography 112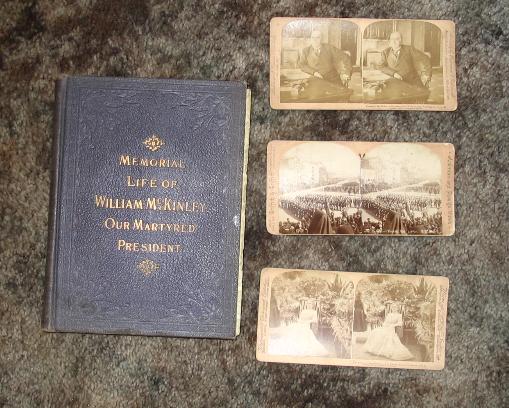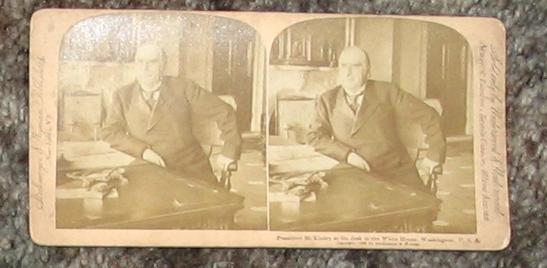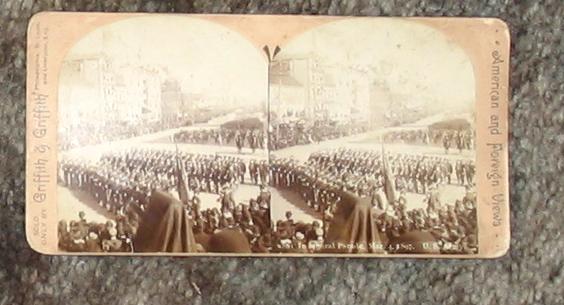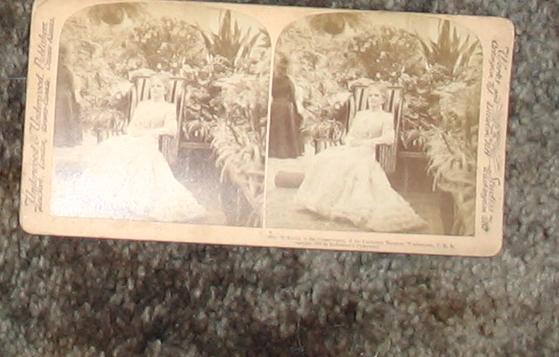 Image 6
Here we have a large print of an original painting done my 'MARLA' '98 and so marked. This is a very poinant setting showing a 10th Regiment Buffalo soldier saying goodbye to his wife and child. The 10th Cavalry was formed at Fort Leavenworth, Kansas in 1866. Very high standards of recruitment were set by the regimental commander and Civil War hero Benjamin Grierson. As a result, recruitment and organization of the unit required slightly over one year. By the end of July 1867 eight companies of enlisted men had been recruited from the Departments of Missouri, Arkansas, and the Platte. Life at Leavenworth was not pleasant for the 10th. The Fort's commander, who was admittedly opposed to African- Americans serving in the regular army, made life as difficult as he could on the new troopers. Grierson sought to have his regiment transferred, and subsequently received orders moving the regiment to Fort Riley, Kansas later that summer. Within two months of the transfer, the final four companies were in place. For the next eight years, the 10th was stationed at numerous forts throughout Kansas and Indian Territory (now Oklahoma). They provided guards for workers of the Kansas and Pacific Railroad, strung miles of new telegraph lines, and to a large extent built Fort Sill. Throughout this period, they were constantly patrolling the reservations in an attempt to prevent Indian raids into Texas. In 1867 and 68, the 10th participated in Gen. Sherman's winter campaigns against the Cheyennes, Arapahos, and Comanches. Units of the 10th prevented the Cheyenne from fleeing to the northwest, thus allowing Custer and the 7th Cavalry to defeat them at the decisive battle near Fort Cobb, Indian Territory. In 1875, the 10th Cavalry moved its headquarters to Fort Concho in west Texas. Other companies were assigned to various forts throughout the area. The regiment's mission in Texas was to protect mail and travel routes, control Indian movements, provide protection from Mexican revolutionaries and outlaws, and to gain a knowledge of the areas terrain. The regiment proved highly successful in completing their mission. The 10th scouted 34,420 miles of uncharted terrain, opened more than 300 miles of new roads, and laid over 200 miles of telegraph lines. The scouting activities took the troops through some of the harshest and most desolate terrain in the nation. These excursions allowed the preparation of excellent maps detailing scarce water holes, mountain passes, and grazing areas that would later allow for settlement of the area. These feats were accomplished while having to be constantly on the alert for hit-and-run raids from the Apaches. The stay in west Texas produced tough soldiers, who became accustomed to surviving in an area that offered few comforts and no luxuries. The 10th Cavalry played an important role in the 1879-80 campaign against Chief Victorio and his renegade band of Apaches. Victorio and his followers escaped from their New Mexico reservation and wreaked havoc throughout the southwest on their way to Mexico. Col. Grierson and the 10th attempted to prevent Victorio's return to the U.S., and particularly his reaching New Mexico where he could cause additional problems with the Apaches still on the reservations. Grierson, realizing the importance of water in the harsh region, decided the best way to intercept Victorio was to take control of potential water holes along his route. The campaign called for the biggest military concentration ever assembled in the Trans-Pecos area. Six troops of the 10th Cavalry were assigned to patrol the area from the Van Horn Mountains west to the Quitman Mountains, and north to the Sierra Diablo and Delaware Mountains. Encounters with the Indians usually resulted in skirmishes, however the 10th engaged in major confrontations at Tinaja de las Palmas (a water hole south of Sierra Blanca) and at Rattlesnake Springs (north of Van Horn). These two engagements halted Victorio and forced him to retreat to Mexico. Although Victorio and his band were not captured, the campaign conducted by the 10th was successful in preventing them from reaching New Mexico. The 10th's efforts at containment exhausted the Apaches. Soon after they crossed the border, Victorio and many of his warriors were killed by Mexican troops on October 14, 1880. In 1885, the regiment was transferred to the Department of Arizona. Once again the 10th was involved in the arduous pursuit of renegade Apaches under the leadership of Geronimo, Mangus, and the Apache Kid. After twenty years of service in some of the most undesirable posts in the southwest, the regiment, now under the command of Colonel John K. Mizner, was transferred to the Department of Dakota in 1891. The regiment served at various posts in Montana and Dakotas until 1898. During the Spanish-American the four regiments served in Cuba and fought along side Teddy Roosevelt's "Rough Riders" and other units. While Teddy Roosevelt and his highly political volunteers got more press attention, the 10th Cavalry commanded by Col. John J. Pershing was instrumental in taking San Juan Hill. Many white officers refused to command black units thinking it would hurt their careers. Col. Pershing was given the nickname "Black Jack" because of his loyalty to the 10th and its troopers. It could hardly have hurt his career since he went on to command the American Expeditionary Forces in France in WWI and became the most famous American general of the first half of this century. In 1916 Black Jack Pershing was given the assignment of leading a campaign into Mexico to capture Pancho Villa. Pershing requested that the 10th Cavalry accompany him. The year spent chasing Villa proved to be the 10th Cavalry's toughest assignment. Finding Pancho Villa was like trying to catch a rat in a cornfield. Villa always seemed to stay ahead of the Army and avoid capture. America's leaders soon lost interest in the Campaign and focused their attention on World War I which was raging in Europe. However the Europeans had been unable to find a use for the Cavalry troops which were already in the theater. The 10th Cavalry spent the war in the United States. In World War II a similar thing happened to the cavalrymen. The 10th Cavalry was relegated to caretaker duties at Fort Leavenworth, Kansas. Then in 1944 the 9th and 10th Cavalry were deactivated. But in 1958 the Ninth and Tenth Regiments were reactivated, and today, the First and Second Tank Battalions of the Tenth Cavalry at Fort Knox, Kentucky wear the Buffalo symbol. The Ninth Cavalry has a helicopter battalion in the 1st Cavalry Division at Fort Hood, Texas. NOTE: These units made up of black enlisted personnel and white officers were not the first of such units to serve on the Western Frontier. During late 1865 or early 1866 companies from the 57th United States Colored Infantry Regiment (Arkansas) and the 125th United States Colored Infantry Regiment (Kentucky) were assigned to posts in New Mexico to provide protection for white settlers in the area, and escort those going further west. Some of the companies served as mounted infantry.
This is an outstanding print that I'm still learning about and will post as soon as I find out more info. This print has been professionally framed and the framing along cost a pretty penny! Take a look at this outstanding print! You'll love it! $175.00 item photography 113
Early war engraving of Gen. Grant when he only had 2 stars on his shoulder straps. Not having many photo's of Grant in his early career during the Civil War and eager to find out anything about this great General who captured Fort Donaldson many photographers took great artistic license with his image. This one is very kind to the great warrior! $25.00 no backmark. item photography 114

Image 5
This is an original 1925 movie poster promoting a film Commemorating the 50th Anniversary of the Battle at Light Big Horn! The poster states: COMING!! THE MIGHTY EPIC SPECTACLE OF THE OLD-TIME WEST CUSER'S LAST FIGHT COMMEMORATING THE 50TH ANNIVERSARY OF THE BATTLE AT LITTLE BIG HORN - A THOMAS H. INCE SPECIAL PRODUCTION - THE GREATEST INDIAN FRONTIER SPECTACLE EVER SHOWN - DEDICATED TO THE SPIRIT OF THE AMERICAN PIONEER - FAMOUS INDIAN UPRISING IN 1876 UNDER THE BLOODTHIRSTY SITTING BULL - TAKEN IN THE BLACK HILLS. OVER A YEAR IN THE MAKING (COPYRIGHT 1925) WILL BE SHOWN AT" The date space is blank as this poster was never used. At the bottom of the poster is "Hurd of Harvey in Iowa, Show Printer". There is a little crinkling at the bottom of the poster that will be covered up when matted. The entire poster measures a whopping 14 X 22 inches and will look outstanding framed and hanging on your wall! This would be a great addition to either a General George Custer collection or to a movie poster collection! Guaranteed Original! $250.00 item photography 115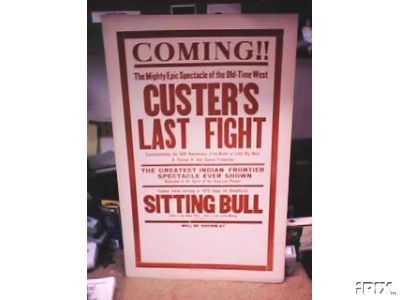 Image 4
This is a stereoscope card featuring William Jennings Bryan and his wife. This one is copyrighted 1897 by B.L.Lingley. William Jennings Bryan had quite a history! Here's his bio:
William Jennings Bryan (March 19, 1860 – July 26, 1925) was an American politician in the late-19th and early-20th centuries. He was a dominant force in the liberal wing of the Democratic Party, standing three times as its candidate for President of the United States (1896, 1900 and 1908). He lost, each time by a bigger margin. He served in Congress briefly as a representative from Nebraska and was the 41st United States Secretary of State under President Woodrow Wilson, 1913-1916. Bryan was a devout Presbyterian, a supporter of popular democracy, an enemy of gold, banks and railroads, a leader of the silverite movement in the 1890s, a peace advocate, a prohibitionist, and an opponent of Darwinism on religious grounds. With his deep, commanding voice and wide travels, he was one of the best known orators and lecturers of the era. Because of his faith in the goodness and rightness of the common people, he was called "The Great Commoner." In the intensely fought 1896 and 1900 elections, he was defeated by William McKinley but retained control of the Democratic Party. With over 500 speeches in 1896, Bryan invented the national stumping tour, in an era when other presidential candidates stayed home. In his three presidential bids, he promoted Free Silver in 1896, anti-imperialism in 1900, and trust-busting in 1908, calling on Democrats to fight the trusts (big corporations) and big banks, and embrace anti-elitist ideals of republicanism. President Wilson appointed him Secretary of State in 1913, but Wilson's strong demands on Germany after the Lusitania was torpedoed in 1915 caused Bryan to resign in protest. After 1920 he was a strong supporter of Prohibition and energetically attacked Darwinism and evolution, most famously at the Scopes Trial in 1925. Five days after winning the case, he died in his sleep
Great Card! $15.00 item photography 116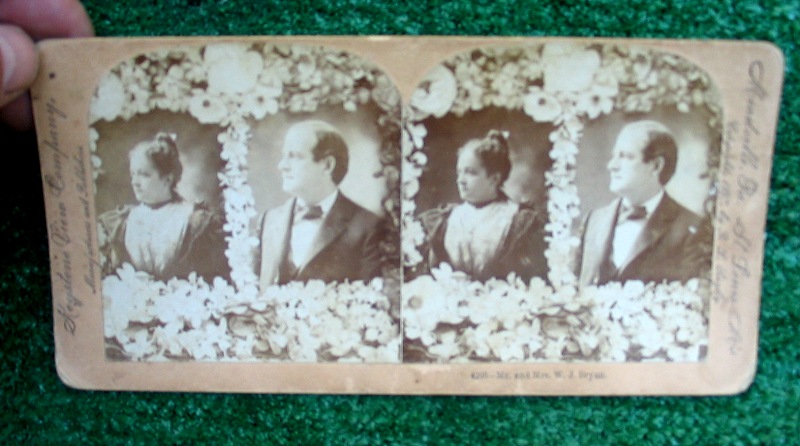 Image 3
Here's an outstanding small grouping that I received from the Great great grandson of this Zouave Soldier. This soldier was a member of the 34th Ohio Infantry. The 34th Ohio Volunteer Infantry Regiment (or 34th OVI) was an infantry regiment that served in the Union Army during the American Civil War. It primarily served in the Eastern Theater in what is now West Virginia and in Virginia's Shenandoah Valley region. They are well known for wearing an americanized zouave uniform which consisted of: A dark blue jacket with red trimming, a pair of sky blue baggy trousers with two stripes of red tape going down vertically, a pair of tan gaiters, and a red ottoman styled fez with a blue tassel. They are known as Piatts Zouaves. The 34th Ohio was raised at Camp Lucas near Toledo on September 1, 1861. Most of the recruits came from the northwestern part of the state. After training and drilling, the new regiment moved to Camp Dennison on September 1, and then entrained for the front lines, arriving on September 20 at Camp Enyart on the Kanawha River in western Virginia. It initially served in the forces under George B. McClellan, and then under a variety of generals for the next two years while engaging in several raids and operations in the region. When the regiment's term of enlistment expired late in 1863, the men voted to re-enlist on December 23. They were part of Crook's Expedition against the Virginia & Tennessee Railroad in early May and fought in the Battle of Cloyd's Mountain on May 9 and later in the Battle of Cove Mountain and in other smaller engagements in the region. The 34th OVI was re-mustered as a veteran regiment on January 19, 1864, and participated in many of the battles of the Valley Campaigns of 1864, including the Battle of Opequon near Winchester, Virginia.[1] The 34th Ohio suffered 10 Officers and 120 enlisted men killed in battle or died from wounds, and 130 enlisted men dead from disease for a total of 260 fatalities.[2] The much depleted regiment was amalgamated with the 36th Ohio Infantry on February 22, 1865.
This soldier of the 34th Ohio is George Sheckler and here is his stats:
George Sheckler Residence was not listed; 23 years old. Enlisted on 8/1/1861 as a Private. On 8/15/1861 he mustered into "E" Co. OH 34th Infantry He was Mustered Out on 9/13/1864 at Columbus, OH Sources used by Historical Data Systems, Inc.: - Official Roster of the Soldiers of the State of Ohio (c) Historical Data Systems, Inc. @ www.civilwardata.com
This watercolor is outstanding showing Pvt. Sheckler standing holding a colt revolver in his right hand and a knife in his left. The colors are still vivid and this image is historically accurate to the Zouave uniform and the man. The image is 16 by 20 inches. Look at the detail in his face! This image is housed in a walnut frame with gesso sculpted inserts. There is some gesso loss but not bad at all and doesn't detract from the image. The frame measures 26 X 30 inches and has a single slat back. This image was probably duplicated from a photograph. OUTSTANDING!!!
The next piece is Pvt. Sheckler's Record of the service. This is entitled 1861-1865 WAR FOR THE UNION- RECORD OF THE SERVICE OF GEORGE SHECKLER. It goes on to list when he enlisted into Company E of the 34th Ohio Volunteers as a private and when and why he was discharged. The outside of the image shows all the Corps badges as well as the various badges from Hancock's First Veterans, Wilson's Cavalry, Sheridan's Cavalry, Signal Corps, and so forth! Outstanding color and quality. The document also lists the Battles and Skirmishes Pvt. Sheckler participated in. This document is part printed and part hand written. The bottom lists this document as a SOLDIER'S RECORD and was designed, Copyrighted and Published 1895 by J.P.Calvert, Mooresville, Ind. The back of the document frame has an old wood slat with the name of H. Snyder & Son, Columbia City, Ind and some printing on the bottom. This frame is also a gesso covered frame with more loss than the frame above. The document is 16 X 20 inches and the frame is 22 X 26 inches overall.
I was told by the grandson that Pvt. Sheckler settled in Indiana after the war. The grandson also furnished me with some copies of original documents that include his obituary and an invitation to their daughters wedding. These documents are copies of the original documents and not the originals. This is an outstanding pair of framed articles pertaining to the man who served in a Zouave unit during the Civil War. Great! $1,150.00 for both. Take a look at the pics!!! item photography 117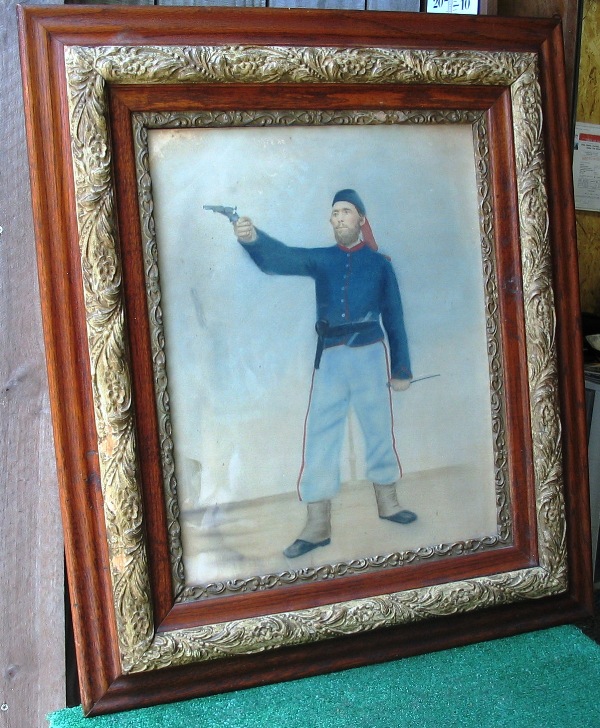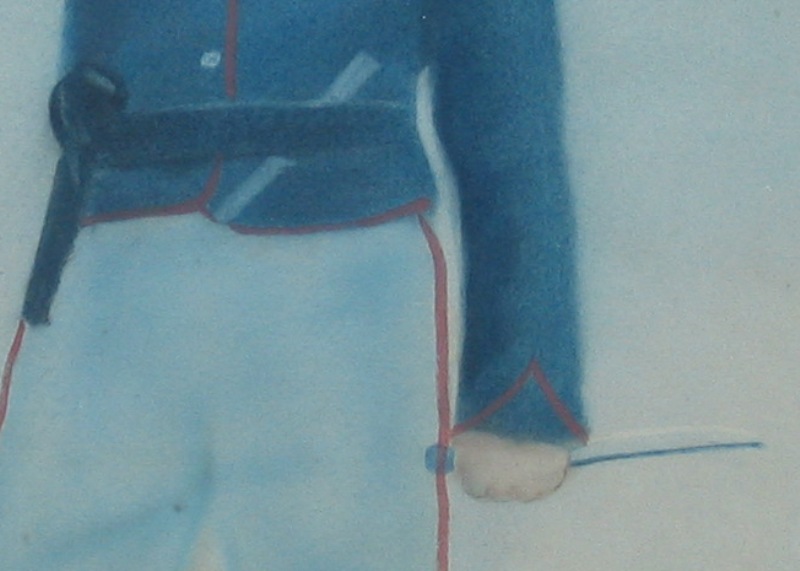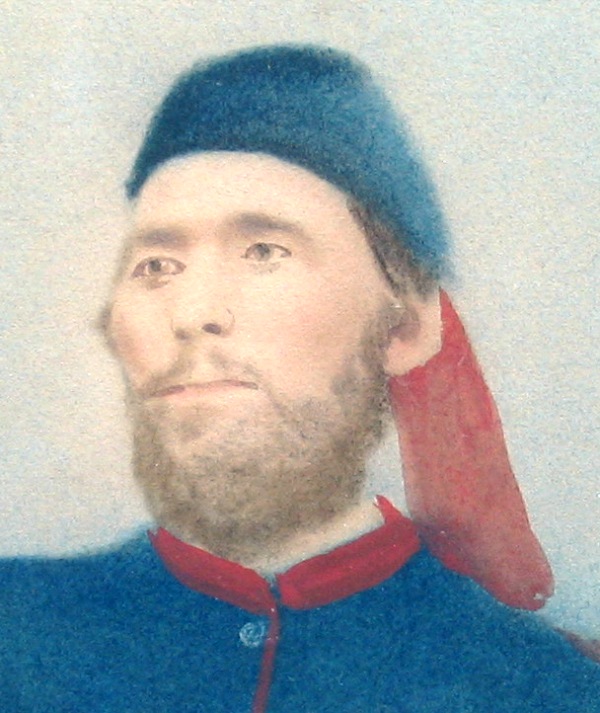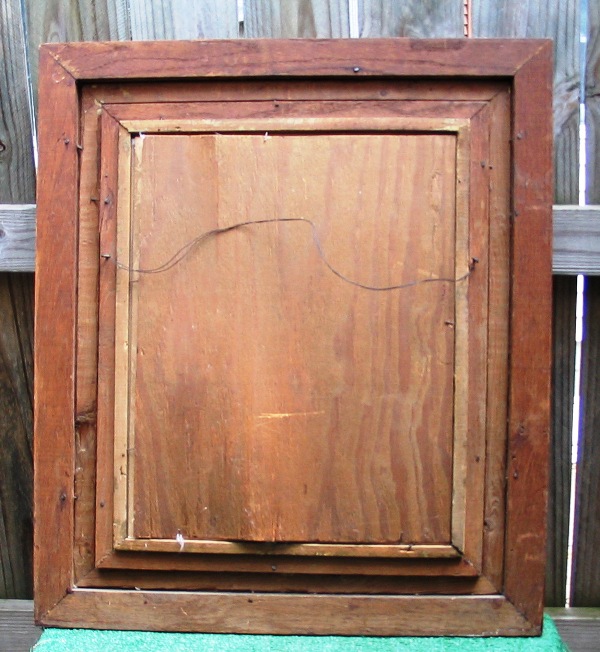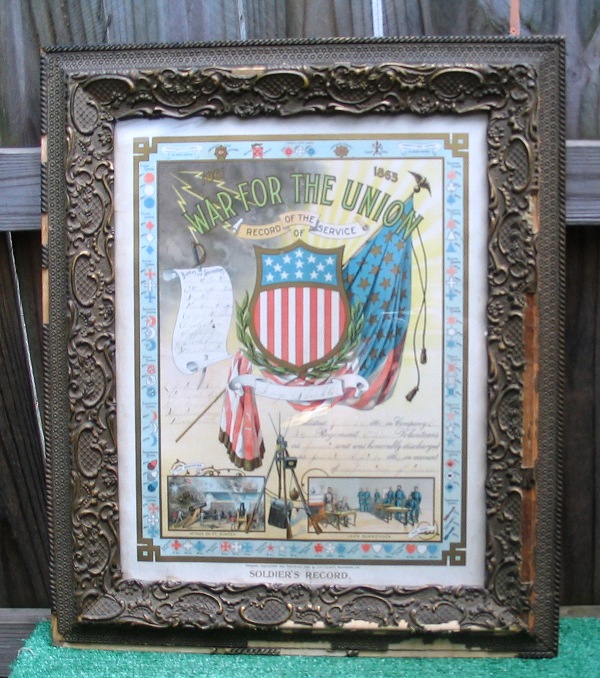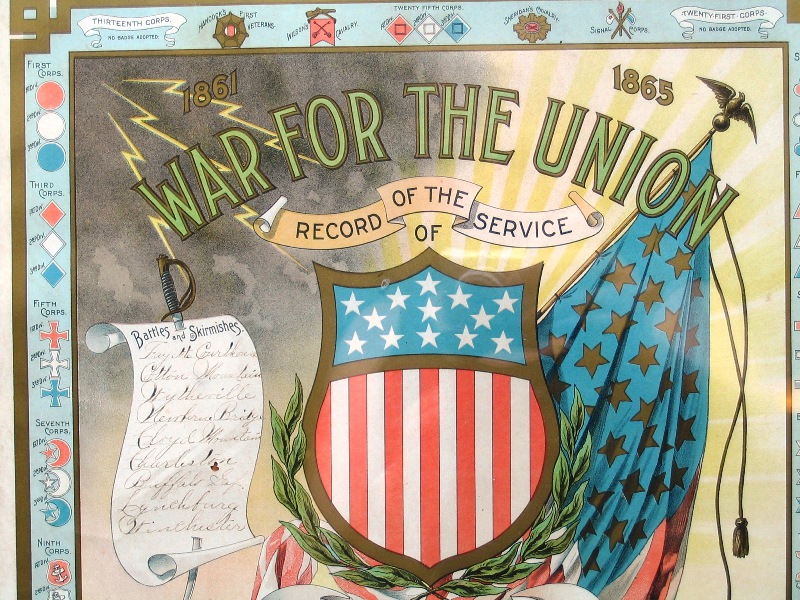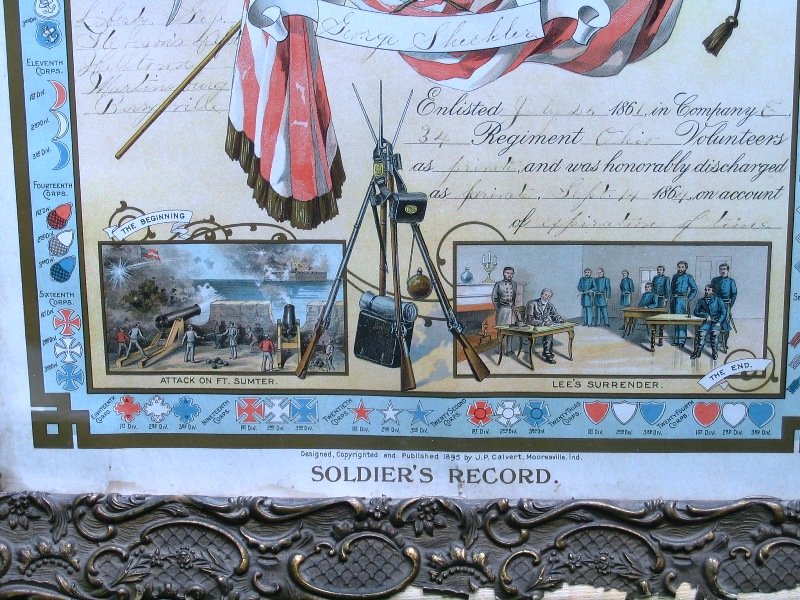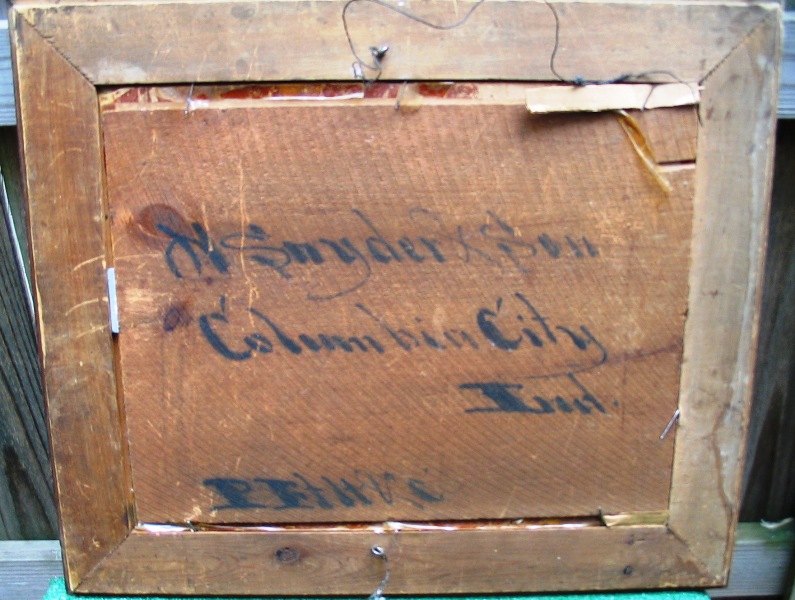 Image 2
Here's an outstanding collection of ORIGINAL oil paintings of 5 prominent Civil War Generals. All of these Generals were present at Gettysburg. These original oil paintings were painted by Noel Y. Pantig. Three of the paintings are signed NY Pantig and two of them are simply signed NOEL. These paintings are fantastic and are mounted in their original frames. The canvas in stretchers measure about 20 X 24 inches while the overall frame measures about 25 X 29 inches. Each painting has the name of the general mounted on the frame. Outstanding quality! Here is Noel's bio:
Noel Y. Pantig
Noel Y. Pantig, a skilled craftsman, teacher, mentor, and Studio owner, specializes in oil portraits on canvas. What sets him apart is his uncommon ability to capture the personality and essence of every image he brings to life. Aside from his obvious artistic abilities, Noel has developed a reputation as one of the foremost international artist, which makes his works of art cherished and treasured by all. Noel grew up near Clark Air Base in the Philippines. As a young boy he often sat and watched the active base with amazement, as the planes flew in and out. Knowing a little about World War II from his parents stories of their relatives fighting as young Philippine service men along side American soldiers, made a lasting impression on him. Blessed at an early age with a talent for drawing, Noel often sat for hours upon hours sketching faces of his family and friends. It wasn't until his teen years that he started working in oils and soon became recognized for his talents. In the early 80's, Noel fine-tuned his skills while working for local art galleries as well as an international export organization, painting portraits from photographs as well as recreations of famous paintings. Today, Noel, with a penchant for American History, due in part to his childhood recollections, continues to paint but on a very exclusive basis. His exceptional hand- painted works of art can be found in such places as: VMI, The New Market Battlefield Military Museum, Port Columbus Civil War Naval Museum, along with other prominent institutions, Corporate offices and collectors walls. Noel is also a proud owner of a international art studio, where he develops the talents of artists who are aspiring to greater heights. He is truly a gifted artist!!!
The 5 different generals are:
General George Custer U.S.A.
General Winfield Hancock U.S.A.
General Lewis A. Armistead C.S.A.
General John Buford U.S.A.
and General George E. Pickett C.S.A.
As perviously stated the quality of these original oils is outstanding!!! These are not prints but originals. Check out the pics! These paintings will go up in value. For the lot. $2,250.00 item photography 118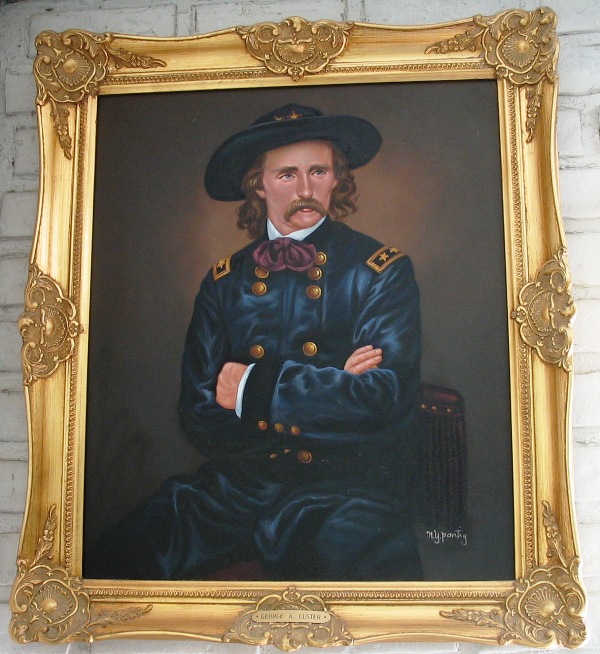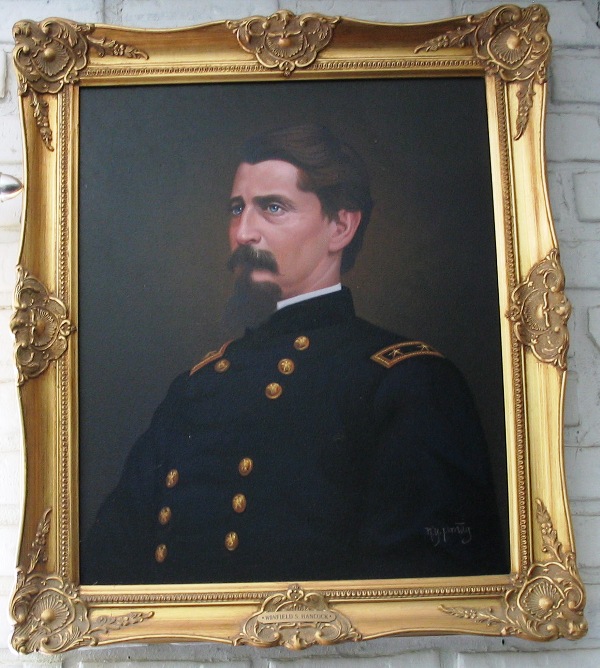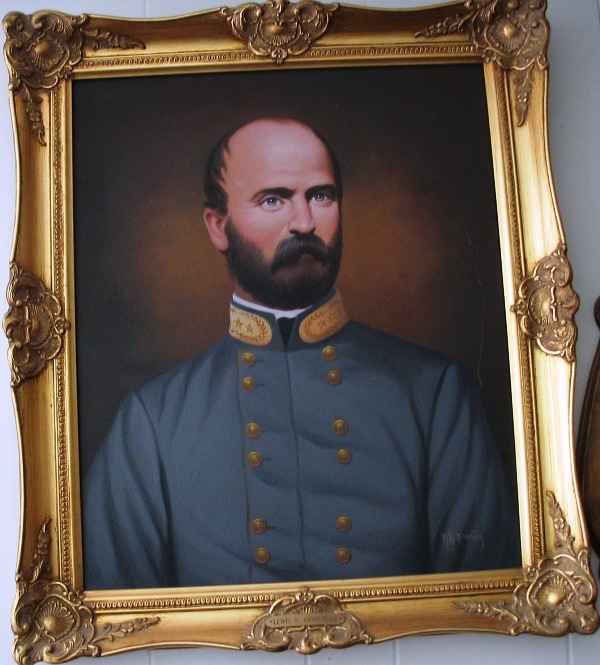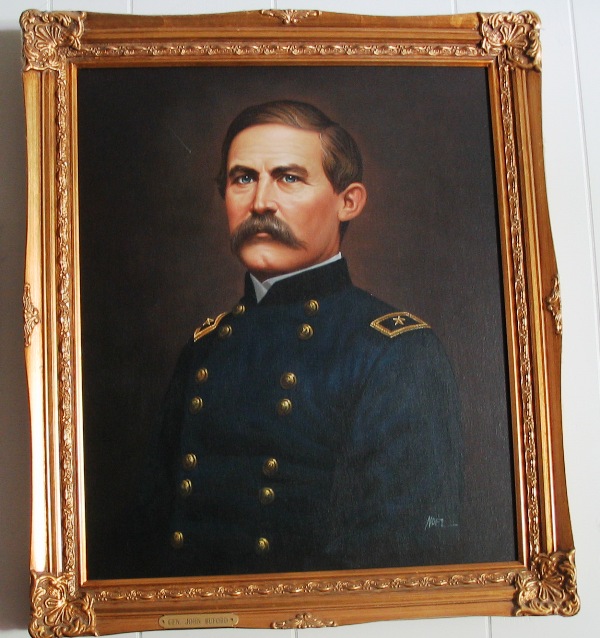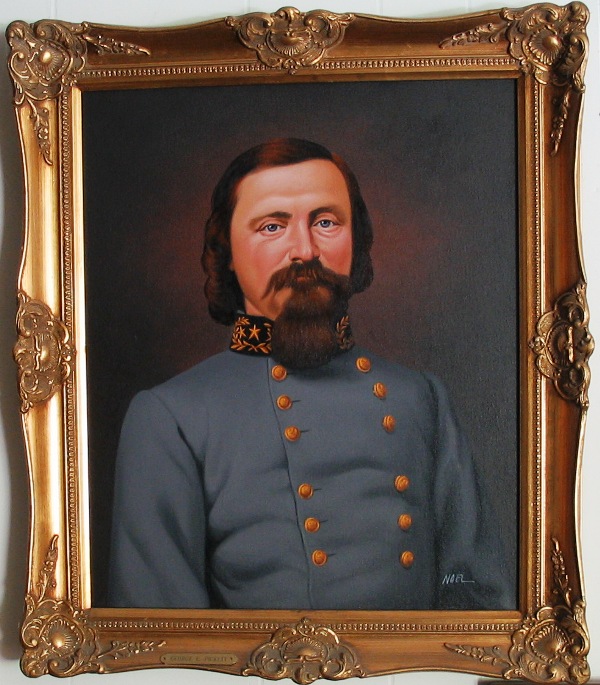 Image 1
This is a nice old orignal CDV of French conjoined sisters as marked on the front of the CDV. There is no backmark. This is a very nice conditioned CDV and the image is sharp! $45.00
item photography 119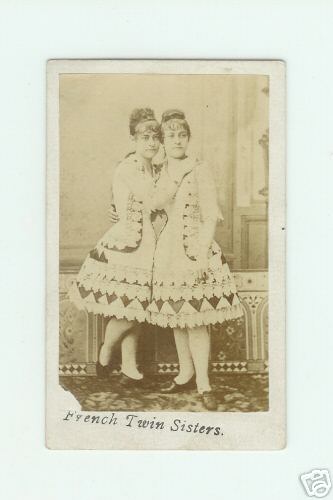 Here we have a ton of original prints that were taken from FRANK LESLIE'S SCENES AND PORTRAITS OF THE CIVIL WAR. These were done in 1865 I believe and although I would never take apart a book to sell the prints I found these prints already separated from the book. So here they are. I've shown several of the prints which are on both sides of the paper but different images. The pages are 16 inches by 11 inches and the prints are still vivid. Take a look at the pics. I did not take photos of all of them but the subject matter is quite varied and shows battle scenes from Gettysburg as well as down south. Riverboats and ironclads are present as well as battlemaps and Generals from the Civil War. Take a look and if there's anything you would like or want me to check for let me know at tc1861@yahoo.com Each print is $9. One of the prints is a double sheet. Thanks for looking! item photography 120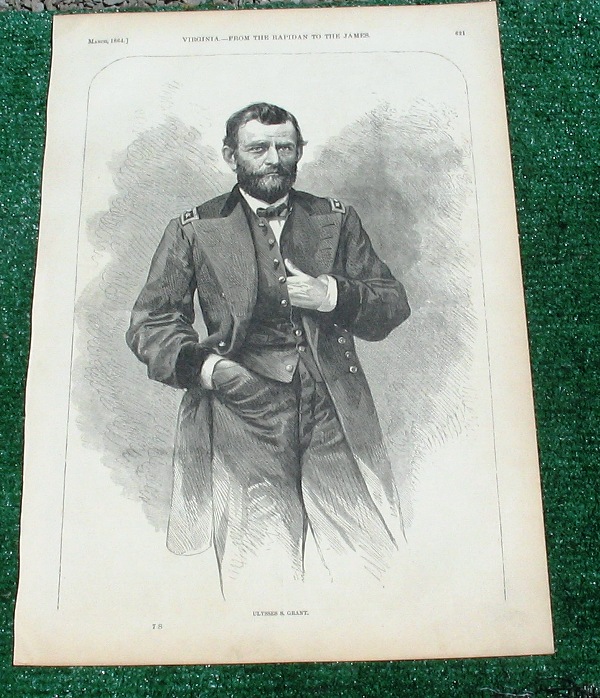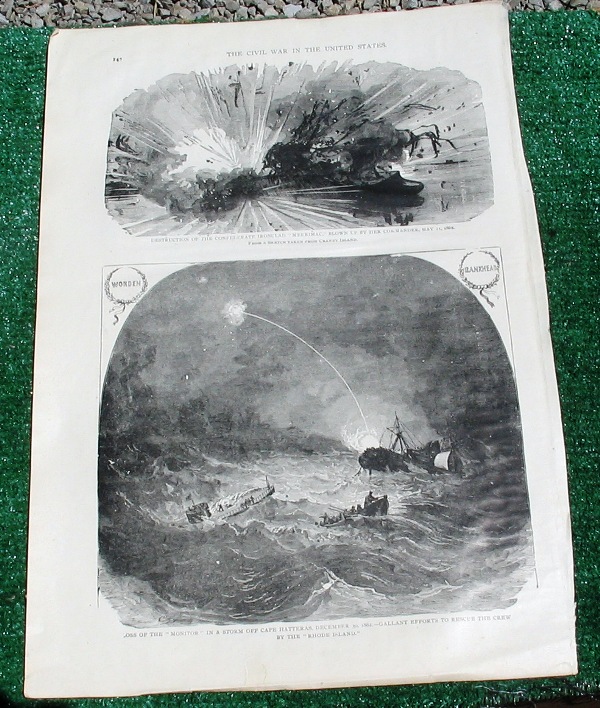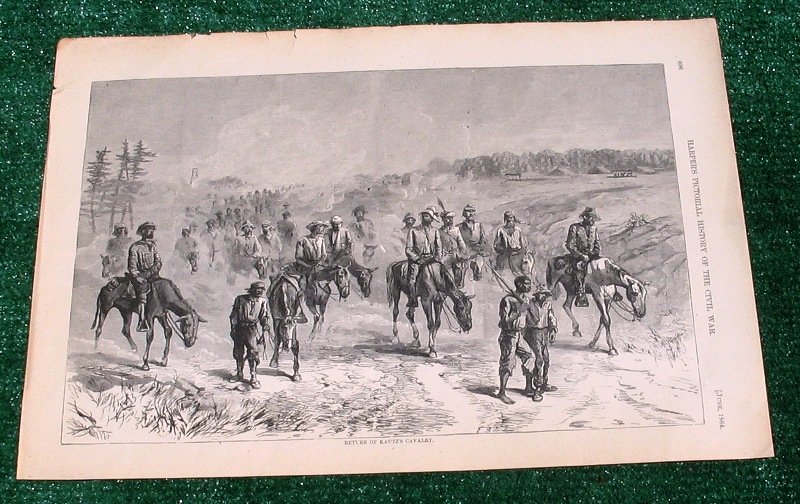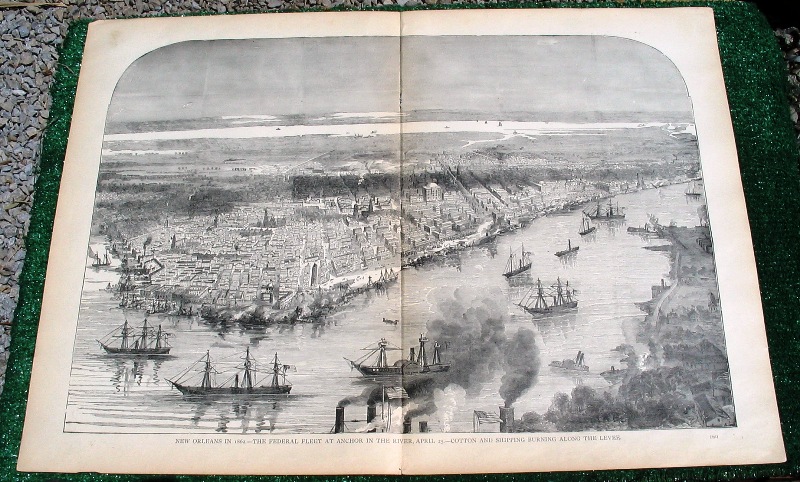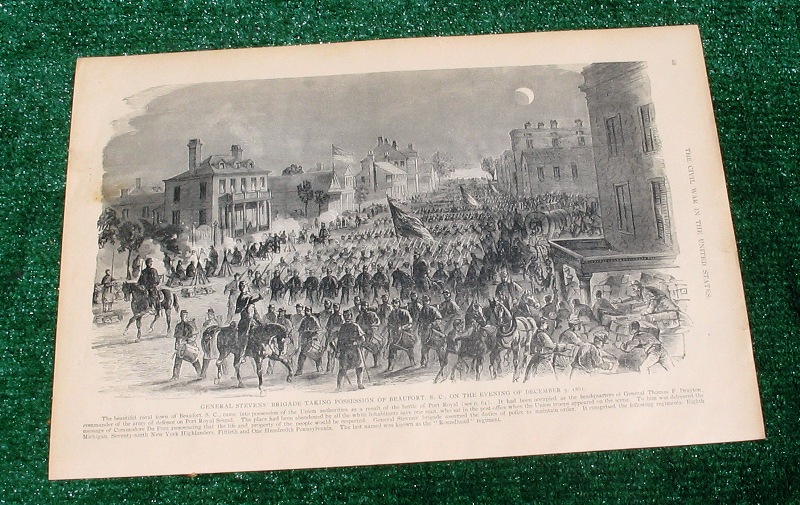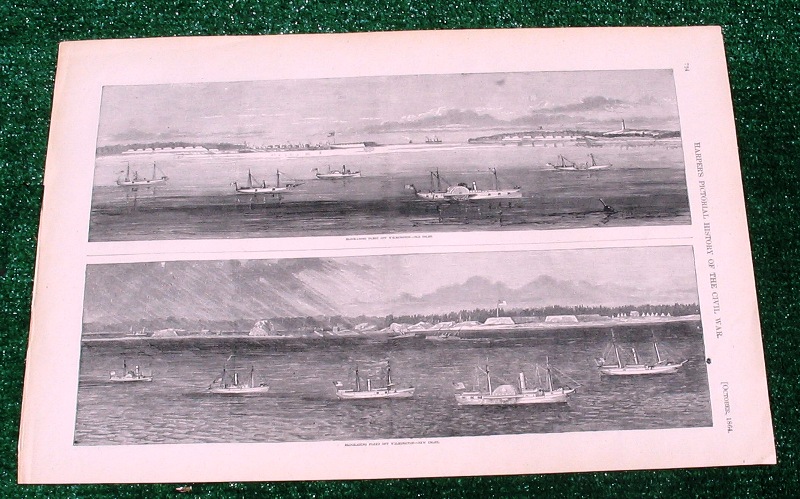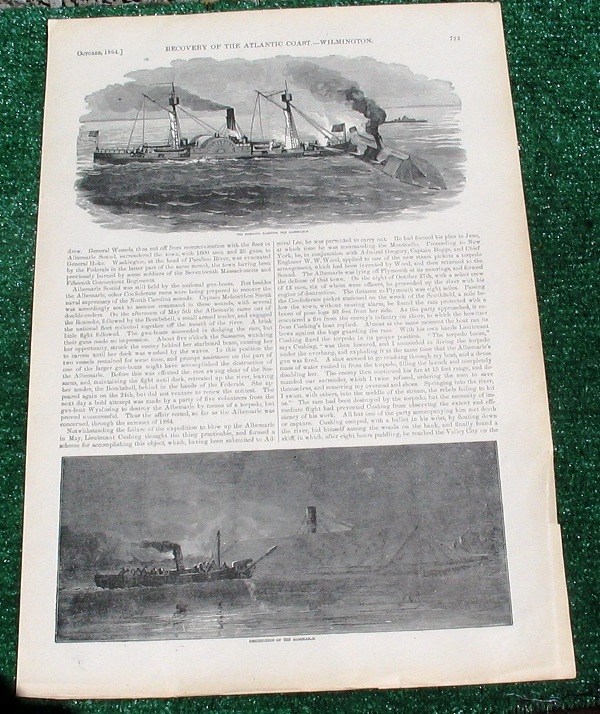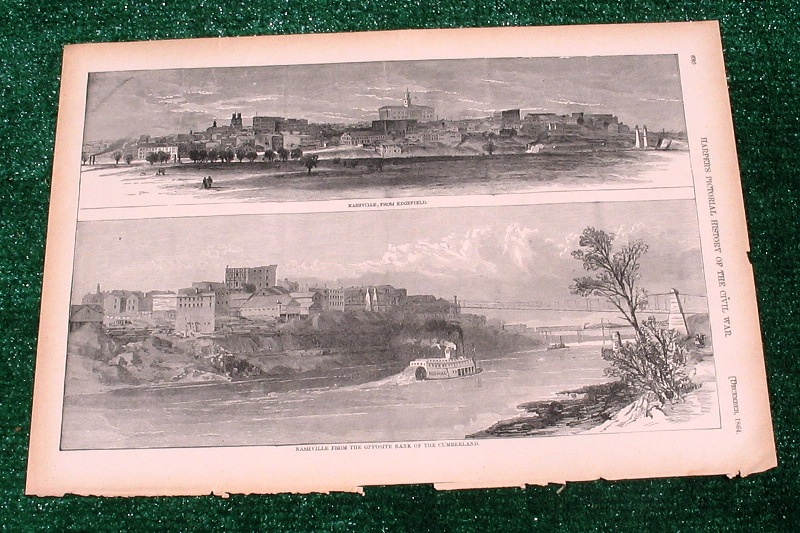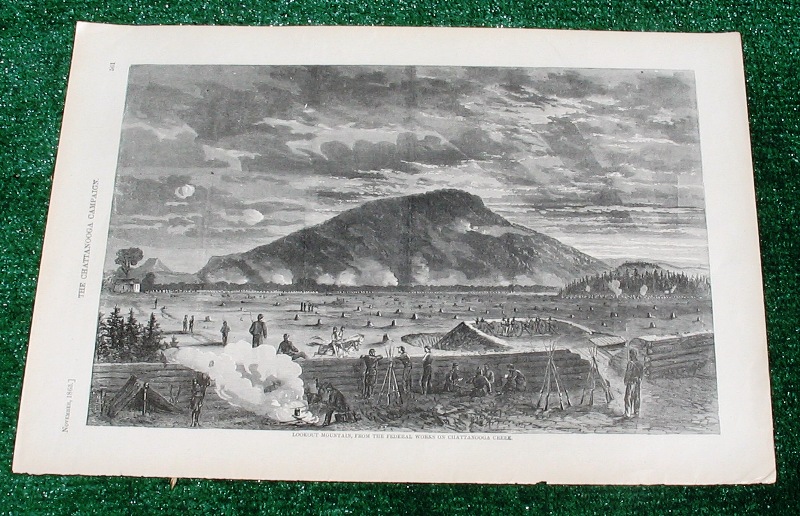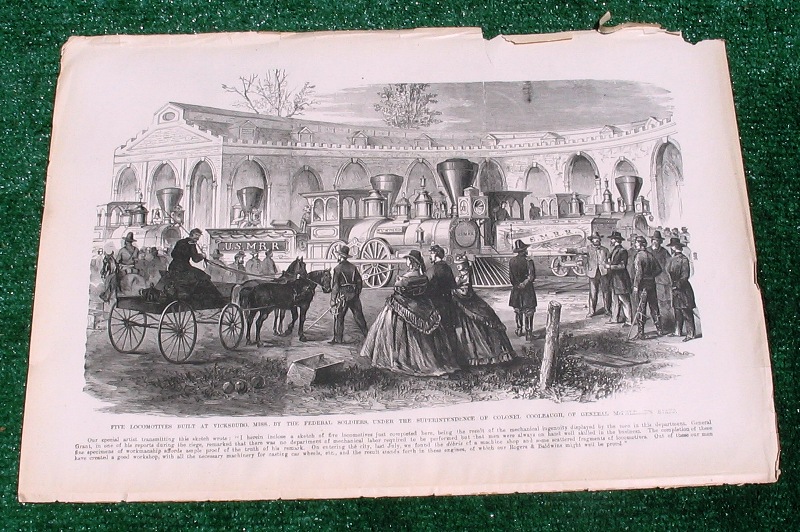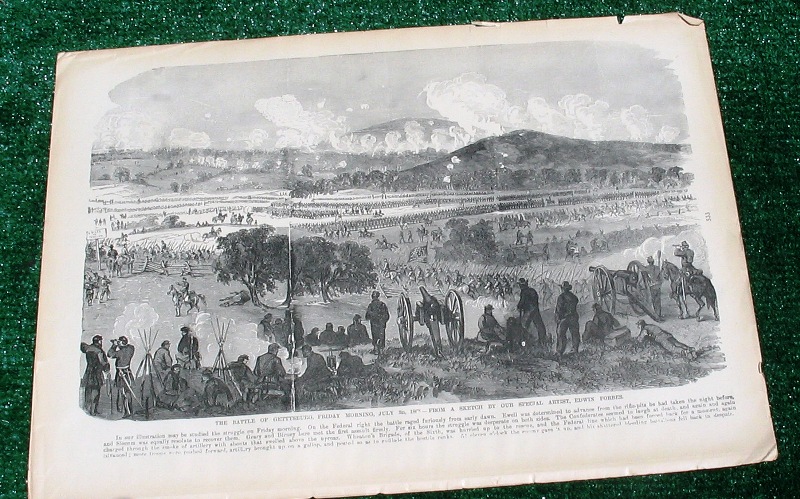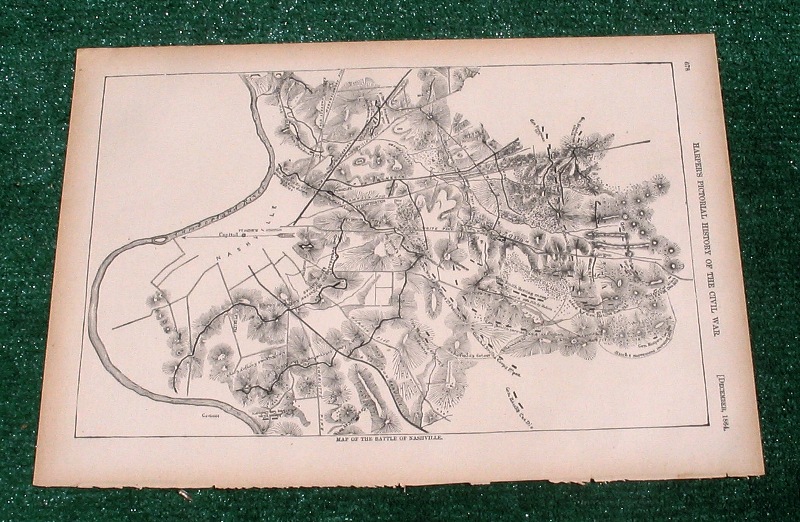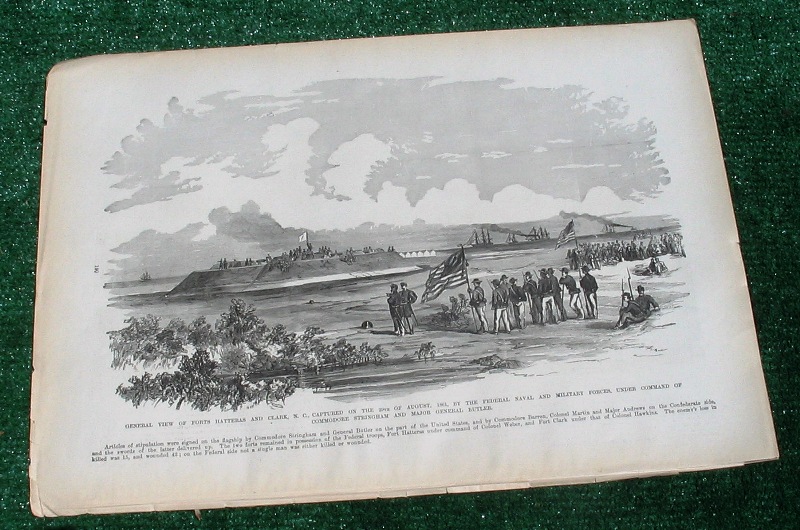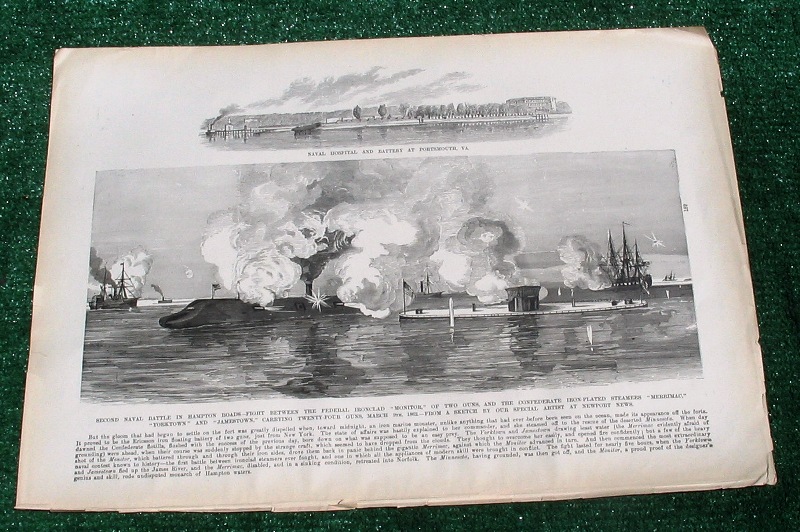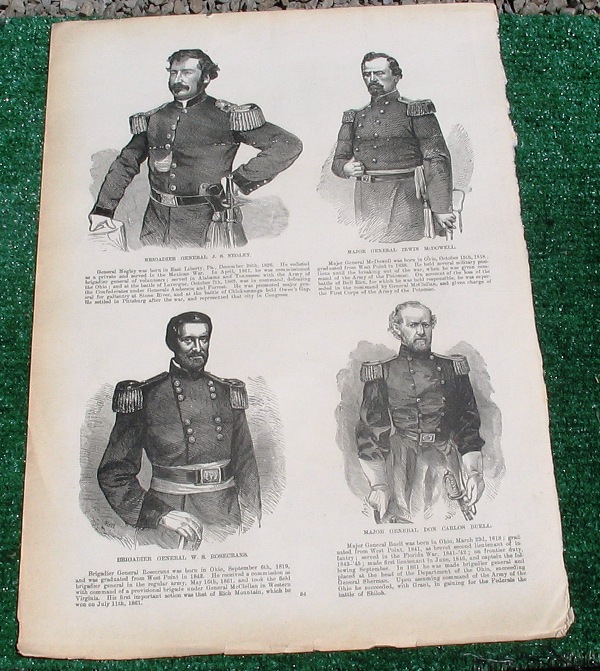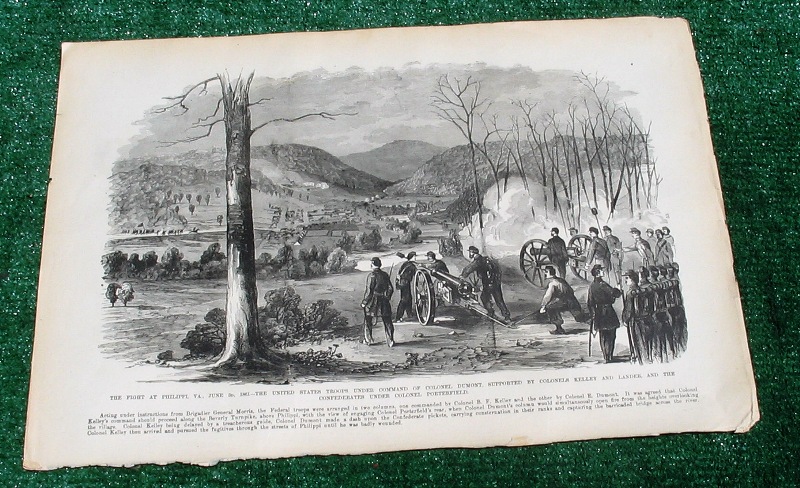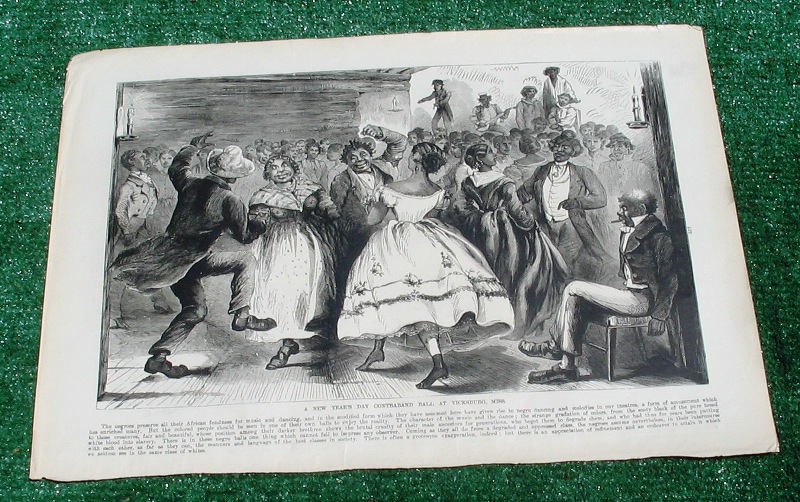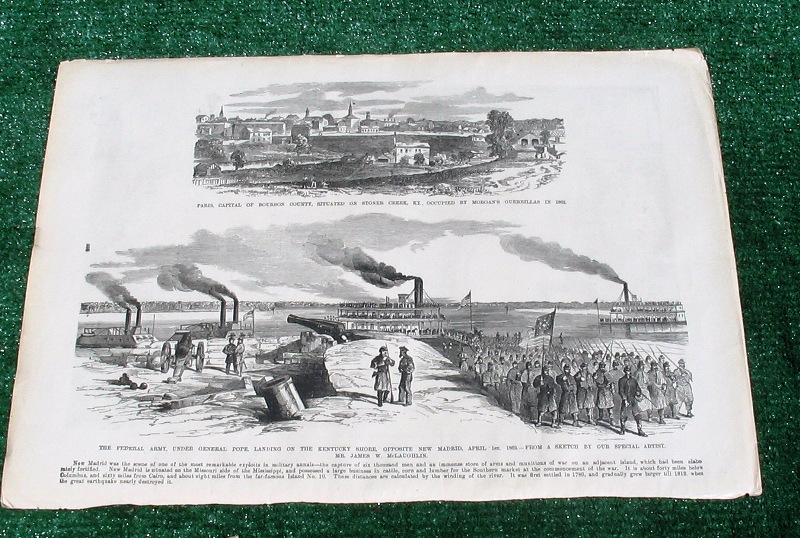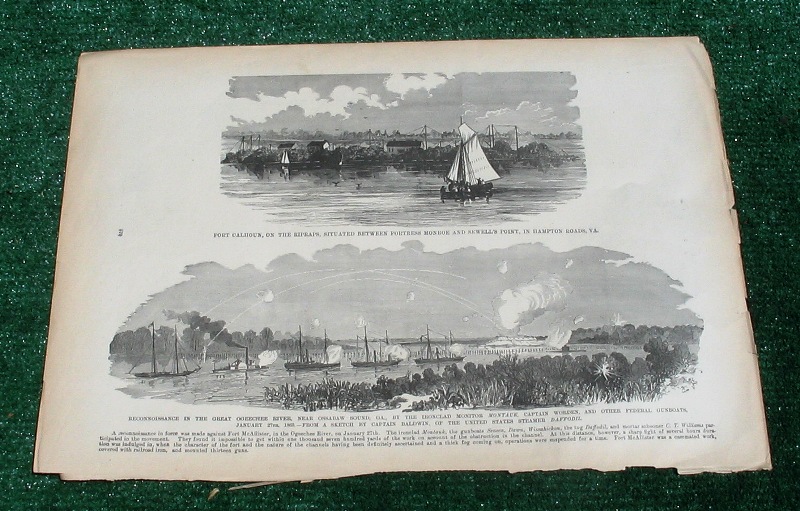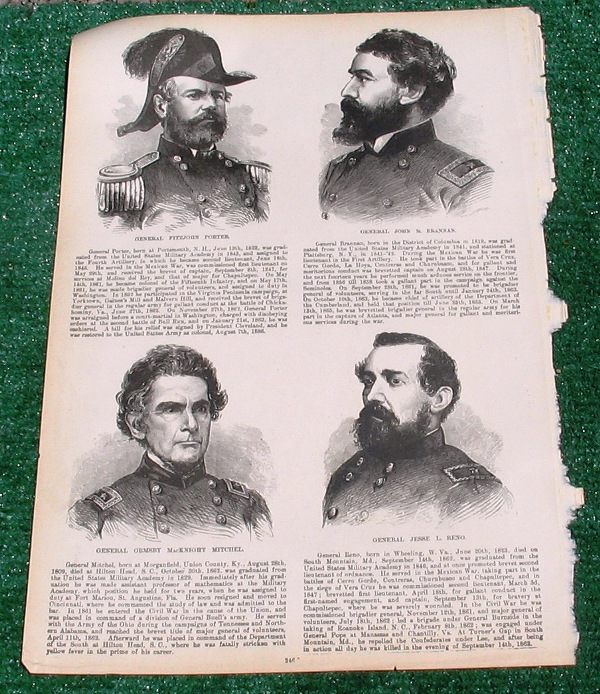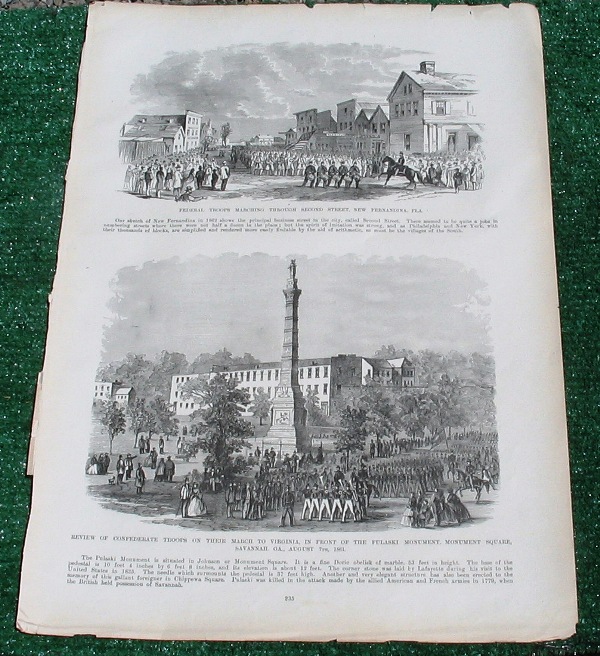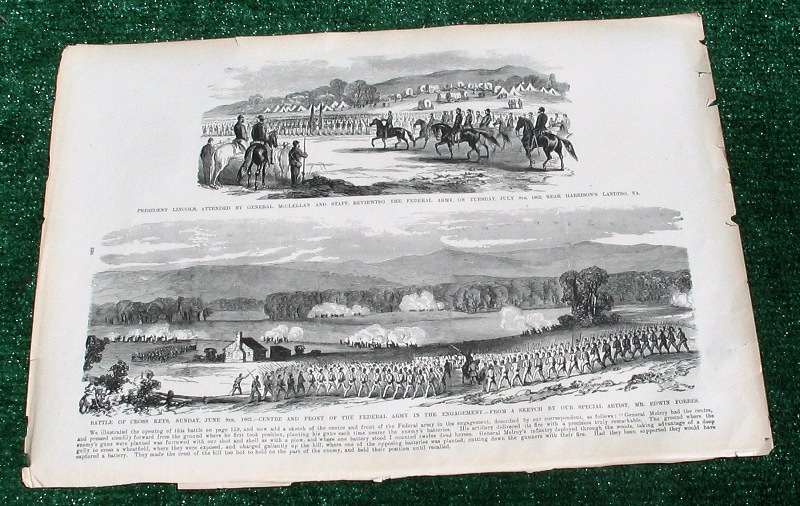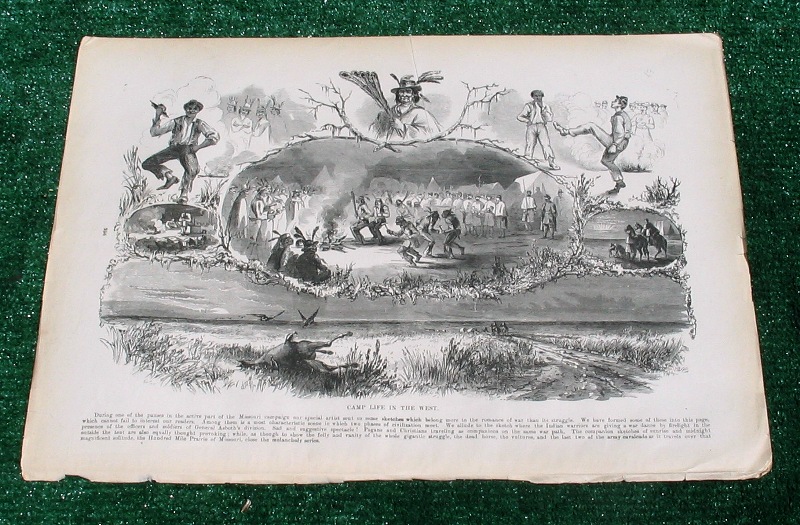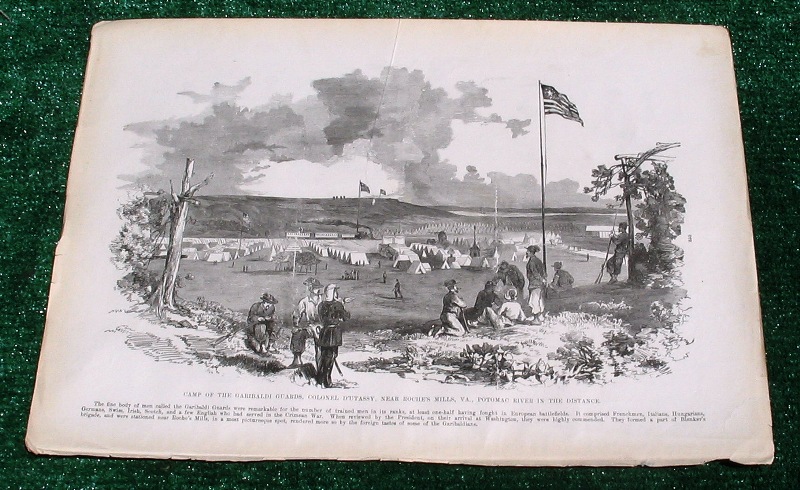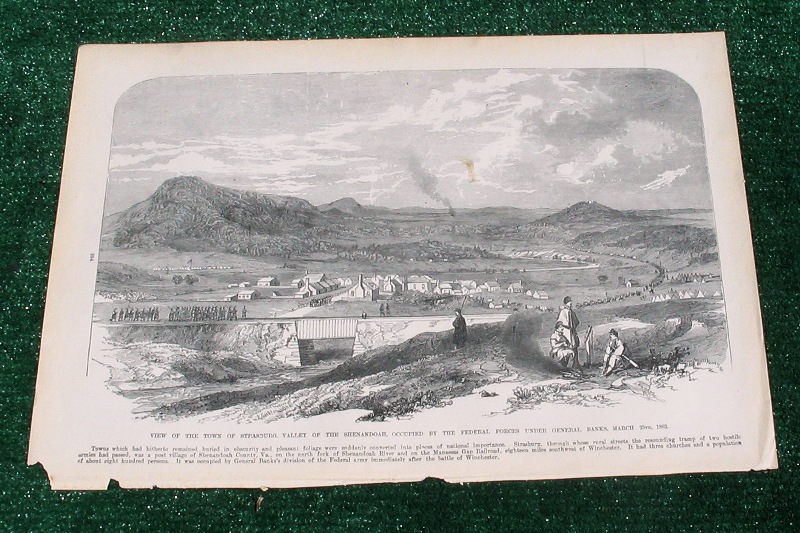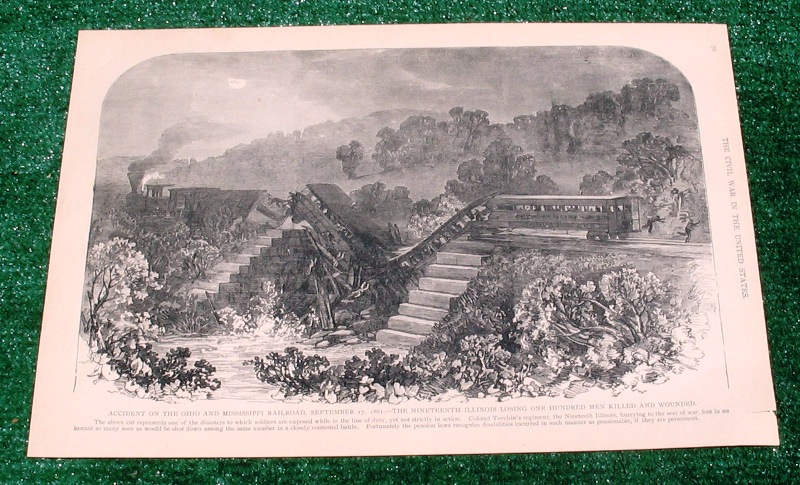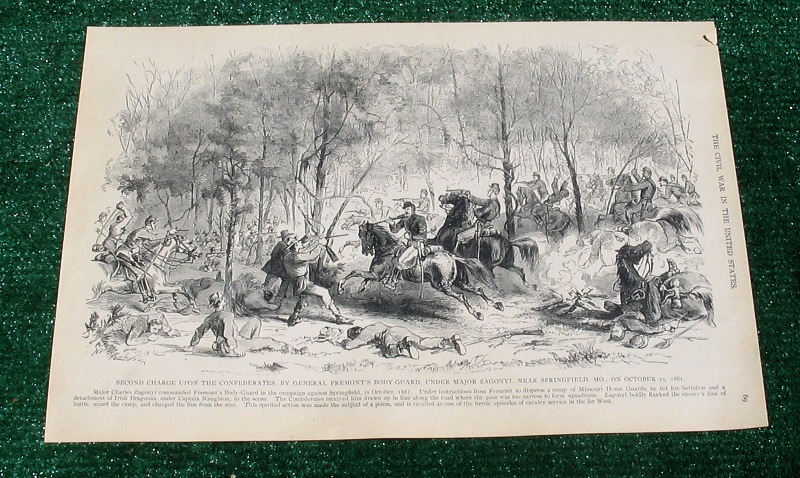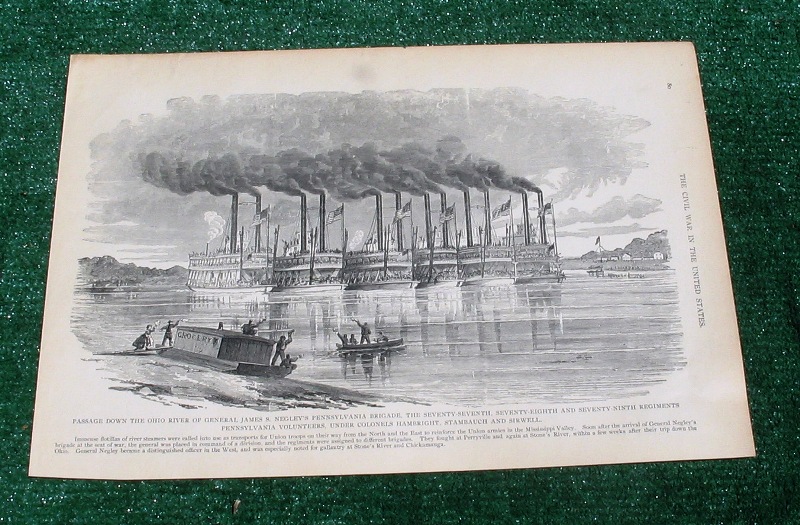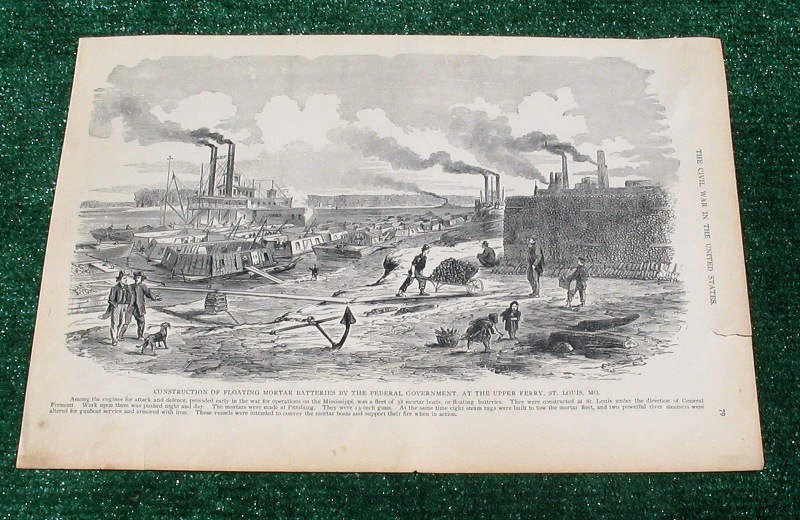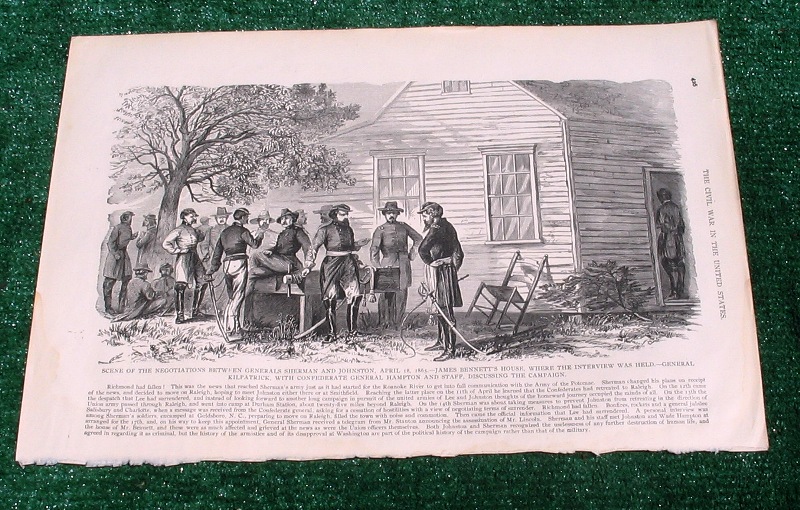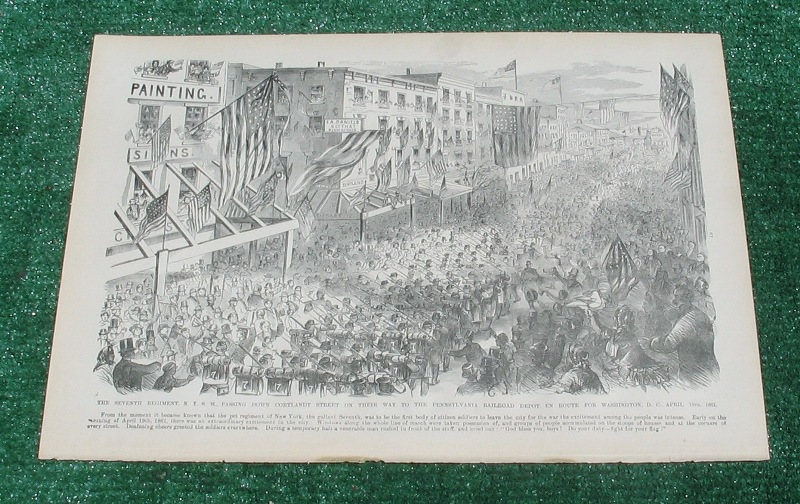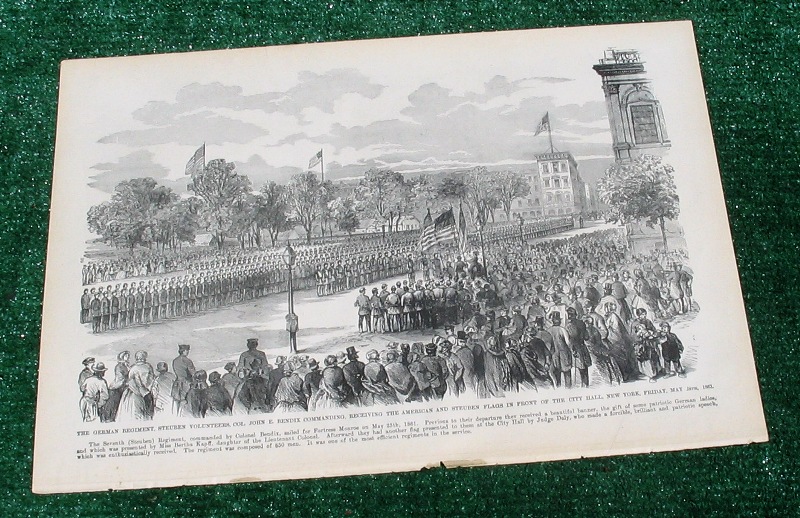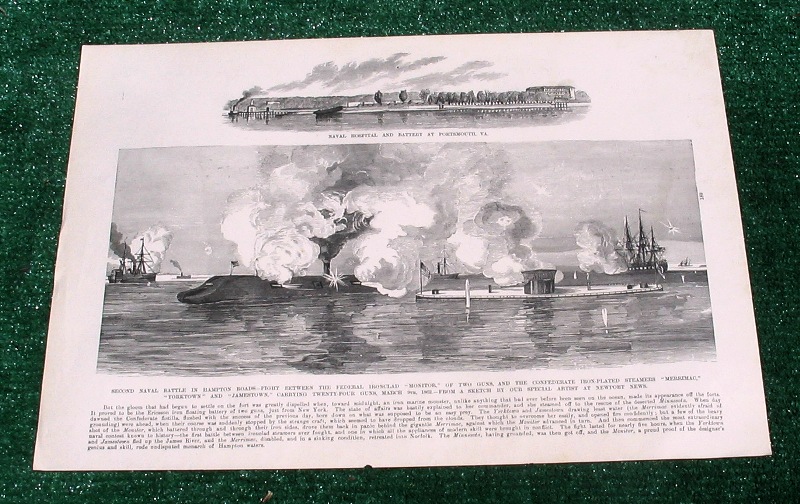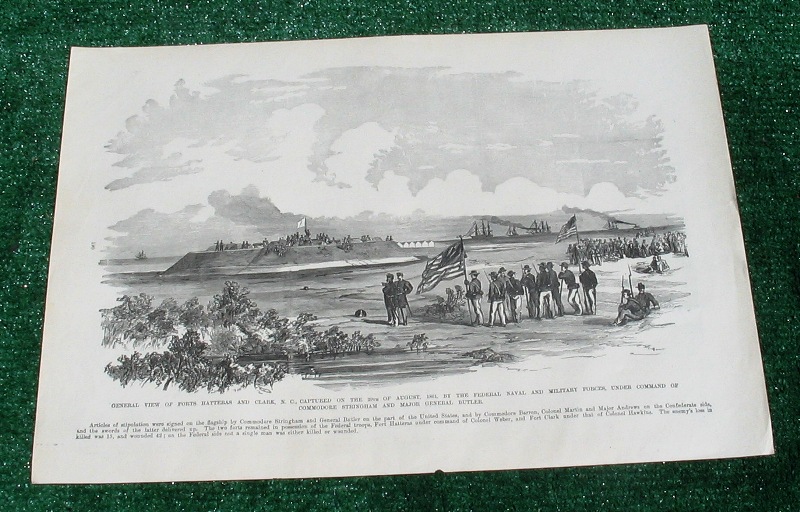 Here we have some half sheet prints for $6 each. They average about 11 1/2 by 12 inches. Check out the pics!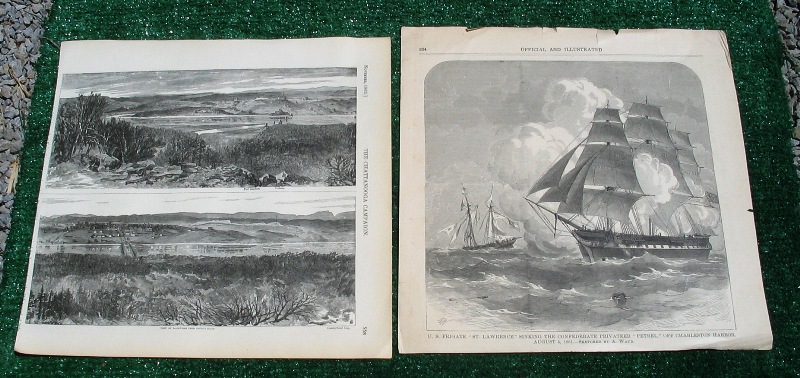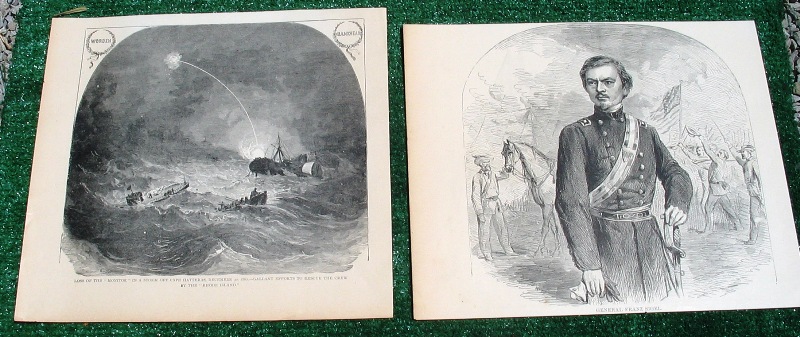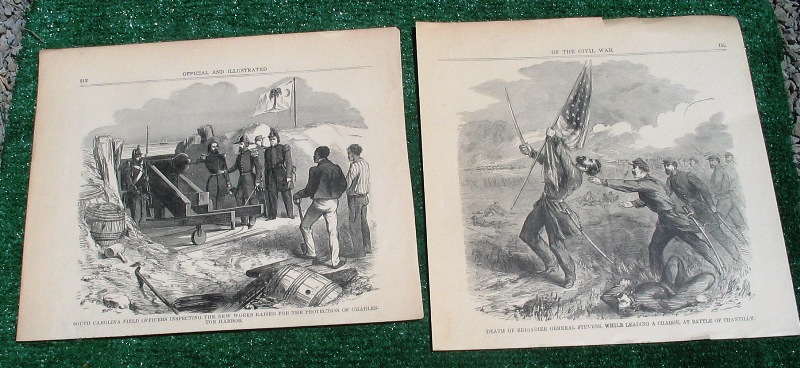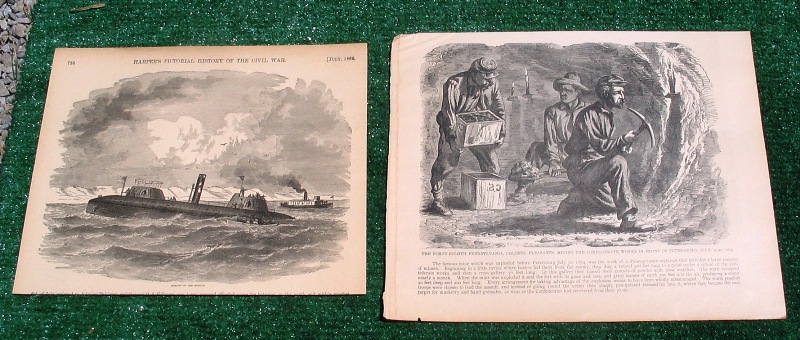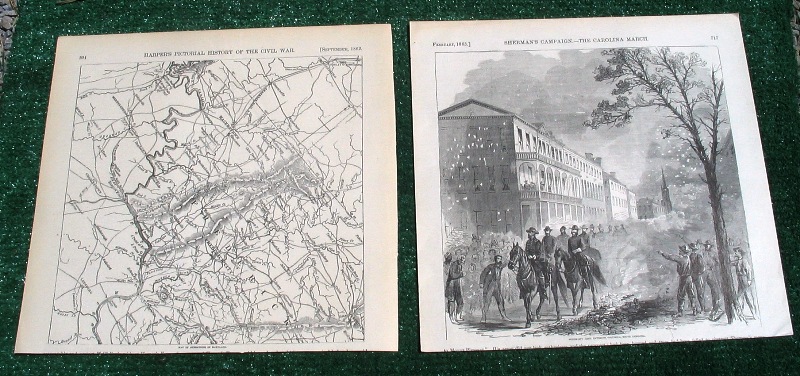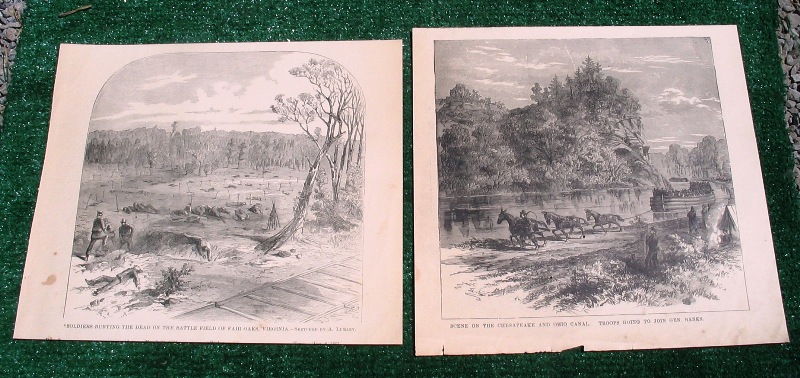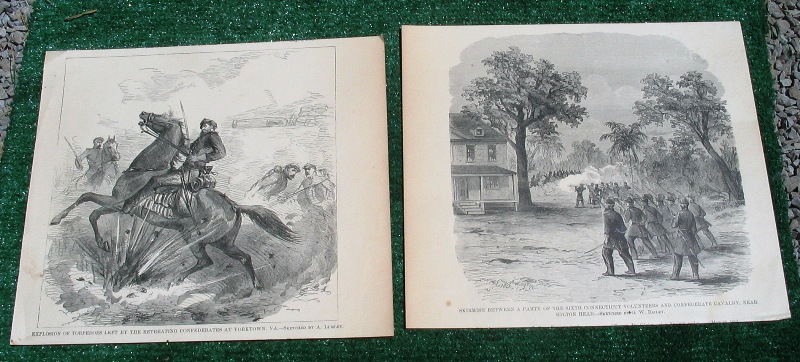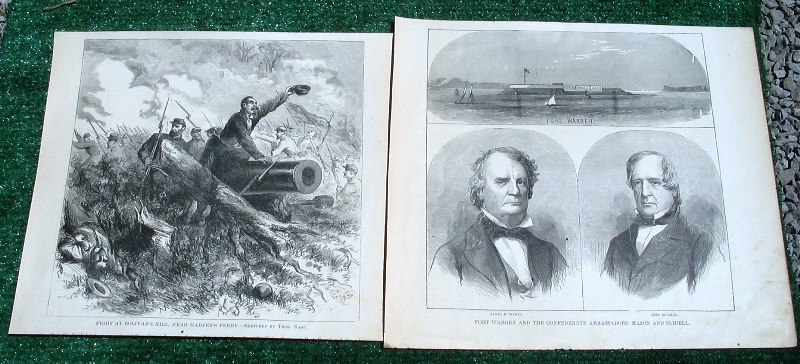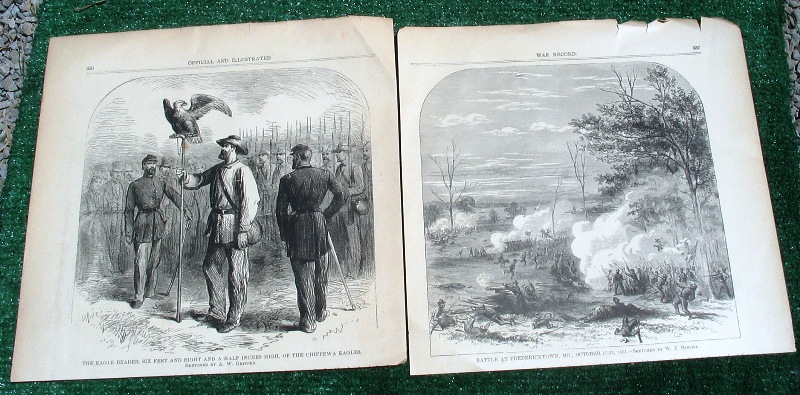 and here is what I call some quarter sized sheets. They vary in size but an average size is 7 1/2 X 12 inches. Check out the pics!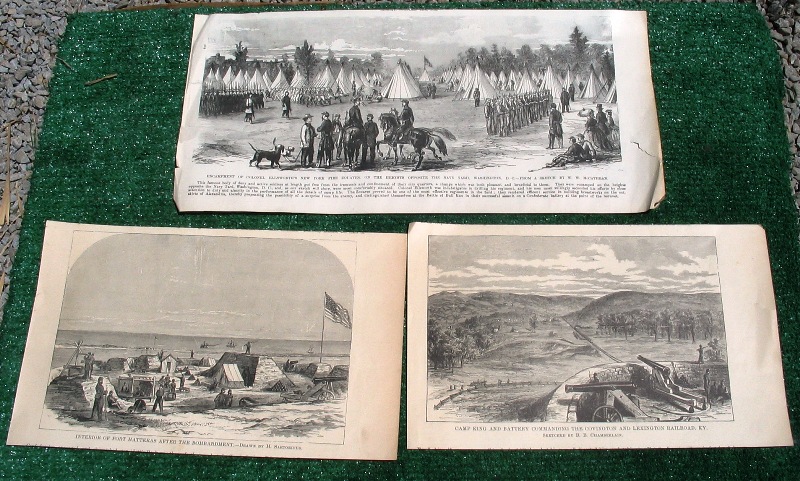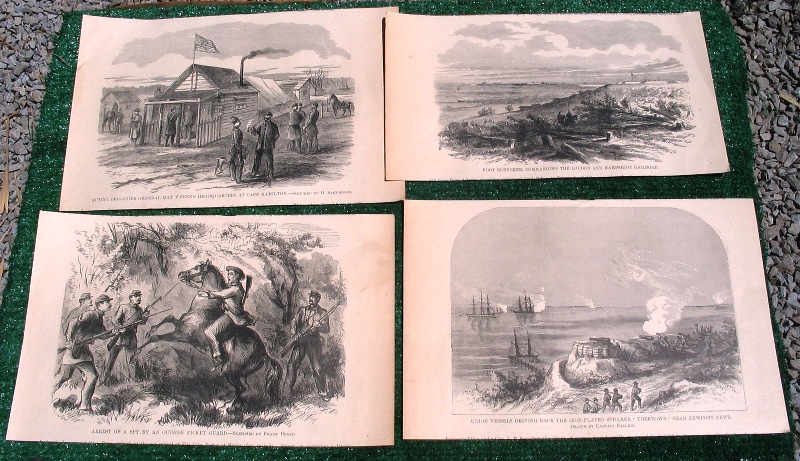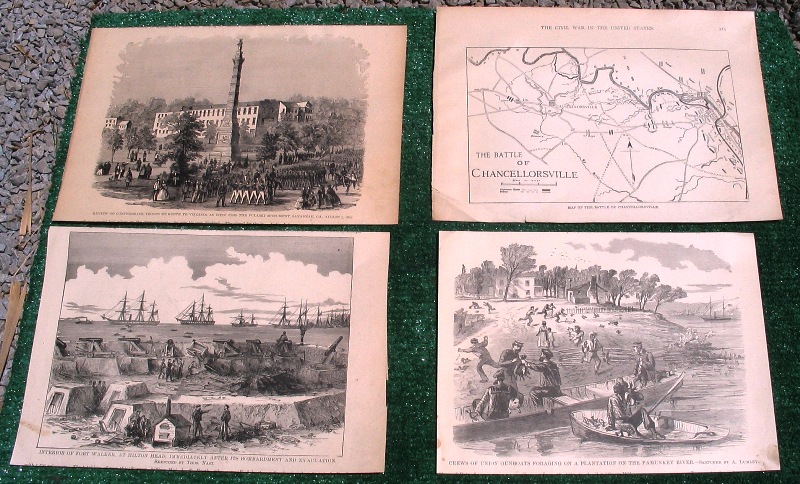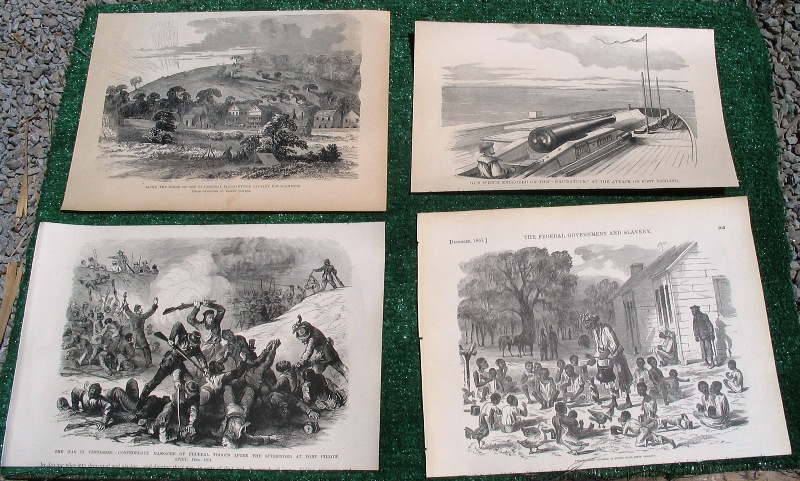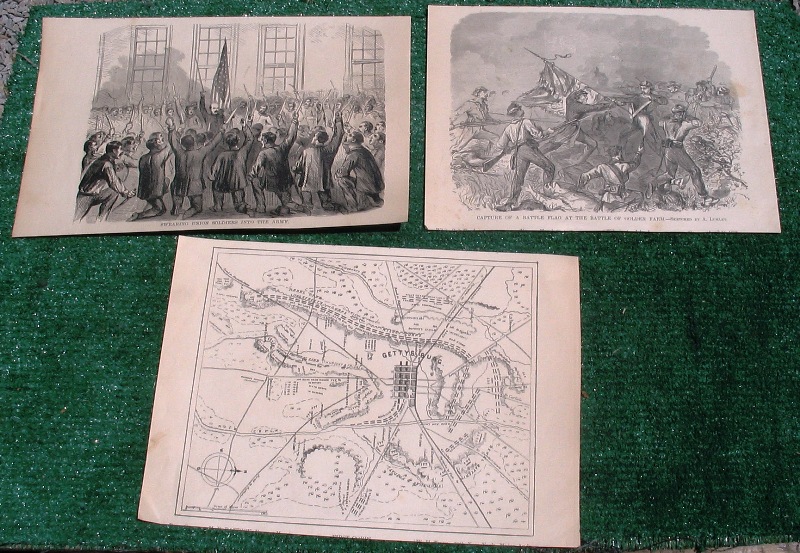 TC 1
Here we have two modern prints of original photographs of General Nathan Bedford Forrest and General James Longstreet. Each is in a 4 X 6 inch format. Ready to hang on the wall or place on your desk. Each $5.00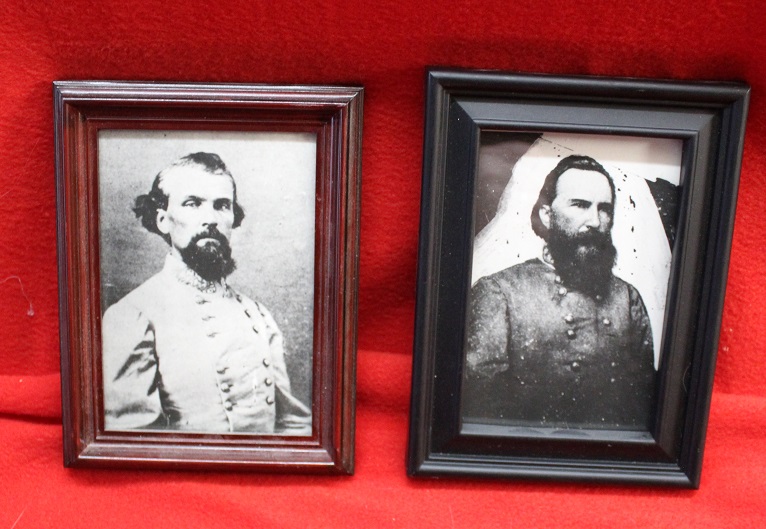 TC 2
Here we have two modern prints. The one on the left is entitled THE GATLING GUNS by Charles Johnson Post and commemorates 1898, The Spanish American War. The one the right shows Civil War CS Soldiers on a train. Each is in a 4 X 6 inch format. Ready to hang on the wall or place on your desk. Each $2.50.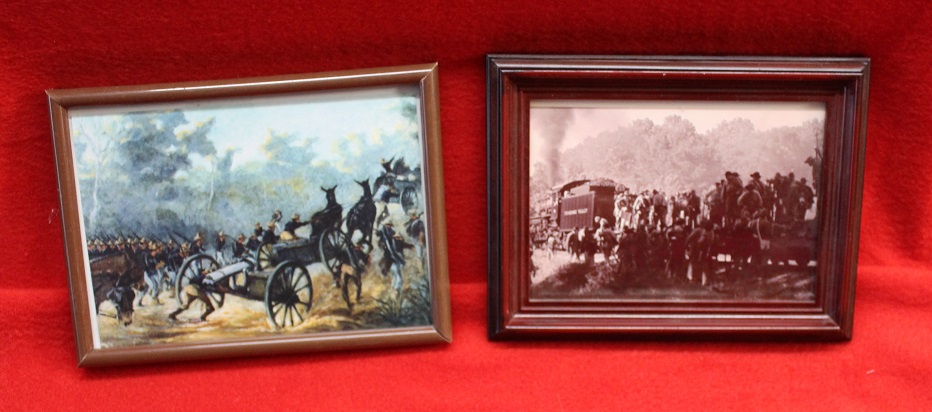 TC 3
Here we have three modern prints of original CW photos. Here we have Admiral David Farragut in the center flanked on the left by General Tecumseh Sherman and flanked on the right by General John Buford Jr. of the Union Army. All in 4 X 6 format. Would look great on the wall or desk. Each $5.00

TC 4
Here we have three modern photo prints of original CW photos/print. We have Abraham Lincoln in the center flanked by CS General Albert S. Johnson in his West Point Uniform on the left and General Ambrose Burnside of the Union Army on the Right. All in 4 X 6 format. The Lincoln Photo is $10 while the Johnson and Burnside photos are $5.00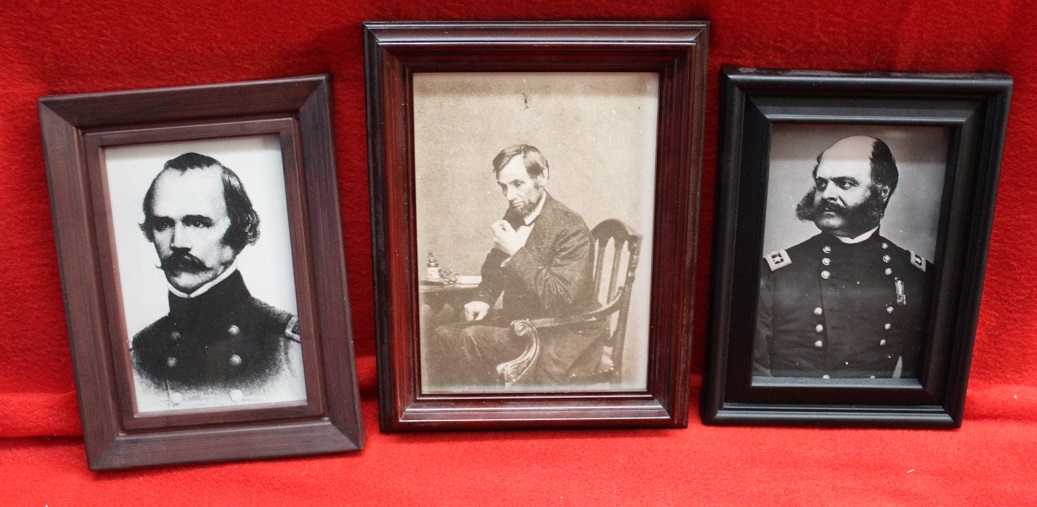 TC 5
Here are three more collectible prints/photo. The one in the center is an oval of President Lincoln 7 3/8 X 5 3/5 inches and is under glass. The item to the left is a small3 3/8 X 2 3/4 image of Abraham Lincoln on wood while the image on the right is a photo of Ford's theatre where the Preside was shot. For the Oval $5, for the small image on wood $2 and for the image of Fords Theatre $2.50 These would look great in your collection and won't break the bank!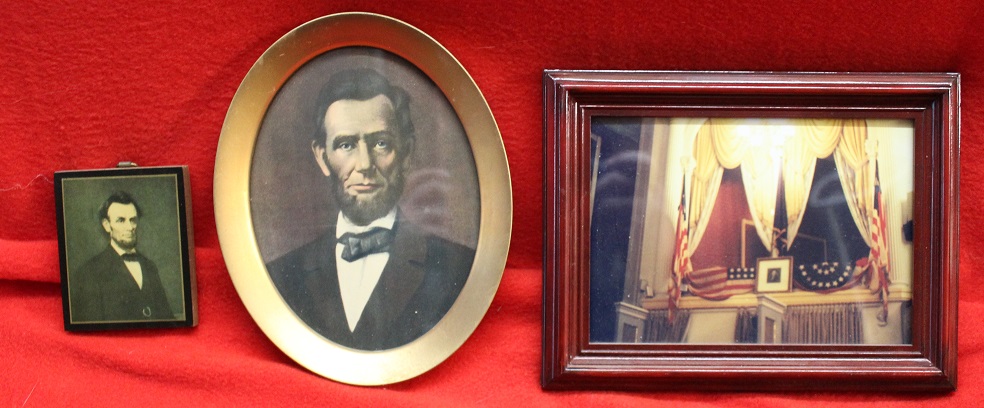 TC
Here we have 3 modern photo reprints of original Civil War Photos with all being the 4 X 6" format. The one in the center is The Great General Robert E. Lee and he is flanked on the left by the only Confederate States of American President Jefferson Davis and on the right by the C.S.S. Alabama Commander Rafael Semmes. Great grouping of CS Photographs! All Framed up and would look great on the wall or on the desk. $5 each.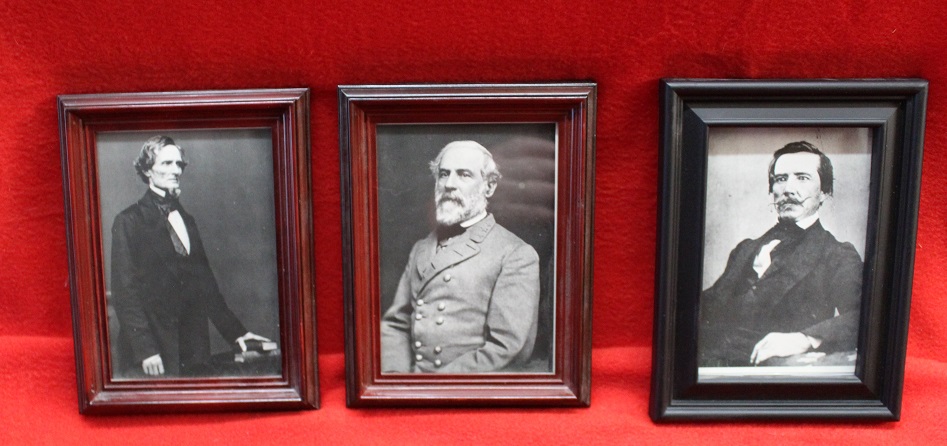 TC 6
Here we have a Civil War Print and a copy photograph of an origina CW photo of General George McClellan. This photo is in a 4 X 6 format. The print is in a 5 X 7 inch format and shows a Young Drummer Boy in color. These are great items and would look great displayed in your Den or Relic Room! Each $5.00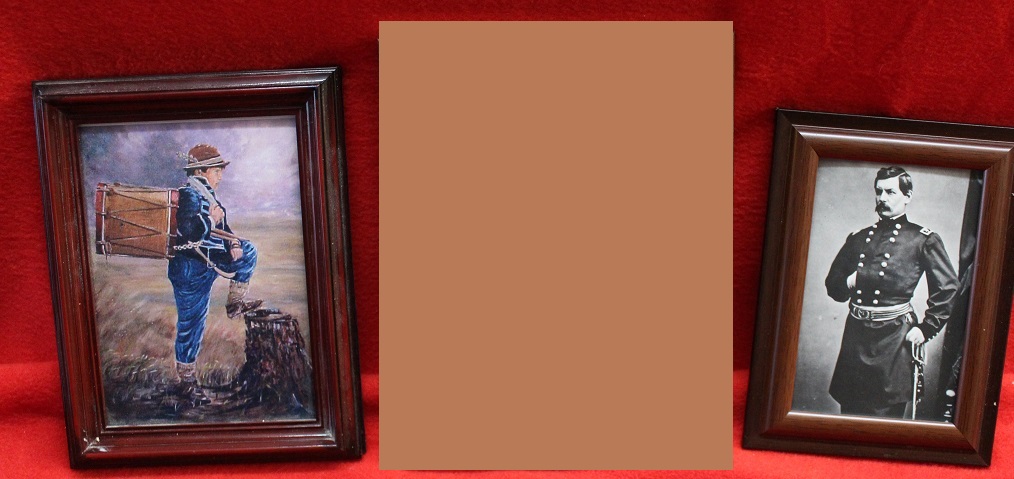 TC 7
Here we have an original pastel on pasteboard of a Union Soldier holding his musket and his Remington Revolver across his chest. The piece measures 15 3/4 inches long by 10 inches wide and it does have few chips around the edges and a tear on the bottom, much of which would be hidden by a frame. This took one of those 'bubble' oval frames that you see from the Civil War and Victoria ages. This is unique, colorized and very old! Don't know who it is but came from Central Indiana. $125.00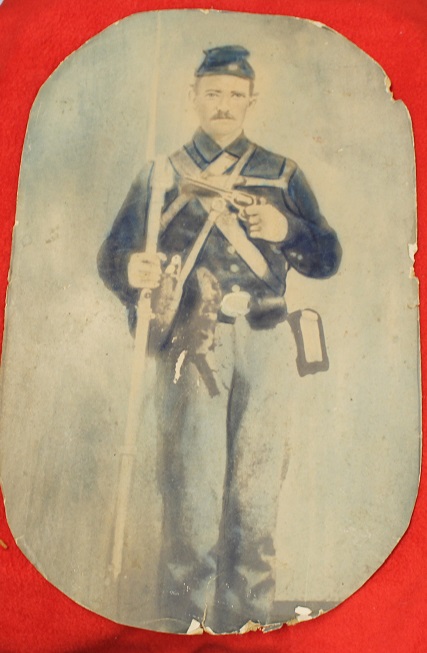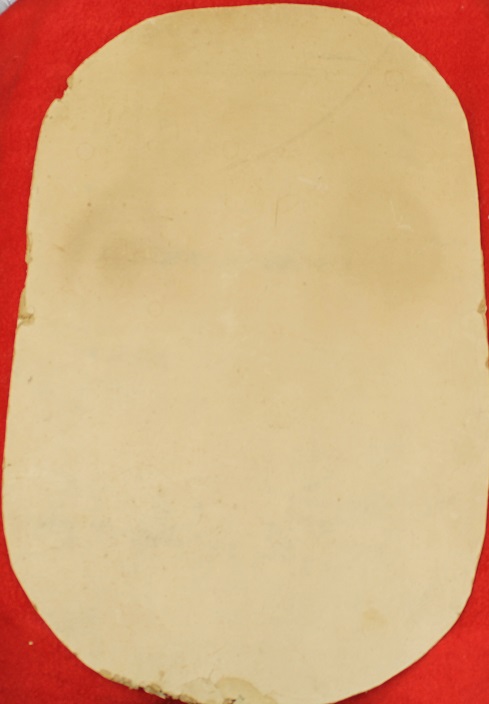 p>TC 8
Here we have a souvenir A. Lincoln 1809 1865 image on board. This board came from the Lincoln Board of Philately in Frankfort, Indiana. Nice! $10.00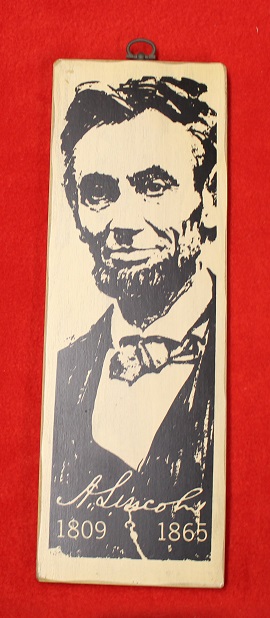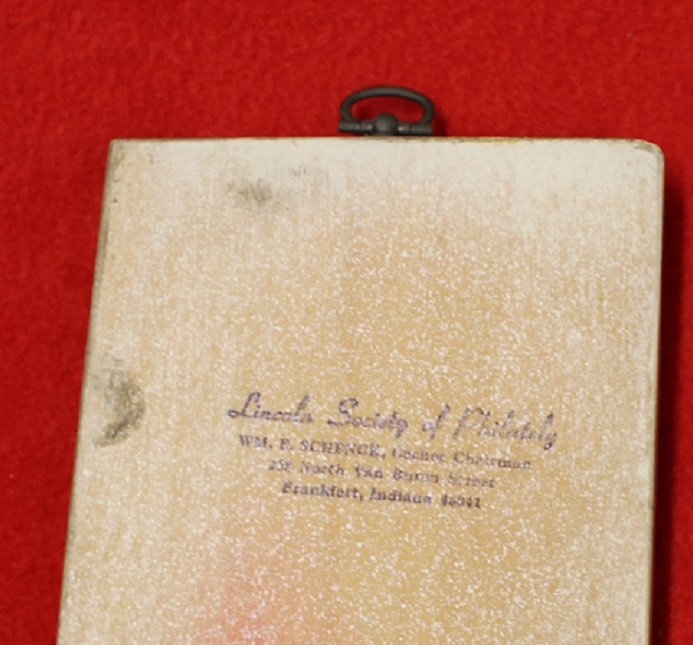 TC 9
Here we have 4 colorized prints from Parker Historic Prints! These are a set of 4 unframed prints that show The 2nd Rhode Island infantry 1861, the 14th Wisconsin Volunteer Infantry,1862, The 6th New York Cavalry and a Captain of the U.S. Light Artillery, 1864. All are in excellent conditon and ready to be framed. One frame is included with the set. Each print is 7 by 5 inches and has the description sheet included. All for $10.00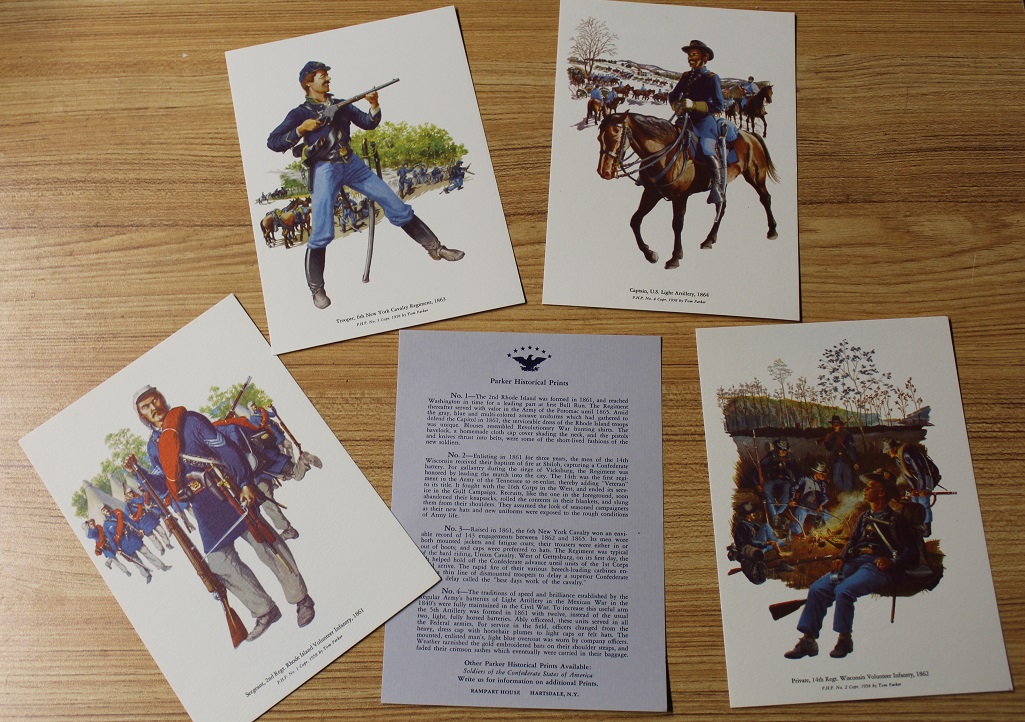 TC 10
Here we have a reenactors tintype in large format. The tintype measures 8 x 8 inches and is very clear. $25.00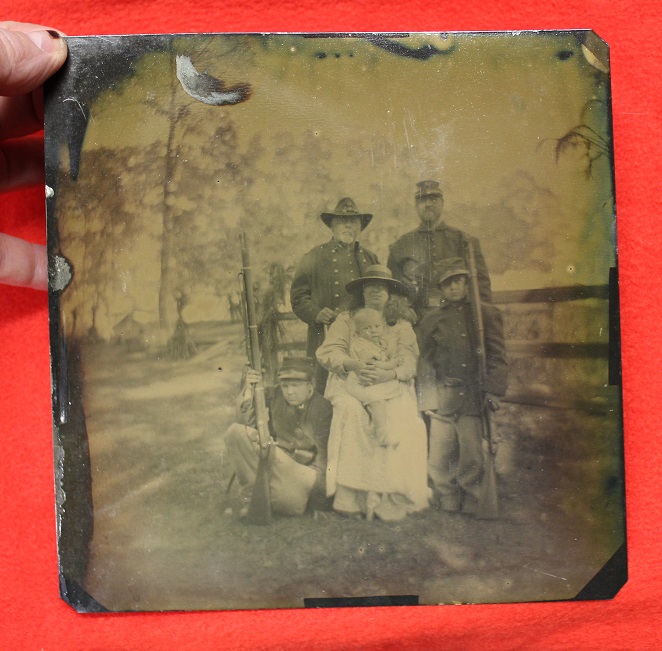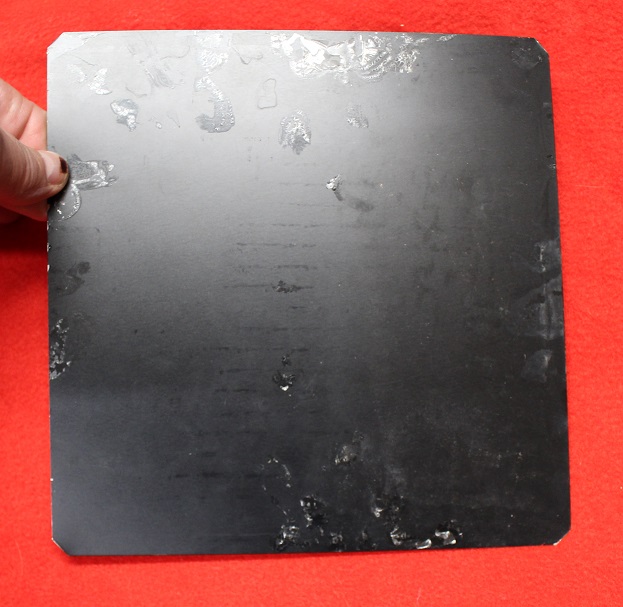 TC 11
Here is a large print of an original Benjamin Harrison image who was president from (1889-1893). President Harrison was born in North Bend, Ohio in 1833 and Died in Indianapolis, Indiana in 1901. There is one small tear on the left side of the image but framed up I doubt if you will ever see it or it will not be noticeable. The image measures 15 X nearly 11 inches on heavy glossy photo paper. $5.00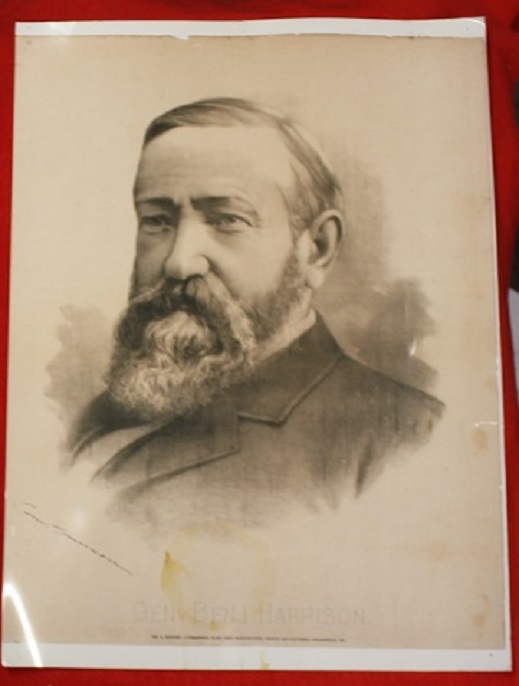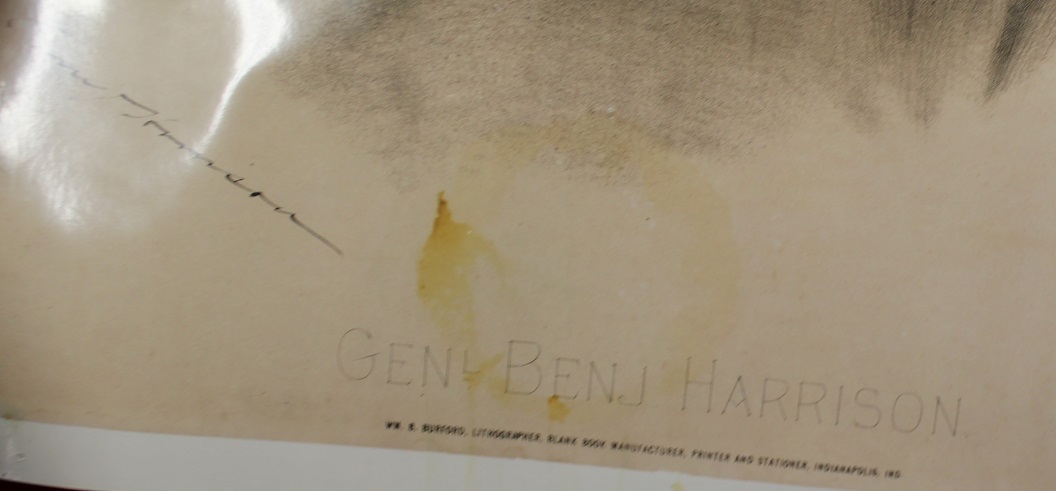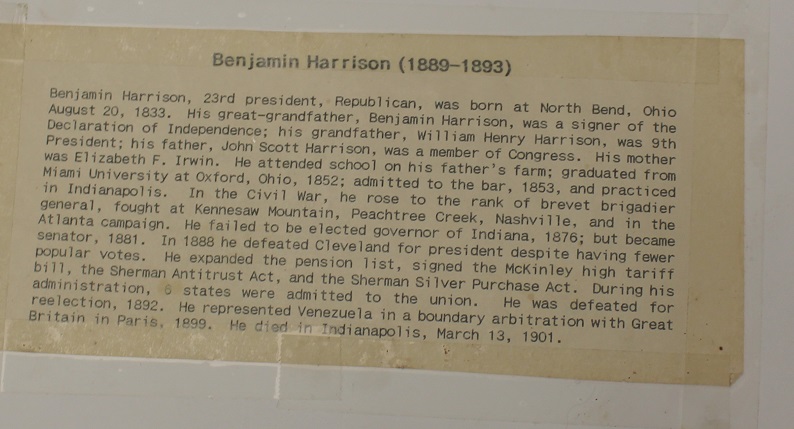 TC 12
Color Print in frame of Civil War reenactors. Don't know who they are but they look great! 4 X 6 format. $2.00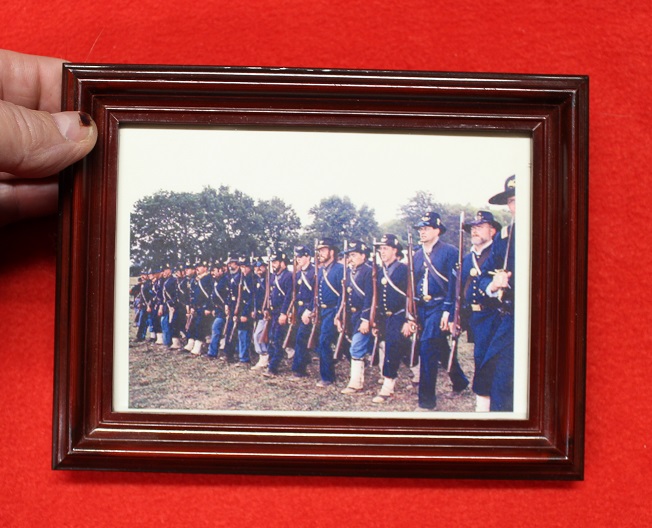 TC 13
Here is an original Civil War book plate entitle President and Cabinet showing President Lincoln and his war time cabinet. I believe this one is from 1864. The plate itself measures 6 X 9 inches. $45 Framed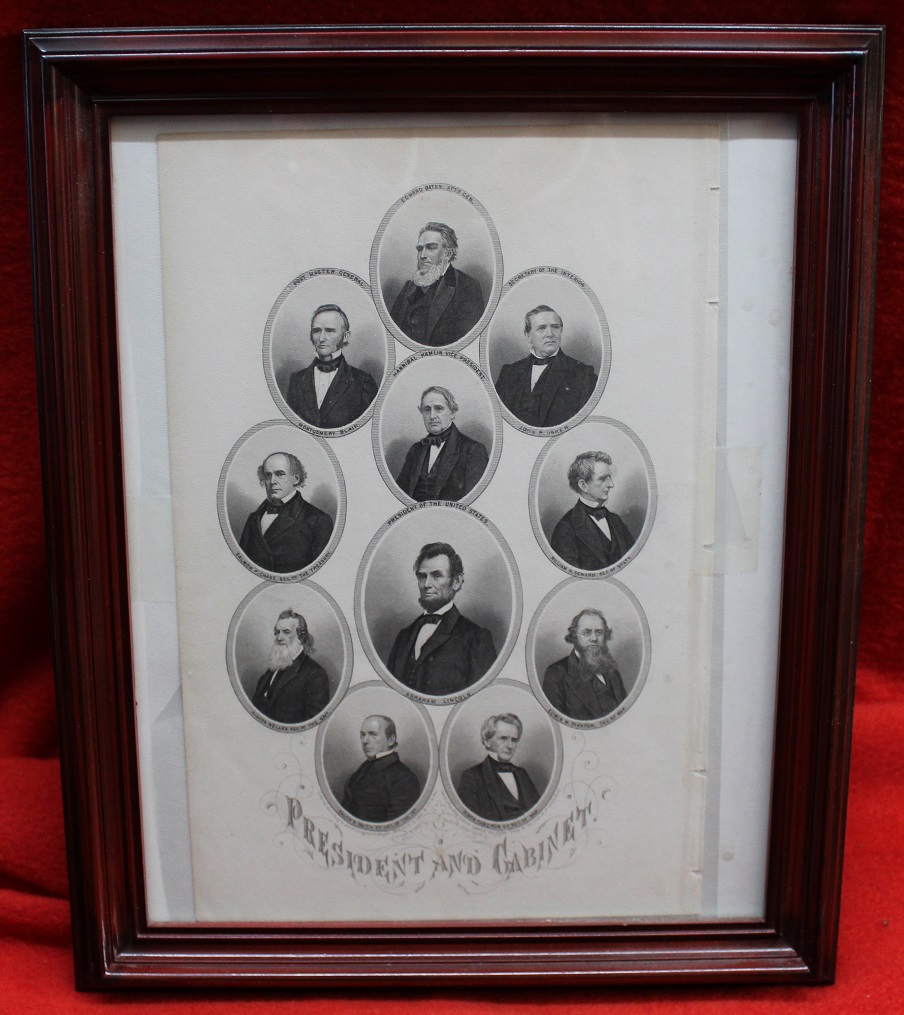 TC 14
Here we have a matted and framed general order from the Civil War. This is General Order No. 217 which deals with Covington, KY and the area around it being added to the Northern Department under the command of Major General Heintzelman. $65.00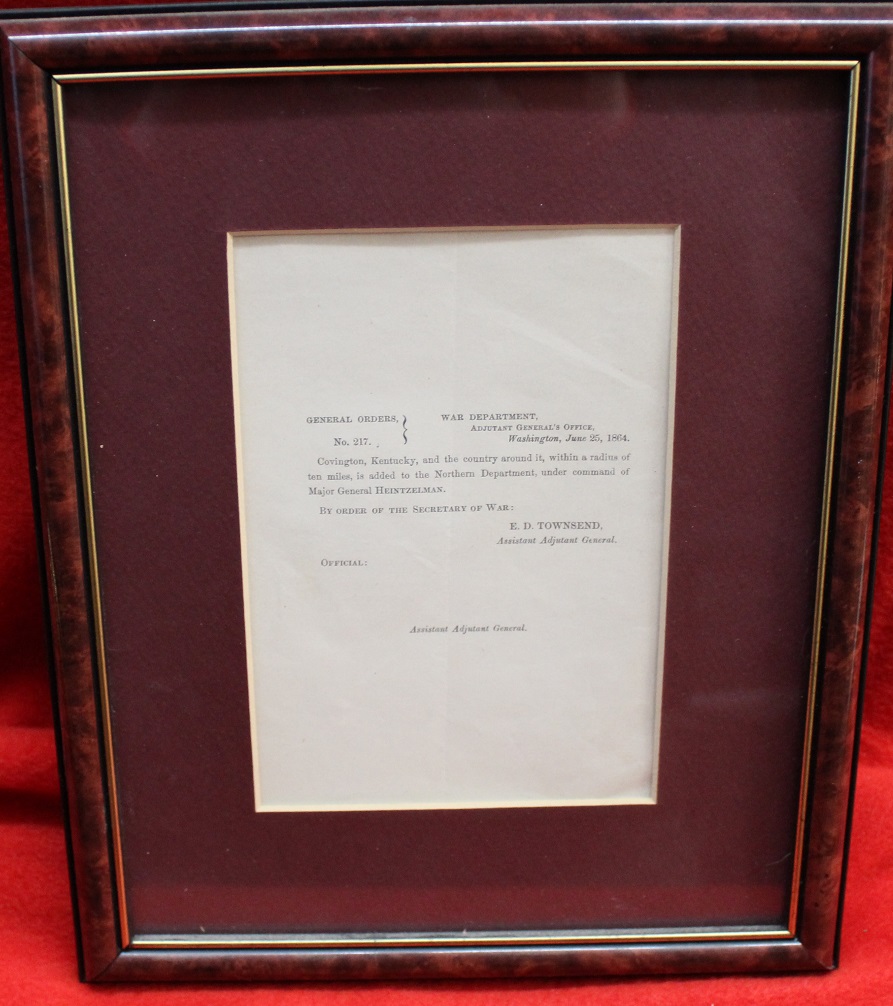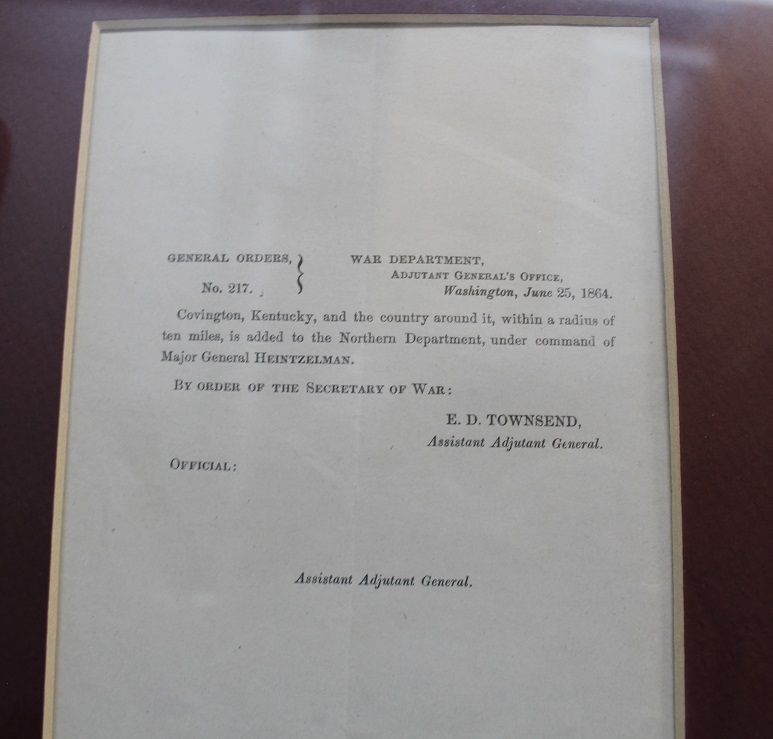 TC 15
Here we have a framed Form No. 5 concerning the discharge soldier, Thomas G. Johanson of C company 16th Regiment of Mass. Volunteers. The document fills up the frame measuring 8 X 10 inches. The document is in pretty good condition. $45.00
TC 16
October, 1865 Monthy Return of Quartermaster's Stores for a Surgical USA unit. Folded and Framed for display. Soiled but still in pretty good condition. $45.00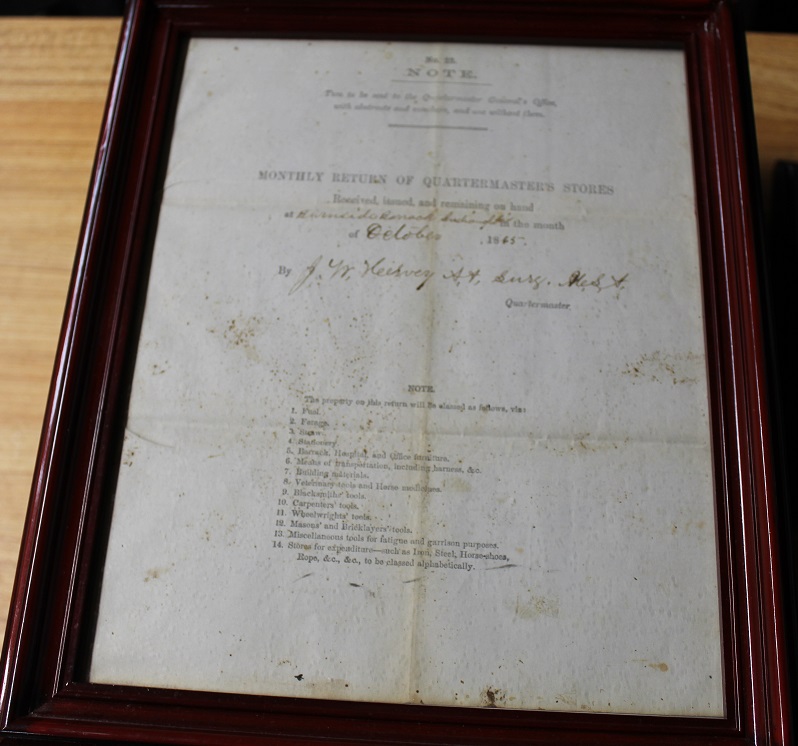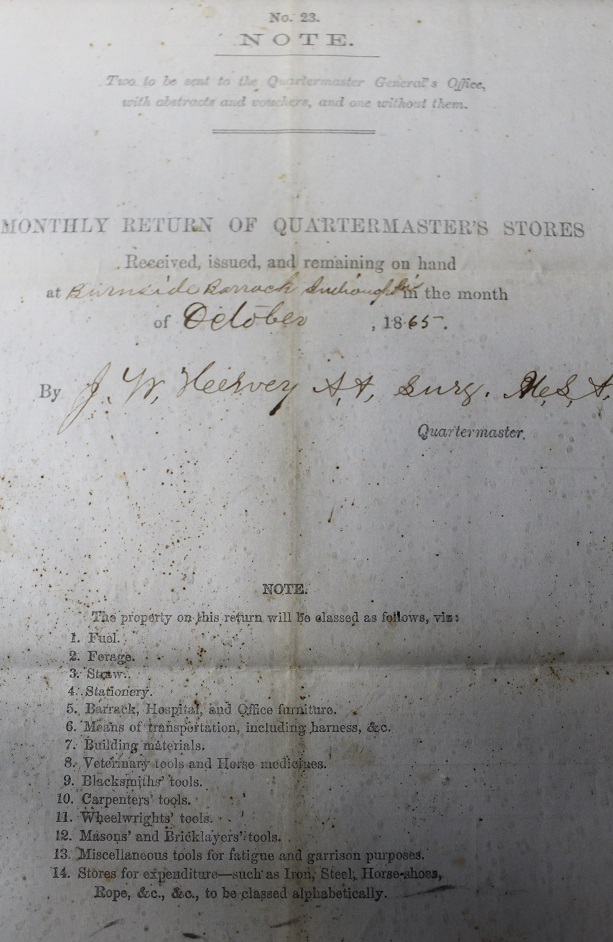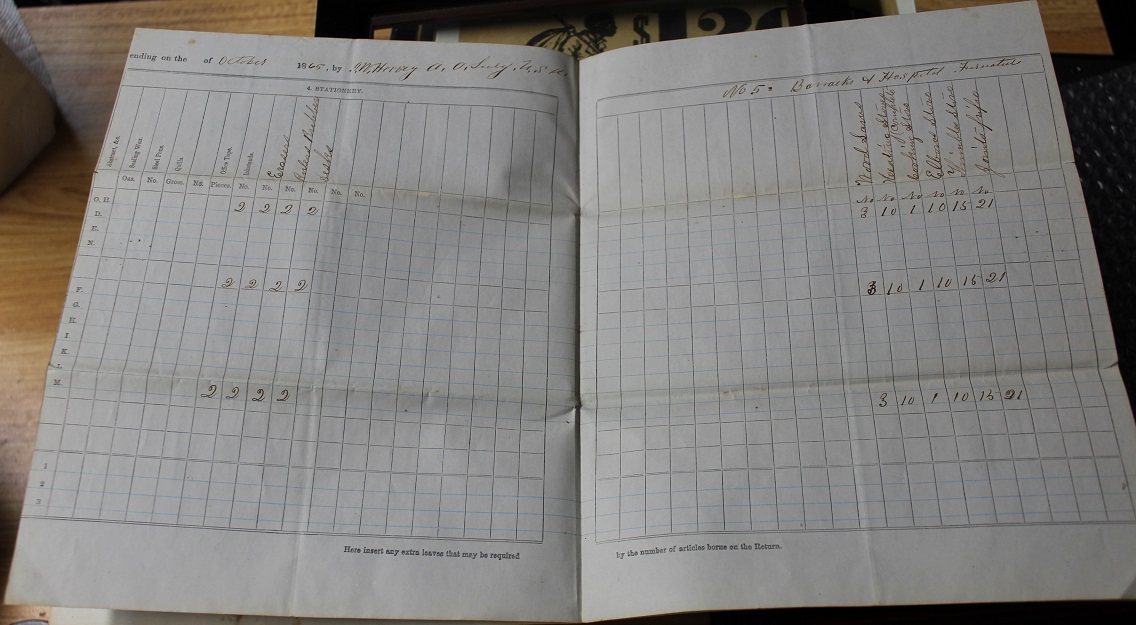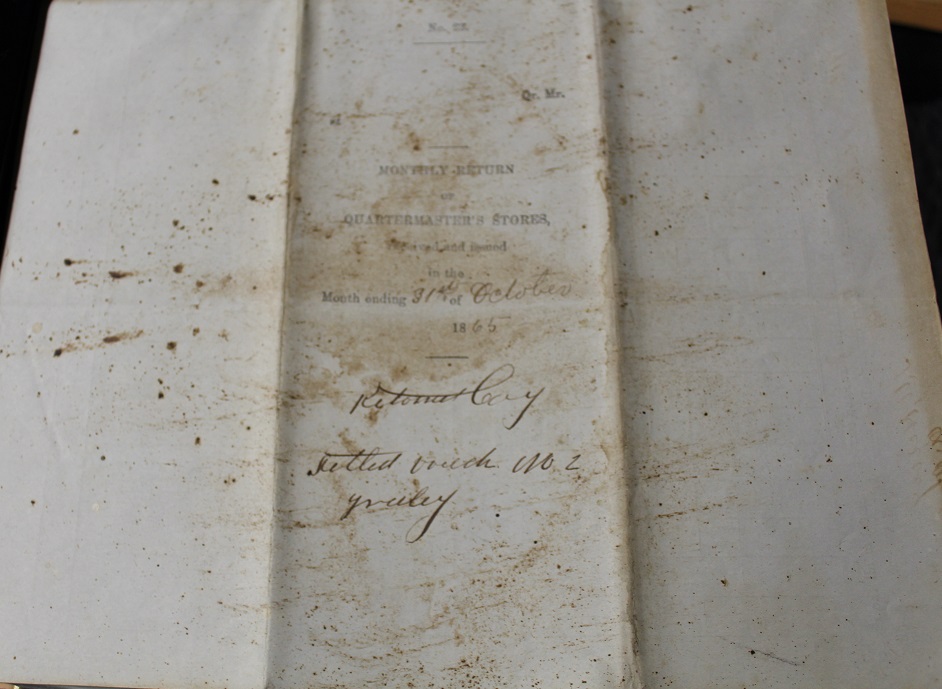 TC 17
Here we have reproduction add wanting to purchase Negro's. It's framed and ready to hang on the wall. Don't forget our history! We don't want to repeat it! $10.00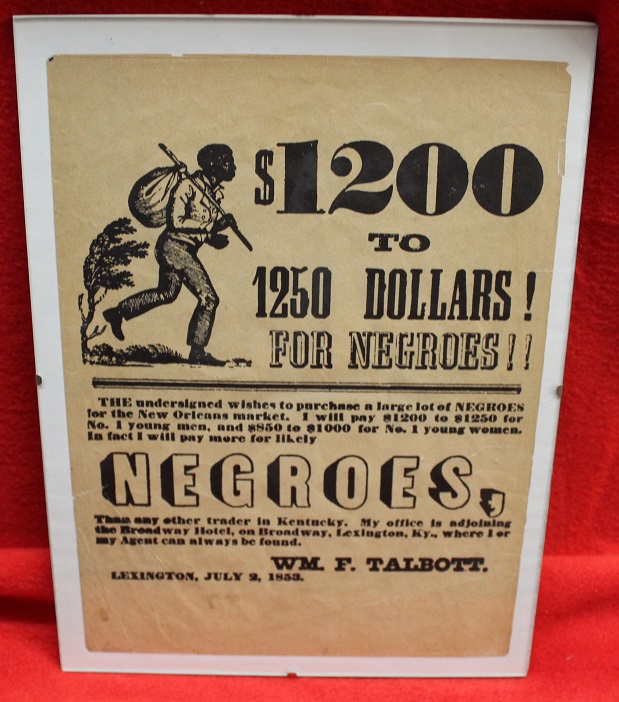 TC 18
Here we have a Civil War Commemorative Wall hanging that includes original/real Postage Stamps and a reproduction Medal. Distributed by A.H.S. 1996, and numbered #1463. There are seven stamps (date of issue listed): Battle of Gettysburg - 1963 Battle of the Wilderness - 1964 Grand Army of the Republic - 1949 Battle of Fort Sumter - 1961 Battle of Shiloh - 1962 United Confederate Veterans - 1951 A certificate of Authenticity for the stamps is included. It states: "This certifies that the Postage Stamps contained herein have been examined by the American Historic Society and declared to be genuine U.S. Postage. The medal is a recreation of the original. Housed in a 9 X 11 sealed frame. Nice! $25.00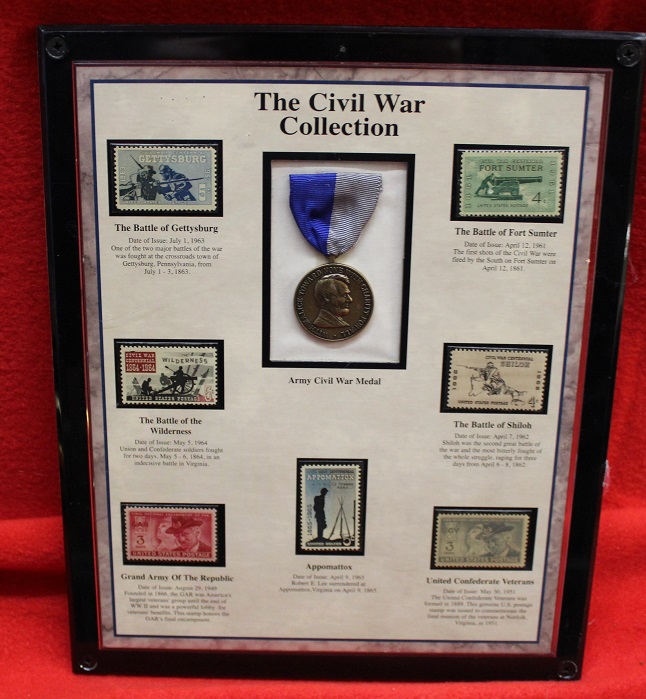 TC 19
Here we have a colorized print of General U.S.Grant with an Appomattox 5c commemorative stamp mounted below. The glass is broken but I will try to replace it. $8 with the broken glass or $10 fixed.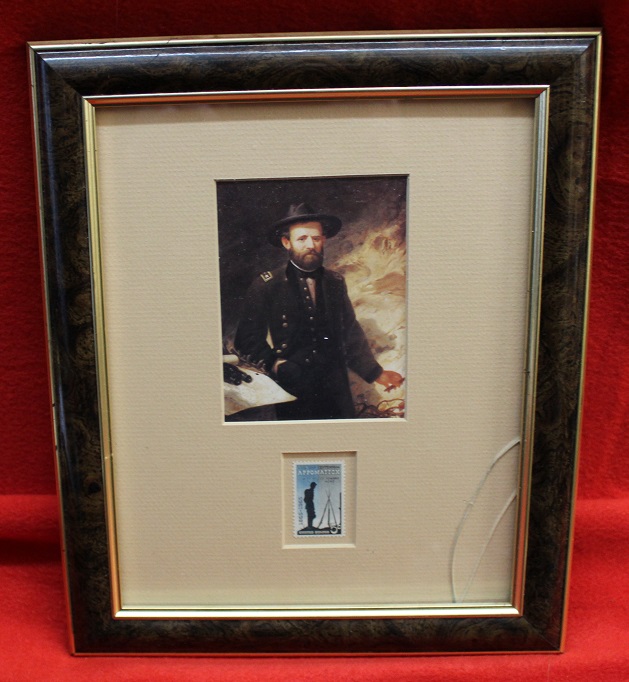 TC 20
Here we have an 8 X 10 reprint of an original Civil War photo entitled Freedericksburg VA Confederate Dead Sunken road at the foot of Marye's Heights. (chancellorville campaign) #409 LEIB Image Archives, York, PA 1863. Nice in a frame. $10.00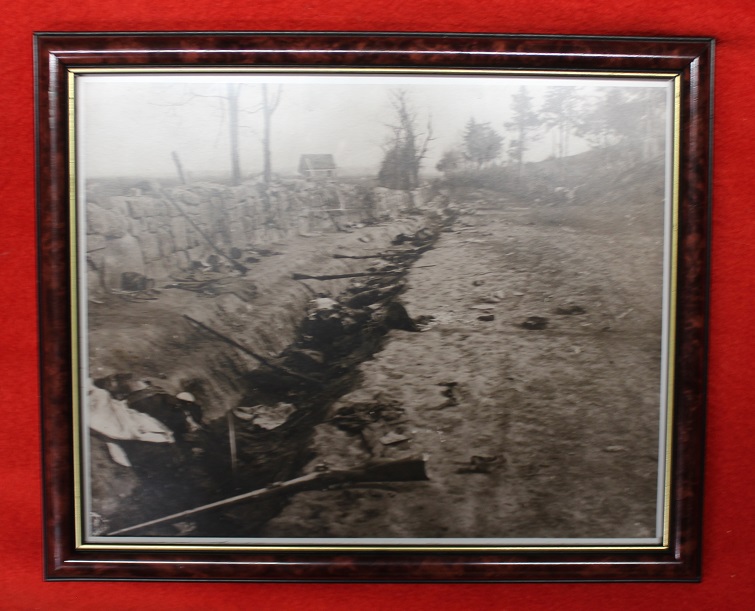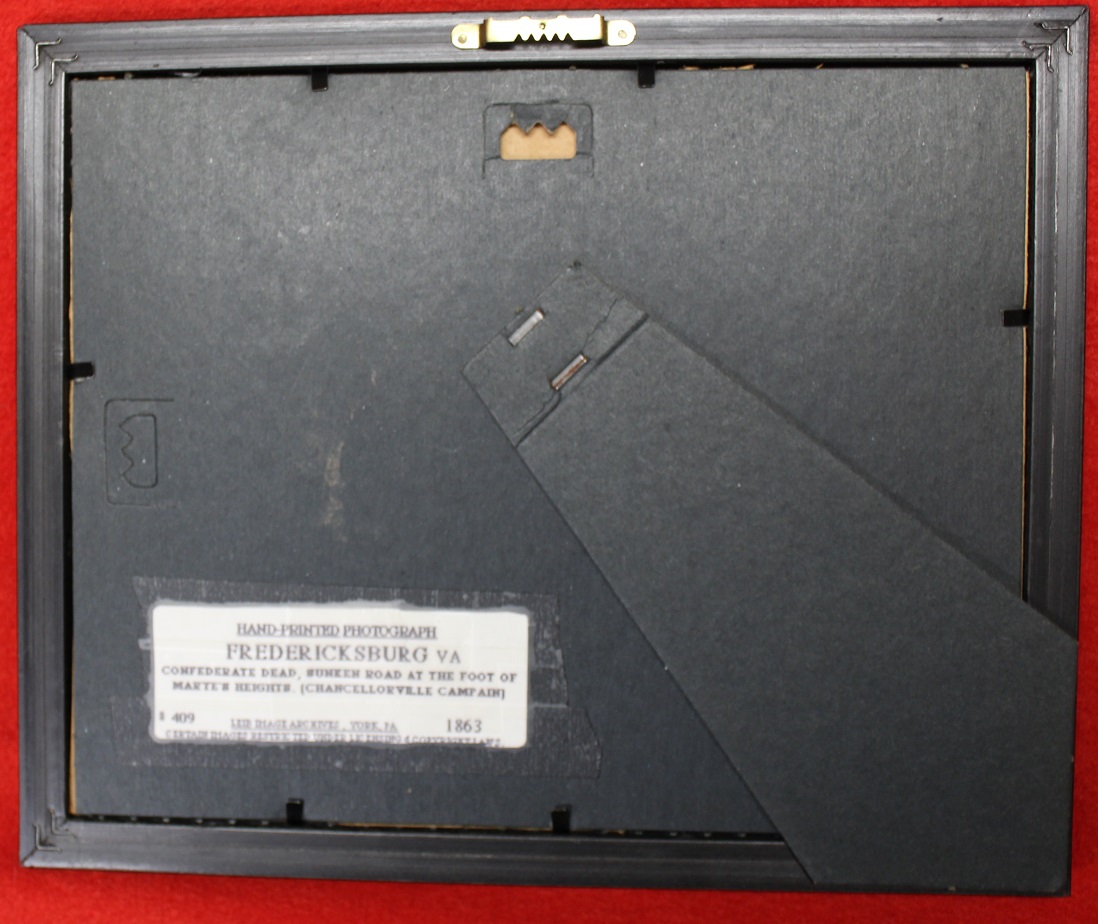 TC 21
Here we have a standing nearly knees up image of President Abraham Lincoln in 8 X 10 format. Nice reprint of an original image in frame. Nice! $10.00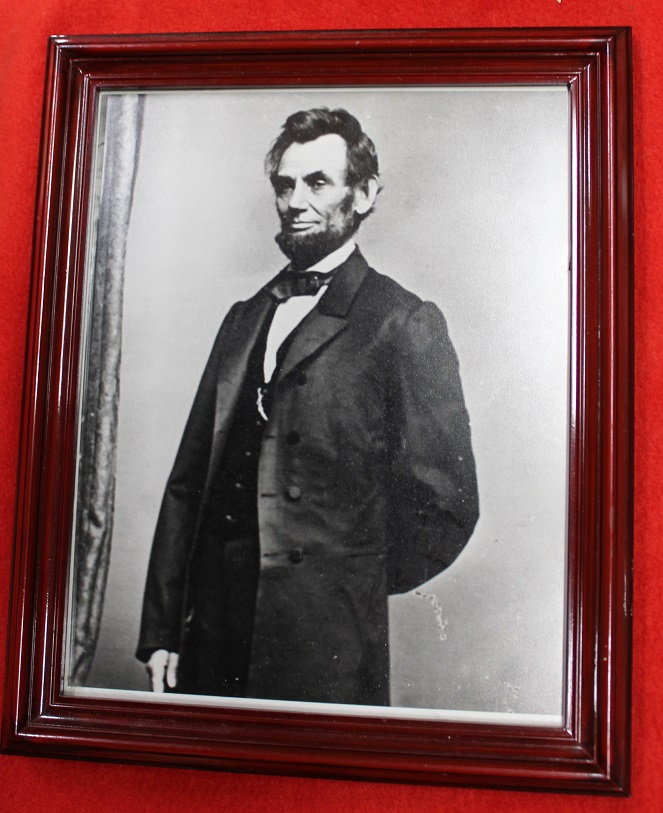 TC 22
Here we have President Lincoln's National Thanksgiving Proclamation, 1863 in Frame over his image. 8 X 10 inch format. Nice! $10.00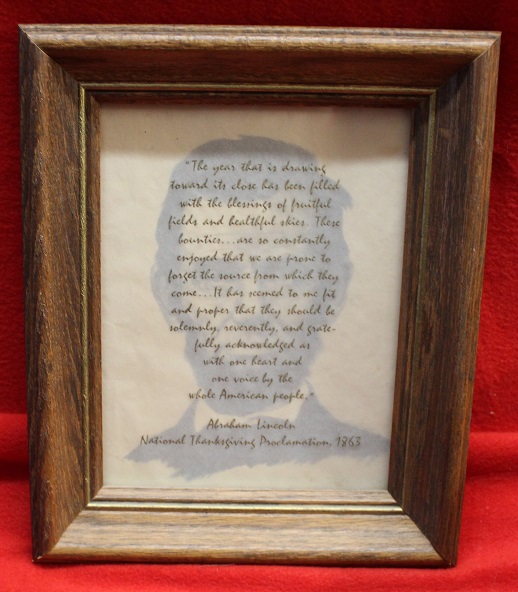 TC 23
Here we have an old homestead black and white photo that I have no idea where it was taken and there is nothing written on the back. This is not an old photo but I believe it was copied from an old photo. Nicely framed! $8.00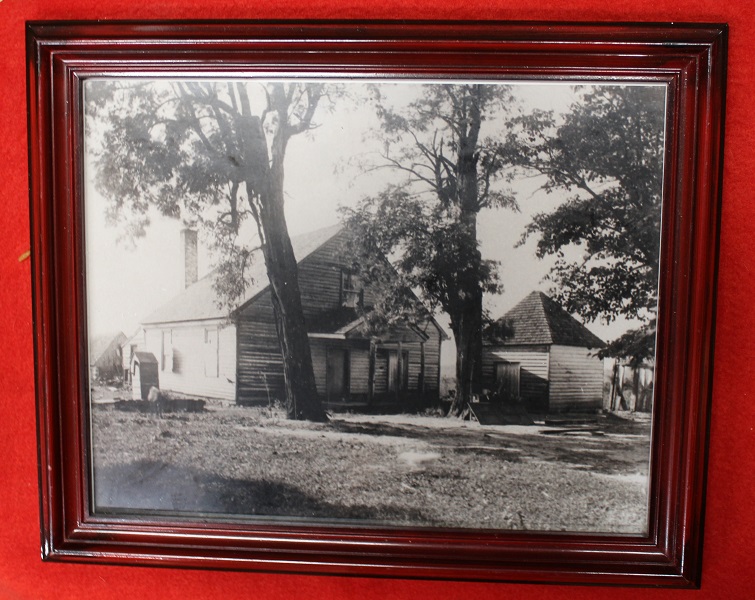 TC 24
Here we have 3 documents that was given US and CS Reenactors for appreciation in their participation in Indiana Reenactments. One is dated Sept 14 & 15, 2002 in Mooresville, Indiana, one is dated September 16 & 17 2000 in Mooresville, Indiana and the last one is dated September 18 & 19, 2004 in Mooresville, IN. All were done in Pioneer Park in that community. For the 3 framed pieces $15.00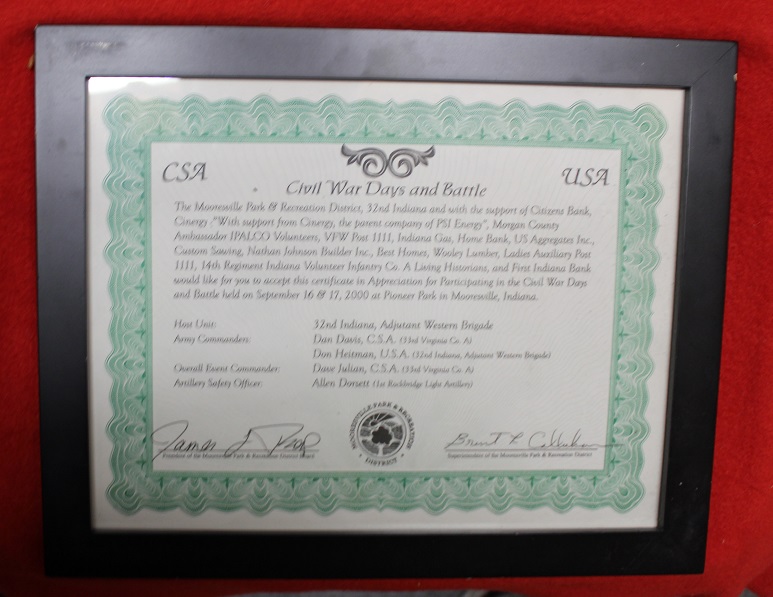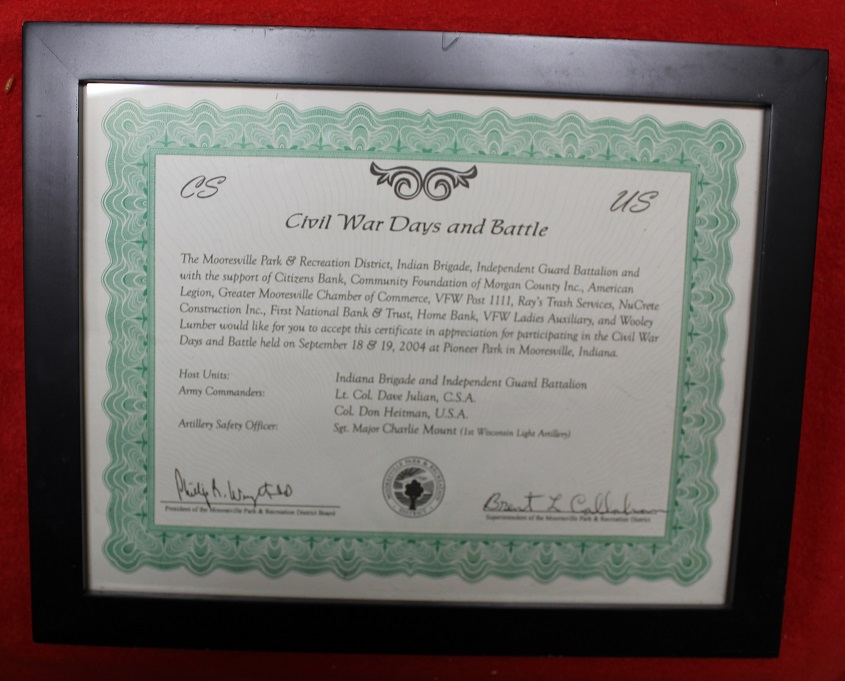 TC 25
Here we have a colorized Gettysburg Battlefield Position Map dated July 2nd (1863) that was printed on 12/24/02 and placed in this nice frame. The image is 8 1/2 X 11 inches and just beautiful! Nice! $12.95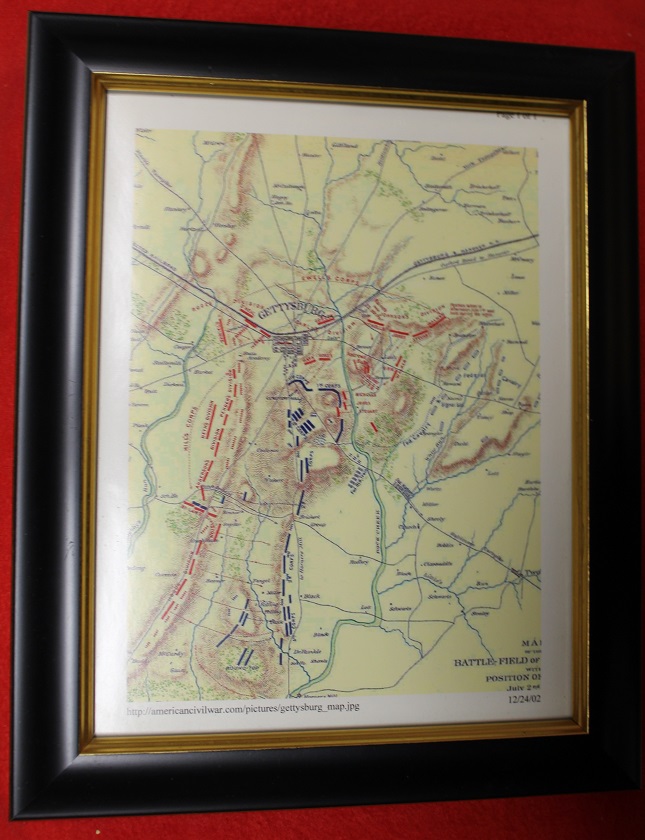 TC 26
Here we have 2 modern postcard photographs of original General Joshua Chamberlain photos when he was Colonel double matted and framed in a 11 X 14 frame. It looks just beautiful and would look great on the wall or desk in your Den or Relic Room! 20th Maine at Gettysburg!!! $15.00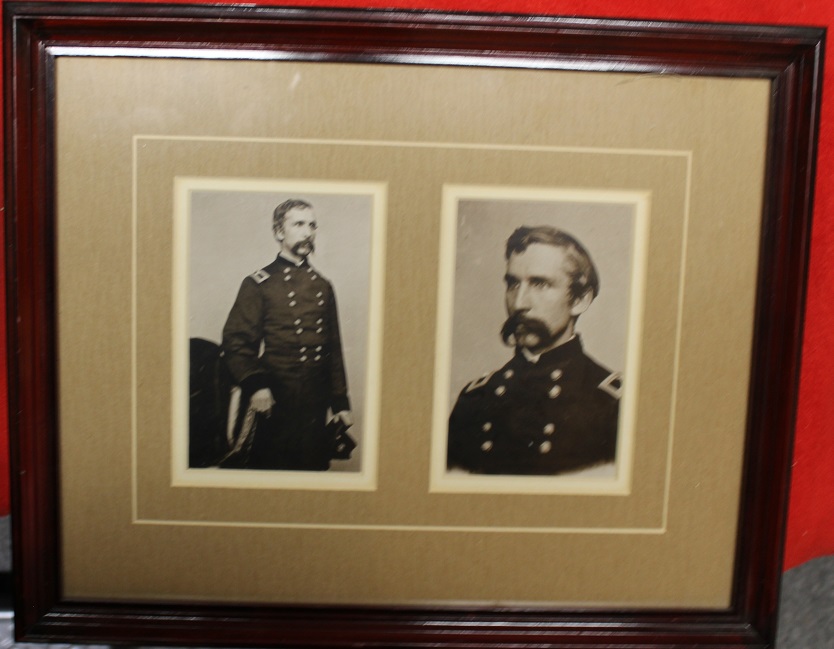 TC 27
Here we have a double matted copy image of an original taken in 1864 by Matthew Brady in Washington,D.C. This piece was given out by the Lincoln National Life Insurance Company and has a cancelled stamp of President Lincoln mounted to it. The cancellation is for Jun 20, 1967 from Fort Wayne, Indiana where the Insurance company is located. Nice piece in a 8 X 10 inch format. For this piece $10.00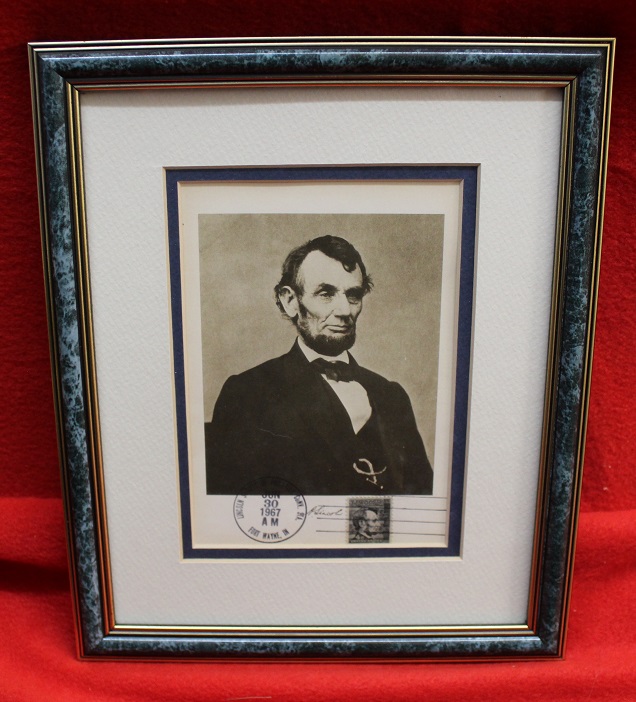 TC 28
Here we have a framed Civil War Artillery scene about a Gettysburg Stamp marked 1864-1963 so it's for the 100th year anniversary of the battle! This piece is from Stamp Works Postal Art.
$29.95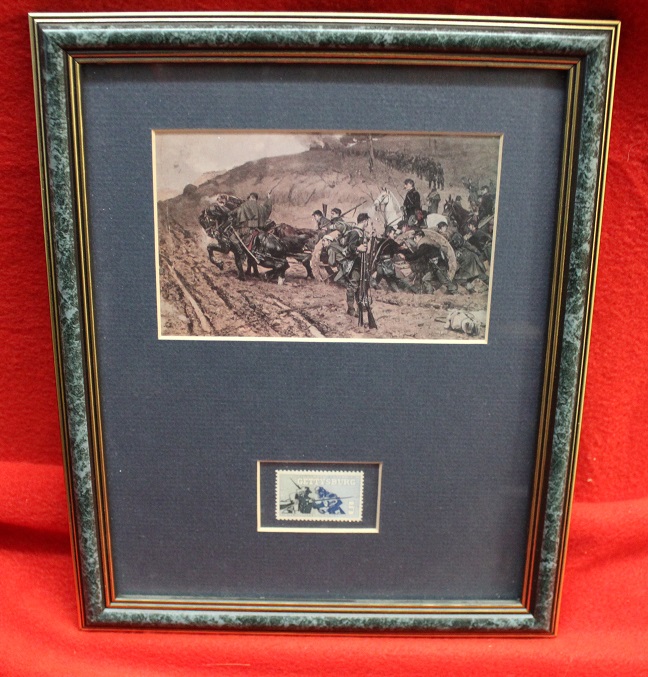 TC 29
Here we have a framed Stamp Works Postal Art image of CSA General James Longstreet framed along with 1864-1964 100 year anniversary stamp of the Wilderness! This is in a 8 X 10 format. Excellent! 8 X 10 format $29.95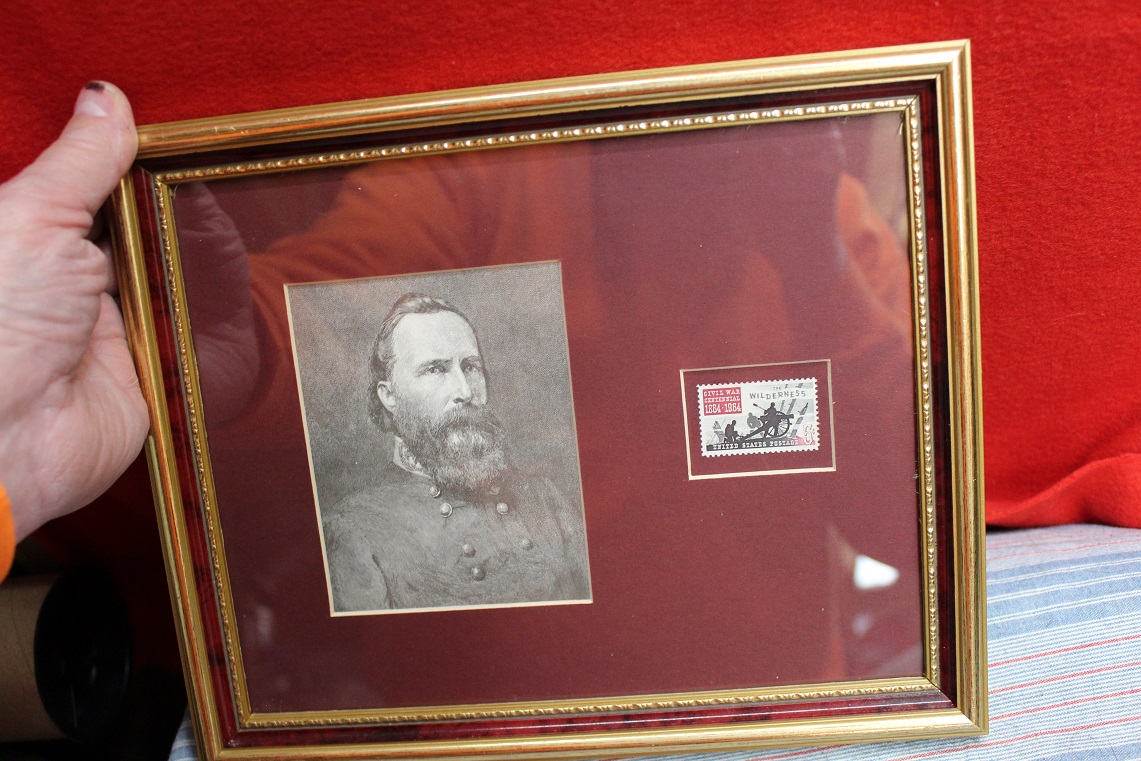 TC 30
Here we have a Framed Stamp Works Postal art image of pre president Abraham Lincoln alone with a large 1 cent stamp. Really nice! 8 X 10 inch format. $29.95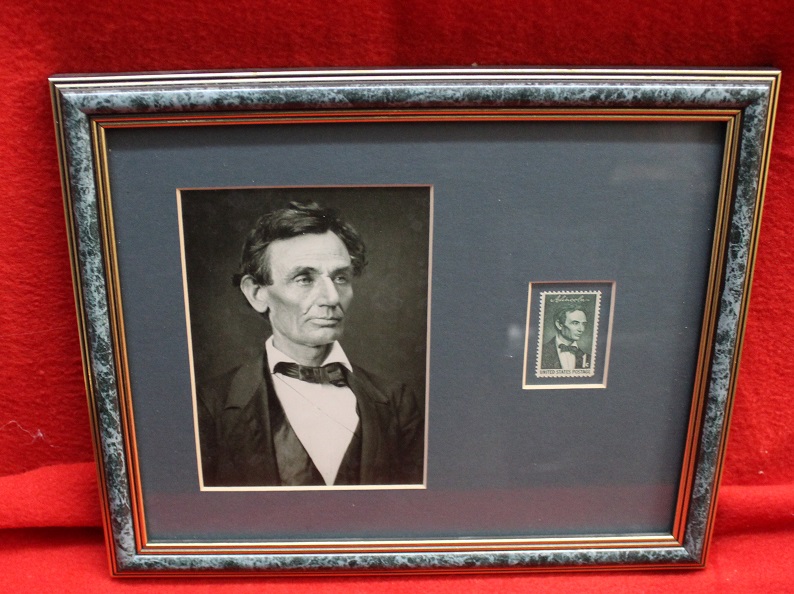 TC
Here we have a Framed Stamp Works Postal art image of Fort Sumter under fire with a Fort Sumter 4 cent 1861-1961 stamp mounted underneath the image. This is where the Civil War Started! Perfect condition! $29.95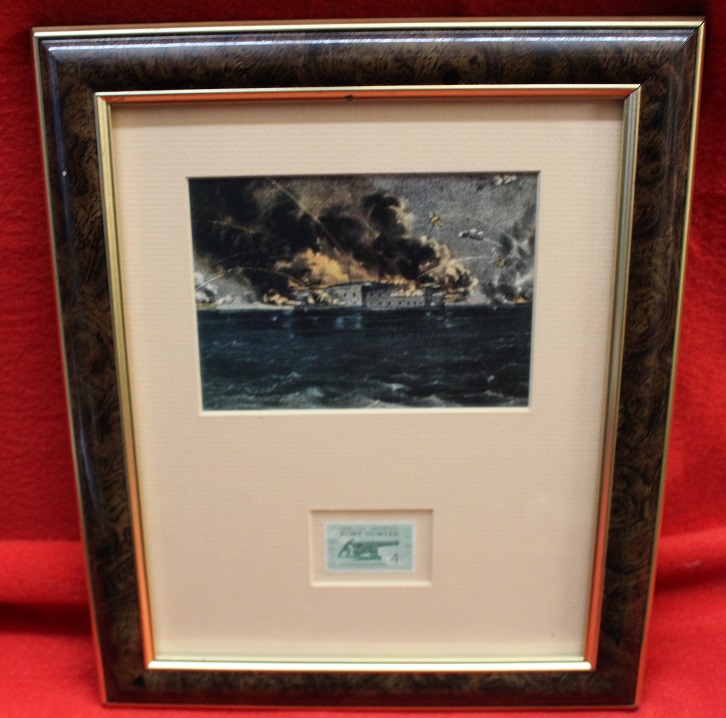 TC 31
Here we have a Framed Stamp Works Postal art image of CSA General Robert E. Lee mounted alongside a R.E.Lee 30 cent stamp. This is in a 8 X 10 inch format and just perfect! Ready to hang or place on your desk! $29.96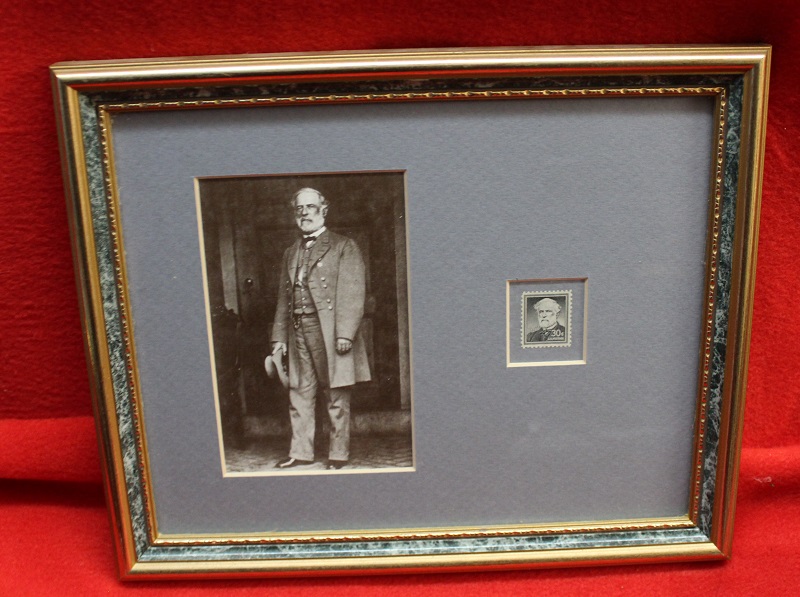 TC 32
Sold!!
TC 33
Here we have a framed Civil War Artillery scene about a Gettysburg Stamp marked 1864-1963 so it's for the 100th year anniversary of the battle! This piece is from Stamp Works Postal Art.
$29.95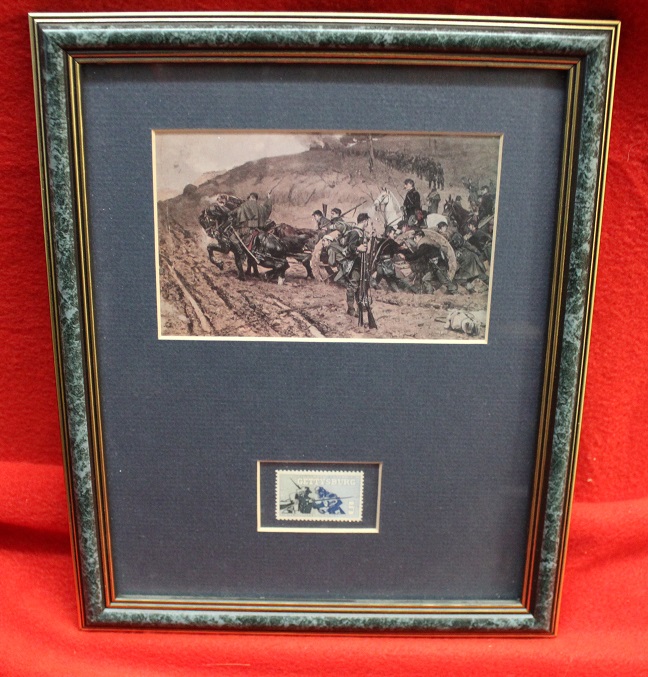 TC 34
Here we have a framed Stamp Works Postal Art image of CSA General James Longstreet framed along with 1864-1964 100 year anniversary stamp of the Wilderness! This is in a 8 X 10 format. Excellent! 8 X 10 format $29.95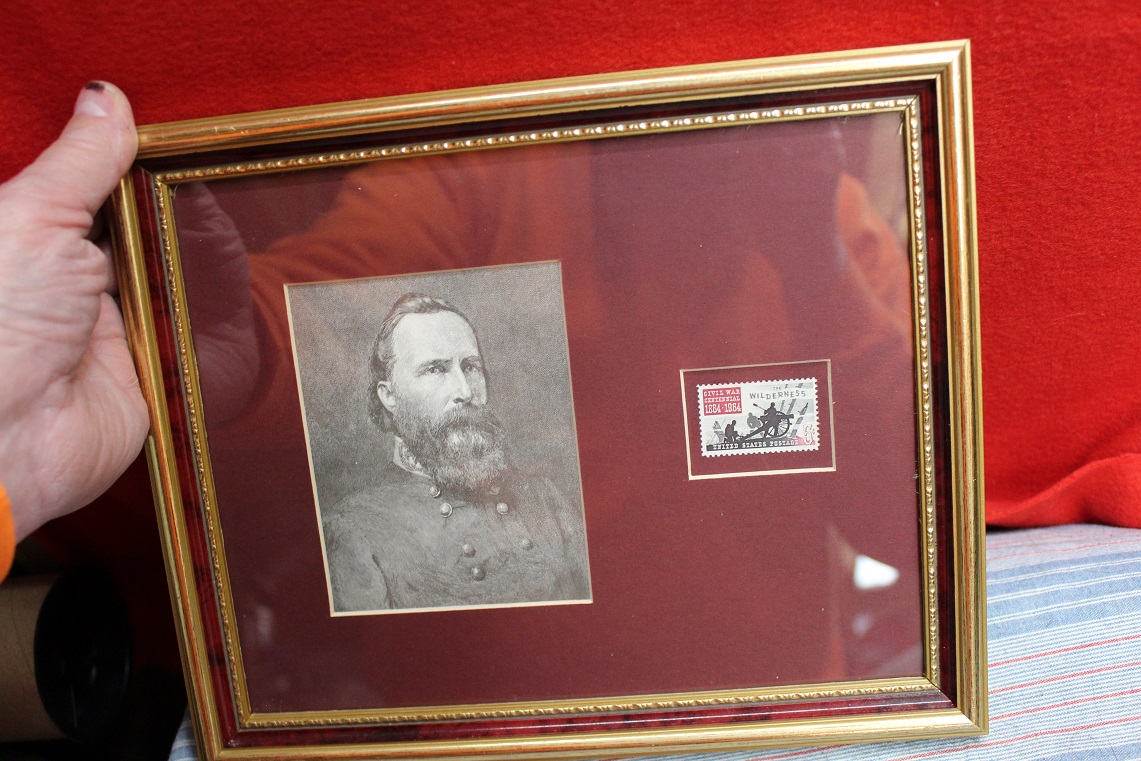 TC 35
Here we have a Framed Stamp Works Postal art image of pre president Abraham Lincoln alone with a large 1 cent stamp. Really nice! 8 X 10 inch format. $29.95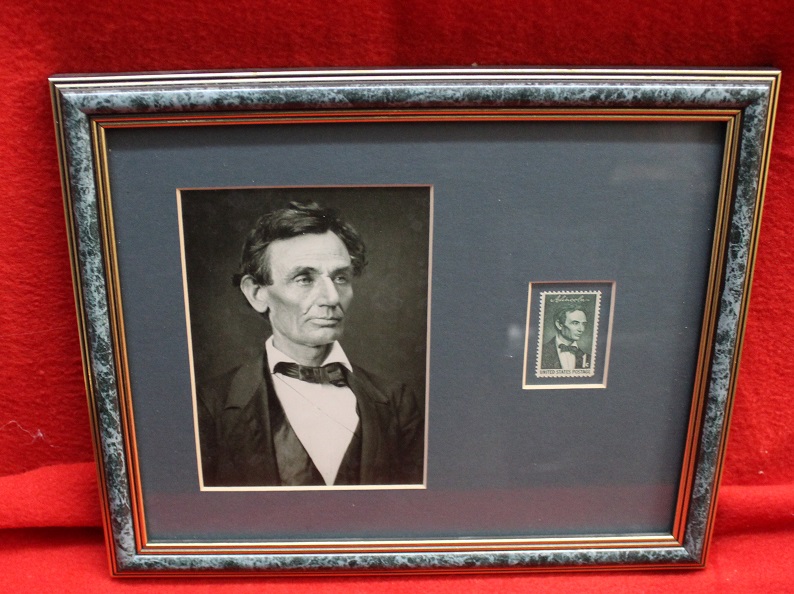 TC 36
Here we have a Framed Stamp Works Postal art image of Fort Sumter under fire with a Fort Sumter 4 cent 1861-1961 stamp mounted underneath the image. This is where the Civil War Started! Perfect condition! $29.95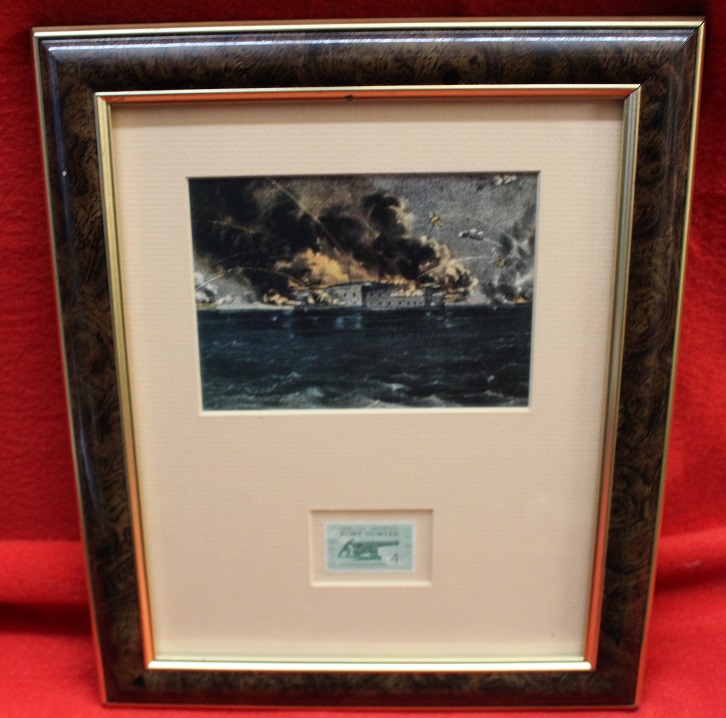 TC 37
Here we have a Framed Stamp Works Postal art image of CSA General Robert E. Lee mounted alongside a R.E.Lee 30 cent stamp. This is in a 8 X 10 inch format and just perfect! Ready to hang or place on your desk! $29.96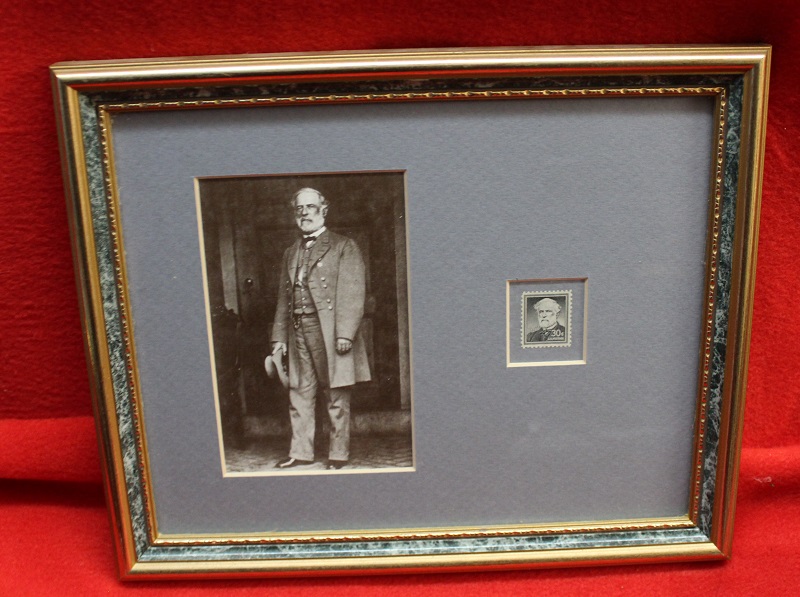 TC 38
Here we have a Framed Stamp Works Postal art image of the battle at Gettysburg along with 2 stamps. The 5 cent stamp on the left signifies the battle of Gettysburg dating it 1863-1963 while the other stampe is a 3 cent stamp designating the Grand Army of the Republic. This is in the 8 X 10 inch format. Excellent $29.95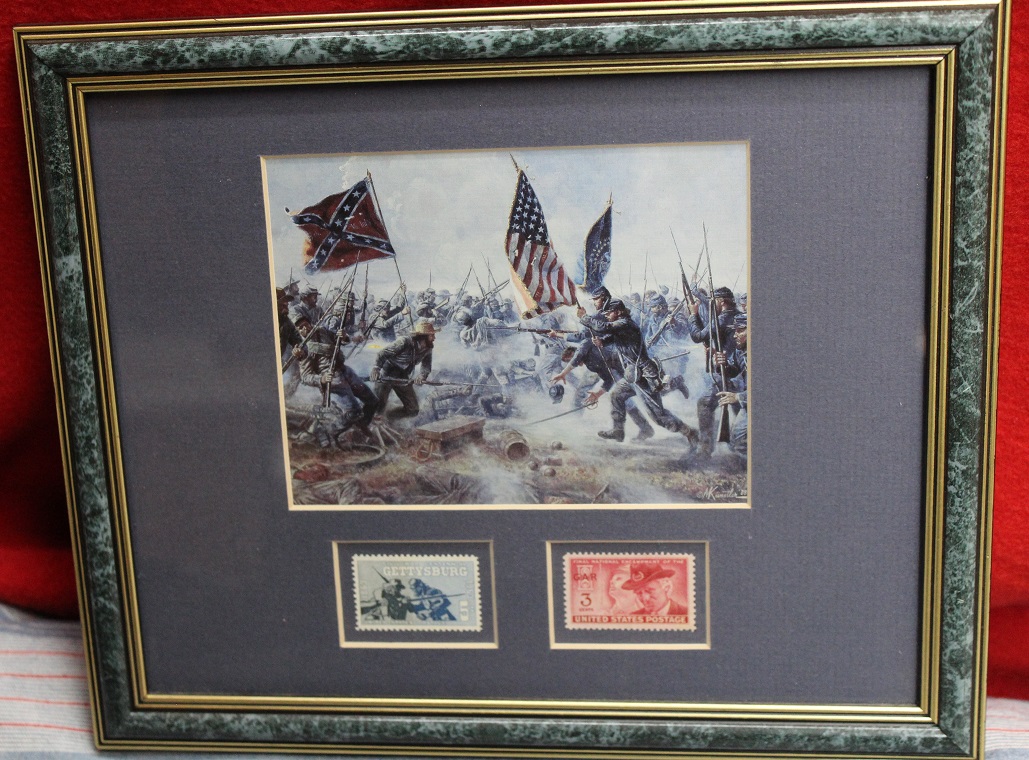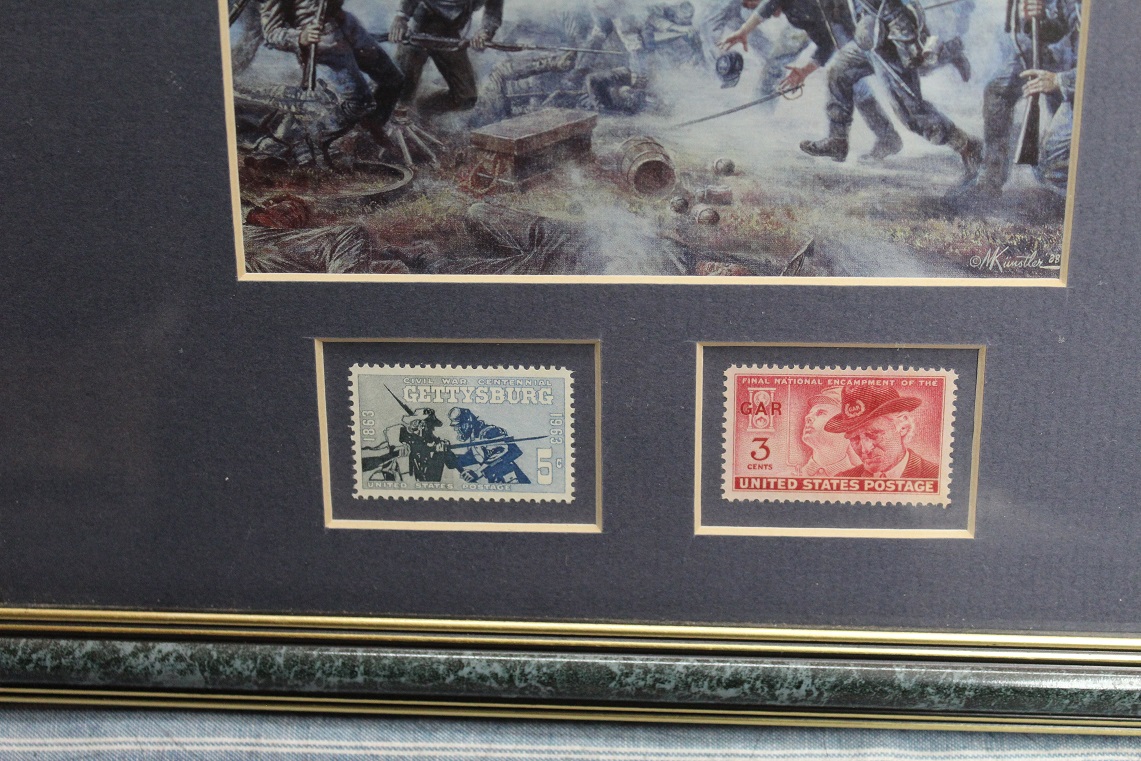 TC
Here we have a double matted copy image of an original taken in 1864 by Matthew Brady in Washington,D.C. This piece was given out by the Lincoln National Life Insurance Company and has a cancelled stamp of President Lincoln mounted to it. The cancellation is for Jun 20, 1967 from Fort Wayne, Indiana where the Insurance company is located. Nice piece in a 8 X 10 inch format. For this piece $10.00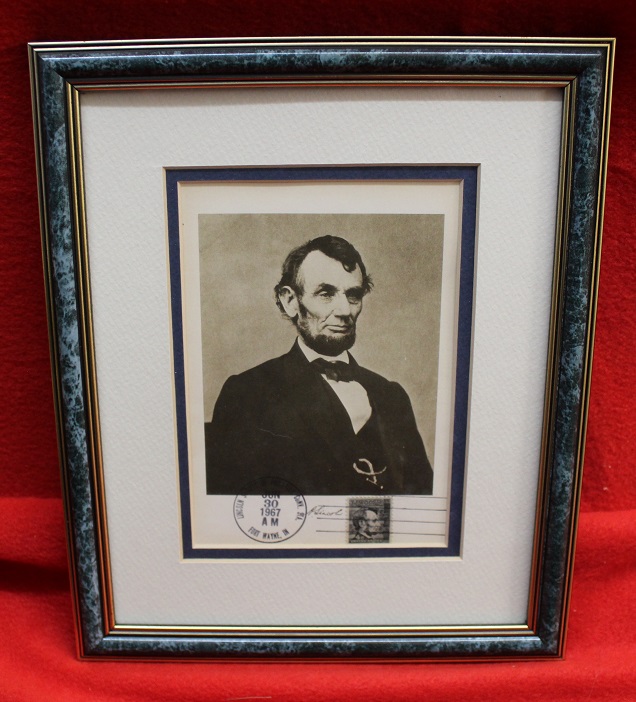 TC 39
Here we have a framed Civil War Artillery scene about a Gettysburg Stamp marked 1864-1963 so it's for the 100th year anniversary of the battle! This piece is from Stamp Works Postal Art.
$29.95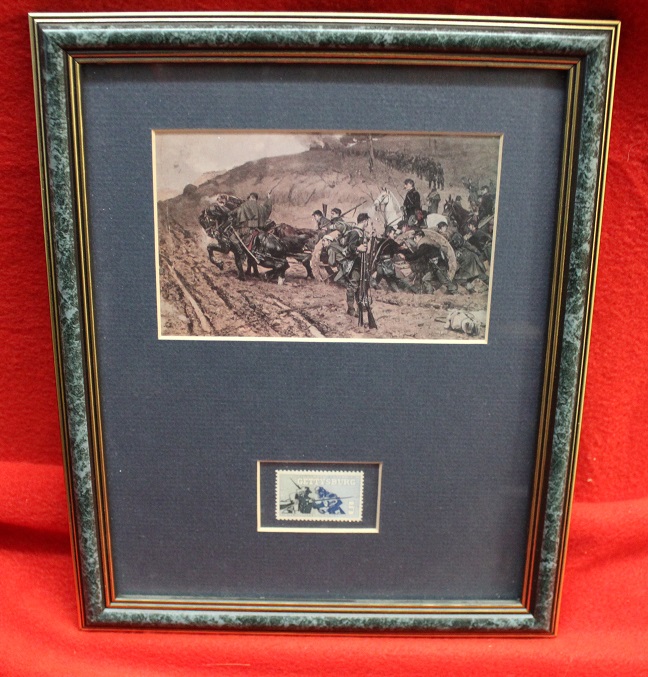 TC 40
Here we have a framed Stamp Works Postal Art image of CSA General James Longstreet framed along with 1864-1964 100 year anniversary stamp of the Wilderness! This is in a 8 X 10 format. Excellent! 8 X 10 format $29.95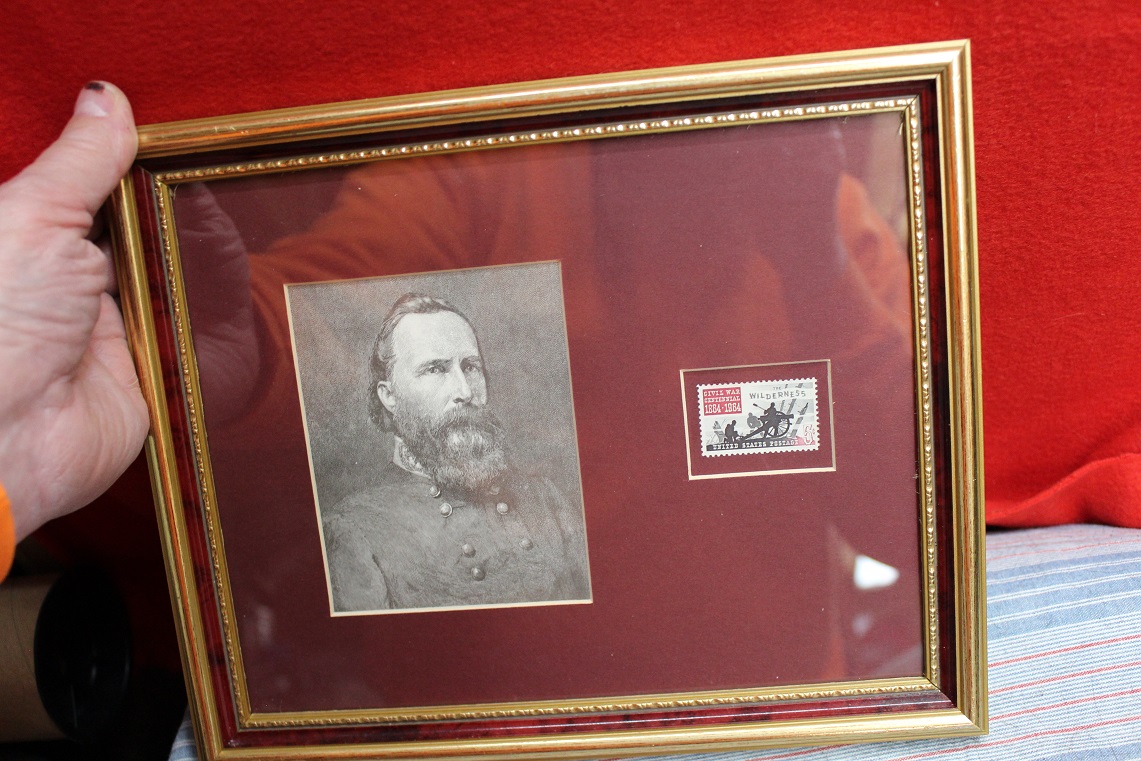 TC 41
Here we have a Framed Stamp Works Postal art image of pre president Abraham Lincoln alone with a large 1 cent stamp. Really nice! 8 X 10 inch format. $29.95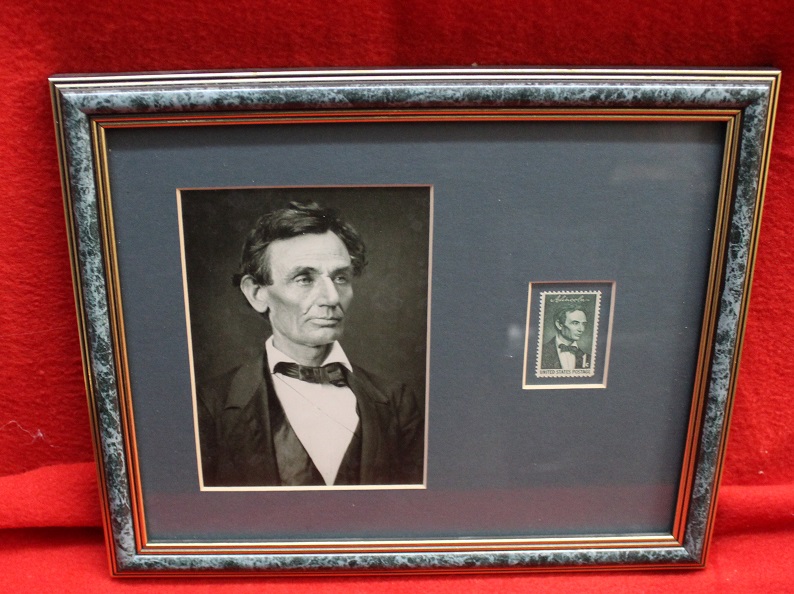 TC 42
Here we have a Framed Stamp Works Postal art image of Fort Sumter under fire with a Fort Sumter 4 cent 1861-1961 stamp mounted underneath the image. This is where the Civil War Started! Perfect condition! $29.95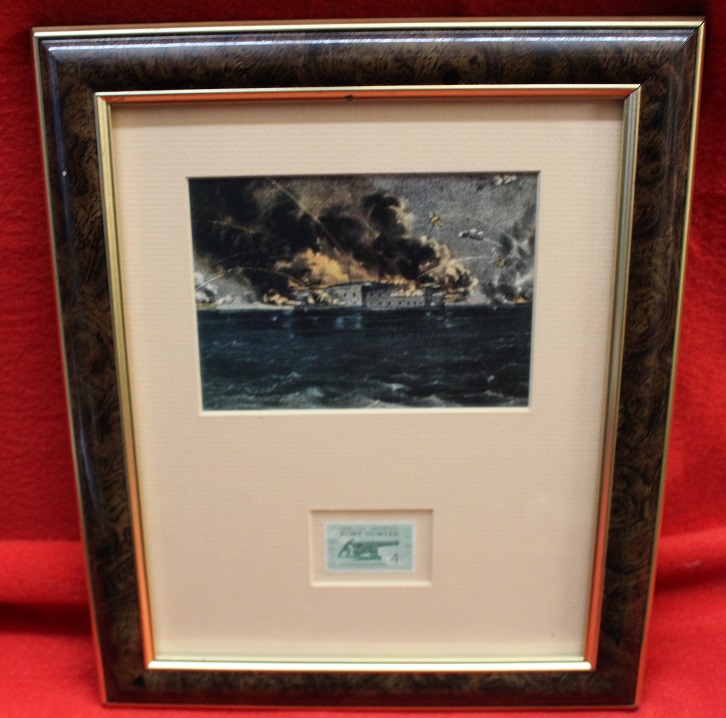 TC 43
Here we have a Framed Stamp Works Postal art image of CSA General Robert E. Lee mounted alongside a R.E.Lee 30 cent stamp. This is in a 8 X 10 inch format and just perfect! Ready to hang or place on your desk! $29.96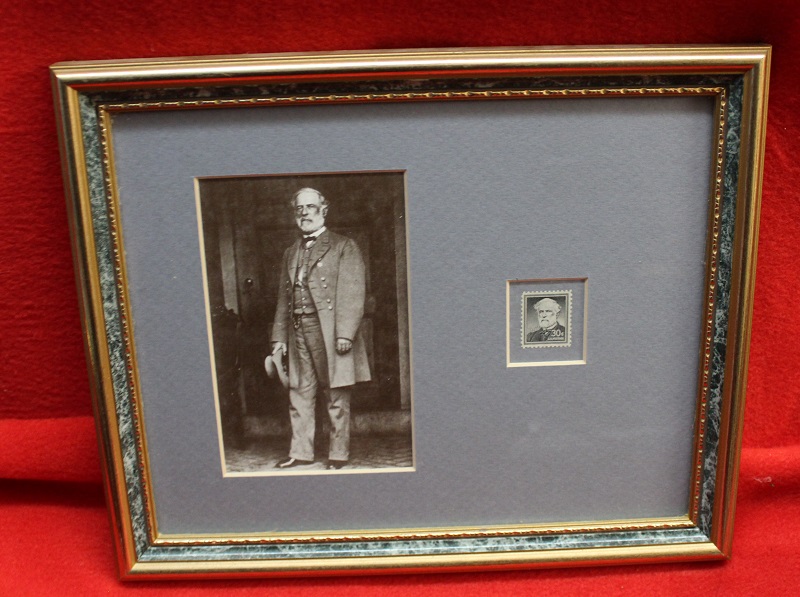 TC 44
Here we have a Framed Stamp Works Postal art image of the battle at Gettysburg along with 2 stamps. The 5 cent stamp on the left signifies the battle of Gettysburg dating it 1863-1963 while the other stampe is a 3 cent stamp designating the Grand Army of the Republic. This is in the 8 X 10 inch format. Excellent $29.95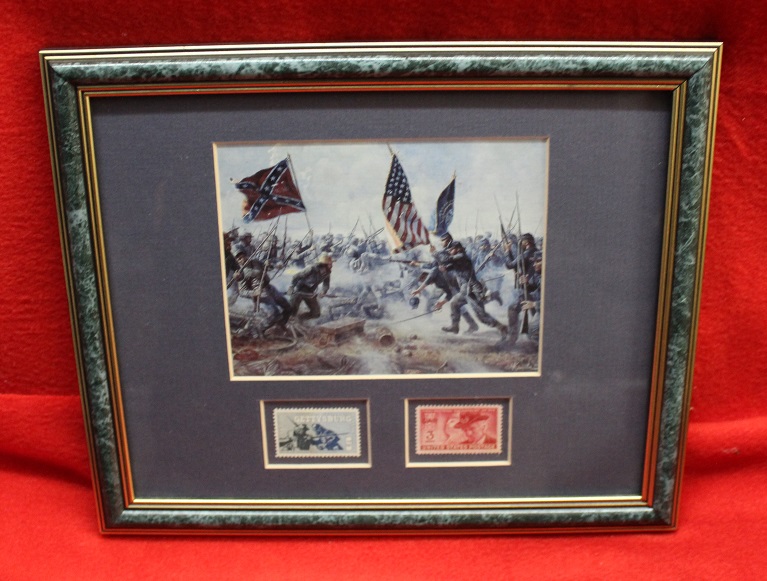 TC 45
Here we have another Framed Stamp Works Postal art image of the battle at Gettysburg along with 1- 32 cent stamp. Take a look at the pic! This piece is outstanding! $29.95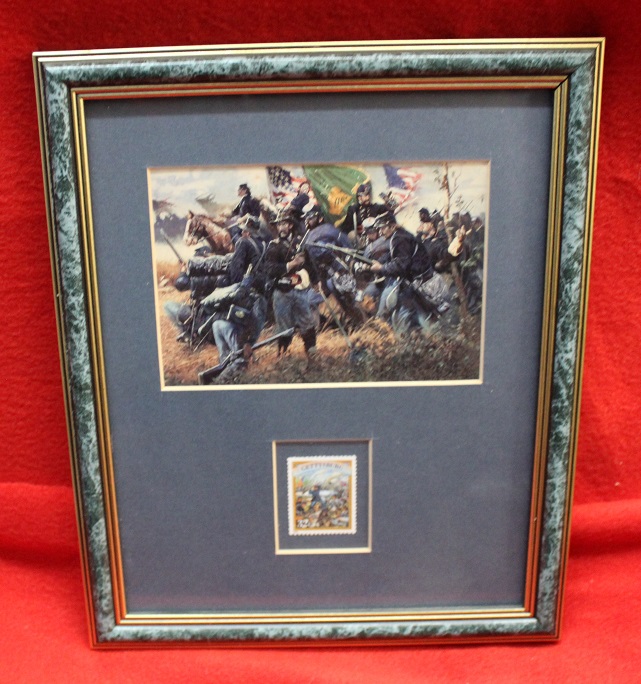 TC 46
Here wehave an 8 1/2 X 11 inch reprint of a sketch by AlfredR. Waud, Special correspondent to Harper's Weekly entitled Confederate Prisoners. All framed up and ready to hang. $10.00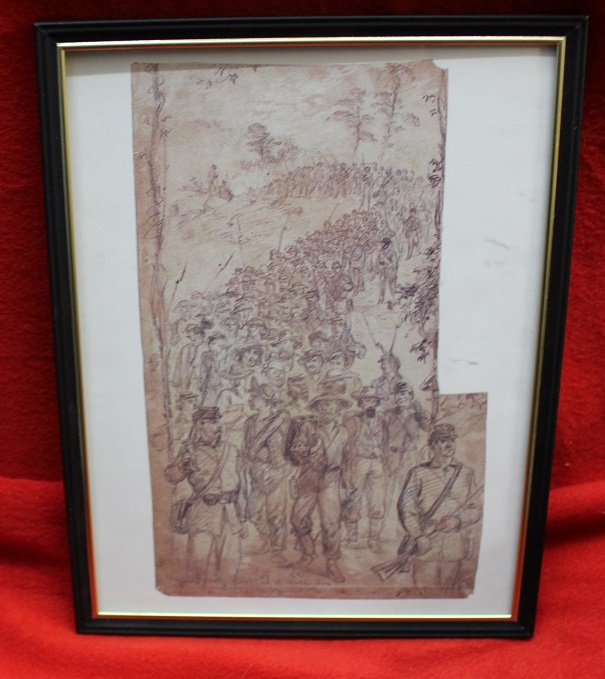 TC 47
Here we have a copy print of a drawing done by Charles Reed showing Lt Christopher Erickson of Bigelow's Battery shouting directions to one of his gun crews as he is bleeding profusely from a lung wound. Moments later Erickson fell dead from a head wound. 8 1/2 X 11 inch format. $10.00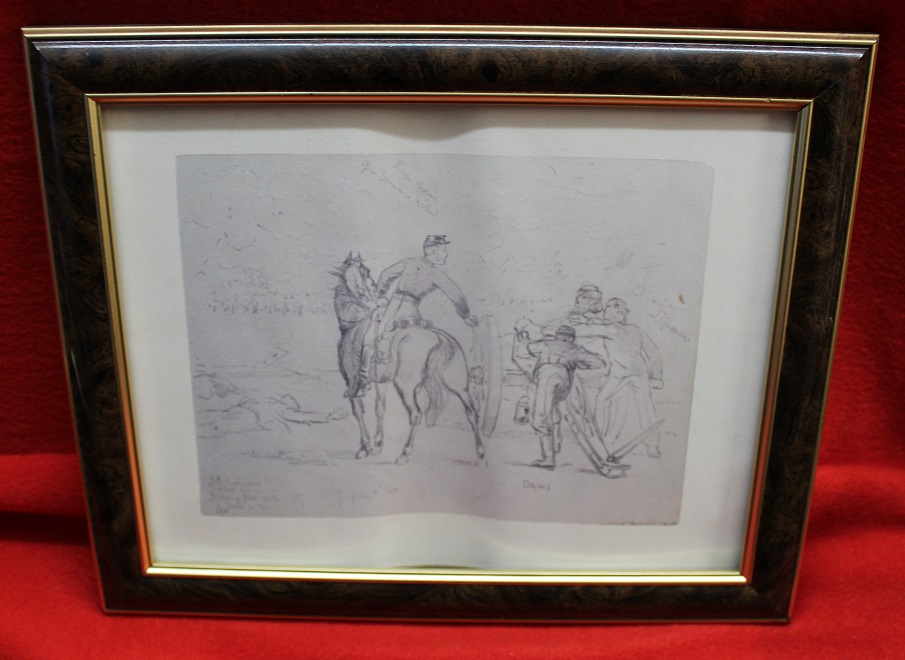 TC 48
Here we have an 8 1/2 X 11 inch image of Thomas Jefferson with his quote "Every difference of opinion is not a difference of principal". Already framed and ready to go on the wall. $10.00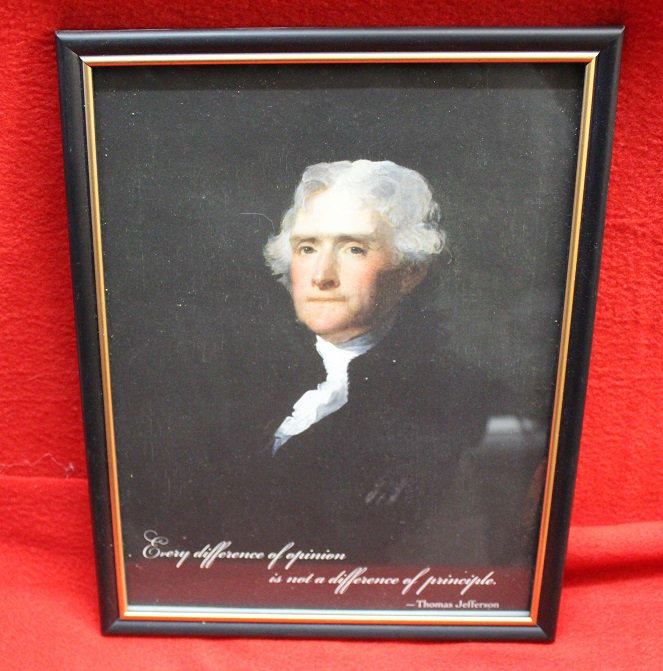 TC 49
Here we have a surgical colorized #245d:Engraving of a lower leg removal civil war surgical practice. This is a reprint of the original plate in 8 X 10 frame that is ready to hang or just put on your desk. $10.00
TC 50
Here we have a copy of a pencil sketch by Alfred R. Waud, special correspondent to Harper's Weekly. This is on July 2nd in the fading light of the day from a knoll facing the eastern slope of Cemetery Hill. The Main's Battery's six Napoleons poured over a ton of searing metla into the left flak of the North Carolina Brigade as it pressed forward in a gallant, but costly advance up the hill. Framed in a 8 1/2 X 11 inch frame and ready to hang on the wall. $10.00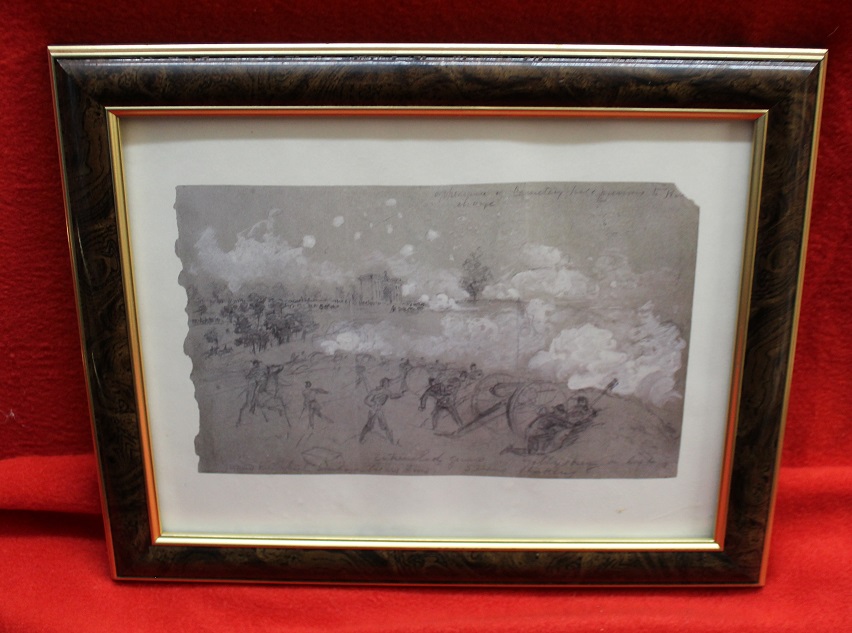 TC
Here we have a State of Indiana and the War Memorials Foundation certificate honoring the living historians who helped convey Indiana's Civil War history and it's dated 11th of May 2002. The document is signed by R.W.Sweeny, Colonel (Ret.) U.S.A. Executive Director Indiana War Memorials. $10.00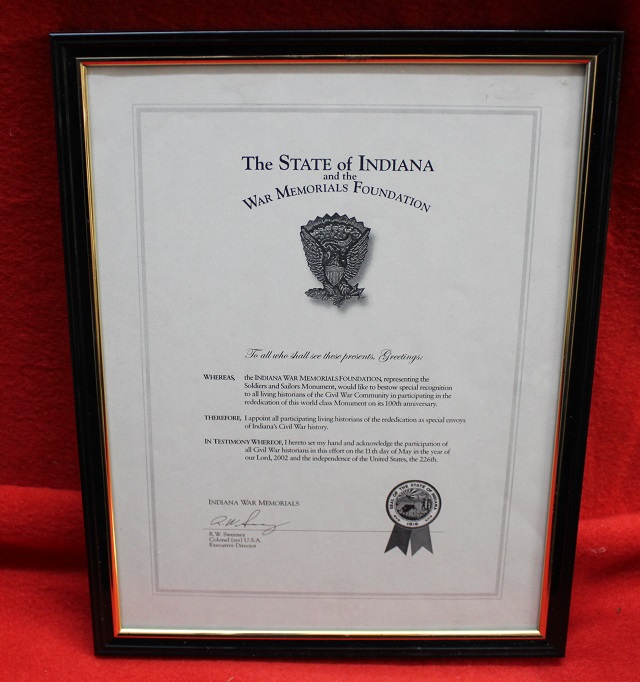 TC 51
Here we have a copy of an early photo that was engraved in 1860 before Abraham Lincoln went to Washington as President. The original photo was taken by Hesler of Chicago and the engraving was done by T. Johnson from the original negative owed by George B. Ayres of Philadelphia. The image is 9 X 6 1/2 and it's matted into a 11 X 14 inch frame. Nice! $15.00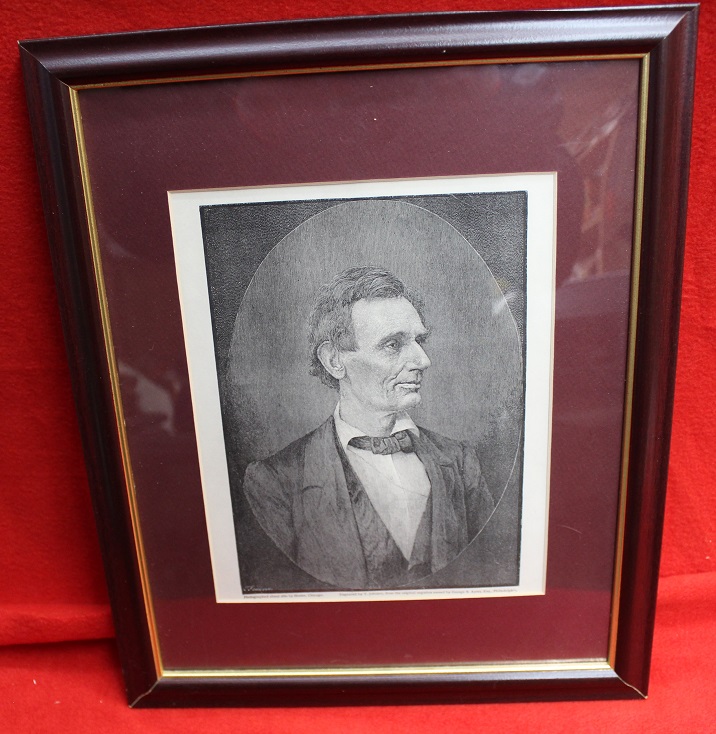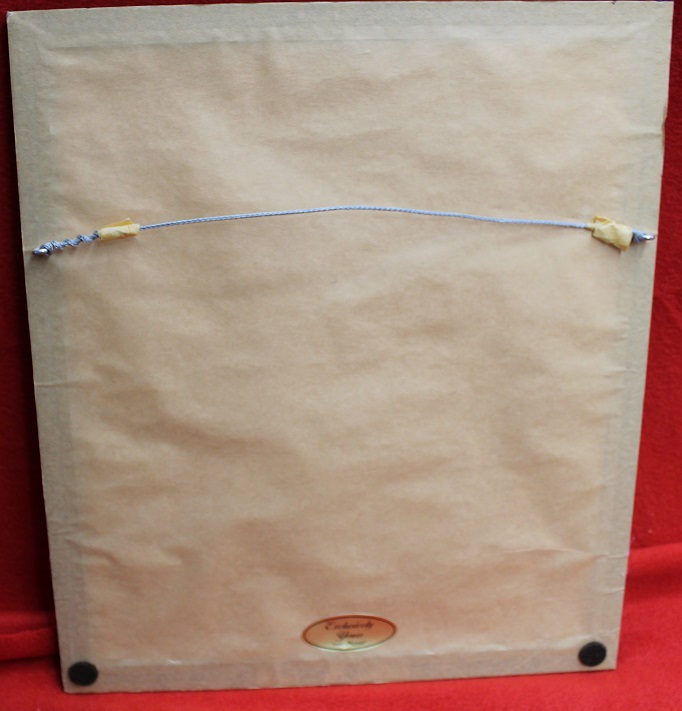 TC 52
Here we have an original document entitled Special Order 51 , 1862. Units are ordered to report without delay to Brig. Genl. N.J. Jackson Commd at Harts Island, NY harbor. Hart Island, sometimes referred to as Hart's Island, is located at the western end of Long Island Sound, in the northeastern Bronx in New York City. It's a small island and I have been told that bones still wash up there. The order was signed by the Major who was the commander of the 20th NY. This piece looks great in a double matted 13 X 15 overall sized frame, being professionally framed and ready to hang on the wall. Nice piece! $85.00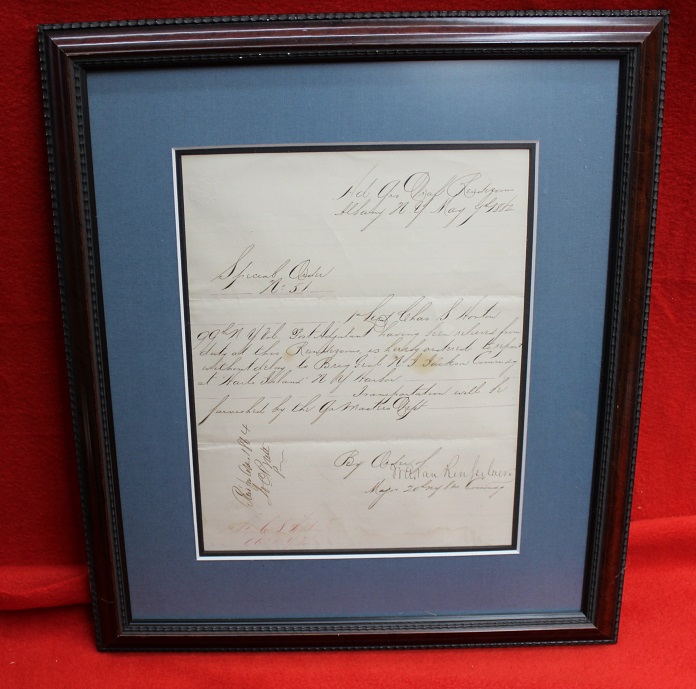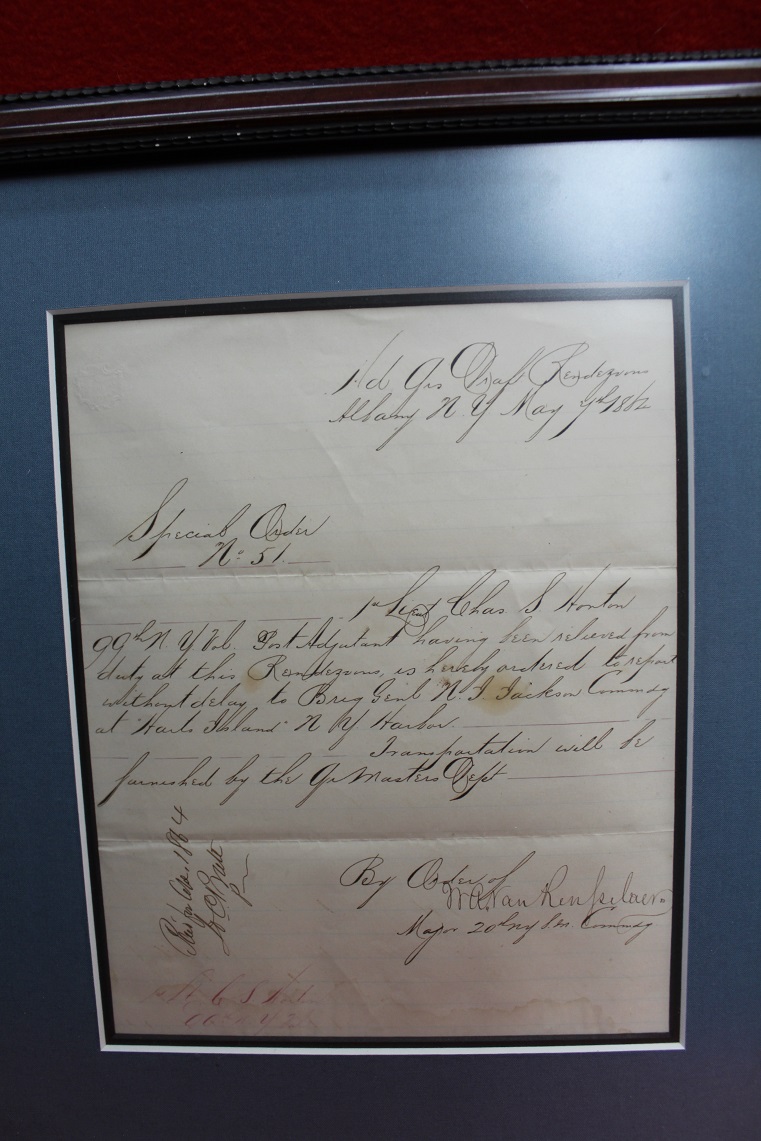 TC 53
Here we have an original Robert E. Lee Bookplate with facsimile signature below the image. This piece is matted and in a shadow box type tripple frame. The entire piece measures 14 5/8 X 12 3/4 inches. This piece looks just great! $45.00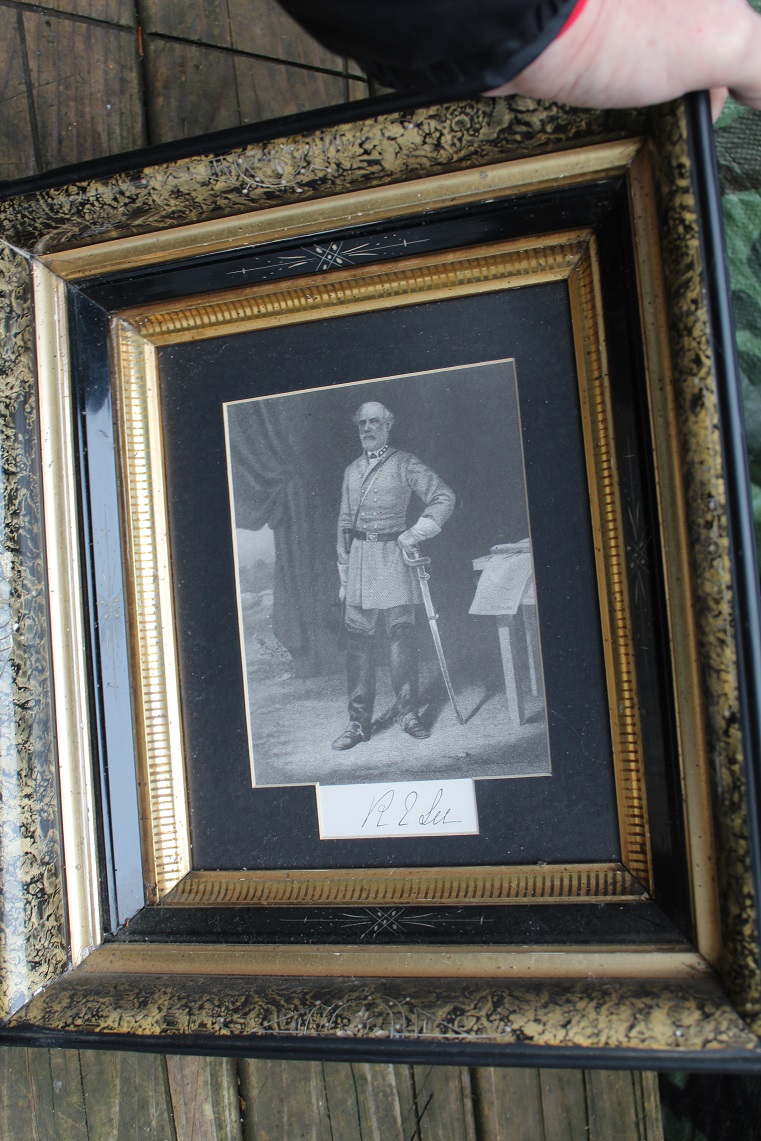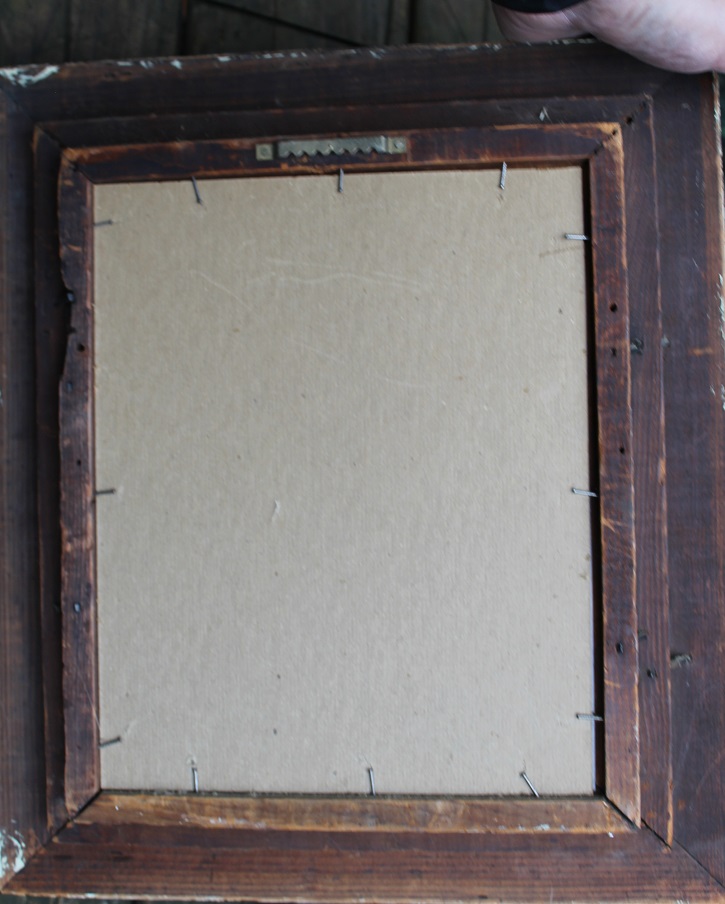 TC 54
Here we have an 8 X 10 inch format of a colorized President Lincoln image in oval. This image is taken from an original oil done by Peter Baumgras in the Spring of 1864. Very nice! In a gold frame which measures 13 X 15 inches overall. This image would look great on your wall !!! $45.00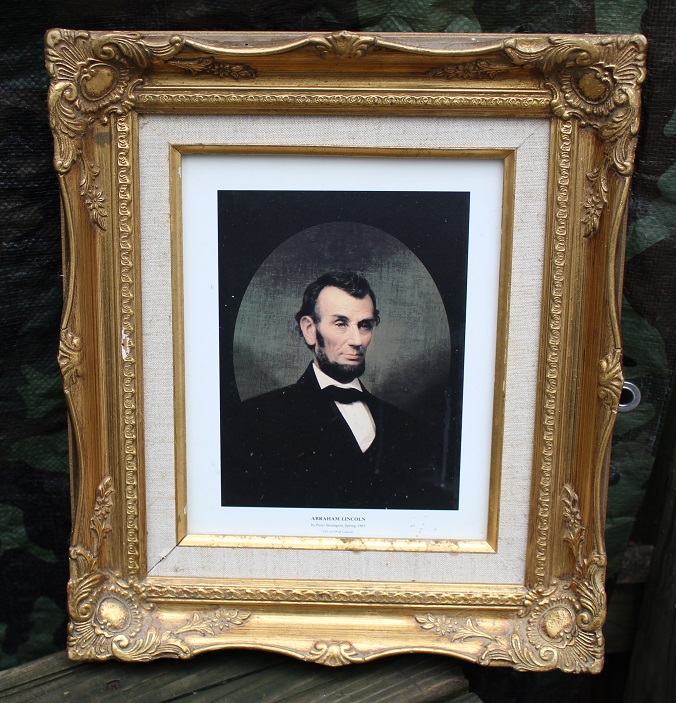 TC 55
Here we have an excellent print by Mort Kunstler made in 1995 and matted/framed with 3 collectors stamps. The overall size of the frame is 22 X 17 inches and was professionally frames. This piece is outstanding and the condition is outstanding as well! $125.00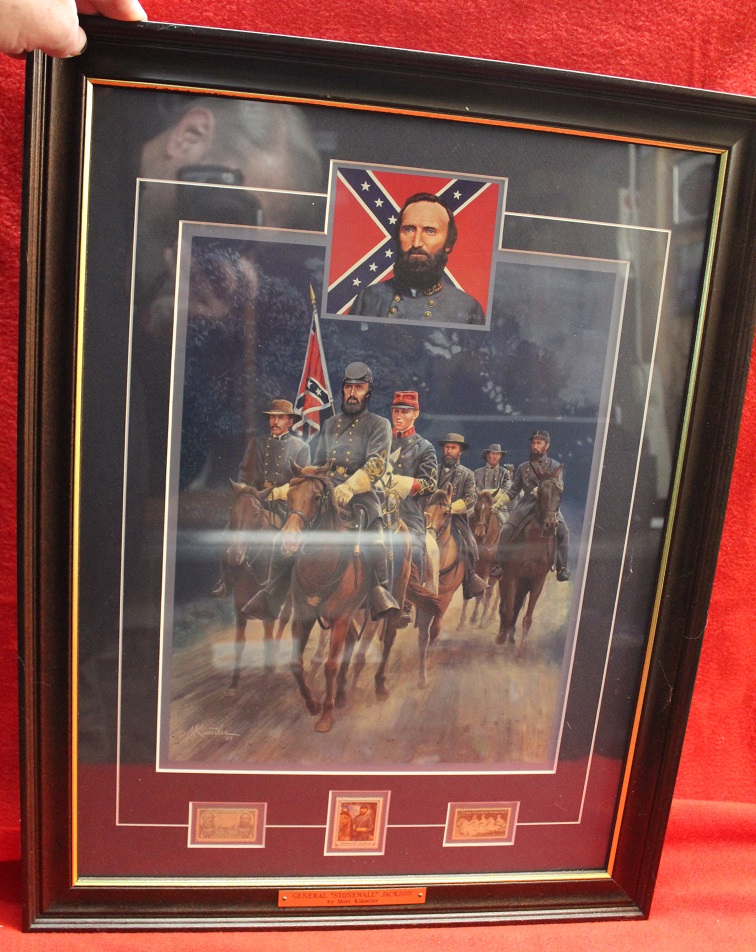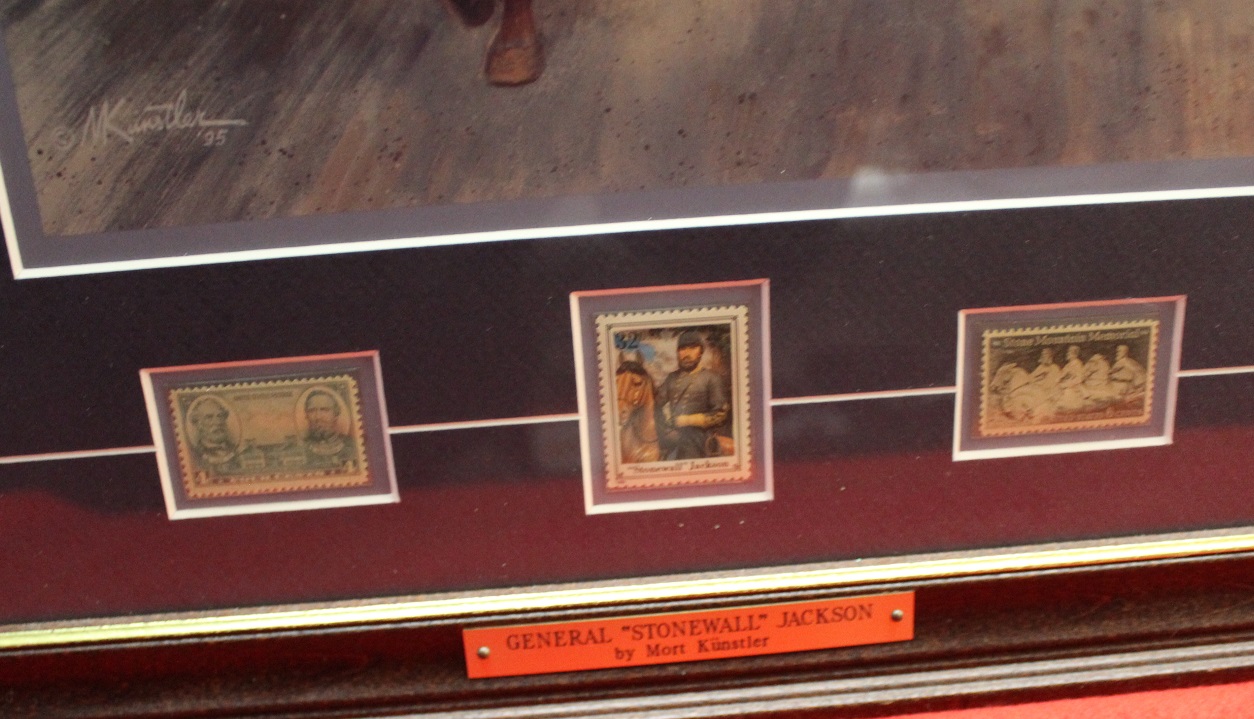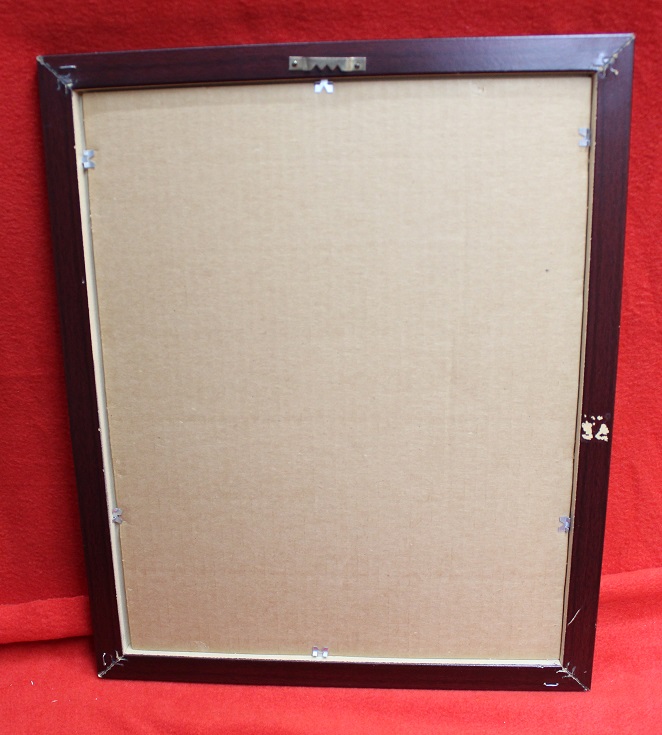 TC 56
Here we have a copy of the 2nd draft of the Gettysburg Address by President Abraham Lincoln matted and framed. The overall size of the frame is 24 1/2 X 19 1/2 inches and the document has been aged to look old. This piece was produced and professionally matted and framed by the Easton Press. Looks great! $95.00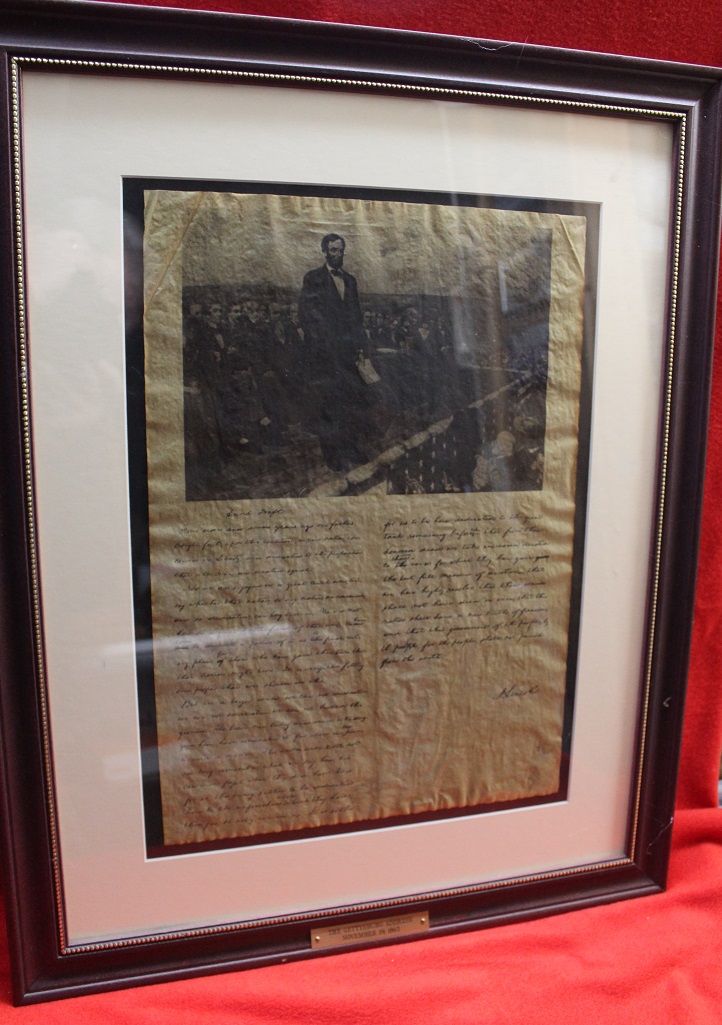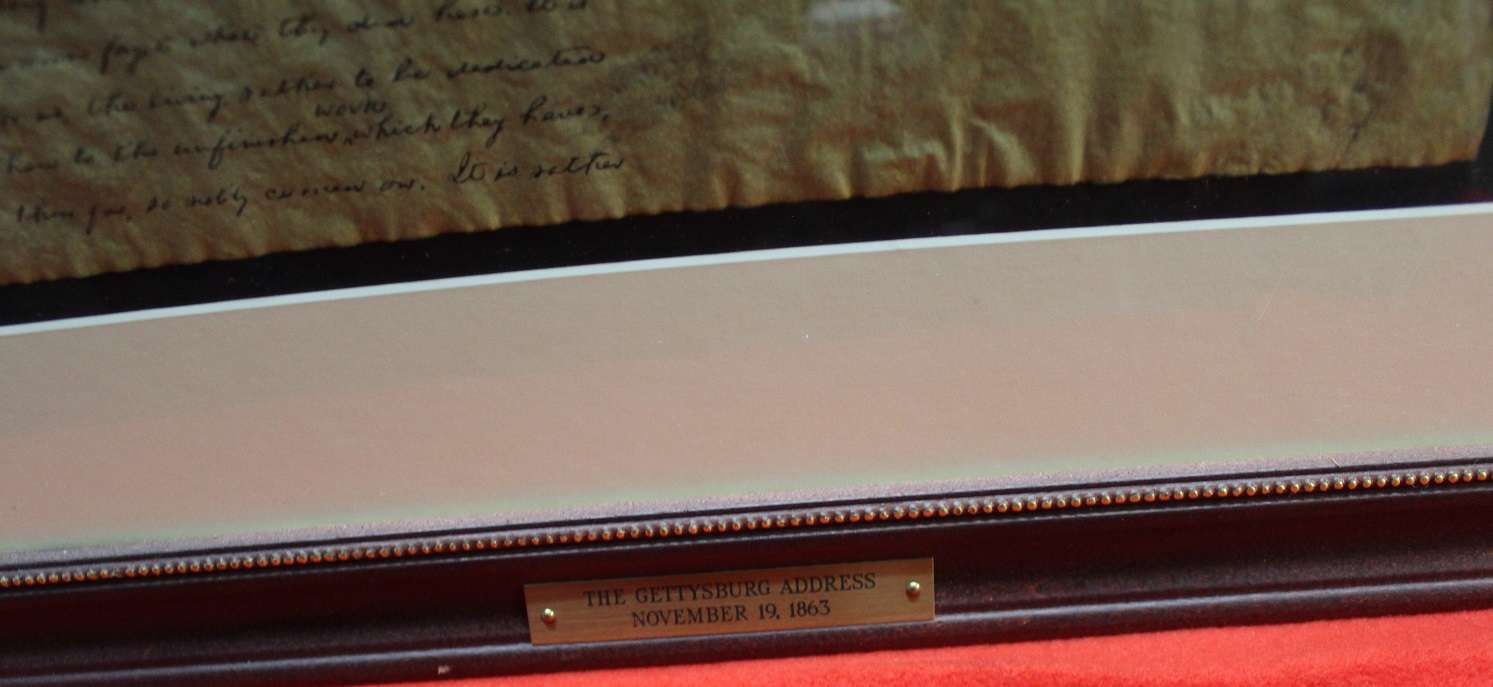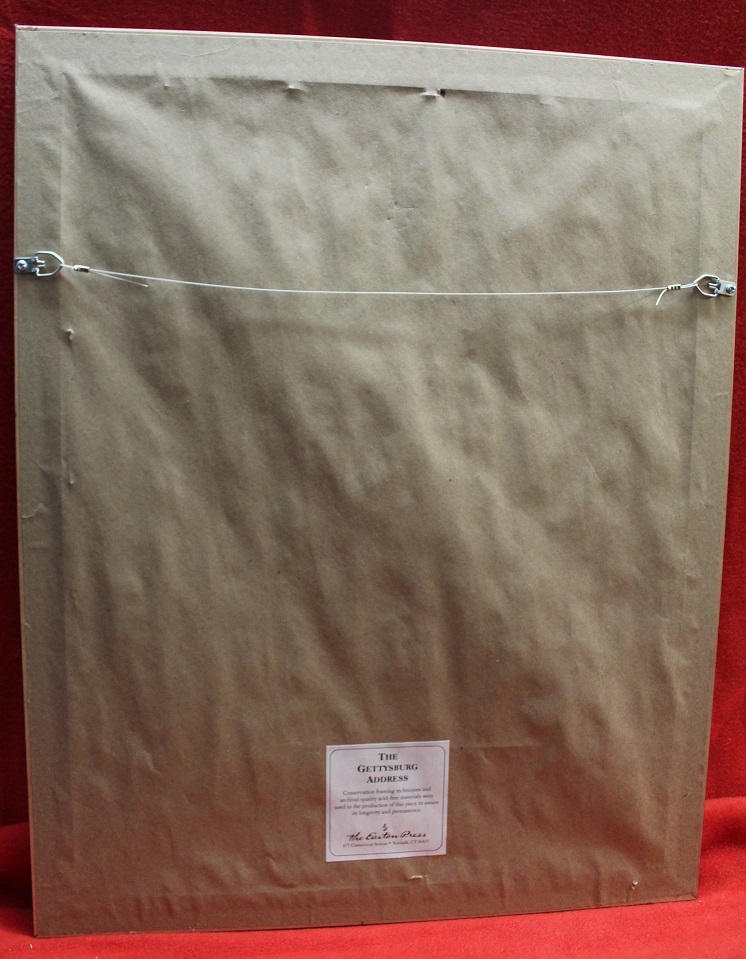 TC 57
Here we have a great Mort Kunstler print showing Jackson and Lee -Legends in Gray! Measures 22 1/2 X 22 1/2 and comes matted with a $5 CS note! This piece is excellent! $140.00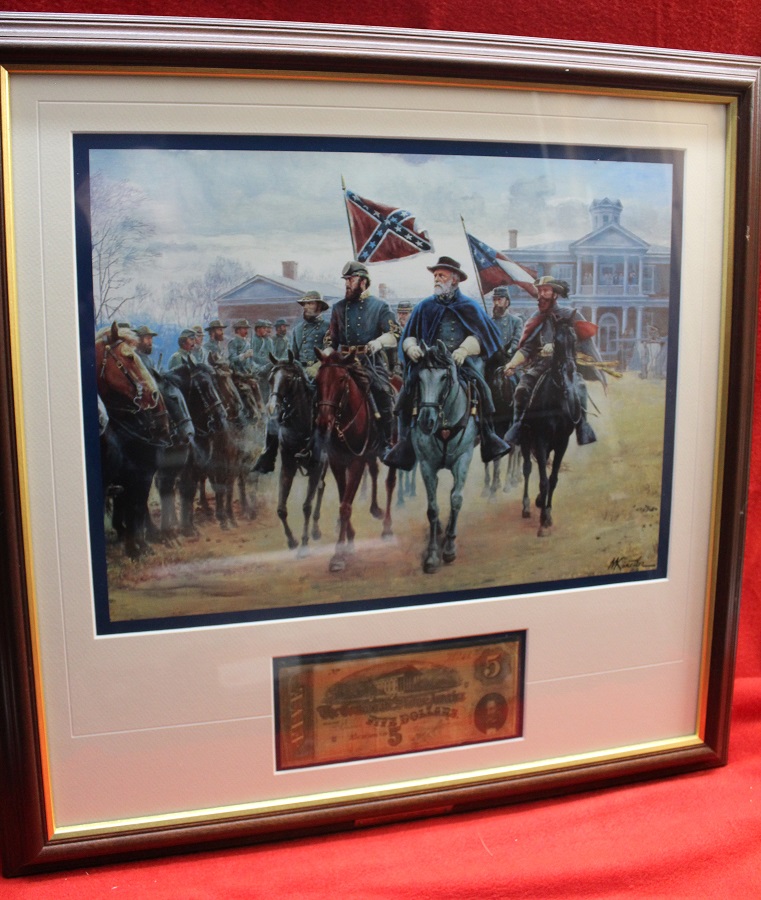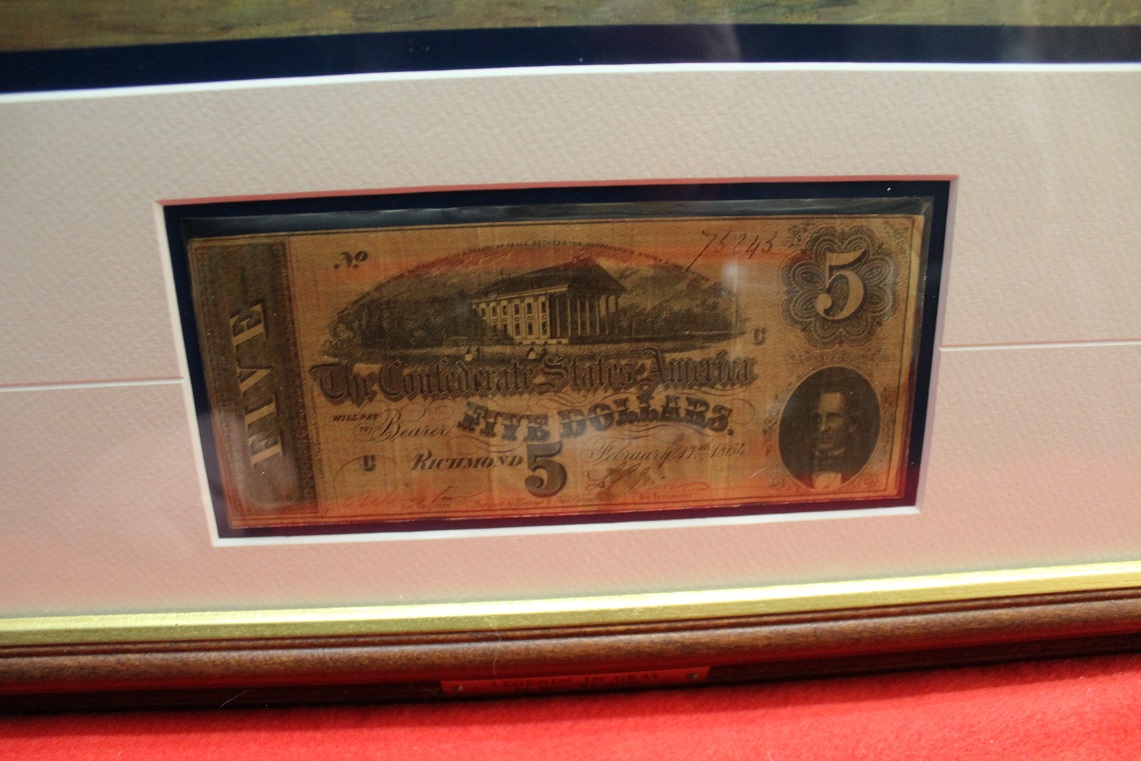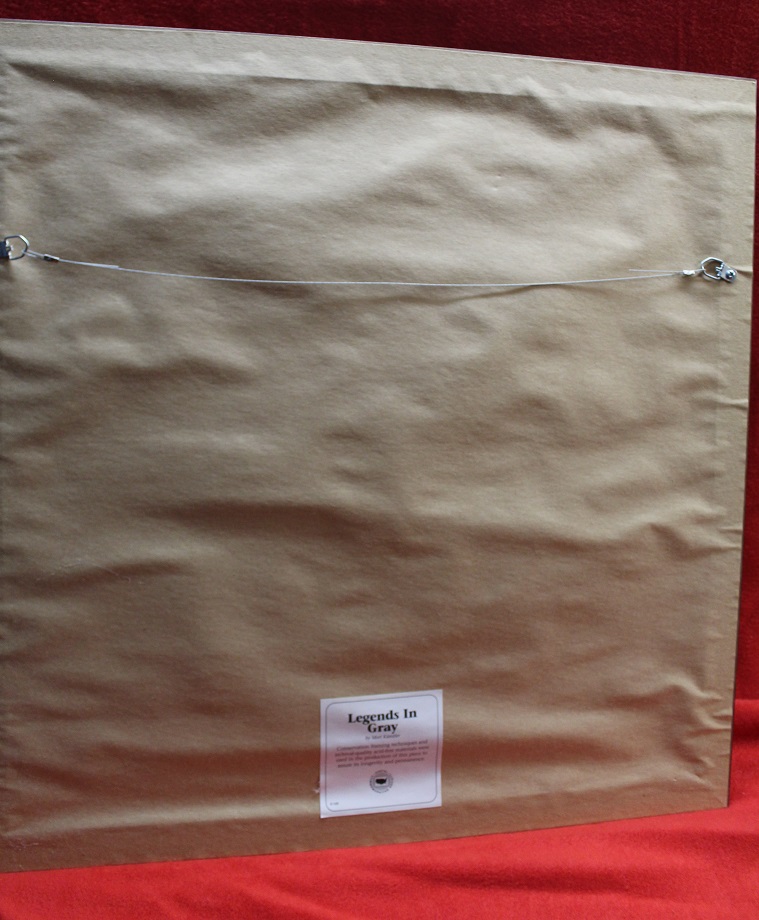 TC 58
Here we have a great Mort Kunstler print showing Legends in Gray - Jackson and Lee! Measures 22 1/2 X 22 1/2 and comes matted with a $20 CS note! This piece is excellent! $140.00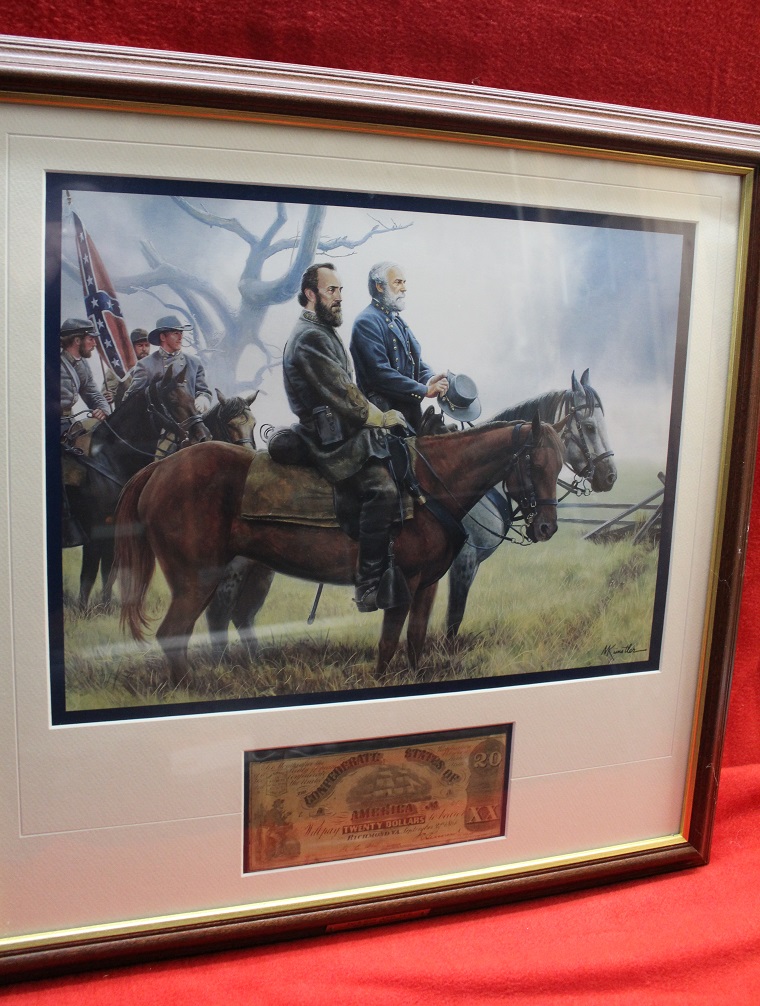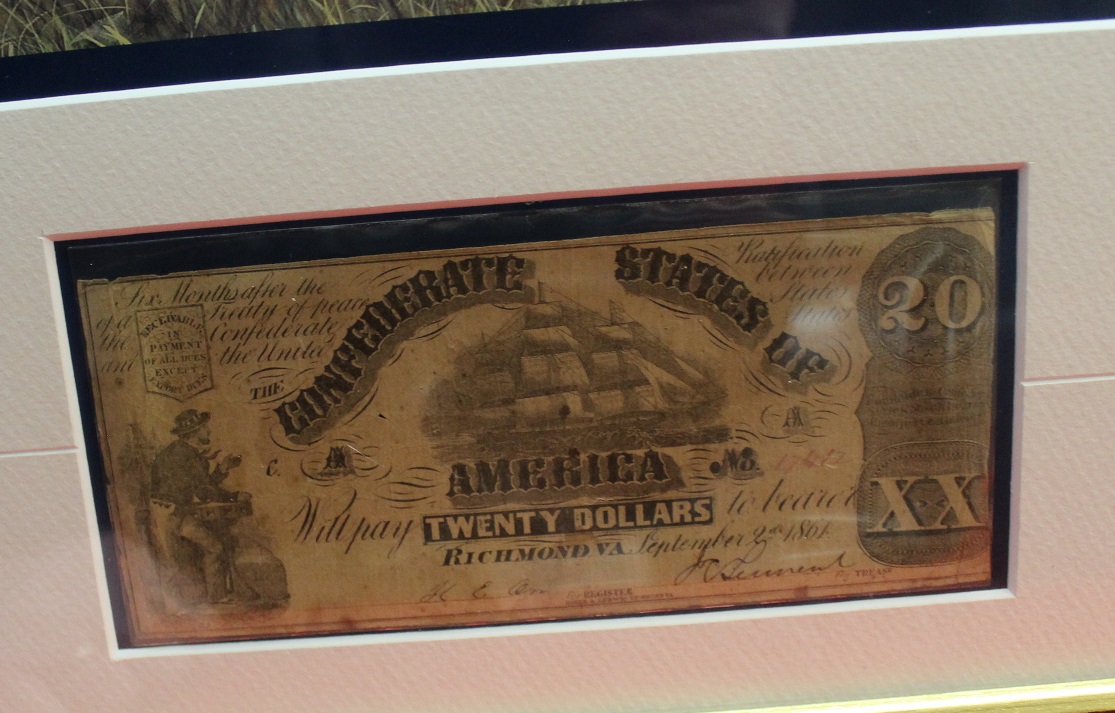 TC 59
Here we have a professionally matted and framed Robert E. Lee Map of Gettysburg July 2, 1863 along with an engraving of the battle and an actual 3 ring minie ball used during the Civil War! This piece is really nice and measures 24 X 18 inches overall. This one was put out by the Easton Press. Nice! $140.00