***NOTE:*** WE WILL ACCEPT VISA & MASTERCARD WITH A 3% SURCHARGE. PAYPAL IS ACCEPTED ON NON FIREARM ITEMS. Thanks!!!
We certainly do appreciate your business!
Remember 911 and God Bless!!!
Anything you like? E-mail me here

CONSIGNMENT:
Even more 23
Here we have a very nice 1872-74 Mess cup with US markings on the handle. This one is in excellent condition with period etching on the front that I can't pick up with my camera. It says 'A.L.McCoy / 1st Sgt./ Co. H 7th OVI (Ohio Volunteer Infantry". As my friend said 'How cool is that?" !! The cup measures over 4 inches tall and over 4 inches across not including the handle. Very unusual and extremely nice! WAS $285.00 NOW $255.00 !! Catalog 1-45
CONSIGNMENT
Even more 22
Here's an old 2nd edition book from 1961 entitled HOW TO BUILD MUZZLE LOADING RIFLE, TARGET PISTOL , POWDER HORN by Cowher, Hunley and Johnston. This is a hardback book with good dj. 88 pages with line drawings. 6 ¼ X 9 ¼ format. $45.00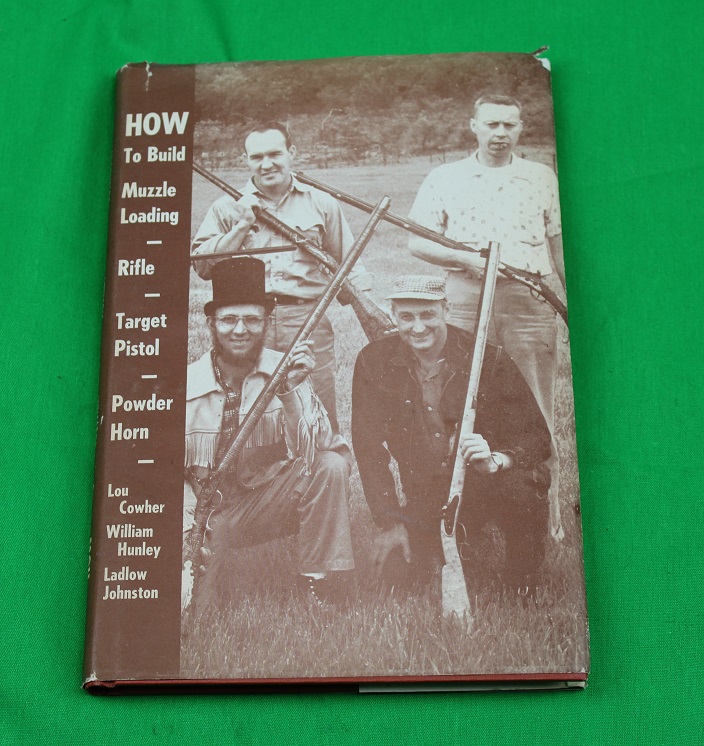 Here are 4 paperback books in magazine format entitled:
COLT PERCUSSION PISTOLS (60 pages) Copyright 1947 signed by Author (James E. Serven).
$65.00
COLT DRAGOON PISTOLS (56 pages) Copyright 1946
$75.00
PATERSON PISTOLS (32 pages) Copyright 1946 signed by Author.
$75.00
And COLT CARTRIDGE PISTOLS (126 pages) copyright 1952
$65.00
Each are in excellent condition but Colt Cartridge Pistols has a water stain on back cover on upper edge but does not bleed through.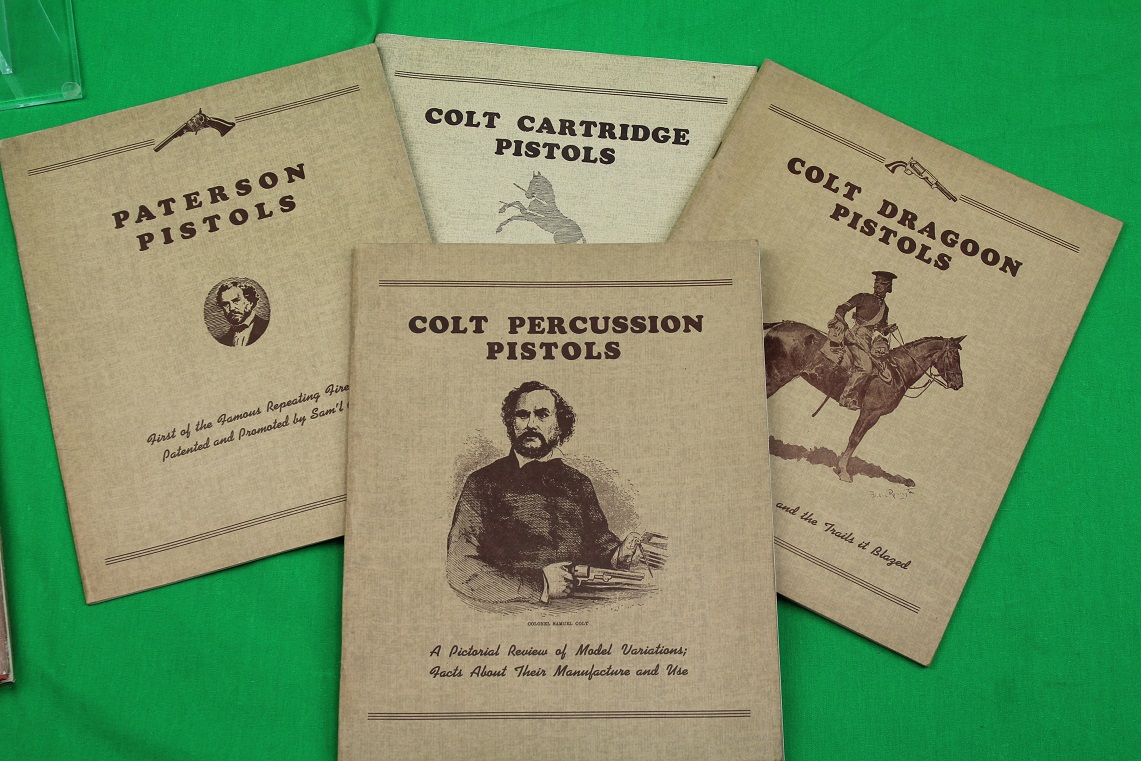 CONSIGNMENT
Even more 21
Large Albumin of an 1800's Fire Department with Hose Cart. This albumin shows 18 firefighters in parade dress posing as if pulling this hose cart. One of them is carrying a speaking trumpet. They are all wearing bell caps with badge, parade bibbed shirt and parade leather belt. The firehouse is in the background. This photo came out of Indiana but it's unknown as to who it is or what fire department it is. The albumin measures 8 X 10 inches but unfortunately it's broken right in the middle (ouch!) and tape is holding it together on the back. Still a very interesting image!!! $125.00
<
Even more 20
Here we have 2 medals. One is for the WRC (Women's Relief Corps- Civil War Auxillary) and one is for the Daughters of Union Veterans. Each are abut 2 ½ inches long. For the pair $35.00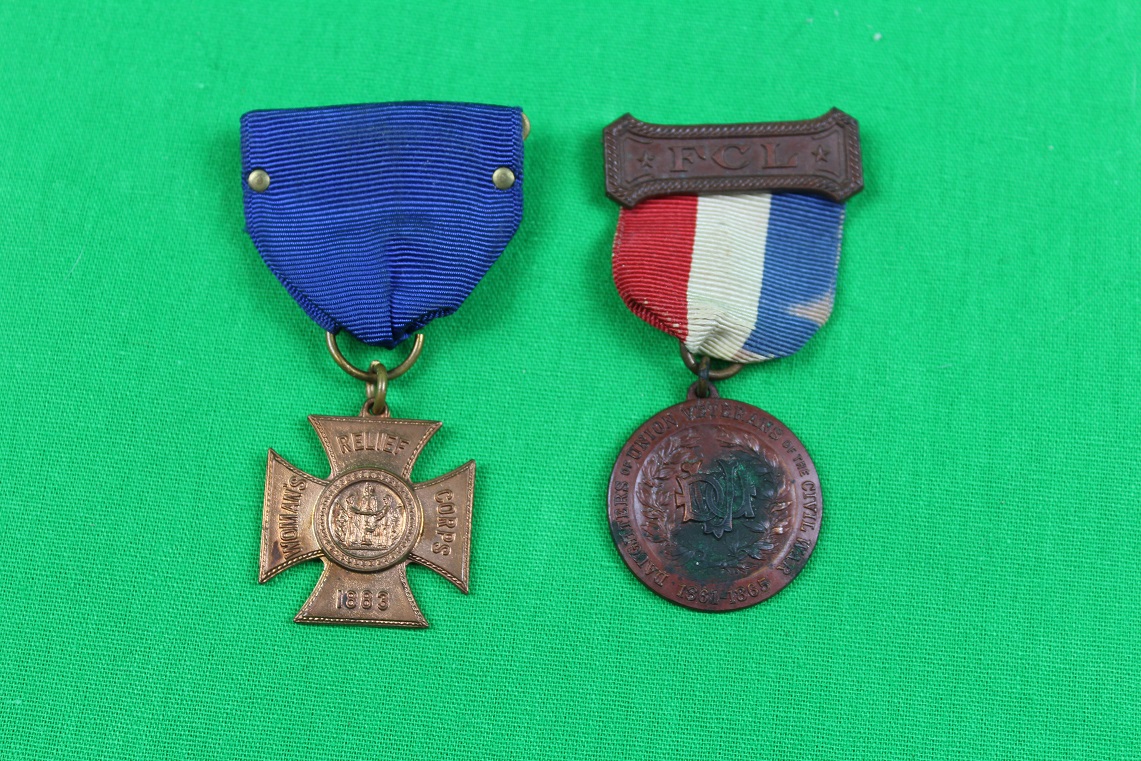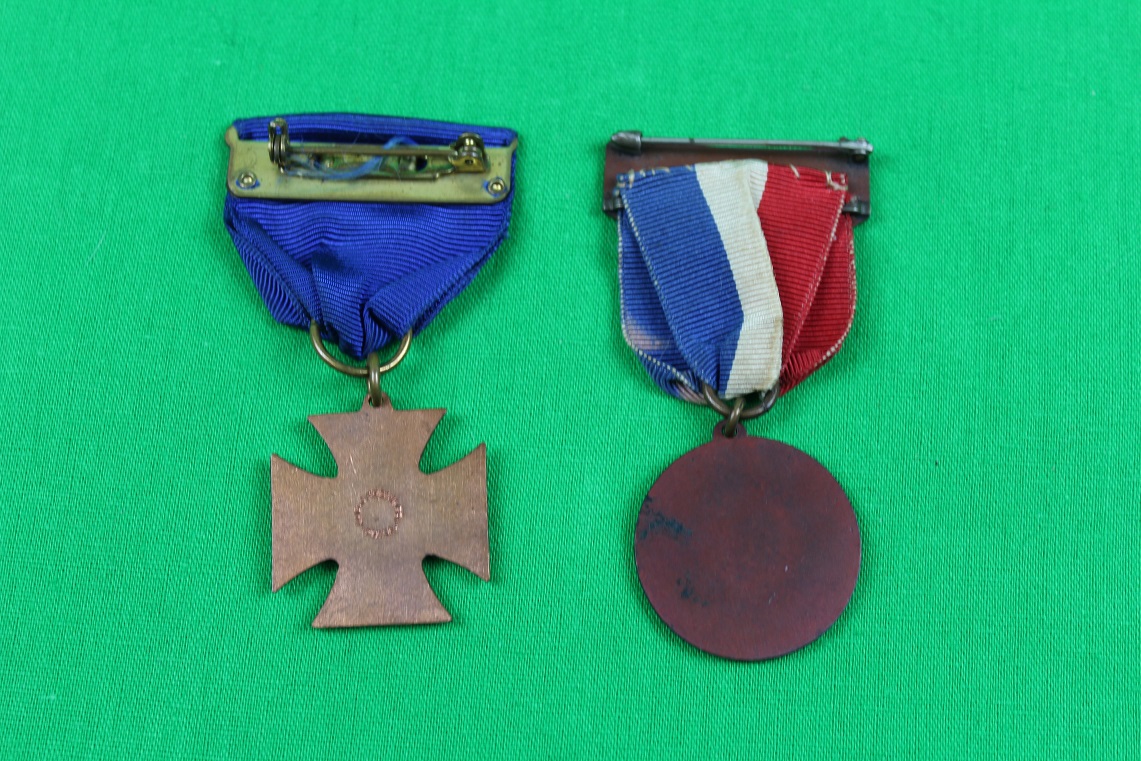 Even more 19
Here we have two National GAR Medals. They are in excellent condition with the exception of the yellow silk ribbons. The first one is the Encampment in Grand Rapids, Michigan. This was the 61st National Encampment that was held from August 30th to September 5th, 1927. It is a 4 piece medal as you can see in the pics and is really nice.
The second Medal is for the GAR Natonal Encampment in Chattanooga, Tenn on September 15th through 20th,1913 and is also a nice 4 piece medal with a fractured yellow silk ribbon. It's really nice too except for the ribbon. $145 each.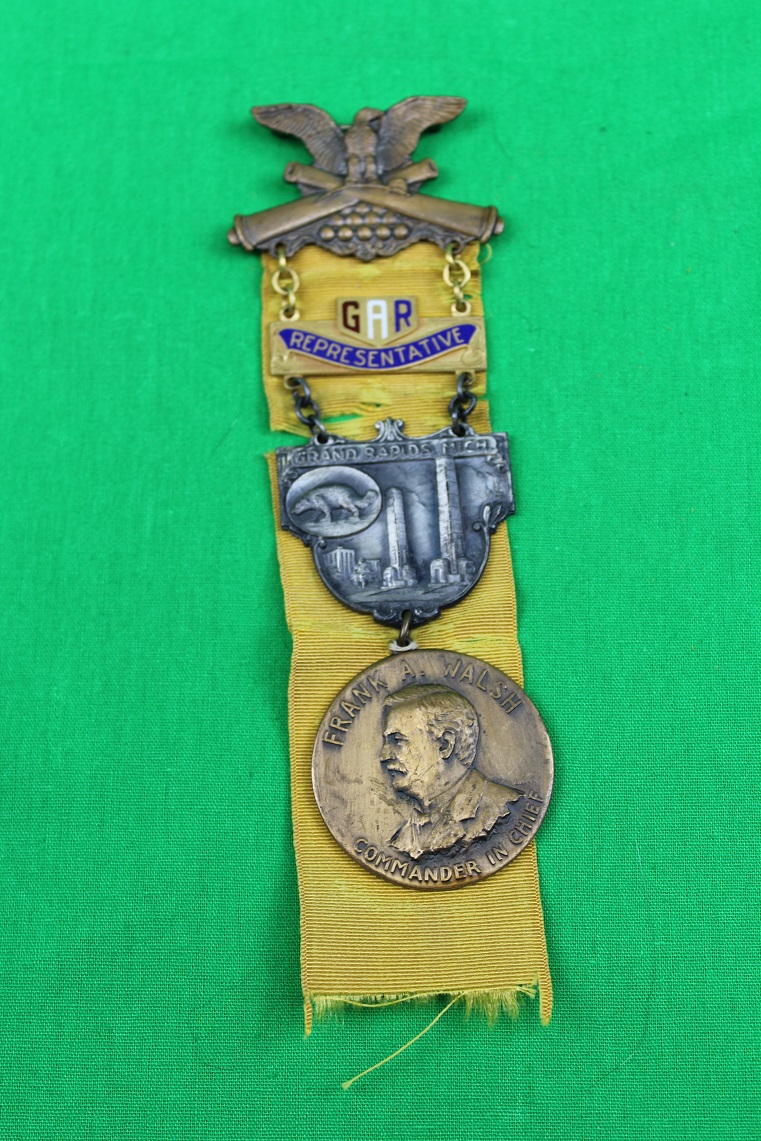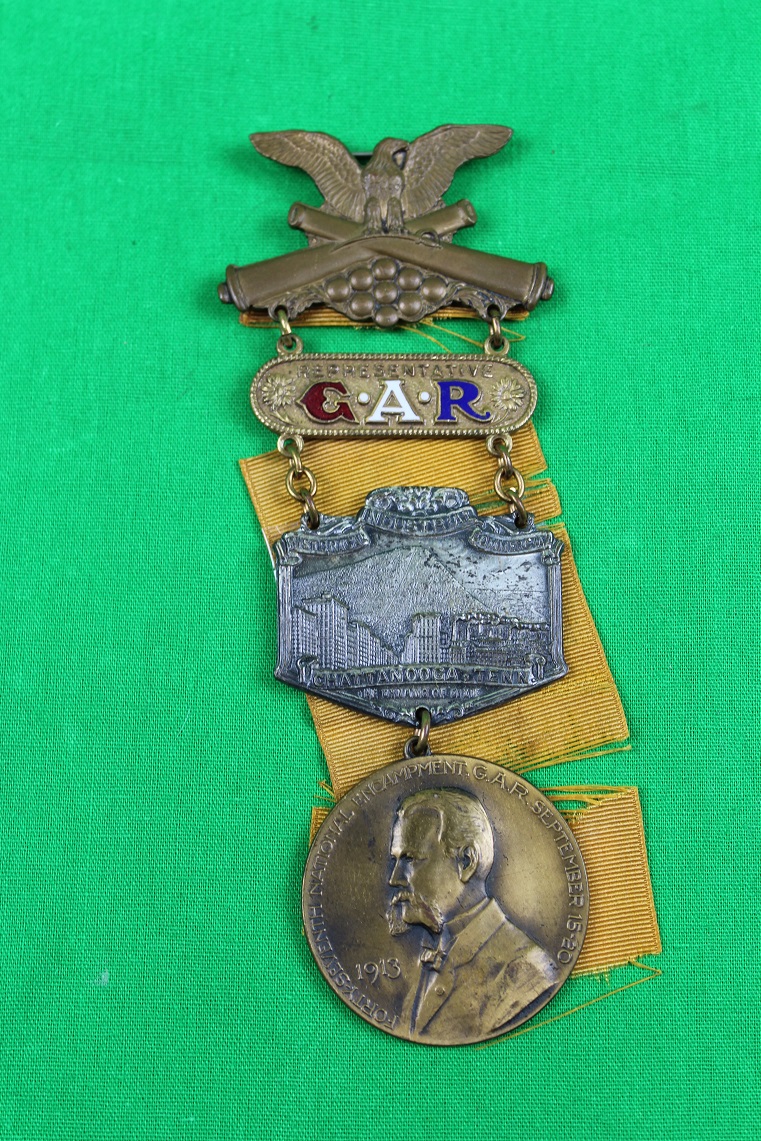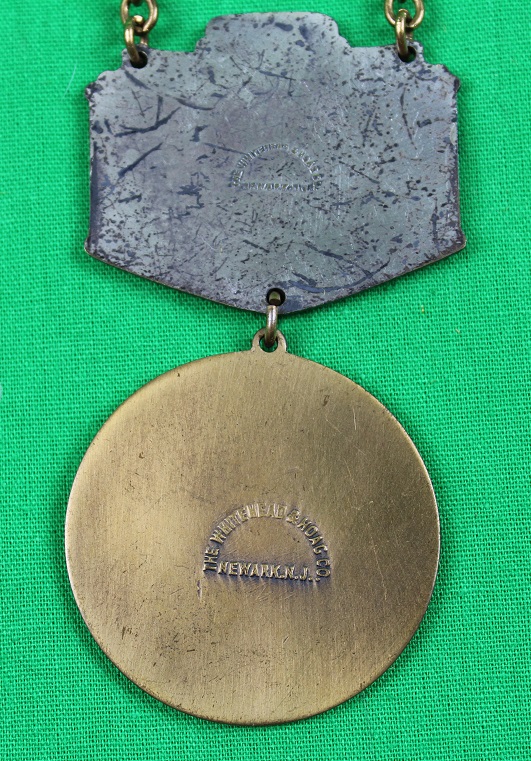 Even more 17
Here is a large albumin photograph of a Union Soldier probably from NY as witnessed by the photographer identification. It is gold embossed below the soldier as Wm. J. BAKER's Photographic Studio 12 Tribbit's Block, Utica, N.Y. The mat is 8 inches by 10 inches with the oval photo of the sitting soldier being 5 ¼ by 7 ¼ inches. The image is a typical albumin but still looks good. Unfortunately, no id. $145.00
Here we have 2 nice Indiana GAR medals.
Even more 16
These are both 3 piece medals. The first one is 4 3/4 inches long being for the DELEGATE for the 1911 encampment in Richmond, Indiana. This medal is just in excellent condition! The GAR on the lower drop is in Red, white and blue paint. Nice bronze color. One of the nicest that I have seen! $125.00
SOLD
The second medal to the right is also nice being brass and for a DELEGATE to the 1913 Annual Encampment at Indianapolis. This one is about 4 3/8ths inches long. Nice condition and complete! $110.00
CONSIGNMENT
Even more 15
Even more 14
I Need your help on this one. This is an unknown projectile that was found at a local flea market. The only thing that I found on it was a photo on wikipedia that shows a pile of projectiles and one like this one is laying off to the left. The caption under the photo is in cryllic Russian so I can make it out. Let me know what you think. Thanks!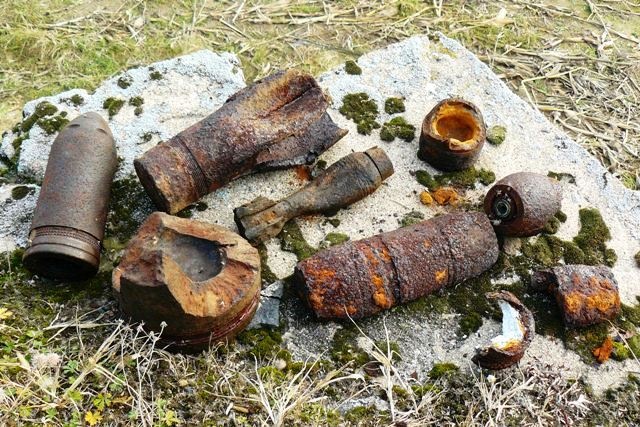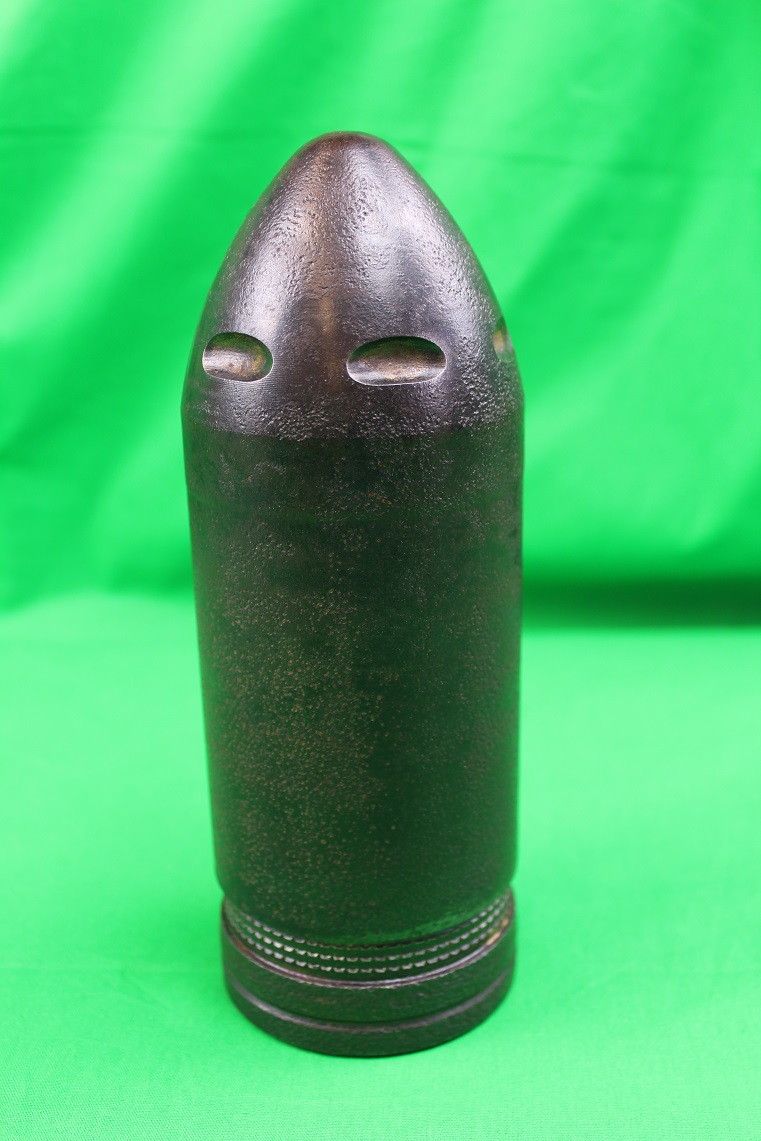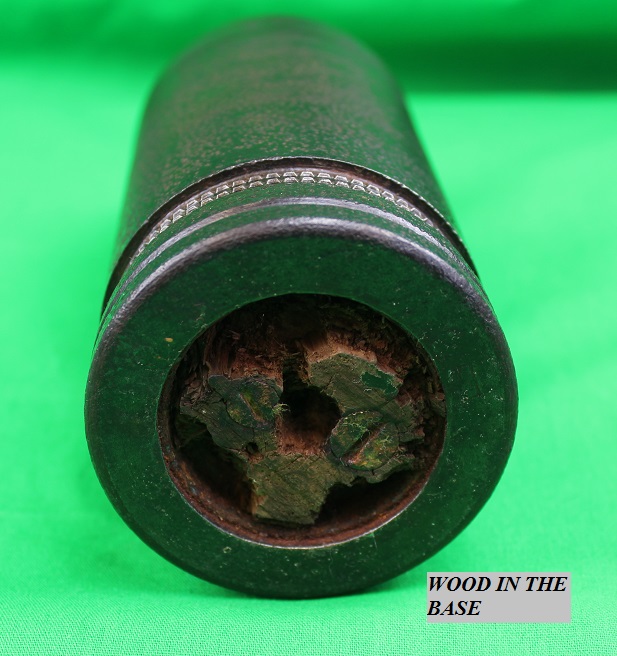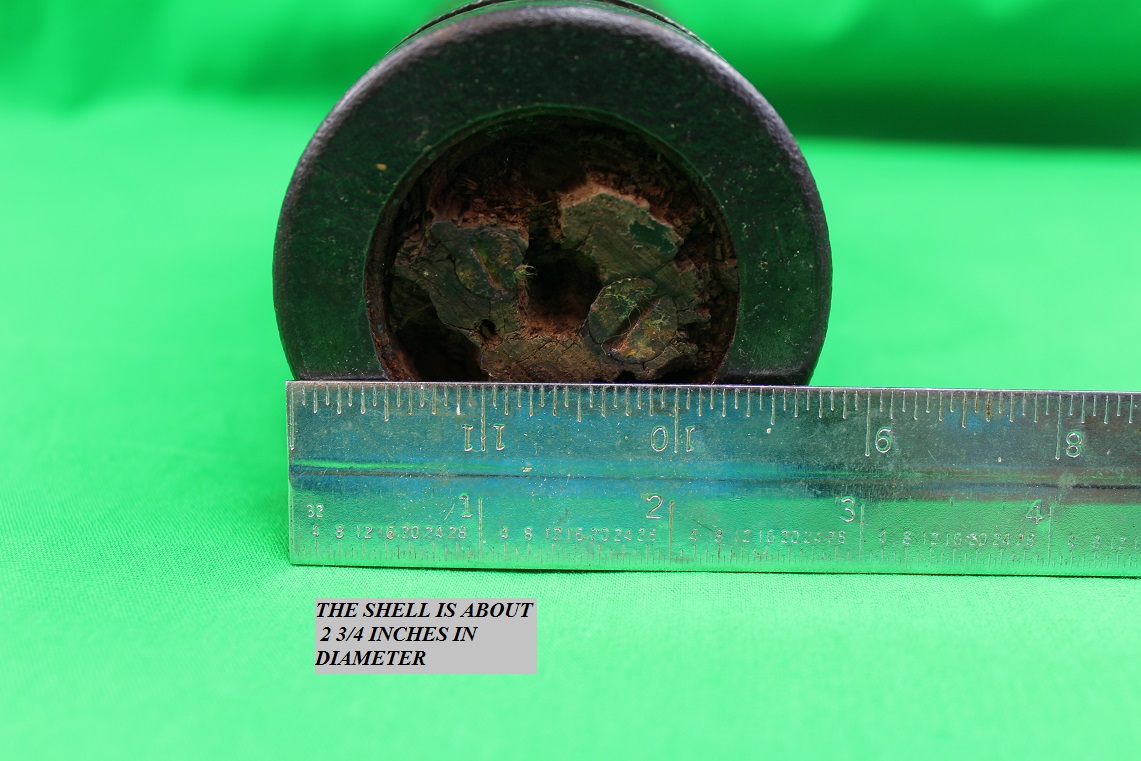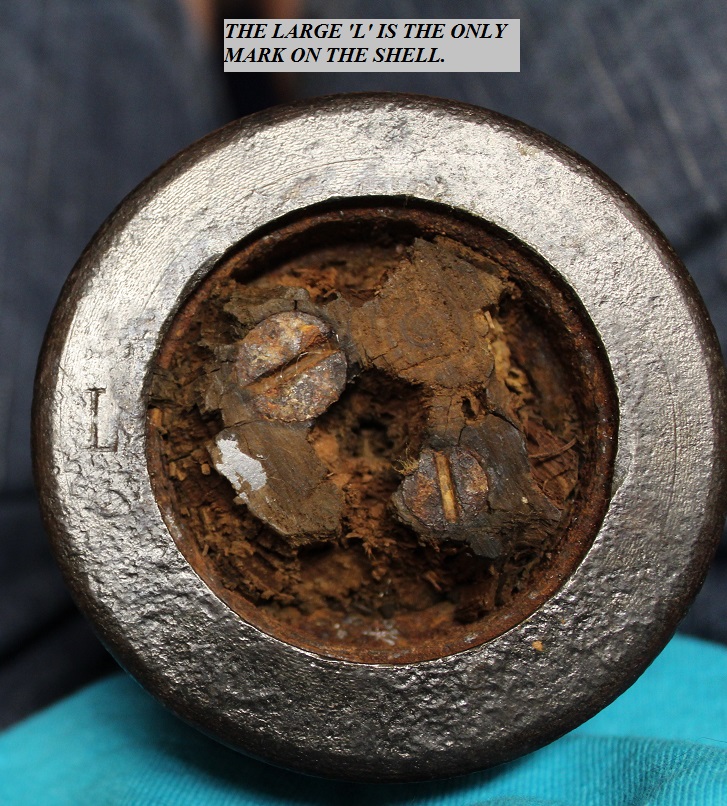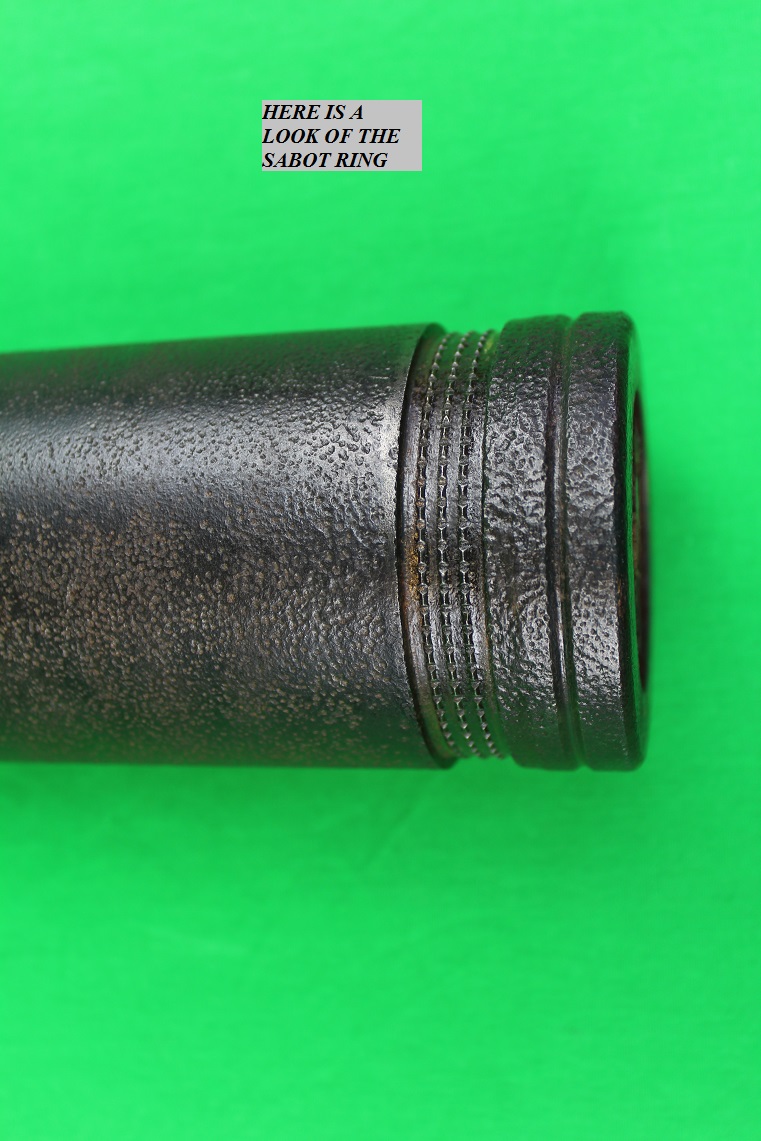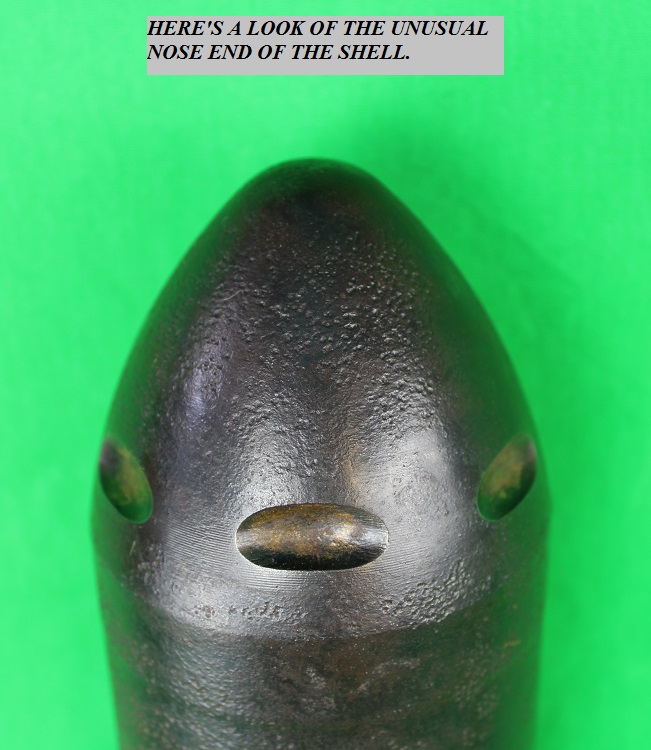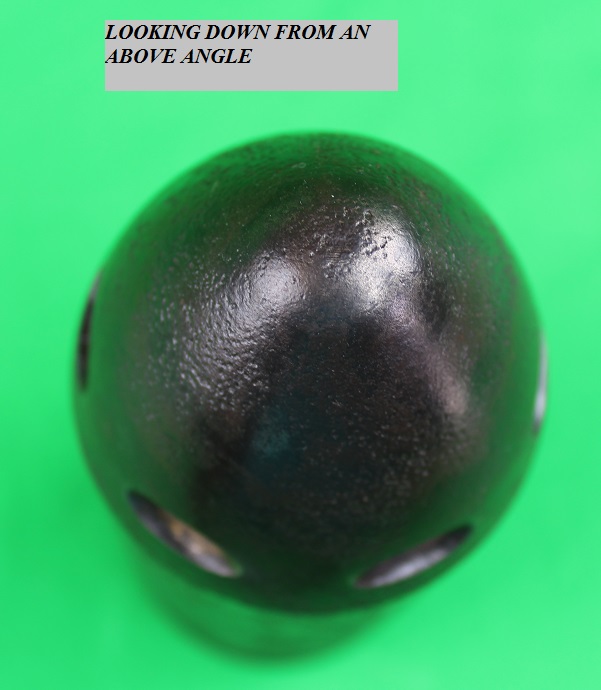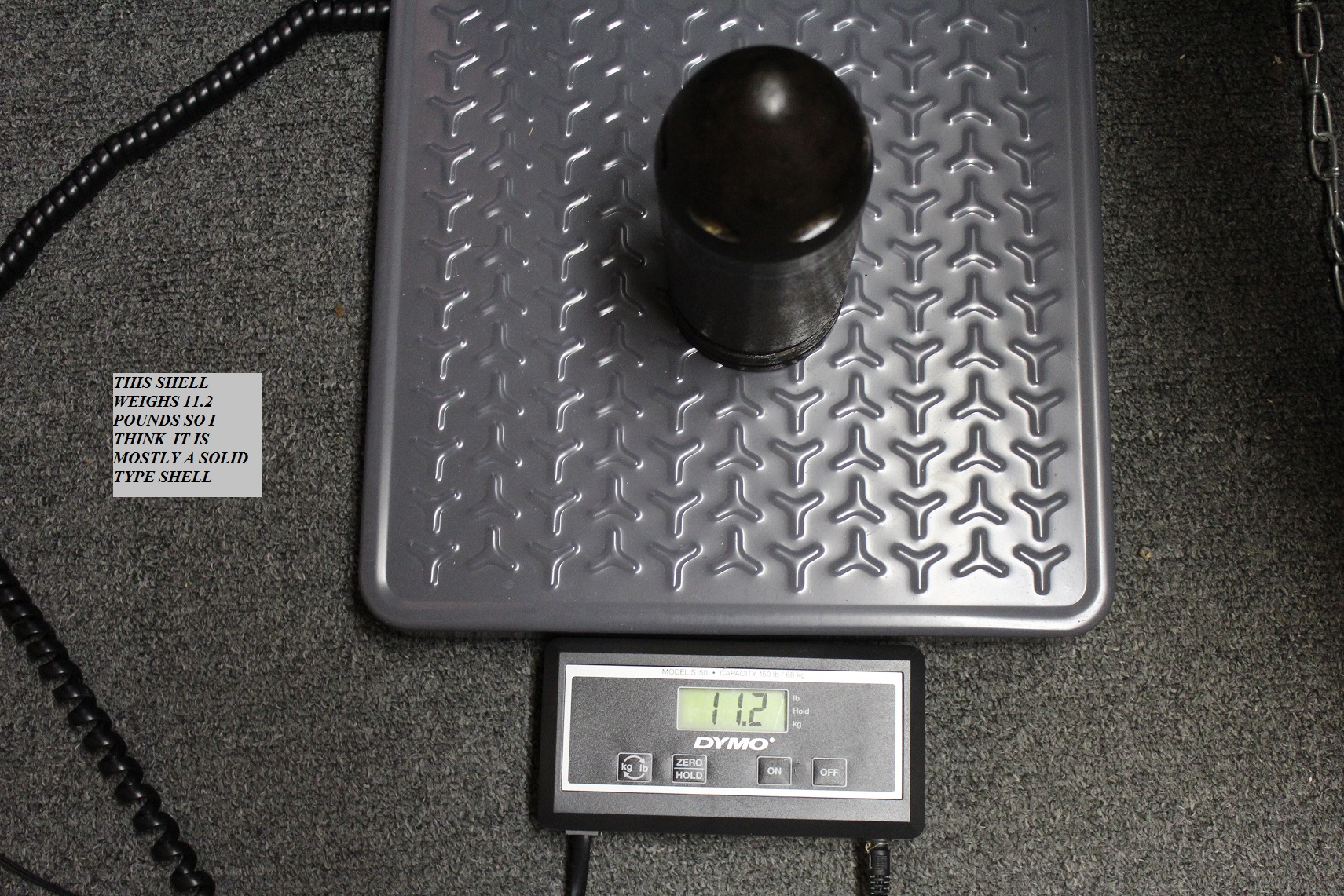 Civil War era Beer Bottle!
Even more 13
SOLD!!!
Thomas Rathbone & Company got into financial difficulties in the first half of the 19th century and the pottery closed in 1850. The premises, on the east of Pipe Street and the harbour, were taken over by Dr W A Gray in 1856 who with his sons began a very successful enterprise manufacturing white and brown stoneware. The factory was in Edinburg, Scotland and empty bottles were imported into the United States, and it is thought to have been generally to put beer in. This bottle surfaced in Indiana and is in pretty good condition with a copy of glaze flaws on the surface of this clay bottle. The bottle stands about 8 1/4 inches tall and is 2 3/4 inches across. There are no cracks or breaks in this bottle . Nice for a Civil War camp display! $25.00
CONSIGNMENT
Even more 12
Even more 15
Here is definitely a one of a kind item from the Civil War! This is a walking stick attributed to Lt. Commander John J. Cornwell, U.S.N. who served aboard the USS CHOCTAW. The USS Choctaw, a 1004-ton ironclad river gunboat and ram, was originally built in 1856 at New Albany, Indiana, as a side-wheel merchant steamer. Acquired by the Government in September 1862, her conversion to a warship was begun using plans by Commodore William D. Porter but these were altered while work was underway. Commissioned in March 1863, Choctaw was a singular-looking vessel, probably the most imposing in appearance of any of her Mississippi Squadron contemporaries. In actuality, however, she was weakly-armored and very slow. Choctaw's operational career began with a bombardment of Haynes' Bluff, on the Yazoo River, Mississippi, in late April and early May 1863. She was hit 53 times in this action, with many shots penetrating her armor, but casualties among her crew were light. Later in May, she participated in the capture of Yazoo City and the destruction of the Confederate Navy Yard there. In March-May 1864, Choctaw was part of the large Naval force that took part in a major campaign on the Red River, in Louisiana. She was decommissioned in July 1865, after the end of the Civil War, and was sold in March 1866. John J. Cornwell was born in new Lisbon, Ohio, in 1834. His family enjoyed a fair degree of local prominence and he was raised near other New Lisbon families whose names would add color to the upcoming Civil War years, including the McCooks and the Vallandighams. Unlike these other land-bound notables, Cornwell fancied a naval career. He received an appointment as a Midshipman at Annapolis on February 1, 1847, when he was not quite thirteen years old. Records indicate that Cornwell passed to Midshipman's status in June, 1853, and became both Master and Lieutenant in 1855. He would wait seven long years for his promotion to Lieutenant Commander in July of 1862. During the first two years of the Civil War Cornwell served on a variety of vessels but, at the end of August, 1863, he would assume command of the monitor Nahant, then part of the South Atlantic Blockading Squadron stationed off Charleston, South Carolina. On September 29, 1864 by order of Rear-Admiral porter, U.S. Navy Lt. Commander Cornwell was ordered to assume command of the U.S.S. Choctaw. As a result of his service during the war, Cornwell was made a Commander in July of 1866, at which time he was executive officer on Miantonomoh. The twin-turreted monitor was then on her European tour, which commenced in May. After visiting ports in England, France and several Baltic capitals, Miantonomoh set course for the Mediterranean in October. While the vessel was at Toulon, France, the 33 year-old John Cornwell died without warning on February 12, 1867. Surgeon W.E. Taylor listed the cause of death as "congestion of the brain," further stating that he considered the fatality to be "induced by the great amount of necessary labor and over-excitement incidental to his position and duties as Executive Officer of this ship during her remarkable cruise of the past nine or ten months." I don't know when he was presented this walking stick but it is clearly marked LT. COMDR JJ CORNWELL on one side and USS CHOCTAW between two 5 pointed stars on the other side. It has a T type handle with silver embellishments of which some are missing now. There is also a silver plated brass tip which shows some wear. The entire piece is 34 1/2 inches long with a handle that is 4 3/8 inches long. Unique! Take a look at the pics. $1,595.00 Where are you going to find another?!!!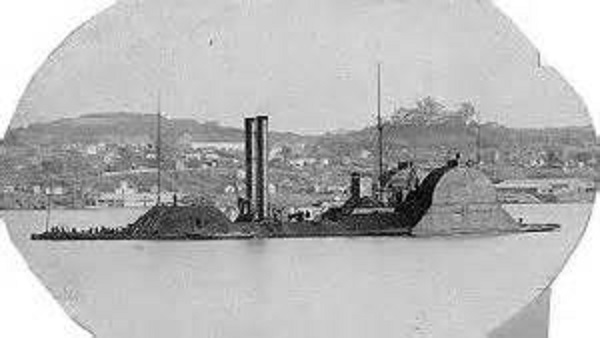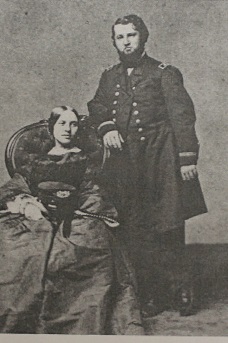 Even more 11
Consignment
Here we have a small Id badge in the shape of a shamrock that has on it CO D 3D N. Y. VOLS. Here is the bio of the 3rd New York:
3rd Infantry Regiment Civil War Albany Regiment History Mustered in: May 14,1861 Mustered out: August 28,1865 The following is taken from New York in the War of the Rebellion, 3rd ed. Frederick Phisterer. Albany: J. B. Lyon Company, 1912. This regiment was accepted by the State April 25, 1861; received its numerical designation May 7, 1861; was organized at Albany, and there mustered in the service of the United States for two years May 14, 1861. In April, 1863, a number of the members of the regiment re-enlisted for one and two years; these and the three years' men of the regiment were formed into a battalion May 18, 1863, and retained in the service, while those whose term of service had expired had been sent to Albany, where they were honorably discharged May 21, 1863. The three years' men of the 9th Infantry, and sufficient drafted men were assigned to the battalion, and the latter brought up to a regimental standard. June 13, 1865, the men of the 112th Infantry, not discharged with their own regiment, were transferred to this. The original companies were recruited principally: A — Williamsburgh Volunteers— at Williamsburgh and Brooklyn; B at Newburgh, Cornwall, Fishkill and Matteawan; C at Albany, Cohoes, Otsego, Schoharie and Troy; D at Albany; E — Syracuse Zouaves — at Syracuse, Baldwinsville, Geddes, Salina and Skaneateles; F at Albany, Cohoes and Stockport; G at Albany, Bethlehem, Greenbush, Pittsfield, Sand Lake, Schenectady, Stillwater, Sudbury, Syracuse and Troy; H at Owego, Halsey Valley, Ridgeford, Spencer and Tioga; I at Oneida, Albany, Augusta, Brooklyn, Hampton, New York city, Syracuse, Vernon, Walesville and Westmoreland; and K at Havana, Alpine, Beaver Dams, Benton, Burdette, Branchport, Catherine, Dix, Monterey, Odessa, Orange, Penn Yan, Millport and Starkey. The regiment, Col. Frederick Townsend, left the State May 31, 1861, and served at and near Fort Monroe, Va., from June, 1861; at and near Baltimore, Md., from July 30, 1863, at Suffolk, Va.; in Mansfield's Division from June 6, 1862; at Fort Monroe, Va., Department of Virginia, from September, 1862; at Suffolk, Va., 7th Corps, from April 19, 1863; in 1st Brigade, 2d Division, 7th Corps, from June, 1863; at Fort Monroe, Va., from July, 1863; on Folly island and in Charleston harbor in Alford's Brigade, 18th Corps, from July, 1863; in the 3d Brigade, 2d Division, 10th Corps, from October, 1863; in the 1st Brigade, 2d Division, 10th Corps, Army of the James, from April, 1864; in the 3d Brigade, 3d Division, 18th Corps, from May 30, 1864; in the 1st Brigade, 2d Division, 10th Corps, from June 15, 1864; in the same brigade and division, 24th Corps, from December 3, 1864; in the Provisional Corps, from March, 1865; and again in the 10th Corps, from April 2, 1863; in the First Brigade, 2d Division, 10th Corps, from July, 1865; and, commanded by Lieut.-Col. George W. Warren, it was honorably discharged and mustered out August 28, 1865, at Raleigh, N. C. During its service, the regiment lost by death, killed in action, 1 officer, 23 enlisted men; of wounds received in action, 1 officer, 14 enlisted men; of disease and other causes, 2 officers, 83 enlisted men; total, 4 officers, 120 enlisted men; aggregate, 124; of whom 1 enlisted man died in the hands of the enemy.
This pin is smaller than a quarter as you can see in the pics. It's very nicely engraved and looks to be thin silver plating over brass. The rear attachment is typical of Civil War and later work. This is a nice piece! For this piece $595.00
Even more 10
Consignment
Here we have a 6th plate Tintype of an armed soldier . He looks to be carrying his 1853 Enfield and has his bayonet by his side. You can also see his cartridge box, breast strap and plate as well as belt plate. I see traces on it where it was in an oval mat. Has some rubs on it and bends but displayable at $275.00
Even more 9
Consignment
Here is a pair of brass shoulder scales as worn by artillerymen during the Civil War. Also sometimes worn by cavalry to ward off saber blows. Sometimes called NCO scales. These are nice and uncleaned with no markings. One attachment piece underneath is missing. For the pair $225.00
Even more 8
Consignment
Black felt oval that meas. approx. 3 inches long x 2 1/8 inches wide and is outlined with gold dead bullion which is loose in several areas. Felt has retained its color but is fading and lacking in some spots. At center of the oval is an eagle done in silver bullion and gold twisted thread and sequins. Stretched between the eagle's wingtips is a sunburst done in silver bullion thread above 13 cross-stitched stars. The eagle holds an olive branch in one talon and three arrows in the other. The arrows have shafts and the points. Thread is in good condition and has darkened some with age. This piece has a brown polished cotton backing with most lacking showing the tin underneath and two attachment loops / 1 missing. - For this piece $350.00
Consignment
Even more 7
Here we have an old antler handled pocketknife from before and during the American Civil War. It's looks earlier but the maker is Henry Boker who was a German manufacturer who imported swords to his relative Herman for use during the American Civil War. This is a large knife measureing over 6 inches long closed and 10 inches long with blade extended. The ricasso is marked with HENRY BOKER'S IMPROVED CUTLERY marks. The piece of the bolster that locks the blade in place is broken away so the blade will not lock or hold straight in place. Also there is a corkscrew on this piece but it's frozen in place. This piece has alot of character. Just look at the pics! $175.00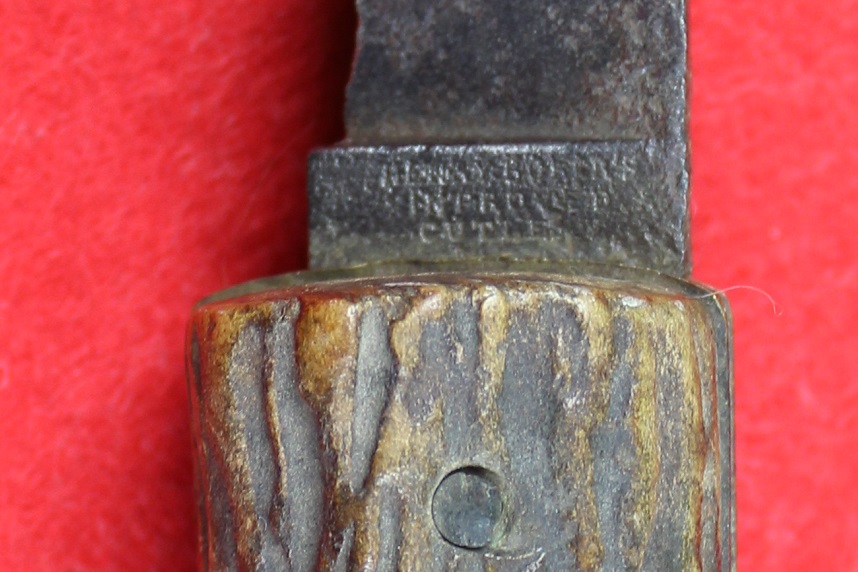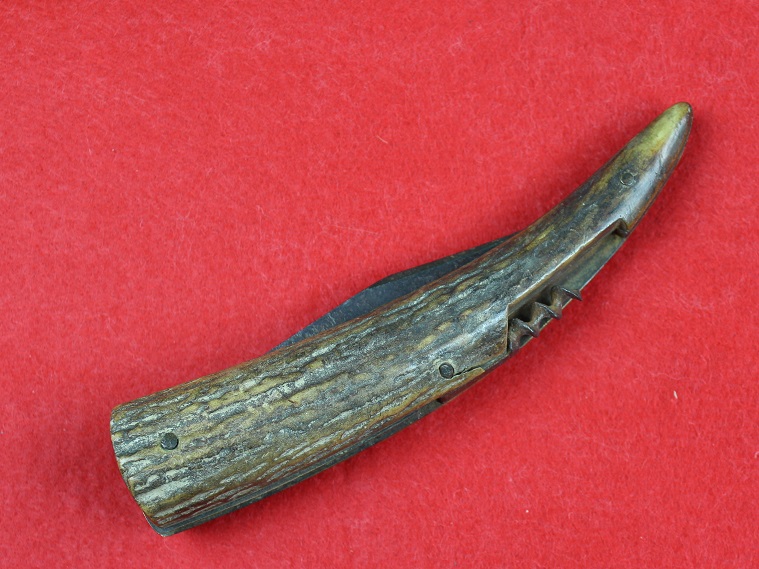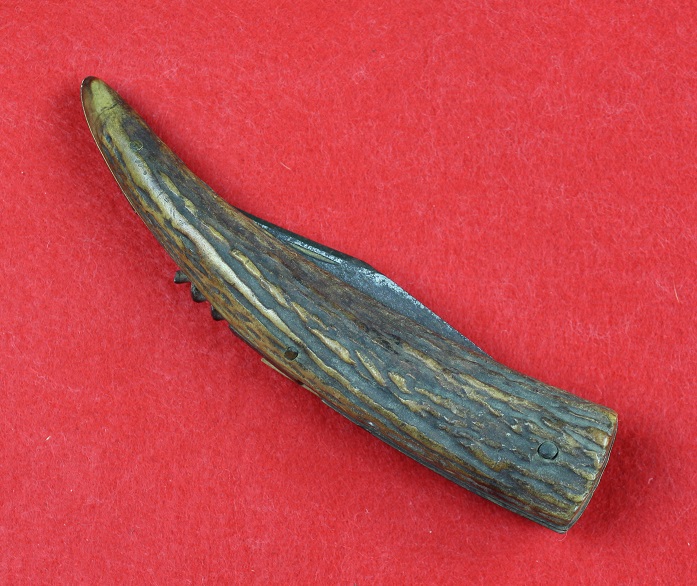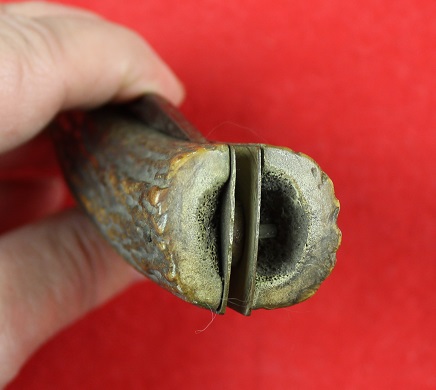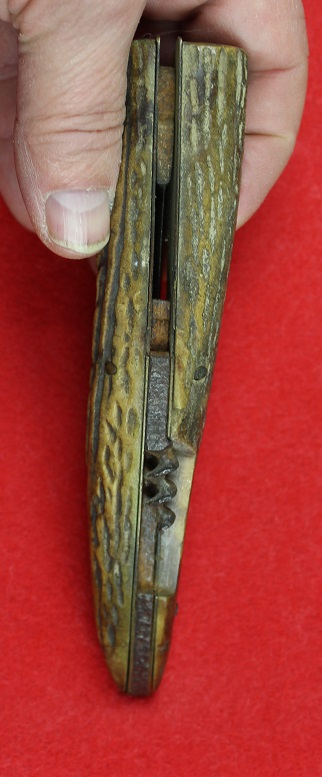 Consignment
Even more 6
Here we have a model 1840 Heavy Cavalry Saber that has been cut down and turned into a fighting knife. This piece is a heavy model and is missing the sheath. The leather wrapped wooden grip has been replaced with leather washers. The entire piece measures 13 1/2 inches long with a 8 1/2 inch long blade. There are no markings on the ricasso that I can make out. The pommel is typical of Civil War heavy Cavalry Sabers. The front guard has been cut down trememdously so that it's just a small hand guard now. The blade was heavily sharpened and is still so. The blade has also been thinned down or perhaps this is a different blade and not a saber blade. Take a look at the pics. Nasty wicked knife. $225.00
Consignment
Even more 5
Here is a Helmet plate for a shako or helmet. This one, I believe, is for a school or college althought I do not know for who. This piece is all brass with an applied Silver 'C' in the middle of the shield. The piece measures 3 1/4 inches across the wings with the piece being 3 3/4 inches long overall. There are three attachment brass wire loops on the back. Probably late 1800's early 1900's. For this piece $45.00
Consignment
Even more 5b
Here we have a pretty nice Civil War 1860 French Pattern Shako Helmet plate. These were used on shakos used by the 62nd & 83rd PA, 18th Mass & the 49th & 72nd NY during the Civil War. There were 10,000 Civil War Chasseur Pattern Shako Caps ordered by the War Department in 1861. This one is in decent condition with some paint loss around the hunting horn. It is missing the top attachment wire and appears to have never been used. $175.00
Consignment
Even more 4
Here is a Civil War Veterans Cane! The cane is about 34 inches long with a seperate carved piece at the top of a Civil War Soldier in Kepi and the bottom has an old brass thimble attached there. The head is intricately carved and even has beady little black glass eyes (one missing now) and a big moustache being topped off with his kepi. The shaft is a different wood being a hard wood with lots of age splits along the grain in it so I think that it's probably briar wood. This piece is really nicely done and looks pretty neat!!! For this piece $195.00
Consignment
Even more 3
Here we have a moderately medium to large Post sized 45 Star Flag that is made from a somewhat coarser type muslin material made to fly outside. This flag measures about 4 feet by 8 feet long. This flag is machine stitched with stars being 2 1/2 inches across the points and the strips are 3 inches wide. There is some minor to moderate mothing on it in a couple of areas but the flag is strong and would still display well. There is also a couple of small areas where there is a red type stain on it, including one star, but not overwelming to the eye. This Flag with 45 stars was adopted in 1896 with the inclusion of Utah into the United States. The 45 star flag lasted until 1908 when it was replaced with the 46 star flag. The colors are bright on this piece. This was the flag used during the Spanish American War of 1898. This flag has on the hoist the name of H.J.Hair and I believe that he was from Lafayette, Indiana. For this good old Flag $495.00
Consignment
Even more 2
Here we have a like sized 46 Star Flag that is in better condition than the one above. This one is in very good condition and has no mothing on it or tears. This one is marked 4 X 8 as well as STANDARD in ink on the hoist end. The colors are good while the white stripes have a little browning to them. This flag is the coarser linen style for flying outside. The entire flag is machine stitched with stars measuring about 2 1/2 inches across and the stripes measuring about 3 inches across. There is a little tear on the fly end where a string was attached to display this piece on a wall. This 46 star flag was made official for Oklahoma entering the union on July 4, 1908 to July 4th, 1912 totaling 4 Years and 52 Days. Theodore Roosevelt (1901-1909) and William H. Taft (1909-1913) served as President under the 46 star flag. This one is in grat shape! For this one $250.00
Consignment
Even more 1
This is a very rare soft leather belt from The Gold Rush ERA thru the Civil War Era. This belt was ment to be worn close to the body to hide gold dust, nuggets , money, or valuable papers . This belt has the flap with original button covering the pocket opening and secured by a drawstring which is missing . The belt measures approximately 39 inches long overall. One single long pocket runs the length of the belt unlike most money belts with seperate pockets for coins which makes me think that it is mostly for coins or nuggets as anything else would be a little difficult to remove if it slipped clear to the end of the belt. The stitching is very nicely done and there is some initials stitched into it as well. There is a GH in white leather stitching and a T in red leather stitching. We do not know the meaning of the initials. The cover that closes over the pocket opening has a small leather knot that goes through a hole in the flap for a closure kind of like a button. The leather is soft, smooth, and beautiful natural light brown color. We feel that it is made of pig skin. There is embossing on the leather pouch for it's entire length not including the belt strap or buckle ends. The buckle is brass while the buckle tounge is iron. The embossing is light now due to age but still visible. This belt is in great shape for its age and no stitching is lacking. If you collect Gold Rush era items then this is a must! For this piece $250.00