WE HAVE BEEN DOING LAYAWAYS ON A LIMITED BASIS BUT DUE TO THE ECONOMY NOW WE HAVE DECIDED TO OFFER THE LAYAWAY OPTION TO EVERYONE. OUR TERMS ARE 25% OF THE TOTAL PURCHASE DOWN WITH THE OTHER 75% PAYABLE IN 3 EQUAL MONTHLY PAYMENTS OF 25% OF THE INITIAL BALANCE. CHECK THE INDEX PAGE FOR COMPLETE DETAILS. THANKS!
Item No. 1 THIS ITEM IS SOLD!!! Here is a marked WW2 German Field Surgical kit in case. The entire piece measures about 6 1/2 x 3 1/2 with a fold over flap and leather strap. The leather case is gray pebble. The tap/strap is marked with the German Eagle and Swastika as well as the makers name which is BOLLMANN TUTTLINGER and dated 1943. There are 4 instruments inside. Look at the pics. It's in great condition! $65.00
CONSIGNMENT
Item No. 2 Here we have a decent 1905 US Bayonet less scabbard. The M1905 Bayonet was one of the U.S. most widely used bayonet. It was used in both WW1 and WW2. It was originally designed to fit the M1903 Springfield Rifle. Early versions (up until 1918) of the M1905 bayonet had what is referred to as bright, bare metal blades. These were 16_ blades and which included a wooden had grip. After 1918-1922 the blades were Parkerized (phosphate anti-corrosive finish) and Blued and the grips were made from black walnut. From 1922-1939 production was halted. During World War 2 production resumed again. The new bayonets would be produced with bakelite (plastic) black or sometimes brown hand grips. These newer bayonets would sometimes be referred to as M1942, that being the year they were made, but in reality they were still M1905 bayonets with just a modification to the hand grips.
This one is one of the early ones as it has the bright blade and early wooden grip. The blade has been cleaned but you can see where the patina was on it before cleaning next to the cross guard. The bayonet is marked R.I.A. (Rock Island Arsenal) over a flaming ordnance bomb on one side and the date 1906. The other side is simply marked US. The entire piece is 201/2 inches long with a 15 7/8 inch long blade. There is a little sliver of wood missing near the pommel cap that you can see in the pics. The locking mechanish works fine. Still nice! $150.00
CONSIGNMENT
Item No. 3 Here is a really nice WW2 British Revolver! This is the Enfield No. 2 Mark 1* revolver in .38-20. There were two main variants of the Enfield No 2 Mk I revolver. The first was the Mk I*, which had a spurless hammer and was double action only, meaning that the hammer could not be thumb-cocked by the shooter for each shot. Additionally, in keeping with the revolver's purpose as a close-range weapon, the handgrips, now made of plastic, were redesigned to improve grip when used in rapid double-action fire; the new handgrip design was given the designation Mk II. The majority of Enfields produced were either Mk I* or modified to that standard. The second variant was the Mk I**, which was a 1942 variant of the Mk I* simplified in order to increase production, but was discontinued shortly thereafter as a result of safety concerns over some of the introduced modifications. The vast majority of Enfield No 2 Mk I revolvers were modified to Mk I* during World War II, generally as they came in for repair or general maintenance; the official explanation of the change to the Mk I* version was that the Tank Corps had complained the spur on the hammer was catching on protrusions inside tanks, but most historians nowadays believe that the real reason was that the Mk I* version was cheaper and faster to manufacture. When used in the manner in which British forces trained (rapid double-action fire at very close ranges), the No 2 Mk I* is at least as accurate as any other service pistol of its time, because of the relatively light double action trigger pull. It is not, however, the best choice for deliberately aimed, long-distance shooting — the double action pull will throw the most competent shooter's aim off enough to noticeably affect accuracy at ranges of more than 15 yards (14 m) or so. Some unit Armourers are known to have retrofitted the Enfield No 2 Mk I* back to the Mk I variant, but this was never an official policy and appears to have been done on an individual basis. Despite officially being declared obsolete at the end of World War II, the Enfield (and Webley revolvers) were not completely phased out in favour of the Browning Hi-Power until April 1969. The Enfield No 2 is very fast to reload—as are all British top-break revolvers—because of its automatic ejector, which simultaneously removes all six cases from the cylinder. British combat experience during World War II with the .38/200 Enfield revolvers during World War II seemed to confirm that, "for the average soldier", the Enfield No. 2 Mk I could be used far more effectively than the bulkier and heavier .455 calibre Webley revolvers that had been issued during World War I. Perhaps because of the relatively long double-action trigger pull compared to other pistols capable of single-action fire, the double-action-only Mk I* revolvers were not popular with troops, many of whom took the first available opportunity to exchange them in favour of Smith & Wesson, Colt, or Webley revolvers.
This particular revolver is marked on top of the barrel CAL:38 along with 41 (1941 year of manufacture) and British proof marks. There is also a light DI on the obverse side of the revolver . The serial number is P7363 and looks to match on all parts. The cylinder not only has the serial number of P7363 on it but anoter designation of ESC.321. The finish is excellent and the markings are fine except for a light marking of DI previously mentioned. This one has the wooden grips indicating that it was an older model sent back in for retrofit. It is in as good as a condition as you will get. Operates flawlessly! Outstanding!!! $495.00
CONSIGNMENT
Item No. 4 Here is a real nice WW2 dated Colt M-1911 A1 in the green parkerized finish. We believe that it has been refinished AND we have gone through the piece to make sure everything matches. The wooden grips are earlier and the barrel pin is earlier too. The pistol looks fantastic but does have one little blip to the finish on the forward slide that you can see in the pic. Serial number is 751XXX which we believe dates it to 1941. All markings are crisp and sharp. It looks fantastic and functions as it should. For this one $1,650.00 item ww & Modern Guns 16
Here are some WW2 German Items that I will list as time allows. Take a look!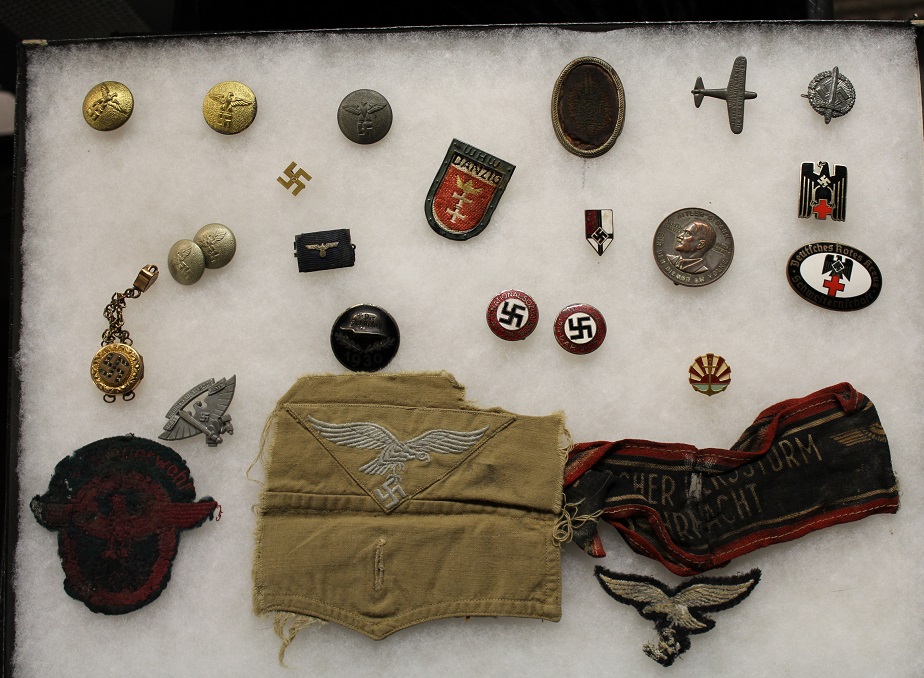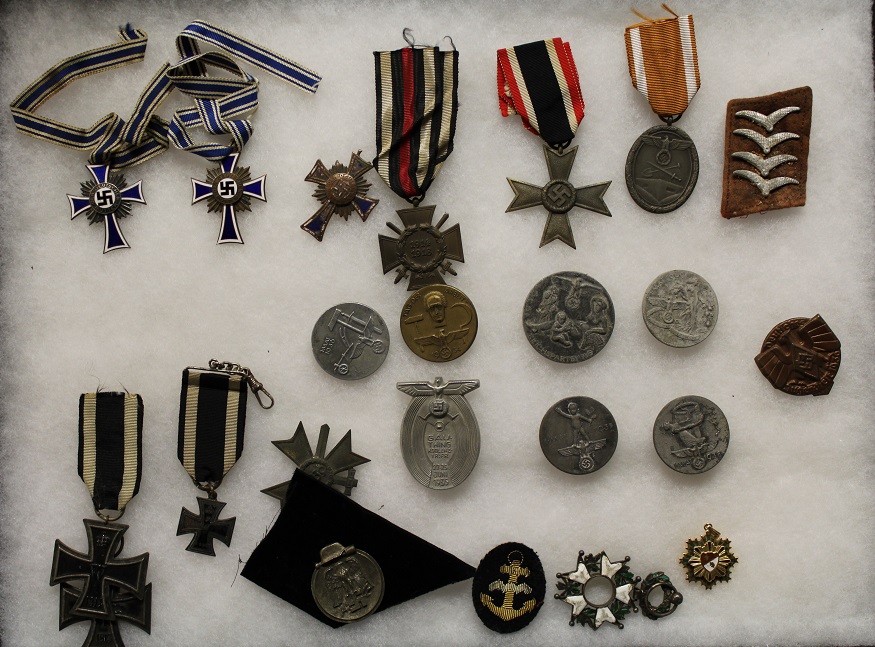 Here are some US mostly WW2 items that we just took in. We will list them as time allows but in the meantime if you see something you like let us know. Thanks!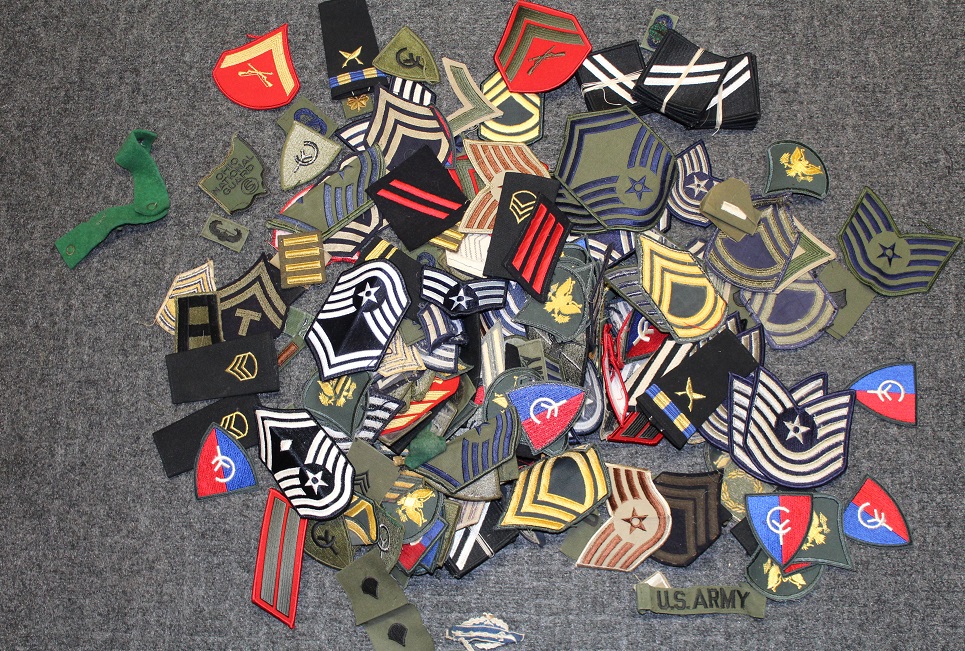 CONSIGNMENT
Item No. 5 We found this piece with a lot of other WW2 German Pieces. We think that this piece is German also despite the fact that there is not a Swastika on it. This is an Aluminum Eagle Flag Staff topper that measures 5 1/2 inches tall and about 6 inches across from wing tip to wing tip. The piece was originally gold painted and you can see tons of gold paint left on it. One side has a triffle bit of black paint on it and the other has a little red paint on it. This topper is two piece and the two eagles are held together with a screw. The bottom has a screw or bolt hole in it with the the threads exposed. For this piece $125.00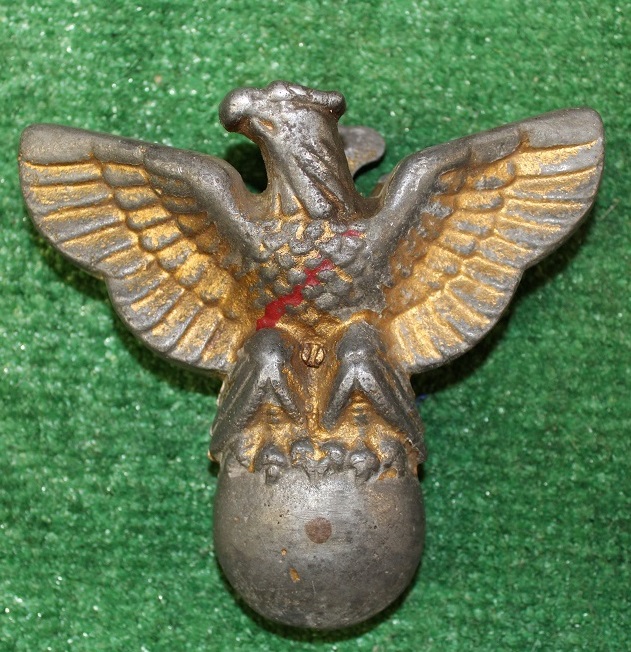 p>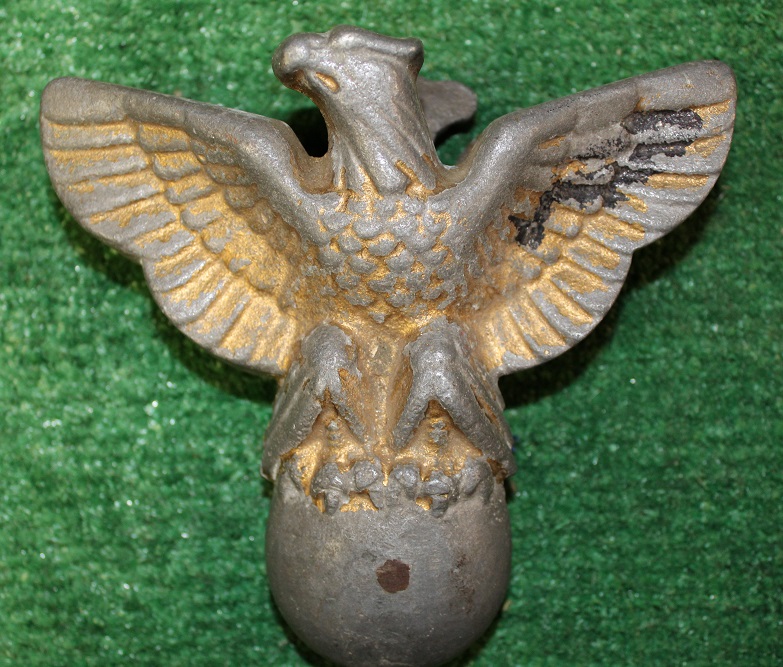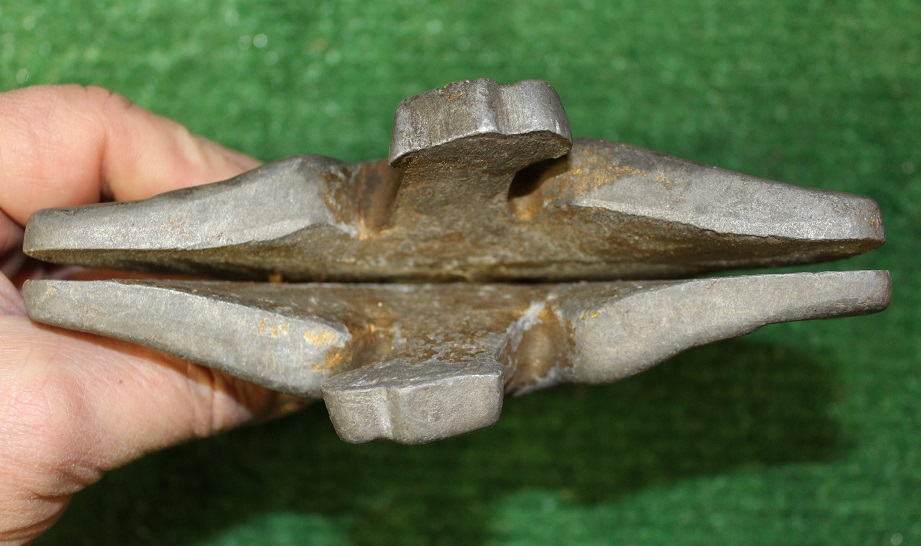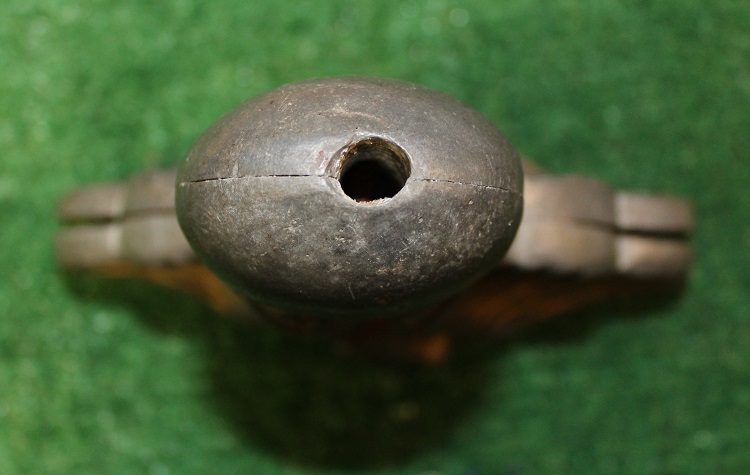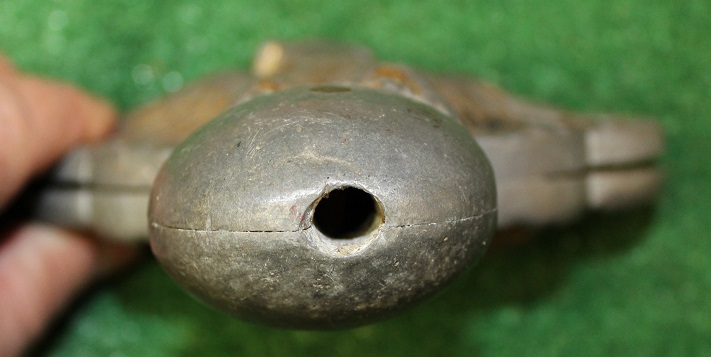 CONSIGNMENT
Item No. 6 Here we have a wonderful preserved WW2 German Veteran Eagle Cap badge complete with brass pin on the reverse. It is the top one in the photograph. It has a nearly 4 inch wingspan and is marked with a 2 GES. GESCH. Good quality! $65.00
The bottom three are all aluminum Luftwaffee Visor Cap Eagles. They are all prong back and in very good condition. The first one on the left is not marked and has a 2 1/2 inch wingspan. The middle one is marked A38 and also has a 2 1/2 inch wingspan. The one on the right is also not marked and has a 2 inch wingspan. They are all in super condition. For each $150.00
CONSIGNMENT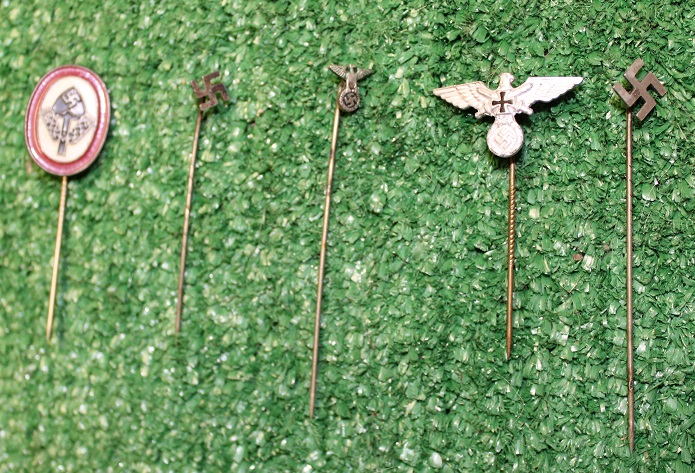 Here we have 5 WW2 Nazi party stickpins.
Item No. 7 The first one is a RAD membership stickpin. It is in very nice condition being an enamel pin. It measures about 2 inches long overall. The back is marked GES. GESCH. $65.00
Item No. 8 The second stickpin from the left is a Nazi Membership stickpin with just a swastika at the top. The pin is a little over 2 inches long and has nothing written on it that I can see. $30.00
Item No. 9 The stickpin in the center is Eagle and swastika stickpin that measures about 2 3/4 inches long. Nice condition! $50.00
Item No. 10 The fourth stickpin from the left is a WW2 German Veterans stickpin with Eagle, Iron Cross and swastika. The pin is knurled on the shaft and the back is marked GES. GESCH. The eagle has a 1 inch wingspan and the entire piece is about 2 inches long. For this one $50.00
Item No. 11 The last stickpin on the far right is a swastika party stickpin and measures about 2 3/4 inches long. The swastika is about 3/8ths of an inch across and looks to be silvered. For this one $30.00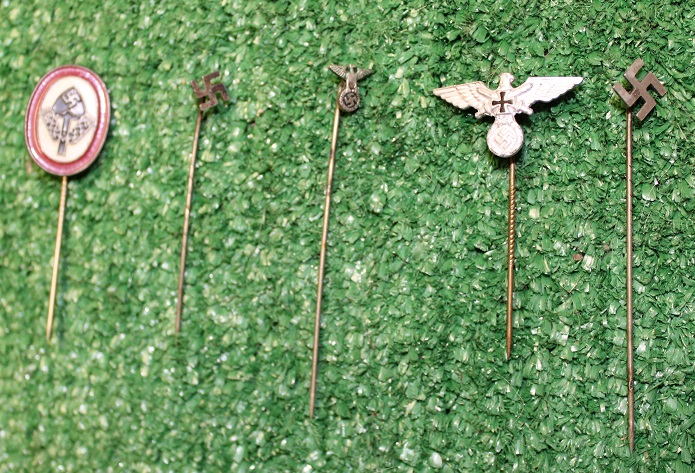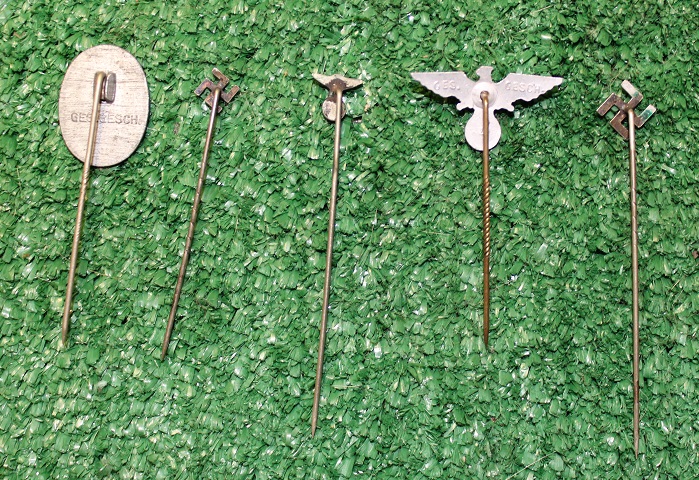 CONSIGNMENT
Item No. 12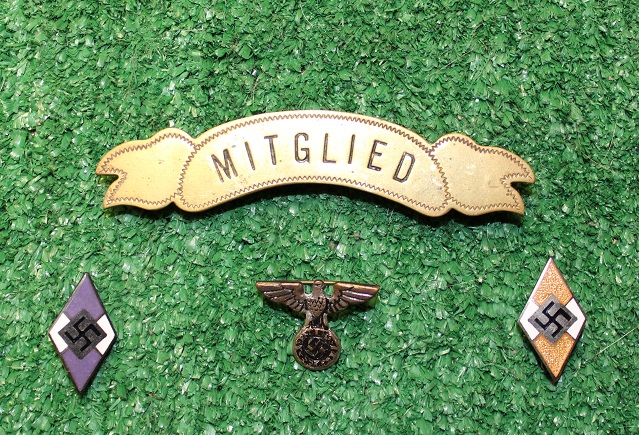 Here we have 4 pins. The top one is on a brass banner with the word MITGLIED on it. I believe that simply means member. Looking at the back there was probably a ribbon that hung down from the top bar which is now missing. This all brass piece is about 3 3/8 inches across with brass pins. $15.00
Item No. 13 The next pin to the left under the top bar is a German HJ membership pin and in excellent condition with a purple background on the enamel. This pin is about 1 inch tall and is complete. It has writing on the back which is OTTO HOTTMANN GES. GESCH. For this fine pin $50.00
Item No. 14 The center bottom pin is a membership pin showing a spread winged eagle and swastika in wreath. The wingspan is about 1 inche across and the pin is about 3/4 inch tall. The pin is complete on the back. There is no writting on this pin that I can see. For this one $45.00
Item No. 15 The last pin on the right is also a German HJ membership pin and is in excellent condition with a pinkish background. This pin is also about 1 inch tall and is complete. It has the same writting on the back as the other mentioned HJ membership pin. $50.00
CONSIGNMENT
Item No. 16 Here we have a very nice NSKK patch and a swastika disk.
The National Socialist Motor Corps (German: Nationalsozialistisches Kraftfahrkorps, NSKK),[1] also known as the National Socialist Drivers Corps, was a paramilitary organization of the Nazi Party that existed from 1931 to 1945. The patch is in excellent condition with a partial paper lable on it. The patch is wool with silver bullion thread used. The patch measures 3 1/2 inches wide and 2 inches tall. For this patch $160.00
The little disk that is with it is an enameled disk with a swastika in the center and a red 'rope' type band on the edge. This piece measures about 3/4 inch across but has nothing on the reverse making me think that perhaps it was a center part of a medal or badge. As is $10.00
CONSIGNMENT
Item No. 17 Here we have two WW2 German ID tags. The zinc one is for a base veterinary depot (Heimatpferdepark) and so marked. The other one which is aluminum is for an Artilllery Unit. For the veternarian tag $160.00 and for the Artillery Tag $80.00
CONSIGNMENT
Here we have three WW2 Nazi Belt Buckles.
Item No. 18 The fIrst one is a Kriegsmarine NCO buckle with the leather portion attached to it. This leather portion has the makers marks on it and the nazi markings stamped into the leather. The buckle is gold anodized aluminum and still in good condition. For this piece. Sold!!!
Item No. 19 The second buckle is aluminum German Army buckle with the swastika surrounded by a laurel and GOTT MIT UNS. The piece is in good condition $85.00
Item No. 20 The third buckle is a steel buckle with rusting on it that I think is actually leaching from the attachment apparatus. This is the Hitler Youth Buckle. $75.00
CONSIGNMENT
Item No. 21 Here we have a large size WW2 German Army Wehrmacht Ring with spreadwinged Eagle and Swastika. There are mold marks on the interior of the ring and it's rather dark there so I believe that this ring is silver even though it isn't marked as such. The ring is in very good aged condition. $150.00
CONSIGNMENT
Item No. 22 Here we have a vintage Luger P08 mag with a Waffen mark on it. This is for the 9mm Luger. The magazine is in good condition with just a little rust on it. The end plug is aluminum and is marked 553 S + (german eagle) and 63. For this piece $195.00
CONSIGNMENT
Item No. 23 Here we have an original post WW2 era Army of Occupation Medal. The Army of Occupation Medal is a military award of the United States military which was established by the United States War Department on 5 April 1946. The medal was created in the aftermath of the Second World War to recognize those who had performed occupation service in either Germany, Italy, Austria, or Japan. The original Army of Occupation Medal was intended only for members of the United States Army, but was expanded in 1948 to encompass the United States Air Force shortly after that service's creation. The Navy and Marine equivalent of the Army of Occupation Medal is the Navy Occupation Service Medal.
This medal is an original and in very nice condition. There is no box and no bar to indicate which theatre of operations this medal was earned in. For this medal $25.00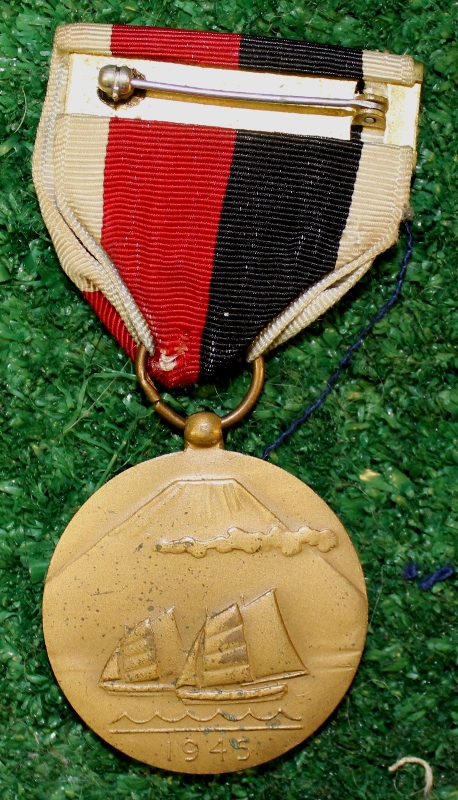 CONSIGNMENT
Item No. 24 Here is a WW2 Navy Good Conduct medal that has 3 bronze battle stars on it. The back is id'd to a James Roy Courtney and dated 1950. Could turn up something very interesting! Very nice condition and complete. $30.00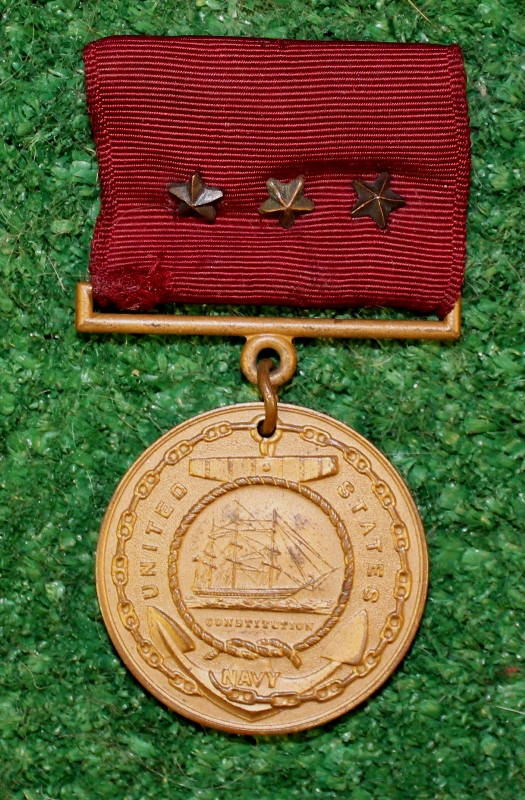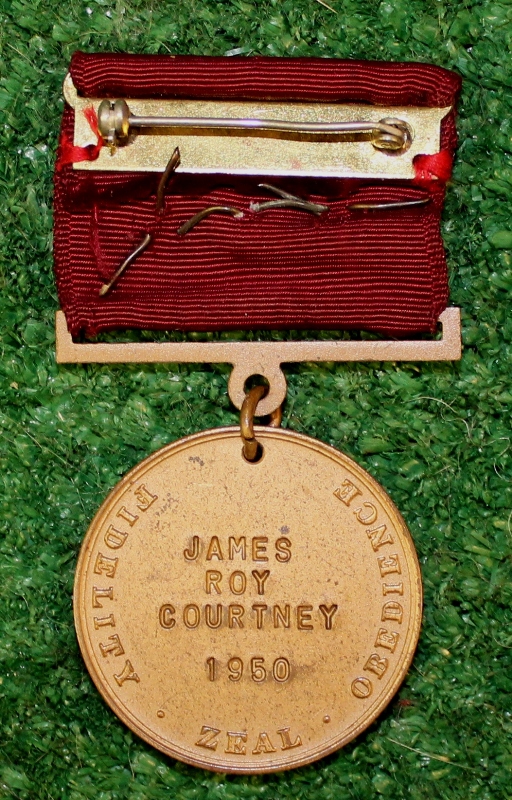 CONSIGNMENT
Item No. 25 Here is an item that, frankly, I am amazed that it's still here. This is a 'cardboard' medal with a photo of a WW2 soldier cut out and placed in it. The medal has ARMY at the top of the cardboard star. It's complete with the attachment bar and the red, white & blue ribbon. A back flap comes down to reveal the photo. There is nothing written on the photo. Out of Indiana. Unique and rare to see in any condition! 3 inches tall and 2 inches wide. $35.00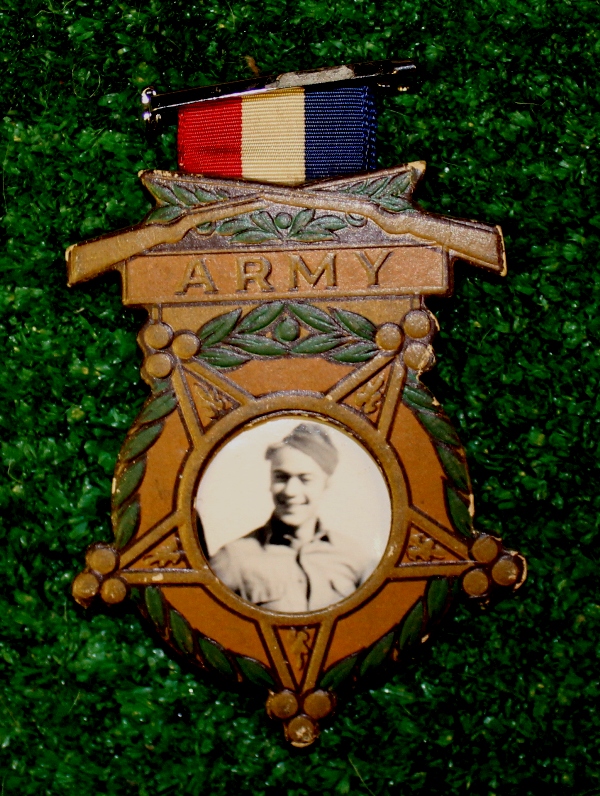 CONSIGNMENT
Item No. 26 Here we have an aluminum WW2 German Nazi DAF Gear with Swastika. Metal single sided toothed gear with swastika center. Measures 7 3/4 inches in diameter. Overall very good. The German Labor Front (German: Deutsche Arbeitsfront, DAF) was the National Socialist trade union organization which replaced the various trade unions of the Weimar Republic after Adolf Hitler's rise to power. This piece was probably placed upon a door or wall. $165.00
CONSIGNMENT
Item No. 27 Here we have 2 Nazi Shako Hat Front Eagle plates with Swastika. These Eagles came from the Nazi Police Shako-Tschako hat eagle with original nuts on the flat one but just the brass screws on the one that is rounded to fit the front of the shako. Just about 6 1/2 inch wingspan. Vet bringback for the also called Police Shako "Bump" hat. Very nice conditon overall. The flat one has a bent mounting screw and a little rust staining on the aluminum eagle due to using steel washers on the reverse. The rounded one is in very good condition as well with studs less nuts. For each one. $175.00


CONSIGNMENT
Item No. 28 Here's a dandy! This is a Fairbairn Sykes fighting knife. The Fairbairn–Sykes fighting knife is a double-edged fighting knife resembling a dagger or poignard with a foil grip developed by William Ewart Fairbairn and Eric Anthony Sykes in Shanghai based on concepts which the two men initiated before World War II while serving on the Shanghai Municipal Police in China. The F–S fighting knife was made famous during World War II when issued to British Commandos, the Airborne Forces, the SAS and many other units, especially for the Normandy Landings in June 1944. With its acutely tapered, sharply pointed blade, the F–S fighting knife is frequently described as a stiletto, a weapon optimized for thrusting, although the F-S knife is capable of being used to inflict slash cuts upon an opponent when its cutting edges are sharpened according to specification. The Wilkinson Sword Company made the knife with minor pommel and grip design variations. The F-S knife is strongly associated with the British commandos and the US Office of Strategic Services (OSS) and Marine Raiders (who based their issued knife on the Fairbairn-Sykes), among other special forces / clandestine / raiding units. It features in the insignia of the British Royal Marines, the Belgian Commandos, the Dutch Commando Corps, founded in the UK during World War II, the Australian 1st Commando Regiment and 2nd Commando Regiment, and the United States Army Rangers, both founded with the help of the British Commandos. A solid gold F–S fighting knife is part of the commandos' memorial at Westminster Abbey. This particular knife is an original good condition WWII 3rd pattern Fairbairn with original scabbard. The blade has been sharpened some. The combat knife shows the wear of an issued knife. The knife is 11 1/2 inches long with a nearly 7 inch blade. The Crossguard reads WILLIAM ROGERS SHEFFIELD ENGLAND on one side. Brass handle has a dark finish over the brass. These were numbered on the pommel during the casting from 1 to 4. It is thought that they were gang casted 4 at a time hence the 1 to 4 marking. This one does not have a number so it may be a post war production. I have read that these numbers were removed from the molds after the war so subsequent models have no mold number on the pommel. Original scabbard has leg tabs, NOT stamped 'ENGLAND' above elastic keeper, and this keeper is torn. Leather is supple without any drying out. The scabbard has the metal tip. The Fairbairn-Sykes knife remains in production but this is not a new knife by any means. It has developed a patina that doesn't develope over night. For this piece $325.00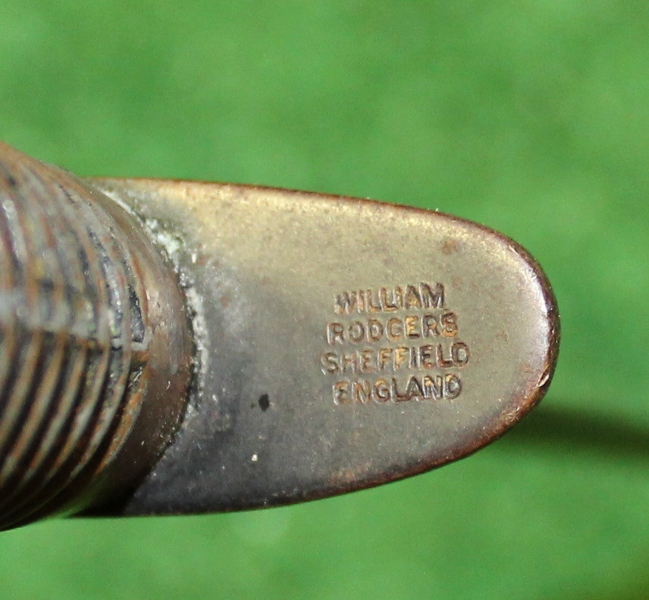 CONSIGNMENT
Item No. 29 Here we have a unique WW2 military knife. This is a PAL RH 34 Id'd knife. This one has a 4 7/8 inch blade that was finished bright but now has a great patina. The knife was 9 3/16 inches long overall with a wooden butt finished off with a steel plate. The grip is a leather washer manufacture and has H.MILLHOLLAND carved into them. The wooden pommel also has carving into it which looks to me an H on one side and a M on the other side with a couple of sideways S's interposed between them. On the other side of the grip is the soldiers service number. His initials are also carved on the leather scabbard over the manufacturers information. The edges of the scabbard were sewn together with copper wire. If this old knife could talk!!! For this piece $65.00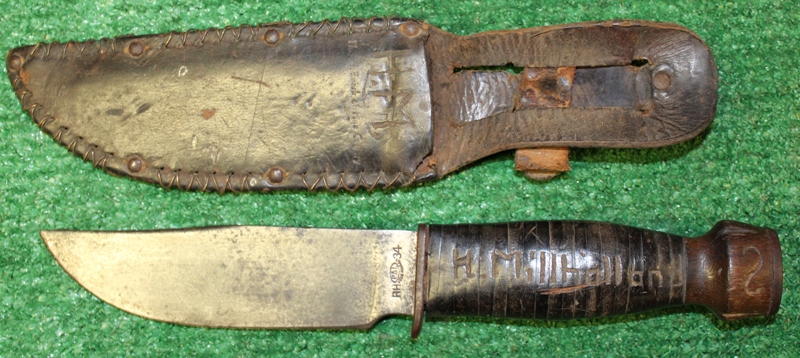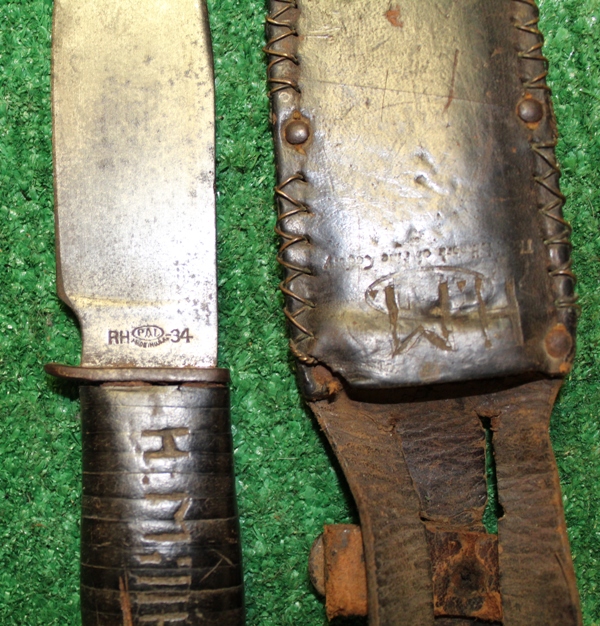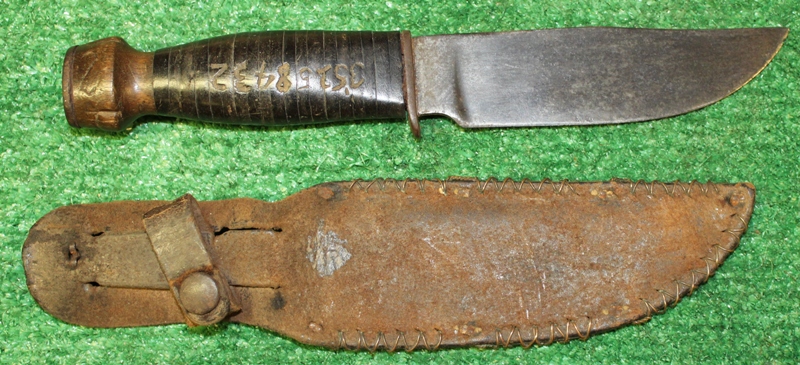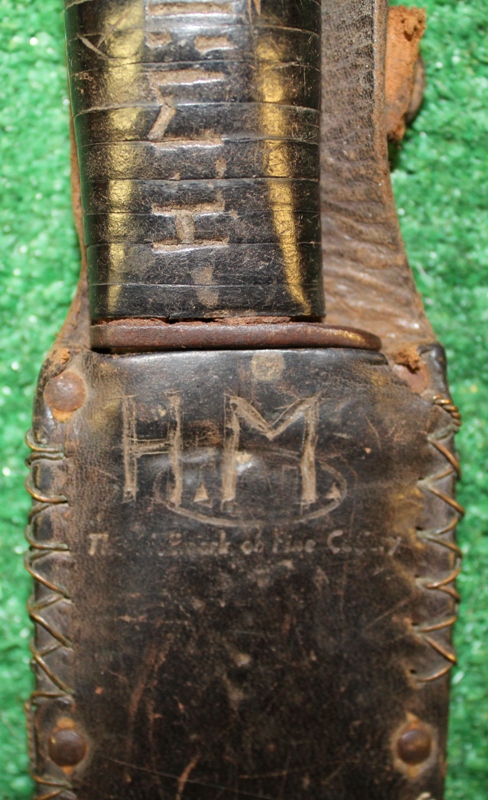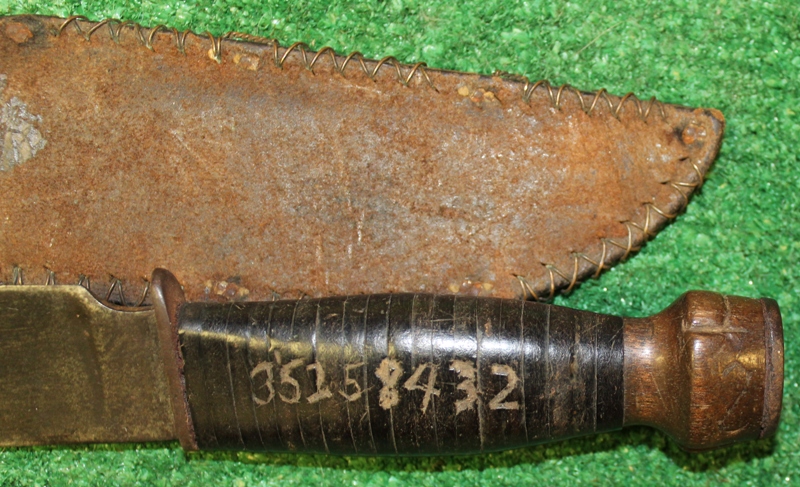 CONSIGNMENT
Item No. 30 Here is a Vintage military AK 47 - AKF bayonet with scabbard and wire cutters. Blade is over 5-3/4" Carbon steel blade with red/brown composite handle with an overall length of 11". Come with a metal scabbard with wire cutting capabilities. Most likely Romanian manufacture. Great condition! $25.00
CONSIGNMENT
Item No. 31 Now here we have a Survival Machette for the Army Air Corps that was adopted in 1942 as a new Air Force Survival Knive. Most of them folded and were usually carried in the seat pack kit attached to the parachute harness. This one is a CAMILLUS and so marked. It has a 10 inch blade that was originally bright finished but now dark patina with a couple of chips at the end of the blade. This was also known as the No. 4 model. It also has heavy black plastic slab grips on each side. Still nice! $65.00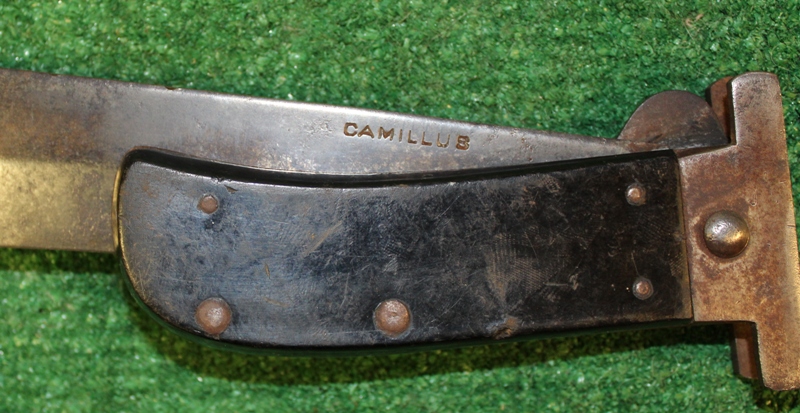 CONSIGNMENT
Item No. 32 Here is a Spanish M1969 Bolo Combat Bayonet with matching scabbard. Made for the CETME and FR8 rifle over all looks very nice. This is not one of the recent copies that are flooding the market now but an original one. The bayonet and scabbard are in very nice original condition. The Spanish crest is on the blade at the ricasso and on the other side ricasso is the makers ino and the serial number of E15542 D. The scabbard is in very nice original aged condition and is complete except for the tiedown at the tip of the scabbard. For this unit $45.00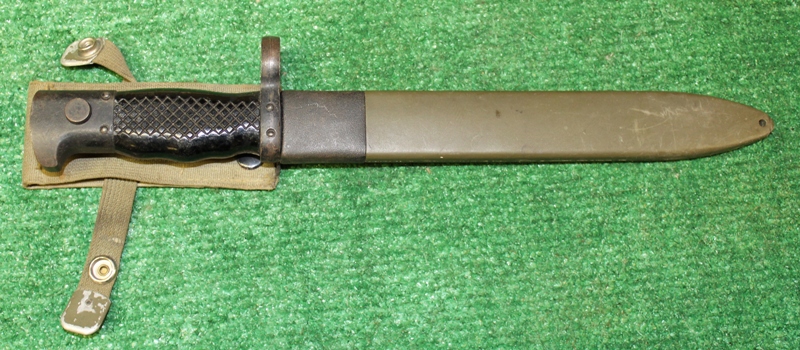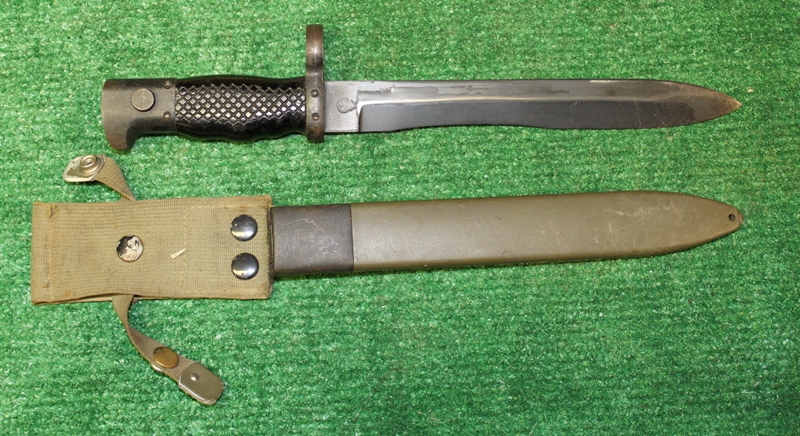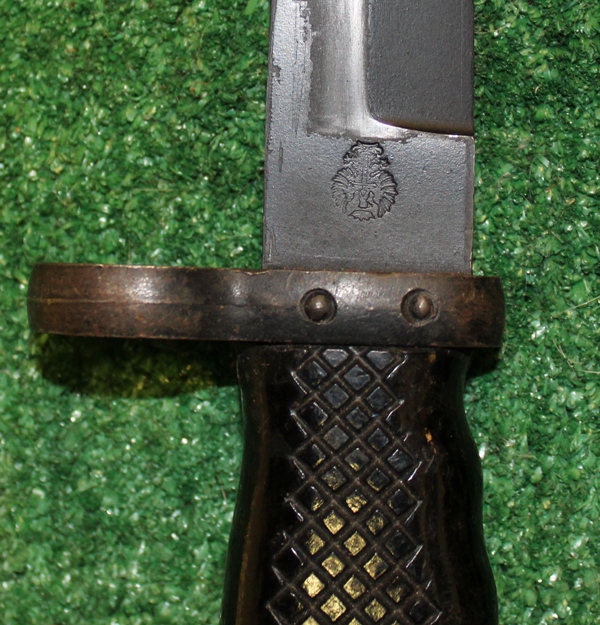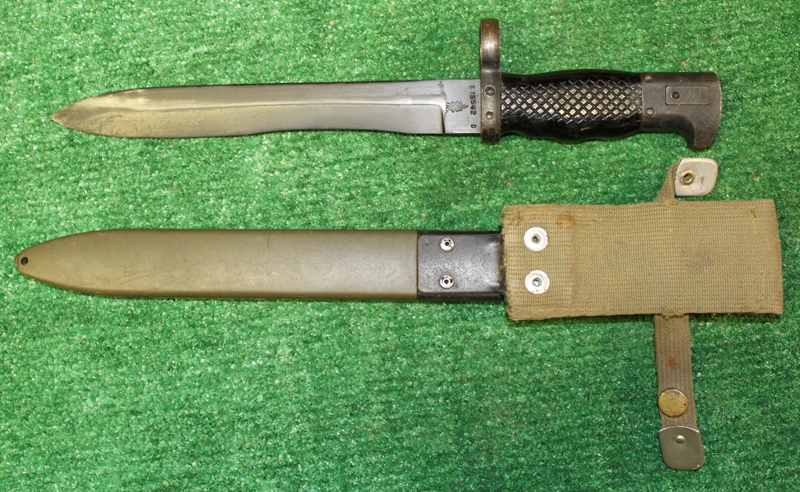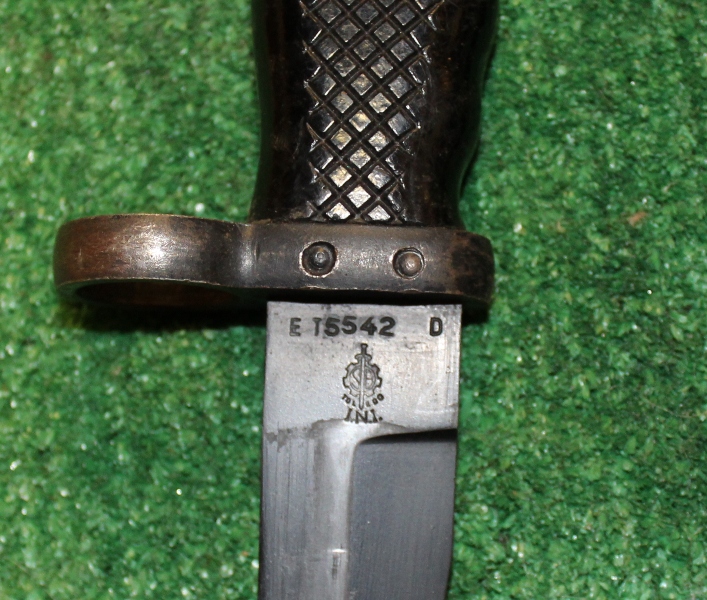 CONSINGMENT
Item No. 33 Here's an unusual U.S. WW2 theatre made knife. This dagger type knife is about 11 inches long or more with a 6 1/2 inch blade. The blade is made from a file and you can still see some of the file grooves on it near the grip. The grip and cross guard are made from clear plastic washers interposed with black plastic and aluminum spacers. The pommel cap is a stepped down aluminum cap. The sheath looks to be a normal miitary type WW2 knife sheath with a notch cut out of it at the top of the blade part. The receiving male part of the snap has also been lost. There is a name in black on the back of the sheath which looks like MATT GARGAS JR. Could be interesting if you find out where he served. For this piece $85.00
CONSIGNMENT
Item No. 34 Here's a rare one! This is a Australian Army Stiletto . These knives are often referred to as Fairbairn Sykes Fighting Knives. While this is not so, the description does have some merit. It appears that the British Instructors who were sent out to Australia to help set up the Australian Independant Companies (Commando's) brought their own Wilkinson Sword First Pattern Fairbairn Sykes fighting knives with them. Representatives from Gregory Steel products in Melbourne met with these men and from that meeting drew up the design of the Australian Army Stiletto (AKA Australian Commando Knife). This explains the distinct similarity between the Australian Army Stiletto and the Fairbairn Sykes fighting knife, however there are some clear differences, the blade is shaped differently, it is narrower and thicker on the AAS. They are most similar in their intended use. There were two manufacturers of the Australian Army Stiletto: Greg Steel in Melbourne and Whittingslowe Engineering in Adelaide The most common version found is with the cast "Mazak" handle. Some by Greg Steel had a wooden handle. This particular knife is a Greg Steel knife with wooden handle. This one is in pretty good condition with an Australian marked scabbard. There are several cracks in the wooden grip but it's still as solid as a rock. This example is over 12 inches long with a nearly 7 1/2 inch blade. It looks like the blade saw a little sharpening but I don't believe it was sharpened much. All of these examples pretty much come down to a sharp point. The ricasso is marked Gregory Steel Products and that seems to be the only marks showing. Take a look at the pics! It is not known how many of these knives were made. One often hears the figure of 500 but this is unsubstantiated and no evidence has been found to support this. So far evidence has only been found of one unit, the 2/6 Independant Company where all members were issued with these knives. Z Special Unit was also issued with a number of these knives. Members of other Independant Companies also had these knives but where and when and in what number they were issued is still unknown. Four types of sheath are known. A cut down bayonet scabbard, a canvas sheath which did not withstand the rigours of the tropics and two versions of a leather sheath. One tapered conforming to the knife, the other with a tapered section holding the knife attached to a rectangular base. I don't believe that this sheath conforms to any of those but I may be wrong. The sheath has had a rawhide thong placed in a spiral pattern around the edges but I can see that the scabbard is sewn as well. There are several pieces of leather still attached to the thong including the top of the sheath. On the top of the sheath is a full crown with the work BESTOVALL stamped on it. On the back of the sheath is marked R PLASS in white paint. You never see these knives for sale! For this highly collectible knife $1900.00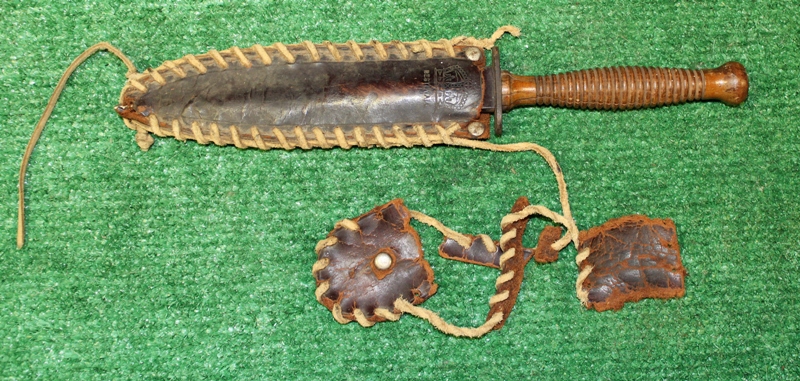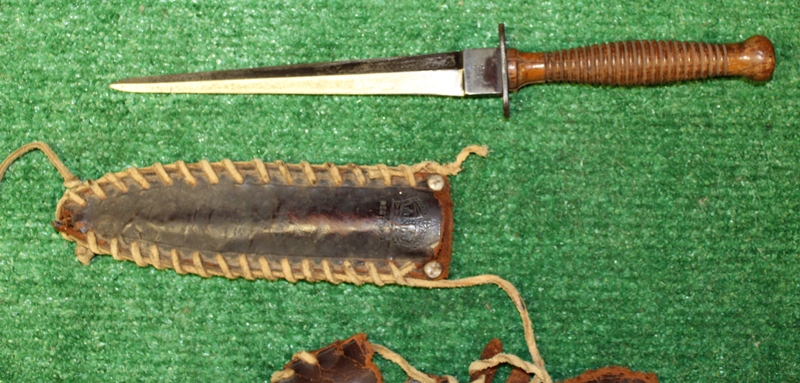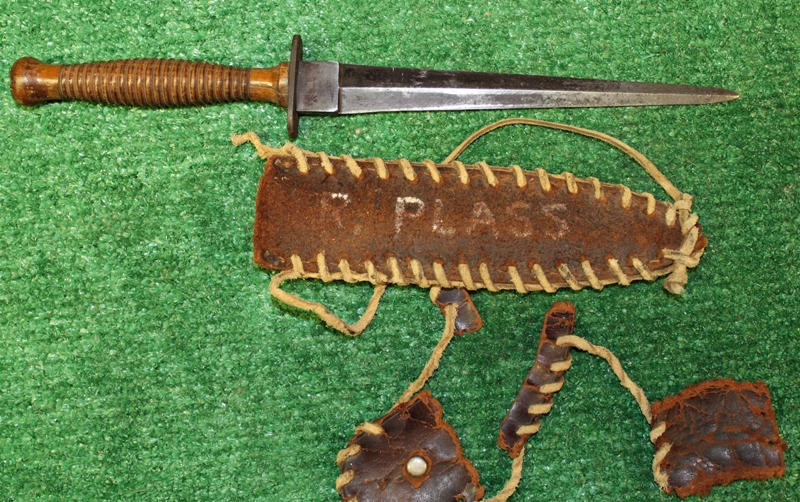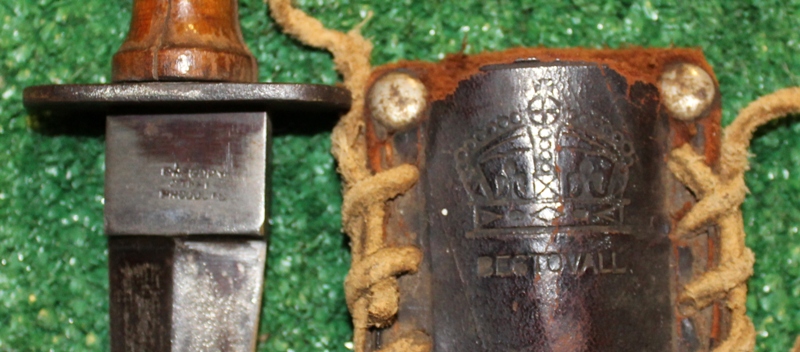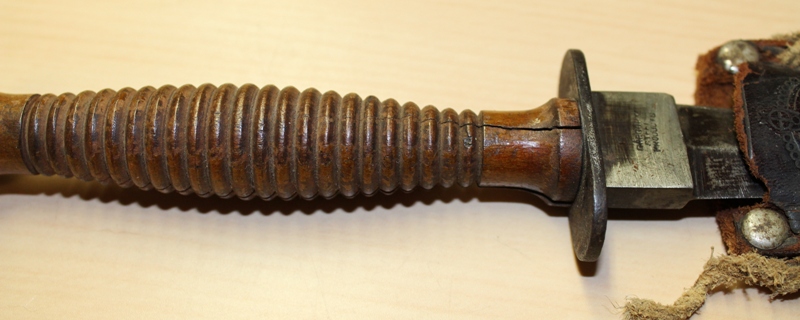 CONSIGNMENT
Item No. 35 Here we have a scabbard for the USN Mark 2 knife used during WW2. This is the U.S.N. Mk/2 scabbard and is in pretty good ocondition for it's age. If you have one of these knives and need a scabbard then here it is. For this piece $40.00
CONSIGNMENT
Item No. 36 Here we have a M5 bayonet and scabbard. During the Korean War, the M-1 bayonet and M-1905 bayonet, which both mount to the M-1 Garand rifle using the same mechanism, were found to be very difficult to remove from the rifle with gloves on. As a result the U.S. M-5 Garand bayonet was designed and issued in 1953. This was a total redesign and looks nothing like the original M-1905 or M-1 bayonets for the M1 Garand. The M-5 is the only U.S. bayonet without a barrel mount ring on the crossguard, making it look more like a fighting knife than a bayonet. The M-5 bayonet has a 6 3/4 inch blade, and overall length is 11 1/2 inches. Weight is 11 1/2 ounces. The blade has one side sharpened for its full lenght and three inches of the other side are sharpened. There is a relatively large push button release to deal with the problem of working while having gloves on. The stud on the bayonet crossguard fits the gas cylinder lock screw under the Garand barrel. Locking grooves attach to the bayonet lug on the rifle. The M-5 fits only the M-1 Garand and does not interchange with any other firearms. There were three different patterns made: M5, M5-1 and M5A1. Quoting from the authoritative article "The history of M1 Garand Bayonets" by Robert Gibson on the Fulton Armory website. This particular bayonet is marked US M5 only on one side of the crossguard and J & D TOOL CO. on the other side of the cross guard.
There are two variations of this scabbard, both with an olive drab fiberglass body with steel throat. The early version, designated M8, has only a belt loop, no hook. This one has the hook and also has the steel reinforcement tip on the fiberglass sheath. The M8A1 retains the general look and can be slipped over a belt, but also has the M-1910 bent wire hook available. The model is stamped "US M8" or "US M8A1" on the flat steel part along with manufacturer initials. This sheath is correct for all post-war US bayonets including the M-4, M-5, M-6, and M-7. It was also used with the M-3 Fighting Knife.
This particular bayonet is in pretty good condition with al the correct markings and parkerized blade. The blade on this one has not been sharpened. The scabbard is also in very good condition and is complete. Markings are very clear on the scabbard. There is a tiny bit of rusting on the reverse but not bad. For the set $85.00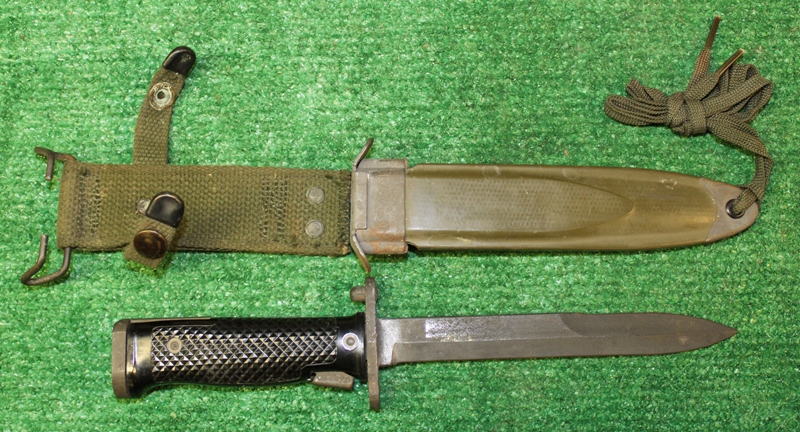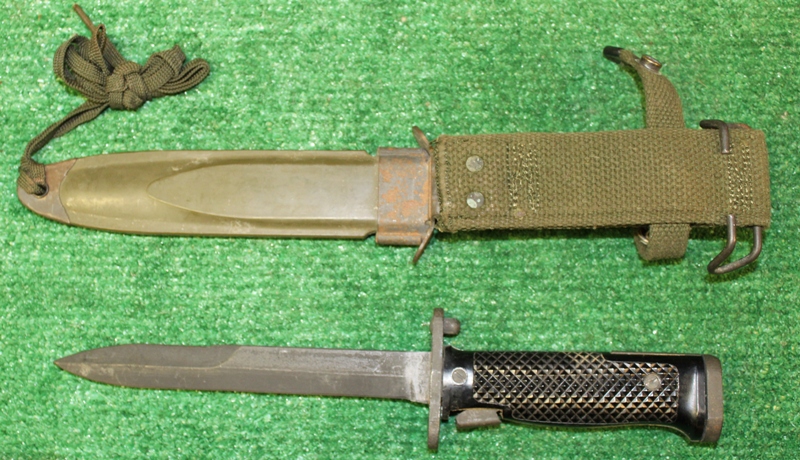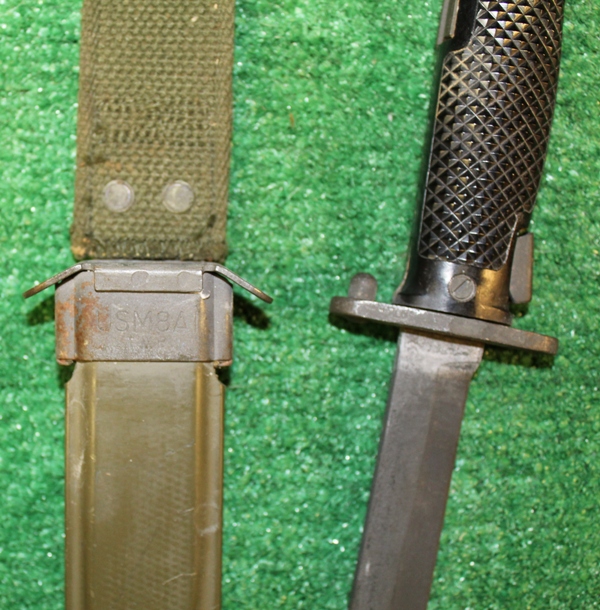 CONSIGNMENT
Item No. 37 Here we have a M6 bayonet and scabbard. The M-6 bayonet-knife is used as a bayonet on the M-14 series rifle and as a hand weapon, fighting knife. The M-6 Bayonet Knife entered service in 1957 and was mostly utilized during the Vietnam War until superceded by the M-16 rifle with its M-7 bayonet or M-9 bayonet (roughly 1968 for Army, used by USMC earlier). About 1.6 million M-6 bayonets were delivered to the Army in the 1960s. The M-6 blade and hilt are very similar to the M-5 or M-5A1 bayonet for the M-1 Garand Rifle except that the M-6 has a ring that slips over the flash suppressor muzzle of the M-14 while the M-5A1 attaches to the Garand with a stud. The M-6 is not interchangable with any other rifle; it only fits the M-14. M-6 bayonet markings The M-6 blade is 6 3/4 inches long, with an overall length of 11 1/2 inches. Blade width is 7/8 inch and it weighs about 12 ounces. The blade on this bayonet is about 1/8 short but it has been sharpened. There are no markings on the blade itself. The manufacturer's initials or name (AERIAL, AN, IMPERIAL, or MILPAR COL.) along with "US M6" will be found stamped under the crossguard (photo on right, enhanced to bring out markings). This one is an IMPERIAL. The non-slip grips are molded black plastic. The steel parts have a uniform dark grey parkerized finish. Imperial Knife Company was the main contractor for the M-6 bayonet. This particular bayonet is in good condition even with the sharpened blade and comes with the U.S.M8A1 scabbard which is complete and in pretty good condition. This scabbard has the late-production metal tip attached to it. For this outfit $75.00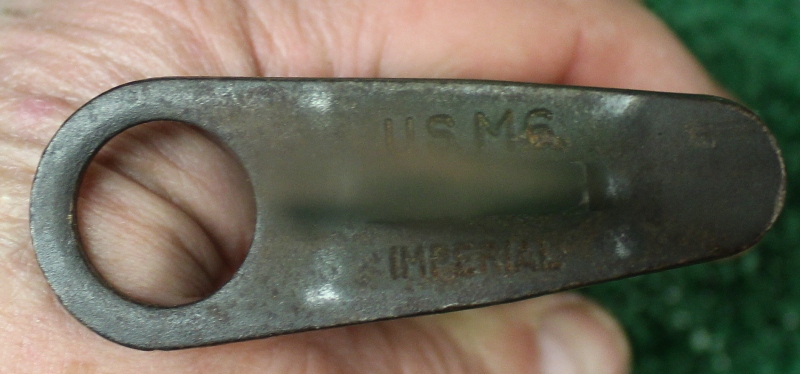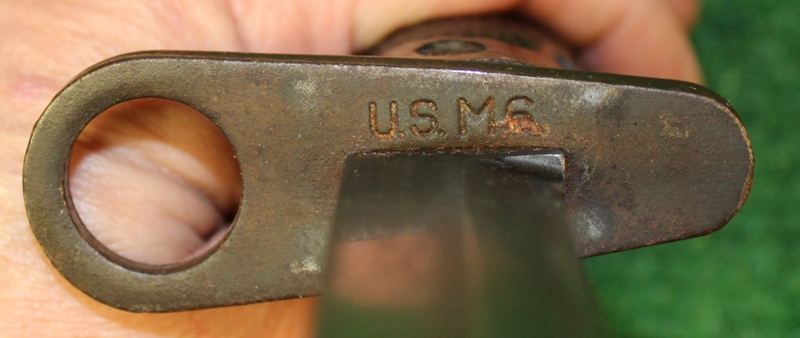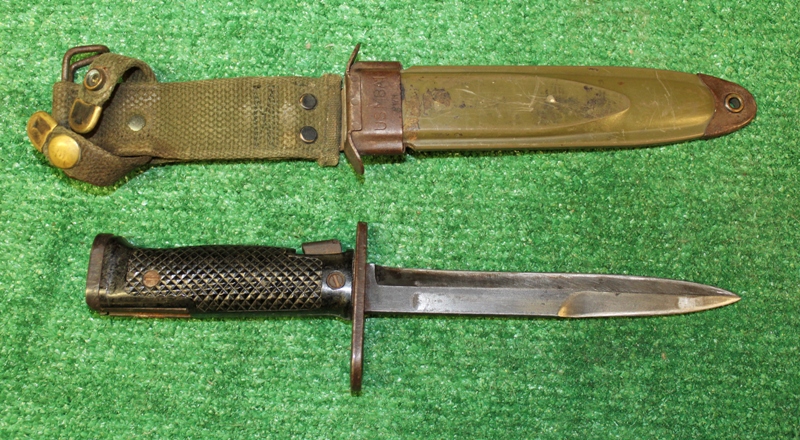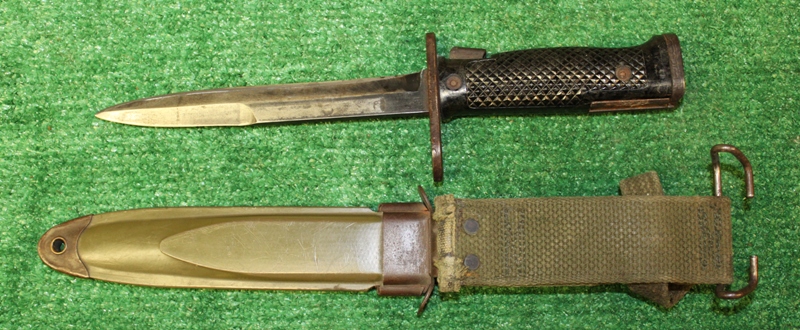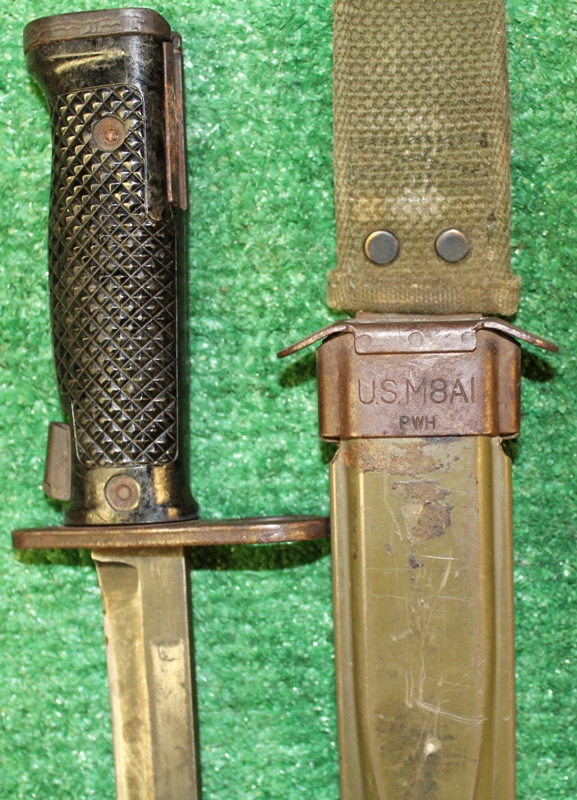 CONSIGNMENT
Item No. 38 Here's another US M6 like the one above but without a scabbard. This one has the correct blade length althout it has been sharpened as well. The markings are nice and clear and the mechanism works fine. Take a look at the pics. $55.00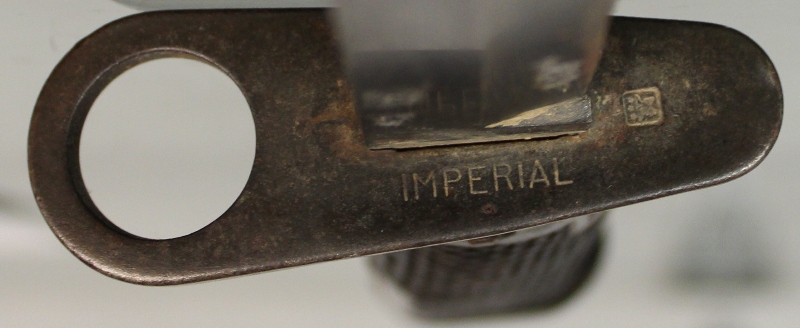 CONSIGNMENT
Item No. 39 Here we have a US PAL RH 36 fighting Knife - A fighting knife, also commonly called a combat knife, is a knife designed for military use, specifically for close combat. Although since the end of trench warfare, most military knives have been primarily designed for utility or tool use. Activities such as clearing foliage, chopping branches for cover, opening ammunition crates, etc. This is a US fighting knife. Manufactured by PAL for WW2. The handle is made of a series of compressed leather rings. At certain intervals the color of the rings is changed from dark brown to yellow or red. The pommel is of aluminum construction. The blade is bright with very clear markings. This knife has the 6 1/4 inch blade and is 11 1/4 inches long overall. The blade has b een sharpened but not overly done. Comes with the original leather scabbard with just the snap pulling through the leather closure strap. For this piece $75.00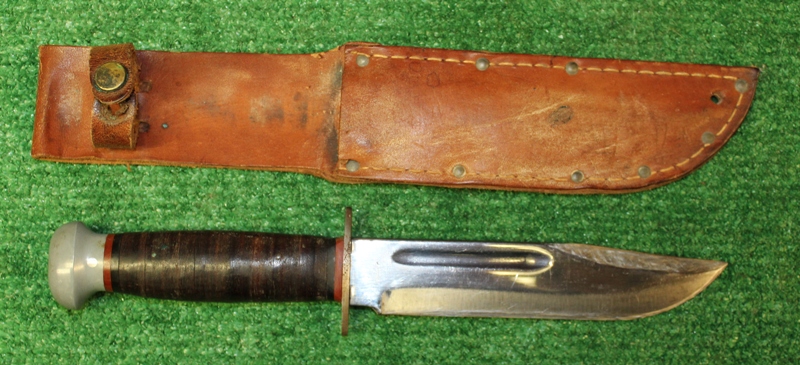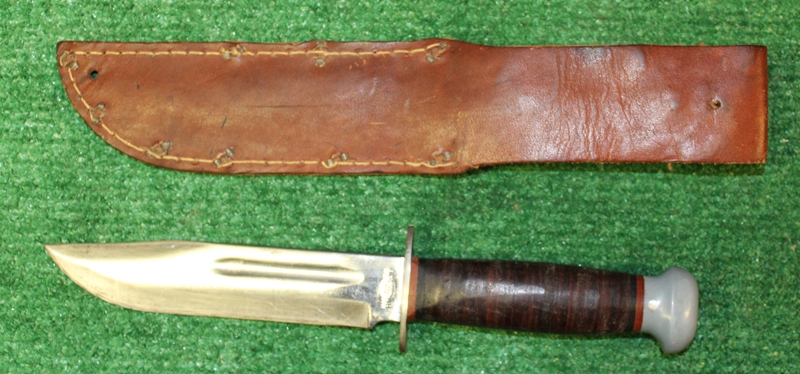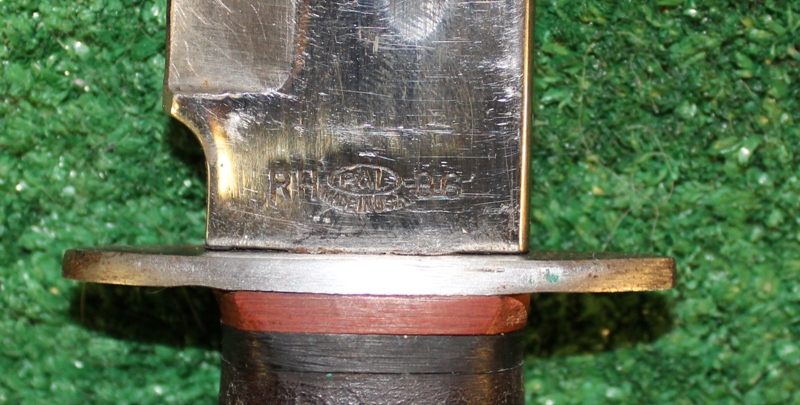 CONSIGNMENT
Item No. 40 Here are a couple of German Officers button off of a tunic. The fronts of the buttons are very similiar being a gold pebbled finish with spread wing Eagle over swastika. They measure abut 7/8ths of an inch across. The one to the left has on the reverse M5/32 while the one on the right has on it's reverse M5172/15. There are makers logos on them but I can't quite make 'em out. For each one $7.50
CONSIGNMENT
Item No. 41 Here is a small gold plated swastika with a diamond in the center. Even the Nazi women had sweetheart jewelry. It's about a 1/2 inch across the tines and I think the little diamond is real. $150.00
CONSIGNMENT
Item No. 42 Here we have a WWII GERMAN EASTERN FRONT MEDAL THAT IS DATED ON THE BACK 1941-42
The Eastern Front of World War II (der Rußlandfeldzug 1941–1945 (Russian campaign) or der Ostfeldzug 1941-1945 (Eastern Campaign)) was a theatre of war between the European Axis powers, Germany, Italy, Hungary, Romania, Slovakia, Croatia and Finland (not an Axis member), and the Soviet Union which encompassed central and eastern Europe from 22 June 1941 to 9 May 1945. Nazi propaganda dubbed the conflict Battle for Survival against Bolshevism or a Crusade against Bolshevism. Operation Barbarossa was the code name for Germany's invasion of the Soviet Union during World War II that began on 22 June 1941. Hitler wanted to recognize soldiers who fought in this campaign. He authorized the use of a medal. Also known as the "frozen meat" medal, the medal for the winter campaign on Russia . This medal was instituted in May 26th, 1942. While most of them that I saw for sale has a ribbon this one has a stud and a clutchback on it. For this piece $5.00
CONSIGNMENT
Item No. 43
Here we have 4 WW2 'Tinnies'. They are marked left to right 1 -2-3-4. Number 1 is from June 22-23 1935. This is a nice large 2 inch high 1935 dated badge, with a stylized sports stadium on the face. It is an heavy aluminum alloy with a press fitted spring pin. There are raised ENTW. R. KASTER ROBINSON maker marks on the back. This one is extra crisp! $65.00
The next one number 2 is a very light gray pop metal and measures 1 3/8 inch across. It also has a pressed fitted pin on the reverse and is marked with the makers info. This is a 1937 Mayday Tinnie and shows a child standing on the Eagle/swastika. Good Condition. $20.00
The next tinnie number 3 is a 1938 Mayday tinnie showing a man and woman on the front. This one also has manufacturers info on the reverse along with a pressed fitted pin which has been hot glued in for some reason. This one measures about an 1 3/8ths across $25.00
This last one number 4 is a stamped steel tinnie with soldered pin which signifies Hitler Youth Sports fest in 1936. No makers info on this one but it's real nice! $45.00
These next 4 tinnies are labled 5-6-7 & 8
No 5 is a nice large (1-3/8 inches high) 1936 dated badge, with a plow, hammer, sword, and an eagle on the face. It is an aluminum alloy with a press fitted spring pin. There is a raised WERNER REDO SAARLAUTERN maker mark on the reverse. It is a nice one. $30.00
No 6 is WW2 German 1934 Labor Day tinnie and shows a mans head with a hammer on one side and a sickle on theother side over the German Eagle and swastika. This is stamped steel (1-3/8 inches high) with a soldered pin on the reverse. No makers marks $30.00
No 7 is an alloy tinnie also measuring 1-3/8 inches across. The front shows a lady laying down watching a child playing. A German eagle is found in upper section. Dated 1939. The words "Reichspartetag" are found in the bottom part. Maker marked on the reverse with a RZM in a circle as well as M9/102 Geer. Bender. It has a pressed steel fastening pin. It's light so it may be aluminum. $25.00
No 8 is an alloy tinnie as well measureing 1-3/8 across and dated 1939. This is a German Woman Labor Day tinnie. It's had to make out details until you wet the tinnie then they are clear. It's maker marked on the reverse. For this one $15.00
CONSIGNMENT
Item No. 44 Here is a rare POW tag for a Japanese Prisoner. It has been estimated that between 19,500 and 50,000 Japanese military personnel surrendered to Allied forces prior to the end of the Pacific War in August 1945.[1] The number of Japanese soldiers, sailors, and airmen who surrendered was limited by the Japanese military indoctrinating its personnel to fight to the death, Allied personnel often being unwilling to take prisoners,[2] and many Japanese soldiers believing that those who surrendered would be killed by their captors. Western Allied governments and senior military commanders directed that Japanese POWs be treated in accordance with relevant international conventions. In practice though, many front-line soldiers were unwilling to accept the surrender of Japanese personnel due to a combination of racist attitudes and reports of atrocities conducted against Allied troops. A campaign launched in 1944 to encourage prisoner-taking was partially successful, and the number of prisoners taken increased significantly in the last year of the war. Japanese POWs often believed that by surrendering they had broken all ties with Japan, and many provided military intelligence to the Allies. The prisoners taken by the western Allies were held in generally good conditions in camps located in Australia, New Zealand, India and the United States. Those taken by the Soviet Union were treated harshly in work camps located in Siberia. Following the war the prisoners were repatriated to Japan, though the United States and Britain retained thousands until 1946 and 1947 respectively and the Soviet Union continued to hold hundreds of thousands of Japanese POWs until the early 1950s.
Even though many thousands of Japanese Soldiers and Sailors surrendered you will rarely find one of these tags. A search on the internet turned up none. This piece shows wear and staining but what the heck it's here. Take a look at the pics. It ot only says 'JAP' on it but 'Korean' and also 'Native'. For this rare piece. $85.00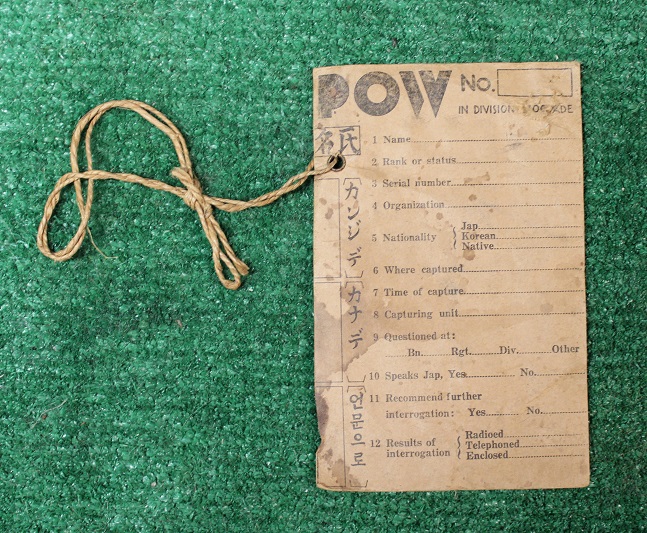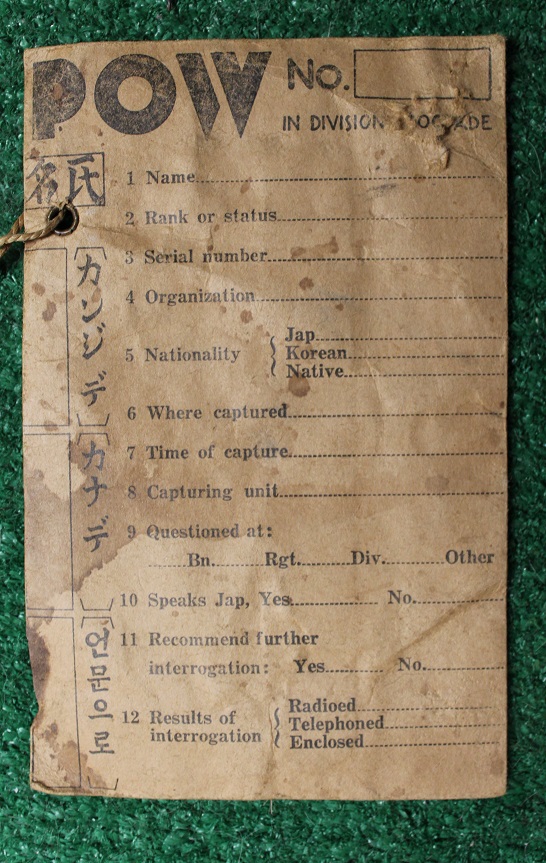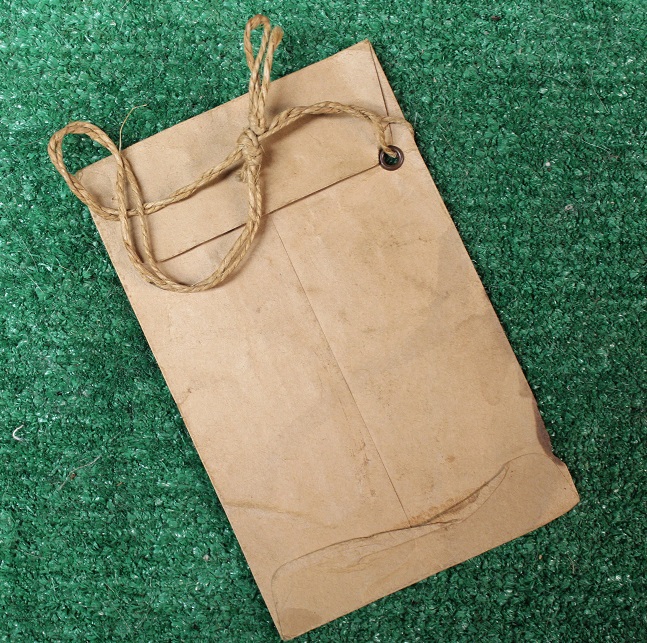 Item No. 45 (CONSIGNMENT) Here is an WW2 SA dagger that was altered by the GI who captured it. He took the original grips off and made lucite grips for it inserting photos of his wide and child under the plastic. The rest of the dagger is just fine and it comes iwth a nice black painted sheath. The etching on the blade is fine while the makers mark is worn on one side but may not have been stamped deeply on that side. There are no sharpening marks but there is one minor nick to the blade. Unique Trench Art! $395.00
Item No. 46 (CONSIGNMENT) Here is a nice SA dagger with leather tab holder and sheath. The blade has some staining but little sharpening. The walnut grip is very nice with enlays still in place. The sheath is dent free with an aged brown finish. The makers logo is partially obscured. Nothing is missing! For this nice piece $750.00
Item No. 47 (CONSIGNMENT) Here we have a GI defaced Luftwaffe Dagger and sheath. The dagger is in pretty good shape considering with just a couple cracks to the celluloid covering over the grip and a small chip or two. The blade is nice with maybe some very minor sharpening. I cannot see a makers mark. The sheath has a couple of door dents but the dagger still goes in and out ok. There is some patina and minor rust to the sheath but not too bad. The aluminum pommel cap and the crossguard have had the swastika removed. $495.00
Item No. 48 (CONSIGNMENT) Here we have another GI defaced German Dagger. This one is a Heer Army Dagger and I believe an early one. The fittings are silver, probably silver plate, and have not been cleaned. The orange celluloid handle is fine. This is an Eichorn blade and so marked. The blade is in good shape. The pebble finished scabbard is in fine condition with no dents. The silver crossguard Eagle has had the swastika removed. For this piece $495.00
Item No. 49 (CONSIGNMENT) Here we have a beautiful Luftwaffe Dagger with Silver knot. The crossguard and pommel are aluminum and looks great although the pommel cap is loose a little. The blade is excellent but I do not see a makers mark. This piece has a very nice white grip with full twisted silver bullion wire. This dagger comes in a black leather scabbard with silver colored mounts. For this great piece with knot $825.00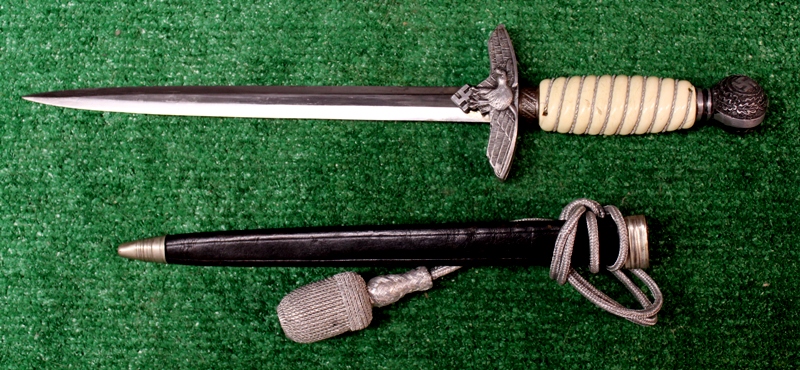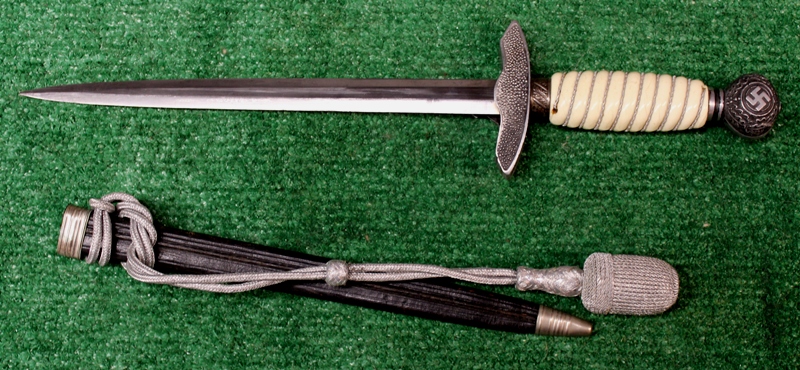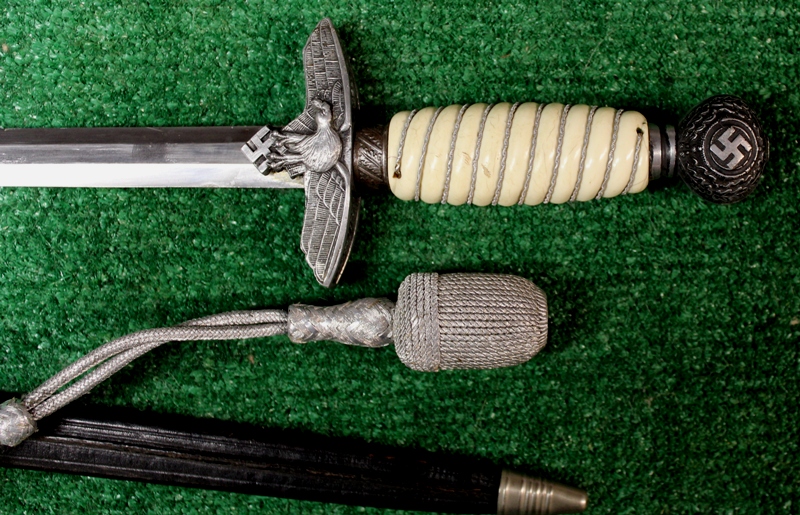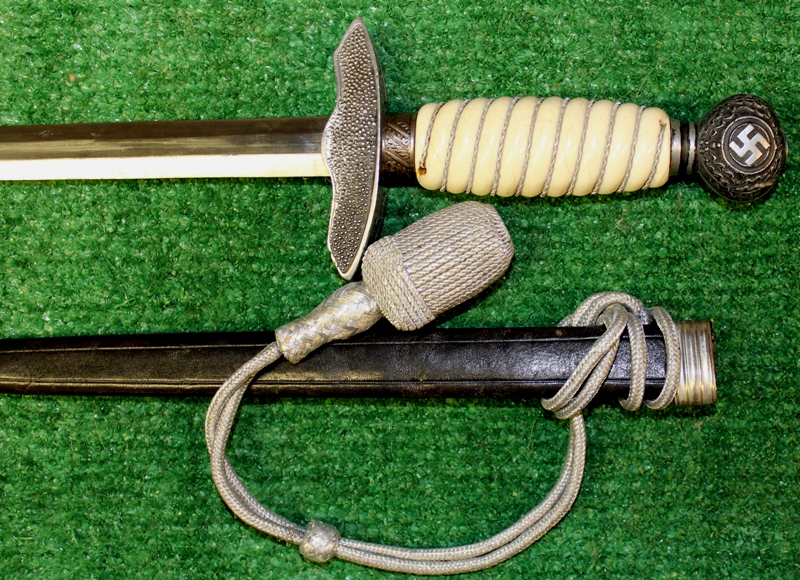 Item No. 50 (CONSIGNMENT) Here we have a WW2 German ERMA-ERFURT 1937 dated flare gun in pretty good condition. Serial number 6974. This piece has the Waffen marks with swastika ove 280. Actually it has both Imperial style waffenampts and nazi era marks as well. This gun has the brown bakelite grips in good condition with the laynard ring. Nice! $395.00
Item No. 51 (CONSIGNMENT) Here's a WW2 Japanese Cold Weather Cap in excellent condition! It's a khaki green wool with ear flaps. The Japanese Star patch is sewn on the front of the cap. Inside the lining are Japanese Characters. Nice condition! Look at the pics! For this piece $250.00
Item No. 52 (CONSIGNMENT) Here is a theatre made holster. For what I don't know but I believe it is GI made. It seems to be made from Pig skin and has a WW2 German Cap Eagle on the front. The piece is sewn together with leather thong. Nice piece and quite unusal! $250.00
Item No. 53 Here we have a WW2 German Flare Gun. This one is by EUH and has the serial number of 121832. The bakelite grips are fine and the piece operates as it should. There are a few dings on the top of the barrel but not bad at all. For this German Flare Gun $185.00

Item No. 54 (CONSIGNMENT) Here we have a very nice, actually excellent, WW1 DWM Luger made by Mauser in 1916. This piece has a 4 inch barrel with deep rifling and is in 9MM. All of the markings are nice and bright. The serial number is 7399 and all numbers match except the magazine which is 9398. The action is crisp and the grips are really very nice. There is a little color loss at the end of the muzzle where it slid in and out of the holster but otherwise this piece is excellent! $1,895.00
Item No. 55 (CONSIGNMENT) Here we have a 1920 Commerical Luger being made for the foreign market by Mauser and so marked by DWM on the top link. There is copious amounts of hand engraving all over this piece that is gold filled but worn thin in several places. The serial number is 1649 and the numbers match except the magazine which is not marked. The piece does show some wear as it was used. It is marked MADE IN GERMANY on the obverse frame top. It's a 9MM pistol with a 4 inch barrel. The action works as it should. This is really a very nice weapon. For this piece. $2,950.00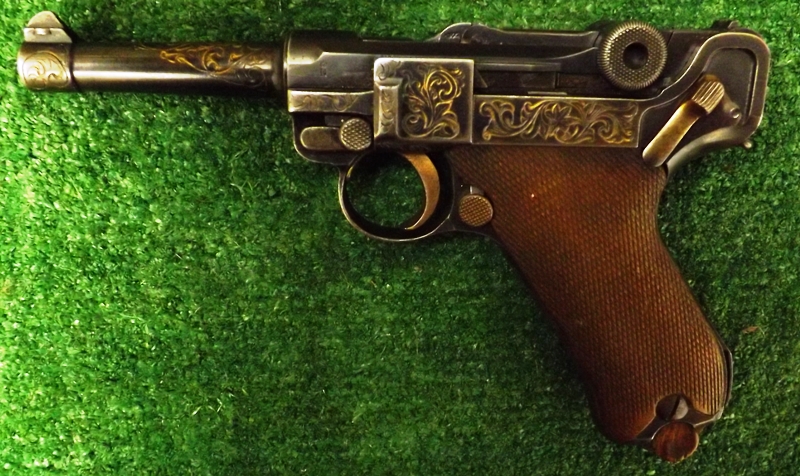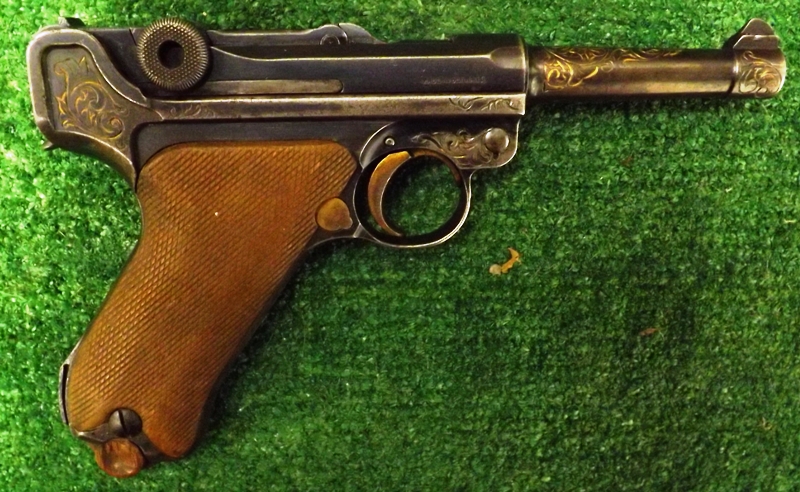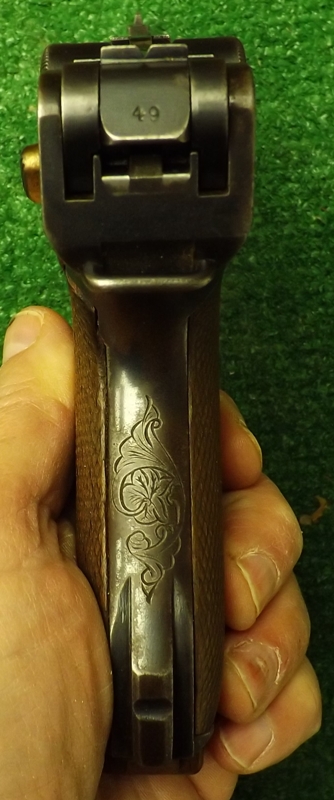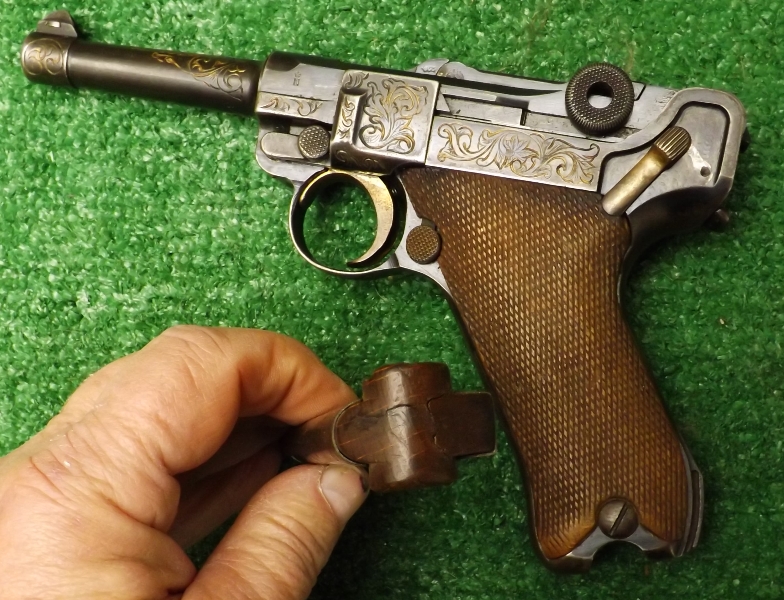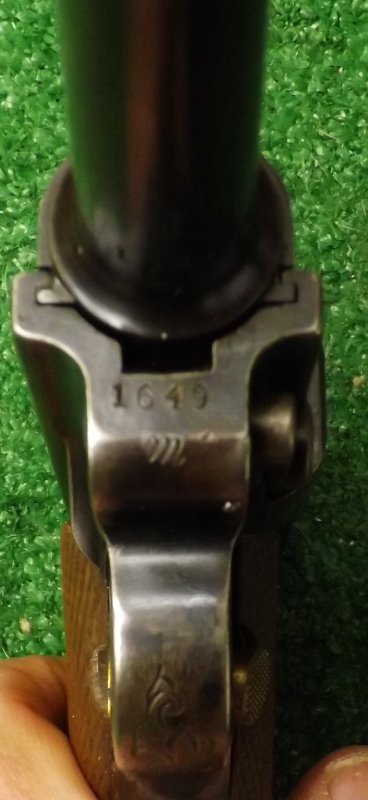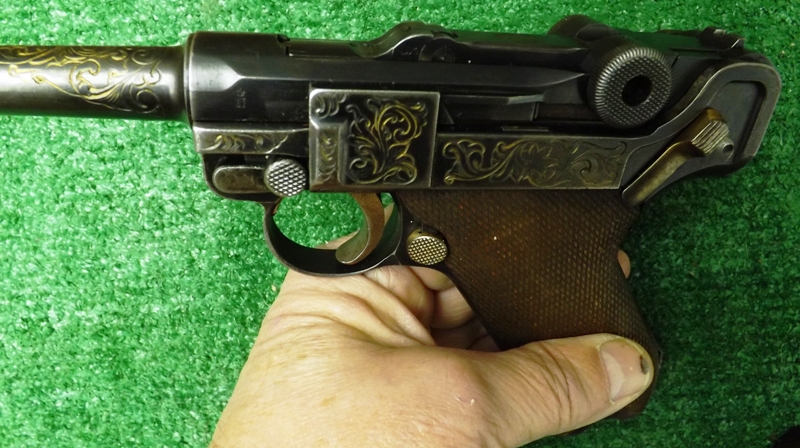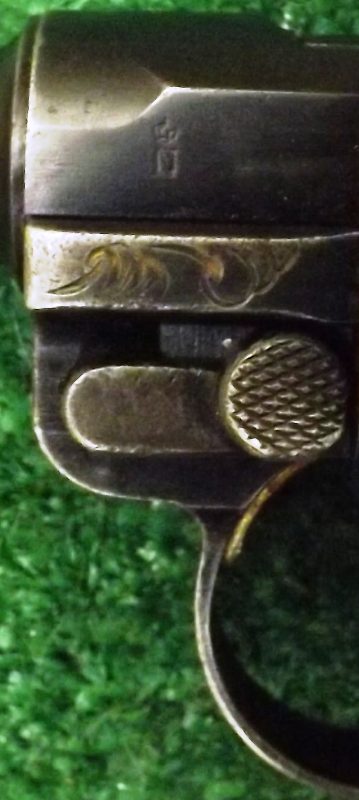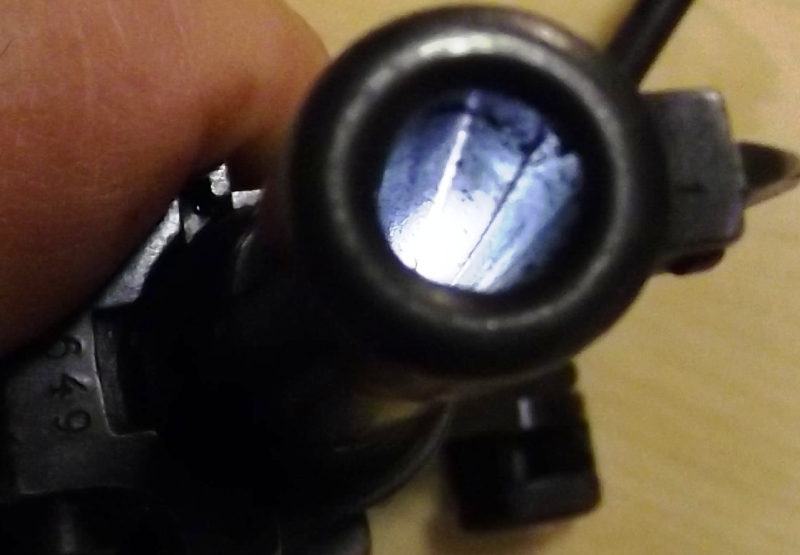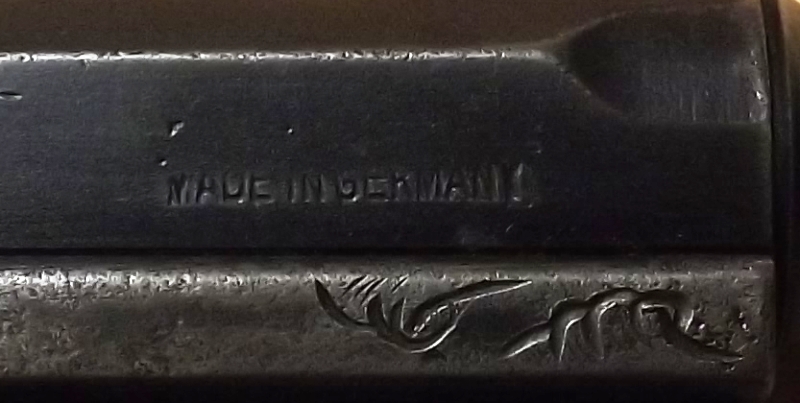 Item No. 56 (CONSIGNMENT) Here we have a Sighting Telescope NO. 9A MK1 in original wooden box. This telescope is made by Walters E. M. Co. LD and is dated 1916. It's in generally good condition with good optics and comes with two mounting brackets. One of them has a swivel stud to go into a mount. The box is nearly complete and is in good condition showing wear. Take a look at the pics! $275.00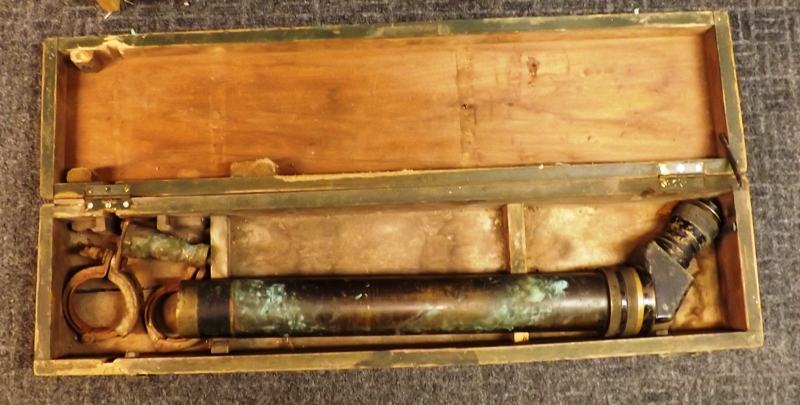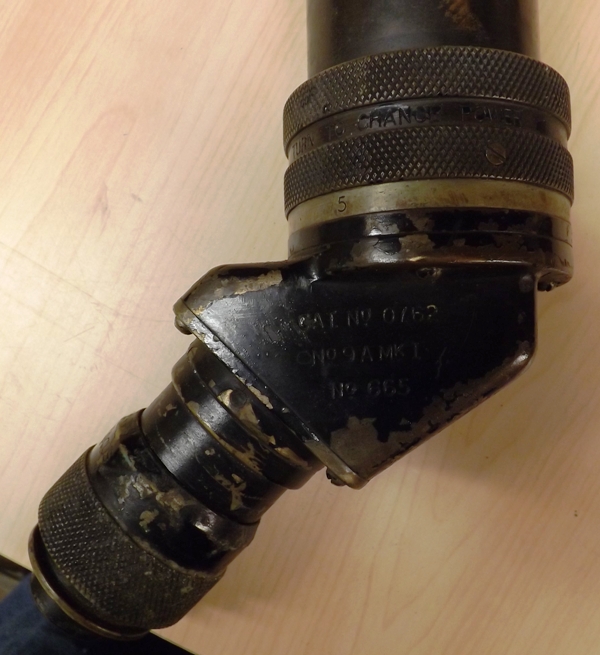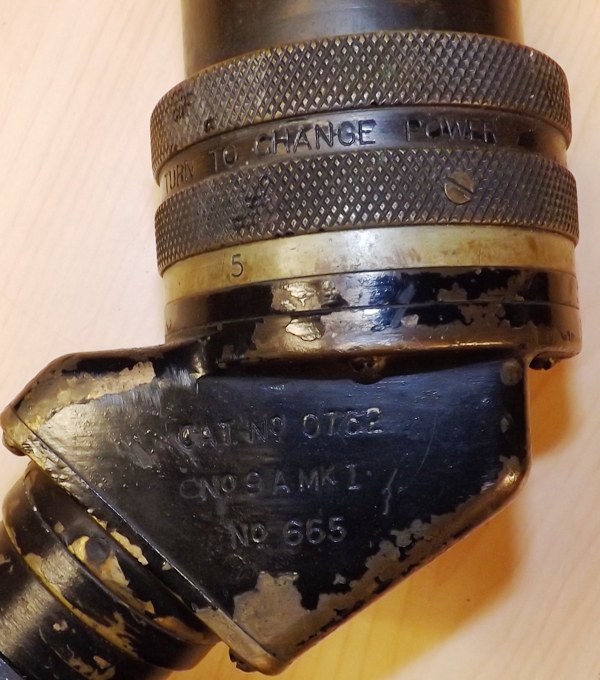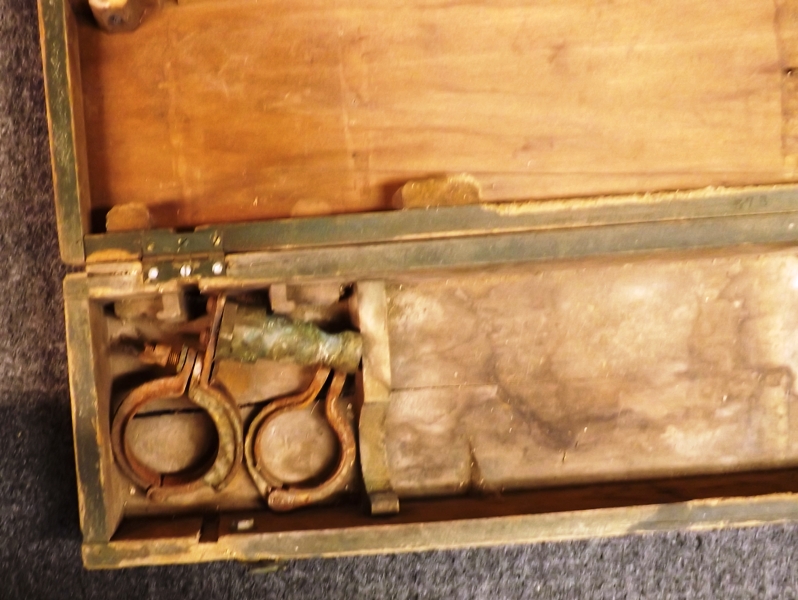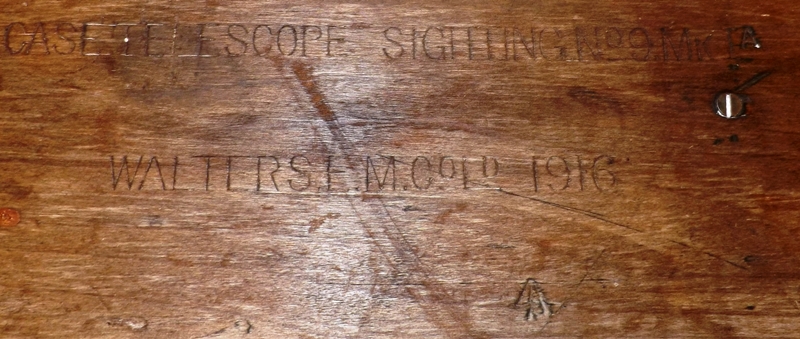 Item No. 57 Here we have a WW2 era Kano Swiss movement Mfg wrist watch with simple leather band that was used by Germans during WW2. I was told that this is a bringback taken from a WW2 German Officer. The watch runs and keeps time. The back is marked KANO EDELSTAHL 01918. KANO is the watch company and EDELSTAHL is a german word that means 'Stainless Steel', the 01918 is the serial number of the watch. The face is also marked KANO and SWISS MADE (at least the movement is Swiss made). The band is a simple leather band that is one piece and goes across the back. The watch measures about 1 1/8th inch across the back. This is a nice piece!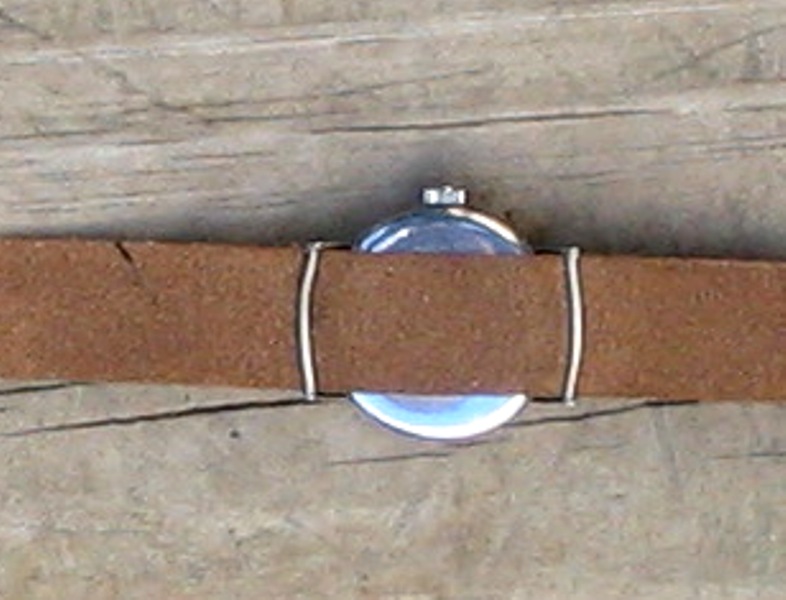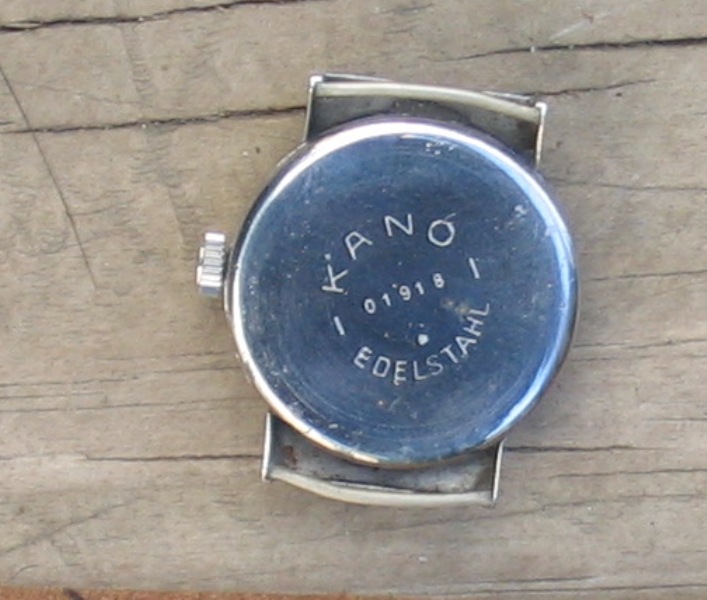 Item No. 58 Here we have a walnut wooden plaque with a relief carving of Adolph Hitler on the front. This piece measures almost 10 inches across and is about ¾ of an inch thick. There is a small nail on the back where a loop was on it for hanging on the wall. Original WW2 German item. $125.00
://caldwellandcompany.net/hitler 2.jpg">
Item No. 59 Here we have various German banknotes. There are some 1904 Funf Marks, 50 mark Reichsbanknote 1920, 20 Reichsmark Reichsbanknote 1929, MillionenMark 1933, 1000 Reichsbanknote 1910, 20000 Reichsbanknote 1923 and a 50000 Reichsbanknote 1922. E-mail for prices. Check out the pics.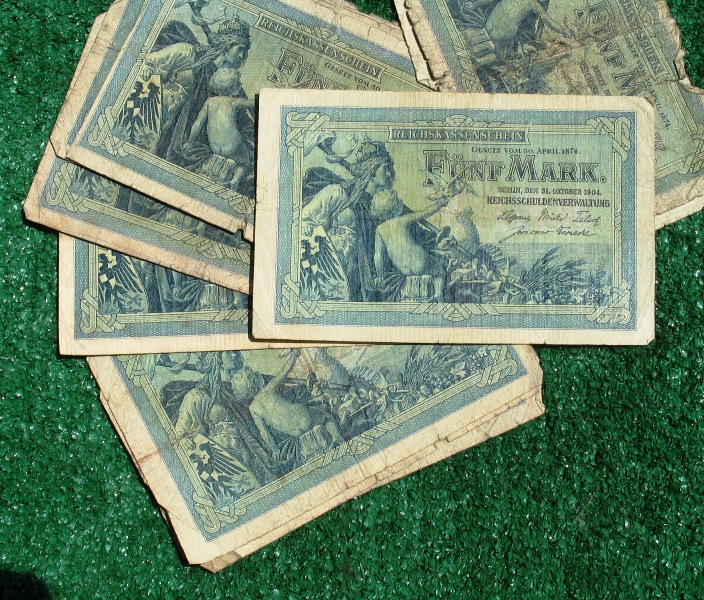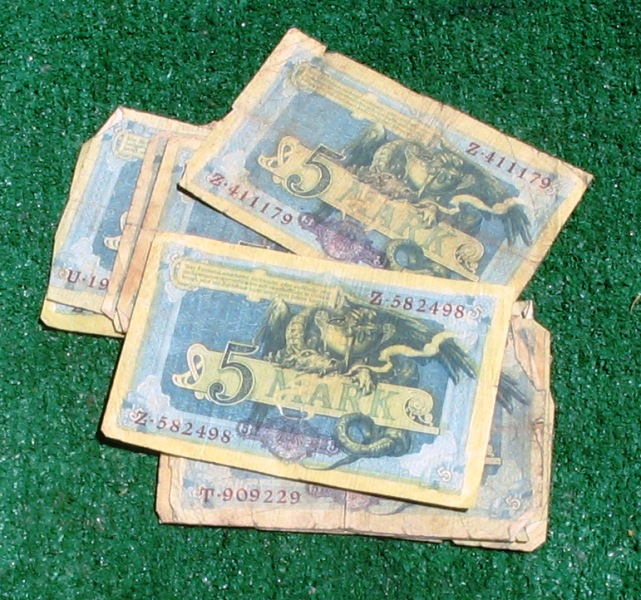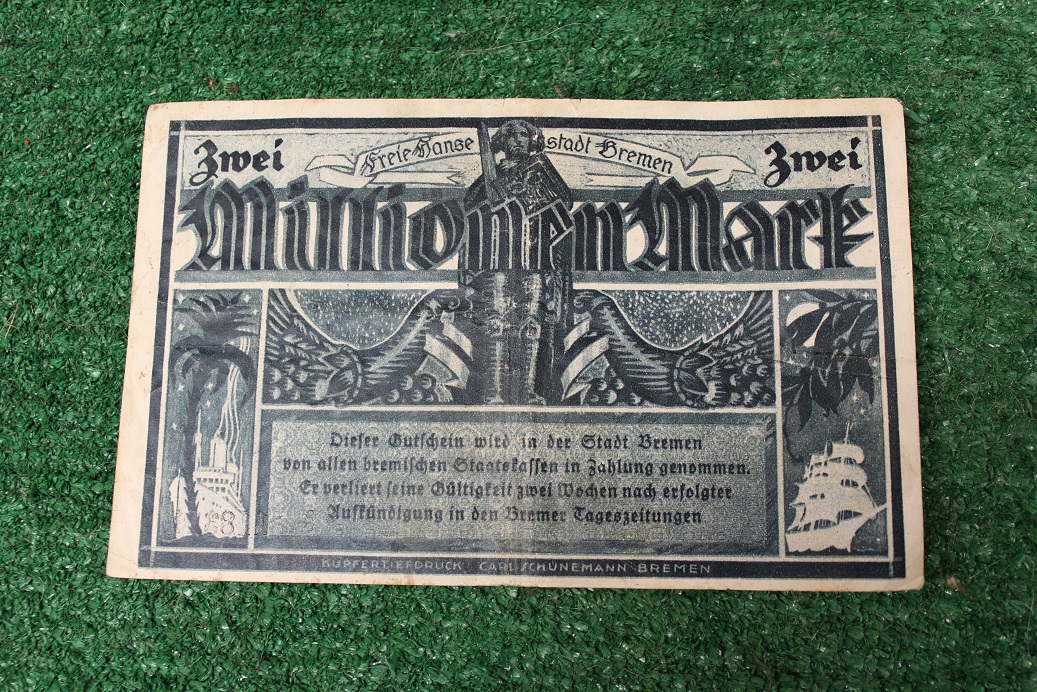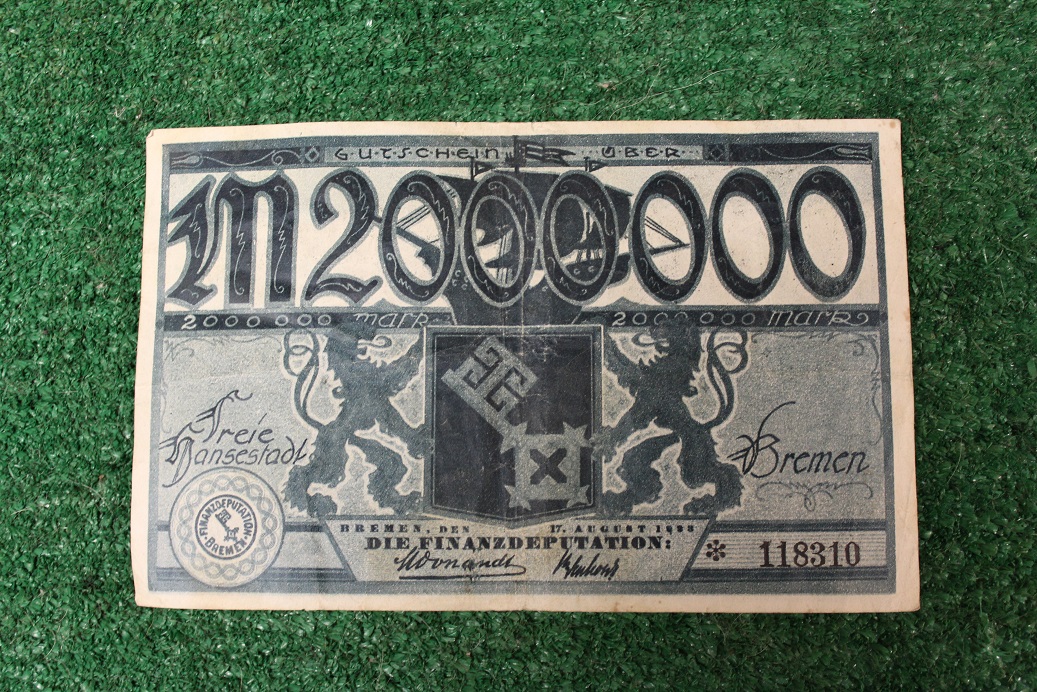 Item No. 60 Here we have a: Series 521 Military Payment Certificate $10.00 One really neat thing about series 521 military payment certificates is that they were the first issue to have the denomination of each note printed on the reverse. All previous issues just had a standard generic design on the backs. This also marked the first time that Forbes Lithograph Corporation was responsible for the entire printing. Forbes incorporated "real people" into the designs of the one, five, and ten dollar denominations instead of the previous classically inspired designs. Series 521 MPCs were used in 19 different countries between May 25th, 1954 and May 27th, 1958. Almost 317 million dollars worth of currency was issued across all seven denominations during that time period. For that reason, most 521 notes are very common. However, there are certainly exceptions to that rule. Scarce print runs and replacements are out there.
Value of Series 521 Ten Dollars MPC Type: Series 521 Denomination: Ten Dollars Number of Notes Printed: 24,400,000 First Issued: May 25, 1954 Redeemed: May 27, 1958 Value In Very Low Grades: $20 Value In Perfect Condition: $750 It is pretty easy to understand the value of series 521 military payment certificates made for the ten dollar denomination. They were just issued in one print run. Over 24 million regular notes were printed, but only 285,000 replacements were issued. Replacements are worth about 20 times more money than standard issues. Both look very similar, each note says "for use only in united states military establishments by united states authorized personnel in accordance with applicable rules and regulations." Replacement series 521 $10 bills have a serial number that does not end with the letter E.
This particular bill is not a replacement. It's in good condition showing nice color but does have folds. Take a look at the pics! For this note $40.00
Item No. 61
WW2 IMPERIAL JAPANESE BUGLE WITH CHARACTER MARKINGS!
Here is a nice WW2 Imperial Japanese Army Bugle with Japanese Character Markings. The bugle is 11 1/2 inches long from the mouthpiece to the outer bell. The bell is reinforced with a brass collar and one can see the manufacture seam about 3 inches back of the bell. There are wrinkles to the bell and a few samll dents but what the heck this thing was used! The Japanese characters are stamped on the mouthpiece. Still plays! $295.00 item wwX 41
Item No. 62
Here we have a WW2 Garand bayonet in scabbard. The bayonet is in fair condition showing signs of sharpening. The blade is bright with some grind marks and is 15 3/4 inches long to the cross guard. The markings on one ricasso are UC US with Ordance bomb in between and 1942. On the other side is a partial ordance mark. The plastic grips are fine and the mechanish works fine as well. The scabbard is missing the very tip and is marked with initials on it. The throat is marked USN MK1 which is for a training bayonet and not this one but it fits ok and they came together. For the pair $195.00
Item No. 63
We are showing two bayonets here but we have sold the dress bayonet. The one on the bottom is a WW1 S 98 Bayonet and transitional Scabbard. This bayonet used with the 8 mm. Gewehr 98, Kar 98a, and Kar 98k rifles. This example was made for Prussia, in 1917, by Mauser at their Oberndorf plant.
Ricasso: "Waffenfabrik" over "Mauser A.G." over "Oberndorf a/M"
Spine: Crown over "W" over "17" and proofmark
Serial numbered 5784. This example shows a lot of wear on the grip but otherwise not. The scabbard is the transitional scabbard and has a few dents to it. There are no markings on the scabbard. For this example $165.00
Item No. 64
Here are pics of two Japanese Type 30 Bayonets. The top one has been sold. The bottom one has a broken ring but it will still fit on a rifle with just a little rework or leave it like it is for dispaly. This one comes complete with scabbard that is in pretty good condition with a few dents. The blade is dark and has old sharpening signs on it. The maker is Kokura Arsenal. Hey this one was used and captured by an American GI. For this one $110.00
Item No. 65
Here we have the WW2 Naval Uniform consisting of tuni and 13 button trousers for a P. Gilmore. Seaman Gilmore was an E-3 Seaman Engineer and a 2nd class diver as evidenced by the patches. P. Gilmore is painted into his trousers. Small like usual. Nice Display! $120.00
Item No. 66
Here is a pattern 1902 U.S. Army Sword that definitely has seen better days! This one is the early one with the German Silver guard. Two of the branches has been cut off the guard and now the blade is 21 1/1 inches long. This was a Springfield Armory sword so it's a shame it was cut down but it was cut down for a reason. I just don't know what that reason was but I suspect it was made into a knife. For this old boy $125.00
Item No. 67
Here we have a WW2 Japanese Cavalry Sword complete with scabbard. This piece is serial numbered 55371 while the scabbard is serial numbered 37874. It's not unusual for these pieces to be mismatched. The sword is in good condition showing a dark patina with a nice dark checkered wood grip. The blade is nice and bright but has been sharpened. The scabbard has most of the original blue finish and only a couple of minor dents. The locking mechanish that locks the sword to the scabbard is entact and works great. This is a nice WW2 Japanese Cavalry sword! $495.00
Item No. 68
Here we have a WW2 Japanese Police or Parade sword in scabbard. The scabbard is complete but nickel is flaking off of it. There is only about 50% of the original nickel left. The sword is in better condition except that about 4 inches of the blade has been removed and it was reshaped. The blade has most of the nickel left on it adn there are no markings as usual. The hilt/guard is in very nice condition with full rayskin grip and full brass twisted wire. Take a look at the pics. Hang it on the wall and leave it in the scabbard. No one will know. :) $95.00
Item No. 69
Here we have a WW2 Japanese Occupation forces souvenir sword made by Japanese artisen so that them could continue to make a viable living. This piece is constructed of carved bone with brass inserts and it looks great! It is made in the style of a ninja sword and even has a mum and a tsuba. The blade is kind of primitive for a Japanese sword and short being about 15 3/8 inche long. I don't believe this is a cut down piece but I think they used what they had. The entire piece is over 29 inches long. $450.00
Item No. 70
Here we have a WW1 Model 1881 Type Russian Cossak Sashka with a Mosin-Nagant Bayonet. Sword Length: 38 1/2 Inches long overall with a 31 3/4 inch long blade. The hilt is almost 5 1/2 inches long. The bayonet is 19 3/4 inches long overall with a screwdriver tip for repairs to the rifle. M.1881 Russian Cossack shashka manufactured during World War Two with the Hammer and Sickle on the hilt. The hilt pieces are a kind of reddish brass with a nice wooden handle. . Plain, slightly curved blade in original polish with no rust but spotting. There is a Russian stamps or symbol present on the blade next to the grip but I can't make out what it is. Also there is the date 1940. M15RT is stamped into the ricasso on the other side of the blade. Spiral wood like grip is slightly worn. Condition: blade is in very good condition, while scabbard is in good condition except for small chips and heat depressions. Very nice! $1,795.00
Item No. 71
Here we have a WW2 German SA dagger in brown sheath. The dagger is by Gebrborn Soligen and so marked. The piece has a great grip with just a couple of minor dents in it. The Eagle and the other German insignia are present. The hilt is a little loose but not too bad. The blade is full length and has the ALLES FUR DEUTSCHLAND etched on the blade. There are sharpening marks on this blade but could be polished out if you so desire. I would leave that job to a professional. The sheath is complete and has some rusting on it through the brown finish. Still nice! $695.00
Item No. 72
Here we have a real nice Luftwaffe Dagger in sheath. This piece is very nice sporting the white celluloid grip with twisted aluminum wire. The pommel and the crossguard are both aluminum and exhibit the swastika on them. The blade is really nice but I don't see a maker on it. The leather washer remains intact. The sheath is steel with a pebble finish and oak leaves but no suspension rings . Take a look at the pics! Nice! $695.00
Item No. 73
Here is a WW2 German "Heer" dagger with sheath. This piece has a nice orange celluloid grip that is in very nice conditon. Doesn't have wire and never did. The pommel, grip ferrel and crossguard are all silver plated steel. The blade is pretty nice with some staining and is marked Eichorn. The scabbard is steel with a pebbled finish and two suspension rings. This is a nice piece. $695.00