CONSIGNMENT
NICE!!! WW2 JAPANESE GOOD LUCK / PRAYER FLAG!
This is a rather large silk WW2 Japanese Good Luck / Prayer flag that was professionally framed by an Indianapolis, Ind. Frame company. This was purchased by a friend of mine from the daughter of the WW2 Veteran who found in the South Pacific. We will try to get any history on the flag and post it so that the history will accompany this fine piece. The frame measures 38 X 50 while the flag measures 28 X 39 inches in size. Acrylic was used instead of glass to hold down the weight. The flag was stitched onto the acid free mat to keep it from sagging. It looks like there may have been a few characters written on the back because of bleed through but it's not many and hard to see. There are many characters on the front of the flag that you can see in the pics. I will post information on these types of flags after this description. The first picture has a Japanese short Type 99 rifle and bayonet shown in it so you can get a sense of the size of this display. The rifle and bayonet are not included with the flag but are for sale as well. The flag is in overall very nice condition with just a couple of minor holes. The 'meatball' in the center is quite vividly red and not faded. The silk has no separations or tears. It appears that a panel was sewn onto the tie end to lengthen the flag to the desired measurements. This is just one of the nicest displays that I have seen of a Good Luck/ Prayer flag. The triangular corner staff ties are complete and in good condition. Very, Very Nice!!! We would prefer this piece to be picked up locally but would ship if a large enough box could be found. For this fine display $450.00
HERE IS THE HISTORY ON THESE TYPE OF WW2 JAPANESE FLAGS
The Good Luck Flag, known as hinomaru yosegaki in the Japanese language, was a traditional gift for Japanese servicemen deployed during the military campaigns of the Empire of Japan, though most notably during World War II. The flag given to a soldier was a national flag signed by friends and family, often with short messages wishing the soldier victory, safety, and good luck. The Japanese call their country's flag hinomaru, which translates literally to "sun-round", referencing the red circle on a white field. When the hinomaru was signed, the Japanese characters were usually written vertically, and radiated outward from the edge of the red circle. This practice is referenced in the second term, yosegaki, meaning "sideways-writing". The phrase hinomaru-yosegaki can be interpreted as "To write sideways around the red sun", describing the appearance of the signed flag.
The hinomaru yosegaki was traditionally presented to a man prior to his induction into the Japanese armed forces or before deployment. Generally, relatives, neighbors, friends, and co-workers of the person receiving the flag would write their names, good luck messages, exhortations, or other personal messages on the field of the flag. The writing usually flowed out sideways in a rayed pattern away from the red sun. However, if the messages became crowded, well-wishers improvised and wrote wherever they could squeeze in a message.
Japanese soldiers often carried personal flags, signed by friends and neighbors, as a patriotic symbol. Normally, some kind of exhortation such as Bu un Chou kyu is written across the top within the white field. Loosely translated into English, Bu un Chou kyu means "May your military fortunes be long lasting." Dark, medium sized characters may normally be seen that run vertically down the right or left hand margin of the flag. These usually occur in one, two or three columns and are generally the names of the man receiving the flag, the date, and the name of the individual or organization presenting the gift to him. The kanji characters were typically written with a calligraphy brush (fude) and ink. While it was normally the custom to sign only around the red center of the flag, some examples may be found with characters written upon the red center as well. When the custom of writing on flags began is up for debate. Some sources indicate that signed flags became part of the military man's off-to-war gear, along with a "Thousand-stitch sash" (senninbari), during the First Sino-Japanese War (1894-1895.) Any good luck flags that pre-date the Manchurian Incident (1931) should be considered rare. It is generally agreed that most hinomaru yosegaki seen today come from just before or during the period of the Second Sino-Japanese War (1937-1945.) For the military man stationed far away from home and loved ones, the hinomaru yosegaki offered communal hopes and prayers to the owner every time the flag was unfolded. It was believed that the flag, with its many signatures and slogans of good luck, would provide a combined force or power to see its owner through tough times. Furthermore, it reminded him in a material way to do his duty. The performance of that duty meant that the warrior was not expected to return home from battle. Great honor was brought upon the family of those whose sons, husbands, brothers, and fathers died in the service of country and Emperor. The belief of self-sacrifice was a central one within Japanese culture and was much exalted during World War II. Culturally, the Japanese believed that in doing one's duty, the soldier, sailor, or aviator must offer up his life freely to the Emperor just as the cherry blossoms fall freely from the tree at the height of their beauty. As part of the samurai or bushido code (Way of the Warrior), this worldview was brought forward into twentieth-century Japan from the old warring days of feudal Japan and was impressed upon twentieth-century soldiers, most of whom descended from non-samurai families.
CONSIGNMENT
Here we have a very unusual item. This is a Floor Lamp made out of a SPANDAU GEW 98 1916 WW1 German Rifle with a spent shell casing and a WW1 German Helmet as a lamp shade. This was done a long time ago and is engraved on the shell 'From Maj Lee O. Wright Firearms Collection'. Major Lee Otis Wright was a Major in the U.S. Army from Indiana. More on Major Wright below. This display is put on a octagonal base and has ammunition for this rifle mounted on the base. The entire piece is painted OD green. The cord was ran through the rifle without drilling any holes but in the meantime the bolt was removed and is now lacking. The pics can tell you much more than I can. A picture is worth a thousand words as they say. The original cloth woven cord is present but has been spliced to a modern extension cord and is not safe to plug in. The entire thing needs to be rewired. The helmet seems to be in good condition with a coupole of extra holes on the brim to mount to the shell casing. There is no liner as you can see. Major Wright was 'Over there' and probably brought these items home with him. This is so unique and I've never seen another quite like it. This would be the 'ultimate' piece for your WW1 relic room!!! $1250.00 I would have to at least remove the helmet to ship it so actual shipping charges would apply via USPS.
Here is Major Wright's Bio:
Lee Otis Wright was appointed from Indiana, Cadet, United States Military Academy in June 1908.
Wright graduated from West Point in 1912 and was assigned to the Ordnance Corps. From 1917 to 1919 he was assigned to the Office of Chief of Ordnance. He served as an observer with the American Expeditionary Forces in World War I and with the American Forces in Germany following the war. In 1919 he was a member of the Fiske Infantry Equipment Board. He was then detailed for on year to the Air Service. He was killed in an aircraft accident at Brooks Field, Texas, on 10 February 1925, at the age of 36 and was posthumously promoted to the rank of Lieutenant Colonel.
The Wright Memorial Trophy is a bronze statuette symbolic of man's aspiration to fly. It was presented by Major K.K.V. Casey to the NRA as a memorial to Major Lee O. Wright, U.S. Ordnance Corps, killed in line of duty at Brooks Field, Texas, February 10, 1925
Here's more on the Major:
Lee O. Wright By Kurt Camp August 05, 2005 at 01:13:45 From the February 15, 1925 issue of American Rifleman magazine, an obituary for Major Lee O. Wright as follows:Maj. Lee O. Wright, closely identified for many years with the development of military small arms and ammunition with the ordnance staffs of the National Matches and recorder of two ammunition boards was killed in an airplane crash at Brooks Field, Texas, February 10. Major Wright was well known to the shooting fraternity and was active in the small arms section of the Ordnance Department until last September when at his own request he was detailed to take the flying course in order that he might become more familiar with aircraft armament problems. Major Wright was born in Koleen, Indiana, Aug. 6, 1888. He entered the United States Military Academy March 2, 1908, graduating June 12, 1912, standing number 7 in a class of 96, and was appointed a second lieutenant in the Coast Artillery Corps. He was appointed first lieutenant Coast Artillery Corps, July 1, 1916 and captain, Coast Artillery Corps, May 15, 1917. He was detailed in the Ordnance Department as first lieutenant July 14, 1915, redetailed as captain June 23, 1917, promoted to the grade of Major, Ordnance Department, N.A., January 12, 1918, and to the grade of lieutenant colonel, Ordnance Department, U.S.A. May 31, 1919. On July 1, 1920, he was transferred to the Ordnance Department with the rank of Major.Major Wright was assigned to duty at Rock Island Arsenal, Illinois, in July, 1915, and remained on duty there until June, 1916, when he was assigned to duty at Watertown Arsenal, Mass.In May, 1917, he was transferred to the Office of the Chief of Ordnance where he was assigned to duty in the Engineering Division in connection with small arms and machine guns. He was assigned to special duty with the American Expeditionary Forces in August, 1918, for the purpose of investigating methods of manufacture of small arms ammunition and to obtain information to assist the American manufacturers of ammunition in meeting the increased demands made upon them. Upon his return from France he was assigned as Chief of the Aircraft Armament and Small Arms Division of the Technical Staff where he remained unti July, 1921, when he was detailed to take the course at the Ordnance School conducted at the Massachusetts Institute of Technology. He was graduated from the Ordnance School in June, 1922, and was assigned to duty in the Office of the Chief of Ordnances as Chief of the Infantry and Aircraft Armanment Division, Manufacturing Services. He remained on this duty until September, 1924, when he was detailed to the Air Service for the purpose of attending the Air Service Flying School. He was a student officer at the Primary Flying School, Brooks Field, Texas, at the time of his death. Major Wright's duties during and since the war were principally in connection with the small arms, small arms ammunition and aircraft armament for which he was exceptionally well qualified and in which he rendered most valuable service. His detail to the Air Service was at his own request in order that he might obtain experience which would later be of value to him, and to the Ordnance Department, in the design and manufacture of aircraft armament material.
As you can see the Major was an important Military Figure that was well thought of by his comrades. Take a look at the pics below of the relic lamp.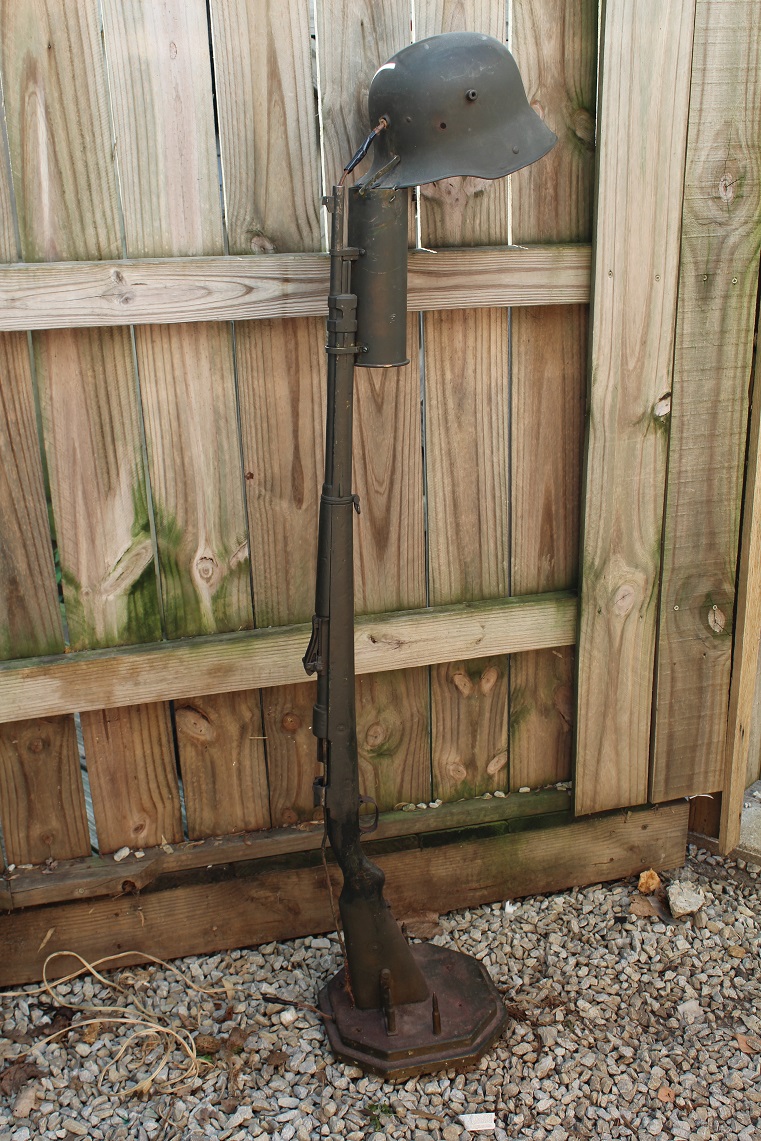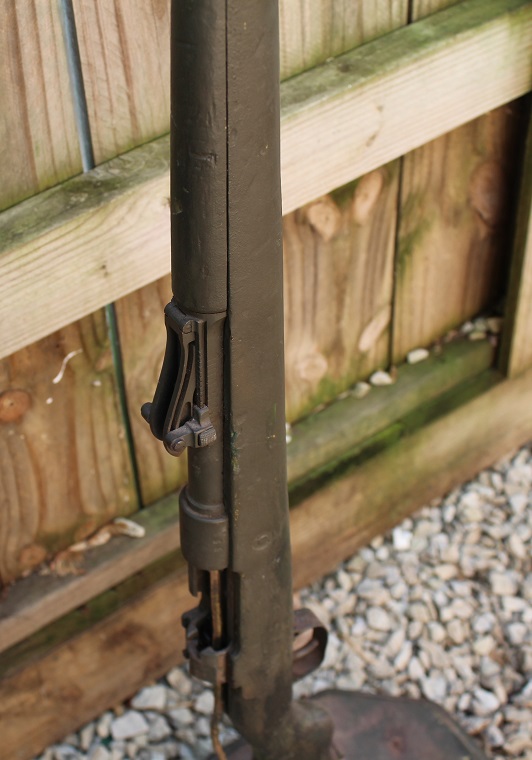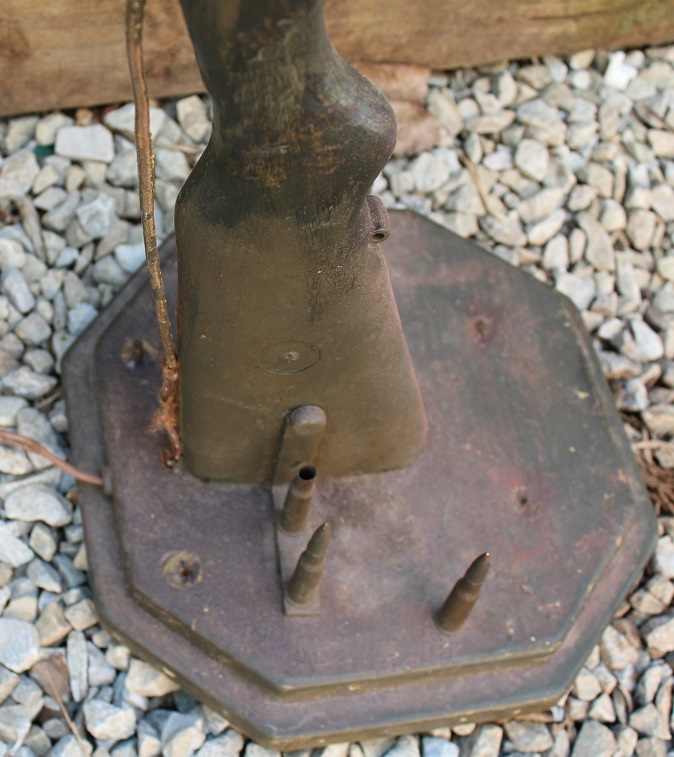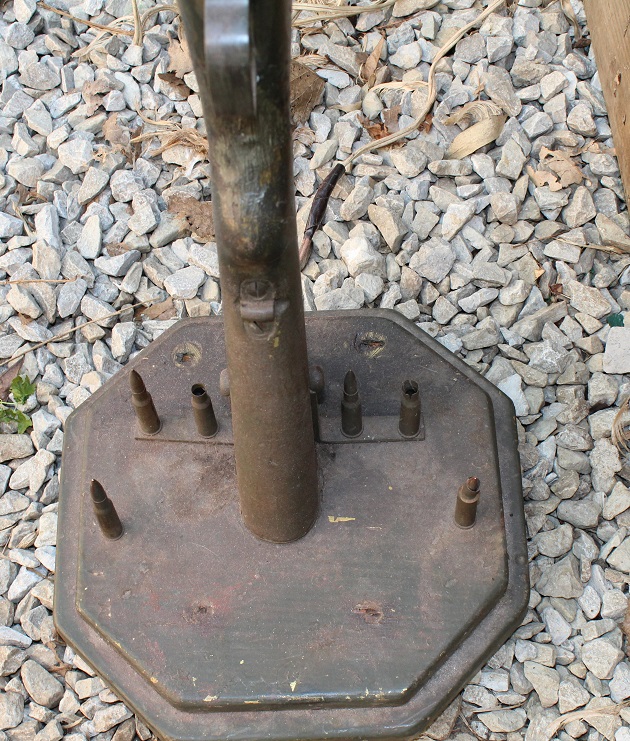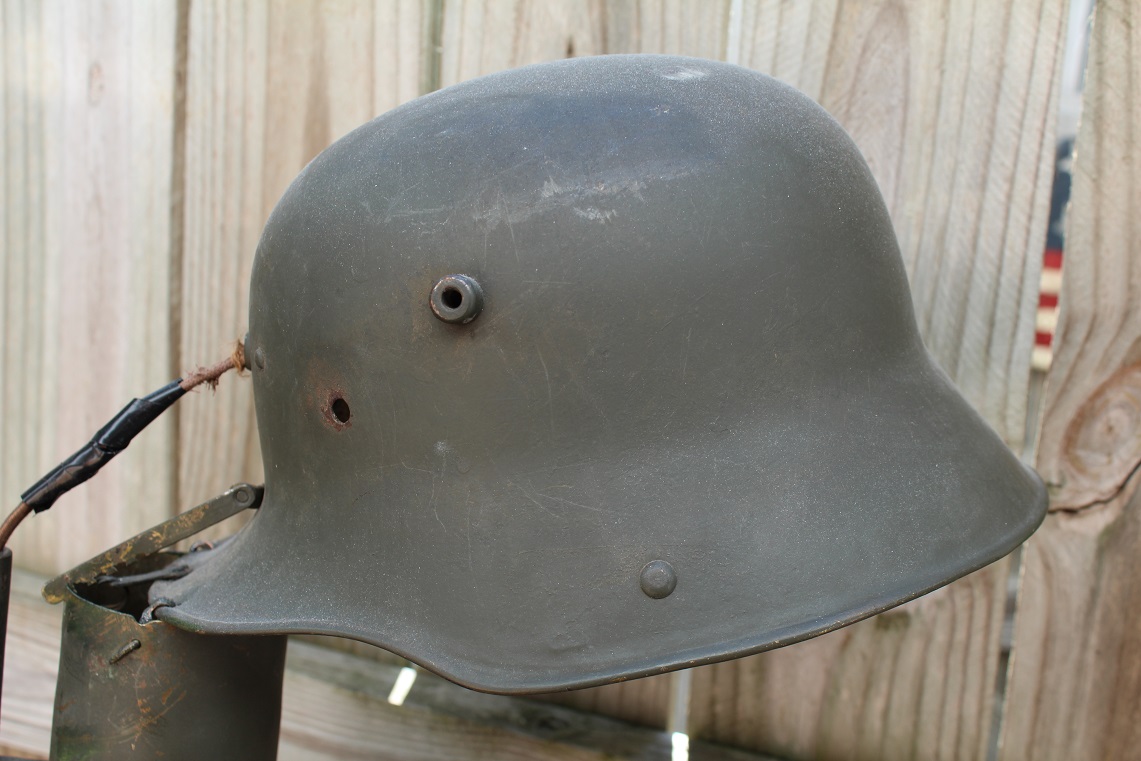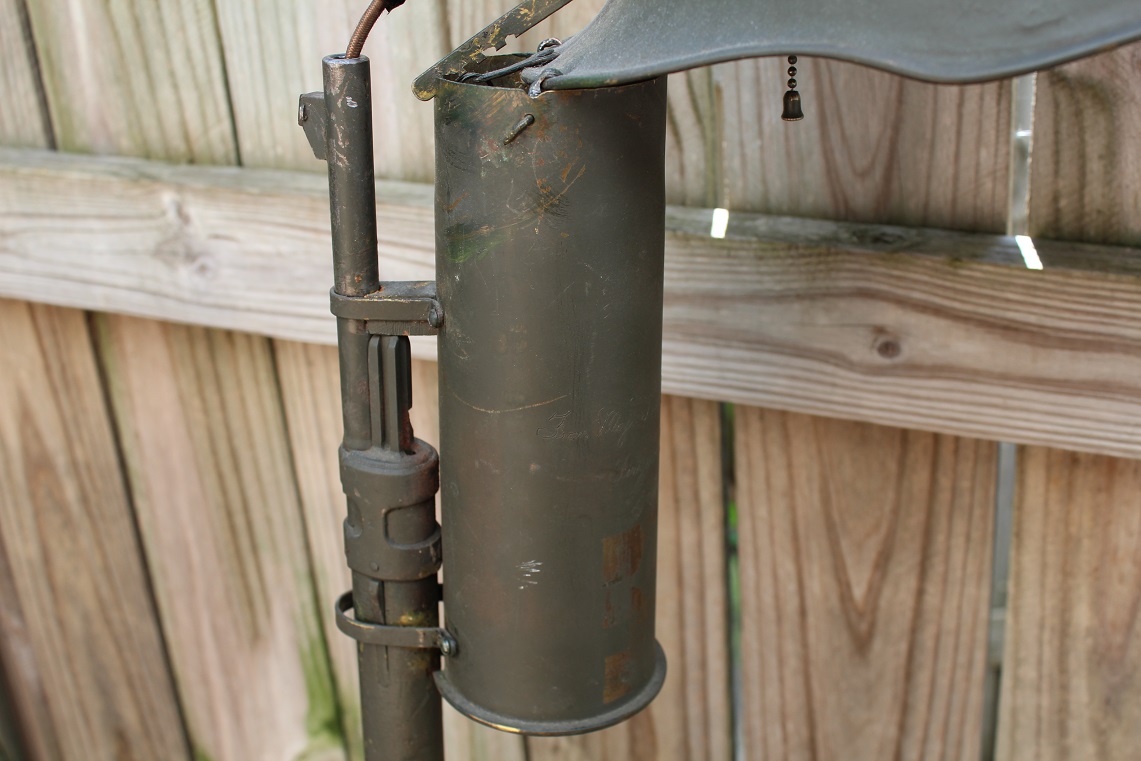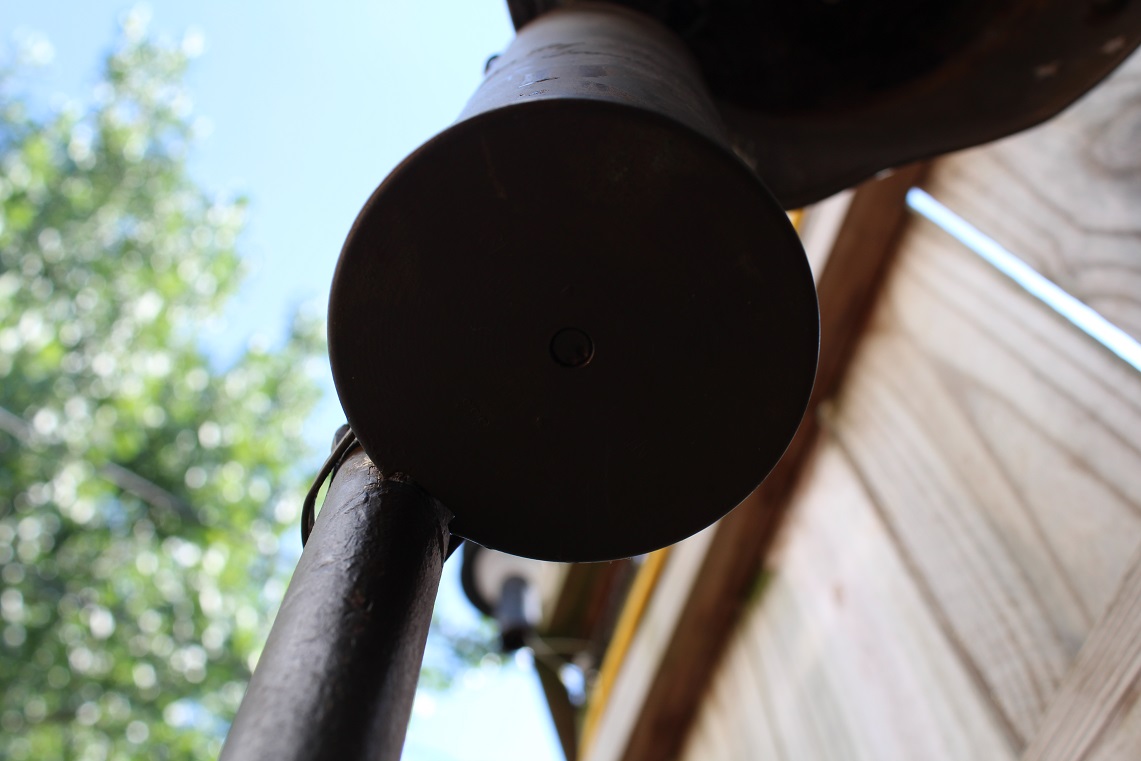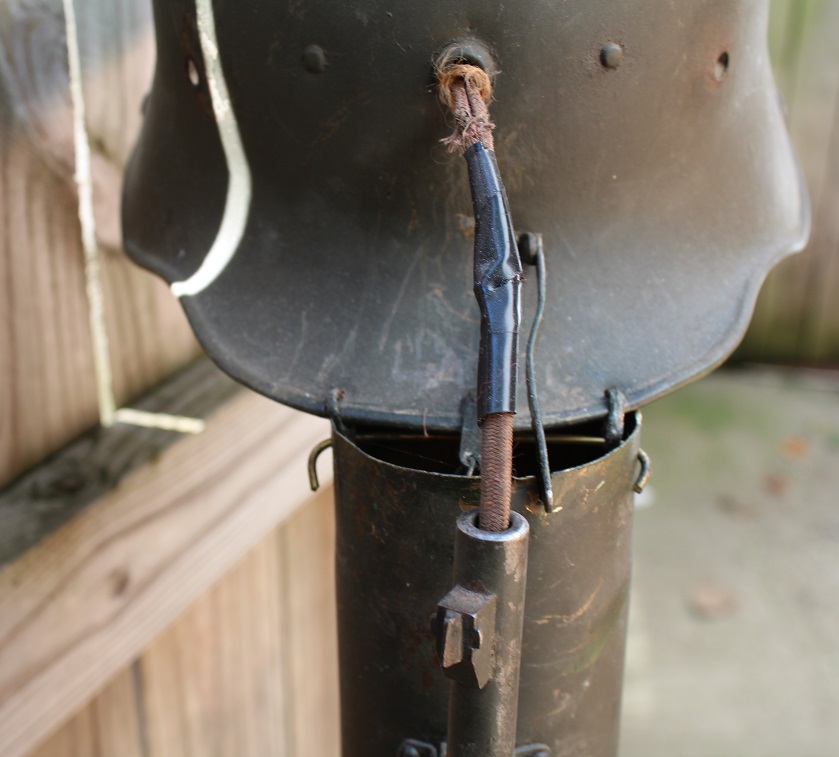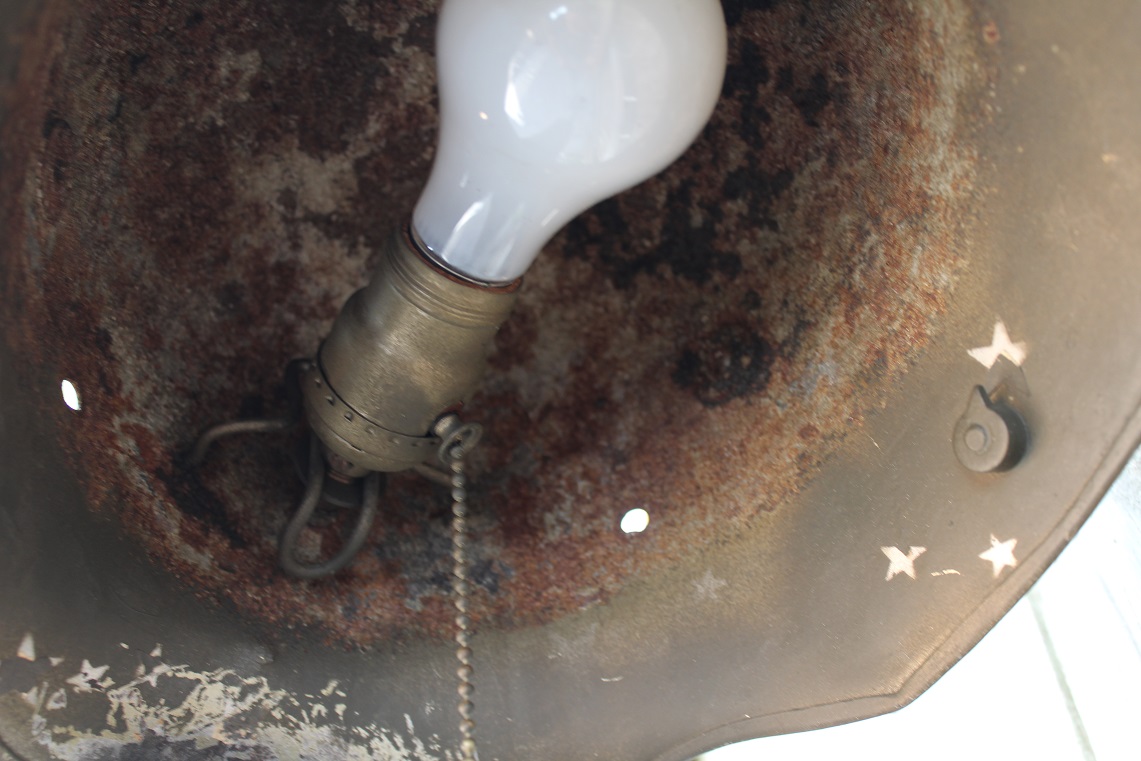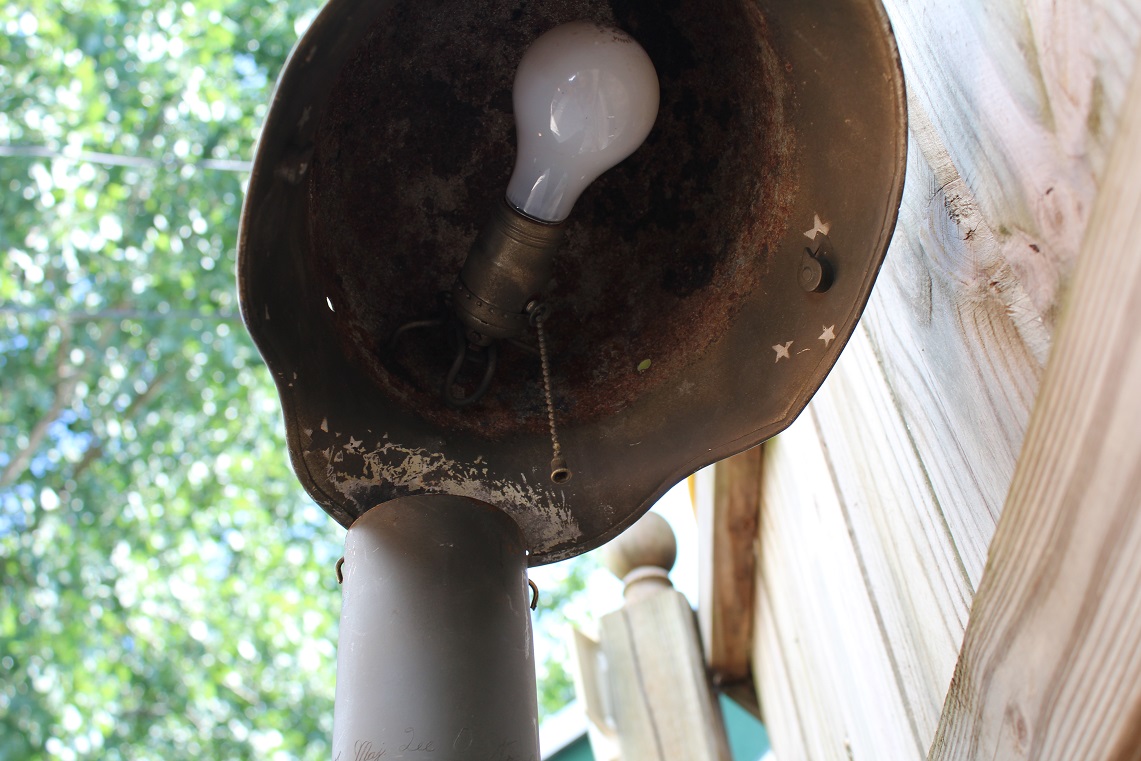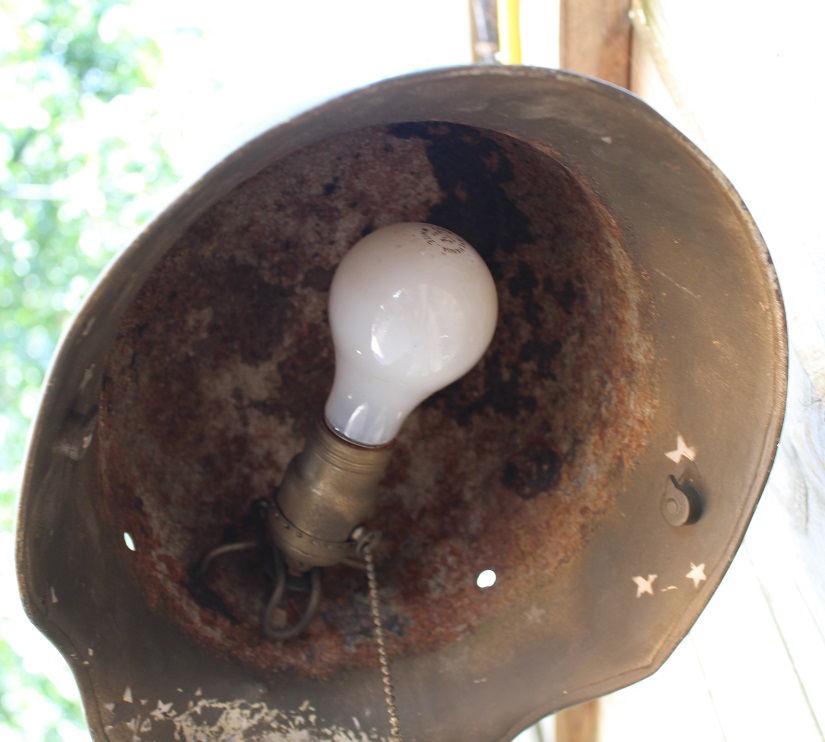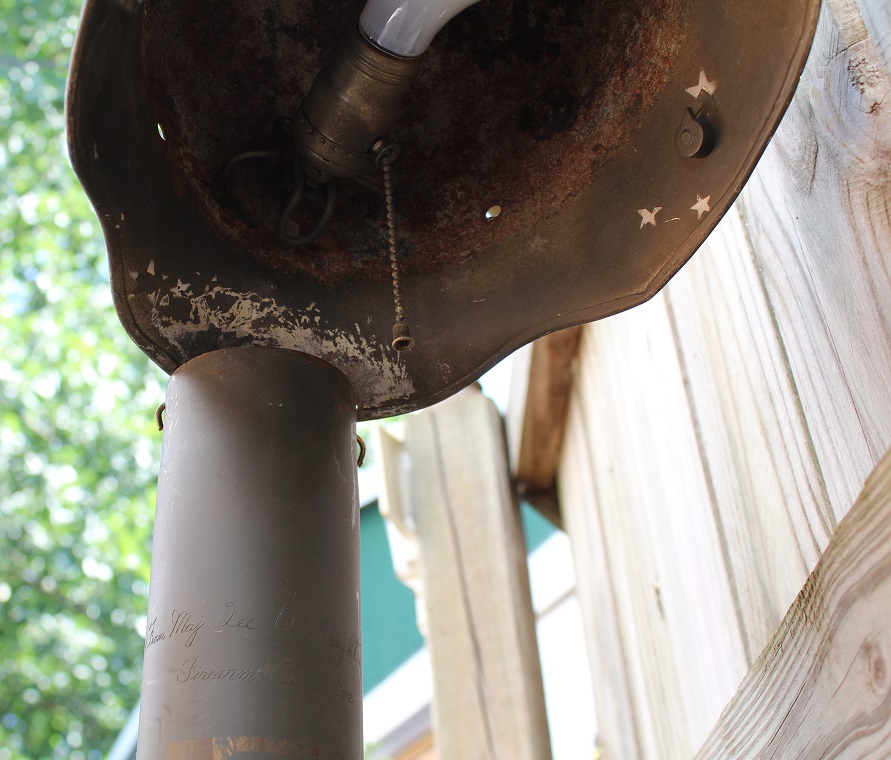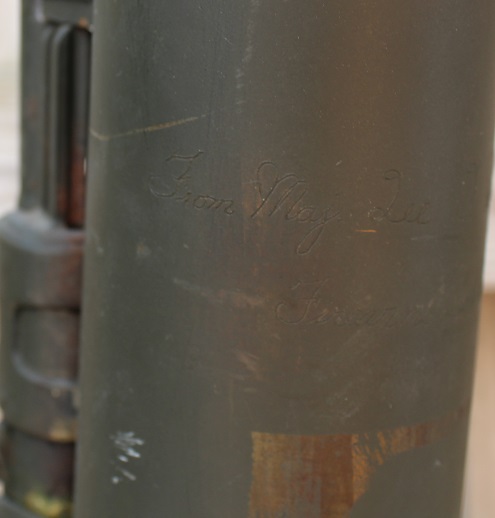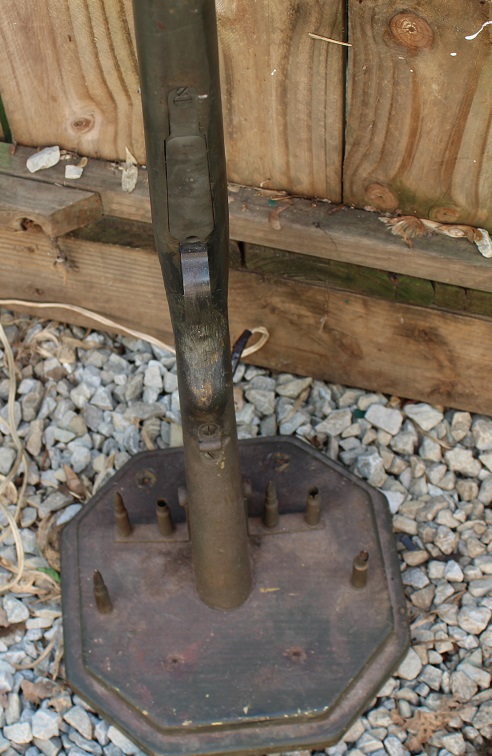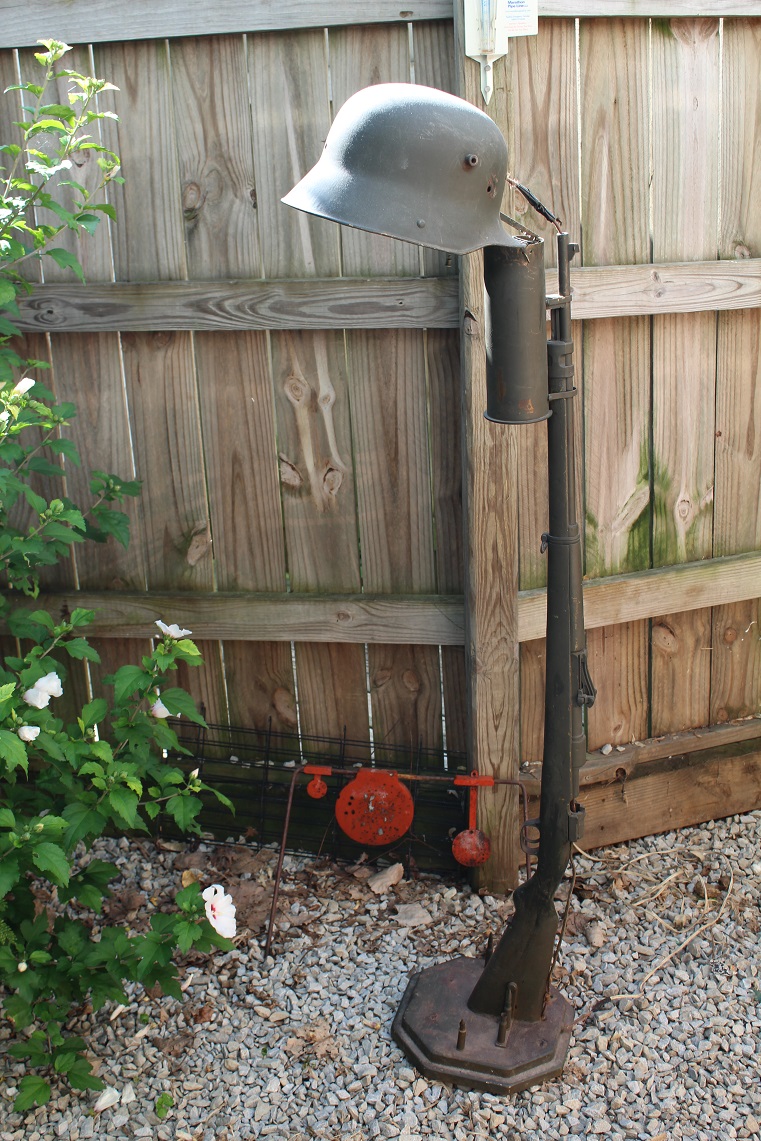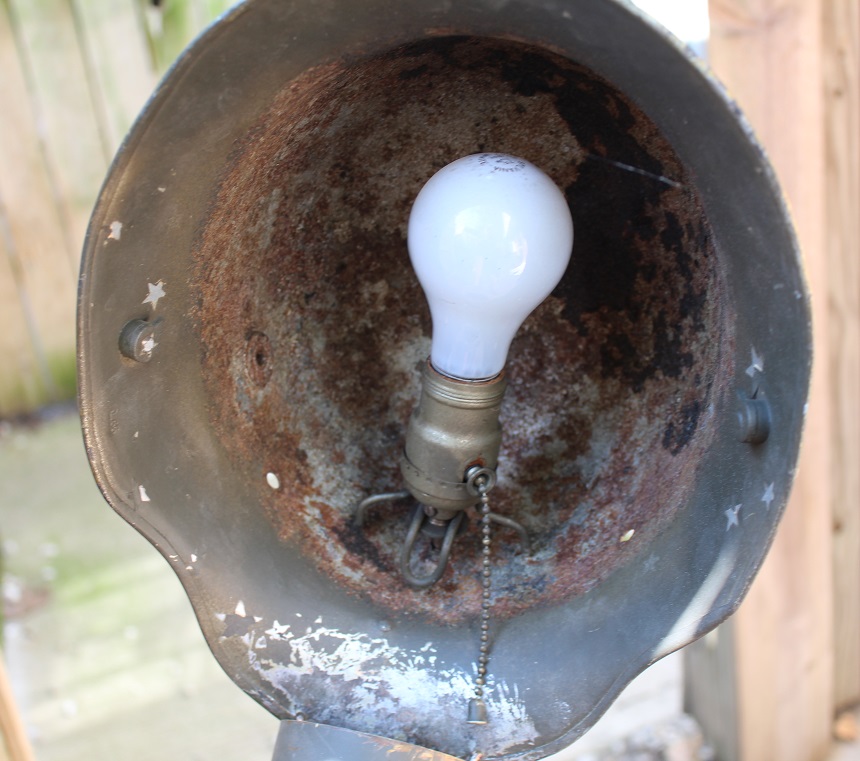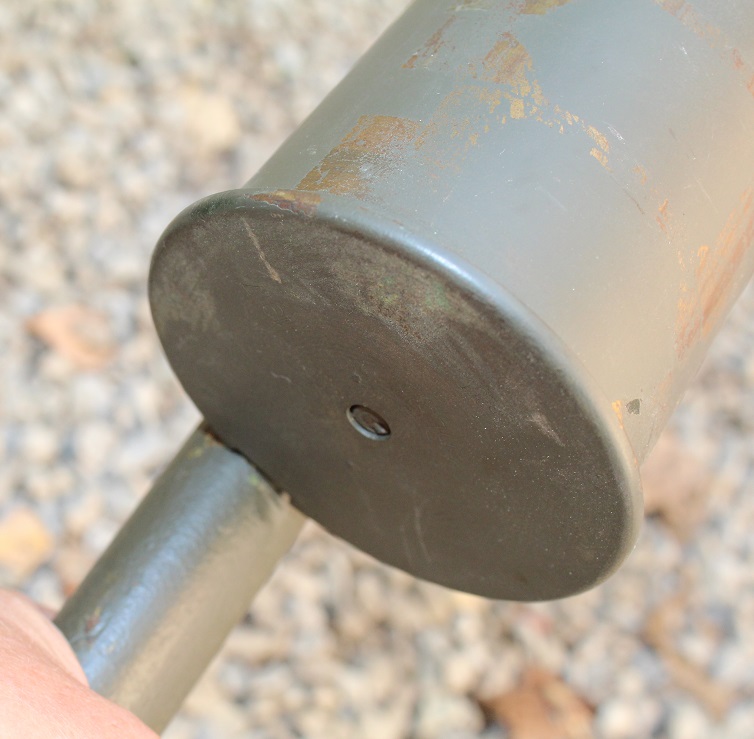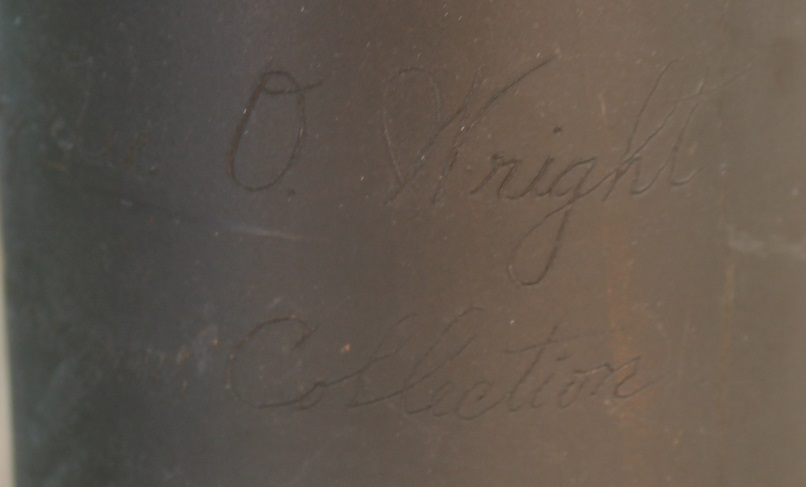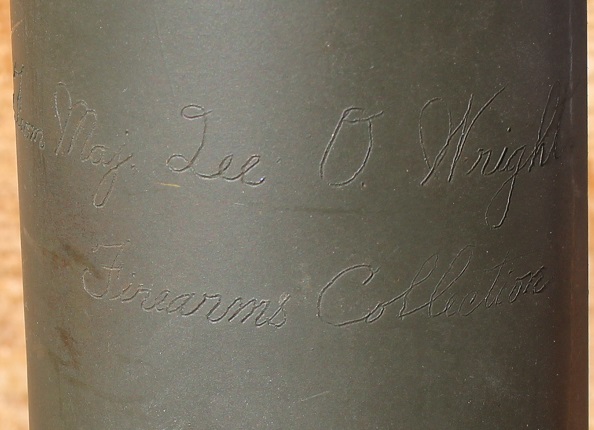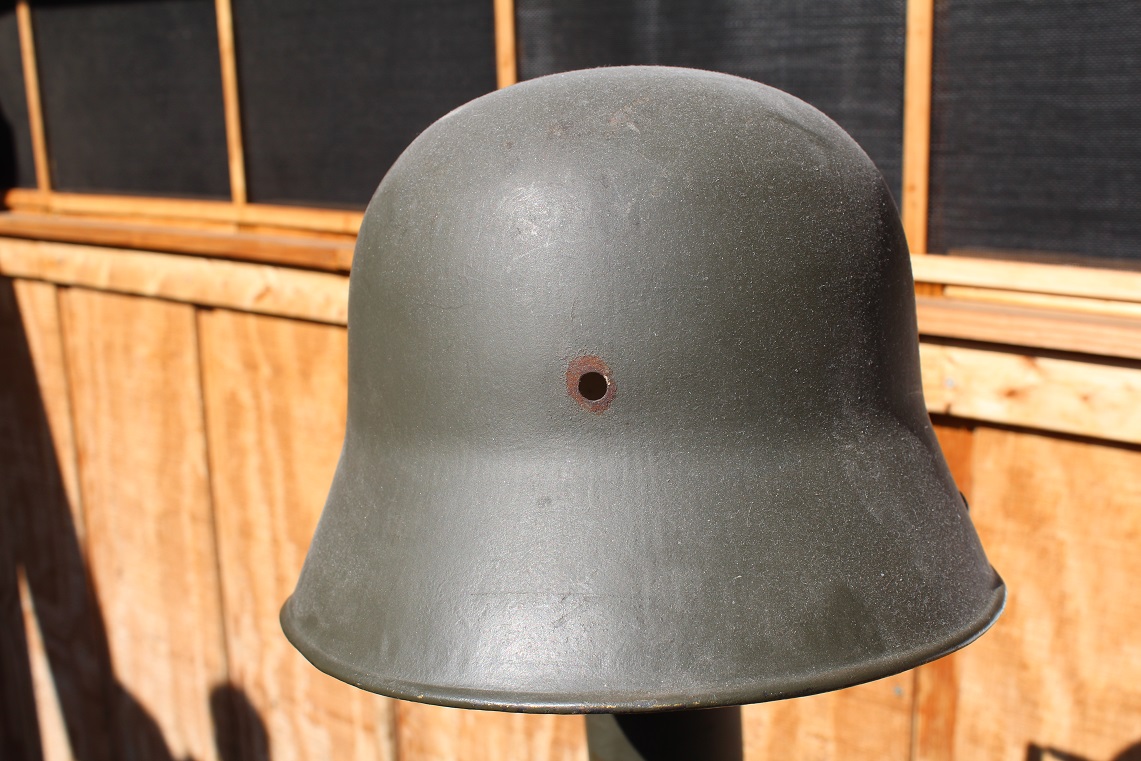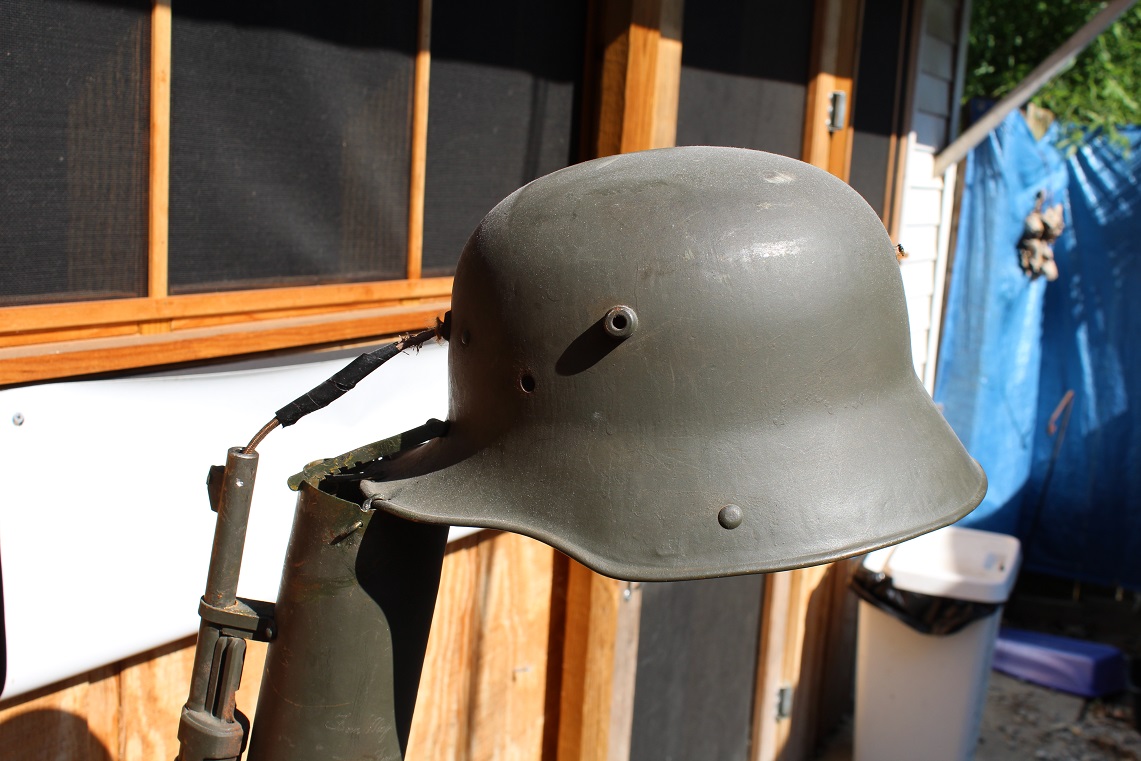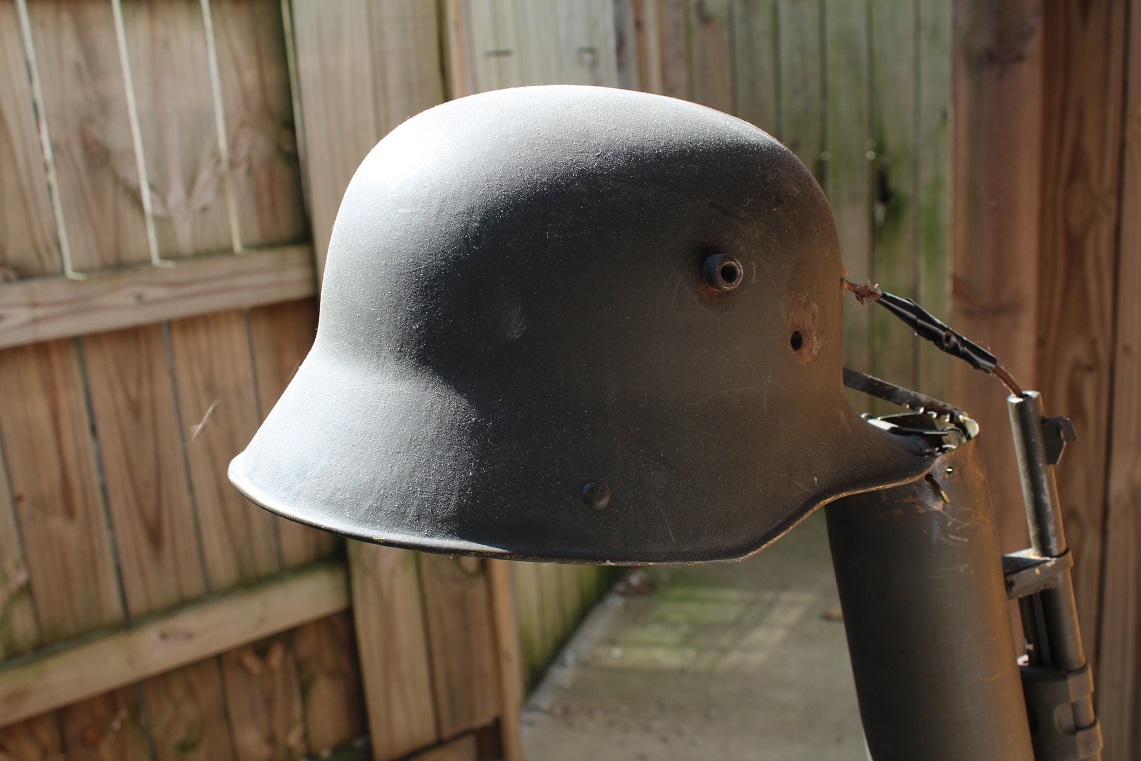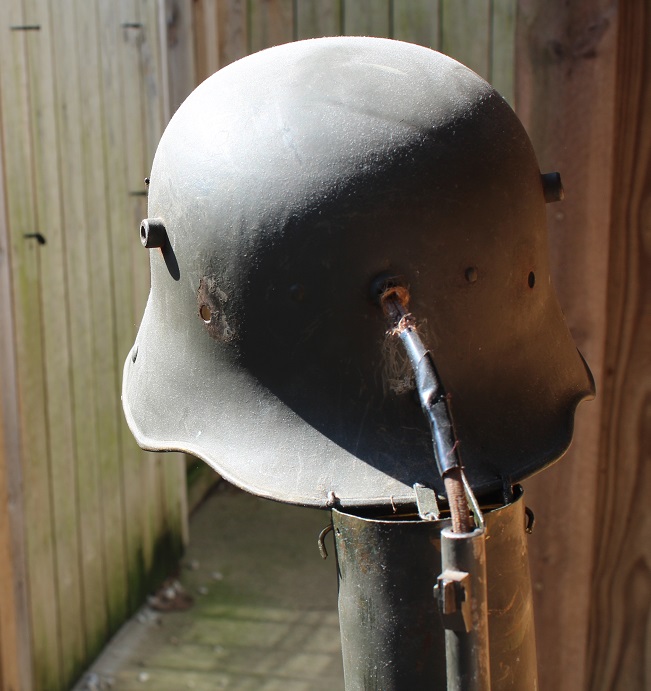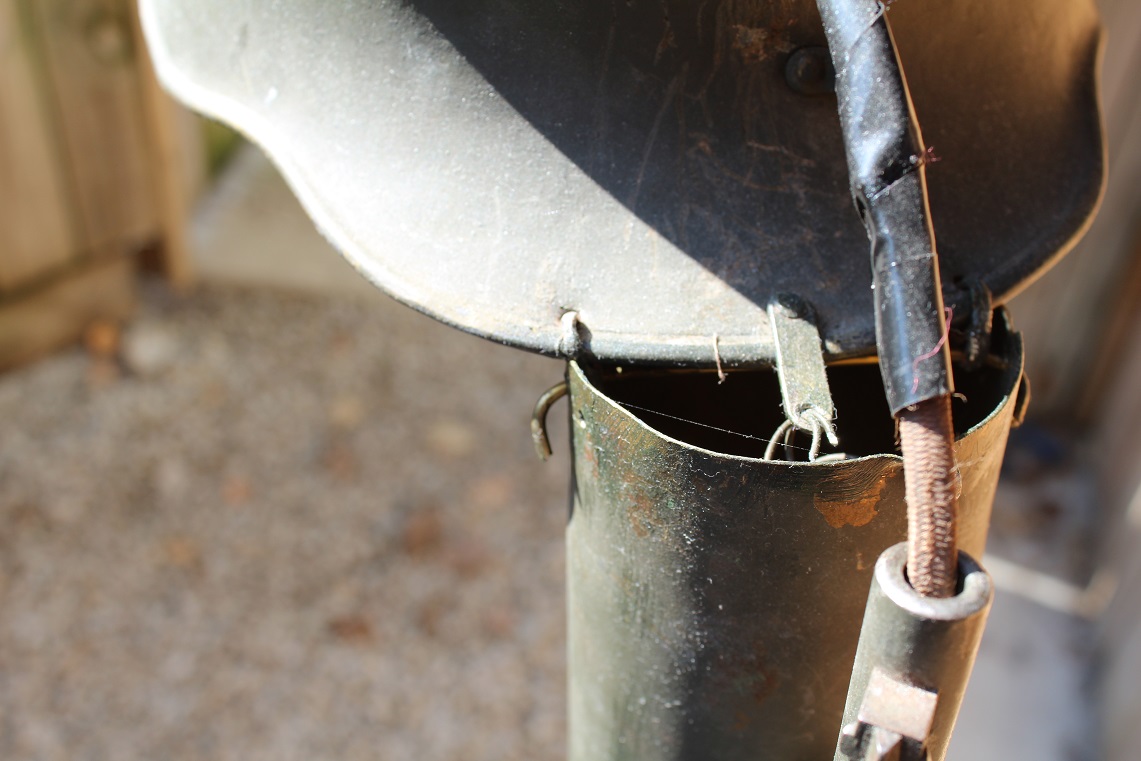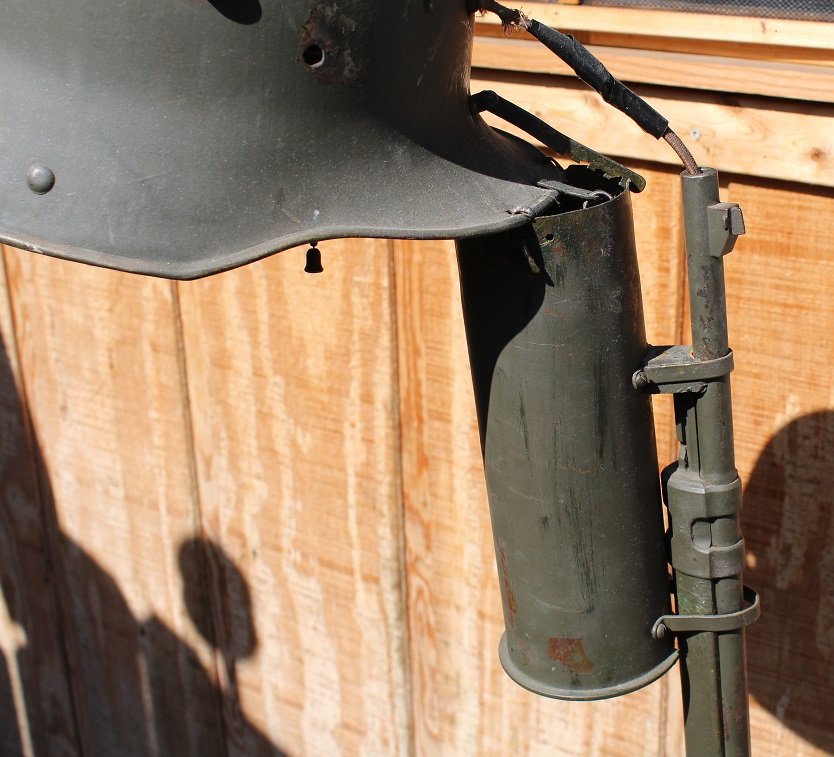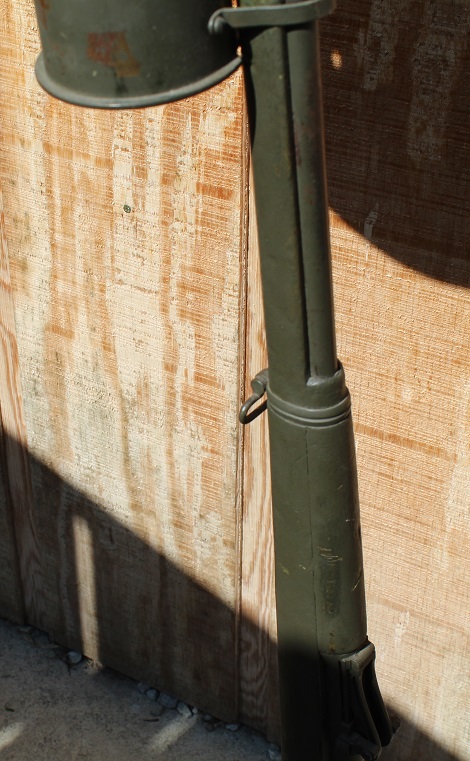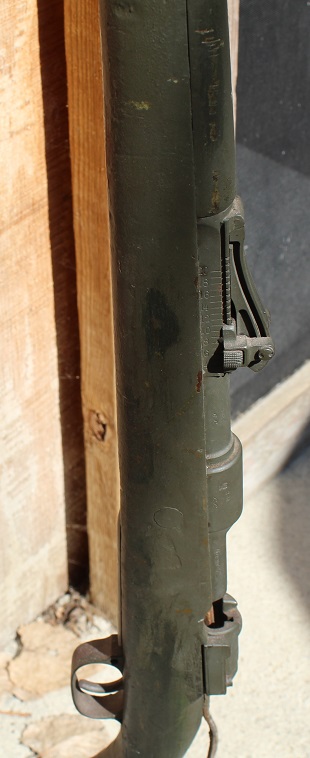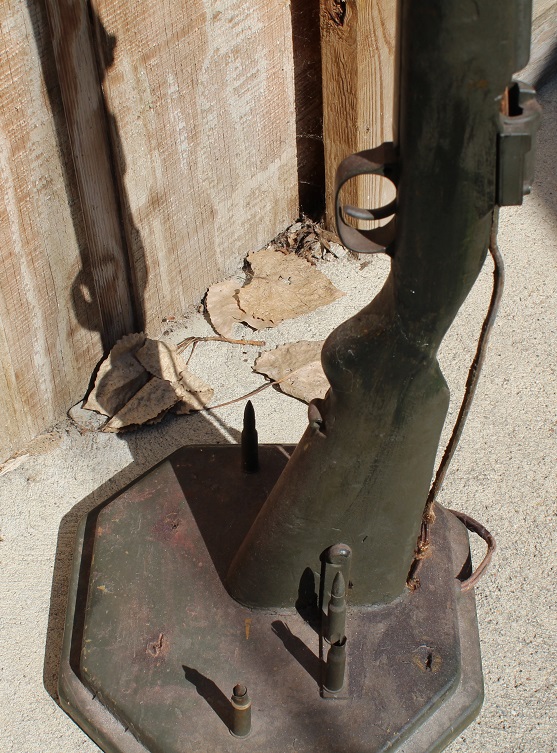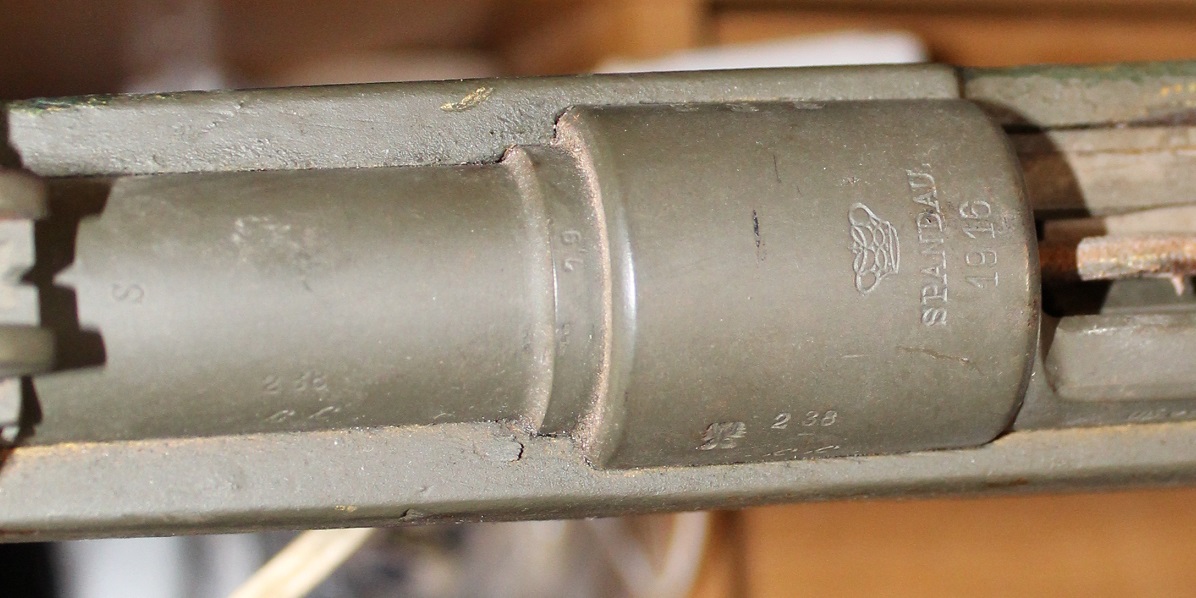 CONSIGNMENT
Here we have a WW2 German captured War Trophy Flag that was signed by American GI's through the war. The flag is 39" X 26" so just right for display. The word 'ALFONSE' is written on the staff end. The Swastika in white circle is on both sides so it was made as a flag. There are many moth holes in this piece but still very displayable! Signatures are written on one side of the white circle so that when it was displayed all the signatures could be seen. There are 19 signatures on this piece with dates from "41" to 1945. We don't know where it was captured but if "41" is any indication it was probably captured in Afrika. One signature on this piece is Paul Slusser from Bloomsburg Pa. Paul was in the US army listed as Combat Infantry Central Europe on his death certificate. Paul died on July 23rd, 1998. Paul was in the service from 3/15/43 to 11/14/45. And then there is Fred Waydick from Wisconsin who enlisted March 9, 1942 for the duration of the war. Fred was born in 1916 and died in 1947. Don't know why he died. There are many names and stories here if you are willing to do the research. For this piece of American Military History $425.00
Here's a small group of items that supposedly belongs to the same officer from WW2. These items were from the 23rd Engineers Co. E that served in the European theatre. The items are priced separately.
NOTE: THE SWORD IS SOLD!!!
First is the Model 1903 Army Officers sword that was made by Horstmann of Philadelphia. The sword itself is in very nice condition complete with the original brown leather sword knot that is in fair to good condition. The hilt has a slight misshapen to it on the outside basket branch. The celluloid grip is fine condition and the blade is just wonderful with the nice etching and plating. The scabbard is complete but does have some nickel flaking here and there. Good thing for the blade that it was kept in the scabbard. For this piece $225.00
Next is the French Model 1874 Bayonet without scabbard. Still in good condition! $45.00
NOTE: THE COLLINS & CO KNIFE BELOW IS SOLD!!!
Next is the Collins and Company short knife/ machete in the No. 13 ornate leather scabbard. $125.00
Lastly is the Belgian FN model 1924 bayonet with other scabbard. All there and it functions. $45.00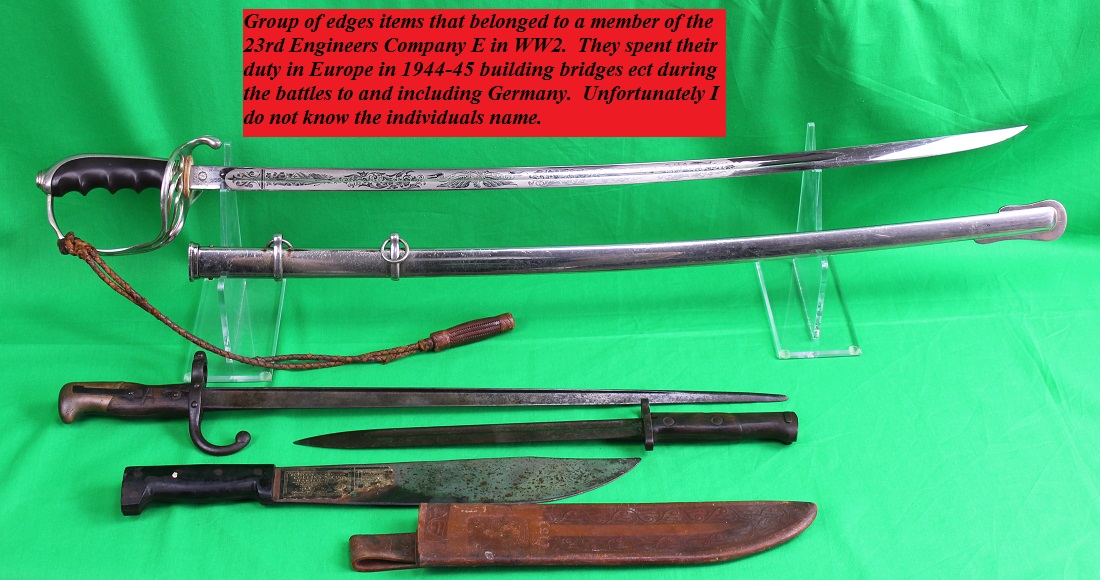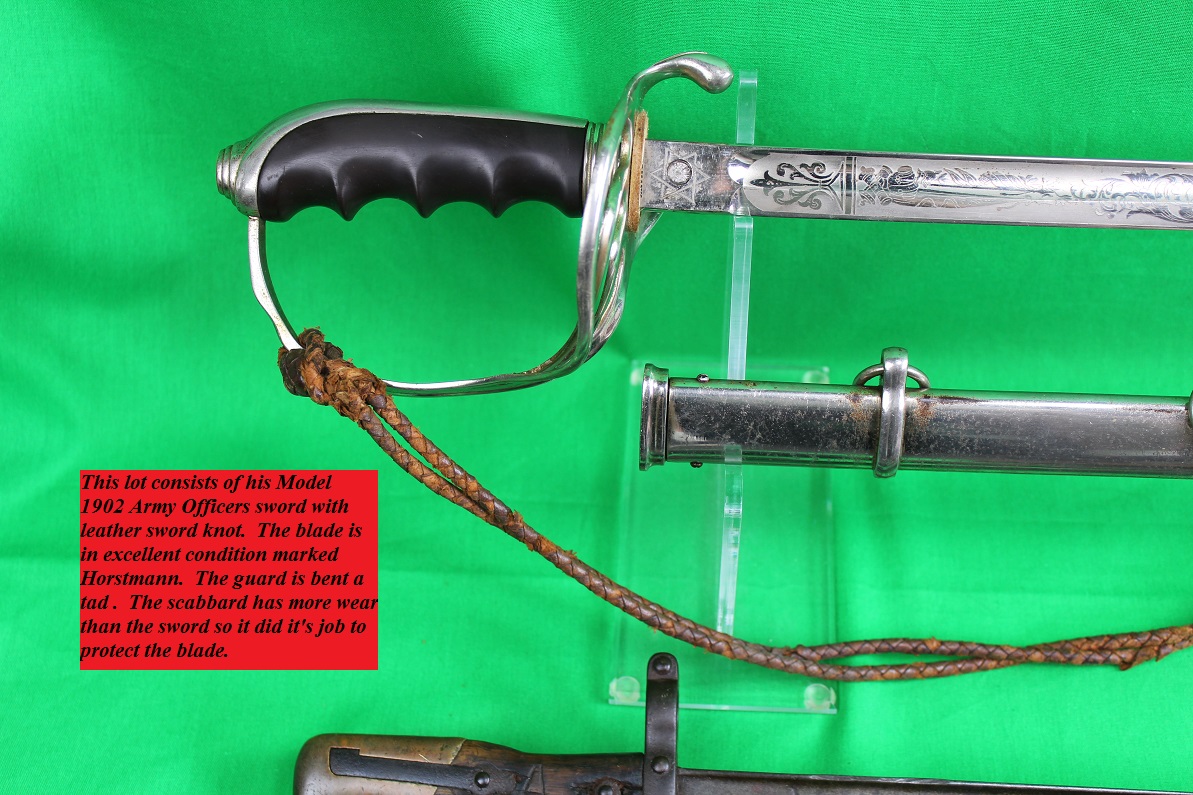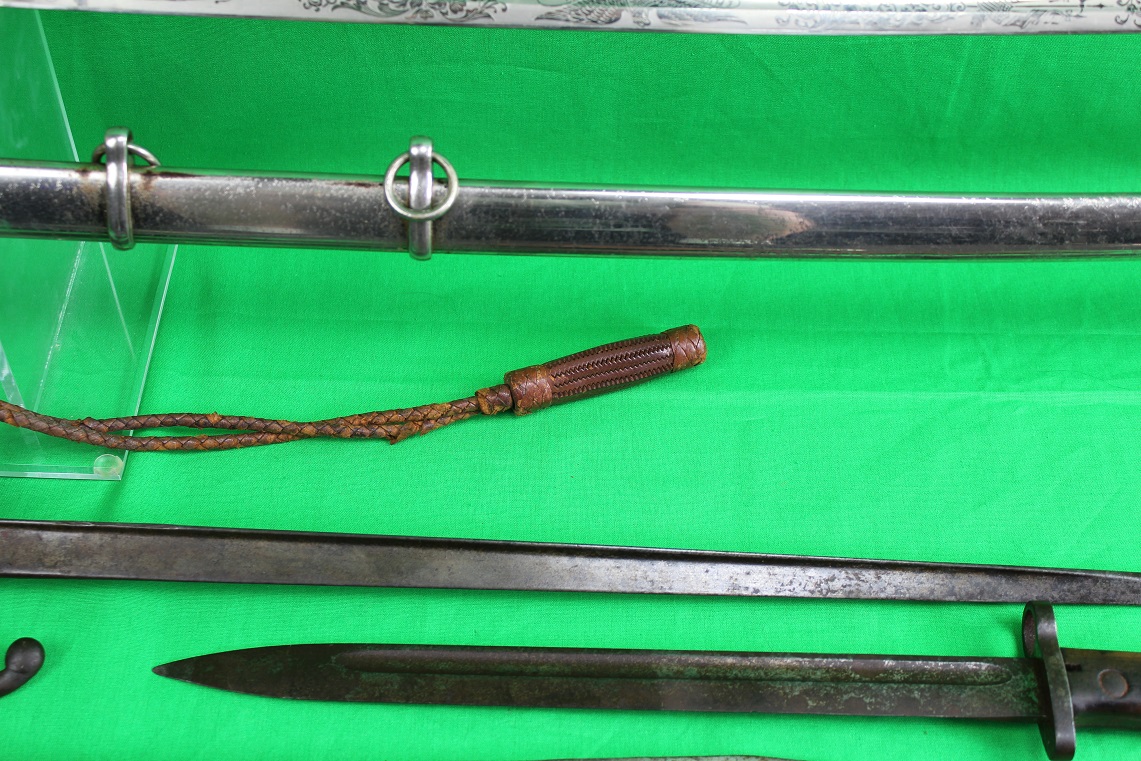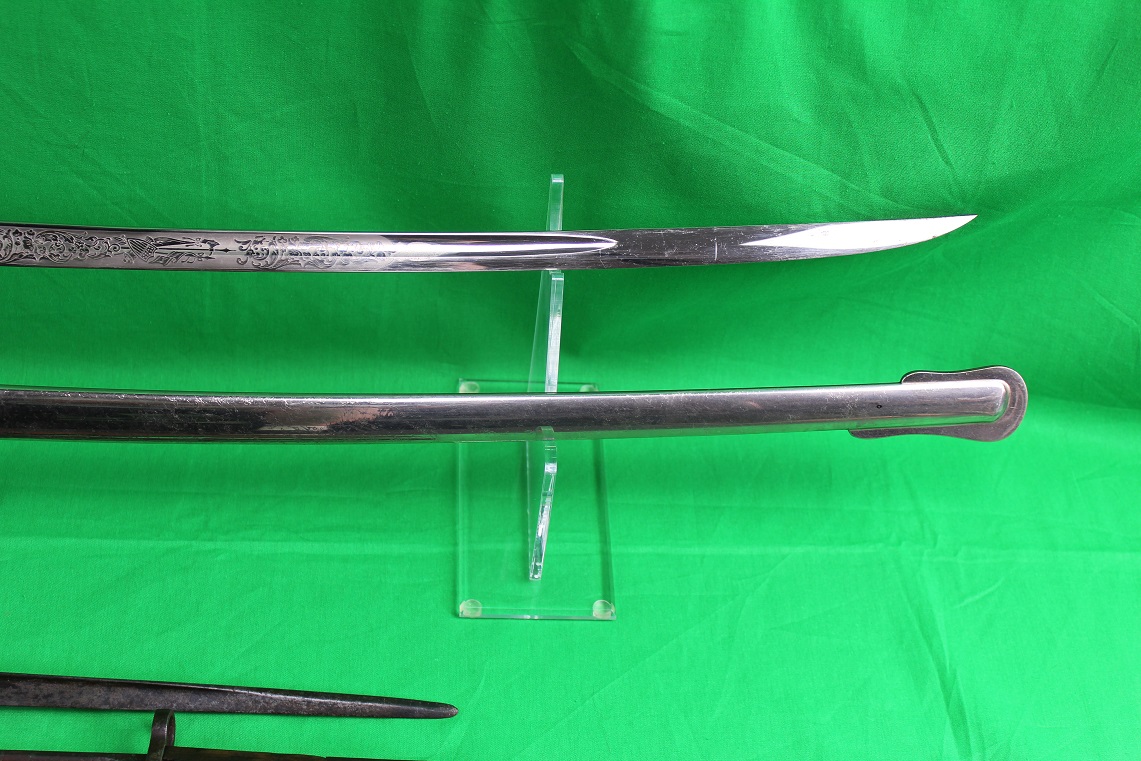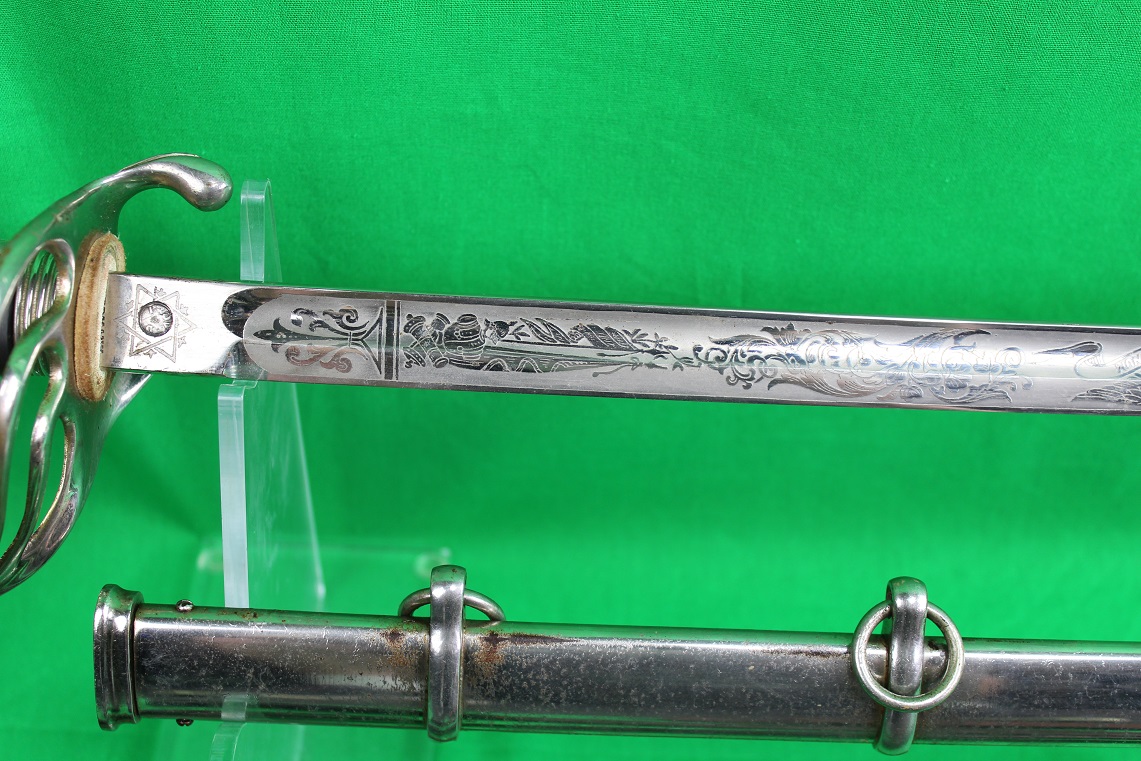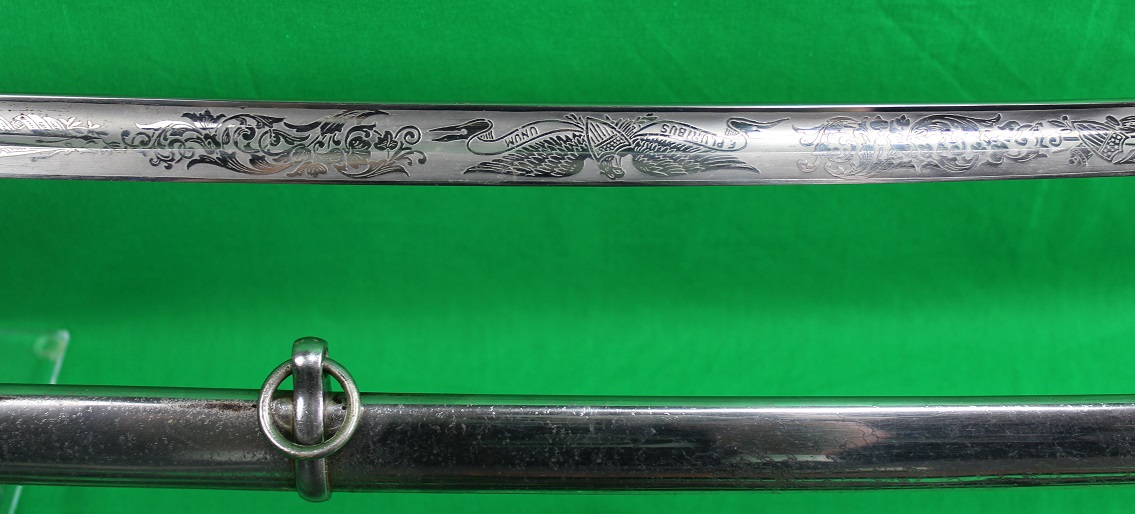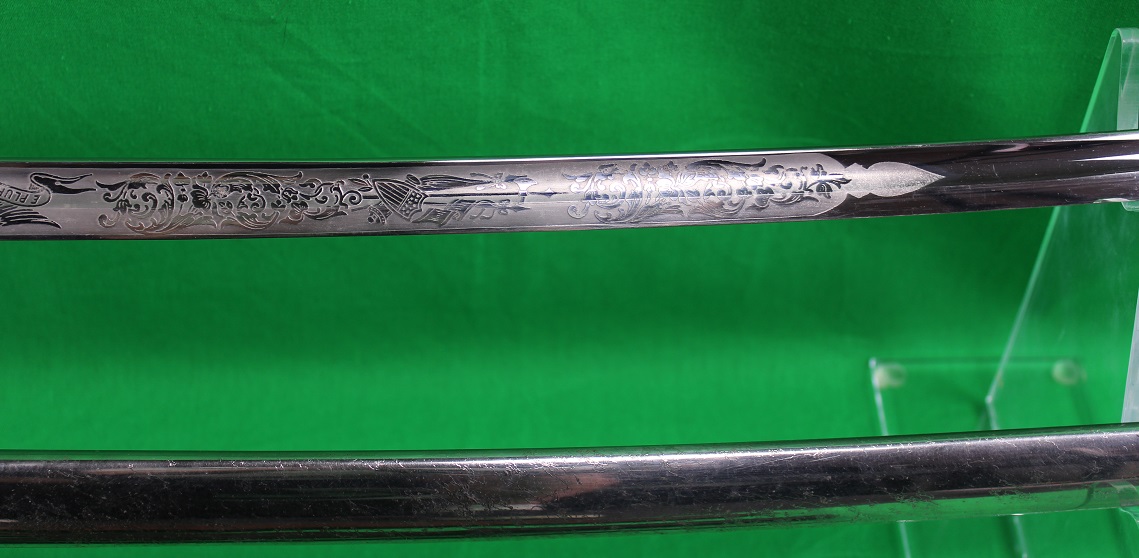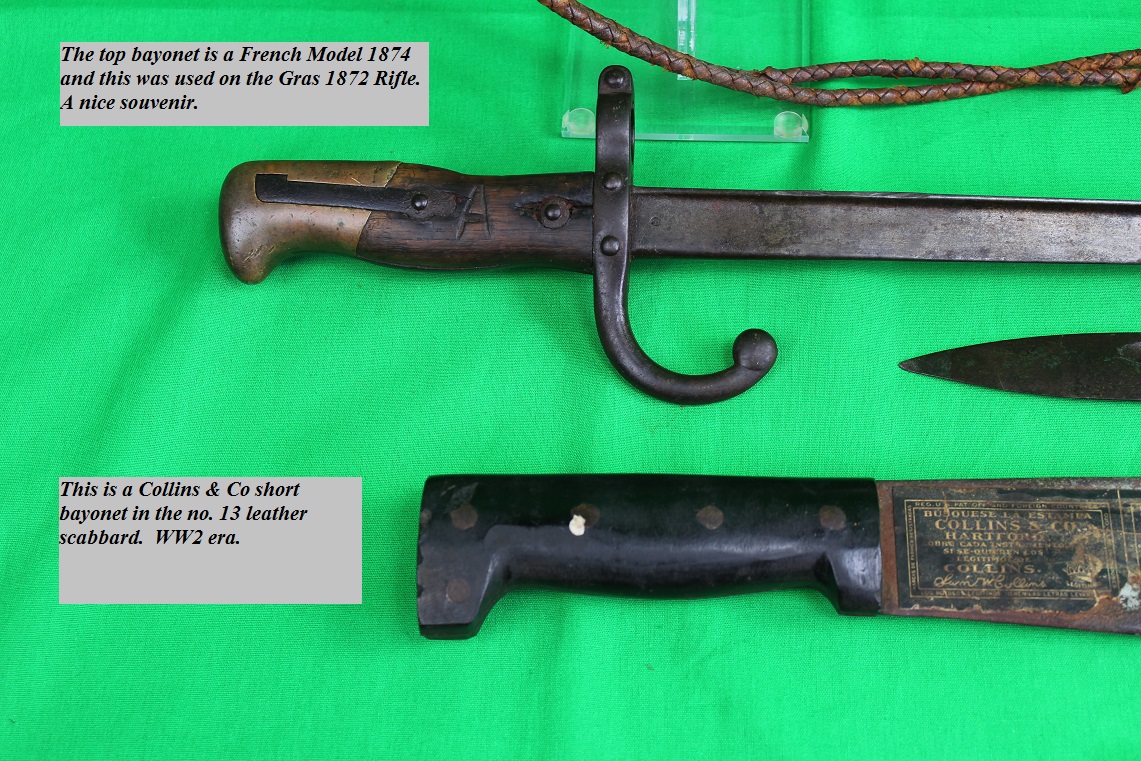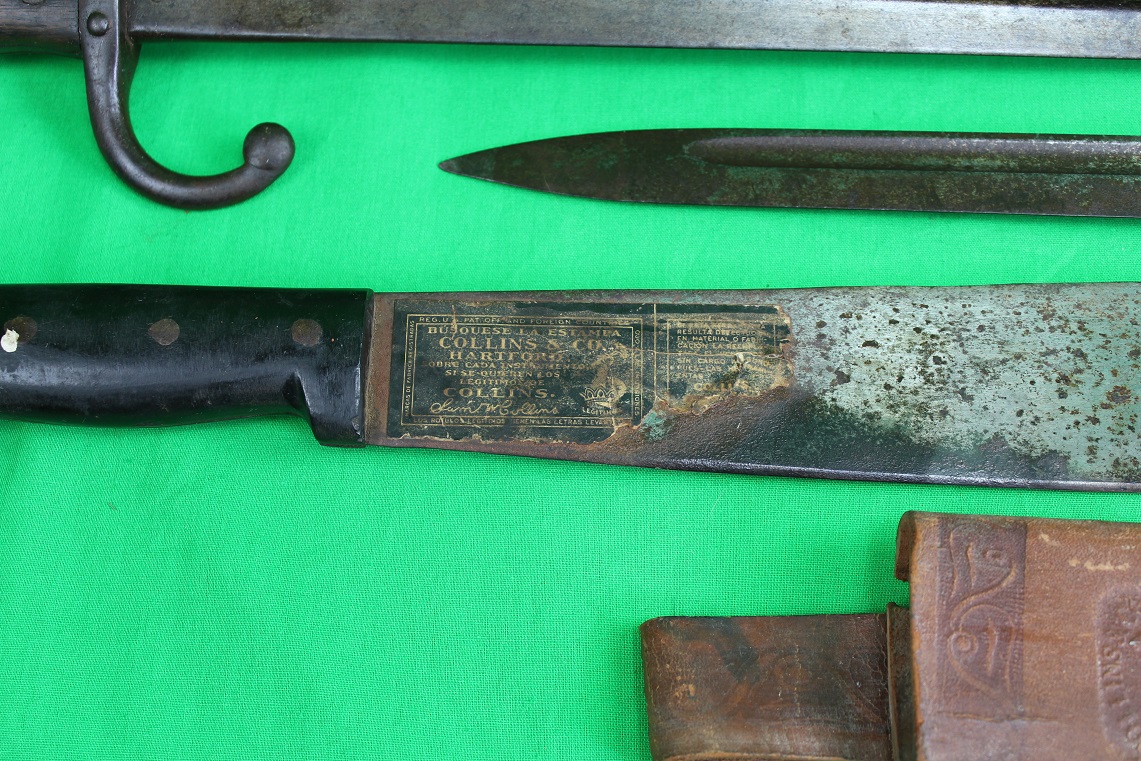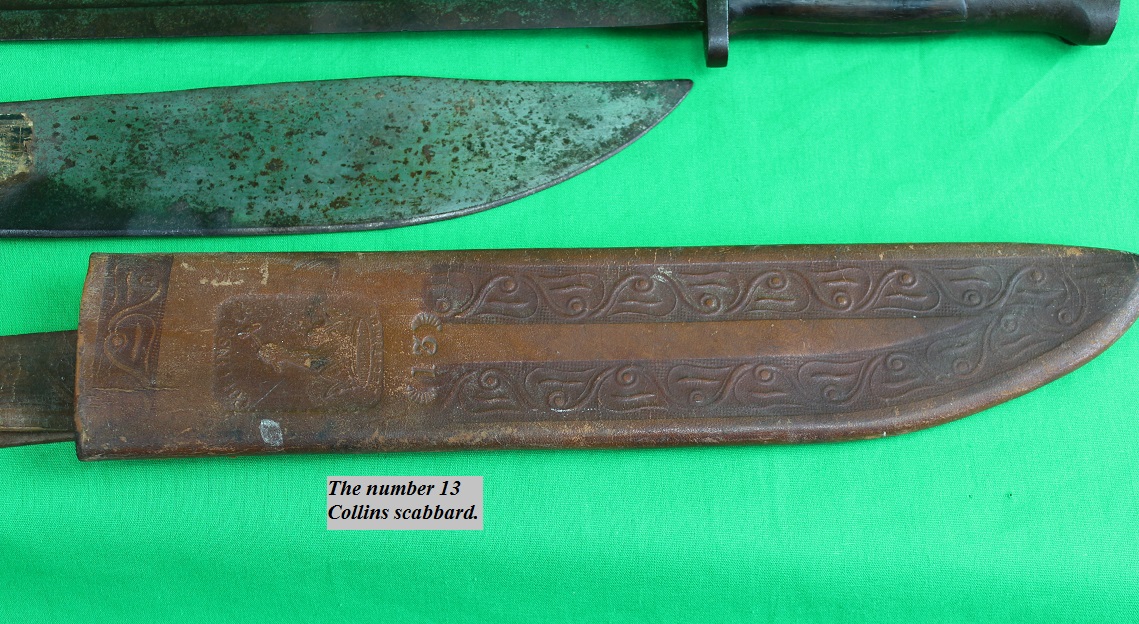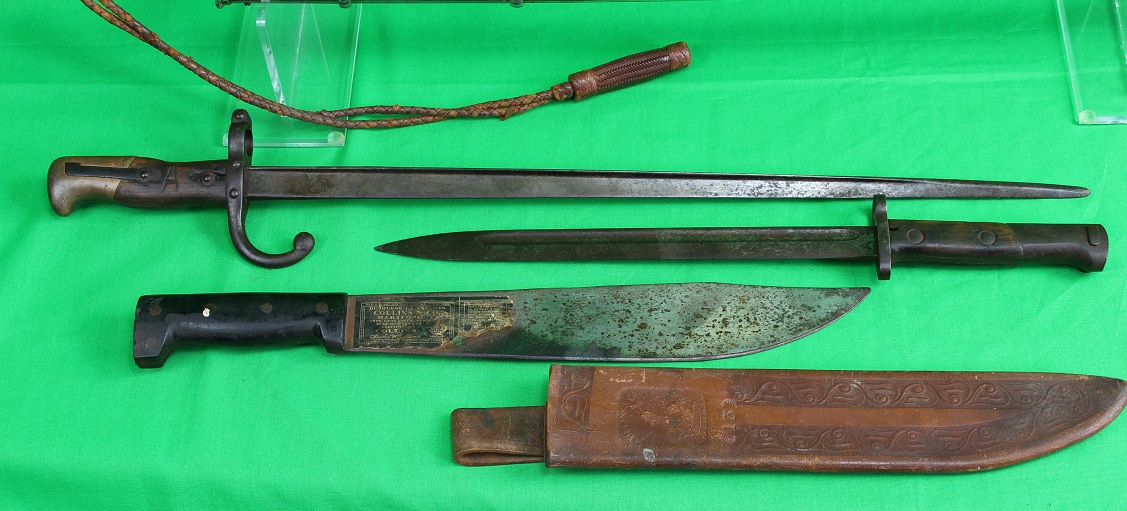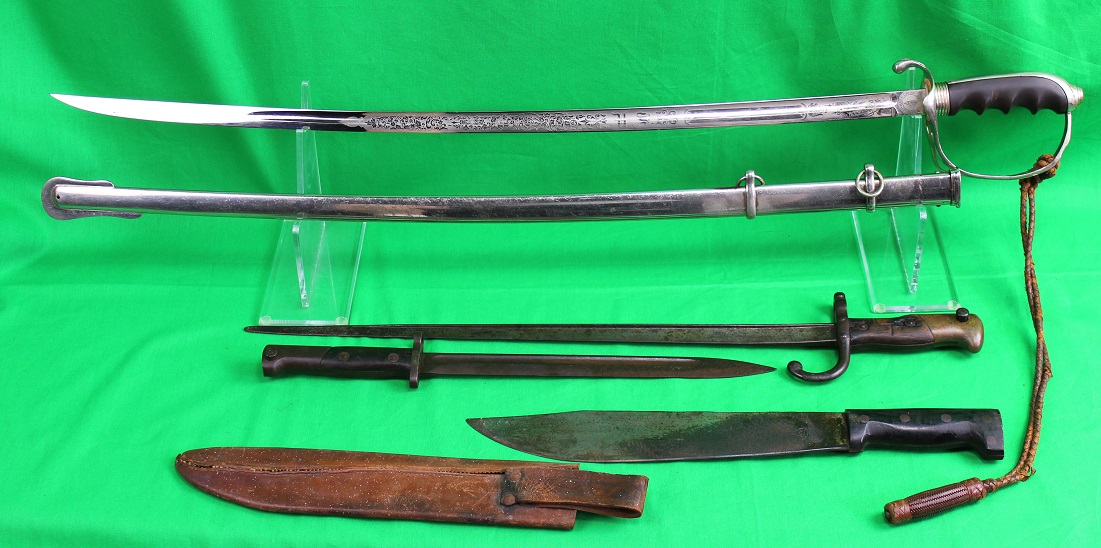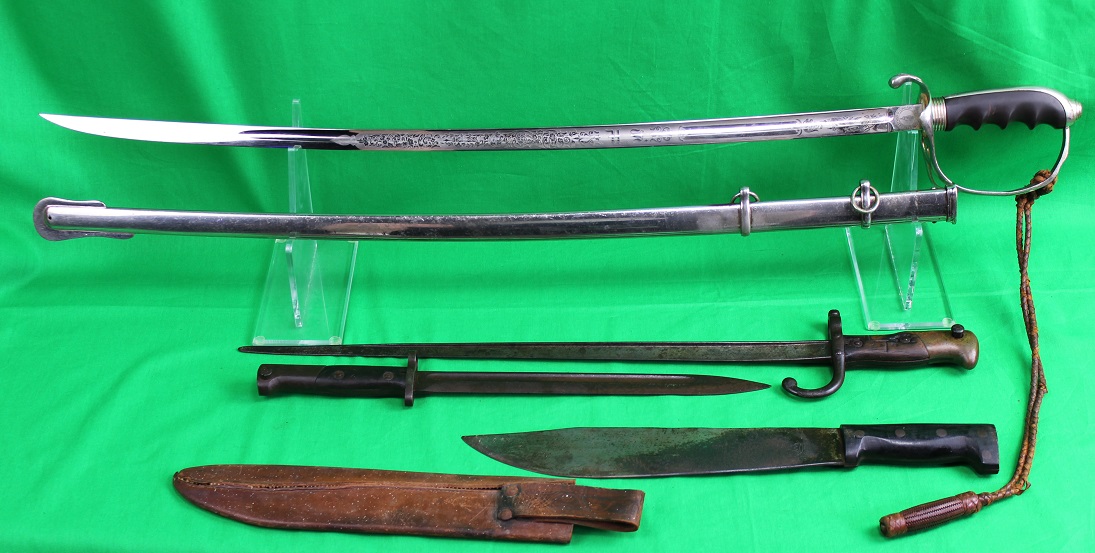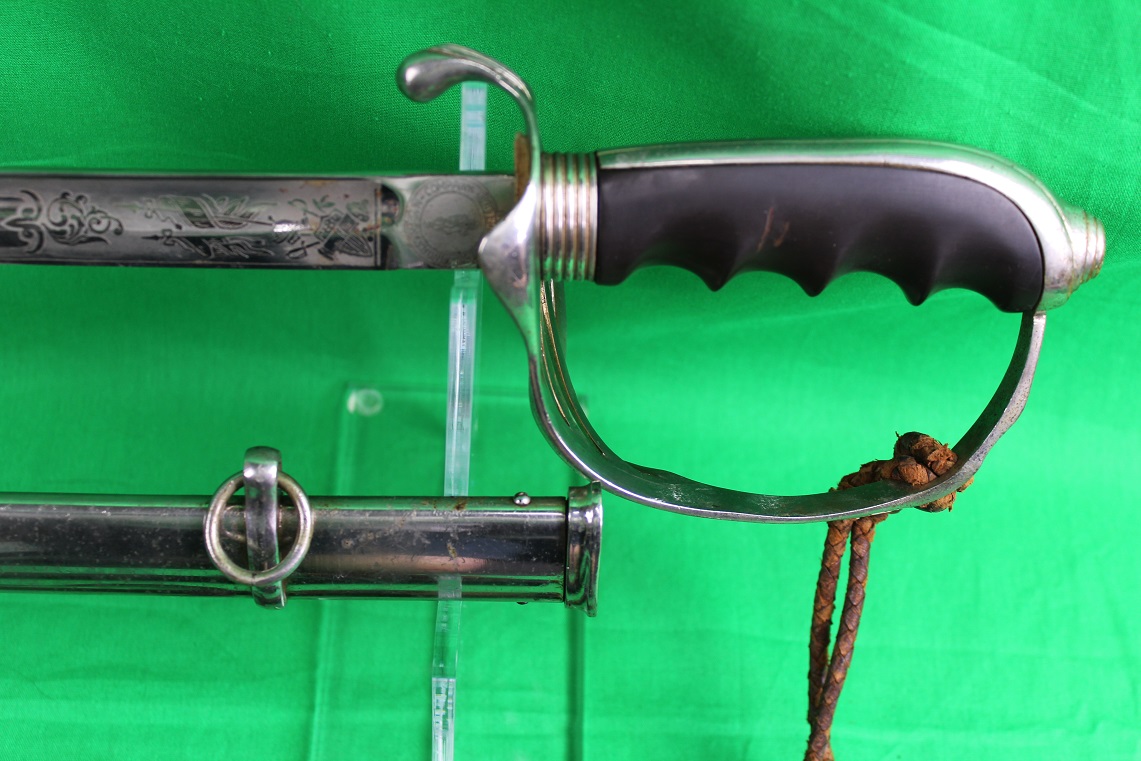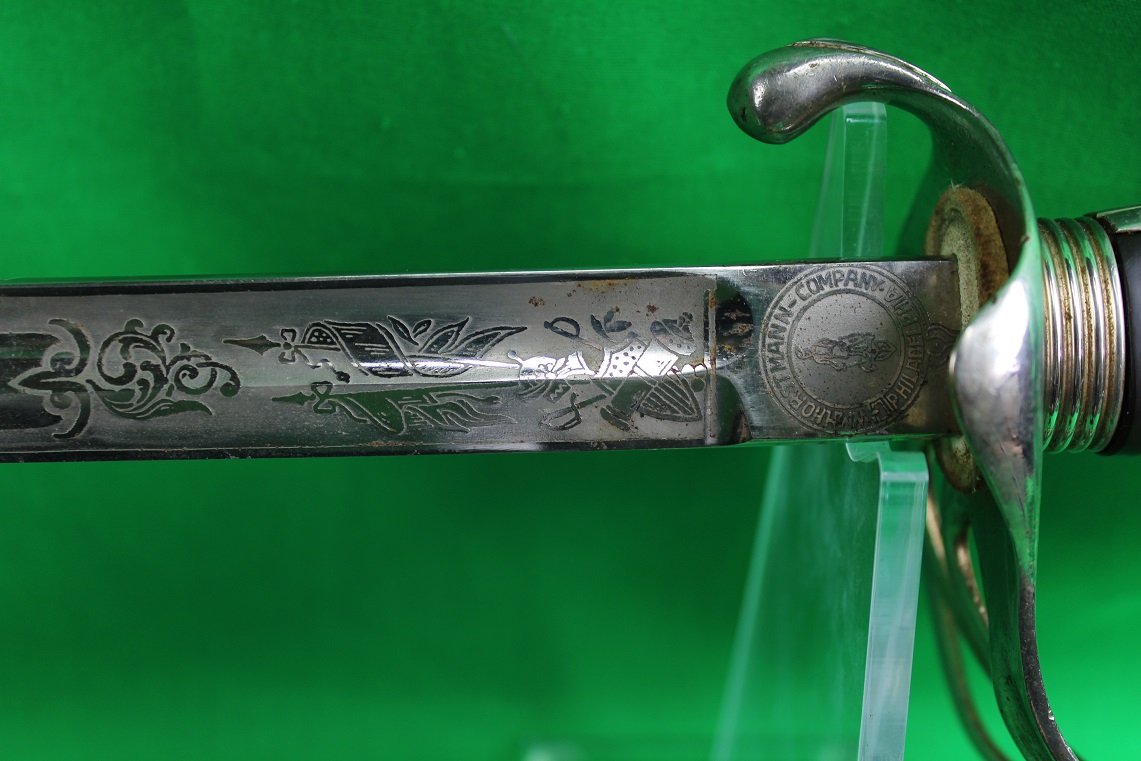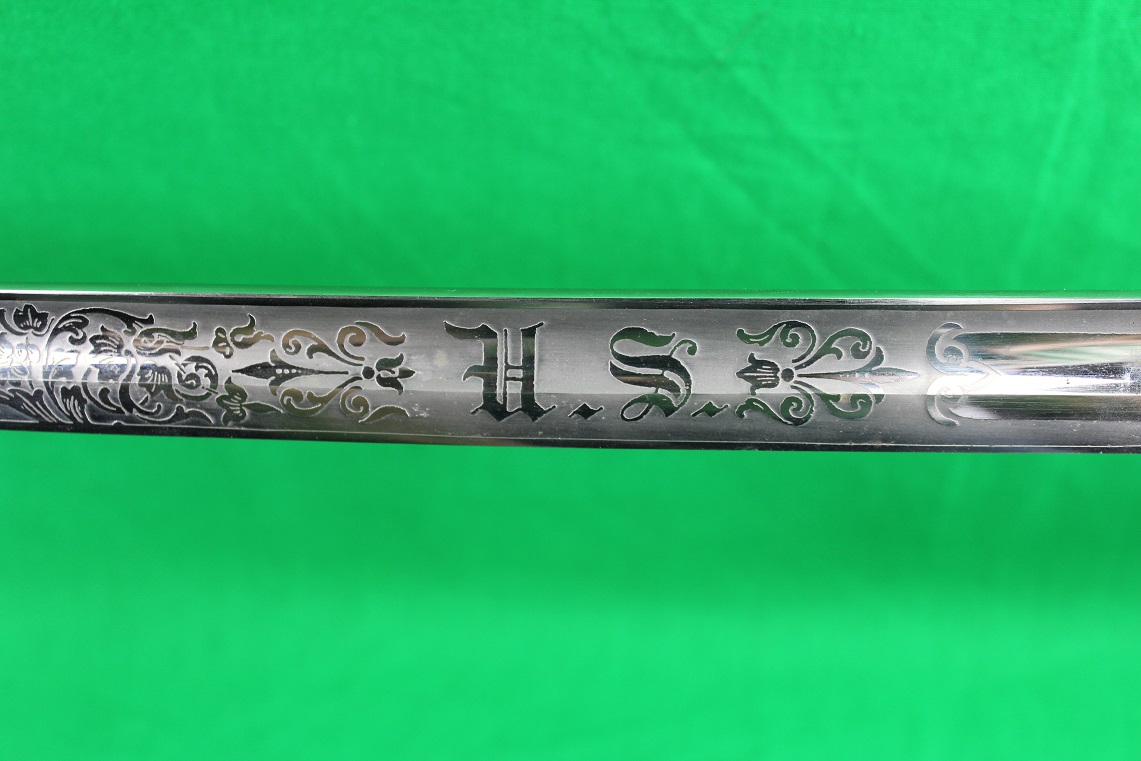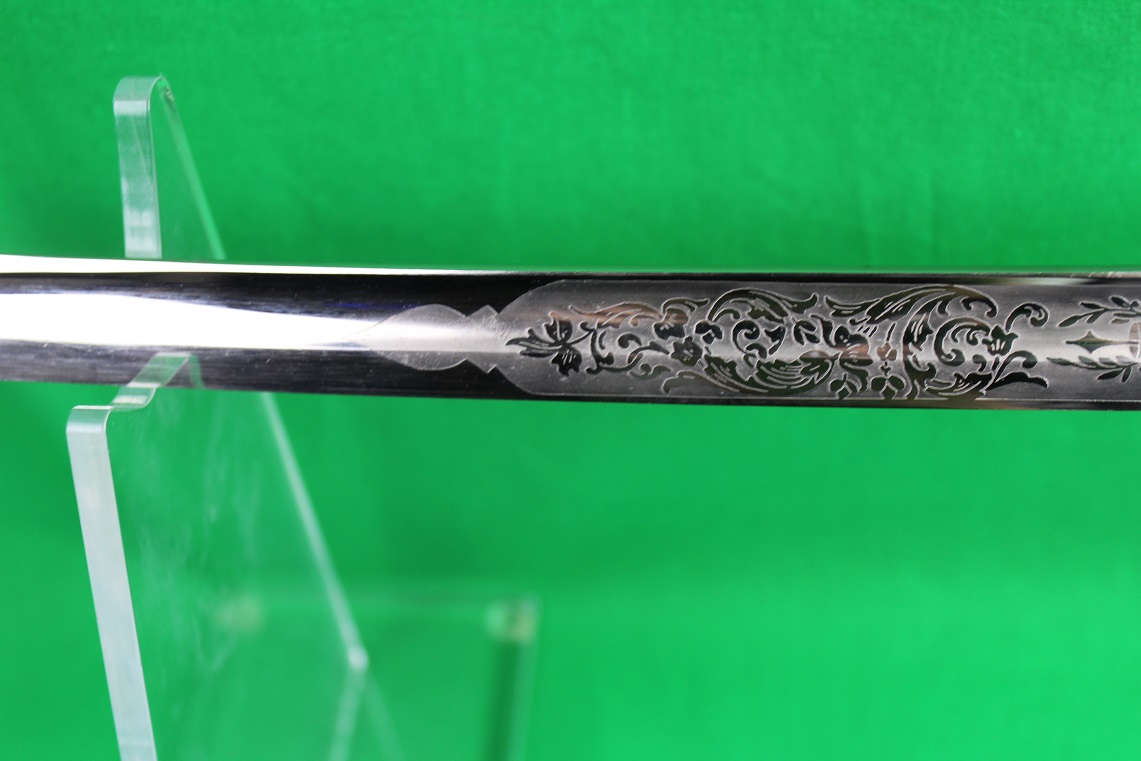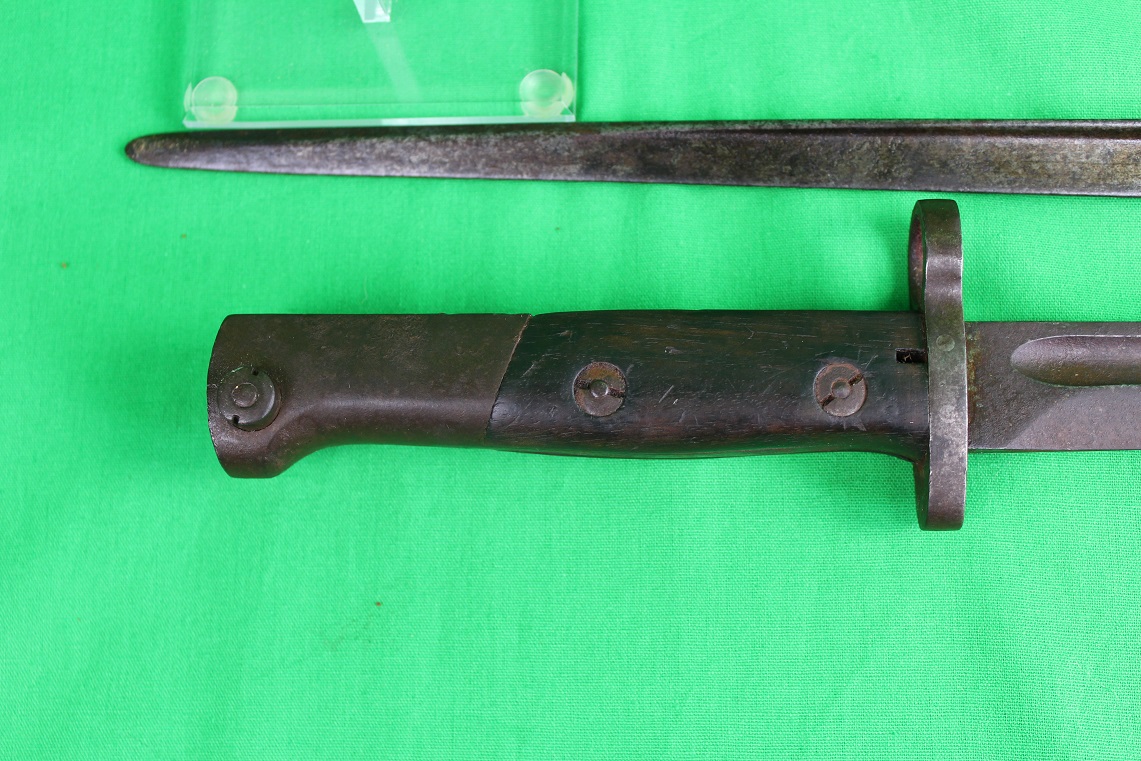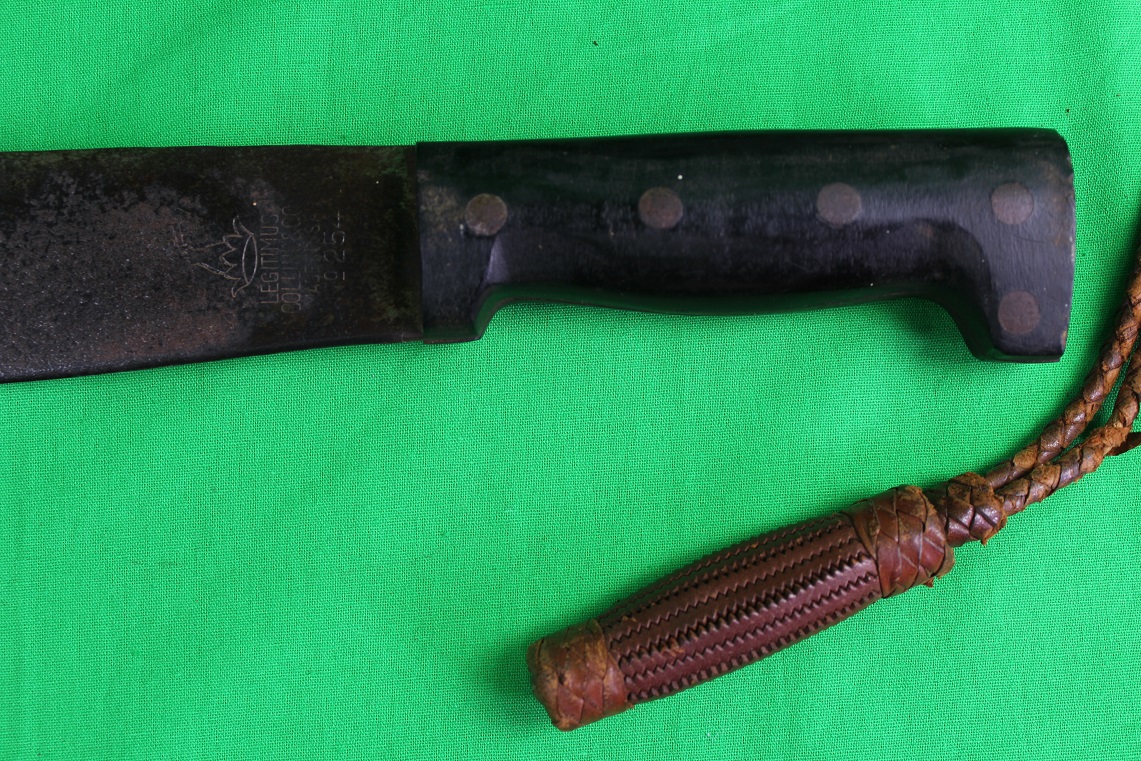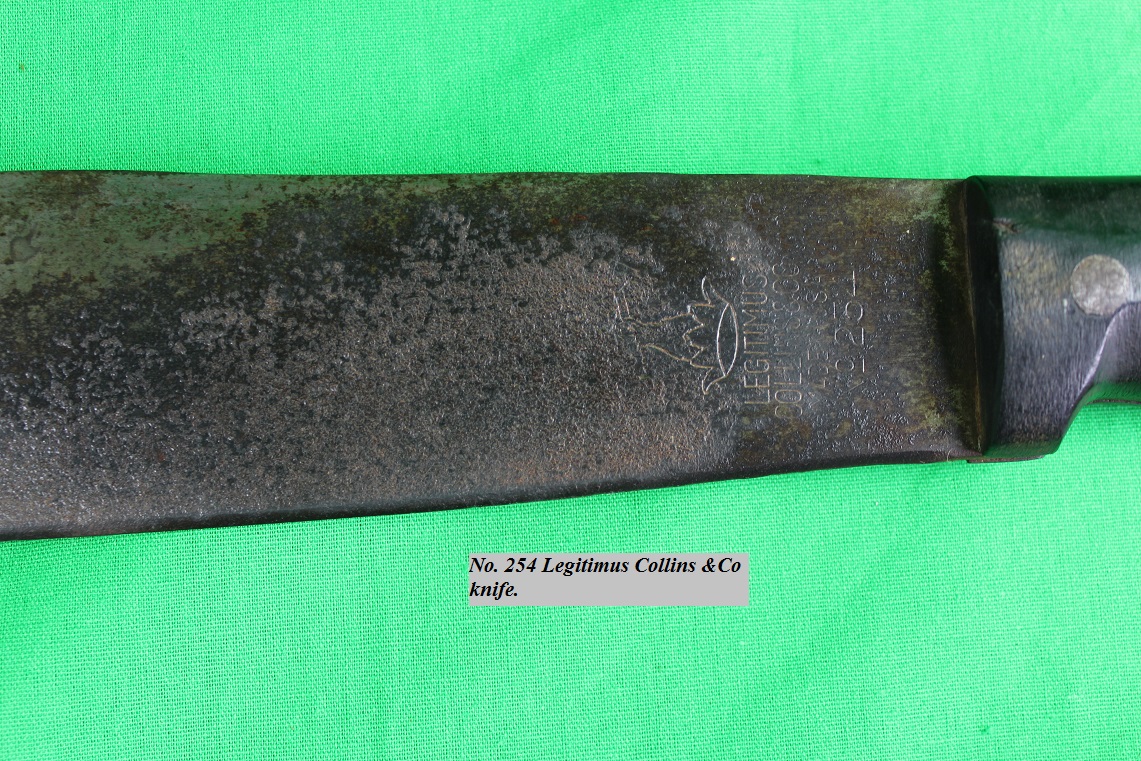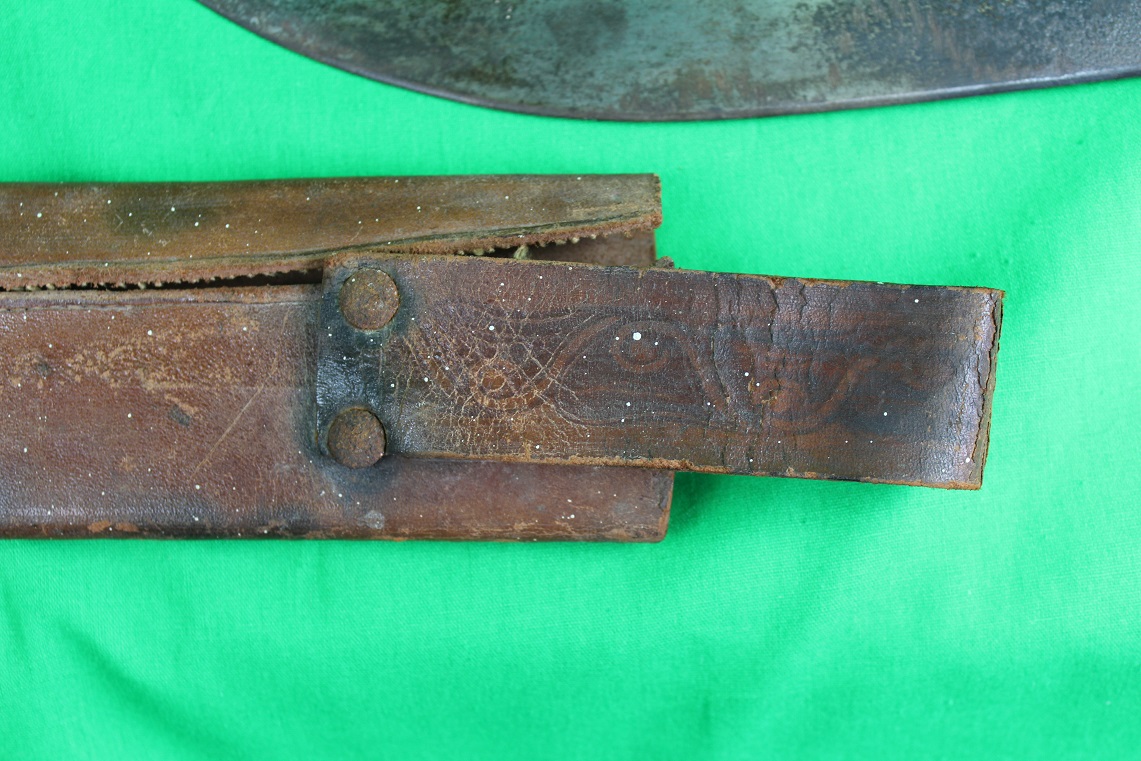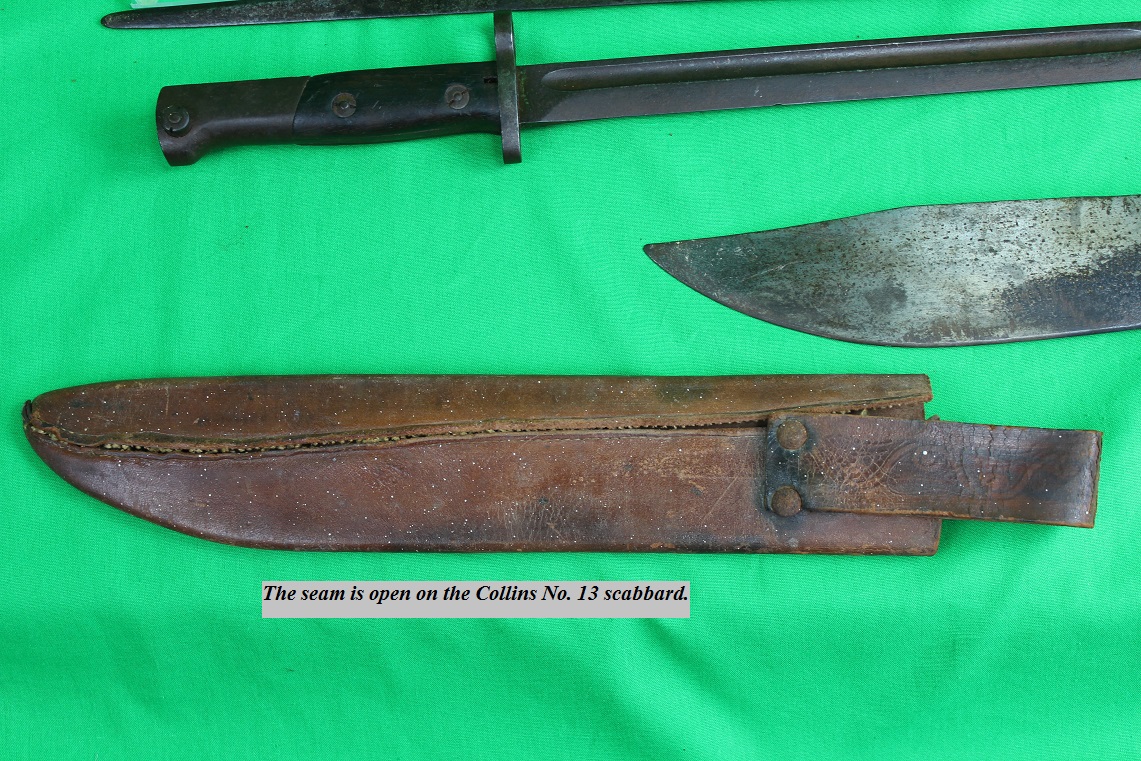 CONSIGNMENT
Here we have a collection of Chinese Military Medals. There are 9 altogether. Most have red ribbons attached to them. It appears that these date to before WW2 , during and after. They are all in good condition. One of them has a small eyelet loop at the top for some attachment now lacking. For the lot of 9 - $150.00
CONSIGMENT
Here we have a lot of British Military Buttons. They are made by Gaunt of London who made buttons for the British Military from this location from 1884 to 1991. I suspect these are later 20th century buttons but must admit I don't know which unit. If you know let me know and I'll post it. There are 8 buttons in the lot and for the lot $65.00
Thanks to a customer he has furnished me with the following info:
The Gaunt London back mark was used from about 1950/1960 until present. The buttons themselves appear to be....the 13th Duke of Connaught's Own Lancers buttons. I don't know enough to know if they still make copies of these buttons today of if they are still in use today for ceremonial uniforms. Hopefully this would give some information and get you pointed in the right direction for a complete identification.
Michael C. Bernhardt
TSgt, USAF Retired
CONSIGNMENT
Here is a lot of different U.S. military items. Take a look at the pics and if you see anything that you would like to have I'll quote you a price. Thanks!
CONSIGNMENT
Here we have a set of shoulder boards in the box. These are mint Navy Lt. Shoulder boards from the Hilborn-Hamburger, Inc. store in New York. I believe that they are vintage. Hilborn-Hamburger Inc. was established in New Jersey in 1927. There is no zip code on the box so I believe these to be WW2 or later. For this set $45. Never used!!!
Consignment
Here we have a collection of smalls consisting of US Air Force Buttons and various insignia. If you see anything you like here just let me know and I'll quote you a price.
Thanks!
CONSIGNMENT
Item No. 013
Here's an outstanding grouping! This grouping spans from 1954 through 1976 and has tons of documents, photographs, medals, awards and souvenirs! This Soldier, George Coty, was in a medical unit and he served in Korea, Vietnam, Lebanon and in West Germany. There are tons of general orders and diplomas for the various schools he attended. He got the Army Commendation Medal for Vietnam, The Good Conduct Medal for Vietnam, The Bronze Star for Vietnam in 1970 followed up by another one in 1972 for Vietnam, He was made Staff Sgt in 1977 . His photos consist of a Evac Field Hospital in Vietnam, Football teams where George was a trainer, 2 pics from VIetnam in 1969 with a Rhode Island flag that he asked the RI Govenor for and another pic showing him standing with another gentleman. George is the young one in the suit. George was in the 364th Infantry, and in the 82nd Airborne Division he earned his parachute wings. George was also a diver and I think he was in various Divisions over his career. George advanced himself through the Medical Corps and has the documents to prove it. This collection came from family in Central Indiana through a friend. George's full name was George Henry Anthony Coty. George was born on January 14th, 1936 and passed away on December 3rd, 2007. Here is George Henry Anthony Coty's obituary:
George Henry Anthony Coty Tuesday, December 4, 2007 11:53 pm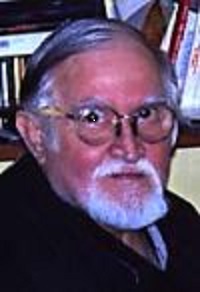 Jan. 14, 1936 - Dec. 3, 2007 George Henry Anthony Coty, 71, Kokomo died at 4:07 a.m. Monday, Dec. 3, 2007, at his residence. He was born Jan. 14, 1936, in Providence, R.I. On Aug. 4, 1965, he married Ursula (Kaiser) Coty in Wiliamsburg, W.Va. George retired from the U.S. Army in 1980, after serving in the Korean War, Lebanon, and three tours of duty in Vietnam, with many decorations, medals, and badges, including a silver and bronze star. In the 1970s, he was in the 82nd Airborne Division. He was a medical specialist for 14 years and a surgical nurse at a hospital in Columbus, Ga., for seven years. He was also an independent truck driver into retirement. He enjoyed traveling and seeing the world. Forever he will be lovingly remembered as a true follower of his heart. A man of great passion for life, family and his country. A kind and gentle soul. Devoted husband, my poppy, my daddy, the colonel, pepaw, grandpa, papa George, and a friend of Kong. He is survived by his wife of Germany; three daughters, Jeanette "Jenny" Schafer and husband Theodore Longfellow, Kokomo, Sandra Coty-Deig and husband Scott, Galveston, and Jasmine Coty, Germany; a sister, Connie and husband Marty Martin, Providence, R.I.; eight grandchildren, Jessica, Michael, Cindthia, Christopher, Kevin Schafer, Shannon, Erick and Michael Frazier; five great-grandchildren, Braeden Schafer, Angelika Pyle, Eros Krippenstaple, Cali Pickett-Deig, and Alivia Frazier, and his "adopted" grandchild, Jessica "Sica" Lessing. He was preceded in death by his mother, Blanche Coty; son, Michael Adam Coty; and by his mother-in-law and father-in- law, Catherine and Adam Kaiser. A memorial service will be 2 p.m. Sunday at Ellers Mortuary Webster Street Chapel, with Father Andrew Dudzinski officiating. Cremation will follow. Calling hours are noon to 2 p.m. Sunday. Military honors will be held by Kokomo VFW military rites team. Memorial contributions can be made to the American Cancer Society and PETA.
Here are the pics!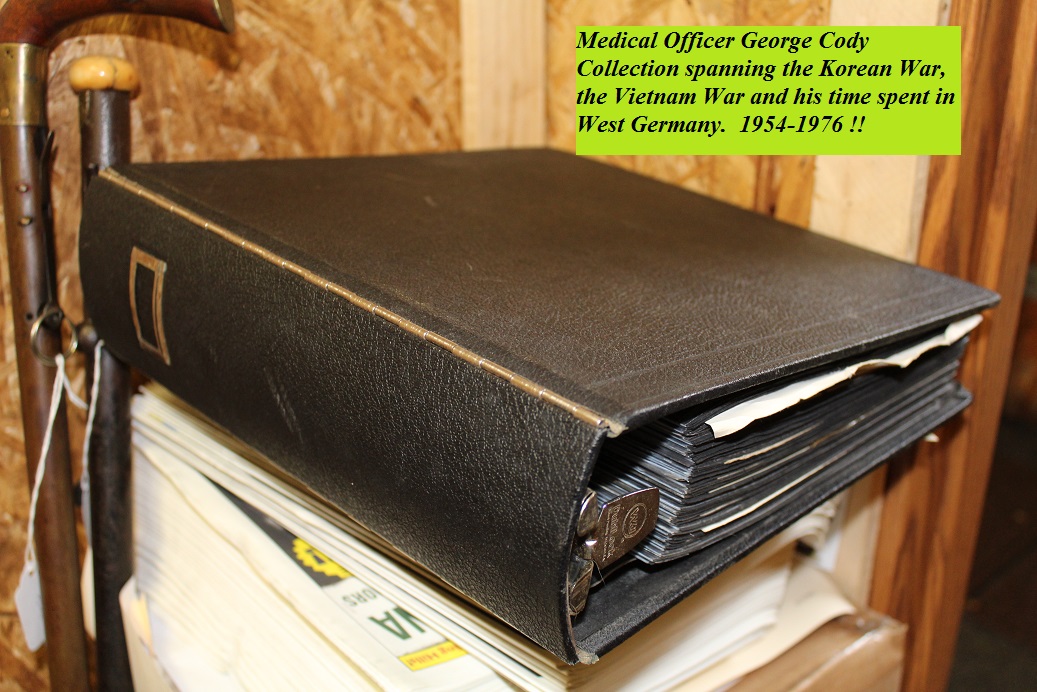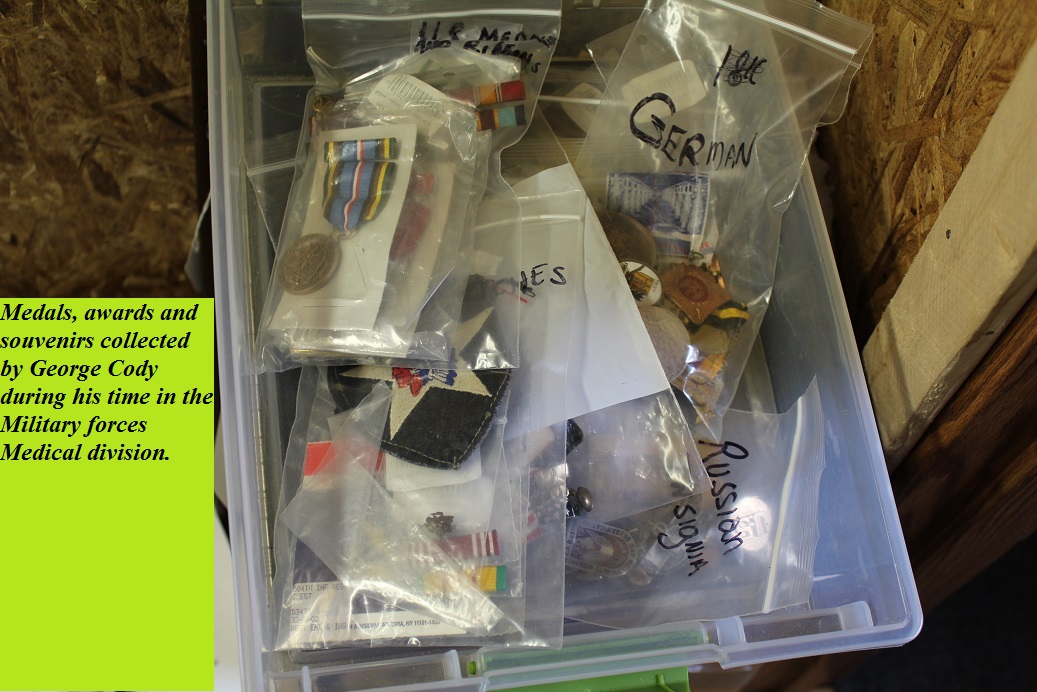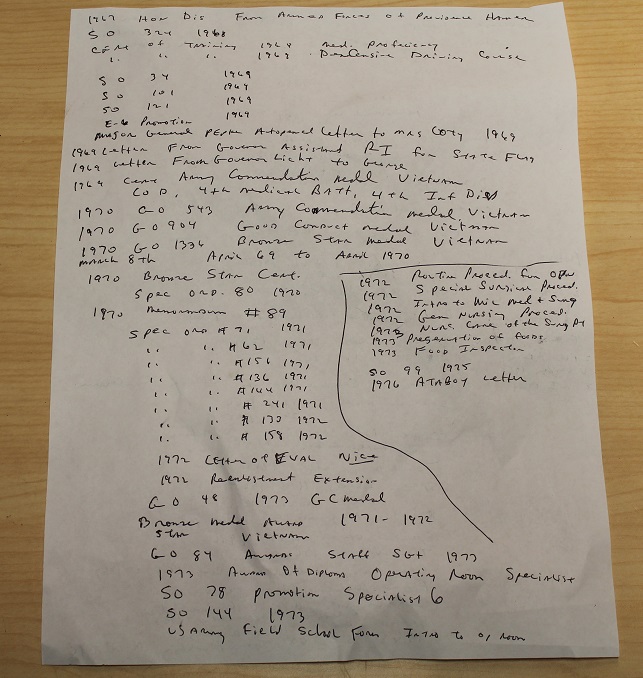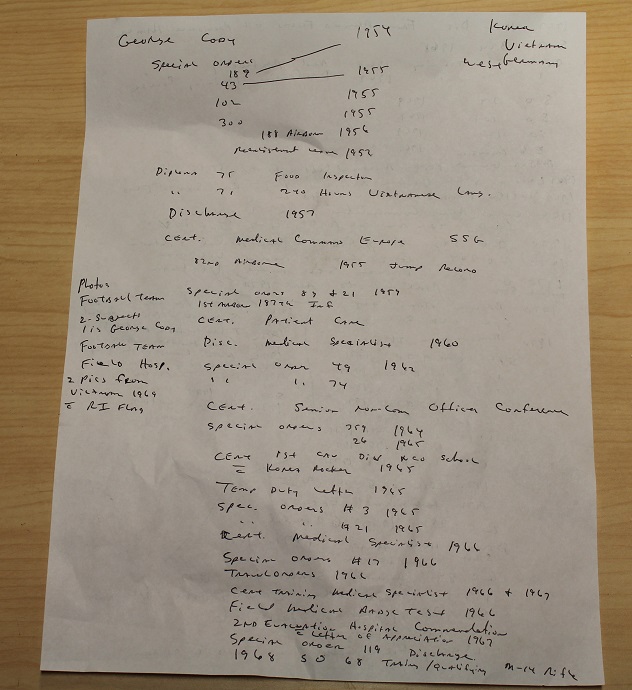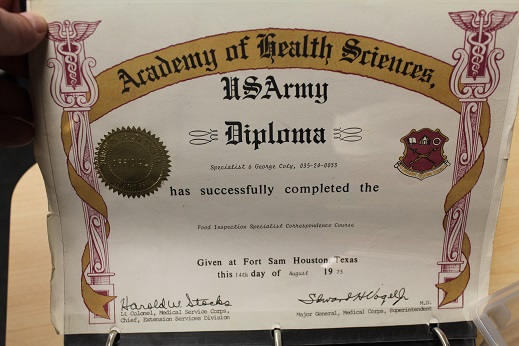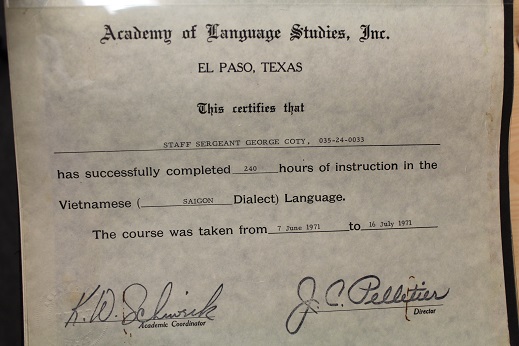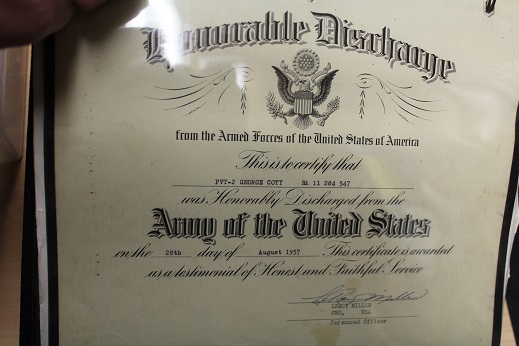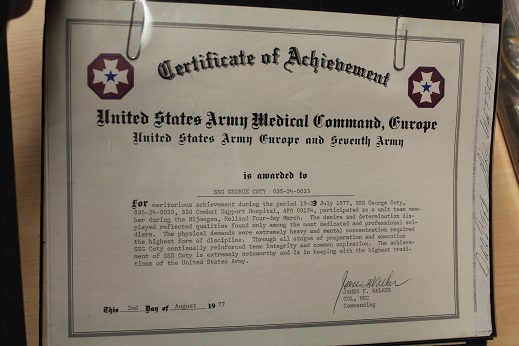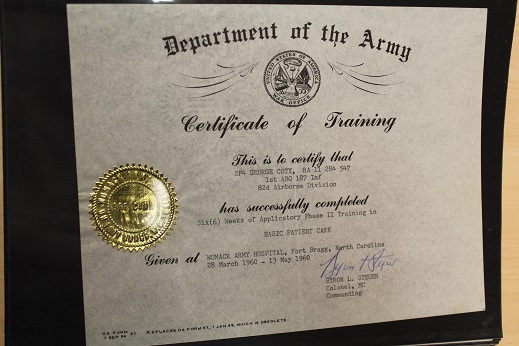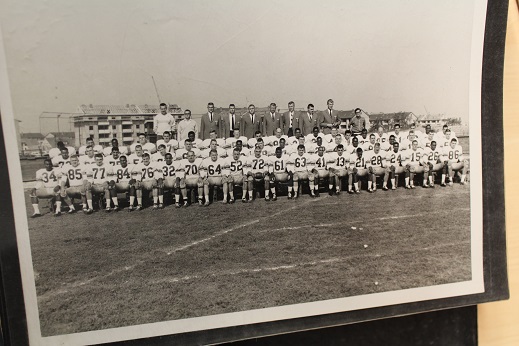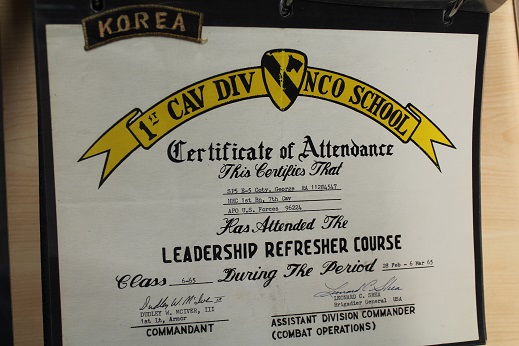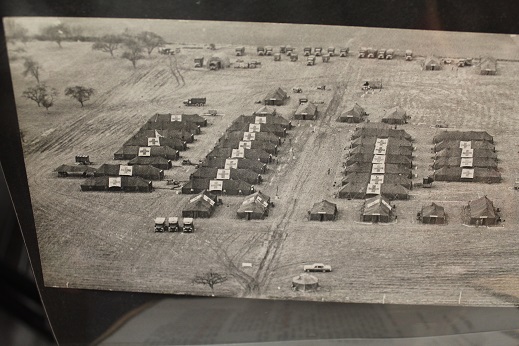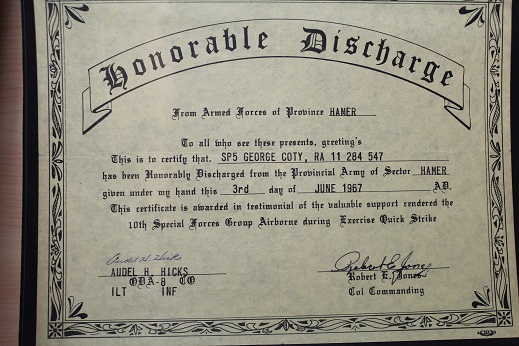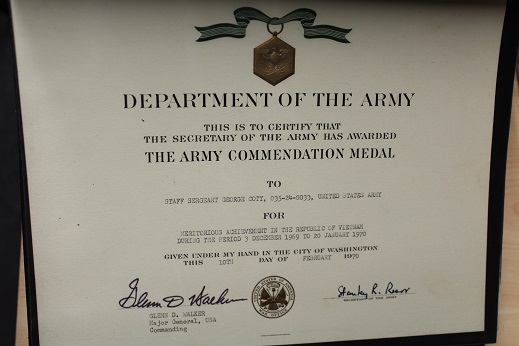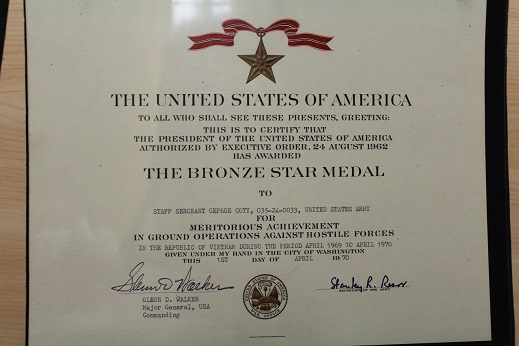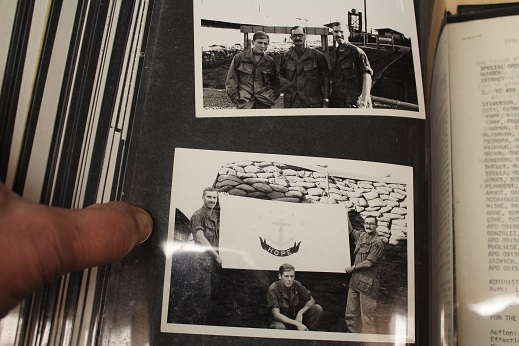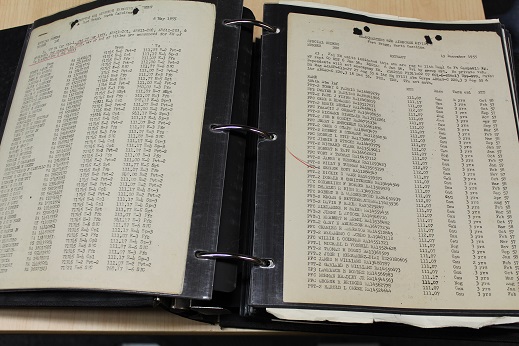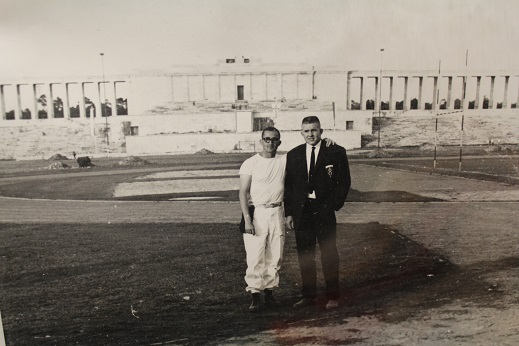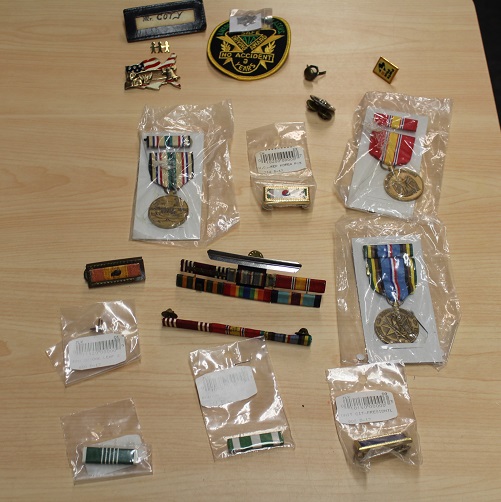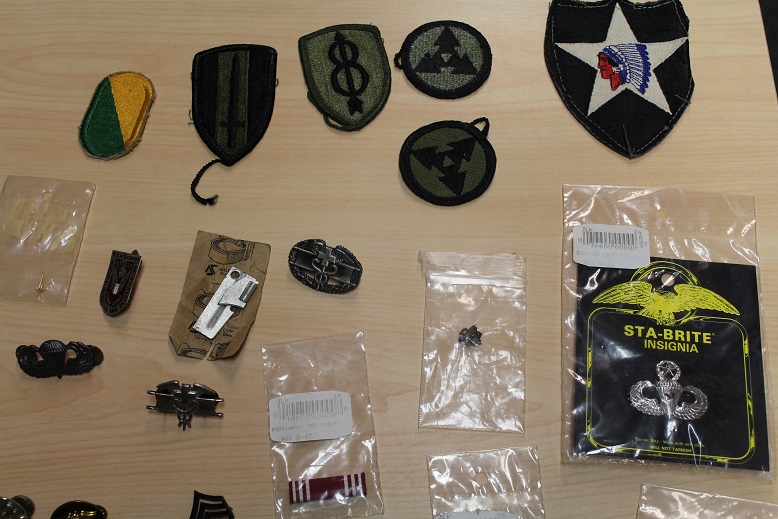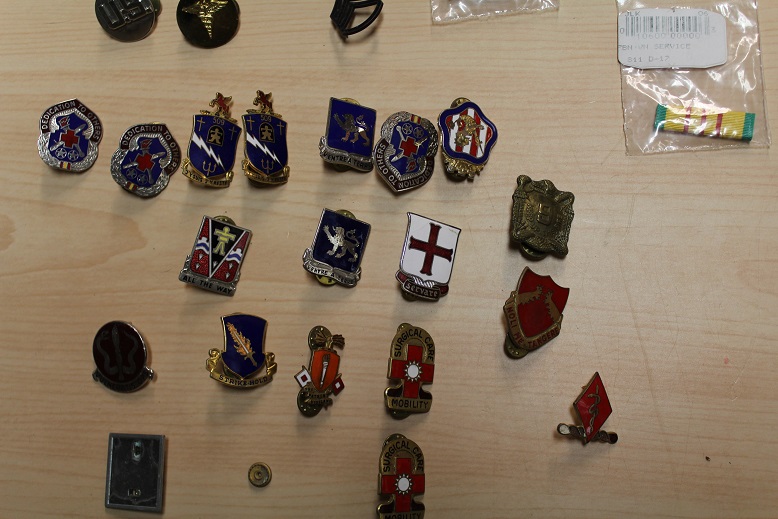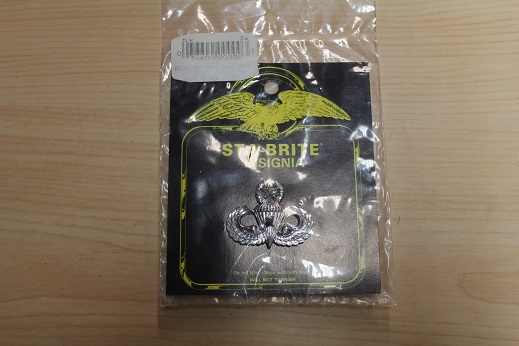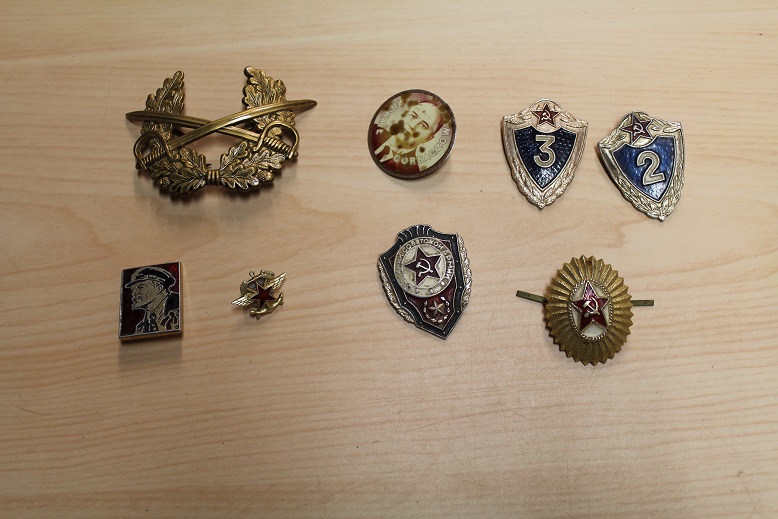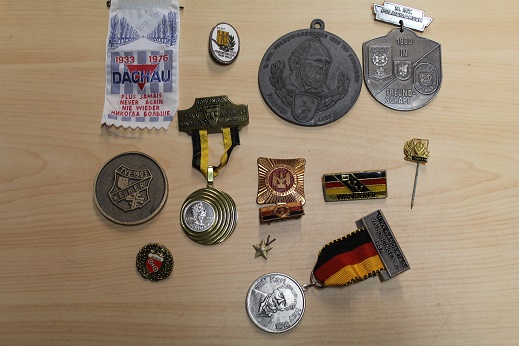 For this fine grouping of a long career Medical Soldier $495.00
CONSIGNMENT
Item No. 010
Here is a post WW2 West German Holster for the FN Hi-Power pistol. This one is early 1950's and is in very nice condition with only the pull up strap being broken. Nice inside stamps. For this fine black holster $85.00
CONSIGNMENT
Item No. 09
Here we have a P-08 Luger working model that was made in Japan and stamped as such. This piece looks remarkably like the real thing but the barrel is plugged. Some of the parts are somewhat of a rough casting but everything works as it should. I believe you can take this down like the originals and perhaps it had an educational purpose or was a movie prop. Cocks and fires, safety works, Outstanding copy! $195.00
British 1907 Near Relic Bayonet
Item No. 08
WW1 Artillery Collar Brass
Item No. 07
CONSIGNMENT
Item No. 011
CONSIGNMENT Item No. 05
Item No. 04 Consignment
We just got in this wonderful Id'd WW2 Medic Corpsman Knife from WW2!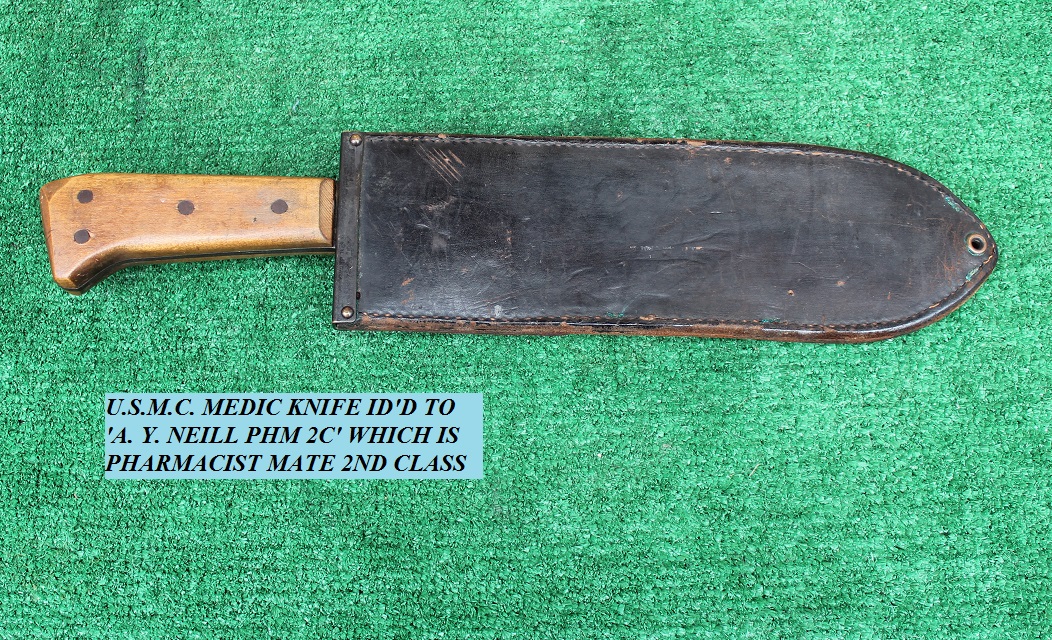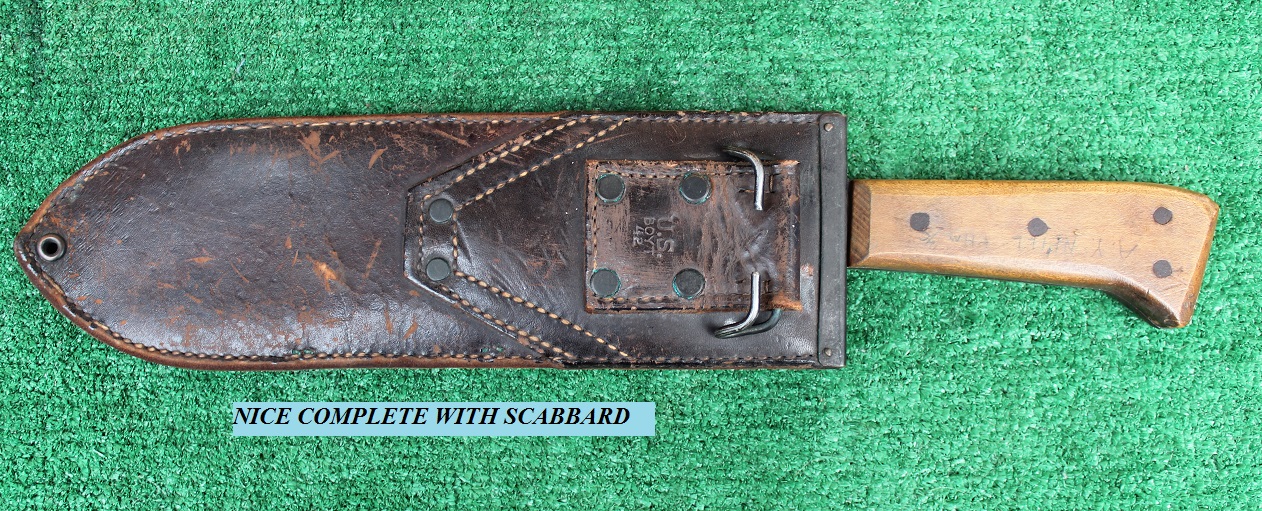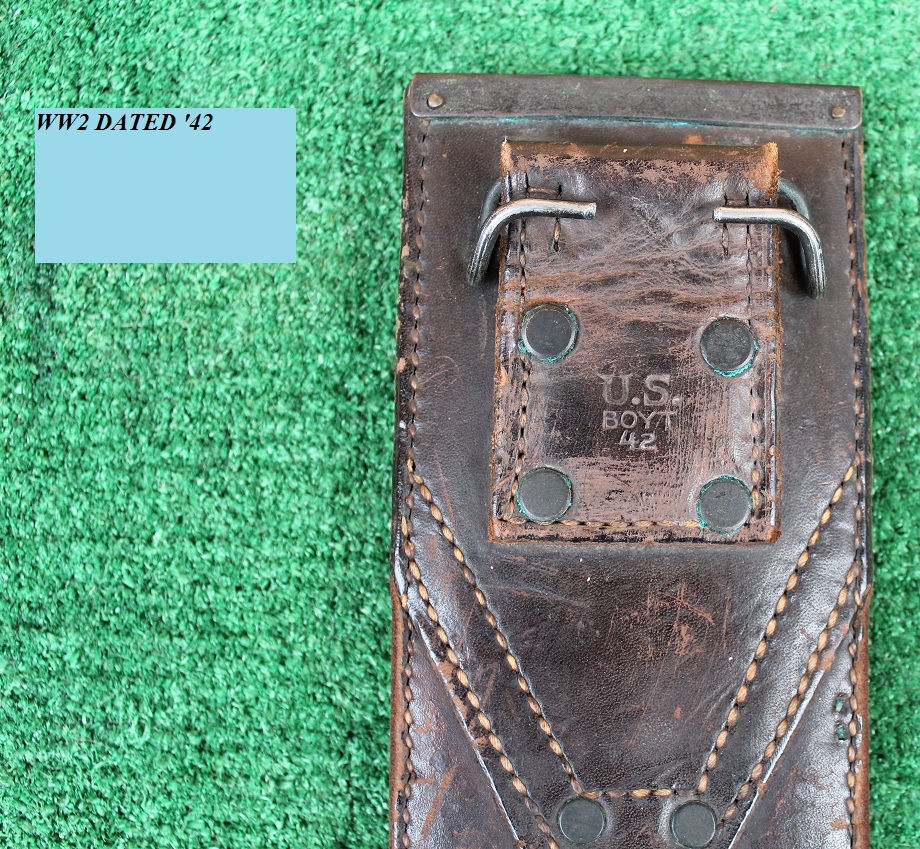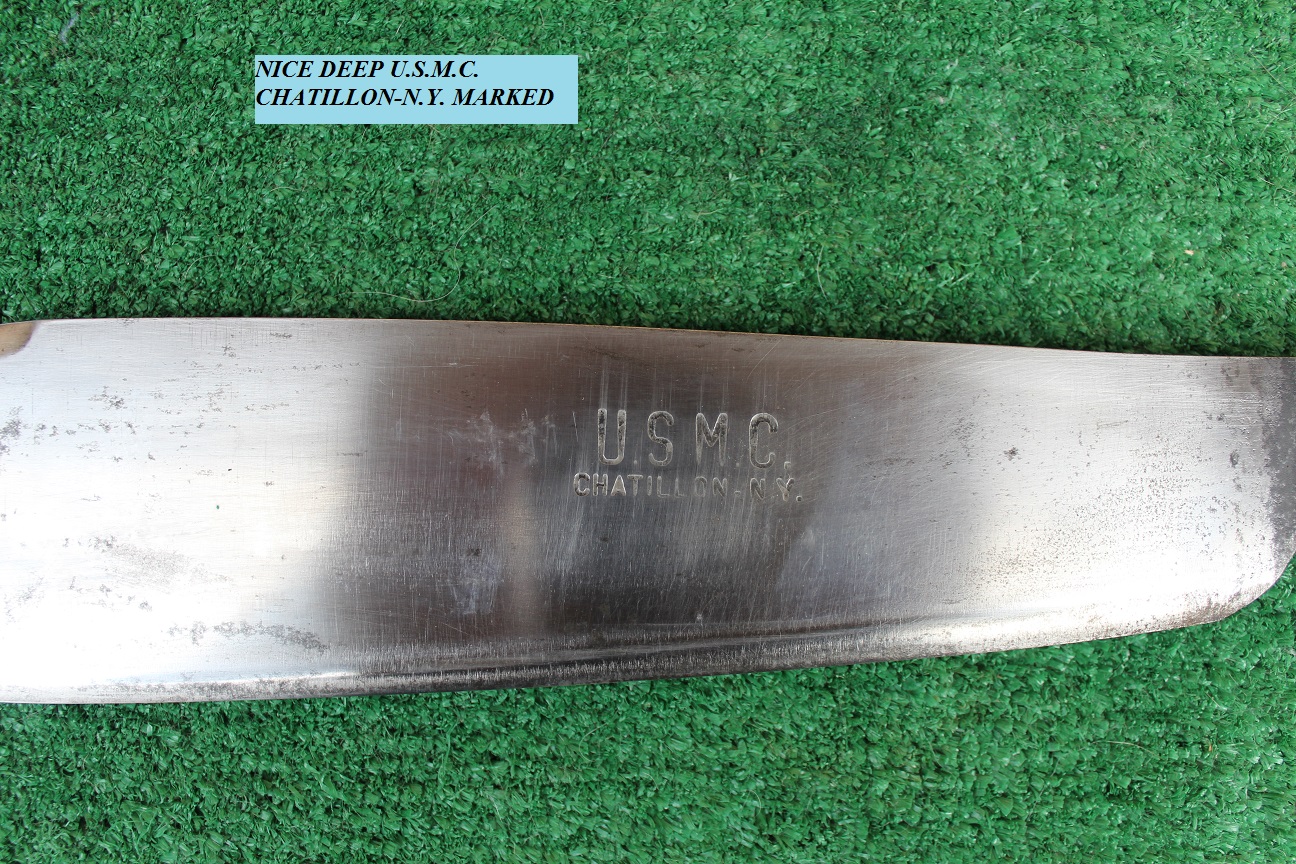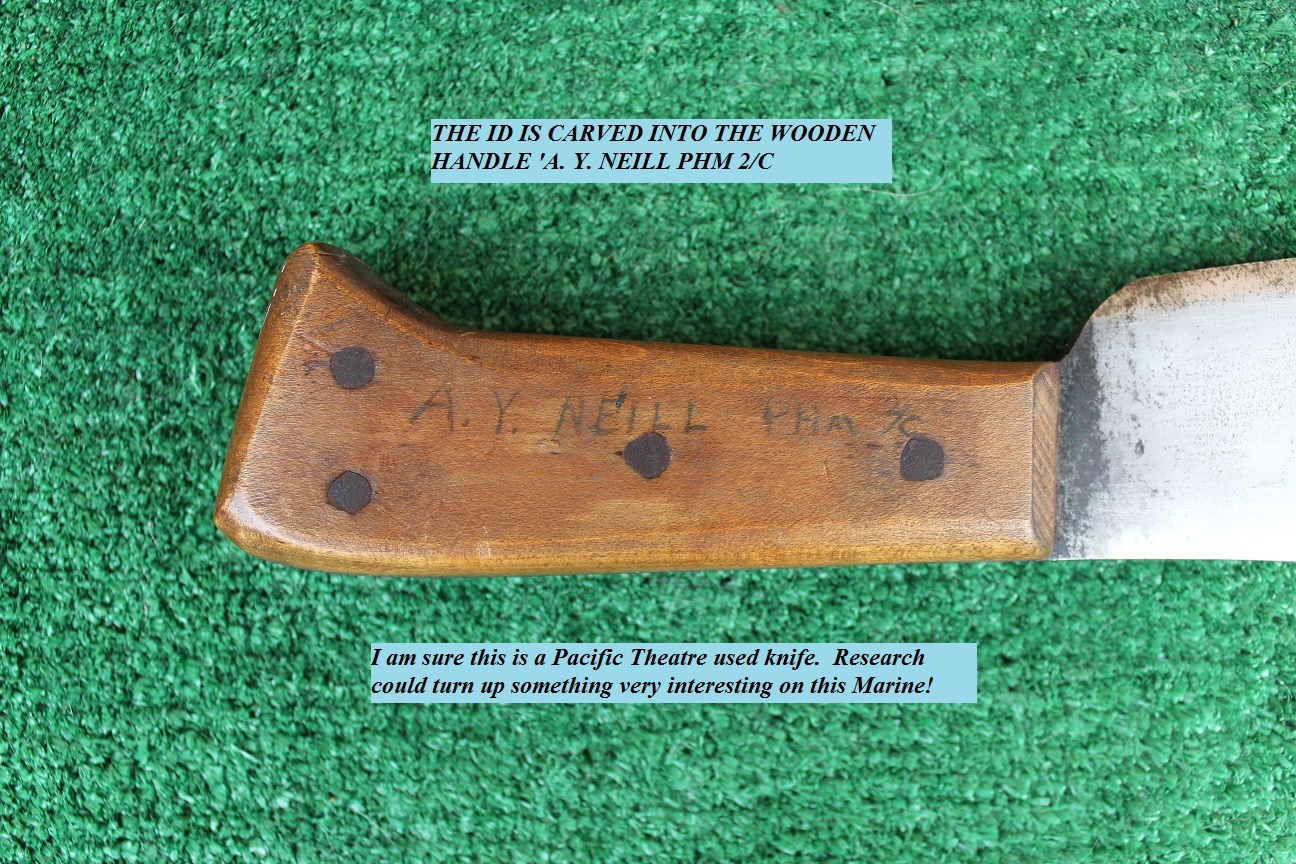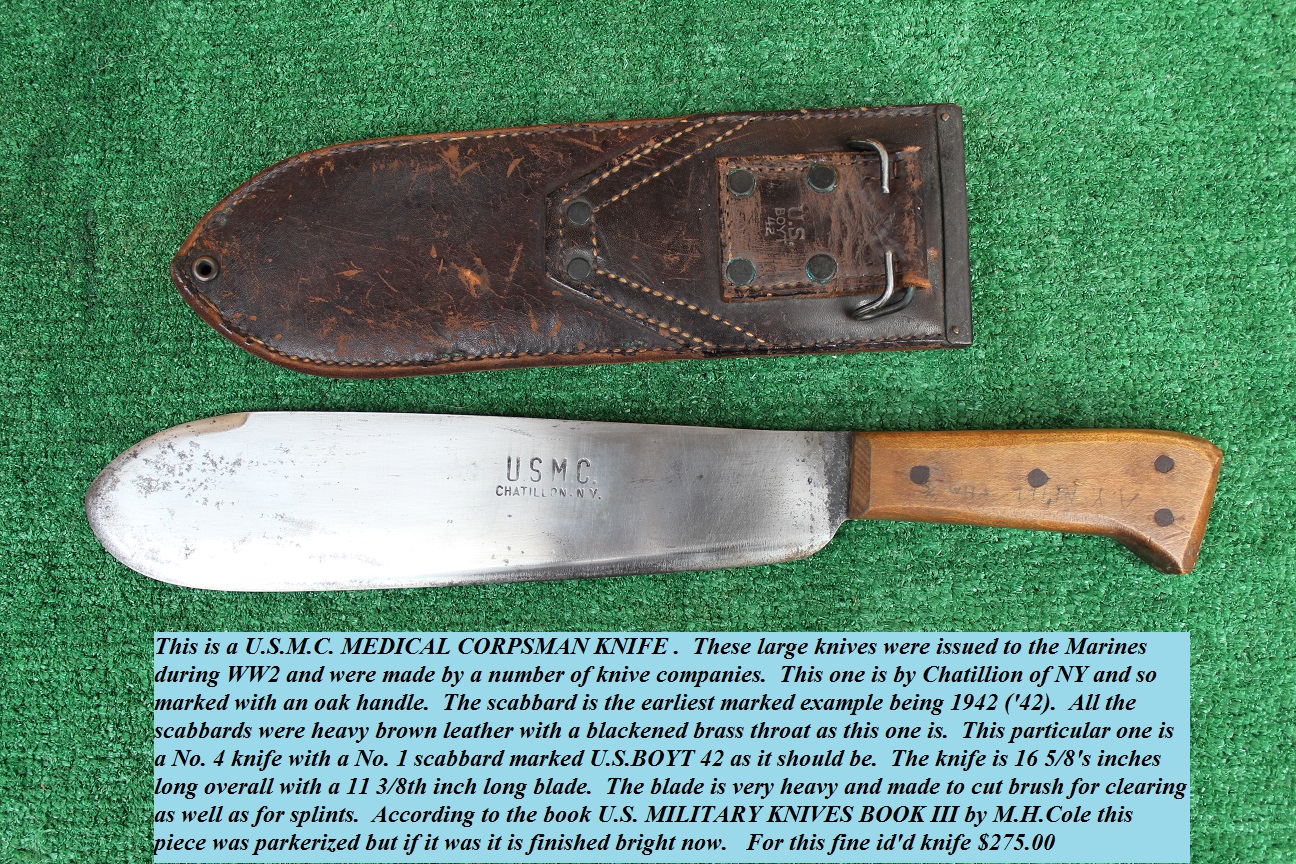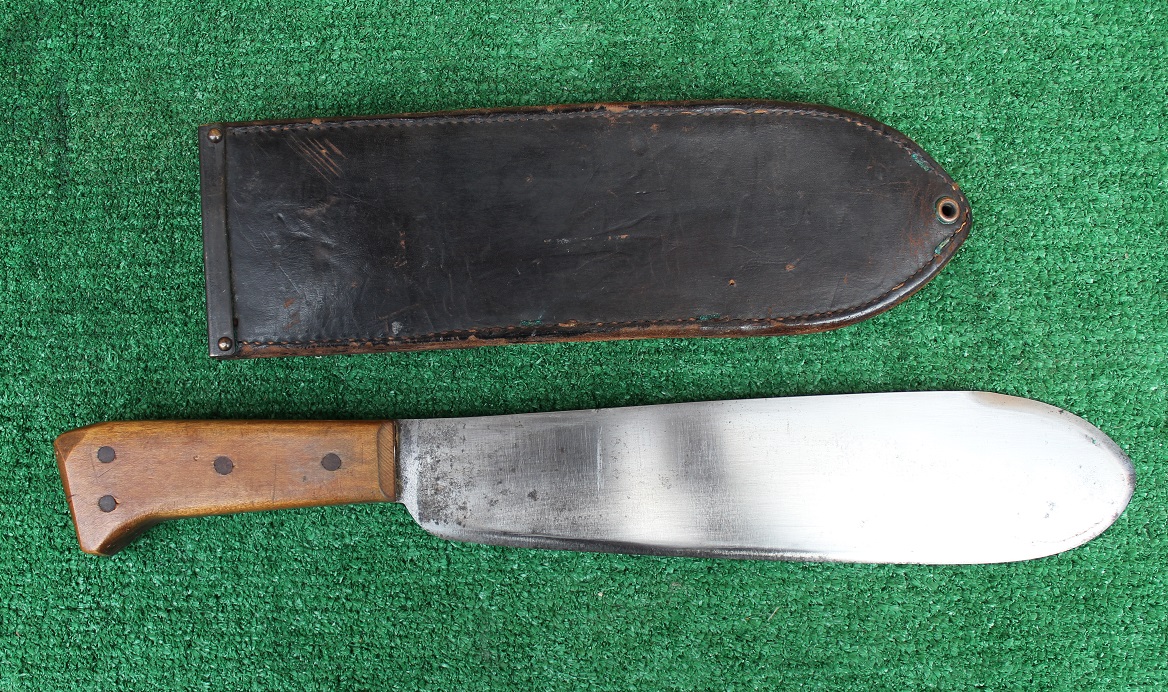 Item No. 03 Consignment
CONSIGNMENT
Here is a honey of an outfit! This is an original 1918 Luger with 2 magazines that is in an original holster with Luger tool. This firearm is actually a model 1914 Erfurt Military Luger with a 4 inch barrel being a 9mm caliber.This one is in pretty good condition with most of the original finish remaining. These models had a rough finish and as the war progressed the finish got worse however this one is nearly as nice as one as I have ever seen. The serial number on this firearm is 5841 n and is matching on all parts except the magazines. The wooden grips are in very nice condition. The bore is excellent and the piece functions as it should. The magazine that was in the piece has the wooden end cap and is serial numbered 2056 n. The other magazine has a aluminum end cap and it's serial number is 4290 n. The holster is complete with some age cracks to the finish. All straps, latches, buckles etc are there. The holster is marked JULIUS HANSEN STRASSBURG 1911. The luger tool is in the little pouch on the top inside flap as it should be. All in all this is a wonderful complete WW1 unit. Nice!!! $1,850.00
Item No. 02 Consignment
Here is a unique turn of the century Japanese piece that I've found some research on, thanks to a lead from a friend. This piece is over 39 inches long and is made of a hugh length of bamboo that is about 2 1/2 inches in diameter in the middle. The top of this staff or walking stick is what I believe was the root of the bamboo and is abut 3 1/2 inches in diameter. Nearly the entire length of this piece is carved and there is a great age polish to this piece with several unobtrusive age cracks. There is also a few small worm holes. At the top of the piece is engraved H.B.C. to W.R.CALLAWAY YOKOHAMA MAY 15, 1904. The bottom of the piece is capped off with a large steel ferrel and there are 4 Japanese characters stamped and dyed above the ferrel. Take a look at the pics. Seems that this unique carved bamboo staff was given to W. R. Callaway by his father, we think, to commerate his unique time served in Japan during the Russo-Japanese-Portsmouth war and his contribution to the New York Enterprise Newspaper he worked on. Seems that the Japanese leadership would not let him report on the war so he came up with a code to use that he sent to his Newspaper publisher. They figured out the code and were able to adequately report on that war like no other Newspaper was able to do. Quite a scoop! I have a copy entitled CALLOWAY'S CODE (he misspelled his name) written by O. Henry (1862-1910) in 1906 that gives a complete snopsis of what took place during that period that H. B. Callaway was over there. I can furnish an e-mail copy of that to any interested person. I've got a good start to the research but I don't want to spoil your fun. For this great one of a kind piece $2,500.00 Thanks! Ted New Arrivals 245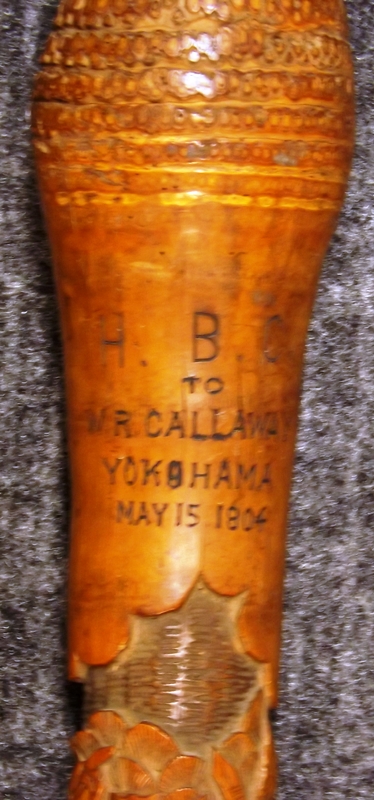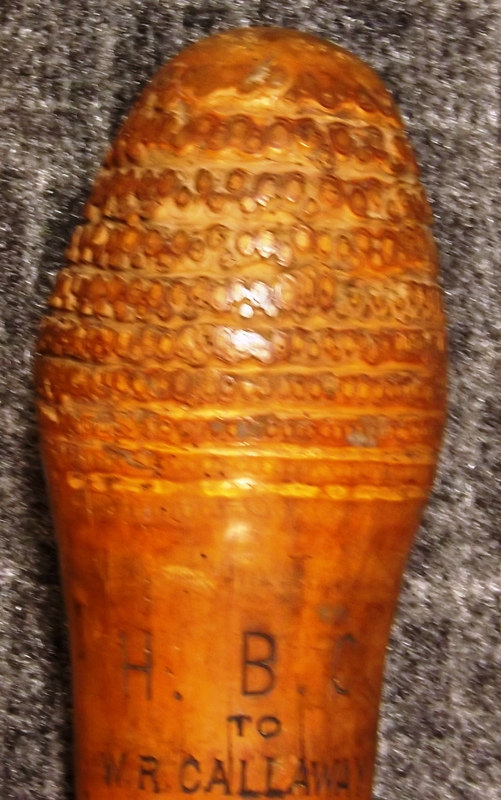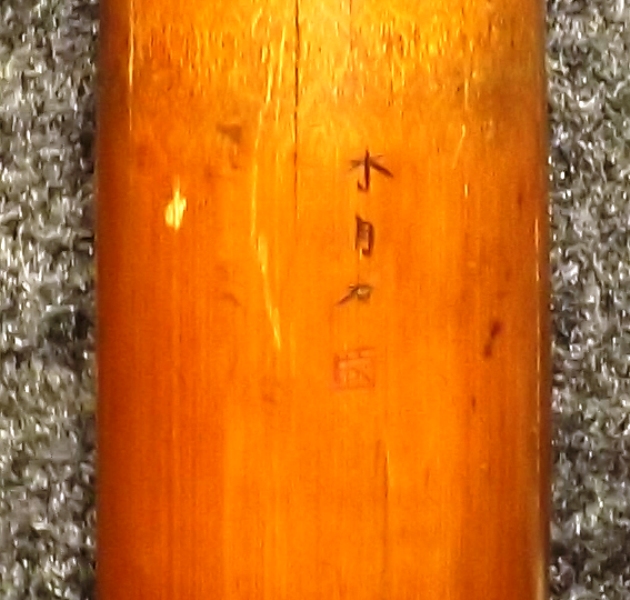 Item No. 01 (CONSIGNMENT)
RARE!!!!!
This is an extremely rare all-original Allgemeine-SS General Officer Uniform Silver Bullion Piped Black Wool Visor Hat
It has the skull and eagle emblems, silver bullion piping, thick silk chin cords, and black velvet band present and intact, as can be seen from a close-up of the front. The inside view is showing some signs of routine service wear to the sweat band and liner. The plastic crown protector is present. There is the original RZM and stamped maker mark on the liner.
The overall condition is very nice indeed. This is a rare piece and hard to come by in this market. For this piece $4500.00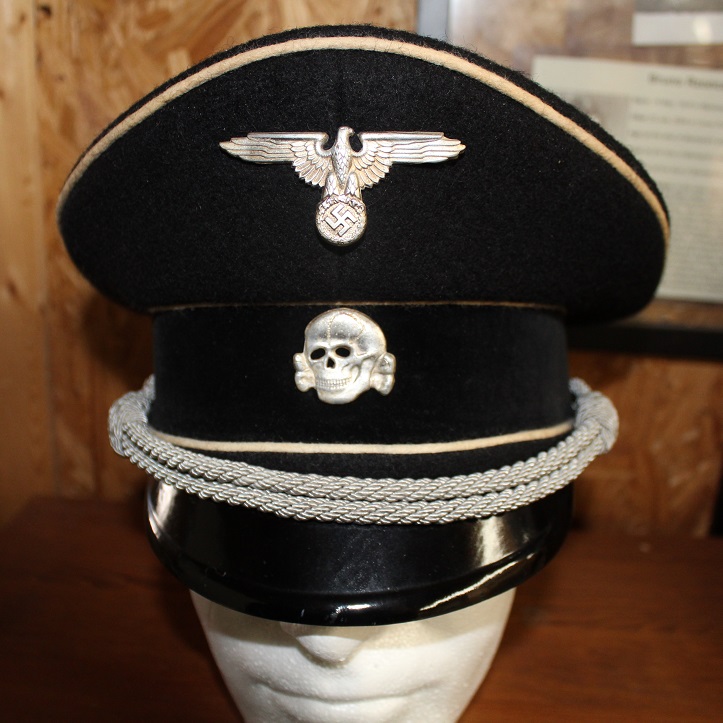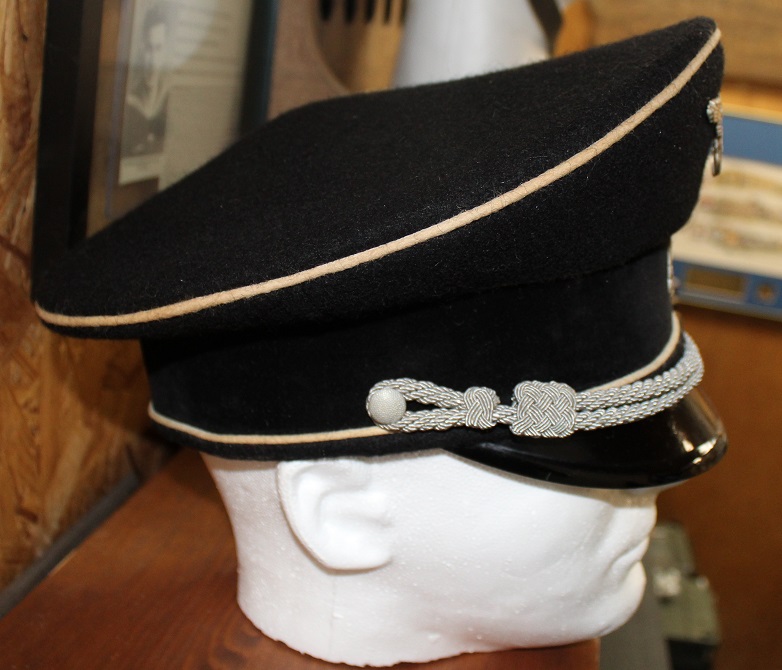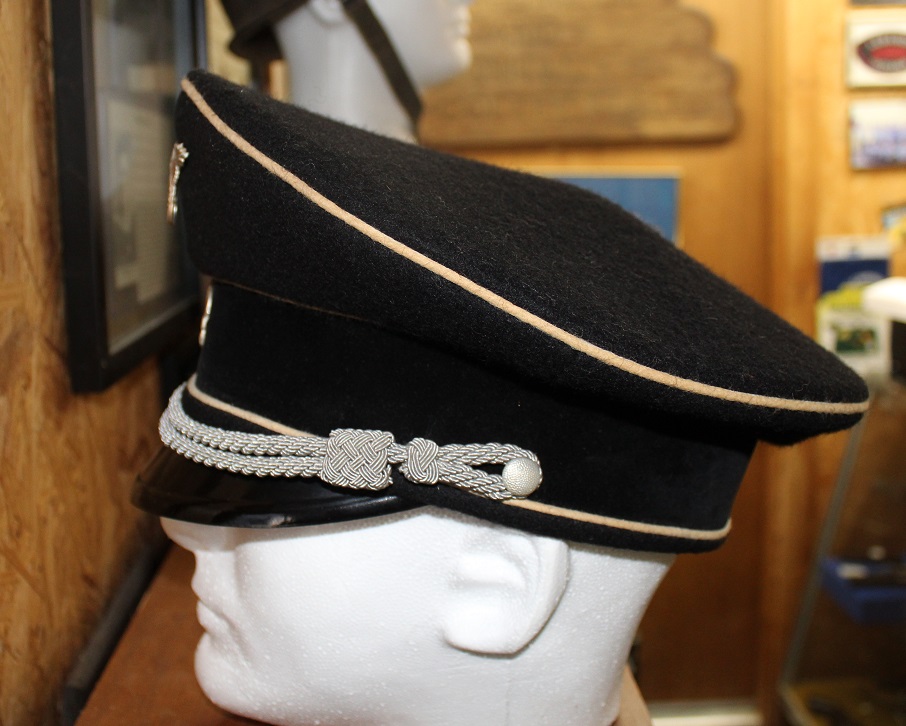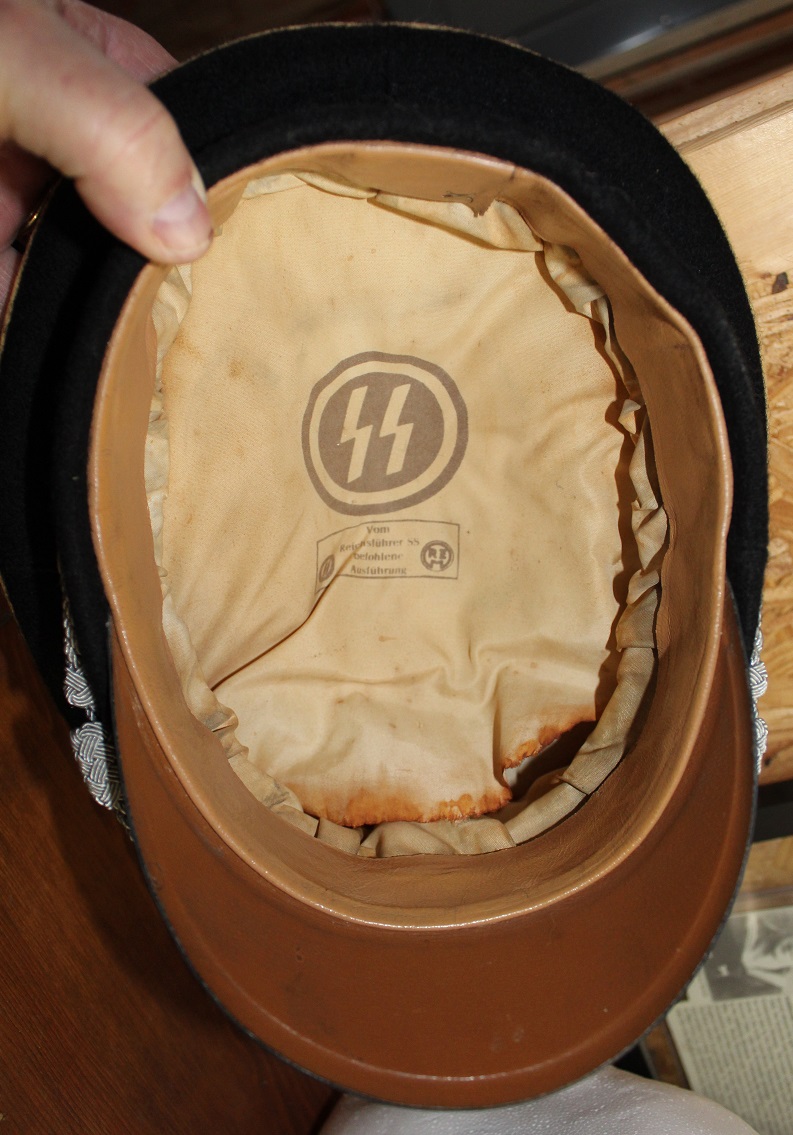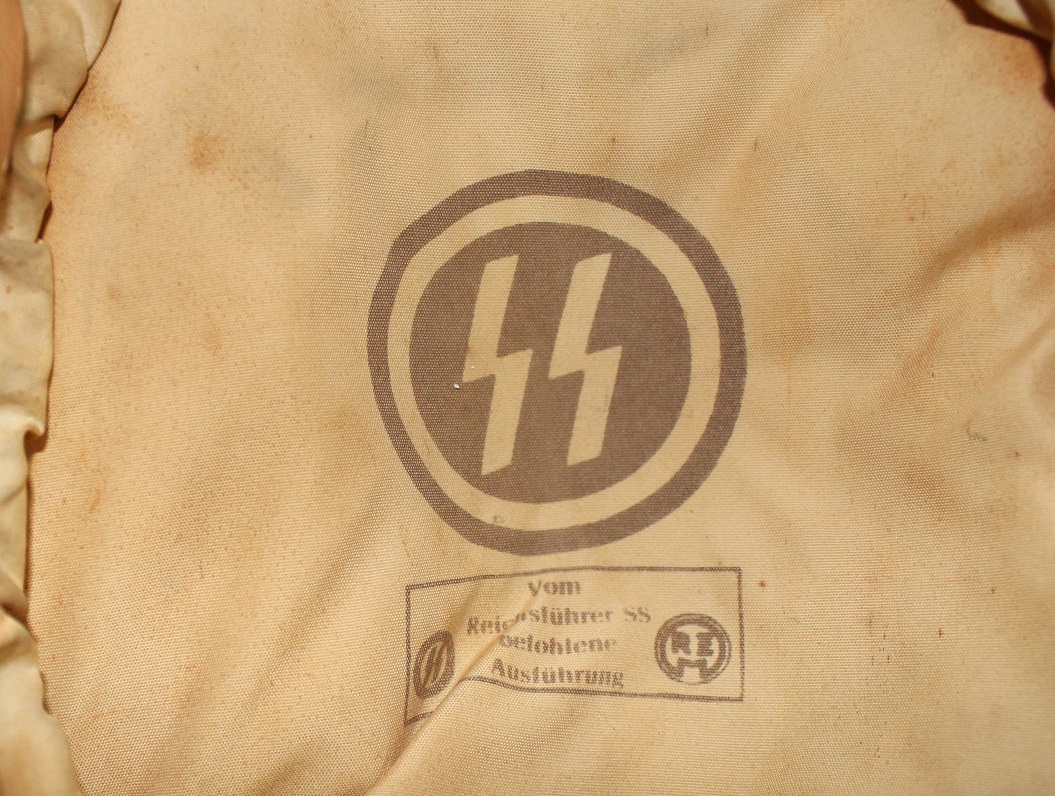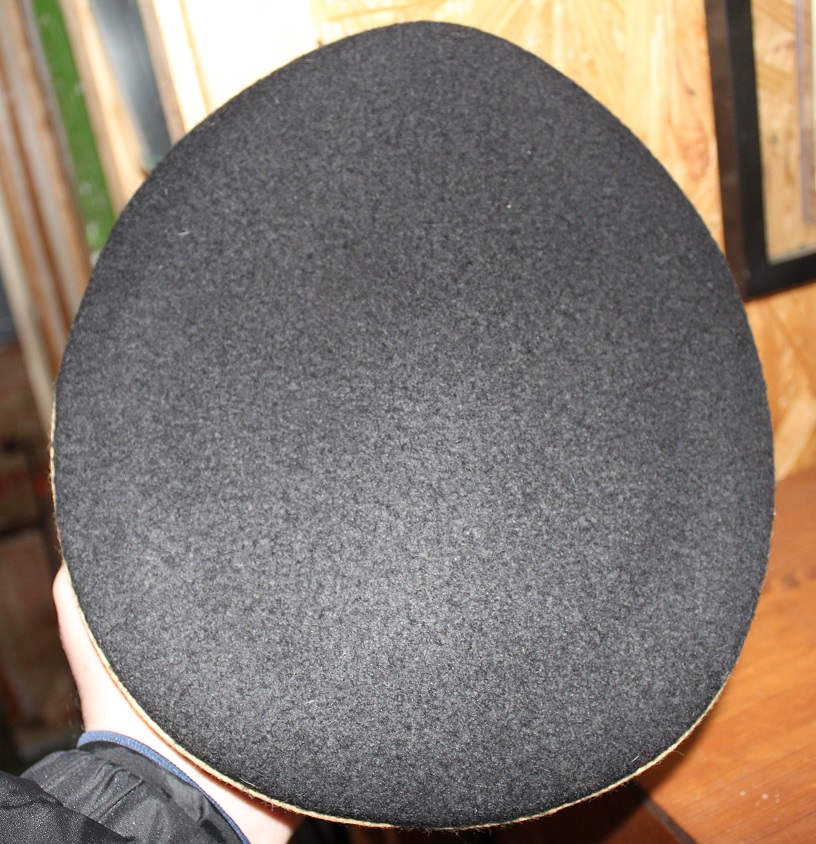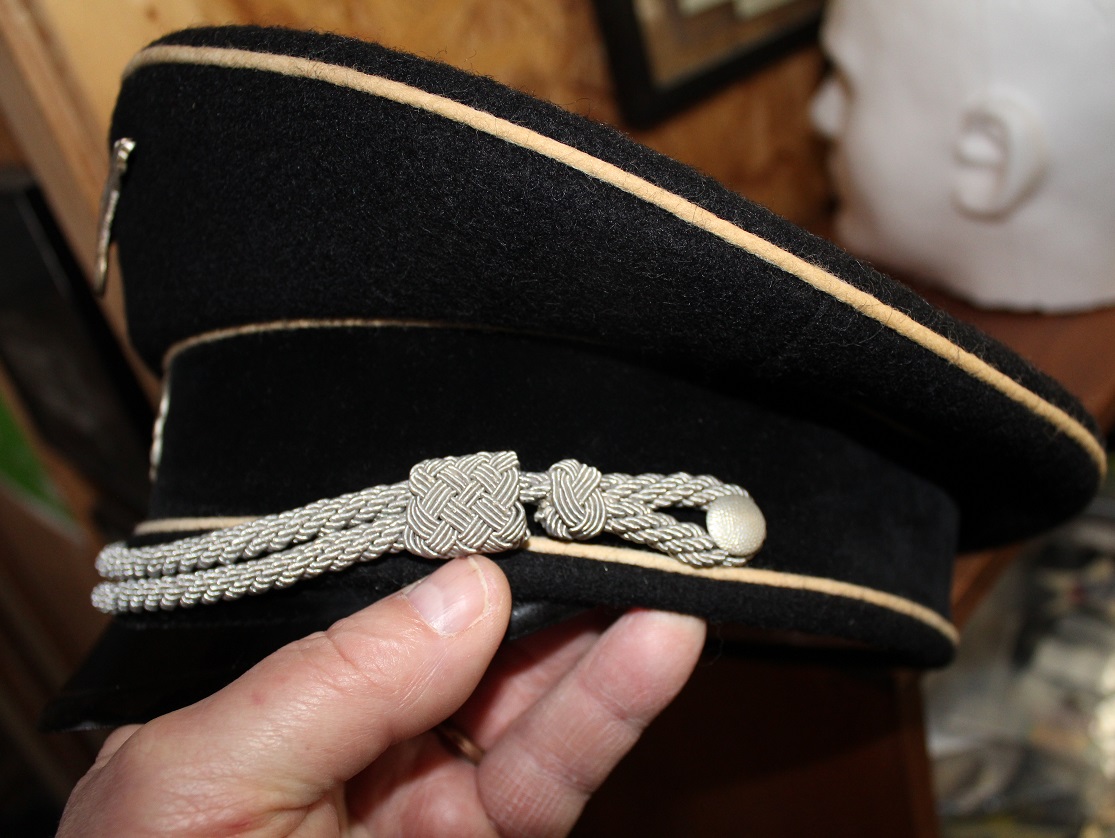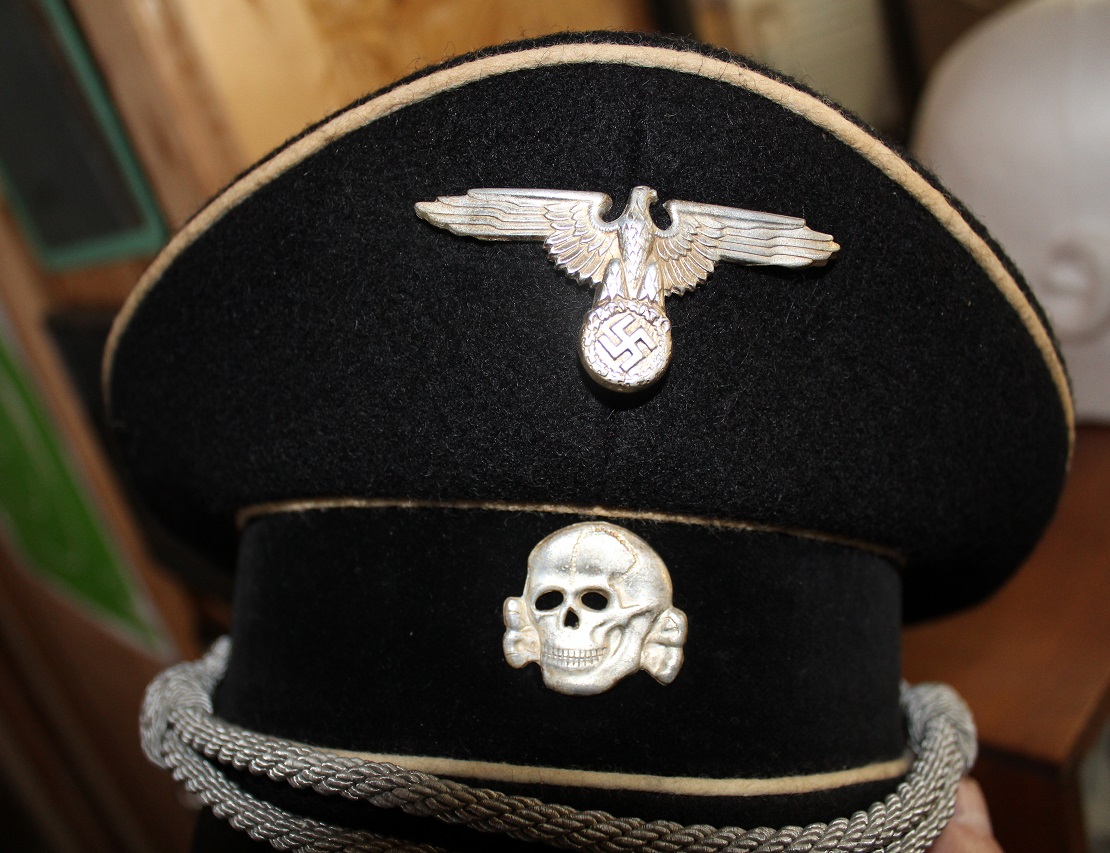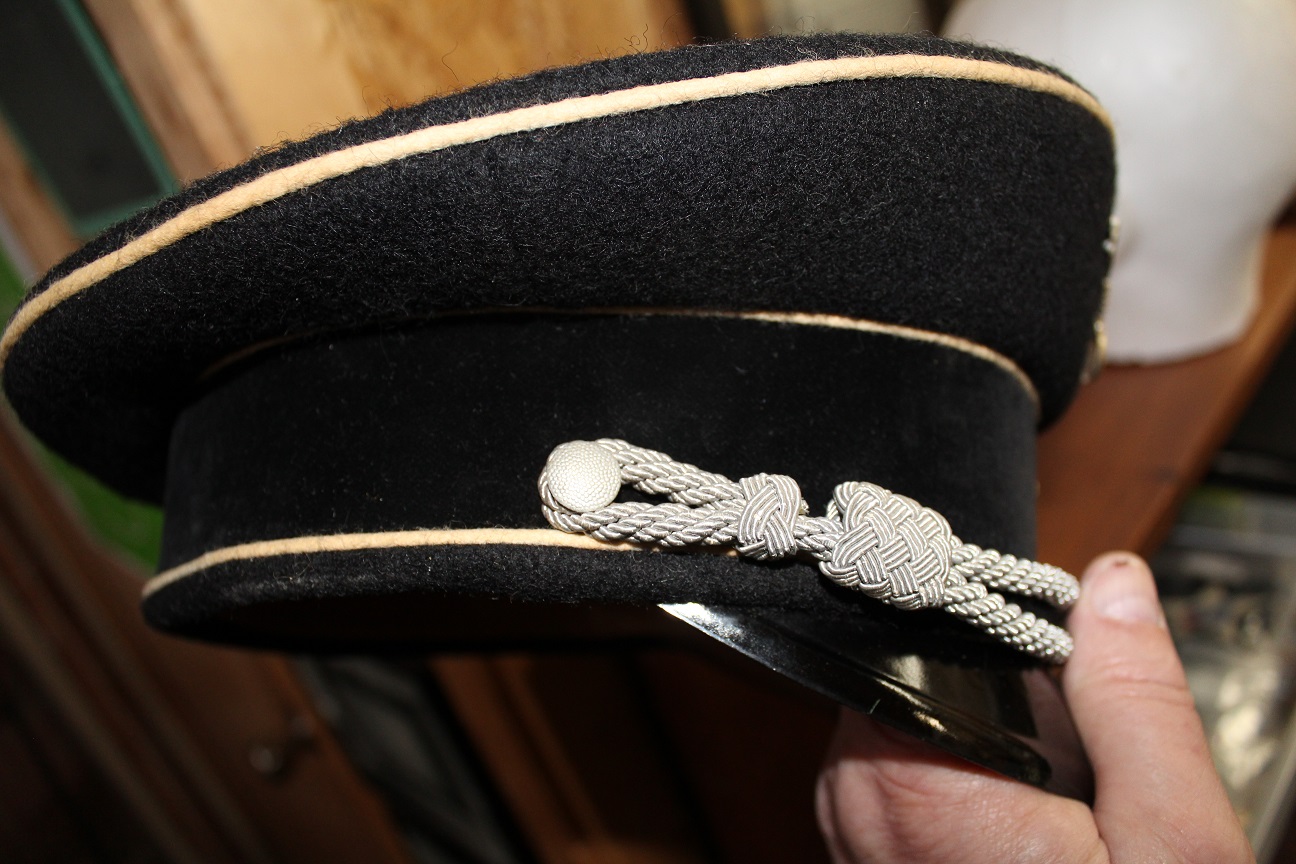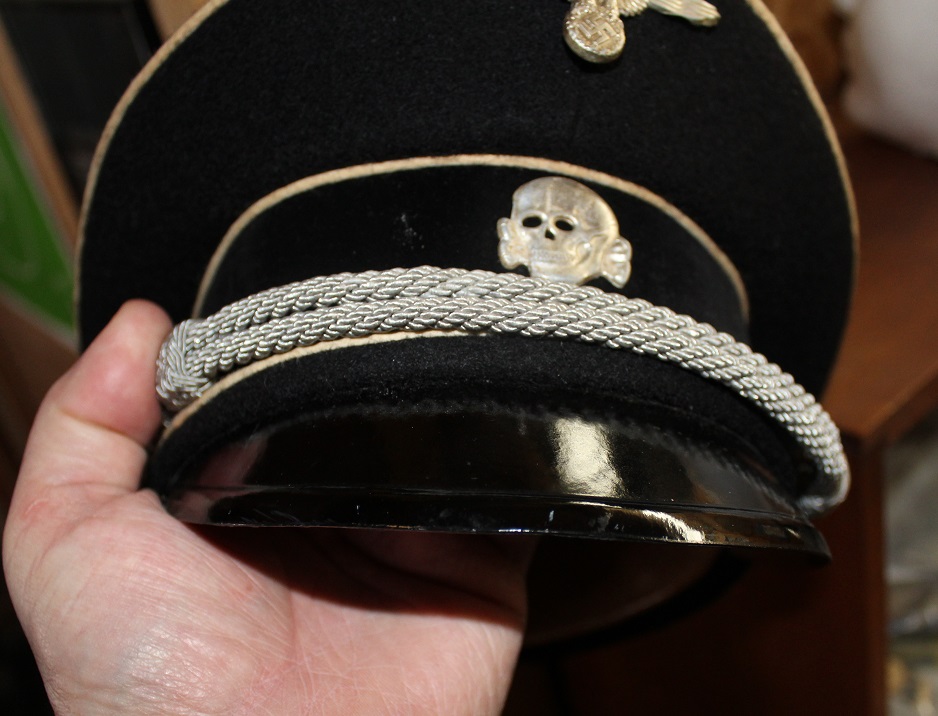 : Item No. 1 (CONSIGNMENT) Here we have quite a find! This is a transport box that Pvt . Robert E. Thompson of Frankfort, Indiana sent back to his wife through the NY base. Pvt. Thompson enlisted on April 8th, 1944 in the 548th Field Artillery which became a part of the 9th Army. The Ninth United States Army is a field army of the United States Army, garrisoned at Caserma Ederle, Vicenza, Italy. It is the United States Army Service Component Command of United States Africa Command (USAFRICOM or AFRICOM).
It was one of the main U.S. Army combat commands used during the campaign in Northwest Europe in 1944 and 1945. It was commanded at its inception by Lieutenant General William Simpson. It had been designated Eighth Army, but on arrival in the United Kingdom it was renamed to avoid confusion with the famous British formation of the same designation. All American field armies in the European Theatre of Operation were designated with odd numbers, even numbered field armies served in the Pacific Theatre of Operations.
The first responsibility for Ninth Army, upon its arrival on 5 September was to take part in the final reduction of the German forces holding out in the French port of Brest. After the surrender of the town fifteen days later, Ninth Army was sent east to take its place in the line. It came into the line between Third Army and First Army.
In November, Ninth Army was shifted to the very northern flank of 12th Army Group. It undertook operations to close the front up to the Roer River. 16 December saw the opening of the last great German offensive of the war, the Battle of the Bulge. Ninth Army was isolated from the headquarters of 12th Army Group, and it was thus placed (on 20 December[1]) under the command of General Bernard Montgomery's 21st Army Group along with First Army, despite opposition from General Omar Bradley. Simpson reoriented his command quickly to help in the reduction of the salient that the Germans had created. Many of Ninth Army's units passed to the command of First Army, which was doing the main work of reducing the German salient from the north. In the meantime, the remainder of Ninth Army continued to hold the line along the Roer. When First Army and Third Army had finished reducing the salient, First Army returned to the command of 12th Army Group, but Ninth Army remained under the command of 21st Army Group for the remainder of the Rhineland Campaign. In late February 1945 the Ninth Army launched Operation Grenade, which was the southern prong of a pincer attack coordinated with Canadian First Army's Operation Veritable, with the purpose of closing the front up to the Rhine. By 10 March, the Rhine had been reached in all sectors of Ninth Army's front. It was not until after 20 March that Ninth Army units first crossed the Rhine itself. However, after doing so, the Army quickly struck east around the north of the Ruhr. An enormous pocket soon formed containing the German Army Group B under Model. By 4 April, Ninth Army had reached the Weser[2] and was switched back to 12th Army Group. The end was now clearly in sight, and as part of Ninth Army, along with the newly arrived Fifteenth Army, reduced the enormous Ruhr Pocket, other elements reached the Elbe on 18 April. 2 May saw the whole of Ninth Army's front reached the agreed demarcation point with the Russians, and the advance ceased.
Now on to what Pvt. Thompson sent in the shipping box home to his wife.
The box contained a German shotgun (now missing) and 7 bayonets. The box is 29 inches long by 7 inches tall and 7 inches wide. The box is complete with the original lid that has an envelope thumb tacked to it as well as the inspection/ approval label. His name and his mothers name plus addresses is on 3 sides of the box. The bayonets are in good condition being original with no sharpening and no dings to the blades on any of them. Here is what is in there: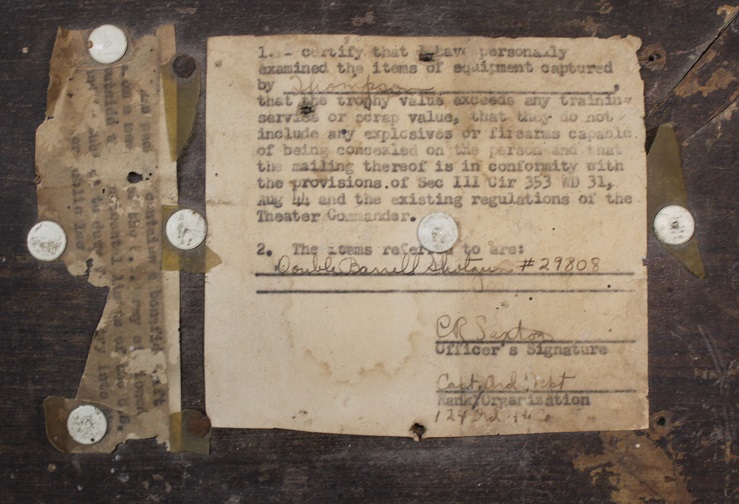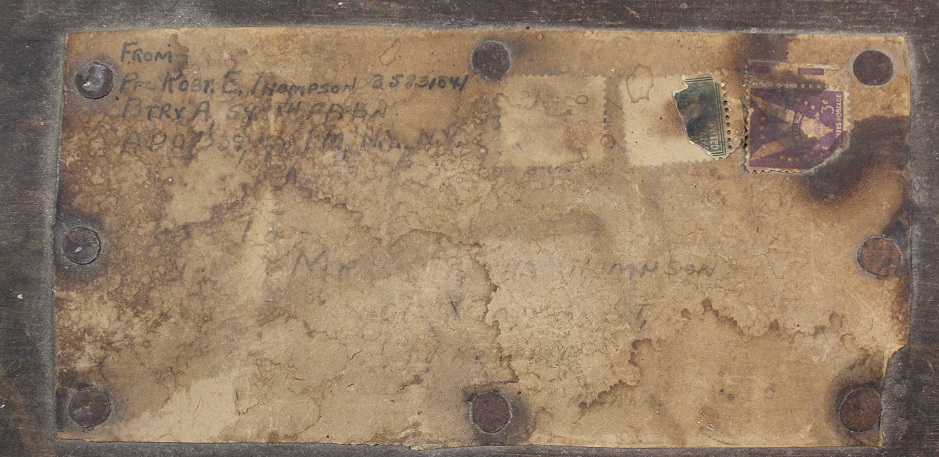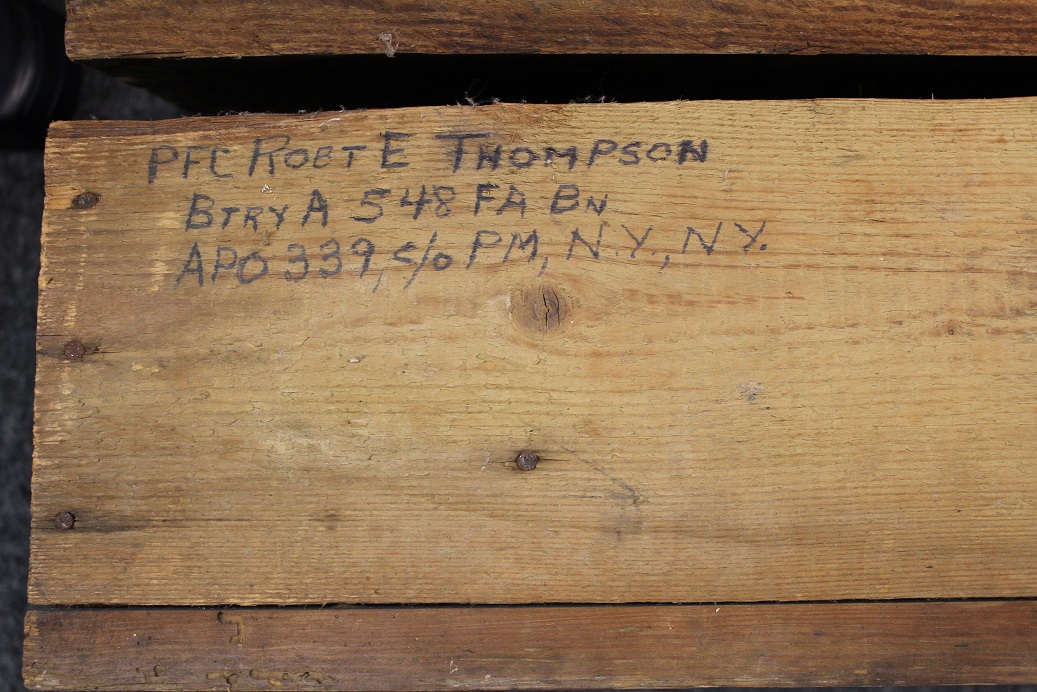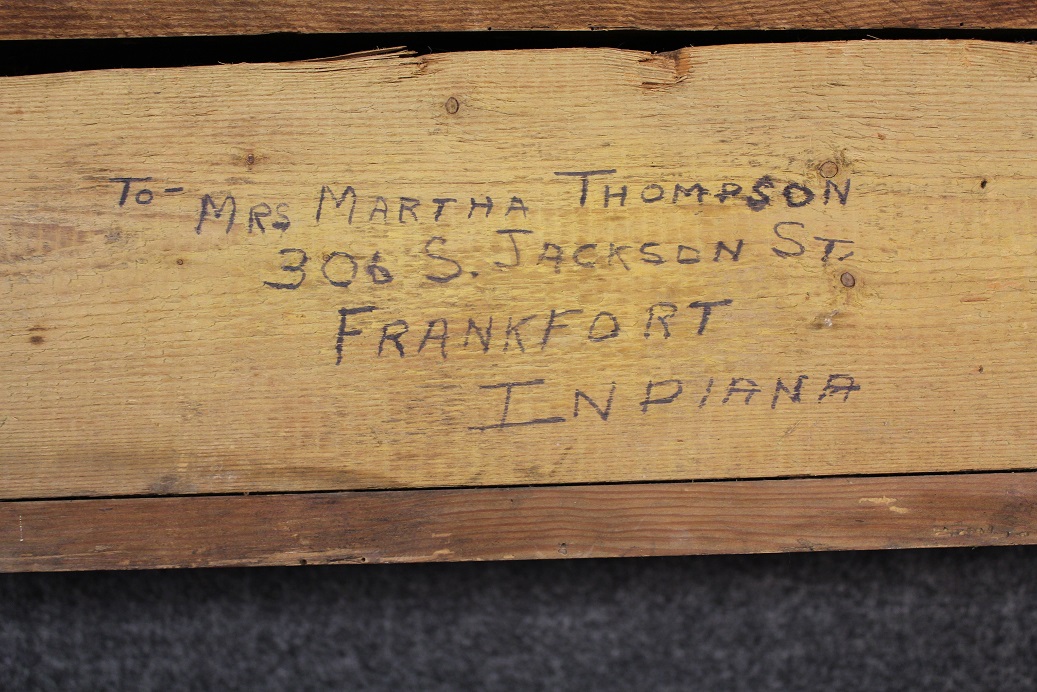 1. 2 French model 1886 bayonets with white metal handles and curved quilion. The blades are four sided and they are complete with scabbards. One bayonet is 17 1/2 inches long with a 13 inch blade while the other one is 25 inches long with a 20 1/2 inch blade. Both are in excellent condition!
2. The next two bayonets are Austrian. The one at the top is a standard 1895 Bayonet being 14 inches long with a 9 1/2 inch blade. The scabbard is steel and comes with a frog. The frog is marked CQR 40 I believe and is in excellent original condition. The bayonet is marked on the blade F. G. G. Y. on one ricasso and has what looks like an Imperial Eagle stamp on the other. The Pommel Cap is marked 7 HN 1366. There are no dents to the scabbard and most of the original color remains. This is a nice one!
The second bayonet is a short cavalry carbine bayonet S1895 (Stutzen 1895) and is equipped with a compensatory sight on the muzzle ring. This corrected for the marked effect that a fitted bayonet had on the path of the bullet, the fitted bayonet causing the bullet's trajectory arc to be considerably higher than normal. This is a real nice bayonet and comes with an undented scabbard. The blade is marked with what looks like a W on one side and an Imperial Eagle on the other.
3. The next two bayonets are German. They are both S-98 bayonets. The one on top is complete with scabbard and frog. The frog is maker stamped E O Golze & Sohn Gersdorf 1940. The frog otherwise is in excellent condition being pliable with all stitching remaining. The steel scabbard is dent free and is good condition. The blade is in very nice condition but is missing about 1/8 inch of the tip. One ricasso is marked S/172 and the other side is marked 9659. The WW2 bakelite grips are outstanding with no damage or loss and the pommel cap has 2 tiny eagles with something stamped underneath them but I can't quite make it out. I do believe both stamps are the same. The bayonet and scabbard are serial numbered alike, thus are a match.
The one on the bottom is also a WW2 German Bayonet as evidenced by the very nice bakelite grips. This one is also complete with frog. The frog is in very nice conditon and is marked but I cannot quite make it out. The bayonet is serial numbered 9864 while the scabbard is serian numbered 6628. This is a real nice outfit!
4. The last bayonet in the box is S98/05 with the original saw back removed. The bayonet and scabbard are both marked 41 making them a matching pair. The steel scabbard has most of the original bluing remaining with no dents and just a little rusting that should clean up mostly ok. The leather frog is in excellent condition and is maker marked A FISCHER BERLIN C.2 1932 P.A.W. The bayonet itself is in excellent plus conditon with nice walnut grooved grips. the blade is marked on one ricasso ?41 and on the other DEUTSCHE WASCHINENFABRIK A-G DUISBURG 41. Most of the original bluing is left on the blade. The blade is real nice. 1920 is stamped on the crossguard. This piece is 19 5/8 inche long with a 14 1/2 inch long blade. Very nice! The saw back bayonets were outlawed after WW1 so this one is correct in every sense.
These bayonets were left undisturbed until recently in the box they came back in. We are going to try to sell them in a group with the box because it would be a shame to break them up after all these years. For the complete collection $1,250.00
CONSIGNMENT
Item No. 4
Here is a real nice WW2 dated Colt M-1911 A1 in the green parkerized finish. We believe that it has been refinished AND we have gone through the piece to make sure everything matches. The wooden grips are earlier and the barrel pin is earlier too. The pistol looks fantastic but does have one little blip to the finish on the forward slide that you can see in the pic. Serial number is 751XXX which we believe dates it to 1941. All markings are crisp and sharp. It looks fantastic and functions as it should. For this one $1,650.00 item ww & Modern Guns 16
Here are some US mostly WW2 items that we just took in. We will list them as time allows but in the meantime if you see something you like let us know. Thanks!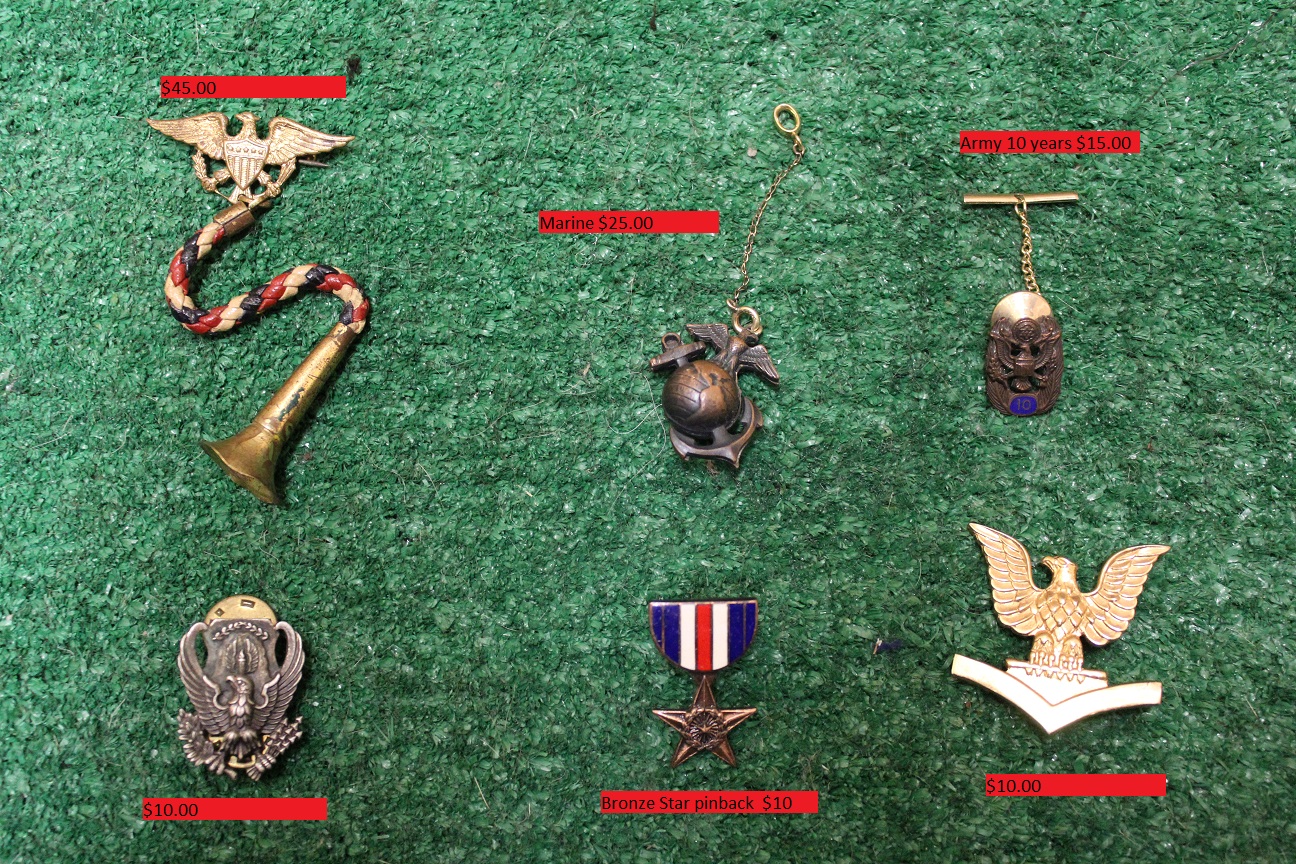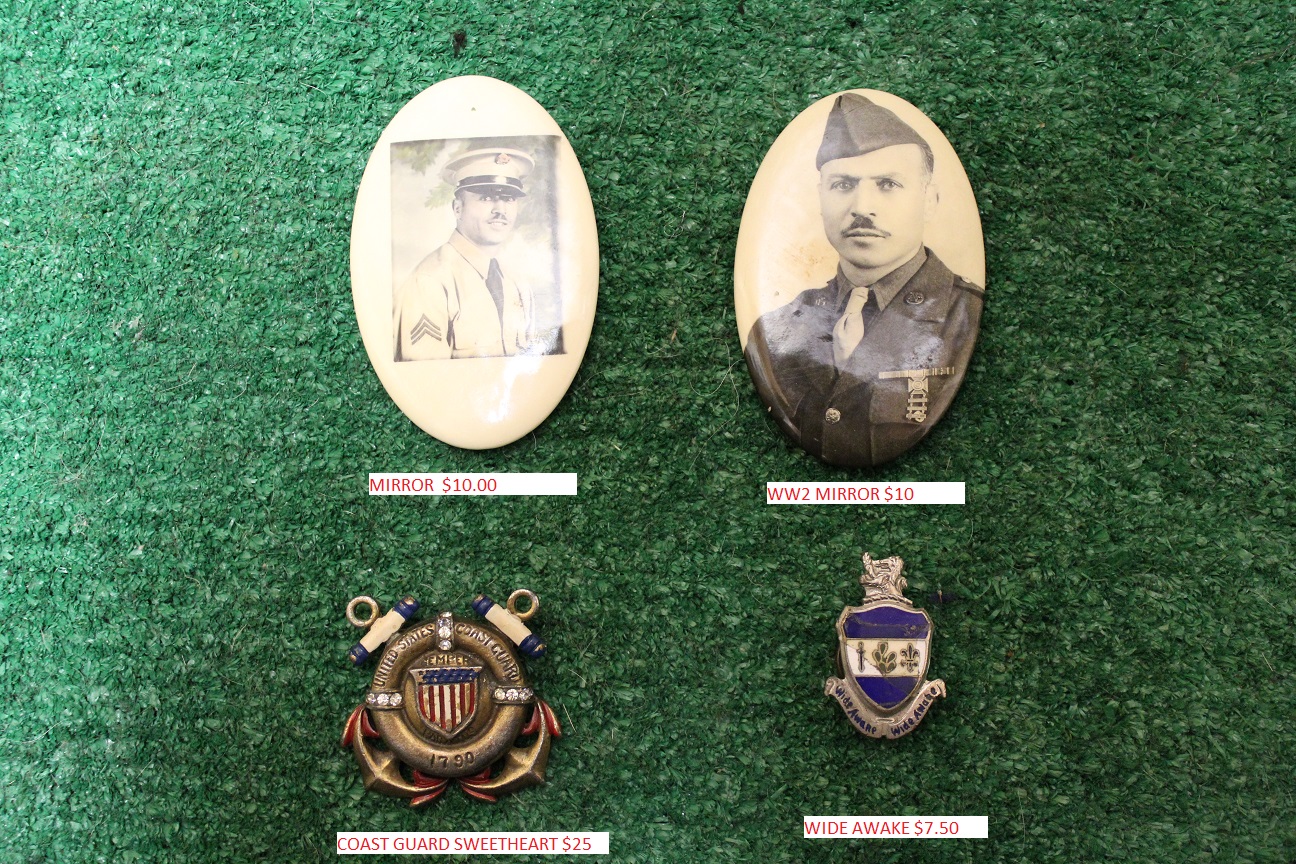 THE WW1 TANKERS PIN IS SOLD!!!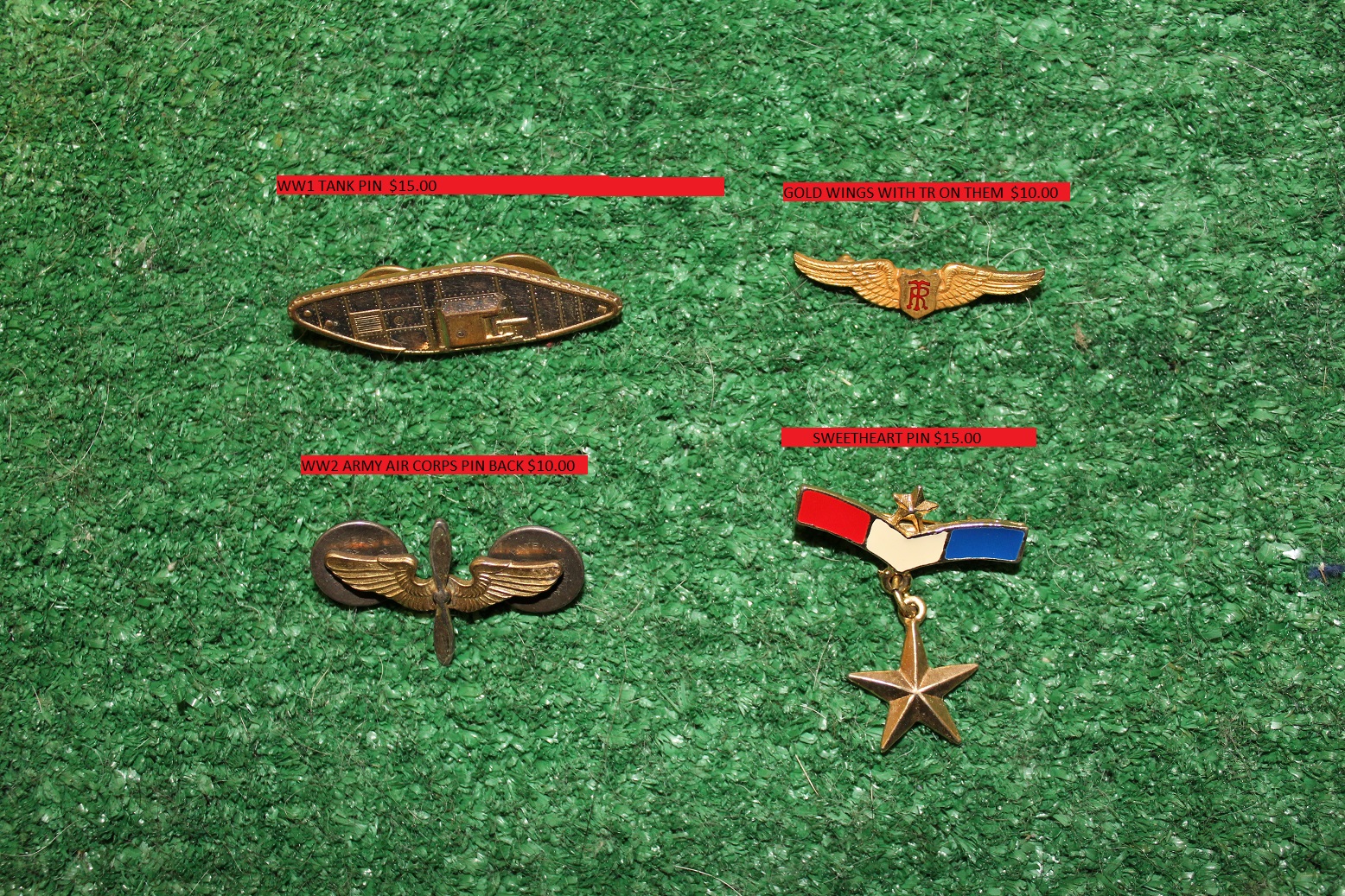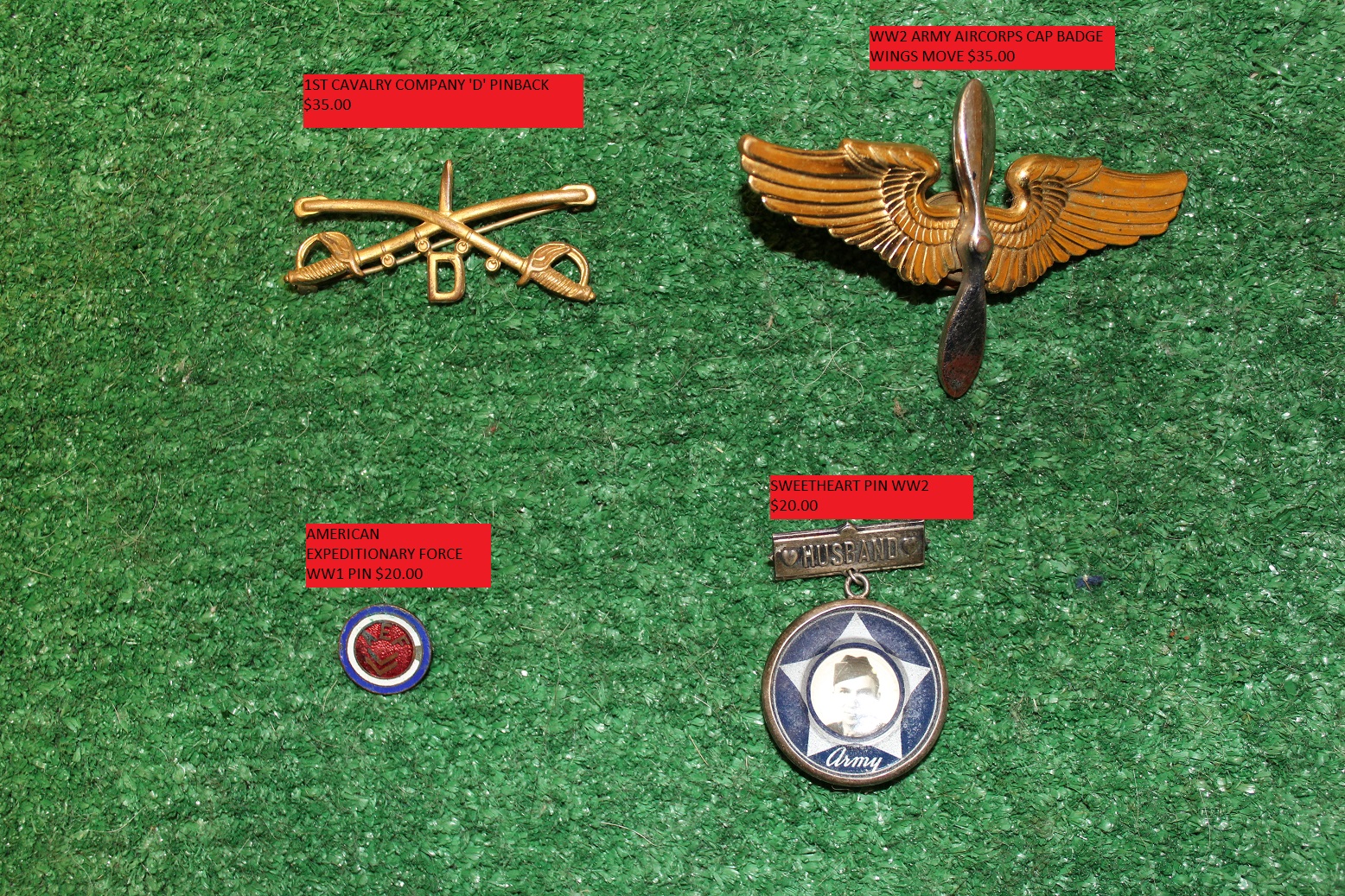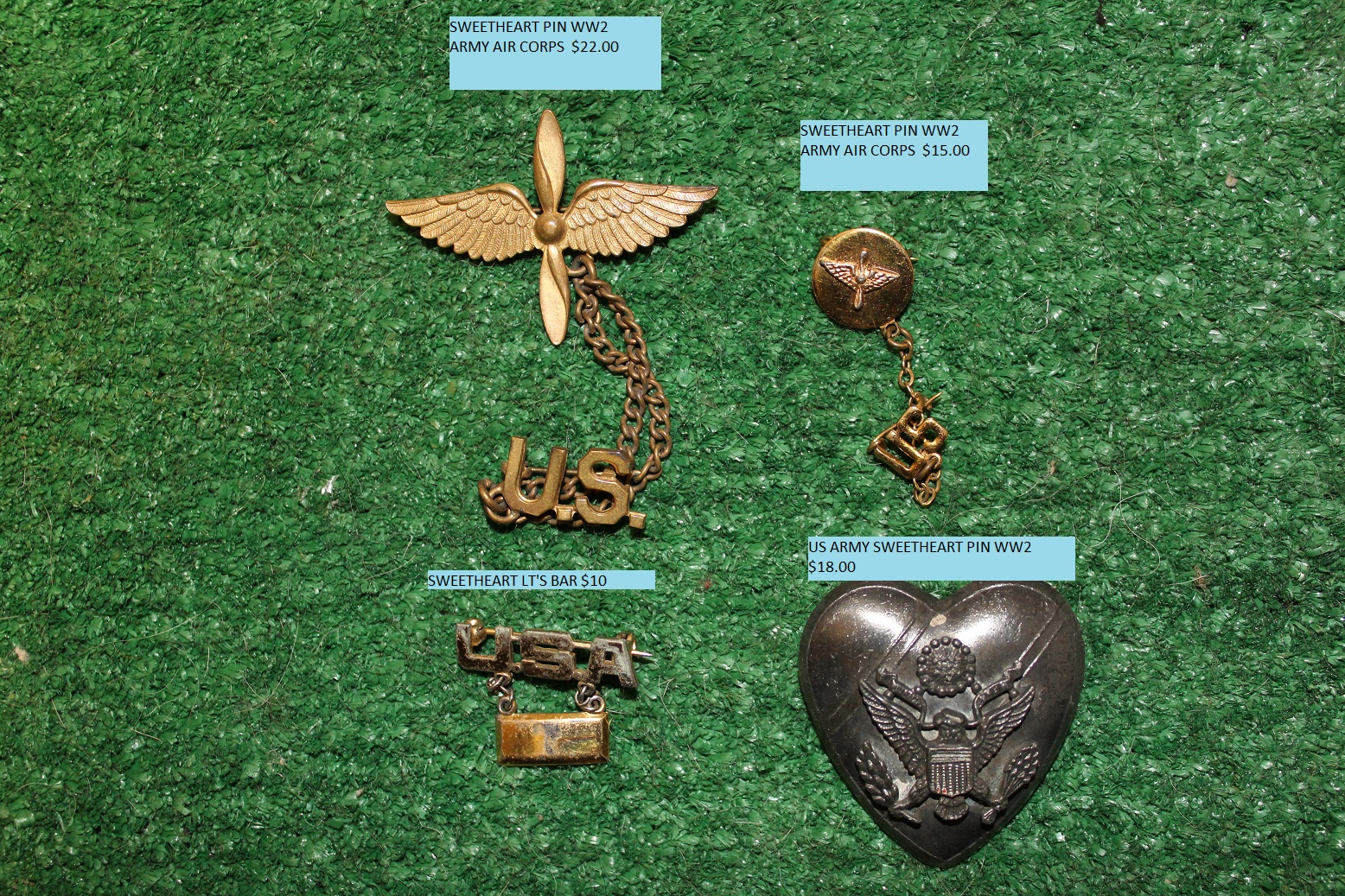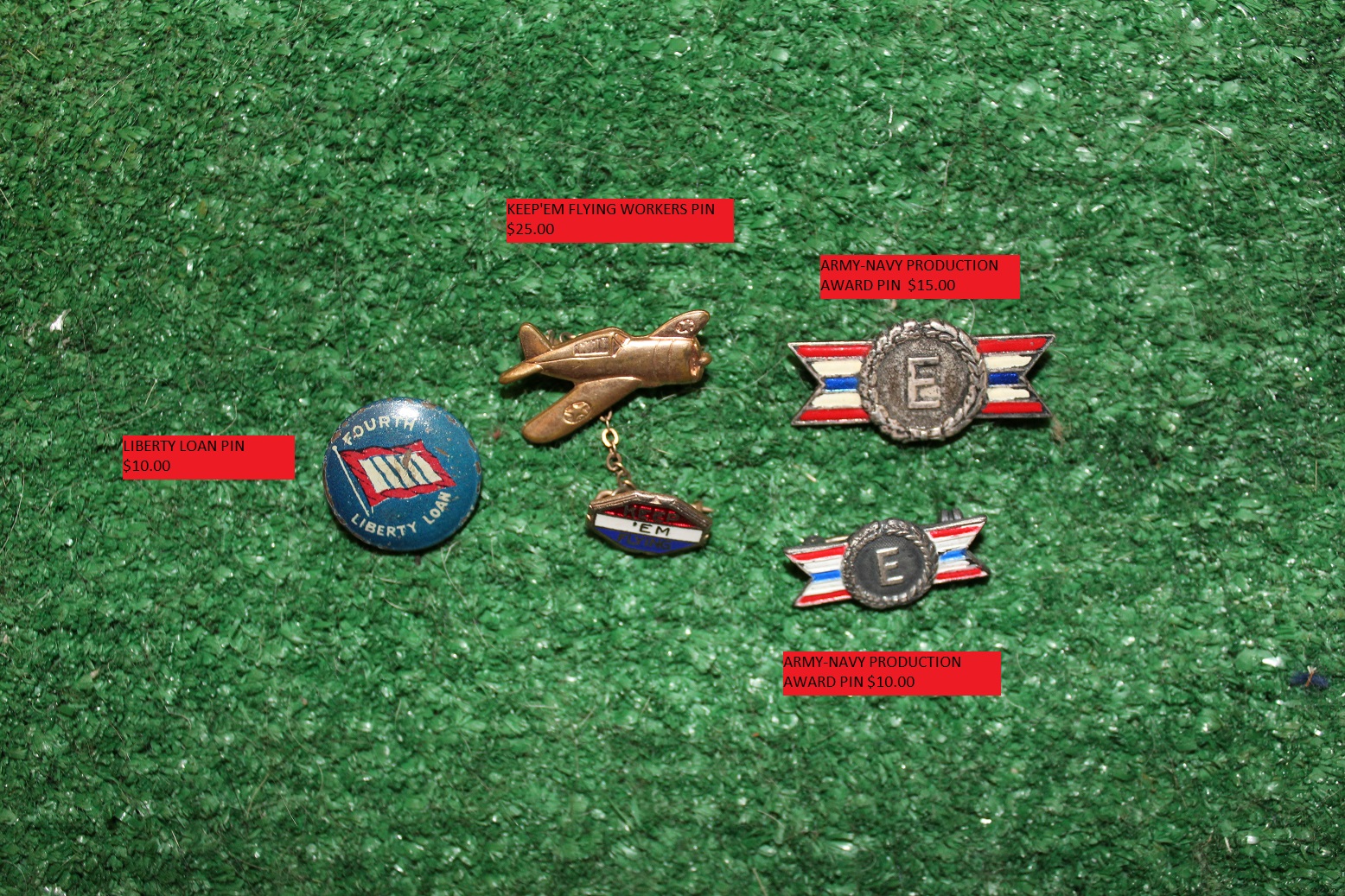 Note: The Navy Officer Hat badge is sold. SOLD!!!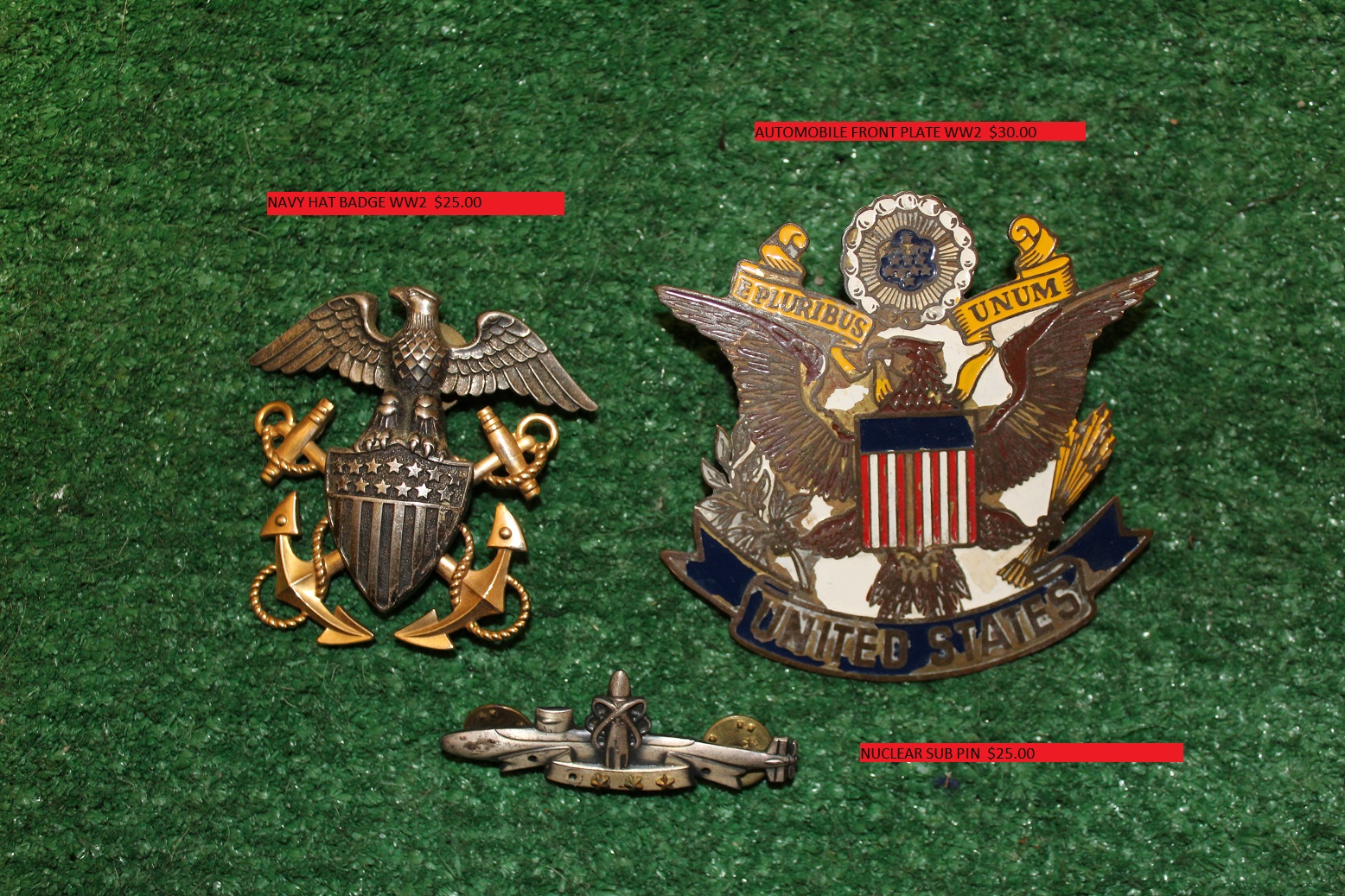 Note: The 3 Large Colorful Navy Patches are SOLD!!!
CONSIGNMENT
Item No. 5 We found this piece with a lot of other WW2 German Pieces. We think that this piece is German also despite the fact that there is not a Swastika on it. This is an Aluminum Eagle Flag Staff topper that measures 5 1/2 inches tall and about 6 inches across from wing tip to wing tip. The piece was originally gold painted and you can see tons of gold paint left on it. One side has a triffle bit of black paint on it and the other has a little red paint on it. This topper is two piece and the two eagles are held together with a screw. The bottom has a screw or bolt hole in it with the the threads exposed. For this piece $125.00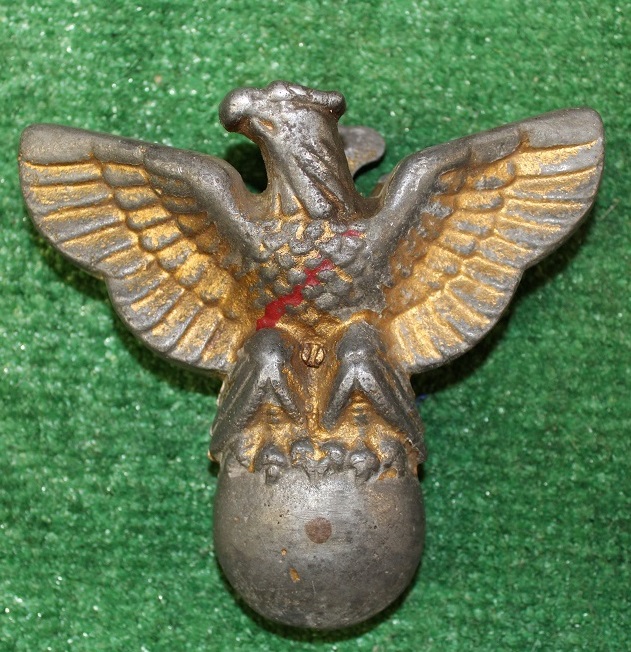 p>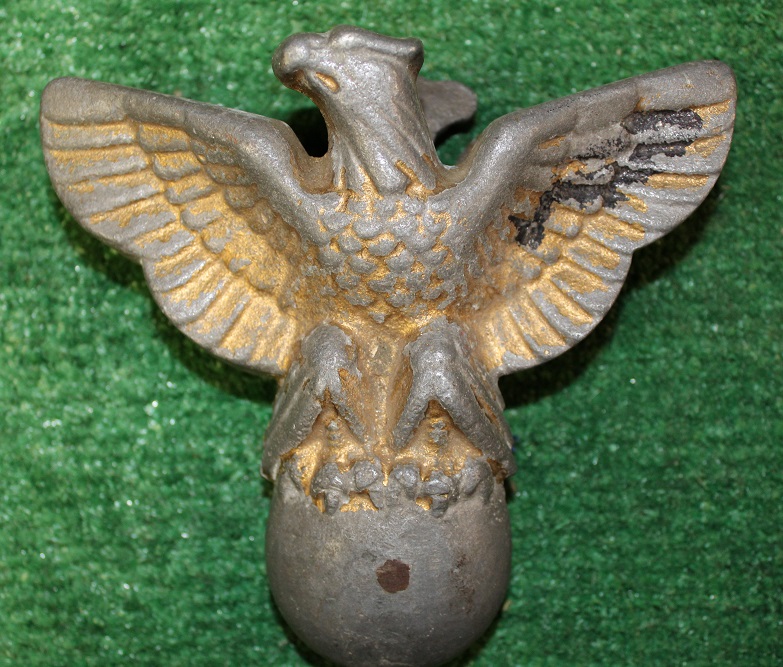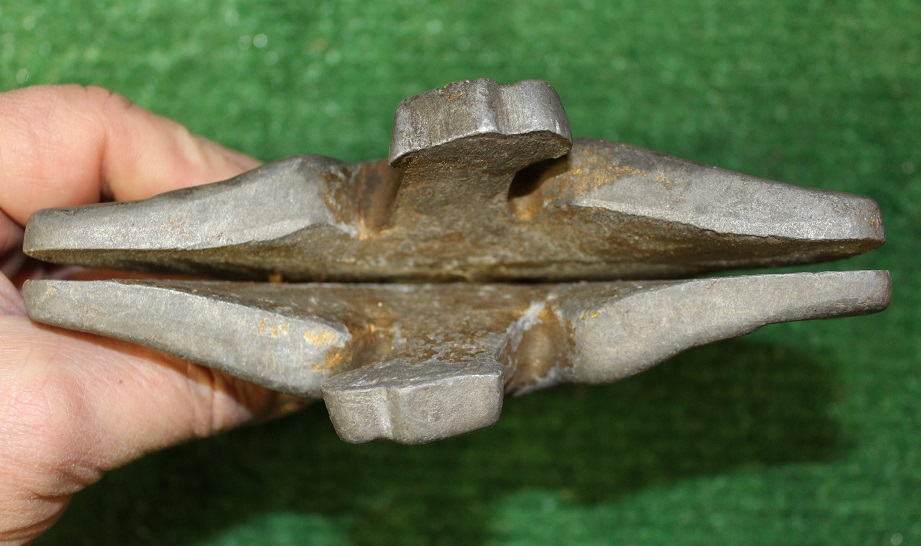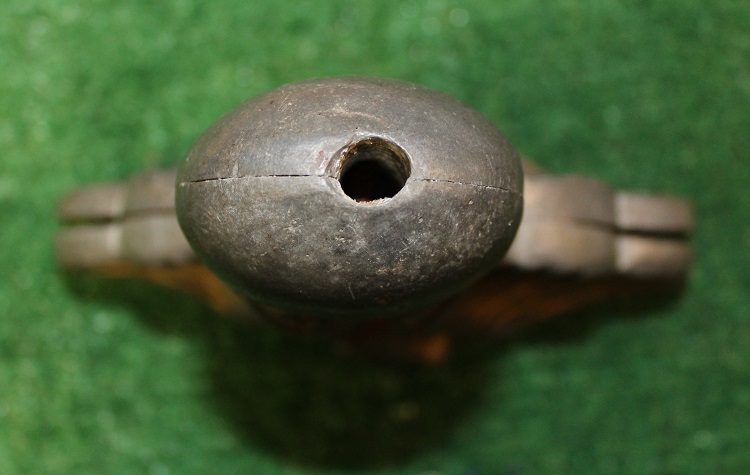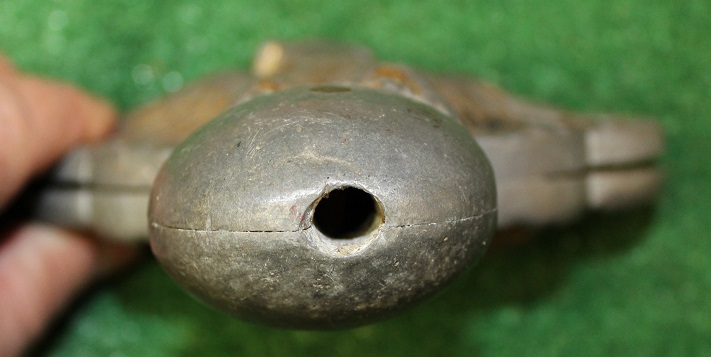 CONSIGNMENT
Item No. 6
ON HOLD!!! Here we have a wonderful preserved WW2 German Veteran Eagle Cap badge complete with brass pin on the reverse. It is the top one in the photograph. It has a nearly 4 inch wingspan and is marked with a 2 GES. GESCH. Good quality! $65.00
The bottom three are all aluminum Luftwaffee Visor Cap Eagles. They are all prong back and in very good condition. The first one on the left is not marked and has a 2 1/2 inch wingspan. The middle one is marked A38 and also has a 2 1/2 inch wingspan. The one on the right is also not marked and has a 2 inch wingspan. They are all in super condition. For each $150.00
CONSIGNMENT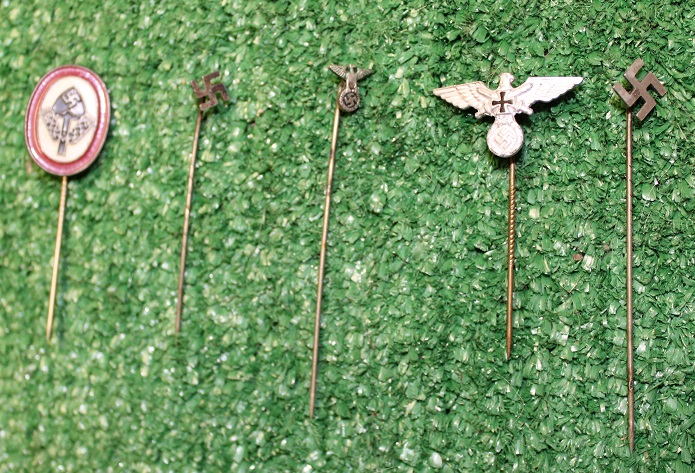 Here we have 5 WW2 Nazi party stickpins.
Item No. 7 The first one is a RAD membership stickpin. It is in very nice condition being an enamel pin. It measures about 2 inches long overall. The back is marked GES. GESCH. $65.00
Item No. 8 The second stickpin from the left is a Nazi Membership stickpin with just a swastika at the top. The pin is a little over 2 inches long and has nothing written on it that I can see. $30.00
Item No. 9 The stickpin in the center is Eagle and swastika stickpin that measures about 2 3/4 inches long. Nice condition! $50.00
Item No. 10 The fourth stickpin from the left is a WW2 German Veterans stickpin with Eagle, Iron Cross and swastika. The pin is knurled on the shaft and the back is marked GES. GESCH. The eagle has a 1 inch wingspan and the entire piece is about 2 inches long. For this one $50.00
Item No. 11 The last stickpin on the far right is a swastika party stickpin and measures about 2 3/4 inches long. The swastika is about 3/8ths of an inch across and looks to be silvered. For this one $30.00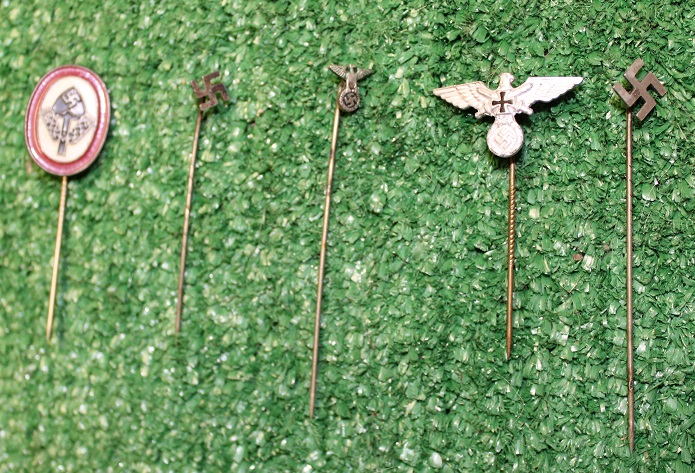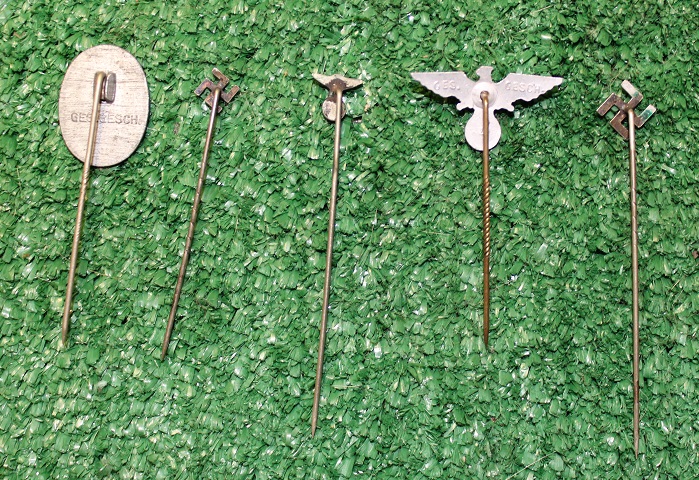 CONSIGNMENT
Item No. 12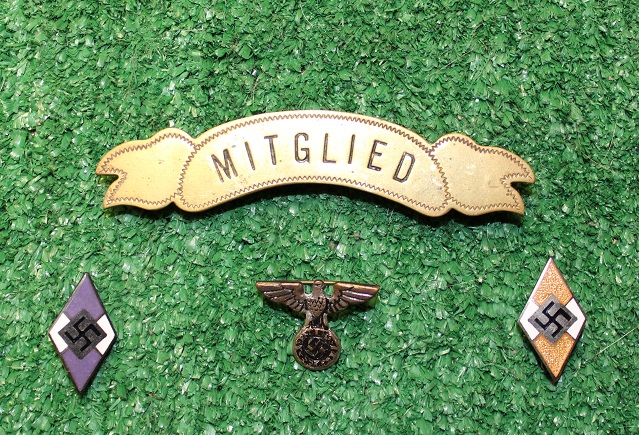 Here we have 4 pins. The top one is on a brass banner with the word MITGLIED on it. I believe that simply means member. Looking at the back there was probably a ribbon that hung down from the top bar which is now missing. This all brass piece is about 3 3/8 inches across with brass pins. $15.00
Item No. 13 The next pin to the left under the top bar is a German HJ membership pin and in excellent condition with a purple background on the enamel. This pin is about 1 inch tall and is complete. It has writing on the back which is OTTO HOTTMANN GES. GESCH. For this fine pin $50.00
Item No. 14 The center bottom pin is a membership pin showing a spread winged eagle and swastika in wreath. The wingspan is about 1 inche across and the pin is about 3/4 inch tall. The pin is complete on the back. There is no writting on this pin that I can see. For this one $45.00
Item No. 15 The last pin on the right is also a German HJ membership pin and is in excellent condition with a pinkish background. This pin is also about 1 inch tall and is complete. It has the same writting on the back as the other mentioned HJ membership pin. $50.00
CONSIGNMENT
Item No. 16 Here we have a very nice NSKK patch and a swastika disk.
The National Socialist Motor Corps (German: Nationalsozialistisches Kraftfahrkorps, NSKK),[1] also known as the National Socialist Drivers Corps, was a paramilitary organization of the Nazi Party that existed from 1931 to 1945. The patch is in excellent condition with a partial paper lable on it. The patch is wool with silver bullion thread used. The patch measures 3 1/2 inches wide and 2 inches tall. For this patch $160.00
SOLD!!! The little disk that is with it is an enameled disk with a swastika in the center and a red 'rope' type band on the edge. This piece measures about 3/4 inch across but has nothing on the reverse making me think that perhaps it was a center part of a medal or badge. As is $10.00
CONSIGNMENT
Item No. 17 Here we have two WW2 German ID tags. The zinc one is for a base veterinary depot (Heimatpferdepark) and so marked. The other one which is aluminum is for an Artilllery Unit. For the veternarian tag $160.00 and for the Artillery Tag $80.00
CONSIGNMENT
Here we have three WW2 Nazi Belt Buckles.
Item No. 18 The fIrst one is a Kriegsmarine NCO buckle
SOLD!!! with the leather portion attached to it. This leather portion has the makers marks on it and the nazi markings stamped into the leather. The buckle is gold anodized aluminum and still in good condition. For this piece. Sold!!!
Item No. 19 The second buckle is aluminum German Army buckle with the swastika surrounded by a laurel and GOTT MIT UNS. The piece is in good condition $85.00
Item No. 20 The third buckle is a steel buckle with rusting on it that I think is actually leaching from the attachment apparatus. This is the Hitler Youth Buckle. $75.00
CONSIGNMENT
Item No. 21 Here we have a large size WW2 German Army Wehrmacht Ring with spreadwinged Eagle and Swastika. There are mold marks on the interior of the ring and it's rather dark there so I believe that this ring is silver even though it isn't marked as such. The ring is in very good aged condition. $150.00
CONSIGNMENT
Item No. 22 Here we have a vintage Luger P08 mag with a Waffen mark on it. This is for the 9mm Luger. The magazine is in good condition with just a little rust on it. The end plug is aluminum and is marked 553 S + (german eagle) and 63. For this piece $195.00
CONSIGNMENT
Item No. 23 Here we have an original post WW2 era Army of Occupation Medal. The Army of Occupation Medal is a military award of the United States military which was established by the United States War Department on 5 April 1946. The medal was created in the aftermath of the Second World War to recognize those who had performed occupation service in either Germany, Italy, Austria, or Japan. The original Army of Occupation Medal was intended only for members of the United States Army, but was expanded in 1948 to encompass the United States Air Force shortly after that service's creation. The Navy and Marine equivalent of the Army of Occupation Medal is the Navy Occupation Service Medal.
This medal is an original and in very nice condition. There is no box and no bar to indicate which theatre of operations this medal was earned in. For this medal $25.00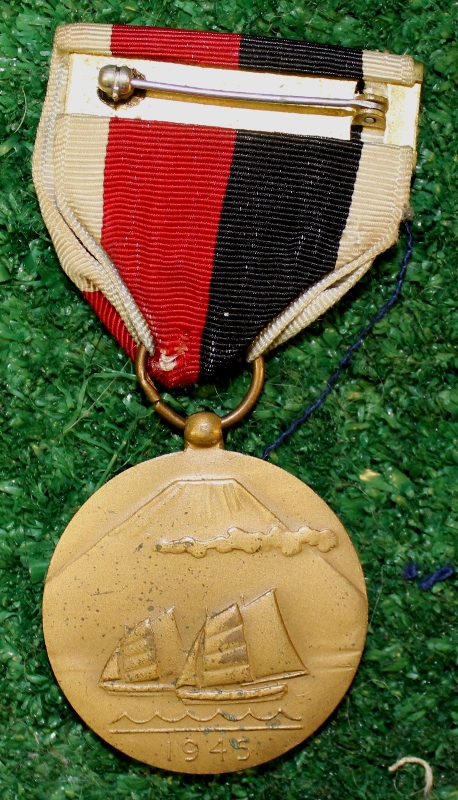 CONSIGNMENT
Item No. 24 Here is a WW2 Navy Good Conduct medal that has 3 bronze battle stars on it. The back is id'd to a James Roy Courtney and dated 1950. Could turn up something very interesting! Very nice condition and complete. $30.00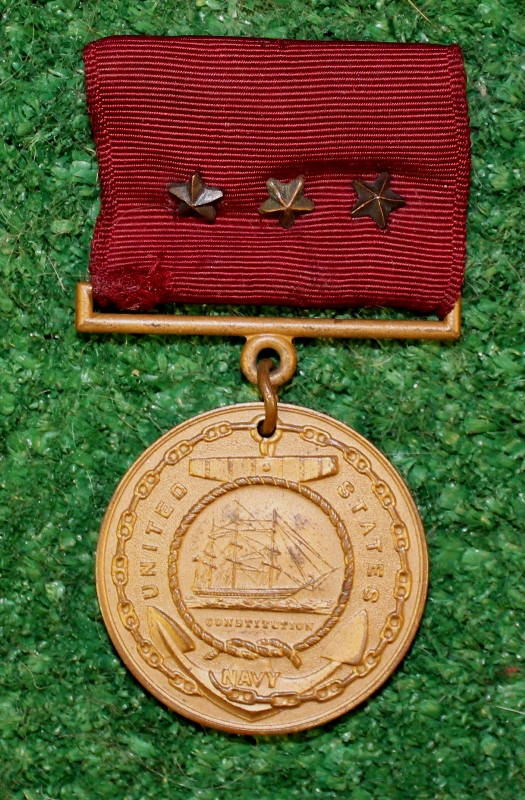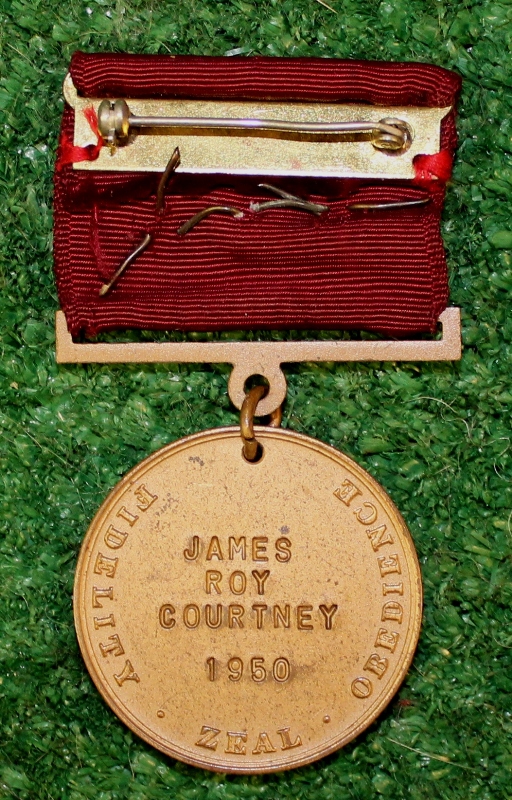 CONSIGNMENT
Item No. 25 Here is an item that, frankly, I am amazed that it's still here. This is a 'cardboard' medal with a photo of a WW2 soldier cut out and placed in it. The medal has ARMY at the top of the cardboard star. It's complete with the attachment bar and the red, white & blue ribbon. A back flap comes down to reveal the photo. There is nothing written on the photo. Out of Indiana. Unique and rare to see in any condition! 3 inches tall and 2 inches wide. $35.00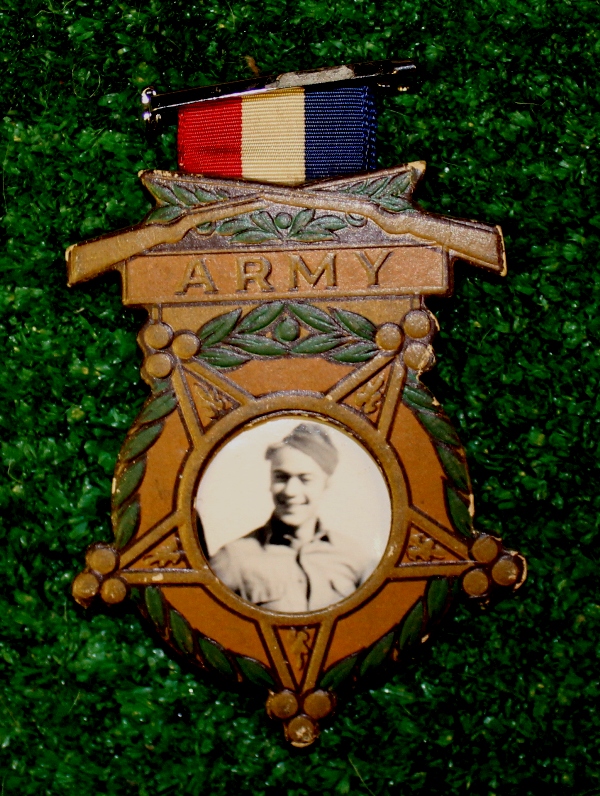 CONSIGNMENT
Item No. 26 Here we have an aluminum WW2 German Nazi DAF Gear with Swastika. Metal single sided toothed gear with swastika center. Measures 7 3/4 inches in diameter. Overall very good. The German Labor Front (German: Deutsche Arbeitsfront, DAF) was the National Socialist trade union organization which replaced the various trade unions of the Weimar Republic after Adolf Hitler's rise to power. This piece was probably placed upon a door or wall. $165.00
CONSIGNMENT
Item No. 27 Here we have 2 Nazi Shako Hat Front Eagle plates with Swastika. These Eagles came from the Nazi Police Shako-Tschako hat eagle with original nuts on the flat one but just the brass screws on the one that is rounded to fit the front of the shako. Just about 6 1/2 inch wingspan. Vet bringback for the also called Police Shako "Bump" hat. Very nice conditon overall. The flat one has a bent mounting screw and a little rust staining on the aluminum eagle due to using steel washers on the reverse. The rounded one is in very good condition as well with studs less nuts. For each one. $175.00


CONSIGNMENT
Item No. 28 Here's a dandy! This is a Fairbairn Sykes fighting knife. The Fairbairn–Sykes fighting knife is a double-edged fighting knife resembling a dagger or poignard with a foil grip developed by William Ewart Fairbairn and Eric Anthony Sykes in Shanghai based on concepts which the two men initiated before World War II while serving on the Shanghai Municipal Police in China. The F–S fighting knife was made famous during World War II when issued to British Commandos, the Airborne Forces, the SAS and many other units, especially for the Normandy Landings in June 1944. With its acutely tapered, sharply pointed blade, the F–S fighting knife is frequently described as a stiletto, a weapon optimized for thrusting, although the F-S knife is capable of being used to inflict slash cuts upon an opponent when its cutting edges are sharpened according to specification. The Wilkinson Sword Company made the knife with minor pommel and grip design variations. The F-S knife is strongly associated with the British commandos and the US Office of Strategic Services (OSS) and Marine Raiders (who based their issued knife on the Fairbairn-Sykes), among other special forces / clandestine / raiding units. It features in the insignia of the British Royal Marines, the Belgian Commandos, the Dutch Commando Corps, founded in the UK during World War II, the Australian 1st Commando Regiment and 2nd Commando Regiment, and the United States Army Rangers, both founded with the help of the British Commandos. A solid gold F–S fighting knife is part of the commandos' memorial at Westminster Abbey. This particular knife is an original good condition WWII 3rd pattern Fairbairn with original scabbard. The blade has been sharpened some. The combat knife shows the wear of an issued knife. The knife is 11 1/2 inches long with a nearly 7 inch blade. The Crossguard reads WILLIAM ROGERS SHEFFIELD ENGLAND on one side. Brass handle has a dark finish over the brass. These were numbered on the pommel during the casting from 1 to 4. It is thought that they were gang casted 4 at a time hence the 1 to 4 marking. This one does not have a number so it may be a post war production. I have read that these numbers were removed from the molds after the war so subsequent models have no mold number on the pommel. Original scabbard has leg tabs, NOT stamped 'ENGLAND' above elastic keeper, and this keeper is torn. Leather is supple without any drying out. The scabbard has the metal tip. The Fairbairn-Sykes knife remains in production but this is not a new knife by any means. It has developed a patina that doesn't develope over night. For this piece $325.00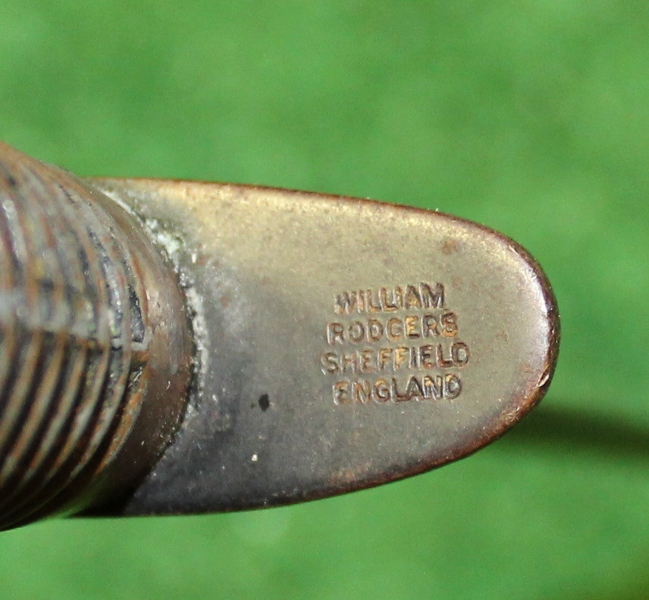 CONSIGNMENT
Item No. 29 Here we have a unique WW2 military knife. This is a PAL RH 34 Id'd knife. This one has a 4 7/8 inch blade that was finished bright but now has a great patina. The knife was 9 3/16 inches long overall with a wooden butt finished off with a steel plate. The grip is a leather washer manufacture and has H.MILLHOLLAND carved into them. The wooden pommel also has carving into it which looks to me an H on one side and a M on the other side with a couple of sideways S's interposed between them. On the other side of the grip is the soldiers service number. His initials are also carved on the leather scabbard over the manufacturers information. The edges of the scabbard were sewn together with copper wire. If this old knife could talk!!! For this piece $65.00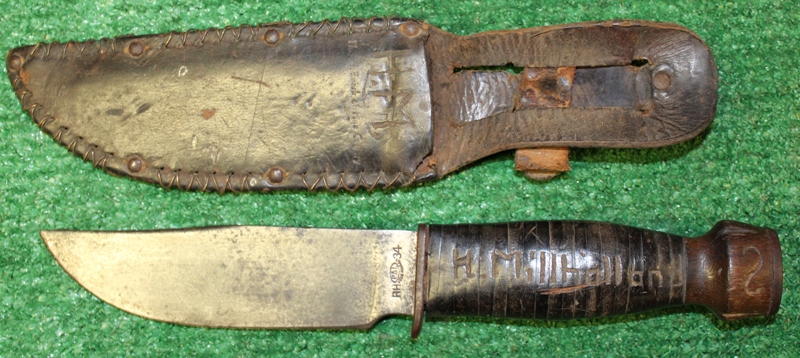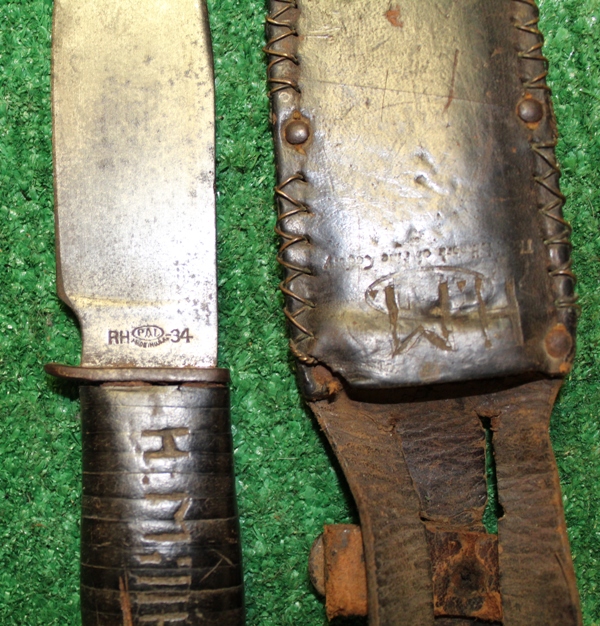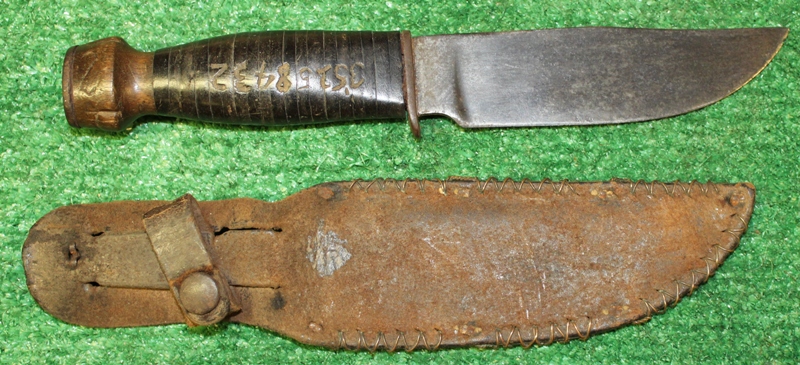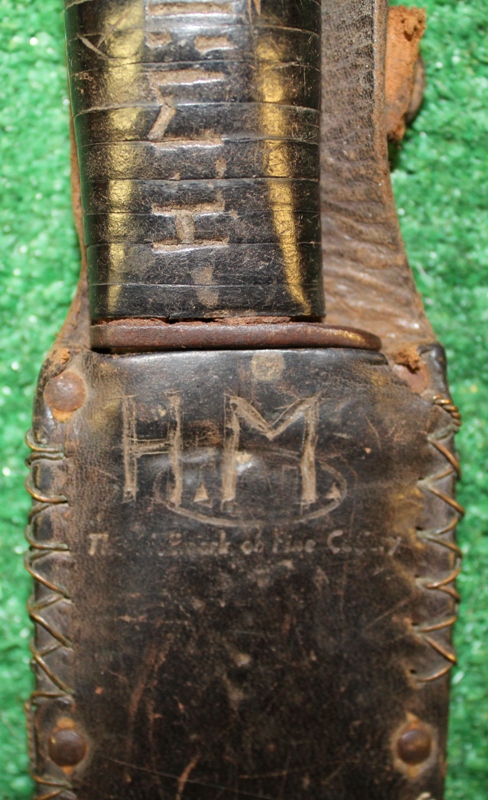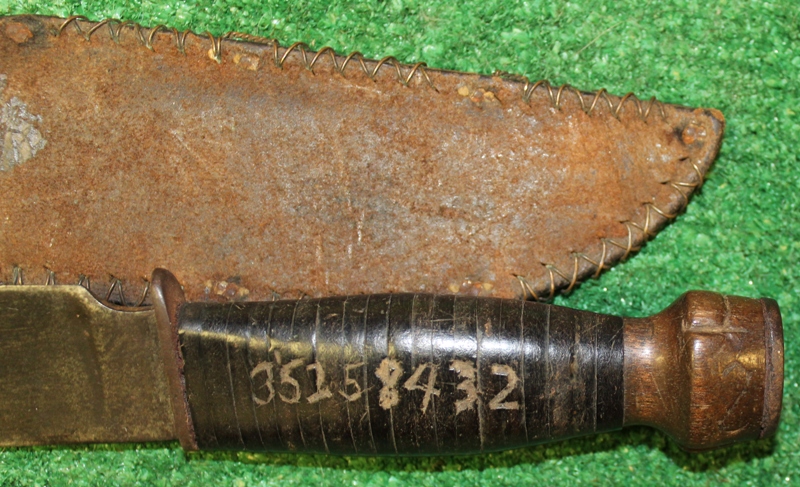 ************************************************************************
CONSIGNMENT
Item No. 31 Now here we have a Survival Machette for the Army Air Corps that was adopted in 1942 as a new Air Force Survival Knive. Most of them folded and were usually carried in the seat pack kit attached to the parachute harness. This one is a CAMILLUS and so marked. It has a 10 inch blade that was originally bright finished but now dark patina with a couple of chips at the end of the blade. This was also known as the No. 4 model. It also has heavy black plastic slab grips on each side. Still nice! $65.00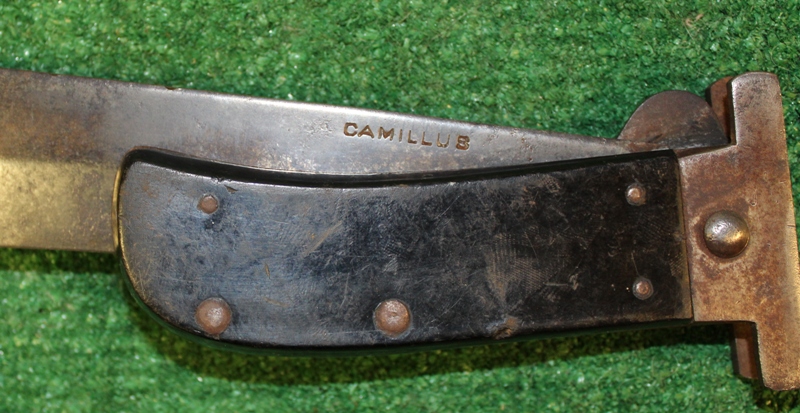 CONSIGNMENT
Item No. 32 Here is a Spanish M1969 Bolo Combat Bayonet with matching scabbard. Made for the CETME and FR8 rifle over all looks very nice. This is not one of the recent copies that are flooding the market now but an original one. The bayonet and scabbard are in very nice original condition. The Spanish crest is on the blade at the ricasso and on the other side ricasso is the makers ino and the serial number of E15542 D. The scabbard is in very nice original aged condition and is complete except for the tiedown at the tip of the scabbard. For this unit $45.00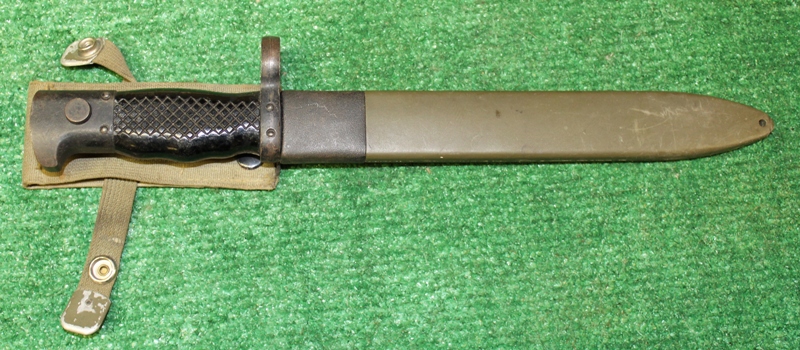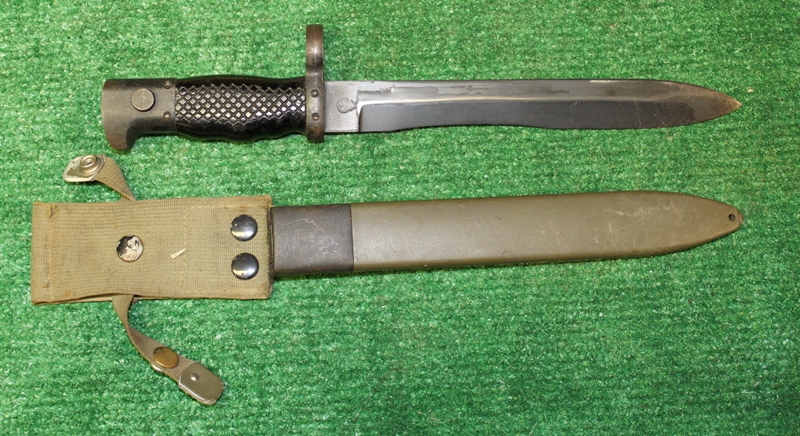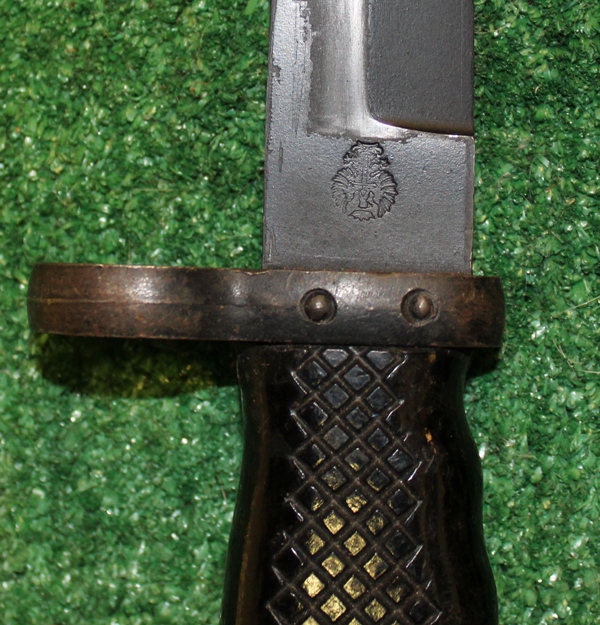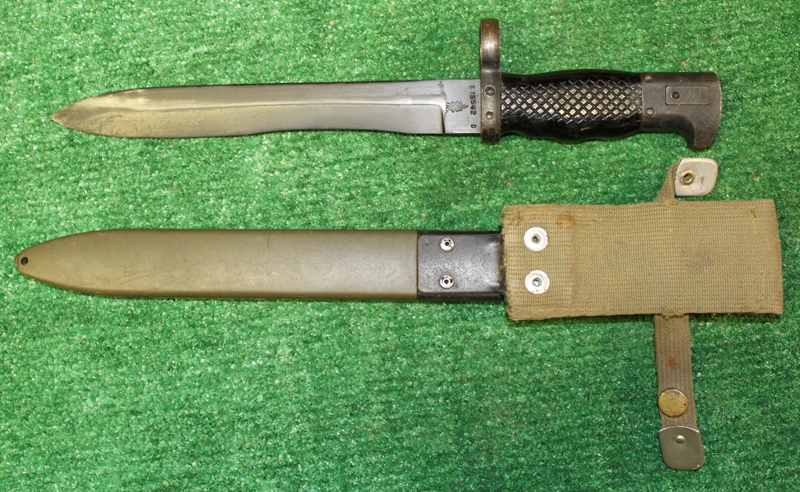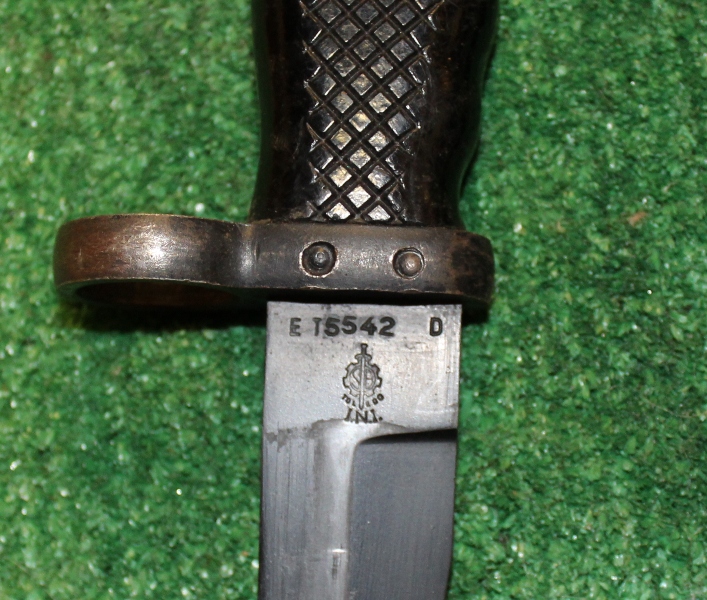 CONSINGMENT
Item No. 33 Here's an unusual U.S. WW2 theatre made knife. This dagger type knife is about 11 inches long or more with a 6 1/2 inch blade. The blade is made from a file and you can still see some of the file grooves on it near the grip. The grip and cross guard are made from clear plastic washers interposed with black plastic and aluminum spacers. The pommel cap is a stepped down aluminum cap. The sheath looks to be a normal miitary type WW2 knife sheath with a notch cut out of it at the top of the blade part. The receiving male part of the snap has also been lost. There is a name in black on the back of the sheath which looks like MATT GARGAS JR. Could be interesting if you find out where he served. For this piece $85.00
CONSIGNMENT
Item No. 34 Here's a rare one! This is a Australian Army Stiletto . These knives are often referred to as Fairbairn Sykes Fighting Knives. While this is not so, the description does have some merit. It appears that the British Instructors who were sent out to Australia to help set up the Australian Independant Companies (Commando's) brought their own Wilkinson Sword First Pattern Fairbairn Sykes fighting knives with them. Representatives from Gregory Steel products in Melbourne met with these men and from that meeting drew up the design of the Australian Army Stiletto (AKA Australian Commando Knife). This explains the distinct similarity between the Australian Army Stiletto and the Fairbairn Sykes fighting knife, however there are some clear differences, the blade is shaped differently, it is narrower and thicker on the AAS. They are most similar in their intended use. There were two manufacturers of the Australian Army Stiletto: Greg Steel in Melbourne and Whittingslowe Engineering in Adelaide The most common version found is with the cast "Mazak" handle. Some by Greg Steel had a wooden handle. This particular knife is a Greg Steel knife with wooden handle. This one is in pretty good condition with an Australian marked scabbard. There are several cracks in the wooden grip but it's still as solid as a rock. This example is over 12 inches long with a nearly 7 1/2 inch blade. It looks like the blade saw a little sharpening but I don't believe it was sharpened much. All of these examples pretty much come down to a sharp point. The ricasso is marked Gregory Steel Products and that seems to be the only marks showing. Take a look at the pics! It is not known how many of these knives were made. One often hears the figure of 500 but this is unsubstantiated and no evidence has been found to support this. So far evidence has only been found of one unit, the 2/6 Independant Company where all members were issued with these knives. Z Special Unit was also issued with a number of these knives. Members of other Independant Companies also had these knives but where and when and in what number they were issued is still unknown. Four types of sheath are known. A cut down bayonet scabbard, a canvas sheath which did not withstand the rigours of the tropics and two versions of a leather sheath. One tapered conforming to the knife, the other with a tapered section holding the knife attached to a rectangular base. I don't believe that this sheath conforms to any of those but I may be wrong. The sheath has had a rawhide thong placed in a spiral pattern around the edges but I can see that the scabbard is sewn as well. There are several pieces of leather still attached to the thong including the top of the sheath. On the top of the sheath is a full crown with the work BESTOVALL stamped on it. On the back of the sheath is marked R PLASS in white paint. You never see these knives for sale! For this highly collectible knife $1900.00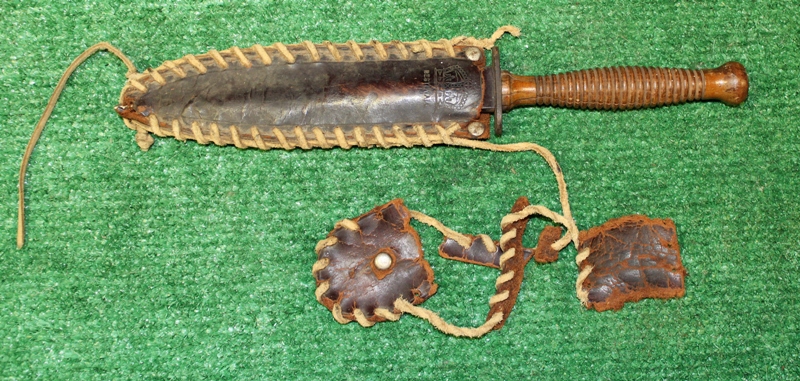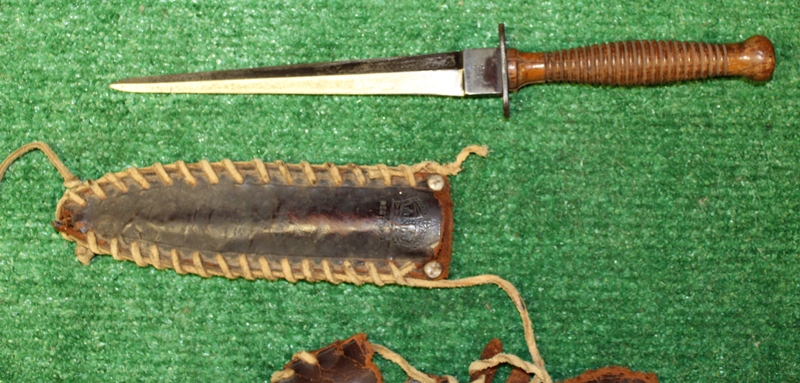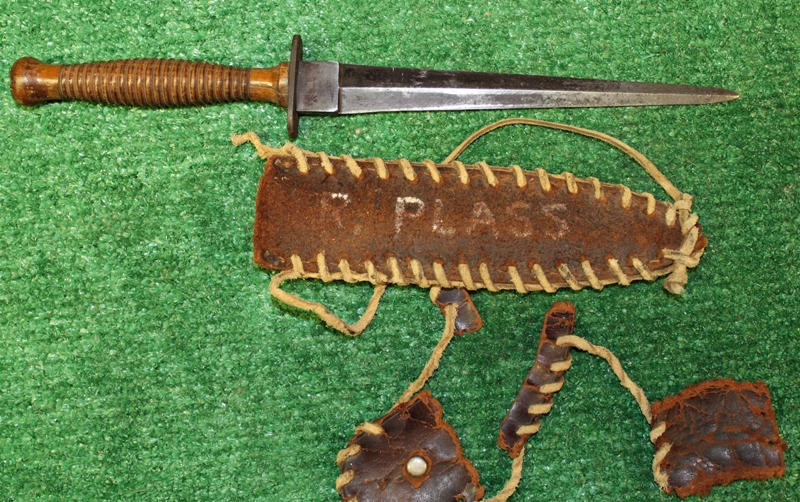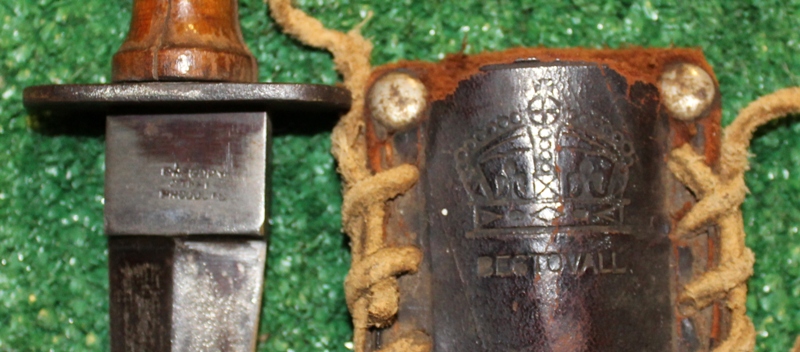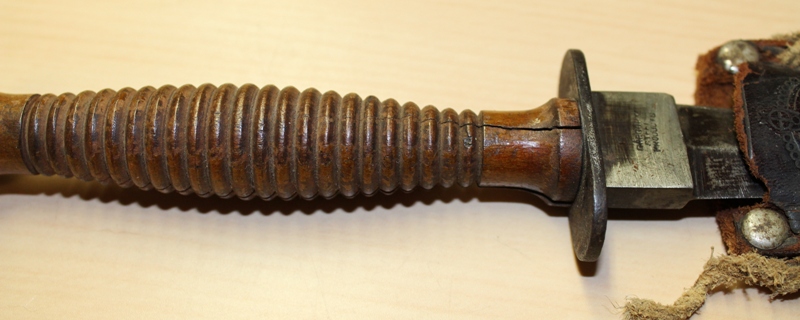 ***************************************************************************
CONSIGNMENT
Item No. 36 Here we have a M5 bayonet and scabbard. During the Korean War, the M-1 bayonet and M-1905 bayonet, which both mount to the M-1 Garand rifle using the same mechanism, were found to be very difficult to remove from the rifle with gloves on. As a result the U.S. M-5 Garand bayonet was designed and issued in 1953. This was a total redesign and looks nothing like the original M-1905 or M-1 bayonets for the M1 Garand. The M-5 is the only U.S. bayonet without a barrel mount ring on the crossguard, making it look more like a fighting knife than a bayonet. The M-5 bayonet has a 6 3/4 inch blade, and overall length is 11 1/2 inches. Weight is 11 1/2 ounces. The blade has one side sharpened for its full lenght and three inches of the other side are sharpened. There is a relatively large push button release to deal with the problem of working while having gloves on. The stud on the bayonet crossguard fits the gas cylinder lock screw under the Garand barrel. Locking grooves attach to the bayonet lug on the rifle. The M-5 fits only the M-1 Garand and does not interchange with any other firearms. There were three different patterns made: M5, M5-1 and M5A1. Quoting from the authoritative article "The history of M1 Garand Bayonets" by Robert Gibson on the Fulton Armory website. This particular bayonet is marked US M5 only on one side of the crossguard and J & D TOOL CO. on the other side of the cross guard.
There are two variations of this scabbard, both with an olive drab fiberglass body with steel throat. The early version, designated M8, has only a belt loop, no hook. This one has the hook and also has the steel reinforcement tip on the fiberglass sheath. The M8A1 retains the general look and can be slipped over a belt, but also has the M-1910 bent wire hook available. The model is stamped "US M8" or "US M8A1" on the flat steel part along with manufacturer initials. This sheath is correct for all post-war US bayonets including the M-4, M-5, M-6, and M-7. It was also used with the M-3 Fighting Knife.
This particular bayonet is in pretty good condition with al the correct markings and parkerized blade. The blade on this one has not been sharpened. The scabbard is also in very good condition and is complete. Markings are very clear on the scabbard. There is a tiny bit of rusting on the reverse but not bad. For the set $85.00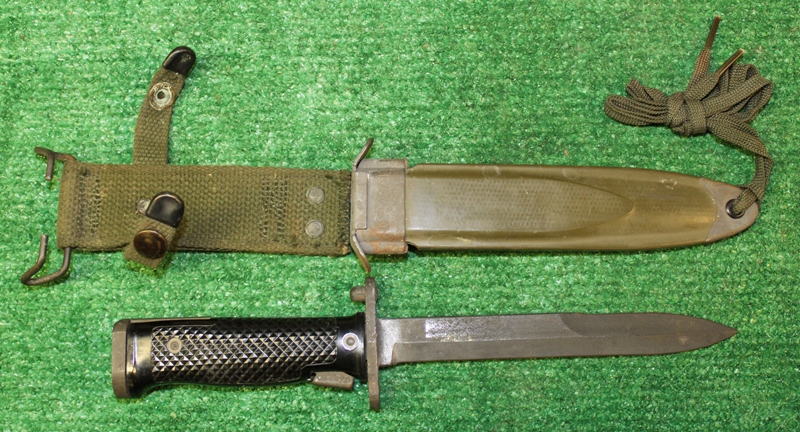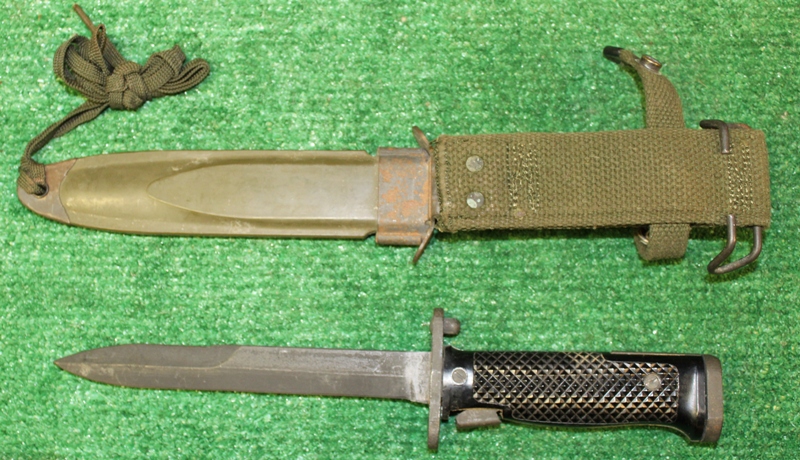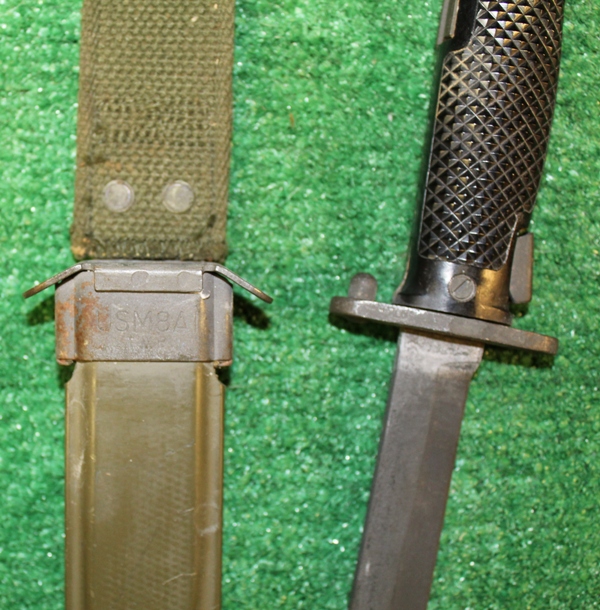 CONSIGNMENT
Item No. 37 Here we have a M6 bayonet and scabbard. The M-6 bayonet-knife is used as a bayonet on the M-14 series rifle and as a hand weapon, fighting knife. The M-6 Bayonet Knife entered service in 1957 and was mostly utilized during the Vietnam War until superceded by the M-16 rifle with its M-7 bayonet or M-9 bayonet (roughly 1968 for Army, used by USMC earlier). About 1.6 million M-6 bayonets were delivered to the Army in the 1960s. The M-6 blade and hilt are very similar to the M-5 or M-5A1 bayonet for the M-1 Garand Rifle except that the M-6 has a ring that slips over the flash suppressor muzzle of the M-14 while the M-5A1 attaches to the Garand with a stud. The M-6 is not interchangable with any other rifle; it only fits the M-14. M-6 bayonet markings The M-6 blade is 6 3/4 inches long, with an overall length of 11 1/2 inches. Blade width is 7/8 inch and it weighs about 12 ounces. The blade on this bayonet is about 1/8 short but it has been sharpened. There are no markings on the blade itself. The manufacturer's initials or name (AERIAL, AN, IMPERIAL, or MILPAR COL.) along with "US M6" will be found stamped under the crossguard (photo on right, enhanced to bring out markings). This one is an IMPERIAL. The non-slip grips are molded black plastic. The steel parts have a uniform dark grey parkerized finish. Imperial Knife Company was the main contractor for the M-6 bayonet. This particular bayonet is in good condition even with the sharpened blade and comes with the U.S.M8A1 scabbard which is complete and in pretty good condition. This scabbard has the late-production metal tip attached to it. For this outfit $75.00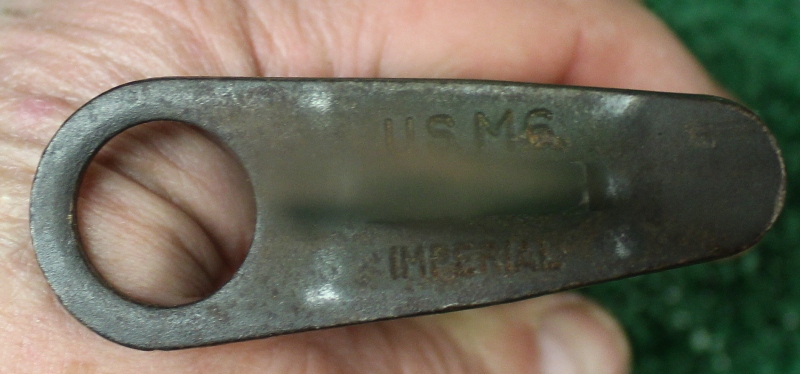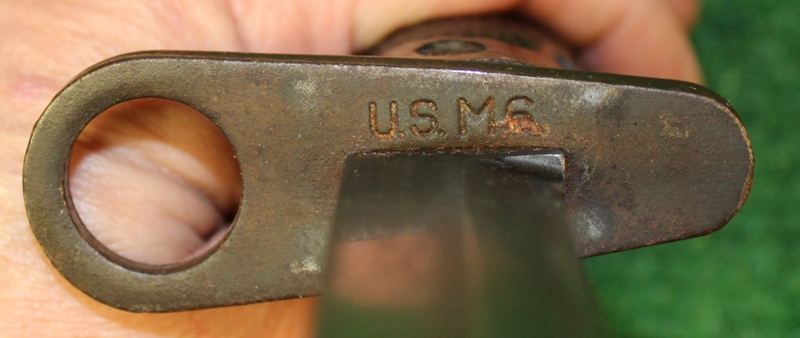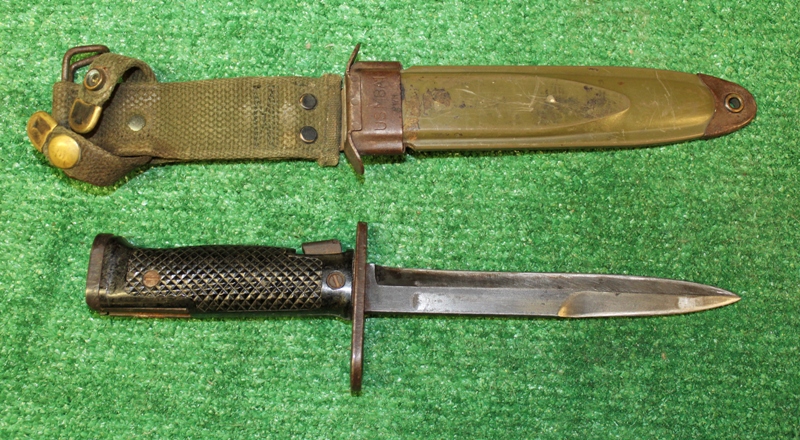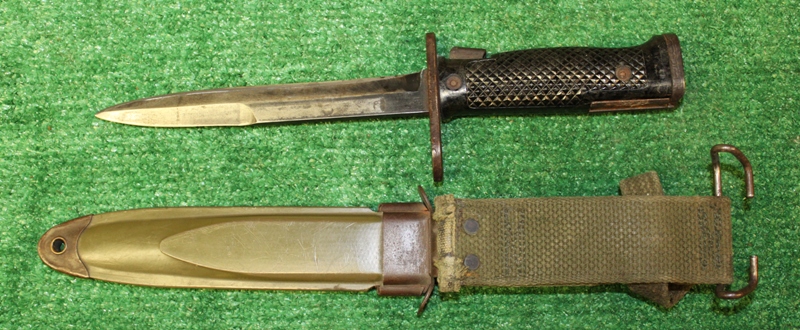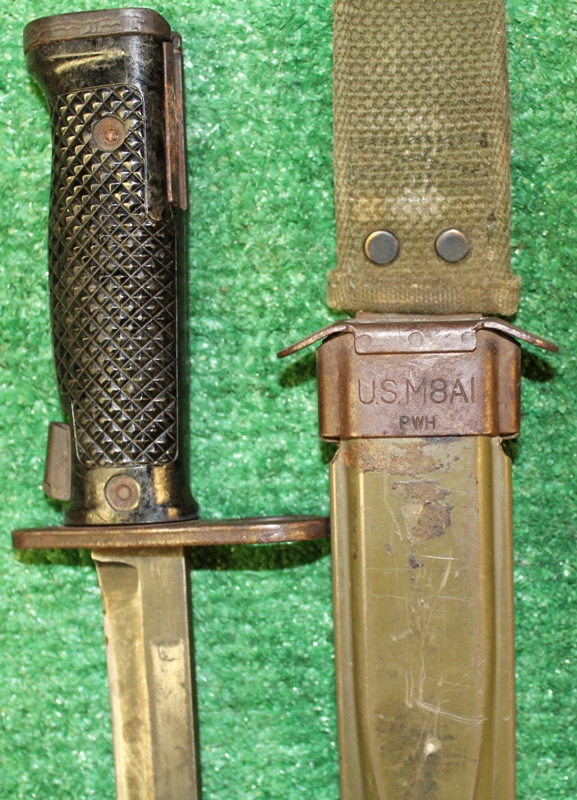 CONSIGNMENT
Item No. 38 Here's another US M6 like the one above but without a scabbard. This one has the correct blade length althout it has been sharpened as well. The markings are nice and clear and the mechanism works fine. Take a look at the pics. $55.00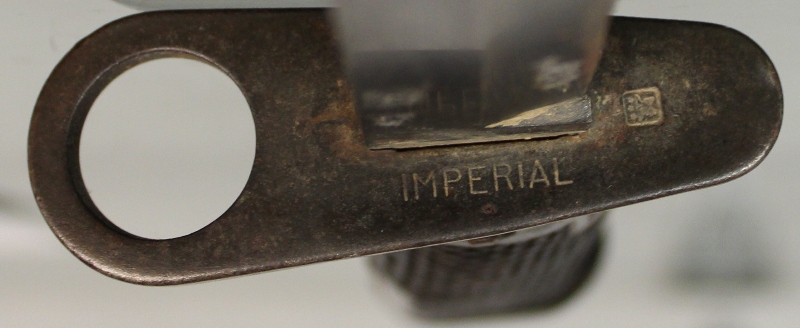 CONSIGNMENT
Item No. 39 Here we have a US PAL RH 36 fighting Knife - A fighting knife, also commonly called a combat knife, is a knife designed for military use, specifically for close combat. Although since the end of trench warfare, most military knives have been primarily designed for utility or tool use. Activities such as clearing foliage, chopping branches for cover, opening ammunition crates, etc. This is a US fighting knife. Manufactured by PAL for WW2. The handle is made of a series of compressed leather rings. At certain intervals the color of the rings is changed from dark brown to yellow or red. The pommel is of aluminum construction. The blade is bright with very clear markings. This knife has the 6 1/4 inch blade and is 11 1/4 inches long overall. The blade has b een sharpened but not overly done. Comes with the original leather scabbard with just the snap pulling through the leather closure strap. For this piece $75.00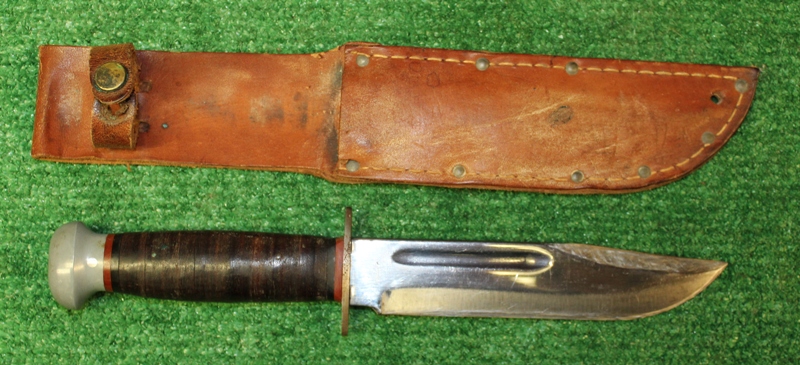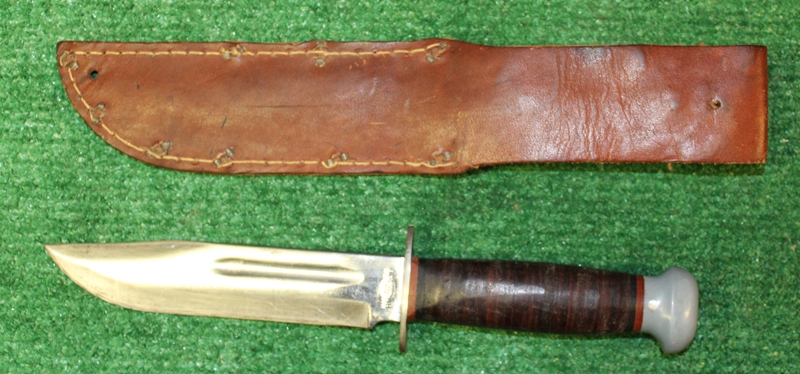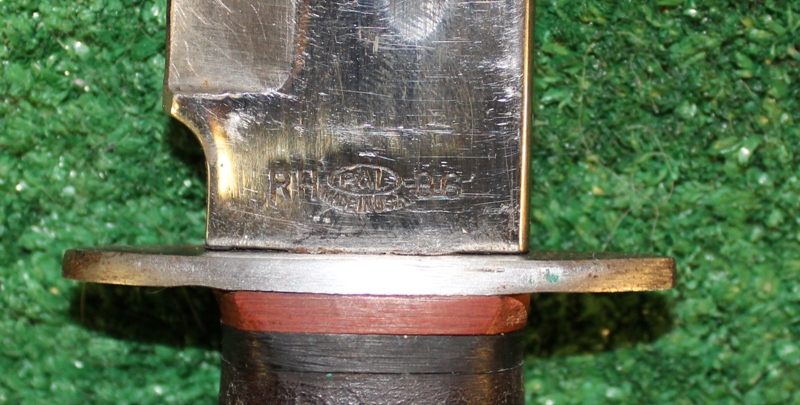 CONSIGNMENT
Item No. 40 Here are a couple of German Officers button off of a tunic. The fronts of the buttons are very similiar being a gold pebbled finish with spread wing Eagle over swastika. They measure abut 7/8ths of an inch across. The one to the left has on the reverse M5/32 while the one on the right has on it's reverse M5172/15. There are makers logos on them but I can't quite make 'em out. For each one $7.50
CONSIGNMENT
Item No. 41 Here is a small gold plated swastika with a diamond in the center. Even the Nazi women had sweetheart jewelry. It's about a 1/2 inch across the tines and I think the little diamond is real. $150.00
CONSIGNMENT
Item No. 43
Here we have 4 WW2 'Tinnies'. They are marked left to right 1 -2-3-4. Number 1 is from June 22-23 1935. This is a nice large 2 inch high 1935 dated badge, with a stylized sports stadium on the face. It is an heavy aluminum alloy with a press fitted spring pin. There are raised ENTW. R. KASTER ROBINSON maker marks on the back. This one is extra crisp! $65.00
The next one number 2 is a very light gray pop metal and measures 1 3/8 inch across. It also has a pressed fitted pin on the reverse and is marked with the makers info. This is a 1937 Mayday Tinnie and shows a child standing on the Eagle/swastika. Good Condition. $20.00
The next tinnie number 3 is a 1938 Mayday tinnie showing a man and woman on the front. This one also has manufacturers info on the reverse along with a pressed fitted pin which has been hot glued in for some reason. This one measures about an 1 3/8ths across $25.00
This last one number 4 is a stamped steel tinnie with soldered pin which signifies Hitler Youth Sports fest in 1936. No makers info on this one but it's real nice! $45.00
These next 4 tinnies are labled 5-6-7 & 8
No 5 is a nice large (1-3/8 inches high) 1936 dated badge, with a plow, hammer, sword, and an eagle on the face. It is an aluminum alloy with a press fitted spring pin. There is a raised WERNER REDO SAARLAUTERN maker mark on the reverse. It is a nice one. $30.00
No 6 is WW2 German 1934 Labor Day tinnie
SOLD!!! and shows a mans head with a hammer on one side and a sickle on theother side over the German Eagle and swastika. This is stamped steel (1-3/8 inches high) with a soldered pin on the reverse. No makers marks $30.00
No 7 is an alloy tinnie also measuring 1-3/8 inches across. The front shows a lady laying down watching a child playing. A German eagle is found in upper section. Dated 1939. The words "Reichspartetag" are found in the bottom part. Maker marked on the reverse with a RZM in a circle as well as M9/102 Geer. Bender. It has a pressed steel fastening pin. It's light so it may be aluminum. $25.00
No 8 is an alloy tinnie as well measureing 1-3/8 across and dated 1939. This is a German Woman Labor Day tinnie. It's had to make out details until you wet the tinnie then they are clear. It's maker marked on the reverse. For this one $15.00
CONSIGNMENT
Item No. 44 Here is a rare POW tag for a Japanese Prisoner. It has been estimated that between 19,500 and 50,000 Japanese military personnel surrendered to Allied forces prior to the end of the Pacific War in August 1945.[1] The number of Japanese soldiers, sailors, and airmen who surrendered was limited by the Japanese military indoctrinating its personnel to fight to the death, Allied personnel often being unwilling to take prisoners,[2] and many Japanese soldiers believing that those who surrendered would be killed by their captors. Western Allied governments and senior military commanders directed that Japanese POWs be treated in accordance with relevant international conventions. In practice though, many front-line soldiers were unwilling to accept the surrender of Japanese personnel due to a combination of racist attitudes and reports of atrocities conducted against Allied troops. A campaign launched in 1944 to encourage prisoner-taking was partially successful, and the number of prisoners taken increased significantly in the last year of the war. Japanese POWs often believed that by surrendering they had broken all ties with Japan, and many provided military intelligence to the Allies. The prisoners taken by the western Allies were held in generally good conditions in camps located in Australia, New Zealand, India and the United States. Those taken by the Soviet Union were treated harshly in work camps located in Siberia. Following the war the prisoners were repatriated to Japan, though the United States and Britain retained thousands until 1946 and 1947 respectively and the Soviet Union continued to hold hundreds of thousands of Japanese POWs until the early 1950s.
Even though many thousands of Japanese Soldiers and Sailors surrendered you will rarely find one of these tags. A search on the internet turned up none. This piece shows wear and staining but what the heck it's here. Take a look at the pics. It ot only says 'JAP' on it but 'Korean' and also 'Native'. For this rare piece. $145.00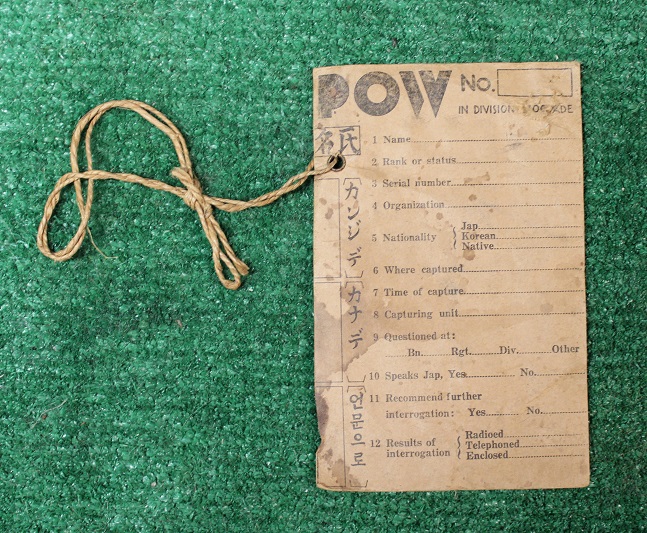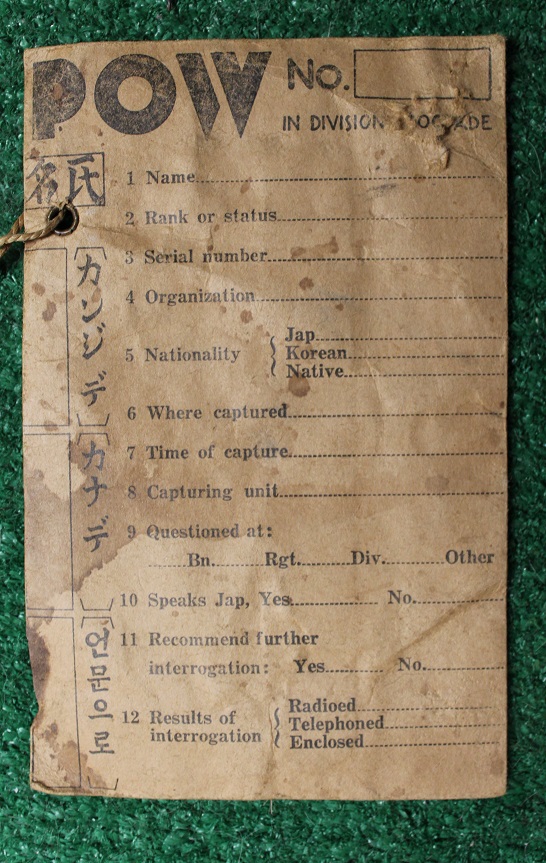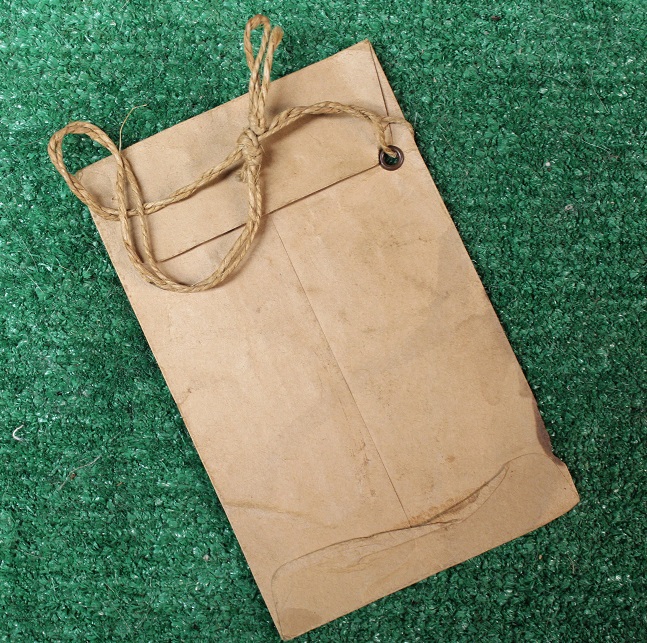 Item No. 45 (CONSIGNMENT) Here is an WW2 SA dagger that was altered by the GI who captured it. He took the original grips off and made lucite grips for it inserting photos of his wide and child under the plastic. The rest of the dagger is just fine and it comes iwth a nice black painted sheath. The etching on the blade is fine while the makers mark is worn on one side but may not have been stamped deeply on that side. There are no sharpening marks but there is one minor nick to the blade. Unique Trench Art! $395.00
Item No. 46 (CONSIGNMENT) Here is a nice SA dagger with leather tab holder and sheath. The blade has some staining but little sharpening. The walnut grip is very nice with enlays still in place. The sheath is dent free with an aged brown finish. The makers logo is partially obscured. Nothing is missing! For this nice piece $750.00
Item No. 47 (CONSIGNMENT) Here we have a GI defaced Luftwaffe Dagger and sheath. The dagger is in pretty good shape considering with just a couple cracks to the celluloid covering over the grip and a small chip or two. The blade is nice with maybe some very minor sharpening. I cannot see a makers mark. The sheath has a couple of door dents but the dagger still goes in and out ok. There is some patina and minor rust to the sheath but not too bad. The aluminum pommel cap and the crossguard have had the swastika removed. $495.00
Item No. 48 (CONSIGNMENT) Here we have another GI defaced German Dagger. This one is a Heer Army Dagger and I believe an early one. The fittings are silver, probably silver plate, and have not been cleaned. The orange celluloid handle is fine. This is an Eichorn blade and so marked. The blade is in good shape. The pebble finished scabbard is in fine condition with no dents. The silver crossguard Eagle has had the swastika removed. For this piece $495.00
Item No. 49 (CONSIGNMENT) Here we have a beautiful Luftwaffe Dagger with Silver knot. The crossguard and pommel are aluminum and looks great although the pommel cap is loose a little. The blade is excellent but I do not see a makers mark. This piece has a very nice white grip with full twisted silver bullion wire. This dagger comes in a black leather scabbard with silver colored mounts. For this great piece with knot $825.00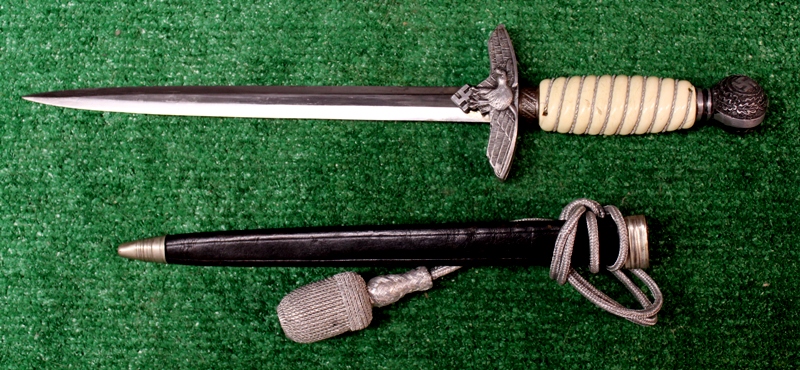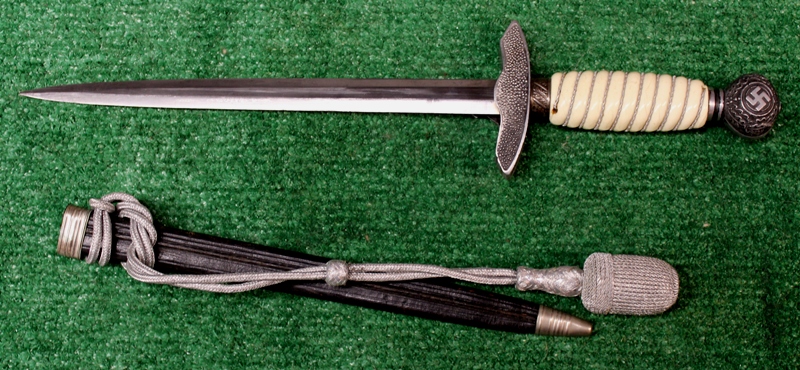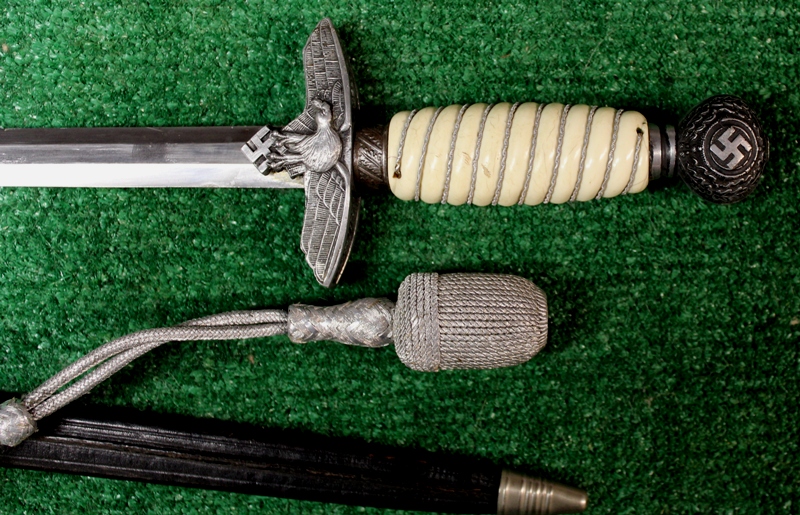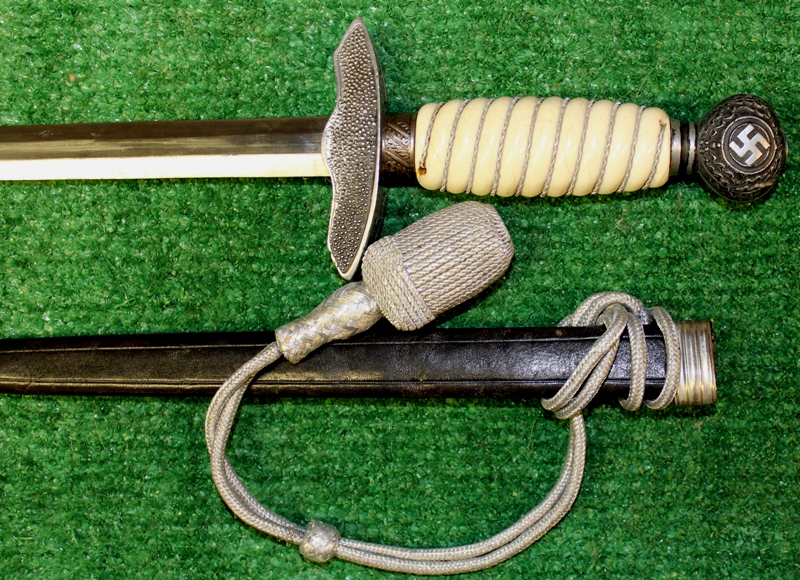 Item No. 50 (CONSIGNMENT) Here we have a WW2 German ERMA-ERFURT 1937 dated flare gun in pretty good condition. Serial number 6974. This piece has the Waffen marks with swastika ove 280. Actually it has both Imperial style waffenampts and nazi era marks as well. This gun has the brown bakelite grips in good condition with the laynard ring. Nice! $395.00
Item No. 51 (CONSIGNMENT) Here's a WW2 Japanese Cold Weather Cap in excellent condition! It's a khaki green wool with ear flaps. The Japanese Star patch is sewn on the front of the cap. Inside the lining are Japanese Characters. Nice condition! Look at the pics! For this piece $250.00
Item No. 52 (CONSIGNMENT) Here is a theatre made holster. For what I don't know but I believe it is GI made. It seems to be made from Pig skin and has a WW2 German Cap Eagle on the front. The piece is sewn together with leather thong. Nice piece and quite unusal! $250.00
Item No. 53
Item No. 54
Item No. 55 (CONSIGNMENT) Here we have a 1920 Commerical Luger being made for the foreign market by Mauser and so marked by DWM on the top link. There is copious amounts of hand engraving all over this piece that is gold filled but worn thin in several places. The serial number is 1649 and the numbers match except the magazine which is not marked. The piece does show some wear as it was used. It is marked MADE IN GERMANY on the obverse frame top. It's a 9MM pistol with a 4 inch barrel. The action works as it should. This is really a very nice weapon. For this piece. $2,950.00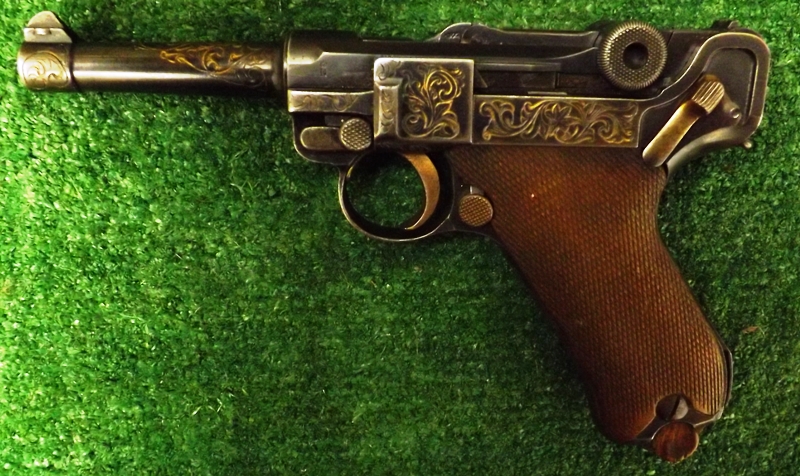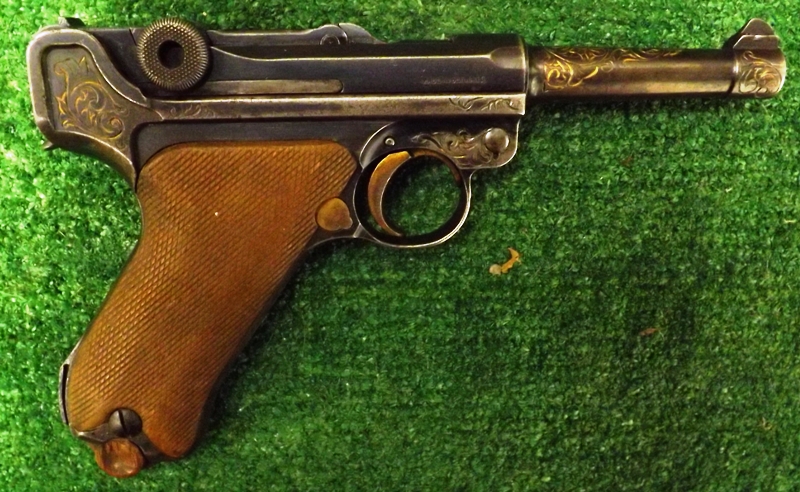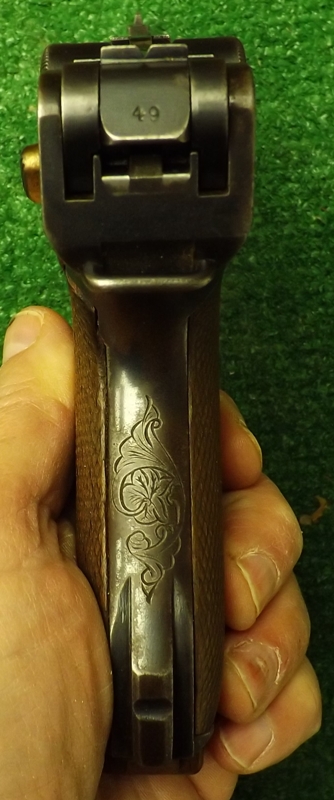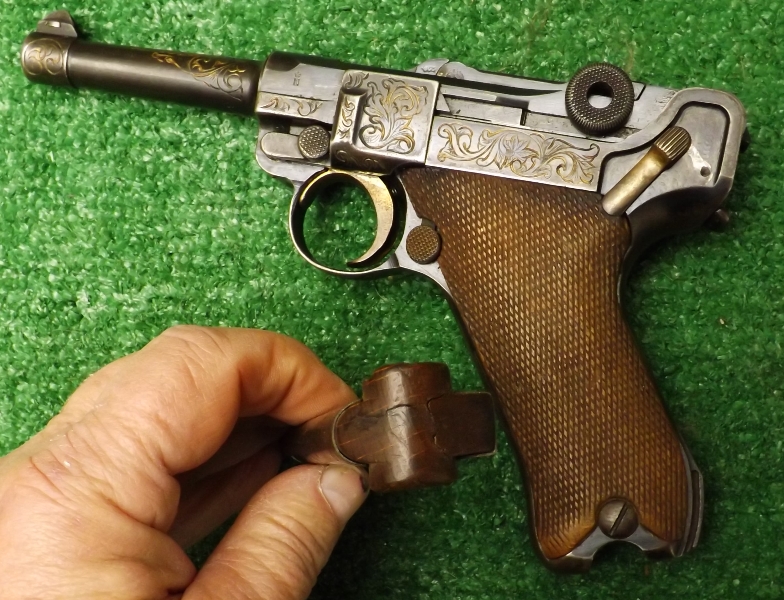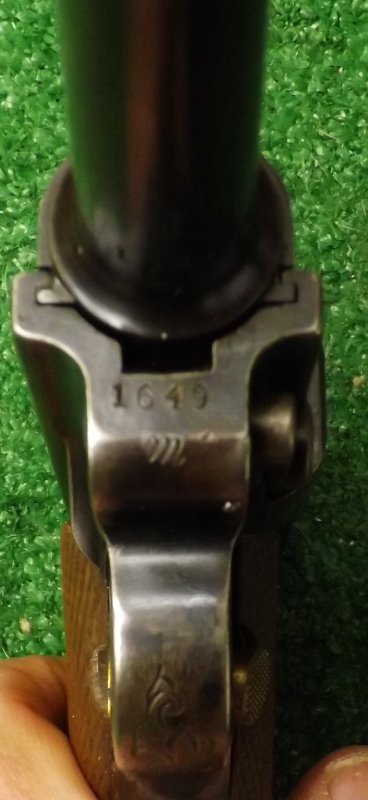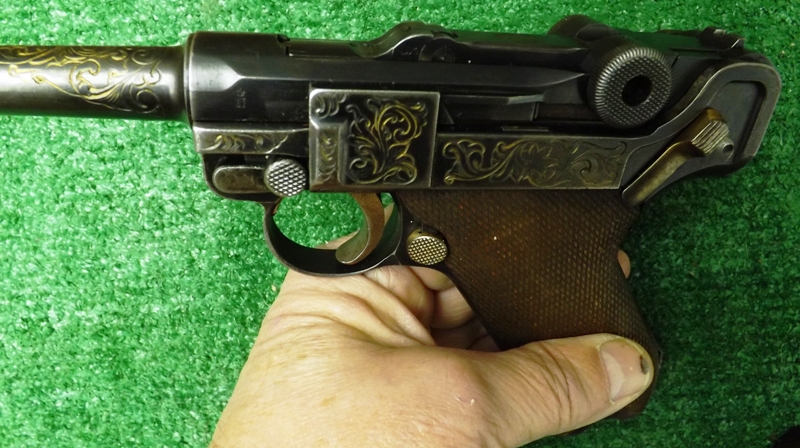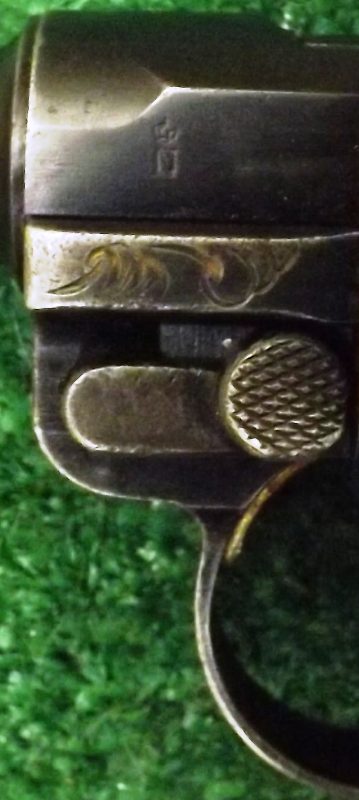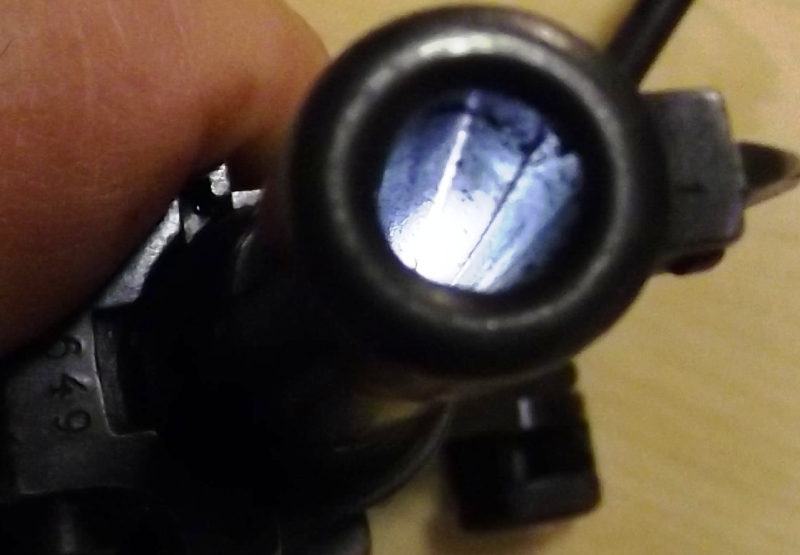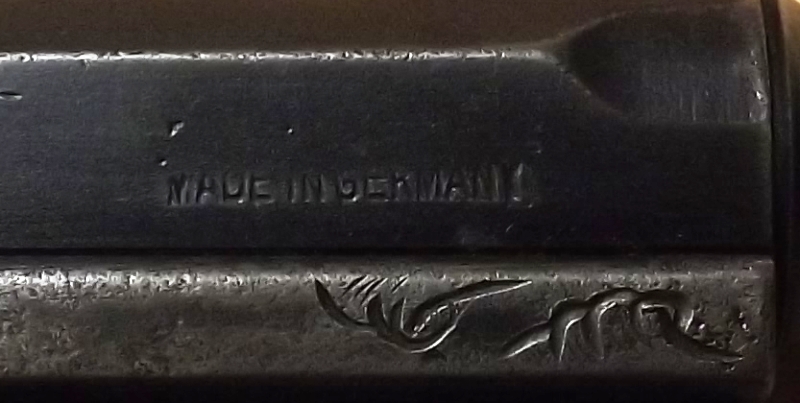 Item No. 56 (CONSIGNMENT) Here we have a Sighting Telescope NO. 9A MK1 in original wooden box. This telescope is made by Walters E. M. Co. LD and is dated 1916. It's in generally good condition with good optics and comes with two mounting brackets. One of them has a swivel stud to go into a mount. The box is nearly complete and is in good condition showing wear. Take a look at the pics! $275.00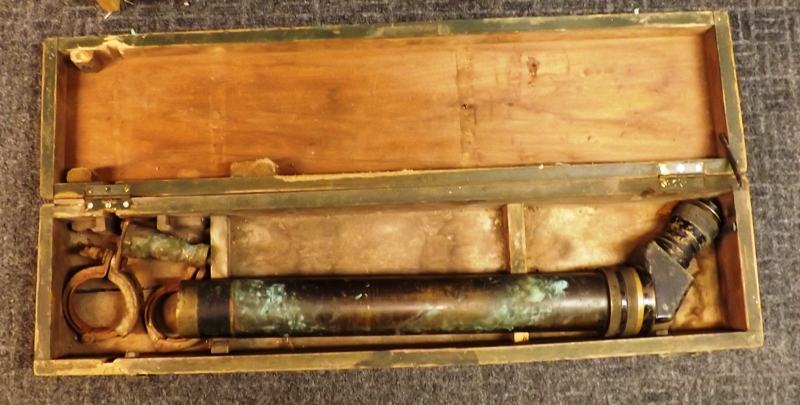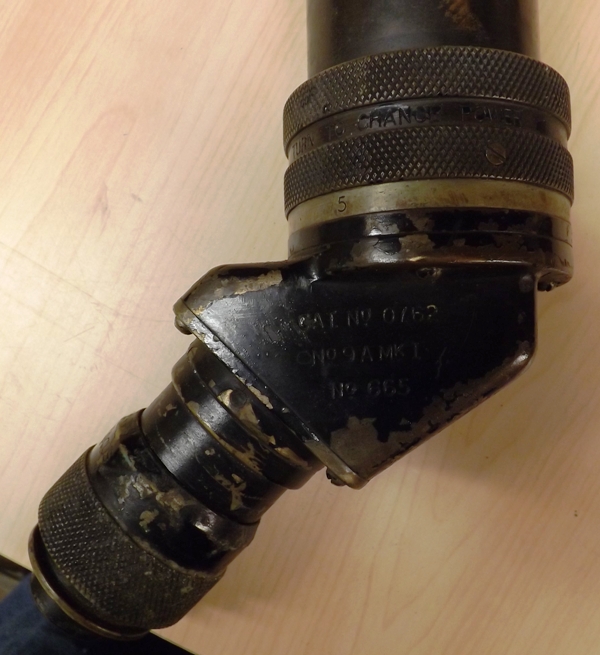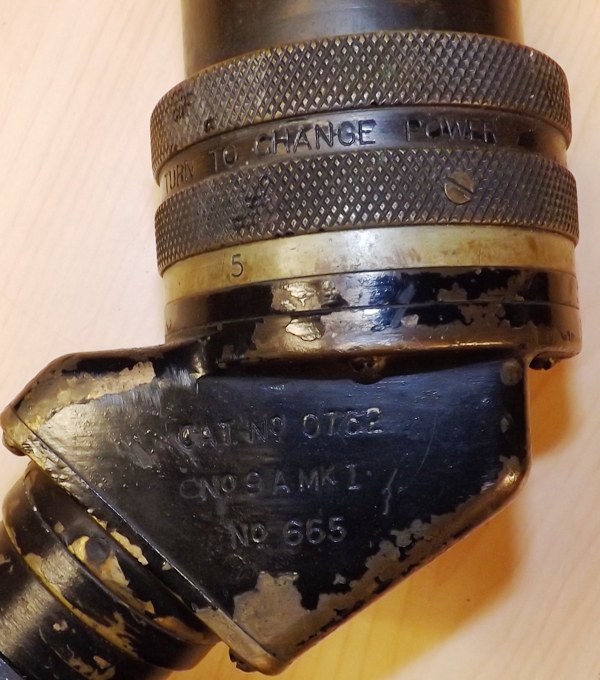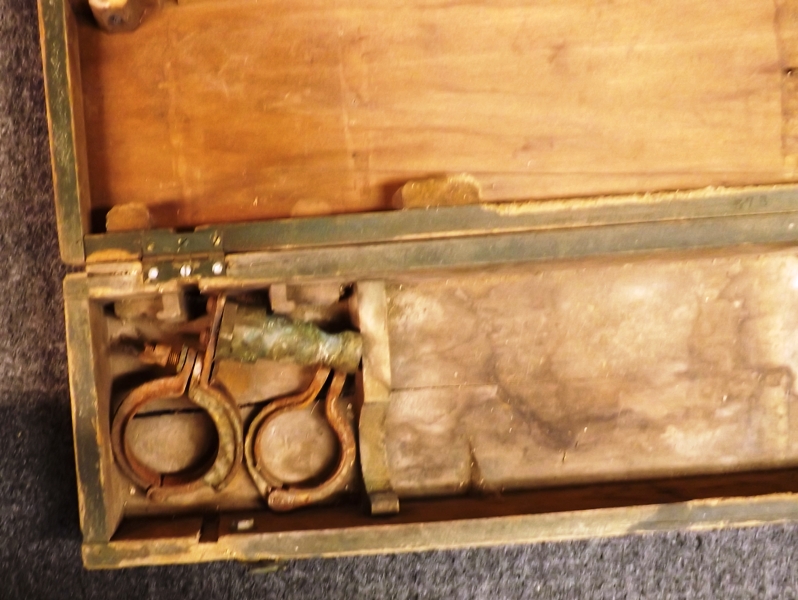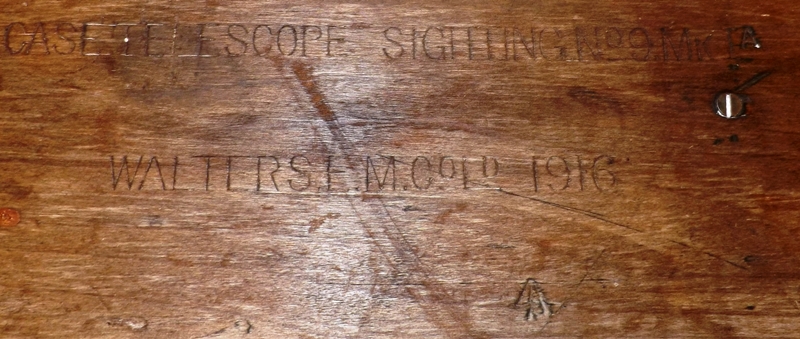 Item No. 57 (CONSIGNMENT) Here we have a WW2 era Kano Swiss movement Mfg wrist watch with simple leather band that was used by Germans during WW2. I was told that this is a bringback taken from a WW2 German Officer. The watch runs and keeps time. The back is marked KANO EDELSTAHL 01918. KANO is the watch company and EDELSTAHL is a german word that means 'Stainless Steel', the 01918 is the serial number of the watch. The face is also marked KANO and SWISS MADE (at least the movement is Swiss made). The band is a simple leather band that is one piece and goes across the back. The watch measures about 1 1/8th inch across the back. This is a nice piece! $175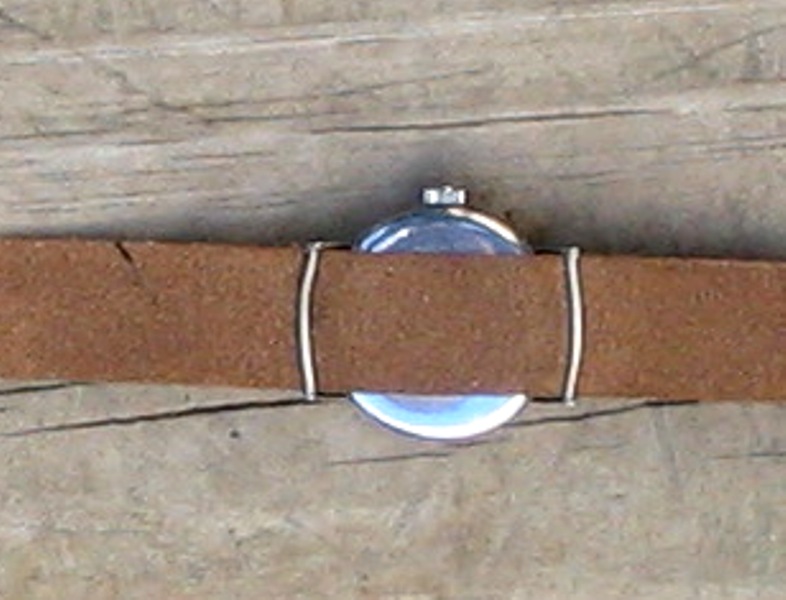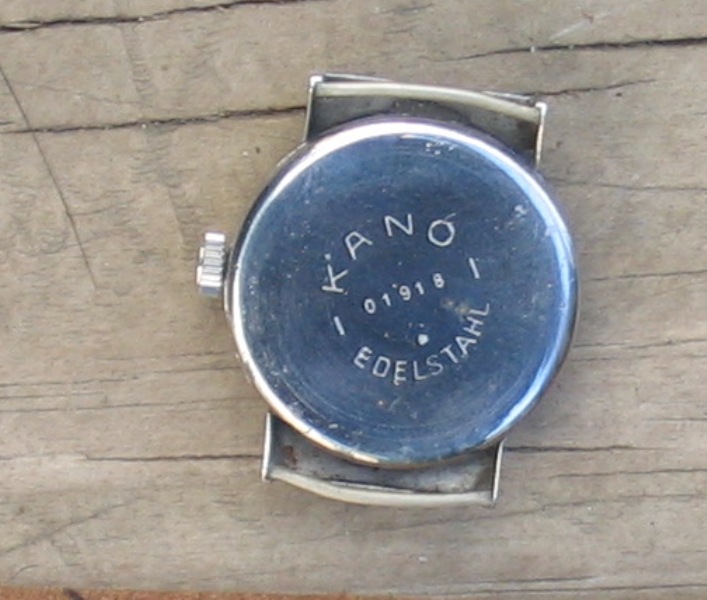 Item No. 58 (CONSIGNMENT) Here we have a walnut wooden plaque with a relief carving of Adolph Hitler on the front. This piece measures almost 10 inches across and is about ¾ of an inch thick. There is a small nail on the back where a loop was on it for hanging on the wall. Original WW2 German item. $125.00
Item No. 59 (CONSIGNMENT) Here we have various German banknotes. There are some 1904 Funf Marks, 50 mark Reichsbanknote 1920, 20 Reichsmark Reichsbanknote 1929, MillionenMark 1933, 1000 Reichsbanknote 1910, 20000 Reichsbanknote 1923 and a 50000 Reichsbanknote 1922. E-mail for prices. Check out the pics.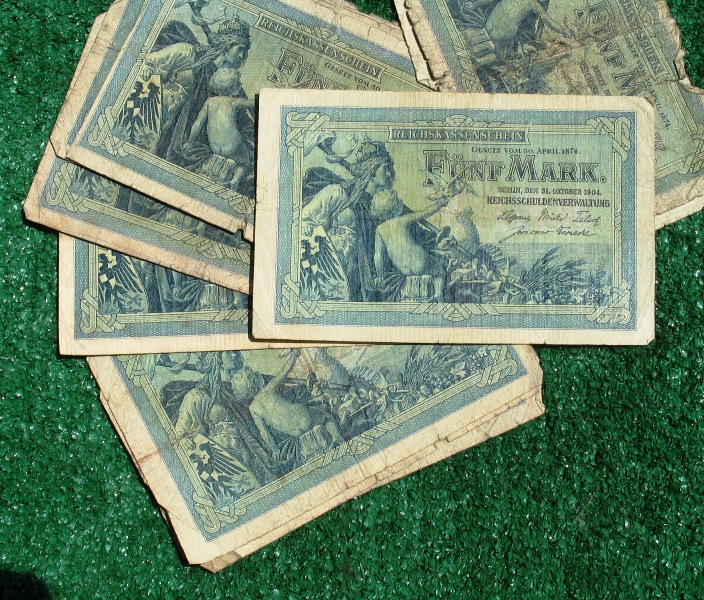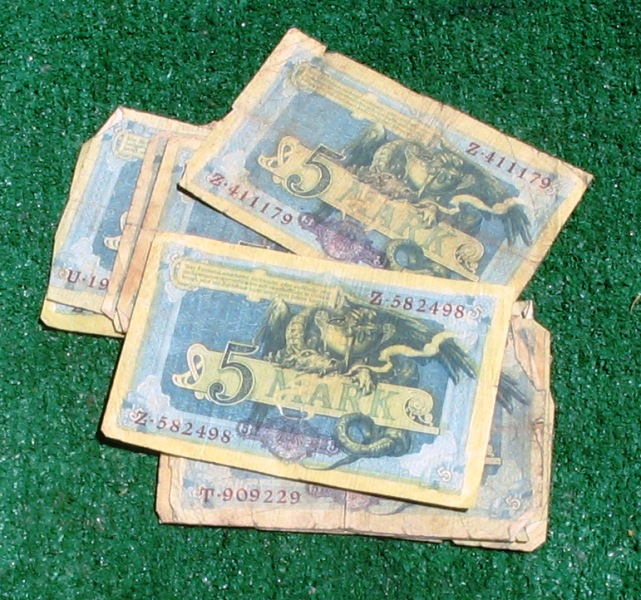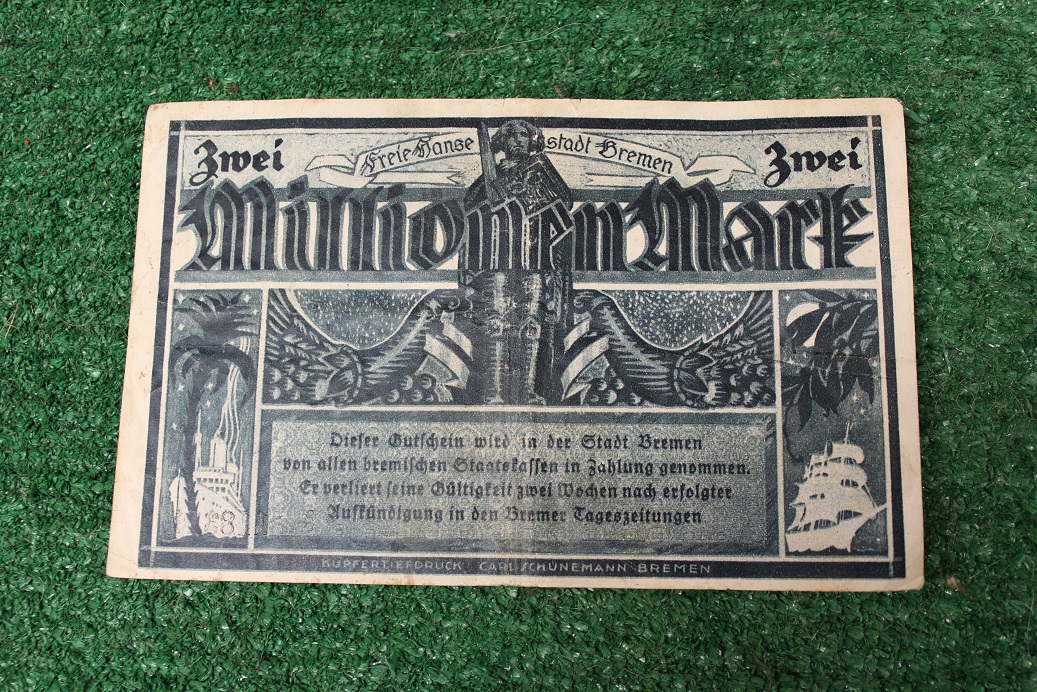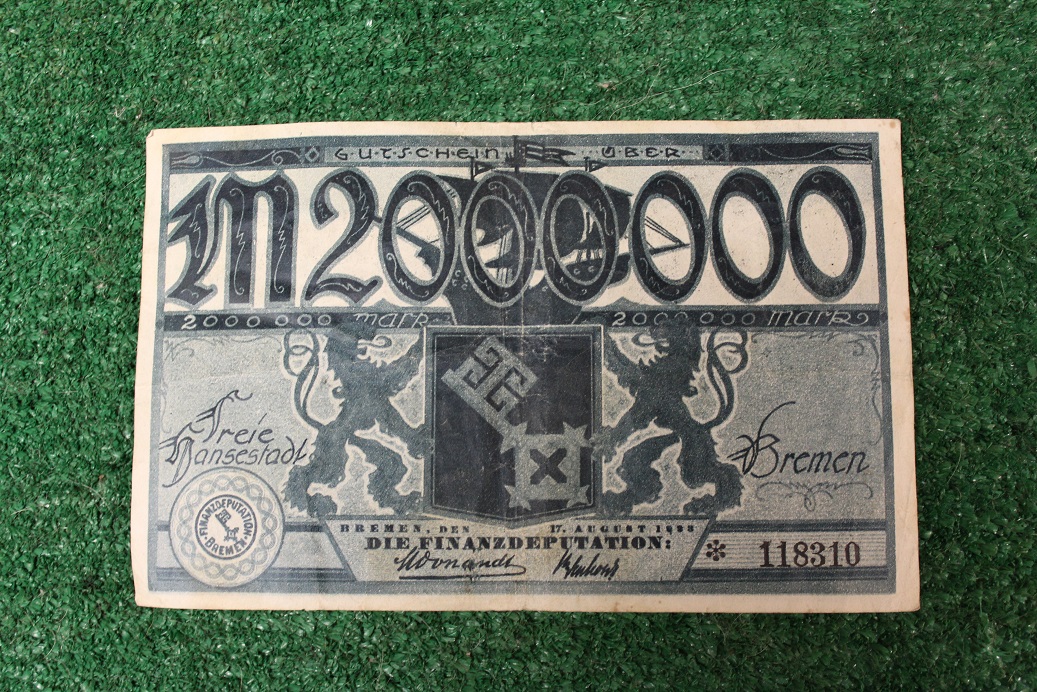 Item No. 60 (CONSIGNMENT)
Here we have a: Series 521 Military Payment Certificate $10.00 One really neat thing about series 521 military payment certificates is that they were the first issue to have the denomination of each note printed on the reverse. All previous issues just had a standard generic design on the backs. This also marked the first time that Forbes Lithograph Corporation was responsible for the entire printing. Forbes incorporated "real people" into the designs of the one, five, and ten dollar denominations instead of the previous classically inspired designs. Series 521 MPCs were used in 19 different countries between May 25th, 1954 and May 27th, 1958. Almost 317 million dollars worth of currency was issued across all seven denominations during that time period. For that reason, most 521 notes are very common. However, there are certainly exceptions to that rule. Scarce print runs and replacements are out there.
Value of Series 521 Ten Dollars MPC Type: Series 521 Denomination: Ten Dollars Number of Notes Printed: 24,400,000 First Issued: May 25, 1954 Redeemed: May 27, 1958 Value In Very Low Grades: $20 Value In Perfect Condition: $750 It is pretty easy to understand the value of series 521 military payment certificates made for the ten dollar denomination. They were just issued in one print run. Over 24 million regular notes were printed, but only 285,000 replacements were issued. Replacements are worth about 20 times more money than standard issues. Both look very similar, each note says "for use only in united states military establishments by united states authorized personnel in accordance with applicable rules and regulations." Replacement series 521 $10 bills have a serial number that does not end with the letter E.
This particular bill is not a replacement. It's in good condition showing nice color but does have folds. Take a look at the pics! For this note $40.00
Item No. 61
Here we have a WW2 Garand bayonet in scabbard. The bayonet is in fair condition showing signs of sharpening. The blade is bright with some grind marks and is 15 3/4 inches long to the cross guard. The markings on one ricasso are UC US with Ordance bomb in between and 1942. On the other side is a partial ordance mark. The plastic grips are fine and the mechanish works fine as well. The scabbard is missing the very tip and is marked with initials on it. The throat is marked USN MK1 which is for a training bayonet and not this one but it fits ok and they came together. For the pair $195.00
Item No. 63
(CONSIGNMENT) We are showing two bayonets here but we have sold the dress bayonet. The one on the bottom is a WW1 S 98 Bayonet and transitional Scabbard. This bayonet used with the 8 mm. Gewehr 98, Kar 98a, and Kar 98k rifles. This example was made for Prussia, in 1917, by Mauser at their Oberndorf plant.
Ricasso: "Waffenfabrik" over "Mauser A.G." over "Oberndorf a/M"
Spine: Crown over "W" over "17" and proofmark
Serial numbered 5784. This example shows a lot of wear on the grip but otherwise not. The scabbard is the transitional scabbard and has a few dents to it. There are no markings on the scabbard. For this example $165.00
Item No. 64
(CONSIGNMENT) Here are pics of two Japanese Type 30 Bayonets. The top one has been sold. The bottom one has a broken ring but it will still fit on a rifle with just a little rework or leave it like it is for dispaly. This one comes complete with scabbard that is in pretty good condition with a few dents. The blade is dark and has old sharpening signs on it. The maker is Kokura Arsenal. Hey this one was used and captured by an American GI. For this one $110.00
Item No. 65
(CONSIGNMENT) Here we have the WW2 Naval Uniform consisting of tuni and 13 button trousers for a P. Gilmore. Seaman Gilmore was an E-3 Seaman Engineer and a 2nd class diver as evidenced by the patches. P. Gilmore is painted into his trousers. Small like usual. Nice Display! $120.00
Item No. 66
(CONSIGNMENT) Here is a pattern 1902 U.S. Army Sword that definitely has seen better days! This one is the early one with the German Silver guard. Two of the branches has been cut off the guard and now the blade is 21 1/1 inches long. This was a Springfield Armory sword so it's a shame it was cut down but it was cut down for a reason. I just don't know what that reason was but I suspect it was made into a knife. For this old boy $125.00
Item No. 67
(CONSIGNMENT)
Here we have a WW2 Japanese Cavalry Sword complete with scabbard. This piece is serial numbered 55371 while the scabbard is serial numbered 37874. It's not unusual for these pieces to be mismatched. The sword is in good condition showing a dark patina with a nice dark checkered wood grip. The blade is nice and bright but has been sharpened. The scabbard has most of the original blue finish and only a couple of minor dents. The locking mechanish that locks the sword to the scabbard is entact and works great. This is a nice WW2 Japanese Cavalry sword! $495.00
Item No. 68
Item No. 69
(CONSIGNMENT) Here we have a WW2 Japanese Occupation forces souvenir sword made by Japanese artisen so that them could continue to make a viable living. This piece is constructed of carved bone with brass inserts and it looks great! It is made in the style of a ninja sword and even has a mum and a tsuba. The blade is kind of primitive for a Japanese sword and short being about 15 3/8 inche long. I don't believe this is a cut down piece but I think they used what they had. The entire piece is over 29 inches long. $450.00
Item No. 70
(CONSIGNMENT) Here we have a WW1 Model 1881 Type Russian Cossak Sashka with a Mosin-Nagant Bayonet. Sword Length: 38 1/2 Inches long overall with a 31 3/4 inch long blade. The hilt is almost 5 1/2 inches long. The bayonet is 19 3/4 inches long overall with a screwdriver tip for repairs to the rifle. M.1881 Russian Cossack shashka manufactured during World War Two with the Hammer and Sickle on the hilt. The hilt pieces are a kind of reddish brass with a nice wooden handle. . Plain, slightly curved blade in original polish with no rust but spotting. There is a Russian stamps or symbol present on the blade next to the grip but I can't make out what it is. Also there is the date 1940. M15RT is stamped into the ricasso on the other side of the blade. Spiral wood like grip is slightly worn. Condition: blade is in very good condition, while scabbard is in good condition except for small chips and heat depressions. Very nice! $1,795.00
Item No. 71
(CONSIGNMENT) Here we have a WW2 German SA dagger in brown sheath. The dagger is by Gebrborn Soligen and so marked. The piece has a great grip with just a couple of minor dents in it. The Eagle and the other German insignia are present. The hilt is a little loose but not too bad. The blade is full length and has the ALLES FUR DEUTSCHLAND etched on the blade. There are sharpening marks on this blade but could be polished out if you so desire. I would leave that job to a professional. The sheath is complete and has some rusting on it through the brown finish. Still nice! $695.00
Item No. 72
(CONSIGNMENT) Here we have a real nice Luftwaffe Dagger in sheath. This piece is very nice sporting the white celluloid grip with twisted aluminum wire. The pommel and the crossguard are both aluminum and exhibit the swastika on them. The blade is really nice but I don't see a maker on it. The leather washer remains intact. The sheath is steel with a pebble finish and oak leaves but no suspension rings . Take a look at the pics! Nice! $695.00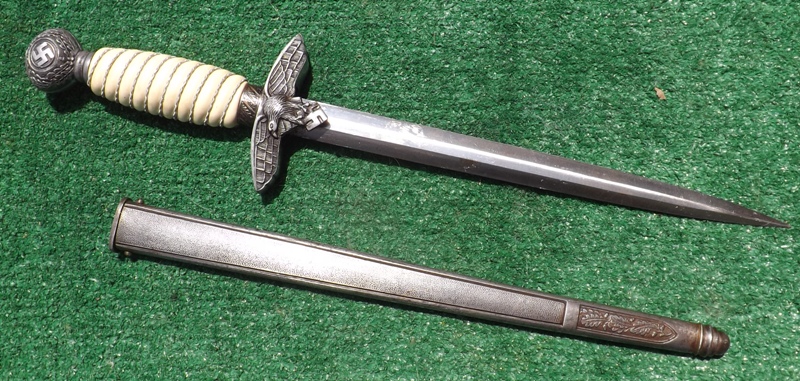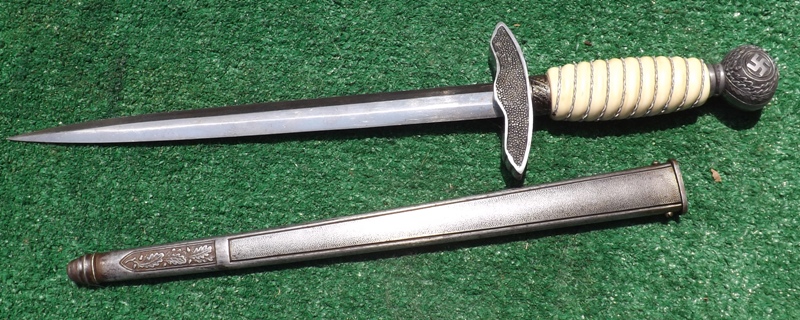 Item No. 73
(CONSIGNMENT) Here is a WW2 German "Heer" dagger with sheath. This piece has a nice orange celluloid grip that is in very nice conditon. Doesn't have wire and never did. The pommel, grip ferrel and crossguard are all silver plated steel. The blade is pretty nice with some staining and is marked Eichorn. The scabbard is steel with a pebbled finish and two suspension rings. This is a nice piece. $695.00
Item No. 74
(CONSIGNMENT) Here we have a GERMAN VINTAGE BOY SCOUT KNIFE, Circa 1940 with a 4 3/8" Blade. This vintage Boy Scout knife with the same build as a Hitler Youth dagger with the Nazi insignia replaced with the scout logo. Nothing is etched on the blade. Stamped on base of blade, ANTON WINGER JR. SOLINGEN, GERMANY, and opposite side OTHELLO, SOLINGEN. This youth knife has near prefect black plastic checkered grips with the Scout Logo inlayed into the plastic. Nickel plated guard and pommel. Also it still has the original leather blade washer. This piece was probably intended for export as it is marked on the leather suspension strap MADE IN GERMANY. At any rate this was made before the war ended and probably before the US got into the war. It's a great piece! $125.00
Item No. 75
(CONSIGNMENT) This is a WWII German belt buckle of steel construction. The design consists of two ropes forming a circle. One inside the other with the words GOTT MIT UNS between them at the top and laurel leaves at the bottom. The German Army eagle is placed in the center of the circle and is standing over a swastika. On the inside part of the buckle is stamped near the tongue ES over 41 over L. Still in good condition and definitely used. $110.00
Item No. 76
(CONSIGNMENT) Here we have an excellent example of a WW2 German Red Cross Belt and buckle. This Red Cross Buckle is in excellent condition and is still on it's original belt. The only markings that I see on the belt are 110. The buckle is marked GES.GESCH.1 Excellent Quality! $310.00
Item No. 77
Item No. 79
Item No. 80
CONSIGHMENT
Here are two different German medals. The one on the left is a HIndenburg Medal and has 1914 1918 in the center front. The Honour Cross of the World War 1914/1918 (German: Das Ehrenkreuz des Weltkriegs 1914/1918), commonly, but incorrectly, known as the Hindenburg Cross was established by Field Marshal Paul von Hindenburg, President of the Third Reich, by an order dated 13 July 1934, to commemorate the distinguished deeds of the German people during the First World War. This was Germany's first official service medal for soldiers of Imperial Germany who had taken part in the war, and where they had since died it was also awarded to their surviving next-of-kin. It was also the first decoration created by the Third Reich. The Honour Cross was awarded in three forms: - for front-line veterans, with swords - for non-combatant veterans, without swords - for surviving widows, parents, and dependants of fallen participants in the war, without swords
This one has the crossed swords so it is a veteran's cross. It is in great condition and has a nice patina to it. For this one. $65.00
The medal on the right is the Merit Cross 2nd Class. The War Merit Cross (German: Kriegsverdienstkreuz) was a decoration of Nazi Germany during the Second World War, which could be awarded to civilians as well as military personnel. This award was created by Adolf Hitler in 1939 as a successor to the non-combatant Iron Cross which was used in earlier wars (same medal but with a different ribbon). The award was graded the same as the Iron Cross: War Merit Cross Second Class, War Merit Cross First Class, and Knights Cross of the War Merit Cross. The award had two variants: with swords given to soldiers for exceptional service in battle above and beyond the call of duty (but not worthy of an Iron Cross which was more a bravery award), and without swords for meritorious service behind the lines which could also be awarded to civilians. Recipients had to have the lower grade of the award before getting the next level. There was also another version below the 2nd class simply called the War Merit Medal (German: Kriegsverdienstmedaille), set up in 1940 for civilians in order to offset the large number of 2nd class without swords being awarded. It was usually given to those workers in factories who significantly exceeded work quotas.
So this one is a civilian War Merit Cross because there are no crossed swords. This medal is in excellent condition. Take a look at the pics. Nice! $40.00 >
Item No. 82
CONSIGHMENT
This is a 1930 dated Stahlhelm device. The Stahlhelm, Bund der Frontsoldaten ("Steel Helmet, League of Frontline Soldiers", also known in short form as Der Stahlhelm) was one of the many paramilitary organizations that arose after the German defeat of World War I. It was part of the "Black Reichswehr" and in the late days of the Weimar Republic operated as the armed branch of the national conservative German National People's Party (DNVP), placed at party gatherings in the position of armed security guards (Saalschutz).
Now on to this pins description.
The pin is silver with black enamel with a very high raised profile of "Der Stahlhelm" helmet on the face. It measures 1 1/8 inch across the face. It is stamped with a Wm256 under a raised STH. On the bottom it is stamoed with the date of 22.12.30. GES.GESCH is raised on the rim above the date. For this nice pin $295.00
Item No. 83
CONSIGHMENT
This is an original WW2 German airplane badge or tinnie. The inscription on the plane reads Das Deutsche Volk Mus Ein Volk Von Fliegern WerdenIt. HERMANN GORING. The plane is made from pressed metal and still retains its original brass securing pin on the back. It measures about 1 1/2 inches across from wing tip to wing tip and is about 1 inch long. Nice little piece! For this piece $25.00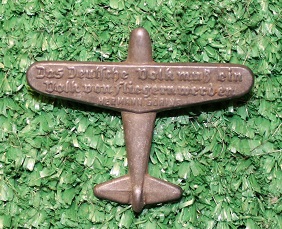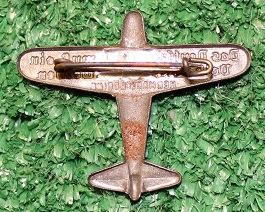 Item No. 84
CONSIGHMENT
Here we have Hitler's Dank. This Dank was issued in the 1930's and the award was given for Germans public services. This piece measures about 1 3/8 inches across. It is silver plated but you can see where it has worn to the copper under the plating. The attachment pin is still present. You can see the makers marks on the back in my photos. Take a look! $75.00
Item No. 84
CONSIGHMENT
Here we have an German WW1 2nd class iron cross and dug merit cross. The Iron Cross is a black four-pointed cross with white trim, with the arms widening toward the ends, similar to a cross pattée. Frederick William III commissioned the neoclassical architect Karl Friedrich Schinkel to design the Iron Cross after a royal sketch. It reflects the cross borne by the Teutonic Knights in the 14th century. The ribbon for the 1813, 1870 and 1914 Iron Cross (2nd Class) was black with two thin white bands, the colors of Prussia. The non-combatant version of this award had the same medal, but the black and white colors on the ribbon were reversed. The ribbon color for the 1939 EKII was black/white/red/white/black.
This one is from the 1914 style. The attachment almost looks like a watch fob attachment and perhaps it is. The iron cross itself is about 1 inch across each way. The black enamel is lacking in some places but you can still see the Crown over a W and at the bottom the date of 1914. Take a look at the pics. For this one $125.00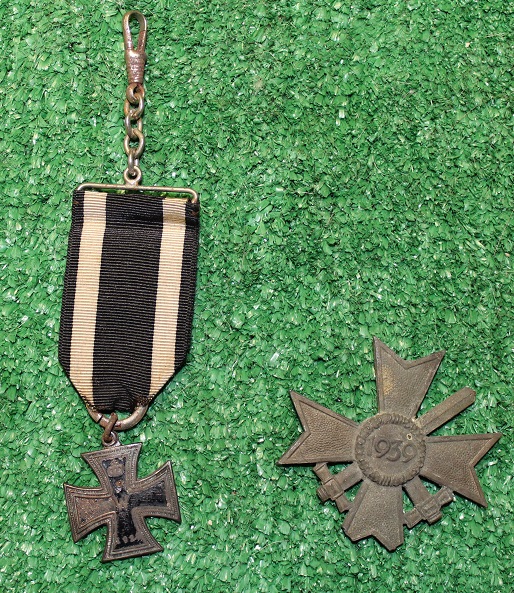 This one is a dug piece. It's a dug WW2 Merit Cross that would have been for the military as witnessed by the crossed swords. It's a vet bringback but unfortunately no history accompanies it. For this dug piece $15.00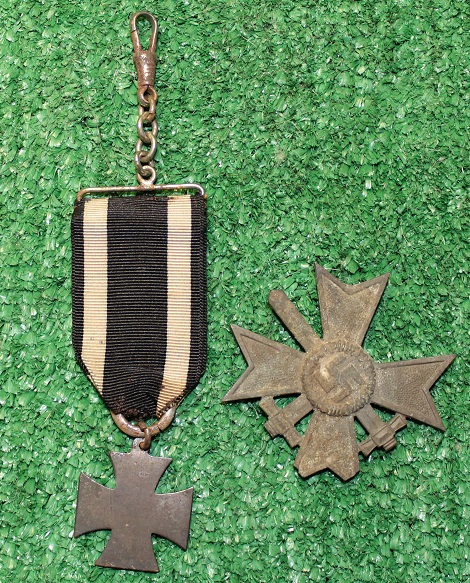 Item No. 85
CONSIGHMENT
Here we have two Iron Crosses. One with a ribbon and one without.
The first one with a ribbon is the 1914 one and it has the Crown, W and the date 1914 on the front of it while the reverse has a Crown, FW, oak leaves and the date 1813 on it. The Ribbon is in fine condition. This second class medal is a two piece medal. For this one 125.00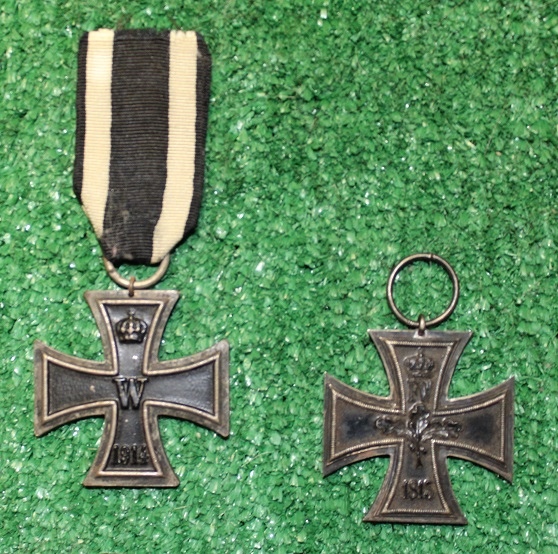 The second one is also a second class medal and is just like the one about but without a ribbon. For this one $95.00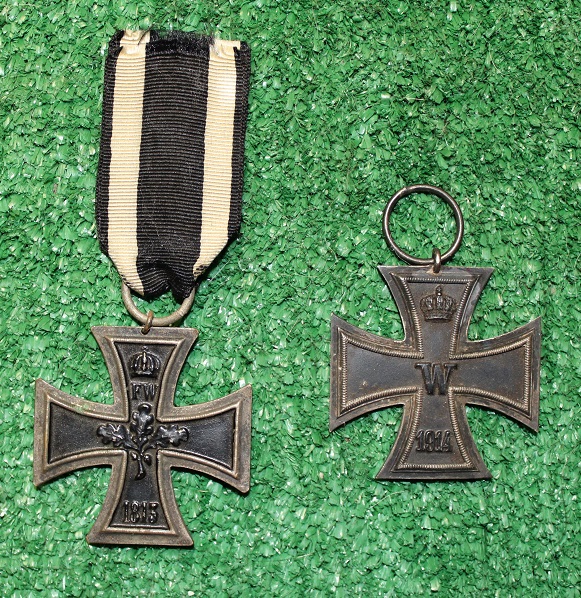 Item No. 86
Item No. 87
CONSIGHMENT
Here we have a WW2 German Medal and a Luftwaffe Collar tab. First the medal. The West Wall Medal (German: Deutsches Schutzwall-Ehrenzeichen) was a military decoration of Nazi Germany. It was instituted on 2 August 1939 and was given to those who designed and built the fortifications on Germany's western borders, known as the West Wall or, in English, the Siegfried Line, and to the troops who served there prior to May 1940. In 1944, as Germany was expecting the arrival of the allied invasion, it was again awarded to those who took part in the fortification of the western borders. In all 622,064 medals were awarded by the end of the war and this is one of them. The medal itself is in very nice condition that you can see in the pics. For the west wall medal $85.00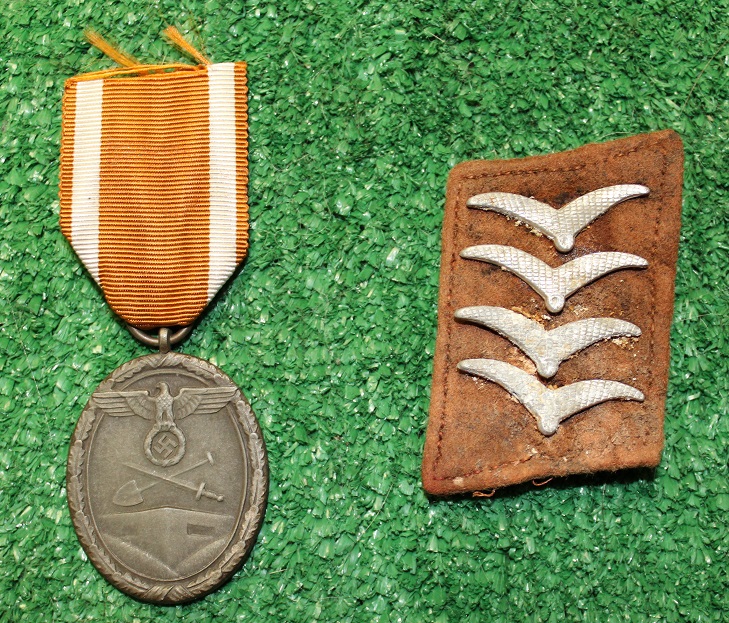 Now for the second piece in the photos. This is a Luftwaffe collar tab that is Hauptgefreiter - that is usually the second rank or grade to which an enlisted airman could be promoted. The tab is brown in color and I believe he was part of the signal troop in the Luftwaffe. This airman had 4 EM/NCO'S COLLAR TAB RANK "GULL" on his collar tab. For this piece $95.00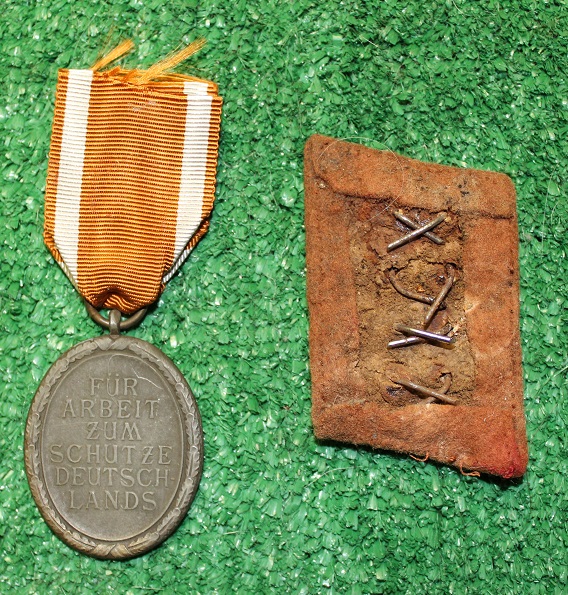 Item No. 89
CONSIGHMENT
Here we have Nazi buttons. The gold looking ones are listed elsewhere on this page. The one lone button to the upper right is a large size tunic button. This button is in good condition with makers marks on the reverse. Measures 1 inch across. For this one $7.50
The next Nazi buttons are a match pair. They are silver finished buttons with the same makers marks on the reverse. These measure about 7/8's of an inch across.
SOLD!!! $15.00 for the pair.
Item No. 91
CONSIGHMENT
Here we have a Navy Ribbon bar with the gold eagle on it. There is wear to the ribbon on each end. The catch is still present. $35.00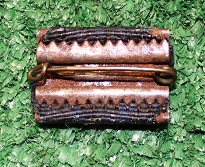 Item No. 92
CONSIGHMENT
Here we have a relic condition German World War Two Fire POLICE Cloth Patch. It's in terrible condition but it is what it is. $10.00
Item No. 93
CONSIGHMENT
Here we have a bracelet that was constructed to hide a pill in. Perhaps it was a cynaide pill, who knows. At any rate the locket part is entirely entact with a red stone in the center and blue/clear stones/diamonds surrounding it. The locket opens up to show the inside compartment. One side of this bracelet is missing the chain and attachment to lock it to the other side of the chain. This piece came to me with other German pieces so I do believe it is Nazi in origin. For this piece as is $350.00
Item No. 93
CONSIGHMENT
Here we have 3 WW2 German Mothers Crosses. The Cross of Honour of the German Mother (German: Ehrenkreuz der Deutschen Mutter), referred to colloquially as the Mutterehrenkreuz (Mother's Cross of Honour) or simply Mutterkreuz (Mother's Cross), was a state decoration and civil order of merit conferred by the government of the to honour a Reichsdeutsche German mother for exceptional merit to the German nation Eligibility later extended to include Volksdeutsche (ethnic German) mothers from, for example, Austria and Sudetenland, that had earlier been incorporated into the German Reich. The decoration was conferred from 1939 until 1945 in three classes of order, bronze, silver, and gold to Reichsdeutsche mothers who exhibited probity, exemplary motherhood, and who conceived and raised at least four or more children in the role of a parent. A similar practice, that continues to this present day, was already established in France since 1920, by conferring the Médaille de la Famille française (Medal of the French Family), a tribute to the French mother who raised several children in an appropriate way. The first one on the top to the left is in excellent condition being Silver indicating that this mother raised more than one son for the 3rd Reich. Take a look at the pics. Complete with ribbon. $150.00
The second one on the top to the right is the bronze edition of this Mothers Medal indicating that this one sent only one son to fight for the Nazis. $65.00
This last piece is a dug piece being the bottom drop on the Mothers Cross of Honor and is in relic conditon. For this example $25.00
Item No. 94
CONSIGHMENT
Here is a WW2 Nazi tinnie in plastic. Yep, they did them in plastic as well. This one is in good condition but is missing the clutch back or pin on the reverse. It measurers about 1 1/2 inches across the wings and 1 inch tall. Take a look at the pics. For this one $10.00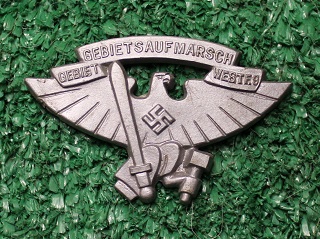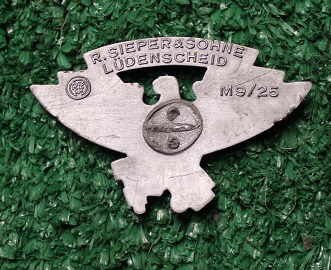 Item No. 95
CONSIGNMENT
Here we have 2 Nazi Red Cross Pins. Following Hitler's takeover of the government in Germany in January 1933, the NSDAP (Nazi Party) moved to control the Red Cross. Thus the DRK became a legally recognized organization of the NSDAP in December 1937. Finally, at the end of 1938 the German Red Cross officially came under the control of the Ministry of the Interior's Social Welfare Organization, becoming de facto a Nazi entity, led by Ernst-Robert Grawitz in the role of 'acting president', with Oswald Pohl as chairman of the board of administration.
After Nazi Germany's defeat in World War II, the Allied Military Government issued a special law outlawing the NSDAP and all of its branches. Known as "Law number five", this Denazification decree disbanded the DRK, like all organizations linked to the NSDAP. Social welfare organizations, including the German Red Cross, had to be established anew during the postwar reconstruction of both West Germany and the DDR.
It's hard to believe that the evil society of Nazi's would allow any humanitarian orginization to exist. The first pin is mostly a large black eagle and swastika with the red cross emblem in the eagle's talons. This pin is 1 inch by 3/4 inch and has a nice look to it. It is marked Ges Gesch on the reverse. $45.00
The next pin is oval being 1 5/8 inches long by 1 1/8 inches tall. The front is marked very nicely. Check out the pics. The pin in the reverse is present and it's nicely maker marked. For this one $65.00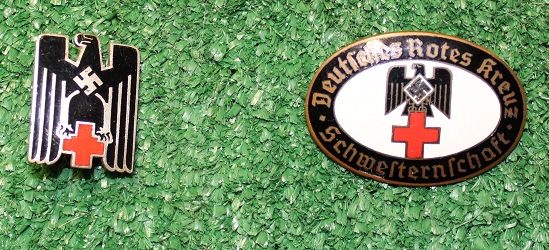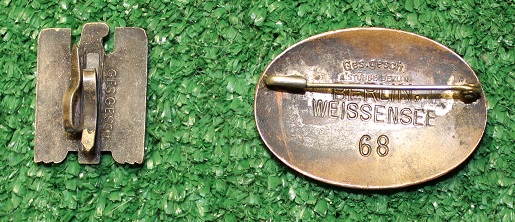 Item No. 96
CONSIGNMENT
Here we have two NSDAP membership pins. They are German World War Two NSDAP Land Hilfer Bewegung Party Member Pins. Each are about 7/8's inch across and have pins on the back. I have been told that these are unusual pins with the reverse displaying RZM in a circle at the top and one has M1/165 on it and the other has M1/127 on it. $250.00 each
Item No. 97
CONSIGNMENT
Here is a German Day Storm Trooper Badge with a down pointed sword with an oakleaf wreath and a swastika. The badge has a pin fixing to the reverse and is marked with an 039. This pin measures about 3/4 inch across not counting the sword. $85.00
Item No. 98
CONSIGNMENT
Here we have a German Hitler Jugend German Youth Auslander Foreign Member Badge that is shield shaped with enamel finish. This pin is in pretty good condition being somewhat soiled and is marked on the back GES.GESCH. $85.00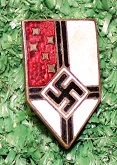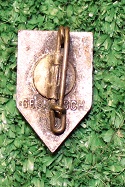 Item No. 99
CONSIGNMENT
This is a WHW (Winterhilfswerk) Regional Crest Of Danzig Tinnie. This Danzig Regional crest, WHW tinnie was part of a series of tinnies given out by the WHW. This is a three piece construction which consists of a 1 piece metal frame with green paint to the front. The center piece is an embroidered crest of Pommern. Badge measures 1 5/8 X 1 1/8 inches and is in good condition with some soiling. For this piece $30.00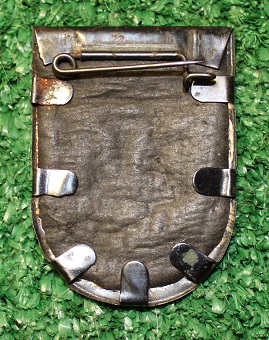 Item No. 100
CONSIGNMENT
Here we have a Japanese Arisaka Type 99 last ditch short rifle. This piece is in beautiful shape for a last ditch rifle. It has the usual rough finish to the metal parts and a wooden buttplate. It has the simple peep rear sight and there is no mum or rifle designation type and there never was on this one. There is a bayonet stud on this one but no provision for a ramrod. The barrel bands are rough welded and the barrel has been rough finished as well. The bore is rough but rifling is present. The stock is very nice. For this last defense rifle $325.00
Item No. 101
CONSIGNMENT
Here we have another Japanese Arisaka rifle but this is the type 38. This is one of the later production ones and there is no type designation or mum on the receiver. Actually this one is finished kind of roughly. I do not see an arsenal marking on this rifle. The only serial number on it is a V36 and that number is stamped on the bolt as well. The metal finishes are rough and the bore has been shot out but I can see traces of rifling in it. This rifle has the simple V notched rear elevator sight and the standard blade sight up front. This one does have a ramrod and bayonet stud. The rifle functions as it should. The stock is very nice as well. For this piece $325.00
Item No. 102
CONSIGNMENT
Here we have a Navy commissioned officers Shin-Gunto 1937 commonly known as the Navy Type Tachi Gunto. This one has been in the attic for many years as witnessed by the separation of the ray skin covering over the scabbard. I have taken the sword apart and only found a Naval Stamping on the tang along with some written in ink Japanese Characters. All of this outfit is here, nothing is missing. The blade is in fine condition with a straight line hamon. There is one small area near the hilt where it could use some polish. There are some minor nicks on the edge where the fighting would have taken place. Take a look at the pics to see how nice it is. All of the scabbard mounts are present as well. For this piece $995.00
Item No. 103 A
Here we have a Model 1870/87/1915 Italian Vetteli-vitali rifle in 6.5X52 caliber. The M1870 Vetterli was the Italian service rifle from 1870-1878, when it was replaced with the M1870/87 Italian Vetterli-Vitali variant. The M1870 was a single-shot bolt action rifle chambered for the 10.4mm Vetterli centrefire cartridge, at first with black powder and later with smokeless powder. The M1870 was based upon the M1869 Swiss Vetterli but simplified for economy.
In 1887 (until 1896), the Italian Army began converting the M1870 to a four-shot repeating rifle, based on the system designed by Italian Artillery Captain G. Vitali. This conversion added a box magazine fed from a Mannlicher-style en-bloc clip, in the same caliber 10.4x47R mm as before. The conversion is indicted by a cartouche "ARITG. FAB. D'ARMI TERNI 1888" (date varies), on the butt stock. The center of the cartouche displays a Crest of Savoy and the word, "Riparazione" (Italian for repair) is directly below the cartouche. Shortages of small arms appeared from the very beginning of Italy's entrance into World War I on the side of the Allies. As more of the population mobilized for the first total war in European history, the supply of modern small arms fell short before the end of 1915 and a large number of obsolete Modello 1878/87 Vetterli-Vital were issued to newly formed regiments that were not expected to be in combat, however, troops carried these antiquated rifles into battle on several occasions.
During World War I, many M1870/87 rifles were converted to share the same 6.5mm smokeless powder round as the primary service rifle, the Carcano, by adding a 6.5mm barrel lining and a Mannlicher-style magazine. These conversions are not considered safe to fire with standard 6.5x52mm loads. These rifles were used again in the Second Italo-Ethiopian War, mostly by native African soldiers.
This particular rifle is in pretty good condition and looks to just be missing the ramrod. The wood is pretty nice for its age and the rifle seems to function ok. It actually has a pretty nice bore in it. This rifle does have a large cartouche and crest on the buttstock but I can't quite make it out. TERNI 1889 is stamped on the barrel but I do believe this is the 1915 conversion and thusly needs to go to an FFL or a C&R holder. Anyone over 18 can purchase this firearm by going through their own FFL holder in their community. I would advise against shooting it however. For this historic piece of Italian History $295.00
Item No. 103 B
Here is another Japanese Last Ditch type 99 short rifle being 44 inches long overall. This one was made at the Kokura Arsenal probably in 1945. This piece is serial numbered 50543 and I believe it has a series 45 stamp on it. The stock is crudely made but original as is the metal pieces. I have seen cruder metal parts but this one is going that way. The front swivel part is gone and so is the bayonet stud. The stock swivel survives intact. There is a wooden buttplate. There are no type model numbers on the receiver nor is there a mum but I don't believe it ever had those stamps. The rear sight is a simple peep sight and the front sight is a simple mortised blade sight. Like I said before the stock is crudely made but complete and without damage. They were trying to churn these out as quick as they could. The barrel is also crudely done but it does have good rifling in it. The action works fine. For this late war piece. $325.00
Item No.
This is a WW2 era Japanese 'Penny' Whistle used to delight the Japanese children. This piece is 8 1/4 inches long in the sheath and you can blow through the handle to make the whistle sound off. It does have a blade but it is not sharp and hence not really suitable for being a letter opener. The blade is also blunted so the kids couldn't hurt themselves or others. The grip and handguard are gold painted while the rest of the sword and scabbard are silver. Nice piece! $65.00
Item No. 105
Parris-Dunn Civilian Training Rifle circa 1943
Following the completion of their military contracts for the Parris-Dunn Training Rifle in 1943, they continued making a similar model for the civilian market. In 1949, William Dunn retired and sold the company to Cecil Parris. Parris renamed the company the Parris Manufacturing Company and continued to produce toy guns and drill rifles in Clarinda until 1951. In 1952, he moved the company to Savannah, Tennessee. The company is still located in Savannah and continues to produce a variety of toys.
This particular training rifle is one of the early ones as the buttplate says MADE IN USA ,PARRIS-DUNN, CLARINDA, IOWA. This rifle still has part of the original decal on the stock and you can still see TRAINER Pat Pend. The rifle is complete and nothing is missing. It's common for the rear sight to be broken but it's entact. The sling swivels and stacking swivel are still present as well. There was no provision for this training rifle to have a bayonet mounting stud. On the military rifles the nose cap and barrel band are steel but on this civilian model they are just painted on. This is a piece of our history! $145.00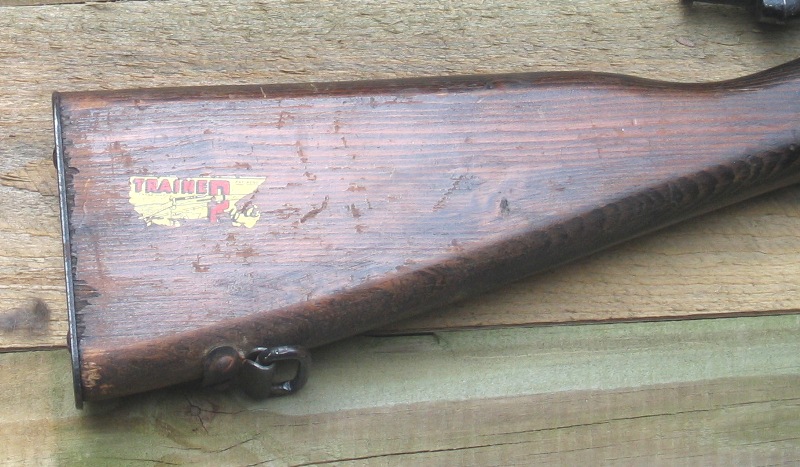 Item No. 106
Here we have WW1 items belonging to Thomas Perkins and kept in an old box of GET WELL cards. The bottom of the box has writing on it that says 'Brother H.W.Perkins, who ever wants Tom Perkins war buttons, medles, deschg papers in Court House 314 Artiley-I can't see to write you'll excuse the writing.' The 314th Artillery was part of the 80th Division that went to France during WW1.
314th FIELD ARTILLERY BATTALION. Lineage Constituted 5th of August 1917 in the National Army as the 314th Field Artillery and assigned to the 80th Division. Organized August 1917 at Camp Lee, Virginia. Demobilized 7 June 1919 at Camp Lee. The 314th was involved at St. Mihiel and the Meuse-Argonne and so notede on Tom Perkins WW1 Campaign Medal.
Here is a short history of the 8th Division in WW1.
The 80th Division was first organized August 5, 1917 in the National Army and headquartered at Camp Lee (now known as Fort Lee), Virginia. The Division originally consisted of men mostly from Pennsylvania, Virginia and West Virginia and was nicknamed the "Blue Ridge Division." The unit's distinctive insignia was adopted in 1918 and consists of three blue mountain peaks representing the Blue Ridge Mountains in Pennsylvania, Virginia and West Virginia. The Division also adopted the Latin Motto, "Vis Montium" or "Strength of the Mountains." In World War I, the 80th Division reached full strength with 23,000 soldiers and sailed to France, landing on June 8, 1918. The 80th Division trained with the British Third Army and joined forces on the front lines near the Artois sector with heavy action in the Somme Offensive of 1918 and in the Meuse-Argonne. The 80th returned to the States in May 1919 and was inactivated at Camp Lee on June 26, 1919. The Division of Unique Distinction - never failed to gain its objective. It was the only A.E.F. Division called upon three times in the great Meuse-Argonne Offensive. The 80th was ranked first of all National Army Divisions by the War Department. It always led and captured two Huns for every man wounded. The 80th accomplished these results of vast importance to the success of the general operations with a far smaller percentage of casualties than any other division engaged.
Now here is what the grouping consists of:
WW1 Campaign/Victory medal with 3 bars which are St. Mihiel, Meuse-Argonne and Defensive Sector:
WWi Campaign/Victory ribbon bar with 2 battle stars.
2 Ribbons on bar. I don't know what these are for but I'm researching them.
Various uniform buttons with one being a Civil War uniform button. I know that sometimes a soldier would carry some item form an ancestor who had been to war before him for luck.
The tag from inside his uniform.
A service stripe and a corporals patch.
2 sets of Dog Tags with Thomas Perkins on one side and serial number 1835032 on the other side of the Aluminum disc.
A silk handerchief with red border that has a red USA over gold crossed cannons in one corner.
A sweethearts or mothers handerchief iwth a floral design on it.
A 48 star sild US flag from the period with the offset stars.
A repair kit for the Gas Mask issued to him on August 2, 1918 which contians plaster for repairing tears in the hood.
A nice 8th Division wool patch. Men of the 8th Division received 619 awards during their actions in WW1.
A 1918 era cigarette tin marked on the back THE AXON-FISHER TOBACCO CO. LOUISVILLE, KY., USA.
And finally a red ink handwritten letter to Tom on WW1 Stationary dated April 1, 1921 from a Mrs. Edna Holse of Kokomo, Indiana. All in all a very nice little Grouping! All for $295.00
Item No. 107
Here are two E.G.W. Knives that were made by E.G. Waterman & Co. of New York City for WW2. This is a WW2 knife that sold commercially through stores in the United States but was probably not an Official Government Issue Knife. But there is no doubt that thousands of servicemen who wanted a good duty knife purchased them and carried them throughout the war. The top knife has a leather washer grip for a hand grip and a nice steel blade marked with the makers initials. You can see a like drawn example on page 193 of U.S. MILITARY KNIVES BAYONETS & MACHETES BOOK III by M. H. Cole. This knife is about 11 3/4 inches long with a 7 1/4 inch bowie type blade. There are a few spots where the leather washers have deteriorited but it's not bad at all and still quite solid. This piece comes in the original leather sheath that is in good condition as well. $85.00
The second knife down is not E.G.W. marked but obviously it is from the same company. The blade has been sharpened on this one so the first one has a better blade but this one has a better grip which is darn near perfect. The sheath is good on this one as well having been oiled at one time. For this one $85.00 as well.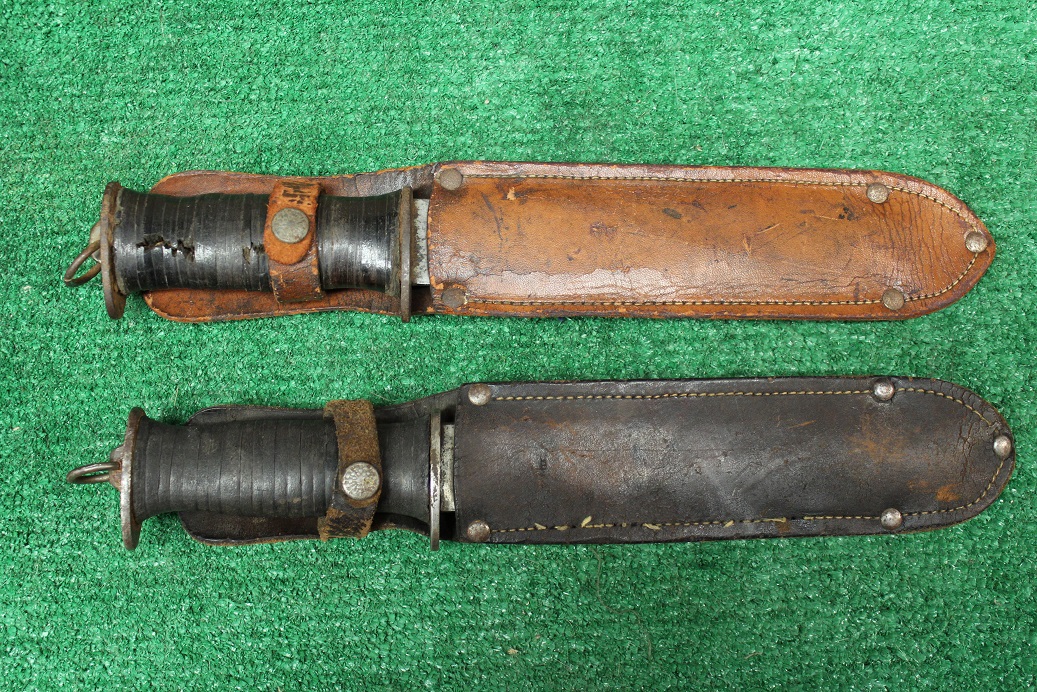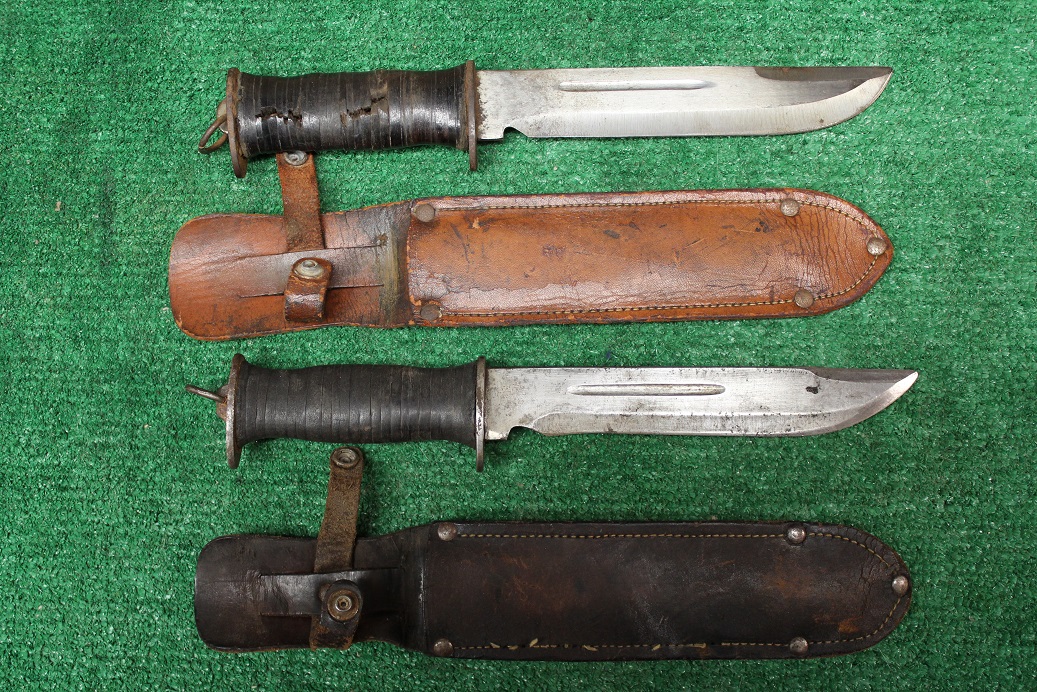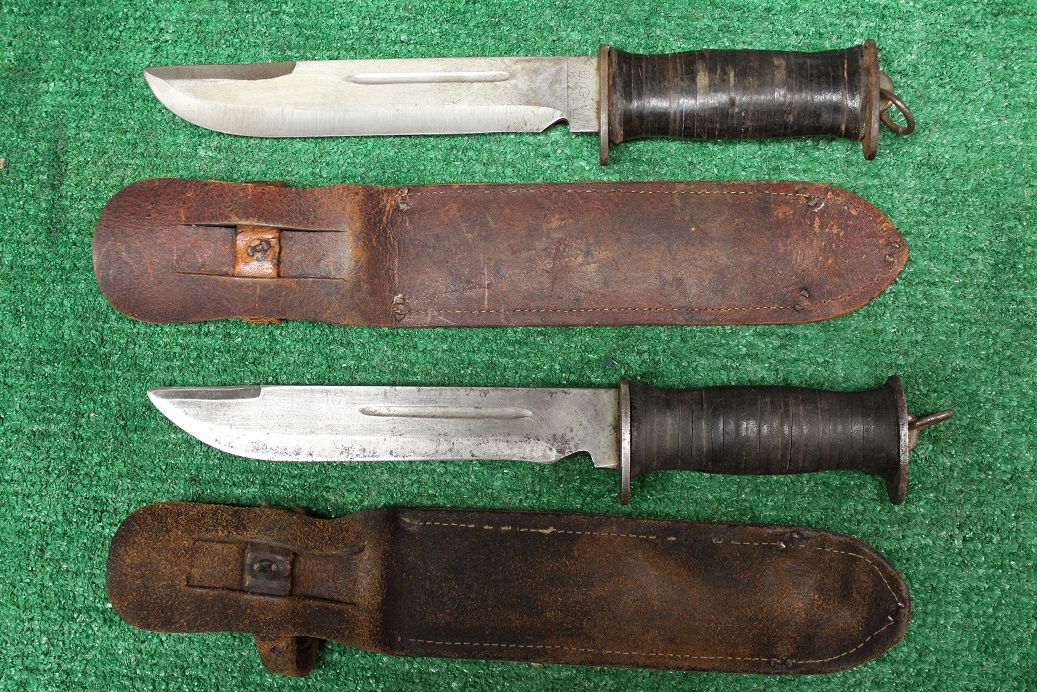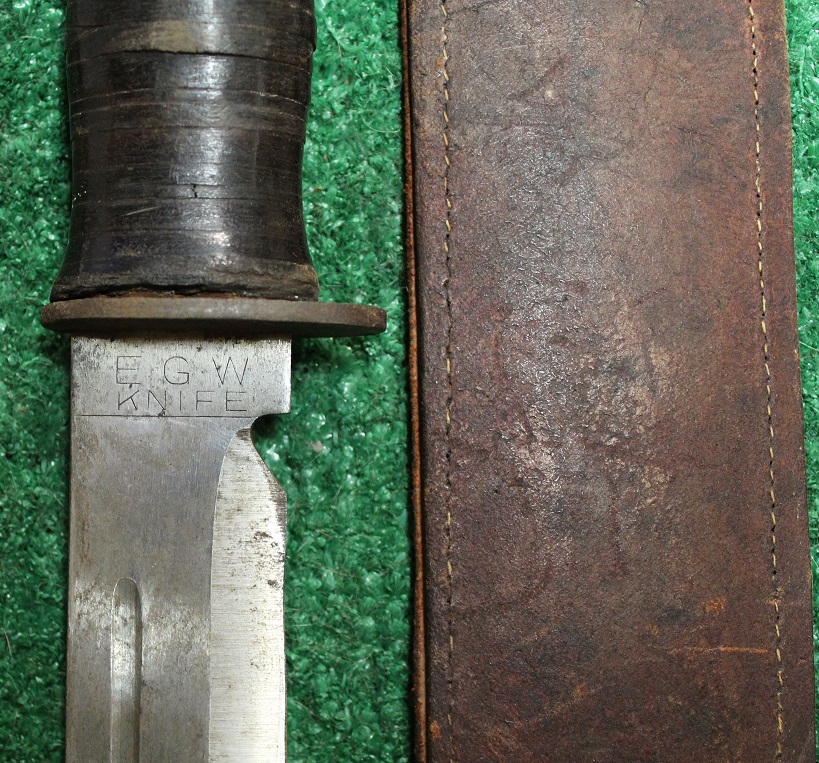 Item No. 108
Here we have a darn near mint unused Japanese WW2 High Altitude / Cold weather Flight Suit with rabbit fur lining complete with belt. Even the pockets are fur lined. As a matter of fact the entire suit is fur lined. In excellent condition. All zippers work. Fur is in very good condition very little shedding. Back pocket has wires for electrically heating the suit. Made in 1944. There are several Japanese Characters printed inside but I can't read Japanese. This suit is a larger size so probably not many Japanese Airman could fit into this one. Take a look at the pics! $650.00
Item No. 109
Here we have a WW2 German Dress Bayonet with scabbard and frog. The dagger is pretty nice with some finish splotching on the blade. Just cosmetic. The blade has not been sharpened and is nicely maker marked GUSTAV SPITZER-SOLINGEN along with a Lion symbol. The grips are black plastic and perfect. The scabbard still has the original black lacquer finish but has two dents on either side near the tip of it that make the bayonet hard to go in and out. The frog is complete being the black patent leather type finish. The finish is cracked and has a few heat impressions on it from probably being in the attic. These items were brought back by a Capt. C. L. Davidson but I'm afraid I don't have any info on him. For this piece $165.00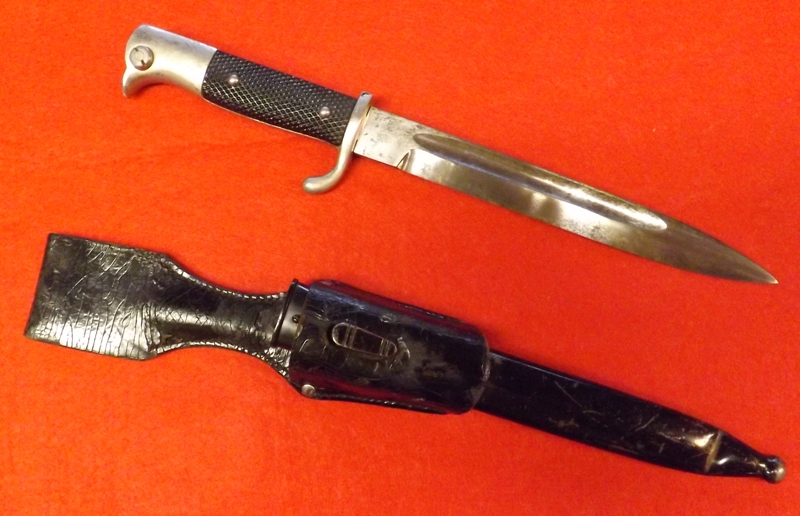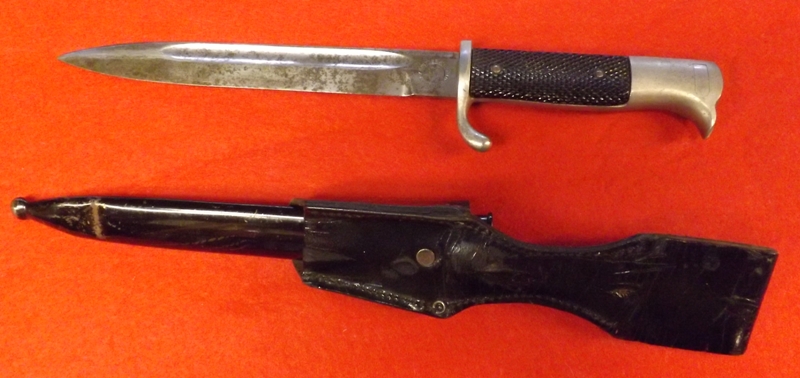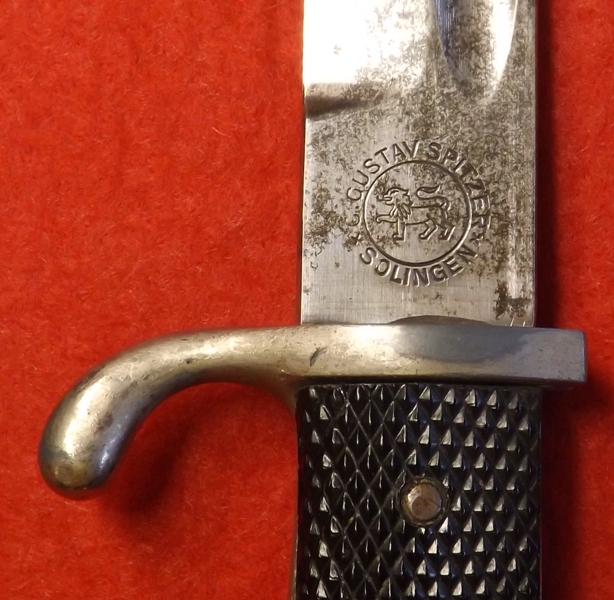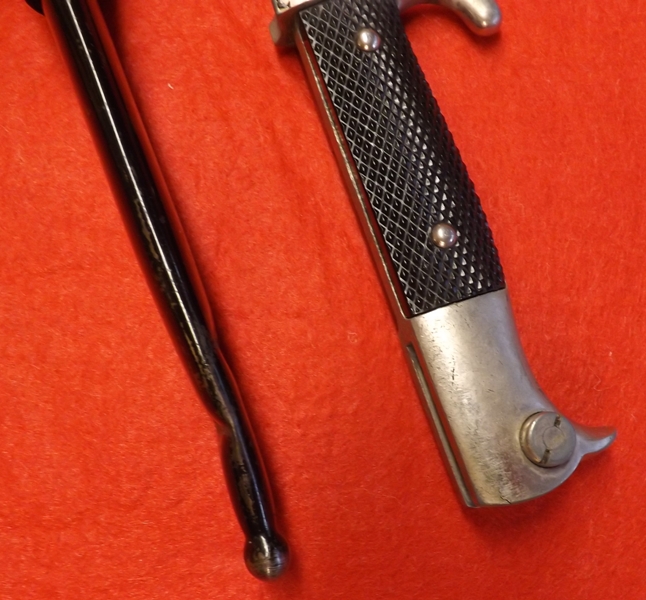 Item No. 110
This next piece is an unused Green and Silver Mint WW2 German Sword knot or portapee. Actually it is early war. Very nice! Also brought back by Capt. Davidson. For this piece $145.00
Item No. 111
CONSIGNMENT
Item No. 112
CONSIGNMENT
Here we have 8 theatre used knives. I am not sure if they were used in the European Theatre or the Pacific Theatre but they are GI knifes.
Each knife described is designated by a number by it.
1. This one is a bowie style bladed knife with lucite section handle grip. The pommel cap is also lucite. The entire knife is over 11 inches long with a 6 1/8th inch blade and diamond shaped brass crossguard. The lucite sections are separated by plastic and aluminum washers. A rather nice looking GI used knife! $75.00
2. This one is a well worn commercial knife. The ricasso is marked CATTARAUGUS 225Q which makes this a Commando Knife. This one was well worked down by the soldier or marine who carried it. This soldier even cut a notch at the top to pull wire down with. There is pitting on the blade and it's been sharpened many times but you can still see the makers marks. This knife is 10 1/2 inches long with a 6 inch blade. The grip is leather washers and the crossguard /pommel are steel. Nice old fighting knife that's been there! $85.00
3. This third one is also well worn. This is a PAL and you can barely see RH 36 on the ricasso. US PAL RH 36 fighting Knife - A fighting knife, also commonly called a combat knife, is a knife designed for military use, specifically for close combat. Although since the end of trench warfare, most military knives have been primarily designed for utility or tool use. Activities such as clearing foliage, chopping branches for cover, opening ammunition crates, etc.
This is a US fighting knife. Manufactured by PAL. The handle is made of a series of compressed leather rings. At certain intervals the color of the rings is changed from dark brown to yellow or red. The pommel is of aluminum construction. Some samples may have been steel or wood. The blade is of single edge. The tip has a slight Bowie type design.
This one was definitely made ready for the fight! It's over 11 inches long with a 6 inch blade. The crossguard is iron and the pommel looks to be aluminum. The grip is leather washers. Been there! $65.00
4. This one is also a Pal RH-36 and also has been sharpened quite a bit. Looks like the leather washer grip has been ground down a bit to fit a smaller hand. The markings are better on this one. $65.00
Here are the next 4 fighting knifes!
5. I don't know who made this next knife but the blade seems to be a commercial blade. Most of the name is worn off but I can see the last few letters which is AEGER. This knife measuers 8 5/8 inches long with a 4 1/2 inch bowie type skinning blade and it's been sharpened quite a bit. The crossguard is steel and the pommel cap is a piece of bone with a capstan rivit or screw nut holding it all together. The grip is leather washers with brass inserts between them. The sheath is present with this one and it's leather. Looks home made but very good. $65.00
6. This next knife is a jewel!! It's not long being 8 5/8th inches long with a 4 3/8ths inch blade. This blade has a nice edge on it and there's a notch cut out at the top for ripping guts when you pull it out. It has a brass cross guard and pommel with a leather and plastic washer grip separated by copper disks. Nice and unusual!!! $120.00
7. Here's a well worn U.S. Camillus Fighting Knife! I thought it probably was the U.S.N. Mark 2 knive but this one has so much wear that a Marine probably used it. US CAMILLUS is on one ricasso while the other is blank so I have no proof for the U.S.M.C. usage but I can't imagine a sailor would wear it down this much. Nearly a foot long with a 7 inch blade with a good leather sheath. It's rough but still ready! $65.00
8. Here's the last one of this bunch that just came in and although it's kind of rough as well I can see KA-BAR on one ricasso and USMC on the other. It's a little rough on the top edge but the cutting edge is ready to go. This knive was parkeried by evidence of the sharpening on the edge. A real Island fighter! $85.00
Item No. 113
CONSIGNMENT
Here we have two bayonets. A WW1 german bayonet and a Canadian Bayonet.
1. First the WW1 German Bayonet.
This is a WW1 S98 bayonet and metal scabbard. The grip on the bayonet is well worn and the scabbard is dented but it did its job and left the blade in quite a good state of condition. There is actually no wear on the blade at all and the markings are quite deep and clear. It says WAFFENFABRIK MAUSER A.G. OBERNDORF A.N. The bayonet is serial numbered 5784. The locking mechanism works fine. For this piece 165.00
2. This bayonet here is the Australian L142 bayonet which was issued with the L1A1 Rifle. Like the Canadian C1 it had a protruding press catch. The L1A2 was he only pattern of the L1 series to be made in Australia. Unlike British and Canadian bayonets, it is void of any markings. This one is THE Australian bayonet and it's in pristine condition. The L1A1 Self-Loading Rifle, also known as the SLR, by the Canadian Army designation C1A1 (C1) or in the USA as the "inch pattern" FAL, is a British Commonwealth derivative of the Belgian FN FAL battle rifle, produced under licence. It has seen use in the armies of Australia, Canada, India, Jamaica, Malaysia, New Zealand, Rhodesia, and the United Kingdom from 1954 to 1990. For this fine bayonet $125.00
Item No. 114
CONSIGNMENT
Here is a very nice WW2 German Rifle Cleaning Kit For German Mauser 98K rifles and others. The tin is in great original condition and is marked on the top lid 12 244 G.Appel 1937. Known as the RG-34 Reinigungsgeräte 34 (Cleaning Apparatus 34) and was standard soldier issue to maintain the K98 service arms. The kit consists of two pull through brushes and an oiler. The pull through chain is missing as well as the cleaning cloths. There is a smidge of original grease remaining in the bottom compartment however. For this piece. $45.00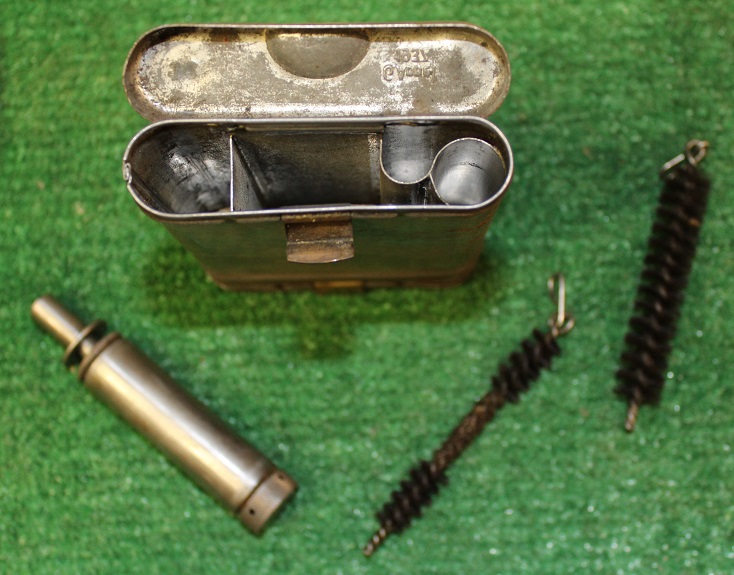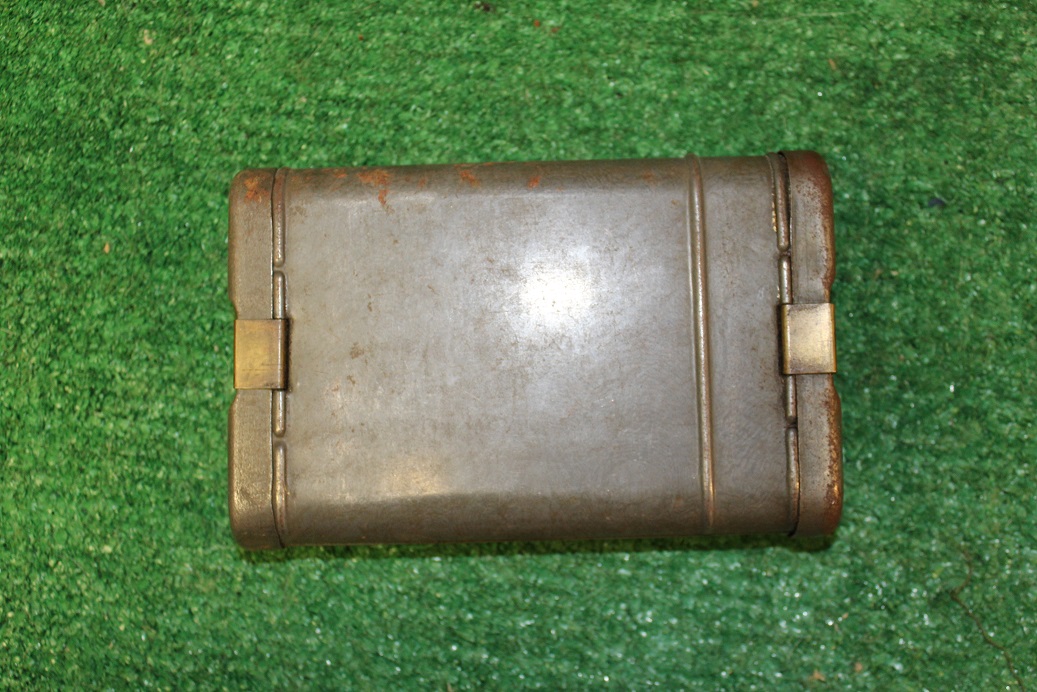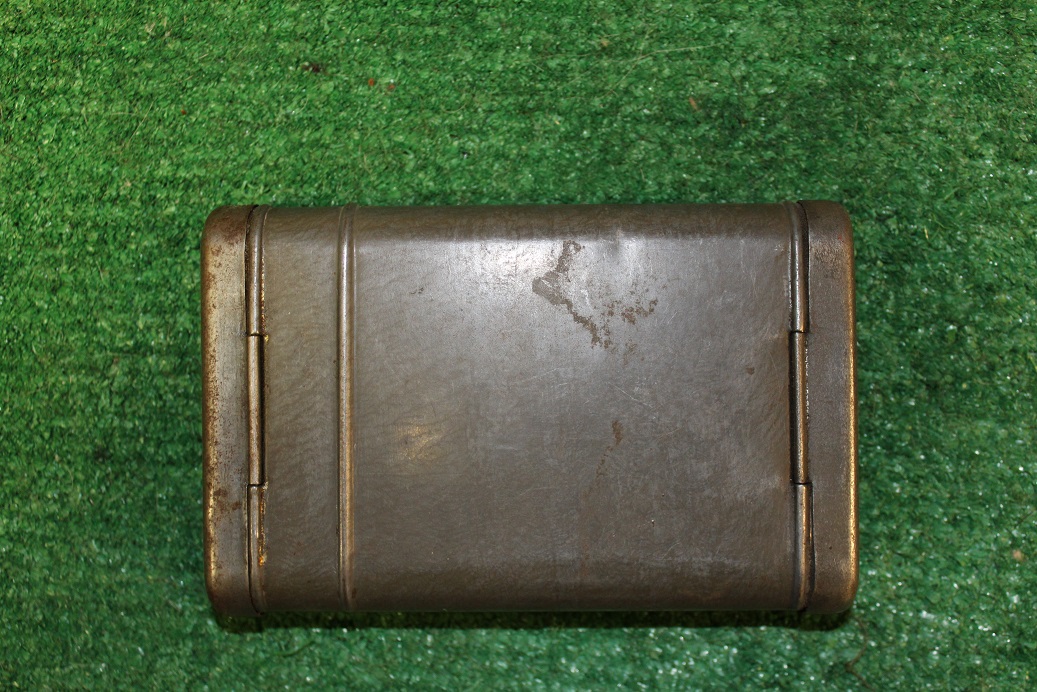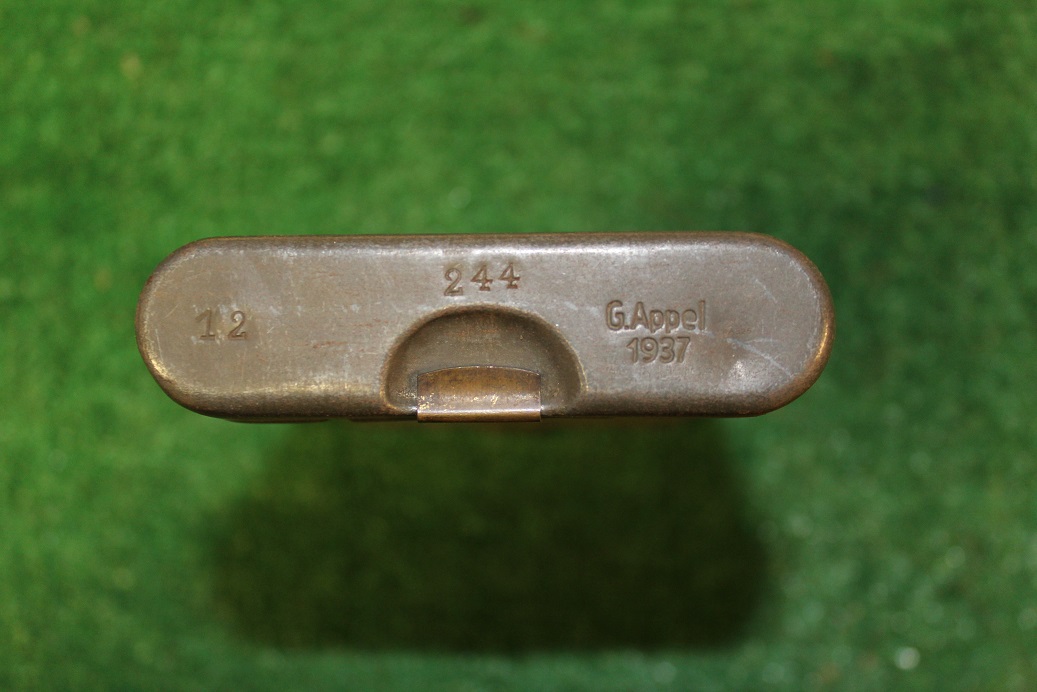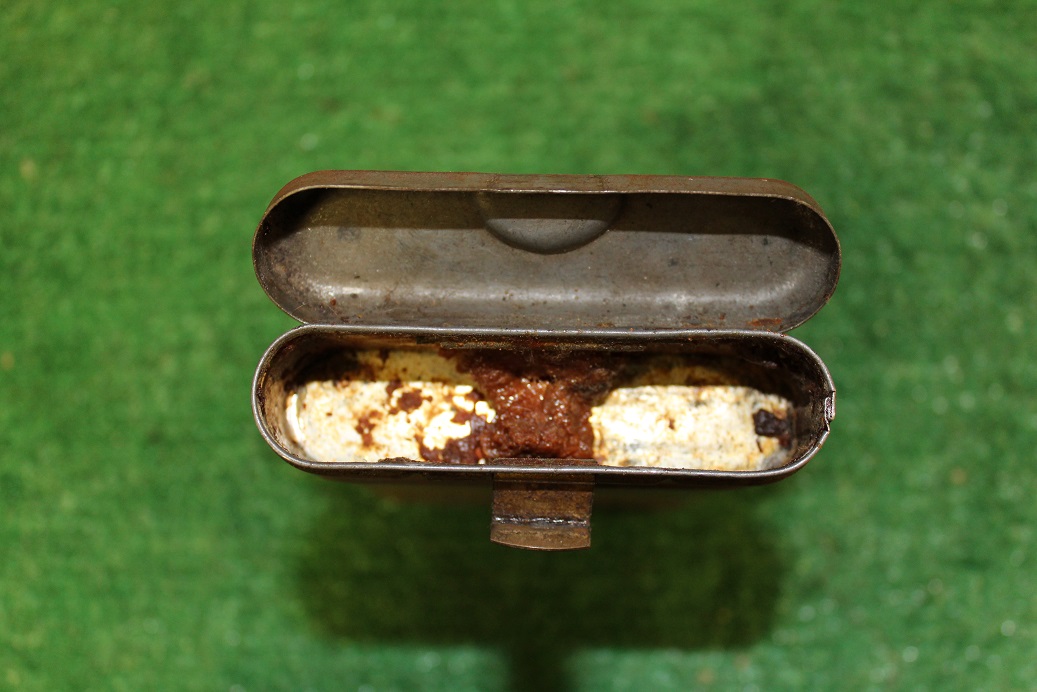 Item No. 115
CONSIGNMENT
Here is a WW2 Mauser that has been changed into a Mannlicher style sporting rifle. Many surplus rifles were turned into something else that the public could use. The bolt and receiver are serial numbered 3644 as well as other parts. I believe it is 8MM Mauser. The stock is a Monte Carlo type stock with checkering. There are many WW2 German Waffen marks on this piece. Works fine and looks great with a fine bore. For this historic sporting rifle . $1,100.00
Item No. 116
CONSIGNMENT
Here we have a couple pair of 20th century Shoulder boards. The pair to the left are Lt. Jr. Grade Navy boards in very good condition being produced by S. Mars, Inc. of New York and so marked. These are $25.00
The next set of boards is after 1920 being Lt. Artillery boards made by GEMSCO. These are very nice ones as well . The price is $25.00
Item No. 117
CONSIGNMENT
Here were have a very nice WW1 green/brown wool U.S. Army tunic that has the WW1 U.S. First army patch on the left sleeve. First Army was activated in France in August 1918 under the command of Gen. John J. Pershing. By the end of WWI, First Army had engaged in two major operations: the reduction of the Saint Mihiel salient east of Verdun; and the great Meuse-Argonne offensive west of Verdun. After approval by Congress of his declaration of war against Germany in April 1917, President Woodrow Wilson appointed Gen. John J. Pershing to lead an American Expeditionary Force (AEF) to France to aid our allies, the battle-weary English and French. When America entered the war, France was on the verge of collapse. Since the standing Army was only 98,000 strong and the National Guard numbered only 27,000 troops, it became clear that conscription was needed to quickly raise a large Army. Pershing was to have his Army, but it needed to be trained. Meanwhile, Pershing was forming his First Army staff while overseeing the AEF. As more American troops arrived, Pershing insisted that they be trained to exacting standards before they could be sent to the front. French and English troops who fought in the trenches, helped train American Soldiers. Before long, more than 500,000 Americans were on French soil. Pershing ensured his troops were trained continuously by battle-seasoned Soldiers. Driving the Germans out, in September 1918, Pershing led 500,000 Soldiers in the reduction of the St. Mihiel salient. This was a first victory of the First United States Army in the first entirely U.S. operation. Pershing's staff consisted of such future leaders of World War II as Maj. Douglas MacArthur; Col. George C. Marshall; sharpshooter and Medal of Honor recipient from Tennessee, Pvt. Alvin York; Maj. Eddie Rickenbaker; Brig. Gen. Billy Mitchell, Lt. Gen. Hunter Liggett, and Capt. George S. Patton, commander of the newly formed U.S. Army Tank Corps. In one of the most spectacular troop movements of all time, Marshall, then First Army's Operations Officer, planned and directed the transfer of 600,000 men with complete secrecy for the massive offensive in the Meuse-Argonne Campaign, west of Verdun. Fighting in cold rainy weather for 47 days, Pershing's Soldiers helped smash the Hindenburg line and speed the German surrender. After World War I ended and after a short period of occupation in Europe, First Army was deactivated in 1919. When it was reactivated at Fort Jay, NY, in 1933, First Army's new mission of training and readiness matched today's mission.
Unfortunately we do not have an ID for this tunic but it is in great condition. The first army patch is on the left sleeve as well as a red rank stripe. The collar brass show a US on one of them and crossed cannons on the other. On the inside lining is stamped '63' over Crossed Cannons over 'SUP.' over 'US' over '42' over 'CF'. So this fellow belonged to the 1st US ARMY ARTILLERY. As previously stated this tunic is in great shape with just a minor moth nip here and there. For this nice piece $185.00
Item No. 118
CONSIGNMENT
Here we have a dug US Model 1917 Colt. I know it's military because it has the laynard ring on the bottom of the grip frame. This is the .45 caliber model Colt and was made from 1898 to 1944. Unfortunately we do not know where this old piece was dug. This is one of those things that show up from time to time out of an estate and the one person who know is gone. That's just the way it is. This piece was dropped with the cylinder open inducing speculation as to why it was open. Stories abound and it's a great conversational piece! It is complete without the wooden grips. It seems to be mostly there but will never operate again. We believe that it's a vet bringback from the War in Germany. At any rate it's a first class dug weapon and looks great! $395.00
Item No. 119
CONSIGNMENT
Here we have a pair of shorts for the German soldier who fought with the Afrika Korps. These shorts are described as Heer/Tropical DAK Shorts. They are khaki color and in pretty good condition. I think the fly buttons are zinc while the two back pockets have vegetable ivory buttons. They are marked but I can't quite make it out. Rare to find! $375.00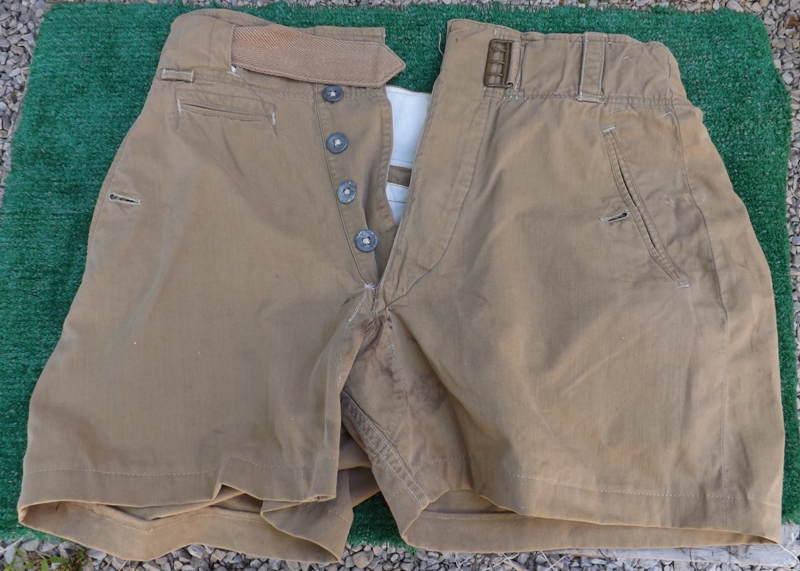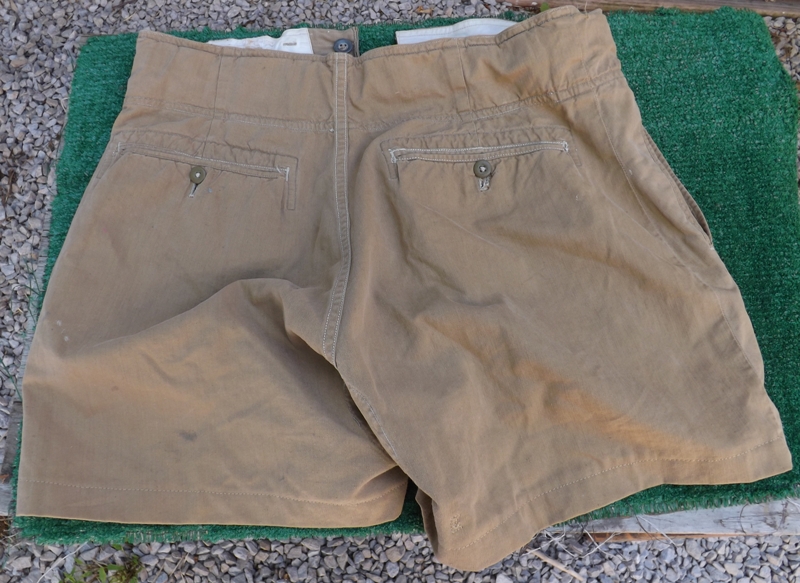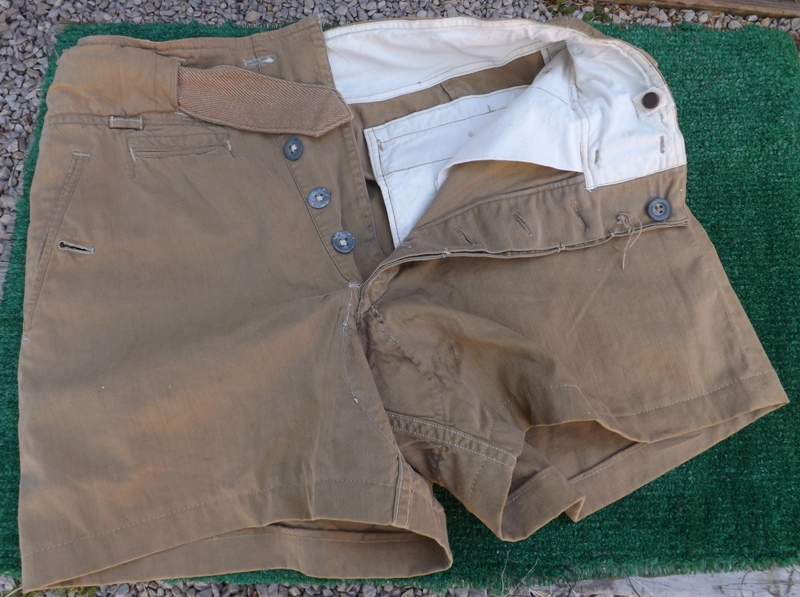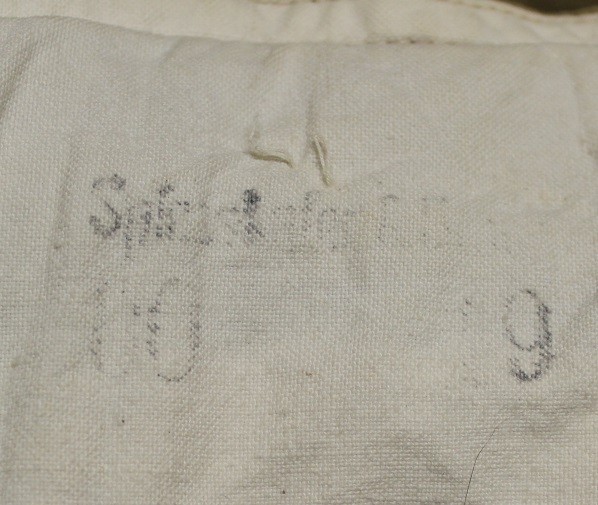 Item No. 120
NICE!! Here we have a Model 1917 Holster for the .38 caliber revolver in brown leather. There are several stampings on the leather flap indicating that it may have been issued more than once. The holster is brown leather and the stitching is very good. The leather is still supple as well. Check out the pics. $75.00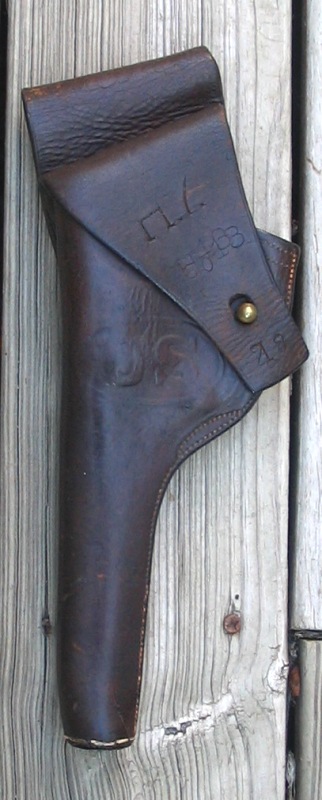 Item No. 121
CONSIGNMENT
This is a good pair of WW1 FieldGlasses with a compass built right into the top panel of the case. The makers marks on the compass is CROWN OPTICS COMPANY. The case itself is brown leather typical of WW1 leather. It still has an old strap on the case but the strap guides on one side of the case are fractured. Inside the top panel of the case is marked U.S.NAVAL GUN FACTORY OPTICAL 'ANNEX' SHOP ROCHESTER, N.Y. with an Anchor. These fieldglasses are in very nice condition with brown pebbled leather over the 'tubes'. On the back of the tubes on the left side is stamped MILITARY STEREO 6X30 and on the right tube is stamped marked U.S.NAVAL GUN FACTORY OPTICAL SHOP ANNEX ROCHESTER, N.Y. On the front right tube it is stamped SIGNAL CORPS US ARMY and on the other tube it is stamped SERIAL NUMBER 58561 ? The original neck strap is still attached to the glasses. The optics are great with no cracked or broken lenses. This set seems to be brass painted black. There are graduation markings on each eye cup for focusing. Nice set! $95.00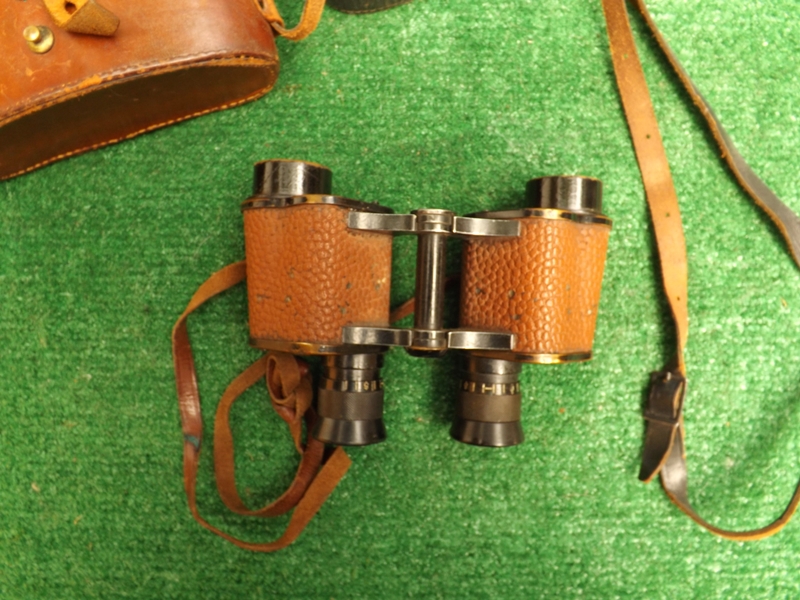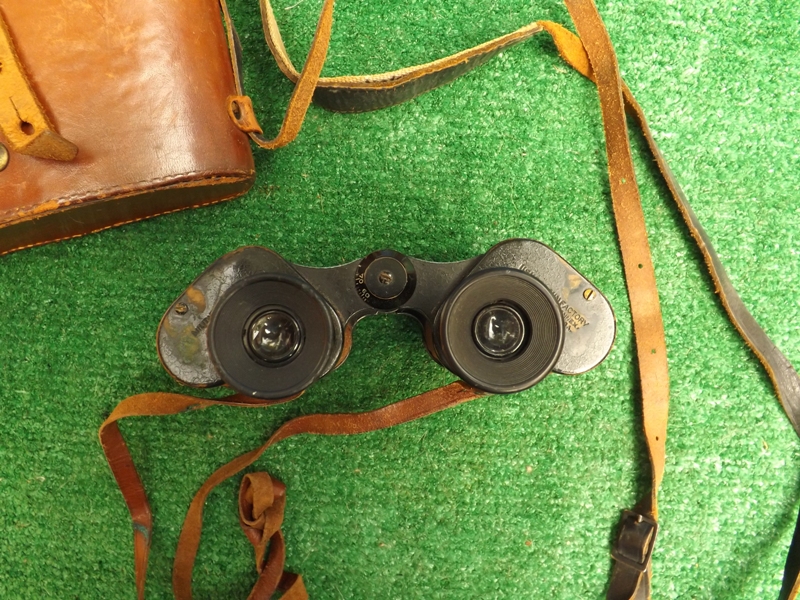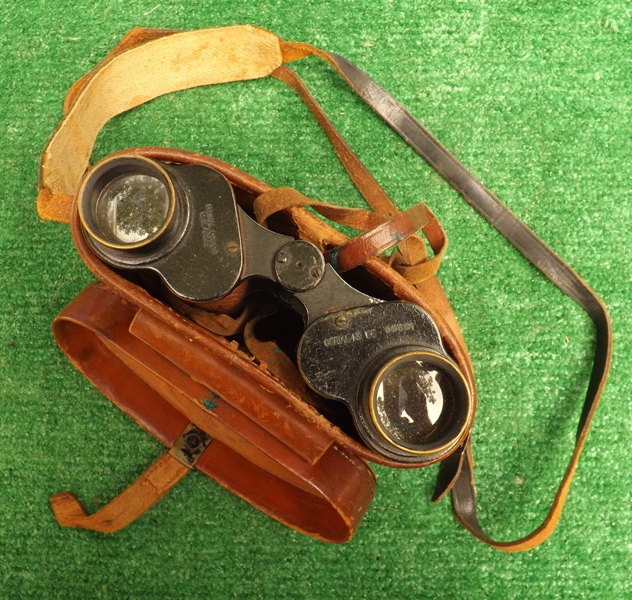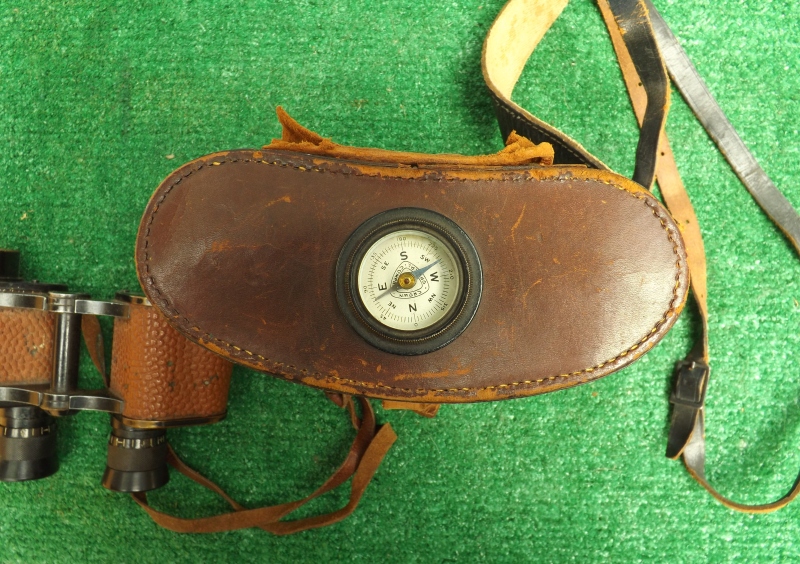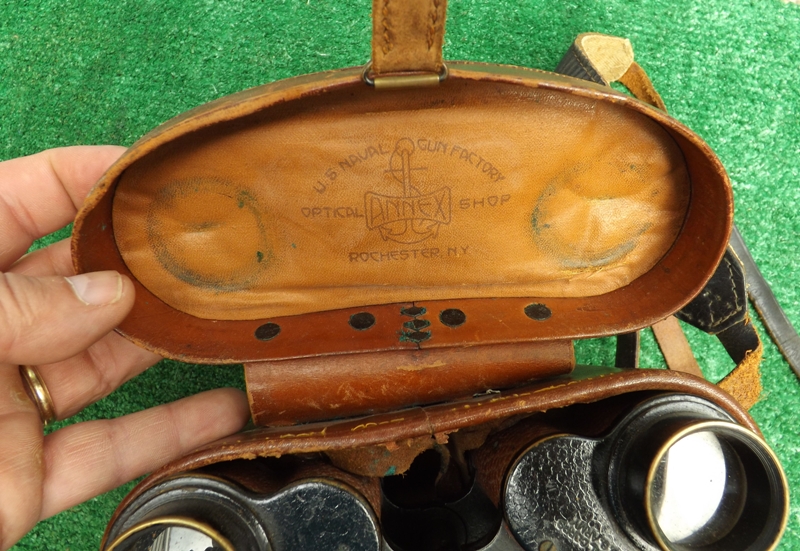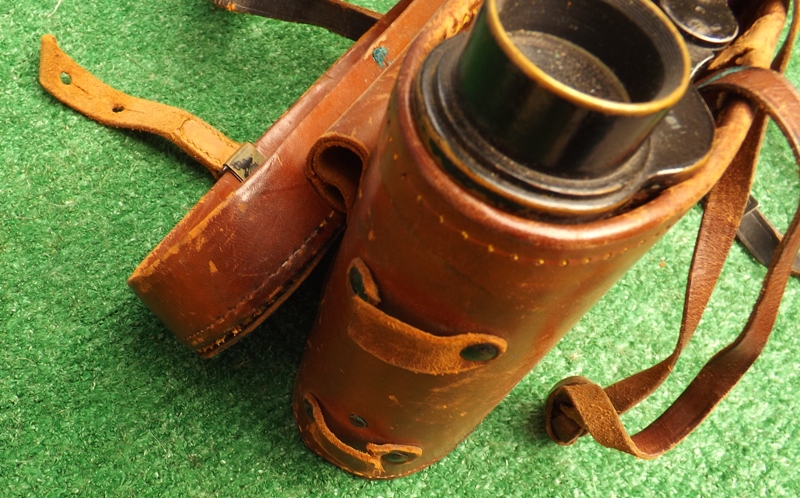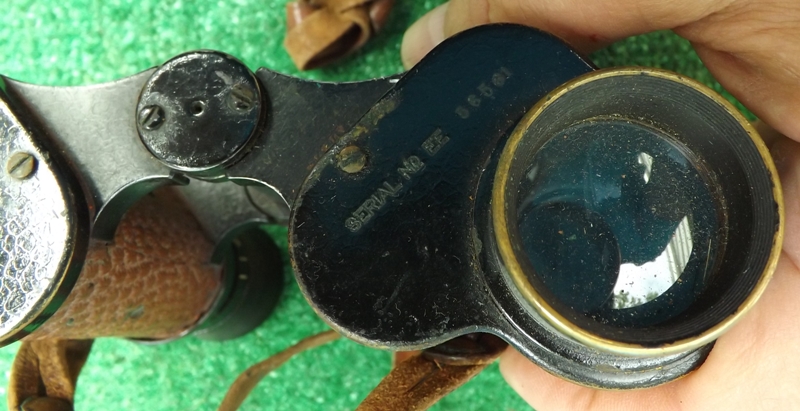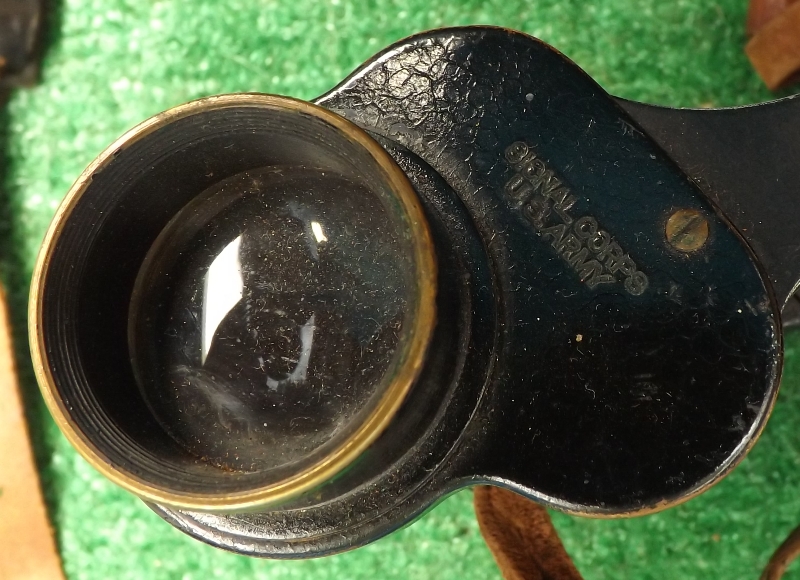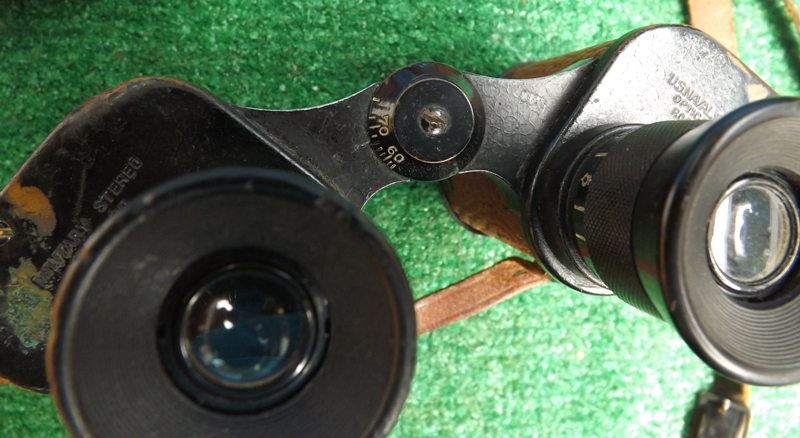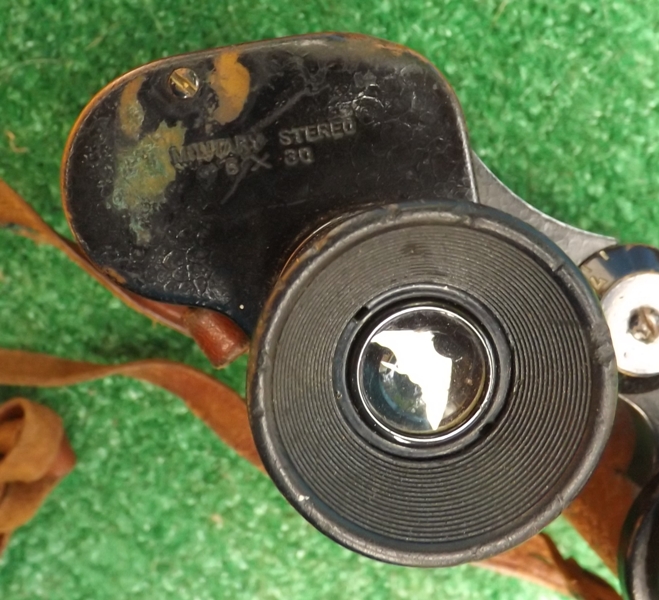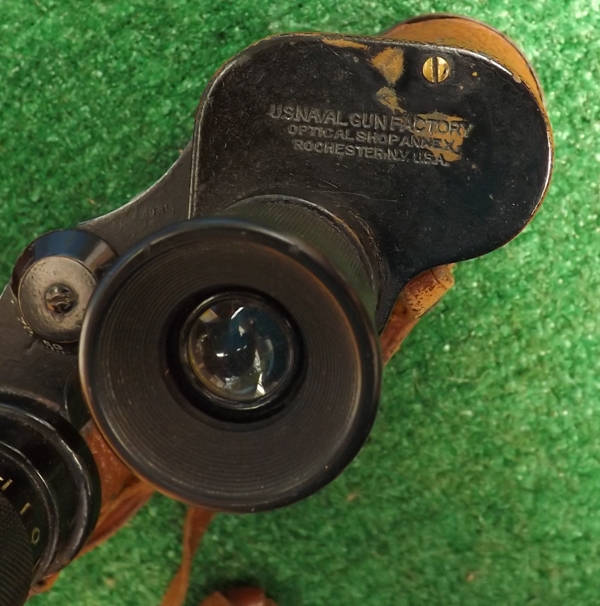 Item No. 123
Here is a couple of WW2 GI canvas leggings. Only an R marking are in them so they are both of the right ankle. They are a slightly different color. For the both of them. $25.00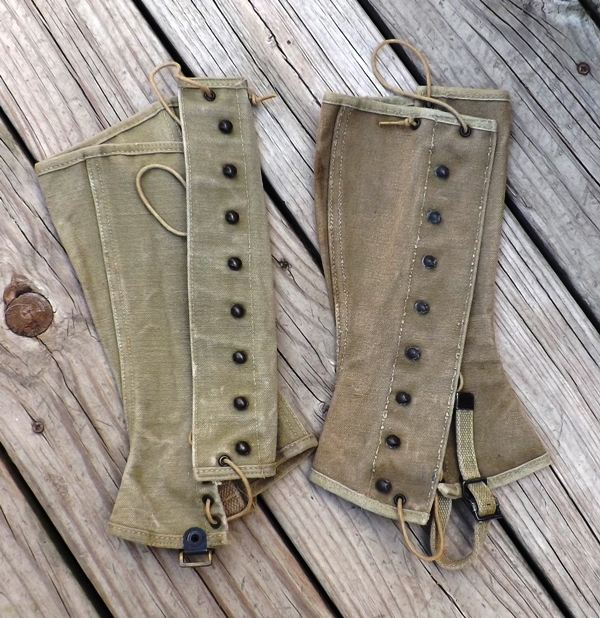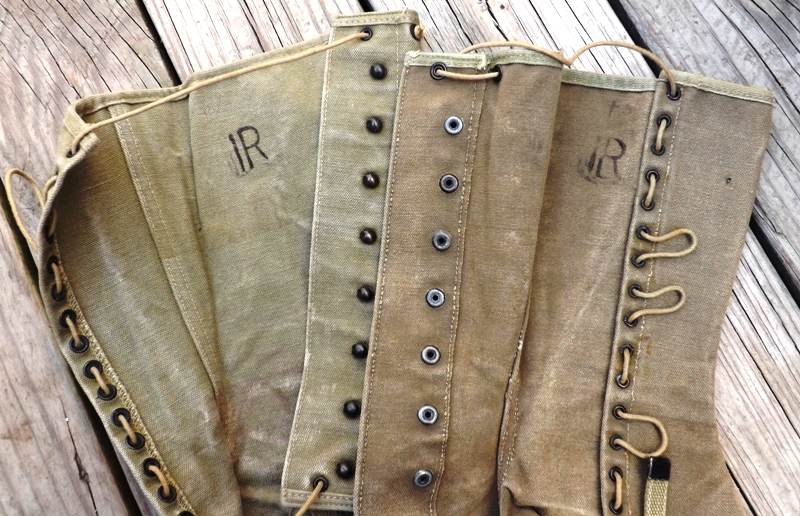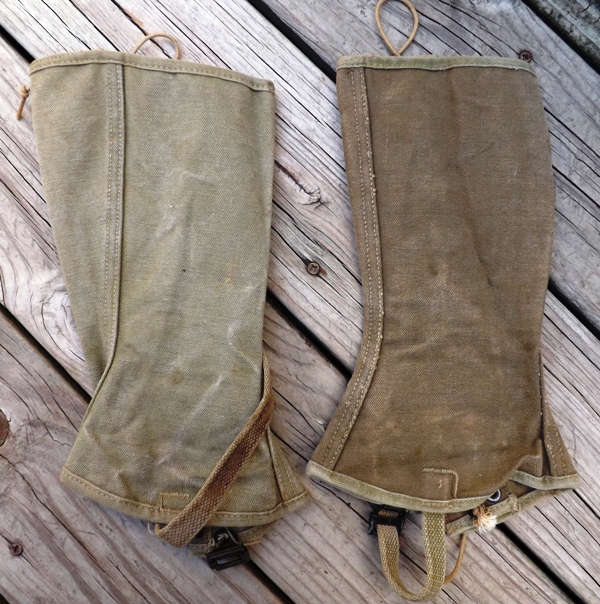 Item No. 124
Item No. 125
Here is a model 1916 US Holster that is in the brown but it looks like the front aged or was darkened. The back of the holster has stamped on it U.S. WARREN LEATHER GOODS CO. 1944. The original leather thong for tying it to the leg is still attached. The leather is supple and everthing is there. I believe this is for the .45 caliber colt. As a side note when I found this holster it had a Nazi stamp down in it. I'm including the stamp with the holster. $95.00
Item No. 126
Item No. 127
We have here a pen desk set for Maj Rodney S./ Syczylo, 100th S&S BN (DS) who must have served there fro July 1975 to December 1975 as indicated on the plaque. I believe that he handled the Stores and Supply. This is a nice desk set with a mechanical clock. Check out the pics. $35.00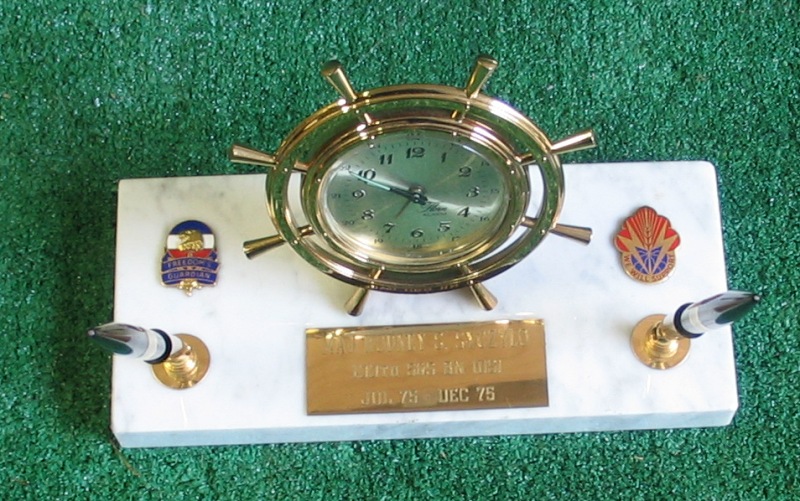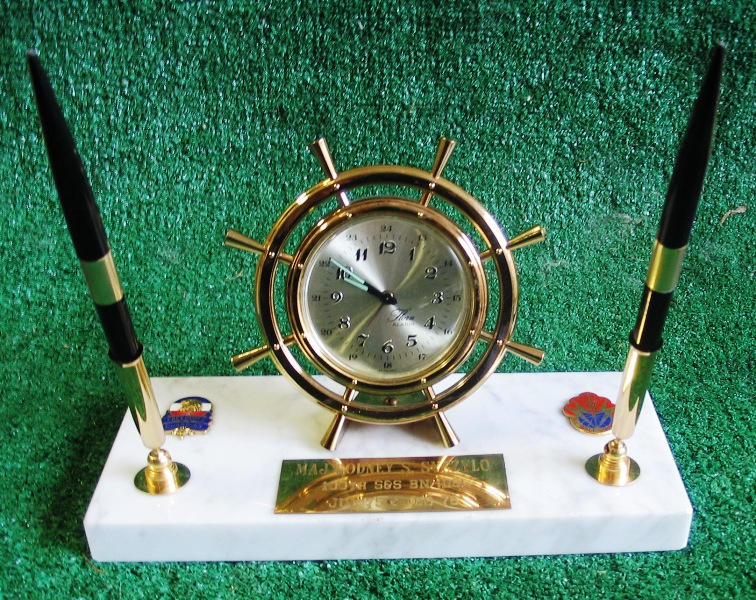 Item No. 128
CONSIGNMENT
Here we have a wooden stock for an SKS Rifle. I'm pretty sure it's for the Chinese SKS of military fame. This stock was probably replace with a poly stock when someone sporterized the original rifle. If you need a good SKS stock then this is it. No handguard. $40.00


Item No. 129
Here we have an SKS ammo pouch that is complete. This is supported over your shoulders and fastens around the waist. In good condition. $25.00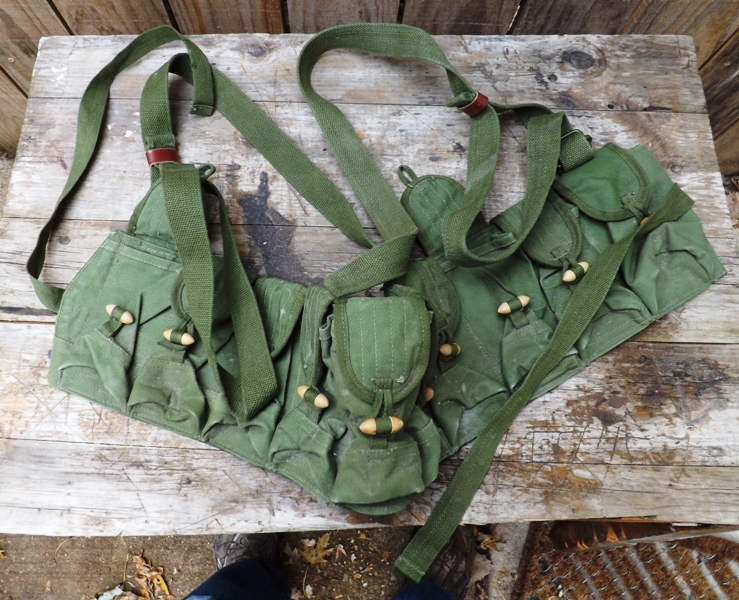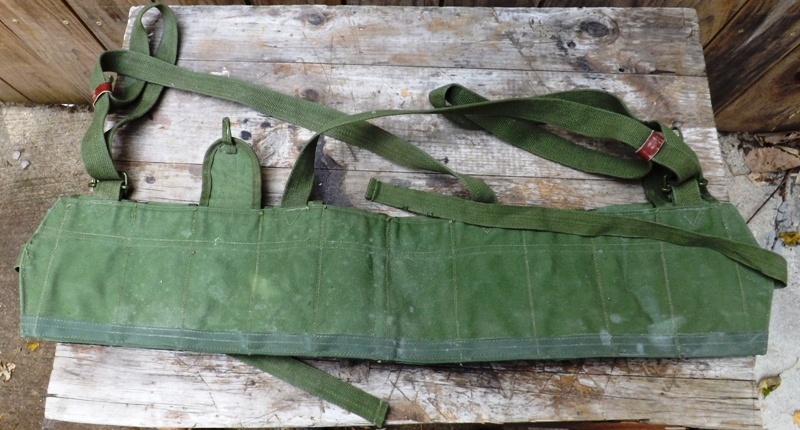 Item No. 130
Here we have a WW2 British 'Tommy' Helmet. It is stamped on the inside rim CL/C 1942. This piece is complete except for the drawstring in the liner. The chin strap still has elasticity. Most of the original paint is present with no denting. There are chips to the paint finish from use. $65.00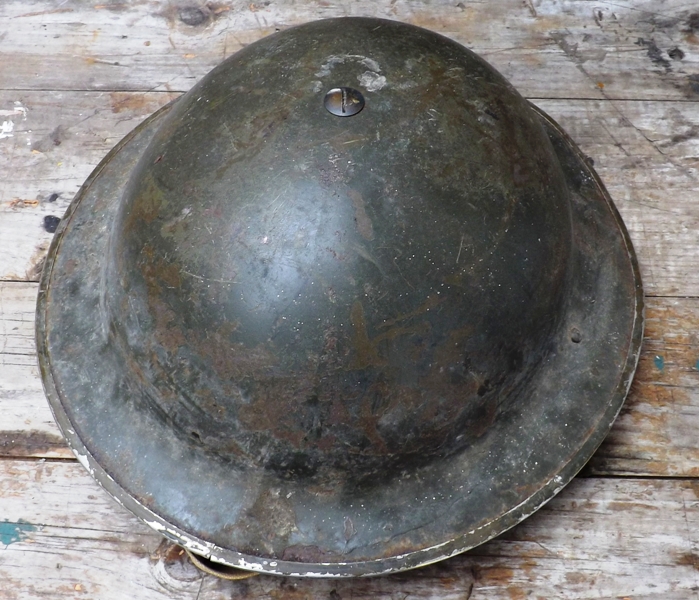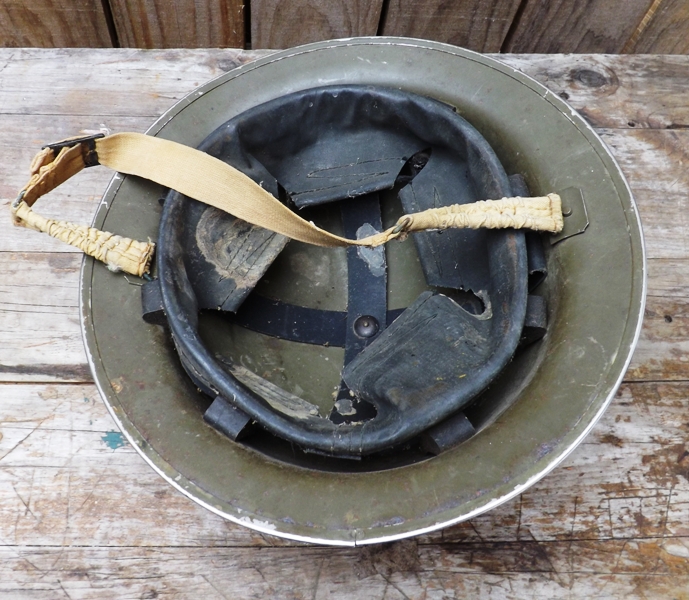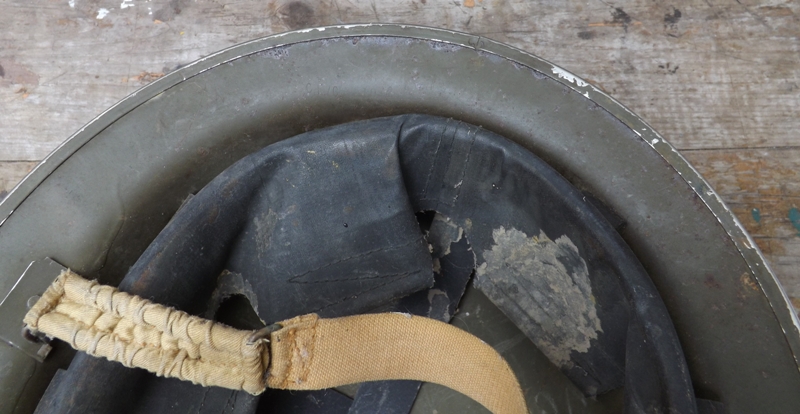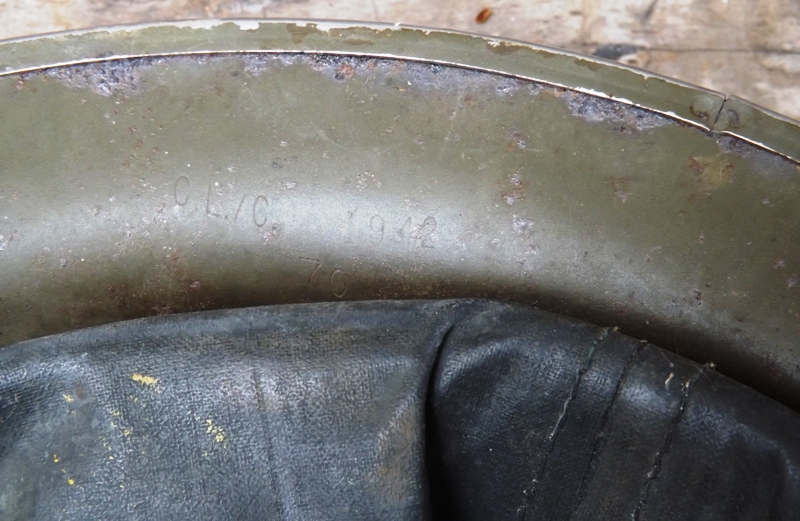 Item No. 131
CONSIGNMENT
Here we have a piece of WW1 German Trench Art made from a German Artillery Shell and probably the center of a belt plate. The shell is dated on the bottom NOV 1915 and marked MAGDBURG. The piece measures 4 3/4 inches across the bottom and stands 3 3/4 inches tall including the lid. The shell is brass but the lid is copper. I believe this to be a humidore for tobacco. $85.00
Item No. 132
Here's the type of items that I really like. This is a grouping of 3 sweetheart items given to Merita from Basil. Basil Brinson's wife was Merita. Basil was borin in 1919 and died in 1988. He was in the U.S. Army from August 25, 1942 to January 13, 1946. This grouping is 3 sets of different kind of U.S.Army Aircorps Wings that are scaled down. Two are pins and the largest set is a bracelet. Nice! $125 for all.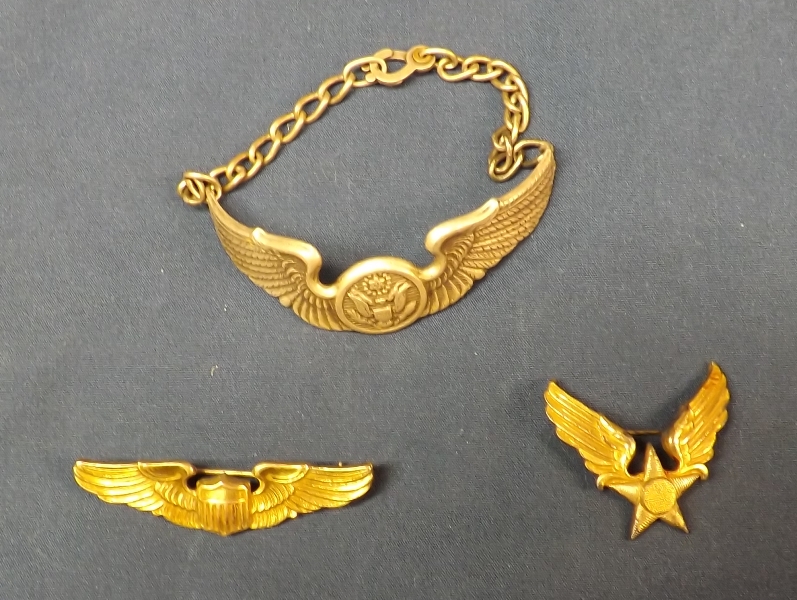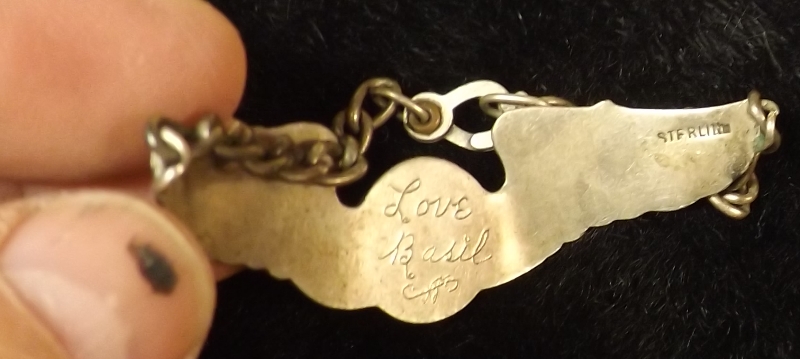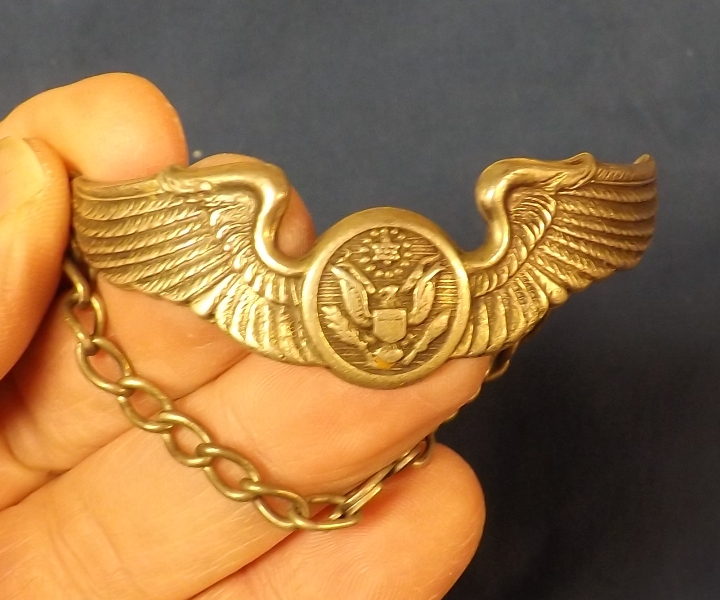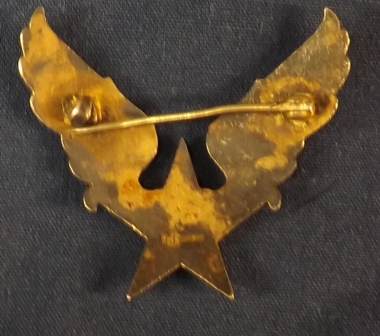 Item No. 133
CONSIGNMENT
Here is a decent Model 1914 -1918 dated German Luger by Erfurt and so marked on top of the pistol. This luger shows little wear and is in very nice condition with a 4 inch barrel. It looks good and the action works fine. The bore is excellent. The serial number is 5841 and is so marked on the various different parts. All of the markings are sharp and clear. This is a 9MM weapon with magazine. The serial number on the mag is different than on the pistol. The mag has a wooden toggle type end. This piece comes with a decent original leather holster that is complete with an extra mag (number doesn't match on this mag either) . This magazine has an aluminum toggle end. . The holster also has the luger tool in the little pouch. The holster has some age cracking but it's still in pretty good condition. The pull up strap in the holster has been repaired and I wouldn't suggest using it. All in all a very nice outfit! $1,850.00
Item No. 134
Here we have a colorful WW1 poster that is copyrighted 1917 by James Lee of Chicago. The top of the poster has the name Saml Sharpe written on it in pencil and I suspect that the signature belongs to a WW1 Veteran. The poster is in a frame and measures about 13 X 17. There are a couple of tears in the paper and one small corner is missing on the lower right corner. Still very nice and quite displayable! I have seen these offered on line for over $400 but this one here is $295.00 Look at the pics!
Item No. 135
CONSIGNMENT
Here is a grouping for an officer that spans quite a career from the Mexican Border conflict trying to find Poncho Villa through WW1 and WW2. The subject we are talking about is Captain Edward C./ Filipaiak service number 0577543. This grouping consists of his cap, tunic with ribbon bars which incude the purple heart, overseas service ribbon, Bronze star, WW2 Occupation, American Defense, American Campaign, European African Middle East ribbon among others. You can see how many campaigns he was in by the battle stars on his ribbons. Also the large XXX we believe indicates that he spanned over 30 years in the military. On his sleeve is the 5th Army patch. The Fifth United States Army was one of the principal formations of the U.S. Army in the Mediterranean during World War II. It was activated on 5 January 1943 at Oujda, French Morocco and made responsible for the defence of Algeria and Morocco. It was also given the responsibility for planning the American part of the invasion of mainland Italy. It was commanded by Lieutenant General Mark W. Clark. It first saw action during Operation Avalanche, the assault landings at Salerno in September 1943. Due to the low numbers of American troops available in theatre it was made up of one American and one British corps. It had the X Corps (United Kingdom) and the VI Corps (United States) under its command. At Salerno, X Corps landed on the left flank, and VI Corps on the right flank. Progress was initially slow, due in part to lack of initiative by the American corps commander, Maj. Gen. Ernest J. Dawley, who was subsequently replaced. However, after heavy naval and air bombardment had saved the forces from any danger of being driven back into the sea, and also with the approach of the British Eighth Army (which had landed further south), the German forces retreated. Its role in Italy cost Fifth Army dearly. It suffered 109,642 casualties in 602 days of combat. 19,475 were killed in action. The Fifth Army headquarters returned to the United States in September, 1945. 2 October 1945 saw Fifth Army inactivated at Camp Myles Standish, Massachusetts. Also included in this grouping is his overseas trunk of which you can see he sent to his wife Mary. This individual needs to have more research done on him. There is a story here that I believe is important. I just haven't found it out yet. For this grouping. $495.00
Item No. 136
CONSIGNMENT
This here is a M-40 DAK 'Afrika Korps' Helmet being the 2 decal variety. The German National decal is on one side and the Eagle and swastika is on the other side. These decals may be replacements. The helmet has the original green color inside and showing through the DAK overpaint on the outside. We believe that this piece has been restored with a new liner. Liner is marked '56'. $450.00 REDUCED!!! $350.00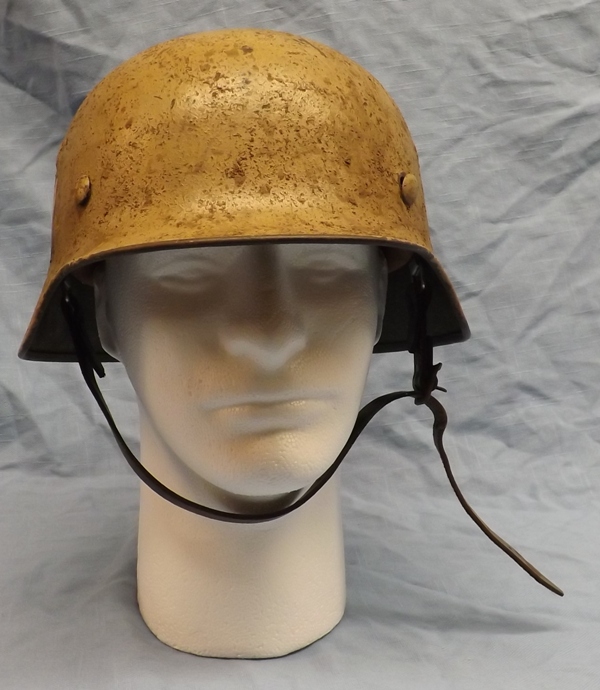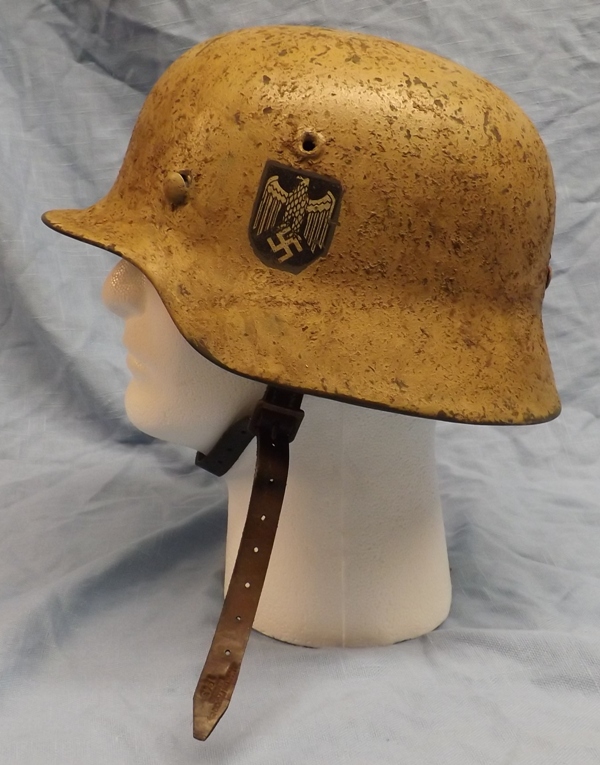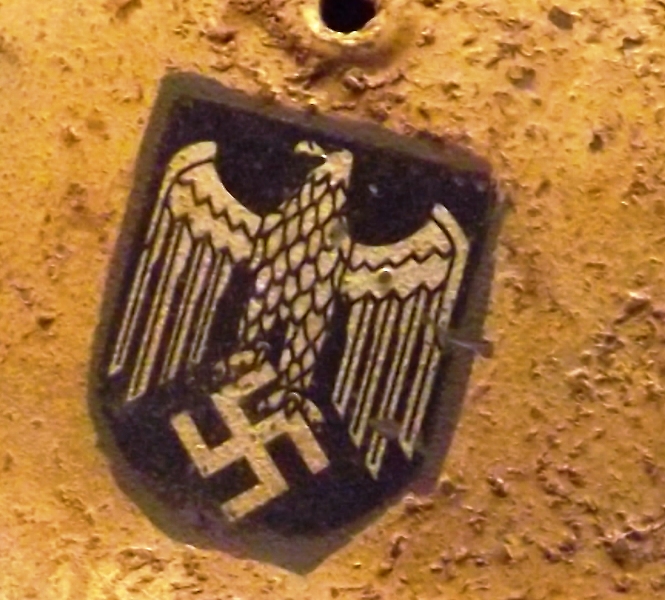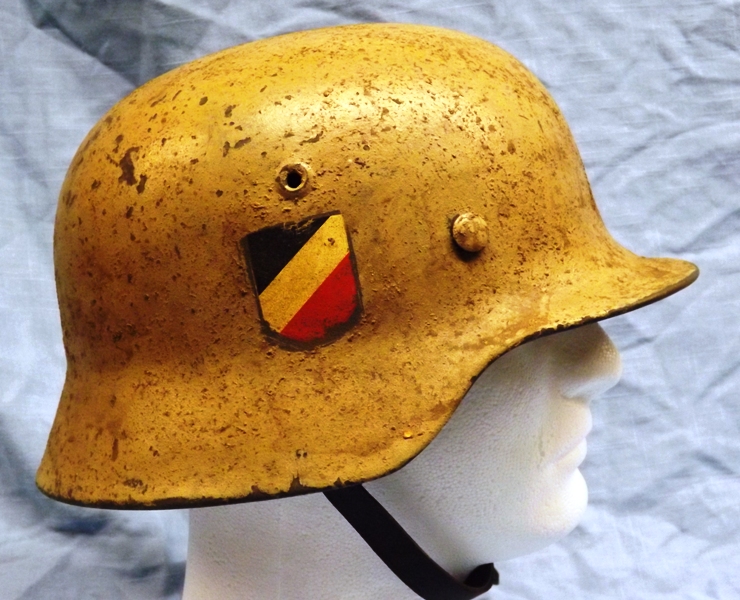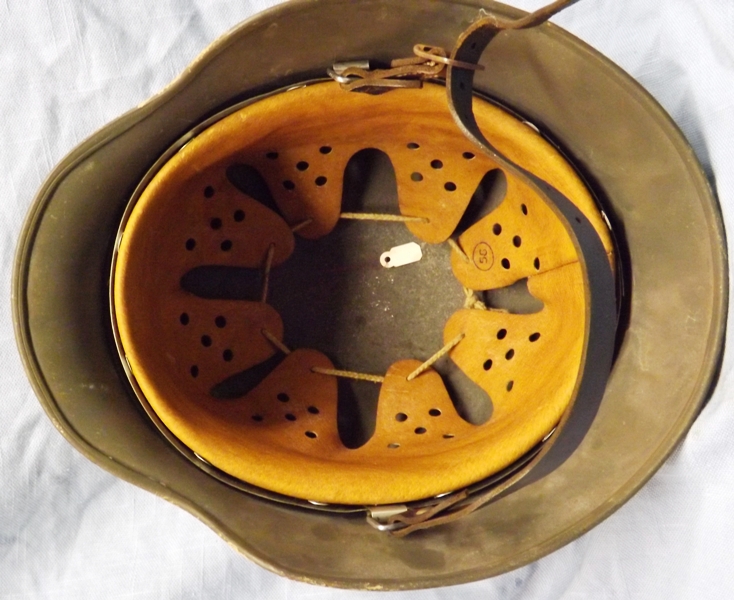 Item No. 137
CONSIGNMENT
Here is another M-40 German Helmet that has been camoflaged. This is an original helmet but we believe that it has been restored with paint over the original paint in spots and a new liner plus chinstrap. Look good. $350.00
REDUCED!!! $275.00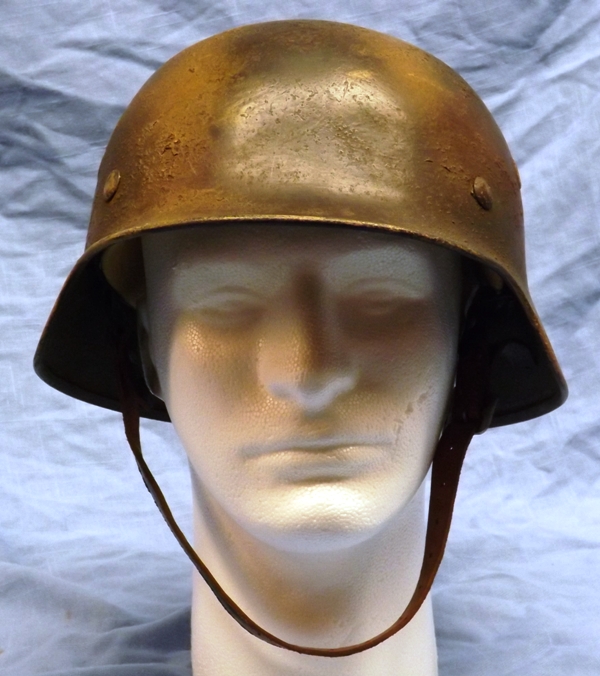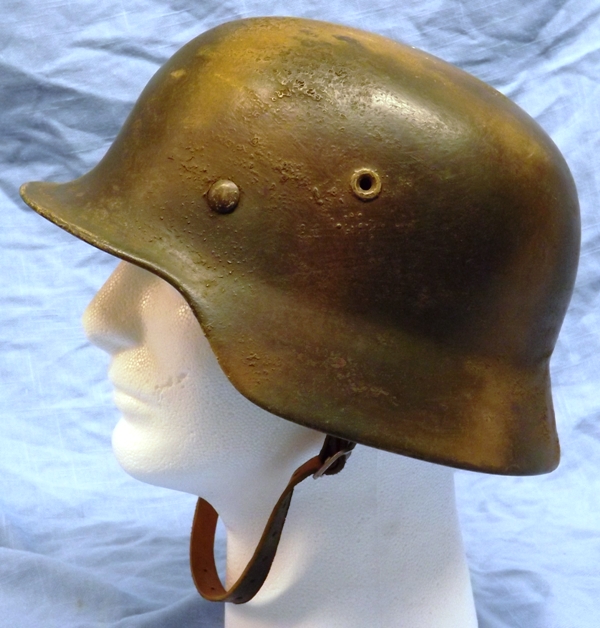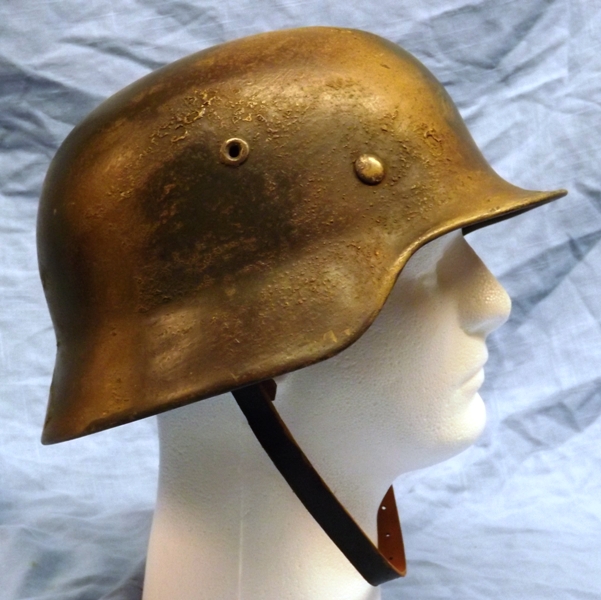 Item No. 138
CONSIGNMENT
Here we have an all original Luftwaffe M43 Field Cap. It has the makers mark on the purple lining as well as the date 1944 and the size which is 57. This piece is gray wool and has a little soiling on the top but not too bad at all. The Luftwaffe insignia is hand sewn on. This is the single button variety. All in all it's in excellent conditioin. For this one $450.00 Take a look at the pics!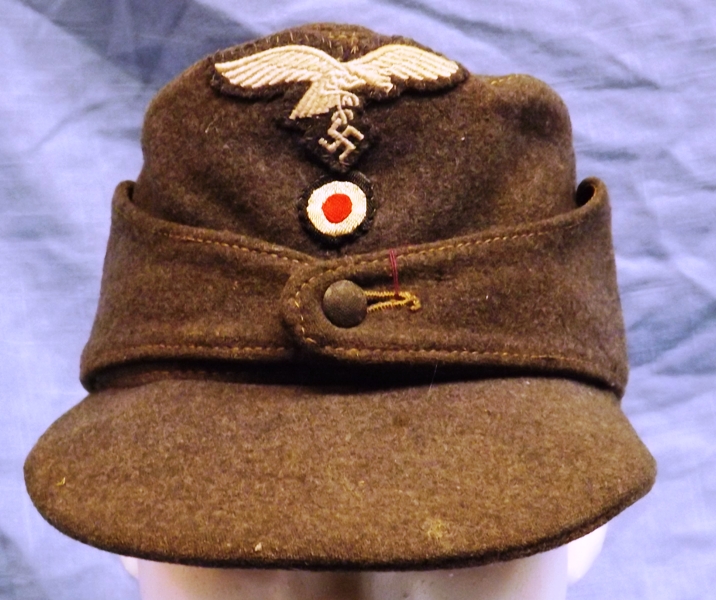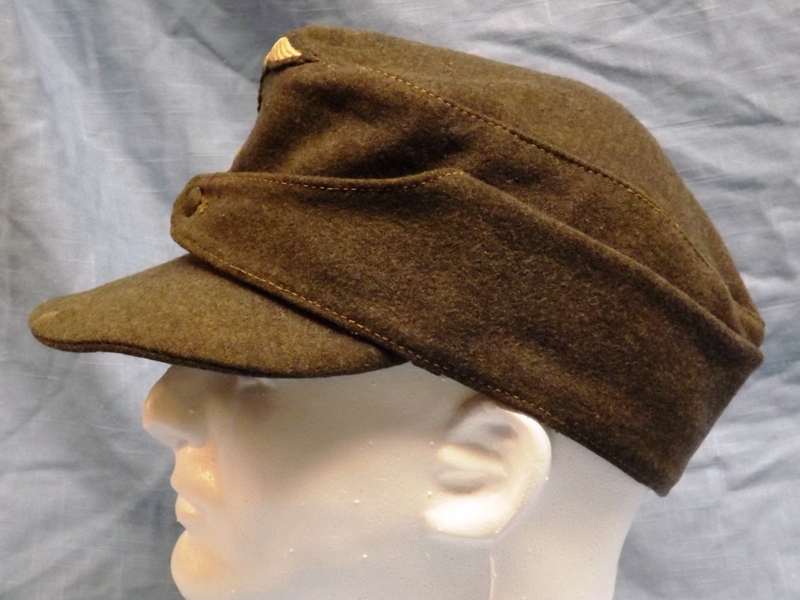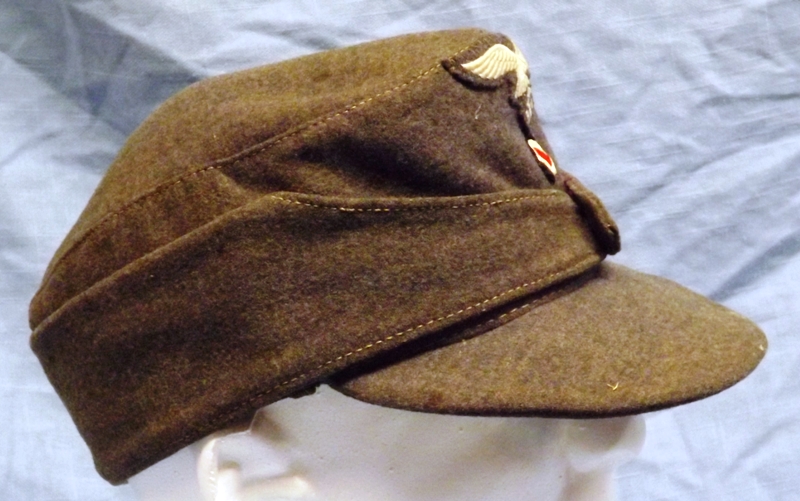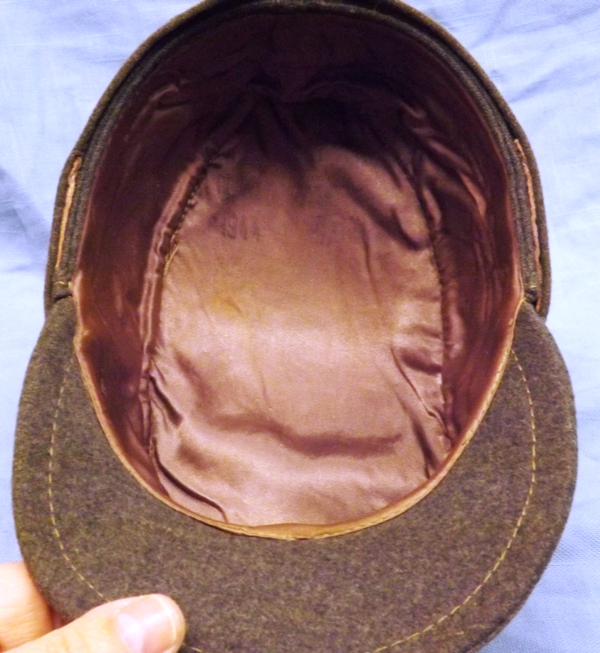 Item No. 140
CONSIGNMENT
Here we have as a near as issued "Kelly's Marauders" style pre 40's original reissue pre 1941 helmet as worn during the 1930's and the opening days of U.S. involvement in WW2. Exterior has textured olive drab finish. Interior has brown leather m1917a1 liner with crown cushion and khaki web chinstrap. 12F is stamped on the helmet brim. This is a nice one! No dents. $125.00
Item No. 141
CONSIGNMENT
Here is a khaki green Wool Garrison Cap from WW1. May be American but could also be French. The lining looks a brilliant purple but under the sweatband it is green. Very little mothing. Still a nice cap. $35.00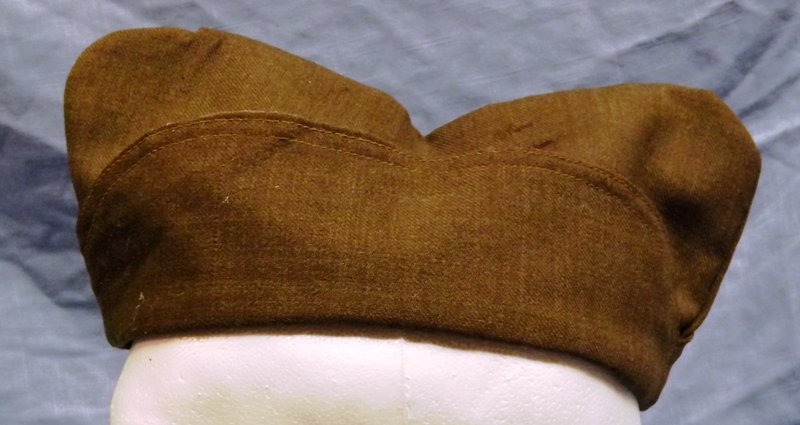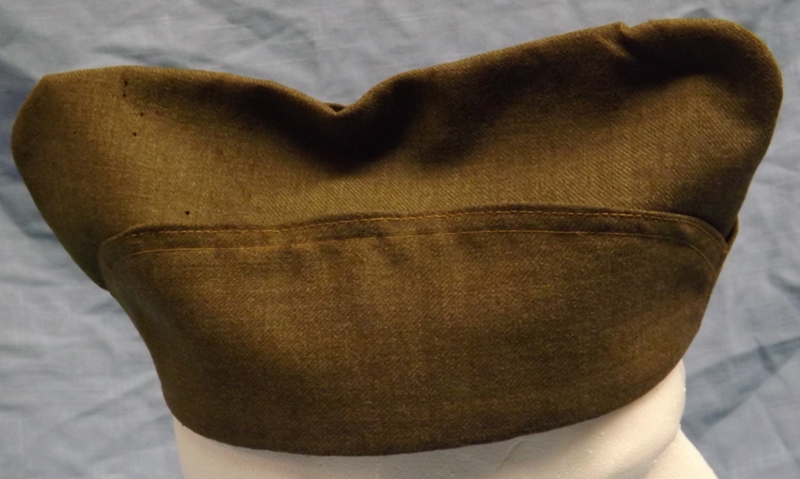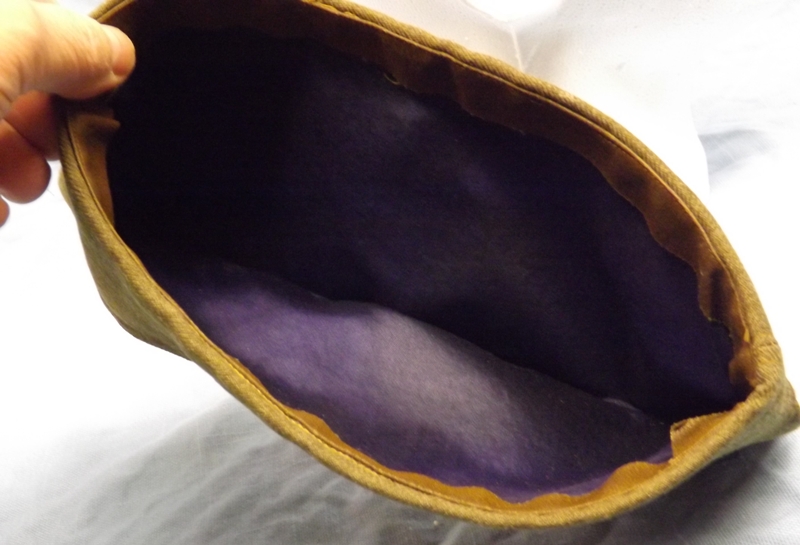 Item No. 142
CONSIGNMENT
Here we have an original WW2 M1 Carbine stock. If you need to replace your broken stock this one would work just fine. This one had a small piece of the buttstock toe broken off and finish nailed back on. No attempt was made to hid the repair and I believe it could be done where it would be very hard to see. The handguard is included. The steel buttplate is still affixed to the stock . Looks like there is a D and 112 stamped into the buttstock. Still a decent stock. $65.00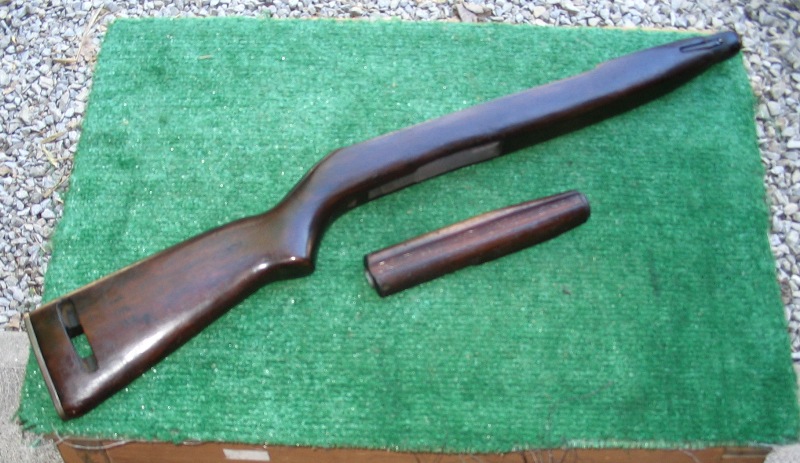 Item No. 143
Here we have a pretty nice type 99 Arisaka Short version rifle in 7.7mm. This was is marked as having been made at Kokura Arsenal. This is marked with an x in a circle making it a Series 40. This rifle has the provision for a monopod no missing. This one has nice markings but is missing the mum as is normal as it was ground prior to turning it in by Japanese forces. This rifle is in very good condition and has a nice shiney bore. The cleaning rod is missing. This is a nice piece. $295.00
Item No. 144
Here we have a Last Ditch Japanese Arisaka Rifle in 7.7mm. It is a type 99 with a ground Mum but there are no characters designating the rifle type. The Japanese were scraping the bottom of the barrel to produce weapons when they did this one. Someone has covered the wood in polyurthane but easily removed if you want to. The stock is in good condition with no breaks and does have the wooden buttplate. The rifle seems to function ok and it does have rifling in the barrel although it is dark but you can see the lands and grooves. The metal finishes are rough to say the least. The front barrel band is crudely welded but does have a bayonet mount under it. There is no provision for a cleaning rod. The magazine housing cover is intact but the layered spring is not there. The screws are replacements in the trigger strap. The rear stock swivel is missing. This short rifle definitely shows the desperation of the Japanese Military! For this one $195.00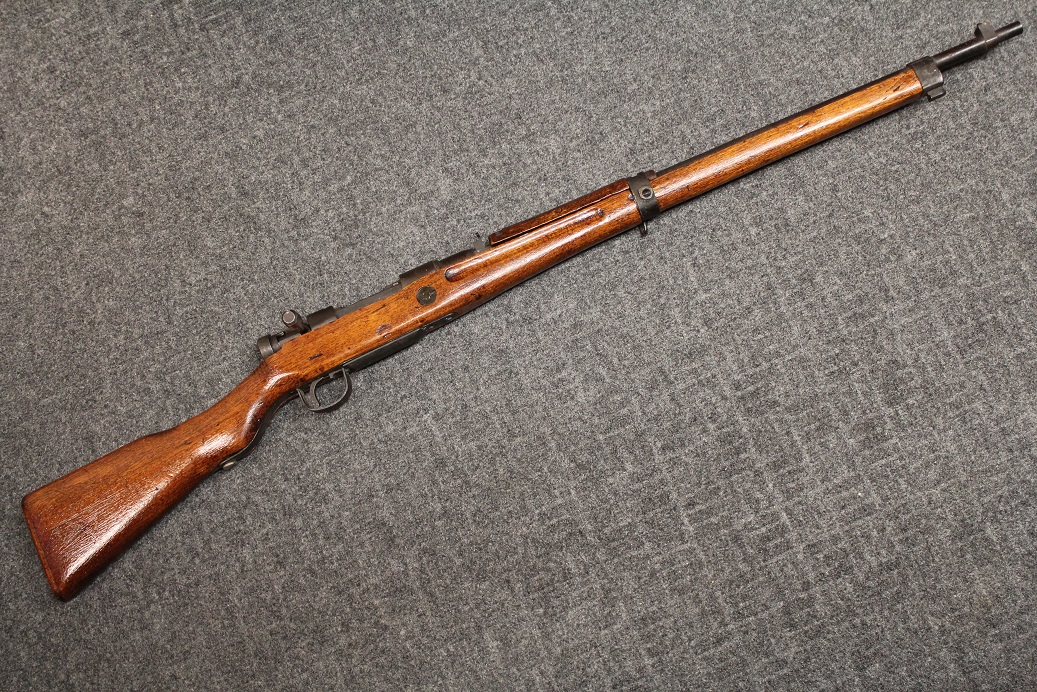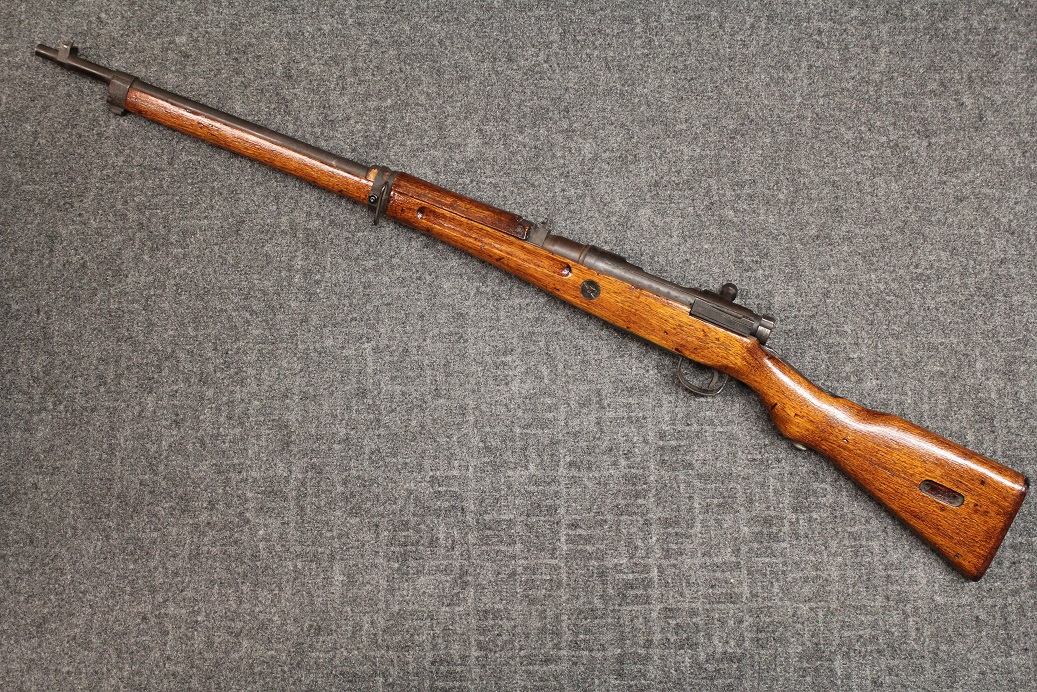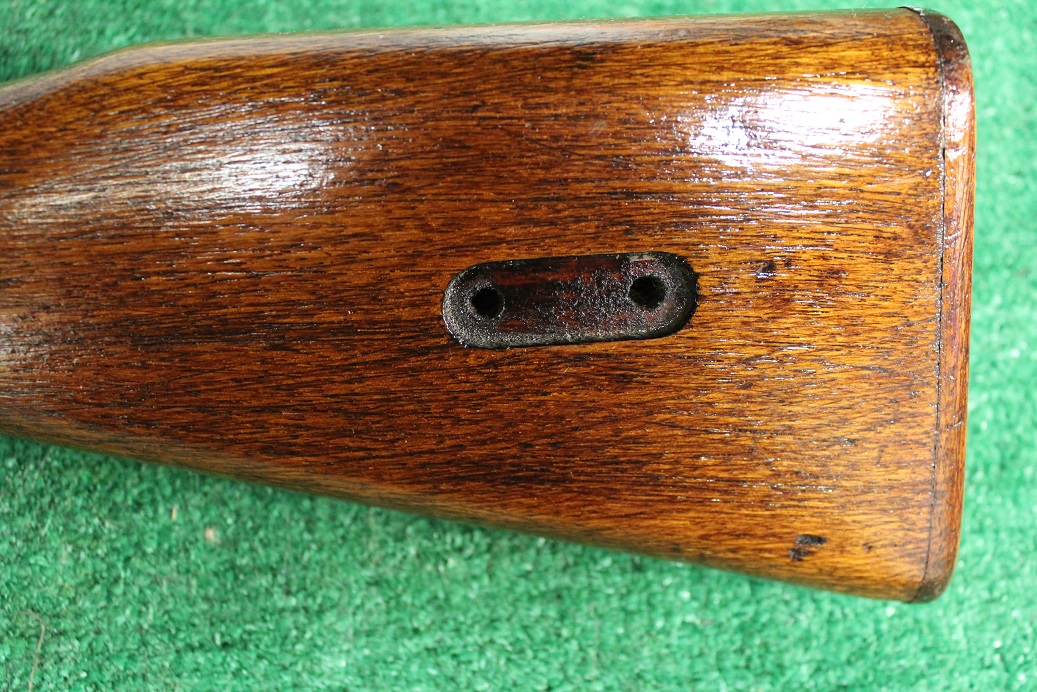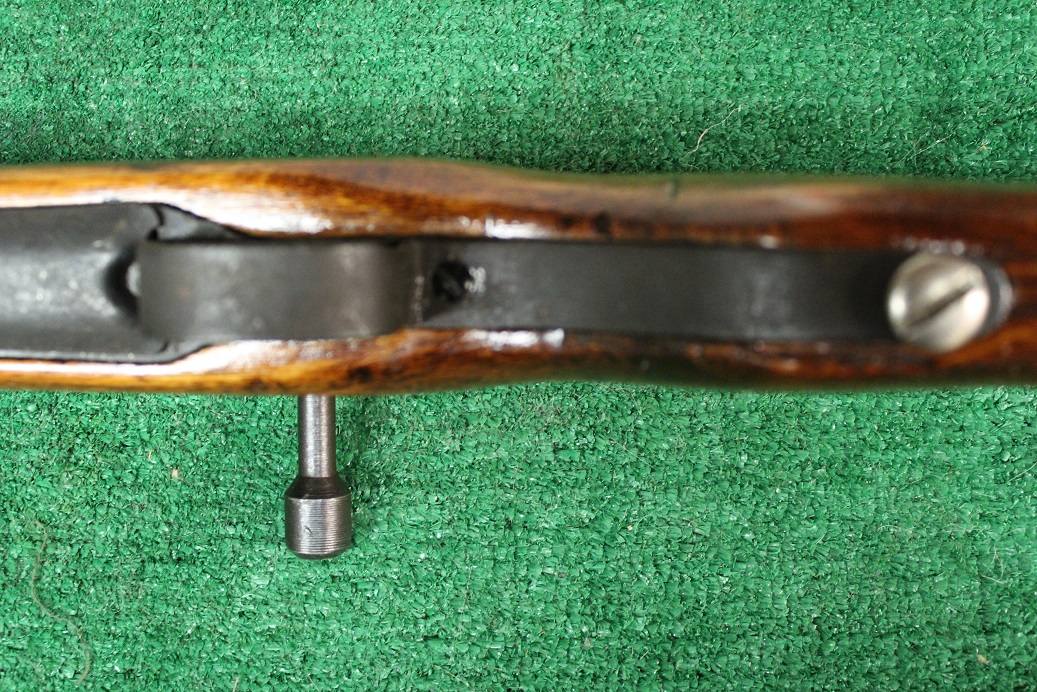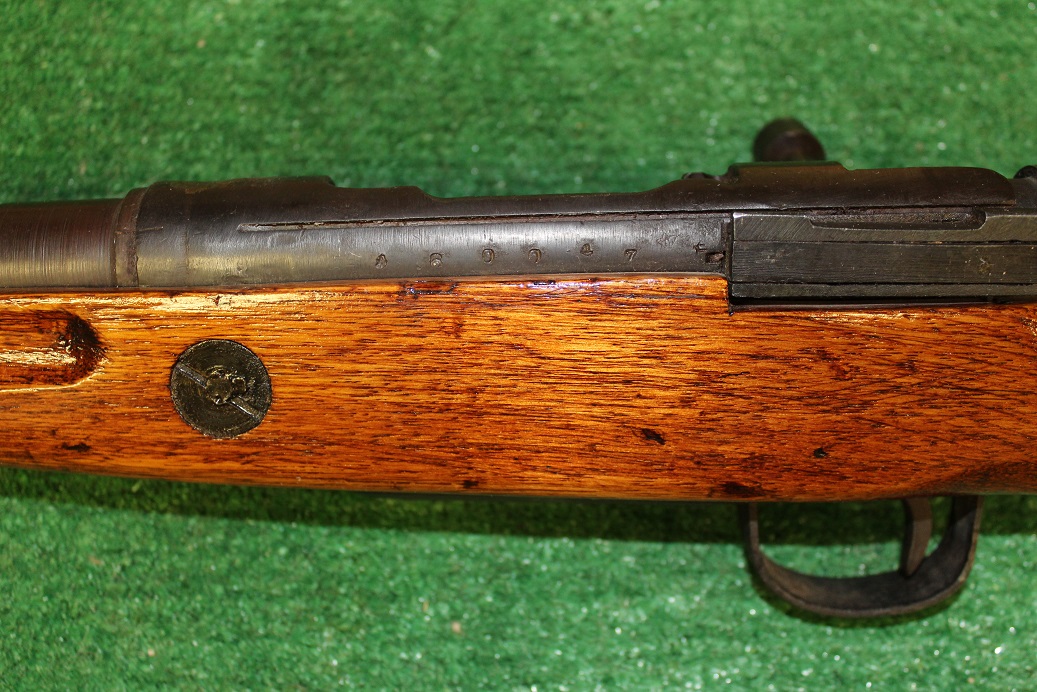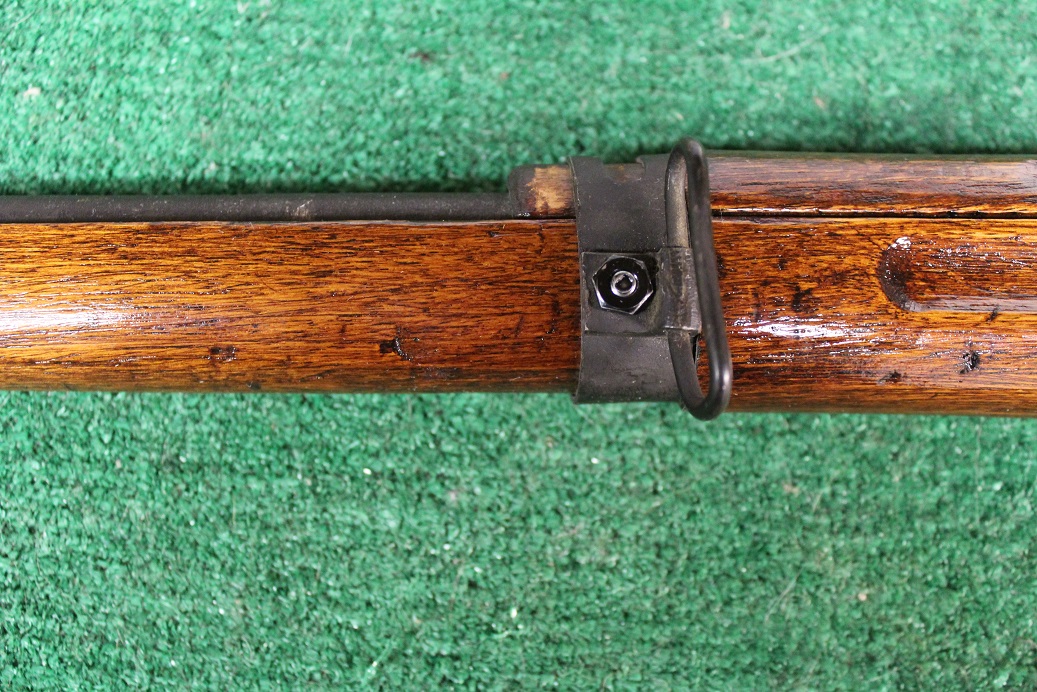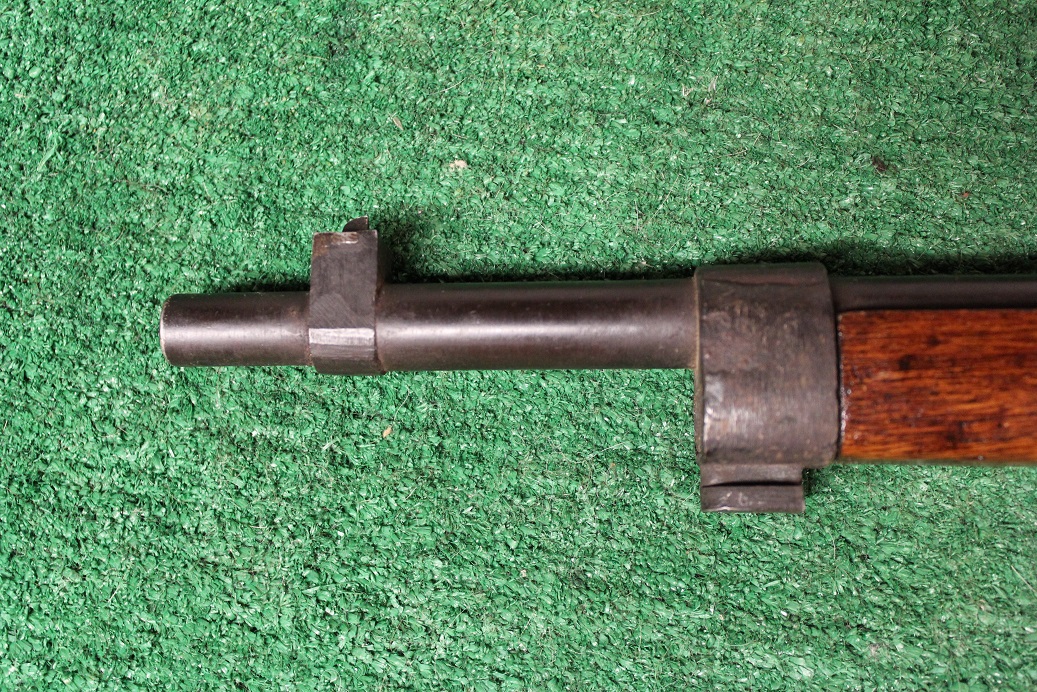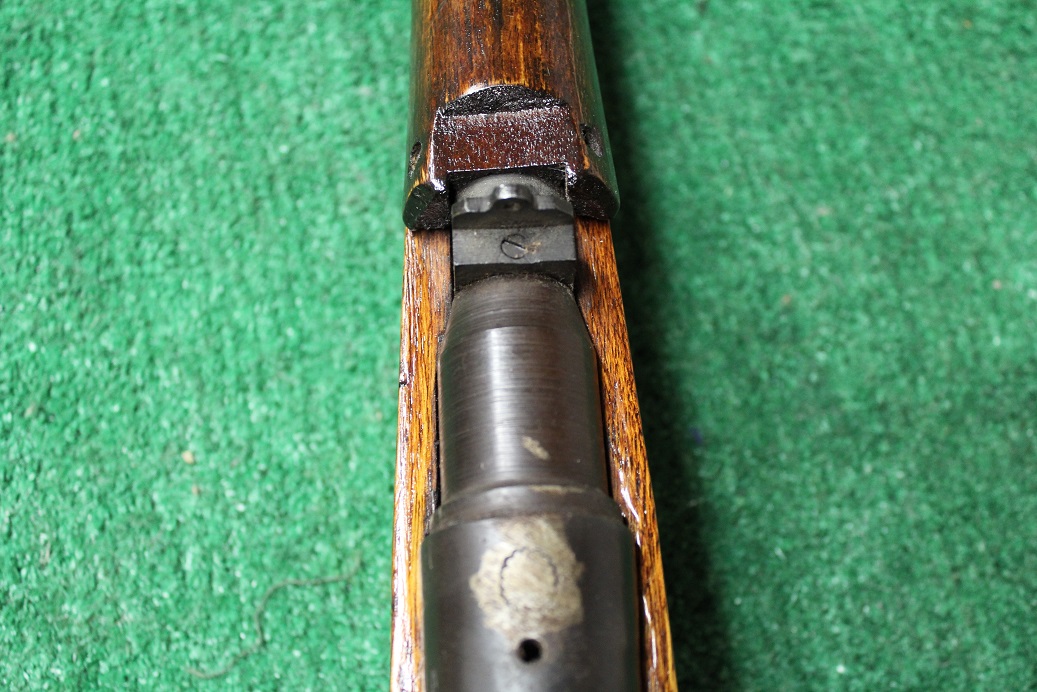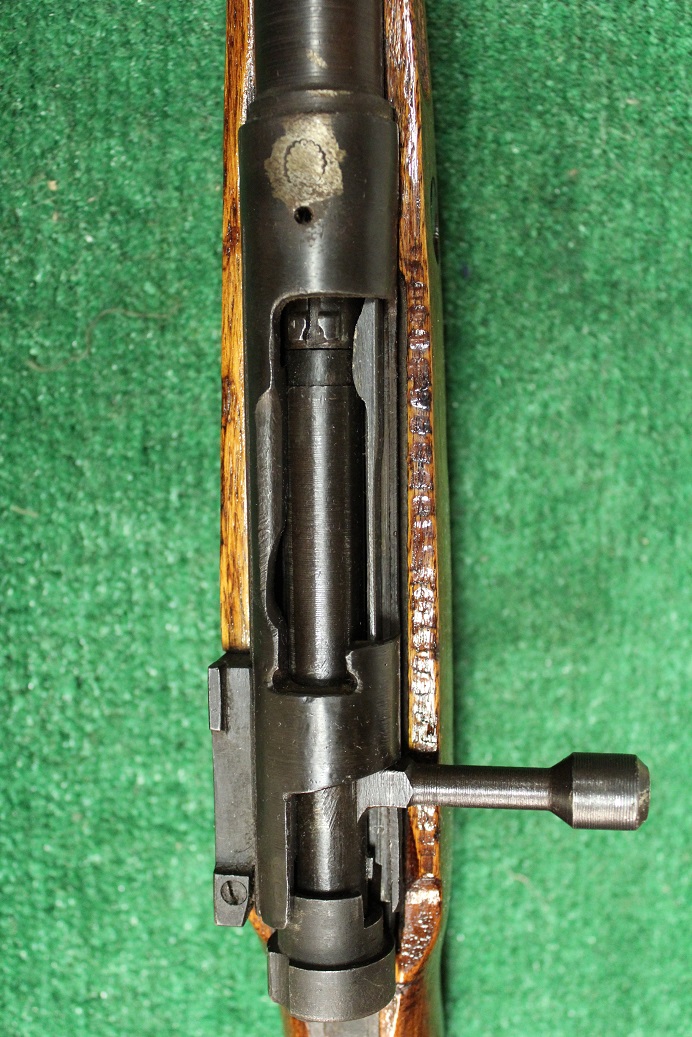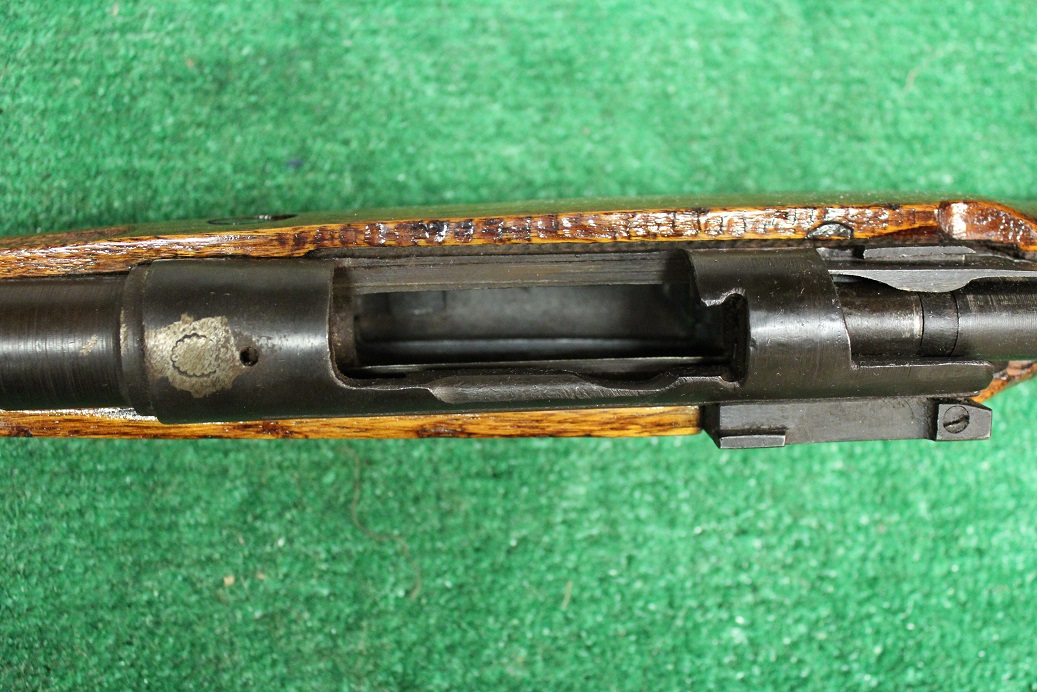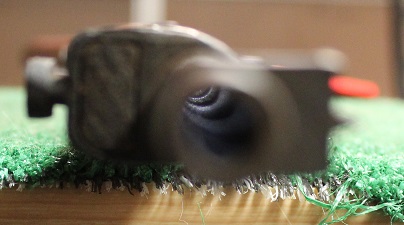 PARRIS-DUNN TRAINING RIFLES
Mark I Navy model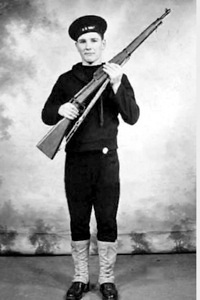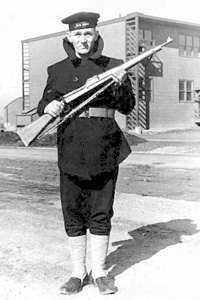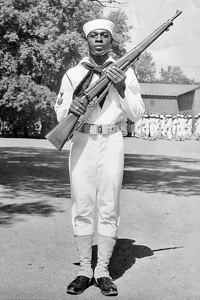 Here we have a couple of the Mark I Navy Model training rifles. Here is some history of the company.
Unfortunately, no Parris-Dunn production records still exist, so all of the information relating to them has been pieced together from other sources. An early employee by the name of Maurice O. Greimann wrote short article in 1984 concerning the Parris-Dunn Corp and his information has been invaluable. In 1943 Mr. Greimann came to work for the Parris-Dunn Corp. as an electrical engineer. When the work shifted to making Training Rifles he became involved in their production and designed the firing mechanism for the first toy guns they later produced. The Parris-Dunn Corporation was founded by William G. Dunn and Cecil L Parris when they formed a business partnership in 1937. Each of these men brought unique contributions to this partnership. Although Dunn had no formal technical training he, like many great inventors, could see the interrelationships that existed between different mechanical devices and could modify or combine them to solve problems. Parris had a background as sales manager for the Kari-Kleen company of Souix City, Iowa and was a talented merchandiser. Initially Parris was the President of the corporation and Dunn the Vice-president but during the war years their positions reversed. William G. Dunn (1883-1968) ran a hardware business in Clarinda, Iowa in the early 1900's. In 1917 he formed the Dunn Counterbalance Company operating out of the back of his hardware store. He eventually built a factory on South 15th Street in Clarinda and the name was changed to the Dunn Manufacturing Co. He was a very talented inventor and eventually held patents for 75 different mechanical devices, many of which were related to the early automobile and aircraft industry. In 1934 he developed a wind driven generator that was designed for farm use. His primary invention was a device to control the speed of the propeller on this device. In 1936 he formed a partnership with Cecil Parris in order to better promote his generator business. In 1937 they sold 37,000 of these units. When WWII broke out in 1941 their wind generator business was declared nonessential and they were only allowed to make repair parts for the units already in use. There was a severe shortage of military firearms at the start of the war and they were approached by US Army Ordnance to produce a non-firing training rifle. Shortly after, the US Navy also expressed interest in this project but they wanted some slight modifications in their model. In July of 1942 the Army let contract 271 ORD for 35,000 training rifles of their pattern at a cost of $166,000. In August the Navy let contract NROS 10993 for 190,000 training rifles having their changes at a cost of $903,000. In October of 1942 the Army contract was completed and in November they finished the first Navy contract. In January of 1943 the Navy let contract NORD 808 for 110,000 additional training rifles and in June that contract was completed. The total cost of the 300,000 rifles produced for the Navy was $1,384,000. The cost per rifle for the first contract was $4.75 and for the second contract $4.37. By the time of the second contract, Parris-Dunn could no longer get walnut wood for the stocks as all of it was going to arsenals that were making functional military rifles. They had to start using a cheaper grade of wood during the last contract which lowered the unit price. Prior to the start of the military contracts Parris-Dunn recognized that they did not have sufficient personnel to produce the required number of training rifles in a short period of time. They put together another organization called Parris-Dunn Associates to undertake this important project. I have a document that contains the following: "C.L. Parris, W.G. Dunn and H.E. Davidson, Copartners, doing business as Parris-Dunn Associates". At this time I have not been able to identify H.E. Davidson. They immediately expanded into all of the available building space in the area and hired more employees. This number grew to 250 during the peak of their production. They sub-contracted much of the work to 14 different businesses. The wooden stocks and sights were manufactured at their Clarinda plant and all of the assembly and finishing was also done there. They had that capacity to produce over 3000 training rifles a day. They became so efficient that the company voluntarily returned $228,000 to the Government as excess on allowable profit. On July 23, 1943 Parris-Dunn Associates received the coveted Army-Navy "E" Production Award. After the completion of their military contracts they continue to produce 200,000 of a civilian model for drill corps, schools and ROTC programs. The civilian model was essentially the same as the military models but had different markings. In November of 1945 The Nave classified their training rifles as surplus and offered them for sale at $7.75. This price included a plastic bayonet and scabbard. Nothing is known concerning the disposition of the Army training rifles. The Parris-Dunn Training Rifle is not a very accurate replica of the 1903 Springfield Rifle. It has a similar profile but is thinner in cross section and 3 pounds lighter in weight. The receiver, bolt and trigger mechanism are simple and crude by comparison to the Springfield. It has the general feel and appearance of a toy. It was reported that these training rifles were not very popular with soldiers and sailors that were required to use them during basic training. It must be noted that there were no other alternatives available at the time.
The two examples we have are marked for the Navy. They are:
Item No. 145
1. This one is complete with sling although the sling is a little beat up but there. The rifle is complete and in good condition with no cracks or breaks. The rear sight is still there and usually these are broken. The bolt opens as it should and the rifle fires (clicks) as it should. These training rifles were usually beat to death while being used and after surplused out. Sling swivels are present as well as the stacking swivel. The bayonet lug is still present as well. The buttplate states DUMMY TRAINING RIFLE - MARK 1-U.S.N. PARRIS-DUNN CORP. - CLARINDA, IOWA. For this nice piece of U.S.Navy History $165.00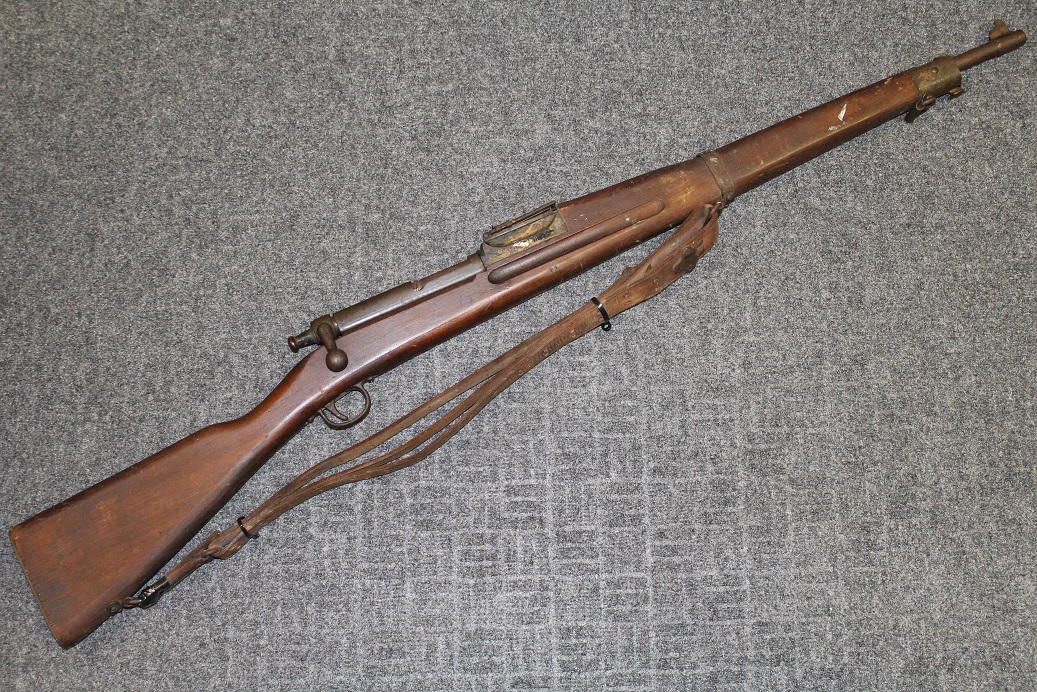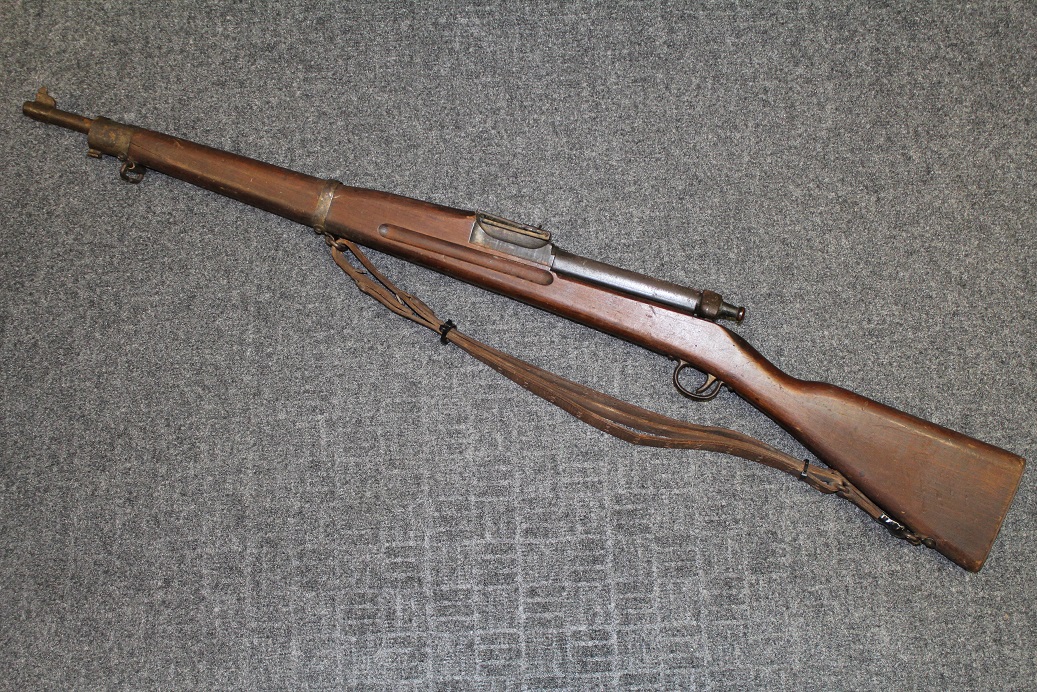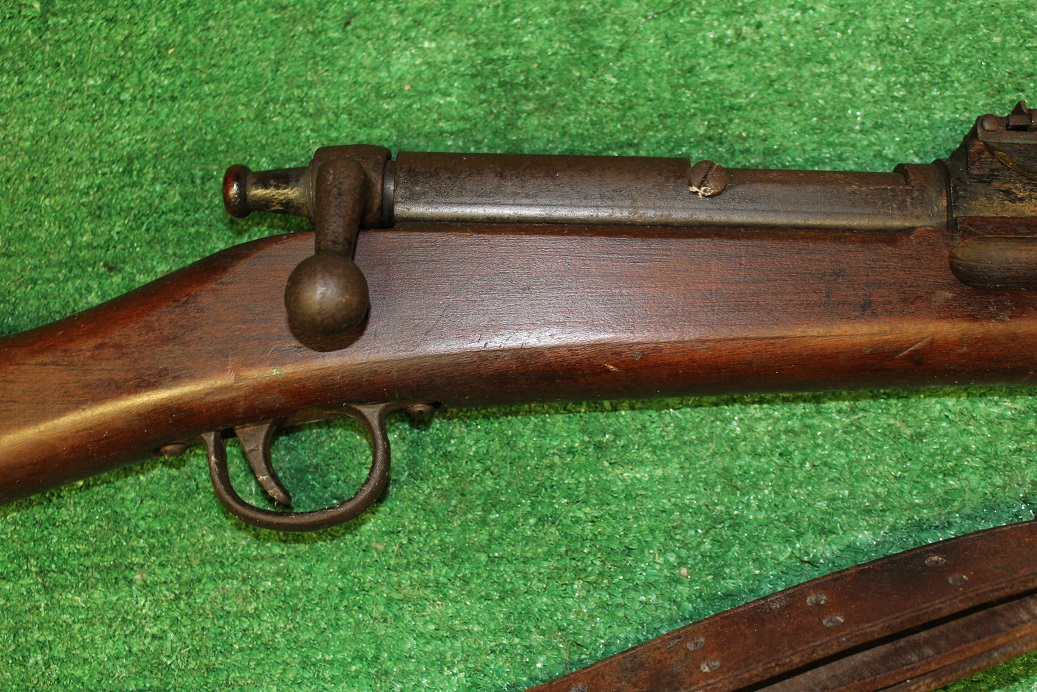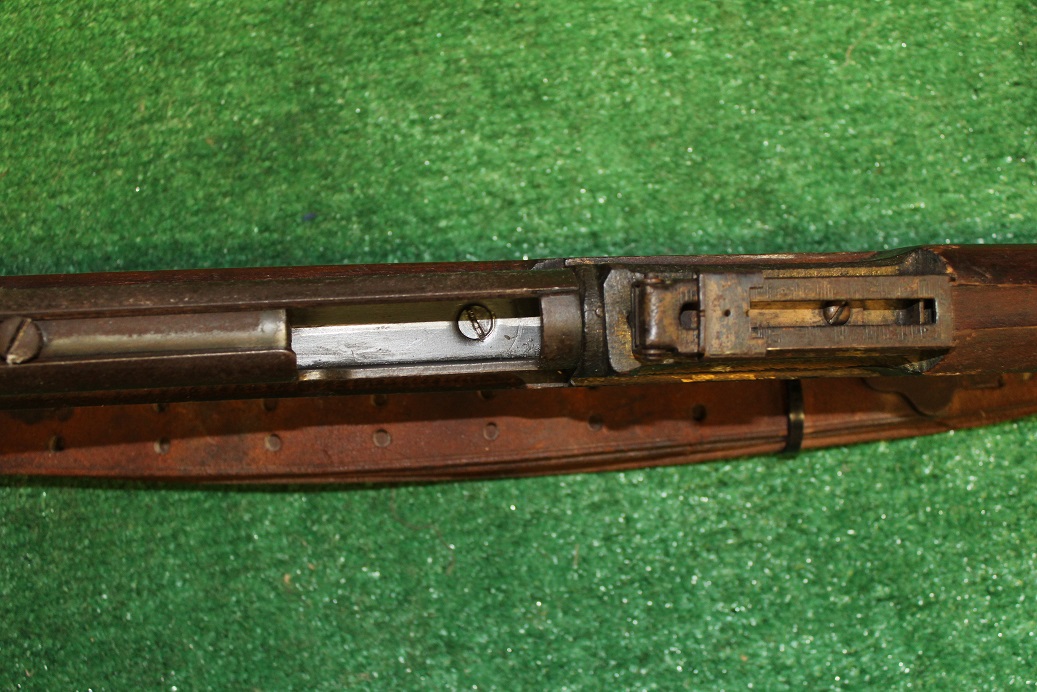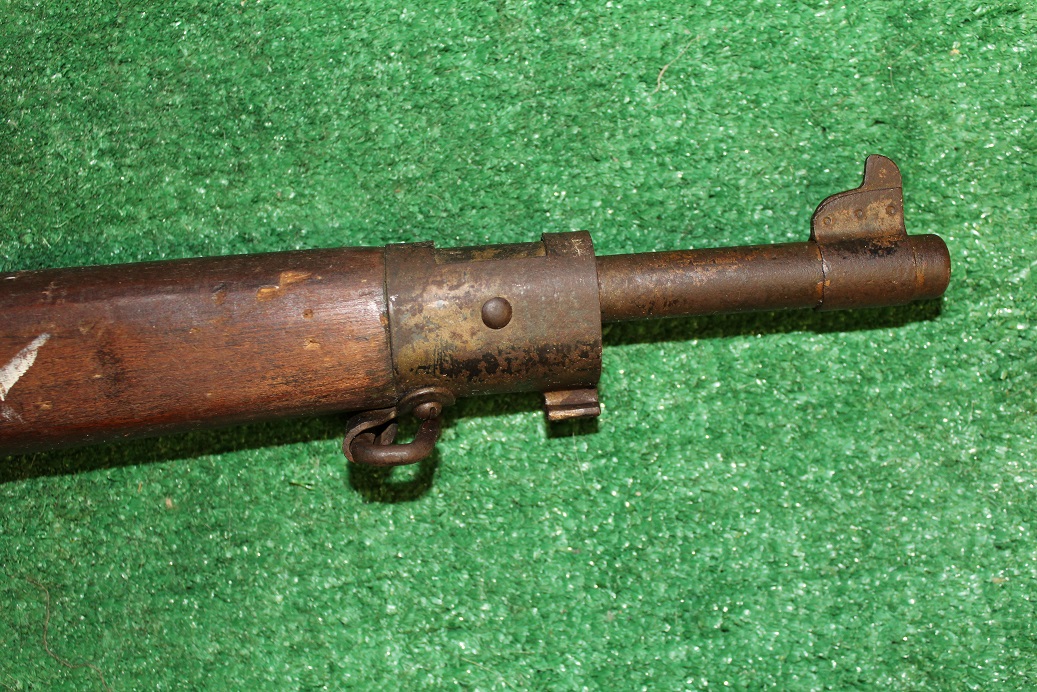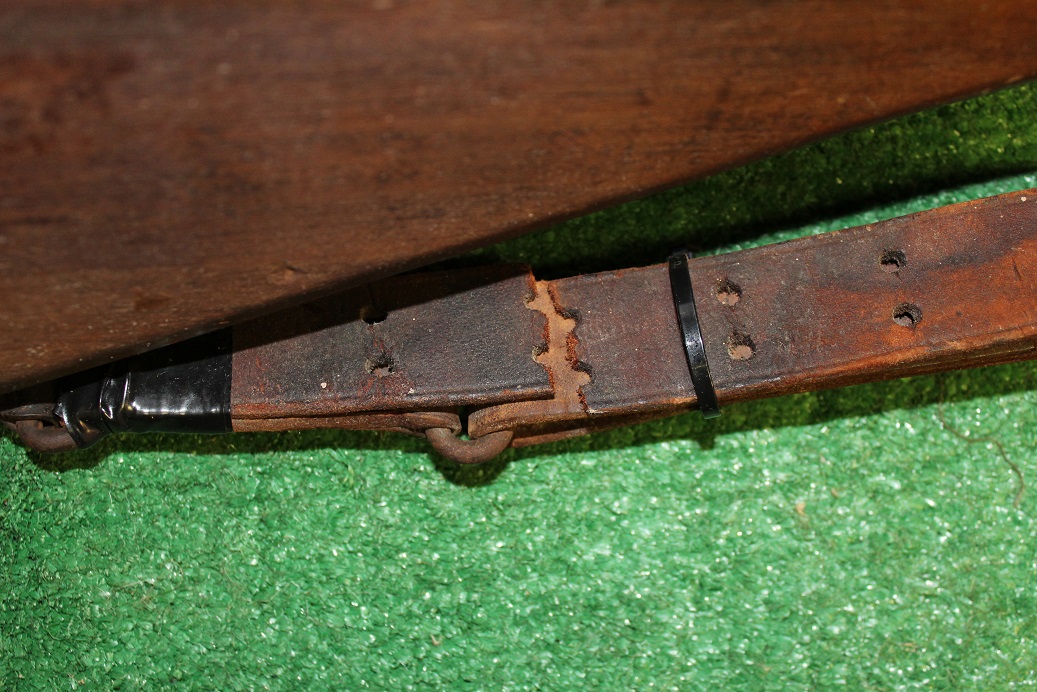 Item No. 146
2. This next one is pretty nice as well but has part of the rear sight broken off and does not have the sling. This one 'fires' as it should as well. The wood is pretty nice with a few gouges from use. There are a couple of cracks in the buttstock but they are stable. The sling swives and stack swivel are present with this one as well as the bayonet lug. This would look great over the fireplace and you don't have to worry about the kids hurting themselves with it. $125.00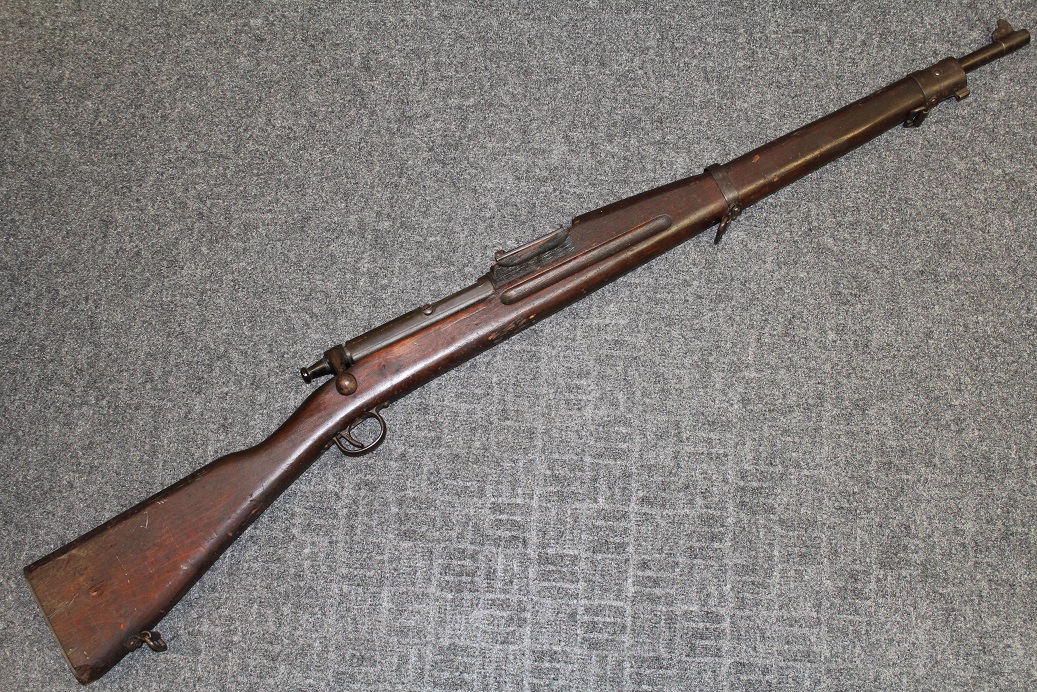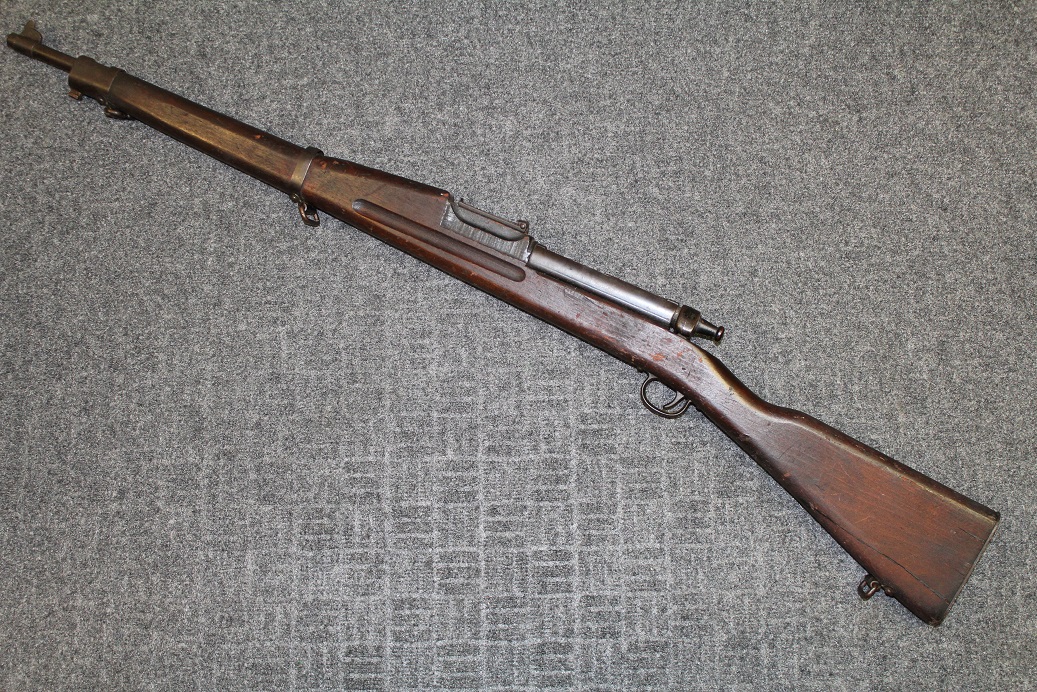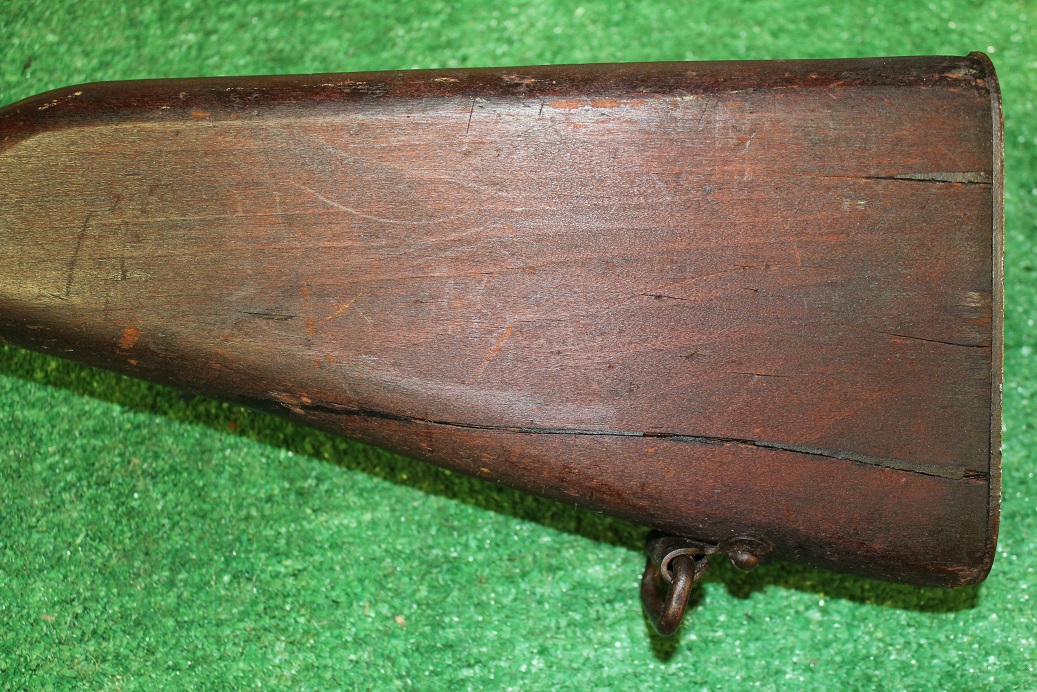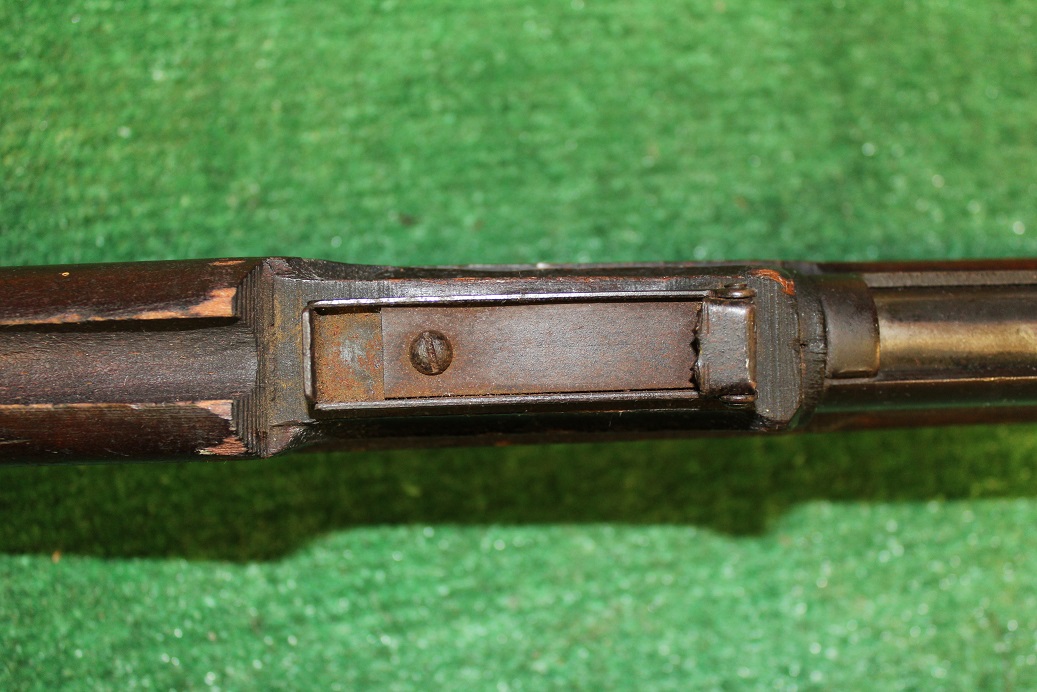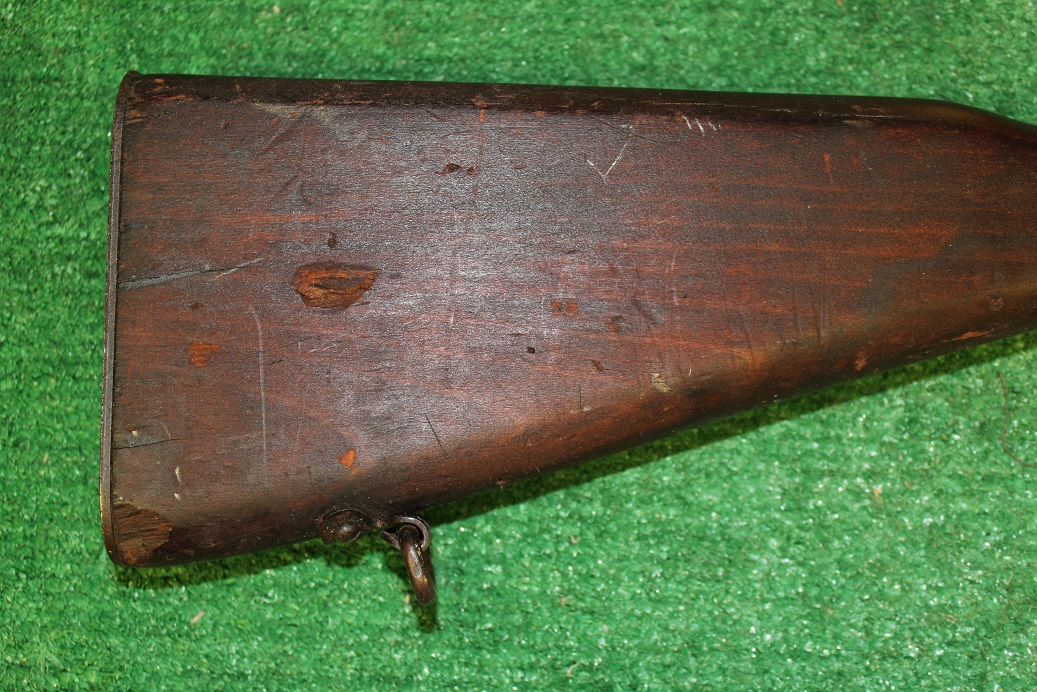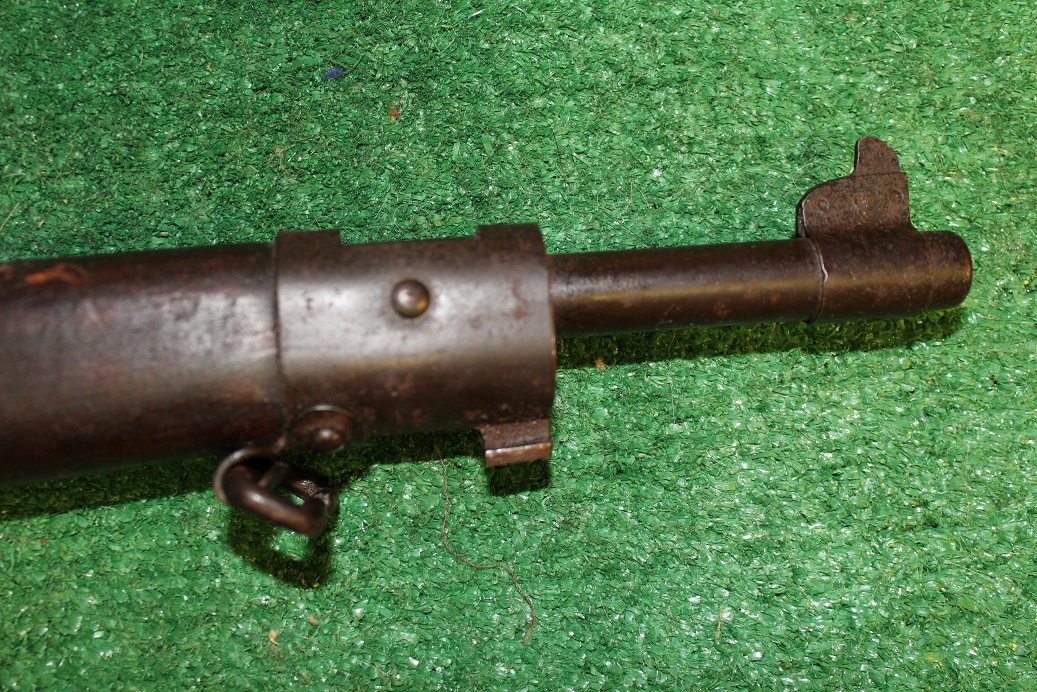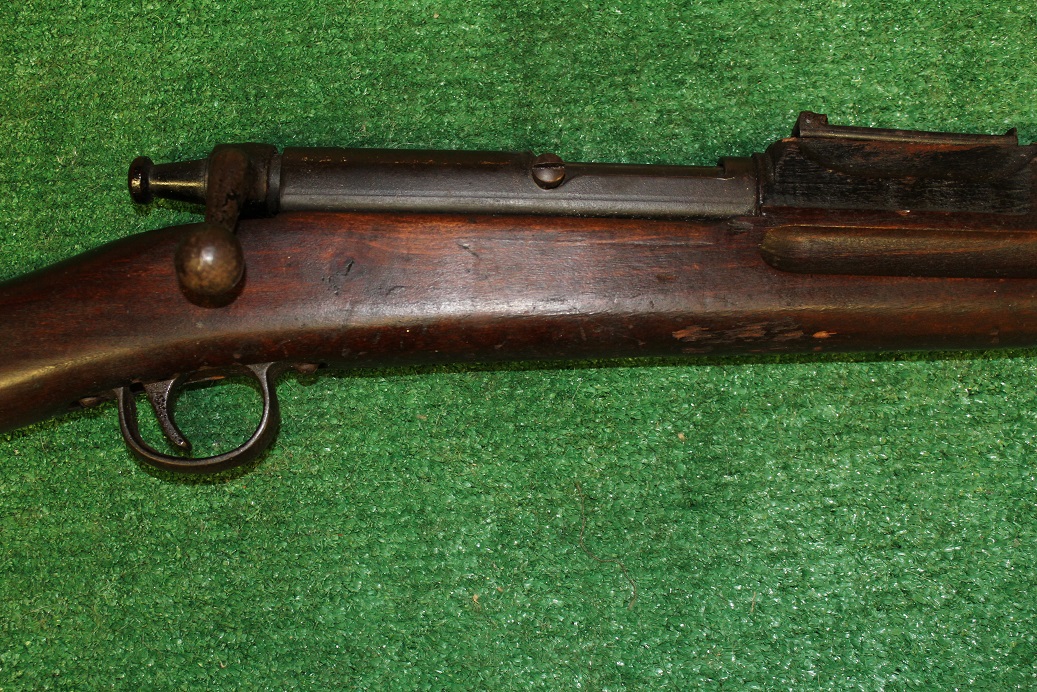 Item No. 147
Item No. 148
Here is a souvenir riding crop that was made for a US serviceman while stationed in Korea. This riding crop is 19 3/4 inches long being a 50 caliber bullet casing on one end and a .30-06 bullet finishing up the other end. These metal pieces have been plated. The .50 cal end is engraved H. Wegerif , 2 BG, 12 CAV being the 2nd Brigade 12th Cavalry.
Here is the history of the 12th Cavalry.
On 2 February 1901, Congress authorized the organization of the Twelfth Regiment of Cavalry, Army of the United States. Under this authority, the regiment was formed at Fort Sam Houston, Texas on 8 February 1901. From 1901 until 1911, the regiment served posts in Texas, Georgia, and the Philippines. During World War II the 12th Cavalry served as an infantry regiment within the 1st Cavalry Division. The regiment was deactivated prior to the 1st Cavalry Division's service in the Korean War, but its lineage was resurrected in with the creation in 1957 of the Combat Arms Regimental System, in which the battalions listed below were created. After Operation Iraqi Freedom II, the 12th Cavalry Regiment underwent a major transition as elements from 2/7CAV, 1/9CAV, and 3/8CAV were reflagged and combined with the regiment to create the battalions currently in service. The 2nd Battalion, Twelfth Cavalry Regiment, as well as 2/7CAV and 1/9CAV moved to the 4th Brigade of the 1st Cavalry Division. 4th "Long Knife" Brigade Combat Team, 1st Cavalry Division cased its colors in an inactivation ceremony Thursday, Oct. 17, 2013, at Fort Hood's Cooper Field. The 1st Battalion, Twelfth Cavalry Regiment, 2/7CAV, and 3/8CAV now operate at Fort Hood, Texas, and are now with the 3rd Brigade Combat Team, 1st Cavalry Division
Since this riding crop has Korea on it in pearl then I have to assume that this serviceman served over there after 1957. We still have a base there. I don't believe that this piece is very new due to the condition. There is a dragon and other decorations on the hardwood shaft that had mother of pearl applied to them but most of that is lacking now. I bet this was really beautiful at one time! There is a hold in the wooden shaft at the end for a wrist laynard. Take a look at the pics! $195.00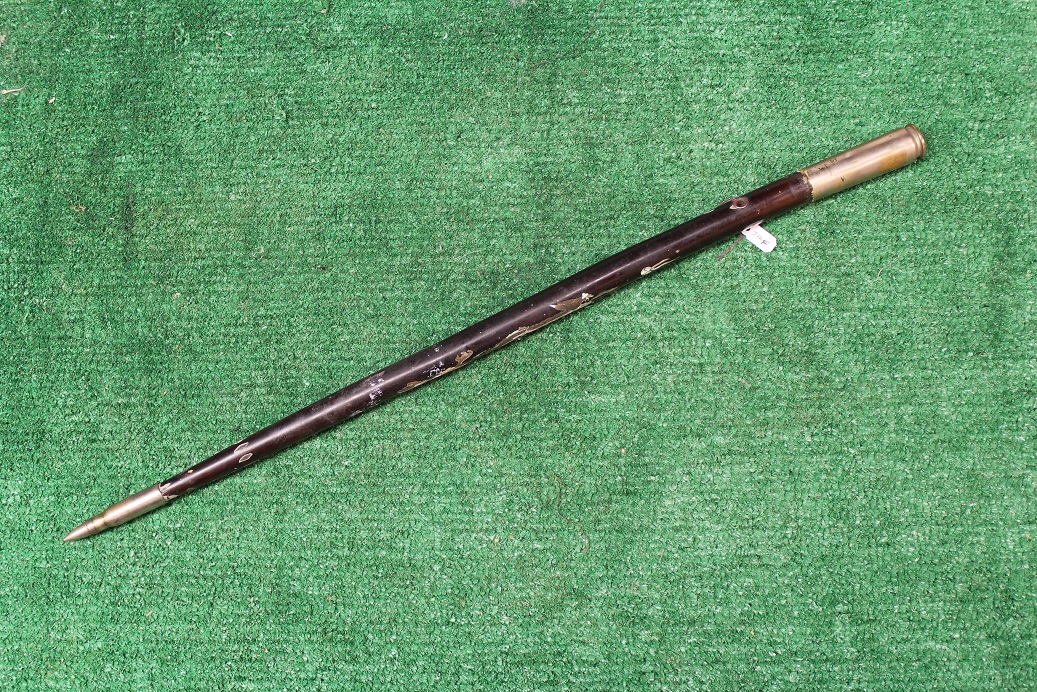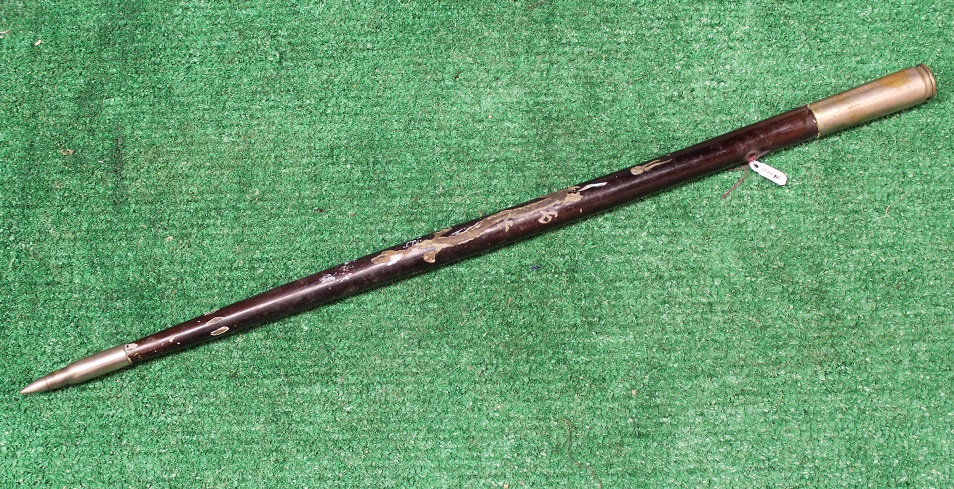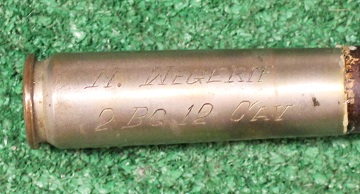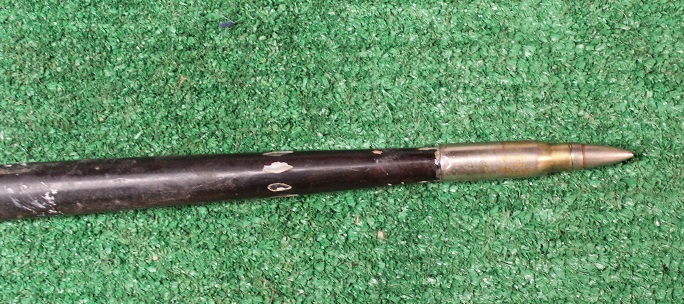 Item No. 149
Here we have an excellent all original WW1 German medal bar grouping! This grouping consists of: 1. WW1 German 1914 Prussian Iron Cross 2nd Class. 2. WW1 German Hindenburg Honor Combatant Cross Medal. 3. Military Merit Cross (Mecklenburg-Schwerin). All the medals are complete with ribbons and still on the original mounting bar with blue felt backing. Very nice! $225.00
Item No. 150
Here is something really rare! This is a short roll and longer roll of WW2 German Cap Eagles with cockades and they are mint! The first section is a short roll of 5 cap patches that are still intact. They are Silver thread on green. They measure about 2 inches tall by 3 inches wide each. For the roll of 5 - $400.00. The longer roll is exactly like the shorter roll except that there are 24 cap patches in this group. A couple of them have minor holes in them and 1 of them has a slightly damaged wing on one of the Eagles. For this group - $1600.00
I will not cut and separate them. I do believe that they are Panzer. See the pic.
Item No. 151
Golden State Arms Corp. was a sizeable gun store located at 386 W. Green Street in Pasadena, California. They did a land-office business in the '50s and '60s importing and selling surplus military firearms; their 1958 catalog lists thousands of firearms, many of them one-of-a-kind items. Golden State Arm's "Santa Fe" division sporterized military rifles--Lee-Enfields, Mausers, and a number of others. This magazine was made for their restored or sporterized original Enfield rifles I have been told. I do not know if this will fit an original WW2 Enfield.
Item No. 152
Item No. 153
Item No. 154
Item No. 155
Item No. 156
Item No. 157
Item No. 158
Item No. 159
Item No. 160
THE REGULAR SKS MAGAZINE ON THE RIGHT IS SOLD!
Item No. 161
Item No. 162
Item No. 163
Here we have two Colt 1911 A1 .45 Magazine 's still in the aluminum paper wrap. One is unopened with the paper issue tag in it. The other one is in the al paper wrap but the bag has been opened and the tag is missing. 1005-00-550-8694 MAGAZINE ASSY Marked P/N 5508694 1 each DAAA09-78-C-5008 A 9/80 (ISSUE DATE SEPT. 1980)
1. These magazines are Very Scarce in the Never Issued condition. Each are 7 Round Capacity. For these $15.00 Each.
2. We also have another in plastic and two more like it out of plastic and in the white. NO markings. Each $12.00
3. Here we have 3 original Colt .45 7 round magazines. There are 2 that are parkerized and 1 that is blue. For each $14.00
Check out the pics!
4. We have two more .45 -7 round magazines in the white. Look unused. They will fit the Colt Govt. .45 Semi-Automatic pistol. $14.00
Item No. 164
Here we have parts for the WW2 Thompson M1 and M1A1 Sub Machine Gun. There 1 firing pin spring, 2 recoil springs and plate, 1 firing pin type 2 for the 1927A and 5 other firing pins (type 1?) as well as a real nice walnut forearm and the rear sight are for one. The forearm looks unusued as does the rear sight. There is one broken firing pin that I did not include with the count. For all of these parts $195.00
CONSIGNMENT
Item No. 165
Here we have a vintage box of .45 ammo. This is '20 CARBINE BALL CARTRIDGES, RELOADING CALIBER .45, THE UNION METALLIC CARTRIDGE CO.' The box has been open but all 20 unfire cartridges are there. This is in nice condition! $250.00
CONSIGNMENT
Item No. 166
Here we have a vintage box for ammo. It is Finnish 7.62x54r 15-round ammo box, empty except for 7 spent rounds.
It is marked (from top to bottom):
AV11
A 0247- Vajalaatu- 15 kpl.- 7,62 kiv. patr.- Ilman siteittä.- Luoti: D- Hylsy: Rautainen- Alkuperil: Venäläinen -13.7 44 (which I believe means July 13, 1944)- Tarkastettu:. The box is in good condition except for one inner flap that is torn off but still there. For the box and spent shells $10.00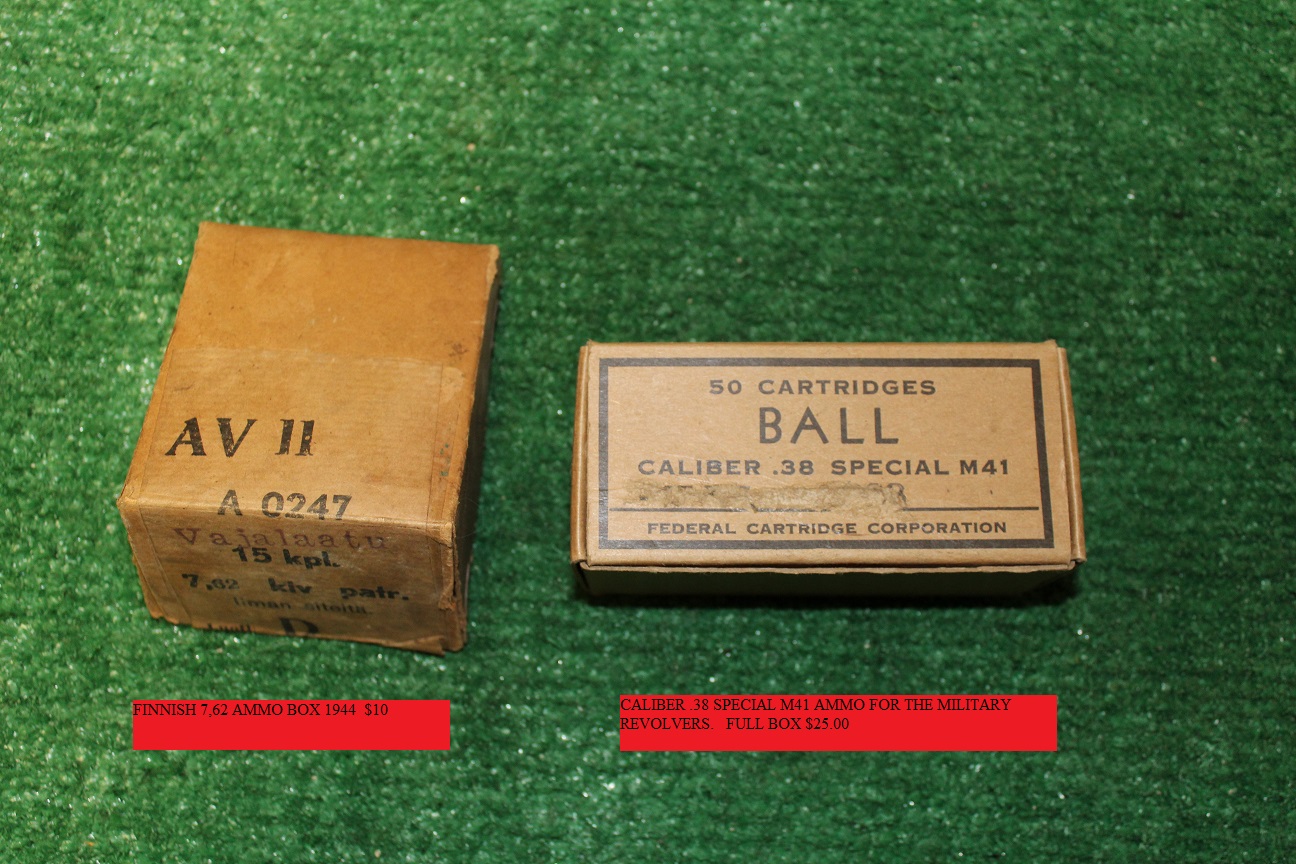 This is a box (50 rounds per box) of USGI (Federal Cartridge Corporation) Caliber .38 Special M41 BALL full metal jacket ammunition. The lot number has been scratched off this box for some reason, otherwise the box and ammo are in fine condition. This may be high pressure ammo so caution is advised. For the military .38 caliber revolvers. $25.00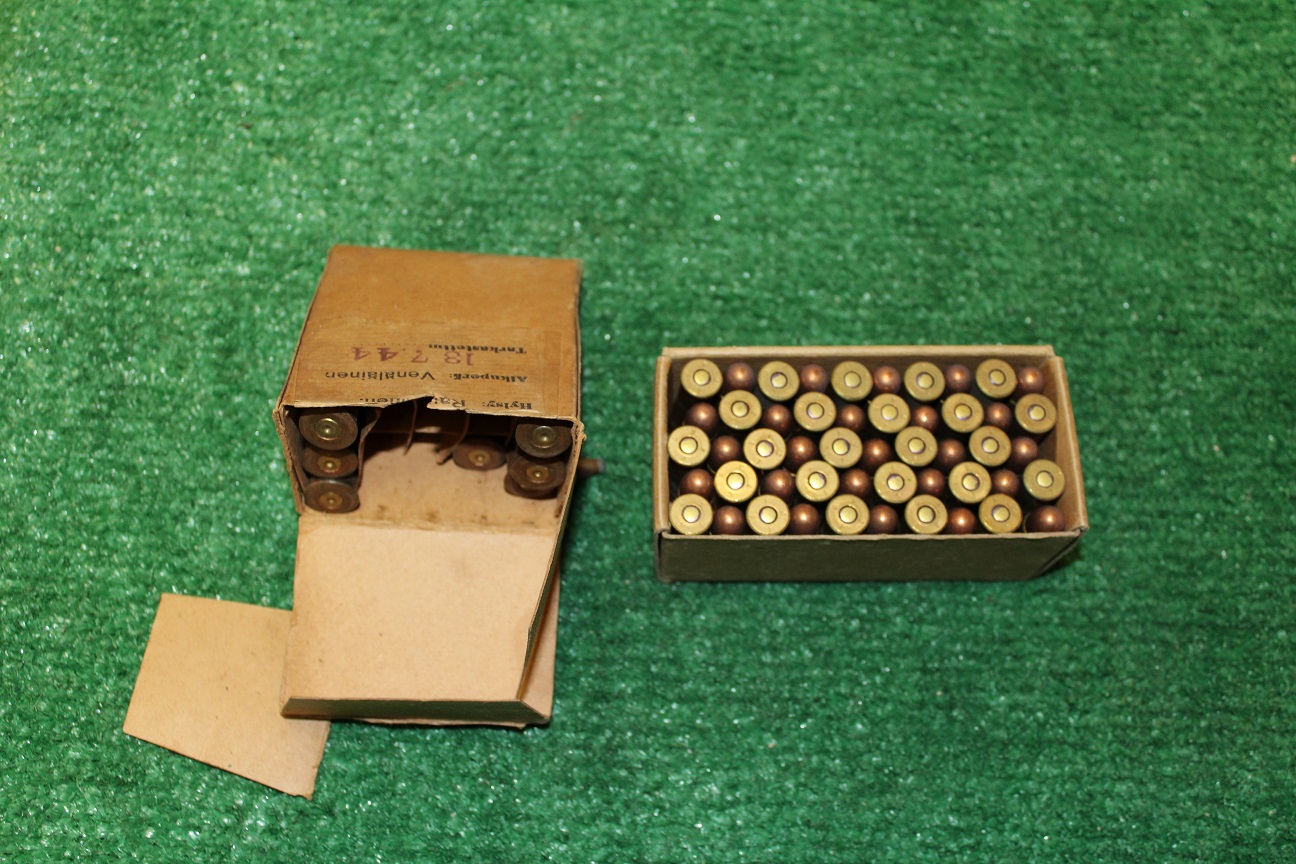 CONSIGNMENT
Item No. 167
Here we have two bag lots. The one on the left is 60 rounds of 7.62X39 for the SKS rifle for $20 and the other bag on the right is for 78 rounds of .30 caliber ammo for the M1 Carbine for "SOLD"!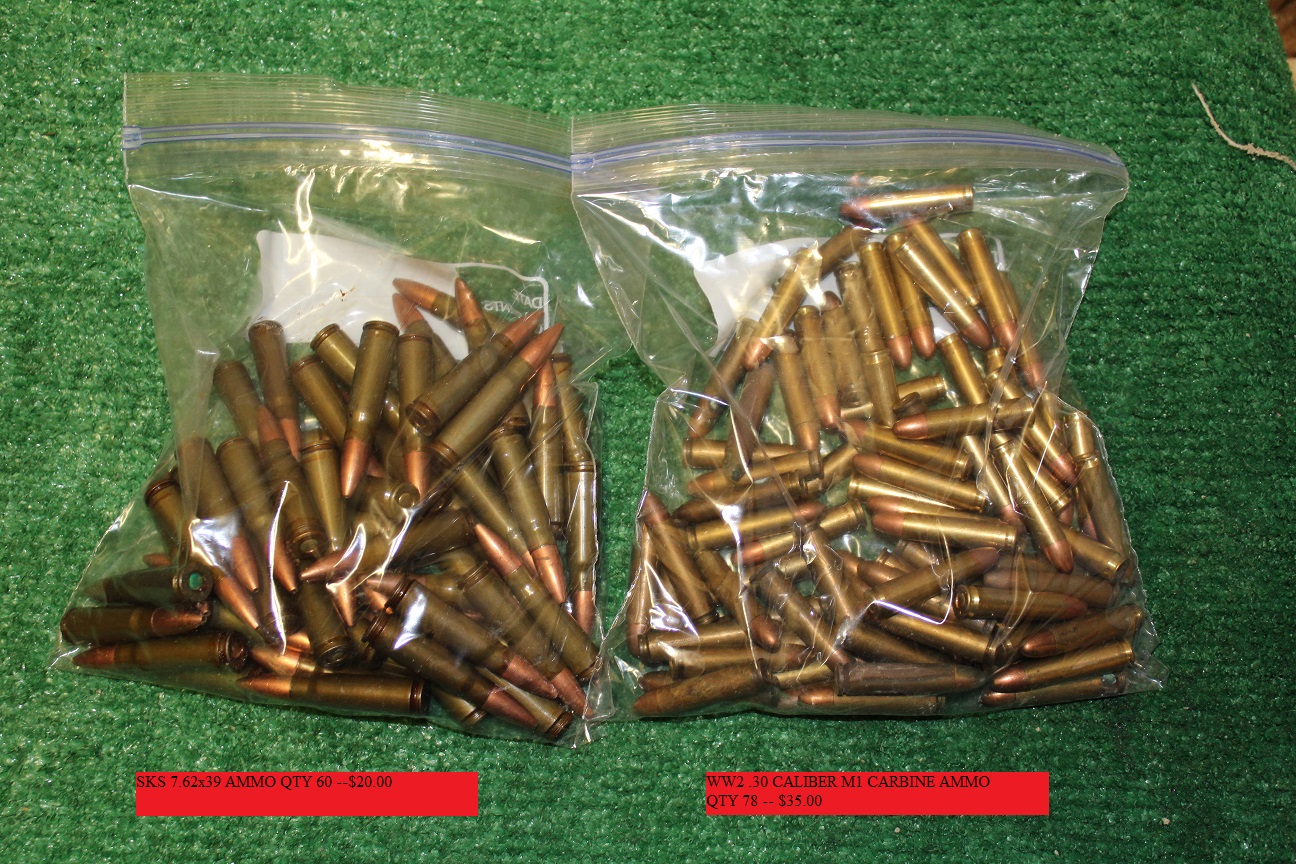 CONSIGNMENT
Item No. 168
CONSIGNMENT
Item No. 169
Original WW1 Dated Swiss Army Blanket. Excellent!
CONSIGNMENT
Item No. 170
CONSIGNMENT
Item No. 171
Item No. 172
CONSIGNMENT
Item No. 173
WW2 Grouping!
This is a grouping mostly of photographs but patches as well belonging to Clarence Ray Frye who was a member of the 48th Tank Battalion 14th Armor Division. The 14th Armored Division was constituted and added to the roll of the US Army on 28 August 1942; it was activated on 15 November in a ceremony at Camp Chaffee, Arkansas. It was organized initially as a heavy division with two armored regiments (the 47th and 48th) and one armored infantry regiment, the 62nd Infantry Regiment. It was reorganized from a heavy division to a light division on 20 September 1943. The reorganization saw the loss of two tank battalions from the Armored regiments, one battalion each. The 1st Battalion of the 47th Armor was redesignated as the 786th Tank Battalion and the 3rd Battalion of the 48th Armor was redesignated as the 716th Tank Battlion.
The division departed Camp Chaffee in November to participate in the 2nd Army maneuvers in Tennessee from 17 November 1943 until 10 January 1944. At the conclusion of the exercise, the division was assigned to Camp Campbell, Kentucky. The division remained at Camp Campbell until late September when it was alerted for movement to the ETO (European Theater of Operations) via Camp Shanks, New York where it went for final processing. Units departed Camp Campbell on 1 October and completed their arrival at Camp Shanks on the 6th of that month. After completing their processing, the division boarded four transport ships for deployment on 13 October 1944.
Active 1942–45 Country United States Branch US Army Type Armored division (light) Nickname "Liberators" (special designation) Engagements World War 2 S. France (part of division) Rhineland, Ardennes/Alsace Operation Nordwind Central Europe Decorations Presidential Unit Citation (2)
This unit participated in heavy fighting in Europe/Germany during WW2. "Liberators" is the official nickname of the US 14th Armored Division. The division became known by its nickname during the last days of World War II when it liberated some 200,000 Allied prisoners of war from German prison camps. Among those liberated were approximately 20,000 American soldiers, sailors and airmen, as well as an estimated 40,000 troops from Great Britain and the Commonwealth.
During the divisions' advance into southern Germany, on 2 and 3 May, the 14th liberated several sub-camps of the Dachau concentration camp. Upon entering the towns of Mühldorf and Ampfing, units of the division discovered three large forced labor camps containing thousands of Polish and Soviet civilians. Units also liberated two additional camps nearby holding Jewish prisoners.
The 14th Armored Division was inactivated on 16 September 1945 at Camp Patrick Henry, Virginia.
The photos below were taken in the Field of operations . One of these photos is id'd on the back as 'TAKEN AT BURCHESGUARDEN HITLERS HOME'. Most don't have anything written on them and many were removed from an Album as witnessed by the black paper stuck to the back of the. Clarence has his name on several so you can definitely tell which one he is. Some of the larger pics were taken at Camp Chaffee, Arkansas. I would say that most of the photos are taken in France and Germany. One photo is labeled ERDING. Erding is a town in Barvaria, Germany. There are tanks, jeeps, a duck, trucks, bombed out buildings, many soldiers and even one pic of a GI standing with two bare chested native women. That pic was probably traded for since he was not in the South Pacific. There are pics of trains and at least one poor little skinny dog. There are several negatives of some of these pics. There are also several yardlongs including:
1. pic no. 14- 48th TANK BN. CAMP CAMPBELL KY JULY 44
2. pic no. 8- CO 'C' 48TH TANK BN. CAMP CAMPBELL KY JULY 44
&
3. There is one from Co 'F' at Camp Chaffee. Several Id's on the back.
4. Here is another one from Co 'F' 48th Armd. Regt. 14th AD at Camp Chaffee from 1943.
A copy (fascilimie) of the Surrender Document.
A coloized copy of BG Albert C. Smith Commander of the 14th AD questioning a solder who is escourting prisoners in 1945.
There are several patches. Some of these belonged to Clarence but I think that he also traded for some with his buddies like he did for that Native girl photo.
Also included with this grouping is an original box for a BRONZE STAR MEDAL without the medal. Clarence's daughter said that her Dad had one but now missing. In the box is his Good Conduct Medal with bar and small button bar. Also in the box is his Bronze star ribbon and small button bar. Lastly is a Europe-Africa-Middle East WW2 medal bar with two battle stars on it. You'll have hours of fun trying to figure out where these pics were taken! For the entire grouping $475.00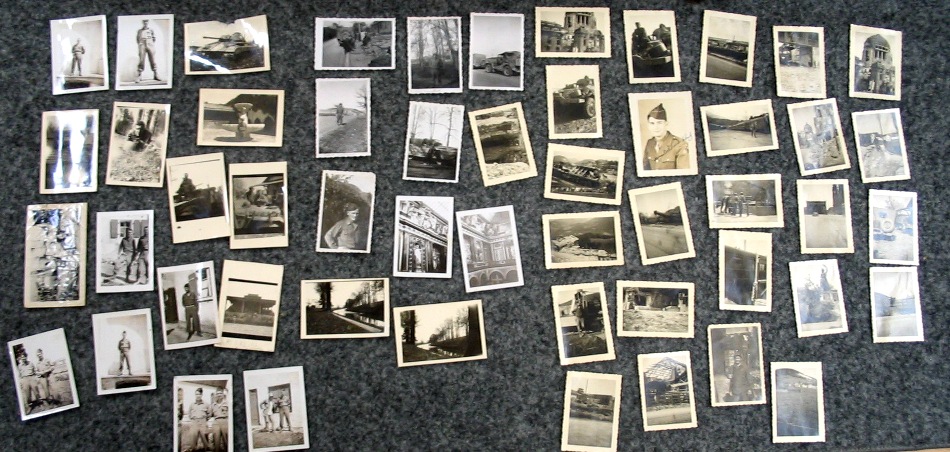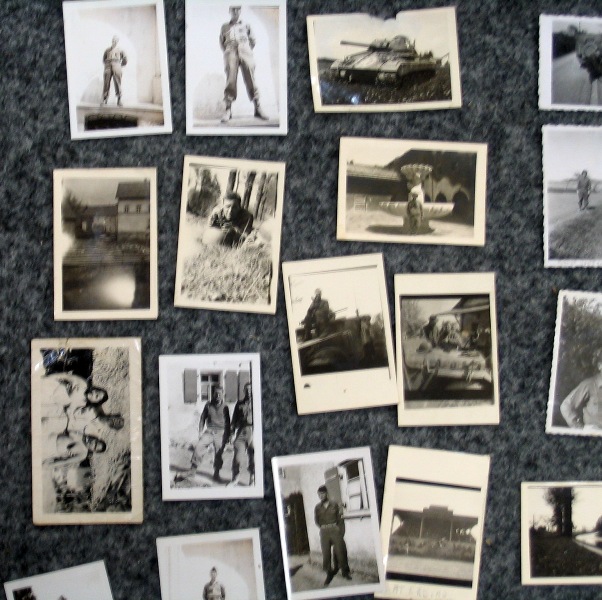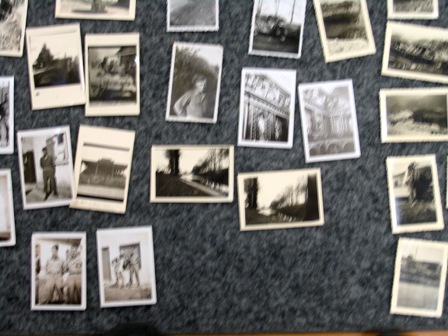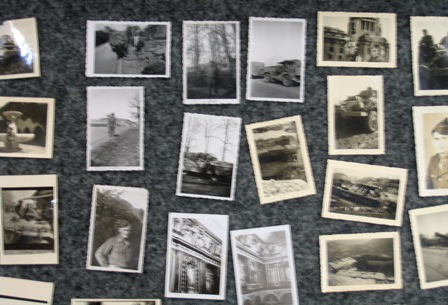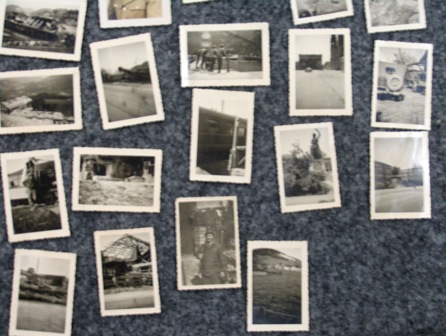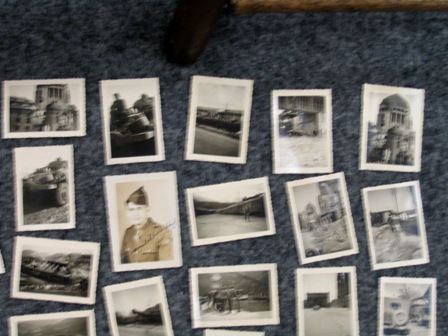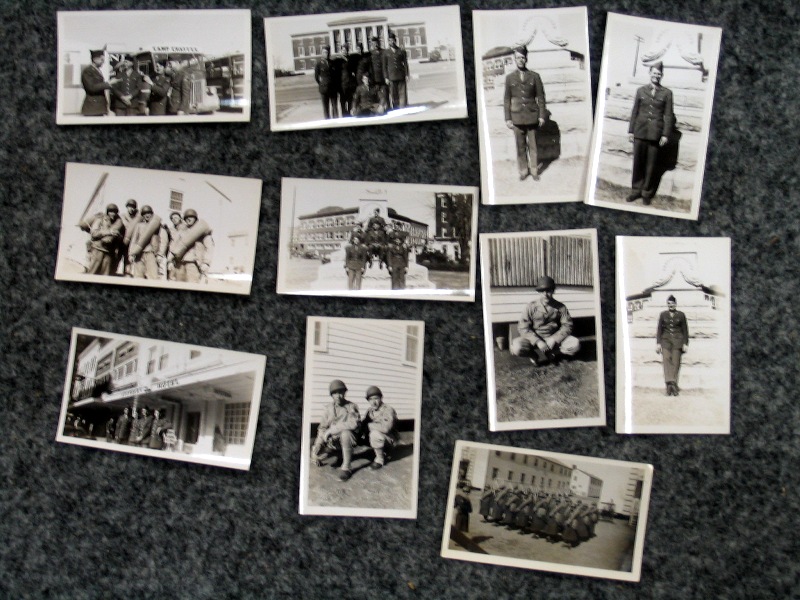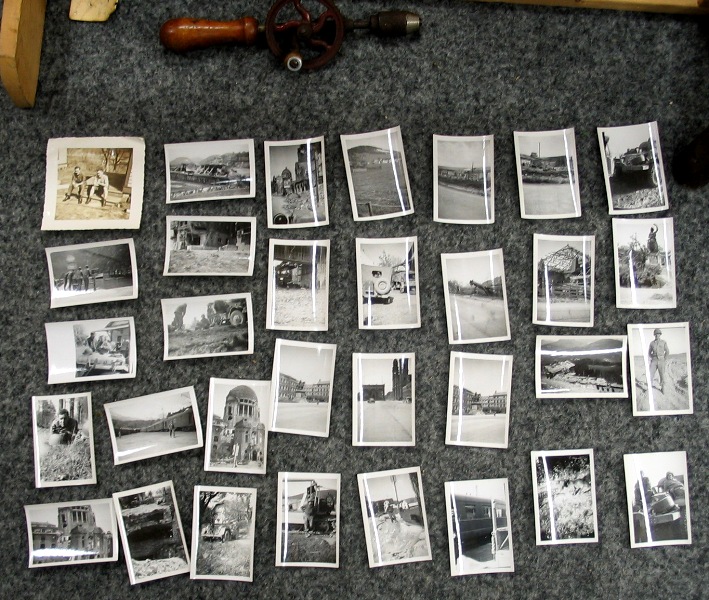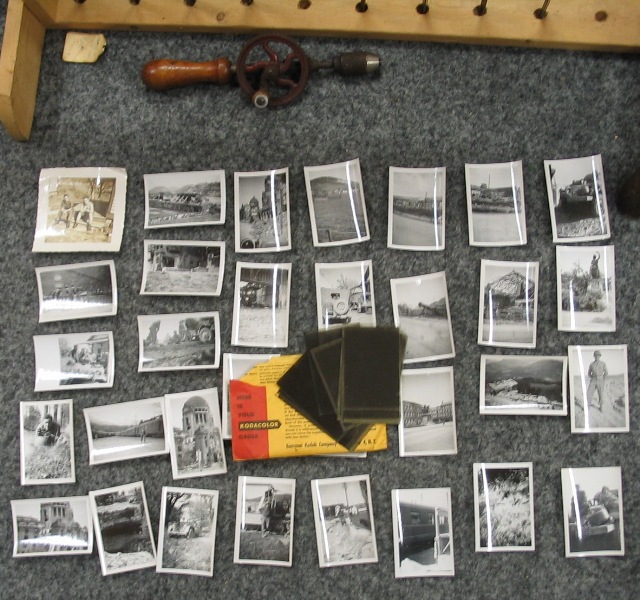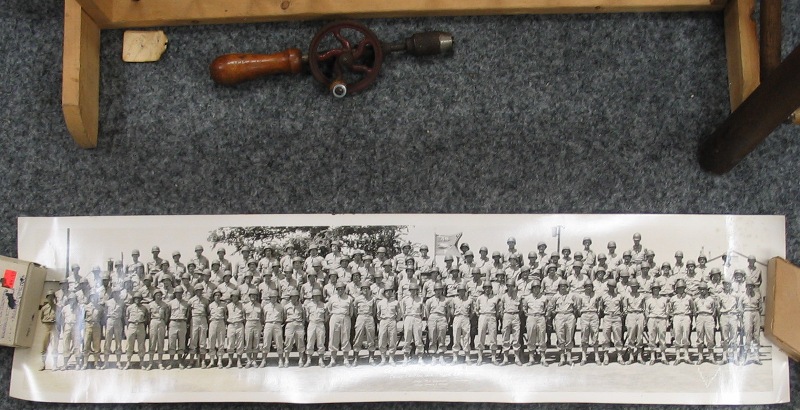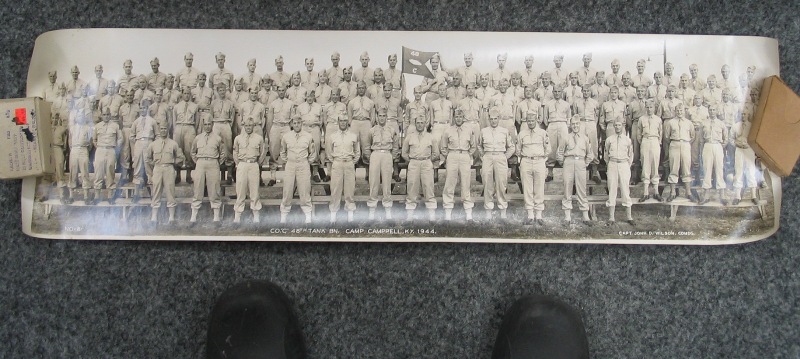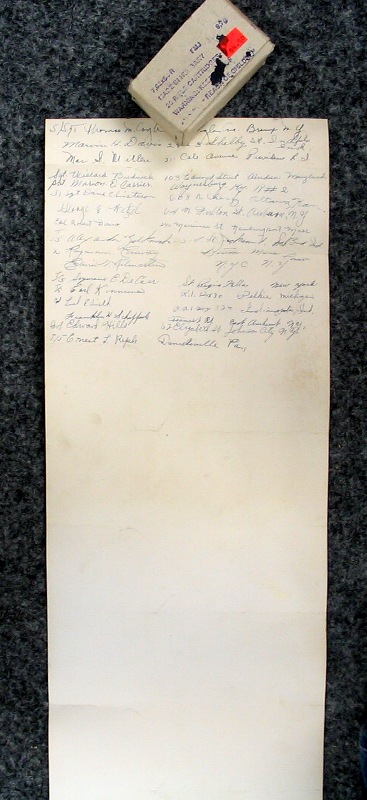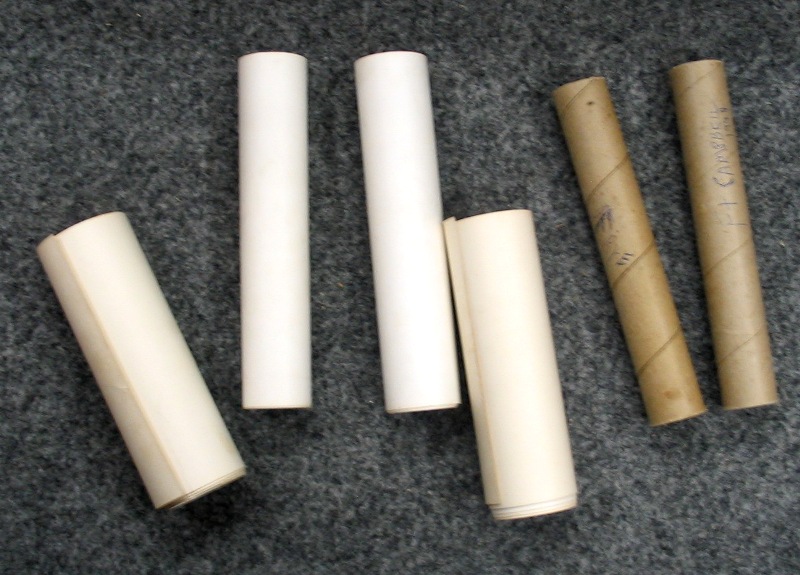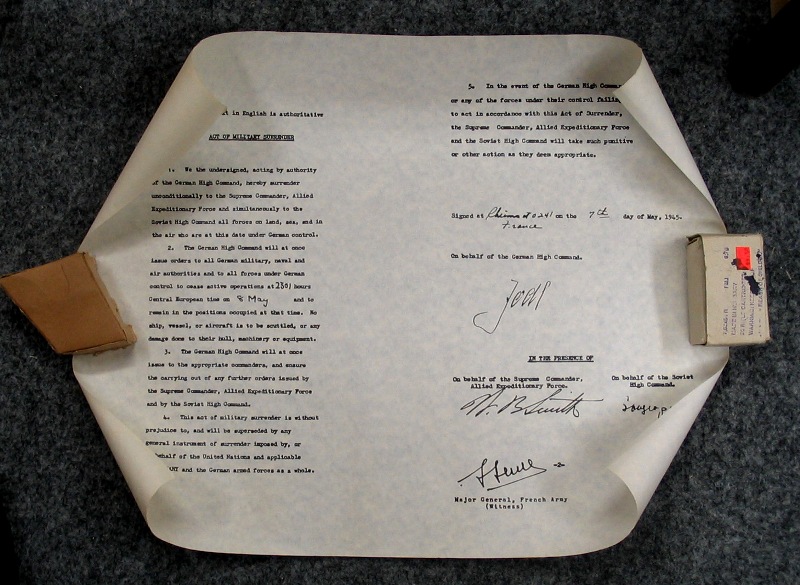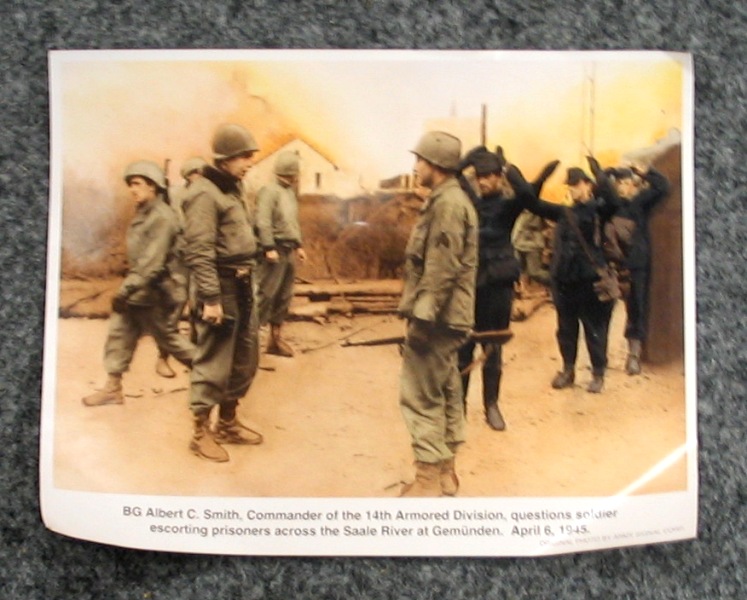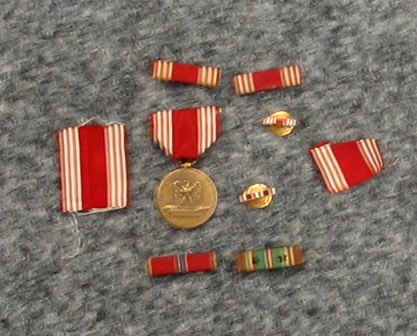 Item No. 174
Here is a small British Flag that I found among some WW1 small personal flags. The British had a different flag for everthing and for every colony they ever controlled so I don't know who this flag represents. It's made of silk and in pretty good condition with a few minor moth nips and a splint under the British Jack. This piece should be framed. For this piece $35.00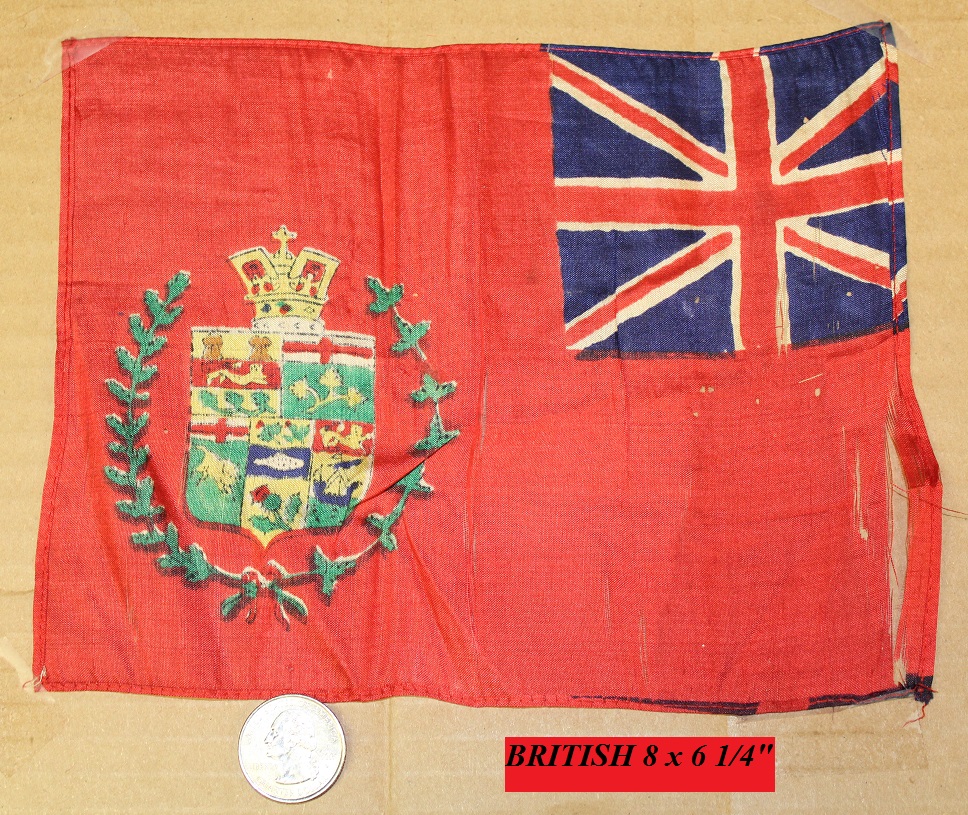 Item No. 175
Here is a , I think, silk handkerchief that was a Souvenir De France WWI. It's about 12 inches square ahd as a WW1 British Biplane enbroderied on it as well as the american Eagle over shield. Also comes with a small piece of lace. For the pair $25.00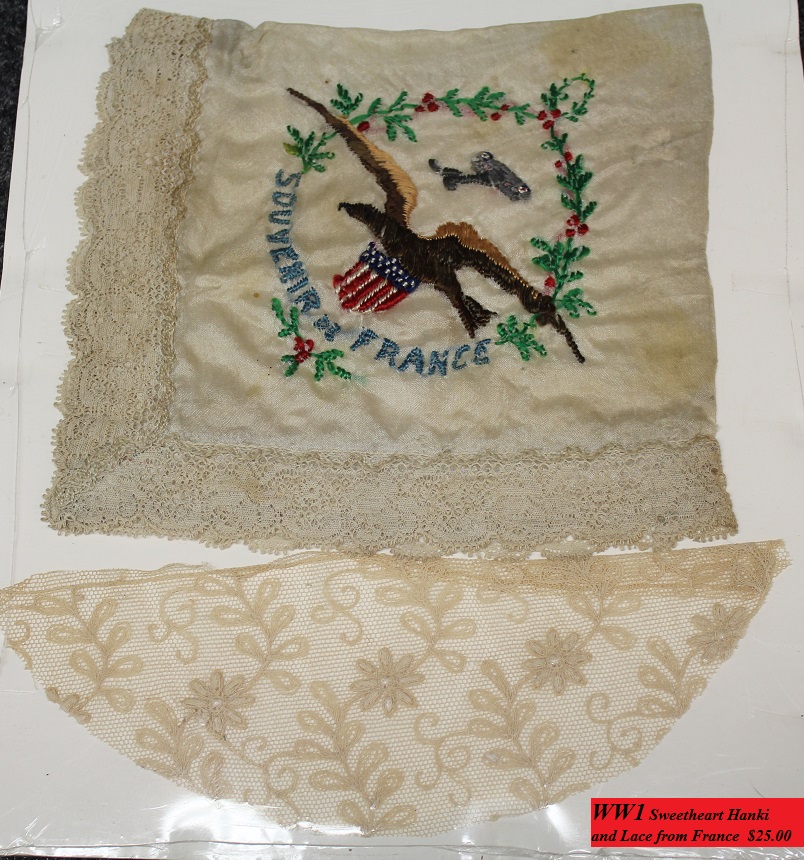 Item No. 176
Here we have what I think is a WW1 Service Flag. But it could be WW2 as well. I am just used to seeing the phrase 'OVER THERE' on WW1 items. The "Sons in Service" flag was used during World War I and World War II. Each family was entitled to hang a small Son In Service flag in their window, the blue star in the center of the red-bordered white rectangle signified a family member in active service. The star was replaced (or covered) with a gold star (in practice, yellow or dark yellow) if the family member died in action. (Hence the name of the organization "Gold Star Mothers" of women who had lost sons in the war.) There were other variations to the star for missing in action, injured, captured, etc, etc, but flags of that sort are rarely, if ever, seen.
Sons in Service flags made and used by families usually were no larger than about one foot long. They were always hung vertically, a stick being sewn into the top heading of the flag and a piece of string attached to both ends of the stick - the string suspended at its midpoint from a hook or some other feature of a front window of the home.
If a family had a husband and a son, or multiple family members in the service of their country, then additional blue stars were set into the white rectangle. Organizations and corporations extended this practice to fly flags incorporating stars for each of their members/employees who were off to war and, of course, would change/overlay the blue stars with gold ones when the news came back that one of theirs had died in action. These larger flags (I have one with some 50 stars in a circle, a quarter of them in gold, measuring about 8 feet long overall) were sometimes flown outside on a pole, but most often were suspended from the ceiling of the factory / meeting hall indoors.
This one is still in good condition with some of the original wool star material missing. This flag is made of silk I believe. Take a look at the pics! $35.00 for this one.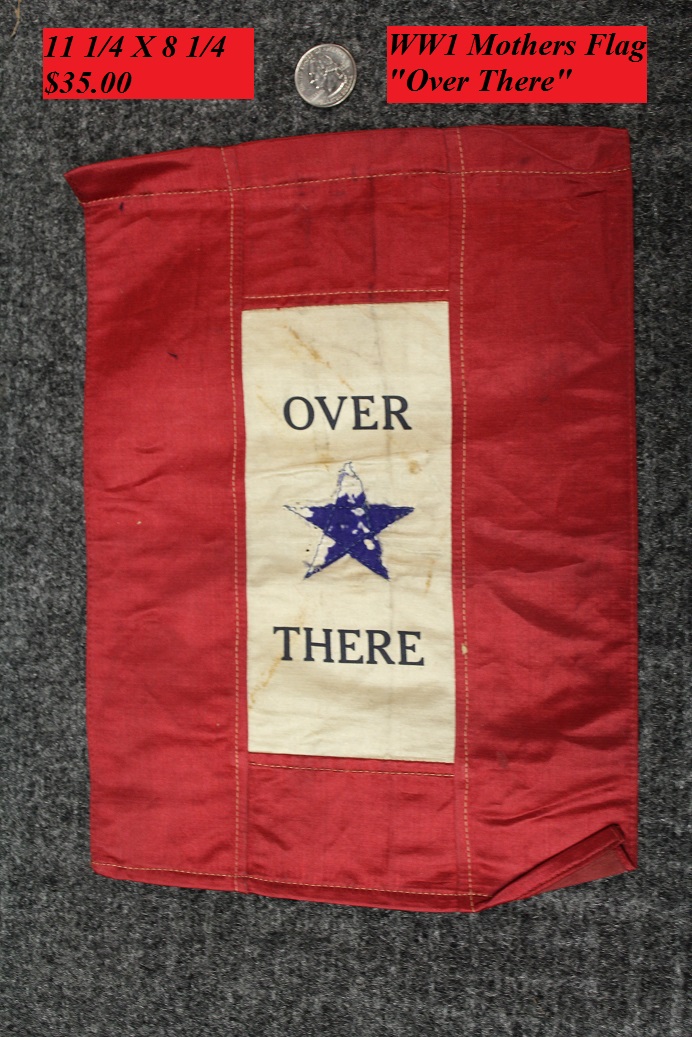 Item No. 177
This next service flag is much larger and made from thin silk. There are splits at the folds but still worth putting in a frame. Check out the pics.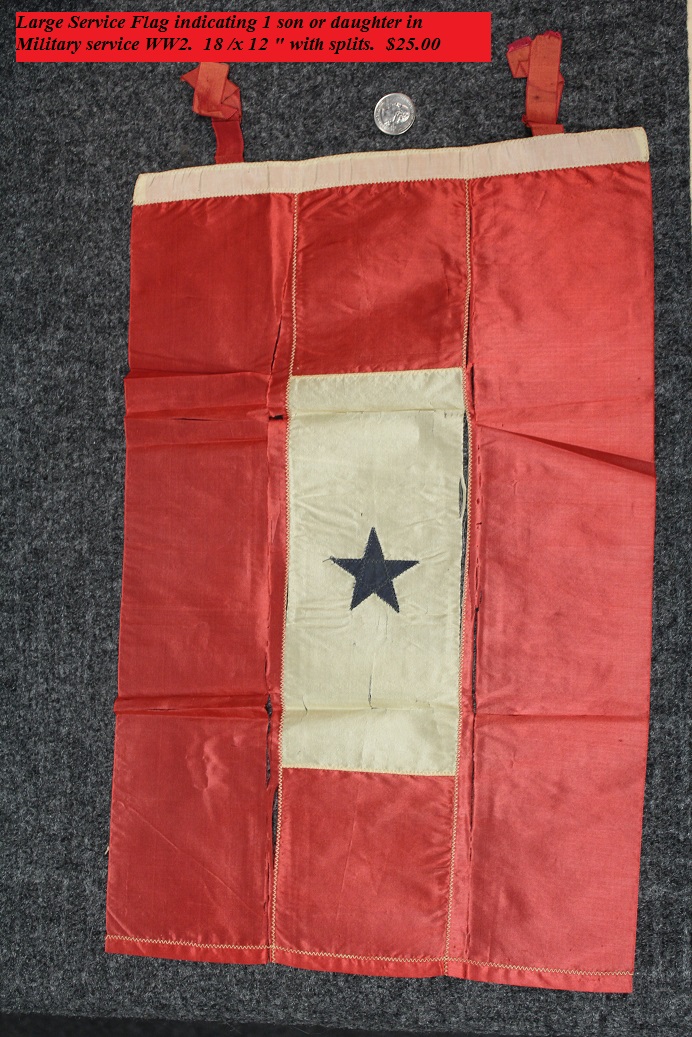 Item No. 178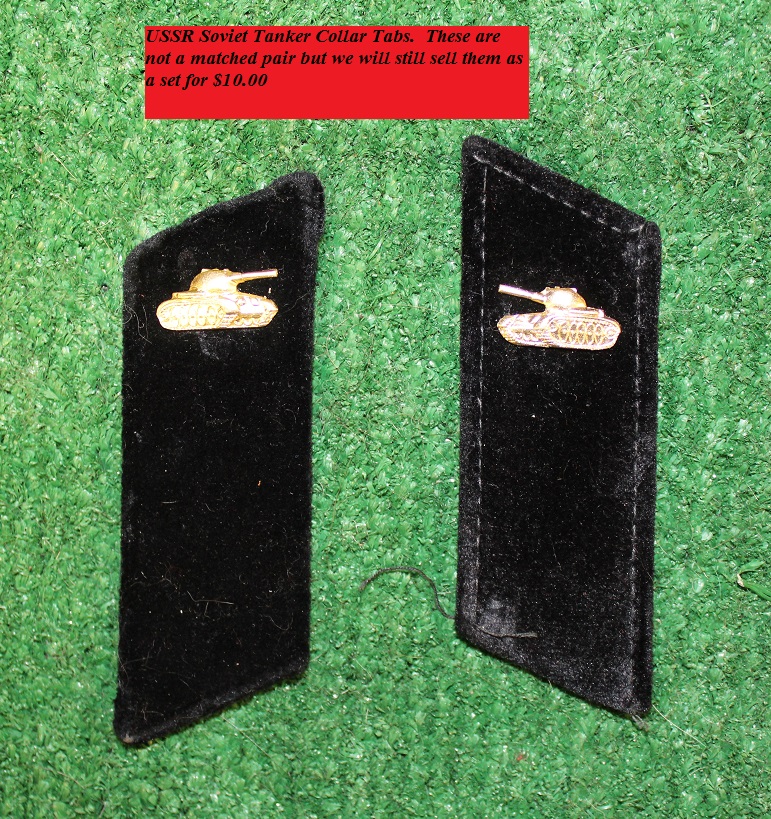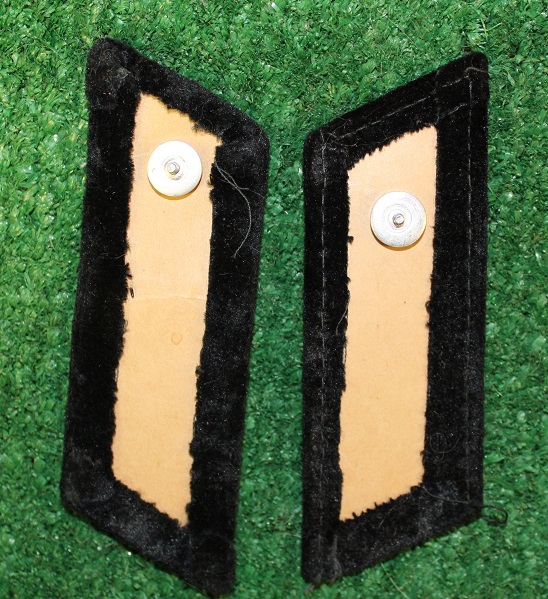 Item No. 179
SOLD
Item No. 180