***NOTE:*** WE WILL ACCEPT VISA & MASTERCARD WITH A 3% SURCHARGE. PAYPAL IS ACCEPTED ON NON FIREARM ITEMS. Thanks!!!
Remember 911 and God Bless !!!
THANKS!
NOTICE: ALL FIREARMS MADE AFTER 1898 AND CHAMBERING MODERN AMMO CAN BE PURCHASED BY ANYONE WHO CAN PASS THE FBI CHECK BUT MUST BE SENT TO A LICENSED FIREARMS DEALER or Curio and Relics license holder if it applies.
Consignment Modern Guns 54
Here are several sights and paperwork that we are offering. There are two front dovetail sights and two receiver rear sights for Winchester Lever Action Model 95, 30 U.S.A., .303 British .35 and .30 Gov't Calibers. These rear sights have the elevators but one is short and the other is long. There is also a small Marble's Safety Pocket Axe as well as Ideal Hunting Knife and woodcraft Hunting knife on one side and Waterproof match box, Pocket Compass, Coat Compass, Jointed Rifle Rods and Flexible rear sight ads on the other side and a Lyman Patent receiver sights nos. 21 and 38 instructions. Also included in the original Lyman Sights box is two wire cleaners for .22 caliber. These sights are new old stock. All for $175.00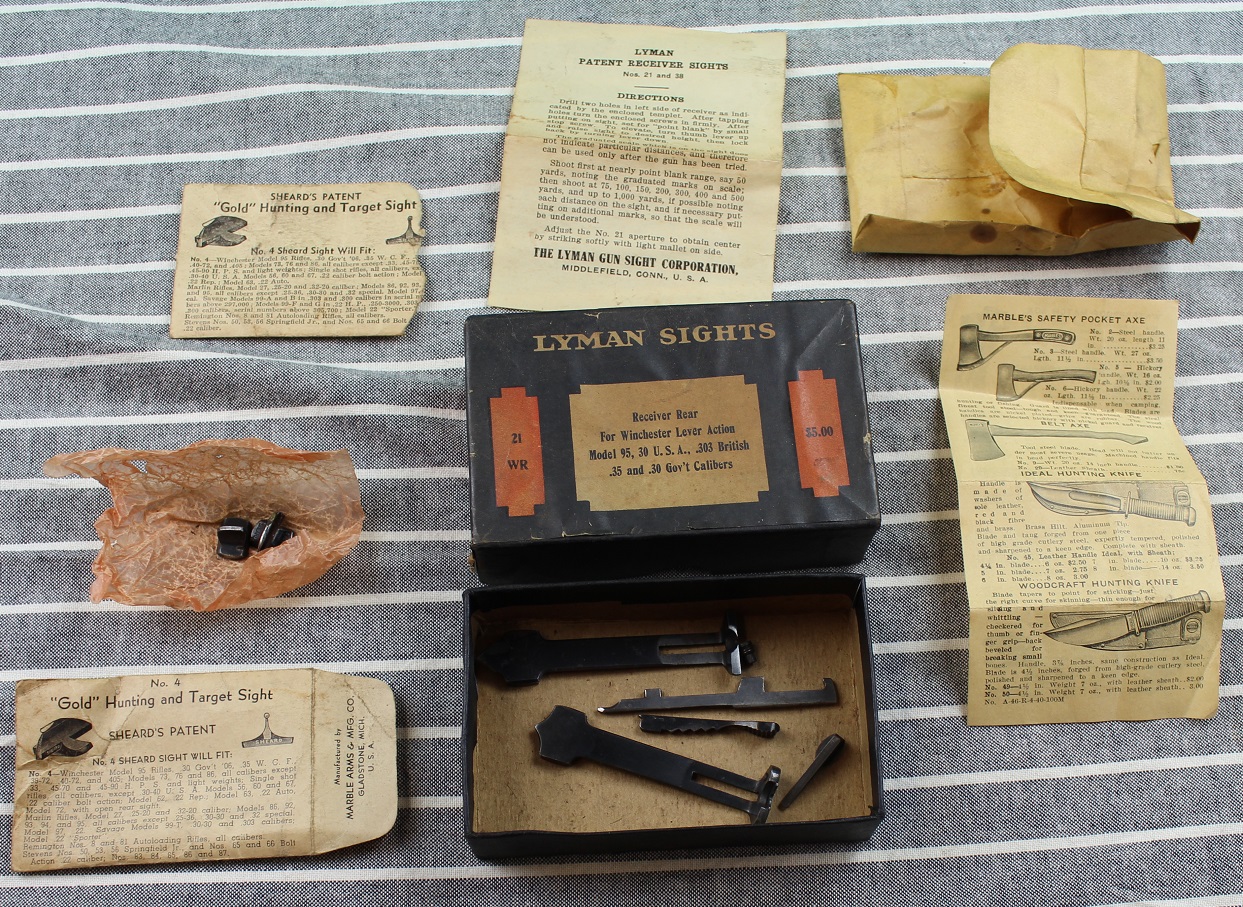 Consignment Modern Guns 53
Here we have a set of grips for a Harrington & Richardson Revolver along with a main spring, trigger and hammer. As soon as I find exactly the model of the H&R revolver I'll post it. If you know let me know! For these items $45.00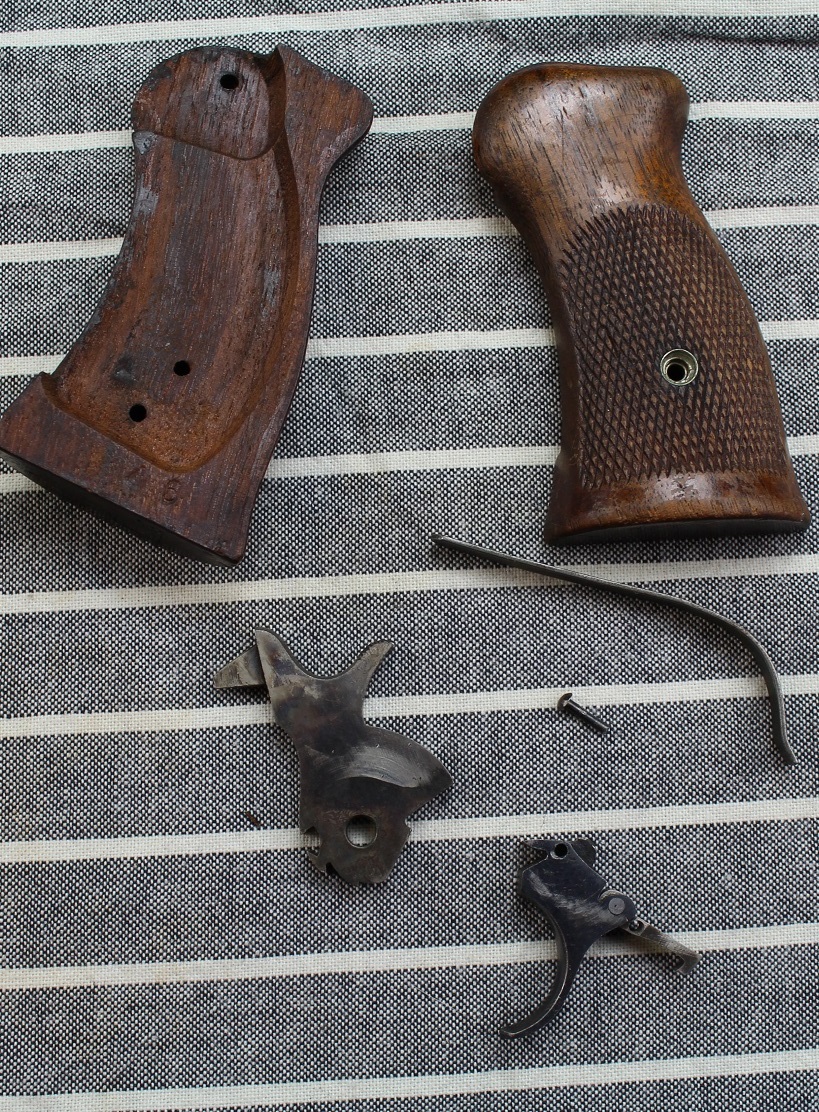 Consignment Modern Guns 52
Here we have several parts guns that consist of Harrington and Richardson Top Breaks and solid frames, Hopkins and Allen top break, Iver Johnsons, The American and so forth. Let me know if you need anything and perhaps we can find it. Prices per piece upon request or price for entire lot.
Modern Guns 50 consignment
Here we have a receiver and receiver cover. The receiver is for a vintage J. Stevens Arms & Tool Company 12 gauge single barrel shotgun. It's in pretty good condition but is missing the firing pin and is in the white. For this old piece $25.00
This next piece is a receiver cover for a Remington Nylon 66 and is classified by the BTAF&E as a receiver even though it is a cover to a receiver so it has to be transferred. It's in good condition but does have rust frosting to it and will need to be refinished. A plus to this one is that the rear sight is still attached and is sometimes hard to get. For this piece $65.00 Take a look at the pics!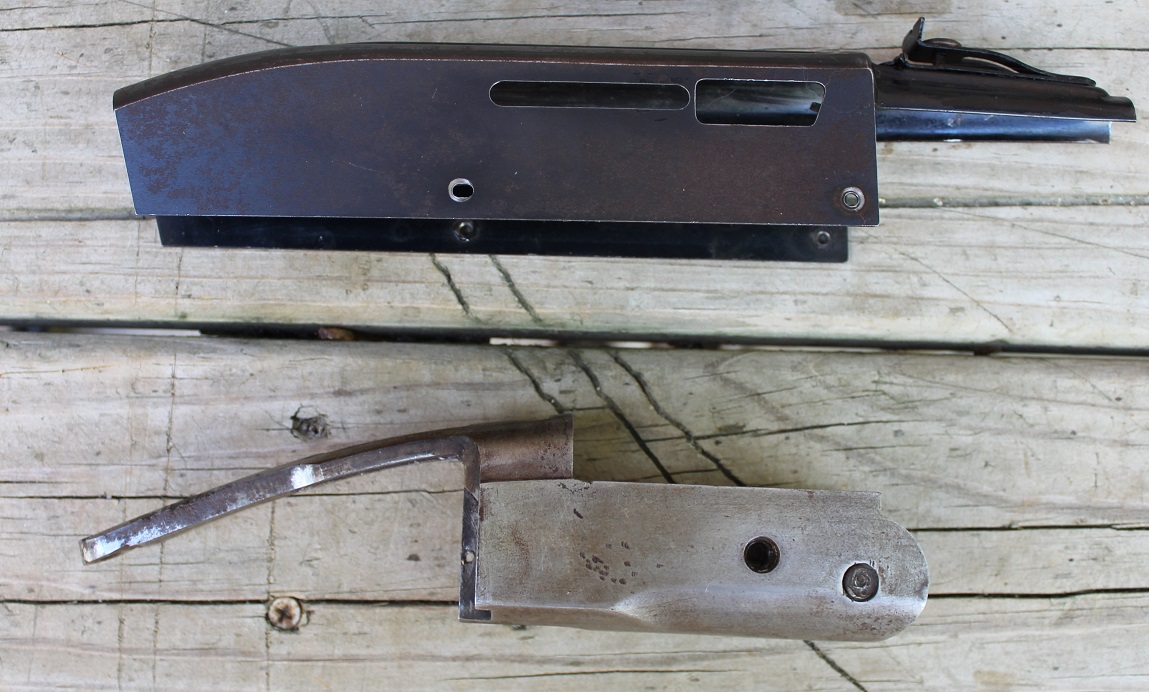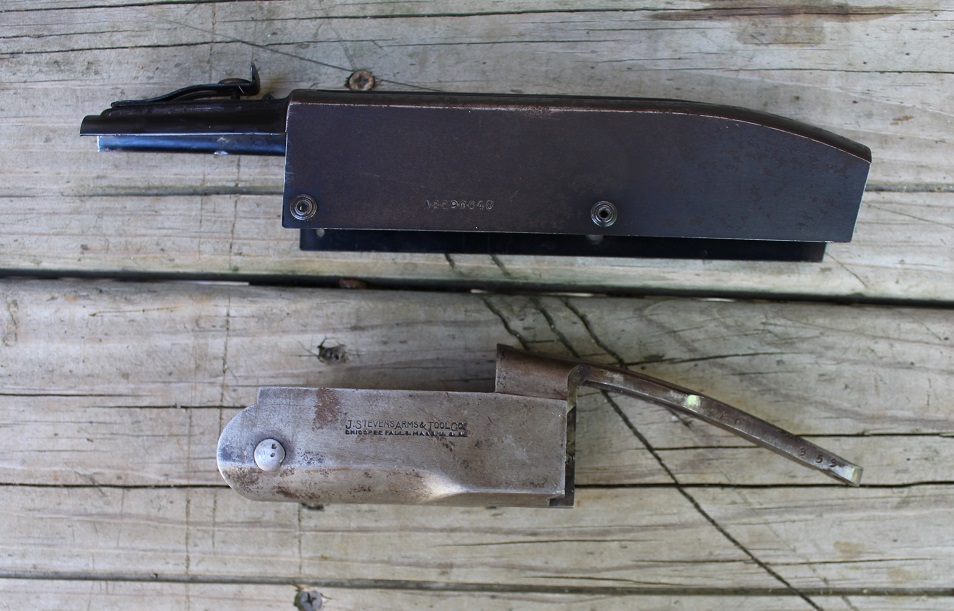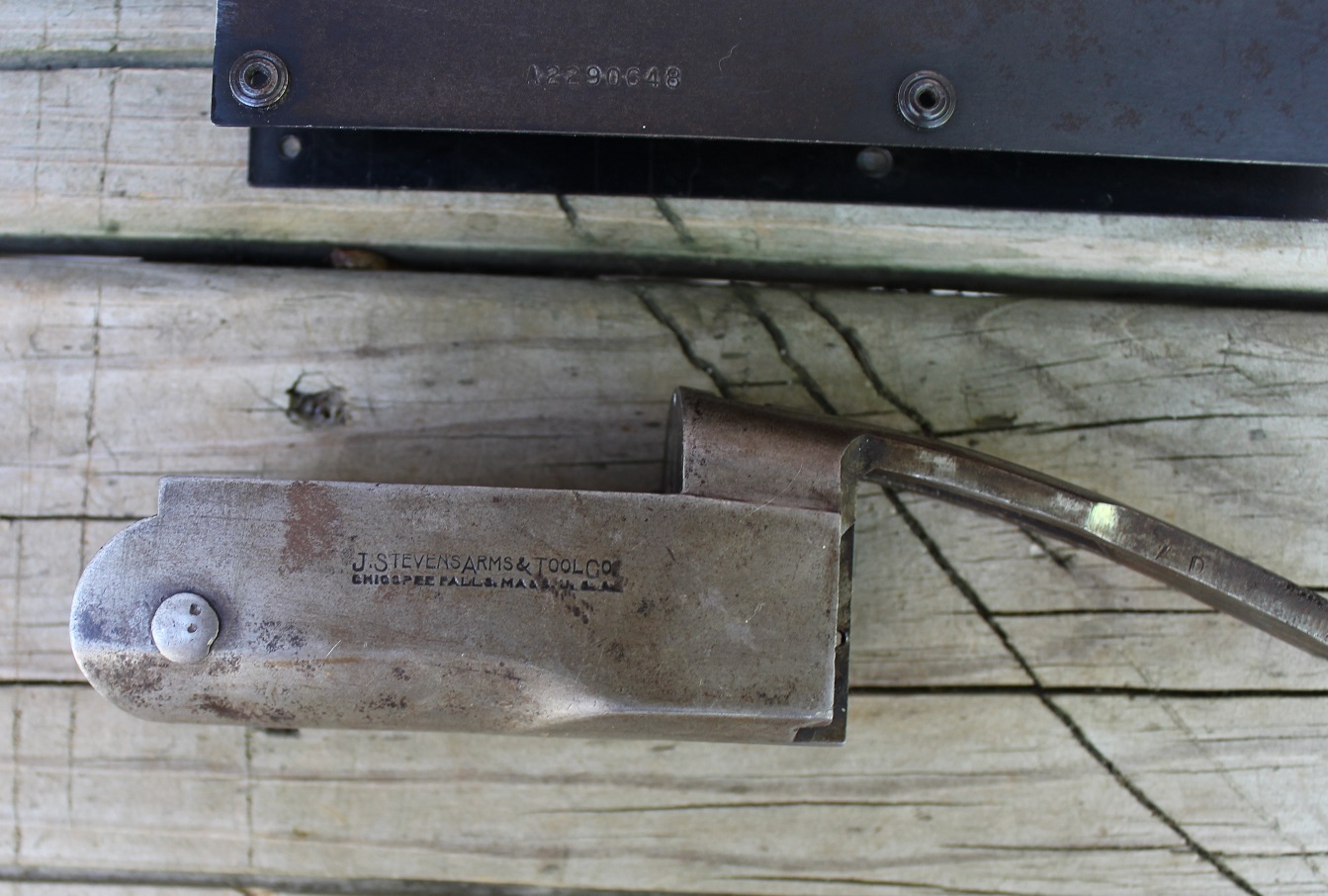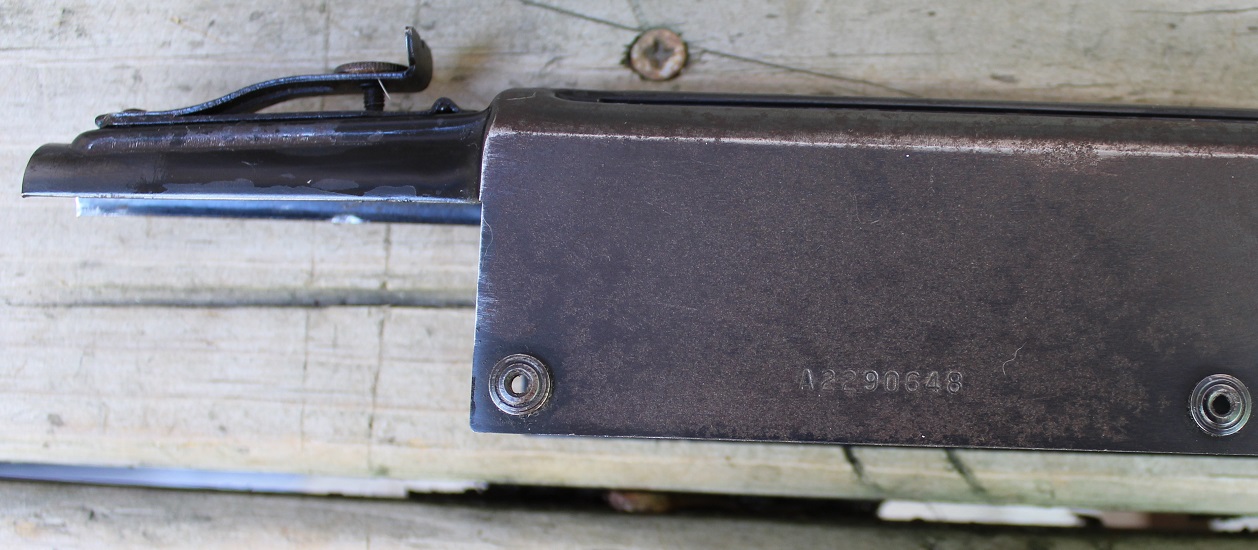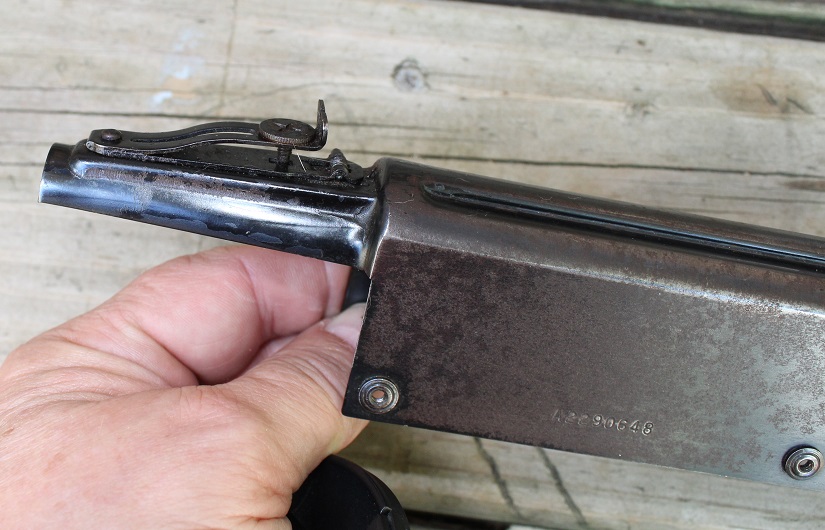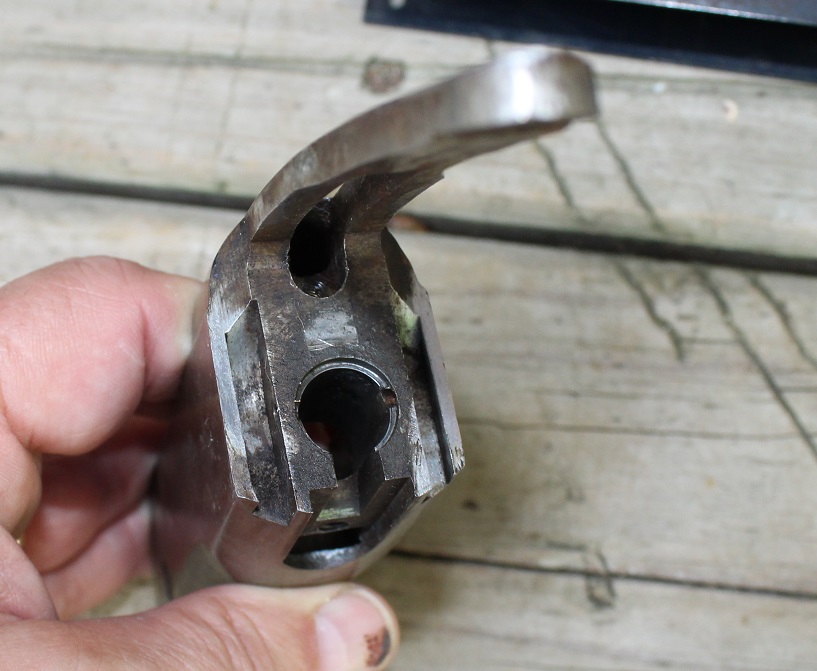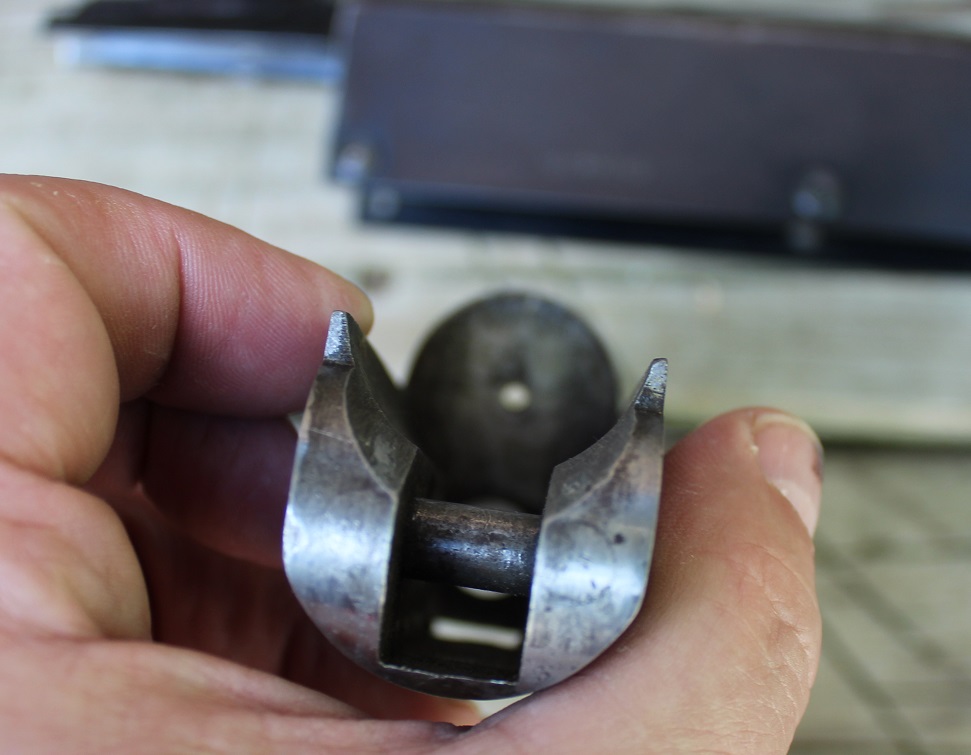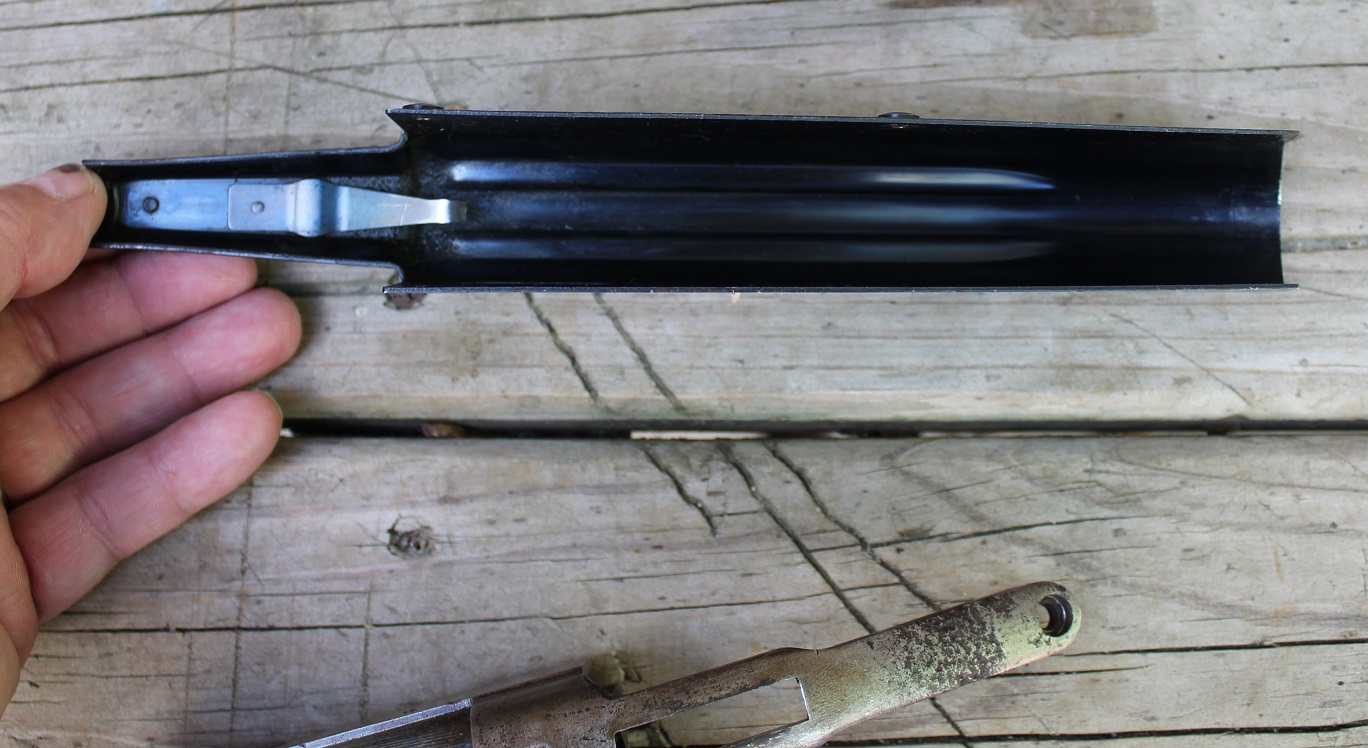 Modern Guns 49
Here we have a brand new in the box Palmetto State Armory 16" Classic Freedom Flat Dark Earth M-4 AR-15 Carbine. Here are the stats:
PSA 16" Classic Freedom M4 FDE Upper - with BCG and Charging Handle - FDE 16" Barrel Length 5.56 NATO Chamber 1 in 7" twist 4150V Chrome Moly Steel Barrel, Nitride Carbine-length Gas System M16 Full Auto Bolt Carrier C158 MPI/HPT Bolt Charging Handle Barrel: 4150V Chrom Moly steel. Chambered in 5.56 NATO, with a 1/7 twist, M4 barrel extension, and a carbine-length gas system. This M4 profile barrel is finished off with a standard handguard in Flat Dark Earth, F-Marked gas sight base, and A2 flash hider. Upper: Forged 7075-T6 A3 AR upper is machined to MIL-SPECS and hard coat anodized. These uppers are made right here in the USA and mil-spec'd. Rear sight not added so that you can add the one of your choice. Bolt: Full-auto profile bolt carrier group. Milspec Carpenter No. 158® steel bolt, Shot Peened, High pressure tested, Mag particle inspected, Gas Key Hardened to USGI Specifications, Fastened with Grade 8 screws, and Staked Per Mil-Spec. 8620 steel M-16 profile carrier is chrome lined and phosphate coated. ------------------------------------------------------------------------------------------------PSA AR15 Freedom Classic Lower ODG Machined from Aluminum Forgings 7075-T6 Hardcoat Anodizing: MIL-A-8625F, Type III, Class 2 Milspec diameter Receiver Extension M4 Stock in Flat Dark Earth Classic A2 Style Grip in Olive Drab Staked M4 Lock Nut Standard Carbine Buffer Un-notched Hammer. Caliber: Multi ------------------------------------------------------------------------------------------------ 2- PMag 30 round magazines. This is an outstanding AR-15 and priced right. For this piece $599.99 Check out the pics!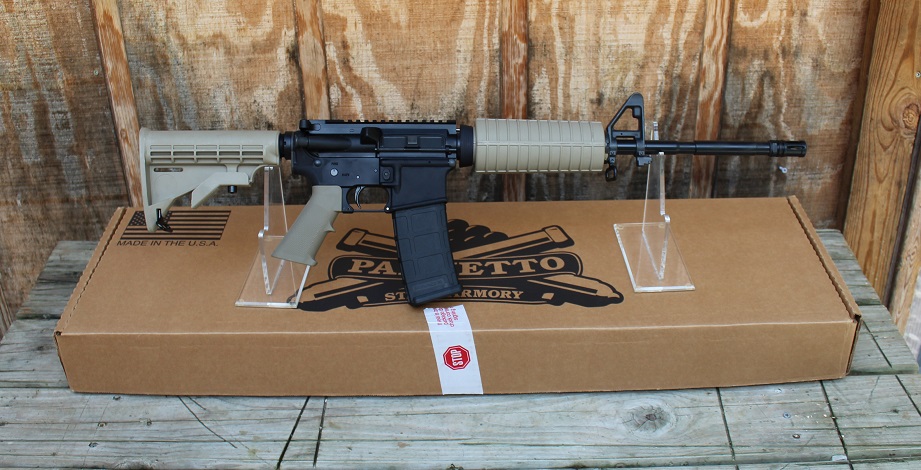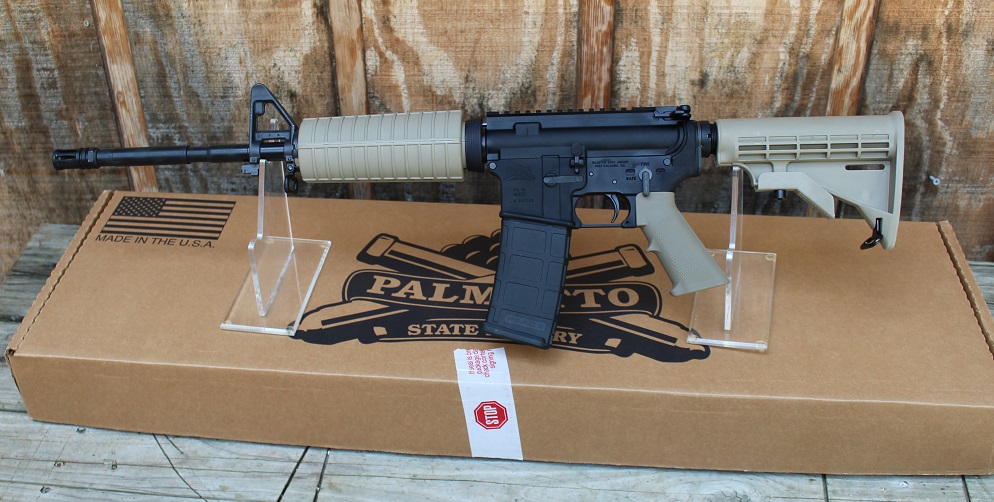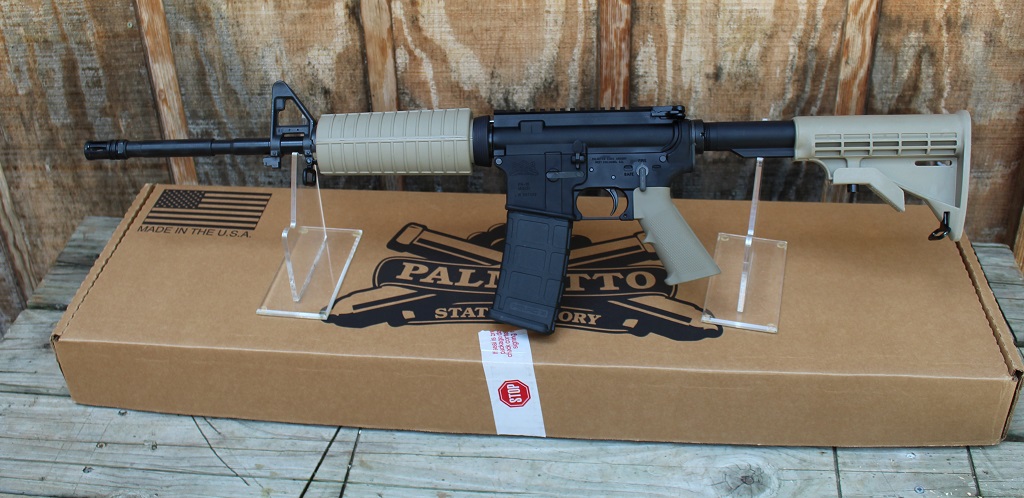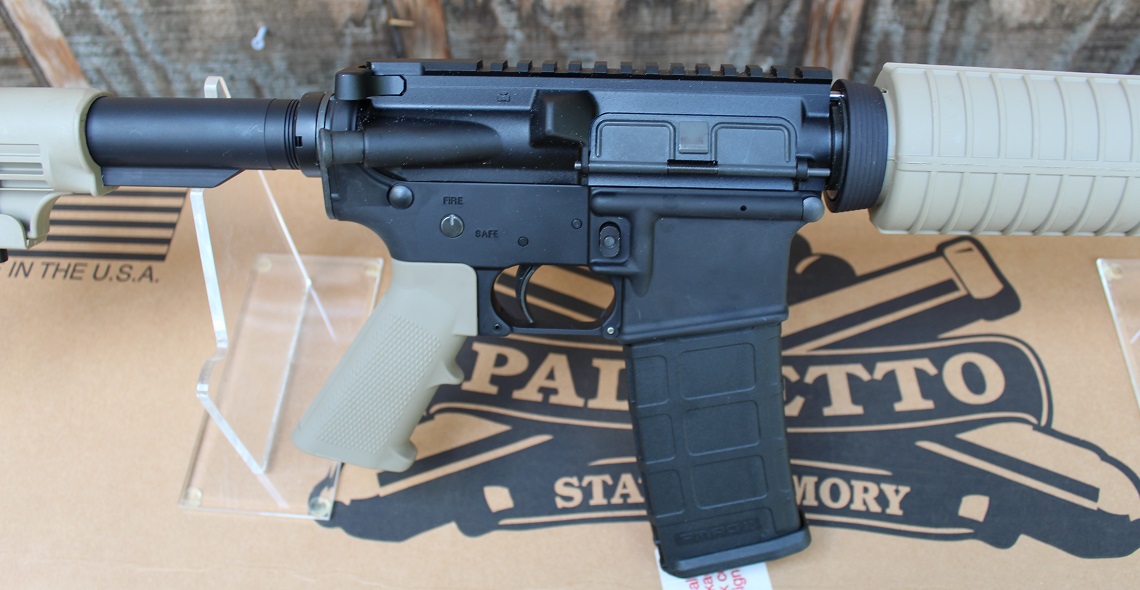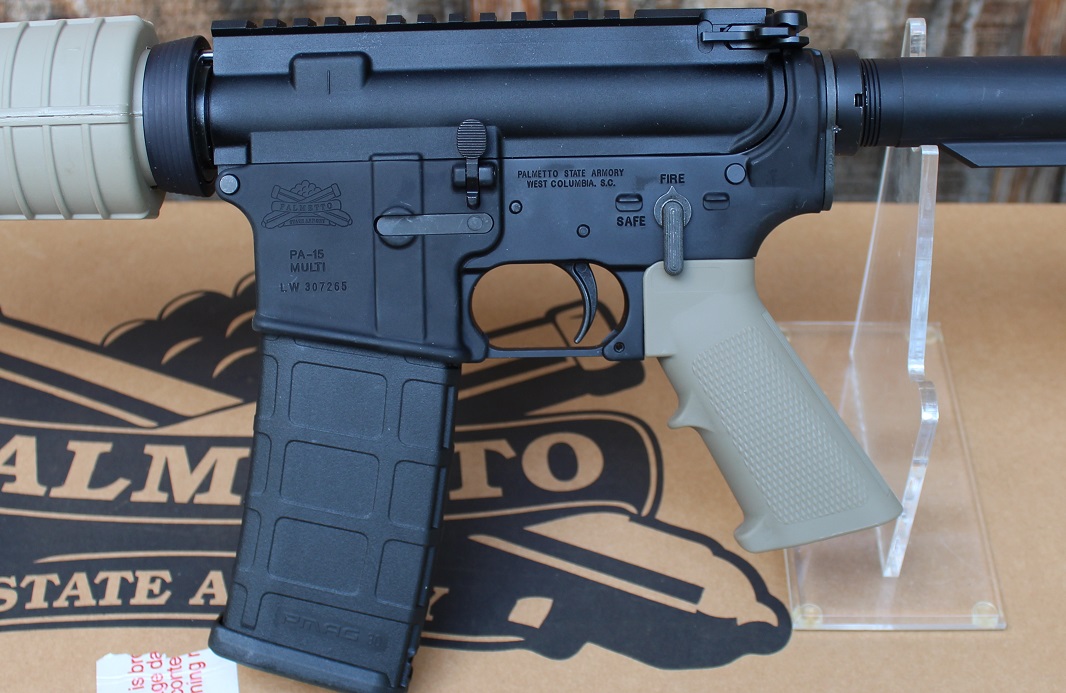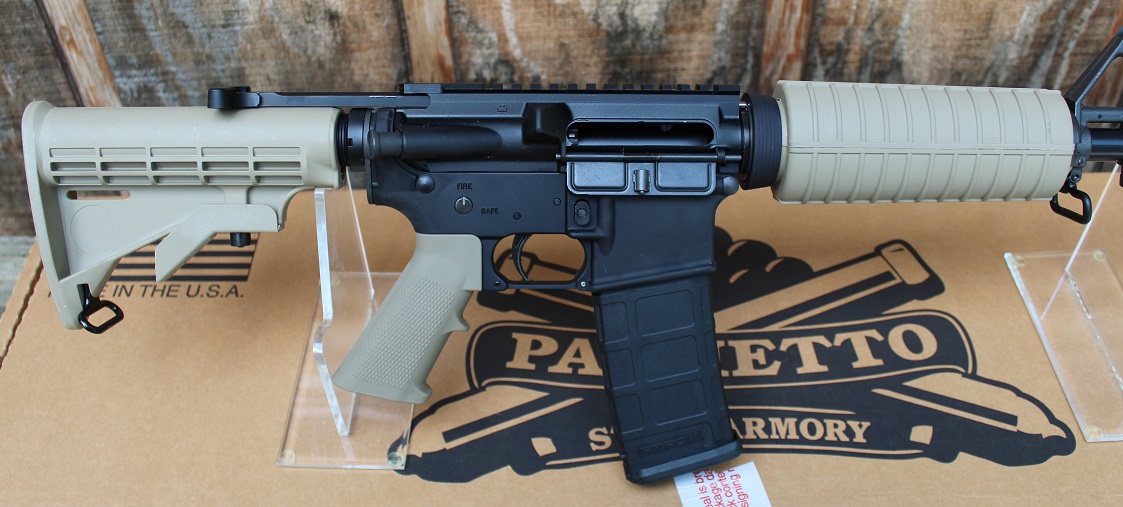 Modern guns 48 Consignment
Here we have a wall hanger, parts gun or restoration project! Your Call! This is a Nickel plated Harrington & Richardson 'THE AMERICAN' 'DOUBLE ACTION' .38 S&W caliber revolver. This revolver is a 5 shot revolver. It has been re nickeled and you can see some minor pitting under the plating. The action does not work properly and needs some work. The hard rubber grips are missing a couple of chips. This revolver has a 2 ½ inch long octagon barrel. According to research The American Double Action (large solid frame centerfire revolver) was Manufactured during the years 1883–1941. Calibers: .32, .38 & .44 (850,000 were manufactured). This one was probably mfg after 1898 so it has to go to a C&R license holder or an FFL. For this piece $125.00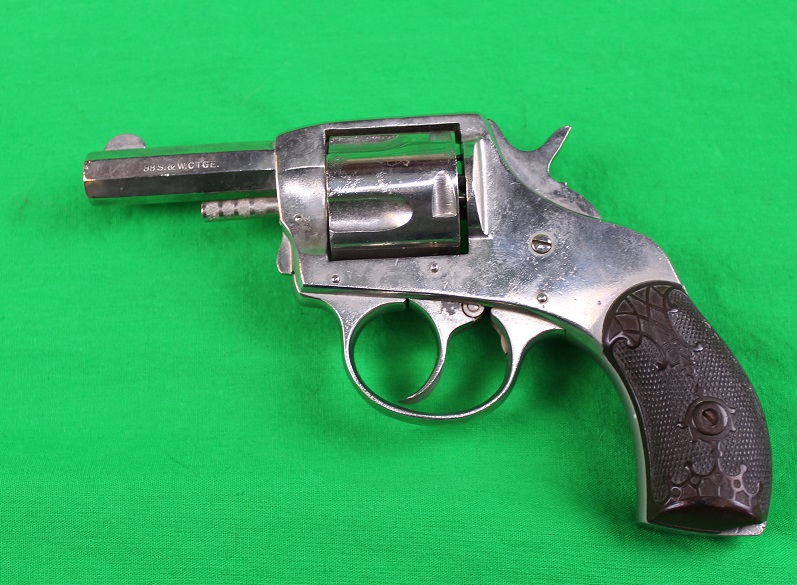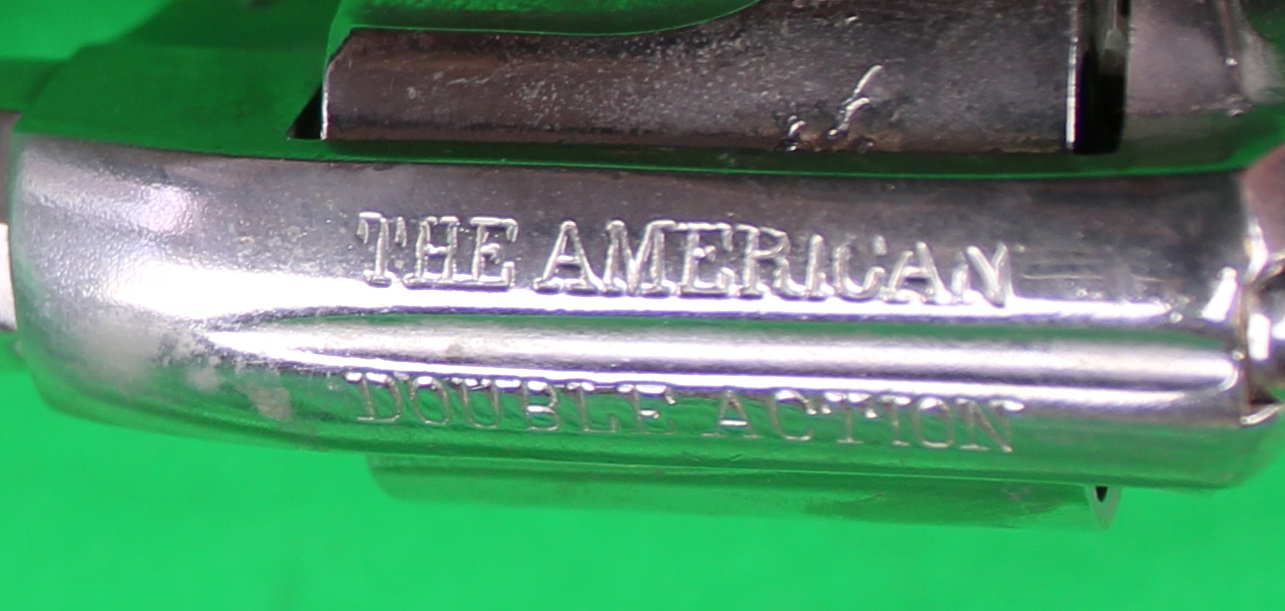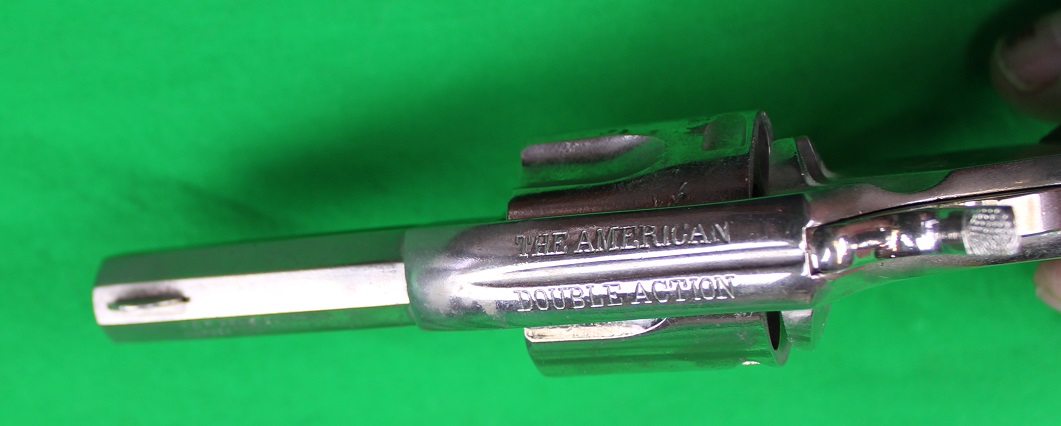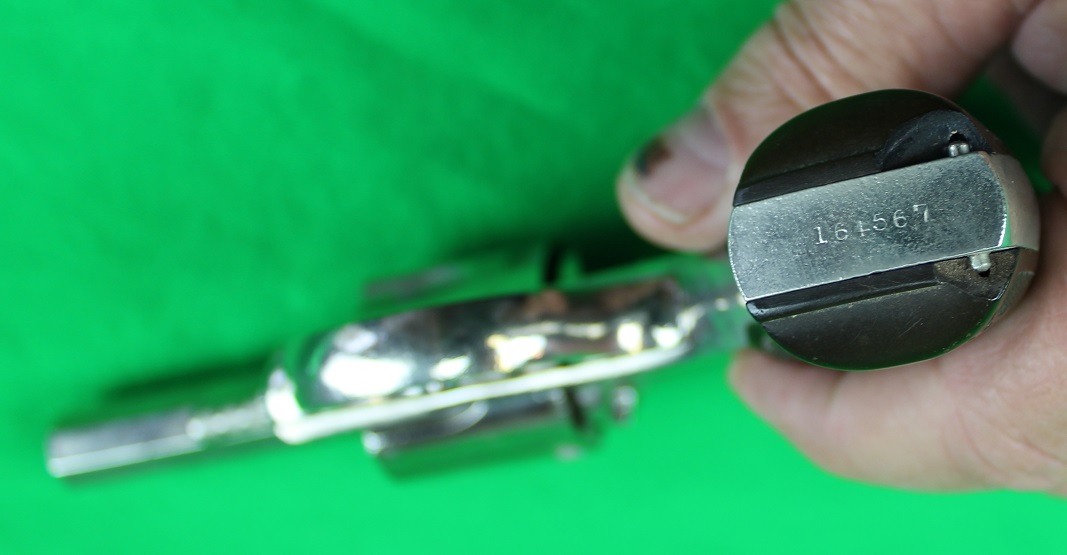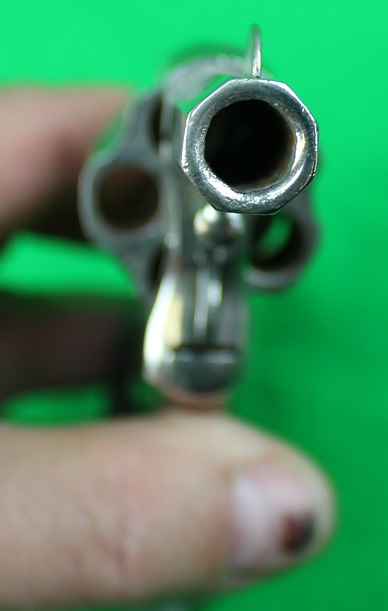 Modern Guns 47 Consignment
Here we have a Japanese WW2 era type 38 training rifle probably for a school. Starting in the 1920's, the Japanese government required all junior and senior high school boys to have two hours a week of military training. Several companies started producing the necessary training rifles for this purpose. These training rifles had no standard design and were often made from older models of military rifles or parts from these rifles. Therefore you will find many variations of the same model. There are known models that used 1888 Mauser, type 99, type 30, and type 38 rifle parts. These training rifles continued to be produced until the late 1930's. Some of these rifles could not be fired while others would fire wooden bullet blank ammunition. Many of the blank firing rifles were made with smooth bore barrels. Rarely would any of these rifles fire the standard service round. Nearly all of these training rifles could carry bayonets. This one is in excellent overall condition and except for the smooth bore one would think that this is an operable firearm. Why the Japanese didn't make functional weapons that could fire both types of ammo is beyond me. This particular rifle is of an excellent quality with loading magazine, good sights, and a cleaning rod. There are no markings on the receiver like the military rifles. The serial number is 174 and matches on the bolt as well. The stock is in very good condition and only has one small chip out of it that I have shown in a pic below. The Japanese characters are stamped on the obverse and reverse buttstock. This rifle functions flawlessly and looks great. For this piece of history $295.00
Modern Guns 46 Consignment
Here is a great looking old Remington Model 11 semi automatic shotgun in 12 GA. This model was produced from 1911 to 1948 with approximately 300,000 being made. The serial number of this model is 282814 and I have found records that indicate that this particular firearm was made in 1923. I believe it has been buffed out and refinished at some point in it's lifetime. The markings are all fine but you can tell from high and low spots on the receiver and on the barrel. This barrel is pretty much shot out and I believe that they must have used steel shot for waterfoul instead of lead shot. It has a 28 inch long 12 guage full choke barrel. The wood is real nice and looks great but has also been refinished. This stock is the straight walnut stock pre 1940. After 1940 they had a checkered stock. The action works well. It's a nice looking piece! For this shotgun $450.00
Modern Guns 45
Here's a brand new Palmetto AR-15 in .223/5.56 . Here are the stats on the lower:
PSA Complete Classic Enhanced Lower -
· Machined from Aluminum Forgings 7075-T6
· Hardcoat Anodizing: MIL-A-8625F, Type III, Class 2
· Milspec diameter Receiver Extension
· 6 position Receiver extension
· PSA Enhanced M4-style stock with QD sockets
· PSA Classic Grip in Black
· Mil-spec trigger guard
· Staked M4 Lock Nut
· Standard Carbine Buffer
· Caliber: Multi
· And here is the stats on the upper assembly
· PSA 18" Rifle Length .223 Wylde 1/7 Nitride 15" Keymod Lightweight Upper
· Barrel Length: 18"
· Gas System: Rifle-length
· Barrel Profile: A2 Style
· Barrel Steel: 4150V
· Barrel Finish: Nitride Black
· Chrome Lining: None
· Muzzle Thread: 1/2-28
· Chamber: 223 Wylde
· Twist Rate: 1:7
· Barrel Extension: M4
· Diameter at Gas Block: .750
· Gas Block Type: Low profile
· Muzzle Device: A2 Flash Hider
· Receiver Material: Forged 7075 T6
· Receiver Type: M4
· Hand guard Type: PSA 15" Keymod Lightweight Rail
· Bolt Carrier Group Included
· Bolt Steel:
· Charging Handle included
· Overall Length: 26.5"
· Weight as configured without bolt: 3.70 lbs
· This rifle also has Generation 2 Magpul MBUS front and rear flip up sights as well as 2 Magpul PMAG 30, 5.56x45 Magazines.
Finally this nice outfit has been finished with a Leapers UTG D Vertival Front Grip with the innovative quick release deployable Bipod. The Grip Height is 5.1 inches and with the Bipod deployed it is 8 inches tall.
· This is one nice AR-15 Rifle! $850.00 · Check out the pics! · ·
·
·
·
·
·
·
·
·
·
Modern Guns 44
Consignment
Here are two complete wooden buttstocks with forearms for the H&R Handi Rifles. They also fit the New England Firearms. Both are complete with mounting bolts, just missing the sling swivels on the lighter wood set. If you have a H&R Handi rifle with messed up stocks then this is for you! $45 a pair. Like NEW!!!
Modern Guns 43
Consignment
Here's a great book entitled THE WINCHESTER BOOK -1 OF 1000 and signed by the Author George Madis! This is a must have reference book for Winchester Collectors. Hardbound with DJ in fine condition. This book has 654 pages, illustrated with black and white photographs and measures 11 1/4 by 8 3/4 by 2 1/4 inches! Nice one! $150.00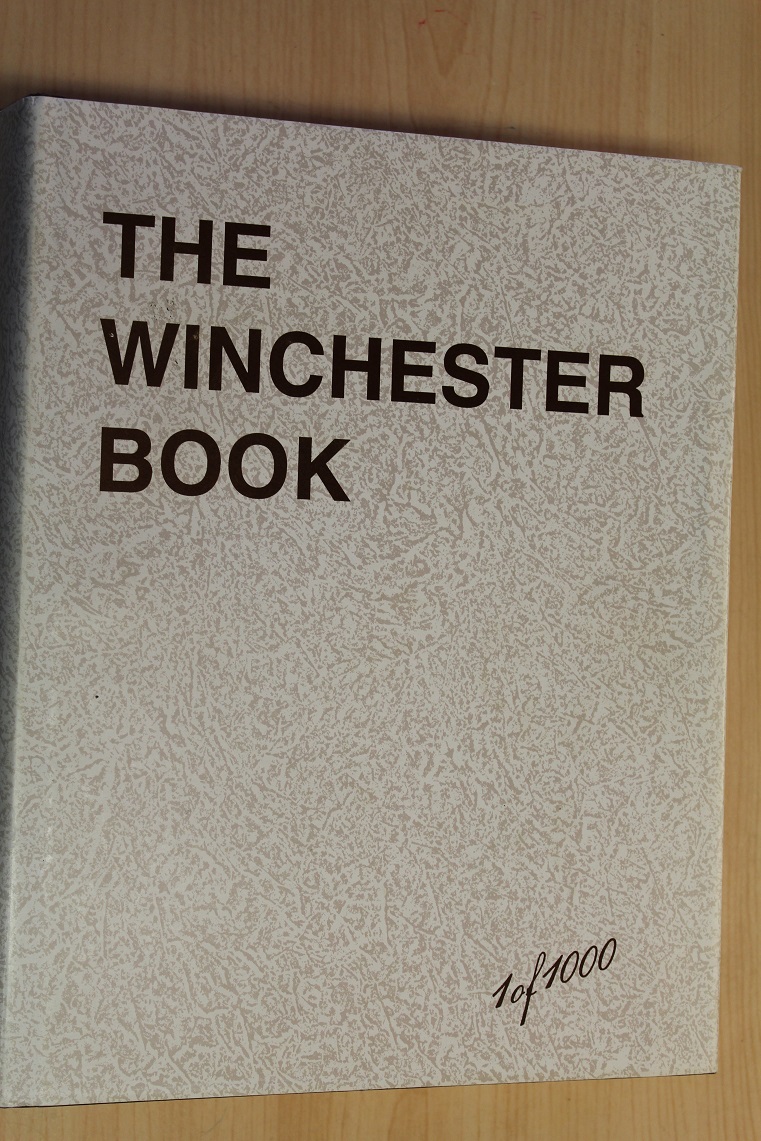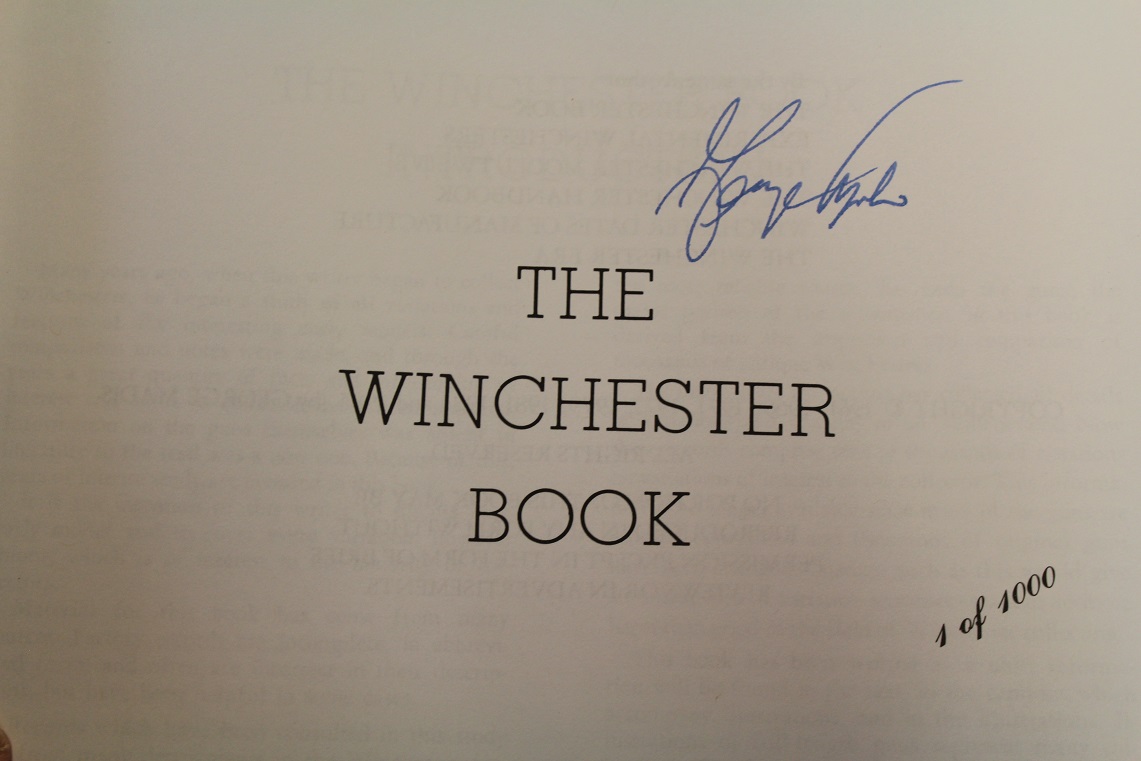 Modern Guns 41
Consignment
Here is a fine book entitled WINCHESTER –AN AMERICAN LEGEND by R.L.Wilson 2004.
Here's a review by GOODREADS:
The most lavish work ever produced on American long arms, this book has been published with the full cooperation of the Winchester Division of the Olin Corporation, as well as Winchester licensee, the U.S. Repeating Arms Company. The book's large format presents many of the firearms in exquisite close-ups, accompanied by substantial details of history, development, and significance. Variations within model groups are given ample attention, and the book's organization gives an unequaled overview of nearly a century and a half of Winchester achievement. A unique, comprehensive table in the appendix gives serial numbers and related production data previously unavailable in any one source. Every collector and enthusiast will delight in its broad appeal, with over 300 photographs in full color and more than 165 in black and white.
This is a large formatted hardbound book with DJ measuring about 9 X 11 consisting of 404 pages of text and lavish color photographs! The original owners name is in it on the first page. For this fine copy $40.00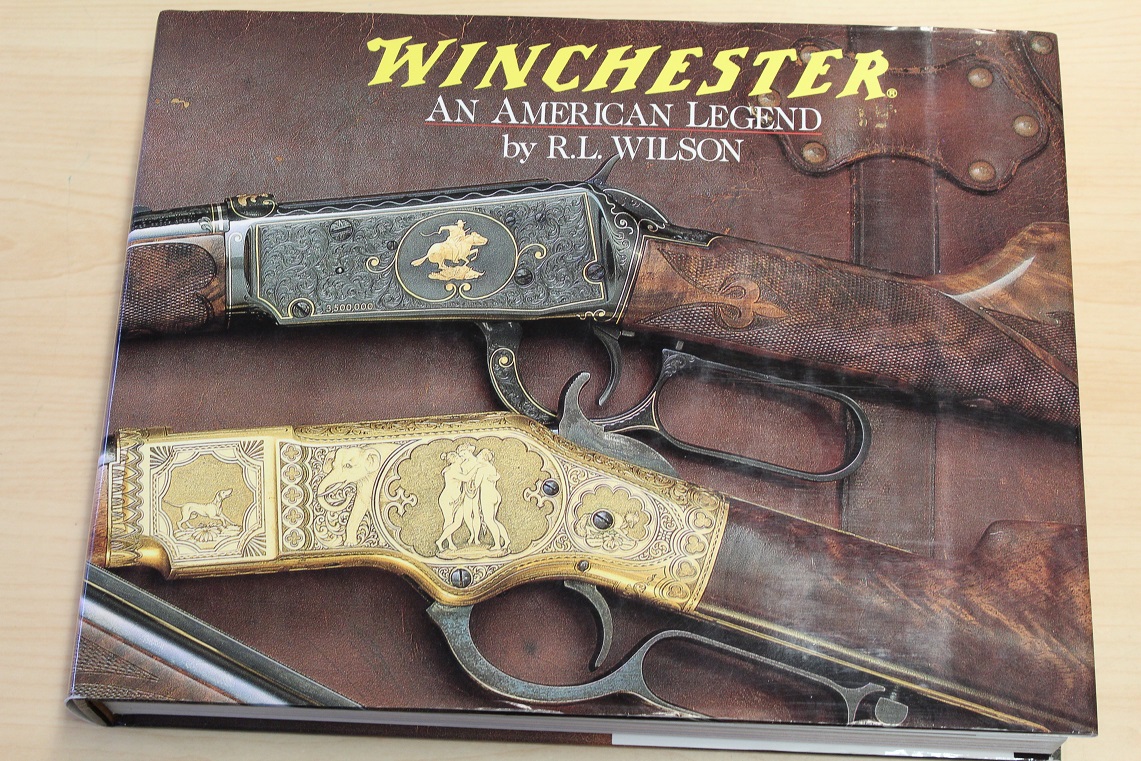 Modern Guns 40
Consignment
Here's a dandy of a book entitled 'WINCHESTER REPEATING ARMS COMPANY-ITS HISTORY & DEVELOPMENT FROM 1865 TO 1981', by Herbert G. Houze, 1994.
Editorial Reviews From Booklist Houze's lavishly illustrated company history demonstrates that the name Winchester, chiefly associated with the manufacture of guns (especially rifles), should also be linked to such products as washing machines and sporting goods. Still, as expected, the emphasis is on firearms in this survey of the company's fortunes, from its 1856 emergence out of the ashes of the failed Volcanic Repeating Arms Company to its 1981 sale by then-owner Olin Industries. Houze recites the facts and figures of the burgeoning arms giant and sketches such important players in its history as Oliver F. Winchester and Frank Burton. Serious firearms collectors and aficionados will want to read about the seven newly identified 1860s Winchester models, while popular culturalists will enjoy the book's extensive examination of the art engraved on the company's products. Many examples of advertising art, some by N. C. Wyeth and other famous illustrators, appear alongside photos of the Winchester factories. More than just another corporate history, this book is crammed with Americana and the history of U.S. industrial organizations and work conditions. Mike Tribby
This is a large book format being over 9" X 11" being a hardback with dust jacket. There are 512 pages filled with illustrations and actual photographs! Outstanding book! For this fine copy $130.00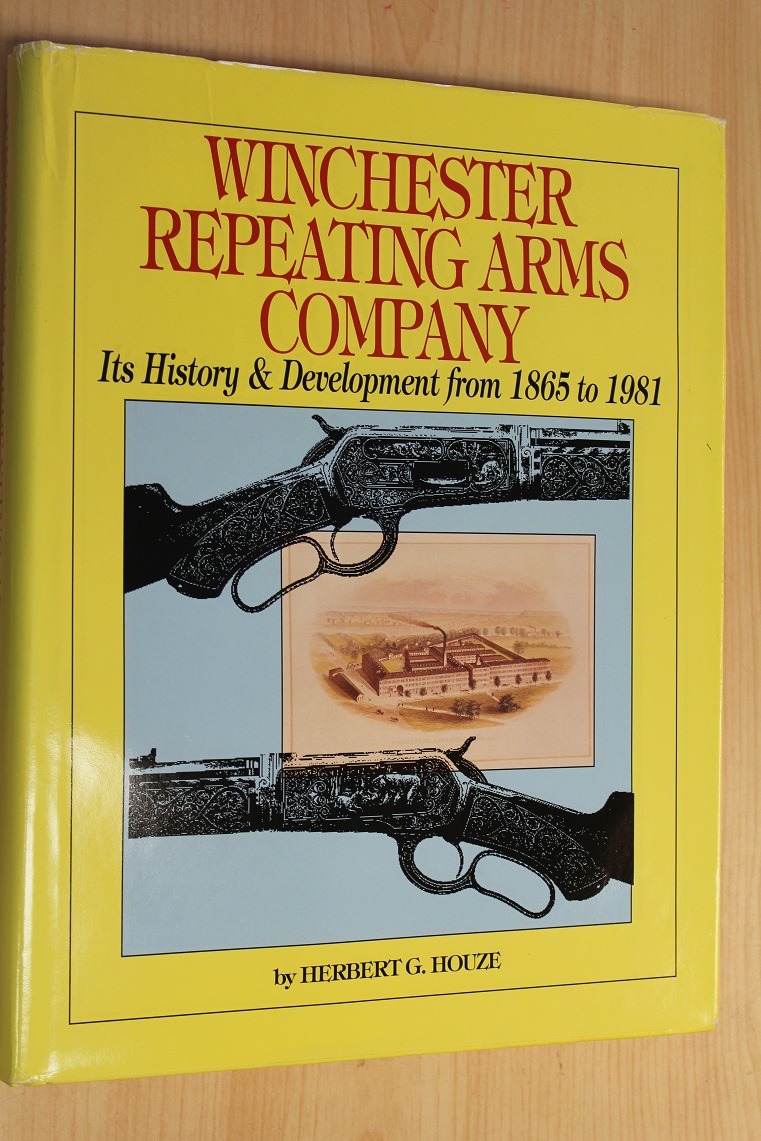 Modern Guns 39
Consignment
Here's a nice book entitled " To The Dreams of Youth: WINCHESTER .22 Caliber Single Shot Rifle" by Herbert G. Houze. Published by Krause; 1993; Hardcover; FIRST EDITION. Overall in very good condition , in fact, just like new! 192 pages with loads of illustrations! Every kid wanted a Winchester!!! $80.00 for a First Edition!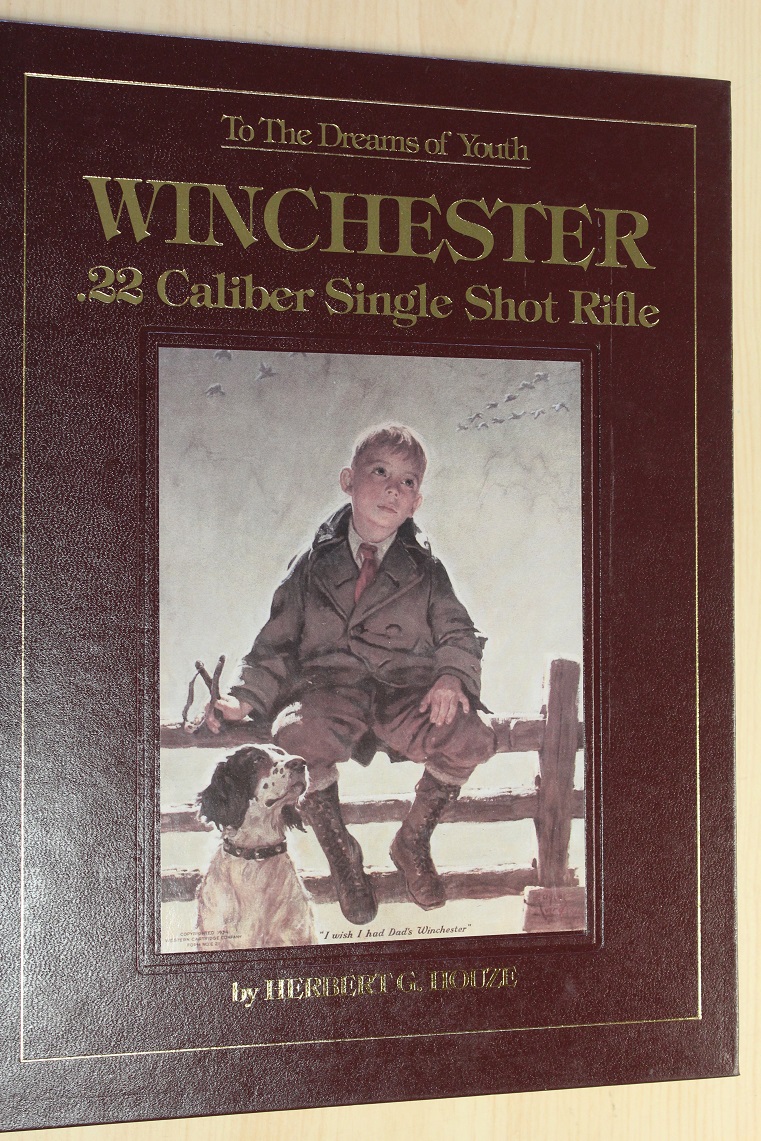 Modern Guns 38
Consignment
Thomas Henshaw THE HISTORY OF WINCHESTER FIREARMS 1866-1992, Sixth Edition Updated. This classic-revised and completely updated through 1992- is the standard reference for all collectors and other seeking the facts about any Winchester firearm, old or new. This profusely illustrated volume describes and provides specifications for all the Winchesters, from the King's Improvement Patent of 1866 to the latest commemoratives. Background information on design, manufacture, history, and use is also provided. Serial number listings of some of the most famous Winchesters of all, including the Model 94, will help gun owners and collectors determine the age of their firearms. This is a hardcover book in dust jacket which shows a little wear but not bad. 268 pages of text and photographs. Great reference book! $30.00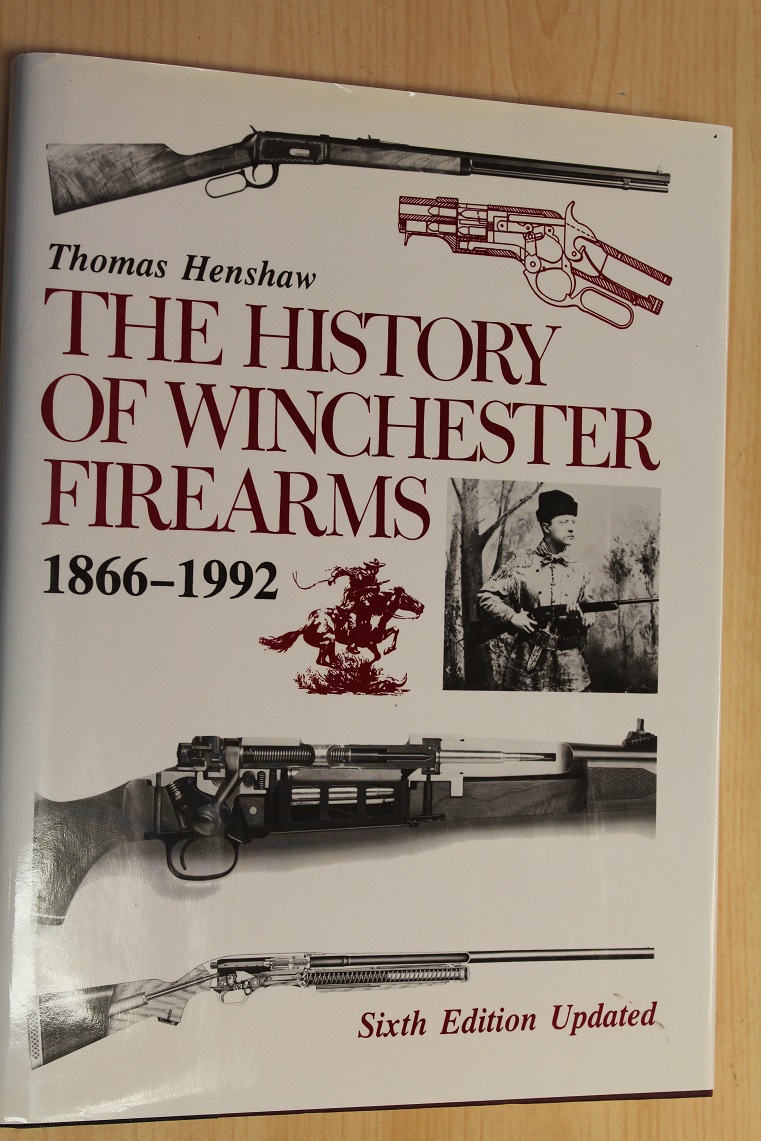 Modern Guns 37
Consignment
Here we have a small book by Hank Wieand Bowman entitled Famous Guns from the Winchester Collection, 1958. There are 143 pages of photos and text. The last page has the top half of it removed for some reason. For this book $10.00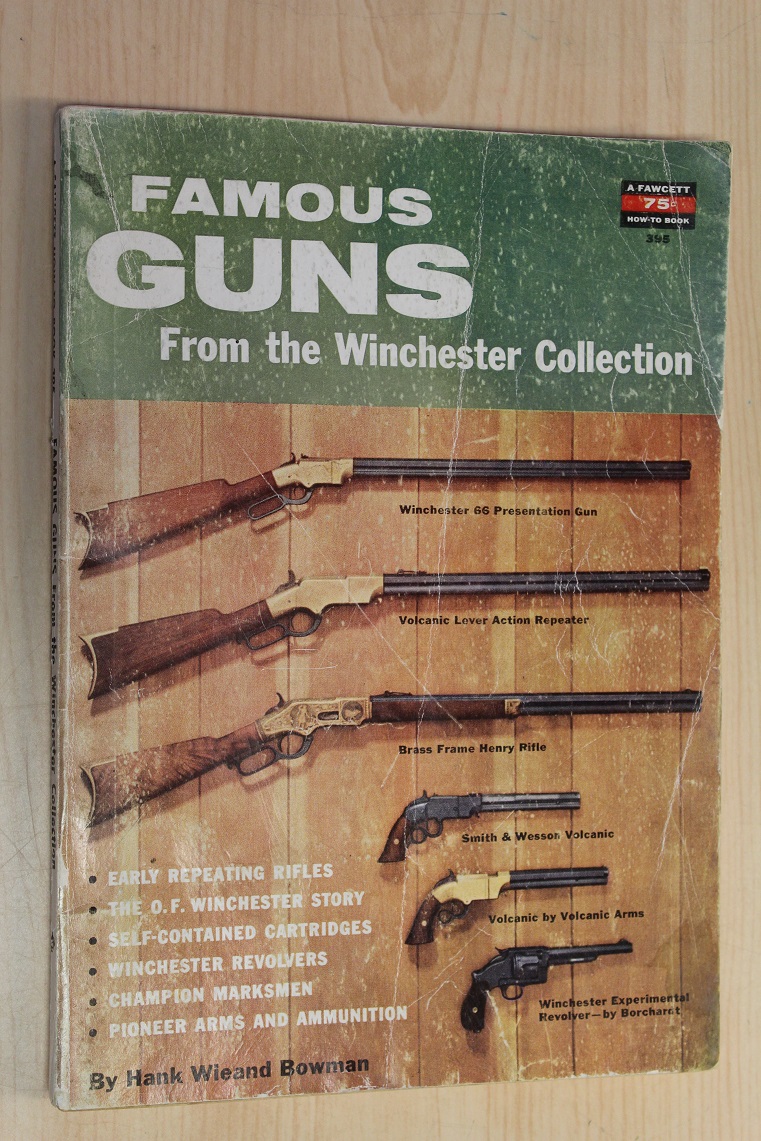 Modern Guns 36
Consignment
Here we have a plethora of Winchester catalogs dating from 1963 to 2012. There are 14 catalogs in all and the dates are 1963, 1967, 1970, 1981, 1983, 1986, 1997, 1998, 1999, 2000, 2002, 2009, 2011 and 2012. They are all in great conditon! For the lot $95.00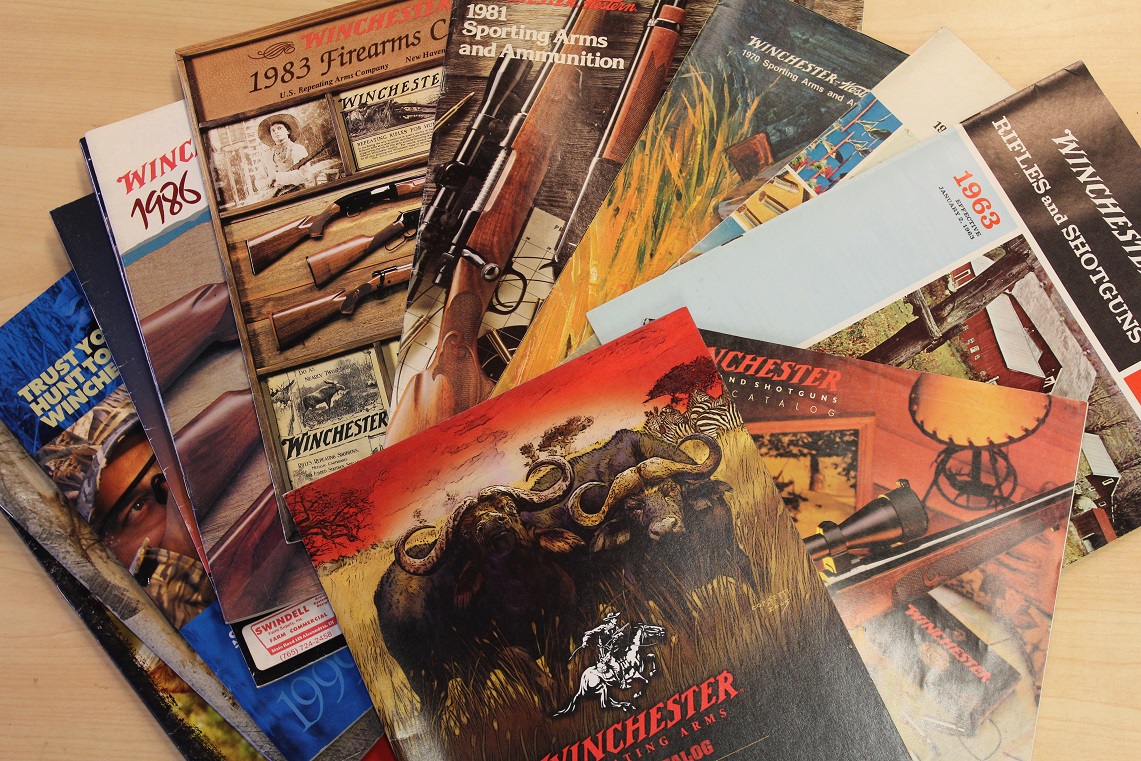 Modern Guns 35
Consignment
Here we have an excellent copy of 1956 Winchester Gun Salesmans Handbook. This original catalog which measures 8-1/2" x 11" with 77 numbered pages has pictures of all the Winchester guns, the shells they use and the type of game for which each is designed. It also states where the game is found and a paragraph on the correct gun selection. There is also information on the different types of actions, sights, scopes, barrels, gauges, choke boring and stocks. There is a 2 page ballistics chart at the back with center fire cartridges listed. This is very nice with minor bends to the corners ! For this piece $70.00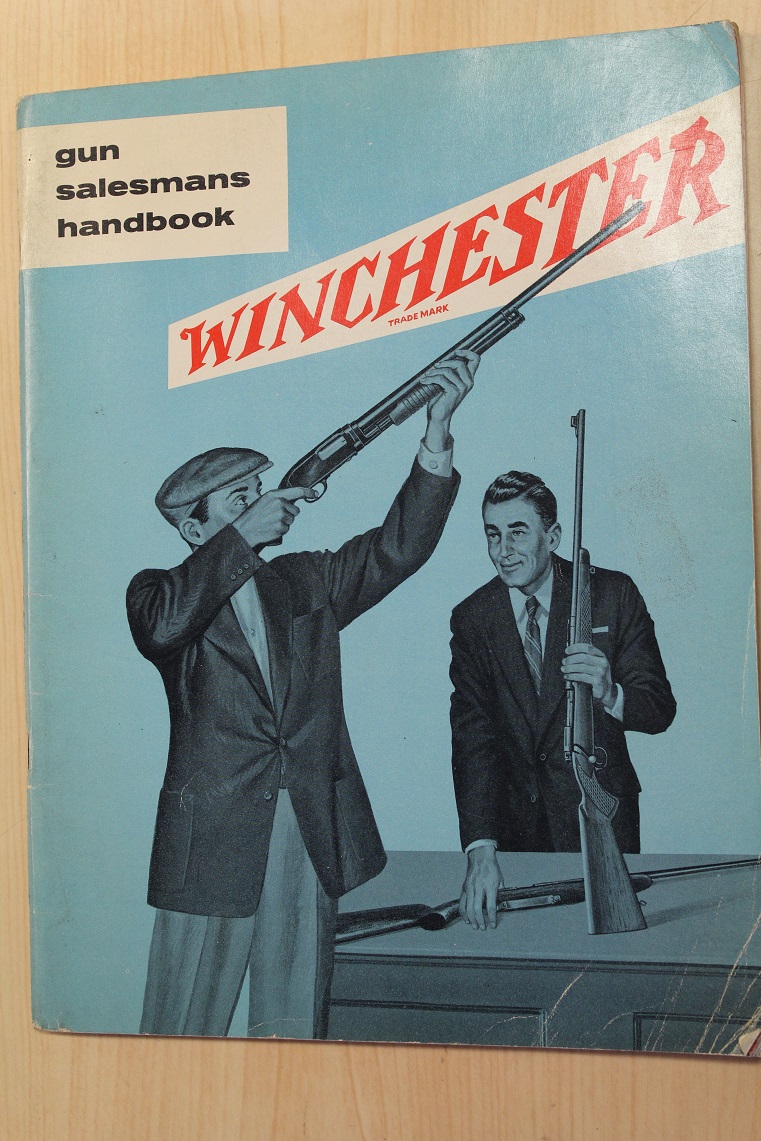 Modern Guns 34
Consignment
Here we have a just like new copy of IVER JOHNSON ARMS & CYCLE WORKS FIREARMS 1871-1993 by W.E. Goforth, 2006. Softcover in excellent condition. 224 pages, about 8 1/2" x 11", glossy soft-cover in full color. New book, copyright 2006. Printed on high quality paper, perfect bound. Fully Illustrated. Iver-Johnson Arms&Cycle Works Firearms 1871-1993 details one of America's premier (but little known) firearms manufacturers and their arms. Concentrating on the firearms, mainly the revolvers, you'll be schooled on all the pertinent information the educated Iver-Johnson collector needs in pursuit of his or her passion. Bill Goforth has produced a well-illustrated book with literally hundreds of quality photos, adorned with model variations, specifications, serial number ranges, dates of manufacture, and all the "nuts and bolts" information needed to properly document your firearms. Chapters Include: 1. Early Solid Frame Handguns 1871-1899, 2. Early Solid Frame Double Action Revolvers 1878-1899, 3. Solid Frame Handguns 1900- 1954, 4. Post World War II Solid Frame Revolvers 1946-1978, 5. History and General Information on the Safety Automatic Revolver 1894-1941, 6. Large Frame Safety Automatic Revolvers, 7. Small Frame Hammer&Hammerless Safety Automatics, 8. Markings Found On the Safety Automatic Revolver, 9. Other Top Breaks of Interest, 10. Optional Accessories and Special Orders, 11. Post World War II Top Break Revolvers 1946-1978, 12. Firearms 1978-1993, 13. Safety Mechanism of Iver Johnson's Arms&Cycle Works, 14. Top Break Revolver Barrel Latches of Iver Johnson's Arms&Cycle Works, 15. Parts List and Diagrams 16. Specifications for Iver Johnson's Arms&Cycle Works Handguns, 17. Patents, Appendix A. Chronological Listing of all Firearms of Johnson&Bye, Iver Johnson's Arms&Cycle Works&Iver Johnson Arms., Appendix B. Dates of Interest in the History of Iver Johnson and Iver Johnson's Arms&Cycle Works of Fitchburg, Mass. U.S.A., Appendix C. Iver Johnson Obituary, Appendix D. Franchise Certificate. 8 1/2" x 11, softcover, photos, illus, 232pp. Everything you ever wanted to know about Iver and Johnson Handguns is listed here! $39.95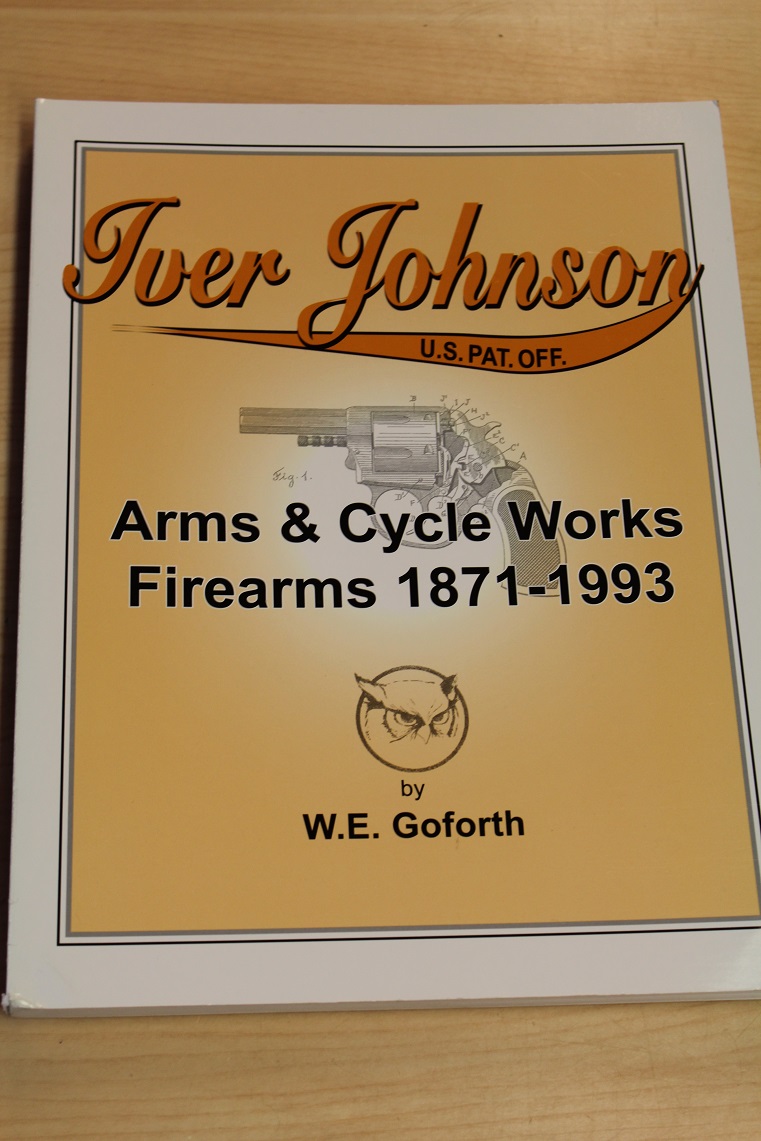 Modern Guns 33
Consignment
Here we have a July 1, 1933 Catalog of Component Parts for Winchester Rifles and Shotguns with list Prices. This one is in the large format being 7 ½ X 10 ¾ with 53 pages that has illustrations of the various parts and pricelist. This piece is in excellent overall shape and definitely shows signs of use including a fold through the middle where it was folded up and put in a pocket. Very interesting!!! $50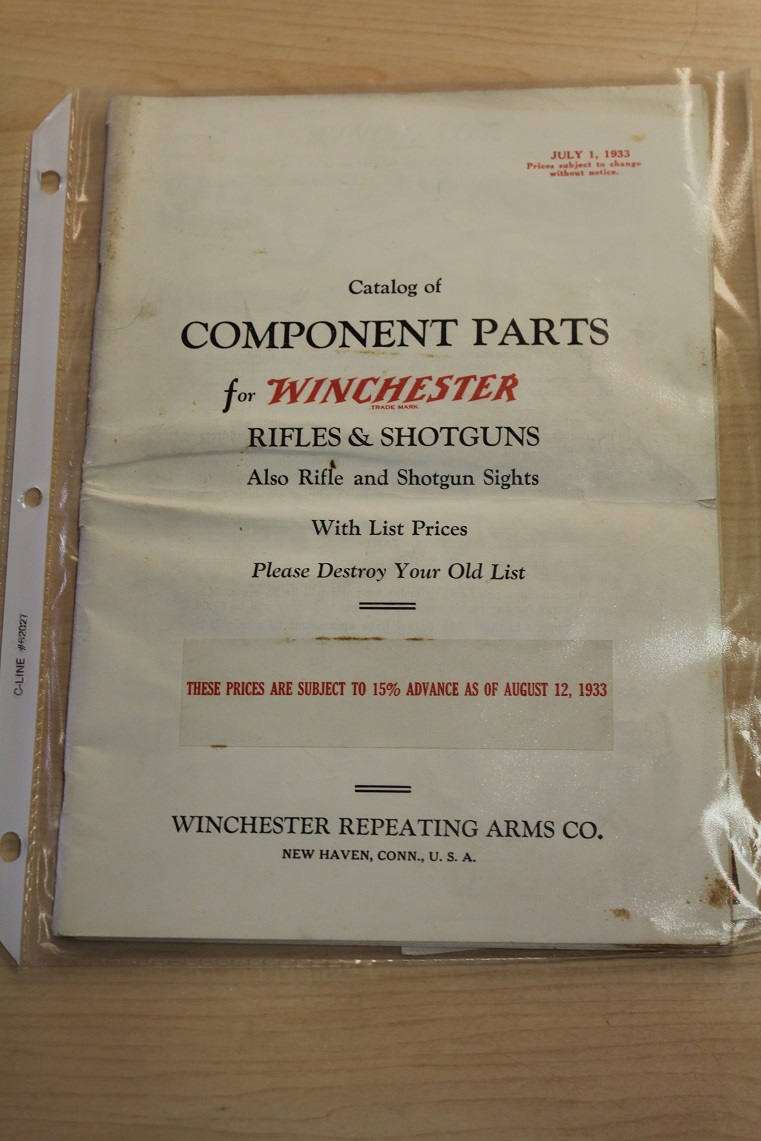 Modern Guns 32
Consignment
Here we have two different old catalogs. The first one on the left is the Winchester World Standard Guns and Ammunition Catalog that was printed in 1933. This is the 1933 catalog that introduced the Model 21 Custom Built and the Tournament and Trap Grade Skeet Guns. It is also the first catalog to list the 2 ¾" chamber as standard for all gauges and the improved cylinder choke. The last blue book catalog was printed in 1934. The cover is separated from the text but easily glued back in if so desired. This catalog is complete with moderate damage to last page only. $75.00
The second catalog is an original Marble's Outing Equipment Catalog from 1933 being Catalog no 21. This one is in excellent condition with nice graphics as well! This one is 4" X 7" and consists of 32 pages. This catalogs front and back cover is a continuation beautiful outdoor painting showing a Whitetail deer running through the woods and a Moose standing in the water while a Wolf watches from the shoreline. The center spread portion shows the famous Game Getter. Loads of info! Excellent condition $95.00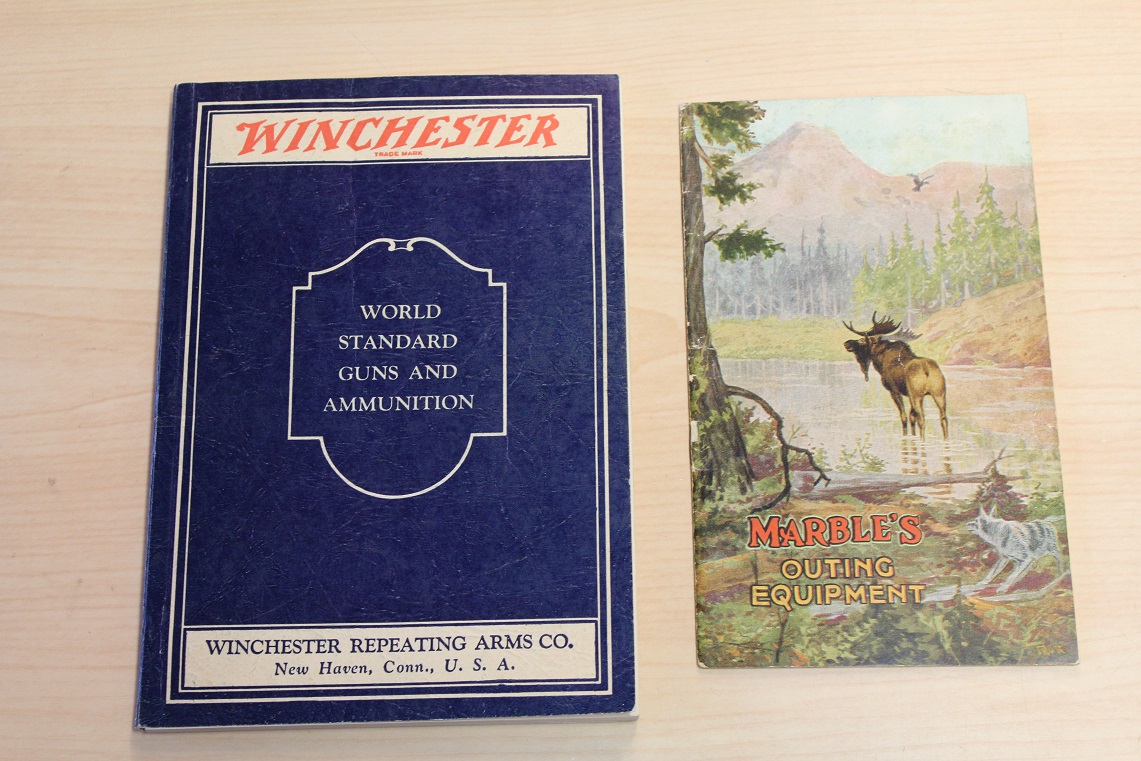 Modern Guns 31
Here is a set of vintage custom wooden grips that came off of a Colt Police Positive .32 caliber revolver. Probably the caliber doesn't matter as it would fit any Colt Police Positive. The wood is in good condition with only minor wear flaws to the finish. Buy now for $35.00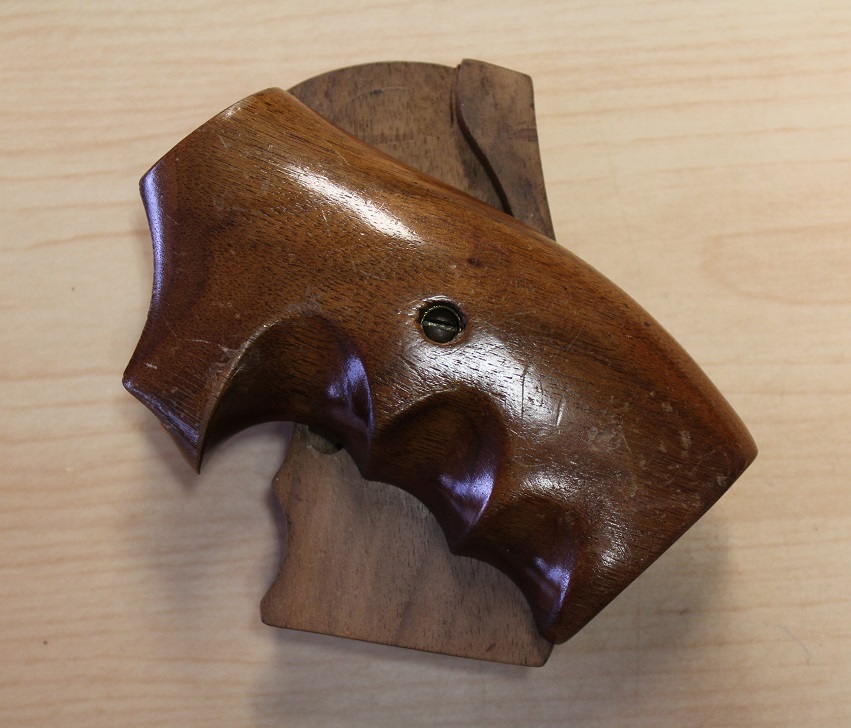 Consignment
Modern Guns 21
The BOTTOM H&R REVOLVER is SOLD!!! Here we have a pair of Harrington and Richardson Revolvers. One is obviously a relic while the other could be fixed I believe. (The one that can be fixed is sold!!!) Both are missing parts and neither function. These make great "Shadow Box" displays on the way and in their current state they are safe. Since they do have the possibility of being fixed they will have to be transfered by an FFL unless you have a C&R license in which they meet the criteria for that license. Look at the pics below!
Consignment
Modern guns 20
Here we have a L.C.Smith double barrel 12 ga shotgun. This is the 00 grade model as marked on the receiver. This shotgun is in good condition with a dark patina. Usual dings and dents from use. According to the serial number look up for Hunter Arms of which this shotgun is the manufacture date is 1922. The firearm functions as it should with 2 triggers. It locks up tight with no wiggle at all. 46 1/2 inches long overall with 30 inch barrels. The tubes do have some pitting in them and could use a good scrubbing. The dark walnut stocks have checkering on them as well as the usual dings and dents. Take a look at the pics! This is your chance to own a L. C. Smith for a reasonable price! $450.00
Consignment
Modern guns 18
Here is a small side lever .410 double barrel shotgun. This one will not take long .410 shells and as I believe that it is foreign I do not what shells it takes. (NOTE*** A gun enthusiast friend informed me that he thinks this shotgun actually fires a 44XL metallic cartridge filled with shot!) The entire firearm is 41 inches long with 25 1/2 inch long barrels. The bores are actually fairly nice but there is some metal flaking on the right outside barrel near the end so I don't believe this piece is safe to shoot. The shotgun looks pretty nice with the usual dings to the wood and an age crack to the right obverse buttstock. The left reverse has a nice cheek piece. The barrels are a plum brown with a little ventilated rib inbetween them and the receiver has some color to it. This model uses double triggers. There is simple engraving on the receivers, tang, breech and trigger guard. The action works great and the hammers match as they should and everthing locks up tight. This is a great looking piece! Too bad some metal spaulled on the one right barrel but it is what it is. $650.00
Consignment
Modern Guns 17
Here are 2 sets of old White plastic grips for a large frame revolver. Don't know what they fit so inquire with measurements of what you need. Prices vary.
Consignment
Modern Guns 16
Here are 3 sets of 'Stag' type grips with screws but I thing that the gray set has an incorrect screw. They are all of plastic construction. The large set on the left have age cracks in the bottom. The other two sets are fine. Do not know what they fit so send measurements. Prices will vary.
Consignment
Modern Guns 15
Set of 4 Smith and Wesson wooden grips. I do not know which models they fit. But if you recognize them let me know. We can take measurements to make sure that they fit you firearm. They are complete with screws and all are in great shape. Prices will vary. Check out the pics.
Consignment
Modern Guns 14
Here's something we do not find often but if you need a receiver for your Model 1906 Slide action Winchester .22 rifle then here it is! This receiver seems to work ok and the hammer cocks and fires as it should. No finish remains and the stock has had initials carved into it. Take a look at the pics. If you need parts then you will find this piece affordable at $175.00
NOTE: Must be transfered by an FFL holder or received by a C&R holder.
Modern Guns 11
This is an outstanding grouping of Winchester ephemera that I recently picked up. This set consists of items collected by a Winchester Arms Company Salesman named Theo Rouault Jr. I believe Mr. Rouault was hired in 1919 right after WW1 as I have three Western Union Telegrams in this grouping that state that they have his application and wish to discuss a proposition with him. The second telegraph says he has been employed and the third says that he has been given the New Mexico Territory . All these telegraphs are from March 2, 7 and 10th 1919 . We also have Theo's Non-Resident Big Game Hunting license to be used in Colorado and dated 1-1-18. Also included in this grouping are two Flyers for the TOPPERWEINS World's Greatest Shotting Team by Winchester, a thermos bottle wrap showing that this thermos bottle was made by Winchester Plaid, a 1908-1909 pocket calendar, a 1972 photograph showing a tag on a Winchester speaker, a magazine ad showing Winchester Gun Oil, a 17 page sales insert showing examples of Winchester Pocket Cutlery, Operating instructions for the 10 gauge breech loading Winchester Model 1898 Cannon, three covers from the 1930's where Theo sent his Winchester envelopes to his wife from San Antonio to Dallas Texas. They do not have letters in them but they have nice stamps and postmarks as well as his company markings on the envelopes. A 1984 typed letter from Robert R. Patton addressed to the European Marketing Director of the Winchester Division, Rome, Italy. He talks about receiving shotshells in colorful packaging and talks also about Winchester Knifes. Also included is a Winchester Letterhead telling about the 1922-1923 line of Winchester Skates. Also included is a two page Specification of the skates and prices on 13 models of skates. This is a detailed list show the specifications. We also have two 1927 magazine ads showing Winchester Shotguns and shells as well as Winchester High Power Rifles and Ammunition. Then there is a small booklet entitled WINCHESTER POCKET CATALOG OF TOOLS – FOR SALE AT THE WINCHESTER STORE and store id'd to Louis Henne Co, New Braunfells, Texas. There is a little worm damage to the front cover but livable. They chewed around the red word WINCHESTER. There are 30 illustrated pages in this pocket guide. We also have 4 larger Winchester Repeating Arms manilla envelopes with ties on the back. Two of them are used and two have never been used. Next is a list of MISSIONARY SALES- GUNS from Jan 1st to May 29th, 1937 and lists all the salesmen and their totals. Theo made the most sales with 1,126 guns. We also have a pair of Business envelopes that weren't used but only in Fair condition with Theo's letterhead on them. Next is a letter head window envelope from OLIN INDUSTRIES, INC also with the red WINCHESTER logo on it and contains a sales receipt to the Crow Bros. of Taft Texas for parts. This one is dated 1954. Lastly, we have Theo's Salesman's receipt book with WINCHESTER REPEARING ARMS CO., NEW HAVEN, CONNECTICUT, U.S.A. printed on the top of each page. This book comes in a black leather/oil cloth fold over book to keep it in. This grouping came with several unrelated photographs that I'll list below. For this grouping $165.00 Check out the pics!!!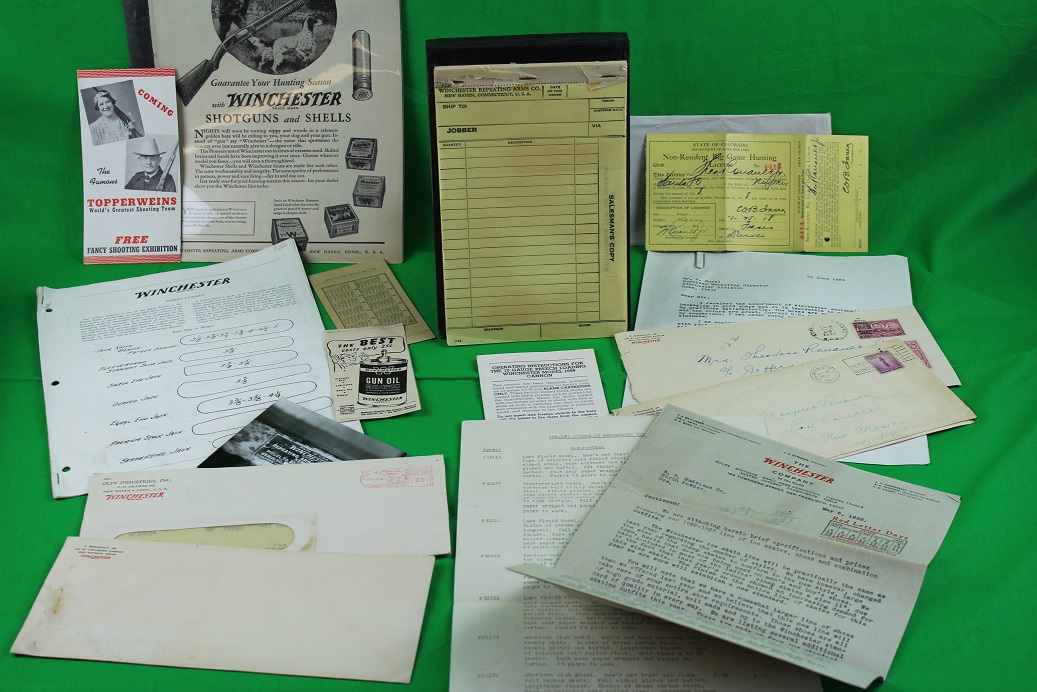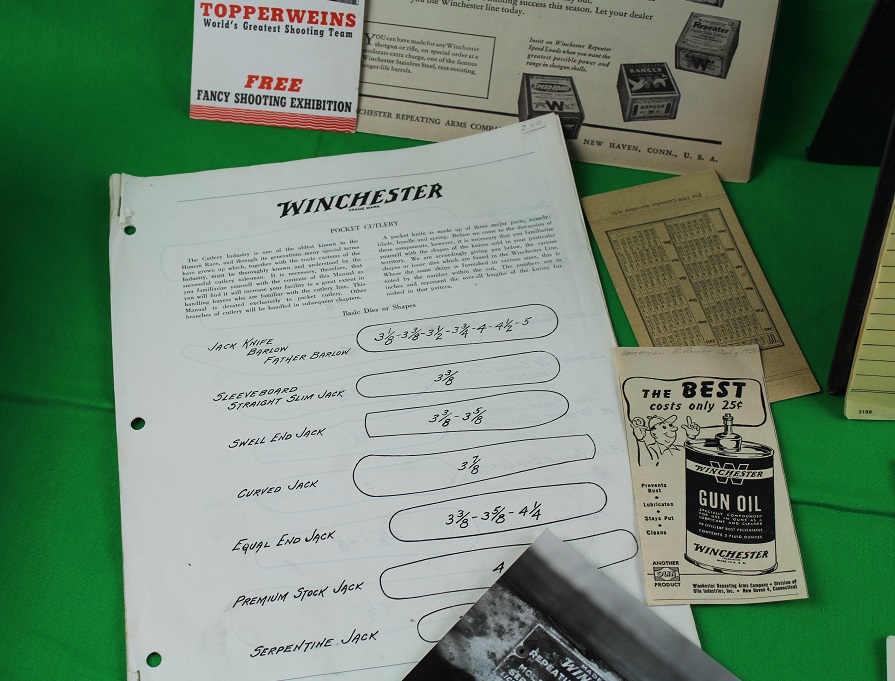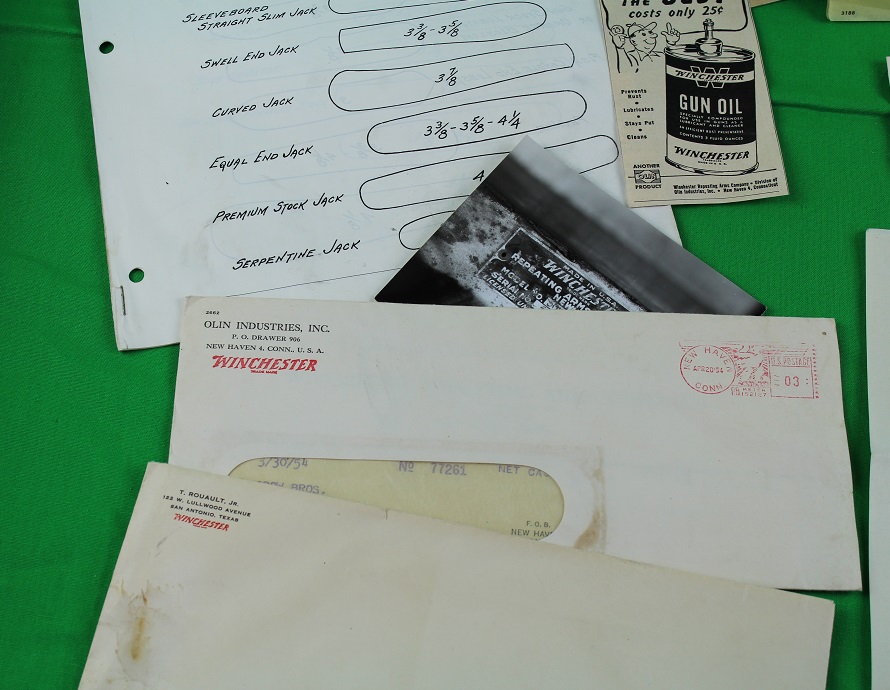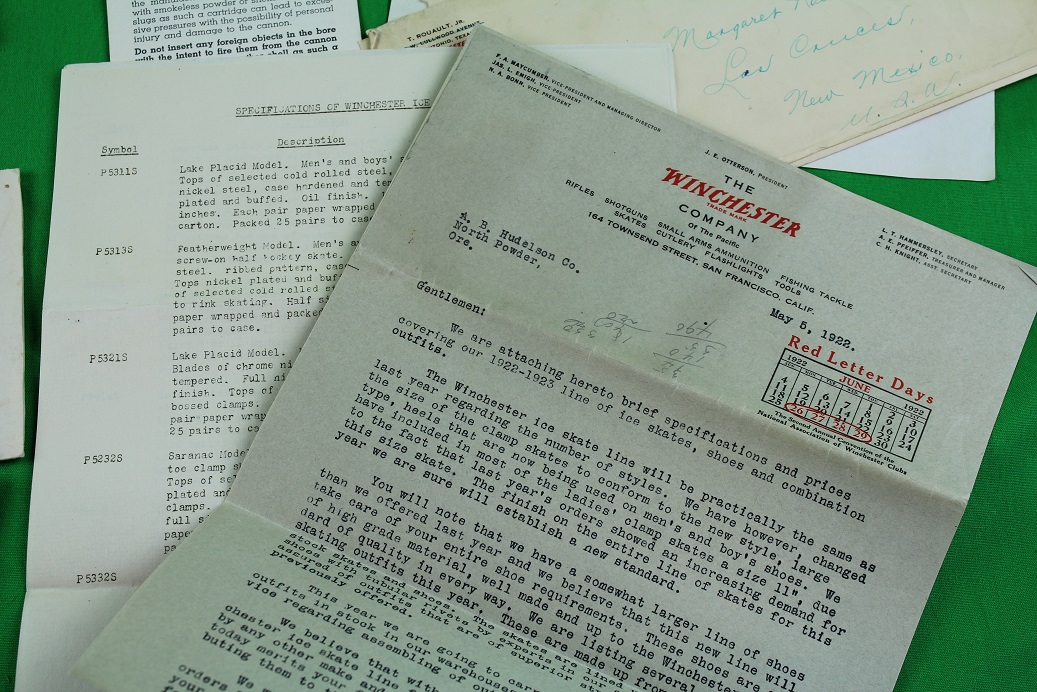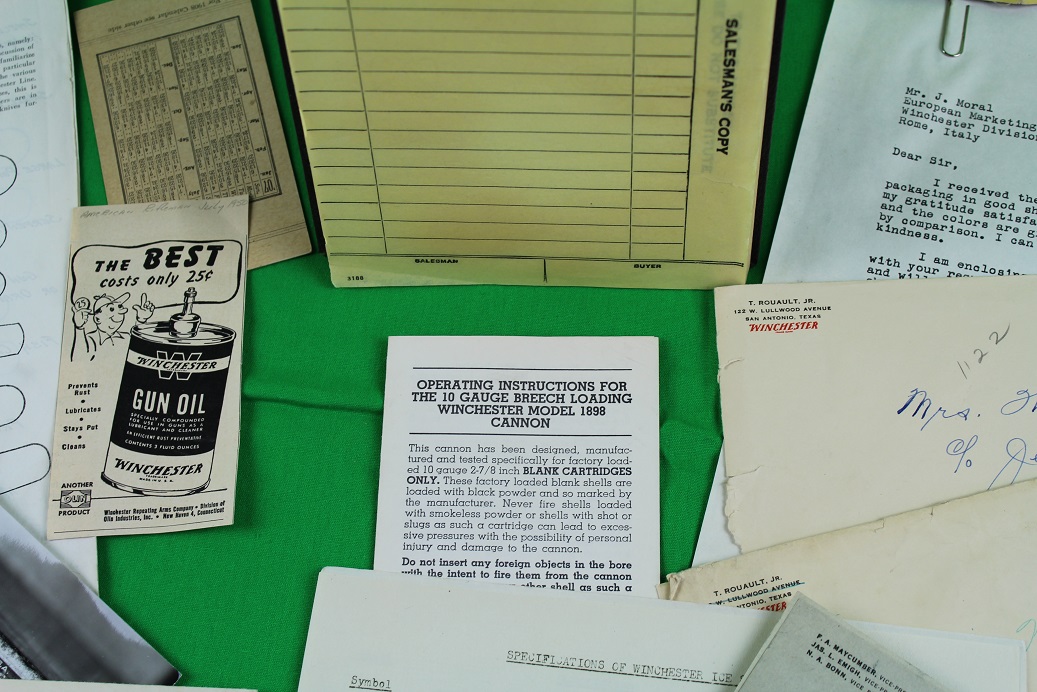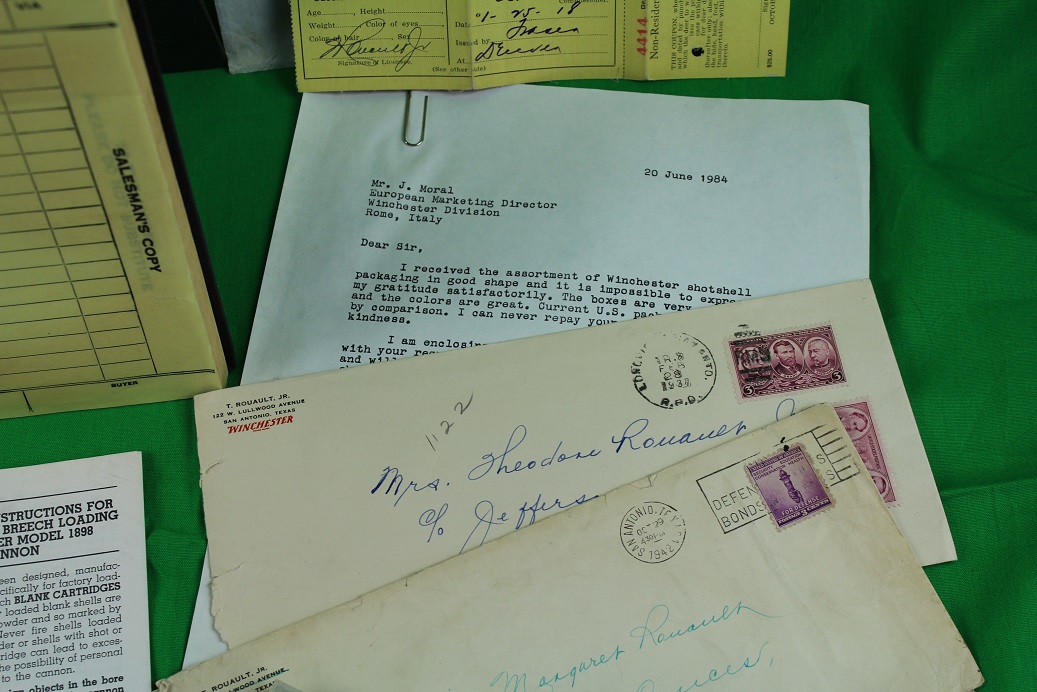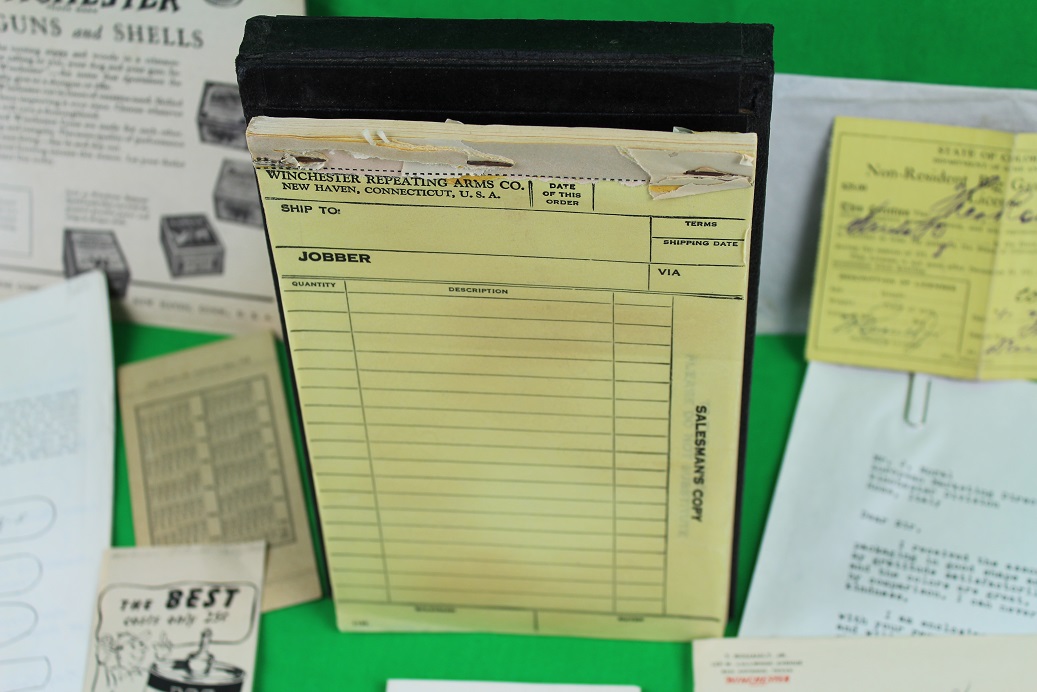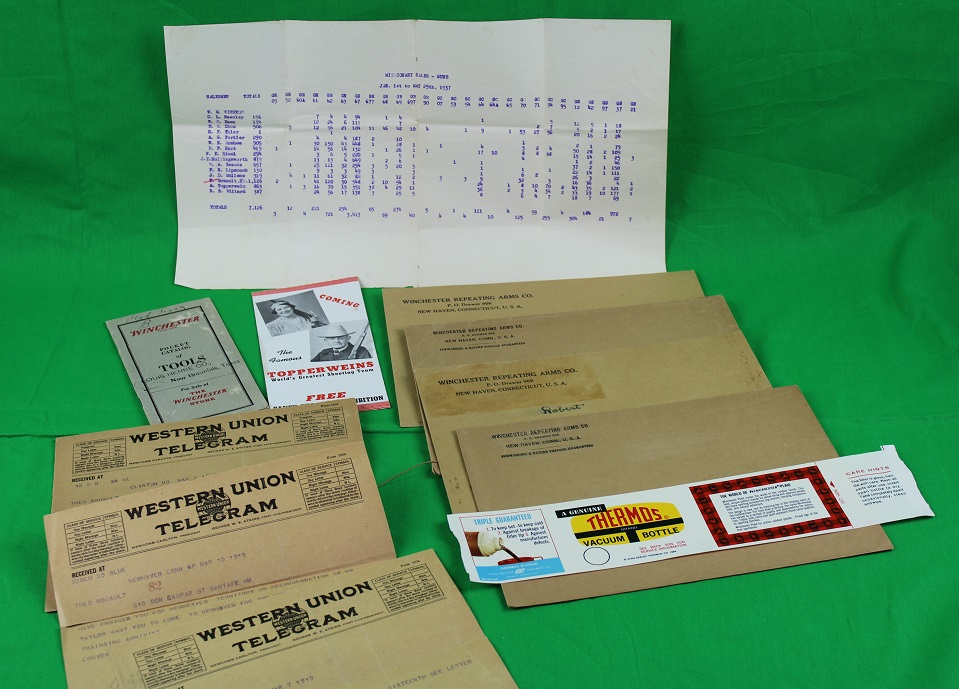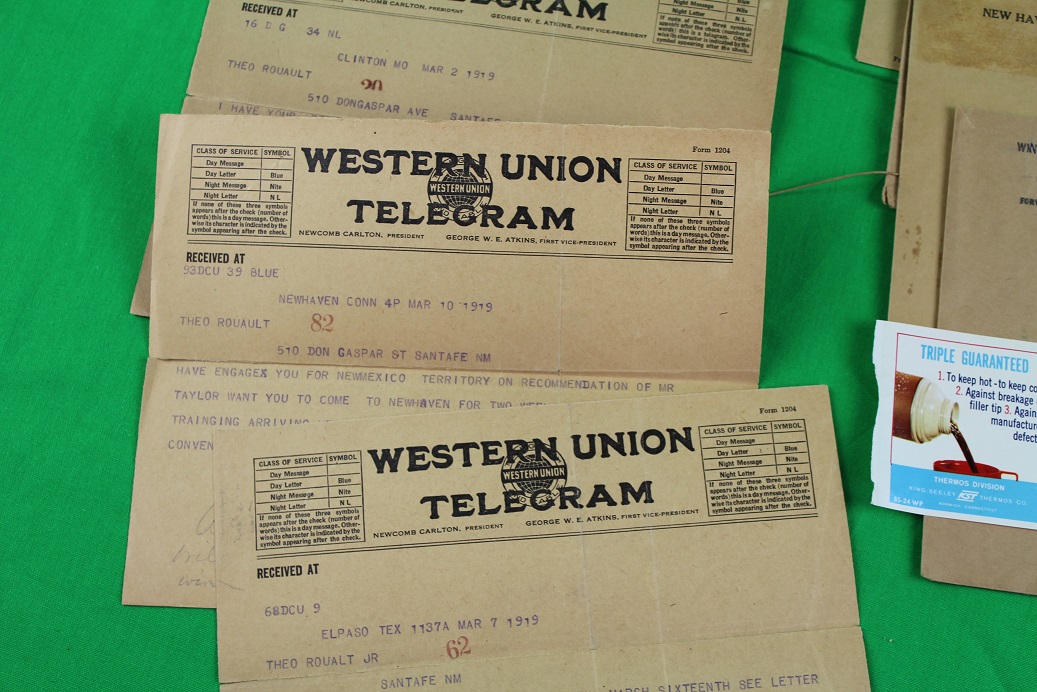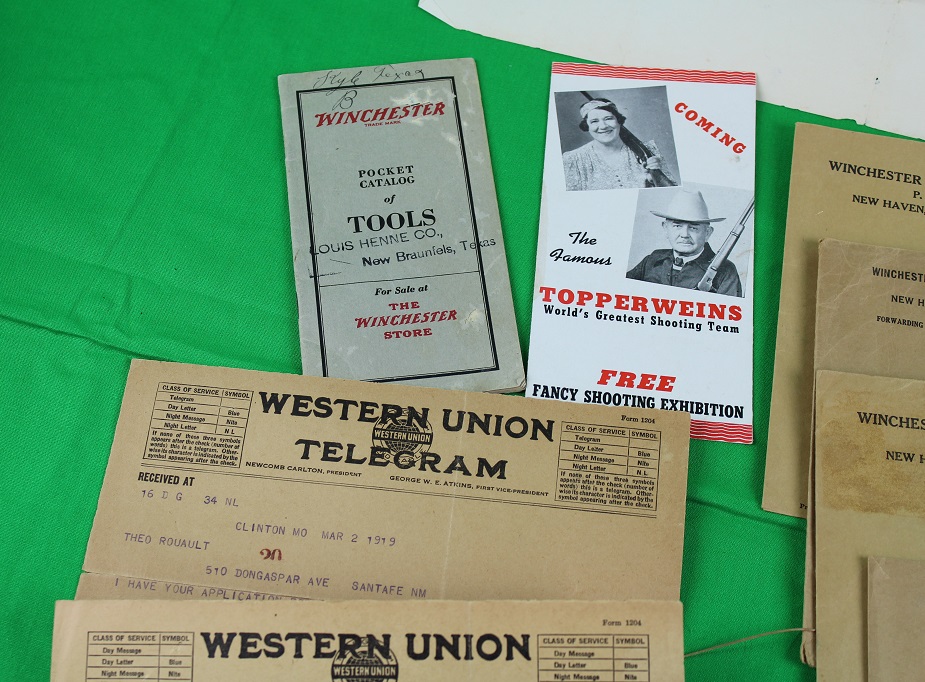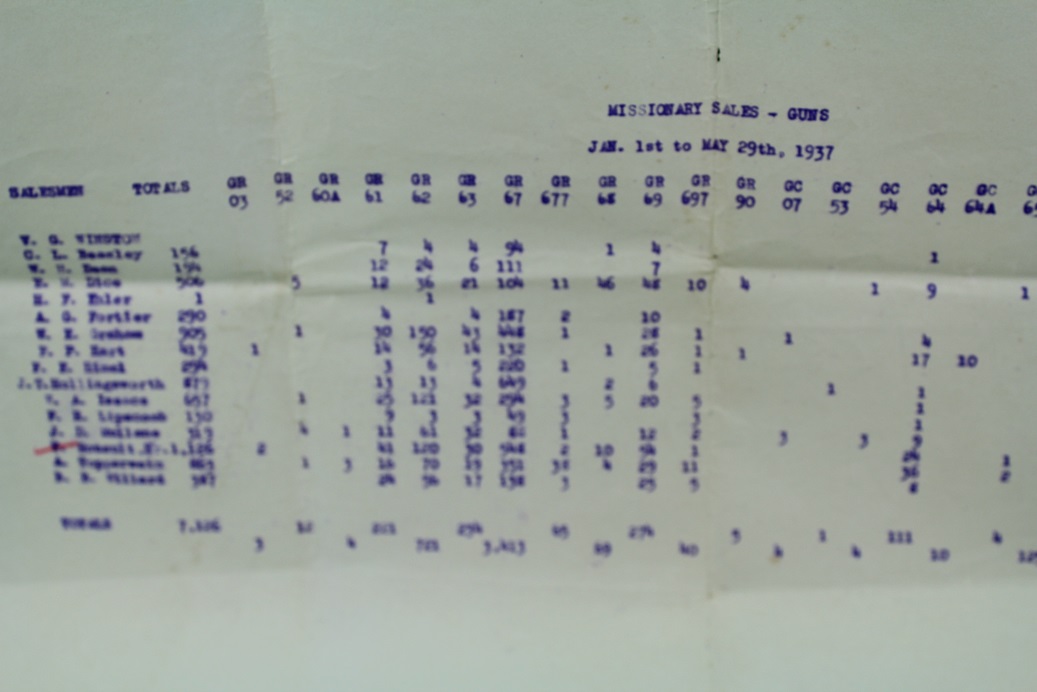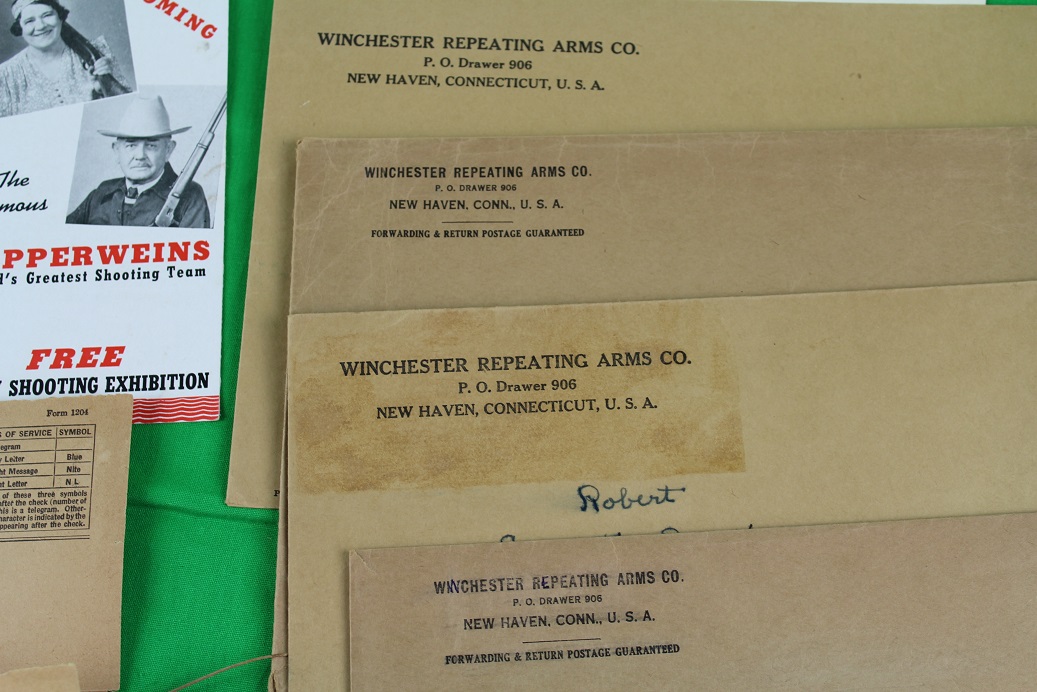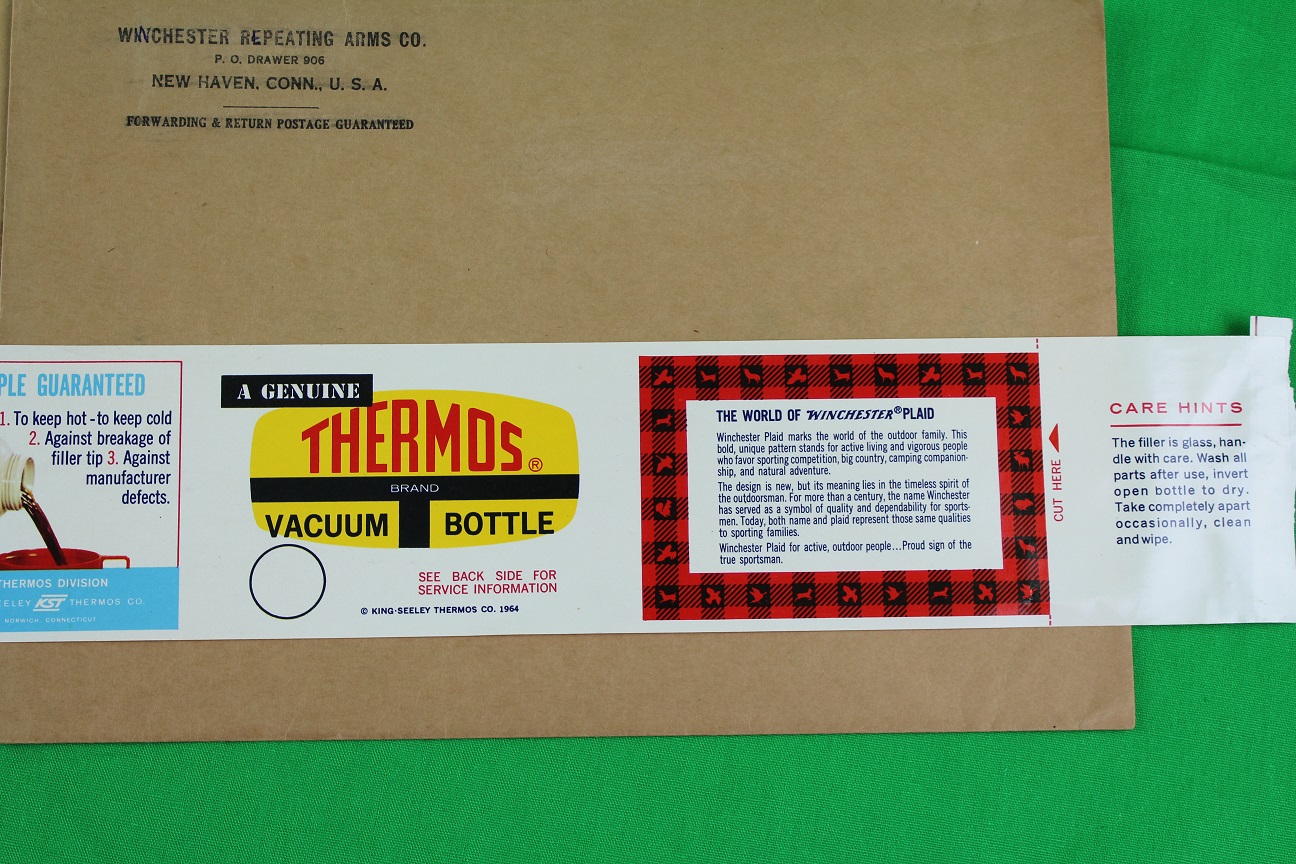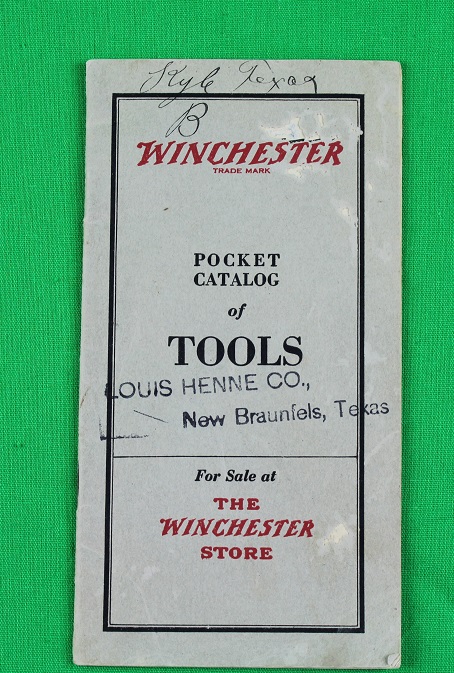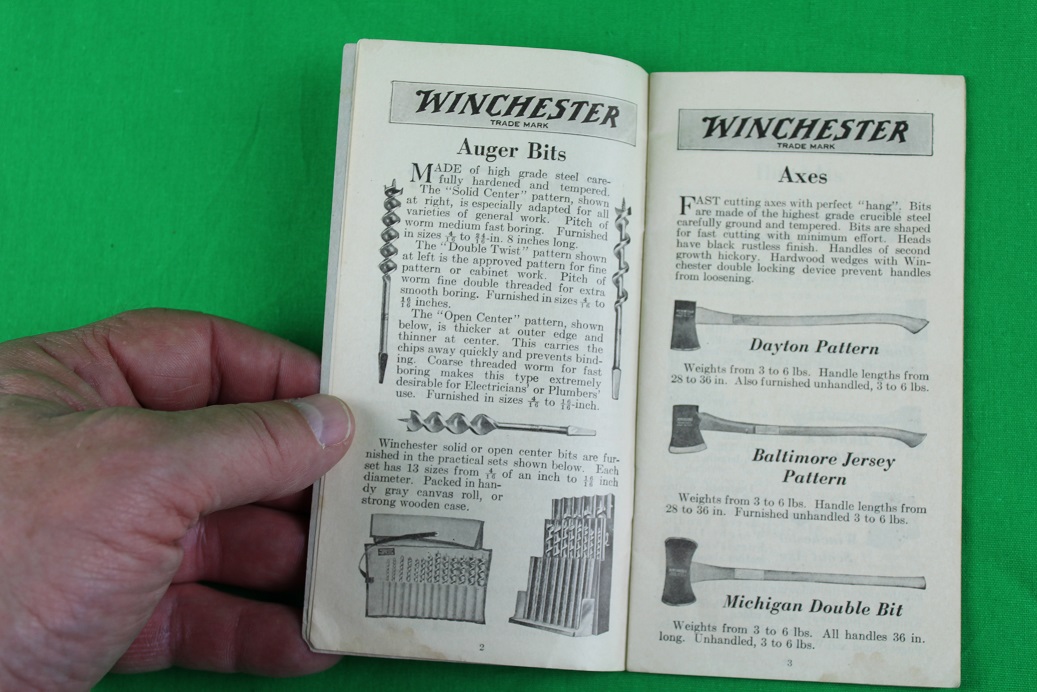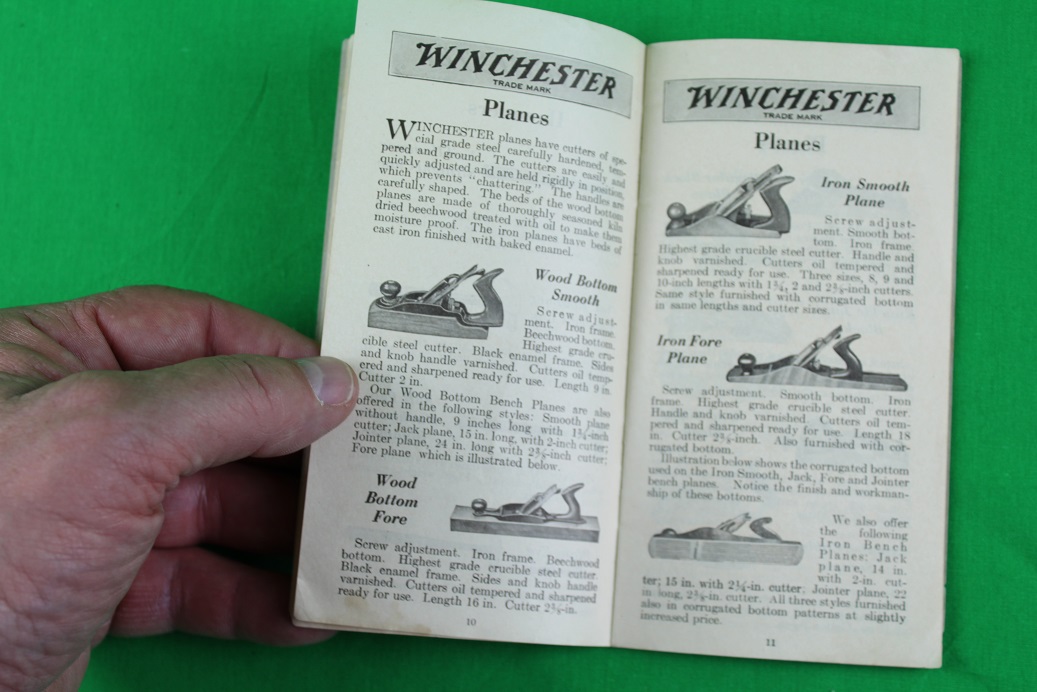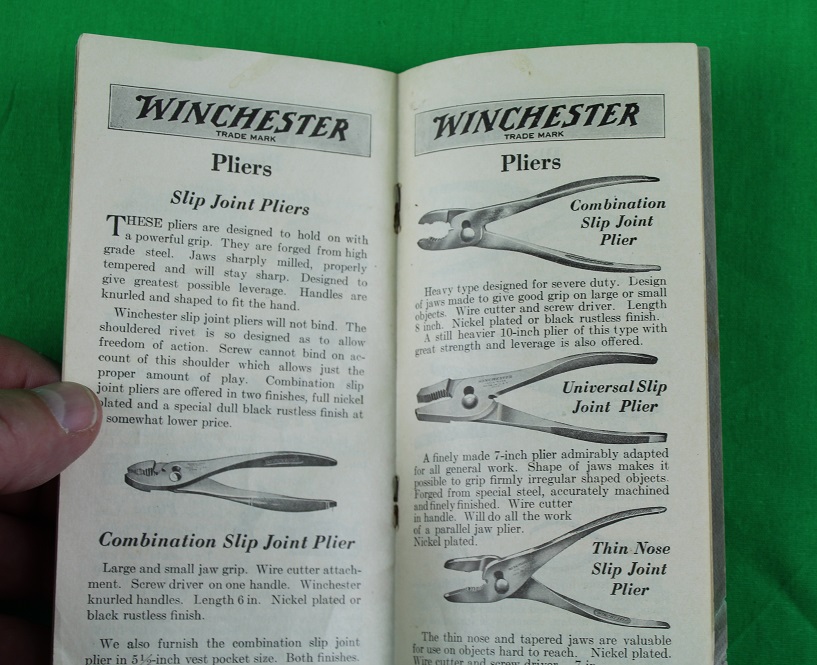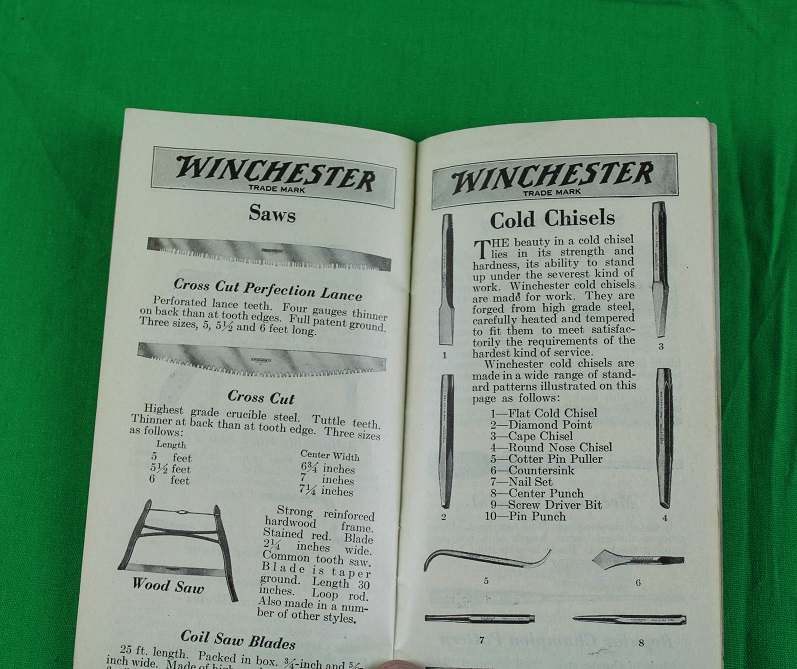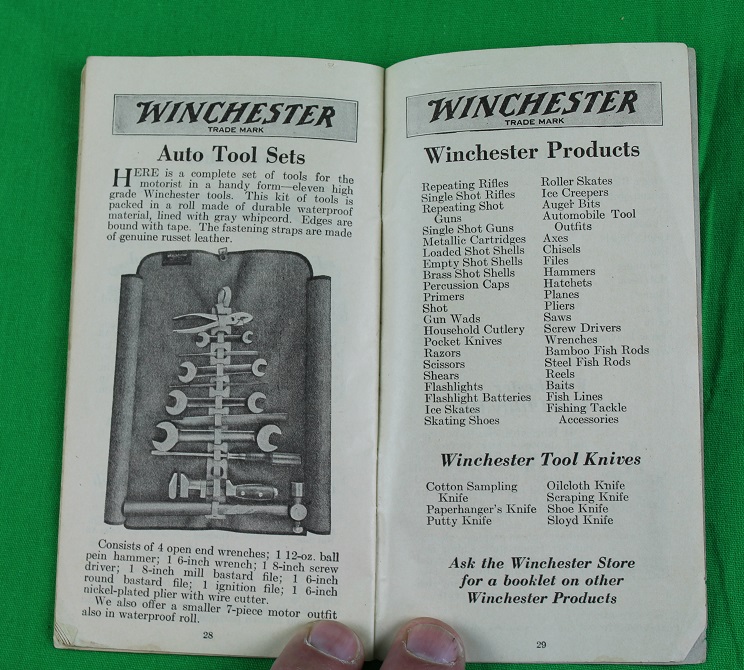 Consignment
Modern Guns 10
Here we have a Remington Deringer .41 rimfire type III No. 4 pistol. Because of the serial number it is believed that this pistol was made around the WW1 era and because of that it is recognized as a 'modern ' firearm by the Federal Government and must be transfered. Deeply marked on top REMINGTON ARMS, U.M.C. CO., ILION, N.Y. The firearm is in overall good condition with a nice dark patina. There is a little hinge wobble but no cracks or breaks. The action works fine. The only drawbacks are a small gouge in one of the hard rubber grips and someone has ground the knurling down on the top of the hammer to make it smooth.. The bores are good and the extractor is still present. $850.00
Consignment
Modern Guns 8
16. This is a Colt Police Positive .38 Spl. Caliber revolver that was produced from 1905 to 1927. The checkered Walnut grips show lots of wear, especially the one on the obverse so this was carried by a right handed person. Checkered walnut grips became the standard for this weapon in 1924. Last patent date on the barrel is 1905 so this is the Police Posite first issue. The serial number is 2884XX . All the barrel markings are clear and sharp on this fine revolver and the action works flawlessly in single and double action. This model has the 4 inch barrel which shows nice rifling. This revolver still exhibits most of it's original color being about 85 to 90% but I believe the side plate to be a rework as the Colt logo is a little light but all there, and the blue is a slightly different color. Still a nice revolver that wasn't pulled from the holster very often. $595.00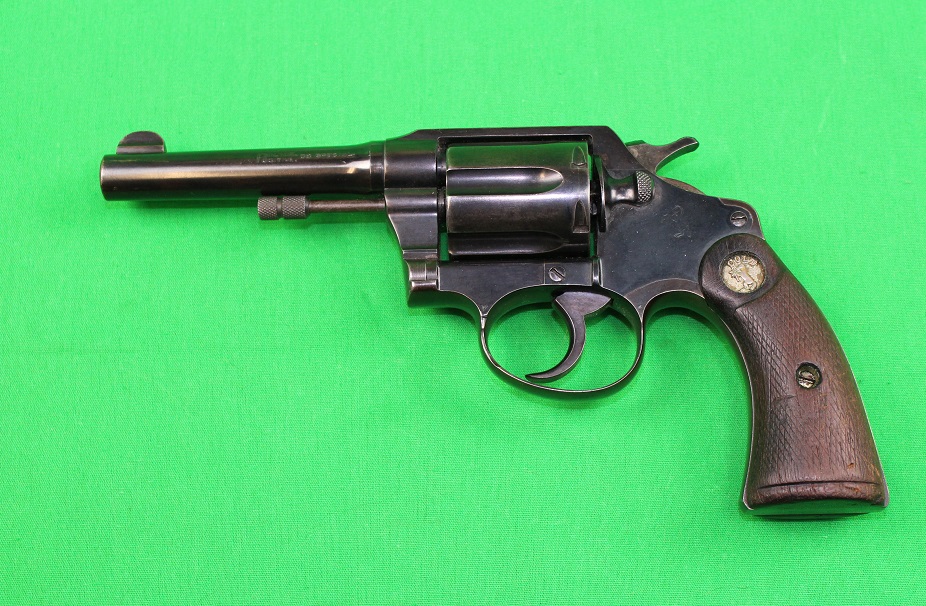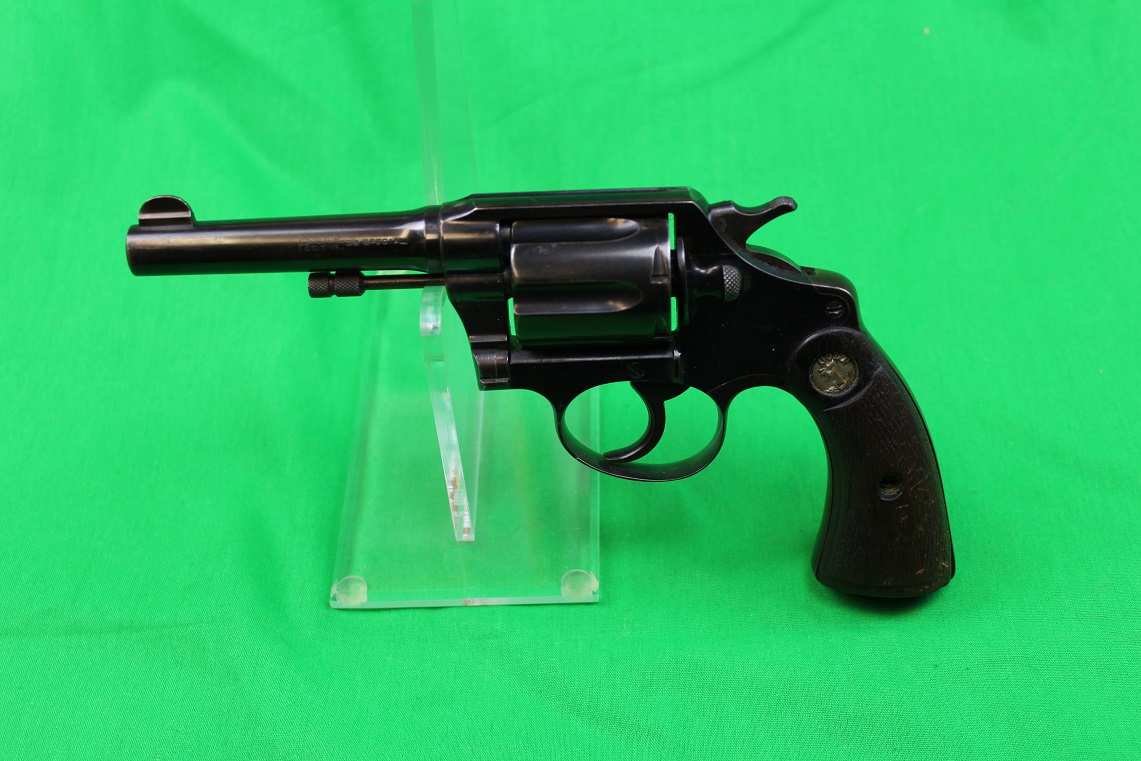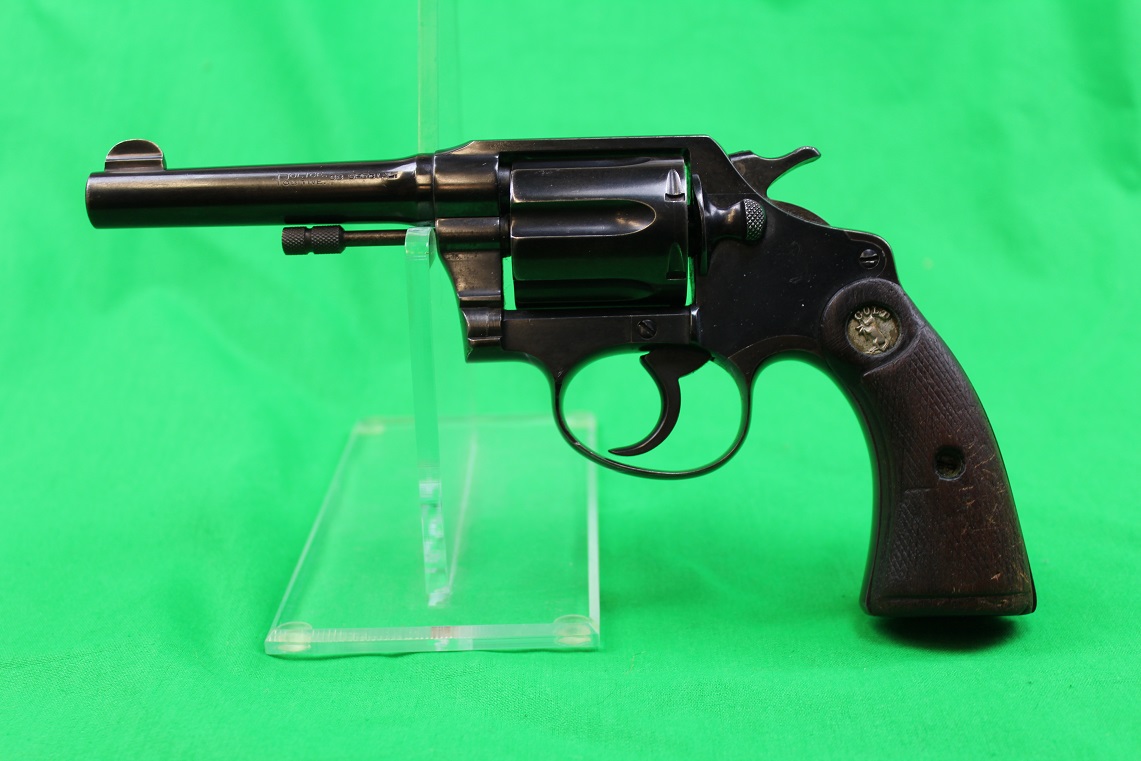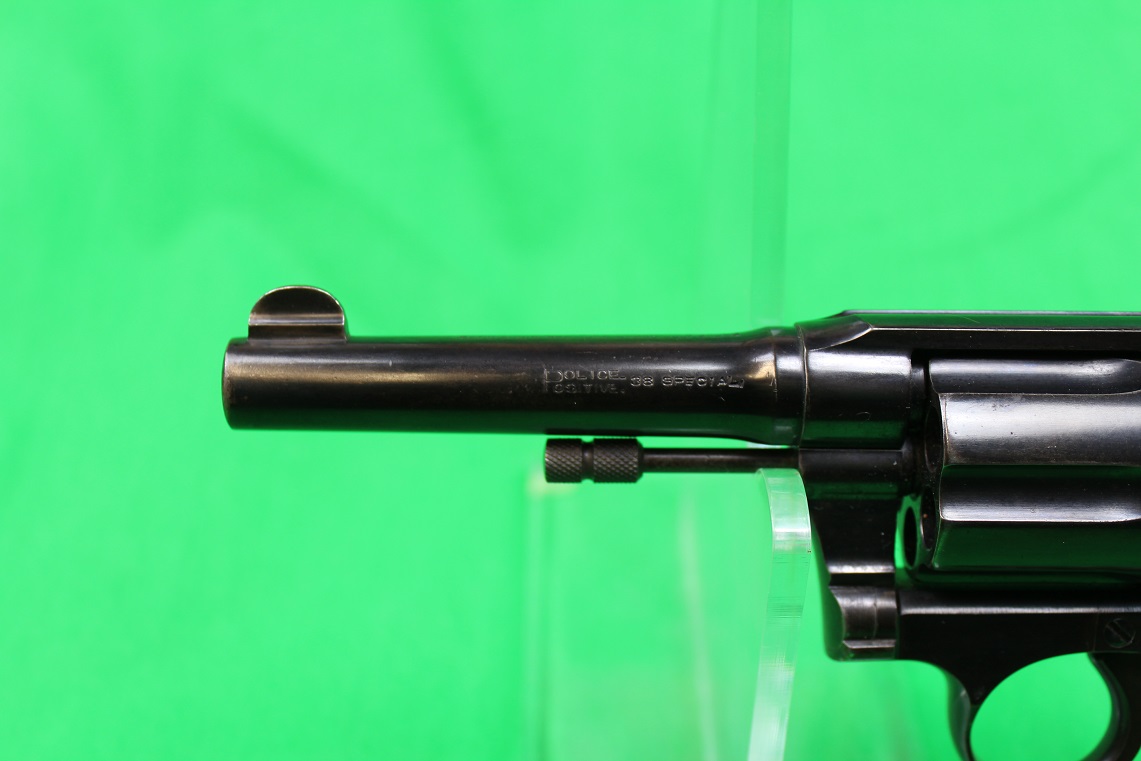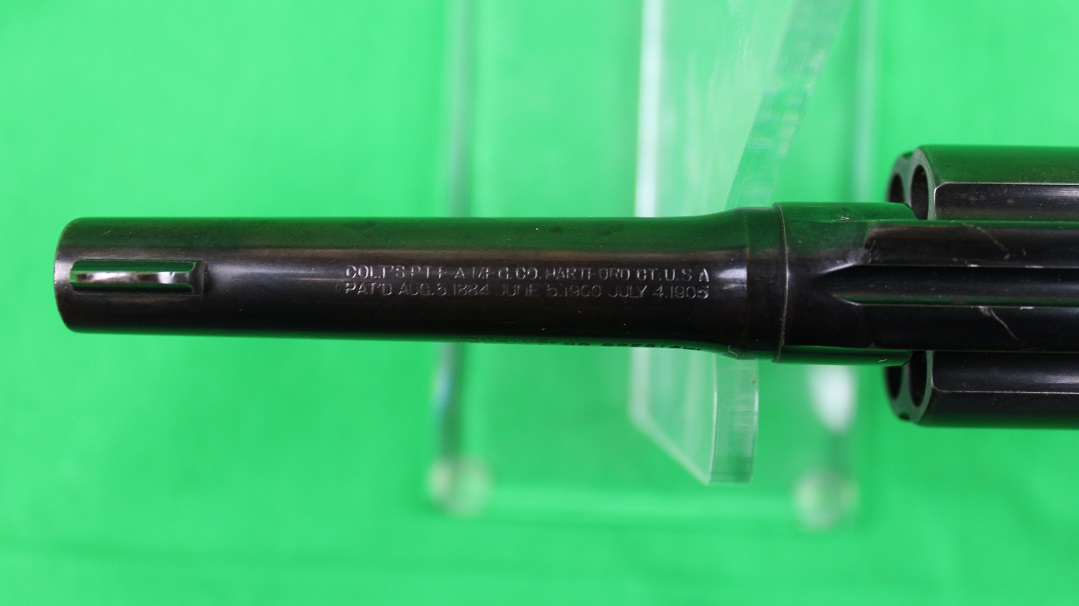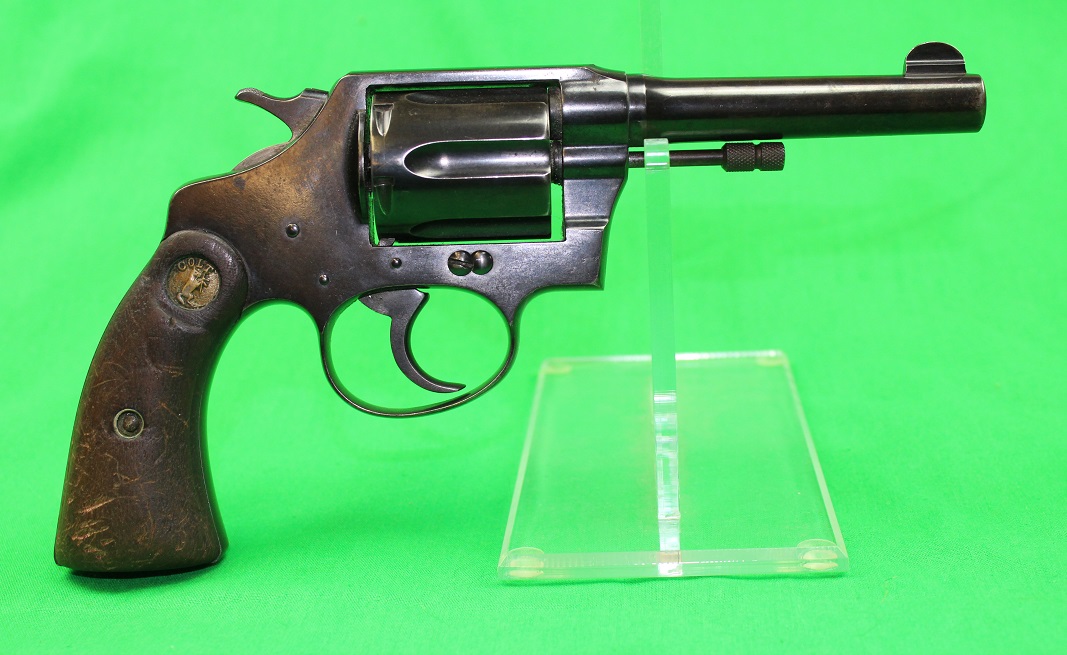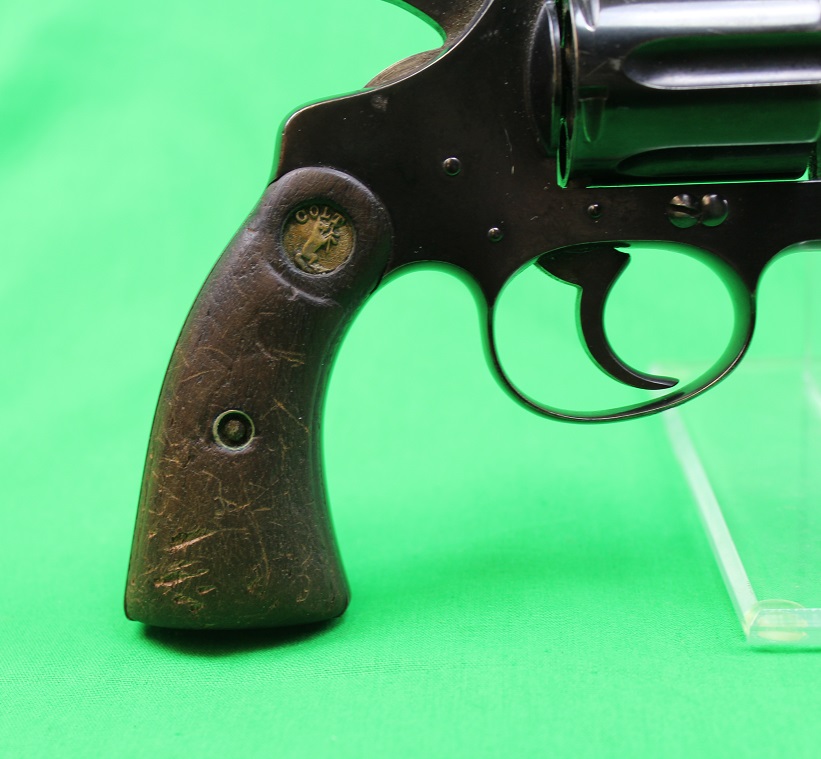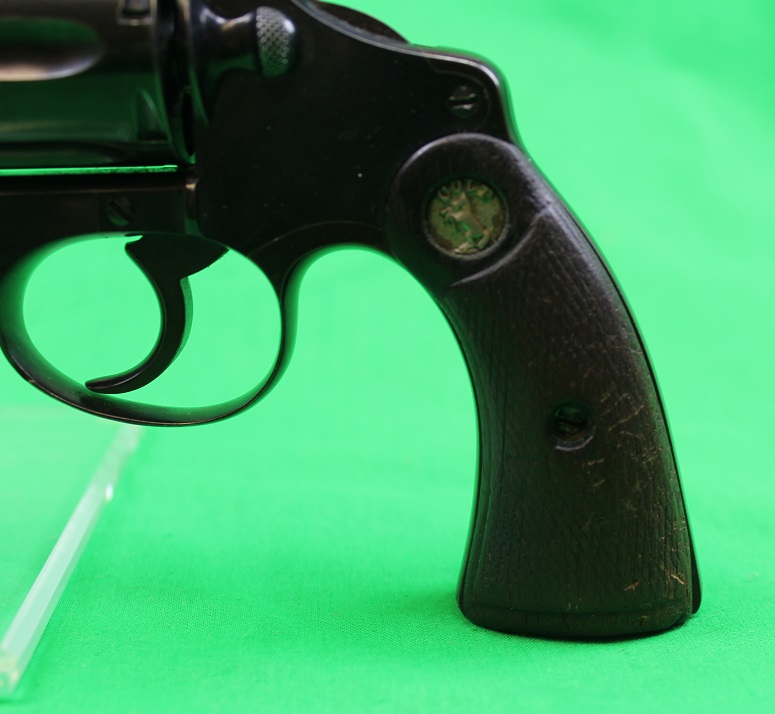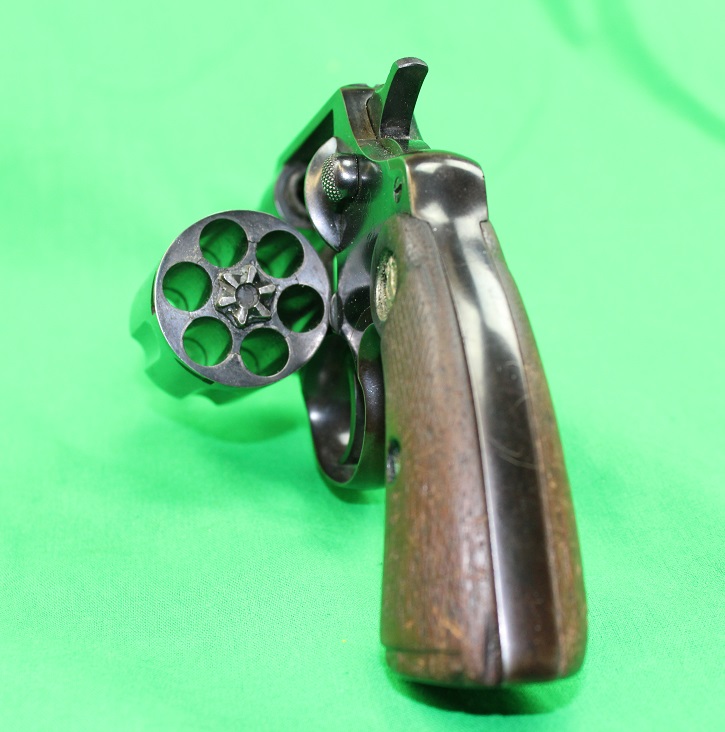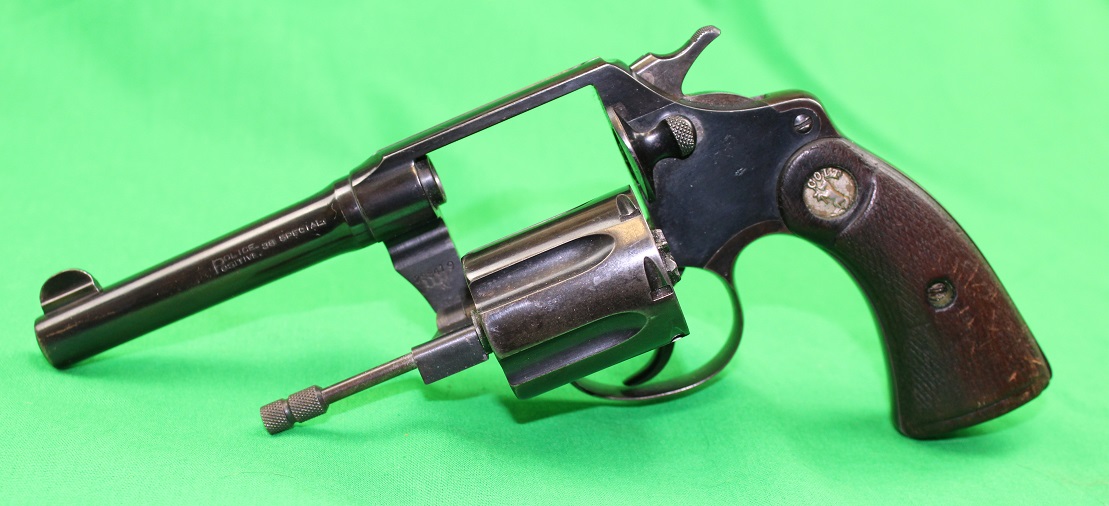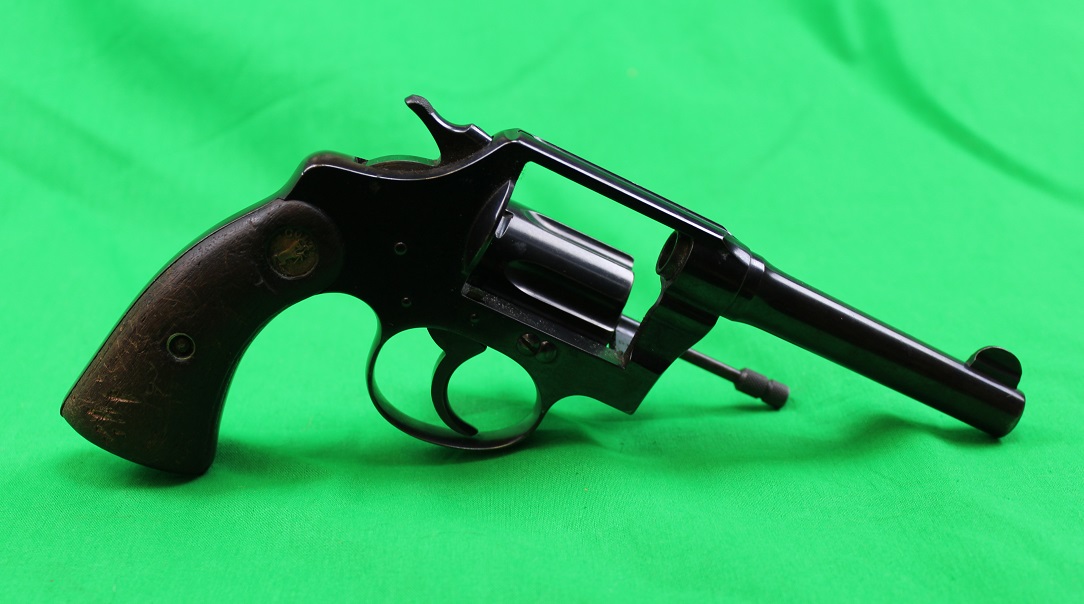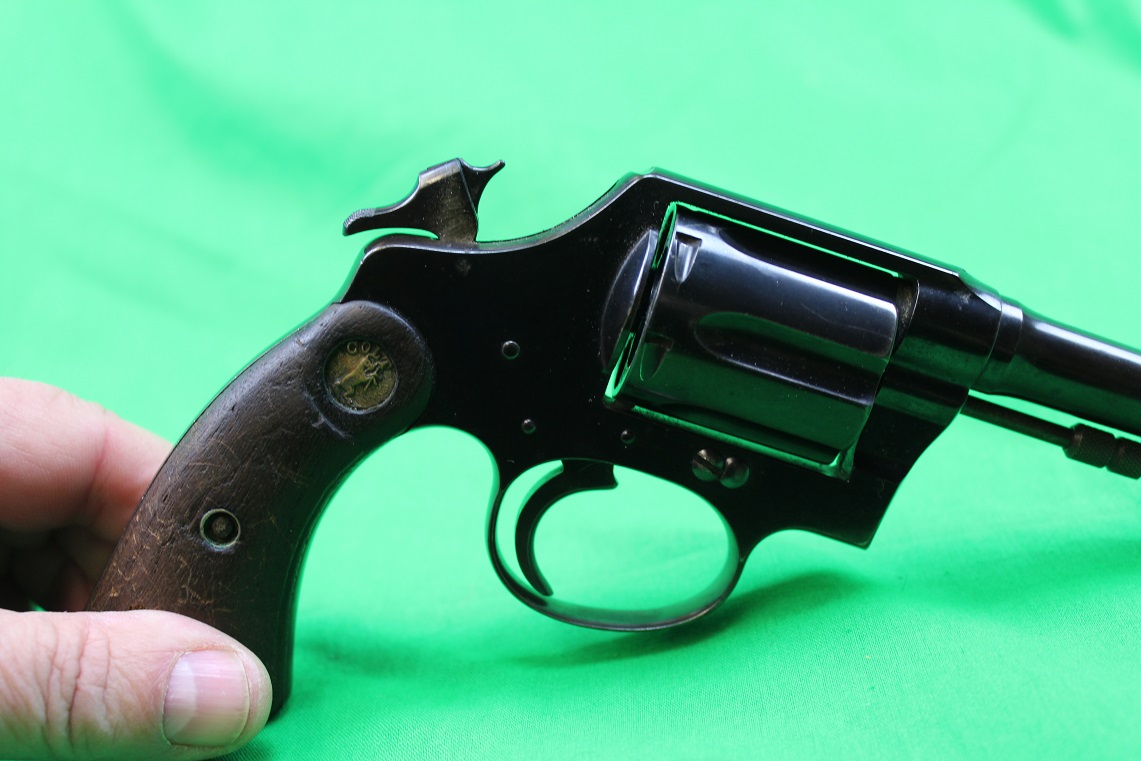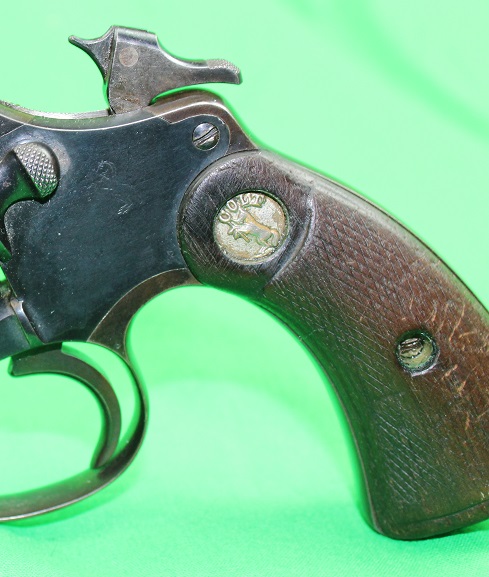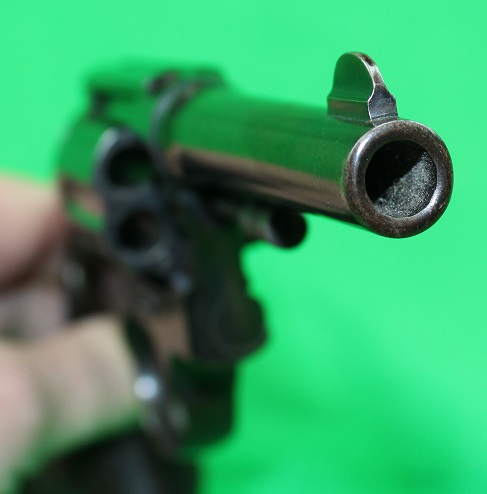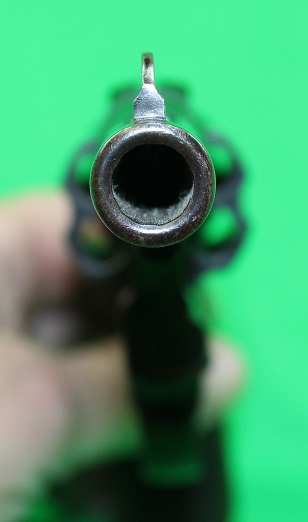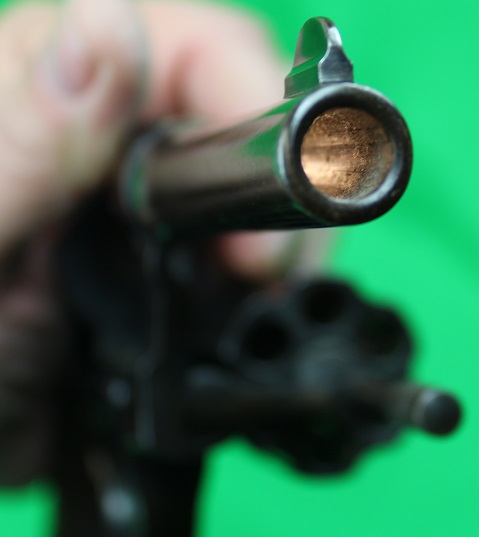 CONSIGNMENT
Modern Guns 6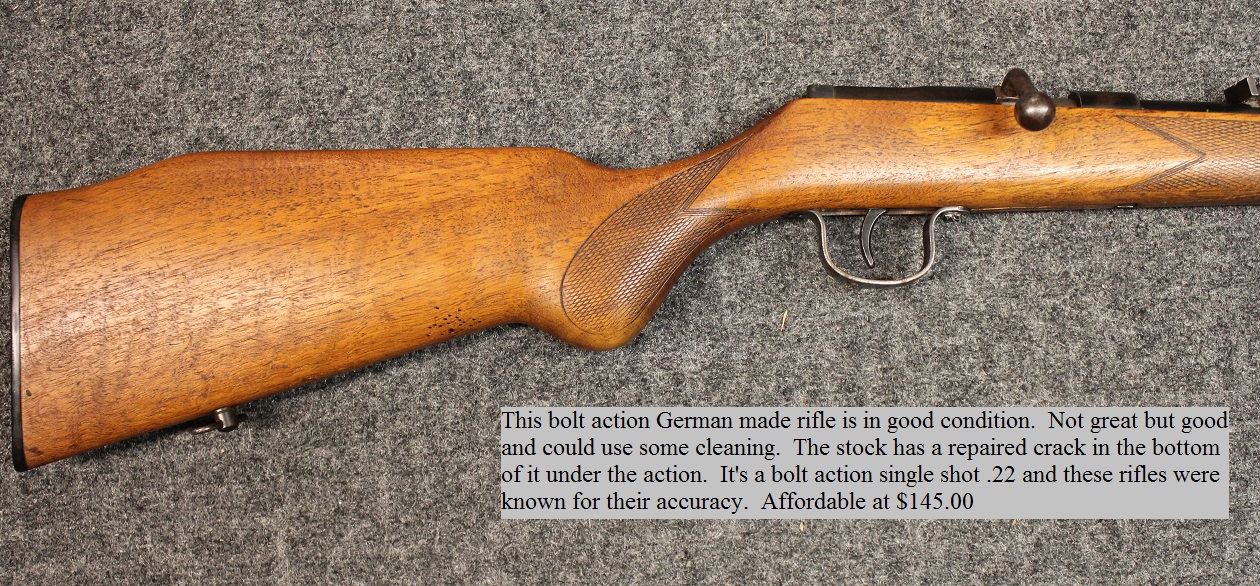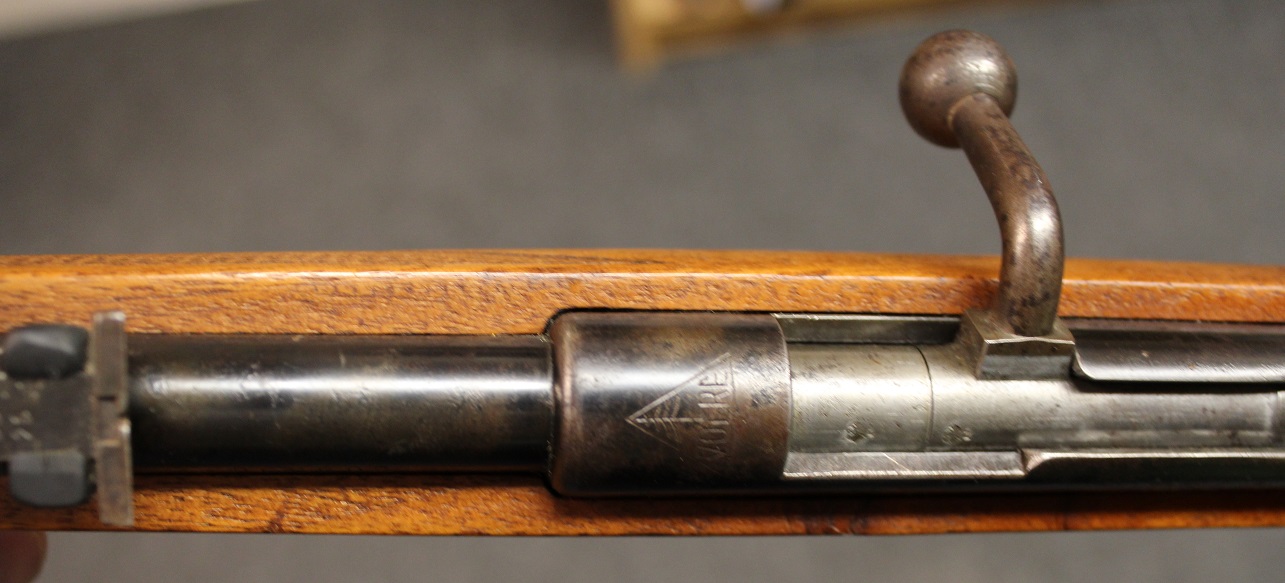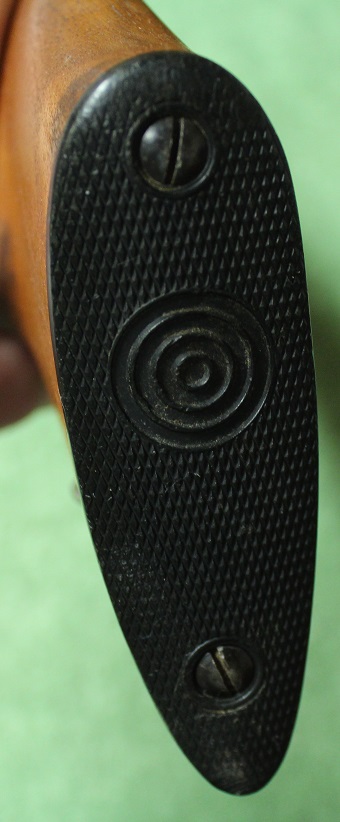 CONSIGNMENT
REPLACEMENT SKS STOCK
This is actually an original SKS stock for the SKS rifle that is so popular today. This stock was taken off the original rifle and replaced with a poly stock. If you have a SKS that is in need of a new stock then here's one for you. $45.00 Modern Guns 4


GOOD ESSEX GUN WORKS 12 GUAGE SINGLE BARREL SHOTGUN WITH NICKELED RECEIVER!
Modern Guns 3
Here is a very good Essex Gun Works 12 guage single barrel shotgun with a nickeled receiver. The last date on the receiver as far as a patent is May 14, 1901 so it will have to go to an FFL for transfer or if you have a C & R license I can send it directly to you. This weapon is in good condition and the walnut stock and forearm are in good condition with just a ding here and there. The receiver has a great deal of the original finish left. The gun is about 45 1/2 inches long overall with a 30 inch barrel. The bore needs a scrubbing but should clean up pretty good. The action works fine. Good strong springs. Plastic buttplate. $125.00
OLD WESTERN ARMS 16 GUAGE SINGLE BARREL SHOTGUN
Modern Guns 02
Here we have an old Western Arms 16 guage single barrel shotgun. Mechanically fine with a nice dark patina overall. The walnut stock is in pretty good shape with the exception of some forearm wood loss up front , two holes in the wrist which I think was modified to fit a sling guide in there and a small crack on the wrist top side back of the tang but still solid. The bore needs a good scrubbing. This shotgun is about 44 inches long overall with a 28 inch barrel. These guns were made at the turn of the century so this one will have to be transfered by an FFL dealer or if you have a C & R license I can send it directly to you with proof of age. Check out the pics! $100.00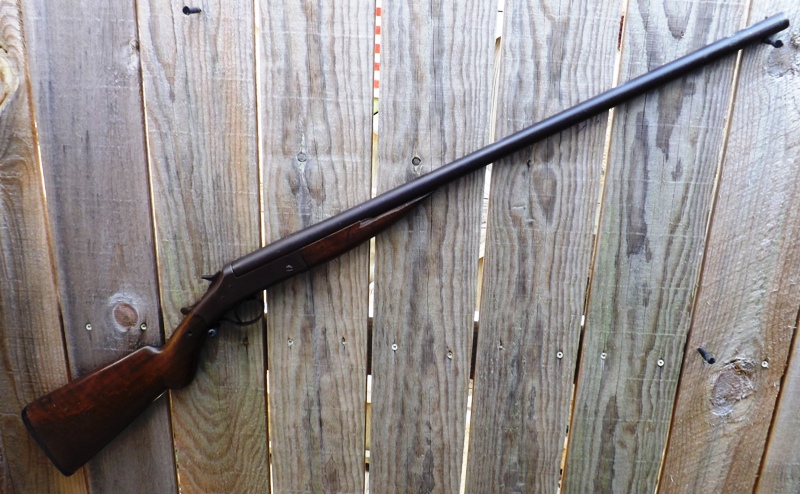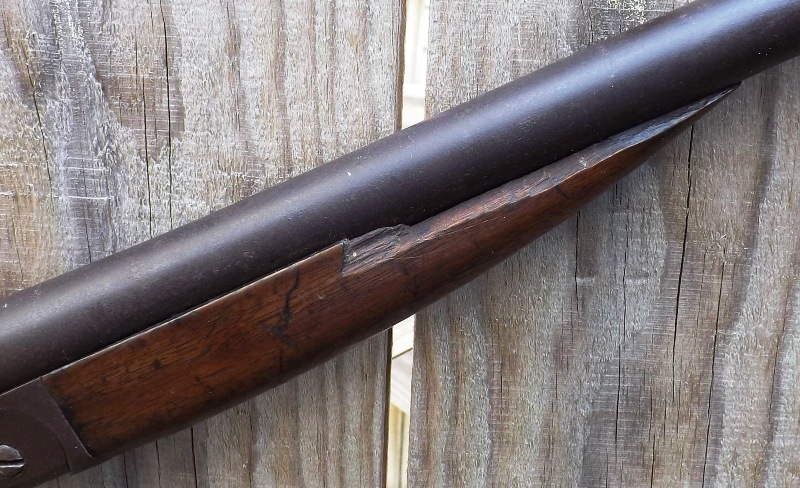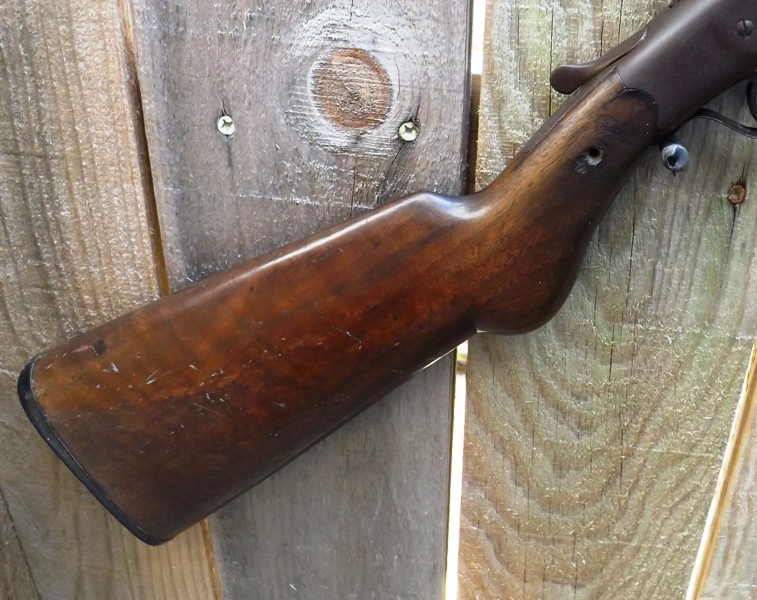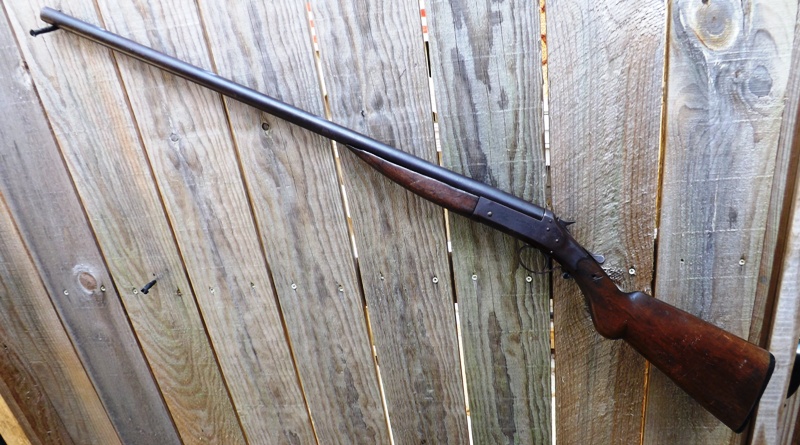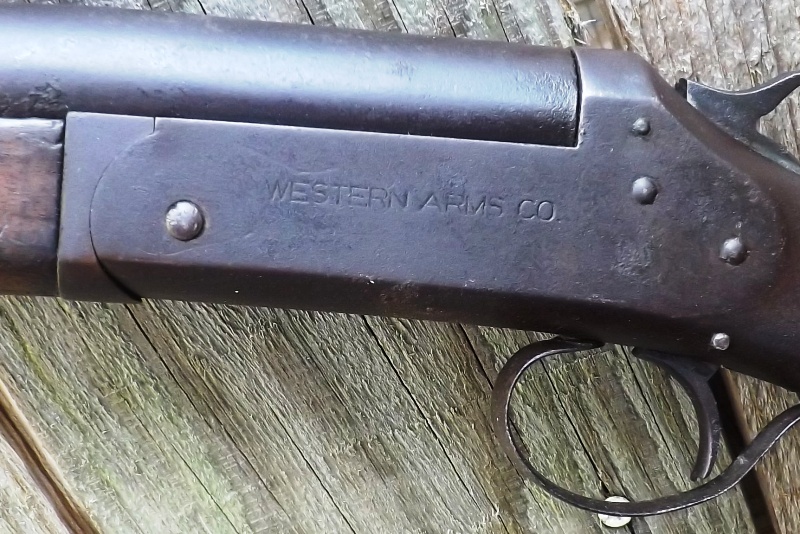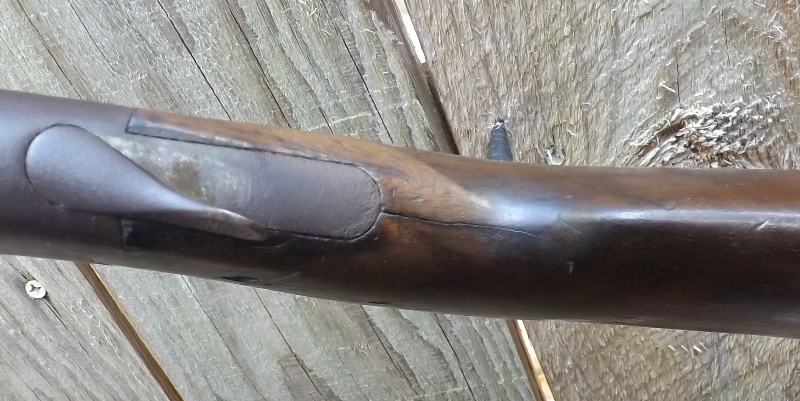 Anything you like? E-mail me here