SOME OF THE FIREARMS BELOW HAS REDUCED PRICES !
Thanks! Ted
WATCH THIS SITE AS WE ARE GOING TO ADD MORE MODERN GUNS!!!
****NOTE****
Only firearms allowed in California will be shipped to California
**** **** THANKS!
NOTICE: ALL FIREARMS MADE AFTER 1898 AND CHAMBERING MODERN AMMO CAN BE PURCHASED BY ANYONE WHO CAN PASS THE FBI CHECK BUT MUST BE SENT TO A LICENSED FIREARMS DEALER or Curio and Relics license holder if it applies.
Consignment
Modern guns 168
Here we have different Harrington and Richardson revolvers of different distinction. The first one is a TRAPPER Model .22 revolver that was made from 1924 to 1941. This one is a 7 shot .22 revolver with a 6 inch barrel. This gun exhibits most of the original blue (65 to 70 %) with some finish lacking here and there. It is a double/single action revolver and works fine. The grips are walnut. All markings are sharp. Hard to find now! $325.00 Modern Guns 41
Consignment
Modern guns 167
Here is a small side lever .410 double barrel shotgun. This one will not take long .410 shells and as I believe that it is foreign I do not what shells it takes. (NOTE*** A gun enthusiast friend informed me that he thinks this shotgun actually fires a 44XL metallic cartridge filled with shot!) The entire firearm is 41 inches long with 25 1/2 inch long barrels. The bores are actually fairly nice but there is some metal flaking on the right outside barrel near the end so I don't believe this piece is safe to shoot. The shotgun looks pretty nice with the usual dings to the wood and an age crack to the right obverse buttstock. The left reverse has a nice cheek piece. The barrels are a plum brown with a little ventilated rib inbetween them and the receiver has some color to it. This model uses double triggers. There is simple engraving on the receivers, tang, breech and trigger guard. The action works great and the hammers match as they should and everthing locks up tight. This is a great looking piece! Too bad some metal spaulled on the one right barrel but it is what it is. $650.00
Consignment
Modern Guns 166
Here are 2 sets of old White plastic grips for a large frame revolver. Don't know what they fit so inquire with measurements of what you need. Prices vary.
Consignment
Modern Guns 165
Here are 3 sets of 'Stag' type grips with screws but I thing that the gray set has an incorrect screw. They are all of plastic construction. The large set on the left have age cracks in the bottom. The other two sets are fine. Do not know what they fit so send measurements. Prices will vary.
Consignment
Modern Guns 164
Set of 4 Smith and Wesson wooden grips. I do not know which models they fit. But if you recognize them let me know. We can take measurements to make sure that they fit you firearm. They are complete with screws and all are in great shape. Prices will vary. Check out the pics.
Consignment
Modern Guns 163
Here's something we do not find often but if you need a receiver for your Model 1906 Slide action Winchester .22 rifle then here it is! This receiver seems to work ok and the hammer cocks and fires as it should. No finish remains and the stock has had initials carved into it. Take a look at the pics. If you need parts then you will find this piece affordable at $175.00
NOTE: Must be transfered by an FFL holder or received by a C&R holder.
Consignment
Modern Guns 162
Here is a very nice Old Model Single Action Pre-Transfer bar 6 shot Ruger Single Six Revolver in .22 caliber. This one is the more coveted 3 screw model. This model is patterned after the Colt Single Action Army Revolver. This revolver has the 5 1/2 inch barrel which has a very nice bore. The action works as it should and is crisp. There is some finsih wear to the end of the barrel and ejector rod assembly for going in and out of a holster. This revolver saw use but not that much in my estimation. The blueing is very nice overall and most of the original black anodizing to the aluminum backstrap and trigger guard is remaining. Check out the pics. This is a nice pre1972 revoler with a serial number of 20-220xx. Still a nice piece$495.00
Consignment
Modern Guns 161
This is fantastic! Here we have two Limited Edition Browning Fixed Blade Knifes with each being One of One Thousand of different types but having the same serial numbers!!! Impossible to find! They are also in their original shipping containers!
This first one is The Browning Damascus Classic Fighter being a Limited Edition 1 of 1000 being custom designed. The blade is made by using the 1000 year old tradition of Damascus Knife and Sword Making. Only using the finest bars of pure nickel and high carbon stainless steel that are heated in the ancient tradition over pine tree charcoals until the metal reaches a read hot condition them removing the metal and being hammering it out lenghtwise and folding the metal over and over again to create the strength and one of a kind blade with over 200 layers pattern of the damascus blade. No two blades are alike. The knife has a beautiful exotic cocobolo wood handle with polished nickel silver pins and double guard bolster and comes with it's own beautiful walnut padded display case. The side of the bolster is engraved #0959 with BROWNING JAPAN on the ricasso. This is an extremely high quality fixed blade knife that has never been carried or used. The blade has never been sharpened and is in new condition. This knife is 7 1/2 inches long with a 3 1/2 inch long blade. The Handle with cross guard is 4 inches long and has a laynard hole at the butt. This knife is absolutely fantastic!!! Comes with the Browning accompaning info sheet.
The second knife is the Browning Double-edged Damascus Hunter with shipping carton and beautiful Walnut display box. Browning Double-edged Damascus Hunter with cocobolo wood handle is mint in the box and came out in 1985 being Designed by Gil Hibben. Overall length 7-3/4". The Serial number is 0959/1000. Comes in a fine walnut wood box. No sheath and the knife did not come with a sheath in the beginning. Designed by the acclaimed USA knife maker Gil Hibben and forged by the master sword makers of Seki City, Japan. The original rice paper brochure is included with the knife. Here is what the brochure says:
Damascus knife and the sword making is a tradition that has endured in Japan for over 1000 years. Japan's feudal history, often shrouded in conflict, demanded the making of blades that possessed qualities of exceptional strength and beauty. Today's Japanese Damascus knife makers continue to blend their art, religion and culture into a unique knife making process that is expressed exquisitely in each blade that leaves their anvil. Master sword maker Makoto Takaba selects only the finest bars of pure nickel and high carbon stainless steel for the blades. In ancient tradition, the fire is stoked with pine tree charcoal. Again and again the red hot metal is taken from the fire, hammered out lengthwise, folded over and reheated. A core layer of high carbon stainless steel is then forged into the center of the blade for the cutting edge. In a practice common only to the Japanese knife making the nearly finished blade is drilled or beveled, then pounded flat again, creating elegant, contoured patterns. Freehand grinding, followed by dipping in acid completes the traditional process. The blade has a full tang which extends through an exotic cocobolo wood handle. The hilt, end cap and spacers embellishing the handle are all polished nickel silver. The entire knife itself is 7-3/4 inches long. The Damascus blade itself is 3-3/4 inches long and consists of over 200 separate layers. And, like a fingerprint, no two blades look exactly alike. Designed by the acclaimed American knife maker Gil Hibben, and forged by the master sword makers of Seki City, Japan, the Browning Double-edged Damascus Hunter is truly an extraordinary knife, and destined to become a classic.
Since these knifes are both Browning and with matching serial numbers we would like to keep them together. For the pair $1,650.00 Check out the pics!!!
Modern Guns 160
Modern Guns 159
This is an outstanding grouping of Winchester ephemera that I recently picked up. This set consists of items collected by a Winchester Arms Company Salesman named Theo Rouault Jr. I believe Mr. Rouault was hired in 1919 right after WW1 as I have three Western Union Telegrams in this grouping that state that they have his application and wish to discuss a proposition with him. The second telegraph says he has been employed and the third says that he has been given the New Mexico Territory . All these telegraphs are from March 2, 7 and 10th 1919 . We also have Theo's Non-Resident Big Game Hunting license to be used in Colorado and dated 1-1-18. Also included in this grouping are two Flyers for the TOPPERWEINS World's Greatest Shotting Team by Winchester, a thermos bottle wrap showing that this thermos bottle was made by Winchester Plaid, a 1908-1909 pocket calendar, a 1972 photograph showing a tag on a Winchester speaker, a magazine ad showing Winchester Gun Oil, a 17 page sales insert showing examples of Winchester Pocket Cutlery, Operating instructions for the 10 gauge breech loading Winchester Model 1898 Cannon, three covers from the 1930's where Theo sent his Winchester envelopes to his wife from San Antonio to Dallas Texas. They do not have letters in them but they have nice stamps and postmarks as well as his company markings on the envelopes. A 1984 typed letter from Robert R. Patton addressed to the European Marketing Director of the Winchester Division, Rome, Italy. He talks about receiving shotshells in colorful packaging and talks also about Winchester Knifes. Also included is a Winchester Letterhead telling about the 1922-1923 line of Winchester Skates. Also included is a two page Specification of the skates and prices on 13 models of skates. This is a detailed list show the specifications. We also have two 1927 magazine ads showing Winchester Shotguns and shells as well as Winchester High Power Rifles and Ammunition. Then there is a small booklet entitled WINCHESTER POCKET CATALOG OF TOOLS – FOR SALE AT THE WINCHESTER STORE and store id'd to Louis Henne Co, New Braunfells, Texas. There is a little worm damage to the front cover but livable. They chewed around the red word WINCHESTER. There are 30 illustrated pages in this pocket guide. We also have 4 larger Winchester Repeating Arms manilla envelopes with ties on the back. Two of them are used and two have never been used. Next is a list of MISSIONARY SALES- GUNS from Jan 1st to May 29th, 1937 and lists all the salesmen and their totals. Theo made the most sales with 1,126 guns. We also have a pair of Business envelopes that weren't used but only in Fair condition with Theo's letterhead on them. Next is a letter head window envelope from OLIN INDUSTRIES, INC also with the red WINCHESTER logo on it and contains a sales receipt to the Crow Bros. of Taft Texas for parts. This one is dated 1954. Lastly, we have Theo's Salesman's receipt book with WINCHESTER REPEARING ARMS CO., NEW HAVEN, CONNECTICUT, U.S.A. printed on the top of each page. This book comes in a black leather/oil cloth fold over book to keep it in. This grouping came with several unrelated photographs that I'll list below. For this grouping $165.00 Check out the pics!!!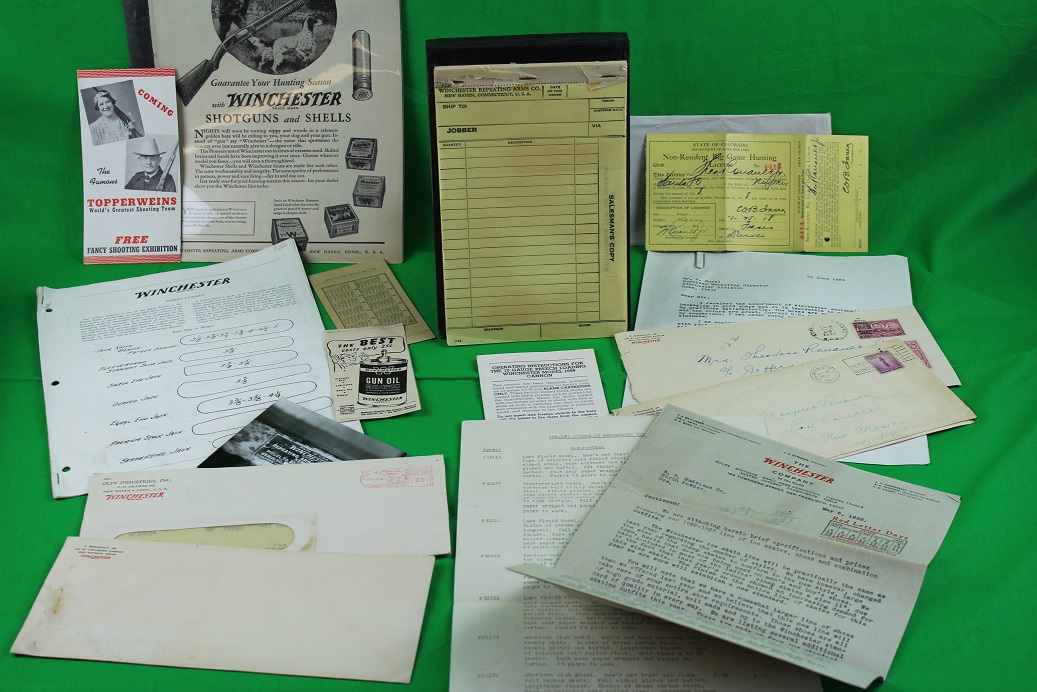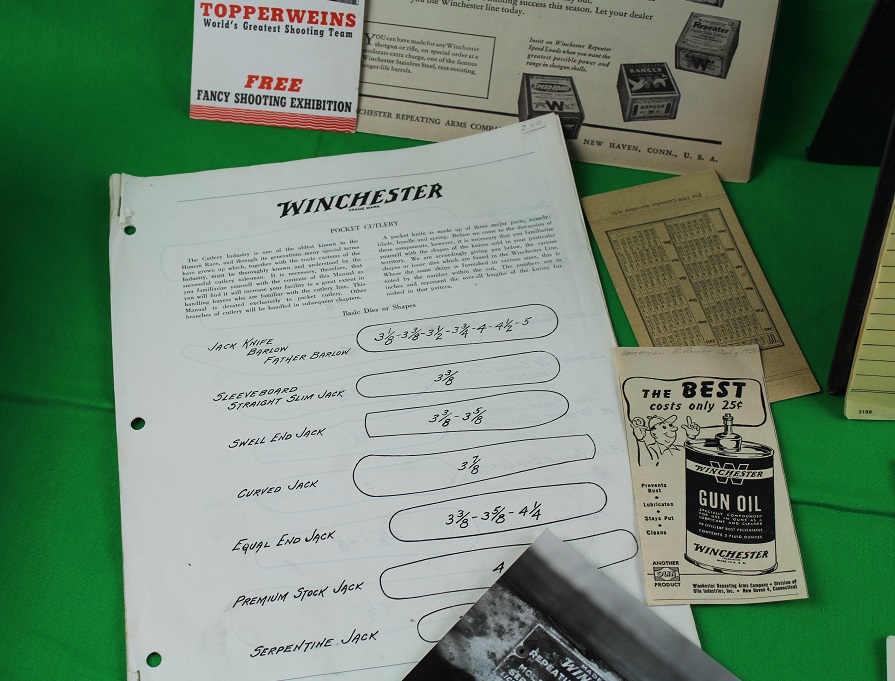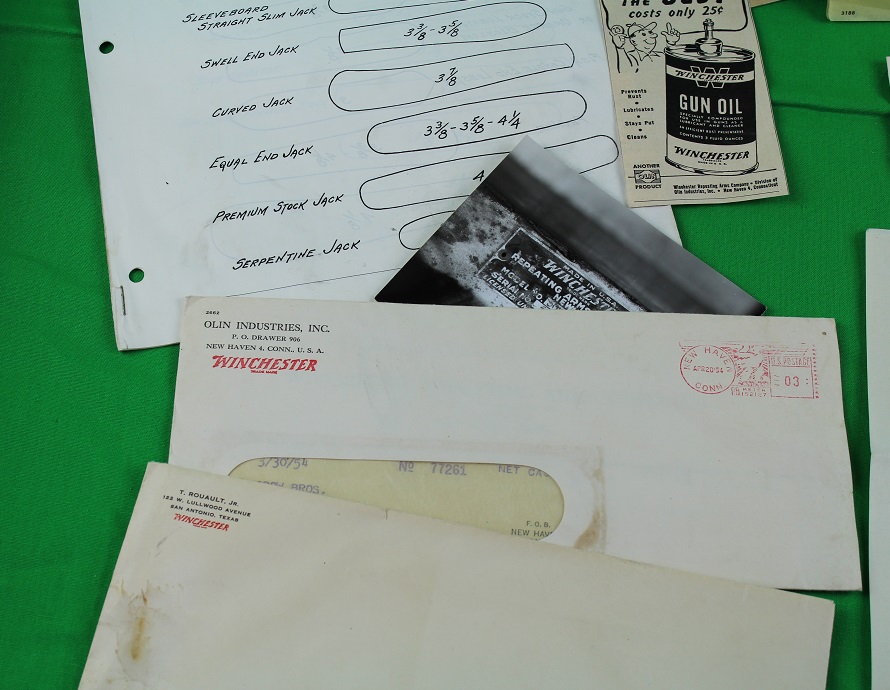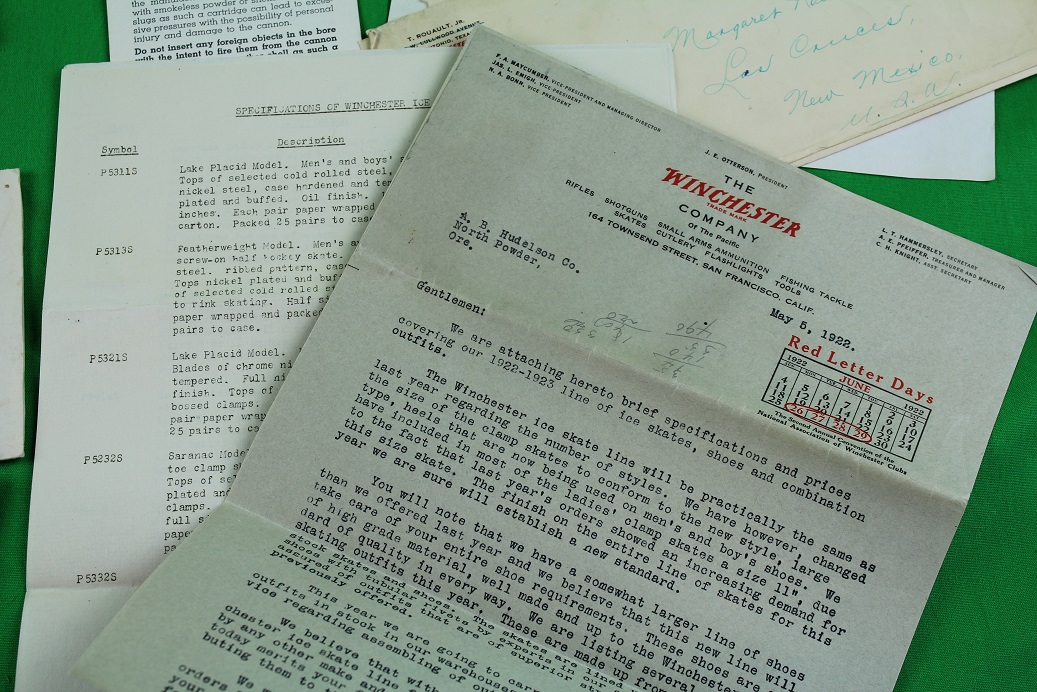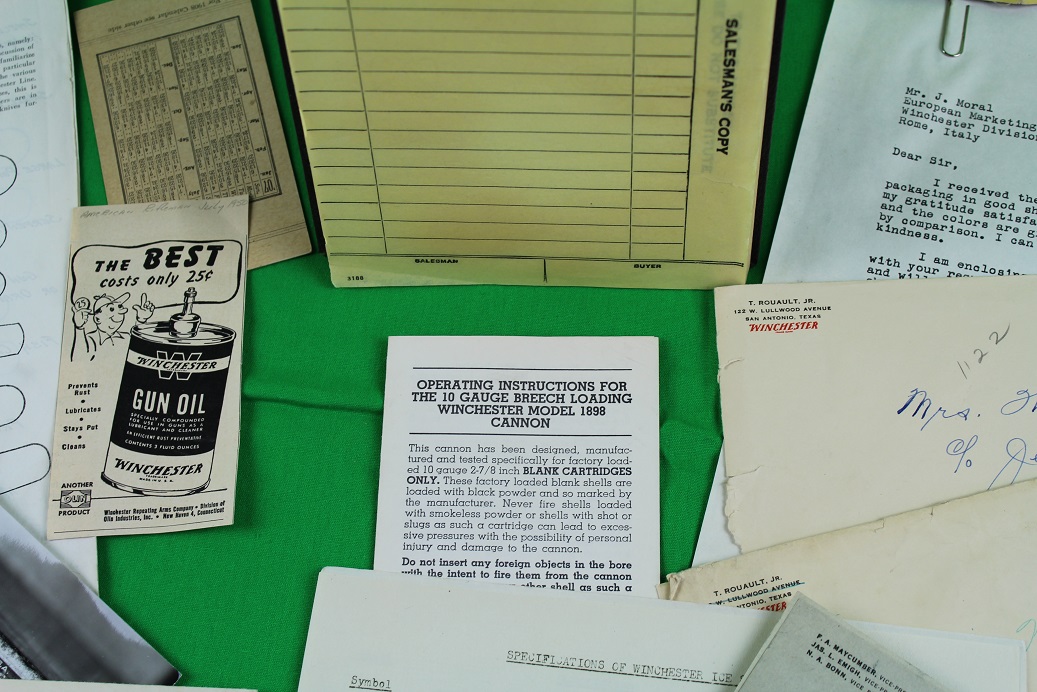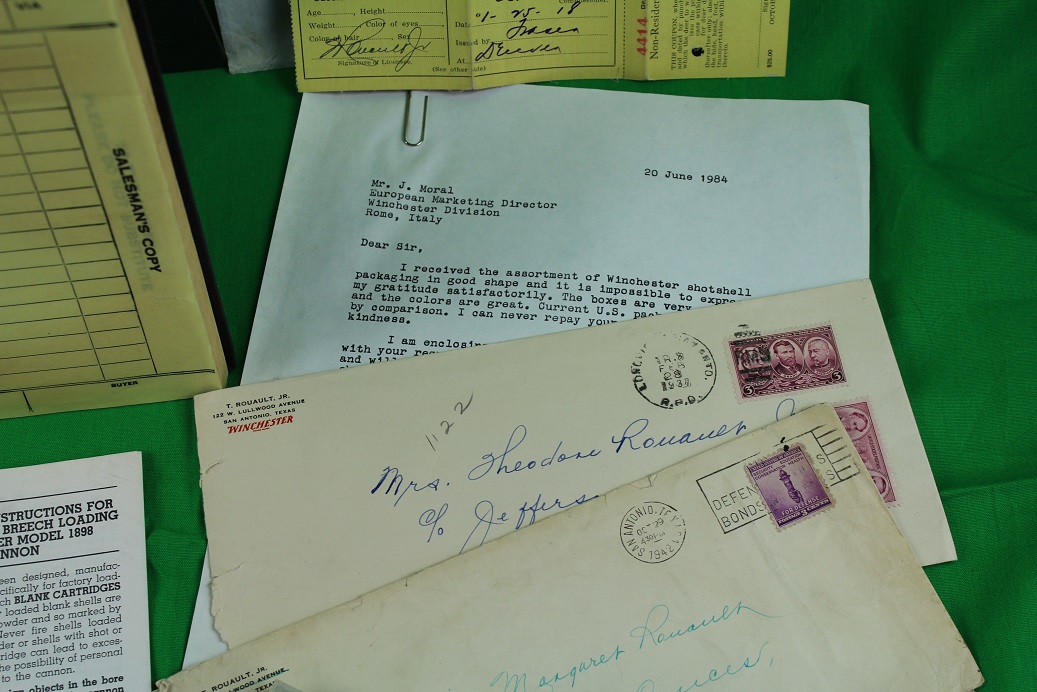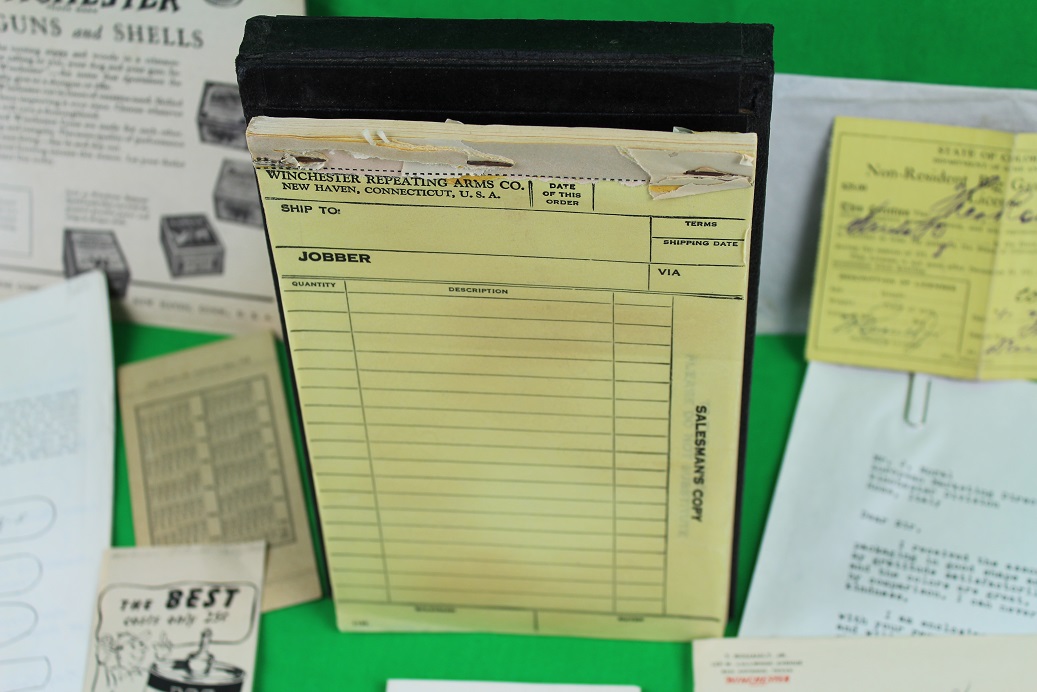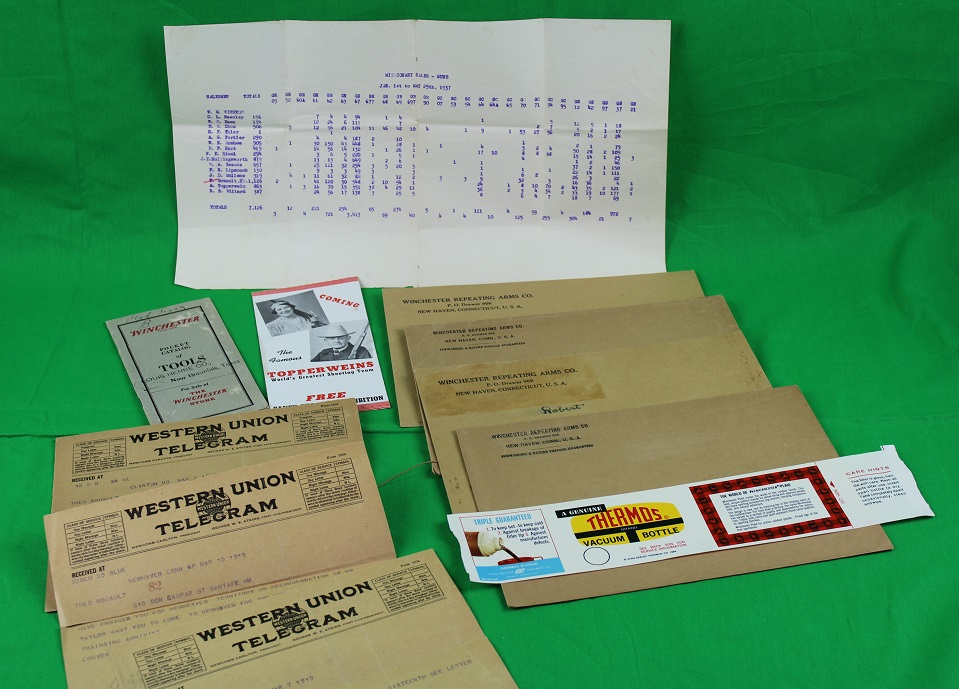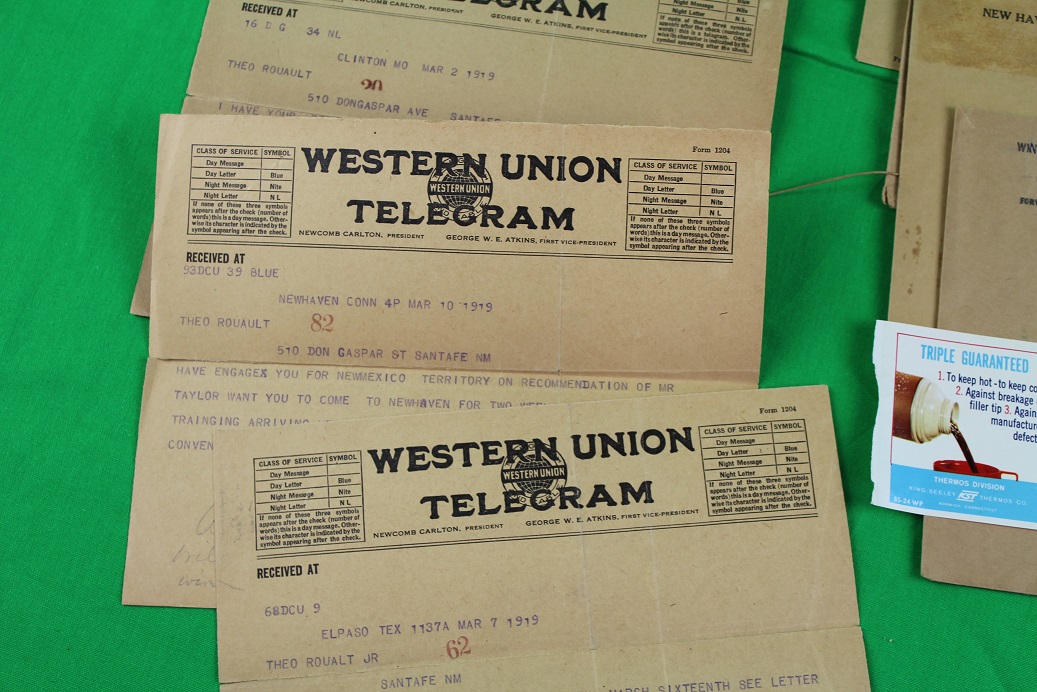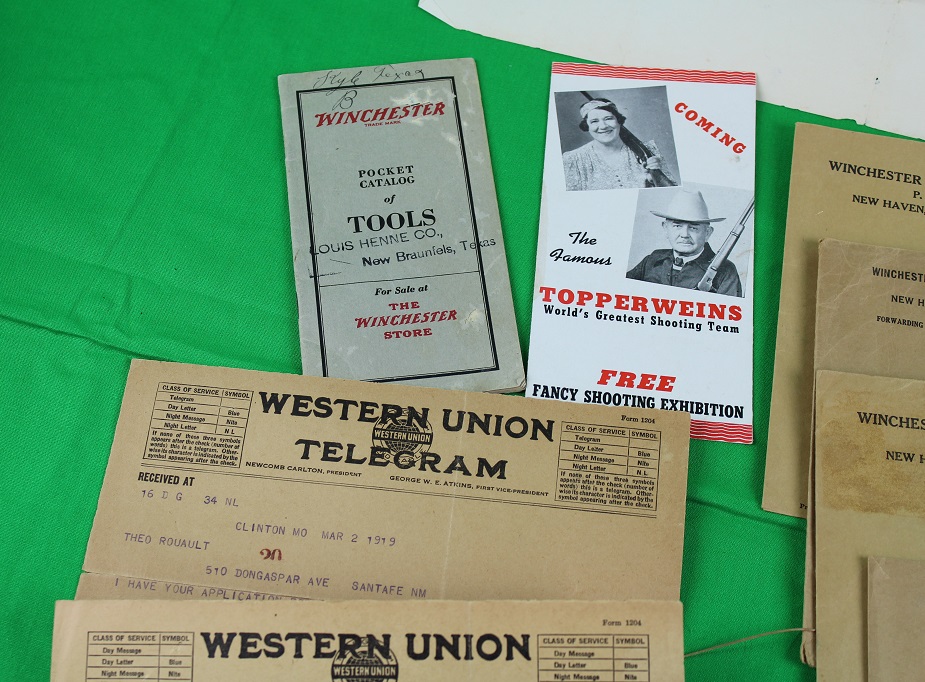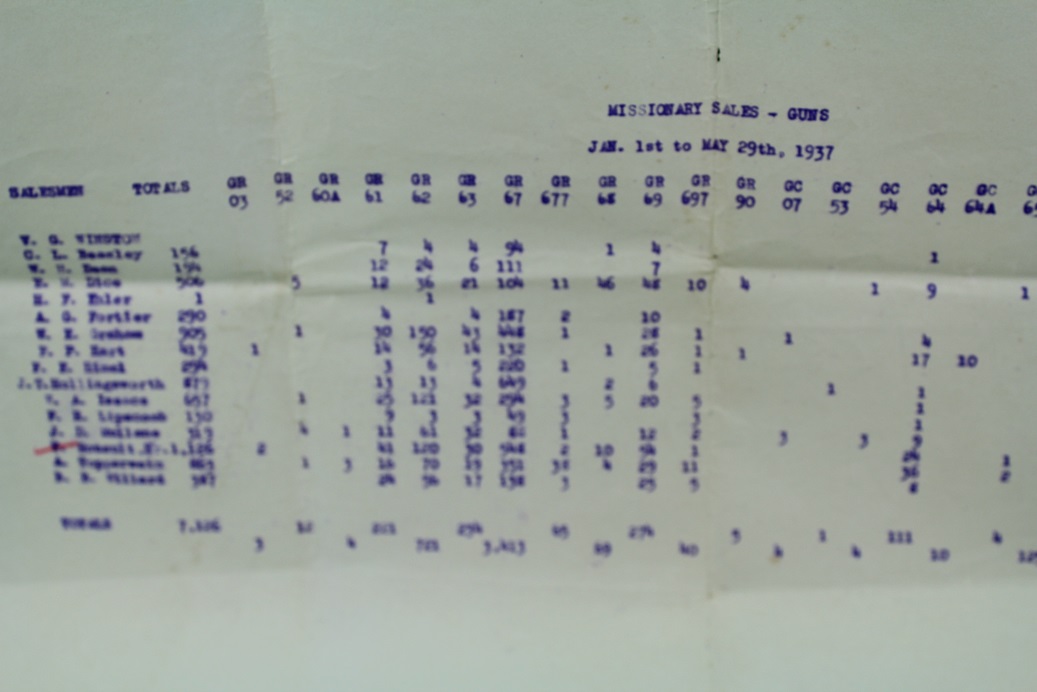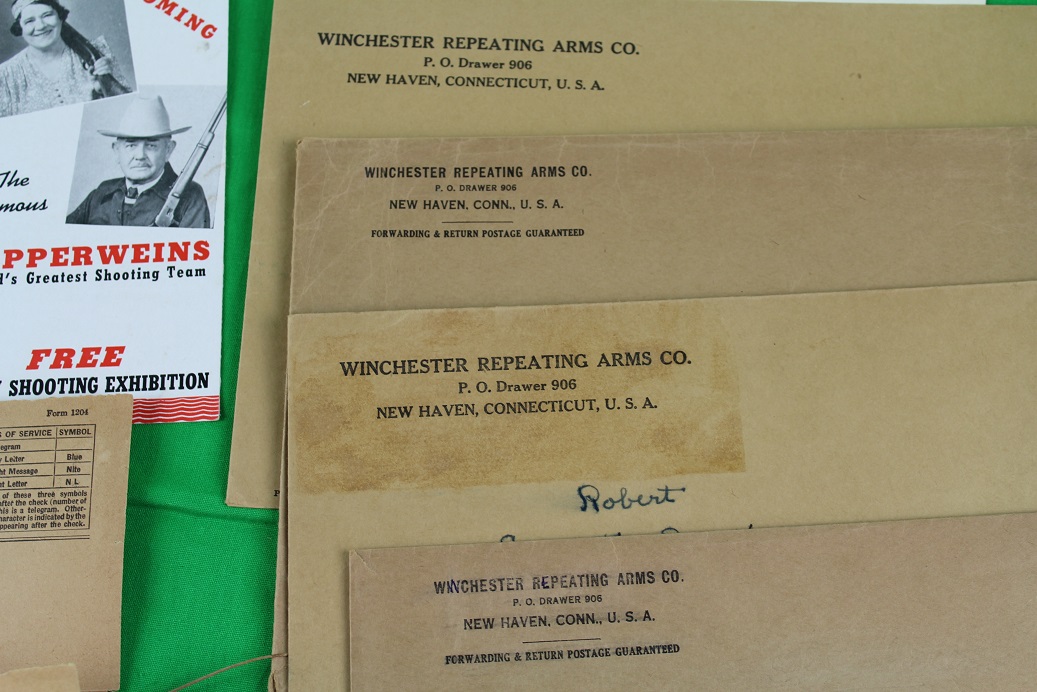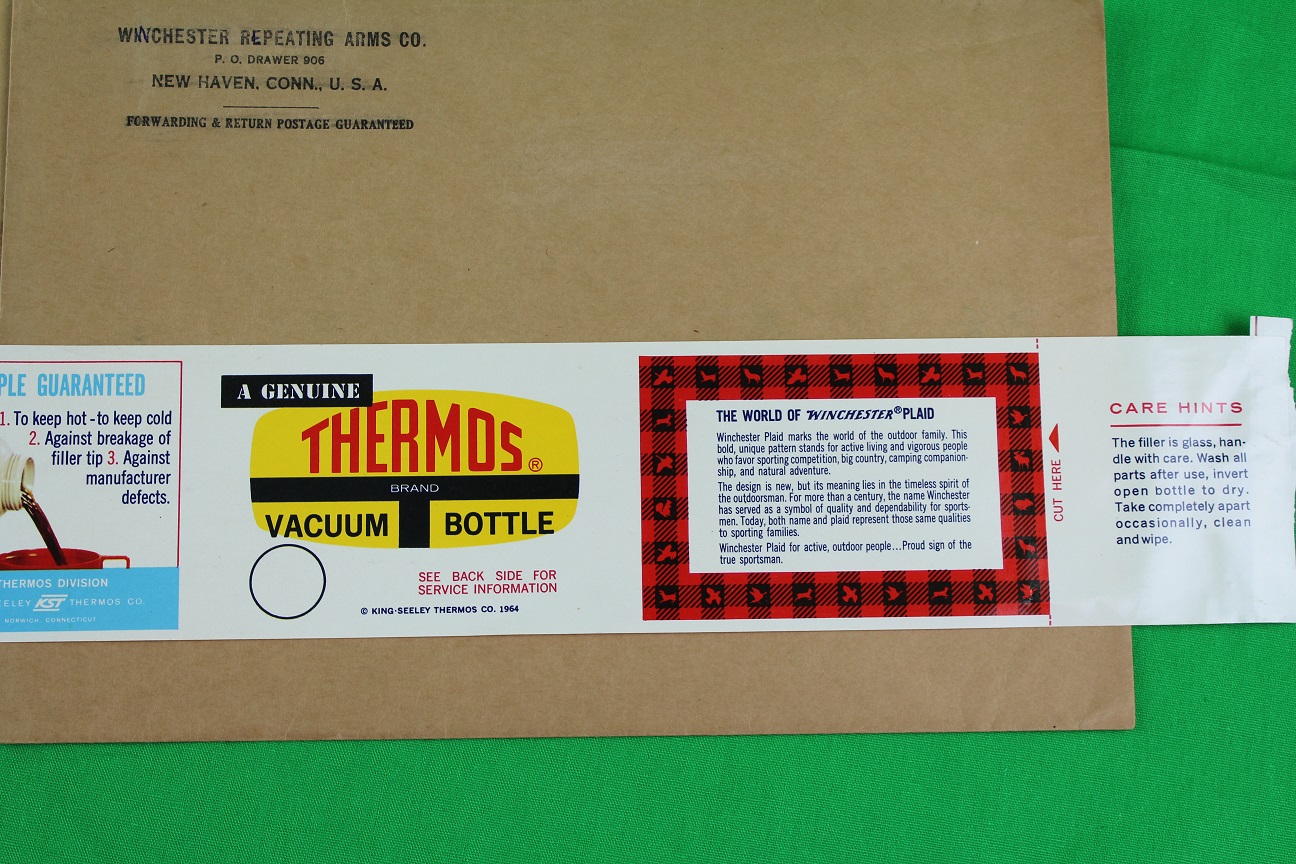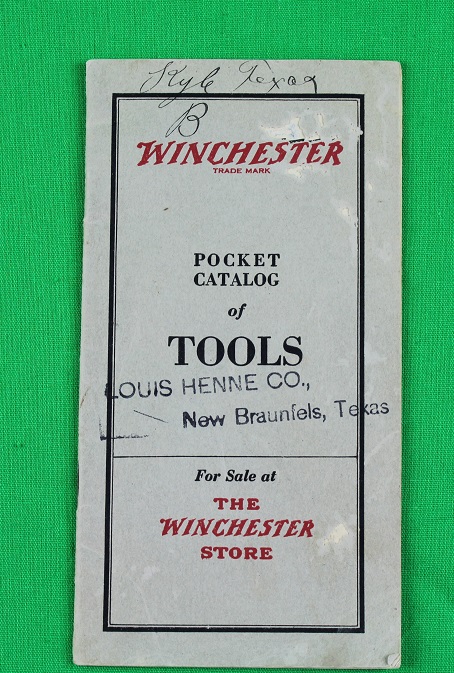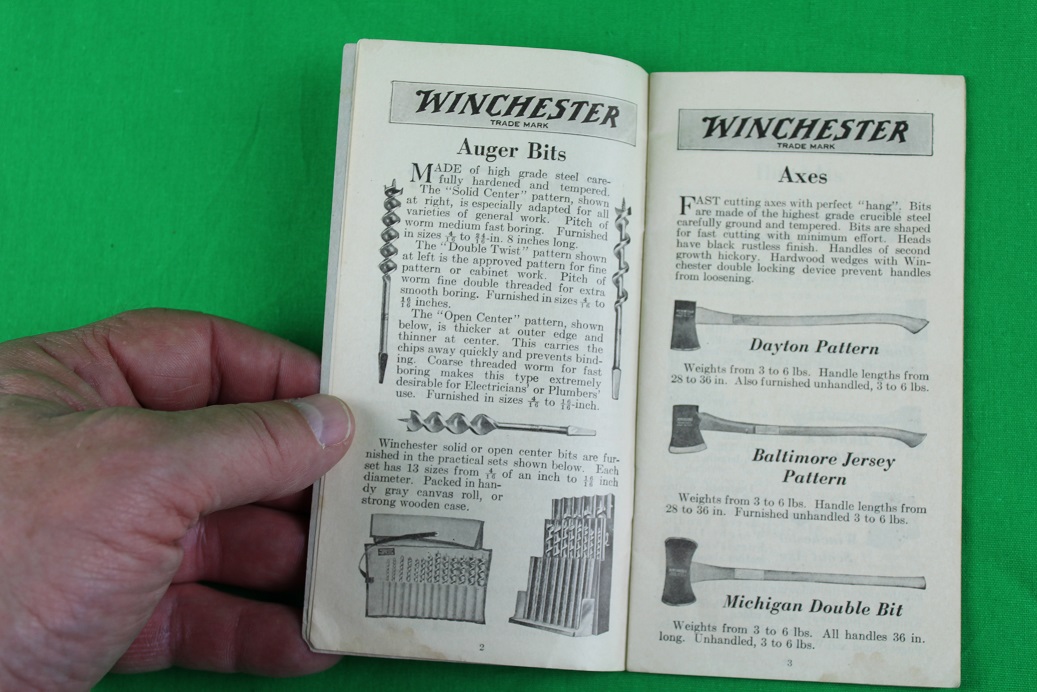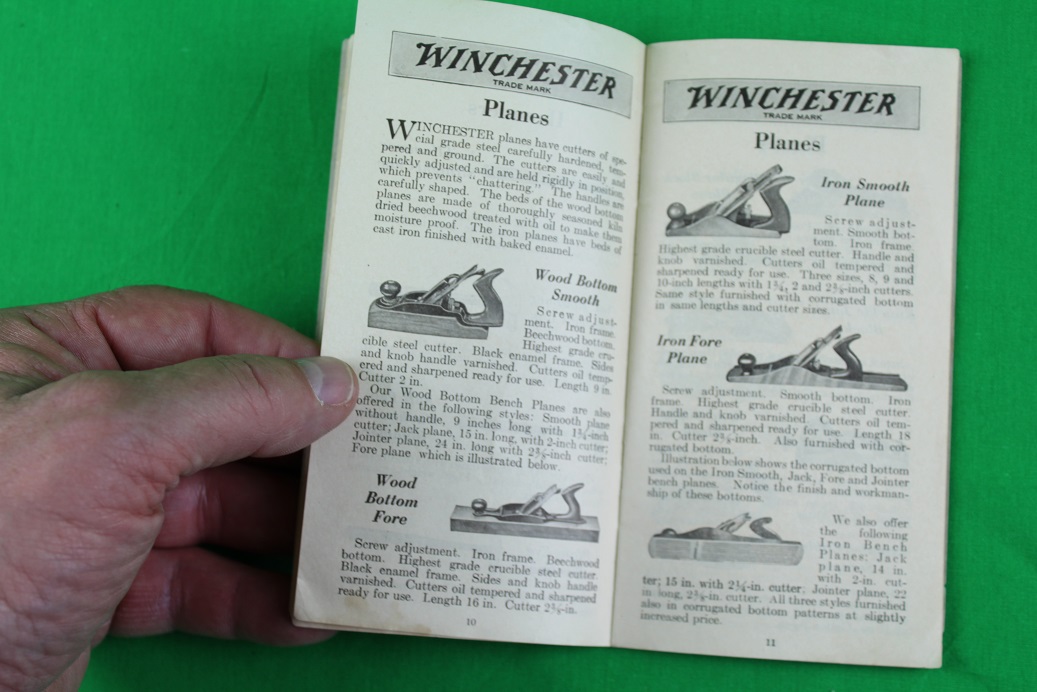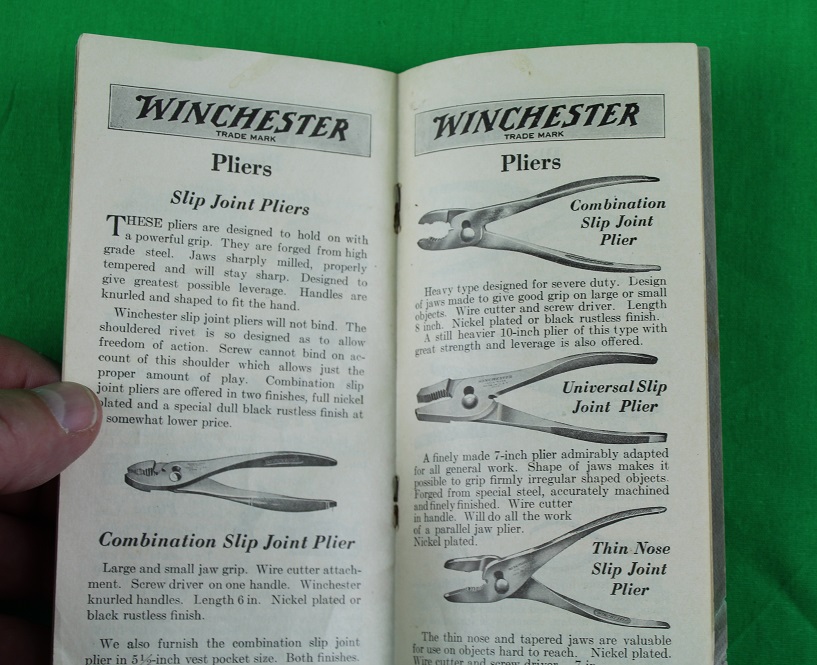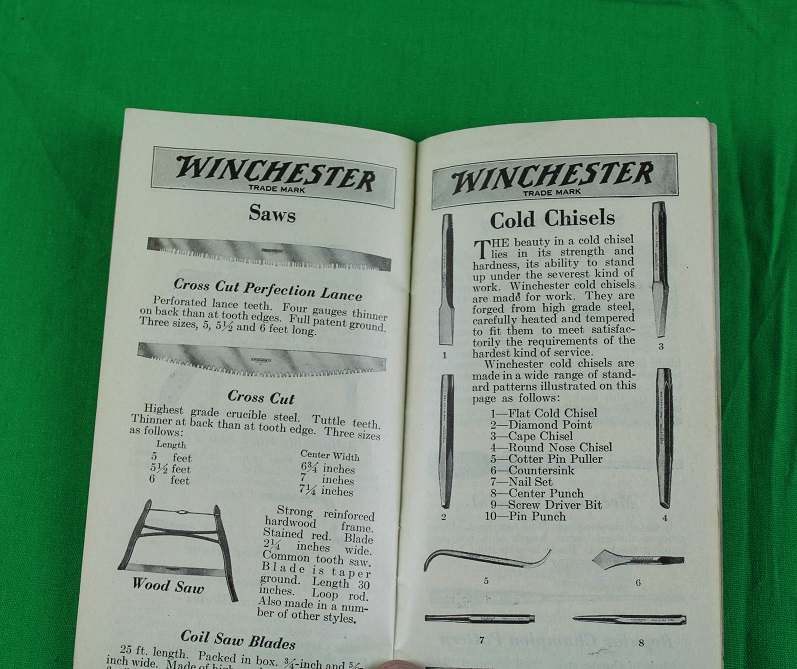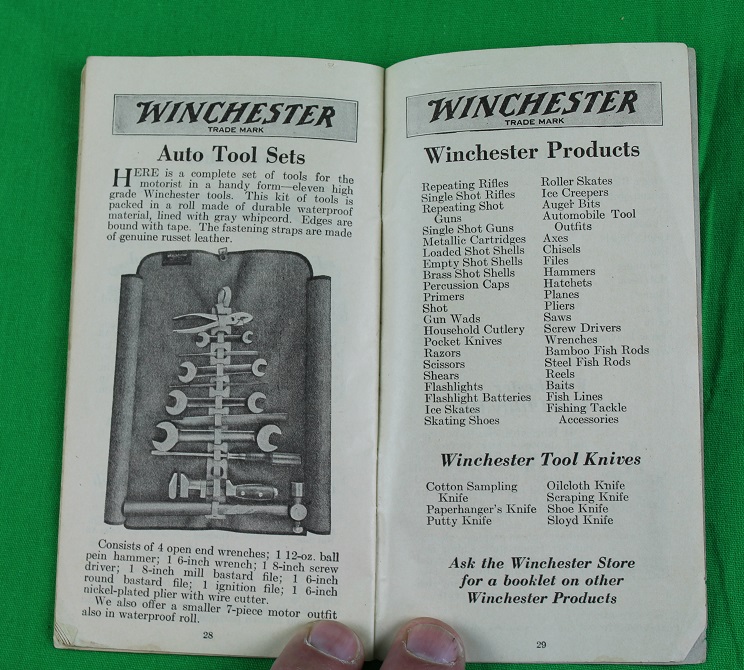 Consignment
Modern Guns 153
Here we have a Remington Deringer .41 rimfire type III No. 4 pistol. Because of the serial number it is believed that this pistol was made around the WW1 era and because of that it is recognized as a 'modern ' firearm by the Federal Government and must be transfered. Deeply marked on top REMINGTON ARMS, U.M.C. CO., ILION, N.Y. The firearm is in overall good condition with a nice dark patina. There is a little hinge wobble but no cracks or breaks. The action works fine. The only drawbacks are a small gouge in one of the hard rubber grips and someone has ground the knurling down on the top of the hammer to make it smooth.. The bores are good and the extractor is still present. $850.00
Modern Guns 151
Here we have a Smith & Wesson WW2 Military & Police Victory model revolver in .38 S. & W. Cartridge.
The Victory Revolver was produced during World War II, it is a variation of the Military & Police Model of 1905, fourth change and had the following characteristics between 1942 and 1945:
Barrel: 2, 4, 5, or 6 inch. (4 inch common in .38 special, 5 inch common in 38/200 or .38 S&W) Sights: Fixed Finish: Early sandblast blue, sandblast mid-night black (appears grayish black). And finally a parkerized finish. Hammer and Trigger are case hardened. (Some nickel finished) Grips: Checkered walnut with medallion until early 1942, post February of 1942 they are smooth American Walnut with out medallions.
I believe that this was a civilian or non military model that has a serial number starting with a V for Victory. The number is V 7201XX and you can see where the laynard ring was but just a plug now. This revolver has been nickel plated but it's not new plating at old. This is old plating for sure. The victory models were only available with 2 and 4 inch barrels but this one has a 5 inch barrel . The serial numbers match on the butt, cylinder, and barrel. The frame and yoke numbers are different as they sometimes are. The markings are in good condition but I can see where sometime was lightly stamped above the SMITH & WESSON on the barrel but can't quite make out what it was supposed to be. The most common property marks found on the Victory model are the UNITED STATES PROPERTY, US PROPERTY, and the US NAVY markings however none of these are evidenced on this revolver and looks to have never been. Victory models have also been produced with out property marks, these revolvers were probably delivered by the U.S. Defense Supply Corporation (DSC) to defense contractors and public agencies that required them for guarding war sensitive materials. Also, according to STANDARD CATALOG OF SMITH & WESSON by Jim Supica and Richard Nahas, a small quanity of approx 86 "Victory Models" were made in the last of the "SV" serial range with a nickel finish but having the laynard ring removed and the hole plugged. These occurred at what appears to be the end of production of the Victory series and were to fill a commercial order." Although this one is before the V 769,000 serial range it looks like this one was made for a commercial order as well although this one was not fitted with the new design hammer block to stop accidental discharges. Also according to the book many of the unmarked models were sold to civilian users such as Defense plants, Post Office, etc and do not have U.S. or inspector markings just like this one. .
On this particular revolver the barrel exhibits good clean rifling. The grips are smooth walnut as they should be. The action works well in both single and double action. The plating is in generally good condition with worn spots through the finish from age. All in all it's in good condition. Still works great and is a nice old WW2 Revolver! $650.00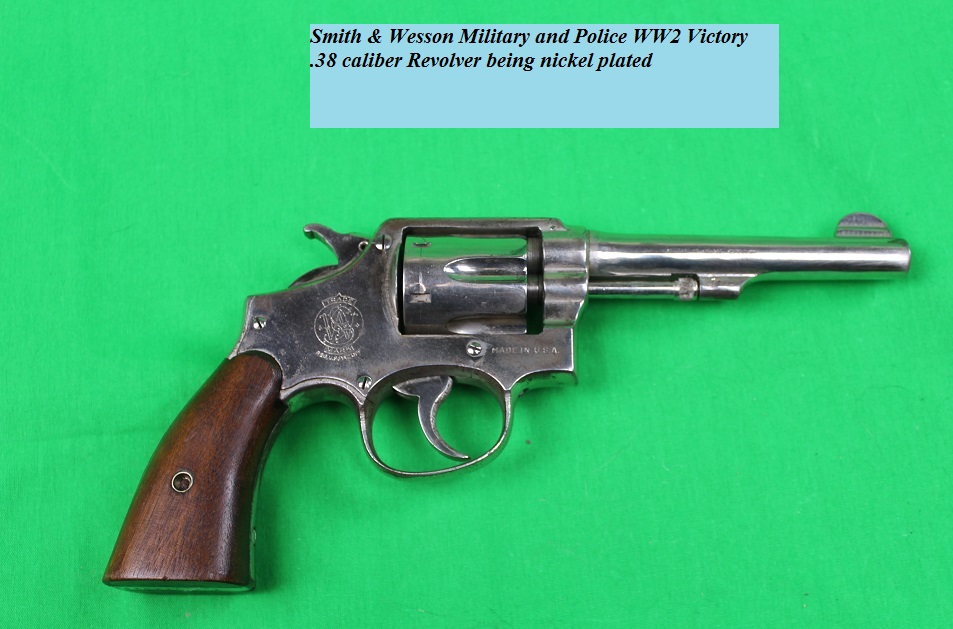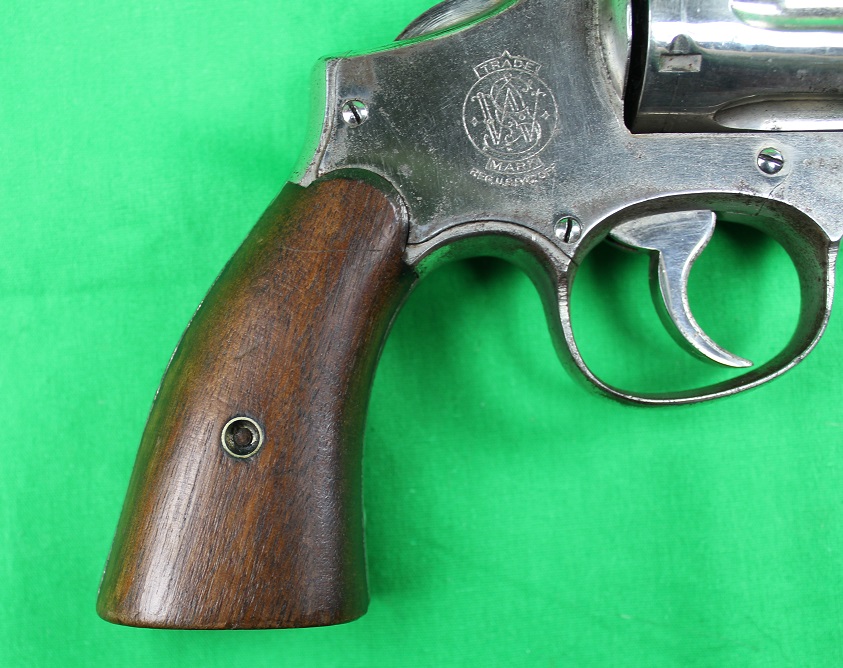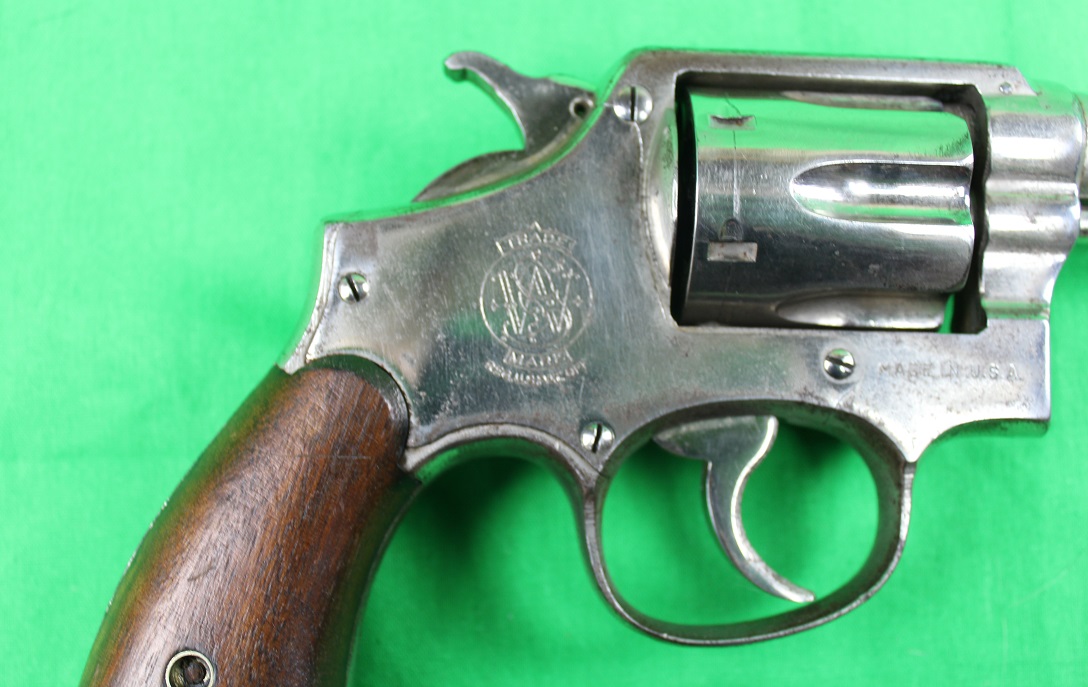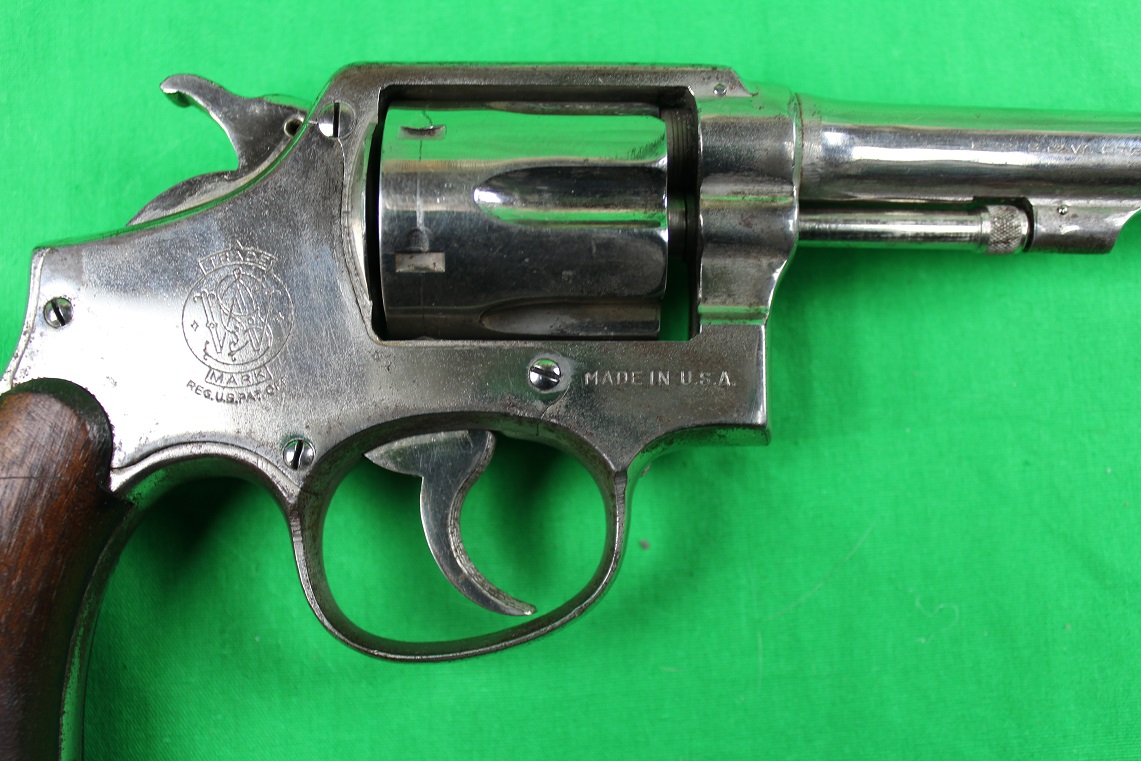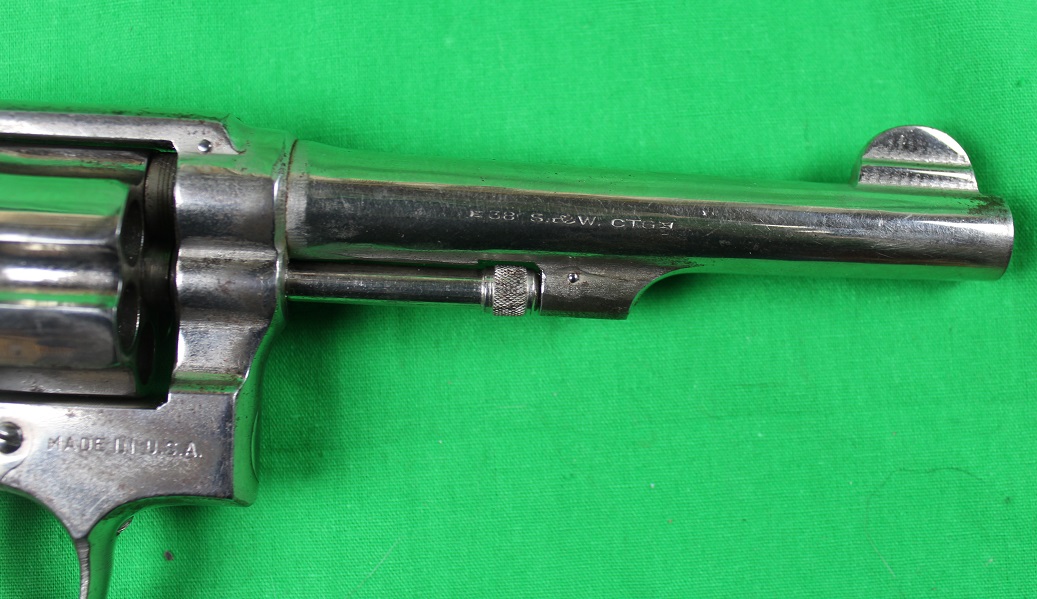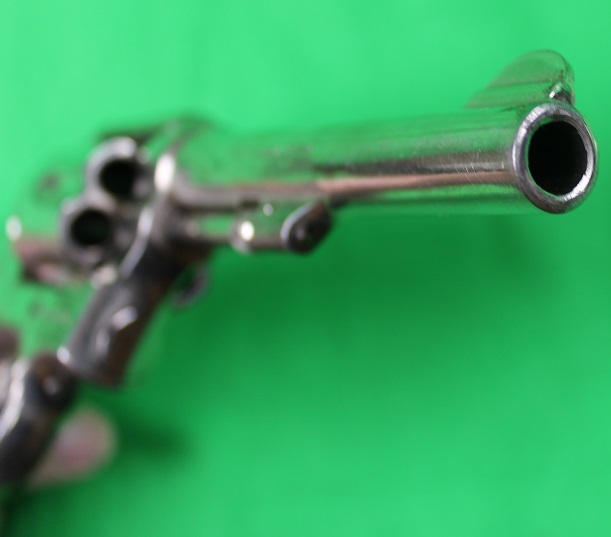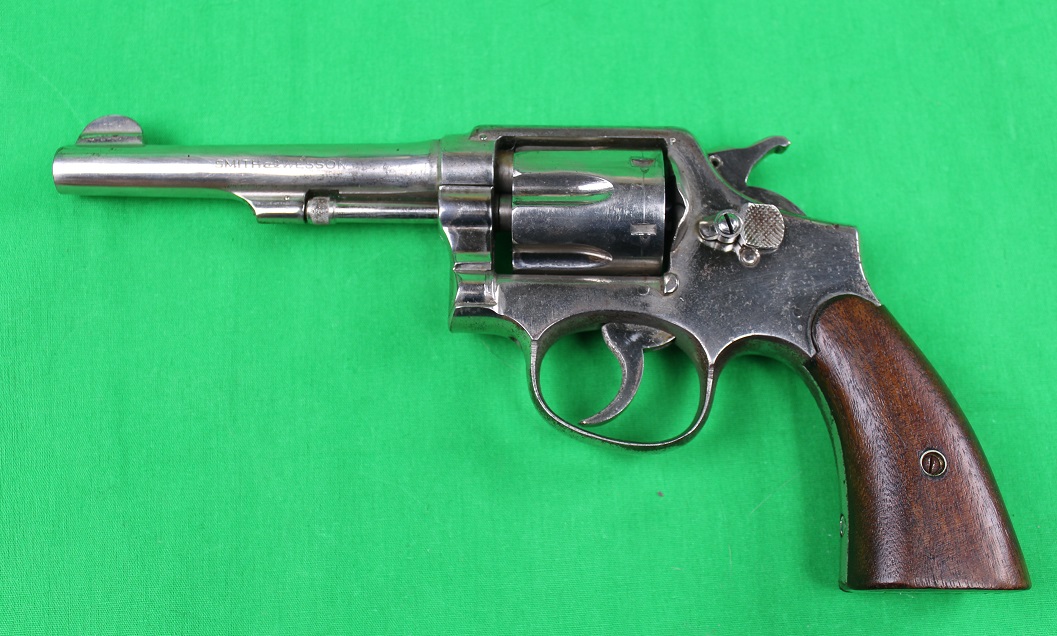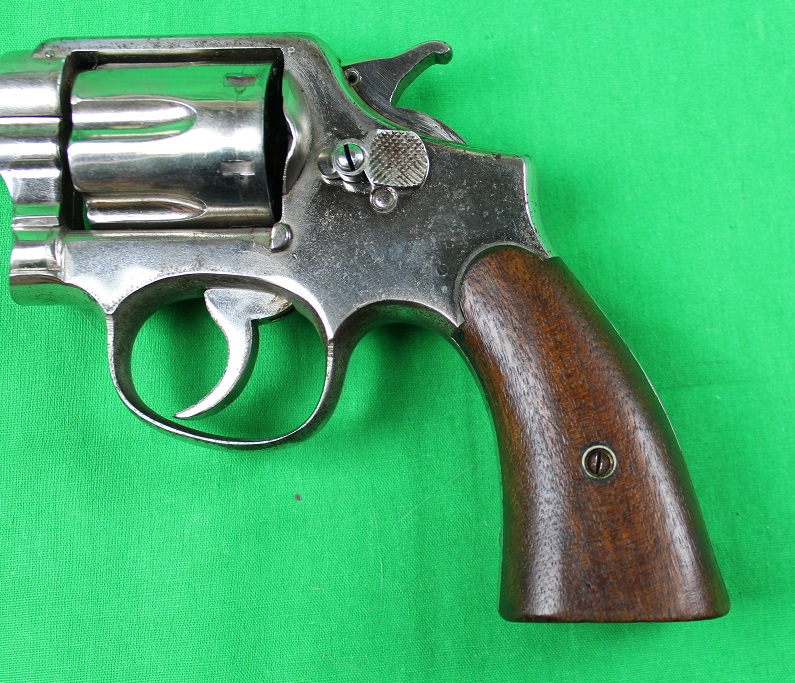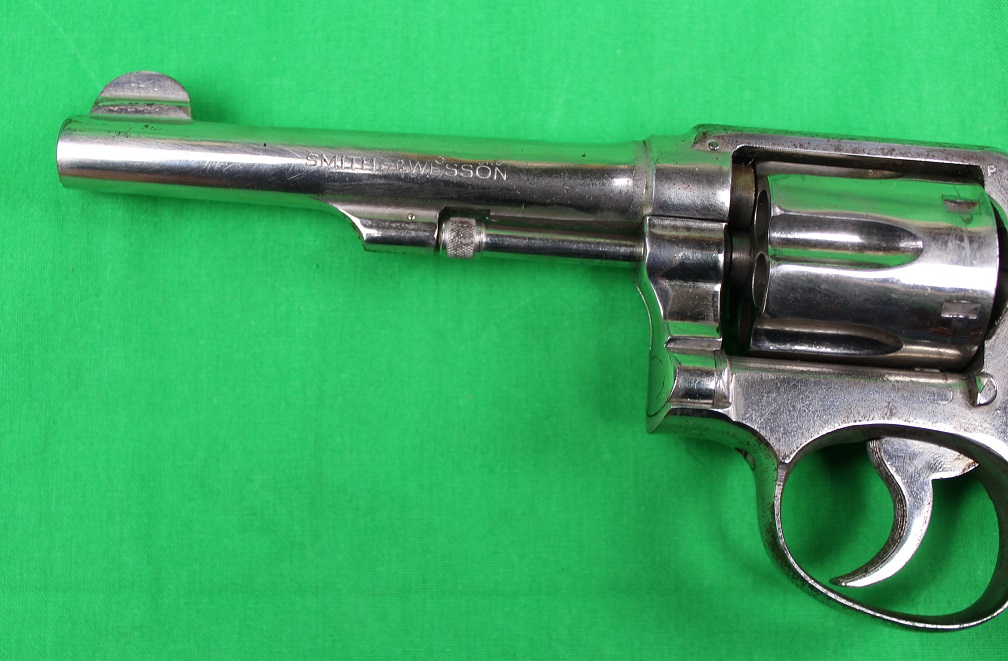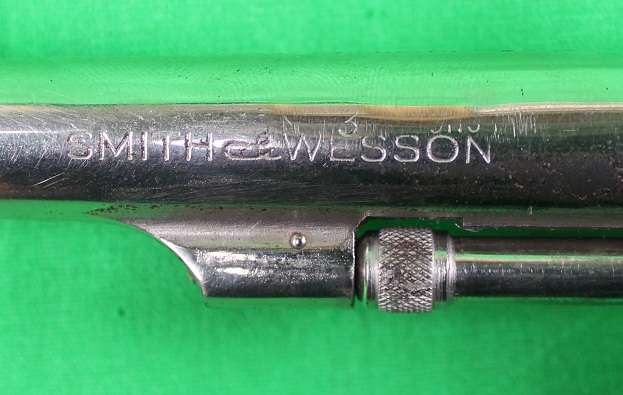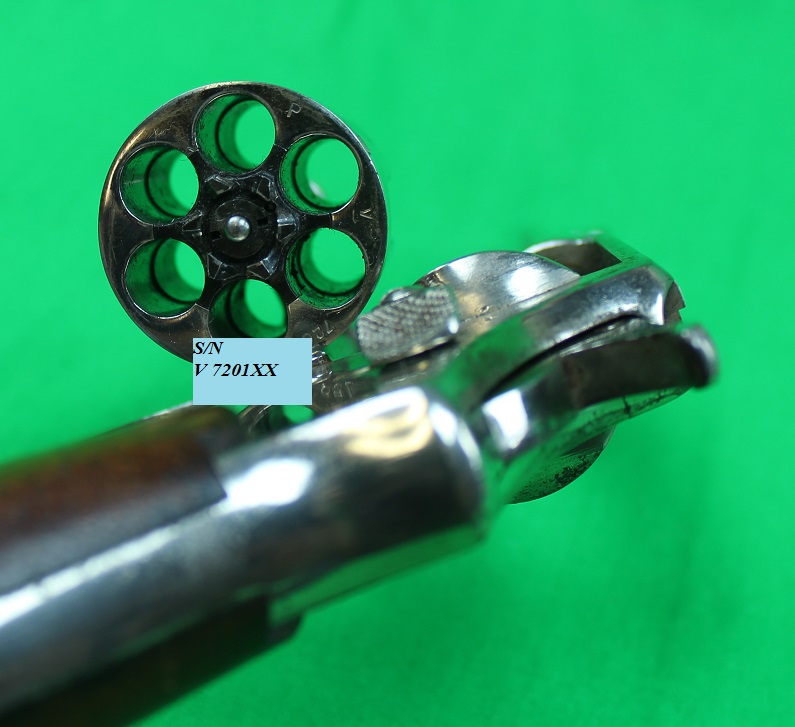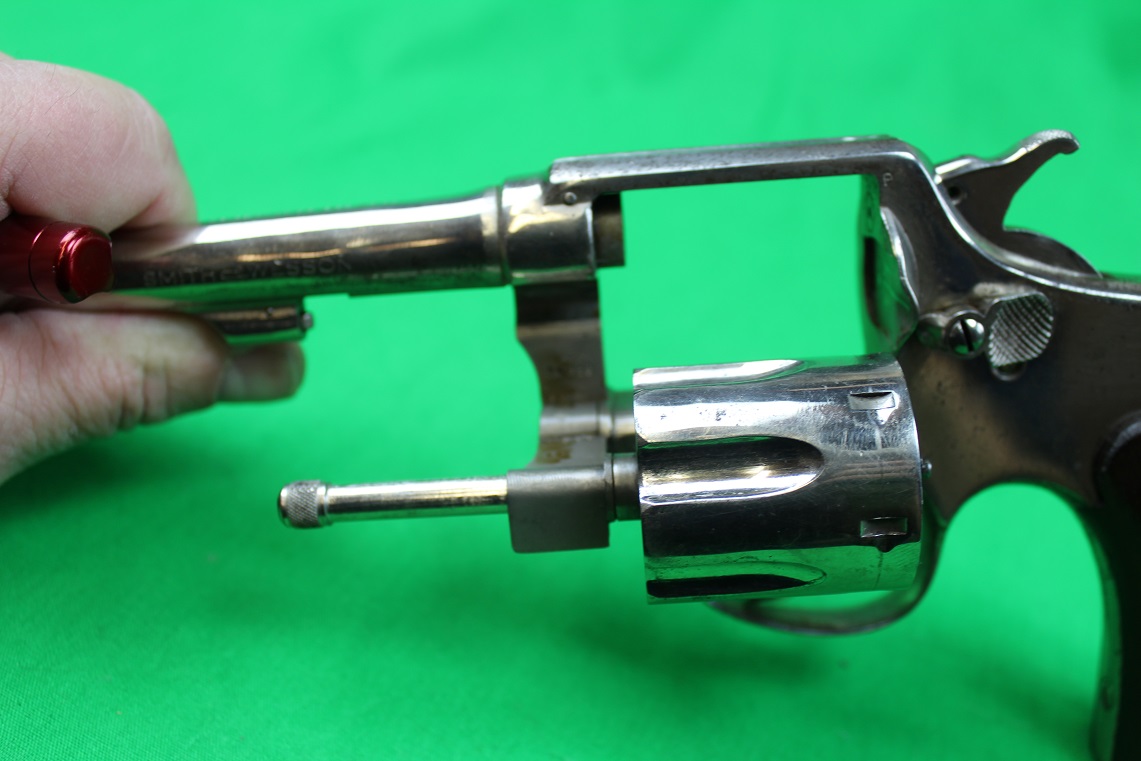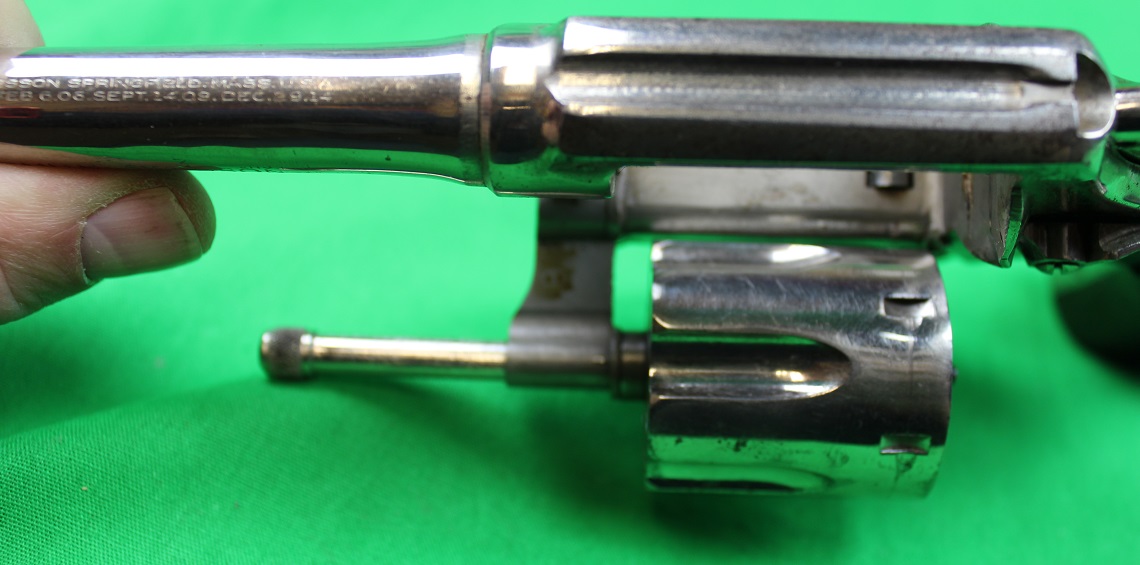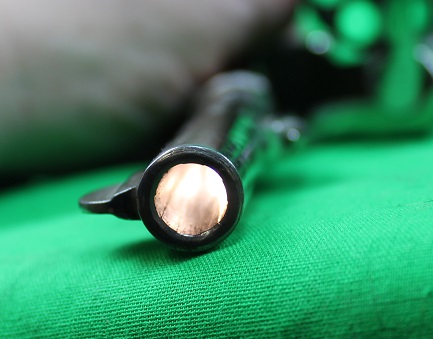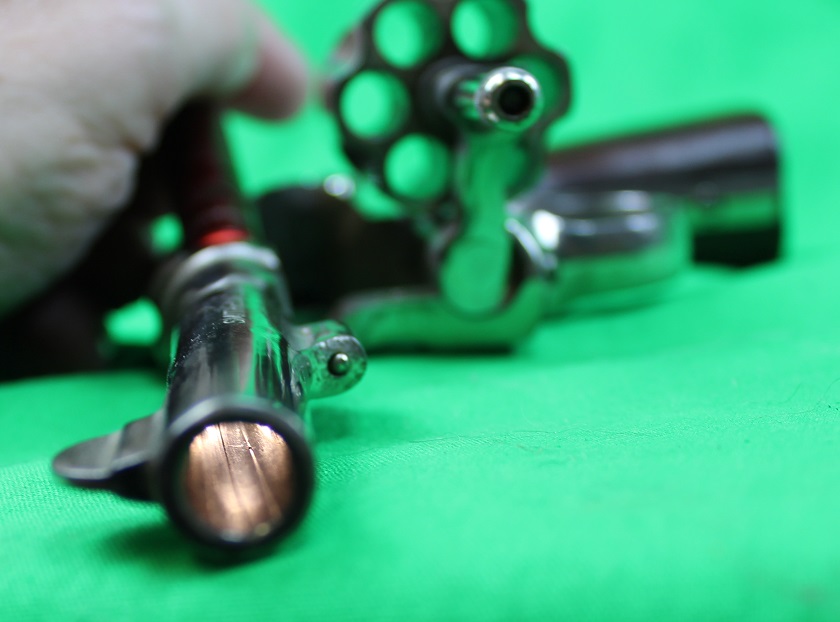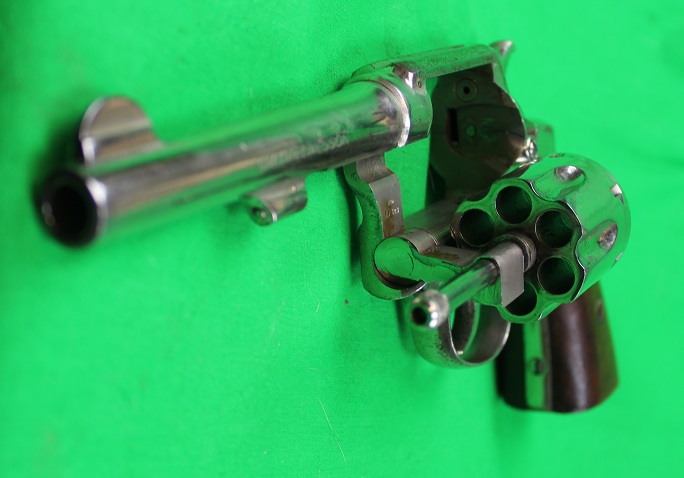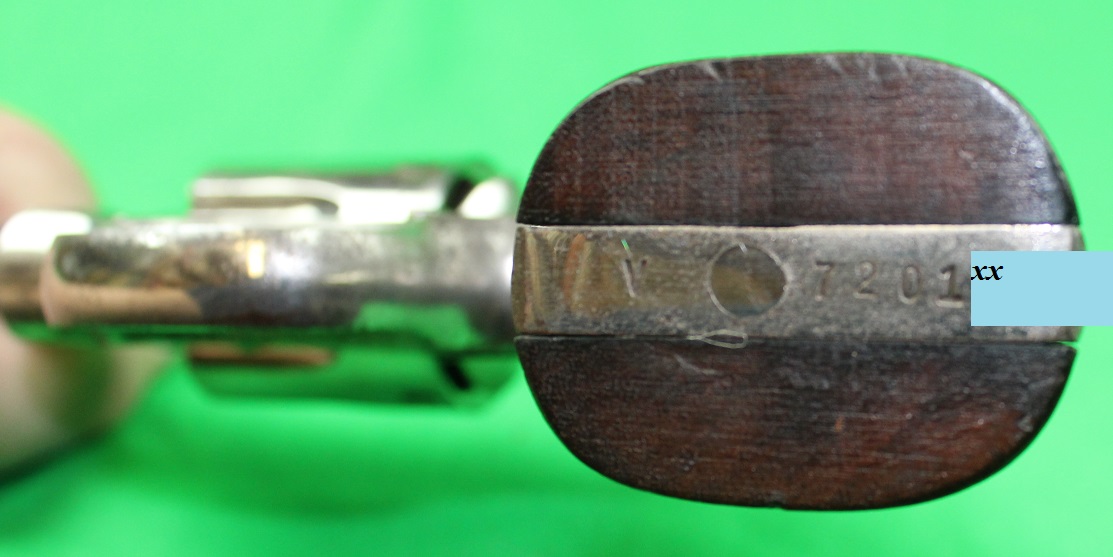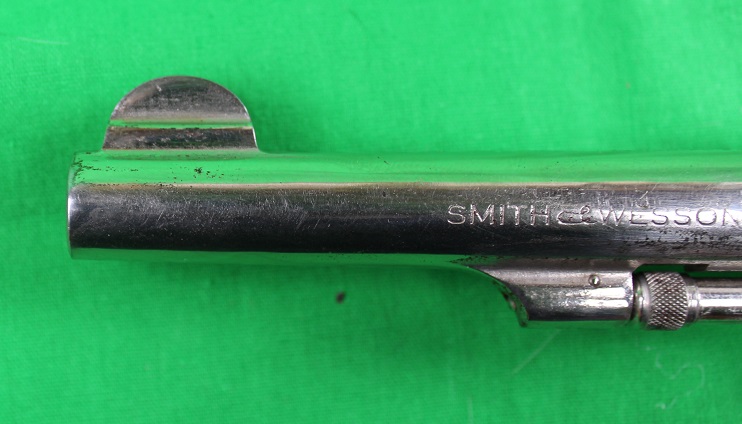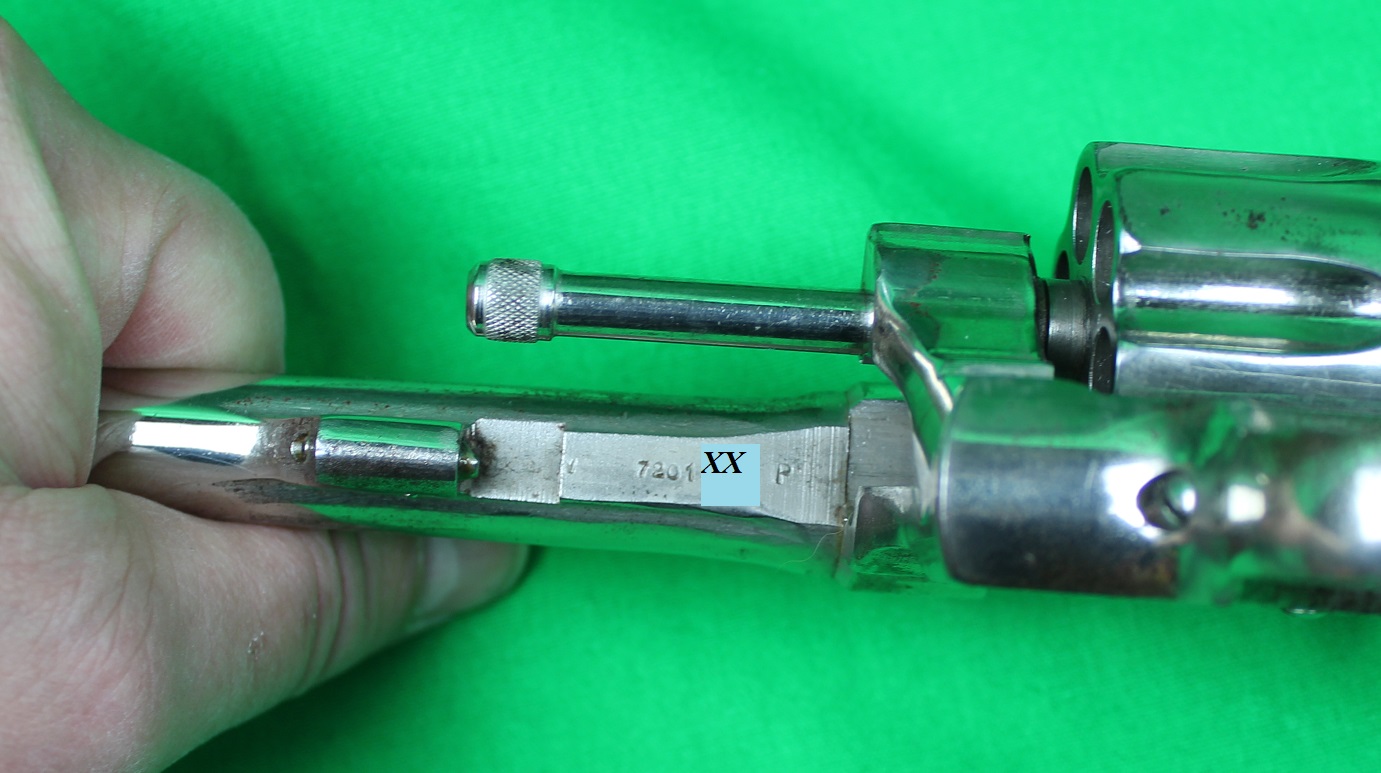 Consignment
Modern Guns 144
16. This is a Colt Police Positive .38 Spl. Caliber revolver that was produced from 1905 to 1927. The checkered Walnut grips show lots of wear, especially the one on the obverse so this was carried by a right handed person. Checkered walnut grips became the standard for this weapon in 1924. Last patent date on the barrel is 1905 so this is the Police Posite first issue. The serial number is 2884XX . All the barrel markings are clear and sharp on this fine revolver and the action works flawlessly in single and double action. This model has the 4 inch barrel which shows nice rifling. This revolver still exhibits most of it's original color being about 85 to 90% but I believe the side plate to be a rework as the Colt logo is a little light but all there, and the blue is a slightly different color. Still a nice revolver that wasn't pulled from the holster very often. $595.00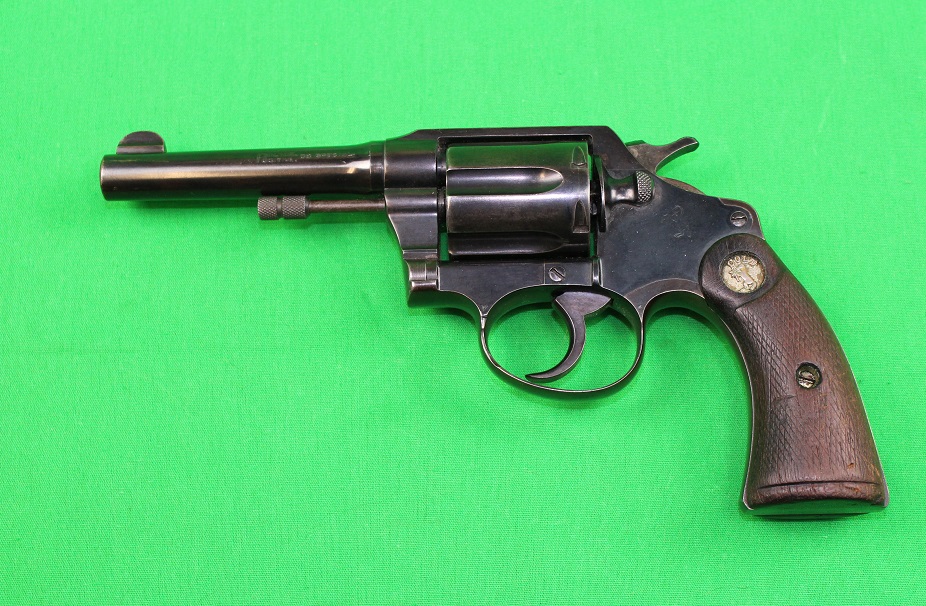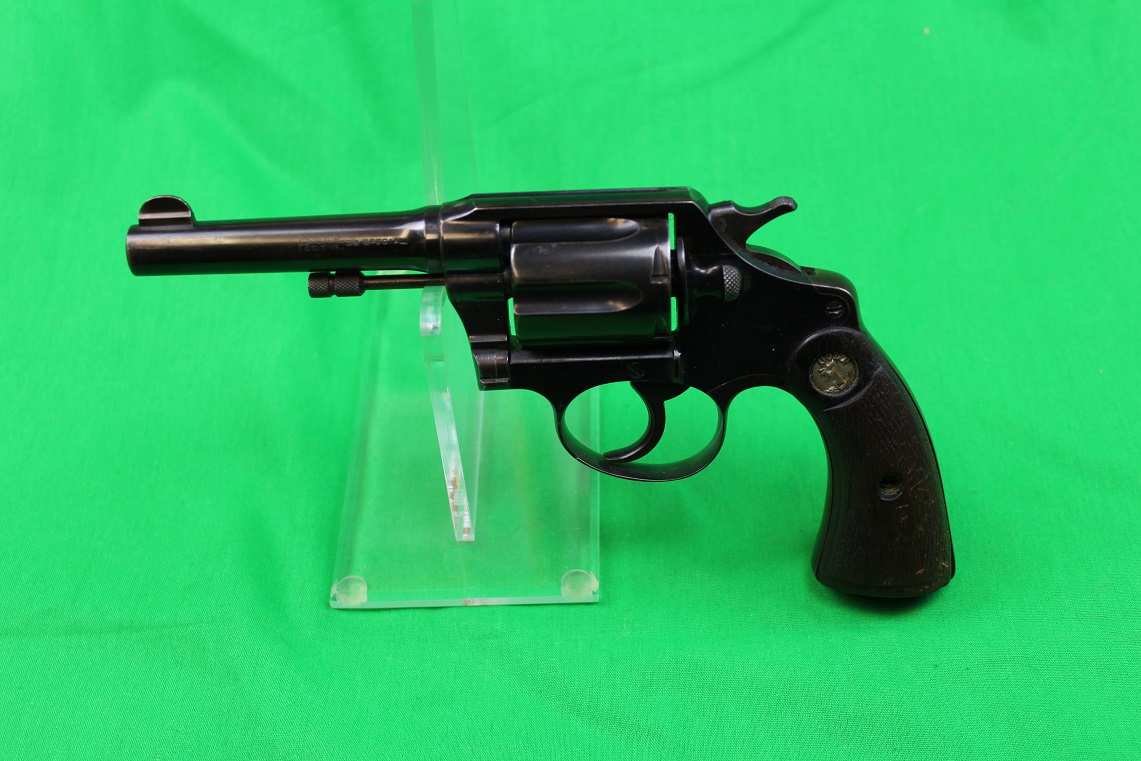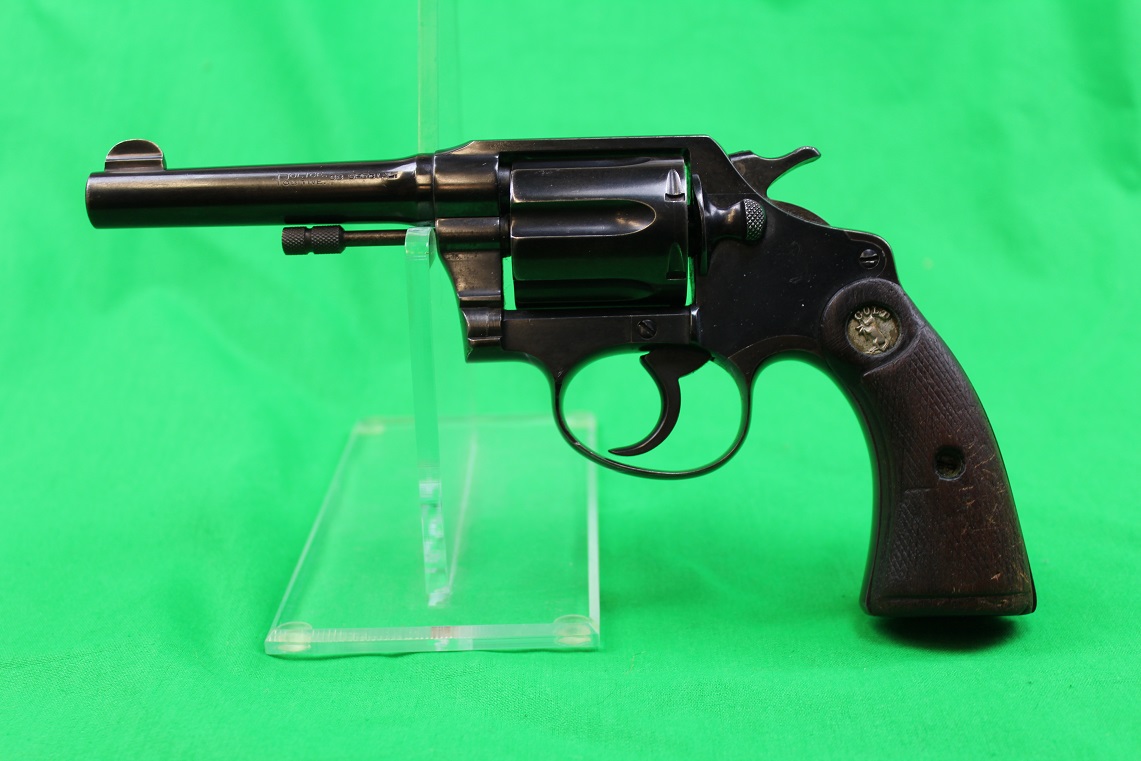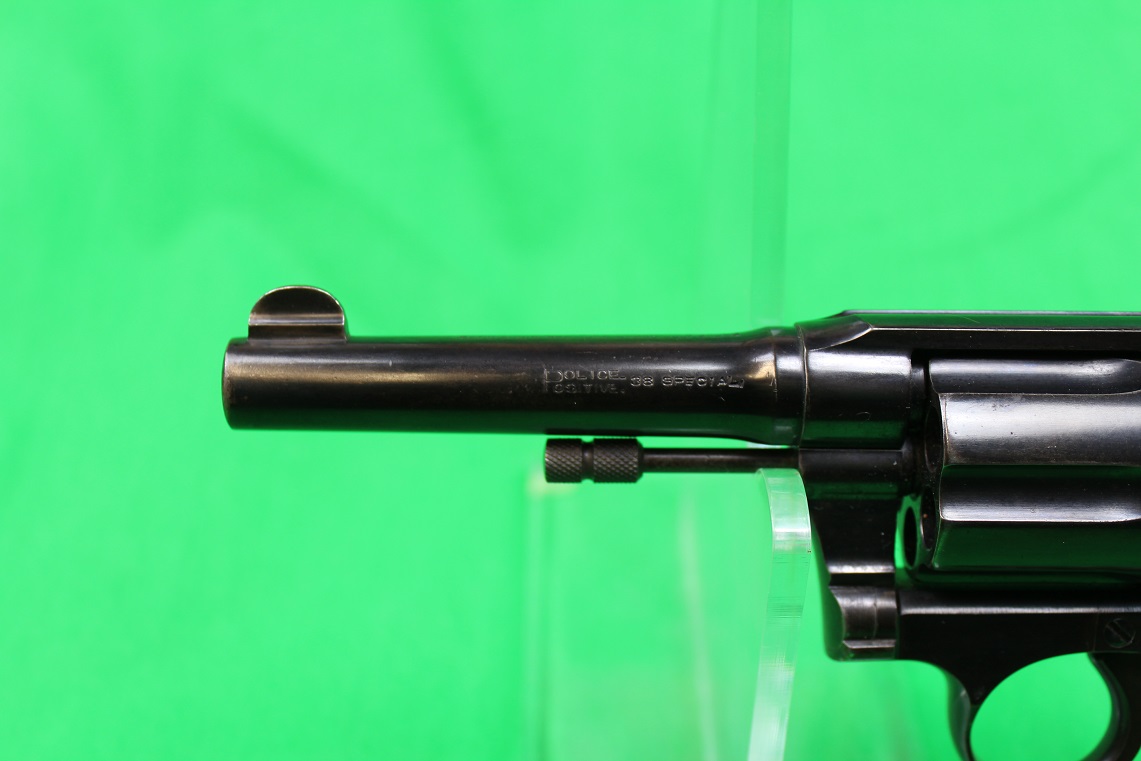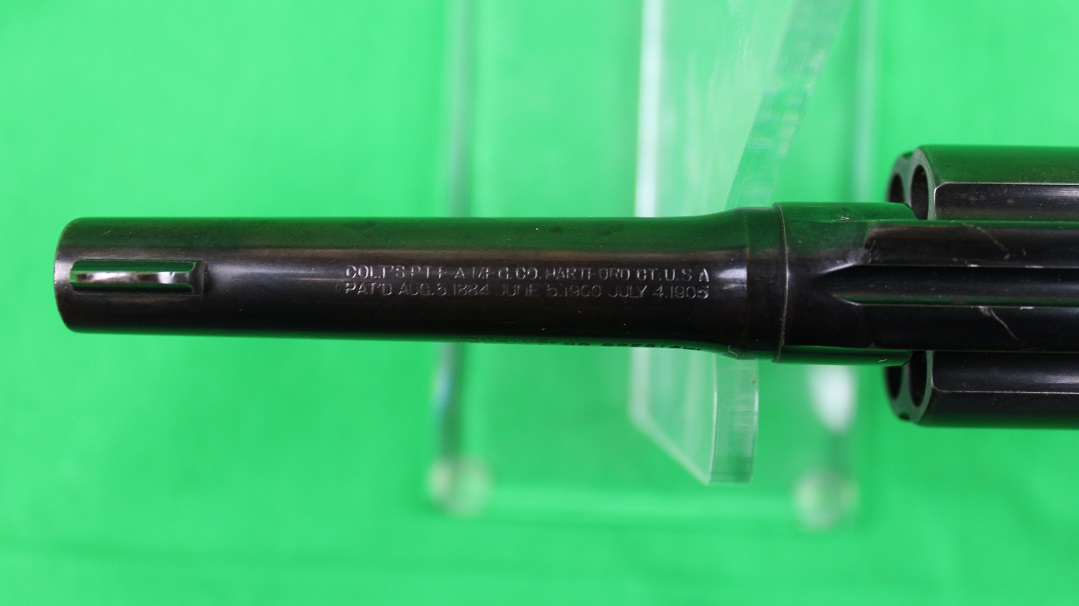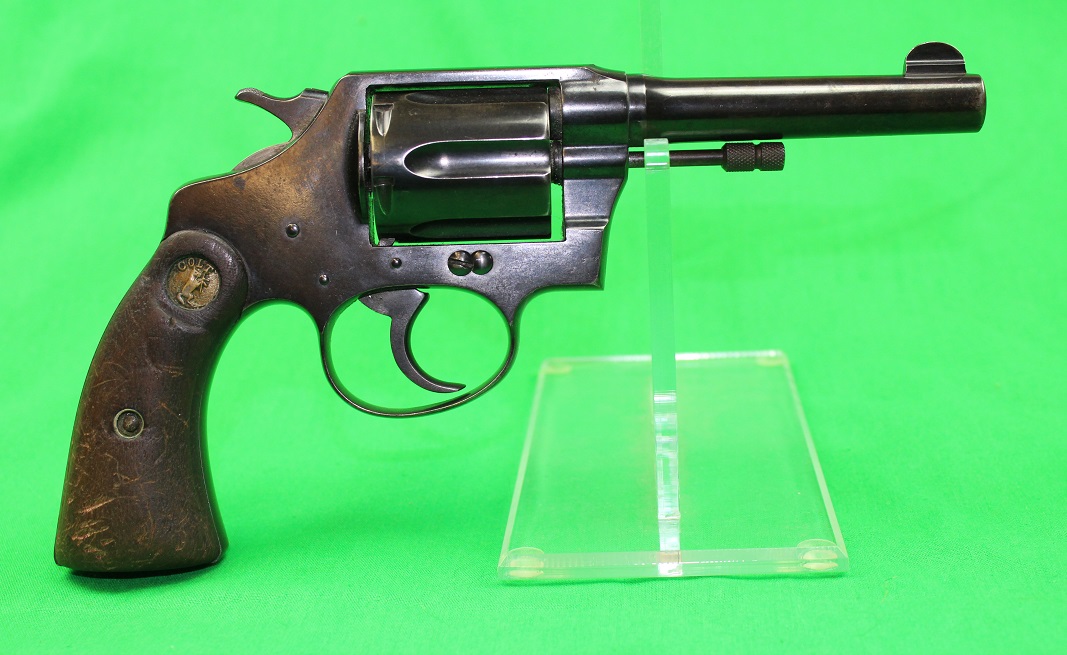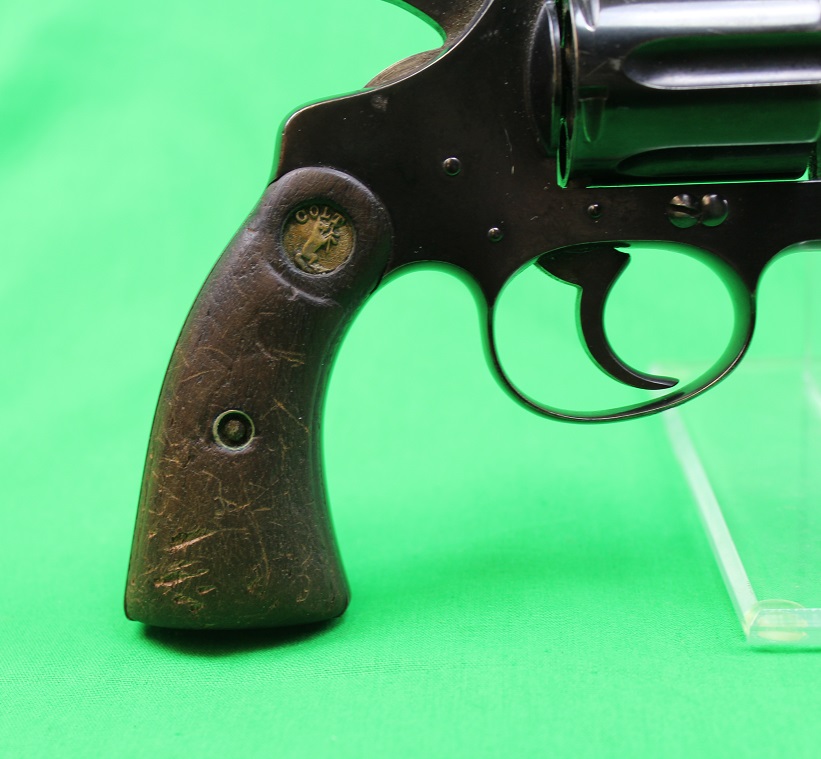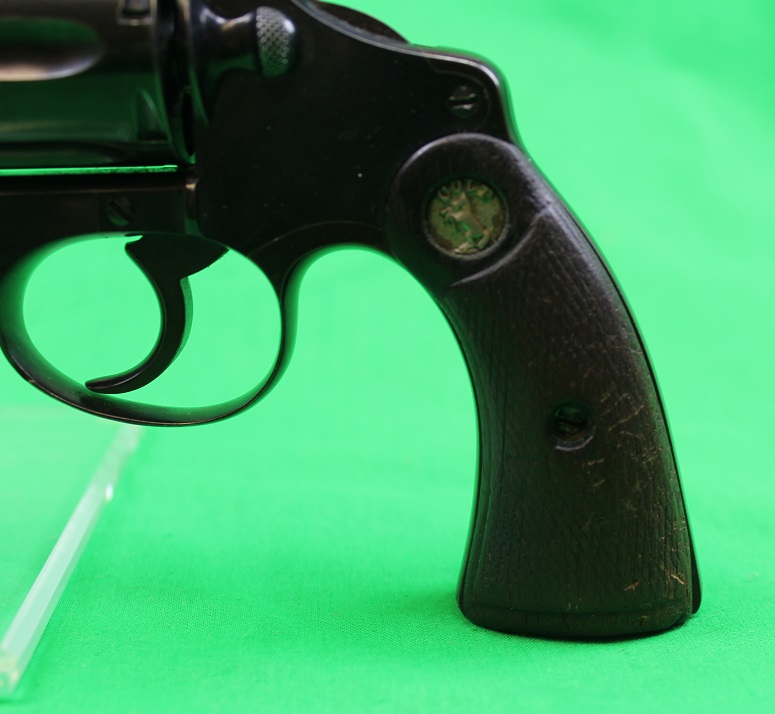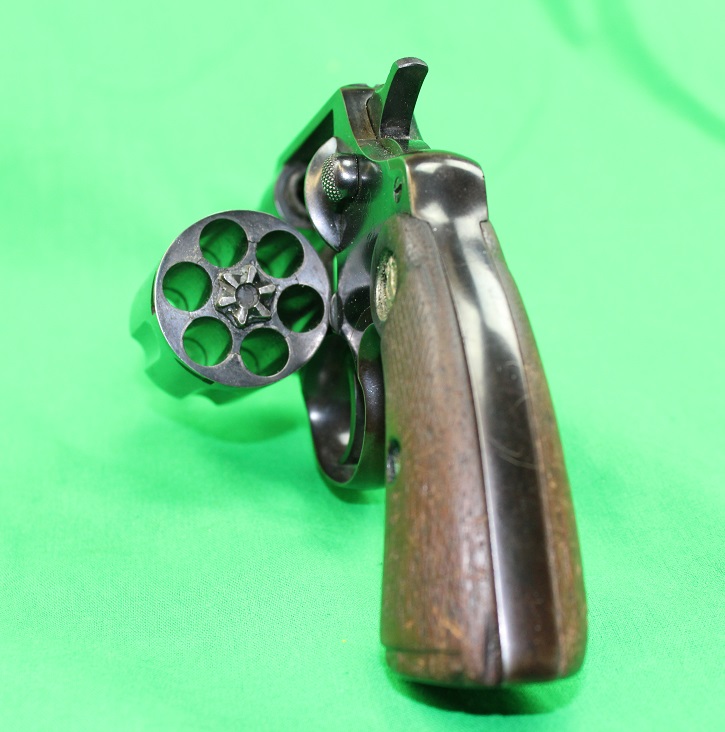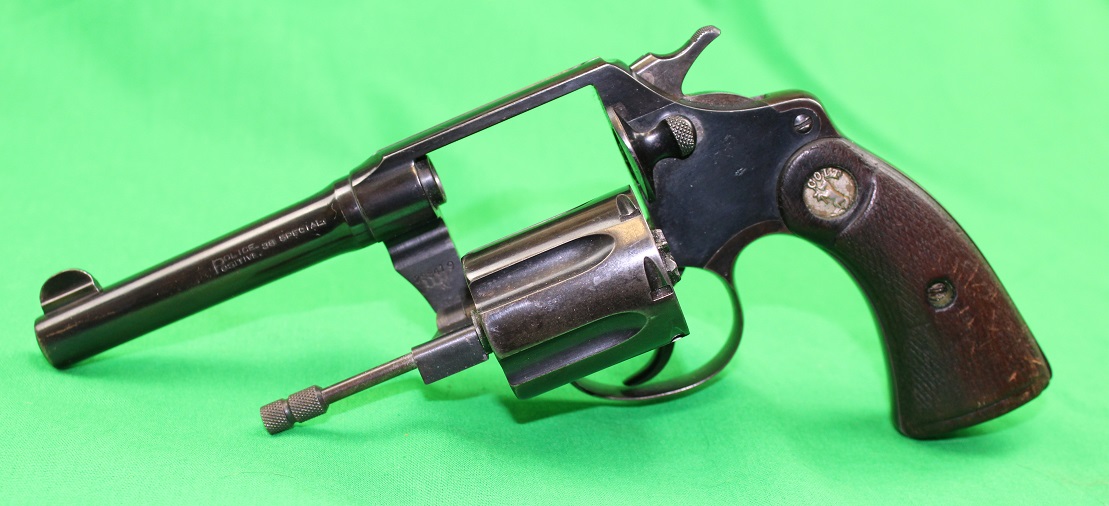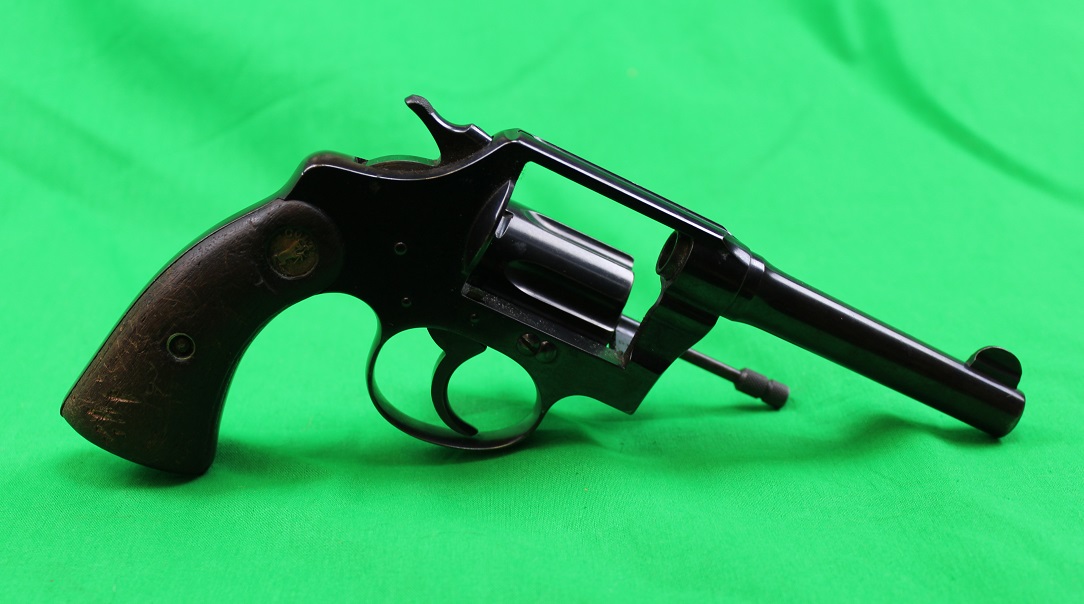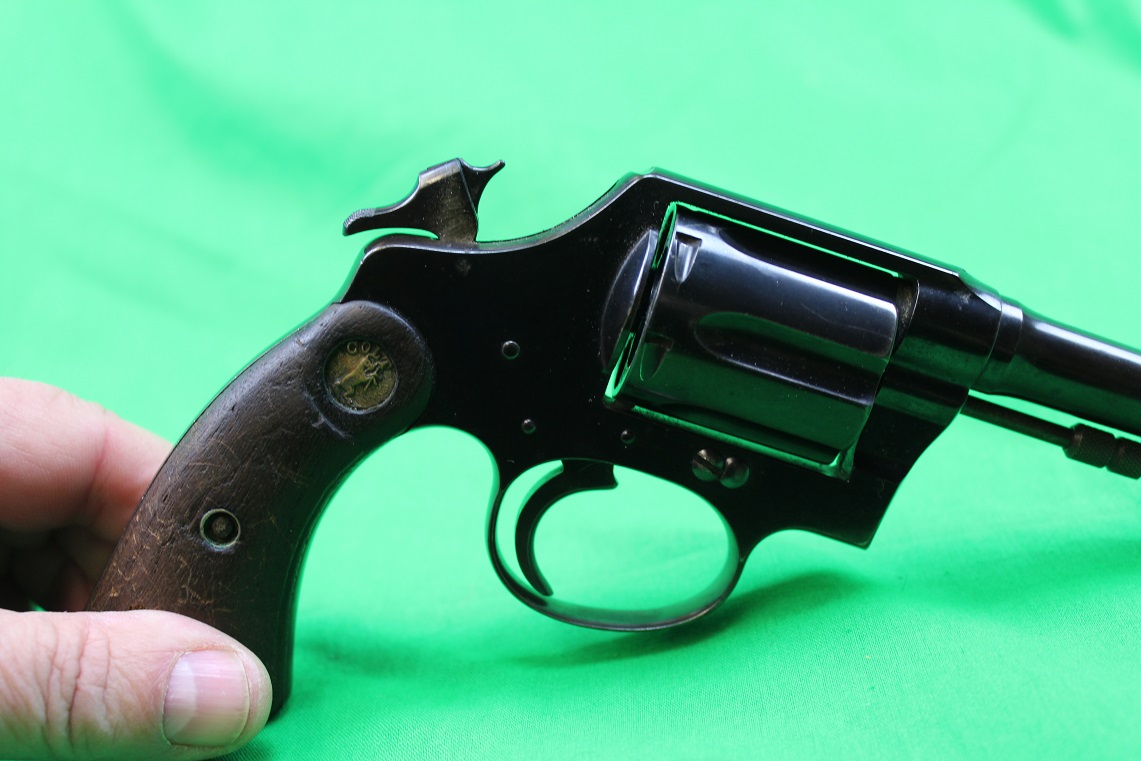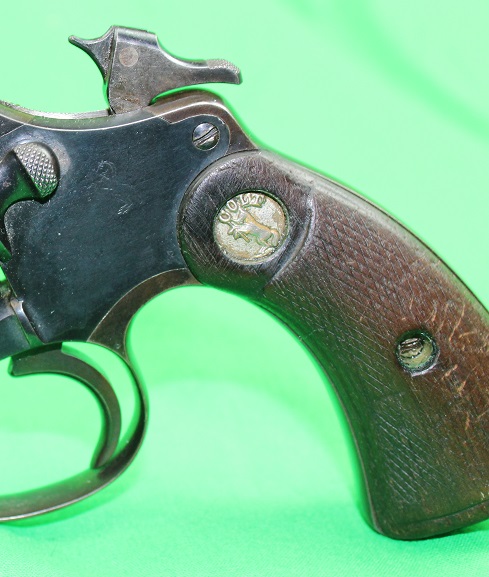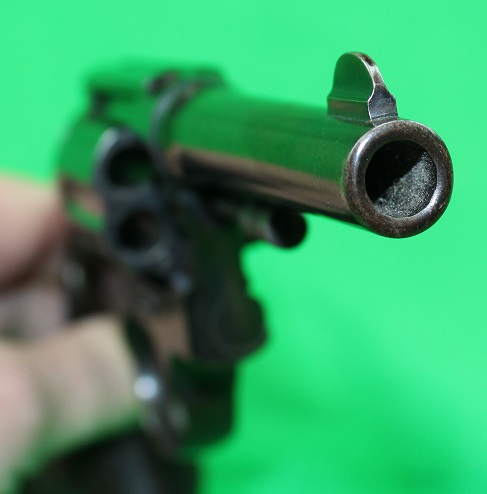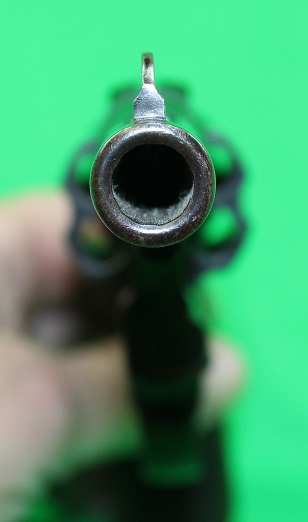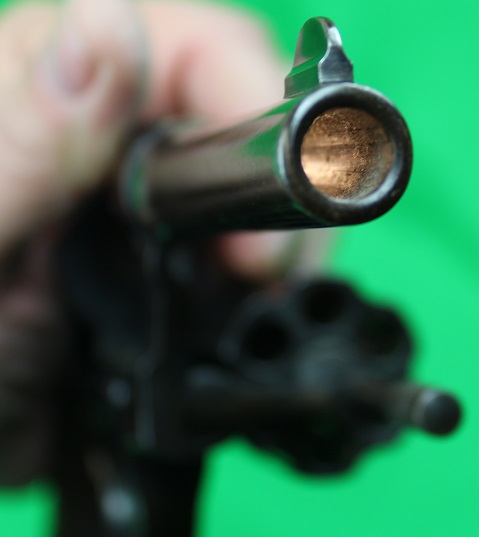 Modern Guns 133
CONSIGNMENT
In 1924, Winchester introduced the Model 55 lever-action rifle as a simplified version of the 1894 Winchester. The Model 55 was available in 30 WCF (30-30), 32 WS and 25-35 calibers. This rifle could be ordered only with a round 24 inch barrel, the forearm smooth, a plain walnut straight-grip stock, and shotgun butt. The frame and barrel were blued and had either a solid or takedown feature. The Model 55 was manufactured through 1932 with approximately 21,000 guns produced during the 8-year production period. The Model 55 was discontinued because it could just not compete in sales with the 1894 Winchester.
This particular rifle is in 32 WS and has the other features mentioned above but this one is a solid frame. The barrel, hammer and nose cap has most of the original blue while the other parts ie: receiver, butt plate and lever have turned a dark gray with some spotting of bluing remaining. The action works great and the rifling is excellent. The wood is very nice with the usual dings from use but no cracks or breaks. You can see on the bottom of the stock pieces where sling swivels were installed then removed and filled. The rear dovetailed sight is missing. Serial number 10748XX. Take a look at the pics. I think you'll like what you see. For this nice firearm $1,365.
Consignment
Item Modern Guns 130
Here we have a very nice Winchester Model 94 (1894) Saddle Ring Carbine in 25-35 WCF cartridge! The serial number of 9235XX places this firearm being made in 1922. The piece is in good condition with a pinned blade front sight, a carbine style rear sight and the saddle ring on the left receiver with a full length magazine tube. Most of the original bluing is present on the barrel and magazine tube. All of the stampings are located on the left barrel area just ahead of the receiver as evidenced in the pics. All the markings are sharp and clear. The receiver is mostly silver with some blue and some minor browning to small areas. The Winchester proof marks are on top of the barrel and receiver as they should be and are nice and clear. The bore seems to have some pitting near the breech but stops a little ways up the bore and has nice sharp lands and grooves. This bore is still very serviceable. I'm afraid I get too much glare to get a good pic of the bore. The walnut stocks are in good condition as well just having the usual dings from use. No cracks or breaks are present. A really nice Saddle Ring Carbine in a hard to find caliber! $1,850.00
CONSIGNMENT
Modern Guns 129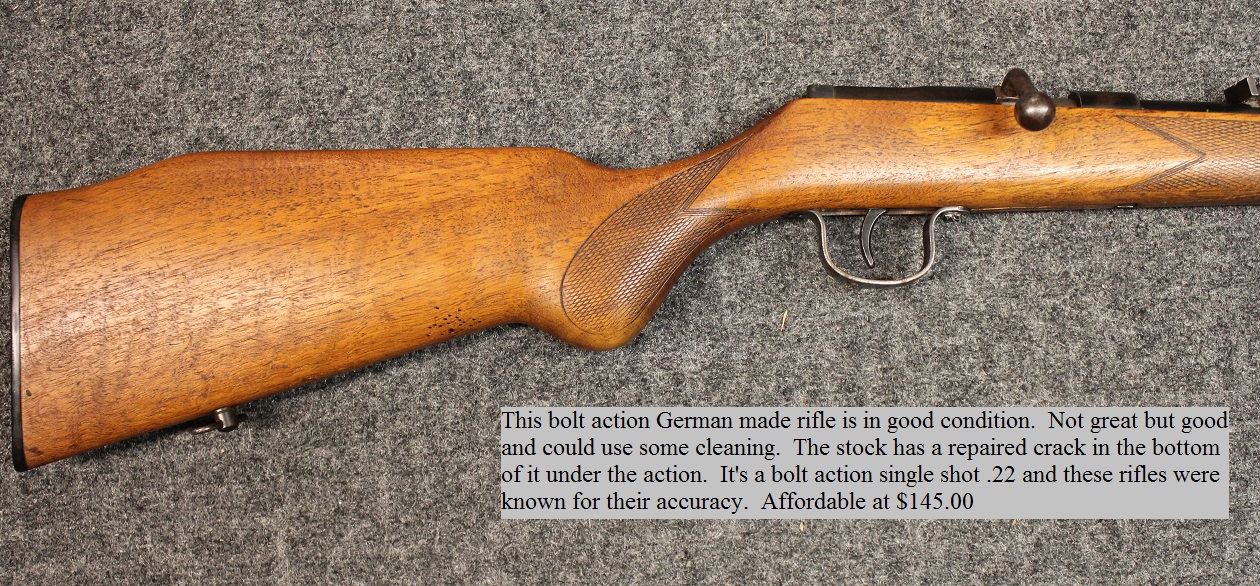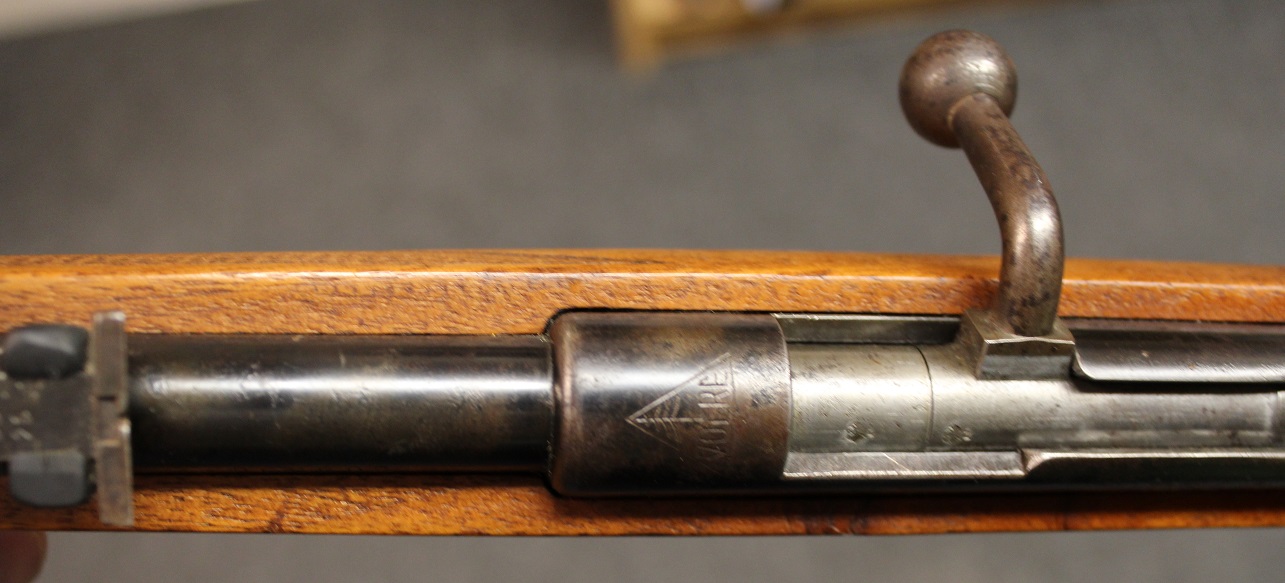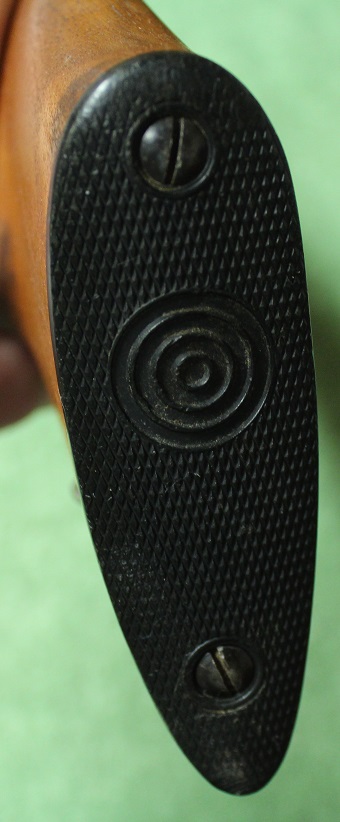 HERE WE HAVE SOME MODERN AND SOME ANTIQUE AMMUNITION!!!
CONSIGNMENT
Modern Guns 128
The HUNTER below is sold!!!
Here's another H & R that is designated as the HUNTER model. The main difference in this piece from the others already offered is that the barrel on this piece is 10 inches long. It is a double/single action revolver and works fine. This piece exhibits about 60 to 65% of the original blue. The action works as it should and the markings are fine. The grips are really nice walnut. This piece was made from 1926 to 1930. This is a 7 shot revolver. $450.00 Modern Guns 39
CONSIGNMENT
Here is a real nice WW2 dated Colt M-1911 A1 in the green parkerized finish. We believe that it has been refinished AND we have gone through the piece to make sure everything matches. The wooden grips are earlier and the barrel pin is earlier too. The pistol looks fantastic but does have one little blip to the finish on the forward slide that you can see in the pic. Serial number is 751XXX which we believe dates it to 1941. All markings are crisp and sharp. It looks fantastic and functions as it should. For this one $1,650.00 item ww 85 & Modern Guns 16
CONSIGNMENT
REPLACEMENT SKS STOCK
This is actually an original SKS stock for the SKS rifle that is so popular today. This stock was taken off the original rifle and replaced with a poly stock. If you have a SKS that is in need of a new stock then here's one for you. $45.00 Modern Guns 15


GOOD ESSEX GUN WORKS 12 GUAGE SINGLE BARREL SHOTGUN WITH NICKELED RECEIVER!
Here is a very good Essex Gun Works 12 guage single barrel shotgun with a nickeled receiver. The last date on the receiver as far as a patent is May 14, 1901 so it will have to go to an FFL for transfer or if you have a C & R license I can send it directly to you. This weapon is in good condition and the walnut stock and forearm are in good condition with just a ding here and there. The receiver has a great deal of the original finish left. The gun is about 45 1/2 inches long overall with a 30 inch barrel. The bore needs a scrubbing but should clean up pretty good. The action works fine. Good strong springs. Plastic buttplate. $125.00 Modern guns 05
OLD WESTERN ARMS 16 GUAGE SINGLE BARREL SHOTGUN
Here we have an old Western Arms 16 guage single barrel shotgun. Mechanically fine with a nice dark patina overall. The walnut stock is in pretty good shape with the exception of some forearm wood loss up front , two holes in the wrist which I think was modified to fit a sling guide in there and a small crack on the wrist top side back of the tang but still solid. The bore needs a good scrubbing. This shotgun is about 44 inches long overall with a 28 inch barrel. These guns were made at the turn of the century so this one will have to be transfered by an FFL dealer or if you have a C & R license I can send it directly to you with proof of age. Check out the pics! $100.00 Modern Guns 04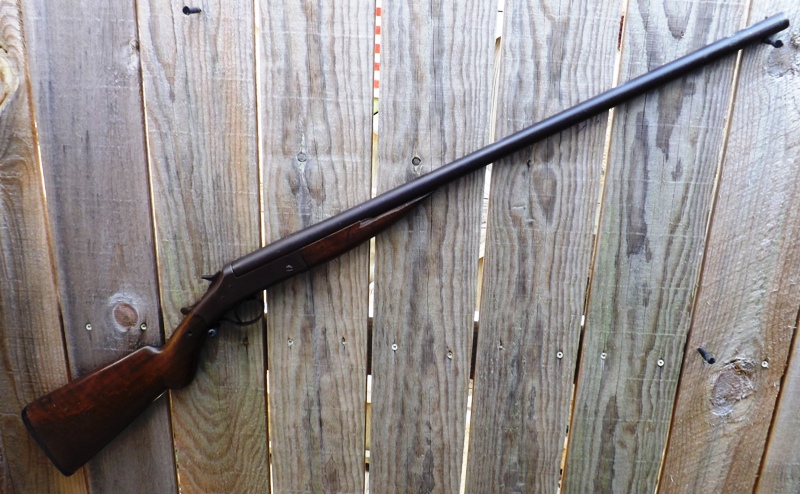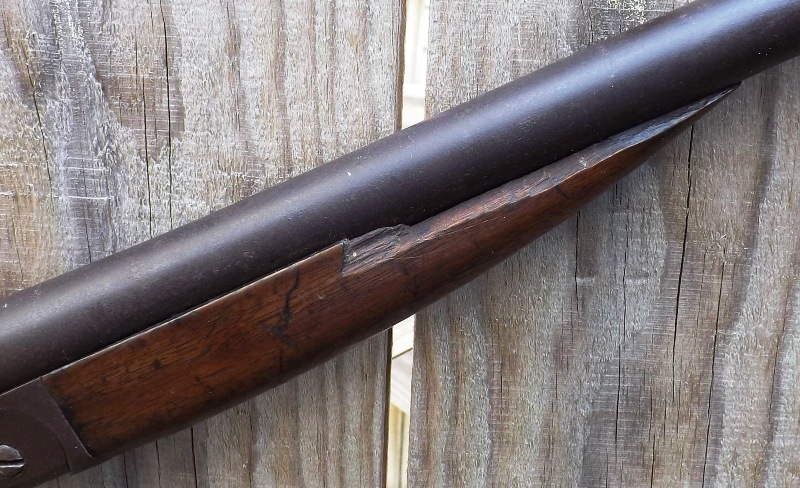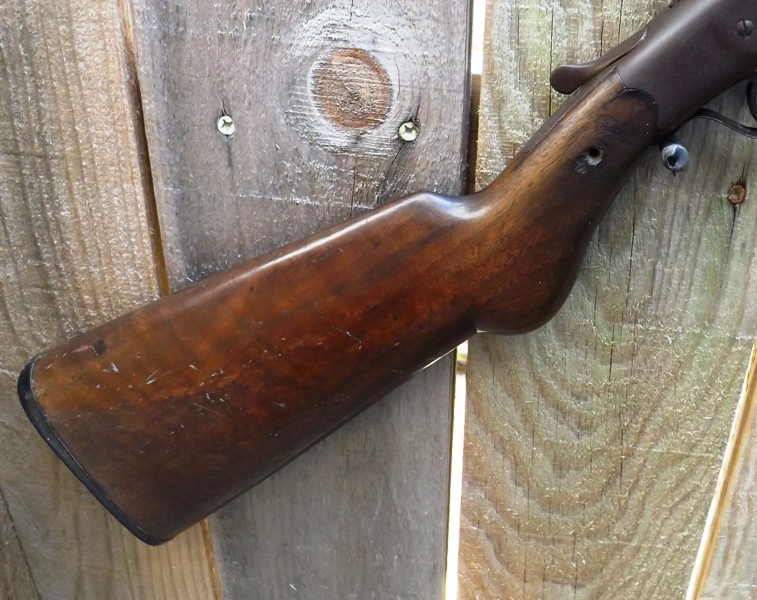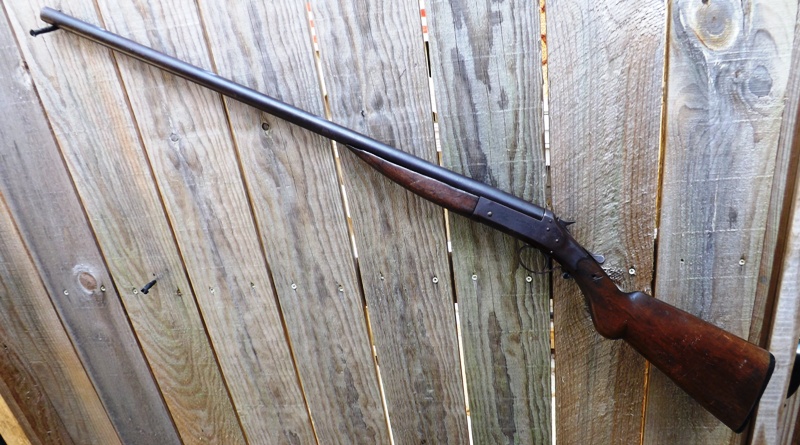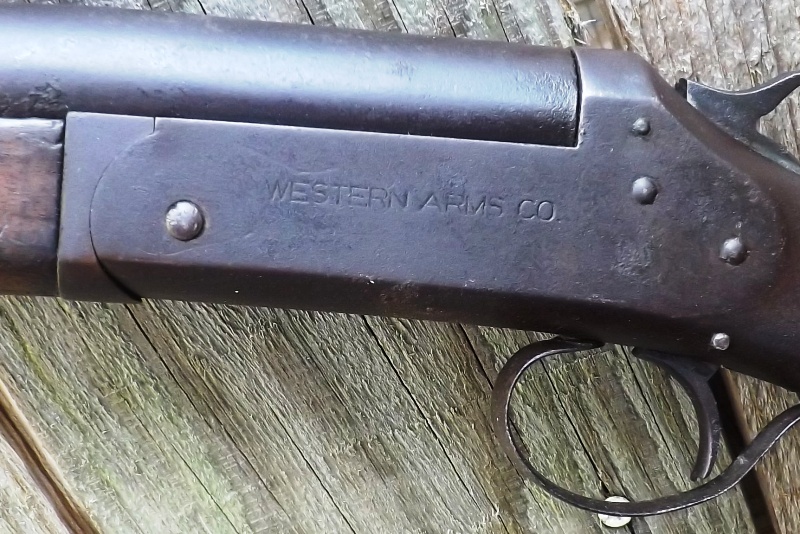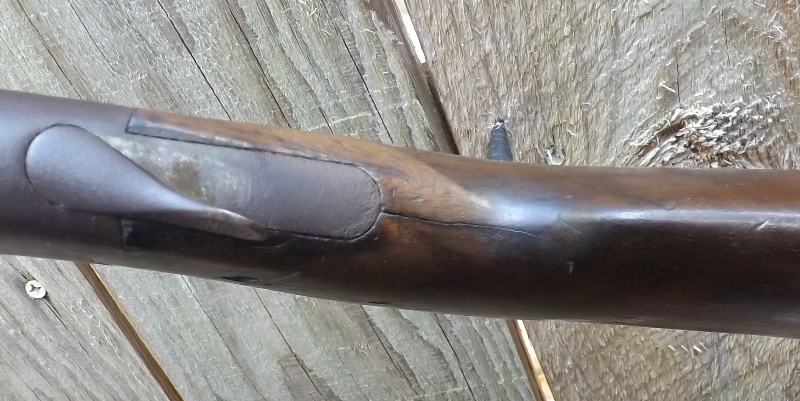 CONSIGNMENT
NICE 30-06 WINCHESTER MODEL 670 30-06 RIFLE!
This is a real nice Winchester Model 670 which is essentially a model 70 in 30-06 caliber. I believe the MOdel 670 was introduced in 1966. This one is a honey! It has a walnut stock with checkered comb. The barrel does have sights and it's topped by a Savage-Suwa Japan Model 3833 scope. This rifle also has a sling. Nice, nice condition! $550.00 Modern Guns 03
Anything you like? E-mail me here