WATCH THIS SITE AS WE ARE GOING TO ADD MORE MODERN GUNS!!!
****NOTE****
NO MODERN GUN SALES TO CALIFORNIA
**** IT'S NOT WORTH THE HASSLE! **** ALSO, NO LAYAWAY ON MODERN FIREARMS*** THANKS!
NOTICE: ALL FIREARMS MADE AFTER 1898 AND CHAMBERING MODERN AMMO CAN BE PURCHASED BY ANYONE WHO CAN PASS THE FBI CHECK BUT MUST BE SENT TO A LICENSED FIREARMS DEALER.
Here we have a quick draw outfit! The revolver is a .22 caliber HAWES Revolver made by J.P.Sauer & Sohn of Germany. This is the Western Sixshooter 6 shot .22 caliber revolver. The barrel length is 5 ½ inches. The front sight has been turned around so that it would not hang up in the holster when drawn quickly. The firearm is nickel but the cylinder is blued. The original owner says he got it that way. The action is tight and it works very well. This is a single action Western style revolver. The grips looks fine but they don't fit extremely well so I guess they could be replacements. The gun rig is a nice black leather rig and would fit a 38 inch waist. The revolver fits the holster very well and is easy to draw from however the cartridge belt is for a .30 carbine round for pistols. Black Hills leather makes this holster which is listed as BH73 The Hunter. This is a Buscadero style rig with a drop belt design. The holster is looped through the low fitting drop belt and secure with a strap and sells on the Black Hills Leather of Laredo, Texas website for $289.99 by itself. You can have the entire rig including revolver and belt rig for $325.00 The revolver was used considerably but is still in good condition whereas the belt rig was used very little and is in excellent condition.
CONSIGNMENT
Here we have a Colt Trooper MK III Revolver serial #Y397xx, 22 Mag, 4" barrel with a bright excellent bore. The metal surfaces retain 99.9% original blue finish with a very faint turn ring on cylinder. The hammer retains strong vivid case colors. The factory checkered walnut grips rate excellent. An excellent condition rimfire trooper revolver. Introduced to the firearms market by the Colt's Manufacturing Company in 1953, the Colt Trooper is a medium frame double-action revolver featuring a six-round cylinder, chambered for .22 and .38 caliber cartridges. This one is for a .22 magnum R.F. (rimfire) and so marked on the barrel.
Here is some info on the MK III
MK III
1969 - 1982 In the late 1960s, Colt began to be concerned with a decline in its market share because of price increases brought about by the high labor costs inherent in its manufacturing processes. In response, an entirely new product line of revolvers dubbed the MK III series debuted in 1969. Intended to be the first major advancement of Colt's designs since the beginning of the 20th Century, the MK IIIs used a new 'J' frame and had no parts interchangeability with older models. The new revolvers were considered groundbreaking as they were the first modern revolver designs to employ a state of the art transfer-bar lockwork system. This lockwork was not only more sophisticated, but inherently safer due to its superiority to the older hammer-blocking designs; the revolver could fire only if the trigger was deliberately pulled completely to the rear. It also vastly improved on the earlier design in durability, and offered the advantage of employing sintered iron internal parts rather than expensive forged ones. The sintered parts also allowed for improved fabrication tolerances, and could be given a special heat treatment resulting in a harder more wear-resistant composition. Using these parts virtually eliminated hand fitting, significantly lowering labor costs associated with the assembly and manufacture of the MK III line. The springs used in the Mark III internals were also an improvement. Unlike the older flat style, they were coiled and made entirely of corrosion-resistant stainless steel.
Well, that's probably more than you want to know about this particular weapon. At any rate this is one excellent example of a Colt Trooper MK III! $1195.00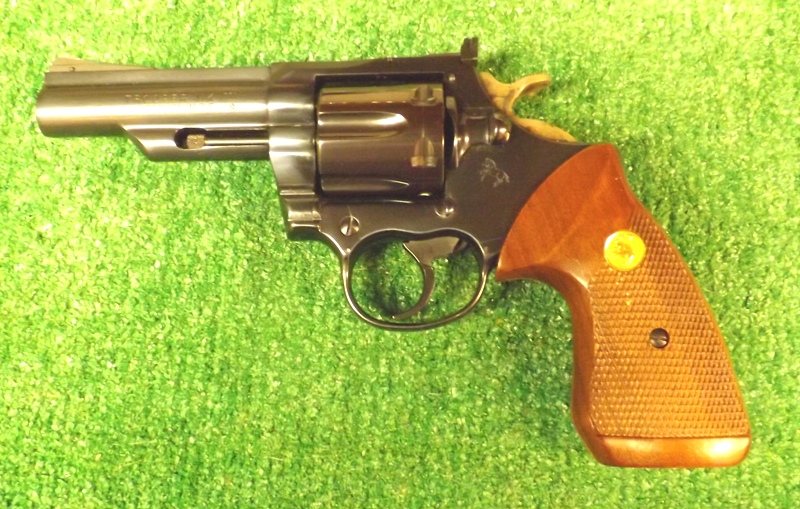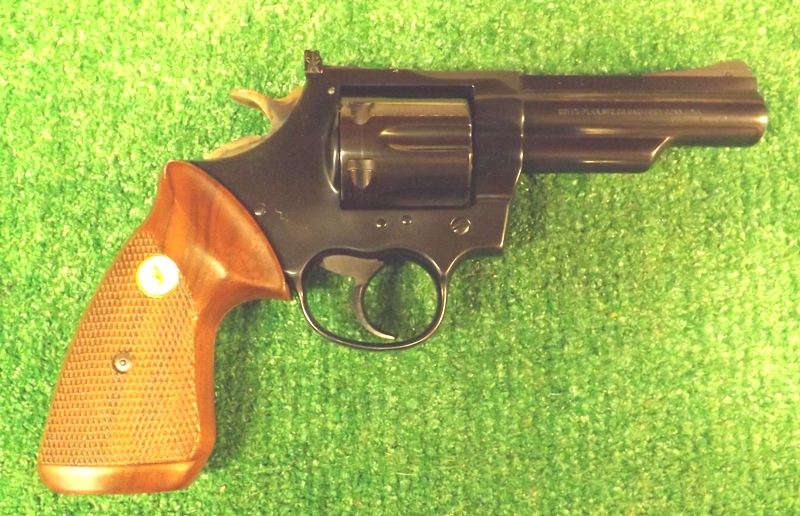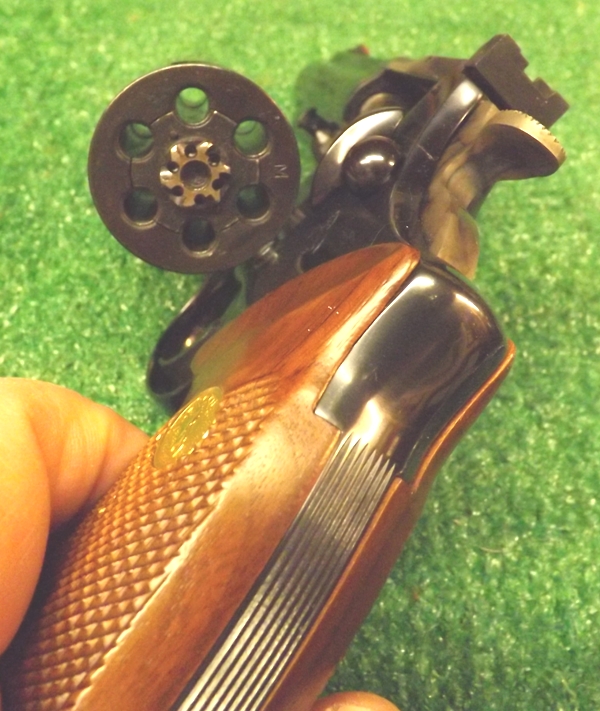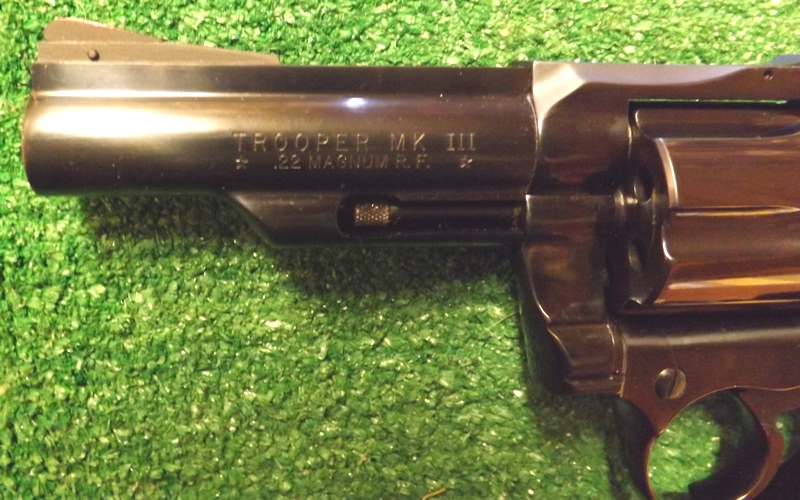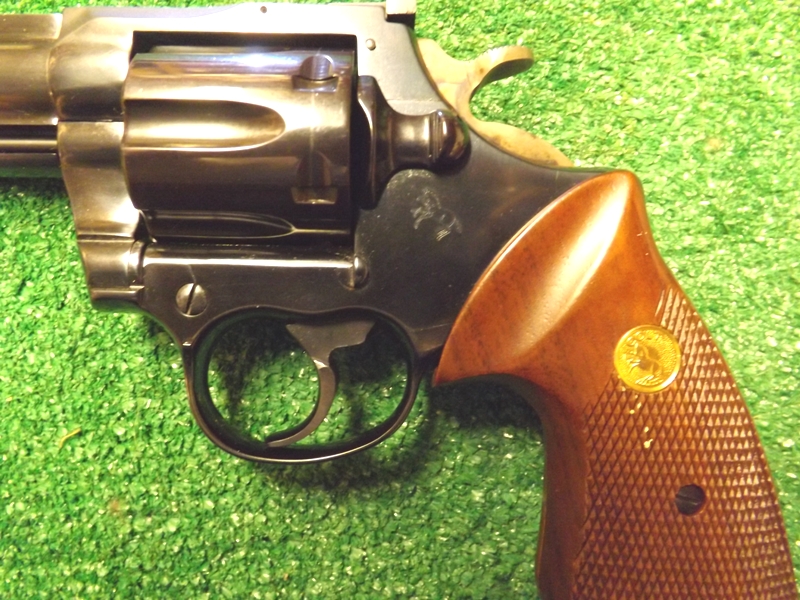 CONSIGNMENT
Here we have a First Issue Colt Police Positive in .22 WRF, serial number 4858. This piece has 65 to 70% original blue with the remainder turning a nice plum brown. This piece functions flawlessly and has a very nice bore. The hard rubber grips are complete with some minor scuffs. This piece is also know as the Police Positive Target Revolver.
Here are some stats on the Target Revolver
Weighing 22 ounces and available with a blued finish and black hard rubber grips in .22 Long Rifle, .22 WRF, .32 Long (and Short) Colt, and .32 Colt New Police (.32 S&W Long) chamberings, the First issue of this model featured an adjustable open iron sighted 6 inch barrel and was marketed from 1910 to 1925, with checked Walnut grips replacing the rubber ones after 1923. A Second issue was sold from 1926 to 1941 and differed from the First in that it had a slightly heftier frame which upped the weight to 26 ounces; also Colt's nickel finish was offered as an option. In today's collectable market, the .32 New Police version appears to be the most sought after and valuable but this model is sought after as well. For this fine specimen: $695.00
CONSIGNMENT
Here we have a Colt Frontier Scout in .22 magnum. The Colt Frontier Scout single action revolver made its first appearance in 1957, during a time when American shooters were in love with the old west and with guns that reminded them of it. This model was discontinued in 1971.
This was Colt's offering to compete with Ruger's Single Six, which had found a ready market when introduced in 1953. Ruger's then-reasonable pricing allowed the Single Six to sell well; it was a cheap-to-shoot old-west-type gun for those who revered the Colt Single Action, which Colt was no longer producing.
Then along came the Scout, an alloy-framed single action 22 caliber revolver from the folks who built the first successful six-shooters, whose four-click actions were said to spell C-O-L-T when cocked.
This particular weapon is in excellent condition with about 98% blue left. There is some muzzle wear from going in and out of a holster. This revolver sports the hard 'rubber' type grips popular on the Colt Single action revolvers. There is just slight wear to the cylinder from turning. The action works crisp and the rifling is fine. The markings are all sharp. The only drawback to this piece is that someone put his social security number on the butt piece. It's not scratched in too deeply so pehaps it could be buffed off and the buttpiece could be refinished This is one fine little revolver! $450.00
SOLD THE COLT !!!
Here we have an excellent example of the Colt MKIV Series 80 PLUS II otherwise known as the Colt Mustang in .380 caliber with fixed sights, capacity is 7 + 1, single action, blue finish, black composition grips, barrel length is 2 3/4" overall length is 5 1/2" weighing 20 oz. The bore is excellent . The firearm looks much better than any photo that my poor camera can catch for me. Any firearm that is shiney black causes me a problem with taking a pic. This one has a very nice blued finish. The only wear on this piece is on the bottom of the magazine which shows the Rampart Colt along with COLT .380 AUTO and an M. The action is fine and it looks great! $695.00
Here is a used but not abused Smith & Wesson Model 36 otherwise known as the Chief's Model in .38 S.& W. special. This gun looks very good with 75% blue and some wear here and there from use. There are flecks on the firearm that should clean up. There are some dullness on the cylinder from coming into contact with the holster, remainder looks about good. Locks up tight, and functions very well. The revolver as a 17/8" pinned barrel with an excellent bore, and the factory walnut grips look very good.Action is smooth. This revolver comes with a nice leather holster. $395.00
The S&W below is sold!
Here is an excellent example of the S&W SW40VE Sigma Series Semiautomatic Handgun .40 S&W 4" Barrel 14 Rounds with Matte Two Tone Finish. Here are some of the stats on this particular firearm:
Specifications and features:
S&W SW40VE Sigma Series semiautomatic handgun
.40 S&W
Striker firing system
4" barrel
14 round capacity
No manual safety
Black polymer frame
Stainless steel slide & barrel
18 degree ergonomic black polymer grip
White dot front sight
Fixed 2 dot rear sight
7.25" overall length
24.3 oz.
Each Sigma Series pistol features a stainless steel slide and barrel, ergonomic polymer grip and 18º natural-point grip angle.
These striker-fired pistols come in 9mm and .40 S&W calibers. Known for reliability, innovative safety features and consistent trigger pull, the Sigma is a favorite world wide among military units, law enforcement and individual owners.
This particular handgun in in excellent condition. It functions flawlessly and has an excellent bore. There is virtually no wear on this firearm. Comes with a hard belt holster HK-1. $350.00
THE Ruger Target Pistol Below is on HOLD! Here is a nice Ruger Mark II Target pistol with bull barrel in .22 Caliber. It is the most prevalent model of all that were produced between 1982 and 2005. The serial number is 214-81XXX. The pistol is made of Stainless Steel and features a long 5 5/8 inch heavy bull barrel. The overall length is 10 inches and weight of 3 pounds 6 ounces. It has the rear sight base present with a dandy Bushnell scope mounted. The front sight has been removed. The pistol comes with one 10 round magazine. There are some scratches and wear to the reverse side at the safety mechanism probably due to a special holster for this unit where the firearm came in contact with a rivet while entering and exiting the holster causing cosmetic damage. Otherwise this piece is fine . The mechanics are fine, the bore is fine and the optics are fine. This is a nice piece and you should be able to drive nails with this one! $450.00
Here we have a BROWNING - MODEL HI-POWER - .9MM PARA./LUGER CAL. - SEMI-AUTO PISTOL - Made in BELGIUM and assembled in PORTUGAL. This piece is in excellent condition just showing wear on the bottom of the magazine and on the backstrap. The action works flawlessly and is very smooth. The bore is excellent. This is a very clean gun - BROWNING ARMS COMPANY MORGAN UTAH & MONTREAL P.Q. on reverse side of slide with MADE IN BELGIUM ASSEMBLED IN PORTUGAL on the obverse side. - 4 5/8 inch barrel with excellent bore (the pic shows dust from my cleaning patch in it)- 13 shot magazine - Fixed rear sight - raised front blade sight - walnut checkered grips - looks to be all original parts. I just found another 13 shot magazine in my stock that is better than the one show with the gun so I'll include it as well. This is a nice piece! $795.00
Here we have a very nice Colt Pocket Positive Revolver in .32 Police Cartridge! This may be an old re nickel because it looks so good! If it had been re nickeled it was done by professionals. The markings are still sharp and the action is still fine in single and double. The bore is very nice as well on the 3 ½ inch barrel. The only downfall on this piece at all is that it is missing a tiny chip of the rubber grip on the forward toe end of the obverse grip. Otherwise the piece is fine. Looks like new! $450.00
Here we have a F.I.E. Derringer Model D .38 caliber with 3 inch barrels. Each time you cock the single action piece the firing pin changes position from top to bottom and vice versa. The piece is nickeled and still in good condition missing a chip on the bottom front of the bottom barrel. The action works well and the bores are excellent. . The grips are white plastic. For this piece $125.00
the next 4 are CONSIGNMENTS
Here we have 4 different Harrington and Richardson revolvers of different distinction. The first one is a TRAPPER Model .22 revolver that was made from 1924 to 1941. This one is a 7 shot .22 revolver with a 6 inch barrel. This gun exhibits most of the original blue (65 to 70 %) with some finish lacking here and there. It is a double/single action revolver and works fine. The grips are walnut. All markings are sharp. Hard to find now! $375.00
Here is another TRAPPER model H & R that is in better condition that the one previously offered. This one has nearly 99% original factory blue on it and it works fine. It is a double/single action revolver and works fine. All markings are nice and sharp. Nice little .22 caliber revolver that was made from 1934-1941. Nice!! 450.00
Here's another H & R that is designated as the HUNTER model. The main difference in this piece from the others already offered is that the barrel on this piece is 10 inches long. It is a double/single action revolver and works fine. This piece exhibits about 60 to 65% of the original blue. The action works as it should and the markings are fine. The grips are really nice walnut. This piece was made from 1926 to 1930. This is a 7 shot revolver. $450.00
Here's another H & R that follows the designation of the HUNTER model but the top of the barrel is marked TARGET and I believe it's made about the same time as the HUNTER model. It looks the same in every way except the walnut grips are just a little different. This one is also a 7 shot .22 rimfire. This one works fine in the double action mode but does not hold back in the single action mode. There is some original color here and there on this one , thinning but perhaps 20% or more. The markings on top of the cylinder strap are TARGET MODEL- MODEL 1900 FITCHBURG, MASS. A nice revolver and with a marking that I do not see often. $325.00
CONSIGNMENT
Here's something you don't see everyday-or at least I don't! This is a Stevens No. 10 Target Pistol. This version was a departure from its predecessors. It very much resenbles a semi-automatic pistol but is, in reality, a single-shot pistol. It is chambered for the .22 rimfire cartridge and has an 8" round barrel that pivots upward for loading. It has a steel frame and is blued, with checkered rubber grips. Instead of the usual exposed hammer, this verison has a knurled cocking piece that extends through the rear of the frame. There were approximately 7,000 manufactured between 1919 and 1933. This pistol is in good condition and all steel parts exhibit a nice dark patina. The black rubber grips are in nice condition with no cracks or breaks that I can see. On the top of the barrel it is stamped PAT. APPL'D FOR. Nice bore.$350.00
CONSIGNMENT
No paperwork is need for this next piece but proof of age is required. This is an EKOL Special 99 pistol in 9mm BLANK. This little Beretta look a like also shoots flares if you obtain the adapter that screws into the barrel. This is a single/double action and has a removable magazine just like an authentic firearm. It's in pretty good shape for a used replica. This firearm cannot be made to chamber and fire real 9mm ammo. The barrel has a rod running across it so nothing can be fired except blanks. This pistol comes with a nice Gunmate soft holster. $85.00
CONSIGNMENT
Here we have a High Standard Sentinel Mark IV single- double action revolver in .22 magnum. This one has the steel frame and adjustable rear sight. This one has the 4 inch barrel and is a nine shot revolver. The revolver has nice square butt grips. This one has seen use but not too much. According to the Blue Book this piece with 4 inch barrel and adjustable sight was made from 1974-1977. Take a look at the pics. It's a good one!! $525.00
CONSIGNMENT
SOLD !!!
Here we have a High Standard Sentinel Deluxe Revolver in the original box and paperwork. This is a scarce double action aluminum framed revolver. Very light cylinder line, gun is mint except for that. Box shows a little wear and has some writing on it. The paperwork is included. You would have to go some to find a better one! This revolver is a 9 shot single or double action revolver in 22 short, long or long rifle. This one has fixed sights. 6 inch rifled barrel. This model has the two piece walnut square butt grips. This one is so nice! $495.00
SOLD !!!
Here we have a High Standard Sentinel Single/double action revolver R-101. This one is a nice shot revolver with 6 inch barrel and a parkerized or anodized aluminum frame. The barrel and cylinder are blued. The sights are fixed. There is some cylinder wear from turning and muzzle finish wear from going in and out of the included hunter holster but the gun is still very nice. There is also some anodized aluminum wear but not too bad at all. This piece is equipped with the square butt plastic grips. The 9 shot cylinder swings out for loading and unloading. The ejector is not spring equipped. This revolver was manufactured from 1956 to 1964. Nice one! $350.00
SOLD !!!
This is a Savage Springfield Model 745 B 12 gauge semi automatic shotgun circa 1940-1949. This gun rates at approximately 78 to 80+% condition. The finish on the alloy receiver is still mostly there, with edge wear from use. The barrel is 28" long with an adjustable choke, good bore and a 2 3/4" chamber. The receiver is also crack free at the pins that hold the shell stops, something seldom seen in these nice light alloy guns. The action works well. The wood is very good with a minor age crack here and there. This is a sweet old gun, fun to shoot and it will make a great field gun for it's new owner. The gun is missing the butt plate but a minor thing to obtain. Check out the pics!!! $250.00 Modern Guns 37
SOLD !!!
The Remington Model 31 is a pump-action shotgun that competed with the Winchester Model 1912 for the American sporting arms market. Produced from 1931 to 1949, it superseded the John Pedersen designed, bottom loading and ejecting Models 10, 17(with John Browning), and 29. It was replaced by the less expensive Remington 870 in 1951. This particular Model 31 looks great with nearly all the blue remaining and all the markings nice and sharp. The action works well and nothing seems loose. The barrel has an adjustable choke on it. This old 12 guage is in great condition for it's age!! There are a few minor scratches and dings on the stock from use. The bore is still bright. This is still a nice gun! $350.00 Modern Guns 36
This is a Santa Fe Mauser field Model 12012 in 30-06 Caliber 22 inch barrel with a great bore. The Stock is real nice with only a couple of handling marks. The blue is also real nice with only a rub on top of the barrel from the scope. The barrel is marked Golden State Arms Corp. Pasadena Calif. The action is a Military Mauser 98. There are sling swivels present and also there is a Pachmayr swivel scope mount attached that is worth $100 alone. This rifle is in good shape. Also marked on the barrel are the Mauser markings of DEUTSCHE WAFFEN-UND MUNITIONS FABRIKEN-BERLIN which is a WW2 factory. The quality is outstanding on this piece! $475.00 Modern Guns 35
THE REMINGTON BELOW IS SOLD !!!
The Remington Model 572 Fieldmaster is a slide action rifle that is manufactured by Remington Arms from 1958-1962 in Buckskin Tan. The rifle features a cross-bolt safety and a receiver grooved for scope mounts. It has an anodized aceiver and barrel sleeve with a steel barrel. The Model 572 served as an upgraded replacement for the Model 121 Fieldmaster. This is a 22 pump in very good condition. It has "Remington Arms Company Inc. Ilion, NY Made in USA" and "Remington 22 - S, L, & L.R." stamped on the top of the barrel. The stock has some small dings and small spots of discoloration normal for a gun of this age with no visible cracking. There is a small area on the bottom of the slide where the finish is dinged. It retains most of its original bluing with a few small scratches from normal use. Nice shiney bore! All parts are tight and the slide action is in good working order. The rifle is topped off by a very nice ALL AMERICAN 6X PERMA CENTER LYMAN SCOPE being 1960's vintage. The scope is expensive in itself. All in all this is a very nice Remington rifle!!! Look at the pics. $425.00 Modern Guns 34
THE Ted Williams Shotgun Below is SOLD! This is a Sears & Roebuck, Ted Williams single shot shotgun that rates at about 90 to 95% condition. The firearm was made in Brazil. . The gauge is 12 with a 2 3/4" chamber. The bore of the full choked 28" barrel is excellent. The wood is very good and looks great! The action is very tight. The model number is 282.510820 . Ted Williams was a professional baseball player and they thought his endorsement would sell more guns. The Ted Williams trademark was discontinued in 1978. This is a nice old shotgun and in excellent condition!! $145.00 Modern Guns 33
This is a real nice later WW2 Japanese Arisaka rifle in 7.7 mm. The rifle is in overall good condition and is marked 9 9 type in Japanese Characters on the receiver. The Mum has been ground which is more normal than not. All numbers match and the ramrod is present. The metal parts have a kind of roughness to them. This is not the last ditch model but I believe it's not far from it. As the war progressed the Japanese got more desperate and turned out this rifles as quick as they could. The barrel still has some nice rifling in it. The dust cover is missing as is just about normal as they were a real pain to keep on. The action works fine. The stock is in generally good condition with a crack near the bottom on both sides. This crack is not a break and is in no danger of breaking apart. It's just an age crack. The entire piece looks good and deserves a place in the 'Captured' weapons WW2 display. Look on the WW2 page for more WW2 weapons. $325.00
Modern Guns 32
CONSIGNMENT
SOLD!!!
CRACKSHOT RIFLE MADE INTO PISTOL! UNUSUAL!!
Here we have a Stevens Crackshot Model 26 rifle that was shortened into a pistol for some reason. There's a story here but I don't know what it is. Was it changed to be a part in a crime or perhaps simply shortened to carry in one's pocked who is running a trap line. Who knows! Anyway it's very unusal. This particular rifle / pistol was made c. 1912 to 1939 and even though it's a novelty item now it still has to be transferred or a person holding a Curio and Relic license can purchase it direct. I was thinking about putting it in a display with brass knuckles and old handcuffs. It'd look great! The piece still functions but I would in no way recommend you try to shoot it. It's a .22 caliber weapon and take a look at the end of the barrel where they bore was off when they punched out the bore for the projectile! This piece is now a little over 10 inches long with a 6 inch barrel. A new front sight was installed on the piece. The lever handle was cut down to accommodate the grips. The old wooden grips has worn black paint on them. Someone went to a lot of trouble to do this. (C) RACKSHOT - 26 is still stamped on the frame. The C is missing. It can be yours for $85.00
Modern Guns 31
BRAND NEW IN THE BOX CVA OPTIMA IN LINE .50 CALIBER RIFLE AND ACCESSORIES!
This is a brand new in the box CVA OPTINA in-line .50 caliber muzzleloader with some accessories. The rifle is complete and appears to have never been used. This rifle was made in Italy and is definitely quality. The metal parts are blued a nice dark black color while the stock is synthetic black. This piece has fiber optic green double sights in back and a single fiber optic red sight up front. This is a break open model. The 26 inch barrel is drilled for scope mounts. The entire piece is 42 inches long. I can't say anything bad about this piece because it's mint in the box! If I was a hunter I'd keep this one. Check out the pics!!! Nice!!! $195.00
Modern Guns 30
SOLD THE STEVENS VISIBLE LOADER!!!
VERY COLLECTIBLE STEVENS VISIBLE LOADER RIFLE IN .22 CALIBER!
This is a "VISIBLE LOADING" Repeating Pump Auction Rifle No. 70. Made c. 1907 to early 1930's. Caliber 22 rimfire with a 20 inch round barrel and three-quarter length magazine tube. This one has open sights. The metal surfaces have all turned a nice dark brown. The markings are still good and so is the wood. The bore has rifling in it but it is somewhat dark with pitting. For this one $275.00 Modern Guns 29
The Lyman Trade Rifle below is sold ! LYMAN .50 CALIBER 'TRADE RIFLE'!
This is a nice Lyman .50 Caliber 'TRADE RIFLE' percussion deer hunting rifle or re-enactment rifle. The Lyman Trade Rifle is patterned after the sturdy and functional guns developed for the early Indian fur trade. Designed by such companies as Henry and Leman, these original guns were much sought after by trappers, Indians and other rugged wilderness survivors. 1 in 48" twist. You can tell it's been used but it hasn't been used much. The wood is pretty nice and the original case colors are still highly visible on the lockplace as well as the original bluing on the barrel. The ramrod is still present as well. This is not the double set trigger but the hammer does have a half (safety) and a full cock position. This piece measures 46 inches long with a 29 inch barrel. This one made in Italy and so marked. Simple sights. This firearm sells for $551.95 brand new so we have priced this one at $275.00 Modern guns 28
CONSIGNMENT
REAL NICE WINCHESTER MODEL 72-A !!!
Here is a dandy Winchester Model 72-a . This model is a bolt action rifle with tubular magazine and is chambered for the .22 short, long and long rifle. This model was not serial numbered and was built between 1938 and 1959 with about 161,000 rifles sold. This particular rifle is in about 75 to 85% or more condition which is hard to come by. The action works fine and the bore is also fine. All the markings are sharp. There is a ding here and there and some very minor scratches. Most of the original blue is remaining with just a spot into the finish here and there. The receiver is grooved for a scope. This is the sporting rifle with a 25 inch barrel. The stock is nice and dark one piece walnut with a small 1 to 1 1/4 crack running forward of the bolt. This is a dandy piece! $425.00 Modern guns 27
CONSIGNMENT
SOLD THE 141!!!
REAL NICE WINCHESTER MODEL 141 BOLT ACTION RIFLE!
This is a good Winchester Model 141 Bolt Action rifle. This rifle is chambered for the S-L-LR .22 with a tube feed through the stock which is unusual from the other Winchester Bolt Action rifles. This particular rifle was made from 1967 through 1973. The 20 3/4 inch barrel exhibits nearly 100% blue with some color lacking on the bolt knob and the trigger guard. The lighter colored walnut stock is in great condition but does have some small indentations near the obverse rear tigger guard. The action works fine and the bore is fine. The receiver is grooved for scope rings. This is a nice piece!!! $375.00 Modern guns 26
CONSIGNMENT
SOLD THE 310 BELOW!!!
WINCHESTER MODEL 310 BOLT ACTION SINGLE SHOT RIFLE!
This is a real nice Winchester Model 310 Bolt Action Single shot rifle in .22 S-L-LR. This rifle features a 22 inch barrel with a checkered walnut stock. There is a minor ding here and there in the stock but I'm being over critical. This is nice. This rifle was manufactured betweel 1972 and 1975. The receiver is grooved for a scope. I would rate this one excellent overall. Nice, nice, nice!!! $275.00 Modern guns 25
CONSIGNMENT
WINCHESTER MODEL 320 BOLT ACTION WITH CLIP!
Here we have a very nice Wiinchester Model 320 Bolt Action rifle with a 5 round detachable magazine. This one is very similiar to the 310 single shot in looks. This rifle was only manufactured for two years between 1972 and 1974. The rifle is very nice indeed with only a minor ding here and there and full factory blue on the barrel, receiver, trigger guard and trigger. This stock is the same type of checkered walnut stock found on the 310. The action is fine and so is the bore. Nice!!! $425.00 Modern guns 24
CONSIGNMENT
LITTLE ACE .22 SINGLE SHOT PISTOL!
When I first saw this little pistol I thought it was an antique from the 1800's but it's not. This little piece was made by R.L. SVENDSEN F.A. MFG CO. in Itasca, Illinois during the 1960's. This diminutive derringer consists of a brass frame and was originally blued but now showing age with black wooden birdshead type grips. It measures approximately 3-3/4 inches overall length, with a 2 inch round to octagonal barrel. It takes a .22 short and the barrel pivots sideways for loading. The action works fine. This is a modern firearm so it will have to be transfered like any other modern weapon. $195.00 Modern guns 23
CONSIGNMENT
BELGIUM BROWNING 12 GUAGE SHOTGUN SEMI-AUTO EARLY PRODUCTION AUTO-5
This series of recoil-operated, semi-sutomatic shotguns was designed by John M. Browning and was offered in 12 or 18 guage. This one is 12 guage. The barrel length of this shotgun is 26 inch with a variable choke. It has a unique, square-back auction that has become instantly recognizable. The finish is blued with a checkered, walnut stock. This series was manufactured in Belgium by FN between 1903 and 1939. The serial number on this model is 151160. This one is a Grade 1-plain barrel model. The shotgun is in generally good condition overall with a good but aged blued finish. All markings are sharp and teh action is tight. The bore is mainly bright. There is a crack in the buttstock by the receiver that you can see in the pics and another on the same side on the forearm. On the obverse side you can see where a chip is missing on the front of the forearm. A rubber pad was added to the buttstock some time in the distant past. Still a nice piece ane early! $450.00 Modern guns 22
CONSIGNMENT
>
The RUGER .44 MAGNUM IS NO LONGER AVAILABLE! NICE RUGER .44 MAG REVOLVER WITH HOLSTER AND BELT!
Here we have a Ruger .44 Magnum New Model Super Blackhawk revolver with a holster and belt. I have a 34 inch waist and this is just a little too big for me so I think it would fit a 36 to 44 waist. In the early 1950s, Westerns were popular in movies and television. Colt had discontinued the iconic Single Action Army prior to World War II, and few single-action revolvers were available to meet market demand for cowboy-style revolvers. In 1953, the new firm of Sturm, Ruger and Company introduced the Ruger Single Six, a .22 LR rimfire single-action revolver. The Single Six proved to be a popular seller, leading Ruger to develop and market a center-fire revolver similar to the Colt Single Action Army: the Ruger Blackhawk. This one is the New Model Ruger Super Blackhawk. The New Model Super Blackhawk was produced in blued and stainless, with or without a rib for mounting a scope. The Super Blackhawk is built on the same frame, but with a larger grip (in the 7.5" and 10.5" barrels) and unfluted cylinder (except for the 5.5" barrel), in order to more effectively deal with the recoil of the .44 Magnum. As well, ejector rod housings and grip frames are of steel, versus aluminum for those same components in the Blackhawk.
This particular revolver has the 7 1/2 inch barrel and is the blued model. There is no rib on top for mounting a scope. This one has the pachmayr grips but the original Ruger wooden grips are included as well. This piece has been used but not alot. There is the usual cylinder line from turning and there is some wear on the muzzle from going in and out of the holster. Nice and tight 6 shot cylinder. $650.00 for all. Modern guns 21
CONSIGNMENT
SAVAGE-ANSHUTZ 164M .22 MAGNUM RIFLE BOLT ACTION RIFLE WITH NIKON 3-9 SCOPE!
Here is an absolute jewel! This is a Savage-Anshutz .22 magnum rifle with a very nice Nikon Scope! It's a Savage/Anschutz model 164M in .22 Winchester Rimfire Magnum. Nicely figured walnut stock, skip line checkering, and monte carlo butt with cheekpiece. The pistol grip is swelled to fit the hand better. The magazine is a 4 round mag. There are a couple of handling dings here and there but not too bad. The bluing is nearly 100% with just a tiny scratch just behind the chamber. The action is a smooth as silk and the rifling is fine. The scope is a Nikon ProStaff scope. Nice! $900.00 Modern guns 20
CONSIGNMENT
RARE! HARD TO FIND WINCHESTER LEVER ACTION MODEL 65 IN 25-20 WCF CALIBER!!
Winchester made only about 5,700 Model 65s between 1933 and 1947 (with a lesser percentage of these chambered for 25-20 WCF). Standard barrel and tang markings with the Winchester factory proof on top of the receiver and barrel at the breech. Equipped with a hooded ramp front sight and elevation adjustable rear sight. Mounted on a smooth forearm and pistol grips stock with metal end cap and checkered steel buttplate. This rifle is in excellent condition. The rifle retains 95% plus original blue finish showing some edge wear on the buttplate and on the high edges of the receiver. I don't know if the receiver was reblued at some point and the only reason I say anything at all is that the rifle's finish is in such great shape!! If it was they did an excellent job and there are no light markings due to buffing. All stampings are sharp, clear and deep. The wood is also excellent with a some scattered minor handling marks . Mechanically excellent with an original issued Lyman 56 rear sight on it's 22 inch barrel. Serial number 10040XX W. The bore is also excellent. It'd be hard to find a better one!!! $2995.00
Modern guns 19
CONSIGNMENT
The Winchester below is sold ! NICE NEAR MINT WINCHESTER 9422M IN 22 MAGNUM!!!
Here is a nearly new , nearly mint Winchester 9422M leveraction .22 magnum rifle! This piece is in excellent + condition lacking the original box. During the Winchester Model 9422's 33-year production run—from 1972 through 2005—the well-built and extremely accurate .22 rimfire lever-action embodied our ongoing admiration for the American West and filled the need for an economical look-alike of its big-bore Model 94 counterpart. It's unsurprising then that the 9422 became one of the most popular rifles in Winchester's lineup. This one is a .22 magnum version that holds 11 rounds of .22 Mag ammo. The stock is walnut and in excellent condition with just a couple of small dings in it, one on the forearm and one on the obverse buttstock. Very, very minor however. There is absolutely no wear on this rifle and it looks to be virtually unfired! The bore is like new, the metal finish is like new and it's just beautiful! The barrel markings are sharp and crisp. If you want outstanding quality in a Winchester .22 Magnum then this is the rifle for you! $750.00 Modern guns 18
CONSIGNMENT
The Winchester below is sold ! ANOTHER NEAR MINT WINCHESTER 9422M BUT THIS ONE IS AN XTR EDITION! . 22 MAGNUM!!!
This is another outstanding condition Winchester 9422M leveraction rifle! This one is the XTR Edition! This rifle is in excellent unusued condition without the original box. There is only the slightest wear to the rifle. The bore is crisp and shiny! The action works great! There are only a couple of very very tiny dings to the wood. This piece has the pistol grip stock and cresent buttplate. This is about as nice as you can find out of the box! 11 Round capacity! $925.00 Modern Guns 17
CONSIGNMENT
Here is a real nice WW2 dated Colt M-1911 A1 in the green parkerized finish. We believe that it has been refinished AND we have gone through the piece to make sure everything matches. The wooden grips are earlier and the barrel pin is earlier too. The pistol looks fantastic but does have one little blip to the finish on the forward slide that you can see in the pic. Serial number is 751XXX which we believe dates it to 1941. All markings are crisp and sharp. It looks fantastic and functions as it should. For this one $2500.00 item ww 85 & Modern Guns 16
CONSIGNMENT
REPLACEMENT SKS STOCK
This is actually an original SKS stock for the SKS rifle that is so popular today. This stock was taken off the original rifle and replaced with a poly stock. If you have a SKS that is in need of a new stock then here's one for you. $45.00 Modern Guns 15


CONSIGNMENT
1885 SINGLE SHOT LOW WALL IN .22 MAGNUM!
Here we have a brand new in the box Uberti 1885 Single Shot Low Wall in .22 magnum! The production of the Single Shot started in September 1885 using the Browning patent and terminated towards the end of 1920. It became one of the best known guns and was regarded by many as being the best Single Shot ever to be made. Without doubt it is stronger than the Sharps better designed very accurate and reliable in every way. Few guns have been made in so many different calibers - high walls even served in the development of the 7.62 Nato round. The gun was produced during a period in which target shooting was a really popular sport they were used in International Competitions at 1 000 yards. Here are the stats for this fine rifle:
Length of Barrel: 30"
Overall Length: 45.40"
Weight: 6.56 lbs
Barrel: Forged steel
Frame: Forged steel and color case
Barrel Shape: OCTAGONAL TAPERED
Stock: Walnut
Forend: Walnut
Outstanding quality!!! $1200.00 Modern Guns 14
CONSIGNMENT
UBERTI 1871 HUNTER CARBINE IN .22 MAGNUM!
Here is a brand new in the box Uberti 1871 Hunter Carbine in .22 Magnum. The rolling block design is one of the strongest actions ever produced. Using modern metals and more precise manufacturing methods, Uberti is able to produce a rifle that's one-third of the original gun's size and weight, yet retains all the strength for use with today's modern ammo. This rifle is in excellent brand new condition with a 22" round blue barrel and a Case-Hardened Frame, Brass Trigger Guard and great looking walnut stock. Outstanding quality!!! $550.00 Modern guns 13
CONSIGNMENT
The Taurus rifle below is sold ! TAURUS MODEL 63 SEMI-AUTOMATIC STAINLESS STEEL RIFLE IN 22 LR!
The Taurus Model 63 is a faithful reproduction of the classic John Browning auto-loader right down to the steel butt plate. This customer-favorite .22LR features everything that made this gun so popular in its day and has added in all of the refinements new manufacturing technology and safety features offer. A stock-mounted loading chute and the beautiful, top-quality hardwood stocks complete this shooting package. Built with quality materials and craftsmanship, the Model 63 gives another generation the opportunity to enjoy a finely crafted twenty-two autoloader at a very affordable price and this one is a beauty! This is brand new in the box. The box is beat up a little and has LAYAWAY written across it but the firearm is in outstanding condition!!! Beautiful stainless steel and outstanding walnut in .22 LR caliber 10 shot! $550.00 Modern Guns 12
CONSIGNMENT
SOLD THE HENRY H001M!!!
HENRY LEVER ACTION RIFLE IN 22 MAGNUM!! NEW IN BOX!!
This Henry Lever Action Rifle Model H001M is new in box however the box is soiled a little with a phone number on it. The tubular magazine holds 11 rounds. It weighs 5½ pounds and overall length is 37½". With regards to ballistics, in general the .22 Magnum projectile travels nearly twice as fast as the .22 LR, and produces more than triple the muzzle energy. Various types of .22 magnum cartridges are available from all the major ammo makers. Here are this rifle's stats:
Lever Action .22 Magnum Rifle
Model Number H001M
Action Type Lever Action Repeater
Caliber .22 Magnum
Capacity 12 rounds
Length 37.5"
Barrel Length 19 ¼"
Weight 5.5 lbs.
Stock Deluxe Checkered American walnut
Sights Adjustable rear, hooded front sight
Finish Blued barrel and lever
This piece looks to be just perfect! $395.00 Modern Guns 011
CONSIGNMENT
SOLD THE H004M!!!
HENRY GOLDEN BOY LEVER ACTION .22 MAGNUM RIFLE NEW IN BOX!!
Small game hunters and plinkers will appreciate its substantial 6¾ pound heft. It balances well and makes for highly accurate offhand shooting. The smooth action associated with Henry rifles opens and shuts with the effortless slickness lever-lovers long for. Get one in your hands and take aim. See what a natural pointer it really is. Adding to the historic authenticity is the adjustable buckhorn-type rear sight. The .22 Magnum hold 12 rounds. Here are some of the stats for this firearm:
Model Number H004M
Caliber .22 Magnum
Capacity 12 rounds
Length 39"
Barrel Length 20.5"
As previously stated this Rifle is brand spanking new in the box! $495.00 Modern Guns 010.
CONSIGNMENT
THE STEVENS/SAVAGE MODEL 30 is SOLD!!!
STEVENS MODEL 30 REMAKE BY SAVAGE ARMS!
Today's Stevens Model 30 line, manufactured by Savage Arms, includes both takedown and standard models in .22 LR, .22 WMR, and .17 HMR. The Stevens "Favorite" was indeed a favorite of both young and old rimfire shooters back around the turn of the 20th Century. In those days single shot rimfire rifles were both common and economical and widely used as training and hunting rifles. That tradition lives again in the Model 30 line.
This particular rifle is in .22 magnum. This piece looks virtually unused and in very, very nice condition. The bore is bright and all the markings are sharp. The wood is excellent with no dings or marks.. This is a pretty good representation of the original Stevens Model 30 rifle with this one being the solid frame version chambered for the .22 WMR cartridge. Supplied with a 21" full octagon barrel. This is not the takedown version. Nice piece!!! $325.00 Modern guns 09
CONSIGNMENT
SOLD THE ROSSI!!!
ROSSI MODEL 59 SLIDE ACTION RIFLE IN .22 MAGNUM!
Here we have a blued Rossi Model 59 Slide action rifle in .22 magnum WMRF. This is a modern weapon. The serial number is stamped on the right side of the frame. The top of the barrel at the chamber is marked "22 Magnum". The receiver is marked Model M 59 Interarms Alexandria, Virginia ". Amadao Rossi S.A. Made in Brazil is marked on the tang. The wood is good on this piece however the forearm is a slightly different shade than the buttstock. The action is crisp and the bore is fine. This rifle seems to have been used little but there is a small ding on the buttstock.
The Barrel Length: 23"
Sights / Optics: The front sight is a dovetail set blade and the rear sight is a dovetail set leaf and elevator notch sight.
Type of Finish: Blue
Finish Originality: Factory Original .
This is a fine condition little rifle! $475.00 Modern guns 08
MARLIN MODEL 60 IS SOLD!!!
LIKE NEW MARLIN MODEL 60 .22 LONG SEMI AUTO RIFLE
Man, this gun is like new! The Marlin Model 60, also known as the Marlin Glenfield Model 60, is a semi-automatic rifle that fires the .22 LR rimfire cartridge. Produced by the Remington Arms of Mayfield, Kentucky formally by Marlin Firearms Company of North Haven, Connecticut, it has been in continuous production since 1960 and the company claims it is the most popular of its kind in the world. Major features include a micro-groove barrel, a cross-bolt safety, hardwood stock, and brass inner magazine tube. This rifle is in beautiful like new condition and has the Marlin reliability factor! Made before mid 1980's with 22 inch barrel and 17 round capacity. Nice! $125.00 modern guns 07
The LONG TOM below is sold !
HARRINGTON AND RICHARDSON 'LONG TOM' 16 GUAGE SINGLE SHOT SHOTGUN!
This one is a good condition shotgun with a shortened barrel. This one has a 28 inch barrel with no bead on the front end and I think they were supposed to be 36 inches long. Still this old gun is in pretty good condition and the mechanics are fine. The bore needs a good scrubbing and there is very little wobble at the hinge. The walnut stock is in pretty good condition with a ding and a scuff here and there. Overall a nice gun. You could use it after getting it checked out by a competent gunsmith I am sure. It also would look great over the fireplace! $100.00 Modern guns 06
GOOD ESSEX GUN WORKS 12 GUAGE SINGLE BARREL SHOTGUN WITH NICKELED RECEIVER!
Here is a very good Essex Gun Works 12 guage single barrel shotgun with a nickeled receiver. The last date on the receiver as far as a patent is May 14, 1901 so it will have to go to an FFL for transfer or if you have a C & R license I can send it directly to you. This weapon is in good condition and the walnut stock and forearm are in good condition with just a ding here and there. The receiver has a great deal of the original finish left. The gun is about 45 1/2 inches long overall with a 30 inch barrel. The bore needs a scrubbing but should clean up pretty good. The action works fine. Good strong springs. Plastic buttplate. $125.00 Modern guns 05
OLD WESTERN ARMS 16 GUAGE SINGLE BARREL SHOTGUN
Here we have an old Western Arms 16 guage single barrel shotgun. Mechanically fine with a nice dark patina overall. The walnut stock is in pretty good shape with the exception of some forearm wood loss up front , two holes in the wrist which I think was modified to fit a sling guide in there and a small crack on the wrist top side back of the tang but still solid. The bore needs a good scrubbing. This shotgun is about 44 inches long overall with a 28 inch barrel. These guns were made at the turn of the century so this one will have to be transfered by an FFL dealer or if you have a C & R license I can send it directly to you with proof of age. Check out the pics! $100.00 Modern Guns 04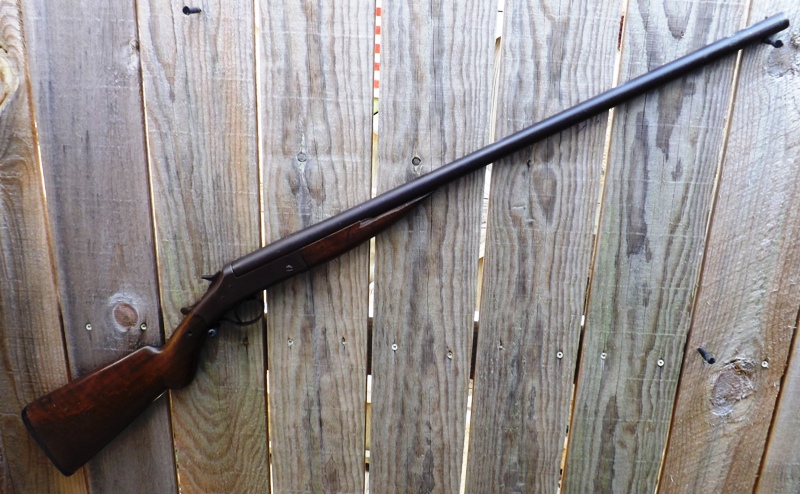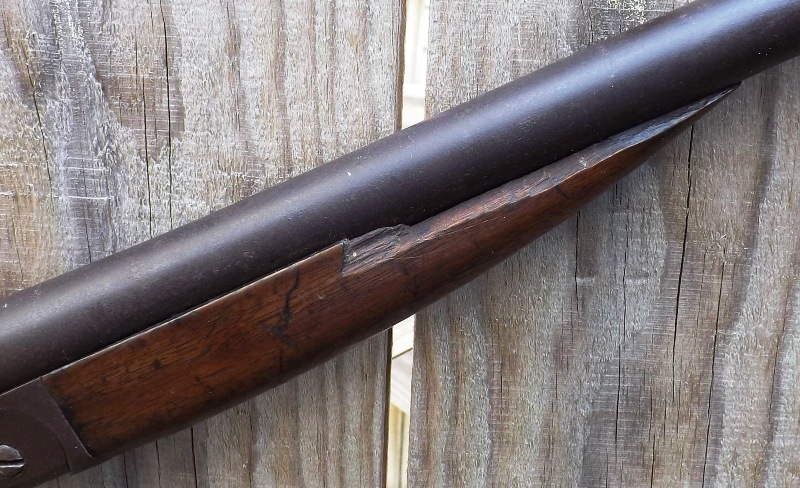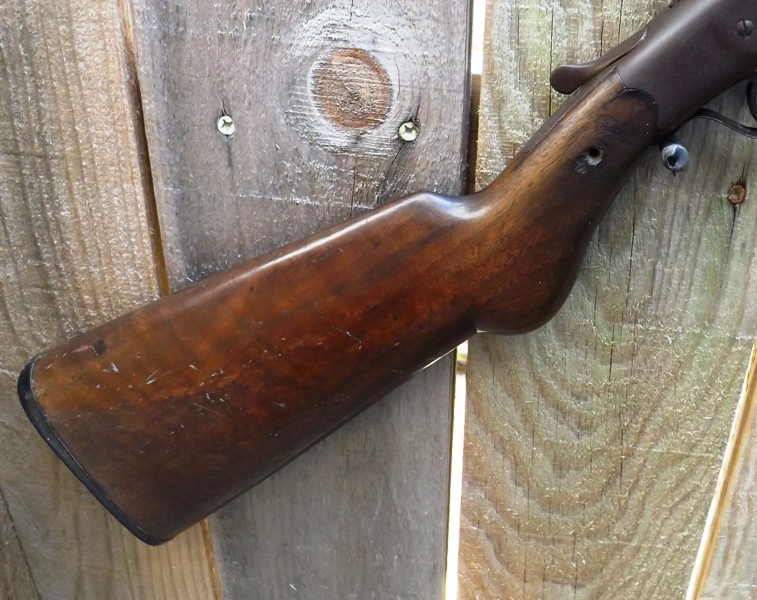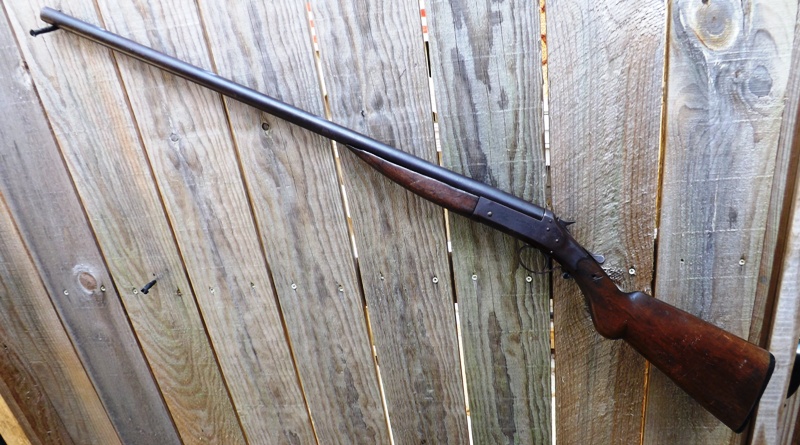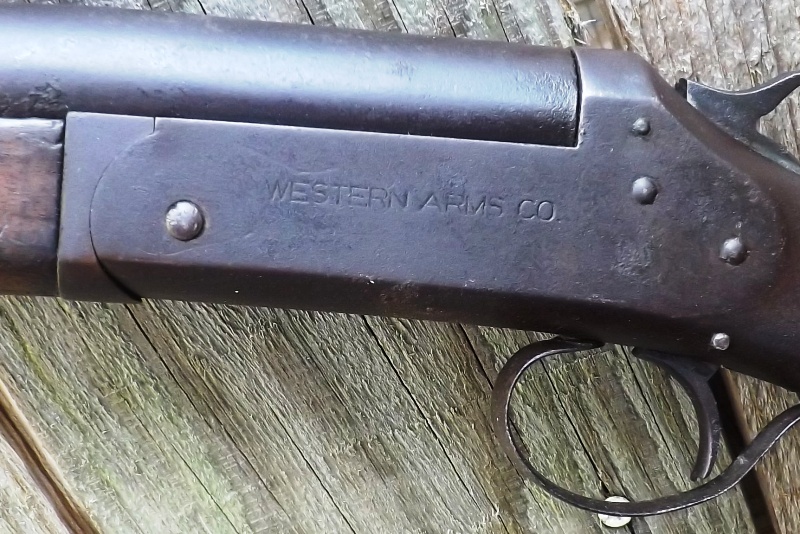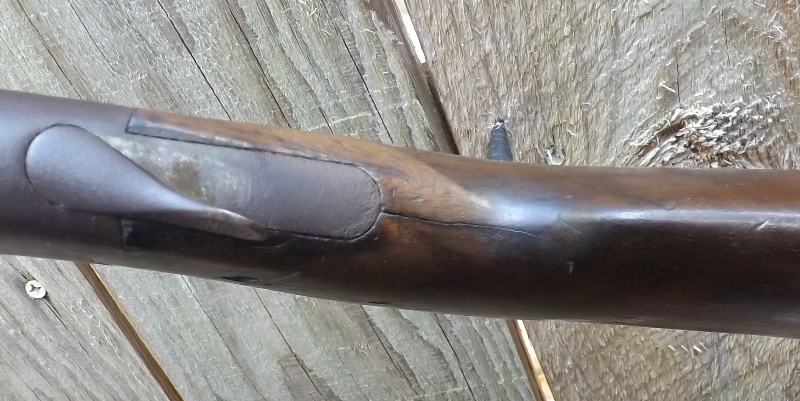 The WEATHERBY VANGUARD below is sold !
CONSIGNMENT
NICE 30-06 WEATHERBY VANGUARD 30-06 HUNTING RIFLE!
Here is a very nice Weatherby Vanguard 30-06 Hunting Rifle with a very nice scope and sling. This piece looks to be nearly brand new with high gloss finish and Monte Carlo stock! This is the early Japanese version and I don't believe you will find a better one! This is a bolt action repeater with a 24 inch barrel. This model furnished without sights. They made these in 3 or 5 shot magazines and I'm not sure which this is. The finished is polished blue with a select, checkered walnut stock with a rosewood fore-end and pistol-grip cap. Excellent!! $795.00 Modern Guns 04
CONSIGNMENT
NICE 30-06 WINCHESTER MODEL 670 30-06 RIFLE!
This is a real nice Winchester Model 670 which is essentially a model 70 in 30-06 caliber. I believe the MOdel 670 was introduced in 1966. This one is a honey! It has a walnut stock with checkered comb. The barrel does have sights and it's topped by a Savage-Suwa Japan Model 3833 scope. This rifle also has a sling. Nice, nice condition! $550.00 Modern Guns 03
CONSIGNMENT: H & K 41 Selective Fire Rifle for Parts or Display!!
Here is a unique Heckler & Kock German Selective Fire Rifle that you can use for parts or you can display it on a board in your Man Cave! This is a HK G41 rifle that has had the upper receiver cut away making it legal to own by the general consumer. This piece was first produced in 1983 chambered for the 5.56X45mm round. The magazine capacity was 30 rounds and the rate of fire is about 850 rounds per minute. This model was able to accept M16 magazines. It'll make a nice display piece!! $425.00 Modern guns 02
CONSIGNMENT: BEAUTIFUL .22 CALIBER H & R BUNTLINE REVOLVER!!
Here is an excellent condition Harrington & Richardson Model 676 Buntline Revolver with a 12 inch barrel. This piece comes with a custom Hunter Holster R 1100 68. The piece has nearly all the blue and all the original case colors. The walnut grips are original and the action works fine! Made between 1976 and 1982. $450.00 Modern guns 01
Here's a book that I don't believe you can get anymore as I believe it's out of print. This is a book entitled U.S.MILITARY KNIVES -BAYONETS & MACHETES - BOOK III - M.H.COLE, 4th printing 1987 along with the 1994 pricing supplement UNITED STATES MILITARY KNIVES by Silvey, Boyd and Price. This reference book is a must if you collect US Military knives!!! 220 pages of text, line drawings and photographs! It's a 8 3/4 X 11 14 inch hardbound book in DJ. Everything is in real nice condition but the dust jacket does show some wear. The previous owners name is written in ink inside. Great book!!! $125.00 Modern Guns 1
Here's an excellent book signed by the author and entitled ELMER KEITH - HIS LIFE STORY - "HELL, I WAS THERE". Petersen Publishing, 1979. Hardcover. Book Condition: Very Good. Dust Jacket Condition: Very Good. 1st Edition. Elmer Keith: Hell I Was There: His Life Story. Adventures of a Montana Cowboy who gained world fame as a Big game Hunter and expert in Guns & Ammo. This is a large format (10.5"x8.5") volume, one of the AUTHOR'S LIMITED EDITION OF 500 COPIES SIGNED by Elmer Keith on the front free end page. Profusely illustrated with photographs including a nice section on his African hunting with Truman Fowler. A very nice copy of the Author's limited edition Scarce. This one is rare to find and in such good condition!!! $495.00 Modern Guns 2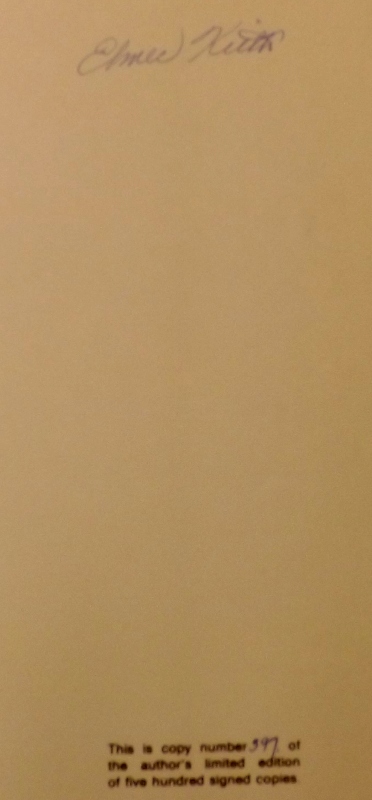 Here's an original hardbound book in fair dustjacket entitled THE MUZZLE-LOADING CAP LOCK RIFLE by Ned H. Roberts, 1958. This book explores the history, construction, and care of one of America"s finest firearms. It features hundreds of photographs that show muzzle-loading cap lock rifles, ammunition, cap magazines, powder flasks, bullet moulds, and more. It also describes and recreates traditional shooting matches in fascinating detail. $25.00 Modern Guns 3
Here is a fantastic condition hardbound book in dj entitled THE KENTUCKY RIFLE HUNTING POUCH by Madison Grant, 1977 and signed by the author in a presentation to the previous owner. 207 pages including bibliography; book is well-illustrated with 134 duo-toned (sepia and white) photographs with additional line drawings. "An overview of the history, style and function of the hunting pouch as an indispensable associate of the muzzle loading rifle or musket.More than two hundred examples of pouches and other items needed to service the distinctly American gun known as the long rifle. Accompanying the pouches are descriptions of purpose and examples of the sometimes folk art appearance of numerous accoutrements: This is one great book and it's signed by the author! $100.00 Modern Guns 4
Here's a good hardbound copy in plastic stick on dj entitled THE KENTUCKY RIFLE by Dillin, 1959. 201 pages, plus publisher's ads. 126 photographic plates showing hundreds of rifles. Frontis photo of famed rifle maker John Shell. Aside from the plastic stick on dustjacket this is one fine book! Has the original owners name inside. $30.00 Modern Guns 5
This is a good copy of THE GUN DIGEST 2ND ANNUAL EDITION . Publisher: Paul, Richmond & Company, Chicago, 1946 The covers are still attached to the book with dings on the corners. Minor wear to edges, a bit water staining inside but still not bad. The text is unmarked except for the original price of $1.25 in pencil. Staples well intact to interior pages. Many excellently clear photographs and illustrations. 163 pp. "Authentic guide to American & foreign rifles, shotguns, handguns and accessories." Revised since the end of WWII. This is still a real nice book! $30.00 Modern Guns 6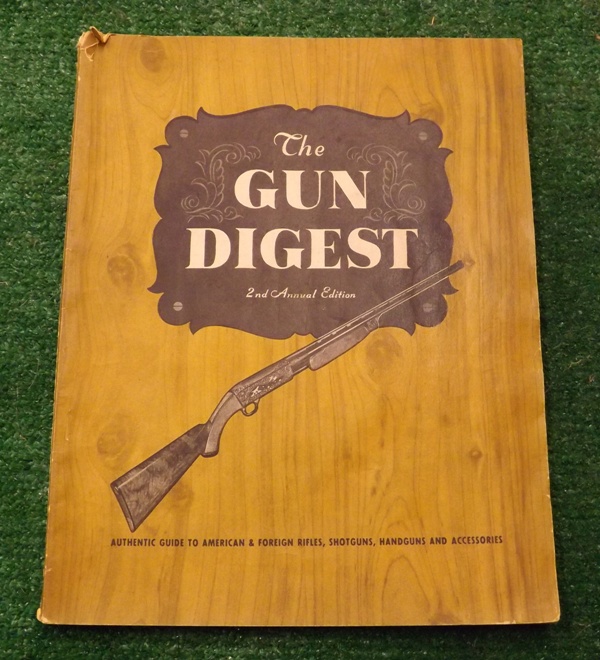 Here is a real good copy of COLT CARTRIDGE PISTOLS - A DETAILED STUDY OF COLT HAND ARMS--FROM 1868 CONVERTED CAPLOCKS THROUGH AUTOMATICS. Santa Ana CA Published by author 1952 First Edition Softcover Very Good+ Printed by the Foundation Press. Quarto sized staple-bound softcover, about 11 inches tall, in beige wraps. 126 pages plus 2 pages of ads. Illustrated by drawings and photographs. A company history displaying dozens of variations and conversions with detailed specifications. This is a nice one and shows little wear.$40.00 Modern Guns 7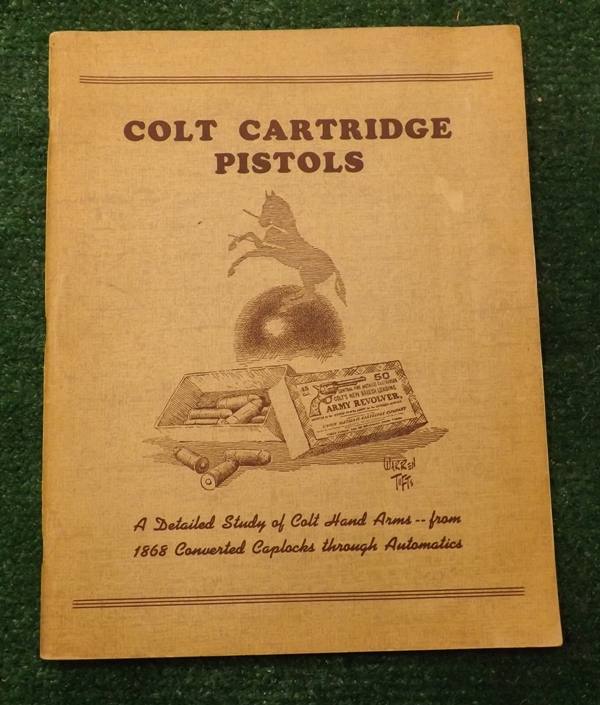 Here is an original STEVENS FIREARMS - GENERAL CATALOG NO. 54 - J. STEVENS ARMS & TOOL COMPANY CHICOPEE FALLS, MASS. U.S.A. (1914) ! This thing is really nice! The catalog is still together and not falling apart at all. There are 88 pages of the products, including firearms, that Stevens offered in 1914. The pages and images are very nice and the binding is tight. Softcover. $125.00 Modern Guns 8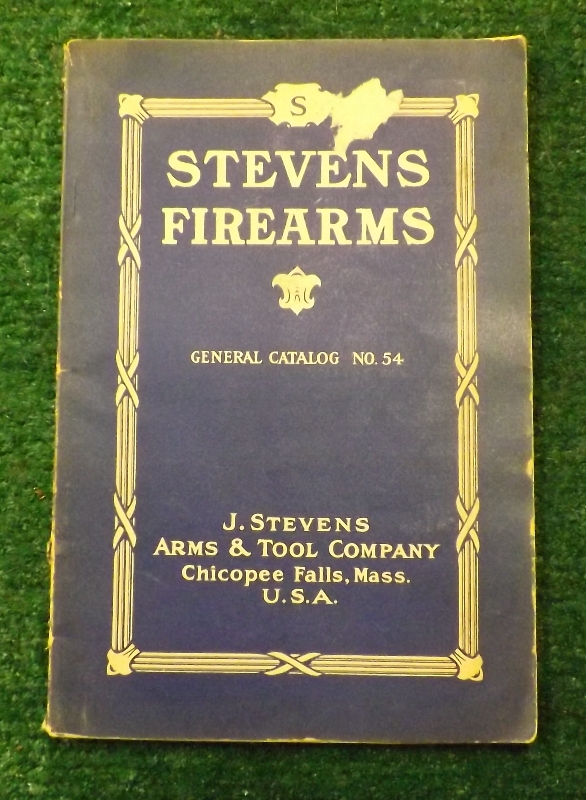 Here's an original catalog entitled REMINGTON UMC - MODERN FIREARMS AND AMMUNITION 1918-19. THE REMINGTON ARMS UNION METALLIC CARTRIDGE CO., Inc. This fine catalog has some small amount of staining to the front lower cover and the inside pages have yellowed but they are still in very nice condition!!! 208 pages of excellent text and illustrations including firearms, ammo, ect. This is a very nice reference catalog! $95.00 Modern Guns 9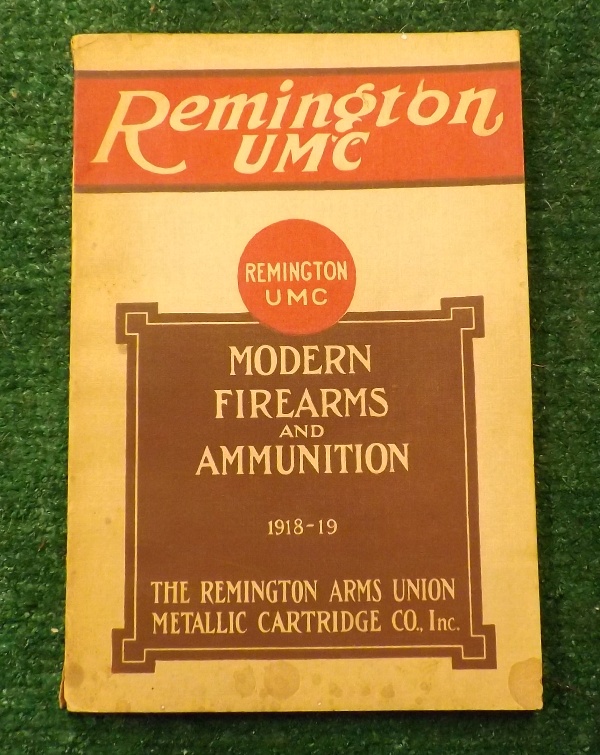 This is an original WINCHESTER CATALOGUE NO. 81 -1918 catalogue! There are a couple of minor spots on the brown covers and gorgeous text and illustrations on this catalogues 213 pages. The pages are bright and the binding is tight. This is a nice piece!!! This catalog is for firearms, parts, ammo and etc. The catalog has some nice exploded views which makes it invaluable as a reference piece!!! $95.00 Modern Guns 10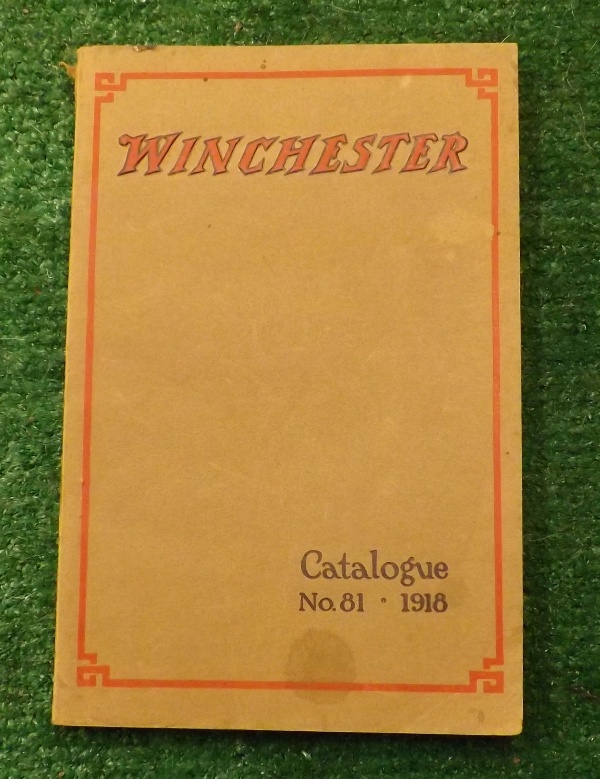 The below reprint catalogue is SOLD! Here is a great reprint entitled WINCHESTER CATALOGUE NO. 79 1914 - WINCHESTER REPEATING ARMS CO. NEW HAVEN, CONN.U.S.A. This reprint has 108 pages of great text and illustrations. A must for the collector! The reprint is in very nice condition! $10.00 Modern Guns 11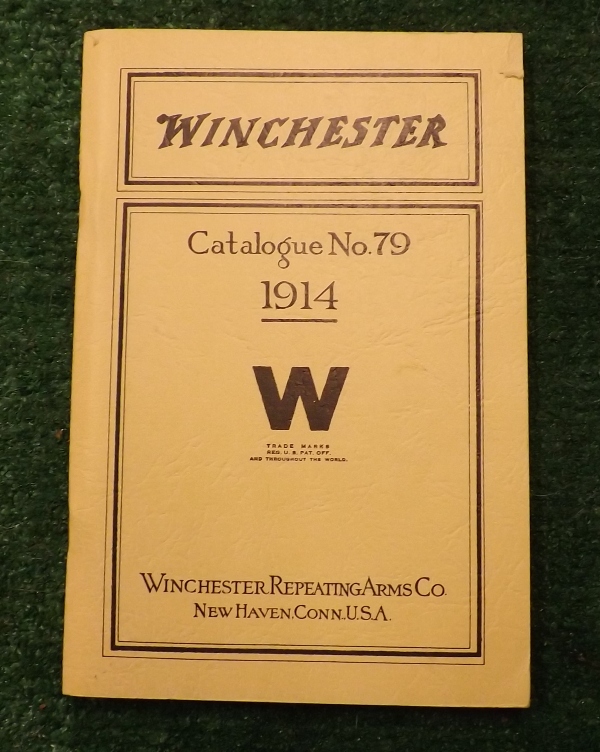 Here's another nice reprint entitled L.C.SMITH. GUNS...and...HUNTER ONE-TRIGGERS NEVER SHOOT LOOSE THE GUN THAT SPEAKS FOR ITSELF MADE BY HUNTER ARMS COMPANY, INC. FULTON, NEW YORK. This small but important reprint has 27 pages and really is a sales brochure that is very informative for the L.C.SMITH owner. Near perfect condition $6 Modern Guns 12
The below reprint catalogue is SOLD! Here is another very nice, nearly perfect, reprint entitled REMINGTON UMC 1915-1916 FIREARMS AND AMMUNITION --REMINGTON ARMS-UNION METALLIC CARTRIDGE CO. This reprint is filled with important information and images of the various fireamrs and parts. This is another good one! $10.00 Modern Guns 13
Here is a reprint of a July 1907 CATALOGUE OF MILITARY GOODS FOR SALE BY FRANCIS BANNERMAN, 501 BROADWAY, NEW YORK. Francis Bannerman was the man in Military goods from 1865 until he went out of business, I think in the 1960's. He was located on Bannerman Island New York and his business was in a Castle. The old Castle burned down and I never got to go visit there myself-darn!!! His company sold everthing under the sun!! Muskets, rifles, swords, spears, uniforms, carbines and on and on and on!!! This catalog is a fine reprint of an original and has 259 completely filled pages of items!!! This reprint is in good condition being tight and solid! $15.00 on this one. Modern Guns 14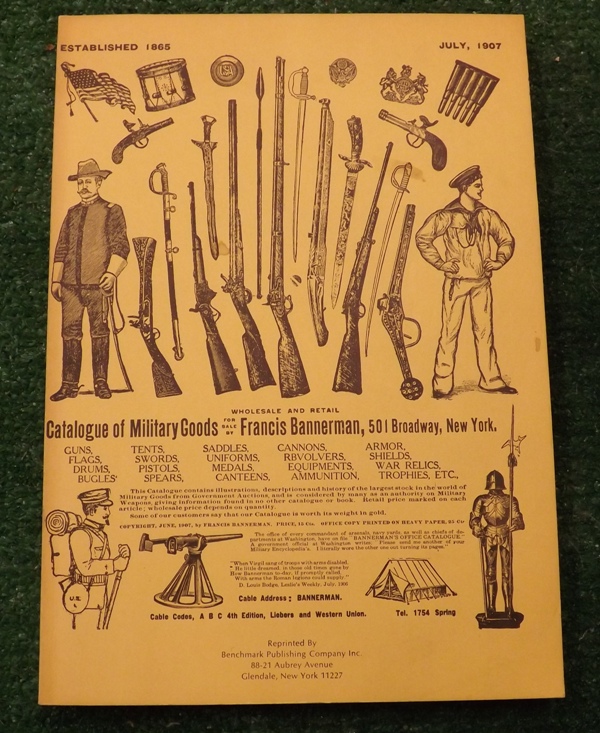 The below book SOLD! Here's an excellent reprint entitled A HISTORY OF THE COLT REVOLVER FROM 1836 TO 1940 by Charles T. Haven and Frank A. Belden with a foreword by Stephen V. Grancsay. Reprint by Bonanza Books, New York: c. 1940. Very good in green cloth covered boards with gilt text stamping on the spine and on the front board. A small quarto measuring 10 3/4" by 8" . No dust jacket. 711 pages...Excellent text and photographs! This book is just excellent! $35.00 Modern Guns 15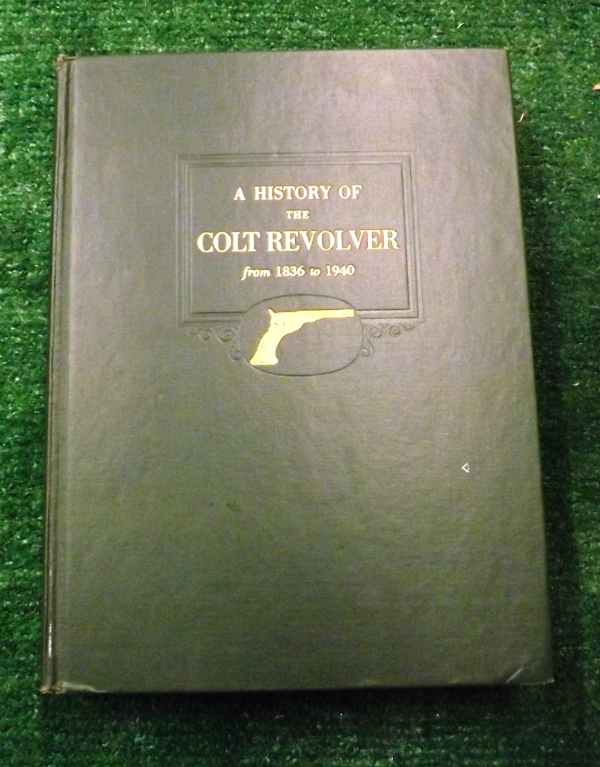 Here's an old book that's seen better days! This one has been used hard! This is a 1928 first edition MODERN GUNSMITHING by Clyde Baker. This one is hard bound with loose boards but there are still attached. There is the prevous owners name in side and the notation that it was a Christmas Gift in 1929. There are photographs and great text in the 530 pages of this great old book! Gunsmiths can still use this old book today! $30.00 Modern Guns 16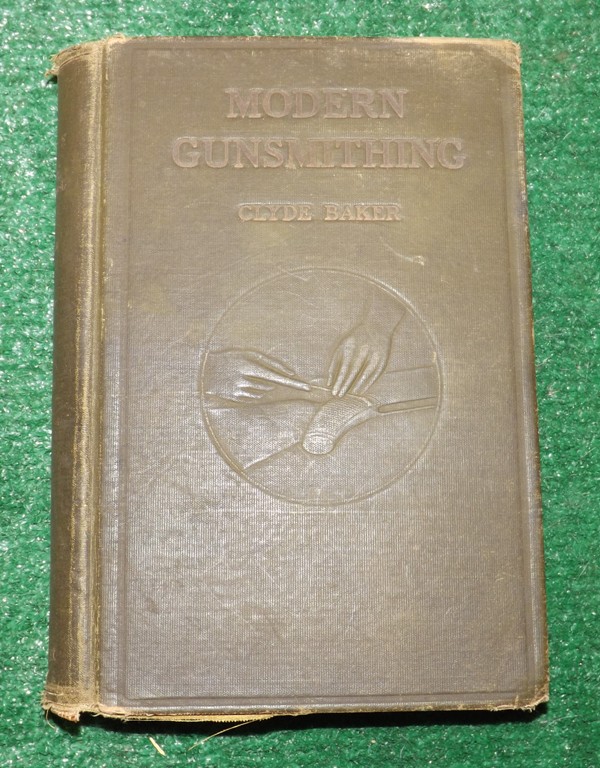 This is a great reprint of a very good WINCHESTER 1926-27 PRODUCT CATALOG. I never knew Winchester made and offered some much varied amount of different goods! There are 292 pages of text and images so interesting that you won't be able to put it down and will study it for years to come! Purchased new for $16.95 but this one is $10.00 Modern Guns 17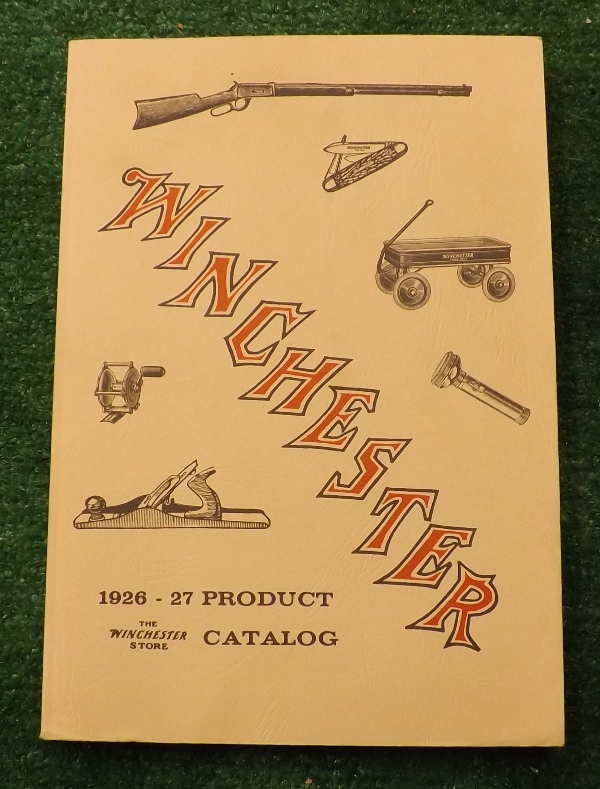 Here's a softcover publication entitled MAUSER RIFLES - AN AMERICAN RIFLEMAN REPRINT 1991. This publication only has 32 pages but it's chocked full of information and photographs pertaining to this most important firearm. $10.00 Modern Guns 18
The below Mauser Book SOLD! Here's another softcover publication like the one above entitled BRITISH ENFIELD RIFLES - AMERICAN RIFLEMAN REPRINT 1992. This one is also chocked full of extremely useful informatioin pertaining to these Enfield Rifles from the Revolutionary War thru WW2 with schematics. Nice! $10.00 Modern Guns 19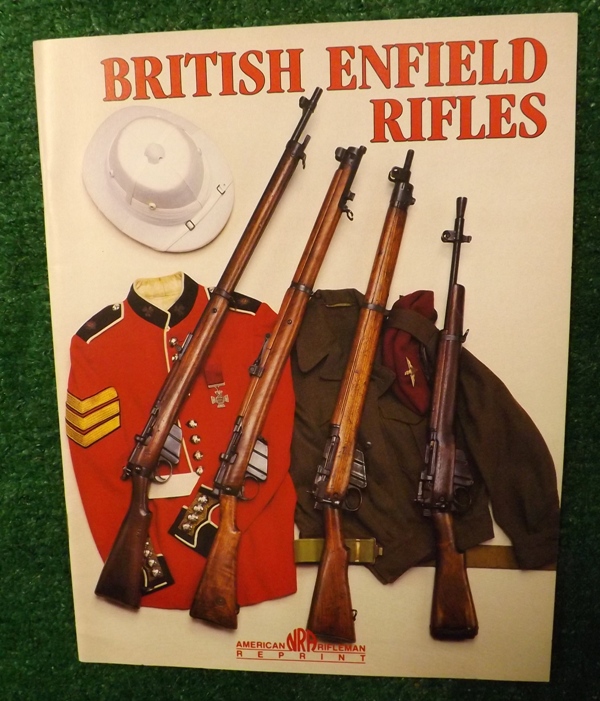 SOLD!!!
LEVINE'S GUIDE TO KNIVES AND THEIR VALUES -EXTENSIVELY REVISED 4TH EDITION . I believe this edition was done around 1996. Hey, the prices may be outdated but the information will live on forever!! This guide is in excellent condition! 511 pages of text and wonderfull photographs!!! $10.00 Modern Guns 20
Here's another Knife guide that's entitled SARGENT'S AMERICAN PREMIUM GUIDE TO POCKET KNIVES AND RAZORS - IDENTIFICATION AND VALUES - 2ND EDITION 1989. Again the prices are not current but the information is outstanding!!! 482 pages of outstanding photos and informative text! $10.00 Modern Guns 21
THE OLD CATALOGS BELOW ARE SOLD! Here's TWO original 1920's SIMMONS HARDWARE COMPANY CATALOGS entitle GUN MATERIAL and one GUS HABICH, INDIANAPOLIS, IND. (1920's) catalog as well as an original 1907 catalogue and price list for J.A.JOHNSON -GREAT WESTERN GUN WORKS out of Pittsburg, PA. These old catalogs are in pitiful condition but still have page after page of weapons of the period as well as a parts list and schematics of each weapon. These old catalogs, although well worn, are still a treasure trove of info. For the lot $35.00 Modern Guns 22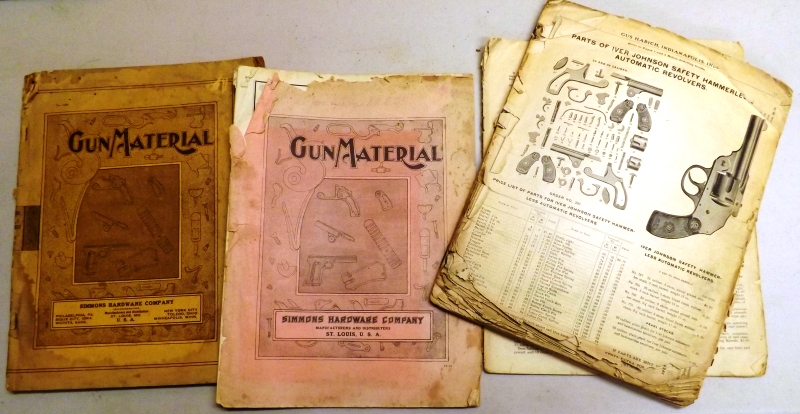 Here's an old reference softcover book entitled ANTIQUE GUNS by Hank Wieand Bowman. There are 144 pages of photos and text concerning antique guns of all kinds. The book is still in very good condition. $8.00 Modern Guns 23
Here's a softcover reference book by Anthony Darling entitled RED COAT AND BROWN BESS. This one was done by Museum Restoration Service out of Canada in 1970 and is the first edition. The previous owners name is written inside the front cover. There are 63 pages in this informative little book. There are photographs as well. Good condition. $10.00 Modern Guns 24
The below set of THE MODERN GUNSMITH is SOLD!
Here we have a 2 volumn set of THE MODERN GUNSMITH by Howe which was printed by Funk & Wagnalls Company in 1941 with up to date supplement. The books are hardbound and in nice condition. Vol. 1 has 424 pages while vol. 2 has 424 pages as well with a 62 page supplement. The pages are bright with no foxing and have great photos! You can still learn something here!!! $55 for the pair. Modern Guns 25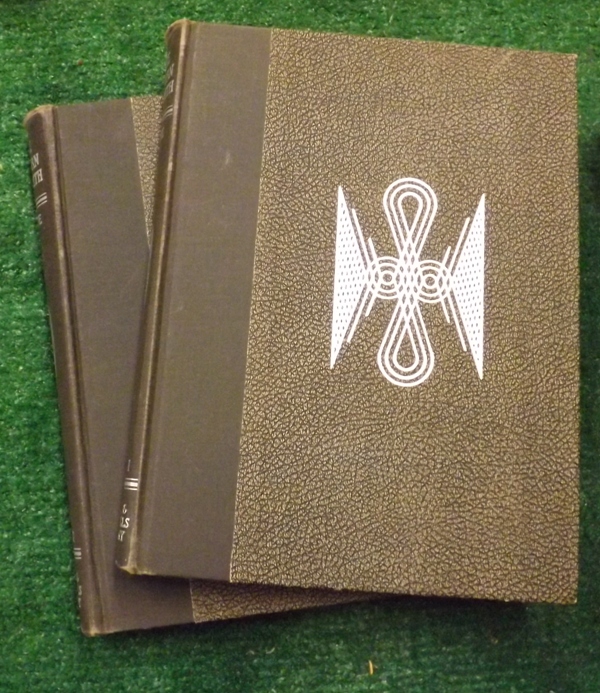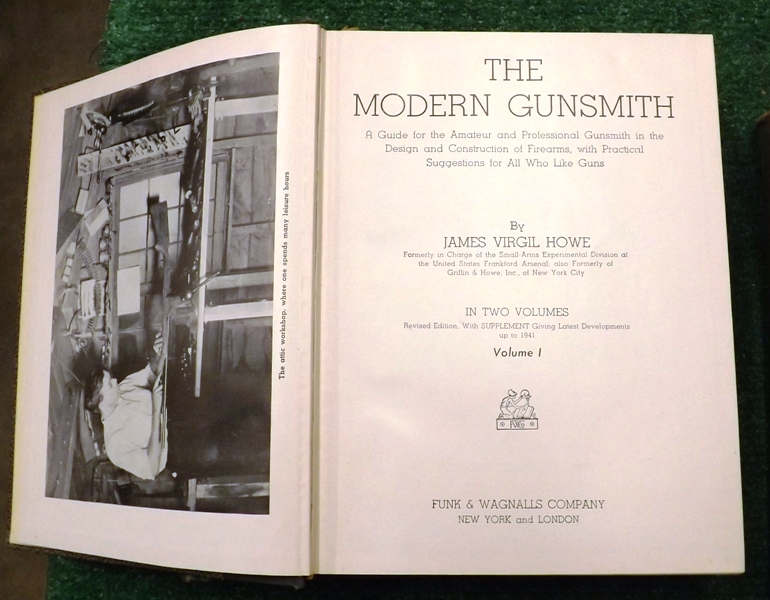 Here's a good paperback book entitled SHOOTING SIXGUNS OF THE OLD WEST by Mike Venturino, 1997. The book has 221 pages of excellent text and wonderful photographs. This is a great reference book! $15.00 Modern Guns 26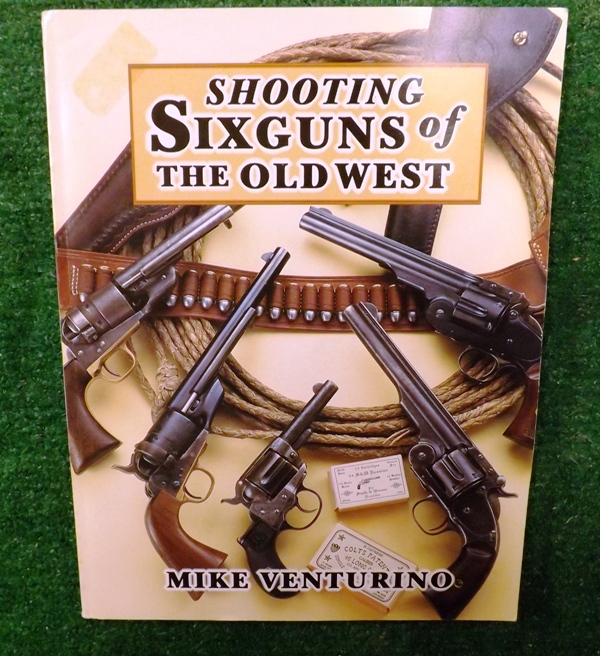 CONSIGNMENT
SOLD!!!
Here we have a very nice slightly used High Standard .22 Magnum Derringer Model DM 101. This piece is in great condition with very little wear. One of the grips was fractured but a new set of grips were purchased There are only a couple of very small areas where the finish is worn. The bores are great and the action is flawless! There are 3 types of these derringers according to barrel markings and this one is the earliest type 1. Type 1 Markings are found on early models which are marked HI-STANDARD / DERRINGER and have the EAGLE logo on the left side of the barrel. These models were marked D-100 for the .22 caliber and DM-101 for the .22 Magnum on the left side of the barrel. Date range 1962 to about 1967. This is the DM-101 Model. Nice!!!! Check out the pics! $275.00 Modern Guns 27
CONSIGNMENT
Here we have a whopper of a handgun! This is a Smith and Wesson Model 57 .41 caliber revolver!! This one is the nickel finished model with the 4 inch barrel. This revolver is a 6 shot .41 caliber revolver and is massive in the hand!!! I have a rather large hand and it feels big in my hand. The firearm looks to have had very little use however there is some 'roughness' to the nickel finish on the cylinder where it rested in the wooden display box against the foam rubber lining. The foam finish is coming off the styrofoam insert and needs redone. A little of the foam is stuck to the grips but can be cleaned off ok with a little elbow grease. The orignal cleaning kit is included with the revolver along with the original paperwork. This revolver was originally purchased new in 1974. Some of the roughness on the finish could probably be buffed out but I'll leave that to the new owner. It's still a quality piece!!! Classic!!! $750.00 Modern Guns 28
CONSIGNMENT
The below S & W Model 40 is SOLD! Here is a cased Smith and Wesson Model 40 Revolver!
The Model 40 originally came out in 1952 as the Centennial and was changed to the Model 40 in 1957. The Model 40 is chambered in .38 special and has a five-round capacity. It is a snub-nose revolver with a 1 7/8-inch barrel. It is built on Smith & Wesson's J-frame and weighs 19 oz. empty. The revolver was made with a grip safety as some shooters could not get used to the idea of firing a revolver without cocking the hammer. This particular revolver is in a custom lined case with a name plate along with the serial number. This one has a low number of L 20XX. I believe this particular piece was made in 1971. There is virtually no wear on this piece and evidence of very little turning of the cylinder. Nice, Nice, Nice!!! Comes with the original owners manual! $650.00 Modern Guns 29
CONSIGNMENT
The below Model 60 revolver is SOLD! Here we have a great Stainless Steel Smith and Wesson Model 60.
The Smith & Wesson Model 60 revolver is a 5-shot revolver that is chambered in either .38 Special or .357 Magnum calibers. Like nearly all other "J-frame" Smith & Wesson revolvers, it has a swing-out cylinder, and features an exposed hammer. It has been in production since 1965, and holds the distinction of being the first regular production all stainless steel revolver ever made. The 1965 model's stainless steel production proved so popular that there was a waiting list at gunshops for up to six months to purchase one. At that time, and until 1996, the Model 60 featured a 1.875" barrel and was chambered solely for the .38 Special. In 1996, the stronger J-Magnum frame was introduced and the cylinder was lengthened to support the .357 Magnum round, (as well as the .38 Special). The new model replaced the .38 Special-only version and is available in either a 2.125" or a 3" barrel, with a 5" barrel introduced in 2005.
Older models of the gun were produced with only fixed sights; modern productions are typically made with an adjustable rear sight (3" and 5") and a fixed sight (1.875" and 2.125") in front. Despite the reduction in effective range due to the short barrel and consequently reduced sight radius, the 2" barrel version is one of the preferred backup and concealed carry weapons for law enforcement officers and civilians alike to this day.
"Subway vigilante" Bernhard Goetz used the 1965 model .38 special in self defense against four would-be muggers on the Seventh Avenue No. 2 express subway train in Manhattan on December 22, 1984. Goetz was able to deliver 4 out of 5 stopping shots from the weapon.
This particular weapon is an earlier version with the serial number of R70XXX. It's stainless steel and has the 2 inch barrel. This gun has virtually no wear on it and the grips look totally brand new. This revolver comes in an original box for this weapon but the serial number is different on the box being only 400 hundred numbers off. This piece comes with the orignal box paperwork and the cleaning kit and oil paper wrap. This is a quality piece and highly collectible!!! $575.00 Modern Guns 30
CONSIGNMENT
Here's a very nice vintage Armalite AR-180 Howa Manufactured weapon! The AR-18 is a gas operated, selective fire assault rifle chambered for 5.56x45mm ammunition. The AR-18 was designed at ArmaLite in California by Arthur Miller, George Sullivan, and Charles Dorchester in 1963 as an improved alternative to the AR-15 design, which had just been selected by the U.S. military as the M16. While the AR-18 was never adopted as the standard service rifle of any nation, its production licence was sold to companies in Japan and England, and it is said to have influenced many later weapons such as the British SA80, the Singaporean SAR-80 and SR-88, the Austrian Steyr AUG, and the Heckler and Koch G36. It gained some notoriety through its use by the Provisional IRA, which allegedly christened it the "Widowmaker"
This is the Howa Manufactured weapon (Nagoya, Japan which also made the WW2 Japanese Arisaka rifles) which was made from 1972-73 making it the most desireable of the 3 manufacturers. This particular weapon is in very good condition and is missing nothing and needs nothing. This weapon will not be shipped to California. The rifle has the original sling and one 30 round magazine. It also has a folding stock. This is nice!!! $1,950.00 Modern Guns 31
CONSIGNMENT
Hre is a 1911 conversion kit to change your Government 1911 .45 to a .22 caliber firearm making it more affordable to shoot. It appears that this kit is complete and has seen very little use. There is glare in the pics but the actual metal surfaces are the dark factory bluing that is normal on these pieces. There is no FFL needed for the conversion kit. This is really nice and comes with one factory magazine. $450.00 Modern Guns 32
CONSIGNMENT
The below 1100 LH Shotgun is SOLD! Here's a Remington 1100 Shotgun Model LH (Left Hand) in very nice condition! This Remington Model 1100 LH 12 gauge shotgun, made for the left handed shooter, has a 28 inch vent rib, modified choke barrel chambered for 2 ¾ shells as well as an identical 32 inch barrel. It is mechanically sound and the bore is mirror bright. The metal finish is mostly intact, with just a few light scratches on the reverse top of the receiver. The wood has one minor nick and some very light scratches and a blemish in the finish down by the trigger guard. This is still a very, very nice shotgun!!
More than 40 years ago, the Model 1100 forever changed the way American shooters viewed autoloading shotguns. It was the first autoloader to combine the repeat-shot versatility of early-century models with the sleek, modern lines and handling qualities of revered double barrels.
It's been a field-proved favorite ever since. Its superb balance, handling, durability and soft recoil from the gas operated action are the foundation of the Remington autoloading legacy.
Sorry, no box! $895.00 Modern Guns 33
Here's a Rossi Stainless Steel .38 Special Revolver. This is a great double - action revolver in stainless steel and shows little wear. The action works great and the rifling is crisp! The original walnut grips have little wear to them. This model has the vented ribbed barrel with the hidden cylinder pin. Nice - nice revolver!!! $325.00 Modern Guns 34
Here's an old Savage 20 guage single shot shotgun. This is the Savage Model 220 which was made between 1938 and 1965. I really believe this one to be early. There is no serial number on this piece. The makers marks are sharp on this piece and there is a stamped/engraved duck huntiing scene on the bottom of the receiver. The action works fine and it has a safety feature. The walnut stock is in good condition with just minor dings and scrapes but no cracks or breaks. Still a lot of blue on it. There is some minor pitting but not bad. Still a nice piece!! FFL or C&R needed on this one. $150.00 Modern Guns 35
CONSIGNMENT
THE WINCHESTER BELOW IS NO LONGER AVAILABLE! Here's an outstanding little Model 58 Winchester! This model was an attempt by the company to marked a low priced .22 caliber rimfire in place of its Models 1902 and 1904. This is a single shot bolt-action, cocked by pulling the fining pin head to the rear. The rifle has an 18 inch round barrel and is chambered for the .22 short, long and long rifle. The stock is a one piece plain wood with straight grip. I believe the stock has an old re-varnish on it. This rifle is not serial numbered even though about 39,000 were sold. The Model 58 was introduced in 1928 and discontinued in 1931 (probably due to the stock market crash of 1929) and even though 39,000 were sold they are incredibly hard to find now days!!! This one is in very nice condition with the original finish on the metal parts with sharp lettering. There is still some rifling in the barrel and it's nice and shiney! There is just a few minor blemishes on the stock with one being a small crack in the stock on the reverse side of the bolt and two non-displaced cracks on the forend. There is also a small ding on the buttstock reverse as well. Blemishes are shown in the pics. If you want a desireable 'scarce' rifle then you want this one! $850.00 Modern Guns 36
CONSIGNMENT
The below Ruger Single-Six has been traded! Here's a dandy Ruger Single-Six .22 Magnum revolver!!! This one comes in an original box but we don't believe this box is original to this particular piece. This is not the convertible model that had interchangeable cylinders but made especially for the .22 WMR cartridge only! The piece is in nearly new condition with only the slightest wear from going in and out of a holster. This is one nice piece!! $550.00 Modern Guns 37
CONSIGNMENT
NEW LOWER PRICE!!!
Here's a real nice Model 94 Winchester lever action carbine in .30-.30 caliber. This piece is real clean with some loss or fading of color to the receiver but otherwise real nice. According to the Winchester Pocket Guide this non-saddle ring carbine is dated to 1975. Carbines made after 1925 did not have the saddle ring. The piece operates flawlessly and looks great with good wood. There is nice rifling in the 20 inch barrel as well. This carbine has to be transfered by an FFL holder. was $650.00 now $550 !! Modern Guns 38
CONSIGNMENT
THE BELGIUM BROWNING SHOTGUN IS SOLD! Here is an outstanding 12 guage Light Belgium Browning Semi-Automatic Shotgun with two barrels! Browning Light 12 gauge Automatic shotgun, made in Belgium in 1969 SN 69G 73XXX. It Has a 29 inch vent rib barrel and a 27 inch non ribbed barrel. On the barrels it says Browning Arms Company St. Louis Mo. and Montreal PG Made in Belguim. Special Steel 12 ga 2 3/4 inch shells.The receiver is super engraved and has a gold trigger. This gun is in 95% condition with minor handling marks on the stock. The blued surfaces are beautiful and shine so much that there is considerable glare in the pics. I assure you that this gun looks much better than my poor pics show!!! Comes with the original box. This is a super shotgun!!! WAS $1,100.00 NOW $895.00 !!! Modern Guns 39
CONSIGNMENT
The below Marlin Lever Action rifle is SOLD! Here's a sweet Marlin Model 1897 Lever Action Rifle. This model is an improved version of the Model 1892. It was chambered for the .22 rimfire only and comes with an octagonal 24" barrel. The rifle has a buckhorn rear sight and blade front. This was manufactured as a take down rifle. It had a case colored receiver, lever and hammer now being a mottled dark patina. The rest of the metal is a nice dark patina as well. The walnut stock is varnished as it should be and in pretty nice overall condition. There is some rust to the buttstock that can be cleaned rather easily. There were approximately 125,000 of these rifles manufactured between 1897 and 1922. The serial number on this one is 352XXX. Bore looks a little dark but I can see rifling and I think it would clean about good to very good. It's a good one! $450.00 Modern Guns 40
CONSIGNMENT
Here we have an old Stevens Boy's Rifle. This one is part of the 'Favorites' series. This series of Rifles are chambered for the .22, .25 and .32 rimfire. It has a 22" part octagonal barrel and was blued with a case colored frame now a very dark patina. It has a takedown-type action with an interchanable barrel feature. It has no rear sight and never had one and just a simple bead front sight. There were approximately 1,000,000 manufactured between 1893 and 1939 of the various types. I believe this is a no. 20 version that is chambered for the .22 rimfire shot cartridges and has a smoothbore barrel hence no rear sight. This old girl needs some wood work, especially with the rear buttstock. The buttstock is loose from side to side due to an old lateral crack that someone tried to fill in with plastic wood. It's restorable!!! The buttstock still has the old rubber STEVENS FAVORITE buttplate present. I had an old Remington Rolling Block .22 when I was a kid but I would have loved to also had a Stevens Favorite!!! WAS $350.00 NOW $315.00 Modern Guns 41
CONSIGNMENT
Here is a Winchester 12 guage single shot Model 370 Shotgun. The Winchester model 370 replaced the model 37. There were approximately 221,000 made between 1968 and 1973. The 370 model was actually manufactured in Winchester's Canada plant in Ontario. This shotgun is in average condition and has had the choke altered at the end of the barrel. There is also some corrosion on the end of the barrel otherwise the gun is in good shape with the exception of where something was glued to the reverse side of the buttstock. I believe a little adhesive remover would take care of that. The bore is excellent and the gun functions very well. The barrel is tight to the action. You could refinish this one without harming the value. WAS $125.00 NOW $110.00 Modern Guns 42
CONSIGNMENT
Here we have a rare NITRO HUNTER 12 guage single shot shotgun with nickeled receiver. Nitro Hunter is a Trade name manufactured by Crescent Firearms, Norwich, CT, and retailed by Belknap Hardware Company of Louisville, Kentucky. "Nitro" implies that it was intended for smokeless powder. Research shows that it was probably made from 1907 to 1930 or so. This piece seems to be in good very well used condition. The wood pretty sound with a crack and a chip here and there but not overwhelming. There is a small door missing on the receiver which would have been there to cover us a screw head. There are patent dates on the obverse receiver of '96 and '02 (1896 & 1902) and on the reverse receiver is the words NITRO HUNTER. The bore is good and shiney and barrel is a nice dark patina. The end of the barrel has been reduced in size affecting the choke so it throws a tighter group. The front bead sight is missing as well. You need to have this one checked out by a competent gunsmith before firing. This one has a low 2 digit serial number. Check out the pics! Scarce! WAS $125.00 NOW $110.00 Modern Guns 43
CONSIGNMENT
Here we have a 20 guage single shot shotgun made in Spain being a Model 690. IT has a nickeled receiver and a blued 27 1/2 inch barrel The bore is nice and shiney. The wood is in good condition and will look very nice polished up. There are no sling swivels although the front swivel post is present. The ornate cap on the end of the pistol grip and buttplate are present and in excellent condition. There are engraved scenes on the receiver of a dog on one side and a deer on the other. The nickel has chips here and there due to age. The action seems to work OK. WAS 100.00 for this one NOW $90. Modern Guns 44
CONSIGNMENT
Here we have an old model 1890 .22 Caliber Winchester "Gallery Gun". The Model 1890 was the first slide-action rifle ever produced by Winchester. This one is chambered for the .22 short only. This gun is the Second Model (blued frame variation) and the serial number is 190XXX range. It has a 24 inch octagonal barrel. The markings are still real clear. The action works well and there is just a trace of rifling in the barrel. The rear sight has been replaced as well as the front sight with modern pieces. The front slide forarm is the original but the pin has been replaced and plastic wood has been placed around the pin. The buttstock has suffered more serious trauma with a large crack running back from the tang. This appears to have happened some time ago and thre has been some attempt at repairing it. There is quite a bit of plastic wood applied to the buttstock that you can see in the pics. Still worthy of restoration and quite desireable as a collectors piece. These Model 1890's were favorites at the Fairs and Carnivals to be used as Shooting Gallery Guns. The Model 1890 was produced form 1890 to 1932 with approximately 775,000 guns being sold. The consignor WAS asking $700.00 on this one NOW $630.00 Modern Guns 45
CONSIGNOR
Here is a Ranger Model 30, which was a store brand made by Stevens as a Model 520. It was designed by John Browning, and has a slight humpback in the receiver. Mfg. 1905 to 1932. This is a 12 gauge shotgun with a 2-3/4 chamber and 30 inch barrel length. This shotgun is a Browning design, take down pump action. It's very well built and it's extremely heavy duty. All the parts are in good condition and appear to be all original. The metal parts are a dark brown patina. The barrel has some slight rust pitting toward the muzzle. The model markings are visible but light. They were light from the beginning when stamped. The bore looks like a mirror. The action is still smooth. There are no cracks but there is a scratch here and there from use on the buttstock. The butt plate is present with a couple of chips in it. Still looks like a good old gun!! WAS $225.00 NOW $200.00 Modern Guns 46
CONSIGNOR
Here we have a vintage Remington Model 510 in pretty good condition. The Bore is shiney and the rifling is deep. The action works well and there are no cracks or breaks in the stock- just the ususal scratches and dings. From 1930 to 1970 Remington produced a variety of single shot rifles and this is one of them. The only detractor from this old piece is that the buttplate has been replaced with a clear piece of plastic but can be easily replaced if you can find an original one. WAS $200.00 NOW $180.00 Modern Guns 47
CONSIGNMENT
Here we have is a very hard to find Beretta Silver Pigeon 12 gauge pump shotgun with the original box! This shotgun sports the 30" non ribbed barrel with full choke, checkered walnut stocks and rubber sleeve over the Beretta buttplate. The bore is mint and action is smooth. The condition of this gun overall is very good with the usual dings and dents from use. The markings are clear and most of the original bluing is still present. Serial number 020XXX. This is still a pretty nice Italian Shotgun! WAS $350.00 NOW $315.00 Modern Guns 48
CONSIGNMENT:
Here is one fantastic RARE item to find! This is the hard to find, short lived ROCKETEER - AUTOMATIC ROCKET PISTOL otherwise known as the MARK I MODEL 8 13 MM GYROJET Pistol! This one even comes with 23 of the original 24 projectiles!!! Here's some info on the Gyrojet series:
Gyrojet
From Wikipedia, the free encyclopedia
The Gyrojet is a family of unique firearms developed in the 1960s named for the method of gyroscopically stabilizing its projectiles. Rather than inert bullets, Gyrojets fire small rockets called Microjets which have little recoil and do not require a heavy barrel to resist the pressure of the combustion gases. Velocity on leaving the tube was very low, but increased to around 1,250 feet per second (380 m/s) at 30 feet (9.1 m). The result is a very lightweight weapon with excellent ballistics.
Long out of production, today they are a coveted collector's item with prices for even the most common model ranging above $1,000. They are, however, rarely fired; ammunition, when available at all, can cost over $100 per round.
Gyrojet MkI Aside from a few Gyrojets tested by the United States Military, most Gyrojets were sold on the commercial market starting in the mid-1960s. These were Mark I Gyrojets, which launched a .51 caliber rocket, and ammunition was costly to produce and buy. In 1968, the U.S. Gun Control Act of 1968 created a new legal term, the destructive device. Under the new law, any weapon firing an explosive-filled projectile over a half-inch in diameter was considered a destructive device and required paying a tax and obtaining a license. The registration process was changed later,however, and now they can be transfered like any other handgun.
Other models produced were Gyrojet MkII which used a .49 caliber rocket, Gyrojet Assault Rifle,Gyrojet Carbine, Gyrojet Derringer and the Gyrojet Flare Launcher. Another variant was the Gyrojet Lancejet.An underwater firearm variant of the Gyrojet called the Lancejet was considered for use by the United States military, but the inaccuracy of the weapon eventually removed it from consideration. Other variants included the Gyrojet Light Machine Gun, Gyrojet Pepperbox pistol An experimental twelve barrel Gyrojet pepperbox type pistol was made that was used in the movie Murderers' Row and was planned to be used, but was not in You Only Live Twice, and the Gyrojet Conversion gun.
Make no mistake about it, this is an actual firearm!!!
This Gyrojet Rocket Gun is in like brand new condition! The previous owner fired it once in the 1960's and I believe it scared him as he didn't fire it again. His son found it in the attic and wanted to sell it. The weapon is in like new condition also because it's in the original box and so is the ammo, albeit that the boxes are worn and dirty.. Also included is the original owners manual and other period articles pertaining to this most unusual weapon! Now is your chance to own something that you've only heard about along with 23 original rocket propelled projectiles!!! This item must be legally transfered to the new owner. As far as I know it operates but with projectiles being worth from over $100 apiece you can understand if I don't fire it! For the entire lot the price is $3,000.00 + shipping. Where you gonna get another with all this ammo!!! Look at the pics!!! Modern Guns 49
CONSIGNMENT:
The RUGER below is sold ! Here we have a real nice Ruger Security Six - 6 shot revolver in .357 caliber. The Ruger Security Six and its variants, the Service Six and Speed Six are a product line of double action revolvers introduced in 1971 and manufactured by Sturm, Ruger & Company. These revolvers were marketed to law enforcement duty issue, military, and civilian self-defense markets. This is the stainless steel model with the 4 inch barrel and adjustable rear sight. This piece is in excellent condition with the original walnut grips and medallion. One grip has a slight ding in it and there is a small amount of 'roughness' on the recoil shield next to the cylinder thumb latch but not bad at all. The action is tight and the rifling is in great shape! This is a great revolver! $450.00 Modern Guns 50
The North American below is sold ! Here we have a very nice North American Arms Corp. Mini 5 shot revolver in .22 Magnum! This one is excellent with the 1 5/8 inch barrel. The action works perfect and frankly this small revolver looks brand new!!! Take a look at the pics! $195.00 no box. Modern Guns 51
Here is a vintage RTS Starter Pistol--.22 Caliber --8 Shot---Model 1966--Caliber .22--- Serial Number 461XXX stamped made in Italy, fires Blanks Only. No FFL required I can ship directly to you with proof of age over 18. This thing is next to new condition with only a very small chip to the paint here and there. Single or double action. Works fine! Cannot be made to fire. $65.00 Modern Guns 52
Here we have a nice little 7 shot revolver. This one is marked U.S.Revolver Co. and was a less expensive version of Iver Johnson's Arms and Cycle Works Handguns. The Actual dates of the small frame 22 caliber U.S. Revolver Co. double action revolver was 1911 until 1933 according to research I've done. The main serial number is on the left side of the grip frame under the grips. On this firearm the serial number on the trigger guard is the same but missing the letter designation that is on the grip frame of D which means this revolver was made between 1921 and 1933. There is no loading gate on this revolver but when a cartridge is aligned properly under the hammer for firing the cartridges nearest the loading slot are off center enough so that they won't fall out. Iver Johnson and many other companies used this method for a very long time to keep costs down. This particular weapon has a ton of original blue on it and all markings are clear. The revolver works in both single and double action. The grips have the large U.S. in a circle at the top of them. The grips are black plastic and in very nice condition. The cylinder top strap is marked U.S.REVOLVER CO. MADE IN U.S.A. I wouldn't shoot this old revolver but it definitely fits a collector's needs. $120.00 Must transfer through an FFL. Modern Guns 53
The RUGER P89DC IS NO LONGER AVAILABLE! Here we have a very nice P89DC 9MM pistol in an original Ruger Plastic hard case. This gun is in excellent slightly used condition and , hey! it's a work horse!!! I carry one just like this for self protection myself. This ruger P89DC comes with 2 - 10 round magazines and 1 - 15 round magazine. The Ruger P series are a line of centerfire semi-automatic pistols made by Sturm, Ruger & Company. The P series pistols were designed for military, police, civilian self defense and recreational use. The designs are largely based on the Browning action found in the M1911 pistol, but with minor variations, generally related to the safety mechanism and the barrel-camblock interface. Reviews have considered them rugged, reliable, and strong! This is the decock only model with no safety. This pistol looks and functions like a brand new one but at a reduced cost from the new one. These pistols sell for up to $500 with the 2 extra magazines but we have this one to move at $425.00 Look at the pics! Modern Guns 54
Here's a small leather holster that is for the Colt Model 1908 Hammerless 25 Caliber Auto Pistol. This piece is factory made but may not be made by Colt. This piece is in good supple condition and is complete with the snap. You almost never find these holsters for the little Colt. $25.00 Modern Guns 55
Look at these wonderful guides! They aren't hugh in size but hugh in volume of knowledge and great photographs to see exactly what you're doing! If you own and work on these firearms you'll love these guides!!
DISASSEMBLY & REASSEMBLY GUIDE 1911 Series Pistols. (2006) For your M1911, M911A1, Series 70/80 and All Variants FEATURES: • The only current printed manual that includes information on ALL models. • Easy to use -- Comb binding lies open and flat on your work surface. • 16 pages & 20+ high-resolution grayscale images. • Cardstock cover. Bright white paper. Brief history of the 1911 Series Pistols: Exploded parts view with 54 part names. Disassembly Safety First! Different types of recoil spring assemblies Barrel bushings Slide stop Slide Guide rod and recoil spring(s) Remove barrel bushings Barrel Firing pin stop plate Disassembly (cont.) Firing pin Extractor Grip panels Safety Safety lock plunger Mainspring housing and pin Slide release plunger and spring Grip safety Sear Spring Hammer pin and hammer assembly Sear Pin, Sear, and Disconnector Magazine catch Trigger assembly Reassembly and tips Brief History of the 1911 Series Pistol. "For nearly a century the Colt Goverment Model 1911 has been without challenge, the most recognized, most imitated, most influential and the most used semi-auto handgun in the world." Guns & Ammo Magazine - 2006 1911 John Moses Browning's original .45 Colt Auto Cartridge and 1911 Pistol was adopted as the standard U.S. service pistol and remained in faithful service for nearly 75 years. 1923 Modifications were made to include a narrower trigger, wider and longer grip safety spur, and an arched mainspring housing. Adopted as the U.S. Model 1911-A1 in 1924. 1932 National Match Version with adjustable rear sights. 1935 National Match Version in .38 Super caliber. 1957 Gold Cup National Match with improved trigger assembly. 1970 Series 70. Introduction of the collet-type barrel bushing. 1981 Series 80. Introduction of the firing-pin-block safety. 1985 Colt's introduction of stainless steel models. 2006 + Most all major pistol manfacturers produce a 1911 clone. ONLY $7! Modern Guns 56

DISASSEMBLY & REASSEMBLY GUIDE AK-47 AKM & All Varients (2006) FEATURES: • The only current printed manual that includes information on ALL models. • Easy to use -- Comb binding lies open and flat on your work surface. • 16 pages & 20+ high-resolution grayscale images. • Cardstock cover. Bright white paper. Introduction: Brief history of the AK-47 Safety First Exploded Parts Diagram Parts List Disassembly - Magazine - Clear Weapon - Receiver Cover - Recoil Guide Spring - Bolt Carrier & Assemblies - Upper Forearm & Gas Tube - Lower Forearm - Bolt - Firing Pin Disassembly (cont.) - Extractor - Safety - Hammer Spring TIP - Hammer / Trigger Retainer - Trigger - Hammer - Magazine Reassembly Bolt Extractor Firing Pin Accessories Brief history of the AK-47 Assault Rifle It has been estimated that the worldwide prodution of the AK-47 rifle and its variants has exceed over 90 million. The AK has been licenced (and copied) in dozens of countries. Even after nearly 60 years, it is still the weapon of choice for soldiers, law enforcement, and the gun enthusiast. Mikhail T. Kalashnikov, a Soviet Engineer, designed the weapon in the late 40's and it was adopted by the Soviet Army in 1949 as the officially designated "7.62mm Automat Kalashnikova, obraztsa 1947 goda" (7.62mm Kalashnikov automatic rifle, model of 1947). The weapon went into service in 1951. The AK-47 and AKM (AK Modified) fire a 7.62 x 39-mm (M1943) ammo which is a heavy caliber small arms round capable of defeating most body armor. The weapon is usually equipped with 30 round magazines and is available in a fixed wooden or folding stock (AKS). The AKM has a stamped receiver and entered into service in 1961. The AK-74 fires a 5.45 mm bullet and has replaced many of the 7.62 weapons. All models are gas operated with a rotating bolt feed system. The semiautomatic version has a "practical" rate of fire of 40 rounds per minute. The AK has an "effective" range of about 300 meters. (328 yards). This is due to its bulky bullet traveling at only 2,300 feet per second. Average weight: 9.5 Pounds. Overall length is 34.2 inches. Folded length: 27.5 Inches. Only $7 !! Modern Guns 57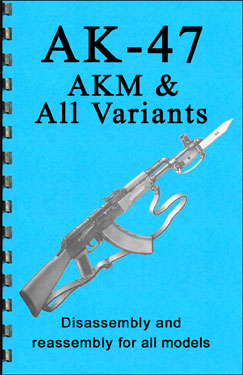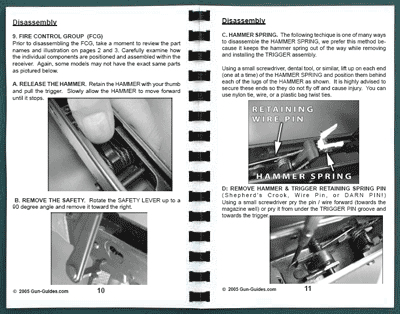 DISASSEMBLY & REASSEMBLY GUIDE Colt AR 15 & All Variants For your Colt, Bushmaster, Olympic Arms, Armalite, Rock River, DPMS, and countless other manufacturers... FEATURES: • The only current printed manual that includes information on ALL models. • Easy to use -- Comb binding lies open and flat on your work surface. • 16 pages & 20+ high-resolution grayscale images. • Cardstock cover. Bright white paper. Introduction: Brief history M16 AR-15 Safety First Exploded Parts Diagrams (4 pages) Disassembly - Clearing Rifle - Upper & Lower Receivers - Bolt Assembly - Charge Handle - Firing Pin Retainer - Bolt Cam Pin - Extractor - Ejector - Bot Carrier Key - Buffer & Action Spring - Handguards Disassembly (cont.) - Hammer - Disconnector - Trigger - Bolt Catch - Magazine Catch - Buttstock - Pistol Grip - Trigger Guard Reassembly Tips - Action Spring & Buffer - Cam Pin - Bolt Carrier Key - Extractor / Ejector - Charge Handle - Bolt Group Excerpt from this Guide: 1959: Colt aquires manufacturing and marketing rights to AR15. 1962: Colt gets US Department of Defense orders 85,000 M16's for Vietnam and 19,000 for the Air Force. Mid 60's: The M16A1 was updated with a new buffer to reduce the rate of fire, chrome plated chamber and barrel, closed prong flash hider, foward bolt assist, new buttstock with cleaning kit, and a 30 shot magazine. Rifles were also produced by GM and Harington & Richardson during the Vietnam war as well as outside the USA. 1978: M16A2 was produced using an increase barrel diameter, rifling was changed from 1:12 to 1:7 to accommodate a new 62 gr. bullet, modified rear sight, case deflector, new round handguard, and full-auto was replaced with three round burst. 1994: M4 was adopted based on a demand for a shorter lightweight weapon. The M4 has a 14.5" barrel and a four position telescoping stock. Collapsed length is under 30 inches and weighs just over 5 1/2 pounds. Effective range is 600 yards. Available in 3 shot burst or full-auto. M4's are also equipped with a Picatinny -Weaver Rail System to replace the carry handle. COMPLETE Ruger Guides. These comprehensive Guides have 56 pages and cover history, models, accessories, complete disassembly, reassembly, and a complete listing of all serial number ranges based on date of manufacture. Suggested Retail Price $12.00 Modern Guns 58 Disassembly and Reassembly Guides. (D&R Guides) These Guides have 16 pages and cover a brief history, disassembly, and reassembly of the firearm. High resolution illustrations and pictures guide you through the entire process. Remington, Colt, Glock, Ruger, Mossberg, and countless other manufacturers are covered. Only $7 !! Modern Guns 59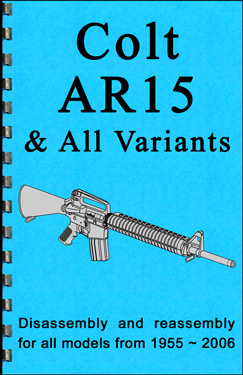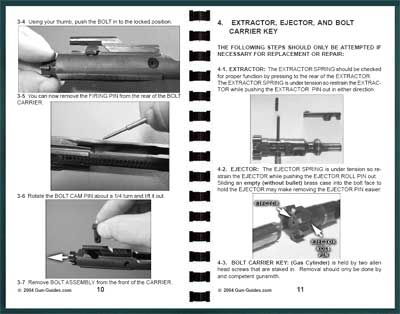 DISASSEMBLY & REASSEMBLY GUIDE Glock Pistols - All Models (2006) FEATURES: • The only current printed manual that includes information on ALL models. • Easy to use -- Comb binding lies open and flat on your work surface. • 16 pages & 20+ high-resolution grayscale images. • Cardstock cover. Bright white paper. Introduction: Brief history of Glock Safety First Exploded Parts Diagrams Disassembly - Slide - Recoil Spring - Barrel - Firing Pin Assembly - Extractor - Slide Cover Plate - Extractor Plunger - Firing Pin Safety Disassembly (cont.) - Locking Block Pin - Trigger Pin - Slide Stop Lever - Trigger Housing Pin - Trigger Assembly - Magazine Reassembly Slide Stop Lever Trigger Pin Firing Pin Assembly The Glock Pistol THE GLOCK "SAFE-ACTION" PISTOL The following is a description of how the GLOCK "Safe-Action" trigger mechanism functions. CAUTION: It is possible that a loaded round may still remain in the chamber when a loaded or empty magazine is being removed or inserted. Like most firearms, any round in the chamber will discharge by pulling the trigger with the Glock magazine inserted OR removed from the firearm. Remove the magazine, cock the pistol, and CONFIRM with your eyes and finger that the chamber is empty and that there are no rounds present. The GLOCK pistol is actually considered half-cocked at this point. The firing pin has been slightly tensioned, the trigger is moved to its forward position, and the trigger safety protrudes from the trigger. When you first pull the trigger back about 1/4 of an inch, the trigger bar slides behind the trigger ramp, the firing pin moves up, and the firing pin is tensioned. The Glock pistol is now on "FIRE / SAFETY OFF". When the Glock trigger is pulled back further, the trigger bar releases the connector which releases the firing pin and discharges the loaded ammo. The recoil produced by the fired round forces the slide backwards. At about the .012 position, the barrel is released from the slide and moves down over the locking block. The Glock slide continues to move backward and the spent cartridge case is pulled out of the chamber by the extractor and tossed out towards the right by an ejector. A ramp in the slide moves the connector and separates it from the trigger bar and lifts it off the trigger spring and toward the path of the firing pin face. Next, the recoil spring forces the slide forward and the trigger bar slides on to the safety ramp near the firing pin - the firing pin safety returns back to its original position - a slight tension is placed on the firing pin - if present, the next round is stripped from the magazine and placed in the chamber - the barrel is locked into slide and the pistol is ready to fire. Once the last round has been fired, slide will be held back in the open position by the slide stop level. Only $7 !! Modern Guns 60
DISASSEMBLY & REASSEMBLY GUIDE SKS Rifles & All Variants (2006) For your Chinese, Yugo, Russian, Romanian, Albanian, and all other variant, and countless other manufacturers. FEATURES: • The only current printed manual that includes information on ALL models. • Easy to use -- Comb binding lies open and flat on your work surface. • 16 pages & 20+ high-resolution grayscale images. • Cardstock cover. Bright white paper. Introduction: Brief History Safety First Exploded Parts Diagram Parts List Disassembly - Clear Weapon - Magazine Latch - Tool Kit - Cleaning Rod - Receiver Cover - Recoil Spring Assembly - Bolt - Bolt Carrier - Extractor - Firing Pin Disassembly (cont.) - Extractor & Spring - Trigger Assembly - Magazine Floor Plate Latch - Magazine - Handguard - Gas Tube - Driving Rod & Spring - Handguard Ferrule - Stock - Bayonet - Other Reassembly Tips & Tricks Accessories Brief History of the SKS Semi-Automatic Rifle (Samozaryadnyi Karabin Simonova) The SKS Rifle chambered in caliber 7.62 x 39mm (SKS-45) was designed by Russian arms inventor Sergei Simonov and was adopted by the Soviet Union in 1946. Since then the SKS has been fabricated by several other countries including China (Type 56 / Norinco), East Germany (Karabiner-S), North Korea (Type 63), Albania, North Vietnam, Romania, and Yugoslavia (M59 & M59 /66). The country of origin can be easily determined by markings on the receiver. Russian models usually have two Cyrillic characters followed by four numerals. The Soviet and East German weapons usually carry the year of manufacture and the serial number on the front left of the reciever. Chinese weapons have three Chinese symbols usually followed by seven or eight numbers. Later models have the spike bayonets. North Korean SKS's have "63" stamped on the receiver cover. East German versions have a hole through the stock for attaching the lower end of the sling swivels. Yugoslav M59/66 are very easy to identify due to their prominent spigot-type grenade launcher permanently attached to the muzzle. $7 Modern Guns 61

DISASSEMBLY & REASSEMBLY GUIDE Ruger Single Action Revolvers (2005) For your Blackhawk, Super Blackhawk, Vaquero and Bisley Models FEATURES: • The only current printed manual that includes information on ALL models. • Easy to use -- Comb binding lies open and flat on your work surface. • 16 pages & 20+ high-resolution grayscale images. • Cardstock cover. Bright white paper. Introduction: Brief History Safety First Exploded Parts Diagram Parts List Disassembly - Clear Weapon - Grips - Mainspring - Grip Frame Screws - Grip / Cylinder Frames - Pawl Spring - Cylinder Latch - Old Three Screw Models - Trigger Spring Disassembly (cont.) - Trigger Pivot Pin - Gate Detent Spring Clamp - Hammer & Cross Pin - Transfer Bar - Trigger - Cylinder Stop - Gate Spring - Loading Gate - Hammer Plunger & Spring - Ejector & Hosuing Reassembly (21) Listed Steps and Tips Accessories Production History of the Ruger Single Action Revolvers 1955 Blackhawk .357 Magnum 1956 Blackhawk .44 Magnum 1959 Super Blackhawk .44 Magnum 1962 End production of the Blackhawk .44 Magnum 1965 Blackhawk .41 Magnum 1968 Blackhawk .30 Caliber 1971 Blackhawk .45 Caliber 1973 New Model Blackhawks (Transfer Bar) 1976 200th Year Markings 1982 Blackhawk .357 Maximum Caliber 1982 Blackhawk Conversion Kit Notice 1984 End production of the Blackhawk .357 Maximum Caliber 1985 New Model Bisley 1990 Blackhawk Special Model S3840 1992 Super Blackhawk Hunter .44 Magnum 1993 Vaquero .44-40, .45 LC, .44 Magnum 1998 Bisley-Vaquero Models 2005 50th Annivesary Blackhawk .357 Magnum 2005 New Vaquero Only $7 !!! Modern Guns 62