SOME OF THE FIREARMS BELOW HAS REDUCED PRICES !
Thanks! Ted
WATCH THIS SITE AS WE ARE GOING TO ADD MORE MODERN GUNS!!!
****NOTE****
Only firearms allowed in California will be shipped to California
**** **** THANKS!
NOTICE: ALL FIREARMS MADE AFTER 1898 AND CHAMBERING MODERN AMMO CAN BE PURCHASED BY ANYONE WHO CAN PASS THE FBI CHECK BUT MUST BE SENT TO A LICENSED FIREARMS DEALER or Curio and Relics license holder if it applies.
We just took in several consignment Winchester Lever Action Carbines and Rifles! Check 'em out!!
Consignment
Item Modern Guns 134
Modern Guns 133
CONSIGNMENT
In 1924, Winchester introduced the Model 55 lever-action rifle as a simplified version of the 1894 Winchester. The Model 55 was available in 30 WCF (30-30), 32 WS and 25-35 calibers. This rifle could be ordered only with a round 24 inch barrel, the forearm smooth, a plain walnut straight-grip stock, and shotgun butt. The frame and barrel were blued and had either a solid or takedown feature. The Model 55 was manufactured through 1932 with approximately 21,000 guns produced during the 8-year production period. The Model 55 was discontinued because it could just not compete in sales with the 1894 Winchester.
This particular rifle is in 32 WS and has the other features mentioned above but this one is a solid frame. The barrel, hammer and nose cap has most of the original blue while the other parts ie: receiver, butt plate and lever have turned a dark gray with some spotting of bluing remaining. The action works great and the rifling is excellent. The wood is very nice with the usual dings from use but no cracks or breaks. You can see on the bottom of the stock pieces where sling swivels were installed then removed and filled. The rear dovetailed sight is missing. Serial number 10748XX. Take a look at the pics. I think you'll like what you see. For this nice firearm $1,365.
Modern Guns 131
CONSIGNMENT
Here we have a beautiful little Winchester Model 94 Saddle Ring Carbine in .30-30 or what was known then as .30 WCF. This firearm has a lot of original bluing on the barrel and full extended magazine tube. The receiver had thinned to silver and has been polished some since then. The markings are sharp and clear and it's a beautiful little piece. The rifling is very nice still as well. The action works flawlessly. The wood is very nice as well with just the usual dings from used. Heck, this Winchester was made in 1925 so it should have a few dings. Nothing serious however. Take a look at the pics. They tell you more than I can. Nice! $1,150.00
Consignment
Item Modern Guns 130
Here we have a very nice Winchester Model 94 (1894) Saddle Ring Carbine in 25-35 WCF cartridge! The serial number of 9235XX places this firearm being made in 1922. The piece is in good condition with a pinned blade front sight, a carbine style rear sight and the saddle ring on the left receiver with a full length magazine tube. Most of the original bluing is present on the barrel and magazine tube. All of the stampings are located on the left barrel area just ahead of the receiver as evidenced in the pics. All the markings are sharp and clear. The receiver is mostly silver with some blue and some minor browning to small areas. The Winchester proof marks are on top of the barrel and receiver as they should be and are nice and clear. The bore seems to have some pitting near the breech but stops a little ways up the bore and has nice sharp lands and grooves. This bore is still very serviceable. I'm afraid I get too much glare to get a good pic of the bore. The walnut stocks are in good condition as well just having the usual dings from use. No cracks or breaks are present. A really nice Saddle Ring Carbine in a hard to find caliber! $1,850.00
CONSIGNMENT
Modern Guns 129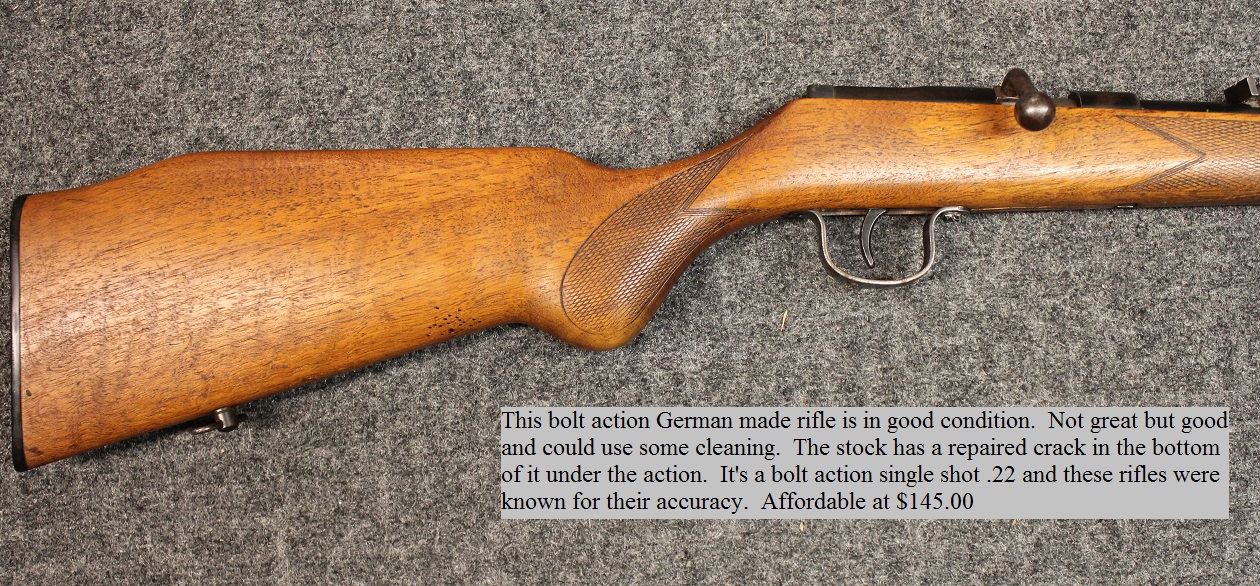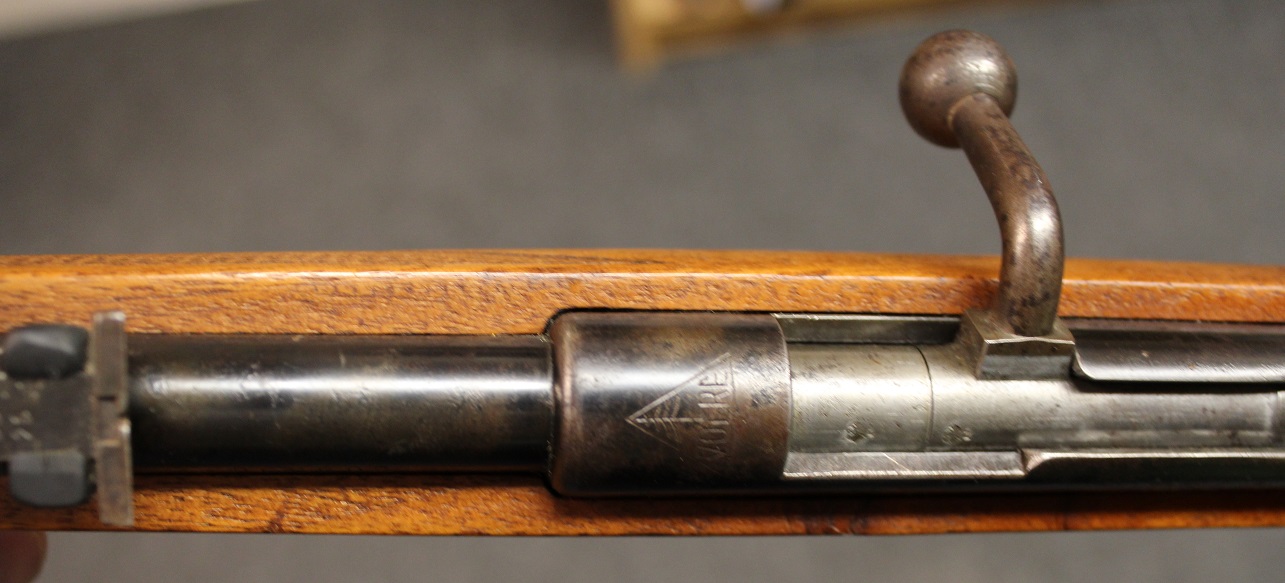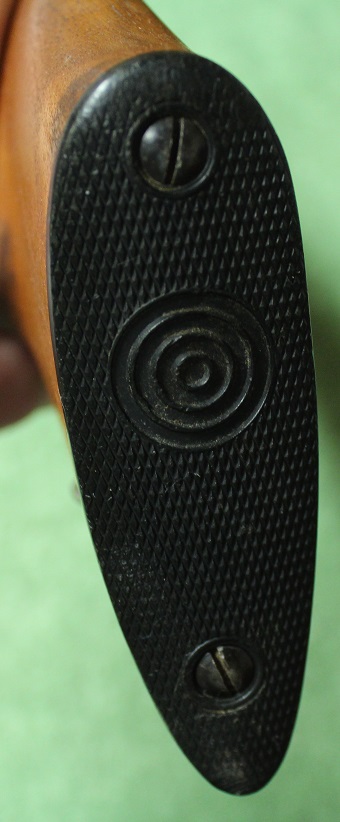 HERE WE HAVE SOME MODERN AND SOME ANTIQUE AMMUNITION!!!
CONSIGNMENT
Modern Guns 128
We have several boxes of Shotgun and pistol primers below. All are vintage and would look great in a display! Take a look!!!
More!!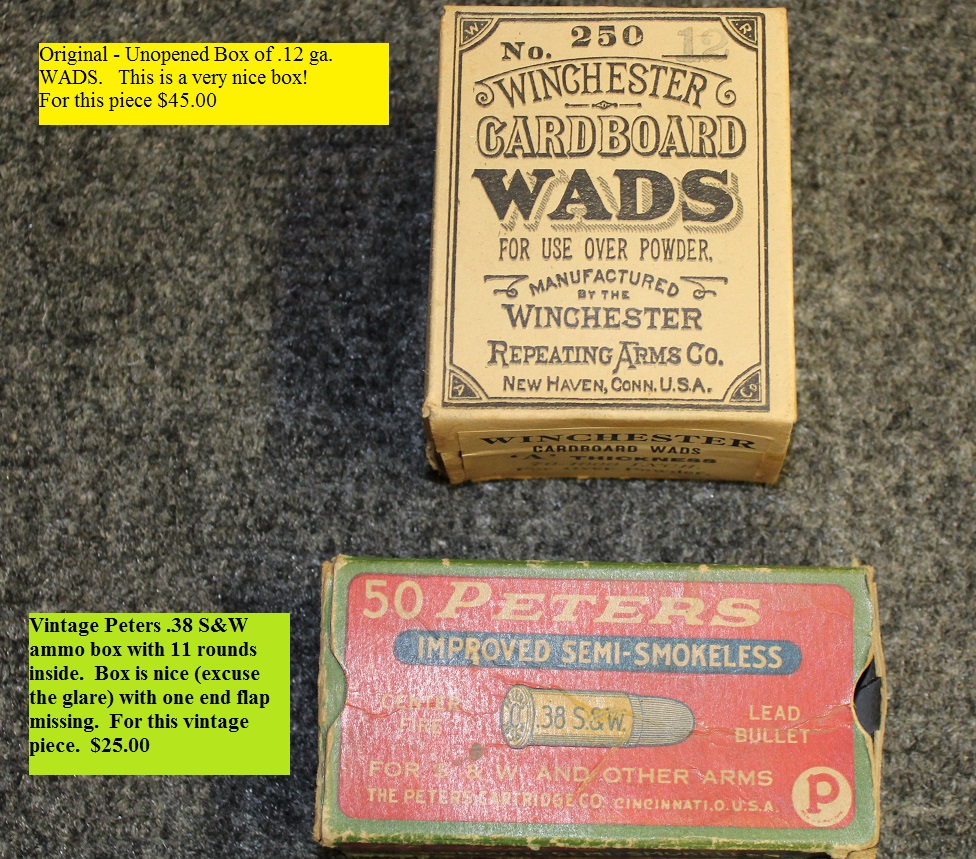 CONSIGNMENT
Modern Guns 127
Here is a box of WINCHESTER SUPER SPEED Loaded with LONG RANGE RIFLE SLUGS Progressive Burning Smokeless Powder 12 Ga. Shells. Description: This full 5 round box contains high brass super speed shells with red paper hulls loaded with slugs that show a five pointed star at tip. The box is soiled but still nice. Take a look at the pic. $25.00
CONSIGNMENT
SOLD!!!!
Here is a box of empty brass 12 ga shotgun shells. This is LOT W.R.A. - 22006 . This box says on the lid 25 SHELLS, SHOTGUN 12 GAGE, BRASS SMOKELESS POWDER No.00 BUCKSHOT - FOR USE IN HUNTING SMALL GAME. The box is full but all the shells have been fired. Unique! $65.00
CONSIGNMENT
Modern Guns 126
Here we have a full box of 20 WINCHESTER MODEL 1886 AND SINGLE SHOT RIFLES .40-65 CALIBER SOFT POINT CARTRIDGES for sale. All the unfired cartridges are present. The box has been opened. The box is worn but the graphics are good. $225.00
Here's another box of the .40-65 CALIBER SOFT POINT CARTRIDGES for the WINCHESTER MODEL 1886 AND SINGLE SHOT RIFLES. The box is in lesser condition on this one and part of the graphics are torn off. All of the cartridges are there but there is damage to the bottom of the box. $185.00
CONSIGNMENT
Modern Guns 125
Here's another box of the .40-65 CALIBER, SOFT POINT, MODEL 1886 WINCHESTER CARTRIDGES . This is a full box as well and while this box has a little upper lid end crumbly damage on one end the graphics are really nice on the box and on the lid. For this one $225.00
CONSIGNMENT
Modern Guns 124
Here we have a vintage box of .45 ammo. This is '20 CARBINE BALL CARTRIDGES, RELOADING CALIBER .45, THE UNION METALLIC CARTRIDGE CO.' The box has been open but all 20 unfire cartridges are there. This is in nice condition! $250.00
CONSIGNMENT
Modern Guns 123
Here is an old vintage box of WINCHESTER .25-20 SOLF POINT STAYNLESS CARTRIDGES. The box is for 40 shells but there is only 4 live shells in this box and 38 empties. The 2 piece box is stained but still has great graphics! $75.00
CONSIGNMENT
Modern Guns 122
Here is an old vintage EMPTY box of 38 S. & W. 50 Central Fire Cartridges by The Reminton Arms Union Metallic Cartridge Company. The box is in very nice condition! $55.00
CONSIGNMENT
Modern Guns 121
WOOD-CASED SHOT CARTRIDGE - A cartridge which has a hollow wooden shot-filled projectile. Usually found in calibers not ordinarily associated with shot cartridges. That's the description of what we have here! This is quite rare to find nowadays. This is a box that has 15 of the Wood-cased shot cartridges in them for the .50 Caliber Navy Pistol Model 1870. Take a look at the pic. The lid says U.M.C. 25 .50 Cal, Pistol. Central FIre Cartridges by the Union Metalic Cartridge Company of Bidgeport, Conn. The box has wear to it as you can see but you can still read it ok for the most part. The cartridges are in good condition with a few intact with no splits on the head and several showing splits in which you can see the shot on the inside of them. Acted like a heavy caliber shotgun! For this rare offering $325.00
CONSIGNMENT
Modern Guns 120
Here we have a box listing .45-70 WINCHESTER HIGH VELOCITY smokeless cartridges with soft point bullets for the Winchester Model 1886 Repeating Rifles. There are 7 spent shells and 13 live bullets. Only 6 of the live bullets are Winchester, the rest are Peters and the spent ones are Western (6) and REM-UMC (1). The box is in pretty nice worn condition. Look at the pic. For this box $85.00
CONSIGNMENT
Modern Guns 119
Here we have box of 44 WINCHESTER .32-20 CENTER FIRE SMOKELESS FULL PATCH NON-MERCURIC STAYNLESS CARTRIDGES. There is supposed to be 50 here so it's missing just a few. The box looks pretty good and all it is missing is one end flap. Nice item! $95.00
CONSIGNMENT
Modern Guns 118
Here is a box containing 34 Winchester 9mm long shot cartridges for the Model 36 Shot gun. The box says 50 WINCHESTER 9MM LONG SHOT CARTRIDGES ADAPTED TO MODEL 36 SHOT GUN, CAL. 9MM -RIM FIRE- SMOKELESS POWDER. This is still a pretty nice box. Someone took notes on it with a pin now worn. Look at the pic. $95.00
CONSIGNMENT
Modern Guns 117
Here we have a 2 piece box for .32 S. & W. 50 CENTRAL FIRE CARTRIDGES made by THE REMINGTON ARMS UNION METALLIC CARTRIDGE COMPANY. This box contains 10 original cartridges. This is a nice looking box overall with just minor damage to it. This is a great display item! $45.00
CONSIGNMENT
Modern Guns 116
This old box has 33 original rounds in it. This is a box of .38 COLT SPECIAL cartridges by REMINGTON ARMS COMPANY. The box is complete and although not perfect by any means, it's in nice shape. The colors are nice. For this box $55.00
CONSIGNMENT
Modern Guns 115
Here we have 5- .22 caliber ammo boxes.
1. Peters Cartridge Co., Cincinnati, Ohio; Two Piece Box, .22 Short R.F. Rifle Cartridges. Semi-Smokeless Powder. Green, red and yellow label pictures cartridge. . Empty, very good condition. $65.00
2. Winchester box 0f 50 .22 cal SMOKELESS RIFLE CARTRIDGES in good condition. 2 piece box. Empty. $65.00
3. UNION METALLIC CARTRIDGE CO. box of 100 .22 cal. B.B. caps Swaged Ball. 4 .22 B.B. CAPS SMOKELESS SWAGED BALL Bulk packed box of 100 rounds. Two piece half-split box with white (now yellow) side sealing band. (a) Side reads UMC 100 B.B. Caps Smokeless Swaged Ball. (Side C) (b) Side reads 100 Smokeless Swaged Ball B.B. CAPS. (Side D) (c) Side reads UMC 100 UMC Smokeless Swaged Ball B. B. CAPS. (Side E). This is a nice box with some wear. $35.00
4. WINCHESTER .22 SHORT 50 RIM FIRE STETSON'S PATENT OCT 1871, LESMOK RIFLE CARTRIDGES. This is for the 2 piece box only. It's a nice vintage box! $52.00
5. This is a RARE Box! This is a box for 50 .22 STEVENS-POPE ARMORY RIM FIRE CARTRIDGES by THE PETERS CARTRIDGE CO. This is a two piece box and in pretty good shape. It still has 16 of the original cartridges in it. Peters box made for ammunition intended for use in the very accurate rifles made by Stevens in cooperation with famed barrel maker Harry M. Pope. Peters was one if several makers later absorbed by Remington. For this rarity $250.00
Modern Guns 114
12 Guage STEEL shot!
Modern Guns 113
7mm Magnum Ammo!
CONSIGNMENT
Modern Guns 112
Peters Dewar Match 22 LR Ammo • Price: $60.00 Each box. Description: This is the gold/green box. Boxes have bright colors and is about as mint as one should expect to find. Boxes are full of lead round nose bullets in brass cases with a large P on the case end. The box have on each end enclosure RANGE-ONE-MILE BE CAREFUL. This is excellent quality! Check out the pic. •
CONSIGNMENT
Here are 3 vintage boxes of Shotgun shells.
The first one to the left is a full box of PETERS VICTOR 12 GA. SHOTGUN SHELLS 'KLEANBORE' PRIMING. These are plastic shells in an excellent box. $65.00
The box to the right is a full box of 25 PETERS 12 GA HIGH VELOCITY RUSTLESS LONG RANGE-HARD HITTING SMOKELESS SHOTGUN SHELLS- NEW PETERS CRIMP. The box is worn but still real nice! $65.00
Here is a full box of REMINGTON KLEANBORE NITRO EXPRESS .410 SHOT SHELLS EXTRA LONG RANGE WETPROOF. The box and shells are in excellent condition! The colors are bright! $65.00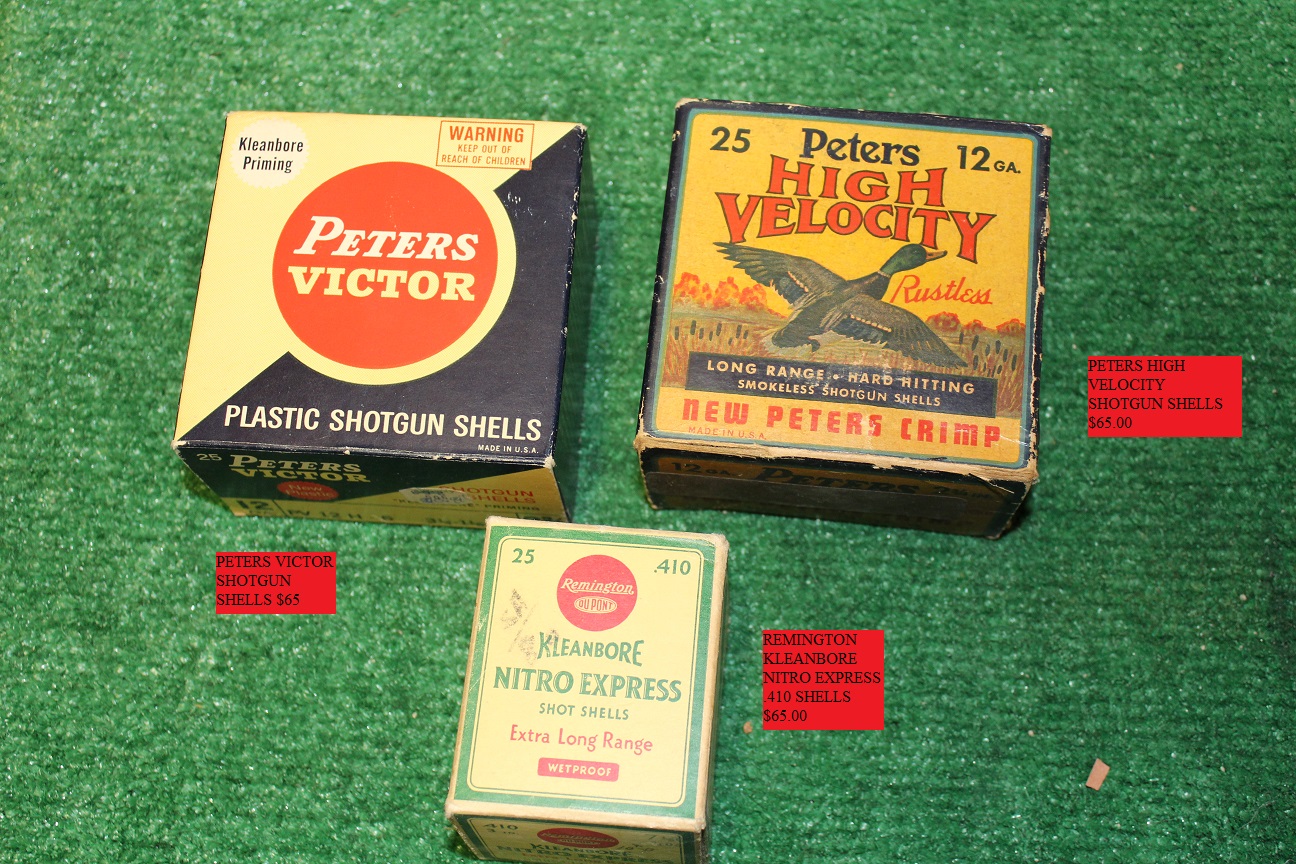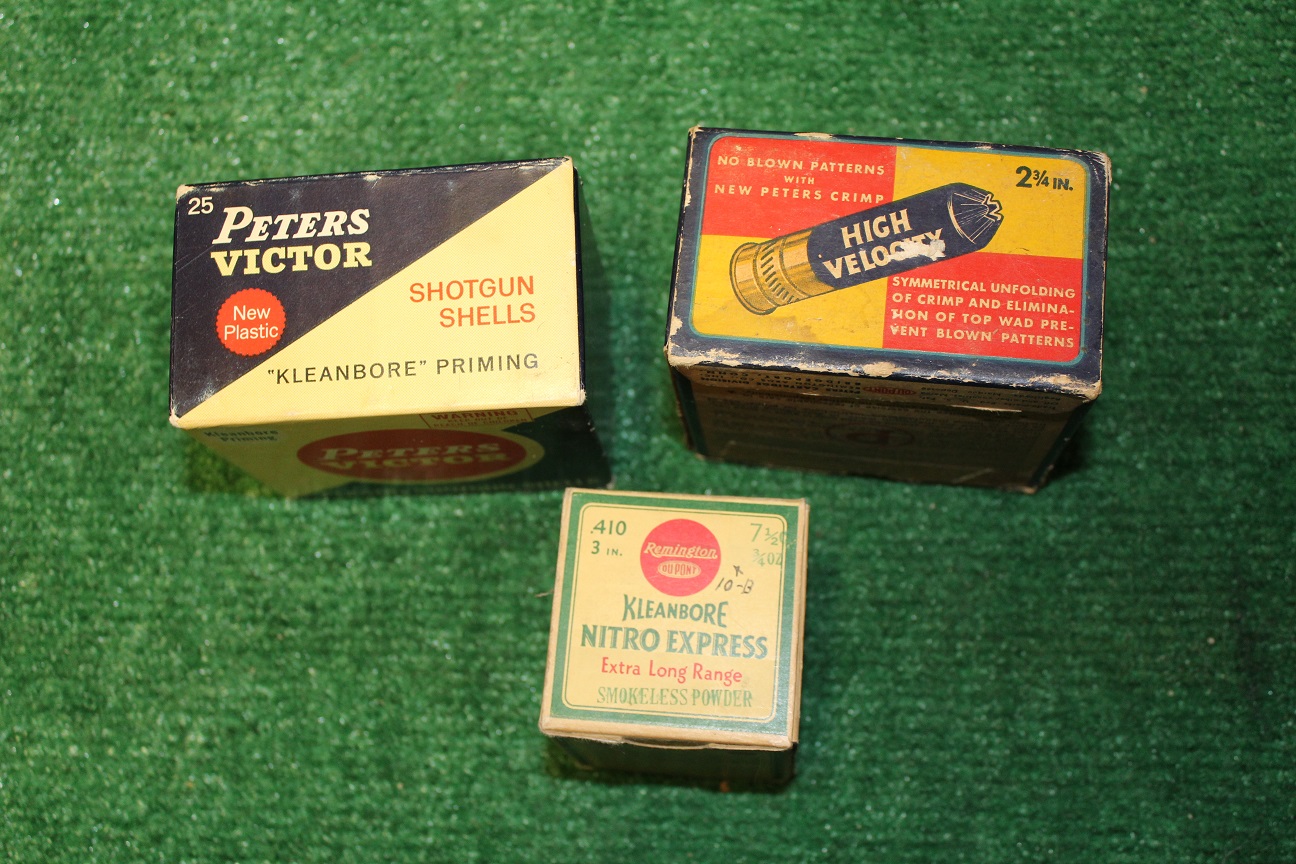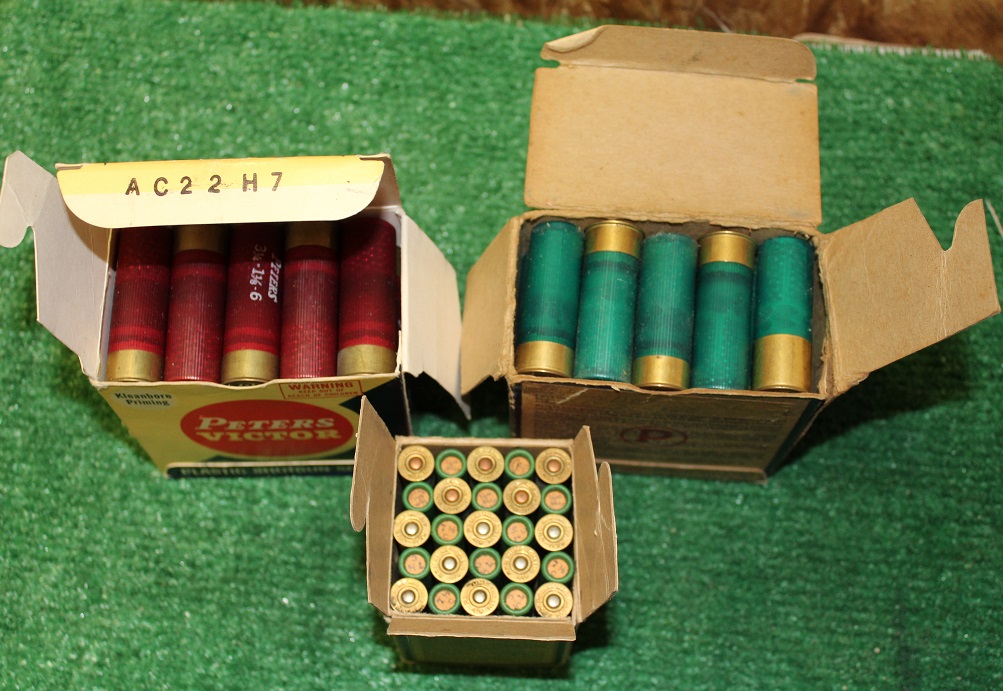 Here we have 4 vintage boxes of Shotgun shells. Two of them are still wrapped in cellophane. They are the PETERS VICTOR RUSTLESS SMOKELESS SHOTGUN SHELLS- 25- 12 GA. The box has age and stains but it's still survives! $65.00
The other one wrapped in cellophane is the 25-12 GA HI-POWER SHOT SHELLS with the Mallard on the front. The box looks great! $65.00
The top box on the left is the WINCHESTER RANGER LOADED SHOT SHELLS SMOKELESS-STAYNLESS 12 ga. paper shells. The graphics are great and it has a Pointer on the front! The box is in very nice condition. Full! $65.00
The top box on the right is the 25-12 ga PETERS HIGH VELOCITY 'NEW PLASTIC' "KLEANBORE" PRIMING EXTRA POWER Shotgun shells. The box is full but one of the shells is a Remington shell. This box has a mallard flying on the front and back. This is a nice one! $65.00
Modern Guns 111
Winchester Model 92 in 25-20 WCF.
The Winchester Model 1892 was a lever-action repeating rifle designed by John Browning as a smaller, lighter version of his large-frame Model 1886, and which replaced the Model 1873 as the company's lever-action for pistol-caliber rounds such as the .44-40 round. When asked by Winchester to design an improved pistol caliber lever action, John Browning said he would have the prototype completed in under a month or it would be free. Within 2 weeks, Browning had a functioning prototype of the 92 Calibers for the rifle vary and some are custom-chambered. The original rounds were the .32-20, .38-40, and .44-40 Winchester centerfire rounds, followed in 1895 by the new .25-20. A few Model 92's chambered for .218 Bee were produced in 1936-38. The Winchester Models 53 (1924) and 65 (1933) were relabeled Model 1892's. Admiral Robert E. Peary carried an 1892 on his trips to the North Pole., and Secretary of War Patrick Hurley was presented with the one millionth rifle on December 13, 1932. 1,007,608 Model 1892 rifles were made by Winchester.
Although the Model 1892 made its debut after the closing of the American frontier, and the true "Guns that Won the West" were the earlier Models 1866 and 1873, nonetheless the '92 became an indelible icon of Western mythology through its use in hundreds of motion pictures and television shows, standing in for its older siblings. John Wayne famously carried Model 92s in dozens of films and owned several personally, some with the distinctive oversized "loop" lever. Other notable screen 92s were those of Chuck Connors in The Rifleman TV series, and Steve McQueen's "Mare's Leg" in Wanted: Dead or Alive.
Hollywood studios purchased the '92 in quantity because it was in regular production (until World War II) but looked sufficiently like Old West Winchesters to substitute for valuable antiques, and because in calibers .44-40 and .38-40 it could fire, together with the Colt Single Action Army "Peacemaker" revolver, the standard Five-in-One blank cartridge. This latter practice mirrored the real cowboys, who found it convenient to carry a rifle and a revolver chambered with the same ammunition.
This particular rifle is in very nice condition being manufactured in 1923. Most of the original bluing is present on the barrel and tube magazine while the receiver, tang, buttplate and nose cap have turned to a nice pleasant plum color. The wood is in very good condition with only a couple of chips out of it at the nose cap that you can see in the pics. This rifle has a 24 inch barrel with sharp rifling present. All of the markings are excellent being deep and clear. This is a real nice piece in the scarce 25-20 caliber ! $1,295.00 + shipping.. Modern Guns 99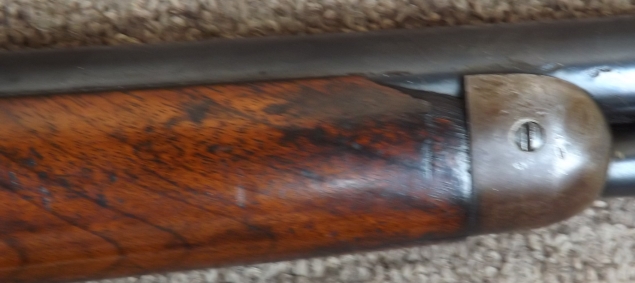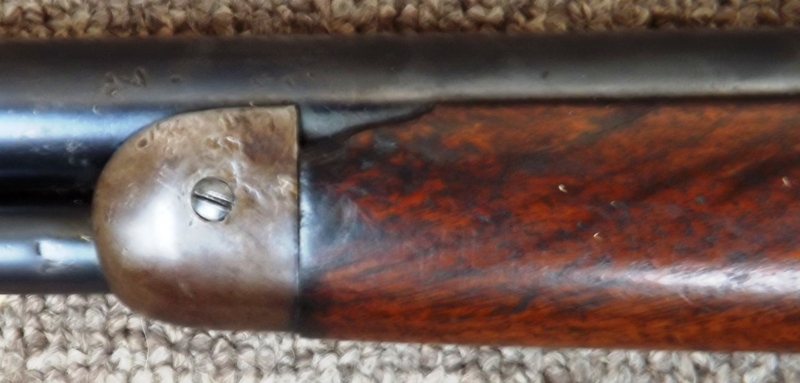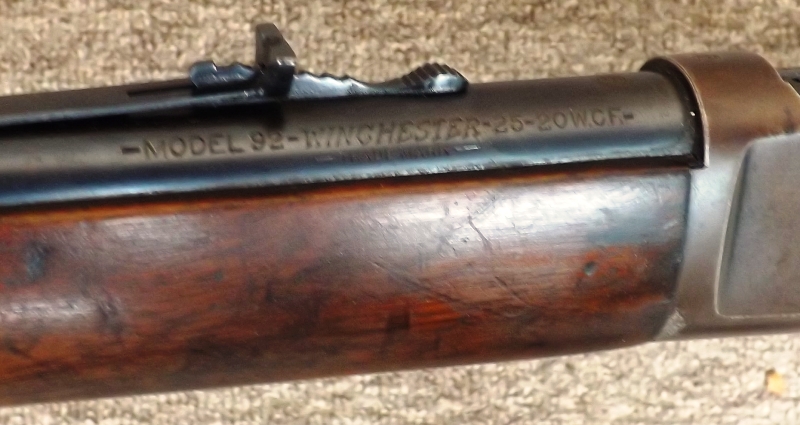 CONSIGNMENT
Here is a Colt New Police .32 that definitely has seen better days. This model appears similar to the New Pocket Model. The frame is stamped "NEW POLICE". It is chambered for the .32 colt. This piece was originally blued and astonishly there is still a lot of blue on the trigger, hammer and one of the screws otherwise it has no finish. There is pitting near the end of the barrel. Markings are clear. Colt manufactured 49,500 of this model from 1896 to 1907. The New York City Police Department purchased 4,500 of these revolvers. This piece is in generally poor condition with a poor bore. The grips are missing but the action still works although it is stiff and sticky. The serial number is 31906. Restore it as a wall hanger or hang it up as it is. It's still a nice display piece or use it for parts. $125.00 Modern Guns 87
CONSIGNMENT
Here is some vintage .33 caliber Winchester Ammuntion that is hard to find! This ammunition is in the vintage blue and yellow boxes. The boxes are not in the greatest of condition but still displayable and quite colorful!!! One box is full with 20 rounds of vintage .33 Winchester while the other box is empty. Ends are detached. The ammo is in great condition! $140.00
Modern Guns 80
CONSIGNMENT
Here are 114 factory rounds of 348 Winchester Ammo! This groupoing is 114 rounds of factory loaded (not reloads) ov 348 Winchester 200 gr Silvertip Ammo. There are 2 complete boxes of whit box Winchester, 2 complete boxes of Winchester Yellow box, 1 complete box of Browning/Winchester and also 1 partial box (14 rounds) of the recent production Winchester Silver box ammo. All of the ammo is good clean ammunition. The silver box has been crushed but the other boxes are in good condition. For the lot--- $425.00
Modern Guns 79
I just got in a group of obsolete Ammo and related materials. Please look at the pic below. I will add them as I do the research. Thanks!
Here is a box of UMC .22 SHORT RF SMOKELESS 50 CARTRIDGES, but it has only 15 cartridges left. The real jewel is the box! It's still nice and solid with great graphics. The box also has on it Xpecially adapted for fine Gallery and Target Shooting also for sporting purposes. Nice display item with a Model 1890 Winchester Slide action rifle!!! $45.00
Modern Guns 77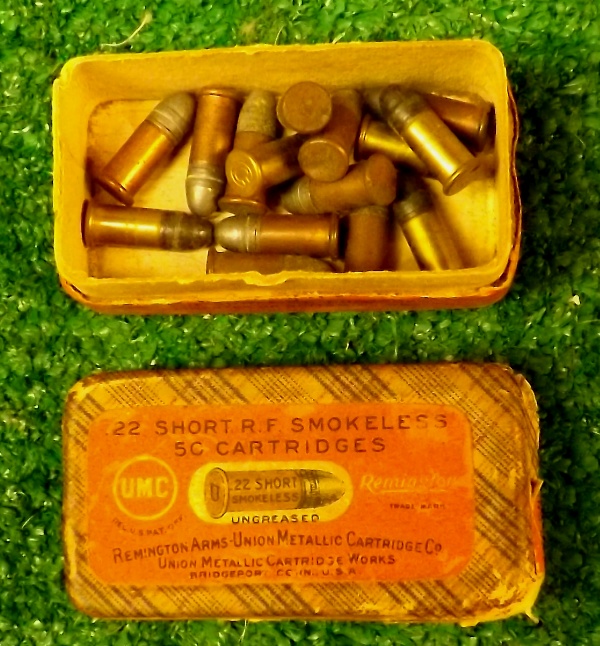 Here is a box of 37 .22 CAL. HORNET shells in box. The bos says EMPTY PRIMED SHELLS so these shells must have had the powder and projectile loaded then put back in the box. The box was held shut by tape and has on the side of it 55 grain bullet?. Take a look at the pic. $125.00
Modern Guns 76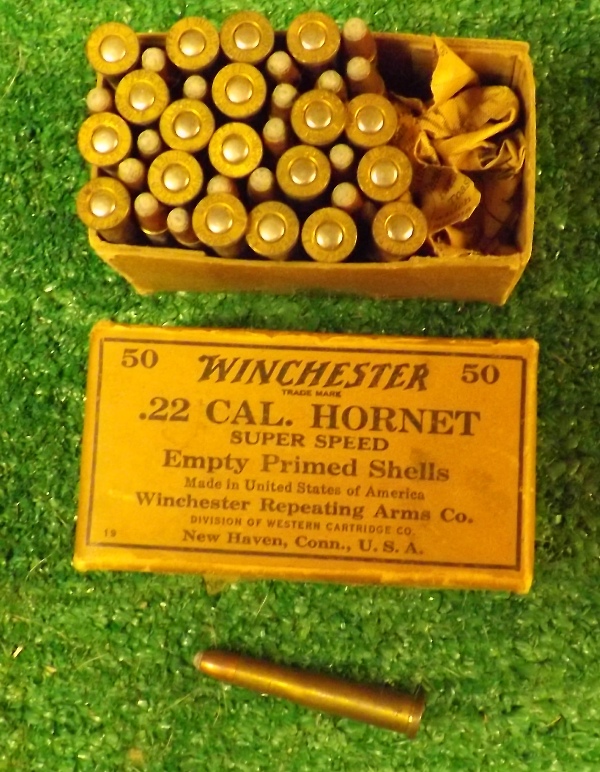 Vintage box of 1000 WINCHESTER Non-Mercuric Staynless Primers Center Fire No. 120. There are 10 Boxes of 100 inside the master box. Nice!!! $120.00
Modern Guns 74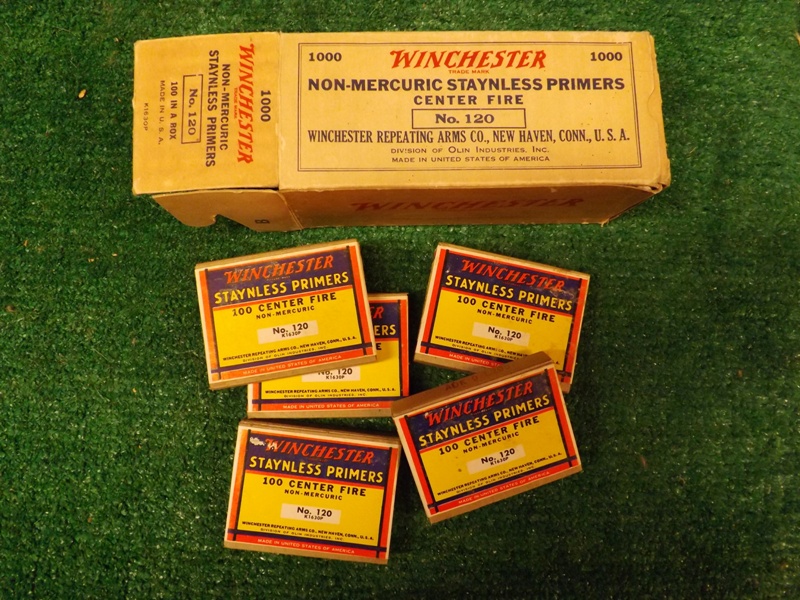 Here's another vintage box of Winchester primers but they are older than the box above. This one is for Winchester Leader, Metal Lined and Pigeon paper shot shells using Nitro Powders. The box is unopened and in great condition for it's age. Nice! $30.00
Modern Guns 73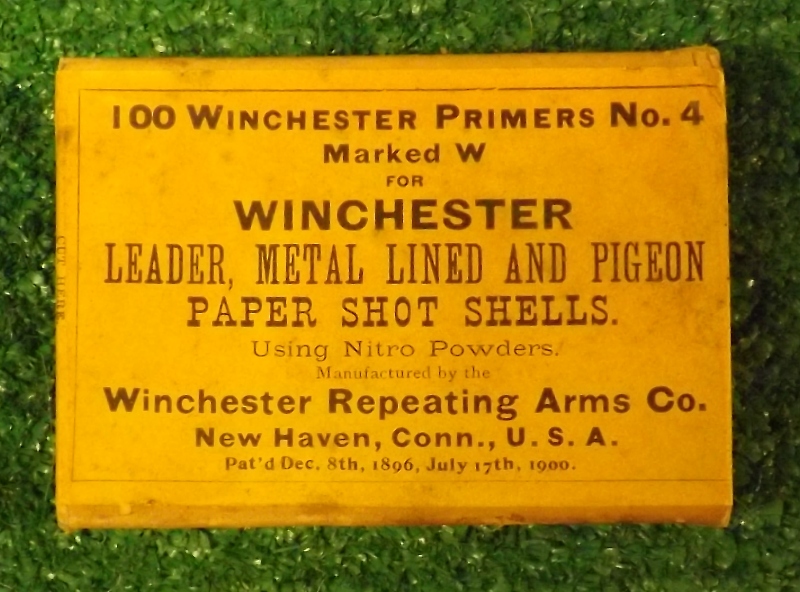 Here's an old box of 35 Parabellum 9mm pistol shells made in Czechoslovakia. The box full would be for 50 shells so there's 15 missing. For this box $15.00
Modern Guns 72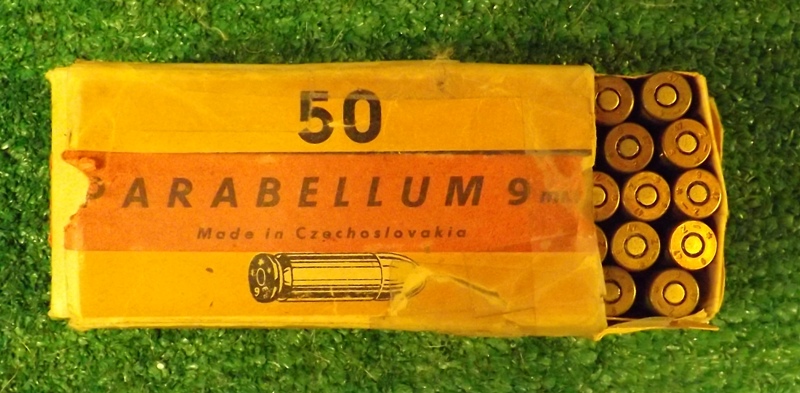 CONSIGNMENT
Here is a North American Arms Sidewinder in .22 magnum! North American Arms has been making high-quality mini revolvers for a long time. They have always been reliable little weapons, carried by thousands of people either as a backup to their primary weapon, or as the only firearm that is small enough to conceal easily, every day. This is a new model called the Sidewinder. The sidewinder has the cylinder that pivots out to the side like the bigger revolvers. Up until now you had to pull the front pin and the entire cylinder came out entirely to load so this is quite an improvement. This is a .22 mag and is a great concealed revolver for self protection. It's a single action model meaning you have to pull back the hammer before firing. It's all stainless steel with nice wooden grips and made in the USA! Comes in the case with paperwork. Brand spanking new and never fired. For this piece $350.00 jmn 2 Modern Guns 53
CONSIGNMENT
Here we have a great condition Ruger Bearcat!!
The Ruger Bearcat is a single-action, .22 caliber revolver manufactured by Sturm, Ruger & Co., introduced in 1958. It is based on the classic Remington revolvers of the mid-1800s. Because of its compact size and frame, it is advertised as being ideal for hikers or campers in need of a .22 LR revolver. This particular little .22 revolver is almost in like new condition! There are the smallest lines on the cylinder from turning. This is the steel frame model with the steel triggerguard. This is a totally unmessed with example and sure to please! According to the Ruger website this particular revolver was made in 1965 but it looks like it was made yesterday! Excellent, excellent quality!!! The only thing I see that keeps it from being mint besides the very light turning lines on the cylinder is a couple of the smallest marks on the triggerguard where the color is lacking, other than that this gun would be considered mint- as is very good +++. For this outstanding piece-- $645.00 item jmn 5 Modern Guns 50
Here's an old Iver Johnson .32 S & W short, 5 shot, 3 inch barrel, double action revolver that was made from the late 1890's to about 1920 or so that was marketed under the U.S.REVOLVER CO - MADE IN THE USA, which was marked on the top of the barrel. . This one is serial numbered 78630 so I'm sure it's into the 20th century which means it has to go either to a Curio and Relic license holder or to a Federal Firearms License who can do the transfer for you. This revolver is a "hammerless" model which simply means the hammer is concealed into the frame. The finish is about 50% or so and the double action works fine. The revolver has Pearl grips. One time General George Patton was being interviews and he was asked about his pearl handled revolvers. He said to the guy that his revolvers were ivory handled and the only one's who use pearl handled revolvers were "pimps"!!! Ha Ha Ha!!! The grips are in very good condition but do have a chip here and there. I took a couple of extra pics of the grips because in the earlier pics they look like ivory. They are pearl. Nice old gun and better than my pics!! $165.00 Modern Guns 49
the next 4 are CONSIGNMENTS
Here we have 4 different Harrington and Richardson revolvers of different distinction. The first one is a TRAPPER Model .22 revolver that was made from 1924 to 1941. This one is a 7 shot .22 revolver with a 6 inch barrel. This gun exhibits most of the original blue (65 to 70 %) with some finish lacking here and there. It is a double/single action revolver and works fine. The grips are walnut. All markings are sharp. Hard to find now! $375.00 Modern Guns 41
Here's another H & R that is designated as the HUNTER model. The main difference in this piece from the others already offered is that the barrel on this piece is 10 inches long. It is a double/single action revolver and works fine. This piece exhibits about 60 to 65% of the original blue. The action works as it should and the markings are fine. The grips are really nice walnut. This piece was made from 1926 to 1930. This is a 7 shot revolver. $450.00 Modern Guns 39
Here's another H & R that follows the designation of the HUNTER model but the top of the barrel is marked TARGET and I believe it's made about the same time as the HUNTER model. It looks the same in every way except the walnut grips are just a little different. This one is also a 7 shot .22 rimfire. This one works fine in the double action mode but does not hold back in the single action mode. There is some original color here and there on this one , thinning but perhaps 20% or more. The markings on top of the cylinder strap are TARGET MODEL- MODEL 1900 FITCHBURG, MASS. A nice revolver and with a marking that I do not see often. $325.00 Modern Guns 38
CONSIGNMENT
Here is a real nice WW2 dated Colt M-1911 A1 in the green parkerized finish. We believe that it has been refinished AND we have gone through the piece to make sure everything matches. The wooden grips are earlier and the barrel pin is earlier too. The pistol looks fantastic but does have one little blip to the finish on the forward slide that you can see in the pic. Serial number is 751XXX which we believe dates it to 1941. All markings are crisp and sharp. It looks fantastic and functions as it should. For this one $1,650.00 item ww 85 & Modern Guns 16
CONSIGNMENT
REPLACEMENT SKS STOCK
This is actually an original SKS stock for the SKS rifle that is so popular today. This stock was taken off the original rifle and replaced with a poly stock. If you have a SKS that is in need of a new stock then here's one for you. $45.00 Modern Guns 15


CONSIGNMENT
1885 SINGLE SHOT LOW WALL IN .22 MAGNUM!
Here we have a brand new in the box Uberti 1885 Single Shot Low Wall in .22 magnum! The production of the Single Shot started in September 1885 using the Browning patent and terminated towards the end of 1920. It became one of the best known guns and was regarded by many as being the best Single Shot ever to be made. Without doubt it is stronger than the Sharps better designed very accurate and reliable in every way. Few guns have been made in so many different calibers - high walls even served in the development of the 7.62 Nato round. The gun was produced during a period in which target shooting was a really popular sport they were used in International Competitions at 1 000 yards. Here are the stats for this fine rifle:
Length of Barrel: 30"
Overall Length: 45.40"
Weight: 6.56 lbs
Barrel: Forged steel
Frame: Forged steel and color case
Barrel Shape: OCTAGONAL TAPERED
Stock: Walnut
Forend: Walnut
Outstanding quality!!! $1200.00 Modern Guns 14
GOOD ESSEX GUN WORKS 12 GUAGE SINGLE BARREL SHOTGUN WITH NICKELED RECEIVER!
Here is a very good Essex Gun Works 12 guage single barrel shotgun with a nickeled receiver. The last date on the receiver as far as a patent is May 14, 1901 so it will have to go to an FFL for transfer or if you have a C & R license I can send it directly to you. This weapon is in good condition and the walnut stock and forearm are in good condition with just a ding here and there. The receiver has a great deal of the original finish left. The gun is about 45 1/2 inches long overall with a 30 inch barrel. The bore needs a scrubbing but should clean up pretty good. The action works fine. Good strong springs. Plastic buttplate. $125.00 Modern guns 05
OLD WESTERN ARMS 16 GUAGE SINGLE BARREL SHOTGUN
Here we have an old Western Arms 16 guage single barrel shotgun. Mechanically fine with a nice dark patina overall. The walnut stock is in pretty good shape with the exception of some forearm wood loss up front , two holes in the wrist which I think was modified to fit a sling guide in there and a small crack on the wrist top side back of the tang but still solid. The bore needs a good scrubbing. This shotgun is about 44 inches long overall with a 28 inch barrel. These guns were made at the turn of the century so this one will have to be transfered by an FFL dealer or if you have a C & R license I can send it directly to you with proof of age. Check out the pics! $100.00 Modern Guns 04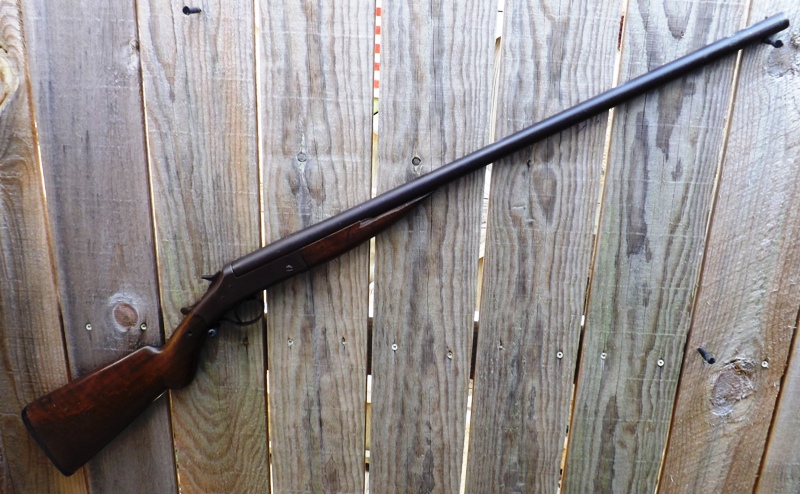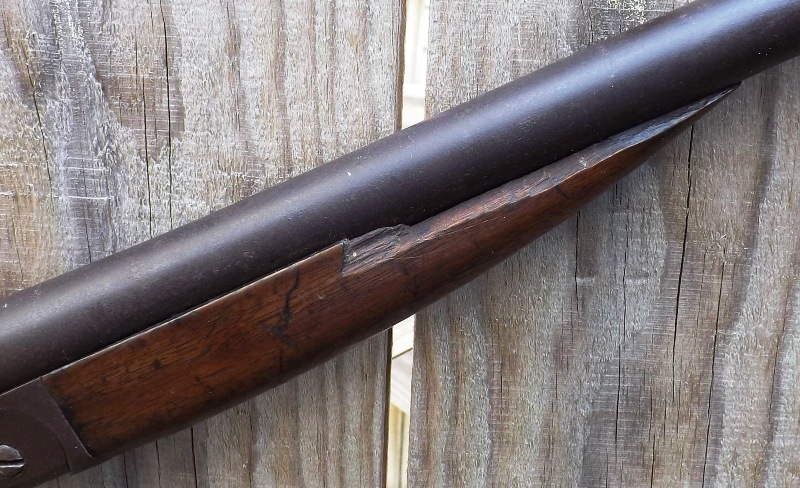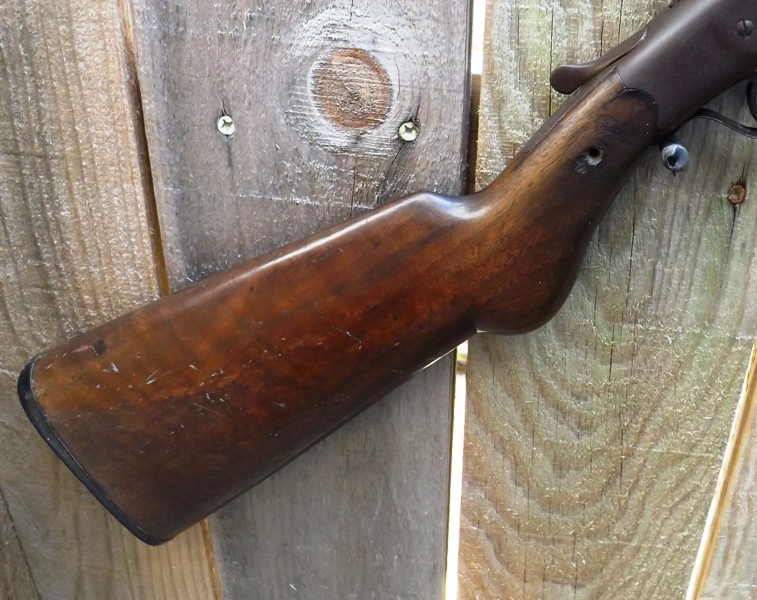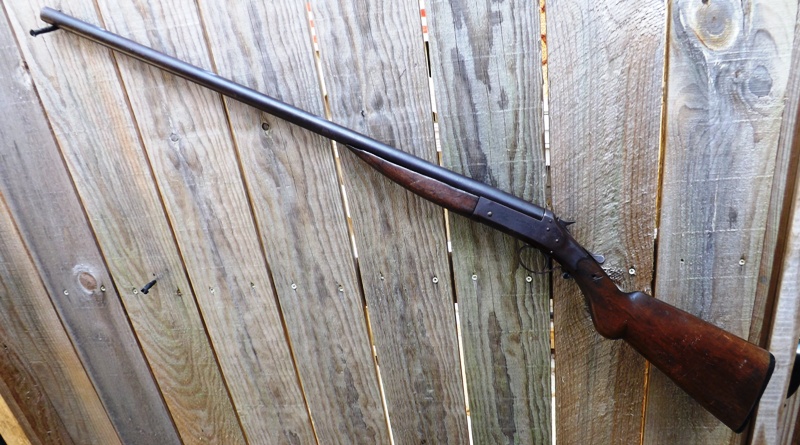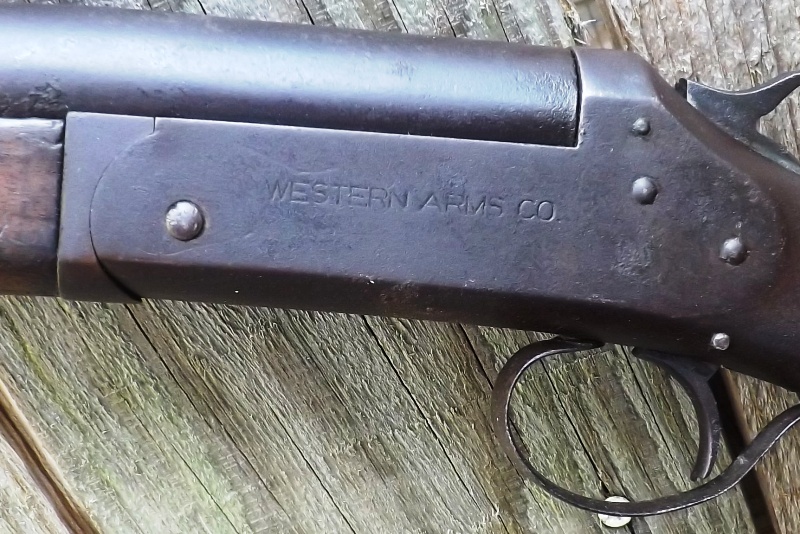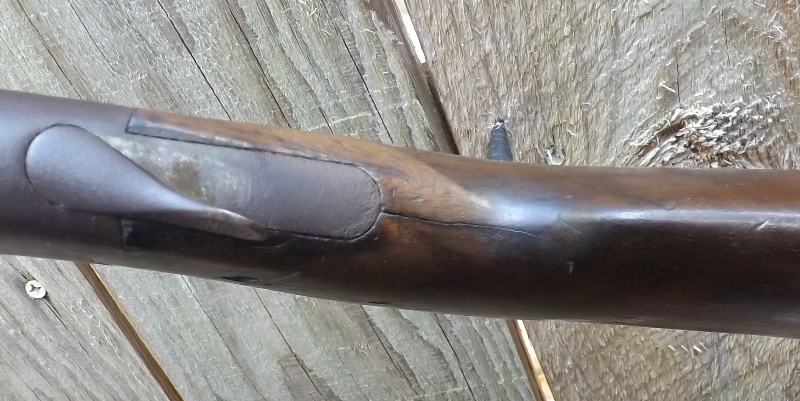 CONSIGNMENT
NICE 30-06 WINCHESTER MODEL 670 30-06 RIFLE!
This is a real nice Winchester Model 670 which is essentially a model 70 in 30-06 caliber. I believe the MOdel 670 was introduced in 1966. This one is a honey! It has a walnut stock with checkered comb. The barrel does have sights and it's topped by a Savage-Suwa Japan Model 3833 scope. This rifle also has a sling. Nice, nice condition! $550.00 Modern Guns 03
CONSIGNMENT: H & K 41 Selective Fire Rifle for Parts or Display!!
Here is a unique Heckler & Kock German Selective Fire Rifle that you can use for parts or you can display it on a board in your Man Cave! This is a HK G41 rifle that has had the upper receiver cut away making it legal to own by the general consumer. This piece was first produced in 1983 chambered for the 5.56X45mm round. The magazine capacity was 30 rounds and the rate of fire is about 850 rounds per minute. This model was able to accept M16 magazines. It'll make a nice display piece!! $425.00 Modern guns 02
Here's a book that I don't believe you can get anymore as I believe it's out of print. This is a book entitled U.S.MILITARY KNIVES -BAYONETS & MACHETES - BOOK III - M.H.COLE, 4th printing 1987 along with the 1994 pricing supplement UNITED STATES MILITARY KNIVES by Silvey, Boyd and Price. This reference book is a must if you collect US Military knives!!! 220 pages of text, line drawings and photographs! It's a 8 3/4 X 11 14 inch hardbound book in DJ. Everything is in real nice condition but the dust jacket does show some wear. The previous owners name is written in ink inside. Great book!!! $125.00 Modern Guns 1
Here's an excellent book signed by the author and entitled ELMER KEITH - HIS LIFE STORY - "HELL, I WAS THERE". Petersen Publishing, 1979. Hardcover. Book Condition: Very Good. Dust Jacket Condition: Very Good. 1st Edition. Elmer Keith: Hell I Was There: His Life Story. Adventures of a Montana Cowboy who gained world fame as a Big game Hunter and expert in Guns & Ammo. This is a large format (10.5"x8.5") volume, one of the AUTHOR'S LIMITED EDITION OF 500 COPIES SIGNED by Elmer Keith on the front free end page. Profusely illustrated with photographs including a nice section on his African hunting with Truman Fowler. A very nice copy of the Author's limited edition Scarce. This one is rare to find and in such good condition!!! $495.00 Modern Guns 2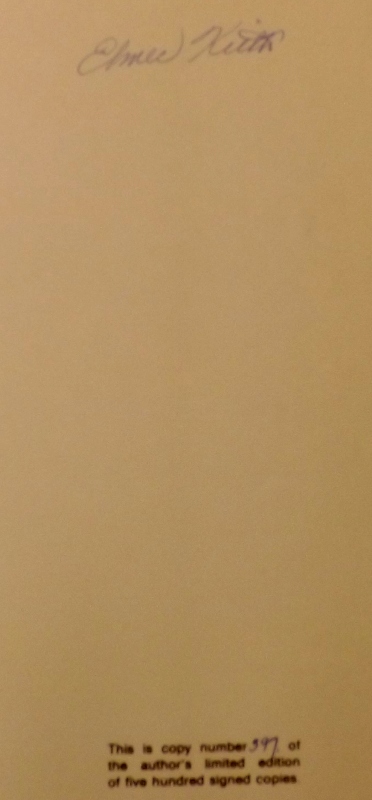 Here's an original hardbound book in fair dustjacket entitled THE MUZZLE-LOADING CAP LOCK RIFLE by Ned H. Roberts, 1958. This book explores the history, construction, and care of one of America"s finest firearms. It features hundreds of photographs that show muzzle-loading cap lock rifles, ammunition, cap magazines, powder flasks, bullet moulds, and more. It also describes and recreates traditional shooting matches in fascinating detail. $25.00 Modern Guns 3
Here is a fantastic condition hardbound book in dj entitled THE KENTUCKY RIFLE HUNTING POUCH by Madison Grant, 1977 and signed by the author in a presentation to the previous owner. 207 pages including bibliography; book is well-illustrated with 134 duo-toned (sepia and white) photographs with additional line drawings. "An overview of the history, style and function of the hunting pouch as an indispensable associate of the muzzle loading rifle or musket.More than two hundred examples of pouches and other items needed to service the distinctly American gun known as the long rifle. Accompanying the pouches are descriptions of purpose and examples of the sometimes folk art appearance of numerous accoutrements: This is one great book and it's signed by the author! $100.00 Modern Guns 4
Here's a good hardbound copy in plastic stick on dj entitled THE KENTUCKY RIFLE by Dillin, 1959. 201 pages, plus publisher's ads. 126 photographic plates showing hundreds of rifles. Frontis photo of famed rifle maker John Shell. Aside from the plastic stick on dustjacket this is one fine book! Has the original owners name inside. $30.00 Modern Guns 5
This is a good copy of THE GUN DIGEST 2ND ANNUAL EDITION . Publisher: Paul, Richmond & Company, Chicago, 1946 The covers are still attached to the book with dings on the corners. Minor wear to edges, a bit water staining inside but still not bad. The text is unmarked except for the original price of $1.25 in pencil. Staples well intact to interior pages. Many excellently clear photographs and illustrations. 163 pp. "Authentic guide to American & foreign rifles, shotguns, handguns and accessories." Revised since the end of WWII. This is still a real nice book! $30.00 Modern Guns 6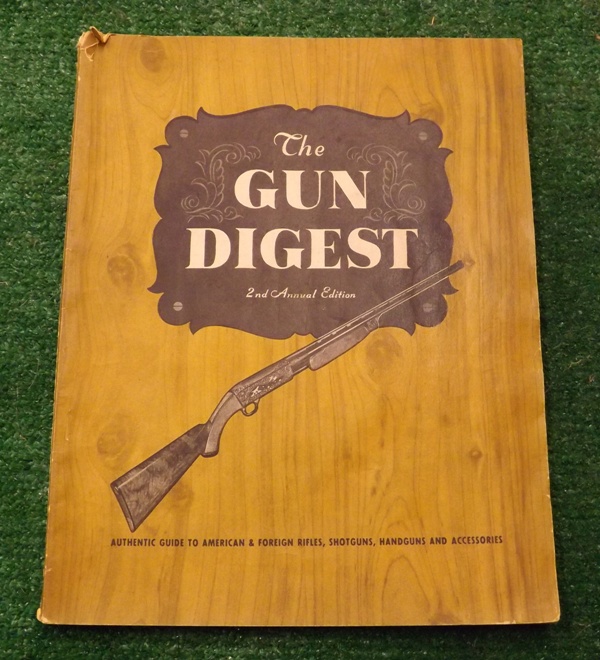 Here is a real good copy of COLT CARTRIDGE PISTOLS - A DETAILED STUDY OF COLT HAND ARMS--FROM 1868 CONVERTED CAPLOCKS THROUGH AUTOMATICS. Santa Ana CA Published by author 1952 First Edition Softcover Very Good+ Printed by the Foundation Press. Quarto sized staple-bound softcover, about 11 inches tall, in beige wraps. 126 pages plus 2 pages of ads. Illustrated by drawings and photographs. A company history displaying dozens of variations and conversions with detailed specifications. This is a nice one and shows little wear.$40.00 Modern Guns 7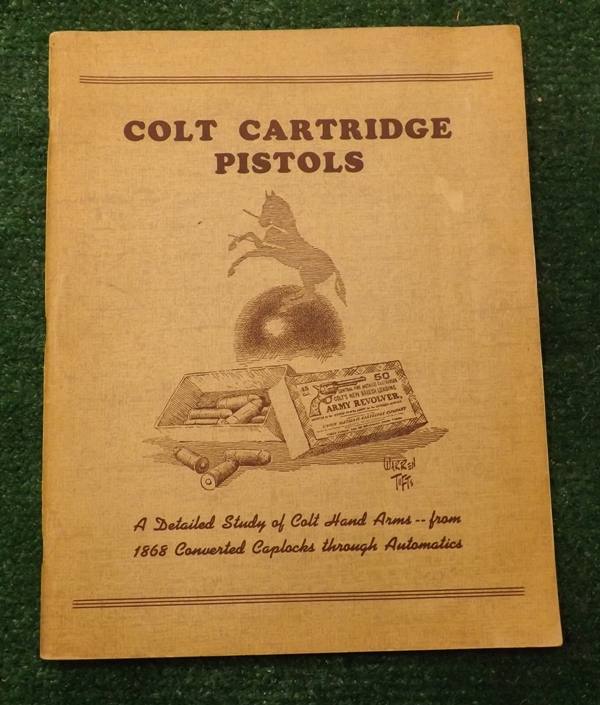 Here is an original STEVENS FIREARMS - GENERAL CATALOG NO. 54 - J. STEVENS ARMS & TOOL COMPANY CHICOPEE FALLS, MASS. U.S.A. (1914) ! This thing is really nice! The catalog is still together and not falling apart at all. There are 88 pages of the products, including firearms, that Stevens offered in 1914. The pages and images are very nice and the binding is tight. Softcover. $125.00 Modern Guns 8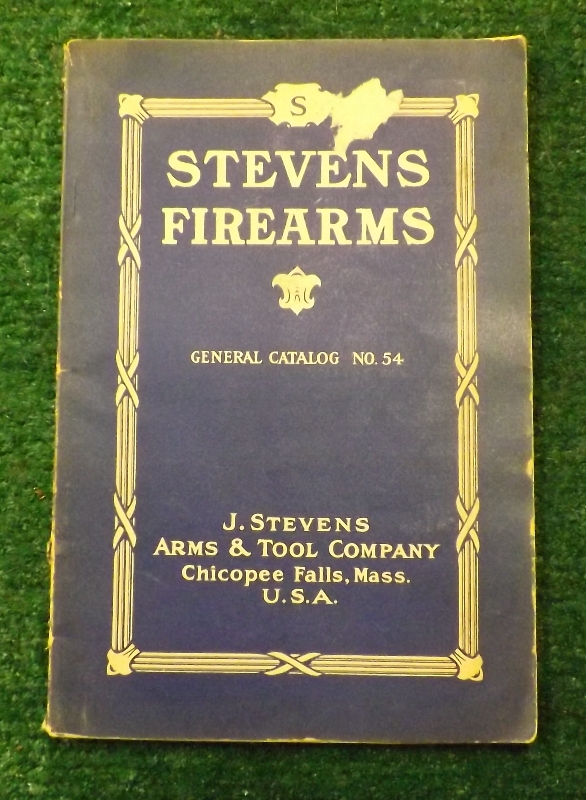 Here's an original catalog entitled REMINGTON UMC - MODERN FIREARMS AND AMMUNITION 1918-19. THE REMINGTON ARMS UNION METALLIC CARTRIDGE CO., Inc. This fine catalog has some small amount of staining to the front lower cover and the inside pages have yellowed but they are still in very nice condition!!! 208 pages of excellent text and illustrations including firearms, ammo, ect. This is a very nice reference catalog! $95.00 Modern Guns 9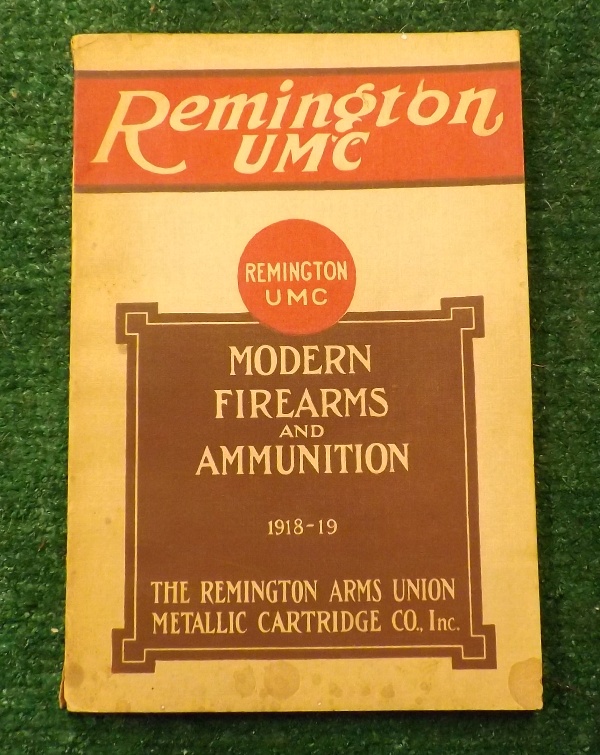 This is an original WINCHESTER CATALOGUE NO. 81 -1918 catalogue! There are a couple of minor spots on the brown covers and gorgeous text and illustrations on this catalogues 213 pages. The pages are bright and the binding is tight. This is a nice piece!!! This catalog is for firearms, parts, ammo and etc. The catalog has some nice exploded views which makes it invaluable as a reference piece!!! $95.00 Modern Guns 10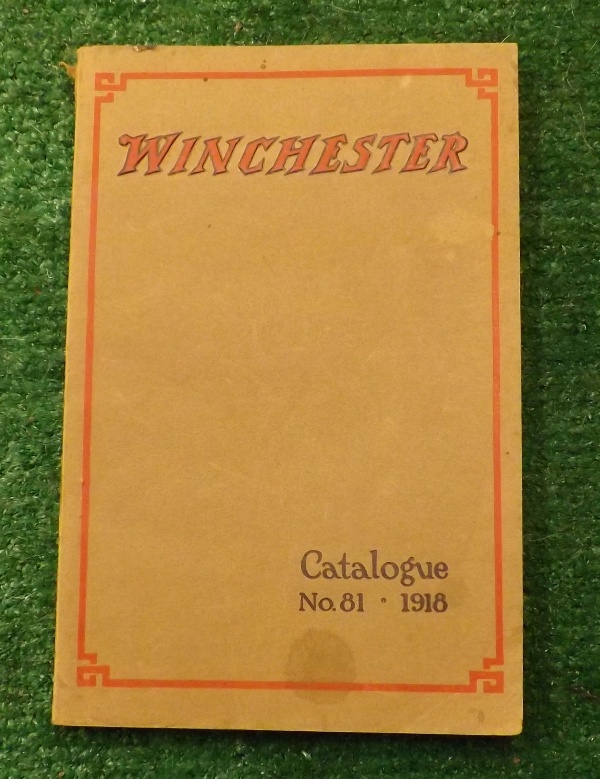 The below reprint catalogue is SOLD! Here is a great reprint entitled WINCHESTER CATALOGUE NO. 79 1914 - WINCHESTER REPEATING ARMS CO. NEW HAVEN, CONN.U.S.A. This reprint has 108 pages of great text and illustrations. A must for the collector! The reprint is in very nice condition! $10.00 Modern Guns 11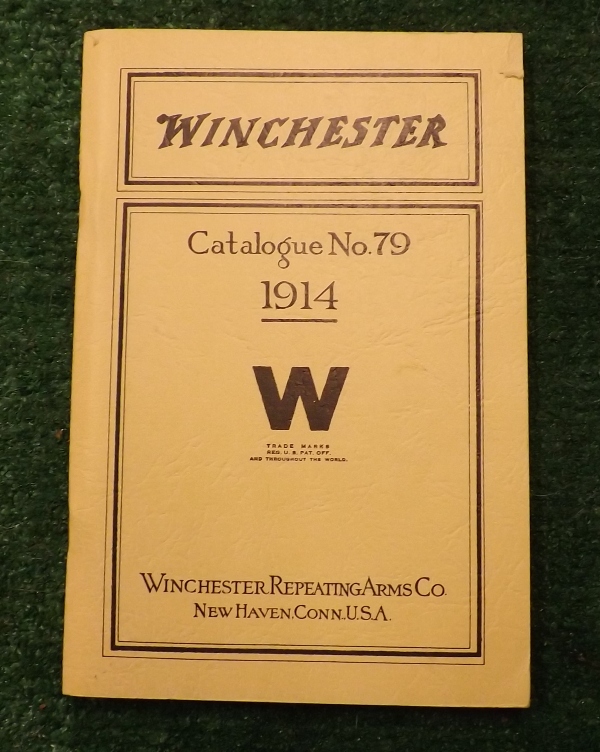 Here's another nice reprint entitled L.C.SMITH. GUNS...and...HUNTER ONE-TRIGGERS NEVER SHOOT LOOSE THE GUN THAT SPEAKS FOR ITSELF MADE BY HUNTER ARMS COMPANY, INC. FULTON, NEW YORK. This small but important reprint has 27 pages and really is a sales brochure that is very informative for the L.C.SMITH owner. Near perfect condition $6 Modern Guns 12
The below reprint catalogue is SOLD! Here is another very nice, nearly perfect, reprint entitled REMINGTON UMC 1915-1916 FIREARMS AND AMMUNITION --REMINGTON ARMS-UNION METALLIC CARTRIDGE CO. This reprint is filled with important information and images of the various fireamrs and parts. This is another good one! $10.00 Modern Guns 13
Here is a reprint of a July 1907 CATALOGUE OF MILITARY GOODS FOR SALE BY FRANCIS BANNERMAN, 501 BROADWAY, NEW YORK. Francis Bannerman was the man in Military goods from 1865 until he went out of business, I think in the 1960's. He was located on Bannerman Island New York and his business was in a Castle. The old Castle burned down and I never got to go visit there myself-darn!!! His company sold everthing under the sun!! Muskets, rifles, swords, spears, uniforms, carbines and on and on and on!!! This catalog is a fine reprint of an original and has 259 completely filled pages of items!!! This reprint is in good condition being tight and solid! $15.00 on this one. Modern Guns 14
Here's an old book that's seen better days! This one has been used hard! This is a 1928 first edition MODERN GUNSMITHING by Clyde Baker. This one is hard bound with loose boards but there are still attached. There is the prevous owners name in side and the notation that it was a Christmas Gift in 1929. There are photographs and great text in the 530 pages of this great old book! Gunsmiths can still use this old book today! $30.00 Modern Guns 16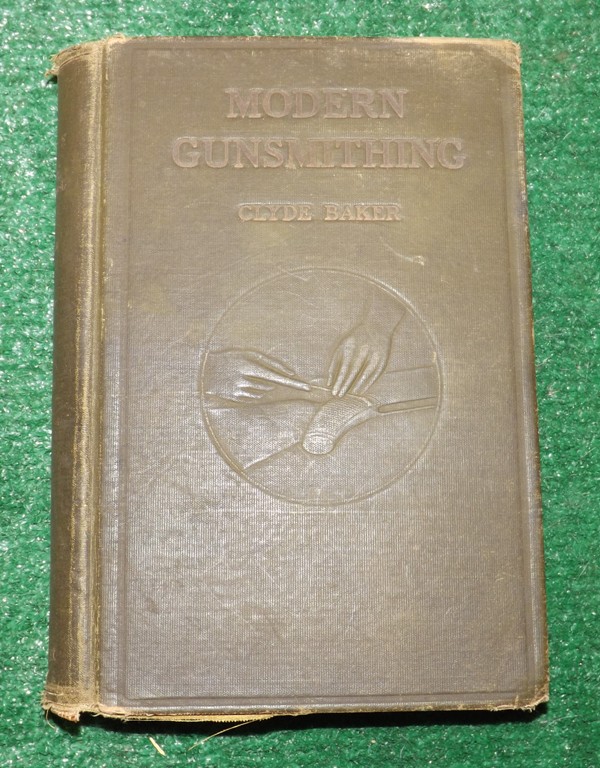 This is a great reprint of a very good WINCHESTER 1926-27 PRODUCT CATALOG. I never knew Winchester made and offered some much varied amount of different goods! There are 292 pages of text and images so interesting that you won't be able to put it down and will study it for years to come! Purchased new for $16.95 but this one is $10.00 Modern Guns 17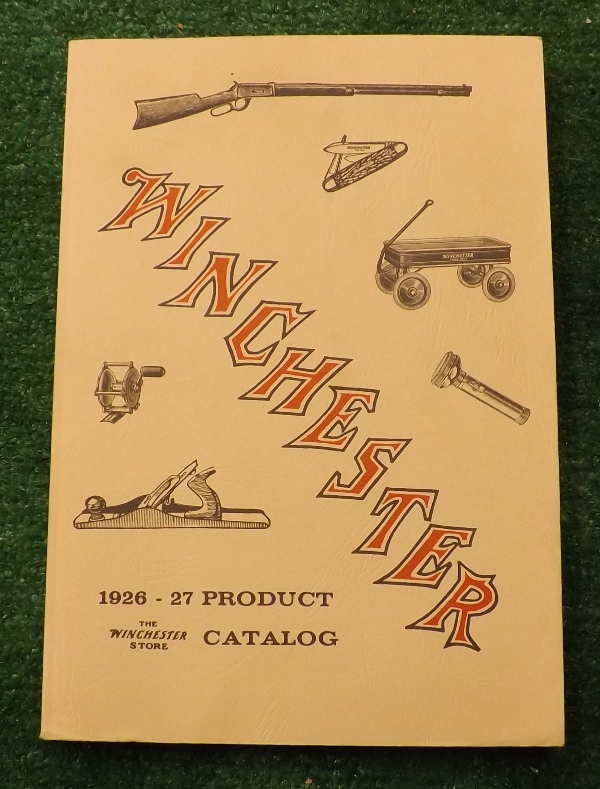 Here's a softcover publication entitled MAUSER RIFLES - AN AMERICAN RIFLEMAN REPRINT 1991. This publication only has 32 pages but it's chocked full of information and photographs pertaining to this most important firearm. $10.00 Modern Guns 18
Here's another Knife guide that's entitled SARGENT'S AMERICAN PREMIUM GUIDE TO POCKET KNIVES AND RAZORS - IDENTIFICATION AND VALUES - 2ND EDITION 1989. Again the prices are not current but the information is outstanding!!! 482 pages of outstanding photos and informative text! $10.00 Modern Guns 21
THE OLD CATALOGS BELOW ARE SOLD! Here's TWO original 1920's SIMMONS HARDWARE COMPANY CATALOGS entitle GUN MATERIAL and one GUS HABICH, INDIANAPOLIS, IND. (1920's) catalog as well as an original 1907 catalogue and price list for J.A.JOHNSON -GREAT WESTERN GUN WORKS out of Pittsburg, PA. These old catalogs are in pitiful condition but still have page after page of weapons of the period as well as a parts list and schematics of each weapon. These old catalogs, although well worn, are still a treasure trove of info. For the lot $35.00 Modern Guns 22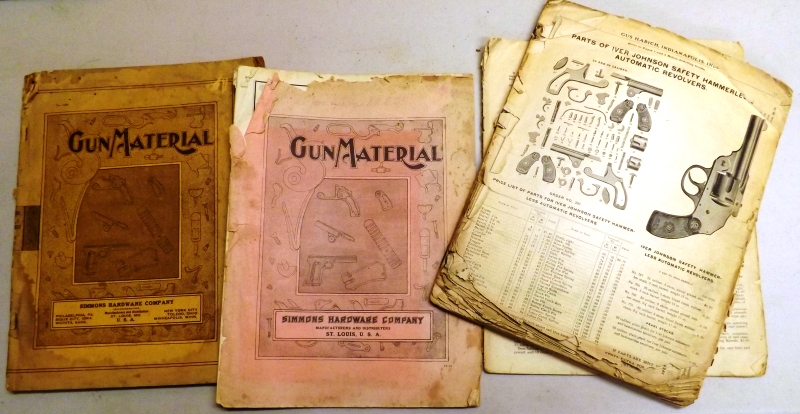 Here's an old reference softcover book entitled ANTIQUE GUNS by Hank Wieand Bowman. There are 144 pages of photos and text concerning antique guns of all kinds. The book is still in very good condition. $8.00 Modern Guns 23
Here's a softcover reference book by Anthony Darling entitled RED COAT AND BROWN BESS. This one was done by Museum Restoration Service out of Canada in 1970 and is the first edition. The previous owners name is written inside the front cover. There are 63 pages in this informative little book. There are photographs as well. Good condition. $10.00 Modern Guns 24
Here's a good paperback book entitled SHOOTING SIXGUNS OF THE OLD WEST by Mike Venturino, 1997. The book has 221 pages of excellent text and wonderful photographs. This is a great reference book! $15.00 Modern Guns 26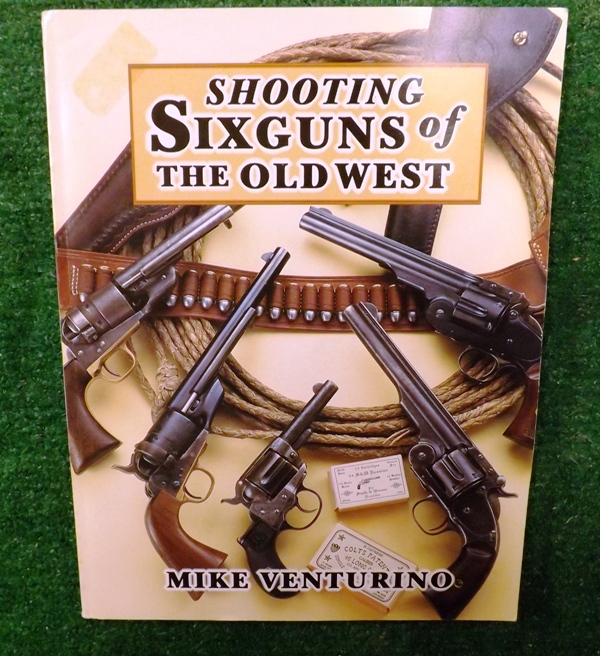 CONSIGNMENT
Here's a very nice vintage Armalite AR-180 Howa Manufactured weapon! The AR-18 is a gas operated, selective fire assault rifle chambered for 5.56x45mm ammunition. The AR-18 was designed at ArmaLite in California by Arthur Miller, George Sullivan, and Charles Dorchester in 1963 as an improved alternative to the AR-15 design, which had just been selected by the U.S. military as the M16. While the AR-18 was never adopted as the standard service rifle of any nation, its production licence was sold to companies in Japan and England, and it is said to have influenced many later weapons such as the British SA80, the Singaporean SAR-80 and SR-88, the Austrian Steyr AUG, and the Heckler and Koch G36. It gained some notoriety through its use by the Provisional IRA, which allegedly christened it the "Widowmaker"
This is the Howa Manufactured weapon (Nagoya, Japan which also made the WW2 Japanese Arisaka rifles) which was made from 1972-73 making it the most desireable of the 3 manufacturers. This particular weapon is in very good condition and is missing nothing and needs nothing. This weapon will not be shipped to California. The rifle has the original sling and one 30 round magazine. It also is a folding stock. This is nice!!! $1,950.00 Modern Guns 31
CONSIGNMENT
Here we have an old Stevens Boy's Rifle. This one is part of the 'Favorites' series. This series of Rifles are chambered for the .22, .25 and .32 rimfire. It has a 22" part octagonal barrel and was blued with a case colored frame now a very dark patina. It has a takedown-type action with an interchanable barrel feature. It has no rear sight and never had one and just a simple bead front sight. There were approximately 1,000,000 manufactured between 1893 and 1939 of the various types. I believe this is a no. 20 version that is chambered for the .22 rimfire shot cartridges and has a smoothbore barrel hence no rear sight. This old girl needs some wood work, especially with the rear buttstock. The buttstock is loose from side to side due to an old lateral crack that someone tried to fill in with plastic wood. It's restorable!!! The buttstock still has the old rubber STEVENS FAVORITE buttplate present. I had an old Remington Rolling Block .22 when I was a kid but I would have loved to also had a Stevens Favorite!!! WAS $350.00 NOW $315.00 Modern Guns 41
CONSIGNMENT
Here we have a 20 guage single shot shotgun made in Spain being a Model 690. IT has a nickeled receiver and a blued 27 1/2 inch barrel The bore is nice and shiney. The wood is in good condition and will look very nice polished up. There are no sling swivels although the front swivel post is present. The ornate cap on the end of the pistol grip and buttplate are present and in excellent condition. There are engraved scenes on the receiver of a dog on one side and a deer on the other. The nickel has chips here and there due to age. The action seems to work OK. WAS 100.00 for this one NOW $90. Modern Guns 44
CONSIGNMENT
Here we have an old model 1890 .22 Caliber Winchester "Gallery Gun". The Model 1890 was the first slide-action rifle ever produced by Winchester. This one is chambered for the .22 short only. This gun is the Second Model (blued frame variation) and the serial number is 190XXX range. It has a 24 inch octagonal barrel. The markings are still real clear. The action works well and there is just a trace of rifling in the barrel. The rear sight has been replaced as well as the front sight with modern pieces. The front slide forarm is the original but the pin has been replaced and plastic wood has been placed around the pin. The buttstock has suffered more serious trauma with a large crack running back from the tang. This appears to have happened some time ago and thre has been some attempt at repairing it. There is quite a bit of plastic wood applied to the buttstock that you can see in the pics. Still worthy of restoration and quite desireable as a collectors piece. These Model 1890's were favorites at the Fairs and Carnivals to be used as Shooting Gallery Guns. The Model 1890 was produced form 1890 to 1932 with approximately 775,000 guns being sold. The consignor WAS asking $700.00 on this one NOW $630.00 Modern Guns 45
Look at these wonderful guides! They aren't hugh in size but hugh in volume of knowledge and great photographs to see exactly what you're doing! If you own and work on these firearms you'll love these guides!!
DISASSEMBLY & REASSEMBLY GUIDE AK-47 AKM & All Varients (2006) FEATURES: • The only current printed manual that includes information on ALL models. • Easy to use -- Comb binding lies open and flat on your work surface. • 16 pages & 20+ high-resolution grayscale images. • Cardstock cover. Bright white paper. Introduction: Brief history of the AK-47 Safety First Exploded Parts Diagram Parts List Disassembly - Magazine - Clear Weapon - Receiver Cover - Recoil Guide Spring - Bolt Carrier & Assemblies - Upper Forearm & Gas Tube - Lower Forearm - Bolt - Firing Pin Disassembly (cont.) - Extractor - Safety - Hammer Spring TIP - Hammer / Trigger Retainer - Trigger - Hammer - Magazine Reassembly Bolt Extractor Firing Pin Accessories Brief history of the AK-47 Assault Rifle It has been estimated that the worldwide prodution of the AK-47 rifle and its variants has exceed over 90 million. The AK has been licenced (and copied) in dozens of countries. Even after nearly 60 years, it is still the weapon of choice for soldiers, law enforcement, and the gun enthusiast. Mikhail T. Kalashnikov, a Soviet Engineer, designed the weapon in the late 40's and it was adopted by the Soviet Army in 1949 as the officially designated "7.62mm Automat Kalashnikova, obraztsa 1947 goda" (7.62mm Kalashnikov automatic rifle, model of 1947). The weapon went into service in 1951. The AK-47 and AKM (AK Modified) fire a 7.62 x 39-mm (M1943) ammo which is a heavy caliber small arms round capable of defeating most body armor. The weapon is usually equipped with 30 round magazines and is available in a fixed wooden or folding stock (AKS). The AKM has a stamped receiver and entered into service in 1961. The AK-74 fires a 5.45 mm bullet and has replaced many of the 7.62 weapons. All models are gas operated with a rotating bolt feed system. The semiautomatic version has a "practical" rate of fire of 40 rounds per minute. The AK has an "effective" range of about 300 meters. (328 yards). This is due to its bulky bullet traveling at only 2,300 feet per second. Average weight: 9.5 Pounds. Overall length is 34.2 inches. Folded length: 27.5 Inches. Only $7 !! Modern Guns 57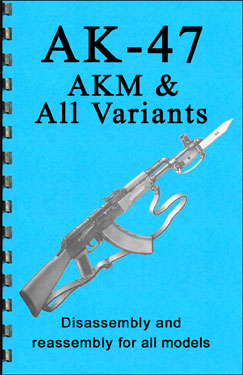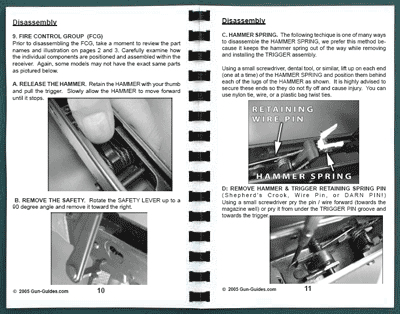 DISASSEMBLY & REASSEMBLY GUIDE Colt AR 15 & All Variants For your Colt, Bushmaster, Olympic Arms, Armalite, Rock River, DPMS, and countless other manufacturers... FEATURES: • The only current printed manual that includes information on ALL models. • Easy to use -- Comb binding lies open and flat on your work surface. • 16 pages & 20+ high-resolution grayscale images. • Cardstock cover. Bright white paper. Introduction: Brief history M16 AR-15 Safety First Exploded Parts Diagrams (4 pages) Disassembly - Clearing Rifle - Upper & Lower Receivers - Bolt Assembly - Charge Handle - Firing Pin Retainer - Bolt Cam Pin - Extractor - Ejector - Bot Carrier Key - Buffer & Action Spring - Handguards Disassembly (cont.) - Hammer - Disconnector - Trigger - Bolt Catch - Magazine Catch - Buttstock - Pistol Grip - Trigger Guard Reassembly Tips - Action Spring & Buffer - Cam Pin - Bolt Carrier Key - Extractor / Ejector - Charge Handle - Bolt Group Excerpt from this Guide: 1959: Colt aquires manufacturing and marketing rights to AR15. 1962: Colt gets US Department of Defense orders 85,000 M16's for Vietnam and 19,000 for the Air Force. Mid 60's: The M16A1 was updated with a new buffer to reduce the rate of fire, chrome plated chamber and barrel, closed prong flash hider, foward bolt assist, new buttstock with cleaning kit, and a 30 shot magazine. Rifles were also produced by GM and Harington & Richardson during the Vietnam war as well as outside the USA. 1978: M16A2 was produced using an increase barrel diameter, rifling was changed from 1:12 to 1:7 to accommodate a new 62 gr. bullet, modified rear sight, case deflector, new round handguard, and full-auto was replaced with three round burst. 1994: M4 was adopted based on a demand for a shorter lightweight weapon. The M4 has a 14.5" barrel and a four position telescoping stock. Collapsed length is under 30 inches and weighs just over 5 1/2 pounds. Effective range is 600 yards. Available in 3 shot burst or full-auto. M4's are also equipped with a Picatinny -Weaver Rail System to replace the carry handle. COMPLETE Ruger Guides. These comprehensive Guides have 56 pages and cover history, models, accessories, complete disassembly, reassembly, and a complete listing of all serial number ranges based on date of manufacture. Suggested Retail Price $12.00 Modern Guns 58 Disassembly and Reassembly Guides. (D&R Guides) These Guides have 16 pages and cover a brief history, disassembly, and reassembly of the firearm. High resolution illustrations and pictures guide you through the entire process. Remington, Colt, Glock, Ruger, Mossberg, and countless other manufacturers are covered. Only $7 !! Modern Guns 59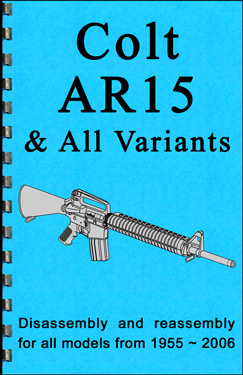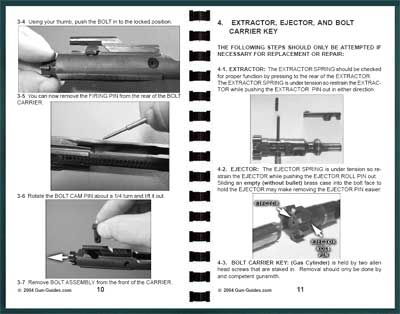 DISASSEMBLY & REASSEMBLY GUIDE Ruger Single Action Revolvers (2005) For your Blackhawk, Super Blackhawk, Vaquero and Bisley Models FEATURES: • The only current printed manual that includes information on ALL models. • Easy to use -- Comb binding lies open and flat on your work surface. • 16 pages & 20+ high-resolution grayscale images. • Cardstock cover. Bright white paper. Introduction: Brief History Safety First Exploded Parts Diagram Parts List Disassembly - Clear Weapon - Grips - Mainspring - Grip Frame Screws - Grip / Cylinder Frames - Pawl Spring - Cylinder Latch - Old Three Screw Models - Trigger Spring Disassembly (cont.) - Trigger Pivot Pin - Gate Detent Spring Clamp - Hammer & Cross Pin - Transfer Bar - Trigger - Cylinder Stop - Gate Spring - Loading Gate - Hammer Plunger & Spring - Ejector & Hosuing Reassembly (21) Listed Steps and Tips Accessories Production History of the Ruger Single Action Revolvers 1955 Blackhawk .357 Magnum 1956 Blackhawk .44 Magnum 1959 Super Blackhawk .44 Magnum 1962 End production of the Blackhawk .44 Magnum 1965 Blackhawk .41 Magnum 1968 Blackhawk .30 Caliber 1971 Blackhawk .45 Caliber 1973 New Model Blackhawks (Transfer Bar) 1976 200th Year Markings 1982 Blackhawk .357 Maximum Caliber 1982 Blackhawk Conversion Kit Notice 1984 End production of the Blackhawk .357 Maximum Caliber 1985 New Model Bisley 1990 Blackhawk Special Model S3840 1992 Super Blackhawk Hunter .44 Magnum 1993 Vaquero .44-40, .45 LC, .44 Magnum 1998 Bisley-Vaquero Models 2005 50th Annivesary Blackhawk .357 Magnum 2005 New Vaquero Only $7 !!! Modern Guns 62