I am a one man show and these steps are necessary to insure that I can keep up with the business in a timely fashion and make a profit. If I accept a stolen or fraudulent credit card the bank charges me for it. The credit card company nor the bank loses out but my business does! I am sorry for any inconvenience that this may cause. I certainly do appreciate your business!
We will accept a personal check (must clear the bank first) and preferably a Postal Money Order.
Consignment weapons 184
Here we have a set of 7 gun stock patterns used by a gunmaker that I, unfortunately, do not know. There is no name on these patterns. There are 5 made from masonite and 2 make from wood. The pattern styles are marked on some as thusly:
BUCKS COUNTY, HALF STOCK & MOUNTAIN RIFLE that also has on it BARREL IN TRACING.
If you want to replicate rifles then here is part of the work taken out for you in these reusable patterns! Price for $195.00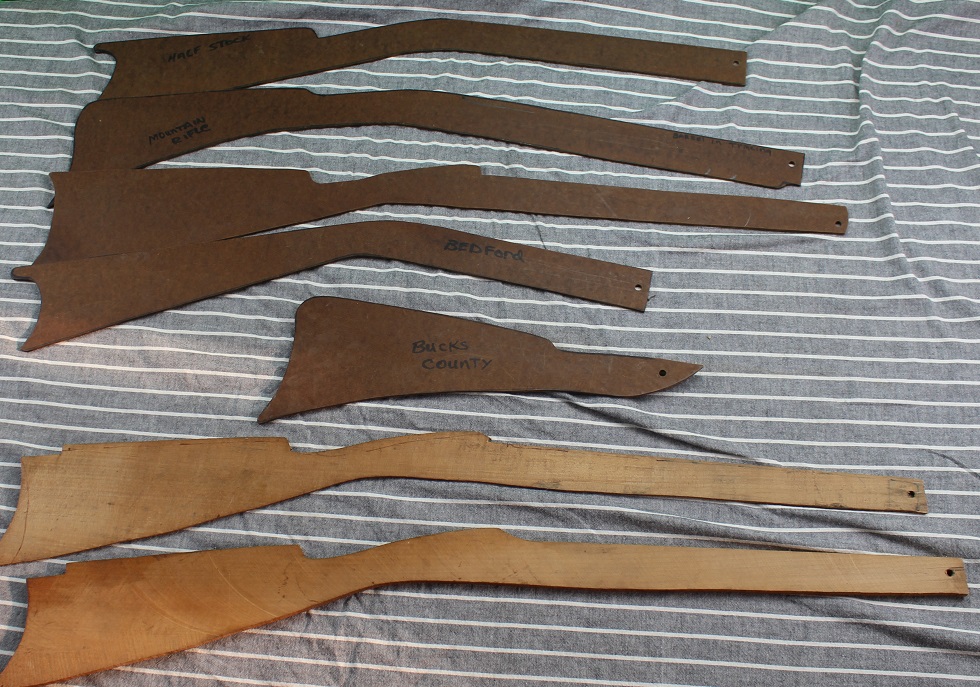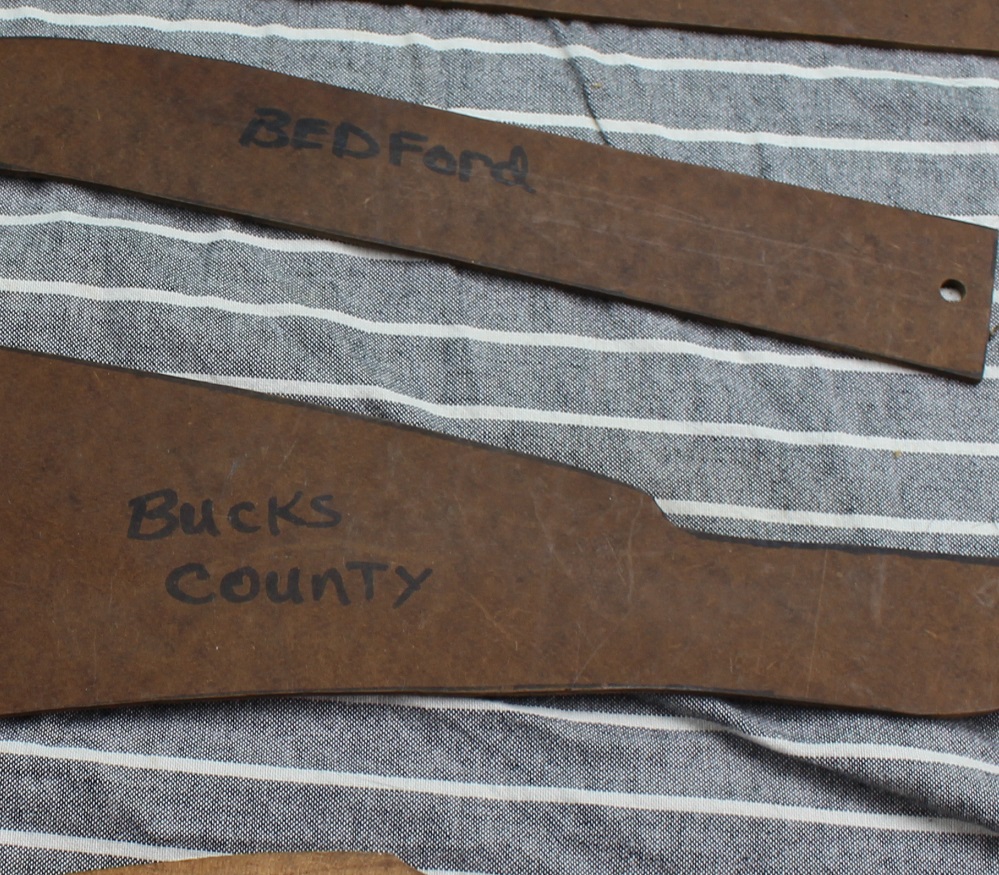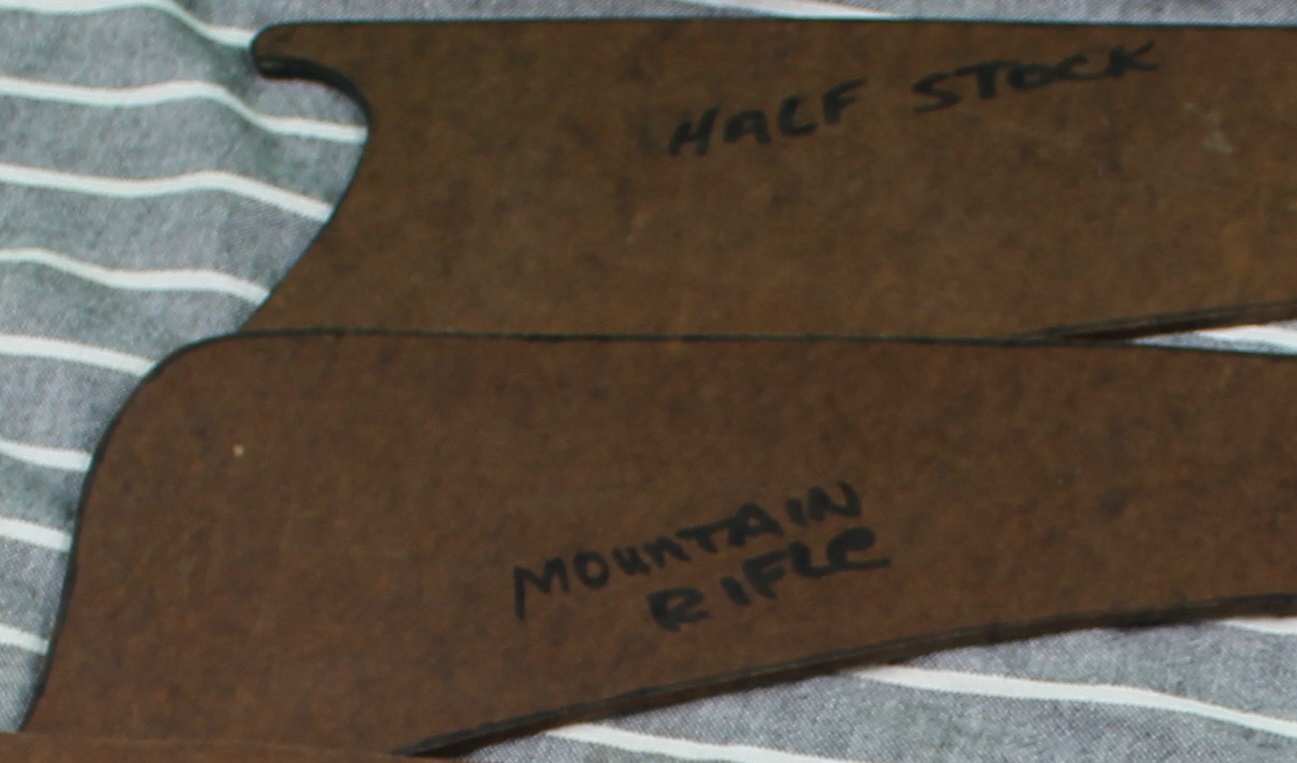 Consignment weapons 183
AMERICAN HALF STOCK PERCUSSION RIFLE BY J. HENRY & SONS, 1868 FORT LARAMIE INDIAN TREATY RIFLE. Plain half stock American rifle made by J. Henry & Sons with distinctive ďU.S.Ē in stock marked behind the trigger guard fitting the profile of the rifles offered to the Indian nation at Fort Laramie in 1868 as a result of a treaty action with the United States government. 36 1/25_ oct. bbl with German silver blade front sight and iron buckhorn rear sight. Nothing is stamped on top bbl flat. The bbl has an iron ramrod rib with two iron tubes. Walnut half stock, plain and without decoration. Brass furniture, German silver wedge escutcheon on forearm. Original hickory ramrod with brass tip is missing. Percussion front action lock stamped ďJ. Henry & Son.Ē Behind the brass trigger guard ďU.S.Ē is clearly stamped in the walnut stock. These rifles were purchased by the U.S. Government as a treaty offering in 1868 and distributed as a result of the successful treaty signed at Ft. Laramie in 1868. The condition is very good, all iron parts have an dark brown patina, brass is uncleaned, stock is very strong and markings are clear and has the usual dings here and there and a couple of age cracks in the stock opposite the lock on the reverse stock. The action on this one has a set trigger and all works well. The nipple is good and not beat down. This particular rifle is done very well and measures nearly 53 inches long overall . The iron is a nice dark patina and all the furniture is iron as well with a pewter nosecap. This is a double set trigger and that works just fine as well as the lock. There is some corrosion around the lock on the barrel as normal. The barrel has a simple V sight on the rear and a simple blade sight up front. The tang screw and a single barrel key holds the stock to the barrel. No breaks in the stock but it does have an age crack here and there. Nice cheekpiece on the reverse buttstock. Ramrod is a replacement. For this fine old historic percussion rifle. $1695.00
weapons 182
Here we have a 1850's percussion half stock rifle that I acquired from the Grandson of Pvt Joseph Felinzer of the 7th Indiana Infantry. Pvt. Felinzer resided in Marion County (Indianapolis area) when he enlisted. The rifle is not military but rather a hunting rifle. Here are Pvt Felinzer's stats:
Joseph Felinzer Residence Marion County IN; Enlisted on 9/13/1861 as a Private. On 9/13/1861 he mustered into "I" Co. IN 7th Infantry He was discharged for disability on 1/15/1863 Sources used by Historical Data Systems, Inc.: Here is a capsule history of the 7th Indiana Infantry:
Seventh Infantry INDIANA (3 months and 3 years) Seventh Infantry Cols., Ebenezer Dumont, Tames Gavin, Ira G. Grover; Lieut.-Cols., Benjamin J. Spooner, James Gavin, John F. Cheek, Ira G. Grover, William C. Banta; Majs., Samuel P. Oyler, John F. Cheek Benjamin C. Shaw, Ira G. Grover, William C. Banta, Merit C. Welch. This regiment was organized at Indianapolis in April, 1861, as a three months regiment and was mustered in April 28. It left the state May 29, being ordered to West Virginia where it joined other forces at Webster. The 7th took the advance upon Philippi, Co. B driving the enemy's pickets back and the regiment entered the town on the double quick followed by the column, the enemy being driven from the town. It remained in camp here for six weeks, engaged in scouting, and marched to Belington, where it engaged for three days in heavy skirmishes. It joined in the pursuit of the enemy, and overtaking him at Carrick's ford, the 7th charged and captured his baggage. Overtaking the fleeing forces again at the next ford, the 7th again defeated him, Gen. Garnett, commanding the enemy, being killed. The regiment was mustered out at Indianapolis Aug. 2, 1861. It was immediately reorganized for three years, and was mustered in Sept. 13, leaving the state at once for Western Virginia, and joining Gen. Reynolds' command at Cheat Mountain. It was engaged in the battle of Green Brier, and then moved to camp near Green Spring run. It was in the battle of Winchester Heights, at Port Republic and Front Royal, then moved to Fredericksburg and back, and was assigned to Gen. McDowell's command. With Pope's forces it was in the campaign of the Army of Virginia, participating at Cedar Mountain, and the second battle of Bull Run. It joined the pursuit of Lee through Maryland, and was in the battle of Antietam. It next fought at Ashby's gap, and participated in the battle of Fredericksburg. During 1863, it was engaged at Chancellorsville and Gettysburg, losing heavily in both battles. It was also in the battle of Mine Run in November and went into camp at Culpeper. It moved with the Army of the Potomac in the spring of 1864 being engaged at the battles of the Wilderness, Laurel Hill, Spottsylvania, Po River, North Anna River, Bethesda Church and Cold Harbor, being under fire for eighteen days during these engagements and losing heavily. On June 16, it moved to the front of Petersburg, and participated in the assault of the 17th. It remained on duty in the siege of Petersburg until Aug. 18, and was then engaged at the Weldon railroad. It was consolidated with the 19th Ind. on Sept. 23, and this organization in turn was consolidated with the 20th Ind. on Oct. 18, the 7th being mustered out as a regiment Sept. 20, Its original strength was 1,046; gain by recruits, 190; reenlistments, 46; unassigned recruits, 17; total, 1,299. Loss by death, 212; desertion, 26; unaccounted for, 27. Source: The Union Army, vol. 3
Here is the halfstock .36 caliber Indiana made rifle that belonged to Private Felinzer. The great-great grandson thought that this was the rifle that he carried during the Civil War but I informed him that it was not the rifle he would have been issued but was probably the rifle he used for hunting. This is an Indiana made rifle being made by T. N. JONES and so marked on the top of the barrel. Thomas Jones is listed in 'Gunmakers of Indiana' by Albert W. Lindert as listed in 1850 as a gunsmith; age 63, birthplace as Pennsylvania and located in Harrison County, Indiana which is way down by the Ohio River. The rifle itself is in excellent condition and the set triggers work well, albeit that the main spring is just a little weak but all works. The 36 caliber barrel is octagonal and in good condition with both sights. The lock is adorned with light engraving but is not marked. The stock has a most unusual configuration and the tang is flat to run across the top of the stock. The stock has not cracks or breaks in it but has been coated with something shiny that could probably be removed if desired. The butt plate is cresent shaped and is constructed of iron as is the ornate triggerguard. The ramrod tubes are iron as well. The nose cap is a hugh hunk of pewter and looks to have been cleaned at some point. The ramrod is a modern replacement as most are. All in all this is a beautiful impressive gun with this stock configuration! For this piece of Indiana History $695.00
weapons 181 Consignment
Here's an Austrian Flintlock Rifle/Musket Cavalry Carbine that I recently acquired. I received it from a very nice Gentleman from Arkansas. Unfortunately no history accompanies it. This carbine is a Rifled carbine being about 70 caliber and dated on the lockplate (1)852. The first digit is always lacking on these old Austrian firearms. It complete and fully functional. There are, what appears to be roman numberals stamped into the inside barrel channel on the stock. This one is marked WANZEL on the top of the barrel. Austrian arms were generally made on contract with the major gun makers of the day in and near Vienna. These makers usually marked their product with their name on the barrel of the arm near the breech. The major makers included BENTZ, FERD. FRUWIRTH (F.F.) , CARL HEISER, JOSEF JESCHER, ANNA OSTERLIEN, PIRKO, TH. ROTTME, G. SCHLAGER,TH. SEDERE, F. UMFAURER, WANZEL, and ZEILINGER , usually with the Z backwards. Lockplates were marked wi the goverment ownership mark which is a small double-headed Eagle and the date of manufacture deleting the number "1" from the year. Since the arms were not interchangeable matching numbers are usually found on all metal parts. See the pics!
Below is a youtube video showing a young man shooting one of these old Austrian Flintlock Carbines!
Copy and paste the link to check it out!
https://www.youtube.com/watch?v=LBPSqKUFSRA
For this fine piece $1,250.00
weapons 180
Hereís an interesting piece that we just picked up. This is a Simeon North Model 1816 Flintlock pistol that has been converted to percussion. This pistol was made by Simeon North of Middletown, Connecticut circa 1817 to 1820 and a total of 19,374 were manufactured during that time. This is the early one of the two lockplates made by the font and style. This one has the S.NORTH in downward curve over an American eagle motiv with U and S at either side over bottom line MIDLn CON in upward curve. This weapon is a 54 Caliber smoothbore Martial Single shot pistol with a 9 1/16Ē round barrel and has a brass blade front sight on forward strap of the double barrel band. This pistol has an overall length of 15 ľĒ. This pistol originally has a hickory ramrod now lacking. This piece had been laying out for many years and the wood has weathered overall and is somewhat smaller than normal but the stock that is left is solid and strong. There are a few areas where wood is lacking and I have taken pics of that for you to look at. This pistol came out of California with no history behind it. Whether it was left out in the desert or was taken to California as a souvenir is something that we just donít know. The metal parts are in pretty good condition but a dark patina so it this pistol was in a wet climate it would really be rusty. The barrel is still shiny under the front barrel double strap so I believe it was dropped in the desert. The hammer moves back but does lock in place and the hammer falls when you pull the trigger with some force!!! The lockplate looks great however the S NORTH markings at the top are worn somewhat. (Look at the pics!) It looks like the hammer screw was replaced at some point with a washer placed under it as the head is somewhat smaller but it looks like the rest of the pistol in condition and patina. The hammer could also be a replacement as it has some simple engraving on it. All in all a great relic that is virtually complete! For this piece $495.00
weapons 179 Consignment
PRICE REDUCED BY OWNER!
Here we have a J. Pieper Cape Combo firearm. This firearm has an April 23, 1881 patent on the top barrel center rib and is a Henri Pieper Belgian patent as evidenced by the Belgian proofmarks. Henri Pieper produced "Cape Guns (shotgun and rifle barrel) in various calibers. Sears, Roebuck and Company among others sold the H. Pieper 12 gauge/.44-40 WCF Cape Gun in their early 1900's catalogs. This firearm is a 12 ga/.44-40 WCF firearm and in very good condition with a few minor flaws. There is a couple of very minor dents in one barrel and the stock has minor, fixable, cracks at the bottom of each lock on the buttstock. We believe these are age/stress cracks. Also, the 12 ga barrel is flared out slightly at the end of the barrel from being dropped. None of the small defects affect the function of this piece. The action works perfectly and the lock springs are some of the strongest that we have ever seen. The shotgun barrel has a shiny bore while the rifle side has some minor corrosion/darkness in it that may scrub out ok and does exhibit very deep rifling. All serial number match on this piece. Itís a heavy firearm weighing in at a whooping 10 pounds! Take a look at the pics. For this piece $1,050.00 BUT NOW REDUCED TO $875.00 !!
weapons 178
A young gentleman walked in with this piece today. This is a French 19th century Artillery Saber lacking scabbard that his grandfather had picked up at the White River Ė river bed in the 1950ís in Greene County, Indiana. It couldnít have been laying there long as it has a nearly complete grip with leather wrap and no pitting. His grandfather painted it with the blade being silver and the grip and guard being gold. Most of the gold is worn off the grip. In a good turn the paint may have kept the piece from deteriorating. This piece has ordinance marks all over it. The reverse P guard is marked with the Unit markings. The grip and back strap has the langets on each side with the rivet that goes all the way through. The paint was cleaned from the top spline just enough to read the inscription and itís typical French in nature. Although it may look like the date is 1812 I believe it is really 1872. I have seen a lot of these swords over the years and these inscriptions are typical in the last part of the 19th century. This entire piece is nearly 36 inches long with a 30 inch blade. The fuller nearly goes the entire length and although it looks like it could have been shortened at first glance it ultimately looks like it wasnít shortened. The paint is missing from the tip and you can see that under the paint it has a terrific dark patina. The young man who sold it to me said that he knocked the paint off stabbing the carpet with it. I donít think he did that long as the patina is still on the blade and his Mom probably caught him in time! At any rate itís still a nice piece and I would leave the paint on it if it was me but I donít think it would take much to clean it off. No scabbard. $175.00
weapons 177 Consignment
Here is a custom made long long long Rifle! The entire piece is 5 feet 9 inches long! The barrel itself is 53 1/8th inches long! Itís a thick barrel and looks like it is about a .58 caliber weapon. The stock has tiger stripping on it and it has the large down swing on the butt stock like a Pennsylvania rifle. The barrel is heavy and so the stock is broken and needs repair. The hammer is tied to the nipple on the barrel to keep it together! The lock is a back action lock marked BURNSIDE RIFLE CO! This lock is off of a Burnside .54 caliber Civil War Carbine! The nose cap is pewter. The trigger guard is two piece brass having been braised together and you can see that in one of the pics. The butt plate is also brass. I do not know if the lock works as I did not take that old string off to check it. This piece is definitely worthy of restoration! No ramrod and one of the tubes is broken (you can see a pic of that as well). Thereís a story here! I just donít know what it is. For this grand old piece $650.00
weapons 176 Consignment
Here we have a Civil War era William Moore 12 gauge Double Barrel Percussion shotgun! This shotgun has such a dark patina that itís kind of hard to photograph it! Itís in nice shape except for some damage to one barrel right at the end. This shotgun should not be fired at any rate because of the age and one never knows how much stress the barrels have been in over the many years of itís existence. The old shotgun is 48 Ĺ inches long with 32 ĺ inch long barrels. The top of the barrels in the rib is marked FINE LAMINATED STEEL. The patina to the metal is extremely dark but not much pitting is present. These are back action locks are in good condition and well marked with an extremely small William Moore Co. One lock does not quite hold in full cock (left side) but the other side does. The left nipple is battered some while the right nipple is in better condition. There is simple floral engraving over the locks, tang, stock ramrod channel, trigger guard and hammers. The stock is in good worn condition with a very nice dark patina. The forearm and wrist is checkered. The ramrod is missing but most of those that have one has a replacement. Nice Civil War Era Shotgun that could have seen action! $375.00
weapons 175
Here we have items belonging to Private George N. Mount of the 86th Indiana Infantry. Here is a bio of the 86th: Eighty-sixth Infantry INDIANA (3-YEARS) Eighty-sixth Infantry. -- Cols., Orville S. Hamilton, George F. Dick Lieut.-Cols., Dixon Fleming, George F. Dick, Jasper M. Dresser, Jacob C. Dick; Majs., Jasper M. Dresser, Jacob C. Dick, Philip Gemmer. This regiment was organized at Lafayette, was mustered in Sept. 4, 1862, and was hurried to Covington to assist in repelling the threatened invasion of Kirby Smith's forces. It left for Louisville on the 20th, was assigned to the 14th brigade, 5th division, Army of the Ohio, and was in pursuit of Bragg for two months, reaching Nashville Nov. 26. When the Army of the Cumberland was formed the regiment was assigned to the 2nd brigade, 3rd division, 21st corps, and in the battle of Stone's River it was on the left wing. It was with the division that saved the right from rout, bringing victory out of defeat, and drove the enemy nearly a mile. It remained at Murfreesboro until the movement was made towards Chattanooga, was actively engaged at Chickamauga and after the battle was assigned to the 3rd brigade, 3rd division, 4th corps, with which it was in the storming column at Missionary Ridge the men sweeping up the cliff-like hill and into the works with irresistible force, capturing hundreds of prisoners and 11 pieces of artillery. The regiment passed the winter in east Tennessee on various expeditions and scouting trips, and rejoined its corps near Chattanooga in April, 1864. It moved in the Atlanta campaign and participated at Rocky Face Ridge, Resaca, Adairsville, Kingston, Pickett's Mills, Kennesaw Mountain, Chattahoochee River, Peachtree Creek, the siege of and battle at Atlanta, Jonesboro and Lovejoy's Station Sept. 2. It moved towards Chattanooga in pursuit of Hood as far as Gaylesville, when its corps was assigned to Gen. Thomas' command, and it was in the engagements at Franklin and Nashville. It joined in the pursuit as far as Huntsville, Ala., where it remained until Mar. 15, 1865, and then moved to East Tennessee, marching to New Market and Jonesboro, thence to Nashville, which place was reached April 27. It remained in camp at Nashville until June 6, when it was mustered out. The original strength was 958; gain by recruits, 41; total, 999. Loss by death, 241; desertion, 48; unaccounted for, 1. Source: Union Army, vol. 3, p. 165
George was from Lebanon, Indiana and enrolled on August 1st, 1862 being discharged on May 15th, 1865. George was in the Hospital since December 15, 1864 until his discharge on May 15th, 1865. I don't know if he was sick or was injured. We have George's Regimental History of the 86th Indiana Volunteer Infantry and the inside cover has a presentation in it and it says: Presented to Minnie Graham by George N. Mount. The names Graham and Mount are well known Lebanon, Indiana names. The regimental also comes with a 1 1/2 inch by 7 inch long tan ribbon that is dated 1862 1917 ANNUAL REUNION OF THE 86TH INDIANA VOLUNTEER INFANTRY (corps badge) Lebanon, Ind. September 5 and 6, 1917 which is in pretty nice shape. Also included is a Civil War era CDV of friend and fellow veteran Aaron B. Jack also of the 86th Indiana. This cdv shows a full standing view of a young man in civilian clothing. Aaron was from Attica, Indiana and the backmark on the CDV is from photographer J. W. Ennis of Attica, Ind. I also have some info from Ancestry.com that I looked up concerning George. He passed away December 22nd, 1925 in Lafayette, Indiana. It is believed that he died at the Veteran's Home in Lafayette. He was a farmer from Boone, County Indiana of which Lebanon is the County Seat. The regimental History book is in pretty good shape and consists of 613 pages. Measures 9 X 6 inches and is over 2 inches thick. The binding is still pretty good. This was a great unit with a great history!!! Nice small grouping! Shipping is free here in the lower 48 states!
weapons 174 Consignment
Here we have a very distinctive double barrel percussion shotgun. The shotgun is 16 gauge and the end of the barrels are just a little rough. This shotgun is 43 inches long overall with 26 ľ inch long barrels. One nipple is flattened some while the other is ok. The rib goes full length and is unmarked. There is some simple floral decoration on the tang and a simple brass bead up front for a front sight. The locks are both back action locks and are decorated. The hammers match and they are decorated as well. Both locks work well. The wrist has been broken and a crude repair was done on either side on the top and on the reverse (left side) on the bottom. The butt stock has an incredible Wild Boar carved onto the bottom and itís really nice. There is some checkering at the wrist as well. There is a cheek piece on the left side of the butt stock as well. The iron trigger guard and the iron bottom ramrod guide are decorated as well. The fore stock is held onto the barrel by a wedge through escutcheons. There are iron sling swivels present on this piece. The ramrod is an original ramrod and quite nice. Usually these have been replaced. Back in the day they didnít through anything away so this is a wonderful loved piece that was kept in service. Definitely Civil War era! $350.00
weapons 173 Consignment
Here we have a full stock .36 caliber percussion rifle. The lock plate has on it T. DAVIDSON & CO. which is Tyler Davidson from Cincinnati, Ohio who was in business from 1834 to 1866 making locks only. This rifle is over 55 inches long with a 39 ľ inch long rifled barrel. The rear sight is a simple V dovetail and the front sight is dovetailed as well. The octagon barrel has the drum and nipple type of percussion ignition system and has one of the longest cleanout capped nuts that Iíve seen. Also the hammer is held unto place by a nut on a screw instead of a slotted screw. There is some wood missing forward of the lock due to ignition burning and there is a copper plate repair behind the nipple probably due to burning, common problem. The action has a set trigger and it works well with the main trigger being a hair trigger. The nipple has been battered. The trigger guard is brass and pretty ornate. The butt plate is a brass crescent. The stock is in generally good condition other than the burning around the nipple and would definitely look pretty under the grunge. There is a brass escutcheon plate on the reverse (left) side of the stock with a single screw that holds the lock plate on. The three ramrod pipes are brass. The ramrod is a modern replacement. All in all itís a pretty nice old Rifle and would look good cleaned up or leave it along and enjoy this old grungy patina! For this one $795.00
weapons 172 Consignment
Here is an old Hardware sold Fullstock percussion rifle that reeks of character!!! This old rifle is over 57 inches long with a 41 Ĺ inch long octagonal 36 caliber barrel that has a simple dovetailed ĎVí sight on the rear and a simple dovetailed blade sight up front. The nipple is in good condition and looks to me to be original but the drum and clean out screw are replacements I believe. The lock plate works ok and is marked DENNING & CAMPBELL over CHILLICOTHE. Denning and Campbell were a hardware store in Chillicothe, OH that suffered great losses during the 1852 Fire that destroyed much of Chillicothe and the business district. This rifle has seen a few repairs which leads me to believe that this was indeed a loved piece! There is a steel band and a copper band held by round headed domed tacks that you see in the 29th century. This piece has a cap/patch box carved into the stock but the door is missing. . The stock has a sliver missing here and there along the fore end and a crack here and there but nothing serious. The repairs have made her nice and tight. For someone to go to this much trouble to save this old girl they must have been very fond of her. For this rifle $650.00
weapons 171
Here is a whooping HUGE! 12 gauge double barrel percussion shotgun by Joseph Manton of London, England! Joseph Manton London is marked at the top front of the locks in the smallest font that I have ever seen. These markings are better on the obverse than the reverse due to pitting. Itís really clear on the obverse side. The shotgun measures 55 inches long overall with a 38 Ĺ inch long set of barrels! This old shotgun weights over 13 pounds and is a hoss to carry! I believe the weight to be in the breech because they are big. The barrels are a dark brown patina and the bores are about the same color as they are pitted from shooting black powder. The top of the barrels on the middle rib is marked FINE LAMINATED STEEL. There is pitting around the nipples from firing black powder but the nipples are in remarkably good shape. This gun has those little ear guards behind the nipples for burn protection so the wood is not burned on either side of the gun at the back of the nipples. The action works well and both hammers match as do the ornate hammer screw heads. The springs in these box locks are strong! This shotgun has a one piece Walnut stock with hand checkering. There are no breaks or major cracks in the stock. The stock is a pleasant brown color. The butt plate is steel with a crack clear through on top that doesnít affect a thing. The ornate , long trigger guard for the double triggers is also a steel or iron guard. The barrels are so heavy on this piece that double key locks are used instead of the usual single locks. The fore stock ramrod thimble is also iron and very ornate. There are two ramrod thimbles also of iron. The ramrod is a trifle long and I do not believe that it belongs to this shotgun but it is an original with an iron thimble on the end. There are 3 areas on this ramrod that is light that for years were hidden under ramrod pipes thus the lighter color. This is a great old piece! A real heavy weight! One that you just do not see! For this piece $1,100.00
weapons 170
Hereís a wonderful ornate double barrel shotgun that is of German Manufacture. I do not see a name on this fine 16 gauge double barrel but you may be able to figure that out by the proof stampings. There are tons of proof stamps on this firearm as well as the words FLUSSSTAHL KRUPP-ESSEN which identifies the steel as fluid steel used in the barrels and the company that provided the barrel blanks. These barrels were produced by Krupp Works in Essen, Germany. Also stamped on the barrels is the word Nitro N which indicates that this shotgun was produced circa 1912-1939. The barrels have nice shiny bores with no pitting. The bluing on the barrels is very nice but thinning and nearly all there with no dents or dings. The barrels open via an underneath horn side lever that is attached to a walnut checkered forearm. There is just a minor bit of damage to the edge of the forearm. The forearm is fastened by a key through escuteons. The buttstock is also nice walnut with the same checkering to the wrist as on the forearm. The buttstock is finished with a nice steel buttplate. There is minor wear with dings and such to the buttstock but nothing major and no cracks or breaks. The ornate hammers are matching and in great condition. The back locks, front receiver, trigger guard and tang are all highly engraved with floral engravings and look outstanding! The finger guard behind the trigger guard is ornate made of horn. The barrels are nice and tight and the action works perfectly. This is one beautiful shotgun!!! For this piece $1,100.00
<
weapons 169
Consignment
This is a 12 guage double barrel shotgun marked H.S.B & Co. The Hibbard, Spencer, Bartlett and Co. of Chicago were sporting goods dealers from 1855 to the 1960's.HSB were the largest and best-known of the pre-1914 hardware distributors. This business also sold guns and ammunition. The Crescent Fire Arms Company manufactured shotguns marked with the trade name "RUSO" that were sold by HSB & Co. This old shotgun is probably from the early 1900ís. The receiver is nickel plated and some of the finish is lacking. The shotgun locks up pretty tight and looks darn good. Most of the barrel color is still there. The barrel is stamped SMOKELESS STEEL CHOKE BORED. The serial number matches on all parts that I saw a number on including the trigger guard! The markings on the receiver are much better than what my camera was able to catch. The walnut buttstock and forearm are in great shape for their age with a ding or two but no breaks or cracks. Nice one! $325.00
weapons 168
Consignment
Hereís an old wall hanger! This is a full stock rifle that was rode hard and put away wet! This .45 caliber weapon is long at over 58 inches long with a 44 inch octagon barrel which is pitted. I believe that this old rifle was left in the barn! It has a dovetail sight in the rear and a blade sight up front. I cannot see any markings on the barrel. The lock is percussion and shows some simple engraving on it but I cannot make out a name. The rifle is a set trigger rifle and it acts like it wants to work but it will not hold. It has a strong spring in it however. The stock is burned out just behind the nipple which is common. The stock itself has seen much use and the nose cap area has some major damage that you can see in the pics. There is a sliver of wood missing in front of the lock and there is wood missing around the tang. Surprisingly there are no cracks or breaks in the wrist area!!! The butt stock is rough on the obverse side and has wear to the top toe. The butt plate is missing or it never had one. The reverse butt stock has a simple cheek piece or decoration on it. I donít see any screw holes in the butt stock where the butt plate would have went so I donít think that this gun every had a butt plate. The ramrod is a replacement and the ramrod thimbles are present and have a great dark patina. For this piece $395.00
weapons 167
Consignment
Here we have an old percussion double shotgun/rifle that is of German heritage. This firearm has octagon barrels with one side being 12 gauge and the other side being rifled and is about 60 caliber. 44 Ĺ inches long with 29 inch barrels. One nipple has been battered pretty much flat while the other one is just a little flat on top. The rifle/shotgun has a dovetailed V sight on the back and a dovetailed blade sight up front. There is nothing stamped on these barrels. The locks are marked M.REHM LAUINGEN. M.REHM is the maker and LAUINGEN is the region in Germany where this piece was made. I believe date of manufacture is about 1840. The locks are marked well and they work well. The hammers match which is a plus. The stock has seen better days and at one time was a fantastic piece of work! The stock is a hardwood and has a carved Wild Boar on the bottom of the butt stock as well as a nice carved trigger guard. There is checkering on the wrist and fore arm. There is a little chunk of wood missing in that trigger guard. The patch box is the sliding cover type and the cover is missing. The butt plate is iron. The buttstock has been broken and has two screws holding it together. There are numerous small chunks and cracks throughout this piece. There is a sliver of wood missing on the obverse forearm and a crack. A piece of wood over the obverse hammer has been nailed back in place. Has a ramrod that is too long and Iím sure itís not original to this piece. This old piece was used hard but someone loved it enough to tack it back together! Good restoration project or just hang it on the wall! Unique! $650.00
weapons 166
Consignment
Hereís a well loved full stock percussion hunting rifle in 40 caliber in itís octagonal rifled barrel. The entire firearm is over 49 inches long with a 34 ľ inch long barrel. The barrel has a nice dark patina and the lock matches it perfectly. I donít see any makers markings on this rifle however the lock plate does have some simple engraving on it. The barrel has a simple V sight on the rear and a simple German silver blade sight up front. The lock is pitted and no makers name is visible. The hammer is also locked in the back position and cannot be moved. The wrist is broken through and the original owner wired it round and round to keep it stable enough to fire! There is a simple cheek rest on the left butt stock. Wood is burned away behind the nipple showing that this old girl was used lots of times! The buttstock terminates into a small brass crescent butt plate. The rifle was originally a set trigger and both triggers remain. The trigger guard is also brass and heavily patined. The ramrod guides are brass but no ramrod remains. The nose cap is also brass. This old percussion rifle just reeks of character! I wish I knew all that it has done! $325.00
weapons 165
Consignment
Here we have a very ornamental percussion shotgun! The locks have on them on one side FILS A LIEGE and on the other lock is MATHIAU PECKLER(S)? Peckler and Fils made shotguns early in the 19th century. This one is very pretty with ornate hammers and a very ornate hardwood stock showing a wild boar carved onto the bottom. Itís a very ornate carved stock with checkering as well. The Belgium made shotgun is over 48 Ĺ inches long with 33 Ĺ inch barrels. The end of the barrels are messed up and need cut back a little as well as relocating the front bead if you want to do that. Thatís about all the restoration this nice looking double trigger 16 gauge double barrel shotgun needs. The barrels are damascus or wire so I wouldnít fire it. I see one dent in the barrel. The ramrod is a replacement. All furniture is steel and really nice! For this piece $650.00
weapons 164
Consignment
Here we have a Maker Marked Percussion Halfstock Rifle! This one is made by H.MíCLALLAN / AUBURN (New York) circa 1850. This rifle is over 50 inches long with a 34 ľ inch long octagonal rifled barrel. This rifle has been used very much and shows it! The Makers info is stamped on top of the barrel and the barrel has an adjustable sight on the rear and a BONE ! front sight! That has to be a field replacement! The lock is simply marked J. ---ANNA-- & Co. over WARRANTED . The marks are worn and I could not fill in the blanks. The lock does not work as it has no mainspring tension. There is some wood missing on top of the lock from percussion firing burning. There is a small sliver replaced forward of the lock and a couple of cracks in that area. Also there is a sliver/chunk missing in the front of the stock at the pewter nose cap. The wrist of the stock is checkered and quite nice. There are German Silver embellishments to both sides of the stock. The cresent butt plate, trigger guard and rear ramrod guide are brass. The other two ramrod guides are iron or steel. I believe that this rifle is a set trigger rifle but the set trigger is missing. A good restoration project! $550.00
weapons 163
Consignment
Here we have a Fullstock 16 gauge percussion fowler that is very long! This piece is 61 inches long overall with a 46 ľ inch barrel. It has a rear simple V sight on it but no front sight. The barrel is part octagonal and part round. The stock is not in too bad of shape but does have a couple of cracks around the lock area and a couple of age cracks in the butt stock. The lock does not work. I believe this lock to be a modern replacement and some pieces are missing internally. Also there has been some repair to the wood under the lock. Solid now. All other items on this old fowler are original to the piece with the exception of the ramrod guides which may also be replacements. The trigger guard and butt plate are brass and has simple embellishments to them. The ramrod thimbles are brass and the nose cap is tin. Complete with ramrod which is probably a replacement as well. This would make a great Historic piece over the fireplace or restore it to working condition. $395.00
weapons 162
Consignment
Hereís a nicely appointed percussion Halfstock rifle with a Joseph Gloucher lock. The lock has a set trigger and sometimes it holds but itís a hair trigger! This rifle is almost 50 inches long with a 33 5/8ths inch long octagon barrel that is .32 caliber. There is a simple buckhorn sight on the rear and a simple brass blade sight up front. There are no markings on the barrel. There are German silver embellishments that you can see in the pics. I have not been able to get the cap box lid open so there may be a wonderful surprise in there! The stock is tiger stripped and looks very nice. There is damage around the lock from burning when firing exposing the inner workings of the back action lock. Back action locks cause the stock to be weak because of the amount of wood they have to remove to accommodate the lock but there are no breaks here. Looks like the barrel lock has been redone because the brass escutcheons are crude. The nose cap is also German Silver. The original ramrod is missing and a more modern replacement is in its place. This one can be yours for $650.00
weapons 161
Here we have a pair of very crude sand or dirt cast lead knuckles.
Metal ring and knuckle style weapons date back to ancient times and have been used all over the world for many hundreds of years. The Nihang Sikhs used an early variant called Sher Panja in the 18th century. Cast iron, brass, lead, and wood knuckles were made in the United States during the Civil War . Soldiers would often buy cast iron or brass knuckles from blacksmiths and sutlers and if they could not buy them, they would carve their own from wood, or cast them at camp by melting lead bullets and using a mold in the dirt as this pair looks to have been made.
The palm piece either was not refinely finished or was broken off and this pair of cast lead knuckles were discarded. It would be very uncomfortable to use these as they would simply tear up your palm. The finger holes are quite small as were the men generally during the Civil War and before. The finger holes seem to have been reamed out after the knuckles were cast. These knuckles weight about 11 1/2 ounces. Take a look at the pics! Unique and definitely one of a king! $95.00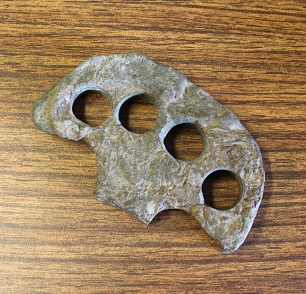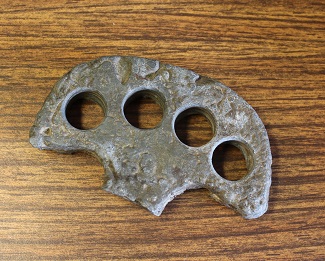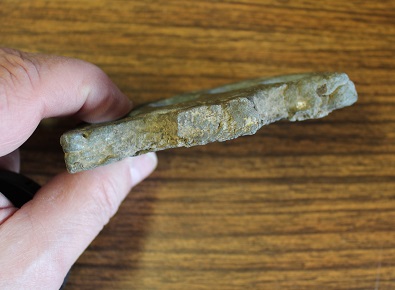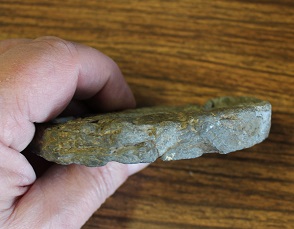 weapons 160 X4 . Consignment
The next 2 Civil War Rifles/Muskets are mostly parts guns or can be restored if you have skills. These look to have been converted to shotguns. Some say that some of these Military Arms were converted to shotguns during the Civil War as Forage weapons but I believe that most were converted after the war to shotguns so that the general public could use the thousands of obsolete muskets that were left over from the war. The first one is:
1. Here is a Model 1842 Musket marked on the lock Springfield 1852 behind the hammer and has the Eagle over US forward of the hammer. The lock works perfectly and looks great!!! This musket has been cut down to be a shotgun and has the bead on the front of the barrel. The original 42 inch barrel is smooth bore and is now 33 1/4 inch long and the original ramrod has been cut down to match the barrel. The barrel had been converted from flintlock to the Bolster type percussion conversion. You can see VP on the opposite side faintly in the barrel. The stock has been cut off just forward the rear barel band and that band is original. There is no retaining spring. The orignal trigger guard is present and in great condition. This piece also has the original butt plate. The stock has been completely fractured at the wrist and lovingly had a steel bar place into the stock for strength. This was either done to same his beloved gun or just for neccesity's sake. It appears that this musket had seen considerable use but there is little burn out behind the nipple. The nipple has been battered some but is still there. This parts gun has a lock that's worth what we are asking for the entire piece. $350.00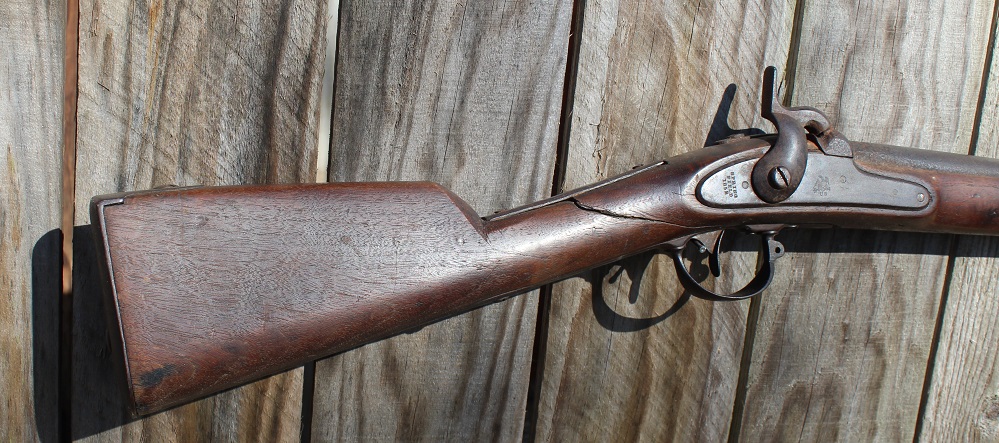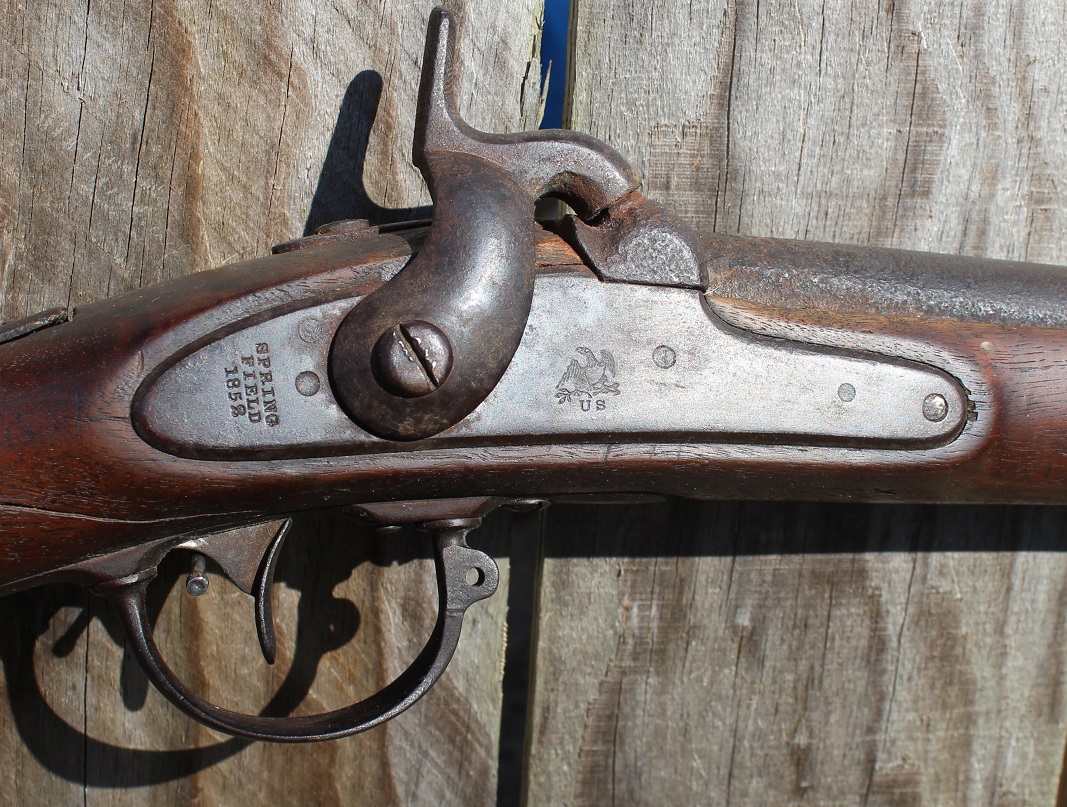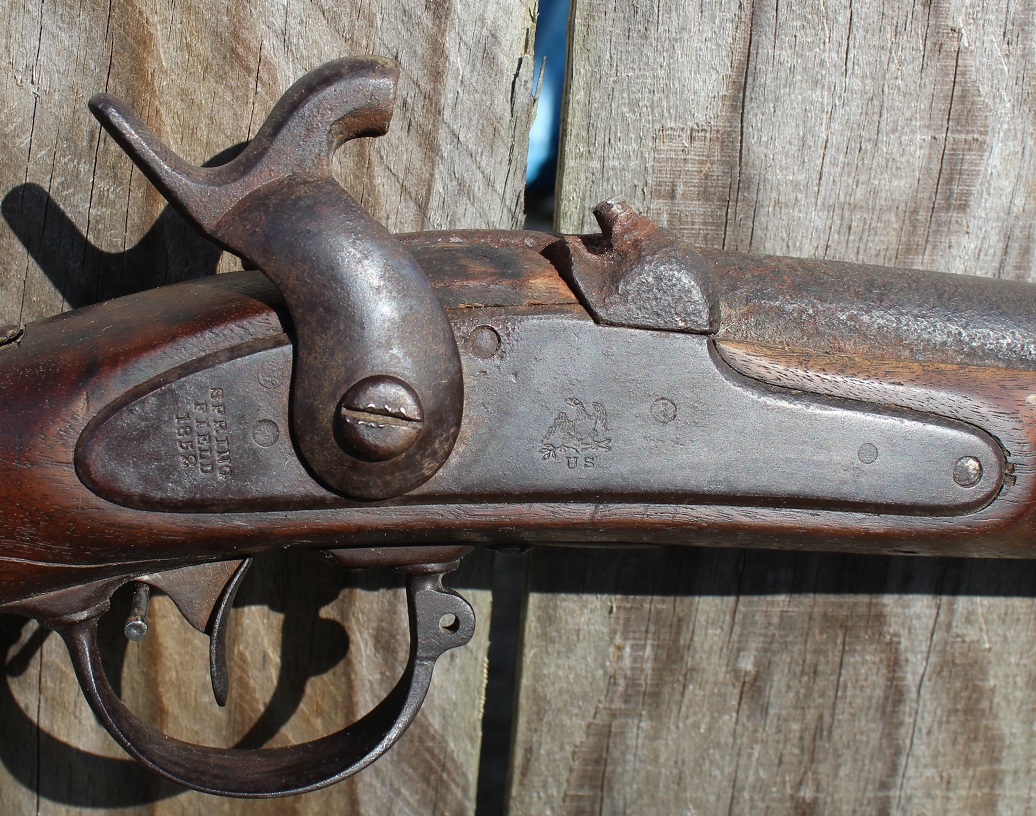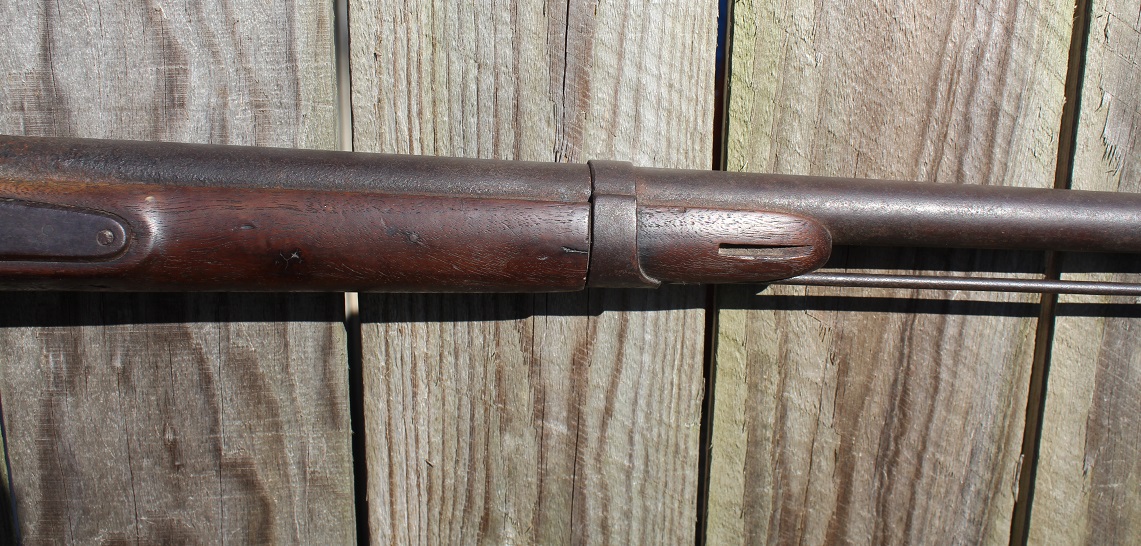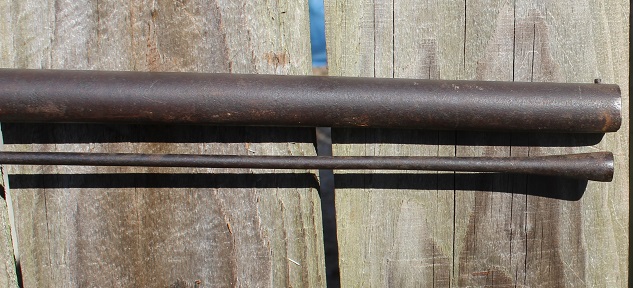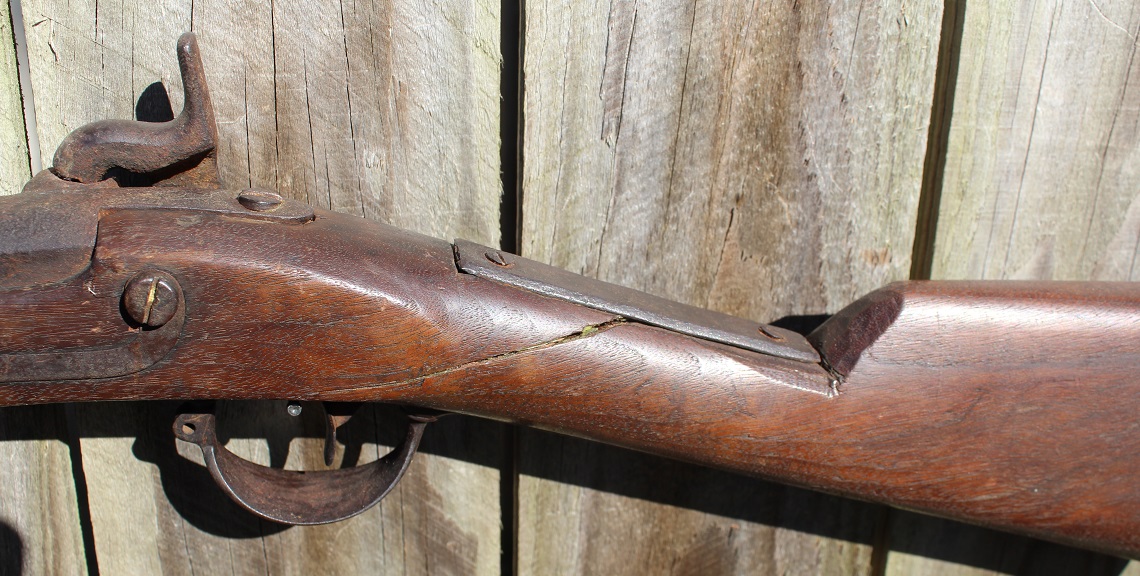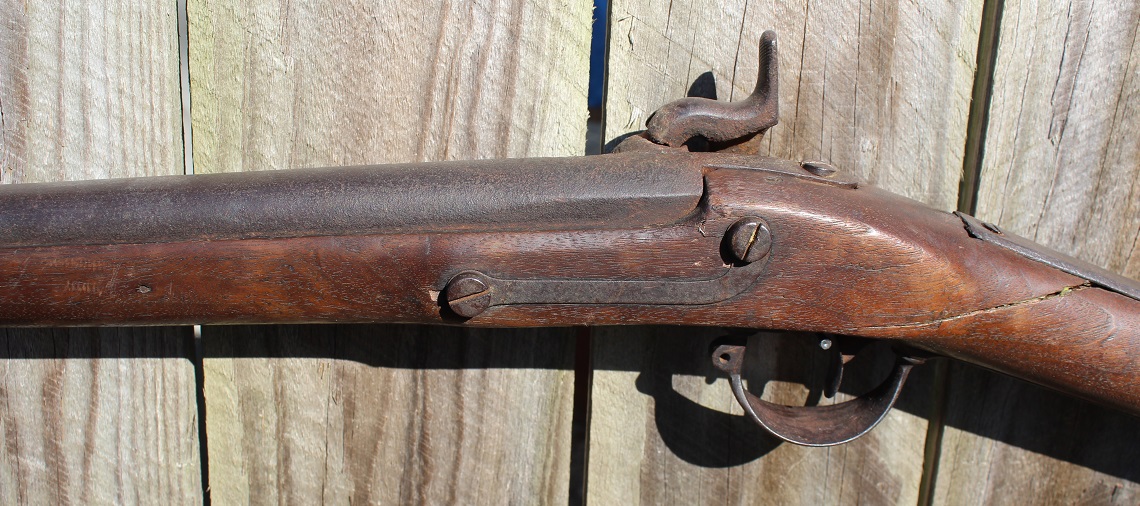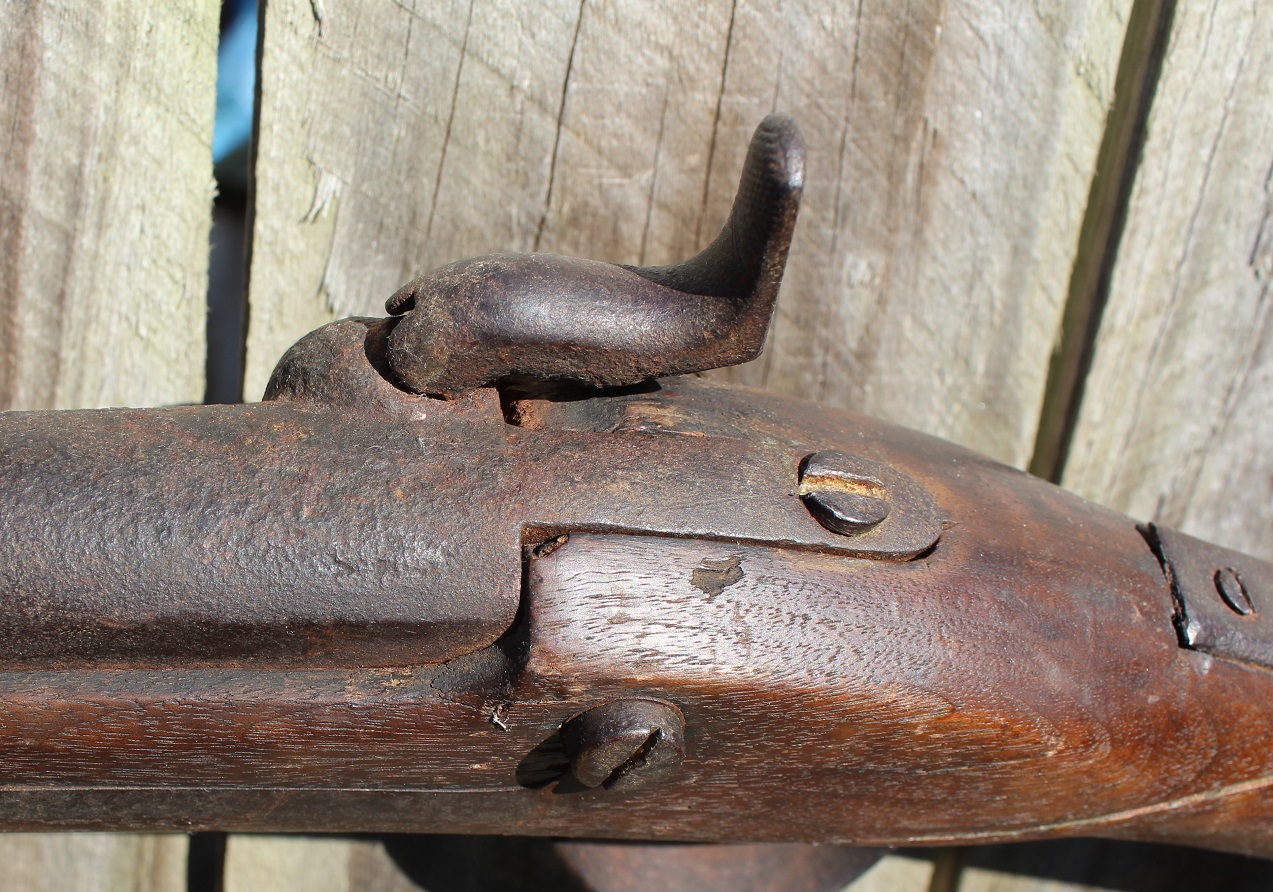 2. Here is an old .72 caliber Pottsdam Musket that was converted to a shotgun. The great thing about this piec is that it still retains it's original over 41 inch long barrel complete with the bayonet catch. This musket took a particular unusual bayonet that locked onto the barrel with this catch called the M-1842 Laukart system . The front sight would be on the front barrel band now lacking. The rear sight was a block sight which has been ground down some. The original lock looks great but the tumbler is broken so no hammer remains. This piece comes with the original brass butt plate as well as brass triggerguard and one sling swivel which are usually missing. This piece also has the reverse sideplate and screws. The rear barrel band is missing and the stock is tied on with a modern shoe lace. Great Parts here or use as a wall hanger. $325.00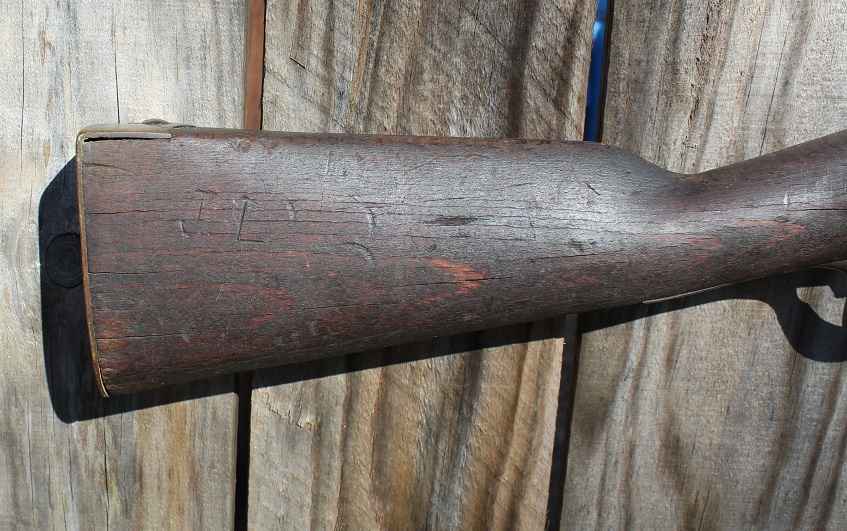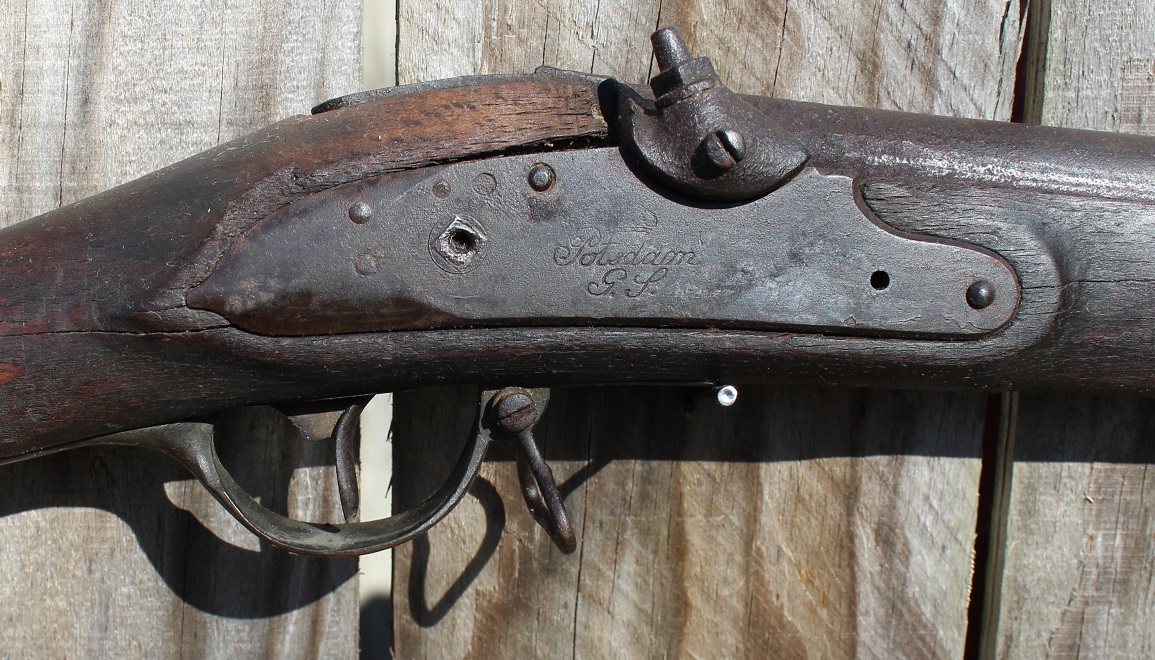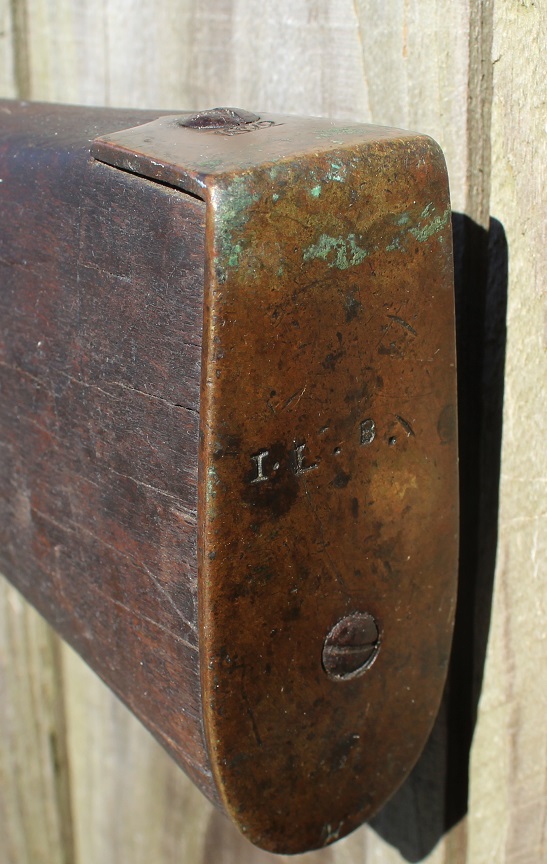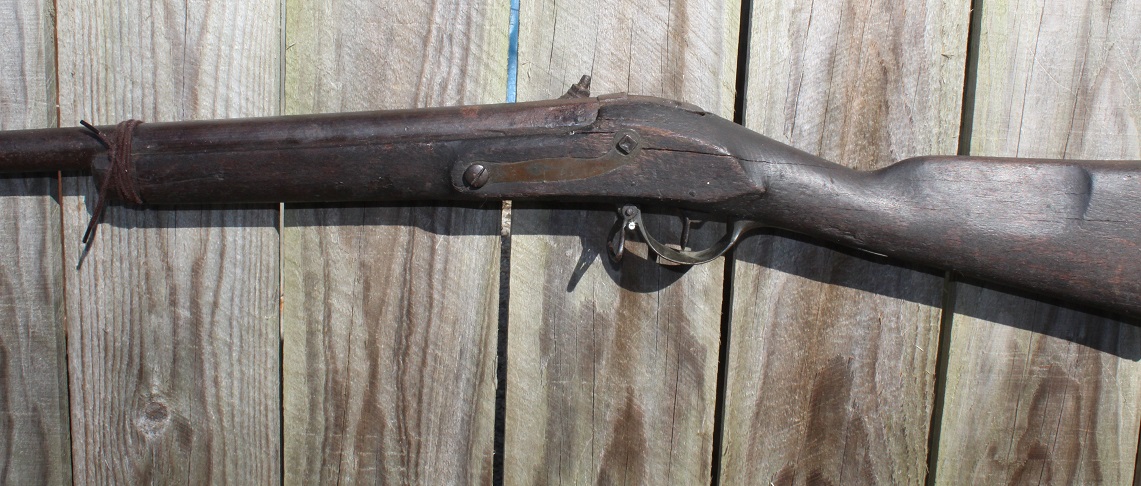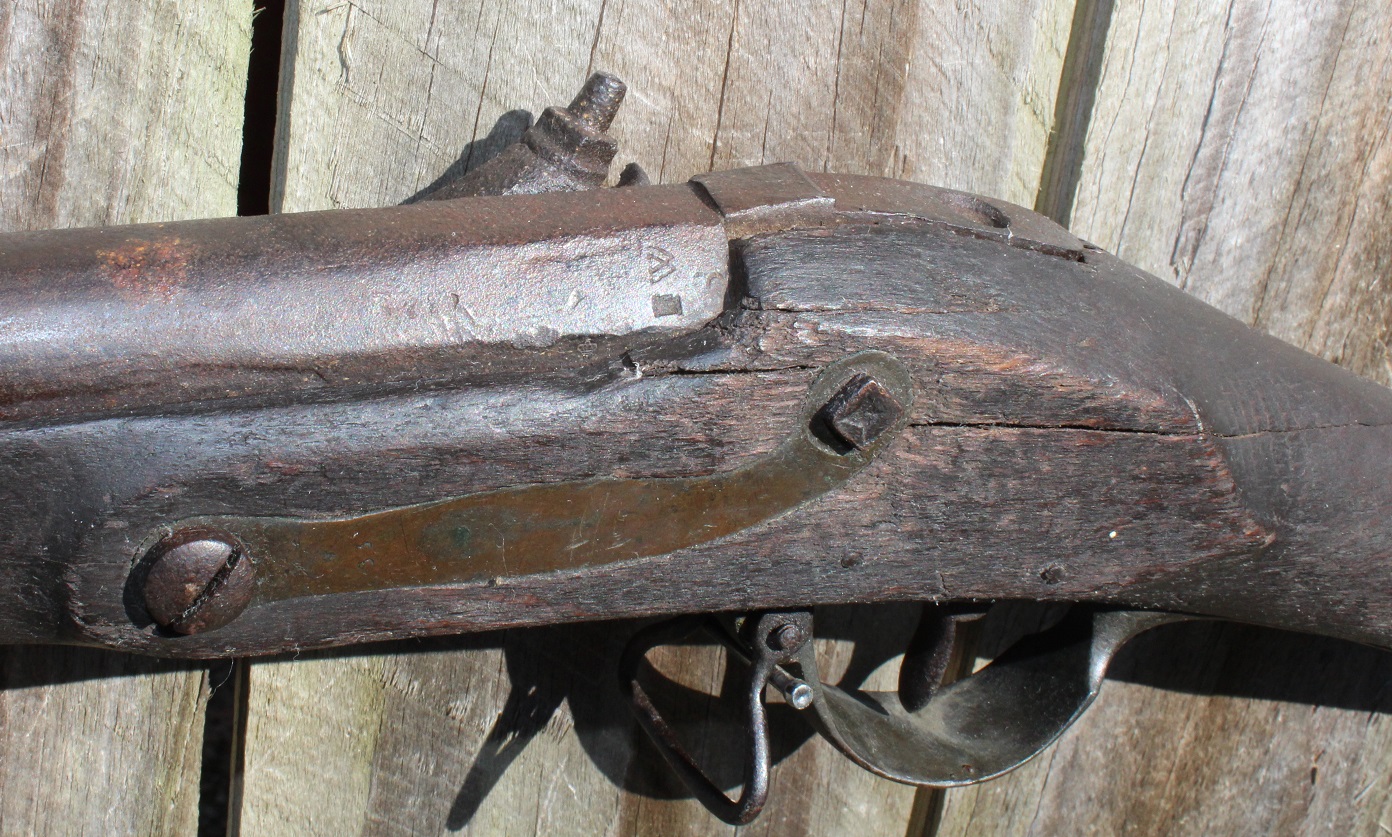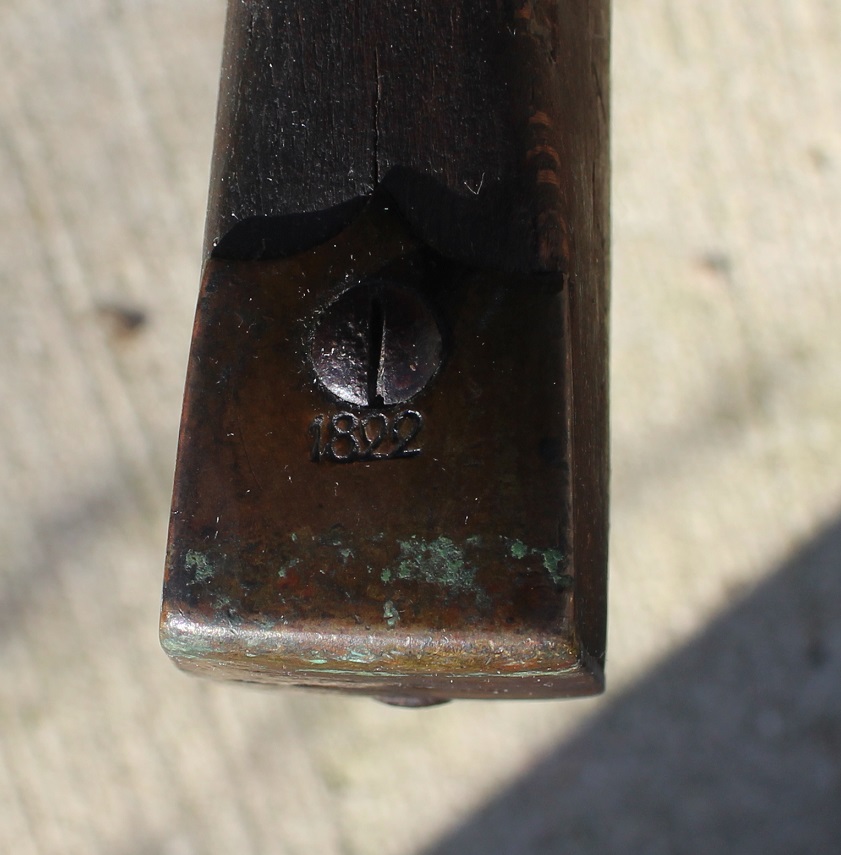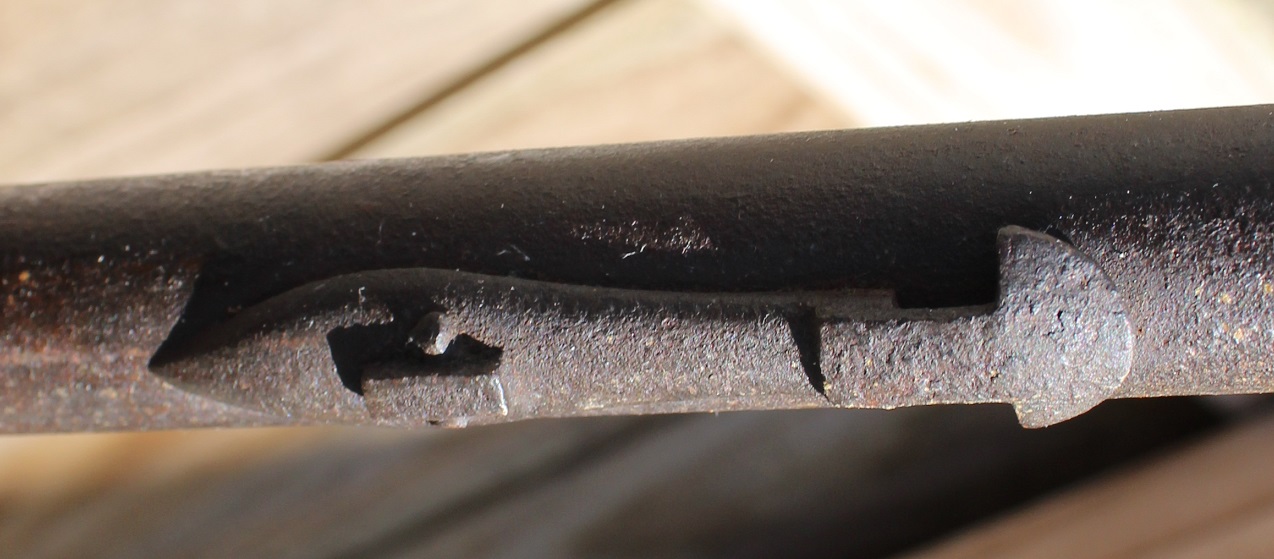 weapons 159 Consignment
Here we have a Lane & Reed Halfstock musket/fowler. If it's a musket it about .52 caliber and if it's a fowler it's about 28 gauge. The firm of Lane & Reed manufactured firearms in Boston from 1826 to 1849. This halfstock is approximately 48 inches long overall with a 32 1/2 inch long unrifled barrel with the last 2 1/2 inches of the barrel being octagon and the rest round. There is no rear sight but there is a simple small blade site at the front. I believe there is something stamped on the top of the breech but due to pitting from firing black powder I just can't make it out. There is some simple engraving on the tang. The lock is a back action lock and is marked nicely LANE & REED BOSTON. There is also simple engraving on the lock. The hardwood stock is in very good condition with the exception of a repair above the lock behind the nipple area. The wrist has some stimpling and cross hatching hand done on it. There is a small silver plate on the top that has the initials of 'I.M.D." in cursive on it. At least that's what I think it says. The butt plate is brass and very nicely engraved with a dove or partridge as well as line engravings. The trigger guard and ferrels are brass with the trigger guard and 1 stock ramrod ferrel having engraving on them. The other two ramrod ferrels have simple lines on them and they match. The action works well and the firearm looks very nice! There is a wooden fill on the bottom of the barrel to the ramrod that most firearms do not have. This is a very nice addition. The ramrod is the original metal ramrod with a cupped end and a nice treaded end to removed stuck bullets. The barrel escuteons are brass as is the key and the ramrod is pewter. Nice piece! $495.00
weapons 158 Consignment
Here we have an unusual Model 1816 U. S. Musket that has a Harperís Ferry 1831 dated lockplate on it. The lock is fine and marked nicely. This one was converted to the cone on the top of the barrel system which is quite common. The Lock works just fine. The barrel and stock has been cutdown at the end with the barrel now being 34 ľ inch long instead of the usual 40 inches long. The barrel has been cut about a ľ inch longer than the stock. You can see on top where the last band of the nose cap had been for many years. Rifling is in the barrel and still quite pronounced. The tang is marked with something but I cannot make it out-should be the year it was made but there is substantial pitting there. There still remains the middle and rear barrel bands and springs. The buttplate is also present and marked US as it should be. The stock is still in fair condition as to what is left Ė there is some burn out on the lock side and a substantial chip out of the reverse tang side. There are letters carved into both sides of the buttstock. Some of these old pieces were cut down for Cavalry use by the CS but who knows for sure. This one was purposely cutdown for some reason. It could have been damaged and salvaged for use by usually the Confederates but heck the Native Americans did it too. Usually the ones turned into shotguns after the war had shorter stocks and the rifling bored out of them which this one still has the rifling. No history accompanies this piece so who knows. For this piece $550.00
Consignment
weapons 157
Here we have a extremely Huge Folding Bowie Knife that measures almost 24 inches long when the blade is folded out and locked in place. This piece is a Historic knife from the 1840ís Ė 1850ís. The grips are in 4 sections with 2 pearl inserts in the middle. The sections are etched with a Knight and floral designs on each side. These sections are bone and are pinned to the knife with brass pins. There are no cracks or breaks in the grips. The pommel end cap is steel in 3 sections representing 3 buttons on a rattlesnakes rattle with is typically American in nature. There is a line design on the buttons. The blade is in fair to good condition with some moderately severe pitting that is not active at this time. I could find no makers name on this piece. Take a look at the pics and comments under some of them. This is a highly unusual knive from the pre-Civil War days and you may not find one on an internet search. This is a very unique piece and if the condition was better this would be a $4500 knife! In this condition we have this fine old unusual folding bowie knife priced at $1250.00 REDUCED TO $950.00 !!!
Consignment
Weapons 155
Here we have a .54 caliber Burnside Carbine. The carbine was designed and patented by Ambrose Burnside, who resigned his commission in the U.S. Army to devote himself full time to working on the weapon. The carbine used a special brass cartridge, also invented by Burnside. Pressing the weapon's two trigger guards opened the breech block and allowed the user to insert a cartridge. When the trigger was pulled, the hammer struck a percussion cap and caused a spark; a hole in the base of the cartridge exposed the black powder to this spark. The unique, cone-shaped cartridge sealed the joint between the barrel and the breech. Most other breech-loading weapons of the day tended to leak hot gas when fired, but Burnside's design eliminated this problem. In 1857, the Burnside carbine won a competition at West Point against 17 other carbine designs. In spite of this, few of the carbines were immediately ordered by the government, but this changed with the outbreak of the Civil War, when over 55,000 were ordered for use by Union cavalrymen. This made it the third most popular carbine of the Civil War; only the Sharps carbine and the Spencer carbine were more widely used. They saw action in all theatres of the war. There were so many in service that many were captured and used by Confederates. A common complaint by users was that the unusually shaped cartridge sometimes became stuck in the breech after firing. By using ordnance returns and ammunition requisitions, it has been estimated that 43 Union cavalry regiments were using the Burnside carbine during the 1863-1864 period. Additionally, 7 Confederate cavalry units were at least partially armed with the weapon during this same period. Five different models were produced. Toward the end of the Civil War, production was discontinued when the Burnside Rifle Company was given a contract to make Spencer carbines instead.
This particular carbine is a 4th model weapon. It has many dings and dents from use but still functions as it should. The nipple is in good condition as is the other metal parts. The barrel bore is dark but still exhibits rifling. The markings on the lockplate are fairly clear and easy to read as well as the markings on the breechblock. According to Springfield research the serial number right before this one went to the 3rd Ohio Cavalry so there is a good possibility that this one went there as well. The barrel band was lost at some point and someone wrapped single strand steel/iron wire around the forestock to hold it on. It's actually a pretty good job and gives something to the mystic of this piece! If it could only talk! For this piece of history $1150.00
Consignment
Weapons 153
Here we have the more scarce Merrill Carbine. These carbines were made by H. Merrill of Baltimore, MD with a quanity of about 14,495. These carbiens are 54 caliber, percussion breechloaders. This is a single shot, loaded by lifting up and pulling back of the breech lever. This piece has a 22 1/8" round barrel with one band. The carbine has brass fittings finished bright and the iron parts were original finished blue or bright with a casehandened lock, breech and breech lever. Now all iron parts have a nice dark patina to them. The stock is Walnut and in good condition except for a couple of cracks that you can see in the pics and various dings from use. The serial number on the barrel of 72XX is different than the one on the lock but the patinal matches perfectly. 7134 and 7290 went to Co. B 1st Ky Vol. Cavalry and this one is right in between that. Merrills were known to be issued to the 1st N.Y. 1st, 5th & 18th Pennsylvania, 11th, 17th, 18th New Jersey, 7th Indiana, 1st and 3rd Wisconsin, the 1st and 3rd Kentucky as well as the 1st Deleware Cavalry. This is the first type Merrill with the iron plunger for loading cartridges. The wnd model had a copper faced breech plumger serving to secure the percussion cartridge into the breech and form a gas seal. The lockplace is marked J. H. MERRILL BALTO./PAT.JULY 1858/APL. 9 MAY 21-28-61. The top of the breech plunger is marked J.H.MERRILL BALTO/PAT. JULY 1858. The barrel near the nipple (replaced nipple) has some pitting from firing the corrosive black powder but it should have as this piece was used alot. The action works well as well as the breech plunger. The butt plate is brass as well as the patch box , the trigger guard and the barrel band. There is a spot in the patch box for another nipple, now lacking. There are a couple of cracks in the stock behind the lock on both sides but nothing is loose. There are also some gouges and dings from use. This is still a very nice carbine. For this one $1650.00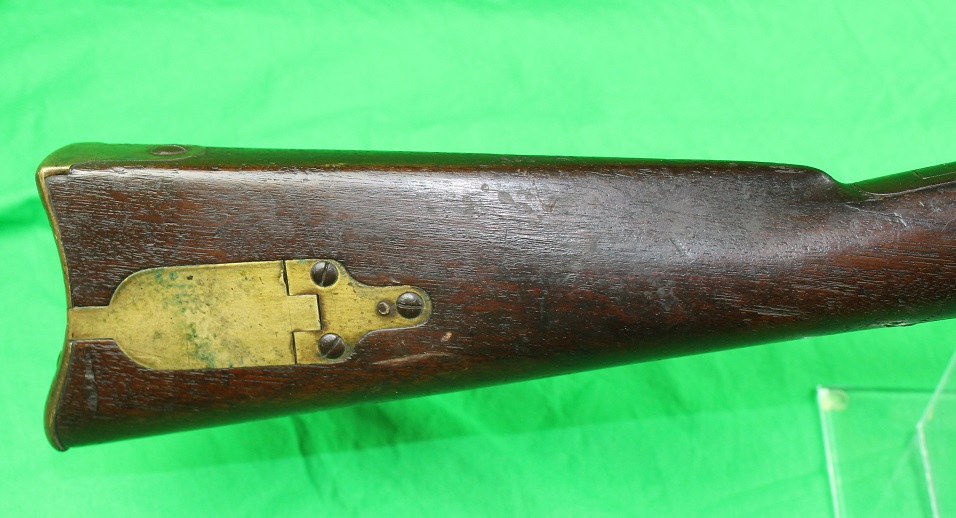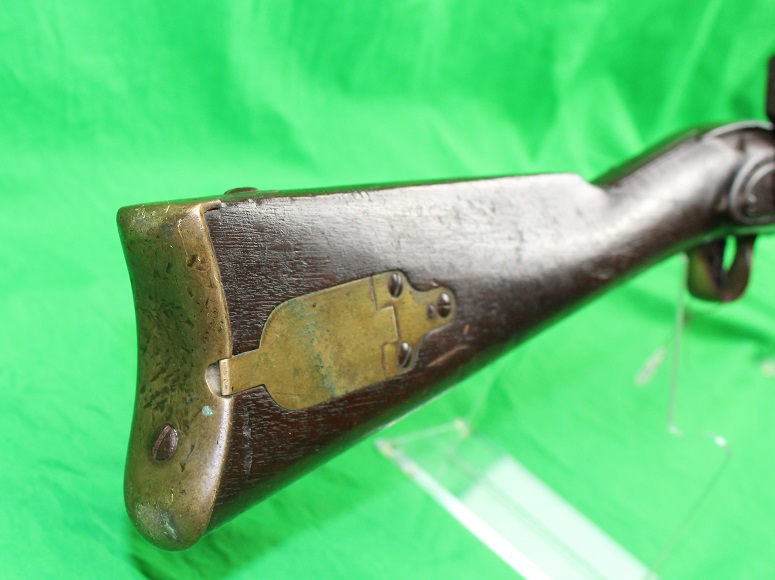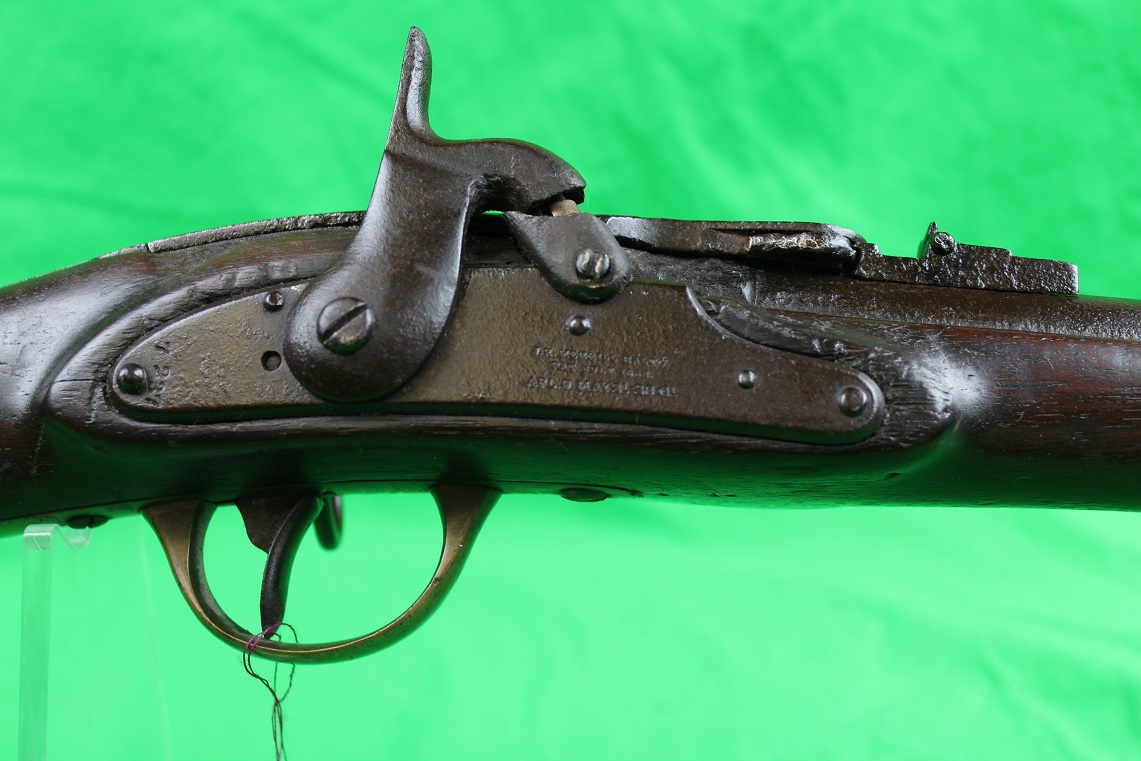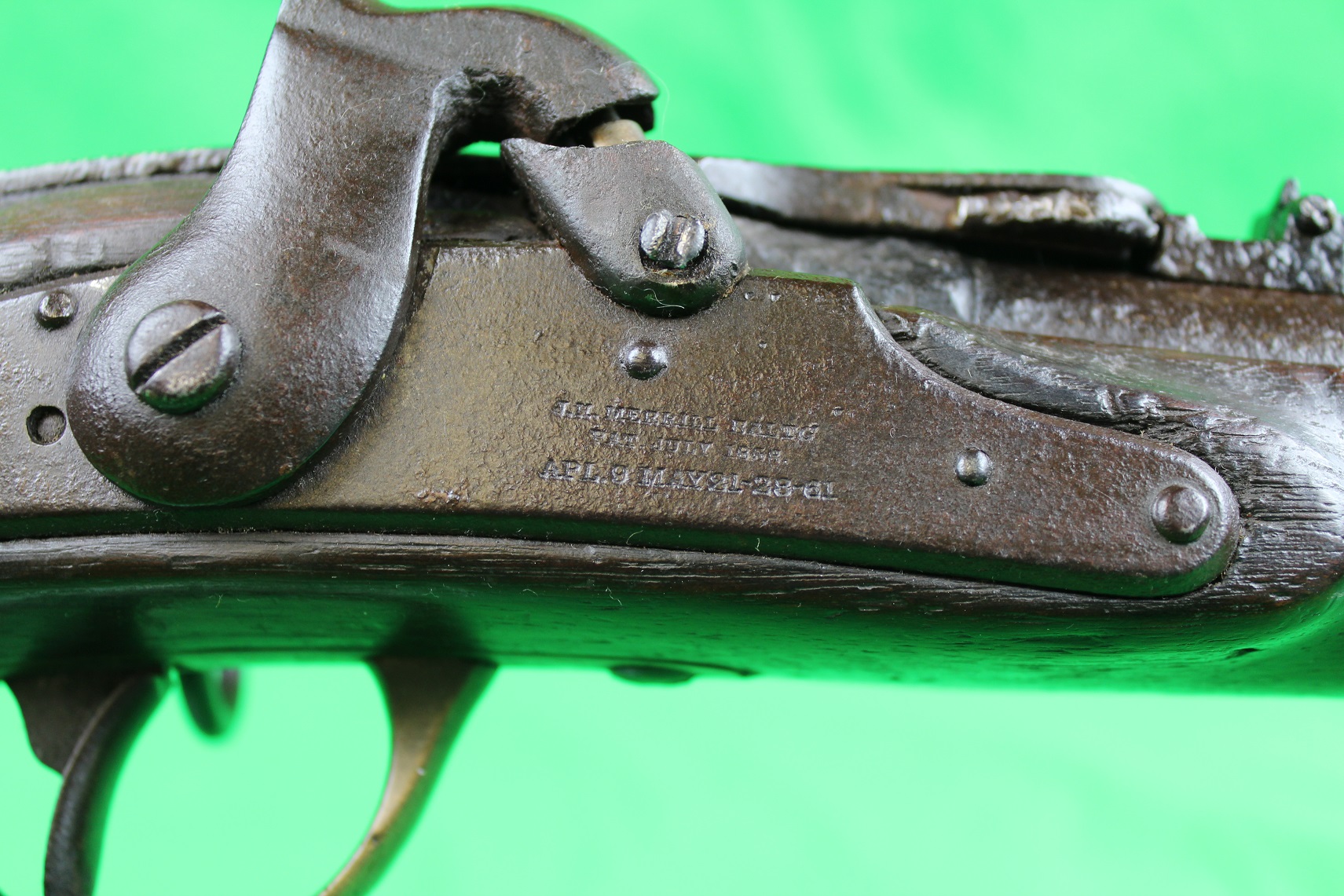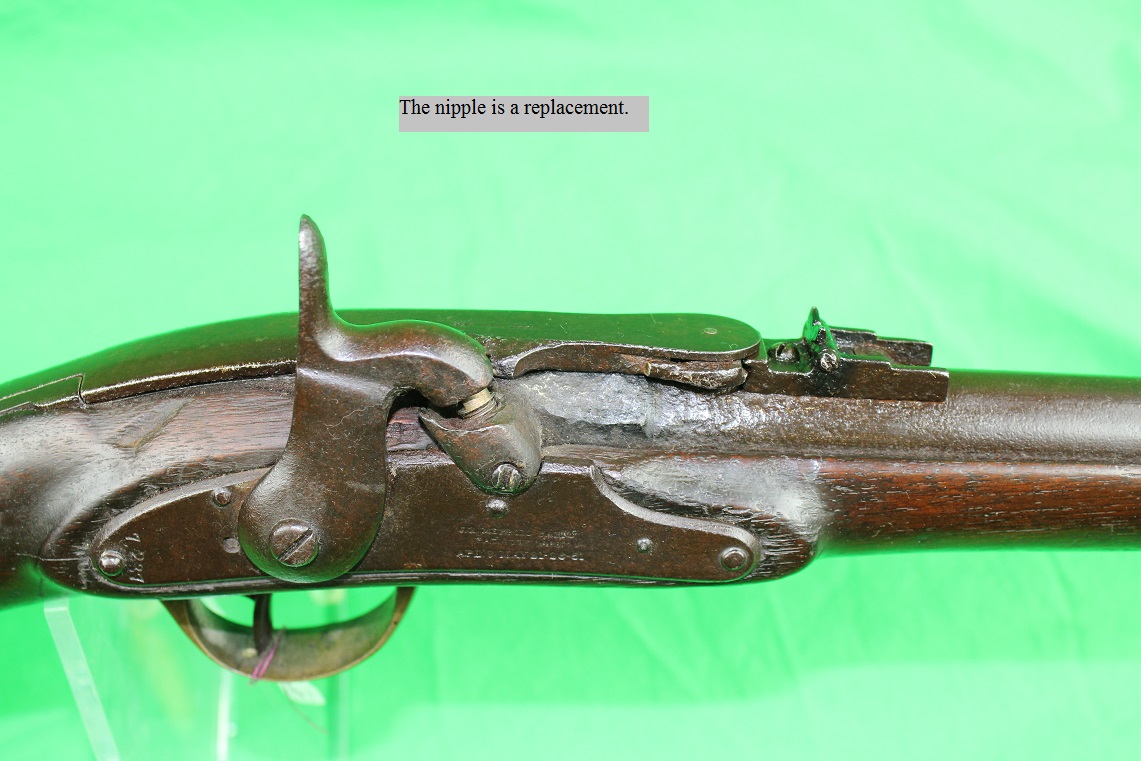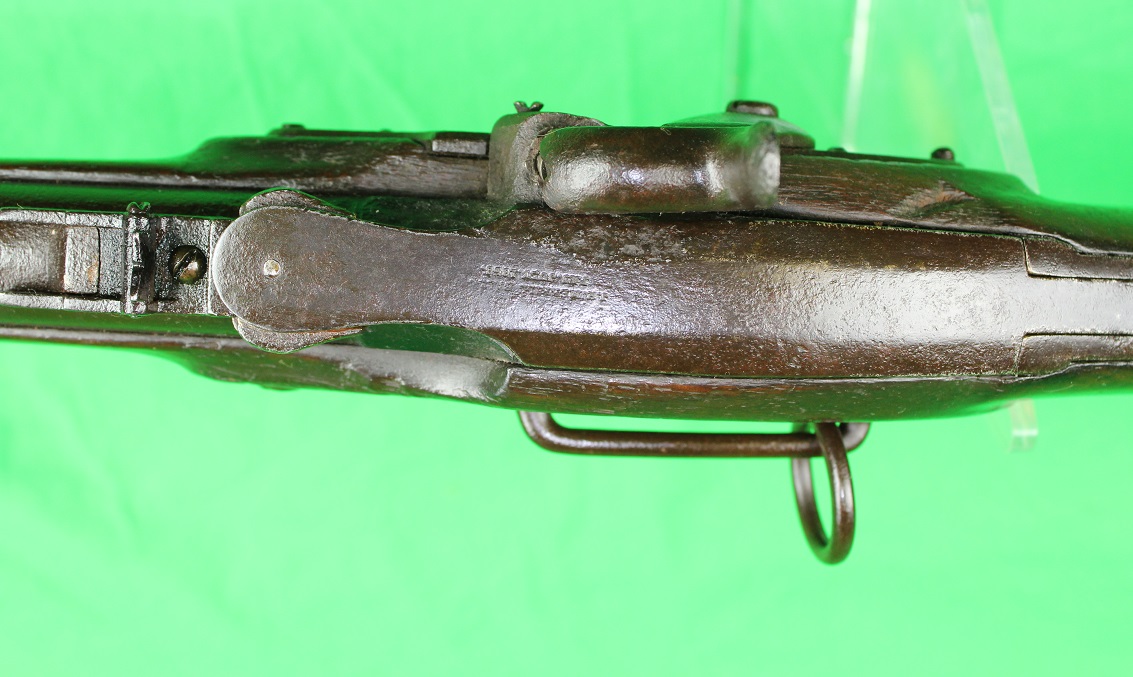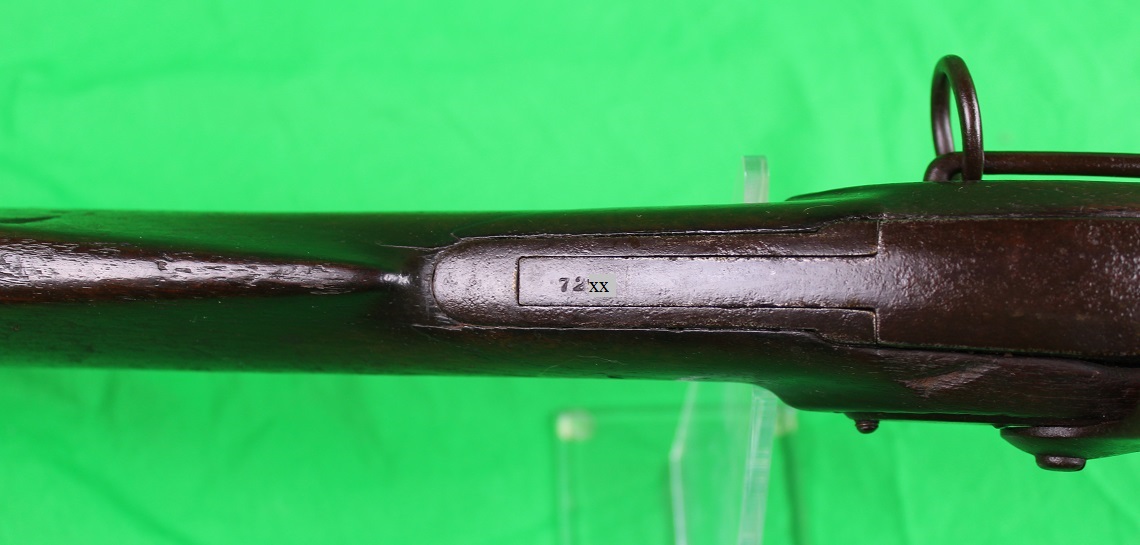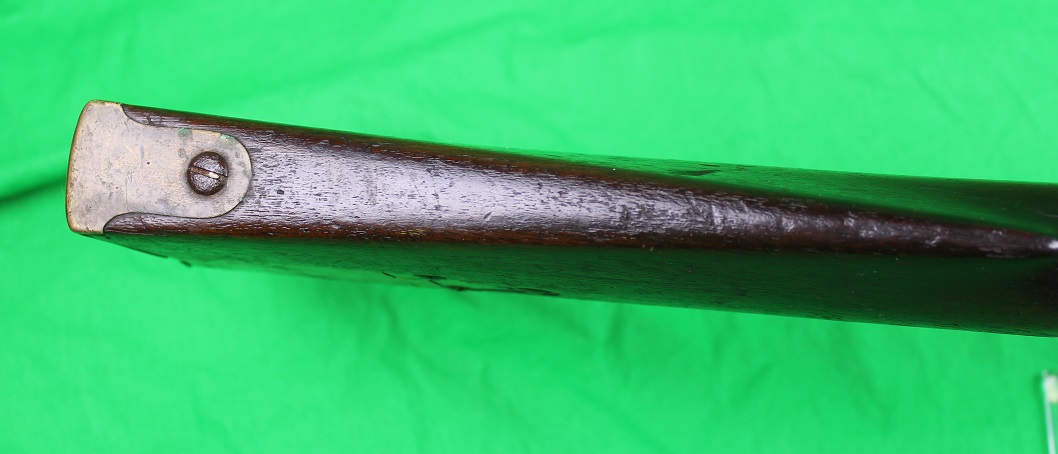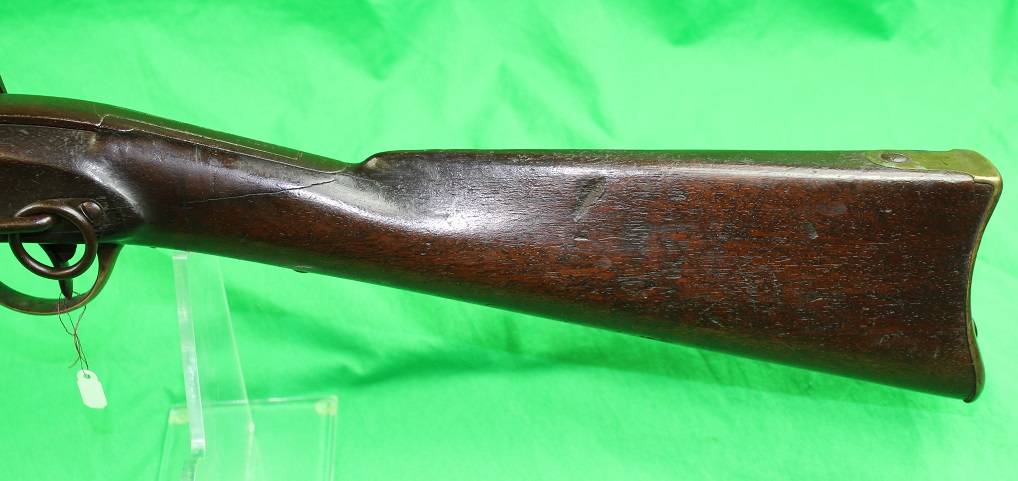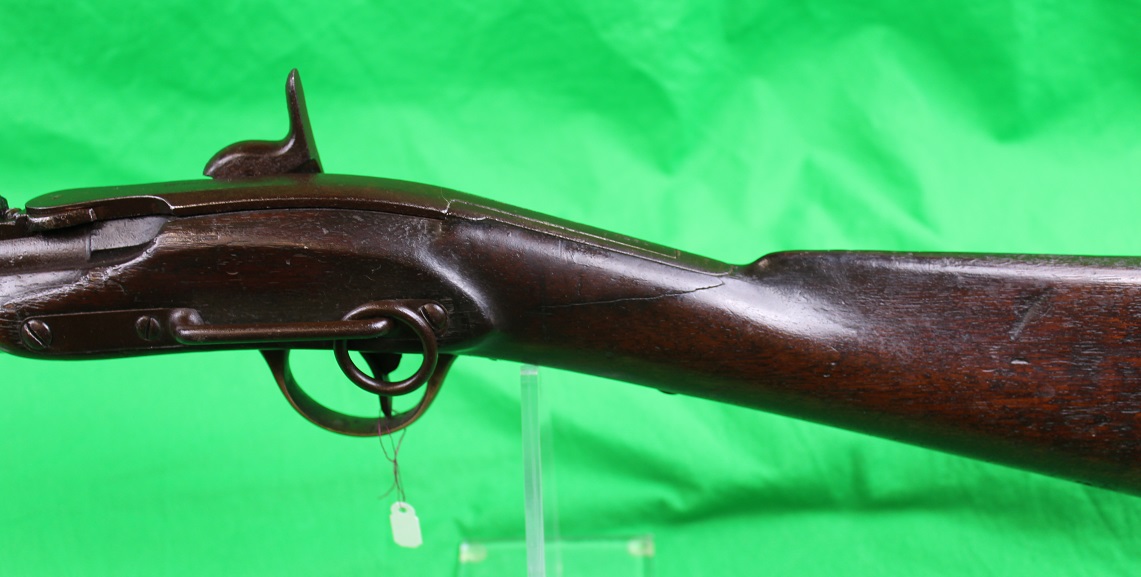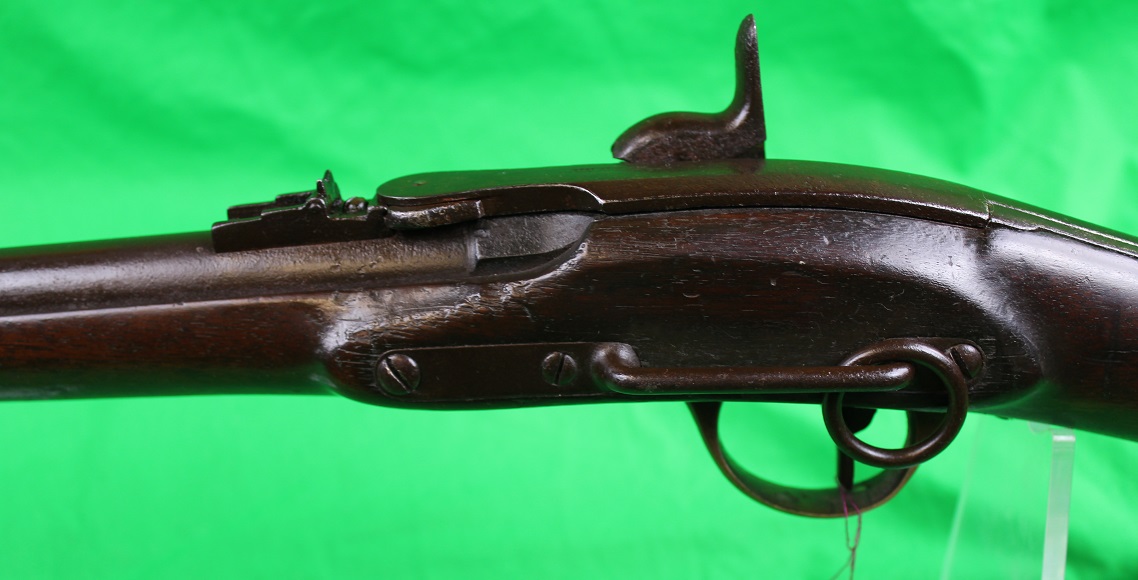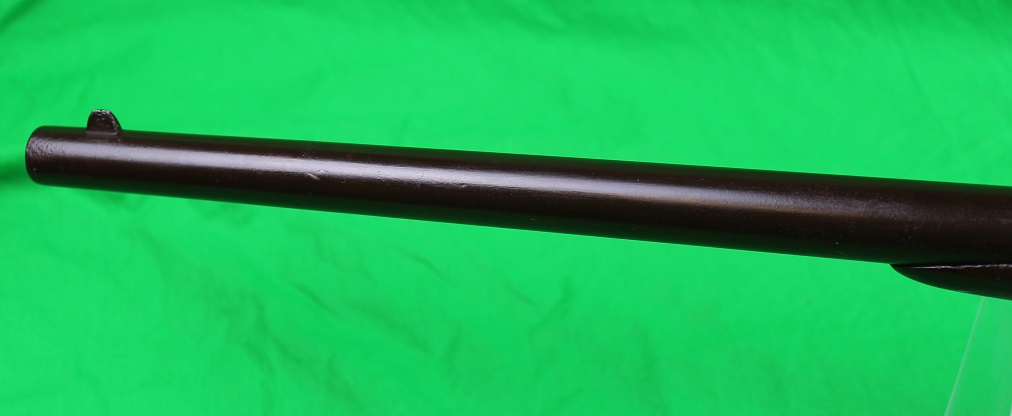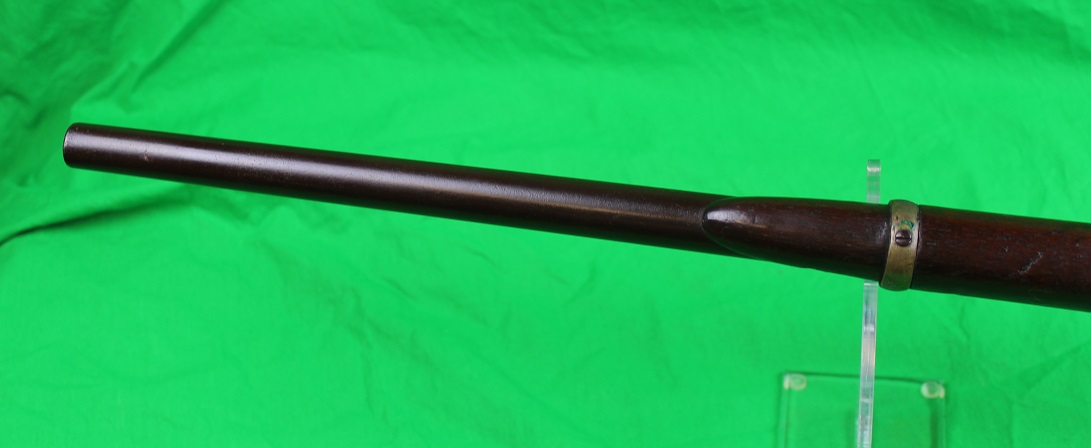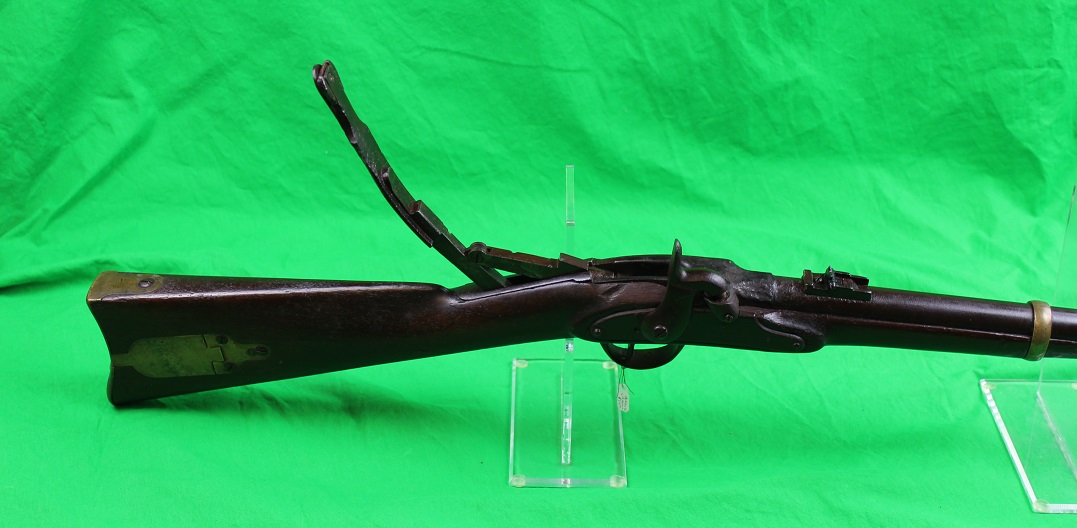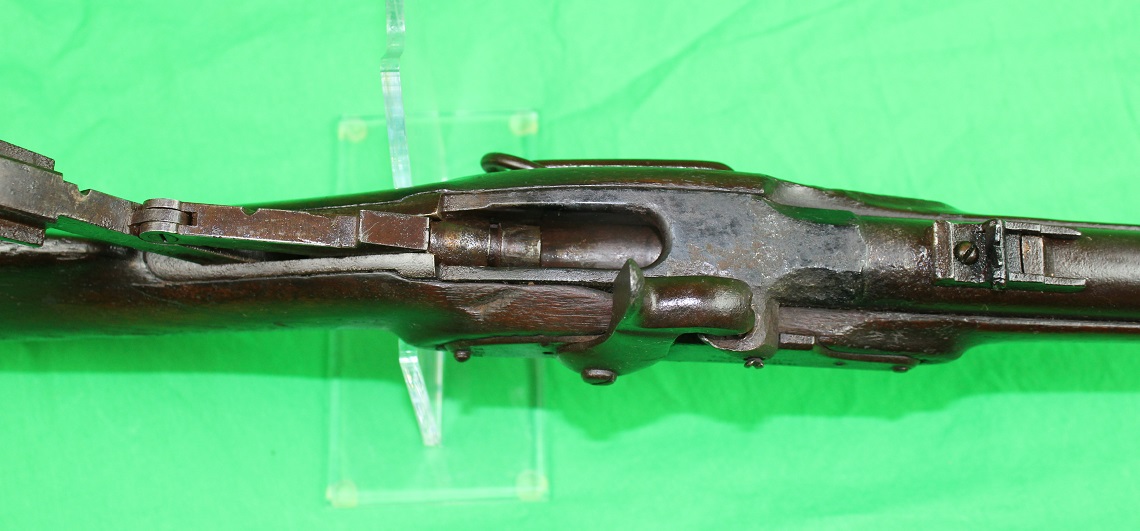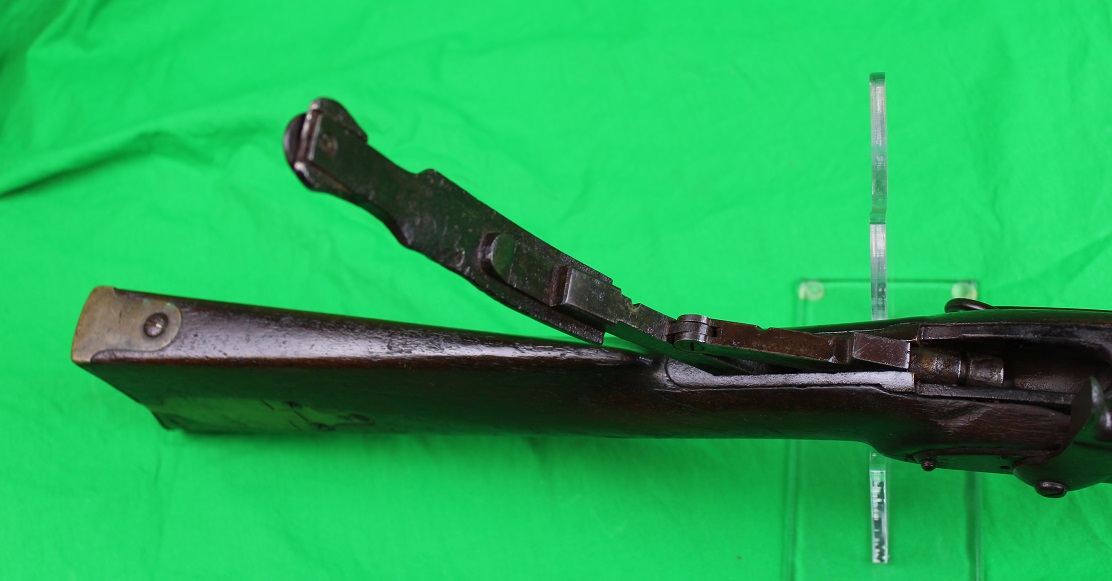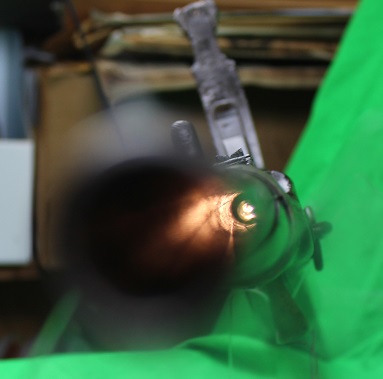 Weapons 152
Consignment
New Arrivals 181
Here we have a group of 1800's 'Saturday Night Specials' that were produced under several different eye catching names. None of these 4 function but make great wall hangers or shadow box revolvers. They were all made before 1898 so no paperwork is required. Here they are:
1. This is a CENTENNIAL 1876 little 7 shot .22 caliber revolver with wooden birdshead grips. It appears complete but the action doesn't work. $95.00
2. This next little 7 shot .22 caliber revolver is a model Colt Open Top Pocket Model Revolver having a 2 3/8ths inch long barrel. The birdshead grips are fairly nice but one has a chip out of the top. They made these from 1871 to 1877 with a total production of 114,200. This one has a serial number of 818XX. This revolver is the standard model without ejector rod. The revolver is in bad condition as it's loose, the upper frame is cracked and it doesn't function but what the heck! It's a COLT! $145.00
3. SOLD !!! This one is a PIONEER .32 caliber 5 shot revolver with brass engraved frame and hard rubber grips. The frame is just wonderful with renderings of a log cabin on one side and floral engravings on the other. The brass is great while the iron/steel parts are pitted. The revolver doesn't function but it looks great. The grips are really nice too. For this one $125.00
4. This last little pistol swivels to the side for loading. This is a .22 caliber model missing hammer and grips. This looks like a Merwin & Gray single shot pistol but I cannot seen any markings anywhere. For this parts gun $45.00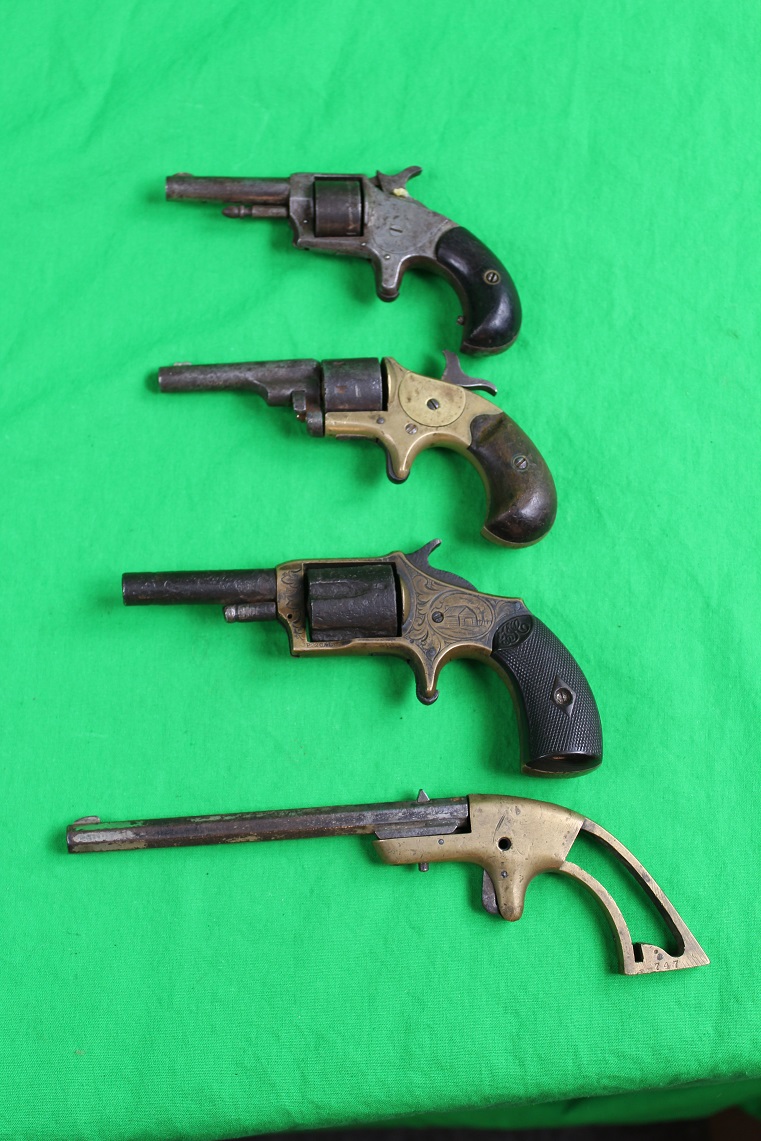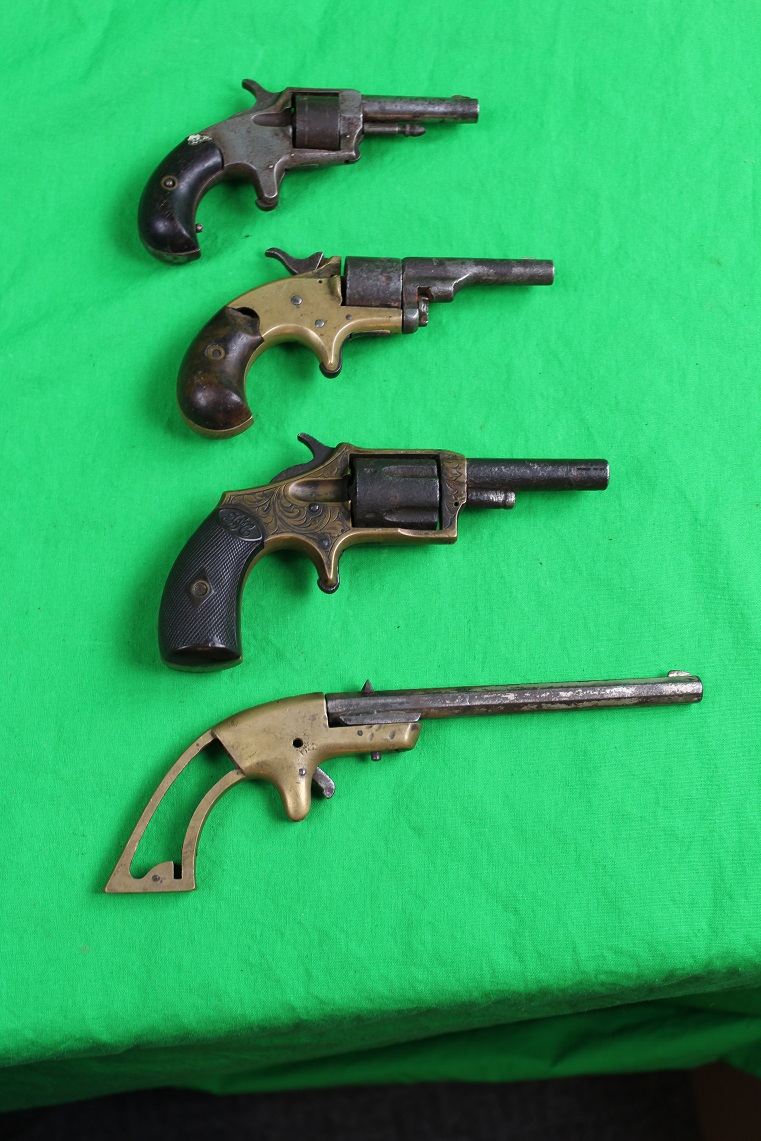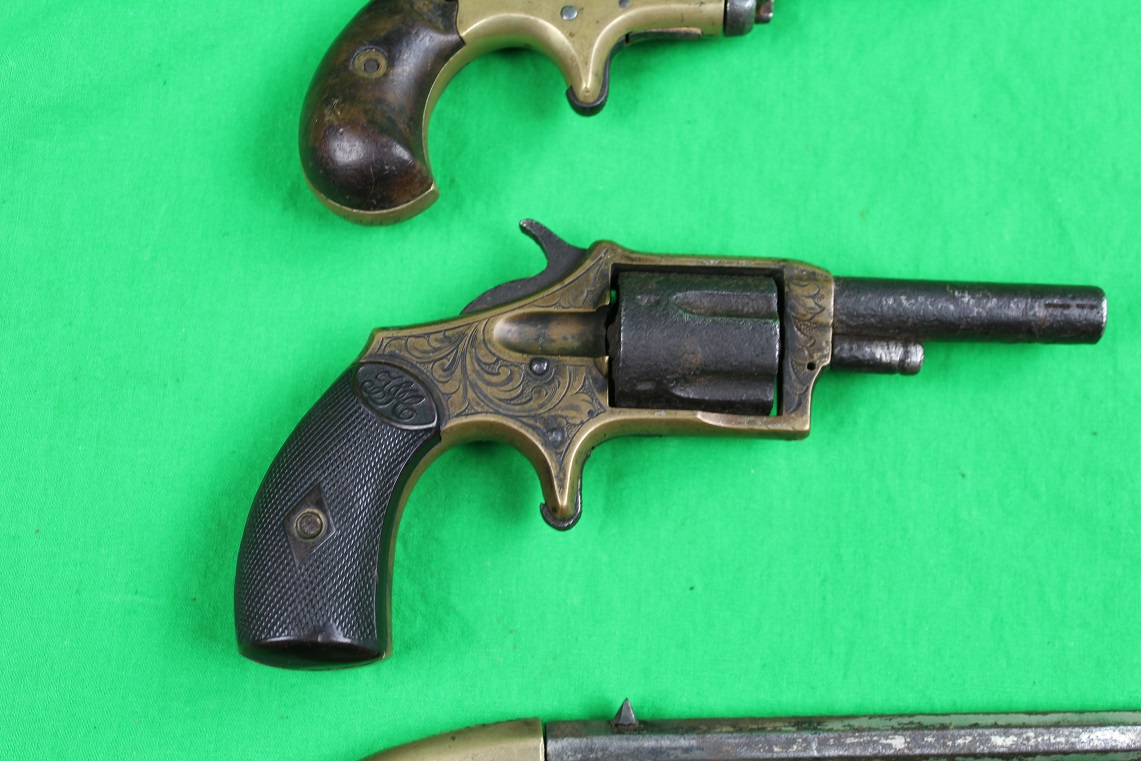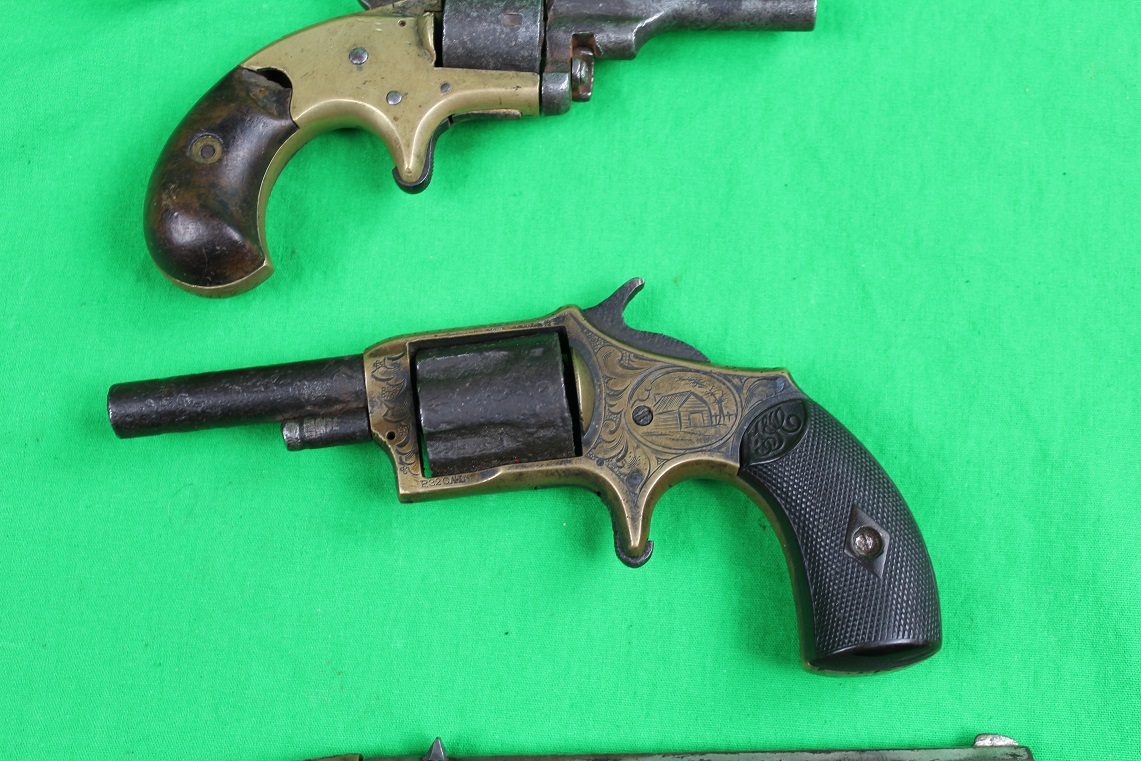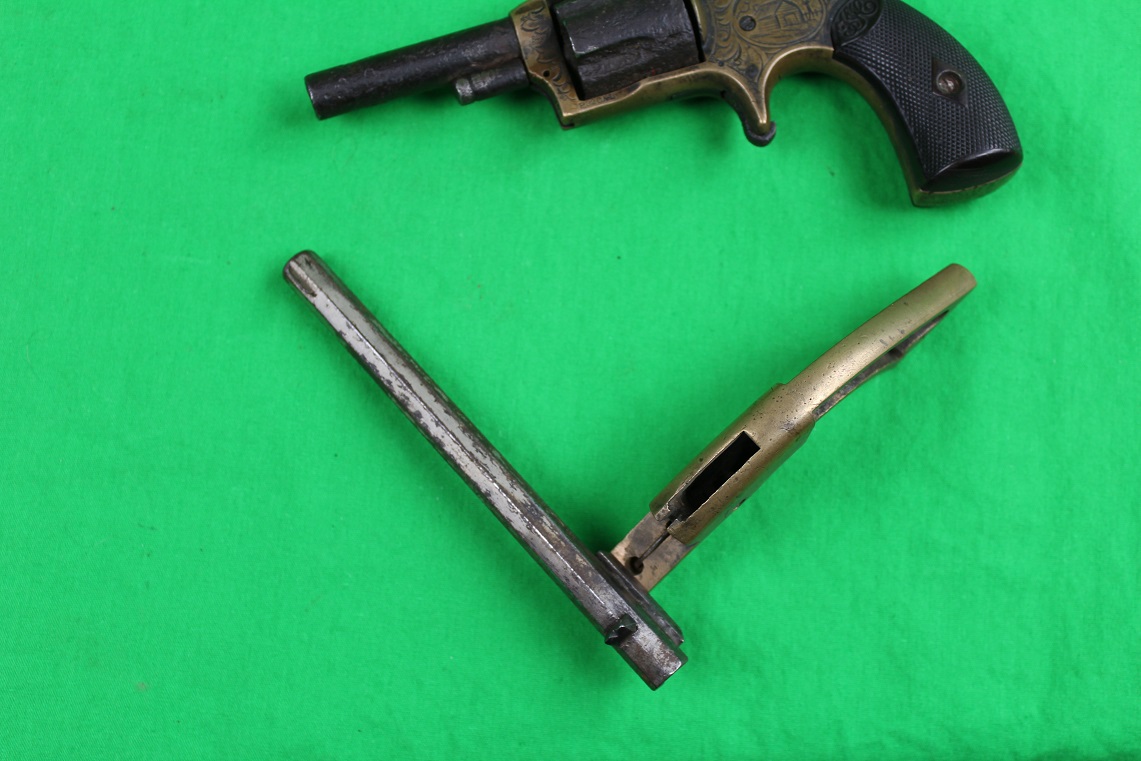 Consignment
Weapons 150
Here we have a lot of 4 late 1800's 'Saturday Night Specials' that were produced under different catchy names. The top 3 are .32 caliber weapons while the last one is a .22 caliber revolver. They are: 1. RANGER No. 2 in being a 5 shot .32 caliber revolver with birdshead grips and fluted cylinder. The grip screw is missing. The revolver works as it should. NIckel over steel with wooden birdshead grips. $125.00
2. Engraved frame TRUE BLUE being a 5 shot .32 caliber revolver with wooden birdshead grips. This one cocks and fires but the cylinder doesn't turn. $125.00
3. OLd nickel over steel (Most gone) RANGER NO. 2 with nice wooden birdshead grips. This revolver cocks and the cylinder turns as it should. $125.00
4. This smallest revolver in this group is a RANGER in .22 caliber. All nickel over steel with most remaining. Nice little wooden birdshead grips. Functions as it should. $125.00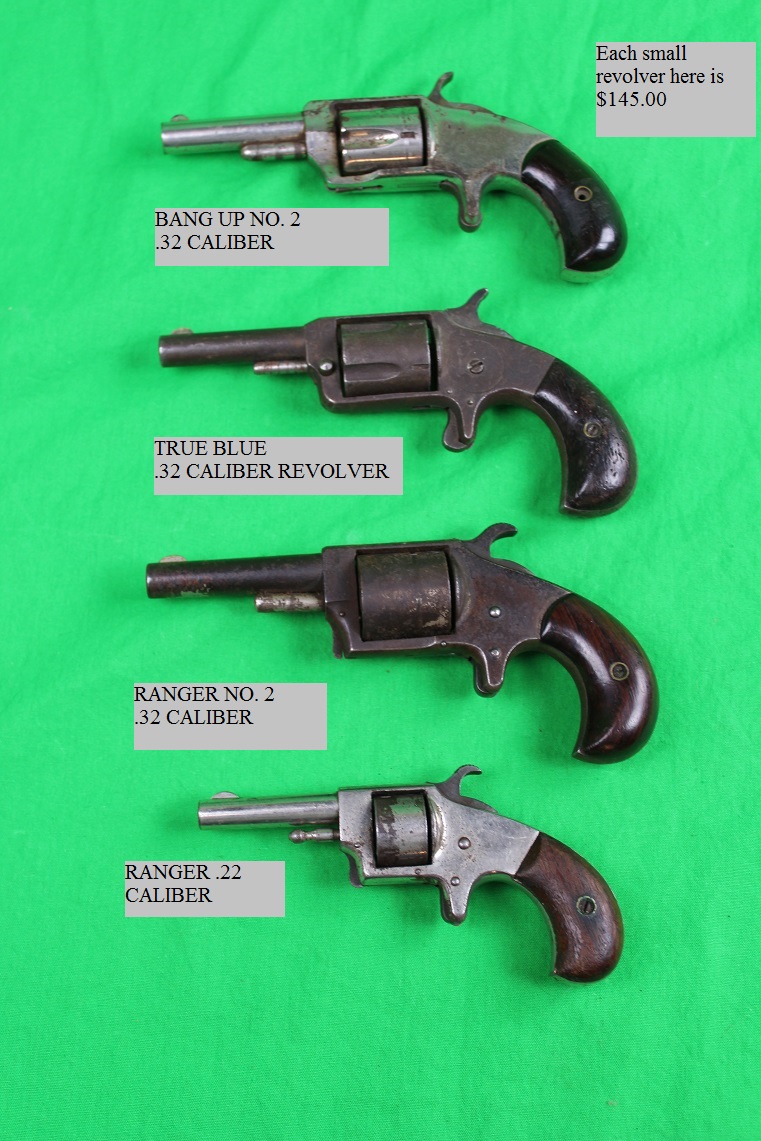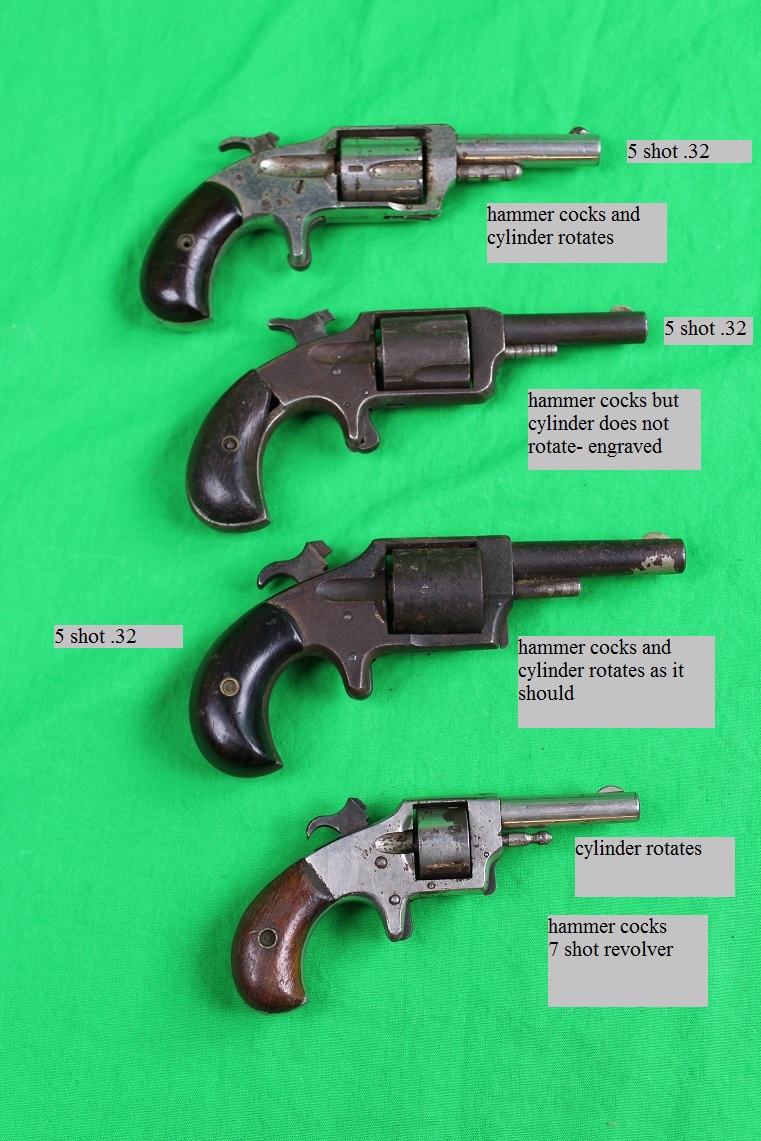 Consignment
Weapons 149
Here is a Marlin NO. 32 Standard 1875 Pocket Revolver that was made from 1875 to 1887 with a total quanity estimated at 19,500. This revolver is a .32 caliber rimfire with a 3" tip-up barrel. It has a Round barrel with a fluted 5 shot cylinder and I believe this one is for the .32 long cartridge. Thie revolver has a nickel plated brass frame with a spur trigger and bird's head grips that are hard rubber and in very nice condition. This entire piece was nickel plated but is mostly lacking on the iron parts such as the cylinder and barrel. The barrel is marked J.M.MARLIN. NEW HAVEN, CT. U.S.A. PAT. JULY 1, 1873. The action works well and there isn't a lot of hinge wobble present on this revolver. For this piece $275.00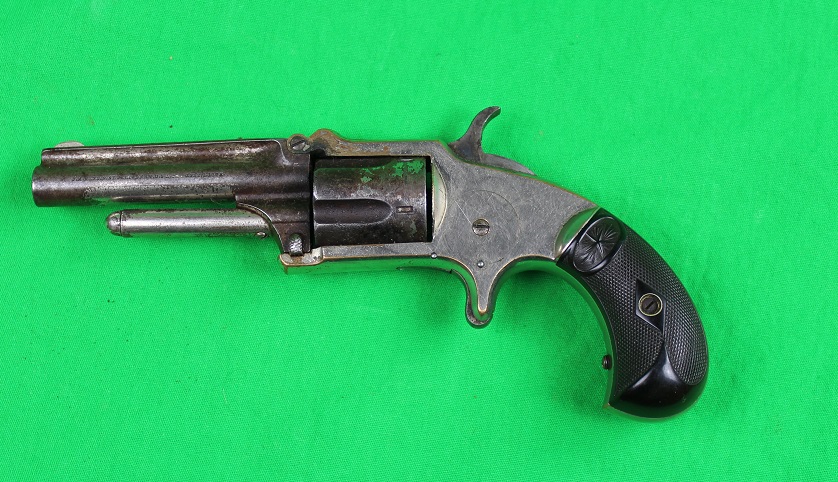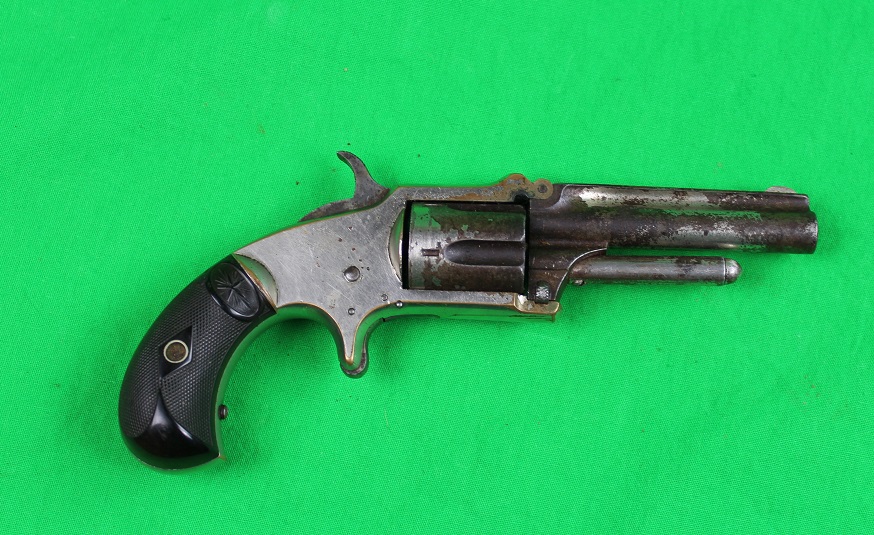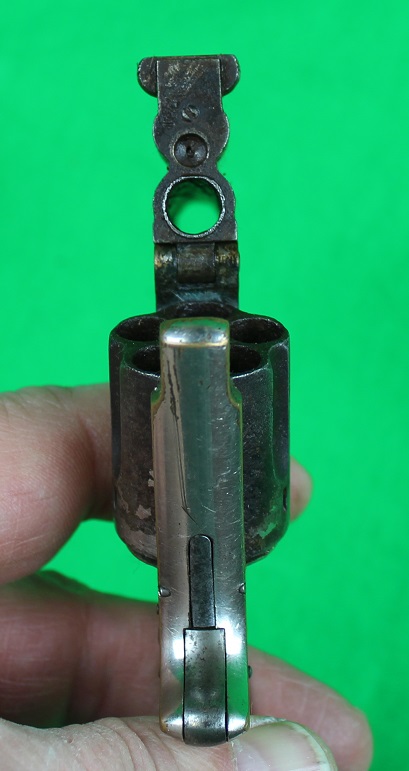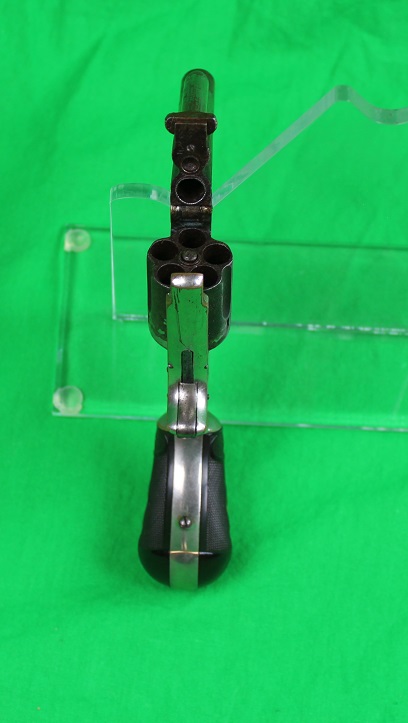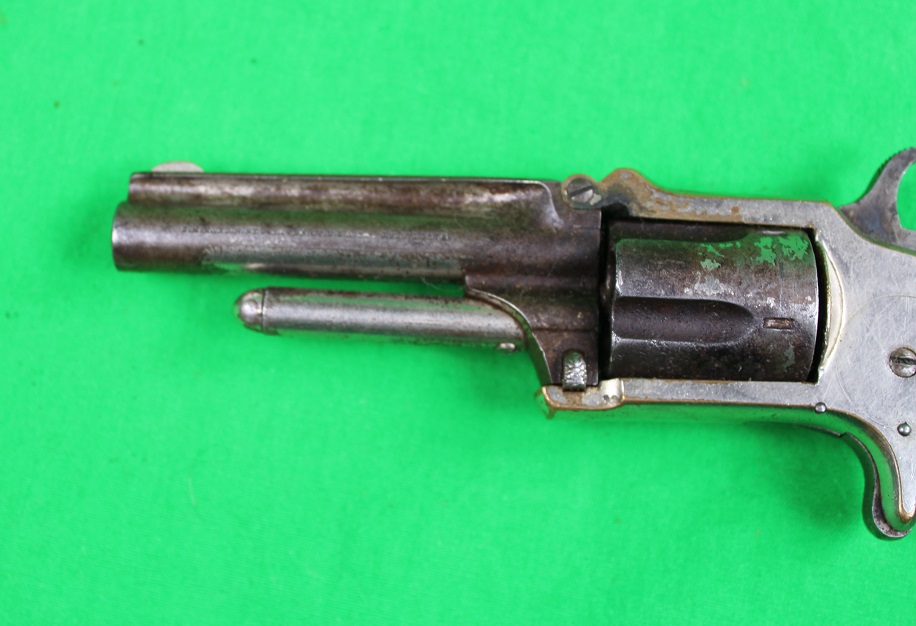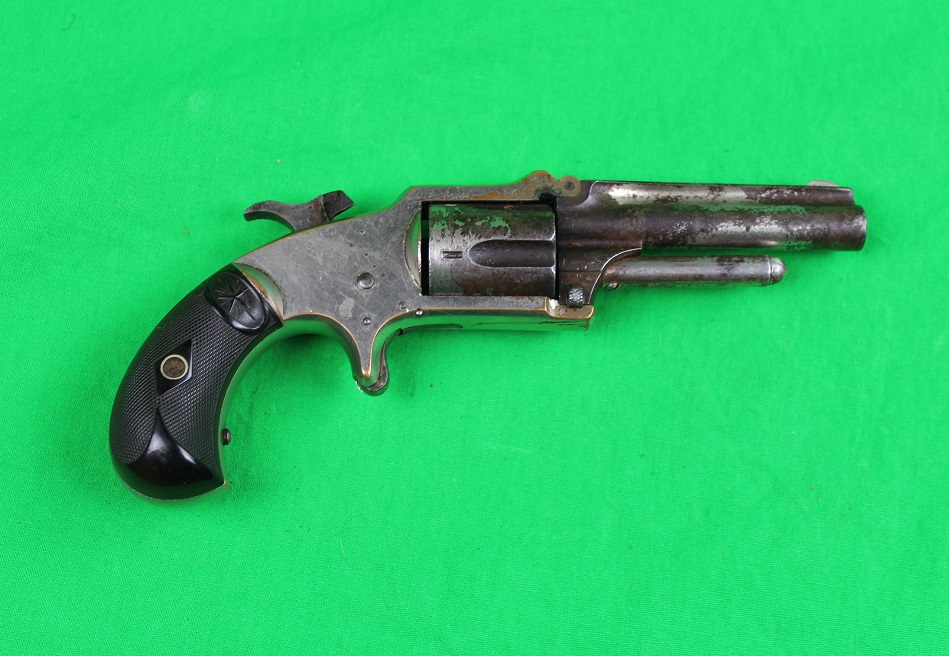 Consighment
Weapons 148
Here is somewhat of an enigma! This is a homemade gun from the 1800's and looks to have been made from two different guns. The 5 inch long barrel assembly looks like it's from an Allen & Thurber and the back end with the bird's head grip is from a different gun. The frame is brass and I am sure it was originally a revolver. Necessity is the Mother of invention and someone sure needed a gun when they made this one. The spring steel spring that holds up the barrel slides to the side so the barrel assembly can be lifted off. The barrel accepts a .22 caliber shell and the hammer is a rimfire I believe. The action still works but I wouldn't use it. The barrel has been bonded to the frame assembly by using molten lead as a bonding agent. Of course we all know that lead is a soft metal and not dependable for strength at all. Take a look at the pics! Nice example of making do with what you have. $225.00
Consignment
Weapons 143
Here we have 4 hard rubber or plastic shotgun butt plates. They are from left: 1. Browning Double Automatic- good condition $25.00
2. Browning Double Automatic- good condition $25.00
3. I don't know which shotgun this butt plate is from but it has 3 deer on it (one is a buck) and woods. $25.00
4. This one is for an Antonio Zoli shotgun. Good condition! See the pics. $15.00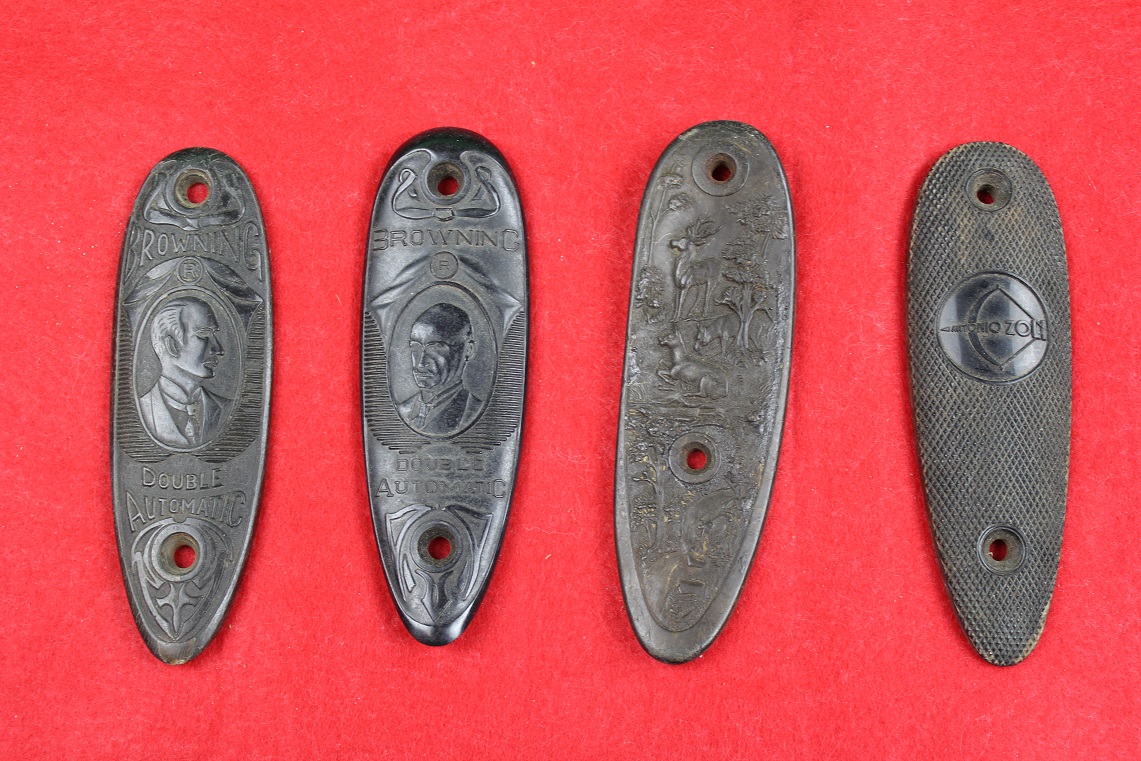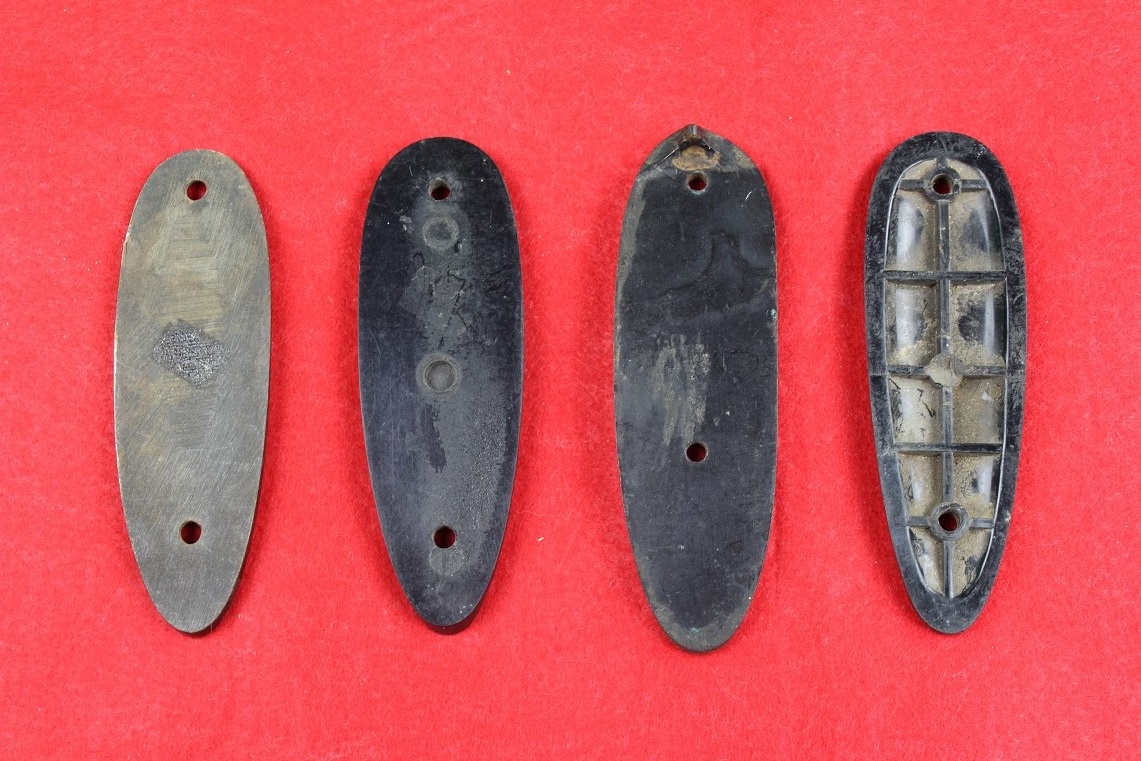 Consignment
Weapons 142
Here are some very early gutta percha or rubber grips for a small framed revolver like an H & R or Iver Johnson revolver. Complete with screws. The birdshead grips are fine while the square bottom ones have a chip in them. Check out the pics!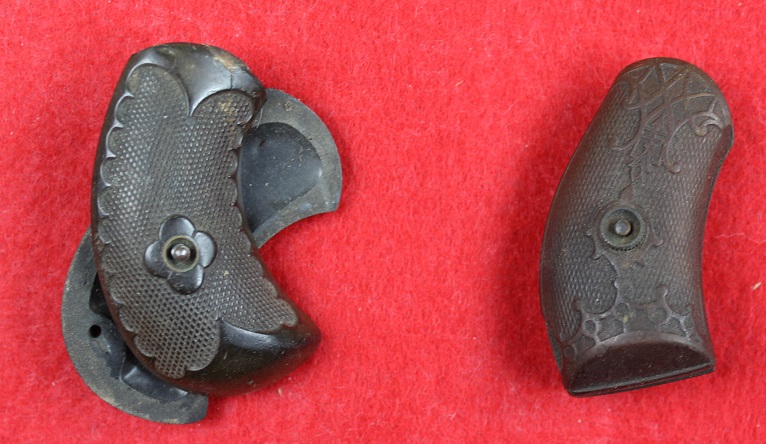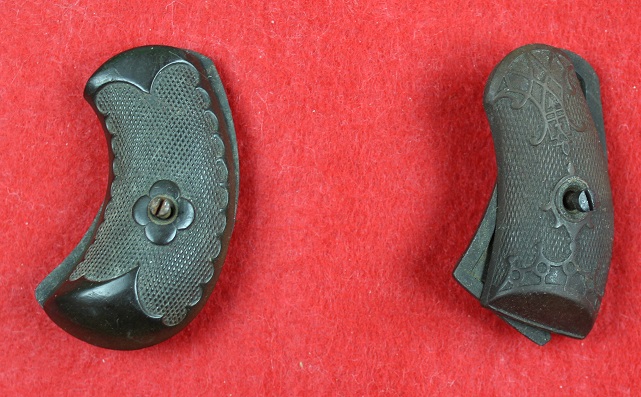 Consignment
Weapons 141
Here are two sets of grips for an old small frame revolver. Don't know what they fit so inquire with measurements if you are interested. Prices vary. The set on the left are lucite and have pictures of women under them with aluminum sheet inserts. Unusual! The other is what looks like a set of ivory grips with one of them having the toe chipped off of it.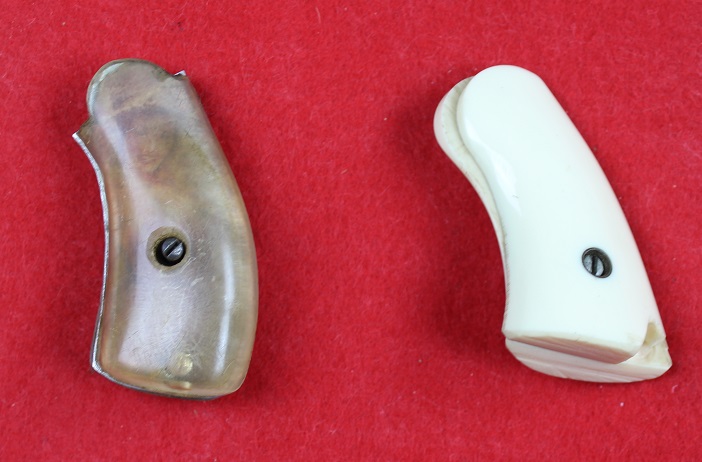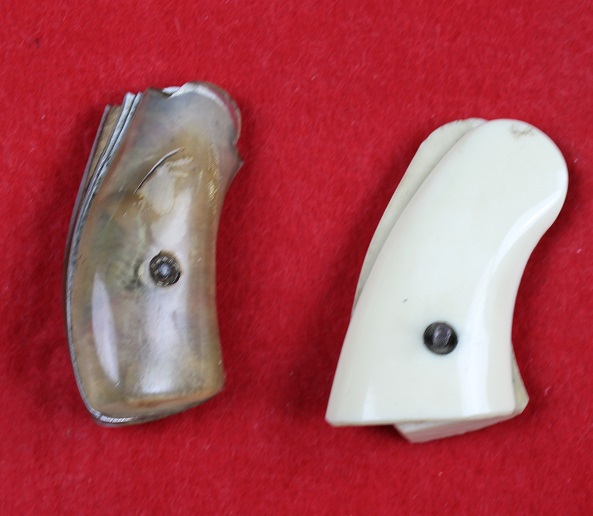 Weapons 139
Consignment
Here we have a rare to find Colt M1878 Shotgun Combination Tool. This tool is in good condition and complete. This is a beautifully made took and incorporates 3 screwdrivers, a punch and an hexagonal box end wrench for hammer screws on this double hammer gun. Try to find another! $225.00
Weapons 138
Consignment
Weapons 138
Here's a cartridge that 's hard to come by. This is the Billinghurst Requa Gun .58 caliber cartridge that was used sparingly during the Civil War. This one is a dug cartridge and you can see that the casing has split but it is still all there! The gun consisted of twenty-five heavy .58 caliber rifle barrels, each 2 feet (0.61 m) long and mounted together in a secure frame, which could be elevated for range. The frame was then mounted on a two-wheeled carrier. Ammunition was loaded as a long clip of twenty-five rounds, which were fired by a single percussion cap in a single volley. With a crew of three, it could be reloaded and fired seven times a minute, giving a rate of fire of 175 rounds per minute. The .58 caliber bullets were conical and weighed approximately one ounce. It was also possible to adjust the spread of the guns to make them diverge for use at close range.
For this cartridge $85.00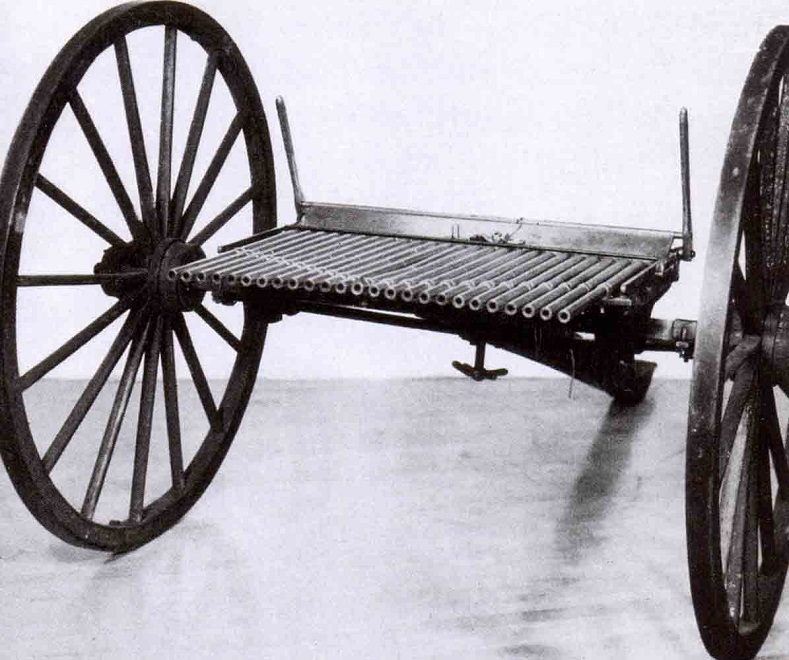 Weapons 137
Consignment
Here we have an original scarce Buffalo Hunting Cartridge known as the 45-75 Winchester Cartridge. The headstamp is 45-75 W.C.F as well as W.R.A. Co . The .45-75 Winchester was introduced with the Model 1876 lever action repeating rifle. This was an enlarged version of the famous Model 1873 action designed for use with cartridges up to 2.25" in length. The .45-75 Win. used a rimmed bottleneck case that was shorter and fatter than the .45-70 Government. It measured .559" in diameter at its base, .547" at the shoulder, and .478" at its neck. Case length was 1.89" and overall cartridge length was 2.25". The action of the Winchester 1876 rifle was not particularly strong, so the .45-75 was factory loaded with a 350 grain bullet at a MV of 1383 fps and ME of 1485 ft. lbs. This was ballistically inferior to the .45-70-405 and .45-70-500 as a buffalo cartridge, but its lever action rifle allowed much faster repeat shots. Teddy Roosevelt is said to have favored the .45-75 Winchester as a grizzly bear cartridge.
For this cartridge $6
Just received 4 nice Cavalry Sabers! Here are some pics! PRICES JUST REDUCED ON THESE NICE SABERS!!!
CONSIGNMENT
Weapons 134
Here is an Indiana Id'd Emerson & Silver !860 Cavalry Saber dated 1863 that belonged to a Cavalryman in the 7th Indiana Cavalry during the Civil War. I had originally purchased this piece from the Great, great Grandson of Private Isaac Needham of Indiana. Here are his stats from civilwardata.com:
Isaac Needham Residence Marion County IN; Enlisted on 9/5/1863 as a Private. On 9/5/1863 he mustered into "G" Co. IN 7th Cavalry He was Mustered Out on 2/18/1866
One Hundred and Nineteenth Regiment (7th Cavalry) INDIANA (3-YEARS) One Hundred and Nineteenth Regiment (7th Cavalry). -- Cols., John P. C. Shanks, Thomas M. Browne, Lieut.-Cols., Thomas M. Browne, Samuel E. W. Simonson; Majs., Christian Beck, Samuel E. W. Simonson John C. Febles, James H. Carpenter, John M. Moore. This regiment, the 119th of the line, was organized at Indianapolis in the summer of 1863, by authority of the secretary of war, for three years, and was mustered in by companies, the organization being completed Oct. 1. It left the state Dec. 6, reporting at Louisville, and was ordered to Union City, Tenn. On the 14th a detachment, in command of Maj. Beck moved towards Paris, but finding the enemy's cavalry in heavy force at that point retraced its steps. It was assigned to the 1st brigade (Brig.-Gen. Grierson commanding), 6th division, 16th army corps. It moved with a force on Dec. 24, into Mississippi to cut off Forrest in his retreat from Jackson, Tenn., being in a brisk skirmish with his forces near Paris. It was engaged in a sharp fight at Egypt Station, Miss. and in a severe battle near Okolona, Feb. 22,. 1864. The enemy drove the Union forces from the field, but the 7th cavalry held the enemy in check and saved the train after the division had fled. Later, it made a saber charge saving a battery that had been abandoned, but was comcelled to retire, with a loss of 11 killed, 36 wounded and 37 missing. It was complimented by the commanders for its valor. It was stationed near Memphis for some time, engaged in scouting. Moving with Sturgis' forces upon Forrest, the enemy was engaged at Guntown, Miss. in heavy force, a desperate fight ensuing, in which the 7th took part. It was again complimented by Gen. Grierson for having repulsed repeated charges by superior numbers. It was on railroad guard duty near Memphis, being in a fight at La Mavoo, Miss., Aug. 18, and had 7 men killed near Memphis, Oct. 4, by guerrillas. Leaving Memphis in Nov., 1864, it marched with Mower's division through Arkansas in pursuit of Price's forces, proceeding as far as Cape Girardeau, where it took steamers to St. Louis, marching into the interior of Missouri. Returning to Memphis, it took part in an expedition in search of Forrest surprising his dismounted force at Vernon, capturing the camp and a large quantity of stores, 16 cars loaded with pontoons for Hood's army, and 4,000 new English carbines. On the 28th the enemy was attacked at Egypt Station, his forces captured or dispersed and a train of 14 cars destroyed. The regiment was actively engaged in scouting and on provost duty near Memphis until June, 1865, when it moved to Alexandria La., and on June 21 was consolidated into six companies. It was ordered to Hempstead, Tex., where, on Oct. 10, Col. Shanks was mustered out for disability and Lieut.-Col. Browne was appointed colonel. The regiment was mustered out Feb. 18, 1866. Original strength, 1,202; gain by recruits, 127; total, 1,392. Loss by death, 243; desertion, 169; unaccounted for, 29. Source: The Union Army, vol. 3, p. 177
Now on to this particular saber. The saber is original untouched condition showing a nice blade that has seen use and storage so it has a kind of mottled appearance but is not rusty. It says EMERSON & SILVER TRENTON, N.J. on one side of the ricasso and U.S. , C.E.W. AND 1863 on the other side of the ricasso. I can feel only one minor nick to the blade and there is no evidence of sharpening. The tip is entact. The original leather washer is present as well as the original leather grip and wire which is in really nice condition. The brass guard and pommel cap has a nice mellow brass patina and has the front hand guard bent down which was a common thing to do by the men. The ricasso has a W stamped in it as well as JM . This sword has never been apart and the guard is nice and tight on the tang. The iron scabbard is all original and complete with a nice dark patina. I can feel one minor dent midway on the reverse. This is a very nice original Cavalry Saber and Id'd ! Hard to come by now. I also have copies, not original, of his discharge from the Cavalry in 1866 in Texas and also a copy of a pension document from 1868. Looks like he lived in Richwoods, Delaware County, Indiana. The great great Grandson wanted to keep the original records. It's hard to find an original Id'd Cavalry Saber that has not been messed with in any way as this one is. For this fine original example $1,625.00 REDUCED TO $1,500.00 !!
CONSIGNMENT
Weapons 133
Here we have an 1862 New Jersey Marked Ames Cavalry Saber! Ames received an order on June 11, 1861 for 10,000 Ames LIght Cavalry Sabers but over 4,000 of them were made in 1862 so were dated 1862. The model 1860 saber was made slightly lighter than the model 1840 and was the primary saber of the Federal cavalry by the end of the war. Standard features include wooden handle with a swell covered with leather and a wire grip, brass hilt has three branches, brass pommel cap and guard are unadorned, steel blade has flat back with narrow and wide fuller stopped at the ricasso, iron scabbard with iron mountings. Manufactured by Ames Manufacturing Company, Chicopee, Massachusetts. Marks on ricasso, "AMES MFG CO / CHICOPEE / MASS." in an Ames Scroll and overmarked with N.J. meaning that this particular sword went to the State of N.J. for issue to their Cavalrymen. Only the year 1862 is stamped on the other side of the ricasso as this was not for a Federal Contract. The grip has leather wrap and wire intact with just a couple places of minor chipping to the leather grip wrap, leather washer intact, clean blade with minor nicks and no sharpening. The scabbard is complete with a pleasing patina. There is one small place where the seam had been damaged which is about 3 inches long but it is minor. This is a very nice example with desirable war date. For this example $1050.00 REDUCED TO $950.00 !!
CONSIGNMENT
Weapons 132
Here we have a Rare Contract Millard Light Cavalry Saber: Regulation M1860 US cavalry saber made and marked by ďD.J. Millard / Clayville NY / U.S. CEW 1862Ē. In 1861 Millard was awarded a small contract for 10,000 light cavalry sabers, and all specimens I have seen have the date of 1862 on the ricasso. This one is VG condition. Leather grip covering is VG showing some wear through on the leather grip but the grip underneath is dark as well and hard to see the difference. The twisted wire wrap is also VG and intact. Blade is shiny but not mint with a couple of minor nicks in it. The blade has not been sharpened. The brass guard and pommel are a nice mellow brass color and the pommel bears clear inspectorís initials ďCEWĒ (Inspector Charles E. Wilson) stamped into the rim of the pommel as well as "WEH" . The scabbard is smooth steel with just a small dent on one side that I can't see but I can feel. The drag is stamped JF?. . A very nice saber from a scarce and desirable maker! $1050.00 REDUCED TO $950.00 !!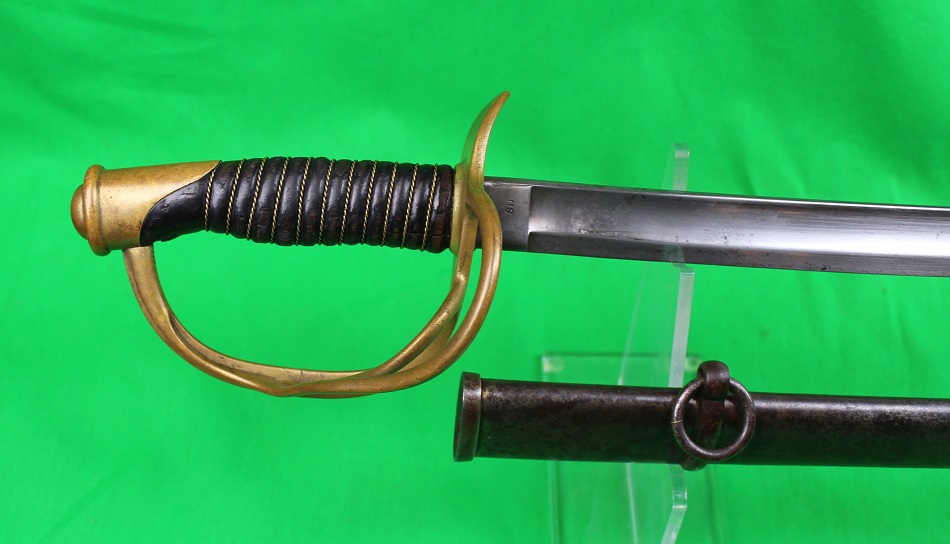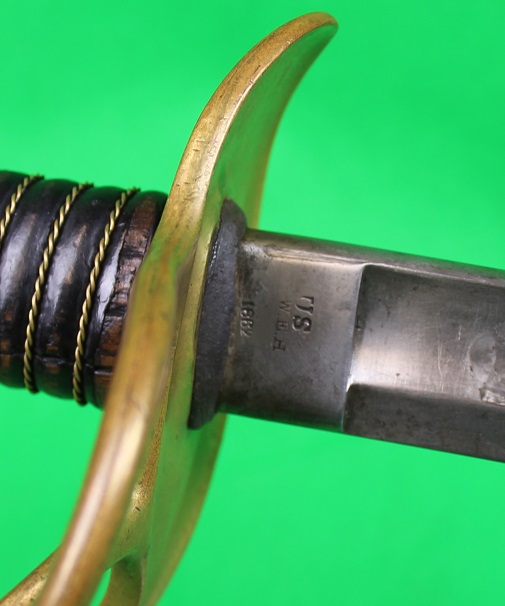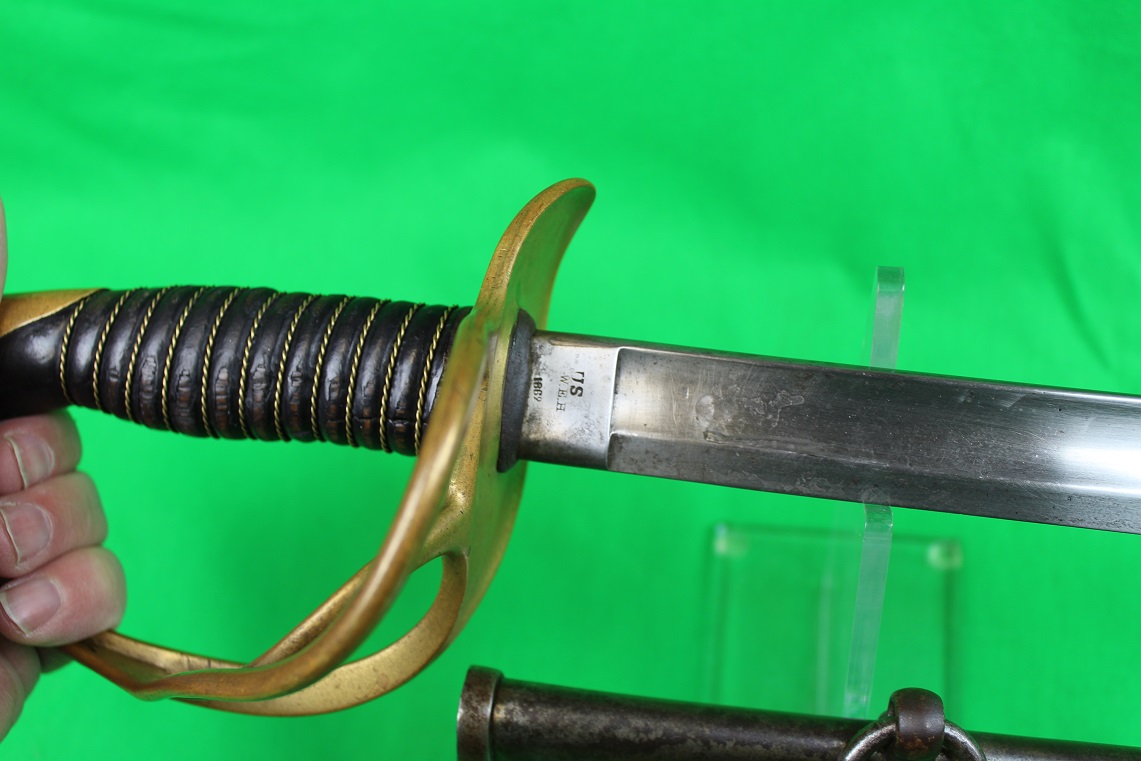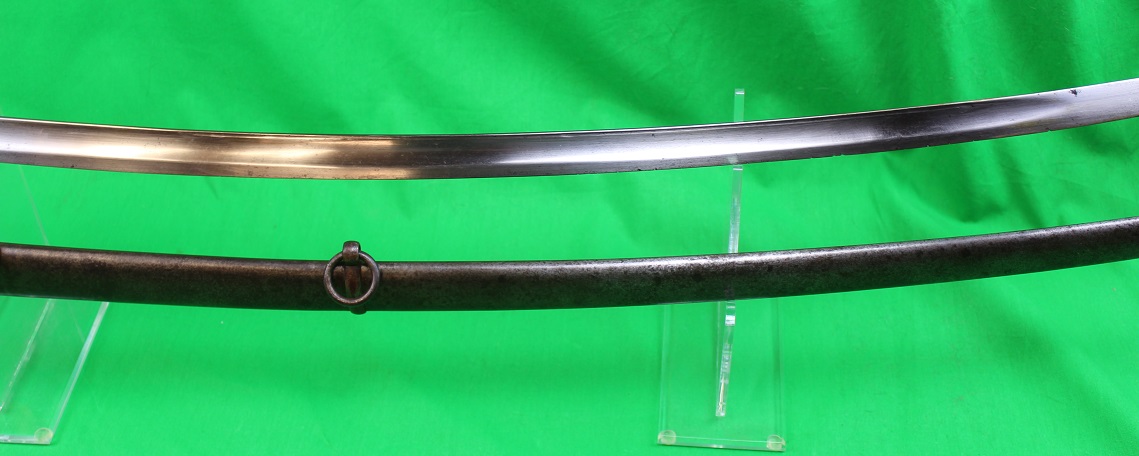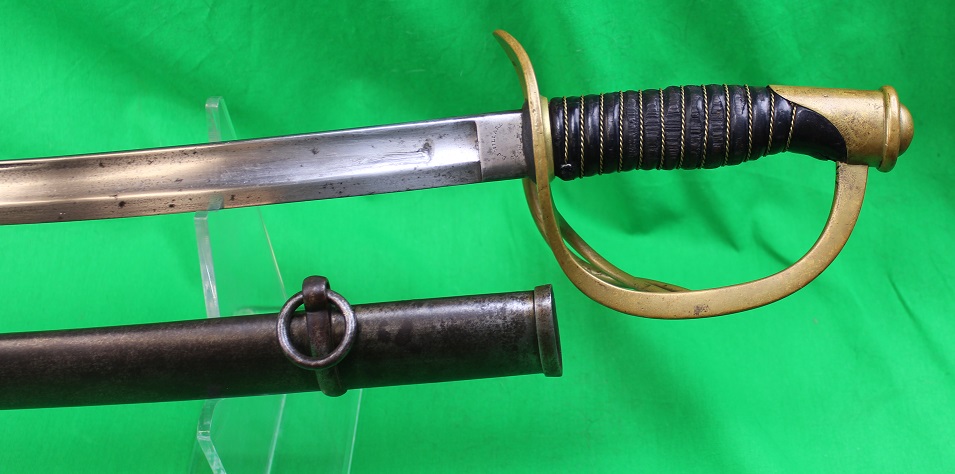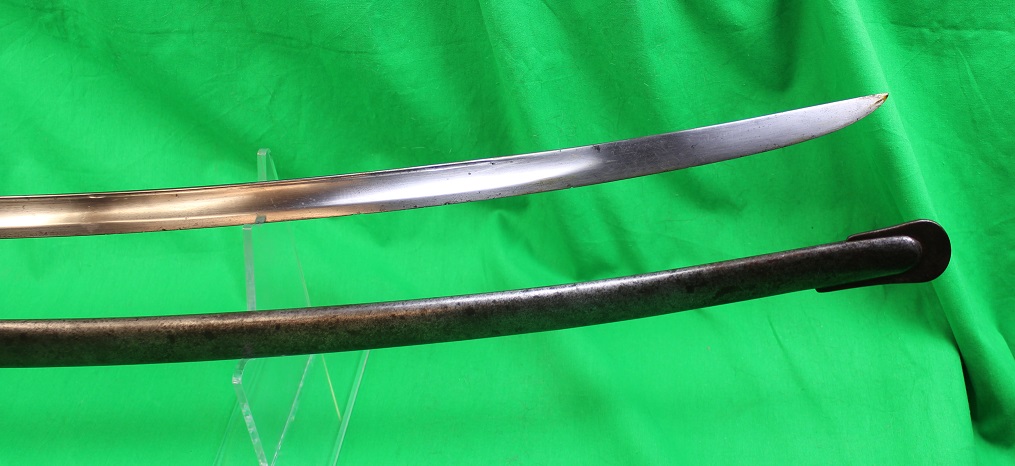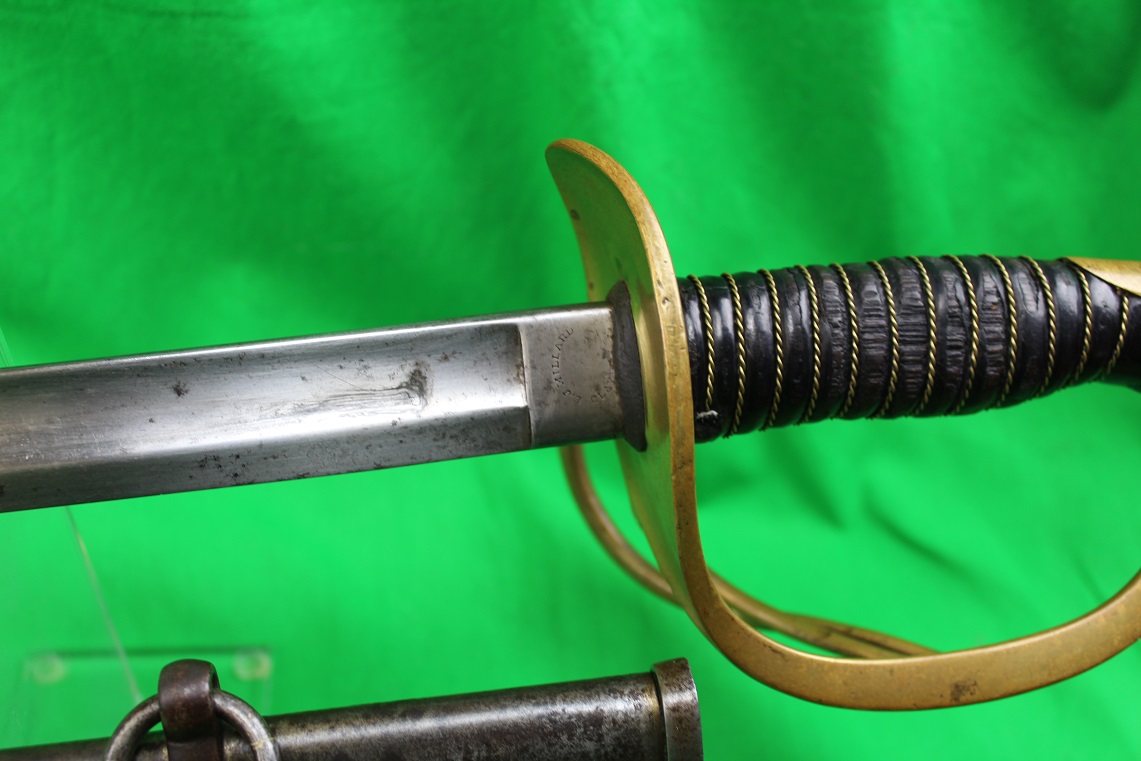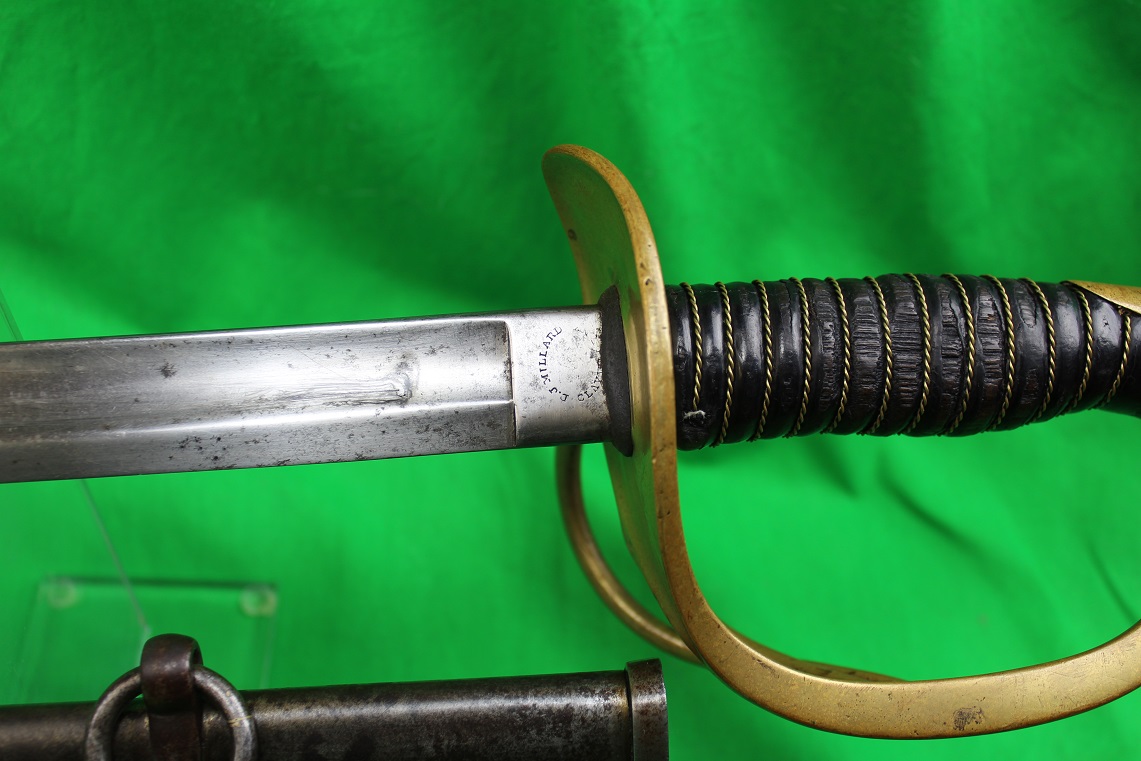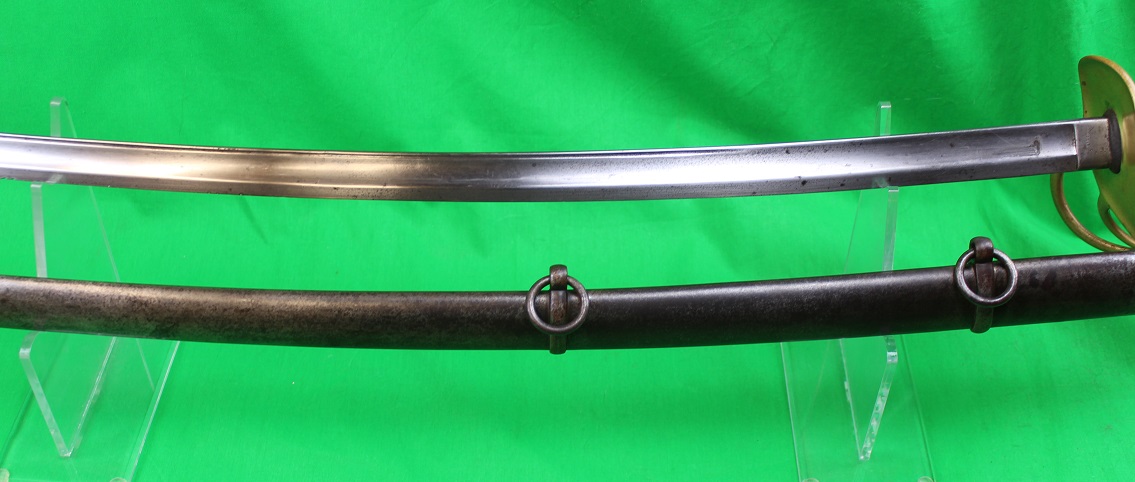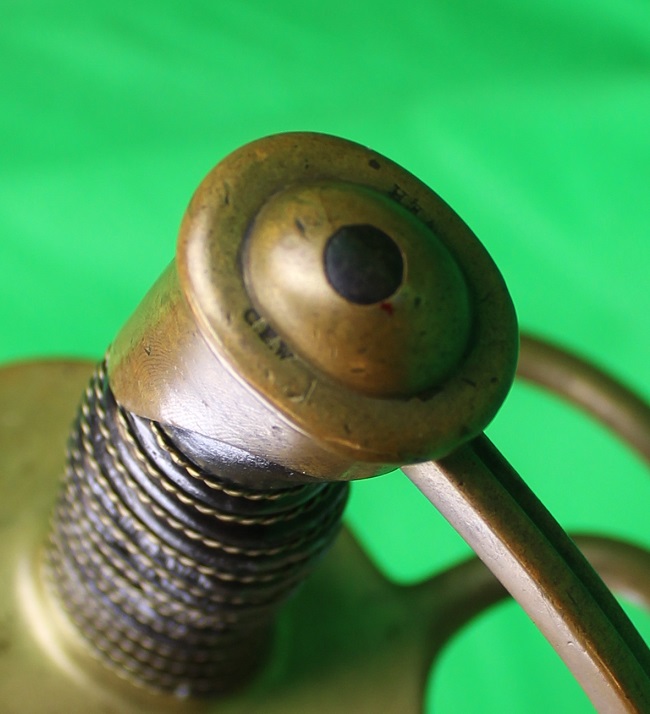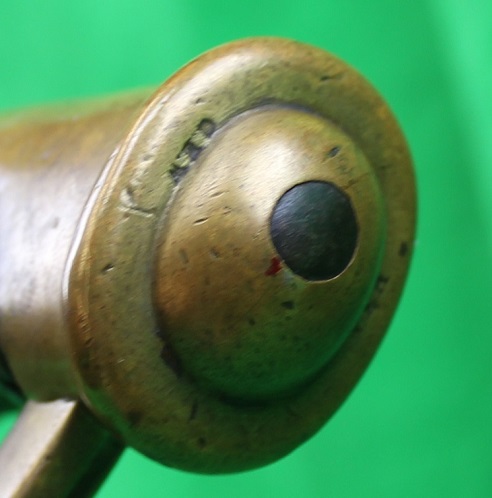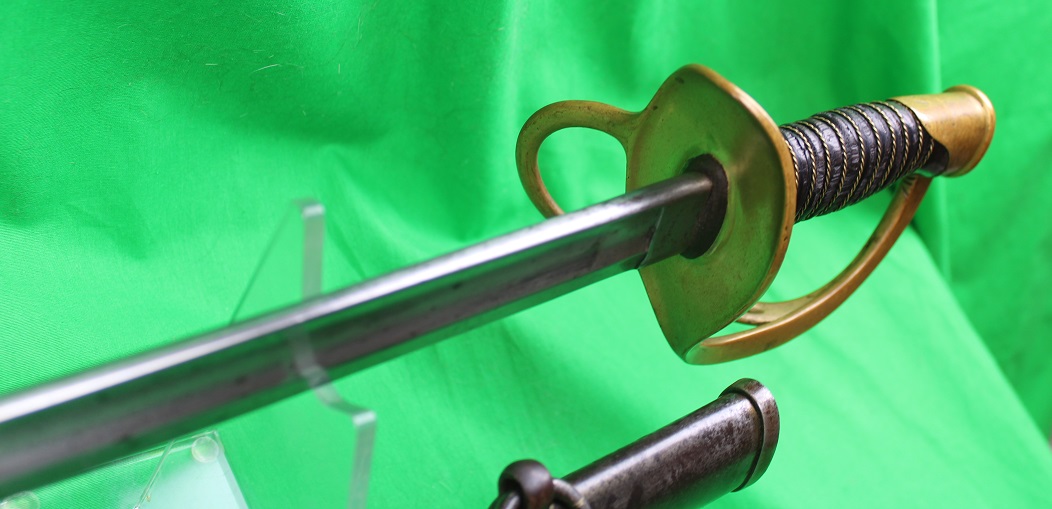 CONSIGNMENT
Weapons 131
Here is a nice HEAVY! German Import Cavalry Saber that could have been used by either the North or the South during the Civil War as both sides imported swords and sabers due to shortages. This one has seen use but was not abused. The entire saber is over 43 inches long in the scabbard. The blade itself is about 36 inches long and appears to be entirely unmarked. Some suppliers did not want either side to know that they were supplying the enemy. The edge has few minor nicks and has never been sharpened. Also, the tip is entact. The back of the blade is flat being about 3/8's inch thick at the widest point. The leather blade washer is lacking. The brass hilt is in great shape and exhibits mostly a dark patina. There are no markings on the pommel cap either and this sword has never been taken apart. The hilt is fairly tight to the grip and tang. The leather grip is 100% there and is obviously European in nature as it is thin leather wrapped over a cord to make the grooves in the grip. There are only 3 original wraps of brass wire remaining. This is a nice sword! The scabbard is the original heavy iron scabbard with heavy rings. The piece is complete and exhibits no dents or wear to the drag. The scabbard has been painted at one time with prehaps brown or green paint. Sometimes this was done to cut down on sun glare or scabbard flashing that can let the enemy know where you are. There are 3 notches cut into one side of the ricasso for some reason. They are visible in one of the pics. For this great old piece $625.00 REDUCED TO $550.00 !!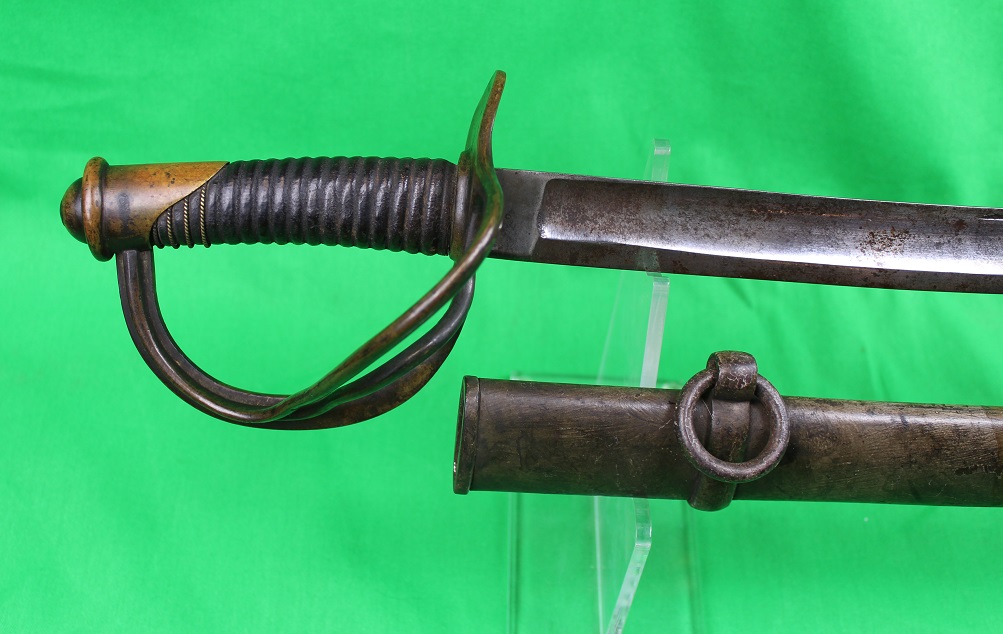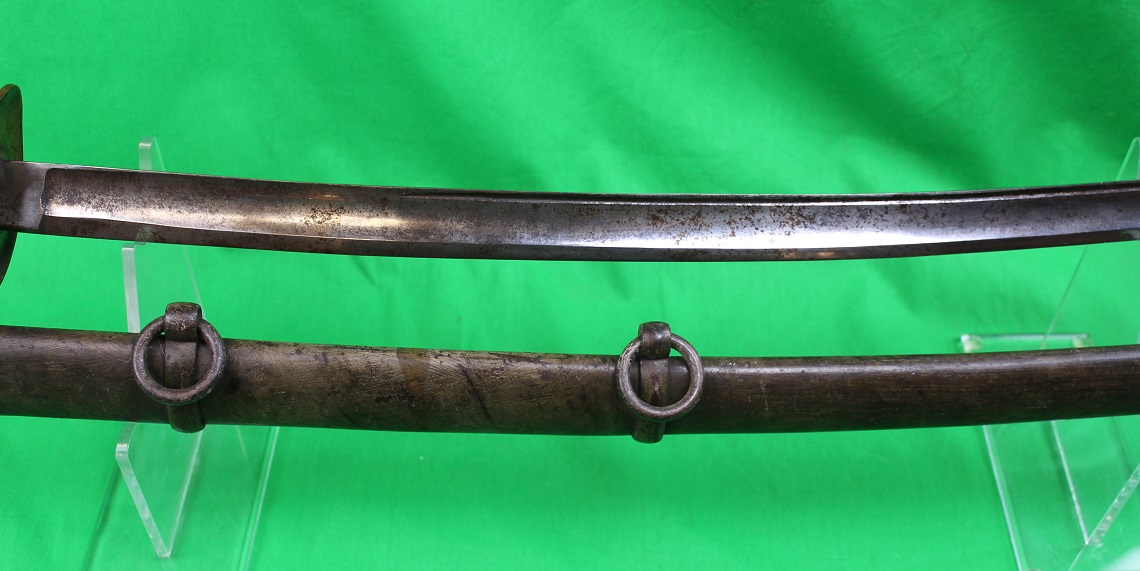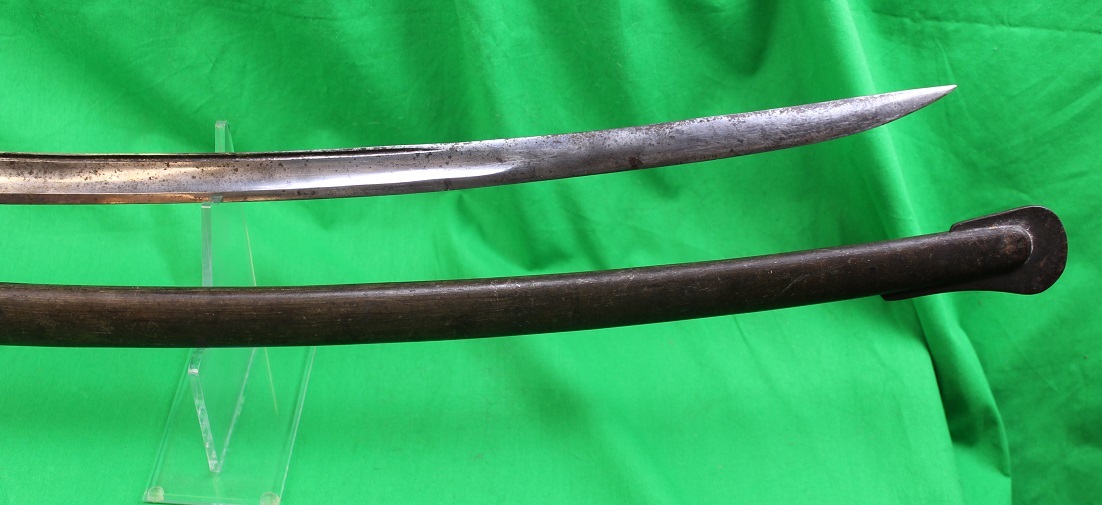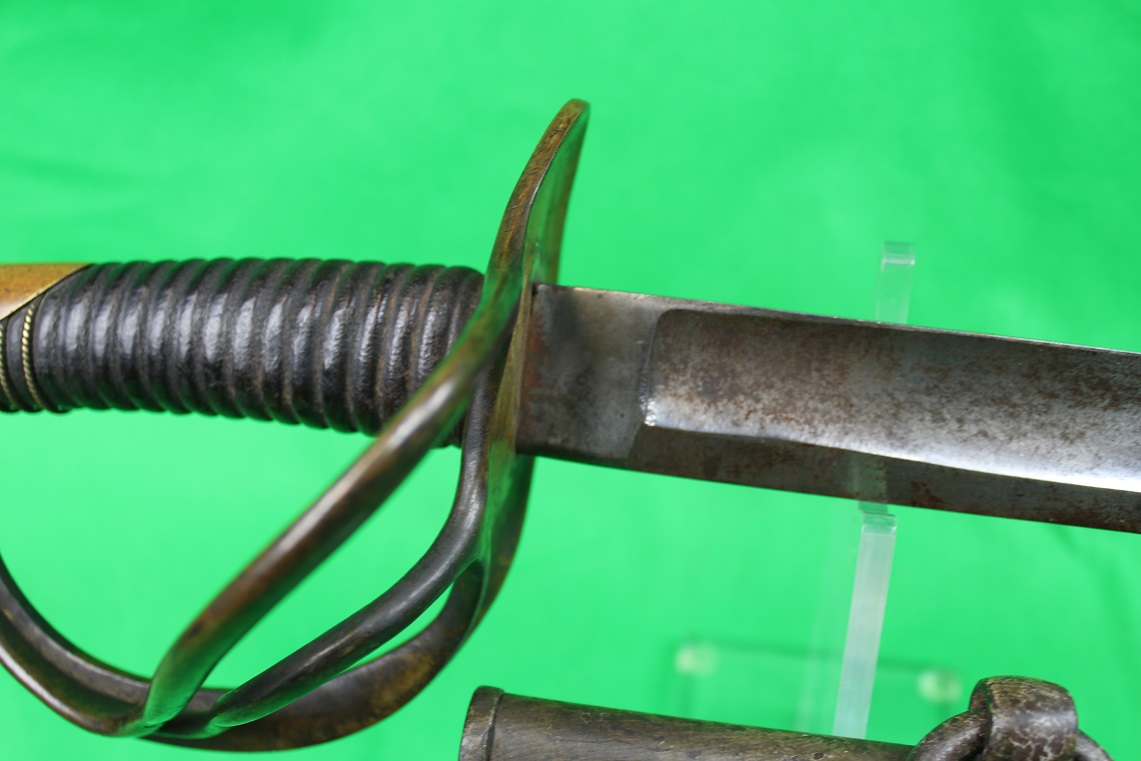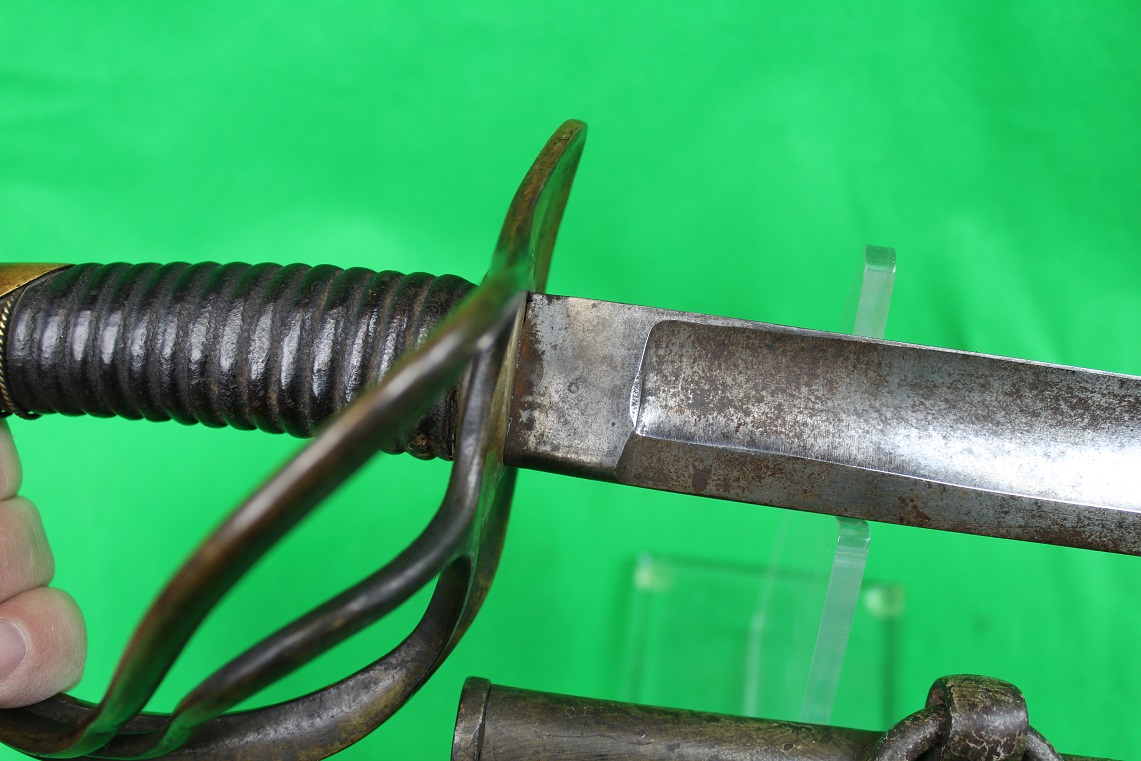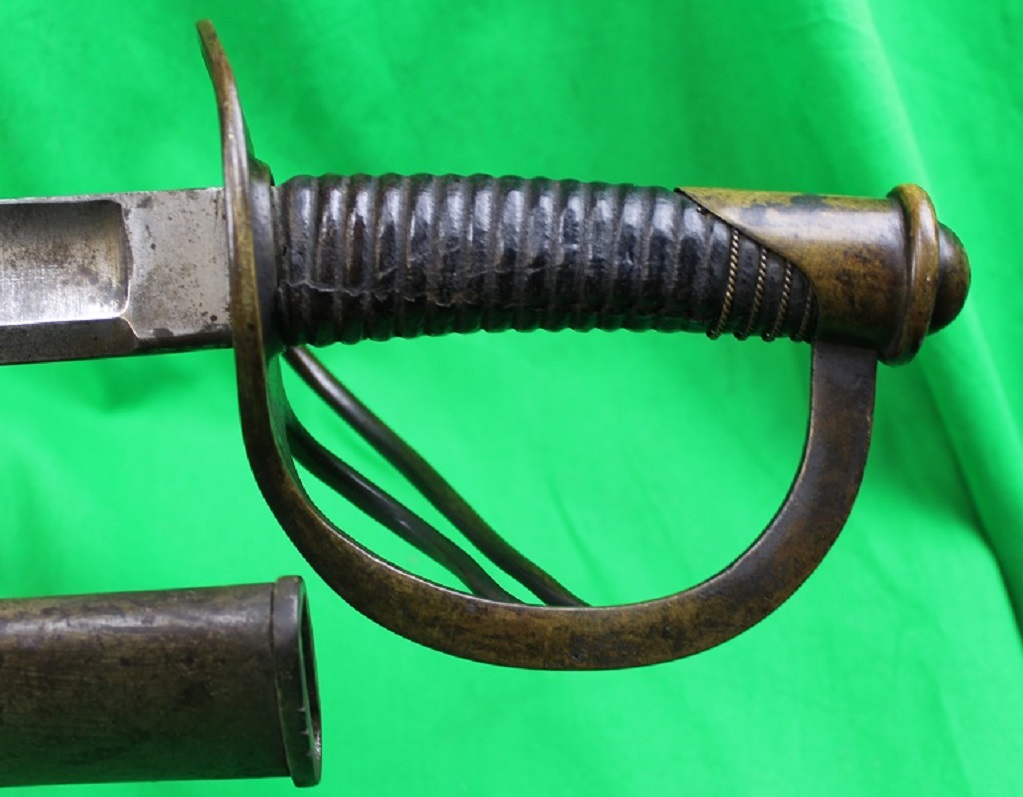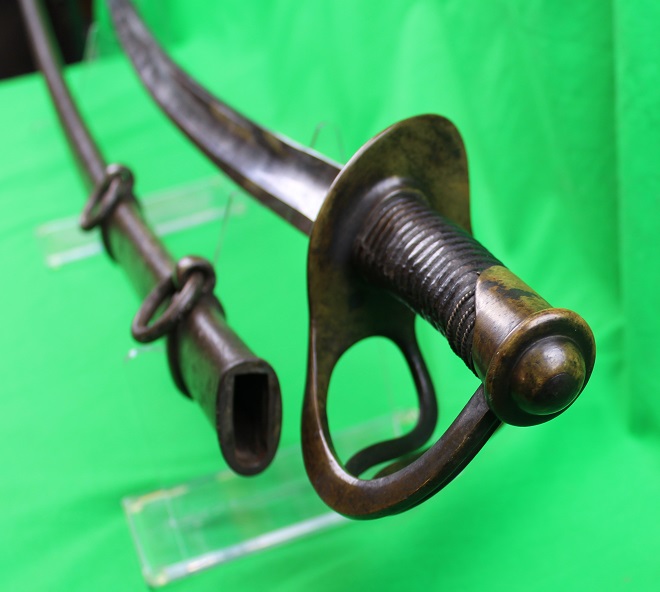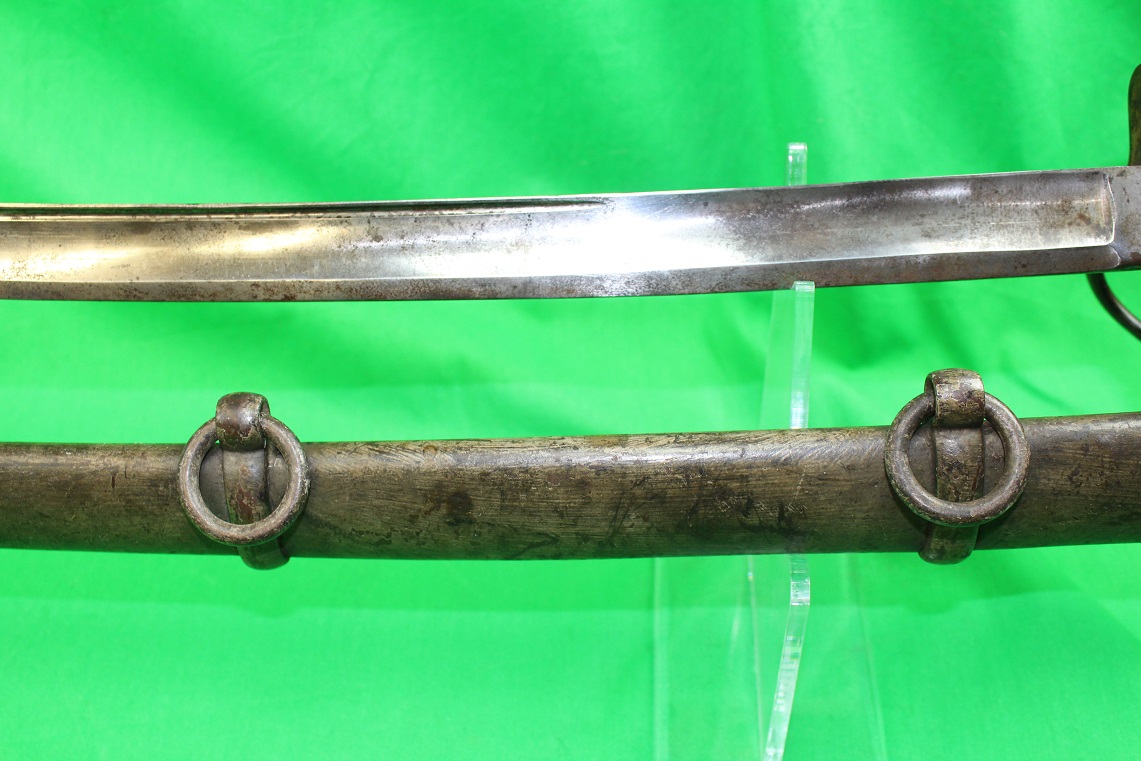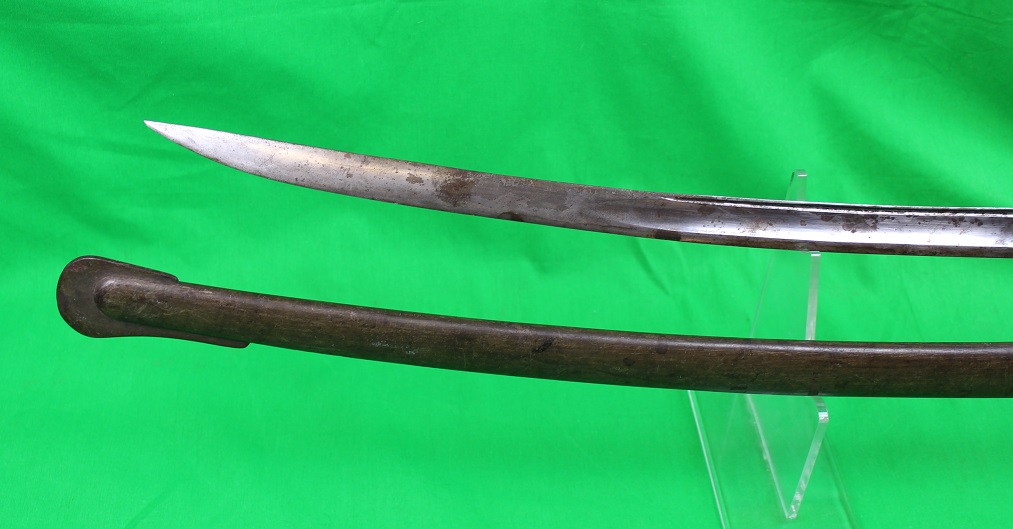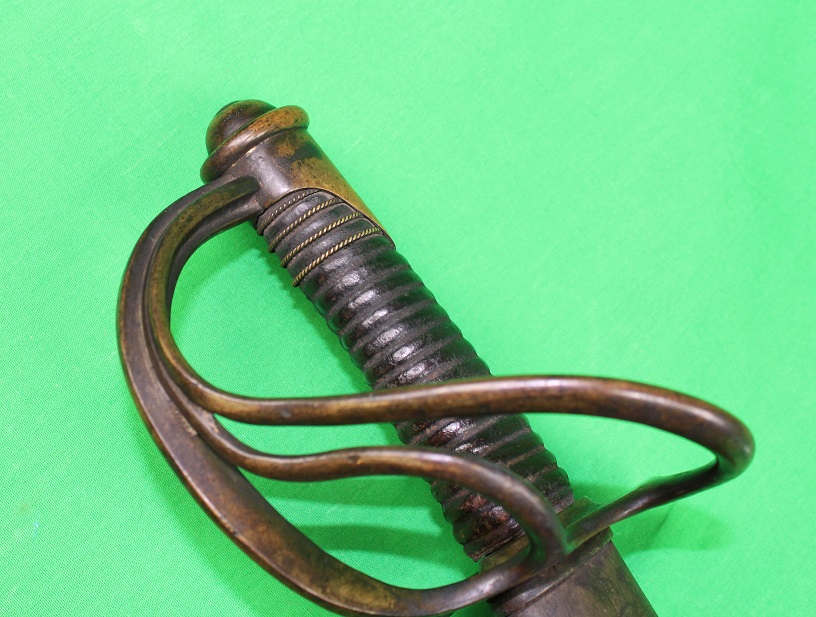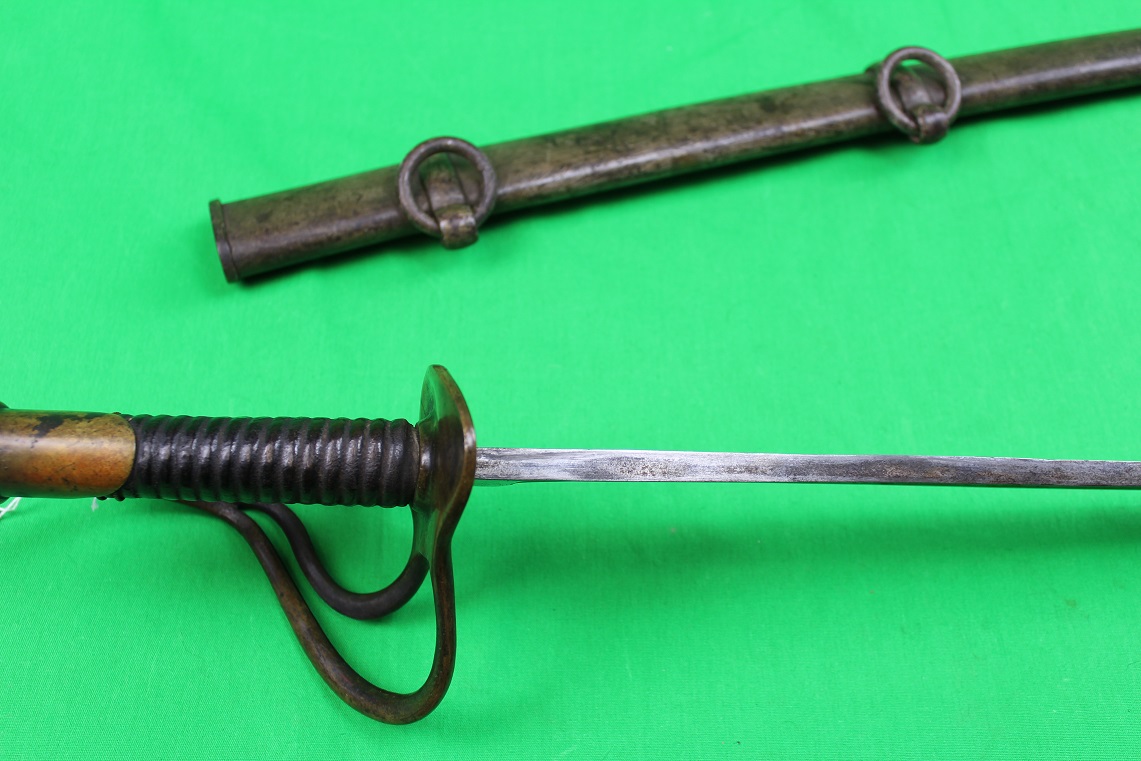 CONSIGNMENT
Weapons 129
Here we have an Indian (India) used British sword during the time when the British Empire ruled India. This sword was a widely used but rarely seen adaptation of a Model 1796 Pattern Wide cut and thrust Light Cavalry blade with a Model 1821 Pattern 3 Bar Hilt. You can see more on this type of sword on youtube at https://www.youtube.com/watch?v=k92PstHFQRM This particular 19th century sword is marked MOLE which was a known exporter to the Confederacy during Civil War. We believe it has been lightly cleaned but not too bad. The sword is sheathed in a leather sheath with the original sheet iron drag and replacement brass upper mount. The upper mount was crudely done while the rest of the scabbard was very well done indeed. The stitching is intact on the reverse with no threads broken or missing. The leather is pliable-quite nice frankly. The only markings on the scabbard are on the upper brass mount which consists of a Z - and an X in a box. We really don't know the meaning of that. The sword is over 36 inches long overall with a nearly 31 1/2 inch long blade along the top curvature of the blade. The grip is sharkskin or shagreen with 3 strands of iron or steel wire. The sharkskin is well worn but most of it remains. There are no cracks or breaks to the 3 branch iron guard or backstrap. The blade is the wide blade being about 1 1/2 inch wide at the ricasso. The ricasso is marked with the same Z- and an X in the box like the scabbard as well as Cc on both sides and MOLE and enough of Birmingham to call it so. The last 6 inches or so of the blade has some minor to moderate pitting on it but not bad at all. The cutting edge of the blade has a few minor small nicks but nothing bad at all. The tip is slightly bent as witnessed in the last pic. A great wide bladed Cavalry sword used by the Indian Soldier during the British Expansion. Nice piece! $595.00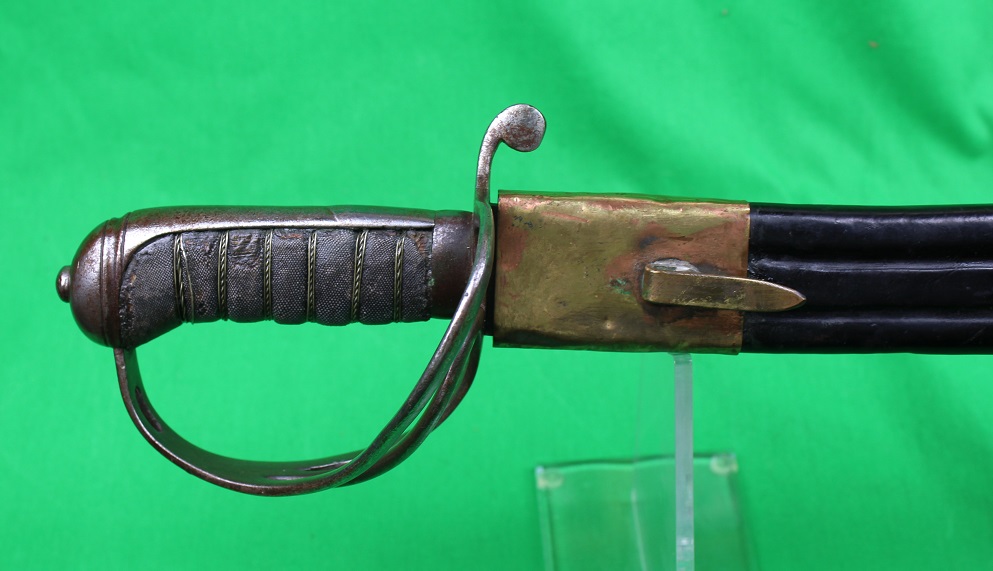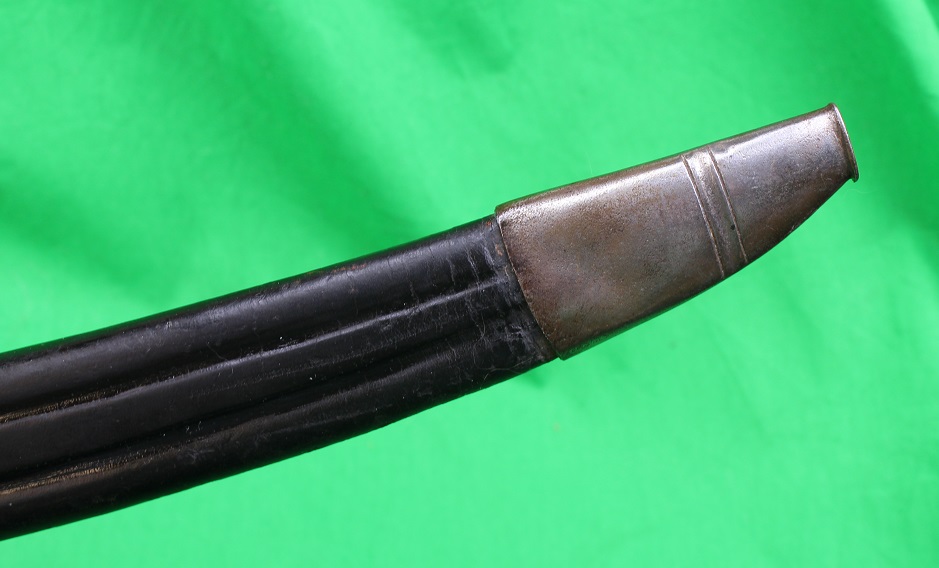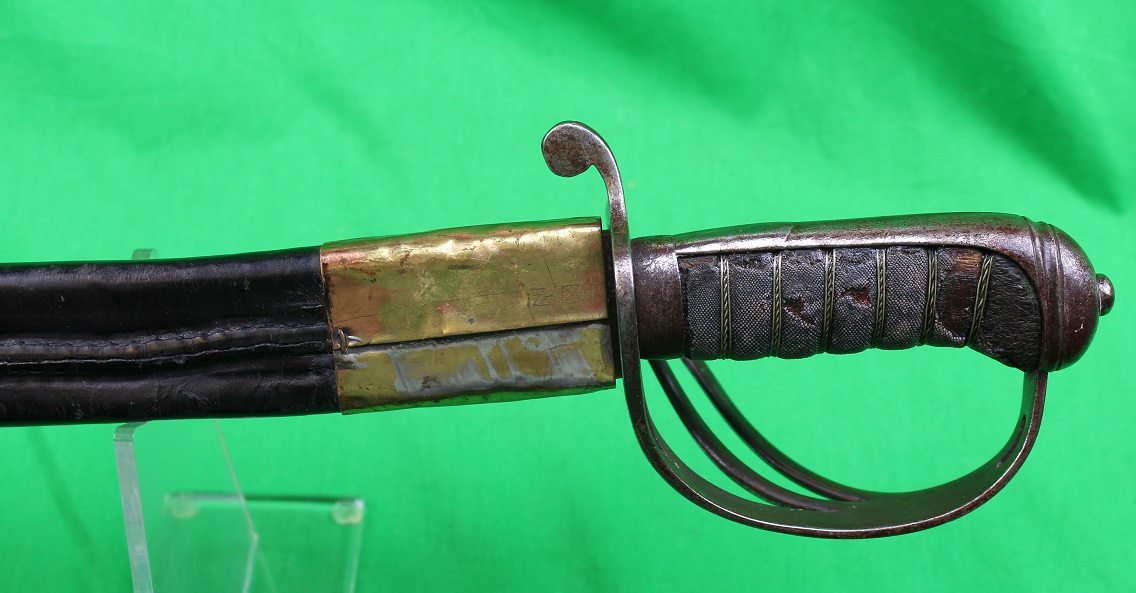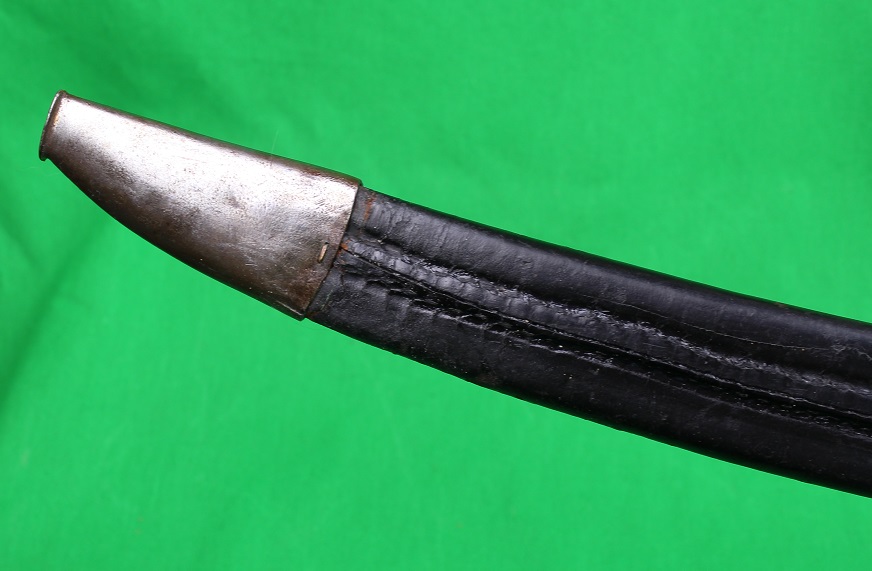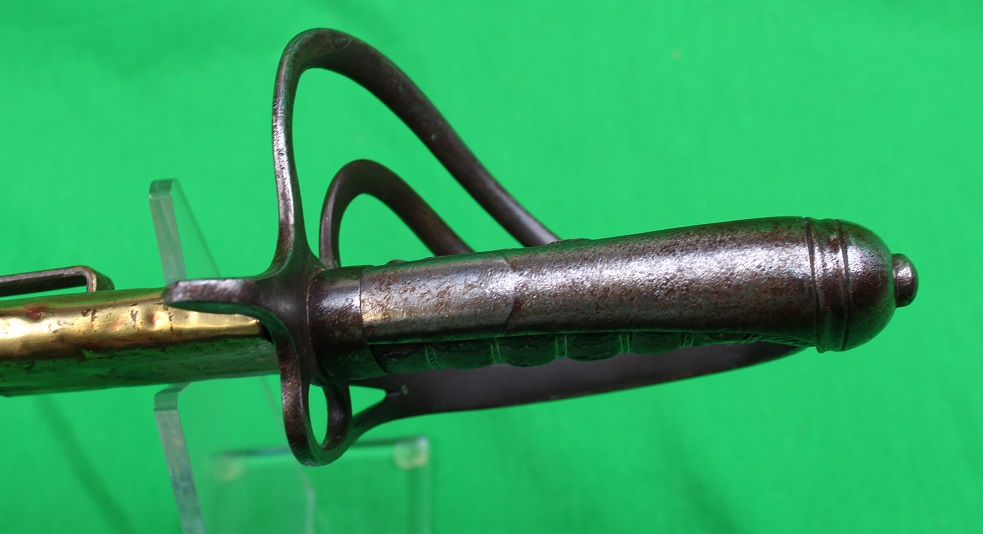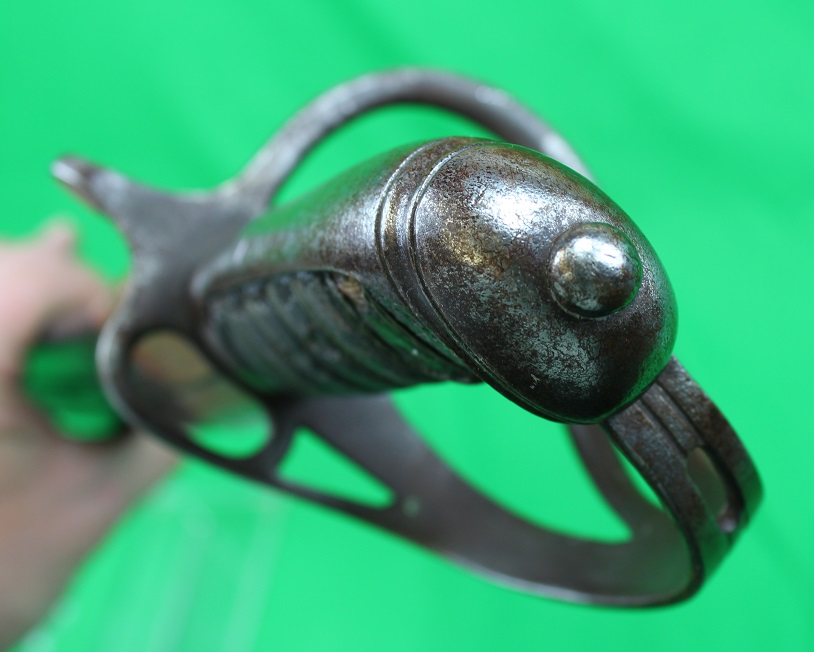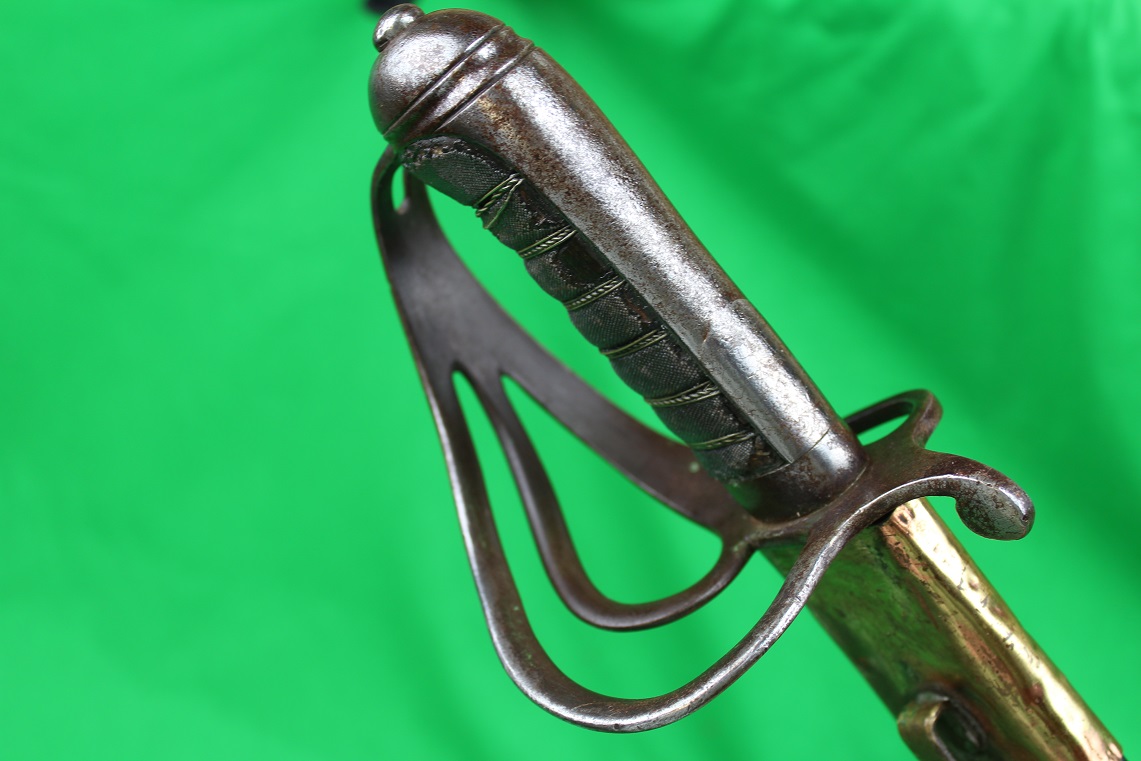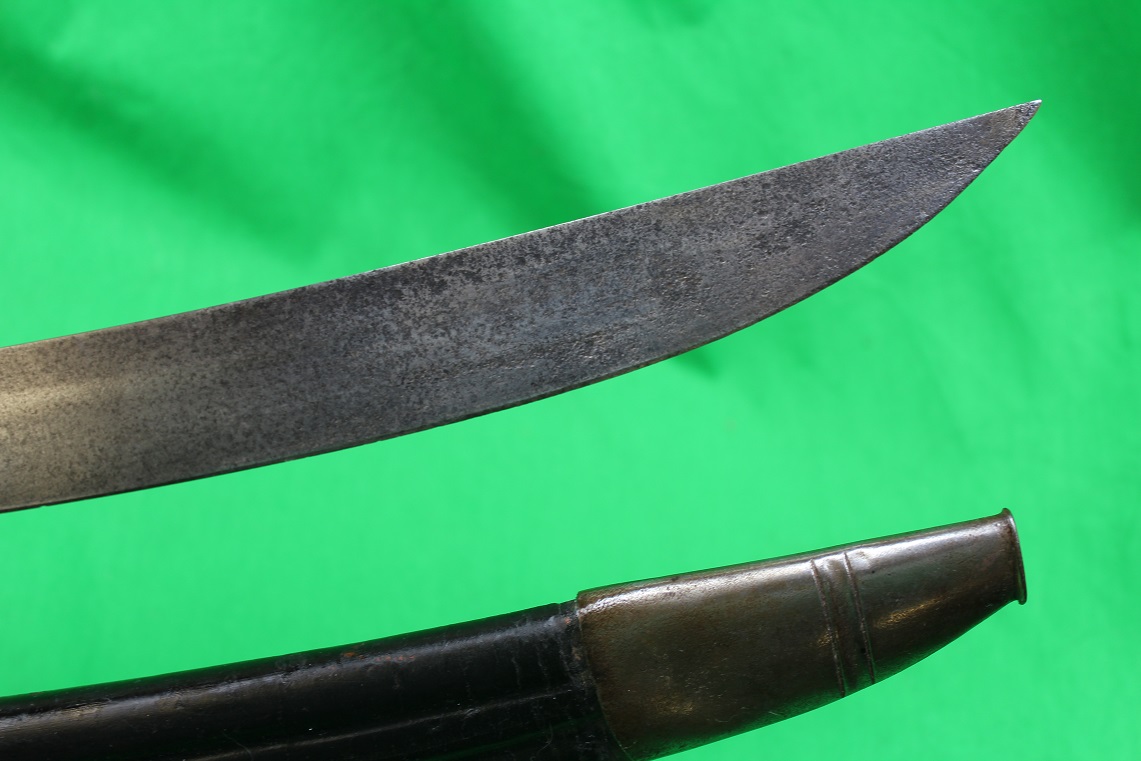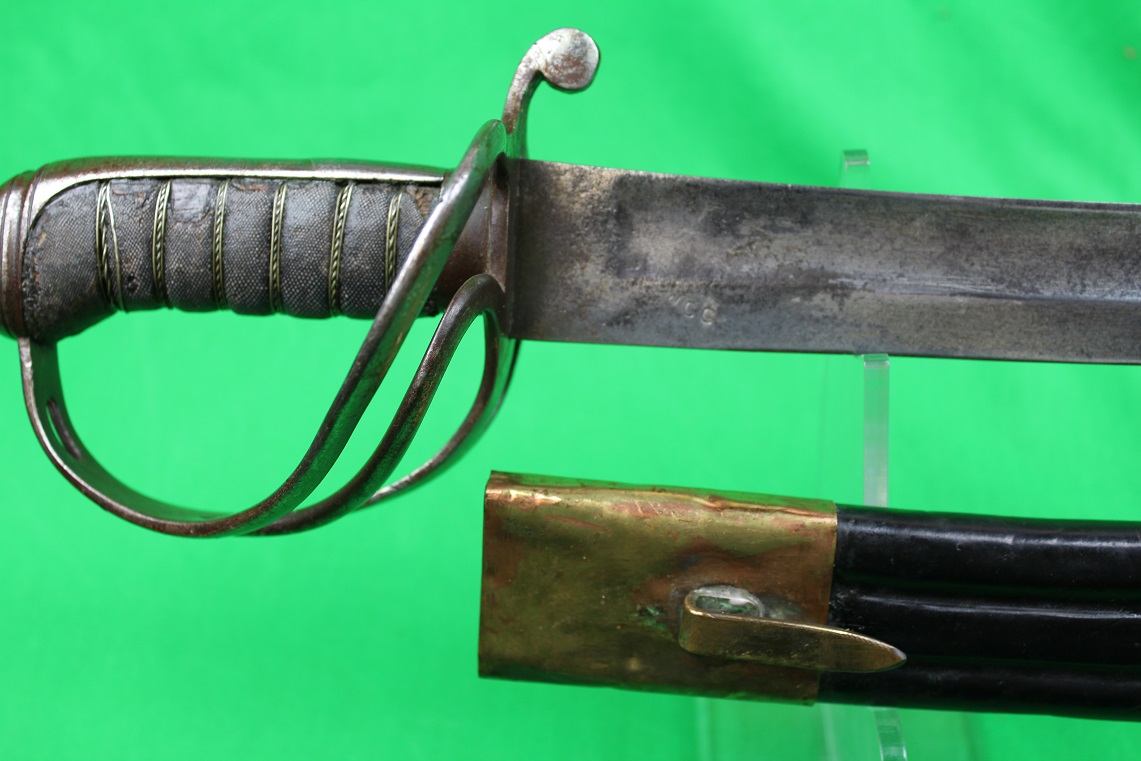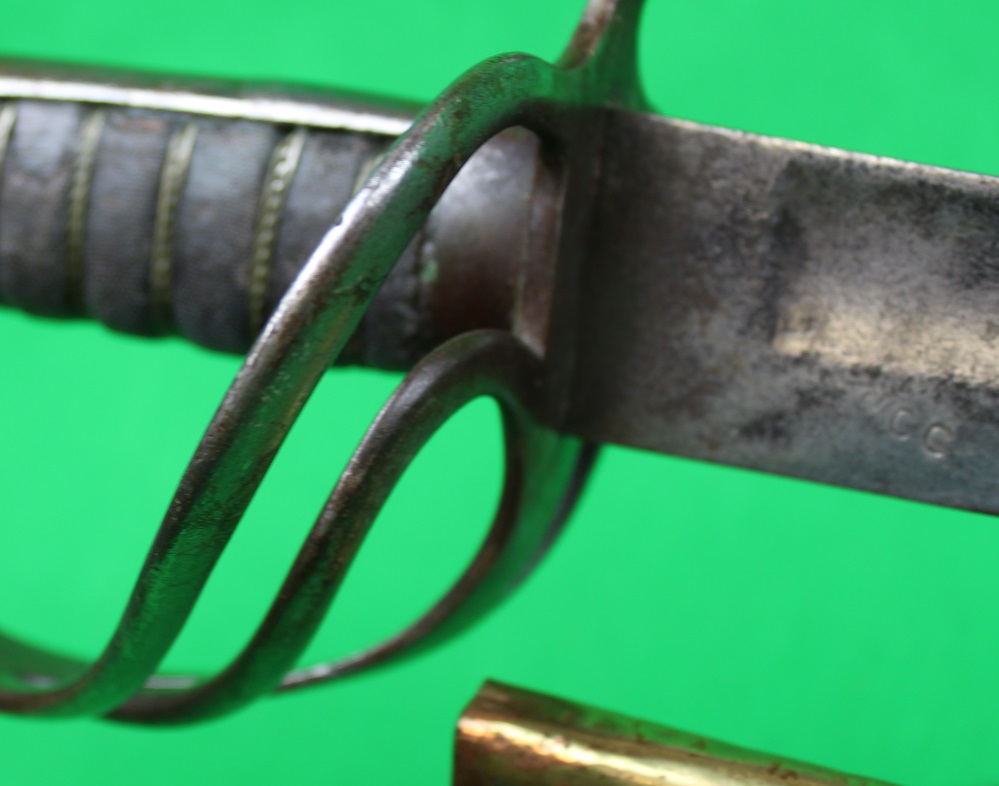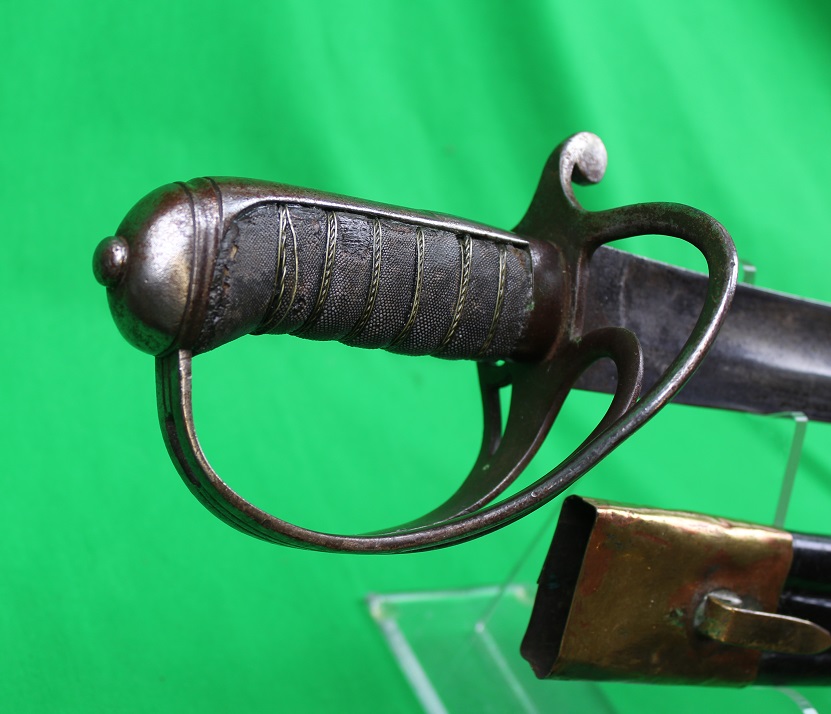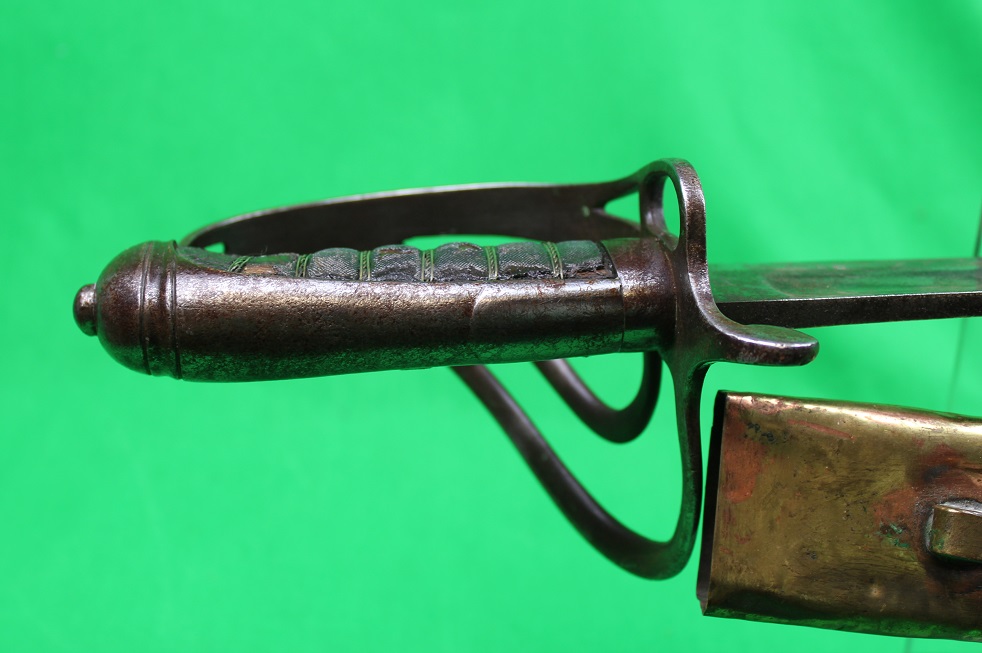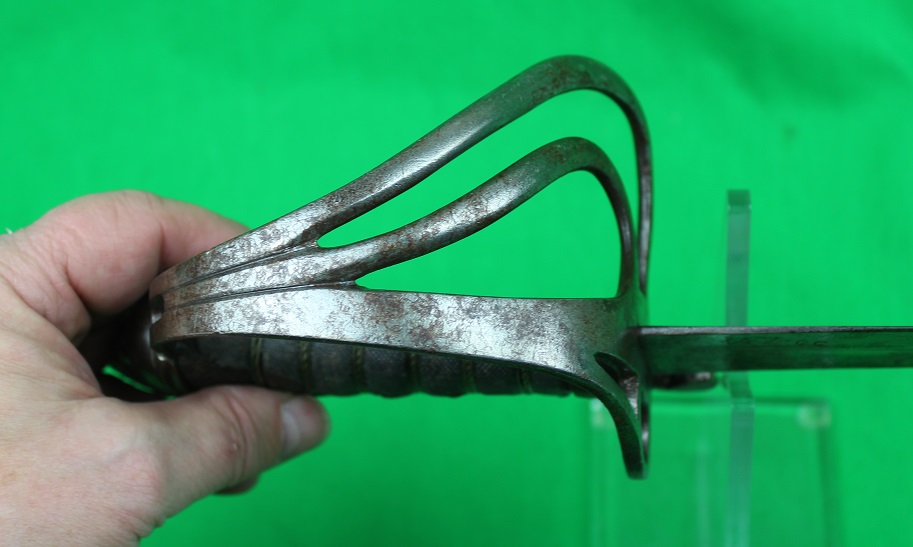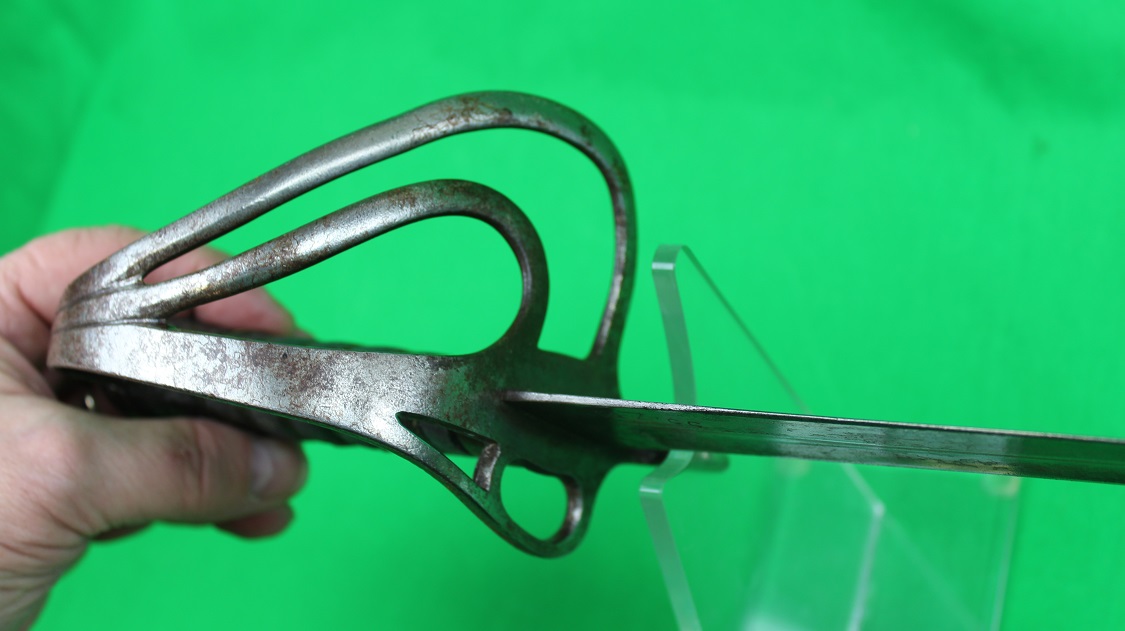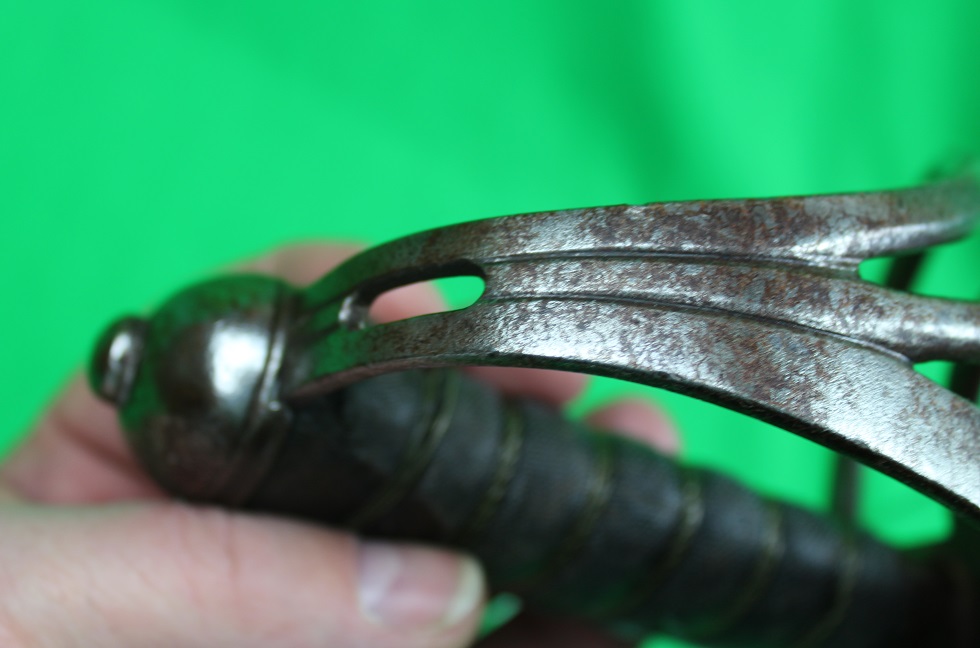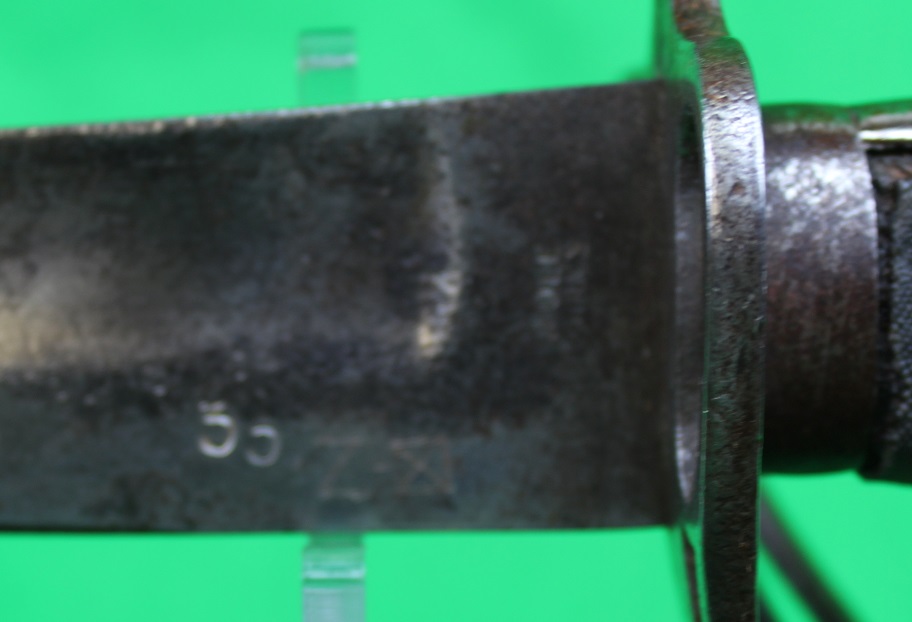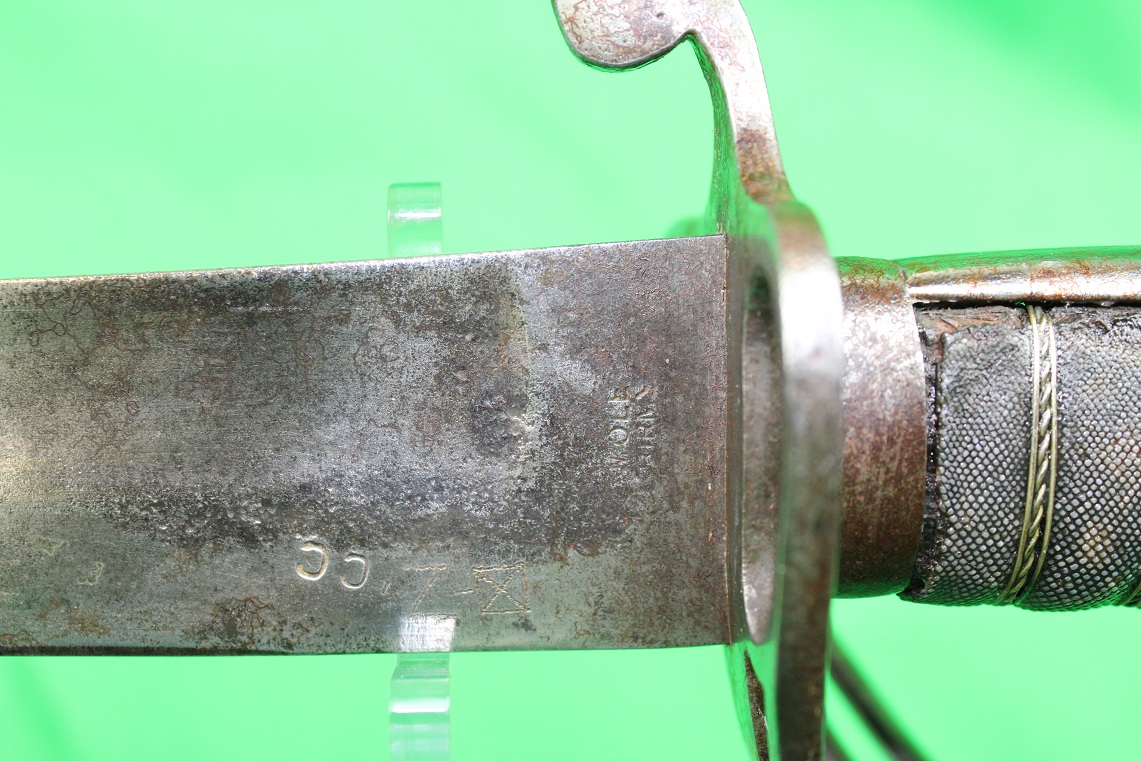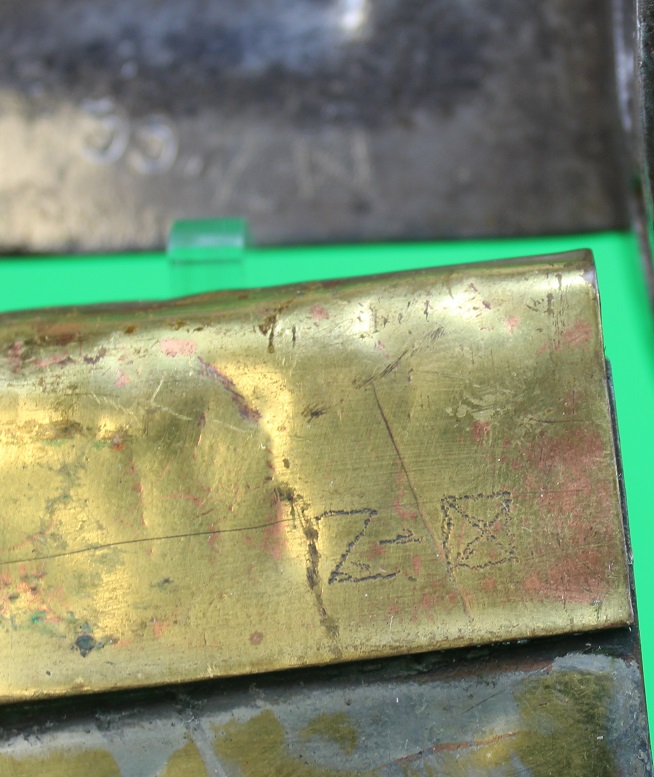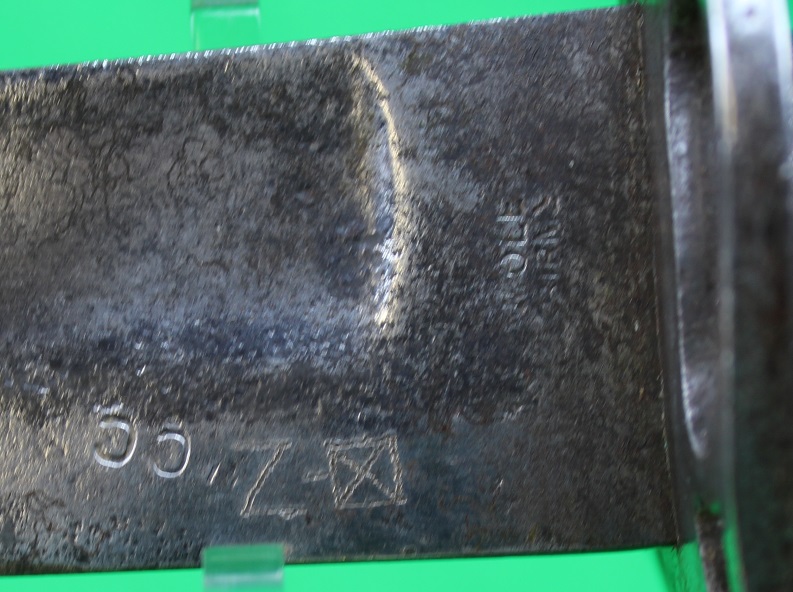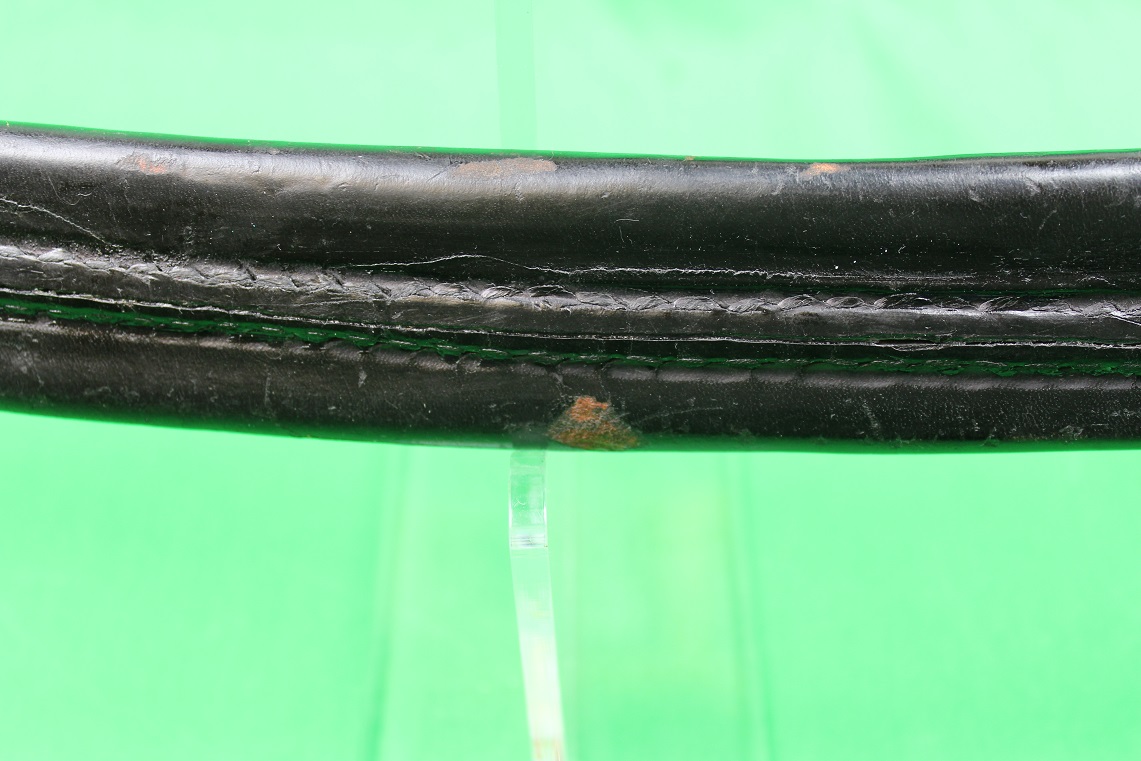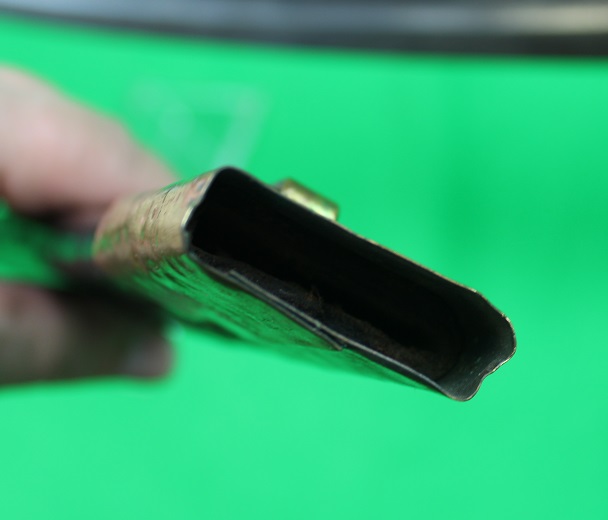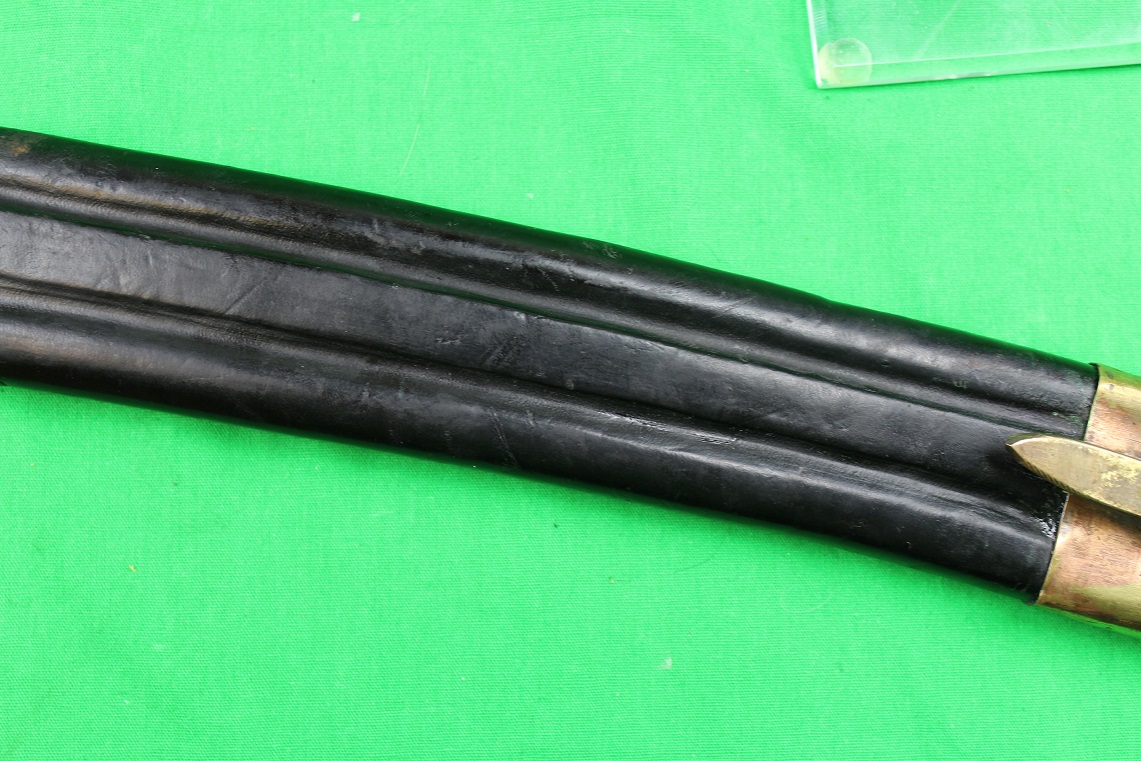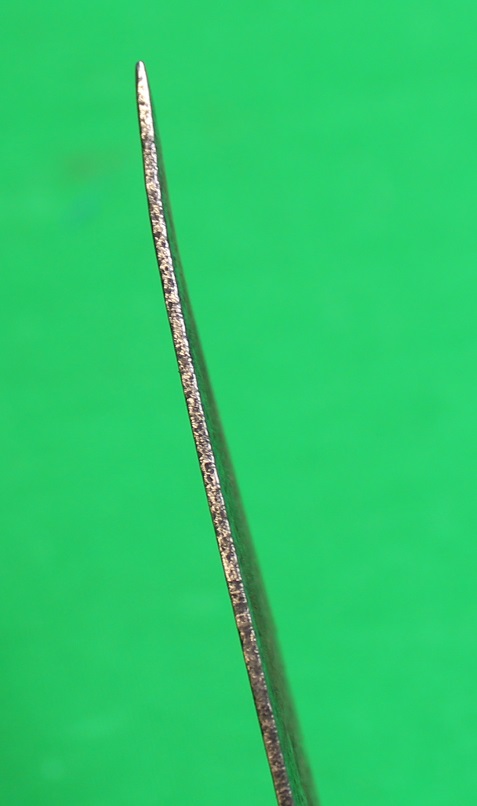 CONSIGNMENT
Weapons 126
Here we have a set of 6 historical prints in sleeve and shipping packet entitled A COLLECTION OF COLT HISTORICAL PRINTS 1836 Ė 1873 and shows 6 prints of The Colt Texas Paterson 1836, Colt Walker 1847, Colt Wells Fargo 1848, Colt Navy 1851, Colt Army 1860 and the Colt Peacemaker 1873. This is a nice set and shows age but no wear. These prints were done in 1943. For the set $150.00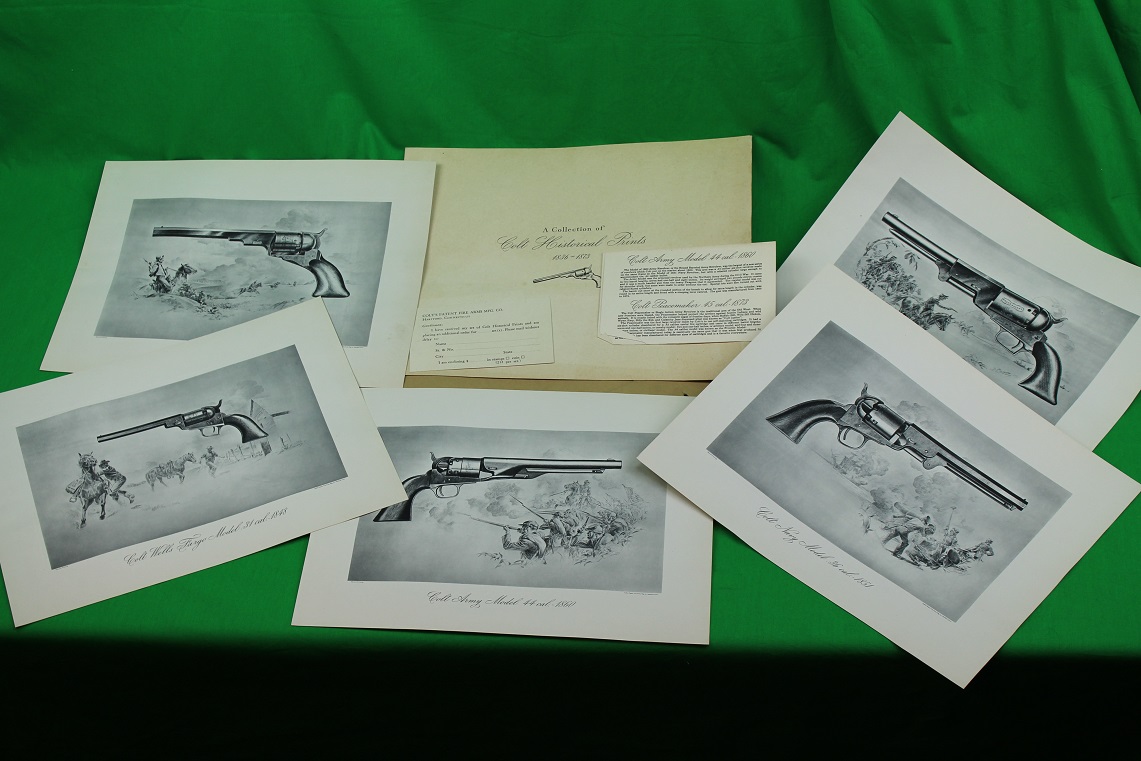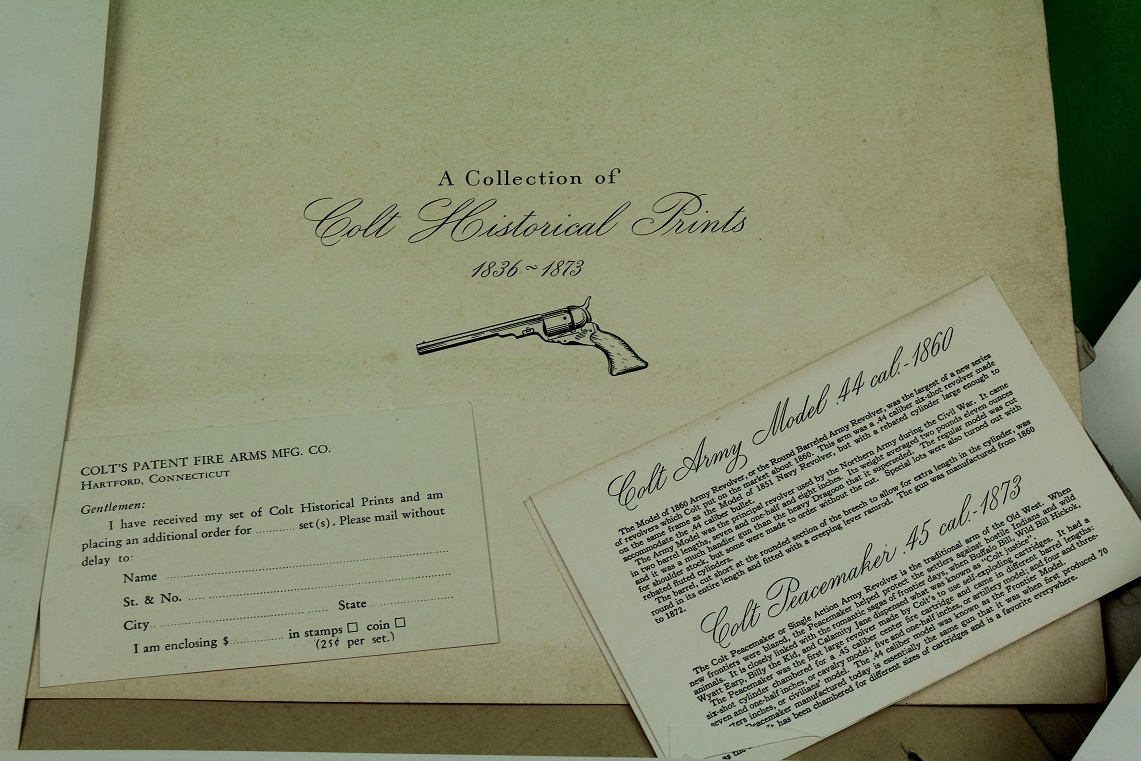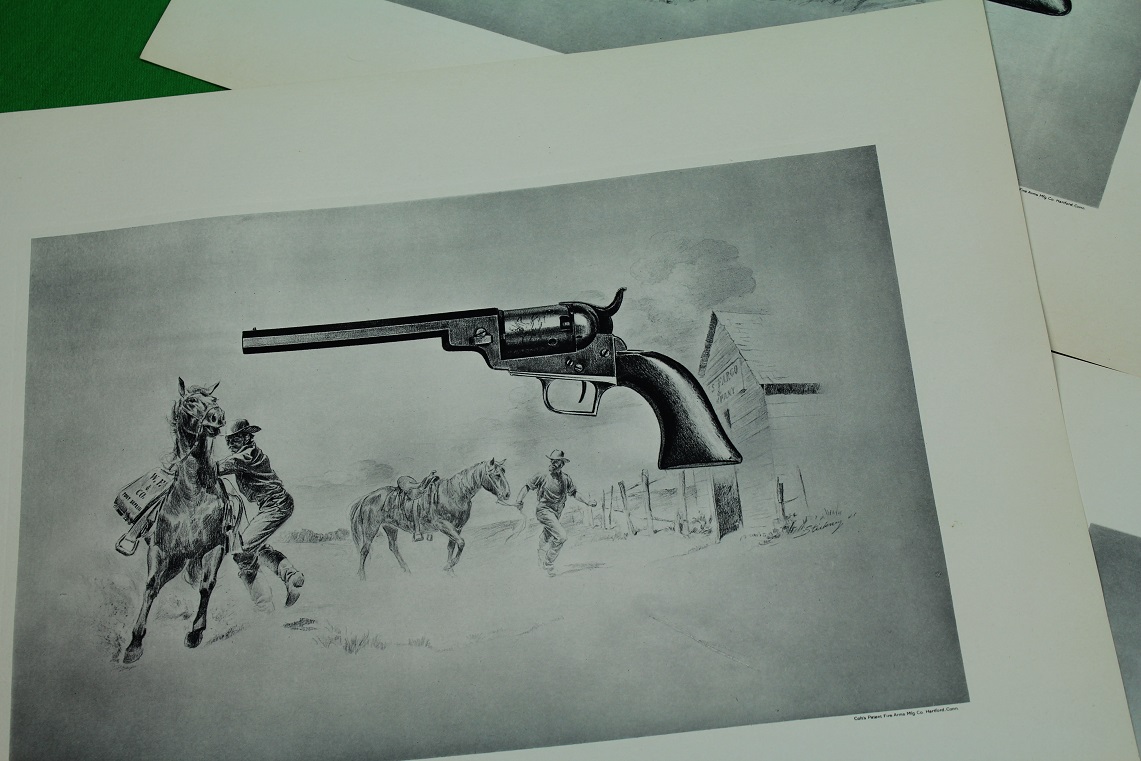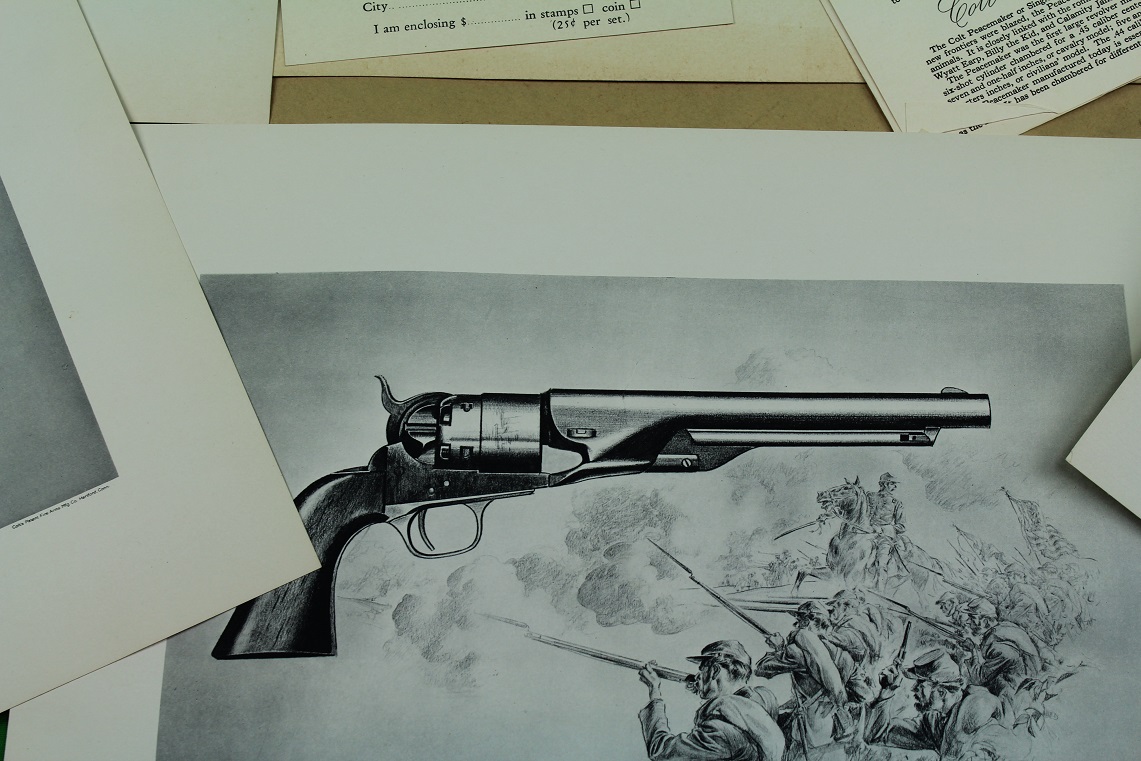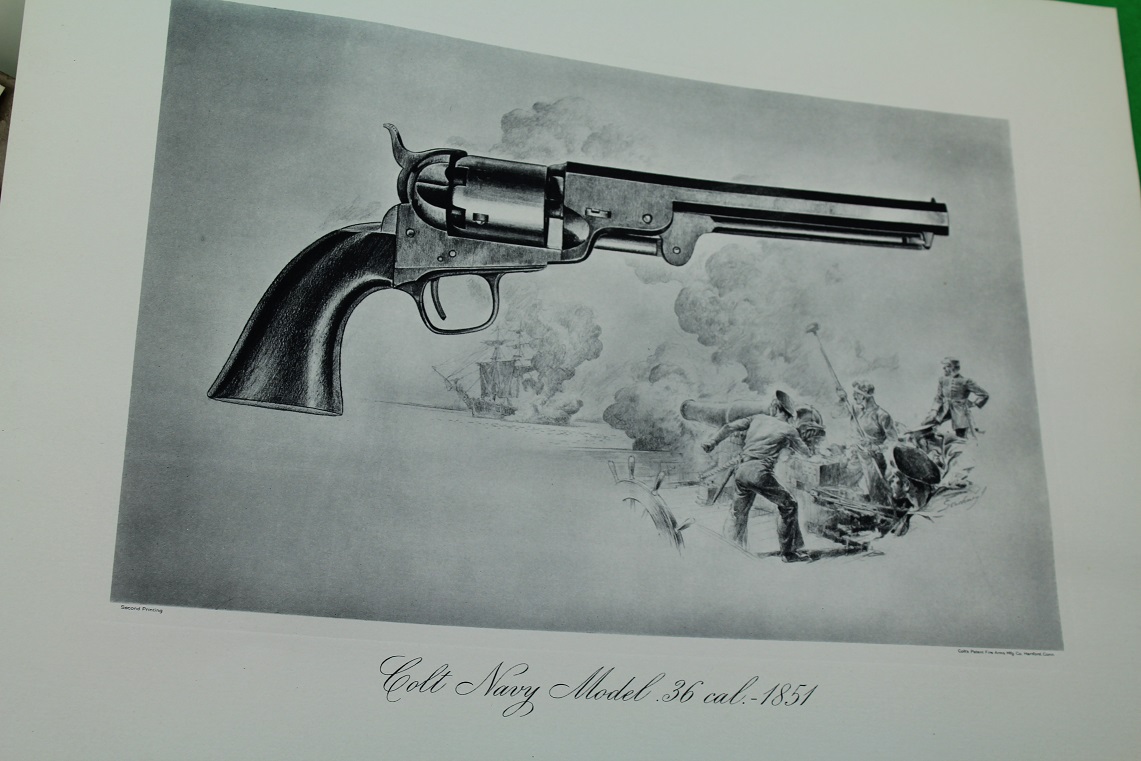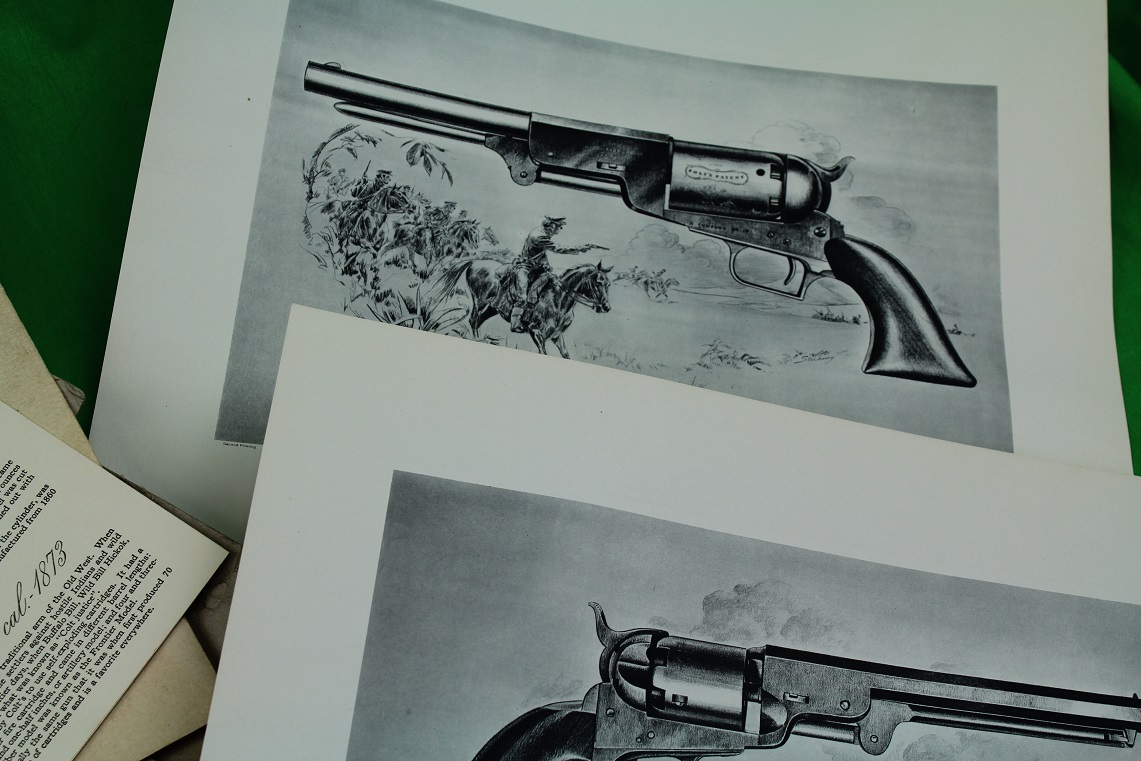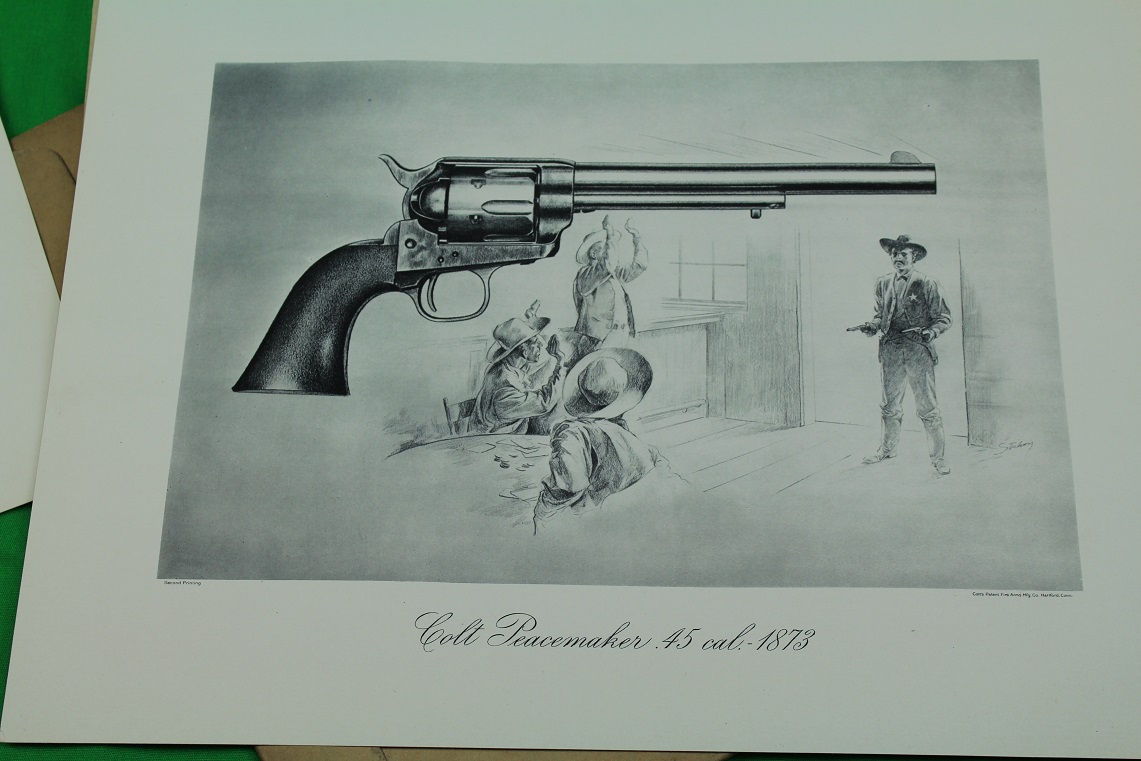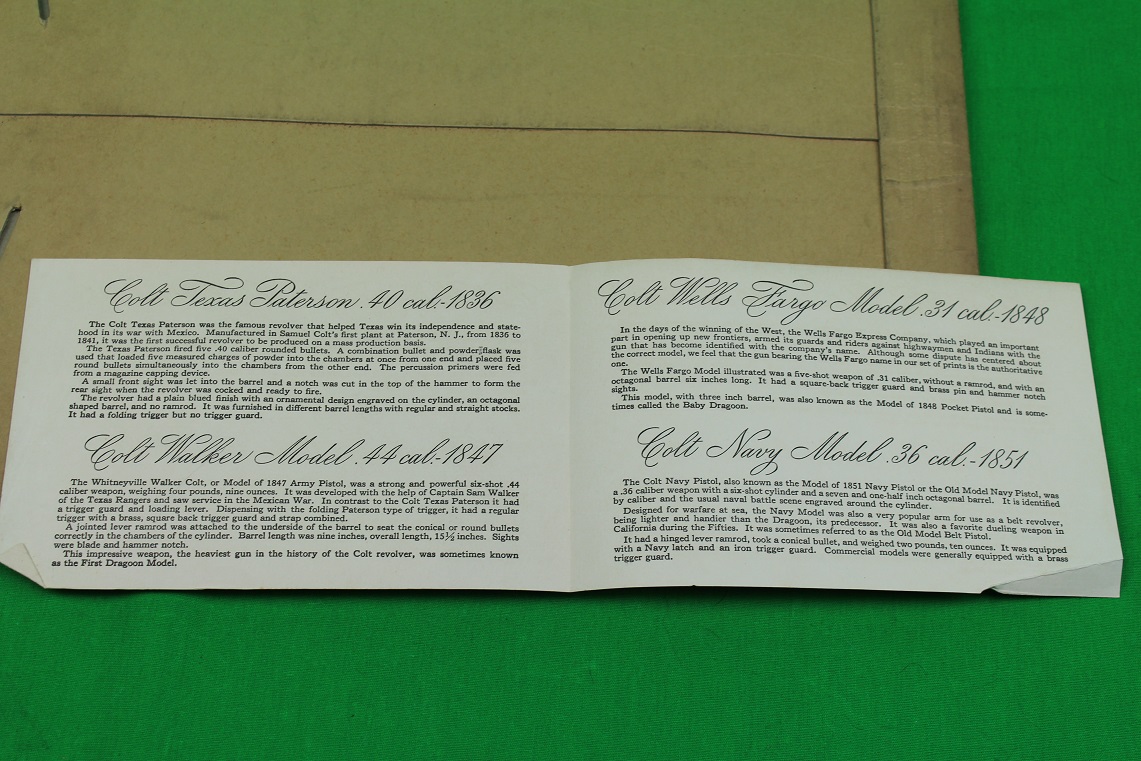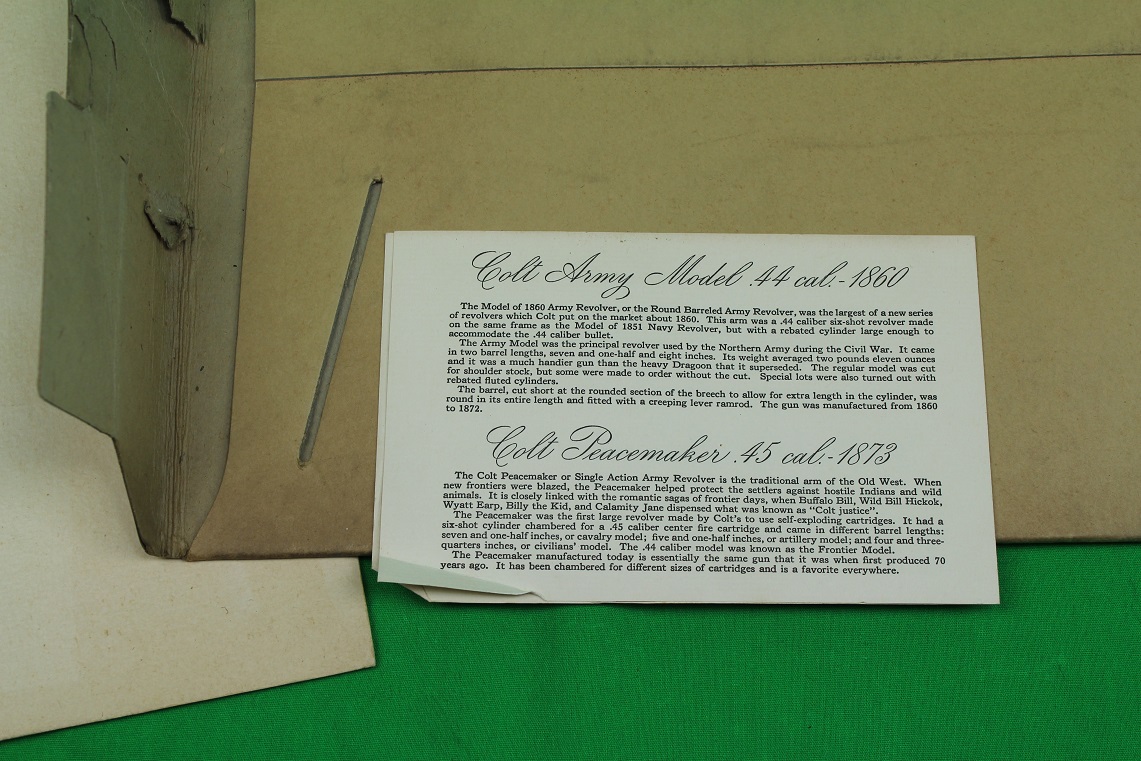 Weapons 125
Here we have a Colt Pocket Flask and an early .31 caliber brass bullet mold that would have been used with the Colt .31 caliber Pocket model revolver. The Flask has been
SOLD! but we still have the rarer brass mold. This mold is not marked but probably is a colt flask and molds a round and conical bullet. There is no spru cutter on these early brass models. This mold is in fair to good condition with bent handles. Shows use. $65.00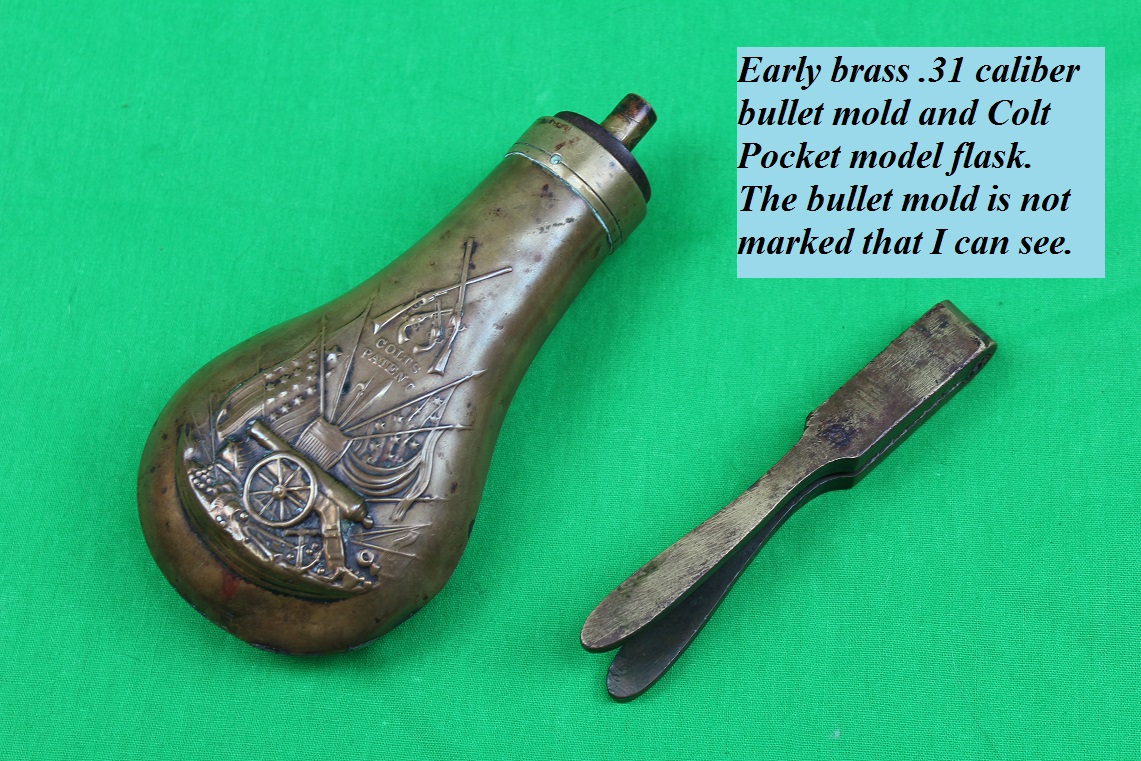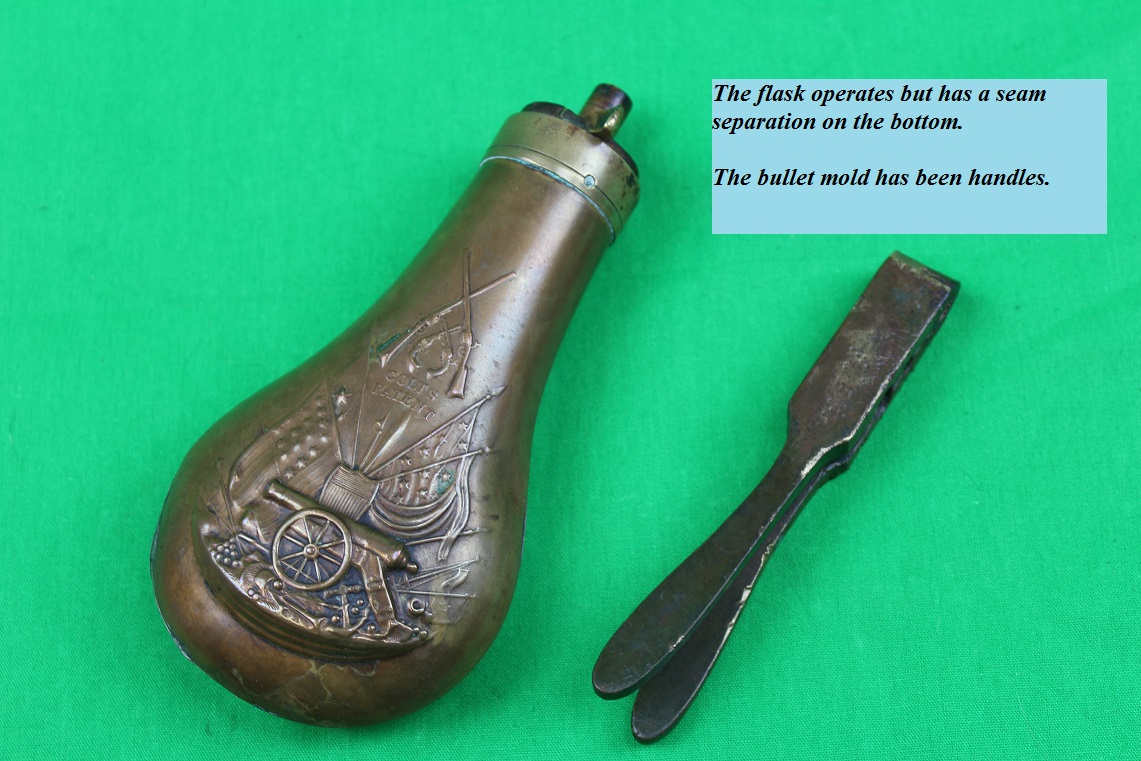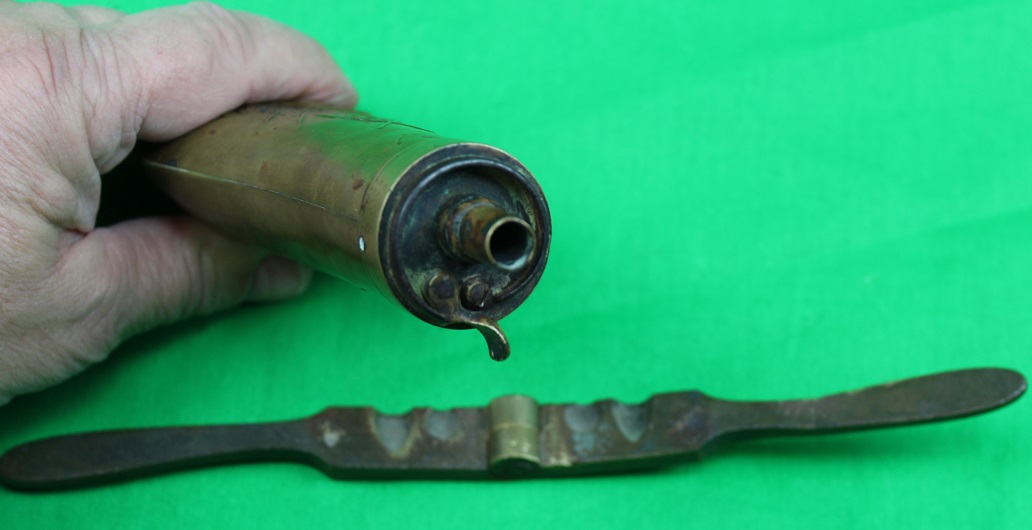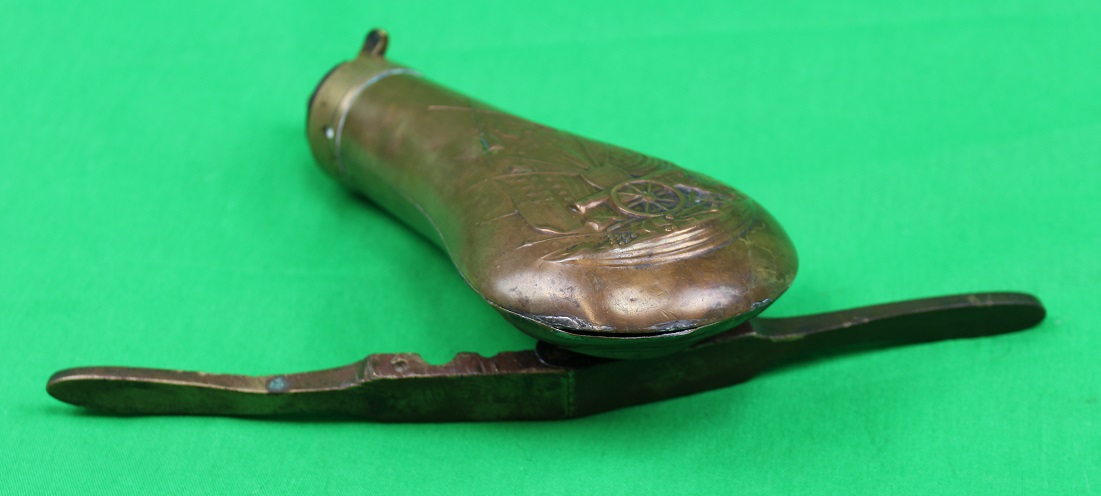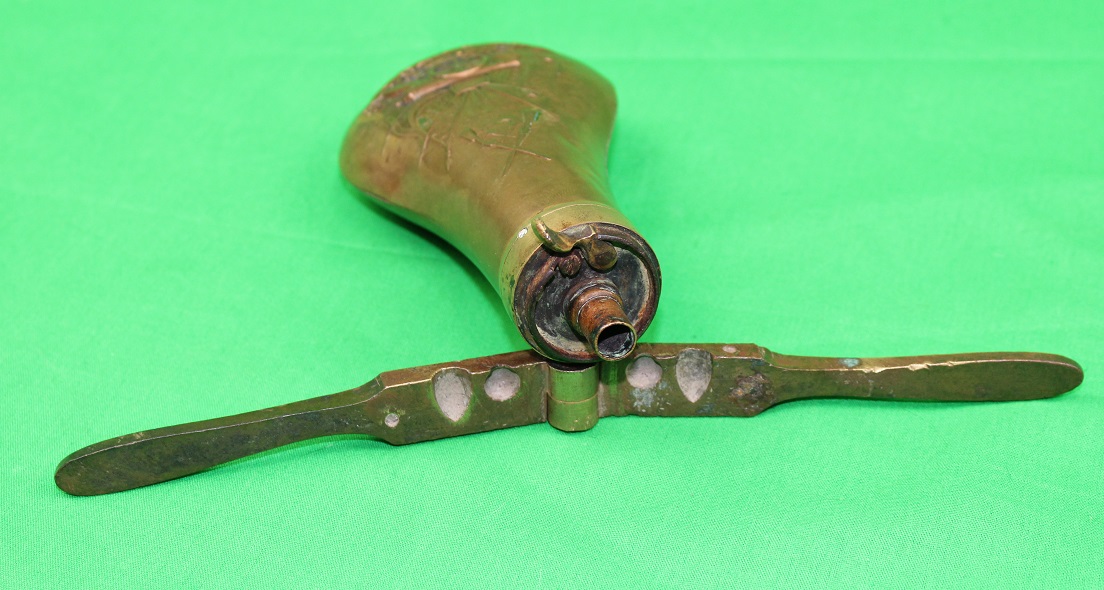 Weapons 123
Now we have the blacksmith made knife that accompanied the other two pieces. This is a spearpoint knife being 12 inches long with a 7 1/2 inch long blade. The blade is hand wrought with roughness and pitting here and there. It has a large clipped corner rectangular hand guard being made from a single piece of sheet iron. The round wooden grip has a round ferrel on it next to the guard and is a compression fit on the tang. The 7 3/4 inch brown leather scabbard started out life on a nicer knife as it was well made with a design around the edge on both sides and excellent stitching. You can see where a belt loop was originall sewn onto this piece but now lacking as I don't believe it would have worked with this particular knife. More than likely this knife in scabbard was shoved into a belt of trousers. For this piece $275.00
CONSIGNMENT
Weapons 122
RARE! - CIVIL WAR UNITED STATES MARINE CORPS NON-COMMISSIONED OFFICER'S SWORD: During the Civil War the Marine Corps was very small in size compared to the other military services, and as such Marine Corps Civil War swords are rare. This particular one is even rarer because it may have been made by Bent & Bush. Most Marine Corps swords of this period, and following the war, were produced by Horstmann and that company is well known for marking their product. Horstmann had the first contract in early 1859 and the second contract went to Ames in November 1859, and Horstmann got the third contract in 1861. After that, Bent & Bush received all sword contracts. There are no known marked Bent & Bush swords and it is believed any unmarked version of the Marine Corps sword would be attributed to them. Arizona Swords at azswords.com had the only know sword of this type and until the discover of this sword, no other unmarked Marine Corps Civil War NCO sword had been found. So there are two of them now. There are probably more in the attics or back woods but who knows for sure The swords hilt is the standard M1850 Foot Officers design, but with crude casting and black leather and twisted wire which is lacking now. The 31 1/8 inch blade is totally unetched and void of any maker marks. There are no sharpening marks on this sword and no appreciable nicks either. The scabbard had two brass fittings, with the top mount designed to be carried in a leather frog, and the brass drag, which is now lacking. The patina on the top mount and the sword guard/pommel match perfectly indicating that these piece have been together all the time. The black leather is still quite flexible but you can see where it fractured in the pics. This one is rare sword folks! For this sword $1599.00
Weapons 117
CONSIGNMENT
Weapons 121
Here is a very ornate Civil War Presentation sword without a presentation engraving. This piece is a Henry Sauerbier Model Sword with a Cavalry type hilt. Sauerbier & Company made many presentation swords. He also had contracts with the U.S. Government for swords. This one is very ornate with a gold plated grip and gold washed guard. The hand guard is in the style of the Cavalry but we believe itís for an artillery Officer as it has crossed cannons on the drag. The sword itself is very ornate with a very nice etched blade with a Large US on one side and a panoply of arms/flags on the other side along with other etchings. The sword is about 39 inches long with a 33 Ĺ inch blade. The blade also has the makers name acid engraved on it and does show some rust staining on it. I have not cleaned it so as to not affect the etching. The hilt is very ornate with all the wire present on the gold plated grip. Most of the original leather blade washer is still present as well. Take a look at the pics to see how nice this piece is! The scabbard is all metal with gold washed brass mountings and silver pieces soldered to them. The scabbard may have been silver plated at one time but does show itís age now. There are no dents in the scabbard. This is still a very nice presentation sword but itís not mint by any means. Still an unusual and desirable Presentation type sword and scabbard!! $5500.00
CONSIGNMENT
Weapons 120
Here is another Sauerbier mfg. Presentation Sword from the Civil War. This one is a Model 1850 Staff and Field Officers sword with a US in the brass hand guard. This piece has a good engraved 30 Ĺ inch long blade showing a large panoply of arms on one side and a very large U.S. on the other side. There are a few very minor nicks in the blade. The leather blade washer is lacking on this piece making the hilt a little loose but definitely in no danger of falling off. The hilt is pretty nice with traces of gold wash over the silver grip. The wire is still present. There may have been a capstan rivet holding the pommel cap to the blade but Iím not sure. The pommel cap is tight to the blade so it definitely wonít come off. The pommel cap and the grip are tight with just the hand guard being loose. The all metal scabbard has nice brass mountings with the center one having a large US on it. The drag has a kind of filigree design to it. There is no engraved presentation to this piece either. Both swords came from Central Indiana. For this one $5250.00